September, 14, 2014
Sep 14
10:21
PM ET
September, 14, 2014
Sep 14
10:20
PM ET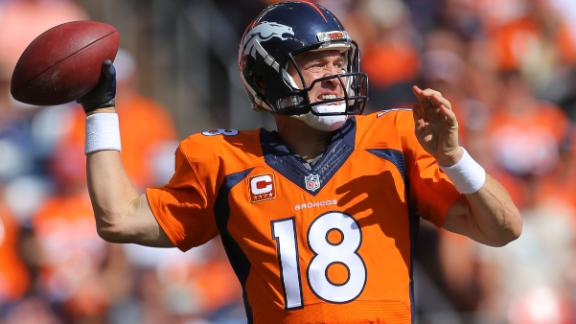 DENVER -- The
Kansas City Chiefs
put together the drive of their dreams to open the second half of Sunday's game against the
Denver Broncos
. They stayed on the field for an even 10 minutes, giving the Chiefs an extended period where
Peyton Manning
and the potent Denver offense could do no harm.
Late in the fourth quarter, the Chiefs went on another march that was only an aspiration for them as recently as last week, one them that would take them as far as the Denver 2.
In better times, the Chiefs might have looked at those drives as the reason they shocked the NFL by pulling what seemed like an unobtainable upset.
Instead, those drives ended in failure. The Chiefs came away with no points either time and those letdowns were the biggest reason they lost to the Broncos
24-17
.
The Chiefs should be a good red zone team. In
Travis Kelce
,
Demetrius Harris
,
Anthony Fasano
and even
Dwayne Bowe
, they have enough receivers capable of winning the one-on-one battles in tight areas.
They did score touchdowns on their other two trips inside the Denver 5, both on runs by
Knile Davis
.
"We scored in the red zone," Davis said. "The defense wins sometimes, too."
The defense doesn't have to win its share, not if the offense does its job the right way. But the first of the two failed drives was a series of breakdowns after the Chiefs reached the Denver 4 with a first down.
The end of that drive featured an incomplete pass to Davis, a holding penalty on guard
Zach Fulton
, a sack of quarterback
Alex Smith
, an incomplete pass to
Donnie Avery
and then a 37-yard field goal try by rookie
Cairo Santos
that went wide to the right.
The decision to keep Santos, who was undrafted, over veteran incumbent
Ryan Succop
looks like a rotten one. Santos also missed a field goal attempt last week, though that one made no difference in a blowout loss.
This one did. The Chiefs aren't strong enough offensively to overcome the erratic nature of a rookie kicker.
The problem on the late drive was that the Chiefs, from the time they reached the Denver 9 on first down, went into the end zone just once, that coming from the Denver 2 on a fourth-down pass intended for Bowe.
Otherwise, they tried two Davis runs and a pass for Avery that was complete but short of the end zone.
That's where the play-calling could have been more imaginative.
The factor tying together their red-zone problems was the loss of running back
Jamaal Charles
. He left the game for good in the first quarter because of what the Chiefs called a sprained ankle.
The Chiefs scored 44 points against Indianapolis in the playoffs last year under similar circumstances. Charles also left their lineup that day in the first quarter and didn't return.
The difference is that last season the Chiefs were on a roll offensively by the end of the season. They were scoring points in bunches by then. This year's Chiefs are still trying to find themselves offensively, so the loss of Charles is greater now.
The Chiefs made big progress offensively from last week's debacle against Tennessee. It's easy now to see some hope for a season that seven days earlier looked lost.
But things would look so much better if they had been able to finish more drives on Sunday and steal a game away from their AFC West rivals.
September, 14, 2014
Sep 14
8:50
PM ET
DENVER -- Observed and heard in the locker room after the
Kansas City Chiefs
' 24-17 loss to the
Denver Broncos
:
Santos to stay:
Coach Andy Reid said the Chiefs would stay with struggling rookie kicker
Cairo Santos
. He missed a 37-yard field-goal attempt in the third quarter to end a 10-minute drive. Santos also missed an attempt in last week's game. The Chiefs released a steady veteran,
Ryan Succop
, to go with Santos, who wasn't drafted.
Charles
It was their turn:
The Chiefs failed to get a point on two of their trips inside the Denver 5. But running back
Knile Davis
said after the Chiefs also scored twice in those situations, it was the Broncos' turn to win. "The defense wins sometimes, too," he said.
Missing Charles:
Quarterback
Alex Smith
acknowledged the loss of running back
Jamaal Charles
hurt the Chiefs the most on those trips inside the Denver 5. "Everything is magnified down there," he said.
September, 14, 2014
Sep 14
7:33
PM ET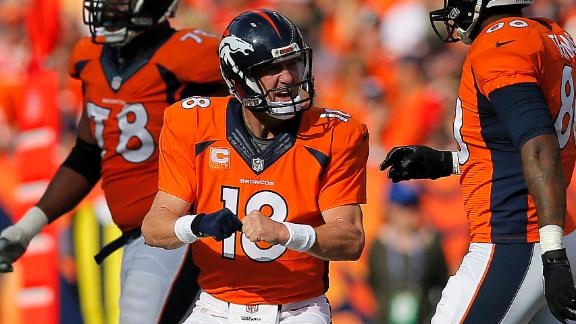 DENVER -- A few thoughts on the
Kansas City Chiefs
' 24-17
loss
to the
Denver Broncos
at Sports Authority Field:
What it means:
As opposed to last week's loss to Tennessee, the Chiefs have no reason to be disheartened by this defeat. The Chiefs lost three starters for the season last week because of injuries and played most of this one without running
Jamaal Charles
and safety
Eric Berry
. Each left the game in the first half with an ankle injury and didn't return. The Chiefs still showed signs of life that were well-hidden last week, particularly on offense. At 0-2, the Chiefs have to find a way to regroup in time for next week's game at Miami.
Stock watch:
Rookie kicker
Cairo Santos
had his second straight shaky game. He missed a 37-yard field goal in the third quarter that would have pulled the Chiefs to within a touchdown. Cornerback
Marcus Cooper
, a frequent victim of Denver quarterback
Peyton Manning
last season, was burned on a 48-yard pass to
Emmanuel Sanders
on the game's first play from scrimmage to set up the Broncos' first touchdown.
Knile Davis
did a nice job of filling in for Charles in the running game but he's still a liability when he's in the game on passing plays.
More injuries:
The Chiefs' lineup was patched together at many spots. Berry was replaced by
Ron Parker
, who spent most of training camp as a cornerback. Davis is far from the versatile back the Chiefs need in their offensive system. They already had to dig deep to fill their lineup on the offensive line and at inside linebacker. Depth was a concern heading into training camp and it's evident those worries were valid.
Game ball:
Quarterback
Alex Smith
was under heavy pressure all day but played well enough to keep the Chiefs alive. His running ability was also a key in the first half when he had some runs that kept drives alive.
What's next:
The Chiefs head to Miami for a game against the 1-1 Dolphins at 4:25 p.m. ET next week.
September, 14, 2014
Sep 14
6:24
PM ET
[+] Enlarge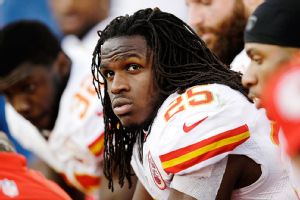 AP Photo/Marcio Jose SanchezJamaal Charles left Sunday's game in Denver due to an ankle injury and did not return.
DENVER -- Kansas City Chiefs running back Jamaal Charles and safety Eric Berry both suffered ankle injuries in the first half of Sunday's game against the Denver Broncos, and neither star player will return.
Charles was stopped on a run up the middle early in the first quarter and then hobbled to the bench. He was examined by the Chiefs medical staff as Knile Davis replaced him in the backfield.
Kansas City was trying to get Charles more involved in the offense this week after giving him just seven carries against Tennessee. Charles rushed for 1,287 yards a season ago, which was third-most in the NFL.
Berry was looked at on the sideline by the medical staff late in the second quarter, before taking the tape off his ankle and heading toward the locker room. He was replaced by Ron Parker.
September, 13, 2014
Sep 13
5:14
PM ET
ESPN.com news services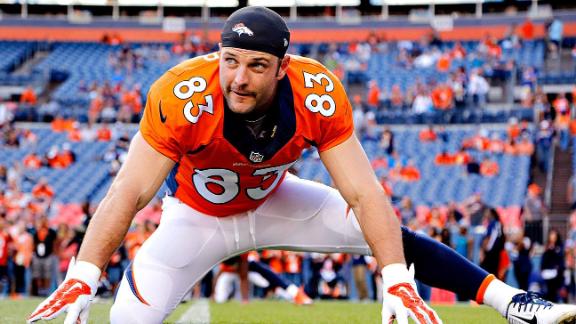 The NFL and the players' union did not reach a final agreement on proposed changes to the league's drug policy by Saturday afternoon, meaning suspended players potentially eligible for reinstatement -- like Denver Broncos receiver Wes Welker -- will not play Sunday.
The NFLPA voted Friday to accept a new policy that would implement testing for human growth hormone and significantly increase the threshold for positive marijuana tests.
But despite the union's approval, the deal still had not been finalized due to "significant unresolved issues," according to NFL spokesman Greg Aiello.
"We have not yet reached an agreement with the union," Aiello said Friday. "There continue to be significant unresolved issues."
An agreement needed to be in place by Saturday's 4 p.m. ET roster deadline in order for Welker and Dallas Cowboys cornerback Orlando Scandrick, who both received four-game suspensions, to play in Week 2.
"We hope to have final agreements, including effective date for players with adjusted discipline, very soon," the NFLPA said in a statement released earlier Saturday.
Coach John Fox and quarterback Peyton Manning were among the many members of the Broncos who had hoped Welker would play in Sunday's showdown against the AFC West rival Kansas City Chiefs. Denver even left an opening on its 53-man roster for Welker, who also had been attempting to return from a concussion suffered in the preseason.
September, 13, 2014
Sep 13
9:00
AM ET
KANSAS CITY, Mo. -- Here is this week's edition of the Kansas City Chiefs mailbag. To ask a question for a future edition, send it to me via Twitter (@adamteicher) and tag it #ChiefsMail.
@adamteicher can anything happen this season that could make the Chiefs pull the plug on Reid, or has he bought a few years? #chiefsmail

— Reid Chapman (@ReidorRobert) September 12, 2014
@adamteicher:
I was wondering when I might get this question but surprised it's come so soon. Andy Reid is going to coach the Chiefs for awhile. He wasn't hired and didn't want this job for the short term.
@adamteicher how many points will the offense need to put up in order to have a chance? #chiefsmail

— T J Kirby (@timbokirby) September 12, 2014
@adamteicher:
I predicted the score to be 37-20
when the Broncos play the Chiefs on Sunday in Denver. I'm thinking the Chiefs at least have to get into the 30s to score enough to be competitive. The Broncos scored 27 and 35 points in the two games against the Chiefs last year. There's no reason they should score anything less this time.
@adamteicher After the rough Titans game, is there any hope for anything other than an 0-6 start? #ChiefsMail

— Michael Reed (@xXDanteHicksXx) September 11, 2014
@adamteicher:
I can see that line of thinking. It's tempting to predict that. But unless I see more evidence to the contrary, I'll maintain the Chiefs are better than they played against the Titans. I think they have too many good players and coaches to play like that every week. The Patriots and Chargers might be vulnerable against the Chiefs.
@adamteicher Does KC have options besides Mike McGlynn? He was making mental mistakes & getting physically overpowered on Sunday #ChiefsMail

— N/A (@kansasbluecoast) September 11, 2014
@adamteicher:
Mike McGlynn
joined the Chiefs in late August after being released by Washington and he started at left guard against Tennessee. He wasn't good in that game, but it looks like the Chiefs are stuck with him for at least another week or two. With Donald Stephenson on suspension and Jeff Allen injured and unlikely to return this season, the Chiefs have few options. Their offensive-line reserves are Jeff Linkenbach, Eric Kush and Laurent Duvernay-Tardif. The Chiefs don't appear comfortable with Linkenbach, who might not still be around if not for the suspension and injury. Kush is a center and Duvernay-Tardif is a developmental prospect.
@adamteicher where is @AJJenkins15 ....not one catch last week...he was suppose to be our #2 wr not avery...pullinh for him but dang..

— Brad Wingo (@ChiefVolfan615) September 11, 2014
@adamteicher:
That shows what the Chiefs really think of A.J. Jenkins. They had a big need for a wide receiver with Dwayne Bowe out and they turned to Frankie Hammond Jr. rather than Jenkins. That being the case, it's difficult to picture Jenkins being much of a factor anytime soon.
@adamteicher Why didn't Chiefs work the Smith deal earlier so they could have tried to keep a defender or bring in another WR??

— Wade Fossum (@dakid3kc) September 11, 2014
@adamteicher:
It takes two sides to reach a deal. Given their preference, I think the Chiefs would have reached one with quarterback Alex Smith long before they did. That's why they started the negotiations when they did. But with no deadline looming, deals often take time before they get done and that's what happened in this case. The Chiefs had enough money to get a wide receiver even without a Smith deal. They should and could have signed Emmanuel Sanders.
@adamteicher Were you surprised that Sorensen got axed? I was. Seemed like they were very high on him.

— Lou Montagna (@LouMontagna) September 9, 2014
@adamteicher:
They did like rookie safety Daniel Sorensen and I was surprised, but he didn't play well against Tennessee and they felt they have to go with more experienced players at his position. Sorensen eventually cleared waivers and rejoined the Chiefs, this time on their practice squad.
September, 12, 2014
Sep 12
3:00
PM ET
KANSAS CITY, Mo. -- The bad injury news continues to pile up for the
Kansas City Chiefs
. Coach Andy Reid said offensive lineman
Jeff Allen
would need elbow surgery and is not likely to return this season.
Also, rookie running back
De'Anthony Thomas
has been ruled out of Sunday's game against the Broncos in Denver because of an injured hamstring.
Allen started at right tackle in the season-opener against Tennessee. He started training camp as the left guard but switched positions when right tackle
Donald Stephenson
was suspended for the season's first four games because of a violation of the NFL's policy on performance-enhancing substances.
Allen's spot at right tackle on Sunday will be filled by veteran
Ryan Harris
, who signed with the Chiefs on the eve of training camp. The starter in Allen's original spot at left guard,
Mike McGlynn
, joined the Chiefs in late August after being released by Washington.
If Allen misses the remainder of the regular season, he would be the third starter lost for the year from the Tennessee game. Linebacker
Derrick Johnson
and defensive end
Mike DeVito
each ruptured an Achilles tendon.
September, 12, 2014
Sep 12
1:00
PM ET
KANSAS CITY, Mo. -- The
Kansas City Chiefs
haven't beaten
Peyton Manning
in four tries since he joined the Broncos. A 17-9 loss at Arrowhead Stadium in 2012 is as close as they have come. That was when they were coached by Romeo Crennel.
More instructive are the two games last season when the Chiefs were coached by Andy Reid. The Chiefs failed to frustrate Manning either time. They had a 21-7 lead during one of the games and things were looking good. Then Manning and the Broncos stepped it up and the Chiefs couldn't keep up. The Chiefs will have to either slow Manning or outscore him.
Judging from last week's game against Tennessee, they are in no shape to do either.
My prediction:
Broncos 37, Chiefs 20.
September, 12, 2014
Sep 12
11:00
AM ET
KANSAS CITY, Mo. -- Numbers aren't the best way to measure the impact
Derrick Johnson
had on the Kansas City Chiefs' defense or the problem they will have in replacing him for the rest of the season. Johnson, an inside linebacker, ruptured his Achilles tendon in last week's opener and after having surgery is out for the season.
Johnson
Johnson's gift is his down to down presence. He was as consistent a player as any coach could ask for against both the run and the pass. Johnson was one of the NFL's best players at his position, and if he had caught more of the game-changing interceptions that he's dropped -- Johnson's hands are legendary bad -- more people would know about his skills.
But we'll try to quantify just how much the Chiefs will miss Johnson. The
Tennessee Titans
rushed for 26 yards on 10 carries for a 2.6-yard per carry average in last week's game against the Chiefs before Johnson left the game late in the second quarter.
After his departure, the Titans averaged 4.9 yards per carry with 136 yards on 28 carries.
That's not a scientific measurement, for sure. It's a tiny sample size that is also influenced by other factors. Shortly after Johnson left the game, the Chiefs lost another one of their best run defenders,
Mike DeVito
, also for the season with an identical injury.
But it helps illustrate what the Chiefs are facing here. Defensive coordinator Bob Sutton is well aware of what Johnson meant to the Chiefs.
"A lot of times when you have a guy like [Johnson] who has exceptional speed for his position, it isn't just the plays you make but the plays you prevent,'' Sutton said. "Sometimes those are runs that went for five [yards] or passes that went for 10, but he's there and that stops a play from going. That's the one advantage of speed in relationship to your position.
"So you miss that. You miss his experience.''
The Chiefs will replace him with
James-Michael Johnson
, who was claimed off waivers last season from the
Cleveland Browns
.
Derrick Johnson has been extremely durable. He's missed just seven games since joining the Chiefs in 2005 and one of those was the final regular-season contest last year when the Chiefs rested Johnson and a few other starters.
The last time Johnson missed a game because of injury was 2009.
So playing without Johnson will be an event for the Chiefs on Sunday in Denver against the Broncos. Denver quarterback
Peyton Manning
has already noticed.
"I played against him for a long time going back to my days in Indianapolis,'' Manning said. "Special player, and I just hate to see it. I was watching the TV game, and I just hate to see that kind of injury. But obviously anytime you lose a quality player, everybody else has to step up, and I know the Chiefs will do that. But I hate to see what happened to Derrick -- he's such a great football player -- in the first game of the season."
September, 12, 2014
Sep 12
8:00
AM ET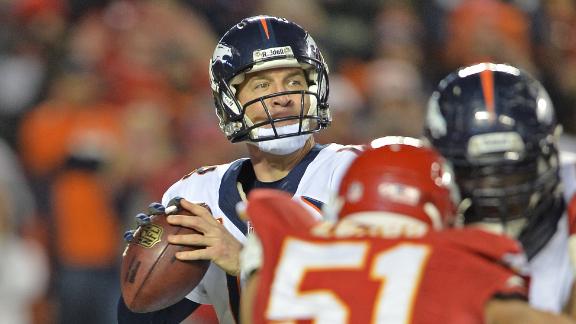 The
Denver Broncos
and
Kansas City Chiefs
don't have to wait long to open up AFC West play as they jump into a Week 2 matchup. The Broncos had one glorious half before they had to hang on in their season-opening 31-24 victory over the
Indianapolis Colts
.
The Chiefs struggled in a 26-10 loss to the
Tennessee Titans
at Arrowhead Stadium and will be without two regulars in defensive tackle
Mike DeVito
and linebacker
Derrick Johnson
, who both suffered season-ending Achilles injuries in the loss.
ESPN.com Chiefs reporter Adam Teicher and Broncos reporter Jeff Legwold discuss Sunday's game.
Legwold:
Adam, every training camp for every team ends with such high hopes and plenty of optimism. What is the Chiefs' mindset after such a tough opening week?
Teicher:
There's not a lot for the Chiefs to be optimistic about right now. Since their 9-0 start last season they've gone 2-7, including their collapse in the playoffs against Indianapolis. Their offensive line is in tatters, quarterback
Alex Smith
is throwing interceptions in uncharacteristically high numbers, running back
Jamaal Charles
didn't get the ball much against Tennessee, some of their best young players aren't contributing much, they lost two of their best defensive players for the season with injuries last week and their defense got pushed around by
Jake Locker
and the Titans. Then there's the upcoming schedule, which has the Chiefs playing road games against the Broncos,
Miami Dolphins
,
San Francisco 49ers
and
San Diego Chargers
and a home game against the
New England Patriots
in the next five weeks. Otherwise, all is good with the Chiefs.
What about the Broncos in this regard? The losing team in the Super Bowl often has a season-long hangover afterward, but the Broncos don't seem to be affected.
Legwold:
When the Broncos signed
Peyton Manning
, executive vice president of football operations/general manager John Elway said he wanted not only Manning's play on the field, but also a player "who raises all boats." Manning and the other Broncos veterans attacked the offseason and a fairly young team overall has taken its cues from those hard-driving older players. When they brought in veteran players such as
DeMarcus Ware
,
Aqib Talib
and
T.J. Ward
, those guys saw this as a chance at a Super Bowl, so they have been no nonsense as they've gone about their business. That has kept things on the tracks. The suspensions handed down to wide receiver
Wes Welker
and kicker
Matt Prater
ended what had been a quiet summer for the team. But, overall, it's a locked-in group that needs to avoid injuries to key players to be in the title mix again.
In terms of offseason work, the Chiefs locked up Smith with a contract extension. What was the organization's plan and is there even more pressure on Smith now to lift them into the postseason?
Teicher:
The plan with Smith all along, from the time they acquired him in the trade with the 49ers, was to lock him up for the long term. At no time did they consider him a stopgap or the bridge to the next quarterback. Those plans could have changed had they not been satisfied with Smith's play last season. But Smith last season was the guy the Chiefs thought they were getting. This new contract certainly increases the pressure on Smith to deliver. The Chiefs have committed to him in a big way, and he will be consuming a significant portion of the team's salary cap. Smith is by no means solely responsible for last Sunday's loss, but he didn't play well. He threw three interceptions, and two were bad decisions on his part, the kind of choices he doesn't usually make. The Chiefs are paying him a lot of money to make better decisions.
You mentioned Denver's offseason signings of defensive players in Ware, Talib and Ward. How has their presence changed the complexion of the Broncos' defense?
Legwold:
Elway spends a lot of time talking about "the mindset" and "the mentality to win a world championship," and when he was waving the team's checkbook around in free agency, he went looking for players with the mindset to remake the defense. There are just six players on the roster who started on defense in Super Bowl XLVIII. The Broncos players voted Ware a captain and his straightforward, no-nonsense approach has made him an almost instant team leader. He also had 1.5 sacks in the opener, and while some in the league had labeled Ware a declining player in his 10th season, the Broncos think they can manage his snaps to get the most out of him. Ward and Talib bring an edge the Broncos wanted, and both were all over the field this past Sunday night. Toss in the first-round pick, cornerback
Bradley Roby
, and the Broncos will play with more aggressiveness and a bigger variety in personnel groupings than they did in last season's two games against the Chiefs.
Defensively, how will the Chiefs adjust to the injuries to DeVito and Johnson? Will it alter their approach dramatically, especially given what Johnson means to the group?
Teicher:
I don't think the Chiefs will change their approach dramatically, but there's no question they will feel the loss of both players. Johnson will be replaced by
James-
Michael Johnson
. The Chiefs went out in free agency and signed veteran
Joe Mays
, a former Broncos player, to fill one of their inside linebacker spots, an indication they didn't think Johnson was ready to be a full-time player. He got a long look in passing situations during the preseason, and the Chiefs are more comfortable with him playing in coverage than against the run. That said, he's no Derrick Johnson, who is superb against the run and versatile against the pass. DeVito was one of the Chiefs' better run defenders and was improving as a pass-rusher. His main replacement will be
Jaye Howard
, who had a promising preseason. Former
Oakland Raider
Vance Walker
, and even the newly signed
Kevin Vickerson
, could get some playing time as well.
The Chiefs tried to sign wide receiver
Emmanuel Sanders
in free agency before he joined the Broncos. He looked like a good fit for the Broncos in the opener against Indianapolis. What are their expectations for him? And give us a little scouting report on Vickerson, a former Bronco.
Legwold:
In terms of players on offense who were available in free agency, Sanders was the team's top target. The Broncos' offensive coaches, particularly offensive coordinator Adam Gase, like Sanders' versatility in that he can line up in the outside spots and in the slot to go with the fact he has quality short-area quickness to beat press coverage off the snap and top-end speed to run away from defenders in the open. Manning has worked extensively with him -- the two stayed after practice, often with rookie receiver
Cody Latimer
-- every day of offseason workouts, as well as in training camp. The work helped, and Sanders projects to a big season in this offense. Vickerson was likely the 54th player on this roster when the Broncos cut to 53. The Broncos liked his work on run downs and the physicality and ability take on double-teams. They did have some long-term concern about his hip -- Vickerson was kept on a limited schedule throughout much of training camp -- but they needed a little cap space and kept only eight defensive linemen, so Vickerson got caught in the squeeze.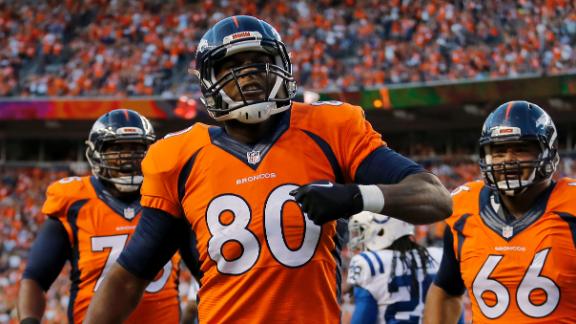 September, 11, 2014
Sep 11
4:05
PM ET
KANSAS CITY, Mo. -- In his first NFL game,
Kansas City Chiefs
rookie kicker
Cairo Santos
pulled an unlikely trick. His first field-goal attempt, from 35 yards, hit the right upright before going through. His second and final-field goal try, from 48 yards, hit the left upright but didn't go through.
"That's a very hard thing to do," Santos said of hitting the goal post twice in two attempts.
Santos
Special teams coordinator Dave Toub said he figured out why Santos was so erratic in his NFL debut.
"He might have been a little nervous," Toub said. "What happened was he couldn't wait to see the kick. His eyeballs were coming up every time he hit the ball. That's something that's easily corrected. That's something we really worked on (Wednesday) and we're going to work on again. He was just anxious. It was his first game. He was looking up to see the result of the kick. He did that on both kicks and that's something he normally doesn't do."
Rookie nerves are something the Chiefs bargained for when they kept Santos instead of veteran incumbent
Ryan Succop
. The Chiefs had their noses rubbed in it when Succop, after being released by the Chiefs, signed with the
Tennessee Titans
and made all four of his field-goal attempts in Sunday's 26-10 win against the Chiefs.
Santos might eventually become a better kicker than Succop. If so, the Chiefs might have to suffer through some more growing pains in order to get to that point.
"The thing about him is if I felt like his confidence or his mental (outlook) wasn't good, he wouldn't be here right now," Toub said. "I really feel strongly about him going forward."
September, 11, 2014
Sep 11
2:45
PM ET
KANSAS CITY, Mo. -- After losing their season-opener in a rather convincing manner, the
Kansas City Chiefs
are in a position where they could use a lift from the return of their most accomplished wide receiver.
Bowe
Dwayne Bowe
isn't waiting until Sunday's game against the
Denver Broncos
to try to provide that lift. He indicated that process started earlier in the week, shortly after his return for a one-game NFL suspension for a violation of the league's substance-abuse policy.
"Just be myself,'' Bowe said when asked what he wanted to accomplish this week. "Come in jovial, come in picking guys up and letting them know it's one game at a time, one play at a time. Just play with energy, just play with passion, just play your game. That's what I'm preaching to everyone in the locker room, and that's what we've got to bring if we're going to beat the Denver Broncos.''
That's all good, but what the Chiefs really need from Bowe is to play on Sunday as he did earlier in his career. One reason the Chiefs floundered on offense against the
Tennessee Titans
is that their wide receivers caught just eight passes, which is tied for last in the league with the
New York Giants
.
"Being a playmaker, you want to make plays whenever the ball is being thrown,'' said Bowe, who watched the game on TV at his home in Kansas City. "It was hard watching. I've seen myself making some of the plays that [weren't] made. If they happen again, I'll be out there to make those plays.
"I wish I could have been out there to help my team, but things happen and you move forward and you learn from them and you try to let it not happen again.''