September, 30, 2014
Sep 30
11:45
AM ET
KANSAS CITY, Mo. -- This shouldn't be surprising given the lopsided nature of Monday night's game between the Chiefs and Patriots, but Kansas City also crushed Boston in the TV ratings contest. Kansas City register a combined overnight rating of 43.7 while Boston's was 30.1. Combined rating includes the telecasts for both ESPN and the local station showing the game in each market.
The Kansas City number is a strong one and just another sign of the great sports time it is locally. Those of us who live in the Kansas City area or are otherwise fans of the local pro sports teams know how frustrating the last three decades have been for the Chiefs and baseball's Royals.
Maybe in the bigger picture, this time will just prove to be a couple of days of rain in a prolonged drought. So just enjoy the time for what it is. I know every Chiefs fan at Arrowhead Stadium on Monday night had to enjoy the 41-14 win over the Patriots. And Tuesday night's American League wild-card game between the Royals and
Oakland Athletics
at Kauffman Stadium, the first postseason baseball contest in Kansas City in 29 years, is something to savor regardless of the outcome.
September, 30, 2014
Sep 30
11:00
AM ET
A weekly look at what the
Kansas City Chiefs
must fix:
A two-play sequence from Monday night's game shows a defensive problem for the Kansas City Chiefs and how they can correct it in next week's game against the
San Francisco 49ers
.
The Chiefs are playing well against the pass, but their run defense has shown more than a few leaks. They allow 5 yards per opponent's rushing attempt, which ranks 27th in the NFL. They have allowed 15 running plays of 10 yards or more, the fifth-highest total in the league.
The Chiefs can improve by getting more physical with their opponents. Early in the second quarter on Monday night, inside linebacker
Josh Mauga
missed an attempted tackle on
New England Patriots
running back
Shane Vereen
. Vereen went on to gain 5 yards after Mauga had the chance to bring him down.
But on the next play, Mauga arrived with much more muscle. On third-and-2, Mauga wasn't in on the tackle but blew up the lead block by New England center
Bryan Stork
. With Stork out of the way, linebacker
Justin Houston
and nose tackle
Dontari Poe
were free to tackle Vereen for no gain. Poe had also played off a block, this one by guard
Cameron Fleming
.
The Patriots punted on the next play.
September, 30, 2014
Sep 30
9:23
AM ET
ESPN.com news services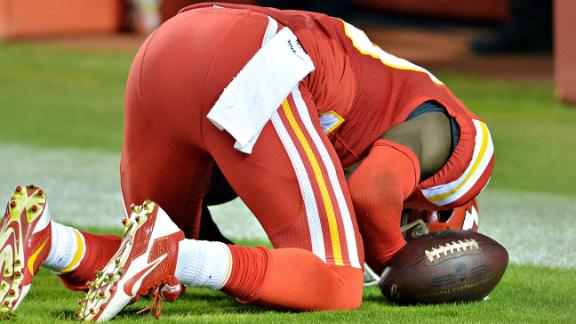 Husain Abdullah should not have received a 15-yard unsportsmanlike penalty after dropping to his knees and bowing in prayer following a 39-yard interception return for a touchdown during the Kansas City Chiefs' 41-14 victory over the New England Patriots on Monday night, the NFL said Tuesday.
According to Rule 12, Section 3, Article 1 (d), "Players are prohibited from engaging in any celebrations or demonstrations while on the ground."
"However, the officiating mechanic in this situation is not to flag a player who goes to the ground as part of religious expression, and as a result, there should have been no penalty on the play," NFL spokesman Michael Signora said.
Abdullah is a devout Muslim.
The Council on American-Islamic Relations, a civil liberties and advocacy organization, issued a statement early Tuesday asking that the NFL take steps in response to the penalty.
"To prevent the appearance of a double standard, we urge league officials to clarify the policy on prayer and recognize that the official made a mistake in this case," CAIR spokesman Ibrahim Hooper said.
After Monday's game, Abdullah told reporters that he thought the referees were flagging him for the slide, not prostrating in sajdah -- a common Muslim practice.
"For me, I just got a little too excited," Abdullah said, according to the Kansas City Star. "I think it was for the slide."
Chiefs coach Andy Reid acknowledged as much when Abdullah came to the sideline after his pick-six gave Kansas City a 41-7 lead early in the fourth quarter.
"He said, 'You can't slide,'" the sixth-year free safety said.
Abdullah played for the Minnesota Vikings
September, 30, 2014
Sep 30
7:30
AM ET
KANSAS CITY, Mo. -- The defense they unveiled in Monday night's victory is the one the
Kansas City Chiefs
envisioned they would have all along. It got after the
New England Patriots
quarterbacks, sacking them three times.
The Chiefs forced three turnovers, intercepting
Tom Brady
twice and making him lose a fumble. They converted one of those turnovers into a touchdown when safety
Husain Abdullah
returned an interception 39 yards for a score.
The Chiefs had been sacking opposing quarterbacks during the season's first three games, but the turnovers and the defensive touchdown were something new, at least in 2014. Turnovers and touchdowns were a key part of the Chiefs' defense last season when the Chiefs started 9-0, but they had been shut out of both categories this year until beating the Patriots 41-14.
"We have to keep that coming," Kansas City coach Andy Reid said. "That's a big part to the game.
"It's important that the defense creates turnovers so there's no complacency amongst the guys with just the three and they want to keep it coming."
Turnovers can be fickle, plentiful during some stretches and hard to come by during others. Perhaps the Patriots game starts a stretch of games that will see a flurry of turnovers.
If so, the Chiefs might have something going defensively. They are creeping up in the statistical rankings and are 11th in yards allowed and eighth in points per game.
If they can add some turnovers and touchdowns to the mix, so much the better.
"That's what we needed," nose tackle
Dontari Poe
said. "We've been preaching it all week: Turnovers, turnovers, turnovers. Not only that, but try to score on defense.
"We did it, so it was a good day."
September, 30, 2014
Sep 30
2:43
AM ET
September, 30, 2014
Sep 30
1:30
AM ET
KANSAS CITY, Mo. -- Andy Reid started rattling off the things the
Kansas City Chiefs
did well in their Monday night thrashing of the
New England Patriots
and didn't really know where to stop. There were that many things the Chiefs did well in their
41-14 victory
at Arrowhead Stadium.
Reid lingered a little longer in one area, and that was a pretty strong hint about his feelings. The Chiefs got 199 yards rushing, 28 more receiving, plus three touchdowns from running backs
Jamaal Charles
and
Knile Davis
, and this seemed to please Reid as much or more than anything.
"It's a heck of a thing to bring [Charles] off the bench as a relief pitcher," Reid said. "He's a pretty good player."
[+] Enlarge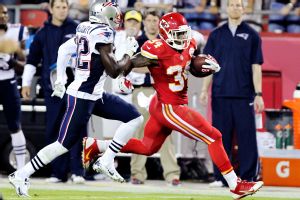 AP Photo/Ed ZurgaKnile Davis' 107 rushing yards against the Patriots included a 48-yard attempt.
Charles was technically the starter and Davis the reserve Monday night, but beyond that the lines were blurred. They both played a lot early in the game, a rotation the Chiefs haven't used since Davis joined the team as a third-round draft pick last year.
There was much to like about the results, with Davis rushing for 107 yards on 16 carries and Charles 92 yards on 18 carries. What may be more meaningful to the Chiefs than the stats was this: They got as much from Davis as they did Charles.
"We knew before the game started that I was going to get some reps and Knile was going to get some reps," Charles said. "Knile is starting to believe in himself. He's starting to feel comfortable, and I'm happy for him."
The two players complement each other. Both are fast and big-play threats. Charles had the three touchdowns Monday night (one rushing, two receiving), Davis a 48-yard run.
But Davis is bigger, more powerful and wears down a defense faster. Charles has the ability to make defenders miss.
The Chiefs can use them from varying formations, something that makes them difficult to defend.
"They're both explosive players," Reid said. "They're completely different players, but they're both explosive players. That makes my job easy. Just give them the ball."
A rotation also allows the Chiefs to keep both players fresh. Charles is remarkable in that he's only 200 pounds but has shown little sign that the tremendous physical burden he's carried in recent seasons is taking its toll.
Within each game, though, he's bound to be better in the fourth quarter when he's sharing the load with Davis.
"You can keep throwing fastballs at the defense," Reid said. "It allows you to have two fresh backs in the fourth quarter."
The key is that the Chiefs aren't losing effectiveness when Davis enters the game. He rushed for 132 yards last week in Miami and was every bit as devastating to the Patriots as Charles was on Monday night.
The Chiefs were able to get Davis involved early. So even before the game got out of hand, the Chiefs had two backs who were carving up a defense.
"I had a few carries early in the game so I was able to get into a rhythm early," Davis said. "We both feed off each other. When he's in, I know he's going to do his thing. When I'm in, I'm going to do my thing."
September, 30, 2014
Sep 30
12:29
AM ET
KANSAS CITY, Mo. -- Observed and heard in the locker room after the
Kansas City Chiefs
' 41-14 victory over New England:
Charles

Chiefs coach Andy Reid sounded almost as pleased the fans set the world record for crowd noise as he was about the victory: "I never thought I'd be fired up about decibel levels, but I am," he said.
Running back Jamaal Charles played for the first time in two weeks and played well, scoring three touchdowns. But he acknowledged afterward his injured ankle was sore. "I'm ready to get off it and ice it up," he said.
Donnie Avery has a strained groin, which could tax a thin wide receiver group if he can't play in Sunday's game against the 49ers in San Francisco.
September, 29, 2014
Sep 29
11:31
PM ET
By
ESPN Stats & Information
| ESPN.com
This one was a bit of a surprise.
The
Kansas City Chiefs
routed the
New England Patriots
41-14 on "Monday Night Football," the first time they've beaten the Patriots in a Monday Night game in four tries.
The Chiefs matched the most points scored against the Patriots under head coach Bill Belichick, done twice previously, in 2005 against the
Chargers
and 2012 against the
49ers
. It was the second-largest margin of defeat for Belichick as Patriots coach (they lost by 31 to the
Bills
in 2003).
Chiefs head coach Andy Reid won his 143rd game and tied Hall of Famer (and former Chiefs coach) Marv Levy for 20th all time in career wins.
How did the Chiefs do it? Here are the details.
Impact player: Jamaal Charles
After missing last week's game, Charles returned in a big way, with two touchdown catches and a touchdown run. Charles had 92 yards rushing, a hair fewer than
Knile Davis
' 96.
Charles has had a game with at least two touchdown receptions and a touchdown run in each of the past two seasons. From 1960 to 2012, only two Chiefs players did that in a game.
Charles has five games with multiple touchdowns in the past two seasons. Only
Jimmy Graham
of the
New Orleans Saints
has more in that span, with six.
Smith stars off play action
With Charles excelling, that helped Chiefs quarterback
Alex Smith
use play fakes effectively.
Smith was 10-for-11 for 120 yards and a touchdown to tight end
Travis Kelce
on his play-action passes.
Kelce outplaying Gronkowski
Smith went 8-for-9 for 93 yards when throwing to Kelce in this game.
Patriots tight end
Rob Gronkowski
had a touchdown grab as well, but the Patriots were trailing 41-7 when he got it, on only his second catch of the game.
Brady's struggles downfield
Tom Brady
was fine when keeping his passes short, but he was dreadful when looking down the field, as has been an issue throughout the season.
Brady went 13-for-16 when throwing the ball 10 yards or fewer downfield, but was 1-for-7 with two interceptions on throws of more than 10 yards in the air. In fact, he was 4-for-14 on throws of longer than 5 yards.
Brady entered the game with a 43 percent completion percentage on throws longer than 5 yards in the air.
Brady also struggled throwing to
Julian Edelman
. He completed 85 percent of his passes to Edelman in the first three games of the season but went only 3-for-8 in getting him the ball in this game.
September, 29, 2014
Sep 29
11:19
PM ET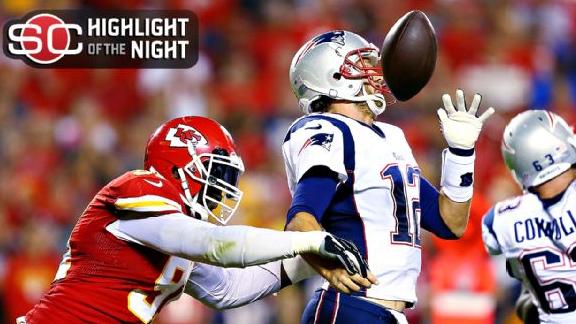 KANSAS CITY, Mo. -- A few thoughts on the
Kansas City Chiefs
' 41-14
win
over the
New England Patriots
at Arrowhead Stadium:
What it means:
The Chiefs pulled out of the hole they had put themselves in with their 0-2 start. They're now 2-2, but, perhaps more importantly, the way the Chiefs buried the Patriots makes it easy to see some real possibilities from their season. Their next two games are at San Francisco and at San Diego, but those games no longer look like insurmountable obstacles. If the Chiefs can just split them, they should be in good shape going forward.
Stock watch:
The Chiefs utilized
Jamaal Charles
and
Knile Davis
liberally in the same game for the first time, and the results were impressive. Each rushed for more than 90 yards and averaged 5 yards per carry. Charles also scored three touchdowns, two as a receiver. Safety
Husain Abdullah
returned an interception 39 yards for a touchdown. Tight end
Travis Kelce
led the Chiefs in receptions (eight) and receiving yardage (93). Quarterback
Alex Smith
was 20-of-26 for 248 yards and three touchdowns.
Turning them over, finally:
The Chiefs forced three turnovers, their first three of the season. Abdullah's interception return was the first defensive touchdown of the season for the Chiefs. Turnovers and defensive touchdowns were a key part of the Chiefs' 9-0 start last season. If they can get back to regularly forcing them, the Chiefs might have a good thing going on defense.
Game ball:
Chiefs fans were outstanding from start to finish. They were loud throughout but never more boisterous than in the second quarter,
when they set the new Guinness Book of World Records mark for crowd noise
at an outdoor stadium with a level of 142.2 decibels. It's a great time to be a Kansas City sports fan, as the
Royals
play their first playoff game in 29 years on Tuesday night.
What's next:
The Chiefs begin a two-game West Coast swing on Sunday with a game against the
49ers
at the new Levi's Stadium.