December, 22, 2014
Dec 22
7:30
AM ET
PITTSBURGH -- The 8-7
Kansas City Chiefs
no longer control their playoff fate. By losing to the
Pittsburgh Steelers
20-12 on Sunday, they forfeited their win-and-get-in destiny.
Now they need to beat the
San Diego Chargers
next Sunday at Arrowhead Stadium and get help from some of their friends around the league.
The Chiefs will make it to the postseason if in next week's games:
So while the formula is clear, the chances of all that happening aren't very good, even if the Chiefs take care of business against the Chargers.
Then again, the Chiefs have some history. They made the playoffs as a wild-card entrant in 2006 after a similar bunch of unlikely results came through for them.
December, 21, 2014
Dec 21
11:00
PM ET
PITTSBURGH – In a game in which
Pittsburgh Steelers
outside linebacker
James Harrison
delivered another turn-back-the-clock performance,
Stephon Tuitt
showed why he has such a promising future.
And why the future is now for the rookie defensive end.
Tuitt
Tuitt played the best game of his fledgling career Sunday afternoon as he recorded his first NFL sack and forced his first fumble in the Steelers' 20-12 victory over the
Kansas City Chiefs
.
The play on which the Chiefs committed the game's only turnover encapsulated why the Steelers have long thought they got a steal in the second round of the 2014 draft when they gleefully selected Tuitt.
The 6-foot-5, 303-pound Tuitt belted Chiefs Pro Bowl running back
Jamaal Charles
after a 3-yard catch and run, forcing a fumble that linebacker
Vince Williams
recovered. The turnover halted a Chiefs' third-quarter drive with the Steelers holding a tenuous 10-6 lead.
Steelers coach Mike Tomlin seemed just as excited as Tuitt, who is only 21 years old, after the latter flashed speed and great pursuit on one of the key plays of the game.
"The energy out there was great," said Tuitt, who recorded three tackles against the Chiefs. "The way we prepared during the week, we really knew that we were going to be able to do that today."
Tuitt has shown steady improvement while patiently biding his time. He did not receive significant snaps for much of the season but has emerged since
Brett Keisel
went down with a season-ending triceps injury.
Tuitt supplanted
Cam Thomas
as the starting left defensive end three games ago and the former Notre Dame standout is just now showing how good he can be with the Steelers poised to win their first AFC North title since 2010.
"We always used to tell him, 'Your time's coming. You just have to play your part,'" said left guard
Ramon Foster
, who practices regularly against Tuitt. "And now he's really showing it. I'm proud of the way he's playing so far. But he's got to get better because the season is just getting started. It's getting really hot now."
December, 21, 2014
Dec 21
8:00
PM ET
PITTSBURGH -- One of the key plays of the
Kansas City Chiefs
' 20-12
loss
to the
Pittsburgh Steelers
was a failed fourth-and-1 running play late in the first half. The Chiefs trailed 10-6 and faced the short-yardage situation at the Pittsburgh 12 with 27 seconds remaining.
Attempting a field goal that would have cut the deficit to one point would have made more sense, particularly considering the Chiefs were to receive the second-half kickoff. But the Chiefs sent
Jamaal Charles
into the line and the Steelers stuffed him for no gain, ending Kansas City's scoring opportunity.
Those three points would have allowed the Chiefs to be playing for a tie late in the game when they drove deep into Pittsburgh territory. Instead they trailed 20-9 before
Cairo Santos
tacked on a final field goal.
"Hindsight, you say we probably should have kicked it," coach Andy Reid said. "[But] we wanted to take advantage of the red zone. We had a pretty good idea what they were doing at that point. We've been down there and saw how they were operating so I figured we could get inches. It wasn't even a yard. It was about the length of the ball, if that. We were feeling good about it but we didn't get it.
"You want as many points as you can get. You do. You want to stay aggressive. That's what we do. When you've got that type of distance there you go get it. There's a certain mindset here that we've been working with the whole season, training camp included. When you're put in that situation, you strap it on and go get the thing."
December, 21, 2014
Dec 21
6:20
PM ET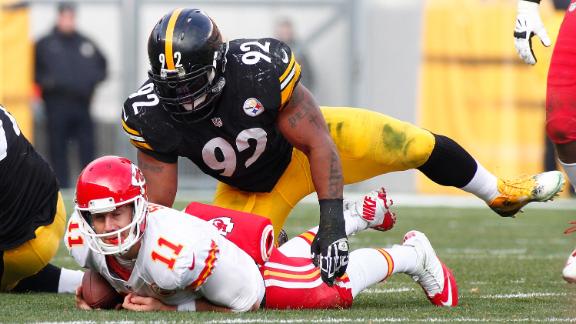 PITTSBURGH -- The best offensive player for the
Kansas City Chiefs
on Sunday was an undrafted rookie wide receiver who a month ago wasn't even a member of the playing rotation.
Nothing against
Albert Wilson
, who may have a bright future for the Chiefs. But they needed more if they were going to beat the
Pittsburgh Steelers
and maintain control of their playoff destiny.
But in the biggest game of their season, the Chiefs got little from a woeful offensive line,
Jamaal Charles
,
Travis Kelce
and
Dwayne Bowe
. They settled for four measly field goals and that wasn't going to get it done against one of the league's highest scoring teams.
The
Chiefs lost 20-12
and now not only need to beat the
San Diego Chargers
in next week's regular season finale at Arrowhead Stadium to get into the playoffs. They also are dependent on the kindness of strangers in the form of the
Cleveland Browns
,
Jacksonville Jaguars
and, perhaps,
New England Patriots
.
Those are the respective opponents of the
Baltimore Ravens
,
Houston Texans
and
Buffalo Bills
. A win by any of those teams knocks the Chiefs from playoff contention even if they beat the Chargers next weekend. The Chiefs wouldn't need a Buffalo defeat if the Bills lost their late game on Sunday against the Oakland Raiders.
"It completely changes things, for sure,'' said quarterback
Alex Smith
, acknowledging the 8-7 Chiefs now need help to get into the postseason. "We've got a lot of character inside our locker room and I don't think it will impact our preparation and how we go about things this week.''
The Chiefs are in this uncomfortable predicament because they could muster little offense beyond the four field goals from rookie
Cairo Santos
. Kansas City had been a good team at scoring touchdowns while inside the opponents' 20. It was second in the league heading into Sunday's game at 67.5 percent.
The Chiefs were prevented from scoring a touchdown for the first time in their two seasons with Andy Reid as coach and Smith as quarterback. The Steelers choked them off all four times inside the red zone.
It was yet another symptom of an offense that needs plenty more punch. Longer term, the Chiefs need to address their shortcoming of playmakers through free agency and the draft.
But it's too late for the Chiefs to do anything this season. Having a hapless offense endangers the Chiefs' chances of merely doing their part to make the playoffs and beating San Diego next week. The Chargers statistically don't have one of the NFL's best offensive teams but they were good enough Saturday night with their playoff hopes on the line to put up 38 points and beat the San Francisco 49ers.
The Chargers, like the Chiefs, need to win next weekend in order to make the playoffs. So they will, no doubt, empty their bag of offensive tricks next Sunday knowing if they can get the score beyond a certain point, the Chiefs won't be able to keep pace.
And what if the Chiefs do get into the playoffs? It seems ridiculous to suggest the Chiefs would be able to keep up with a scoring opponent like the Steelers or Colts.
The shame of it all is that the Chiefs' defense did its part to limit
Ben Roethlisberger
and the Pittsburgh offense. For the most part, the defense held up its end of things this season.
The Chiefs on Sunday, and their season from the looks of things, were crushed by the weight of balky offense.
December, 21, 2014
Dec 21
5:30
PM ET
PITTSBURGH -- Observed and heard in the locker room after the
Kansas City Chiefs
' 20-12 loss to the
Pittsburgh Steelers
at Heinz Field:
Charles

Running back Jamaal Charles traded jerseys with his Pittsburgh counterpart, Le'Veon Bell, on the field after the game. Charles walked into the locker room after the game without his jersey. But he was carrying Bell's black No. 26 jersey.
The Chiefs no longer control their destiny with regard to making the playoffs. They need to beat San Diego next week at Arrowhead Stadium and get help in the form of favorable results from other games. "It completely changes it, for sure,'' quarterback Alex Smith said.
Coach Andy Reid said the intent of the failed fourth-down play late in the first half was to score a touchdown and not just give the Chiefs a fresh set of downs. "That's what we were trying to do," Reid said.
December, 21, 2014
Dec 21
4:02
PM ET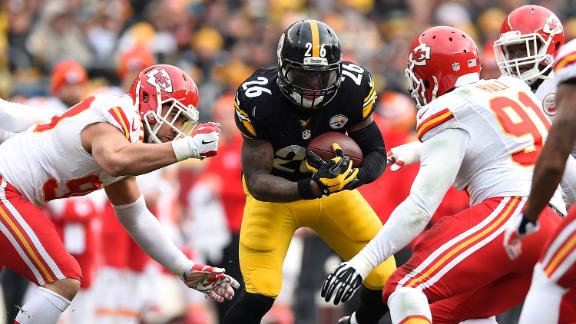 PITTSBURGH -- A few thoughts on the
Kansas City Chiefs
' 20-12
loss
to the
Pittsburgh Steelers
at Heinz Field:
What it means:
The Chiefs fell to 8-7 but stayed alive in the race for one of the AFC's wild-card spots after the
Houston Texans
beat the
Baltimore Ravens
. They'll have to win next week's regular-season finale and get some help in order to reach the postseason.
Stock watch:
The offensive line and particularly left tackle
Eric Fisher
and left guard
Jeff Linkenbach
had trouble protecting quarterback
Alex Smith
and failed to open even a tiny crease for
Jamaal Charles
on a fourth-and-short carry late in the first half. Charles was stuffed and failed to get the first down. The Chiefs entered the game with one of the NFL's worst run defenses but did a nice job against Pittsburgh's
Le'Veon Bell
. Rookie kicker
Cairo Santos
made each of his four field goal attempts. Charles lost a fumble in the third quarter when the Chiefs were in field goal range. That was his third lost fumble of the season, which is second among NFL running backs to
DeMarco Murray
of Dallas.
Reid got greedy:
Andy Reid had the Chiefs try for a first down on fourth-and-1 from the Pittsburgh 12 and trailing 10-6 late in the first half. The Chiefs were going to get the ball to start the second half, so a field goal would have made sense. But Charles was stuffed for no gain, and the Chiefs came away without any points where three would have helped. The Chiefs would have been playing for a tie rather than trailing by 11 on a late drive deep into Pittsburgh territory.
Game ball:
Wide receiver
Albert Wilson
, an undrafted rookie, was the Chiefs' best offensive player. He had five catches for 87 yards.
What's next:
The Chiefs finish the regular season next Sunday with a game against the
San Diego Chargers
at Arrowhead Stadium.
December, 20, 2014
Dec 20
9:00
AM ET
KANSAS CITY, Mo. -- Here is this week's edition of the
Kansas City Chiefs
mailbag. To ask a question for a future edition, send it to me via Twitter (@adamteicher) and tag it #ChiefsMail.
@adamteicher #chiefsmail Will Dontarie Poe make the pro bowl? - Paul Simoneau (@Chieftain58) December 12, 2014
@adamteicher: Nose tackle
Dontari Poe
could make the Pro Bowl, but whether he deserves it is another matter. Pro Football Focus has him rated 35th among 80 NFL nose or defensive tackles this season, so by that measure he shouldn't. That's just one rating, of course, but I don't think he has played as well as he did last year and hasn't had as big of an impact. That doesn't mean he won't make it. For what it's worth, he finished 10th among fan voting at his position for the Pro Bowl.
@adamteicher is there a scenario where the Chiefs beat Pittsburgh and lose to the Chargers. That they still make the playoffs? - Jacob Troshynski (@jake_tro) December 19, 2014
@adamteicher: Yes, the Chiefs can make the playoffs if they beat Pittsburgh on Sunday but lose to San Diego in the final regular season game. It involves Pittsburgh and Baltimore losing both of their remaining games. It also requires Houston to lose its final regular season game against Jacksonville and Buffalo to lose at least one of its remaining games. That would make the Chiefs 9-7 and the sixth and final AFC playoff seed. The Chiefs would hold tiebreakers over many other possible 9-7 teams (Pittsburgh, Miami, Buffalo).
@adamteicher ~ is this the week that DAT explodes with coming out party against the Steelers? With JC25 banged up a bit I think so - MAXIMUM, MBAF | CIS (@maxsch00) December 16, 2014
@adamteicher: It's difficult to ever predict an offensive breakthrough for rookie De'Anthony Thomas because he has such an irregular role. He's also small so the Chiefs have to be careful how much they utilize him on offense. They want him fresh for punt returns and you saw last week what kind of threat he is there. If
Jamaal Charles
is banged up and can't handle a full load on offense, I would think the Chiefs would turn to
Knile Davis
for relief there. But given the importance of this game, I think Charles will handle a full load.
@adamteicher do you expect to see more targets for Jason Avant this weekend? #ChiefsMail - Zippy (@WanderingFool7) December 19, 2014
@adamteicher: It's impossible to predict how much a certain player will get the ball in a given game. Way too many unknown variables there. But for a new guy Avant is certainly getting the ball a lot. He's third on the team in targets behind
Travis Kelce
and
Dwayne Bowe
in the three games since he joined the Chiefs so it's a reasonable expectation that Avant would be third among targets against the Steelers.
@adamteicher #ChiefsMail - Does Albert Wilson get the Chiefs WR corps off the schneid by catching not 1 but 2 TDs at the House of Ketchup!?! - FF Appraiser (@FFBallAppraiser) December 19, 2014
@adamteicher: I predict Avant will get the first touchdown of the season by a wide receiver. Bowe would be my second choice followed by Wilson.
@adamteicher Why is the Houston deal taking so long? Does the deal just get bigger the longer this goes?#ChiefsMail - jes scott (@jesscott1) December 19, 2014
@adamteicher: This is in reference to a new contract for linebacker
Justin Houston
. He appears headed for the franchise tag. Free agency doesn't start until March so the sides still have more than two months to get a deal done.
December, 19, 2014
Dec 19
5:30
PM ET
PITTSBURGH -- The
Pittsburgh Steelers
have allowed just one 100-yard rusher in their last six games.
[+] Enlarge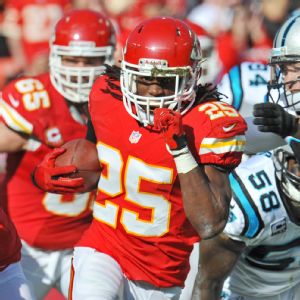 Peter Aiken/Getty ImagesThe Steelers' chances of a postseason berth will be favorable if they can stop the Chiefs' versatile Jamaal Charles.
If they extend that streak to seven they will likely secure the win that puts them back in the playoffs.
That is how much running back
Jamaal Charles
means to the
Kansas City Chiefs
.
"You name it he does it -- run, catch, short-yardage, goal line, two-minute," Chiefs quarterback
Alex Smith
said. "We ask a lot of him and he puts in a lot of time [with his] work ethic and takes it all on and does a great job with it."
Indeed, Charles became the Chiefs' all-time leading rusher earlier this season (6,773 yards) and he is averaging 5.52 yards per carry for his career. The 5-11, 199-pounder has battled various injuries this season but that hasn't stopped Charles from scoring 14 touchdowns, tied for first in the NFL.
He is also fourth in the AFC with 950 rushing yards and has caught 33 passes for 235 yards and five touchdowns.
Here is what the Steelers are saying about Charles:
Linebacker Lawrence Timmons:
"He runs great in between the tackles, catches the ball, has great contact balance. Definitely one of the most dangerous running backs in the league right now. With his speed he doesn't compare to any backs we've faced."
Outside linebacker Jason Worilds:
"A lot of people who have his skill set can't get to the second level. He has the ability to get to the second level and that's when his ability really shines. He has some wiggle and he runs a lot harder than his size would suggest."
Defensive coordinator Dick LeBeau:
"Always have had a lot of respect for him. He's dangerous and they don't have to block everybody. If they can just hold [blocks] for a little bit, he gets a little crease [and] he can do the rest. He's got a bunch of touchdowns but that's pretty much a routine regular year for him. He's a great back."
Outside linebacker James Harrison:
"He has good vision and he's fast as grease lighting. He can cut on a dime and he has the ability to go horizontal to vertical in just one step."
December, 19, 2014
Dec 19
3:45
PM ET
KANSAS CITY, Mo. -- Wide receiver
Dwayne Bowe
missed the entire practice week because of flu symptoms while linebacker
Tamba Hali
sat out on Friday for the second straight day because of a sore knee.
Bowe and Hali were listed as questionable for Sunday's game against the
Pittsburgh Steelers
on the final injury report of the week. But coach Andy Reid said he expected both players to be available to play.
Bowe leads the Chiefs' wide receivers in catches (51) and yards (667). He hasn't worked since last Sunday's game against the
Oakland Raiders
.
"He's taking in some fluids and trying to maintain those fluids,'' Reid said. "We'll just see how he does. He is making improvement.
"I think he's going to be ready to play.''
The Chiefs practiced indoors on artificial turf for the second straight day because of snow on the practice field. Hali worked on Wednesday when the Chiefs practiced outdoors and on grass.
Reid said Hali didn't practice on the artificial turf as a precaution, but that he would play against the Steelers.
Hali is second on the Chiefs with six sacks. He had one of his best games of the season last week with a sack and four quarterback pressures.
The Chiefs have 10 other players on their injury report, but they were all listed as probable for Sunday's game. This group includes running back
Jamaal Charles
(knee and ankle).