October, 20, 2014
Oct 20
4:35
PM ET
KANSAS CITY, Mo. -- Coach Andy Reid shared some interesting thoughts in a guest appearance on ESPN's "Mike and Mike" Monday on how the 3-3
Kansas City Chiefs
have developed this season. Reid suggested the Chiefs' difficult schedule was responsible for their rapid development.
"We've had a great schedule,'' Reid said. "We've got to play some really good football teams. We've got the Rams coming up. They had a huge win yesterday. Jeff [Fisher] has that group rolling there. You love that challenge.
"We welcome that. We've had that up to this point. We've come out on top on a couple of them and we've had our tail kicked in a couple of them but we're battling and learning and finding out about ourselves and we're getting better as we go.''
The Chiefs have had the most difficult schedule of any AFC team so far this season. Their six opponents have a cumulative winning percentage of 62, highest in the conference.
That changes beginning with next Sunday's game against 2-4 St. Louis at Arrowhead Stadium. The Chiefs' 10 remaining opponents have a collective winning percentage of 45, lowest in the AFC.
The Chiefs could be in position to gain some ground on their AFC West rivals over the final two months of the season.
This situation is the opposite of last year, when the Chiefs won their first nine games against one of the NFL's easiest schedules. But the Chiefs had things so easy that maybe their early schedule dumbed them down. Once they got into the difficult portion of their schedule, they lost six of eight, including the playoffs.
So maybe there's something to be said for Reid's theory.
October, 20, 2014
Oct 20
11:00
AM ET
SAN DIEGO --
Jamaal Charles
emerged from the
Kansas City Chiefs
' victorious locker room wearing a bow tie. It was a new look for Charles, but it was that kind of occasion.
The Chiefs had just beaten the
San Diego Chargers
23-20, the first Kansas City win at Qualcomm Stadium in Charles' seven-year NFL career.
Charles also broke the Chiefs' career record for rushing yardage. He had 95 yards, giving him 6,113 for his career. Priest Holmes, who had 6,070 yards, held the old record.
"Everybody was talking about it but I wasn't even worried about the record," Charles said. "I just wanted to go out there and play football."
It was fitting that Charles broke the record on his second-quarter touchdown run. The 16-yard play was more the brilliant work of Charles, who weaved through the San Diego defense, than great work on the part of his blockers.
That's something that coach Andy Reid alluded to in his postgame remarks.
"Jamaal does it play after play," Reid said. "He makes things happen."
Charles had to survive a vicious helmet to helmet hit at the end of the play from a former teammate,
Brandon Flowers
, on the play. Charles survived the collision. Flowers received a concussion and was soon done for the game.
"It could have happened on another moment but it happened on a special moment," Charles said. "I wanted it. It was the will of me getting into the end zone. Nothing was going to stop me from getting into the end zone."
Charles acknowledged to being relieved at having the record. That's not because it was that important but because he won't have to answer questions about it anymore.
He also has bigger, if probably unobtainable, goals in mind.
"Now that it's over with, I can just go out and think about other records to break," he said. "It's great to be the leading rusher for an organization but you've got guys like Barry Sanders and
Emmitt Smith
with 20,000 yards. That's something I wish to get to someday."
Charles is 77th on the NFL's all-time rushing list. Smith is the leader with 18,355 yards.
October, 20, 2014
Oct 20
7:30
AM ET
SAN DIEGO -- Rookie kicker
Cairo Santos
didn't just vindicate himself by making a 48-yard field goal in the final seconds to lift the
Kansas City Chiefs
to a 23-20 win over the
San Diego Chargers
on Sunday.
He also rewarded the Chiefs for their belief in him. The Chiefs decision to keep Santos, who was undrafted, instead of veteran
Ryan Succop
looked like a mistake early in the season. Santos missed two of his first four field goal attempts while Succop, now with the
Tennessee Titans
, made all four of his in his new team's season-opening win over the Chiefs.
[+] Enlarge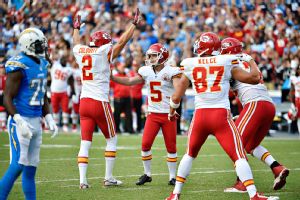 AP Photo/Denis PoroyAfter a rough start to his rookie season, Cairo Santos (5) has now made six straight field goal attempts.
But general manager John Dorsey never wavered.
"What he was in college was a model of consistency," Dorsey said. "He set the NCAA record for consecutive field goals. He's always been mentally tough. You go back and study the kickers. All the great ones started slow in their careers.
"He's young. He had to grow and that's what he's doing. This kick showed it."
Santos' streak of 26 successful field goals while in college at Tulane is actually the second-longest in NCAA history but that's a minor point. The bigger picture is that Santos, who made all three of his field goal tries on Sunday, is on a roll. He has made six straight field goal attempts.
He also succeeded where Succop failed last year, in the final moments of a game at Qualcomm Stadium. Succop missed a 41-yard field goal attempt that would have broken a tie. Instead, that game went to overtime and the Chiefs lost.
That bit of history wasn't lost on Santos. He said he watched that game last season on TV.
"I had a couple of (successful) kicks in a row now to build my confidence," he said when asked how he avoided the same San Diego fate as Succop. "This is how I've been kicking in training camp and the preseason."
The Chiefs' unwavering belief in Santos may have pulled him through his slump. As Dorsey indicated, it's not uncommon for established kickers to have a similar rough patch at some point early in their careers.
San Diego's
Nick Novak
once kicked for the Chiefs, who cut him after a prolonged slump. He's now made a franchise-record 31 straight field goals.
"The coaches and my teammates helped me a lot, telling me that I belong and that's why I'm here," Santos said. "Kickers go through those kind of hiccups.
"When I was going through the struggles, I got calls from guys like
Robbie Gould
. He was kind enough to give me a call out of nowhere and just shared he started his rookie season 3-for-6 and ended up having an OK year and look at the career he's had. Kickers go through that."
October, 19, 2014
Oct 19
9:32
PM ET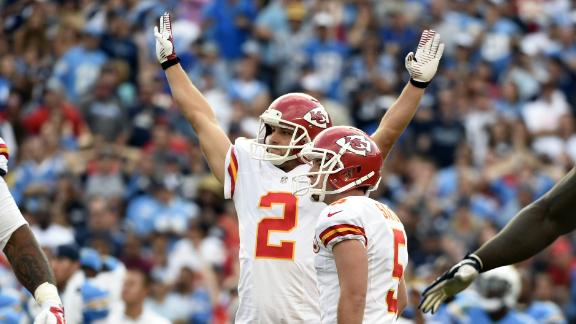 SAN DIEGO --
Dwayne Bowe
had an explanation for why the
Kansas City Chiefs
, after a long dry spell, finally made a two-minute drill work with coach Andy Reid and quarterback
Alex Smith
.
"Alex won two championships here and he knows the field,'' Bowe said jokingly.
Smith, a San Diego native, did win a pair of high school championships at Qualcomm Stadium, but otherwise the place has been cursed as far as the Chiefs are concerned. They hadn't beaten the
San Diego Chargers
at Qualcomm since 2007, when they were coached by Herm Edwards and quarterbacked by Damon Huard.
This time, in Smith's old haunt, the Chiefs went 62 yards in 1:36 and
beat the Chargers 23-20
on
Cairo Santos
' 48-yard field goal with 21 seconds remaining. The successful drive might have saved the Chiefs' season. They have overcome a rotten start to get to 3-3 with home games against the
St. Louis Rams
and
New York Jets
immediately ahead.
By taking care of business against a pair of sub-.500 opponents, the Chiefs can get to 5-3 at the season's midway point. After a start to their season that included a home loss to the dismal
Tennessee Titans
, a potentially overwhelming wave of injuries and four road games, the Chiefs would be elated with a 5-3 record.
But they couldn't get there without beating the Chargers and to do that, they would need a late scoring drive after the Chargers tied the game at 20-20 with 1:57 remaining.
The Chiefs had no reason to be confident. They failed in similar late-game situations this season in Denver and San Francisco. Then, they had been unable to get the ball to some of their better downfield receivers, most notably Bowe and tight end
Travis Kelce
.
The Chiefs had a little bit of good fortune this time in that they had their bye and two weeks to prepare for the Chargers. They made their two-minute drill an emphasis. Reid and Smith both gave credit to offensive coordinator Doug Pederson, who spent extra hours designing some plays that might, for a change, work.
"Doug did a great job of sitting down and looking at all our two-minute stuff even from last year and [figured out] what are our strengths and weaknesses and when we're doing well, what are we doing and putting those guys in those situations,'' Smith said.
One thing Pederson wanted Smith to do was get the ball to their better receivers. That's Bowe and Kelce. Bowe dropped a big third-down earlier in the game, but got open on the big play of the drive, a 19-yard pass from Smith. The Chiefs then fed the ball twice to Kelce with short passes and let him do what he does best, run with the ball in his hands.
Those were the only passes Smith would complete on the drive, which other than the result wasn't a thing of beauty. He was just 3-of-7 for 43 yards.
That doesn't mean the Chiefs will throw it back. They'll hold it tight and hope it spurs them on to bigger and better things this season.
"I think this team is in a good place mentally,'' Smith said. "I think we understood that coming into this game we were a couple of plays away from being 4-1 and we understood we didn't make those plays, though.
"It was a tough road game. Four of the first six were on the road. So I feel like we're in a good place to keep going.''
October, 19, 2014
Oct 19
8:40
PM ET
SAN DIEGO -- Observed and heard in the locker room after the
Kansas City Chiefs
' 23-20 win over the
San Diego Chargers
:
Dwayne Bowe had a theory on why the Chiefs finally made a two-minute drill work with coach Andy Reid and quarterback Alex Smith. "Alex won two championships and he knows the field," Bowe said jokingly. Smith played in high school in San Diego and some of his games were at Qualcomm Stadium.
The Chiefs clearly understood the importance of this victory. Chairman Clark Hunt and general manager John Dorsey had handshakes for everyone, including myself, on the elevator ride from the press box to the locker room.
Reid's teams are now 14-2 after the bye. But he broke a two-game post-bye losing streak with this victory, so he wasn't claiming that he has any post-bye secrets. "We didn't have a lot of magic [after the bye] the last couple of years," he said.
October, 19, 2014
Oct 19
7:09
PM ET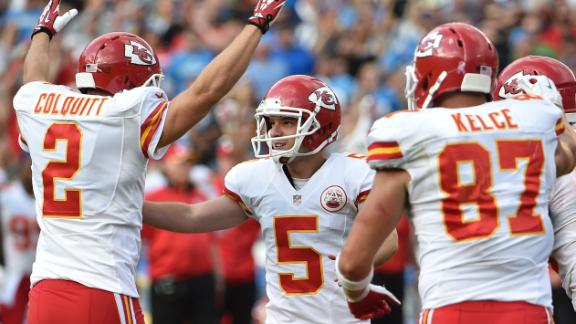 SAN DIEGO -- A few thoughts on the
Kansas City Chiefs
'
23-20
win over the
San Diego Chargers
at Qualcomm Stadium:
What it means:
The Chiefs claimed a road victory over a division rival at a most opportune time. They evened their record at 3-3, and with home games against the
St. Louis Rams
and
New York Jets
upcoming, they're looking at possibly being 5-3 at the season's midpoint. After losing at home in the opener to the
Tennessee Titans
, enduring a heavy dose of injuries and playing one of the league's most difficult schedules, the Chiefs would gladly take 5-3 halfway through.
Stock watch:
Wide receiver
Junior Hemingway
cost the Chiefs a big play late in the first half when he dropped a pass over the middle with plenty of room to run. Wide receiver
Dwayne Bowe
cost the Chiefs a first down on a second-half drive when he dropped a pass when he was beyond the first-down marker. Bowe came alive to make some big catches late in the game.
Charles gets record:
On his 16-yard touchdown run in the second quarter,
Jamaal Charles
broke the Chiefs' record for all-time rushing yards. The record had been held by Priest Holmes, who had 6,070 yards rushing in his Chiefs career.
Game ball:
Rookie kicker
Cairo Santos
made all three of his field goal attempts, including a 48-yarder with 21 seconds remaining that provided the winning points. The Chiefs kept Santos, an undrafted rookie from Tulane, in a controversial choice instead of veteran
Ryan Succop
. Santos earlier hit kicks from 28 and 40 yards.
What's next:
The Chiefs begin a stretch of two games at Arrowhead Stadium on Sunday when they play against the St. Louis Rams.
October, 18, 2014
Oct 18
9:00
AM ET
KANSAS CITY, Mo. -- Here is this week's edition of the
Kansas City Chiefs
mailbag. To ask a question for a future edition, send it to me via Twitter (@adamteicher) and tag it #ChiefsMail.
@adamteicher When do we start talking about Eric Berry being injury prone. Has missed over 25% of his starts. #ChiefsMail

— Jason Davis (@jtwd77) October 16, 2014
@adamteicher:
I see your point and it's a fair question to ask. Safety
Eric Berry
will miss his fourth straight game Sunday when the Chiefs play in San Diego against the Chargers. He has a high ankle sprain and those take time to heal. Berry was injured for the season in the opener in 2011. Otherwise, he's played in every game since joining the Chiefs except the season-ending game last year in San Diego, where the Chiefs rested many of their other starters, too. Still, missing 15 games in 2011 and at least another four this year isn't good. Those were both significant injuries. To me, a guy who's injury prone is one who gets something different each time he tries to play. Tony Moeaki was injury prone. Berry to me is more a victim of bad luck.
@adamteicher Flowers top 3 CB according to @PFF think Reid wants a do-over? Also why doesn't Kelce start over fasano? #chiefsmail

— chiefs fan (@58chiefsfan) October 16, 2014
@adamteicher:
I think maybe the Chiefs are a bit surprised with how well cornerback
Brandon Flowers
is playing for the Chargers this year. He didn't play well in the Chiefs' new defensive system last year and the Chiefs eventually released him. They might not have if they had known how well he was going to bounce back. I agree in that tight end
Travis Kelce
needs to play more. But
Anthony Fasano
is a solid player too. I think the best strategy is to use them both.
@adamteicher Does the pressure rise for the Chiefs w/ Sporting KC winning an MLS Cup & Royals getting to & possibly winning a World Series?

— Tyler Hoffman (@tylerbhoffman) October 16, 2014
@adamteicher:
As far as the
Kansas City Royals
go, I don't see how their success will have any impact one way or the other on the Chiefs. Kansas City is plenty big enough for both. As far as Sporting KC, I have a lot of respect for what that organization has built. It's come a long way from the Arrowhead Stadium roots. But it still has miles to go before it's on the same level with regard to fan interest as the Royals and Chiefs.
@adamteicher Will D. Bowe ever step up and be a true 1 WR in Andy's offense? #ChiefsMail

— Mr.Razor Sharp504 (@bigchiefB) October 16, 2014
@adamteicher:
Dwayne Bowe
has played almost a season and a half in Andy Reid's offensive system and the numbers aren't there yet. I don't know what could reasonably happen that would change that. One thing the Chiefs could do is better play to Bowe's strengths. His biggest in my opinion is his ability to run after the catch. He's big and runs strong and is tough to bring down in the open field. The Chiefs used to get him going like that early in his career with those bubble screens but they've gone away from that with him. So I think he's destined to be a secondary part of their offense.
@adamteicher Inquiring minds want to know do you think Reid will let our running back JC and Kniles touch the ball this week? #ChiefsMail

— Angelina Wright (@AngelinaAWright) October 17, 2014
@adamteicher:
It makes sense for the Chiefs to give the ball plenty to
Jamaal Charles
and
Knile Davis
. They're two of their best skill players. The Chiefs got away from that in the last game against the
San Francisco 49ers
because Reid didn't like the matchup against their defensive front. He should like the matchup against the
San Diego Chargers
much better. The Chargers are allowing a generous 4.7 yards per carry.
@adamteicher Adam, when will we see the return of Mike Catapano? What is his status?

— Addie Alexandria (@addibrown78) October 17, 2014
@adamteicher:
It won't be this year.
Mike Catapano
is on their injured-reserve list, meaning he's done for the season. He had that mysterious illness and I'm not sure the Chiefs know the exact nature of it to this day. I would expect he'll be ready to participate next year when offseason practice begins.
October, 17, 2014
Oct 17
2:30
PM ET
KANSAS CITY, Mo. --
Eric Berry
's return to the
Kansas City Chiefs
' lineup will have to wait at least another week.
Berry
The Chiefs ruled the three-time Pro Bowl safety out of Sunday's game against the Chargers in San Diego. Berry has a high ankle sprain and missed his second straight day of practice Friday as the Chiefs finished their on-field preparations for Sunday's game.
"He tried it the other day but he couldn't go," coach Andy Reid said. "He tried his heart out to get this thing right, and it's just not feeling right."
Berry hasn't played since injuring the ankle in a Week 2 loss to the
Denver Broncos
. He practiced for the first time since the injury on Monday and worked again on Wednesday. The Chiefs then shut him down for the remainder of their practice week.
Two other injured players, wide receiver
Donnie Avery
(sports hernia) and nickel back
Chris Owens
(knee) also will not play against the Chargers.
October, 17, 2014
Oct 17
1:00
PM ET
KANSAS CITY, Mo. -- I'm tempted to go with the
Kansas City Chiefs
in Sunday's game at the
San Diego Chargers
. But one thing is scaring me away.
Opposing quarterbacks have a slick 97.0 passer rating against Kansas City, and in
Philip Rivers
, the Chiefs are facing the league leader at 117.6. The Chiefs have greatly cut down on the number of pass plays they've allowed of 20 yards or more, but opposing passing attacks have still been able to flourish by throwing for nine touchdowns and just two interceptions.
The inability to come up with turnovers is hurting the Chiefs. They've forced just three turnovers and all happened in one game, last month's Monday night victory over the
New England Patriots
. The Chiefs are ranked No. 26 in the NFL with an interception percentage of 1.3. Their offense figures to need some short fields against a stout San Diego defense in order to score some points.
But Rivers, who has thrown just two interceptions and is sixth in the league with an interception percentage of 1.0, may not throw any against this defense.
My prediction: Chargers 27, Chiefs 20.
October, 17, 2014
Oct 17
1:00
PM ET
The
San Diego Chargers
are still short-handed, with several front-line players nursing injuries. At some point that is going to catch up them. San Diego faces a solid
Kansas City Chiefs
team playing well coming out of their bye week, so they will be well-rested.
Kansas City's Andy Reid is one of the best coaches in the NFL at devising innovative schemes to give his team an advantage, and he's had two weeks to prepare. The Chiefs do a good job of running the football with
Jamaal Charles
and
Knile Davis
, and the Chargers struggled to defend the run last week against Oakland.
The Chiefs will figure out a way to bottle up
Branden Oliver
and put enough pressure on
Philip Rivers
to get him off of the field on third down. The Chiefs are No. 4 in the NFL in third-down defense (34.4 percent).
These games between the Chargers and Chiefs are usually close, with four of the last six games decided by three points or fewer. We'll see another close one on Sunday. But after winning five straight, San Diego hits a bump in the road.
My prediction:
Chiefs 24, Chargers 23
October, 17, 2014
Oct 17
11:00
AM ET
KANSAS CITY, Mo. – The
Kansas City Chiefs
have been missing four defensive starters because of injuries since early in the season, so they needed help from unexpected places to keep things from collapsing on that side of the ball.
One player who has done that is end
Allen Bailey
. Mostly a situational pass rusher in his first three seasons with the Chiefs, Bailey is not only a starter but doesn't come out of the lineup much. He has played almost as many snaps this season as Pro Bowl nose tackle
Dontari Poe
.
Bailey
"He made a big jump a year ago I thought in football and knowing what's going on,'' defensive coordinator Bob Sutton said of Bailey. "He's obviously a very gifted guy athletically. He could play 80 plays a week and never get tired. He and Poe are very similar that way. Where's he's started to develop is he's getting all the other things that come really from just playing. The last two years is the first time he's really played a lot of snaps and this year obviously he's playing almost all the snaps.''
The Chiefs lost starting end
Tyson Jackson
during the offseason as a free agent but signed
Vance Walker
as his replacement. Bailey instead won the starting job and is now playing well enough that he has a strong grasp on it.
The Chiefs have played most of the season without the other regular starting end,
Mike DeVito
. He ruptured his Achilles tendon in the season opener and is out for the season.
Though Bailey isn't DeVito's replacement, his solid play has eased the loss. Bailey has 2.5 sacks, putting him on a pace for more than 7.5 for the season. That would be the highest total for a Chiefs defensive lineman since
Jared Allen
had 15.5 in 2007.
"One of the things that's really great for us is that those two inside guys can make plays for us chasing things down,'' Sutton said of Bailey and Poe. "That doesn't happen a lot. A lot of times you're not fortunate enough to have that kind of player. You maybe have a big, sturdy guy in there who maybe can't make the plays outside. These two guys can chase screen plays down, wide plays, and they really help your defense.''
Bailey is in the final season of the contract he signed with the Chiefs as a third-round draft pick in 2011. He's playing well enough to deserve a new contract from the Chiefs at the end of the season.
October, 17, 2014
Oct 17
10:00
AM ET
SAN DIEGO -- Qualcomm Stadium serves as familiar surroundings for
Kansas City Chiefs
quarterback
Alex Smith
.
Smith
He grew up watching and attending San Diego Chargers games. And with the help of high school teammate
Reggie Bush
, the San Diego native led Helix High School to two San Diego California Interscholastic Federation section championships played at Qualcomm Stadium.
Smith also led Utah to a win over San Diego State at Qualcomm Stadium in his final year in college.
But as a pro, Smith is 0-2 at Qualcomm, losing in 2006 and 2010 to the Chargers as the quarterback and No. 1 overall pick of the
San Francisco 49ers
in the 2005 draft.
Smith will play in Qualcomm Stadium as a member of the Chiefs for the first time Sunday. He did not play last year's final regular-season game because Andy Reid chose to rest his starters in preparation for the playoffs, a game in which San Diego escaped with a 27-24 victory to advance to the postseason.
Smith, 30, said he's looking forward to playing at Qualcomm again.
"Of course, growing up there in your hometown and going back," Smith said. "But I haven't thought a lot about that. To be honest, I kind of got my hands full with this film, and obviously getting ready to play a pretty good team."
Last year, the Chiefs made a trade with the 49ers to obtain Smith and serve as the team's franchise quarterback. And prior to this season, he signed a four-year, $68 million contract extension in the hopes of becoming the long-term solution at quarterback.
So far, he's lived up to the lofty expectations, leading the Chiefs to the playoffs in 2013 and making the Pro Bowl for the first time in his 10-year NFL career.
After a slow start this season, in which he struggled in losses against Tennessee and Denver, Smith has led Kansas City to two wins in its past three games.
"He's the perfect guy for that scheme," former Kansas City cornerback
Brandon Flowers
said. "He's a guy who's not going to turn the ball over. He's going to make all of the smart throws. He gets the ball out of his hands quick. He's not going to take sacks.
"He's the type of quarterback a lot of offensive coordinators would love to have in their system."
Growing up in San Diego, Smith said that Chargers quarterback
Philip Rivers
was someone he studied.
"It's always fun to go against Philip," Smith said. "He's such a competitor, having gotten to know him. He's a good guy. I've always watched him. In the NFL you watch a lot of offense and opponents' film. And certainly, he's a guy who I appreciate how he goes about his game, and I think [he's] one of the best there is from inside the pocket."
Facing Smith breaks a streak of four straight weeks in which San Diego's defense played against first or second-year quarterbacks. The Chargers won all four of those games, but defensive coordinator John Pagano will face a different challenge in game-planning for an experienced and mobile quarterback in Smith.
"It's about us going out and executing," Pagano said. "It's about us doing what we have to do as a defensive unit. They are explosive, and Alex is playing at a high level. He's confident in his throws.
"You hear all the things about him managing the game, and then you put the tape on, and you see how his completion percentage is up there, not a lot of interceptions, and he's putting it where they need to catch it. From an experience standpoint, I think this is one of the most explosive offenses. The weapons they have across the board it is a tremendous challenge."