March, 4, 2015
Mar 4
11:00
AM ET
KANSAS CITY, Mo. -- The 2014 NFL draft included 33 wide receivers. And, the class set enough records in their rookie season to warrant documentary talk from at least one GM.
"Last year's class was probably really, really good,"
St. Louis Rams
general manager Les Snead said. "They'll probably do a 30-for-30 on those guys."
The good news for teams like the
Kansas City Chiefs
who are looking for receiving help is that it might take all of a year for a group as good or better to come along.
[+] Enlarge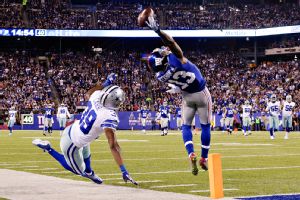 AP Photo/Julio CortezReceivers drafted in 2014, including Odell Beckham Jr. of the Giants, combined last season for 814 catches, 10,547 yards, and 82 receiving TDs.
"You're probably going to have 35 to 40 (wide receivers) drafted this year," ESPN draft analyst Mel Kiper Jr. said. "It's a strong group. There are some really underrated guys, under-the-radar guys.
"This is a really good group of wide receivers. There's a lot of depth into the late rounds."
Drafted wide receivers combined last season for 814 catches, 10,547 yards and 82 receiving touchdowns. Those totals are all higher than for any rookie wide receiver class in the common draft era, which began in 1968.
It certainly doesn't look like a coincidence that another strong group of receivers is coming in on its heels.
"I think the college game has really helped," Chiefs coach Andy Reid said. "It's helped because they're throwing the football more, and these guys are having more opportunity to run the routes that we run and go against these different coverages that are little bit more sophisticated at the college level, and have to make adjustments on those coverages. I think from a quarterback's standpoint, tight ends and wide receivers, it's a beautiful thing."
Wideouts in college were once primarily blockers in the running game. Even when teams did throw, the passing games and routes were often primitive compared to what the NFL offered, and that set back the development of receivers.
Now, some college offensive systems are as sophisticated as anything the NFL has to offer. College teams are spreading the field and throwing plenty.
"
Bryce Petty
threw (831) passes the last two years at Baylor," Kiper Jr. said. "Two years, (831) attempts. These guys are throwing the ball all over the lot."
Somebody has to run the routes and make the catches. They're moving on in big numbers to become productive NFL players.
Last season,
Odell Beckham Jr
. of the
New York Giants
finished in the top 10 in catches, yards, and receiving touchdowns despite missing four games with injuries. Miami's
Jarvis Landry
, Carolina's
Kelvin Benjamin
, Tampa Bay's
Mike Evans
, Philadelphia's
Jordan Matthews
, Buffalo's
Sammy Watkins
, New Orleans'
Brandin Cooks
, and Jacksonville's
Allen Hurns
were rookies who caught at least 50 passes.
This year's names to know include West Virginia's
Kevin White
, Alabama's
Amari Cooper
and Louisville's
Devante Parker
. The Chiefs, picking 18th, won't have a shot at any of those receivers unless they trade up.
"If he slides into that seven, eight, nine spot, I'd move up to get him," Kiper Jr. said of Cooper. "Or if you want to move to get Devante Parker, be active. I remember when the 49ers got Jerry Rice. Jerry Rice at that particular point had slid down, and they got him at 15 but they moved up to get him."
But by waiting even into a later round, odds are the Chiefs could get someone with plenty of potential.
"Colleges are producing a lot of receivers right now, which is good for our league,"
San Diego Chargers
general manager Tom Telesco said. "Each year is different. To me, what last year's receiving class did has nothing to do with this year's class. But I would agree with you. This is a very good class of receivers.
"It may be that so many (college) teams run spread offenses and throw the ball so much (but) we're seeing more receivers at this level much more polished. Most of these kids through high school, they have seven-on-seven camps in the summer time. In college these receivers have been running routes, and a lot of routes, for a long time. It's a repetition game.
"Maybe we're starting to see some of that at this level. It would be back-to-back years that there has really been a deep receiver group. I'm not just talking first round, but really all the way through the draft."
Expect more deep receiver classes as long as the passing game is so prevalent in the college game.
"The way high school football is going, college football's going, there's a lot more passing of the football," Snead said. "So I think the development of wide receivers, I think coaches put some of their best athletes, at a young age, running routes and catching balls. So that's probably the evolution that you're seeing."