October, 24, 2014
Oct 24
7:45
AM ET
KANSAS CITY, Mo. -- With the NFL's trade deadline next week, I'm getting a lot of questions asking whether the
Kansas City Chiefs
should trade their backup quarterback,
Chase Daniel
or acquire either of two veteran receivers, Tampa Bay's
Vincent Jackson
and Buffalo's
Mike Williams
. My answers:
Daniel
Chiefs should not trade Daniel:
Despite their 3-3 record, the Chiefs have a pretty good thing going. They've played one of the NFL's toughest schedules so far but have one of the easiest remaining slates. They've got a significant chance to make the playoffs and, if they get there, win a postseason game for the first time in 21 years.
They shouldn't weaken their roster without getting a significant return. Trading Daniel would weaken the roster. The Chiefs know Daniel can come in and win a game, or more than one, for them. He played well in his one start last season, well enough that he deserved to be the winning quarterback. He's far more advanced at this point than their other quarterback,
Aaron Murray
, a developmental prospect. By trading Daniel, the Chiefs would be betting their season that
Alex Smith
will stay healthy for the duration. Sending Daniel away would make sense only if the return was overwhelming.
Chiefs should not trade for Jackson or Williams:
Jackson would look good in a Chiefs uniform. He's just not practical. He'll be 32 in January. Buyers should be aware of receivers at that age. He also makes a salary of $10 million this year and about $10 million in each of the next two seasons. So the Chiefs would have a large chunk of their salary cap tied up in two over-30 wide receivers, Jackson and
Dwayne Bowe
. That's a one-way ticket to salary-cap purgatory. Prying him out of Tampa Bay would require a decent draft pick, so this would be an expensive purchase in more ways than one.
Williams carries red flags. Tampa Bay gave up on him and now the Bills have benched him, so he may not be any better than the receivers they have now. His contract is also problematic. His base salaries of $1.6 million this year and $5.2 million in 2015 are fully guaranteed.
October, 23, 2014
Oct 23
4:05
PM ET
KANSAS CITY, Mo. – The
Kansas City Chiefs
last year set an NFL record for kickoff return average and scored two touchdowns on kickoff returns. This year, they're near the bottom of the league in return average and their longest return is a feeble 37 yards.
"We're a little bit disappointed right now," special teams coordinator Dave Toub said. "We've had some breakdowns. It's one guy here, one guy there. We just haven't been able to pop one yet. It's a long season. We're just going to keep plugging away and eventually they'll start coming, hopefully sooner rather than later."
Davis
The Chiefs should be better in this particular phase. They've built the bottom of their roster with an eye on special teams, keeping backups such as running back
Cyrus Gray
and linebacker
Jerry Franklin
because of their value in the kicking game. Their main returner,
Knile Davis
, averaged more than 32 yards per chance last year and had a 108-yard touchdown.
Davis has started a lot of his returns from deep in the end zone, when he might be better off taking a touchback. But he's only doing what Toub has coached him to do.
"They're doing everything we're coaching them to do," Toub said, speaking of Davis and the alternate returners. "We still want to be aggressive coming out with the ball. That's not going to change. We just have to do a better job of blocking. It's not the returners. It's the blockers up front [not] giving those guys a chance to get started."
The Chiefs have had to shuffle some players on special teams because of injuries and that hasn't helped the kickoff-return efforts. But despite having to utilize some different players, the Chiefs still excel in some phases of the kicking game. They've been good at returning punts and great at covering them.
The pieces are in place for the Chiefs to move into one of those categories on kickoff return. It's important they do. The Chiefs don't have a big-play offense. They could use the points and field position that kickoff returns are capable of providing.
October, 23, 2014
Oct 23
11:00
AM ET
KANSAS CITY, Mo. -- Placed next to the Super Bowl XXXIV trophy at team headquarters in suburban St. Louis sits an award presented by Missouri Gov. Jay Nixon after the Rams beat the
Kansas City Chiefs
in a 2012 preseason game, the last meeting between the teams.
"I'm actually more fond of the Governor's Cup trophy than I am of the Super Bowl trophy," Rams coach Jeff Fisher said.
Fisher's sentiment is understandable. He coached the losing team in Super Bowl XXXIV, the
Tennessee Titans
. But nobody else shares that thought.
[+] Enlarge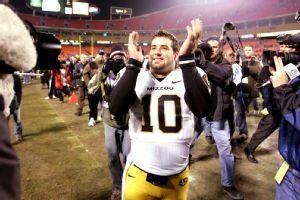 Albert Dickson/Sporting News/Getty ImagesFormer Missouri QB Chase Daniel, now a backup with the Chiefs, says not playing every season lessens the impact of the Chiefs-Rams rivalry.
To most everyone else involved, players and fans from both sides, the Governor's Cup, presented whenever the NFL football teams from Kansas City and St. Louis face one another, is just a meaningless piece of hardware.
Though the Rams and their backers get worked up about games with Seattle, San Francisco and Arizona, and the Chiefs look forward to their AFC West rivalries, this Missouri battle is just another game.
"When I was in college, there was never a rivalry," said
Chase Daniel
, a former Missouri quarterback who now backs up
Alex Smith
with the Chiefs. "We don't play each other every year. We play every third or fourth year. We're both just trying to win.
"It would have been pretty cool actually if (the Royals and Cardinals) were playing in the World Series. But it didn't work out like that."
The teams have tried to kindle a rivalry by playing most years during the preseason. For various reasons the teams haven't met during the summer for the past two years, and nobody seemed to care.
The 3-3 Chiefs and 2-4 Rams will play for real on Sunday at Arrowhead Stadium, but there is little buzz about the game other than each team needing a victory to stay relevant in its respective playoff race.
"Anytime you have two teams in the same state, you'd think you'd have a little bit of intensity in that," Rams linebacker
James Laurinaitis
said. "You'd think there would be a lot of bragging rights for everybody in between, especially with both cities on the border (of Missouri). There's a whole lot of space in between there. You'd think it would be more heated.
"As players, we're plenty motivated. But I really don't get the sense from the fans ... not as many people try to hit you up on Twitter about this one as they do the Niners and Seahawks rivalries."
When the teams have played during the regular season, the series hasn't been competitive. The Chiefs are 5-0 against the Rams since they moved from Los Angeles in 1995. The smallest margin of victory was eight points in 1997. The Chiefs won 54-34 in 2000 and 49-10 in 2002.
That can explain some of the apathy. So can the distance between the cities, about 250 miles.
The biggest reason is the teams play in separate conferences. Laurinaitis played in college at Ohio State, where he had a good view of the rivalry between the Bengals and Browns. Cincinnati and Cleveland are also separated by about 250 miles, but because the teams meet twice each season as members of the AFC North, their rivalry goes well beyond that of the Chiefs and Rams.
"It was great," Laurinaitis said. "It was one or the other. In between there, there was no 'Oh, gosh, if they're not playing each other I'm rooting for both of them.' There's none of that. If you're a Browns fan, you want the Bengals to lose all the time and vice versa. It was very heated in the state of Ohio between those two franchises. They were in the same division as well. I think that had a lot to do with it."
The winner of Sunday's game gets custody of the Governor's Cup until the next meeting between the Chiefs and Rams. Each team wants possession, though that has far more to with winning a game than beating an in-state rival.
"The trophy's downstairs and I was advised it needs to remain downstairs," Fisher said. "We're going to work hard at that this week."
October, 23, 2014
Oct 23
8:00
AM ET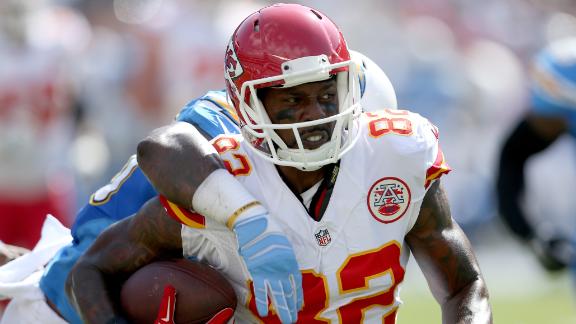 The 3-3
Kansas City Chiefs
and 2-4
St. Louis Rams
, both coming off big divisional victories, meet for the Governor's Cup this Sunday at Arrowhead Stadium. The Chiefs won in San Diego for the first time in seven years last week when they beat the Chargers 23-20. The Rams, after losing 16 of their past 18 games to Seattle, beat the Seahawks 28-26 in St. Louis.
Here, ESPN Chiefs reporter Adam Teicher and Rams reporter Nick Wagoner discuss Sunday's game.
Teicher:
Nick, big win for the Rams last week, but they obviously put a lot into that game, and I wonder how much they'll have in the tank for this week's game, at least from an emotional standpoint. How do you think the Rams will respond against the Chiefs?
Wagoner:
The Rams do and have lacked a lot of things this year, but in a general sense, effort and enthusiasm have been pretty constant. The only time they looked wholly unprepared was the beginning of their loss to Philadelphia, and even then they came back and had a late possession with a chance to win the game. The stunning thing was that one came out of the bye week. The Rams under Jeff Fisher have been a mixed bag. In 2012, they were great against NFC West division foes and not good outside the division. Last year was the opposite. This year, they haven't really had enough of a sample size to determine either way. But they went on the road and blasted Indianapolis a year ago, and they might have another performance like that in them. That's not to say it will come against the Chiefs, but the Rams under Fisher seem to find a game or two a year in which they play way above their means. It should also help them to get back on a normal schedule this week (St. Louis played last Monday night) and potentially get some guys healthy in the secondary.
I suppose I can simply redirect a similar question to you, but with the addendum that the Chiefs' win was probably more expected than the Rams', though they were on the road. The Chiefs seem to be getting some momentum, anyway, and have won three of their past four. What's been the key to getting it going a bit?
Teicher:
It's true the Chiefs put a lot into beating the Chargers. They had to win that game to stay relevant in the playoff race. Since they were coming off their bye, they had two weeks to rest and emphasize that game. But the Chiefs didn't play much better in San Diego than they had in the previous several weeks. The Chiefs actually picked up their game starting with the Week 2 game against Denver. Ever since their miserable game against Tennessee to open the season, they've played fairly consistently. So, it's the Titans game that stands out among their six this season. The Chiefs looked lost, unprepared to play. But that hasn't happened since.
Give me a scouting report on Rams quarterback
Austin Davis
. What are his strengths and weaknesses?
Wagoner:
Davis has mostly been a pleasant surprise, especially for a guy who didn't look like he had a chance to make the roster entering training camp. His teammates love his fire and enthusiasm, something that
Sam Bradford
didn't really bring to the table. One thing I like about him is you can see noticeable progress and improvement each week. For example, he found himself taking too many deep shots against San Francisco two weeks ago, missing easy, open completions underneath. So last week he took what the defense gave him, and though he averaged only 5.5 yards per completion, he had just three incompletions on his 21 attempts. And all of those short passes opened things up for him to make plays when the Rams needed him to at the end of the game. His mission now will be to find a healthy balance between taking shots and settling for checkdowns, but it's encouraging that he's able to notice something he needs to work on, be honest about it and then take steps to fix it. As for weaknesses, he's had a tendency to make a bad throw or two every week that turns into an instant six points for the opponent. Turnovers have been a serious issue for him, though he didn't have any against the Seahawks. He's got a good-but-not-great arm, and he sometimes gets caught locking onto a receiver without going through progressions. He's made strides in that area, but there's still work to do. But honestly, as third-string quarterbacks go, you can't ask for much more from Davis.
Sticking with the quarterback theme, the last time the Rams saw
Alex Smith
, they were knocking him out of a game in San Francisco in what became the official changing of the guard to
Colin Kaepernick
. That was in 2012. Since he's been in Kansas City, obviously he's become a key part of what they do. In what ways does he fit with what Andy Reid wants to do, and do you believe he's the right guy for the long term?
Teicher:
Smith isn't the most talented quarterback around, but he does fit well with what Reid is looking for. He is a mostly accurate passer who is mobile enough to frequently get out of trouble and extend a play either with a throw or run. Smith also has the intangibles that Reid likes. He's liked and well-respected in the locker room. As for the long-term, Smith might not be the quarterback who will ever lead the Chiefs to a Super Bowl victory. But better alternatives will be difficult to find, and the Chiefs committed to Smith for the foreseeable future when they gave him a new contract. For the time being, they seem content to coach him up, make him the best player he can be and then build the rest of the roster around him.
Robert Quinn
had 19 sacks for the Rams last year but has only one so far this season. The Rams as a whole have just four. What have opponents done to counter Quinn in particular and the Rams' pass rush in general?
Wagoner:
Well, the first thing they've done is not throw the ball much. In the first four games, the Rams were seeing almost nothing in terms of pass attempts against. That was partially because they couldn't stop the run and teams had no desire to take a risk throwing against the Rams' pass rush when they could hand it off and move the chains. Beyond that, teams have also been getting the ball out as quickly as possible. The Rams are now seeing the ninth-fastest release in terms of average time teams are taking to get the ball out, but that number has dipped a bit the past two weeks. San Francisco and Seattle had little success running the ball in traditional ways (with running backs), and that forced those teams to pass. The results haven't been pretty for the Rams, as they've allowed 656 passing yards in the past two games, so they can probably expect to see teams throwing it around a little bit more moving forward. That should create more pass-rush opportunities. They had three sacks in a span of five plays against the Seahawks and were in
Russell Wilson
's face for most of the day. The hope is that production will give them something to build on moving forward.
The Chiefs got off to such a great start in 2013 because of what they were getting done defensively, particularly in the pass rush. They again rank near the top in sacks per dropback. While the Rams have struggled to maintain their pass rush of a year ago, the Chiefs seem to keep the beat going. How do they do it, and has anything changed in terms of scheme or approach from a year ago?
Teicher:
The Chiefs are actually blitzing less than they did last year. They have for the most part been getting the job done with their two edge pass-rushers,
Justin Houston
and
Tamba Hali
, and their inside rushers,
Dontari Poe
and
Allen Bailey
. They've cut back greatly on the exotic blitzes they showed last year. While they haven't been vanilla in their approach, they've more often been able to get pressure with skill than with scheme. The biggest change in the defense is that they're giving up far fewer big pass plays than they did last year. One reason is that they've reduced their blitzing. But the safeties have also played well, much better than last season. One cornerback,
Sean Smith
, is also having a better season.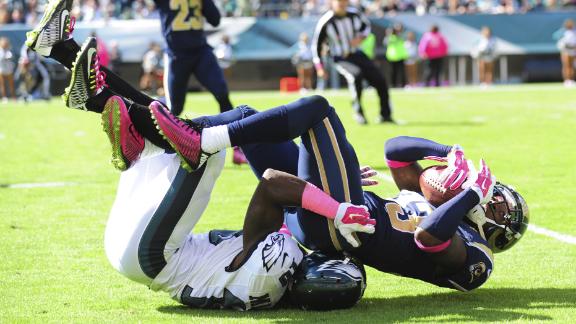 October, 22, 2014
Oct 22
4:15
PM ET
KANSAS CITY, Mo. -- The last time quarterback
Alex Smith
played against the
St. Louis Rams
, in 2012, his career took an abrupt turn. He received the concussion that kept him out of the
San Francisco 49ers
lineup and gave his team the excuse to bench him permanently in favor of
Colin Kaepernick
.
That precipitated last year's trade that sent him to the
Kansas City Chiefs
, where Smith is now the starter and will face the Rams again on Sunday at Arrowhead Stadium.
The game is another in a reunion tour of sorts for Smith. The Chiefs played in San Francisco three weeks ago. They met the Chargers last week in San Diego, Smith's hometown.
Now it's a more painful memory. Smith after a running play fell awkwardly and was hit in the back of the head by St. Louis linebacker Jo-Lonn Dunbar. That was, other than a lone pass attempt in a meaningless game at the end of the season against Arizona, for all intents ahnd the end of Smith's San Francisco career.
Smith was reluctant this week to speculate where his career might be now if not for the concussion. He merely said, "I remember the game, remember it well."
His benching and replacement with Kaepernick was probably inevitable. The 49ers had drafted Kaepernick a year earlier and he was bound to eventually become a starter.
Smith's injury gave the 49ers their reason. Not surprisingly, Smith since joining the Chiefs has shown an affinity for the feet-first slide when he runs. Otherwise,
Chase Daniel
could get a promotion like Kaepernick did in San Francisco
"You get a little bit smarter," Smith said. "Whether you like it or not, you're a quarterback and you're a target and you get outside the pocket some of the rules that are there to protect you go away. So it's [about] being smart with it, being smart, understanding situations and for the most part protecting yourself when you do get outside the pocket."
October, 22, 2014
Oct 22
1:18
PM ET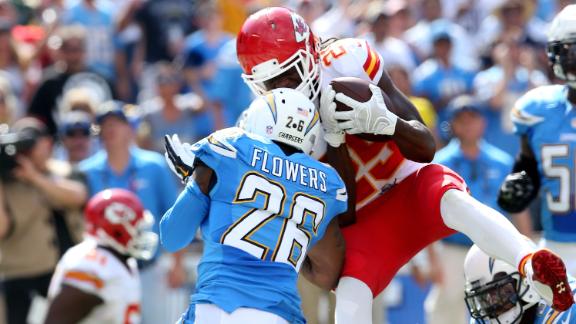 KANSAS CITY, Mo. -- Although Jamaal Charles showed no signs of a concussion when he was checked after a helmet-to-helmet hit he took from former teammate Brandon Flowers on Sunday, the running back was placed in the concussion protocol this week after comments he made Tuesday on ESPN Radio.
Kansas City Chiefs trainer Rick Burkholder said Wednesday that Charles was placed in the protocol Tuesday and passed all the tests. Charles will practice Wednesday, but the team will continue to monitor his symptoms.
"We're not classifying him as having a concussion. But as with all of our players, I'll monitor him as he goes and he'll go through practice today," Burkholder said.
Burkholder said Wednesday that he checked Charles after the hit and that the running back showed no signs of a concussion, although Charles said in an ESPN Radio interview Tuesday on The Dan Le Batard Show that he wasn't checked for a concussion Sunday.
"When he got the hit, I obviously checked with him. He was fine," Burkholder said. "I know coach [Andy Reid] talked to him a good bit there. I came back and checked with him, consulted with our team physician. He was absolutely asymptomatic, wasn't complaining about anything."
Shortly after the Chiefs' 23-20 victory over the Chargers, Charles said the hit he took was no big deal. But he changed his story during Tuesday's interview.
"It definitely hurt," Charles said. "A couple plays later, I just [saw] this light buzz around my eyes and I was trying to catch 'em. But I was like, 'Let's get the ball and run again.'"
Burkholder said Charles was placed in the protocol because of the comments he made Tuesday.
October, 22, 2014
Oct 22
10:50
AM ET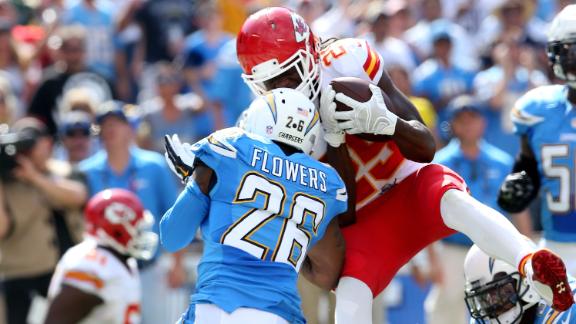 KANSAS CITY, Mo. -- Shortly after Sunday's game at San Diego,
Jamaal Charles
passed off the helmet-to-helmet hit he took from former teammate
Brandon Flowers
as no big deal.
"Yeah, he put a big hit on me and I'm thankful that I got up healthy," Charles said after the Chiefs' 23-20 victory.
Charles changed his story during an interview with ESPN Radio today.
Charles
"It definitely hurt,'' he said. "A couple plays later, I just (saw) this light buzz around my eyes and I was trying to catch 'em. But I was like, 'let's get the ball and run again.'"
The hit happened on Charles' touchdown run in the second quarter. He went on to describe other symptoms that could be consistent with those of a concussion. He said he had flashbacks to scenes from his childhood. But he indicated he was never checked for a concussion because, he said, he didn't have one. Charles finished the game.
"I didn't have a concussion,'' he said. "It was definitely a hit that shocked me. I didn't think I had to go through the concussion protocol and all that because I didn't want to go through that again. That's what happened in the playoffs. I was definitely fine. I think I came out pretty good.
"I could definitely play through stuff like that. It wasn't a concussion. If it was a concussion I wouldn't remember the plays or remember none of my teammates' names or remember what sideline to go to. I definitely remember everything. It was just a huge hit.''
Charles was removed in the first quarter of last year's playoff game against Indianapolis after taking a hit to the head. He didn't return. Charles later insisted he didn't have a concussion.
October, 22, 2014
Oct 22
7:45
AM ET
KANSAS CITY, Mo. -- In case you missed it, during the bye week I issued
my list of Jamaal Charles' best five games
for the
Kansas City Chiefs
. I didn't go with the best statistical games necessarily, though naturally some of them are going to be on the list. The only requirement I had was that the Chiefs had to win the game for it to make the list. I wasn't going to list a game that the Chiefs lost.
Now, after Charles broke Priest Holmes' record for career rushing yardage for the Chiefs, I have to add this game to my list in the No. 5 spot. The Chiefs beat the Chargers 23-20 on Sunday in San Diego and the play on which Charles broke the record really captured the essence of the kind of player Charles is.
Charles
Charles didn't have a lot of blocking help on the play. He took the ball around right end, cut back to the middle of the field and from there weaved his way through defenders for 16 yards. He took a helmet to helmet hit at the end of the play from a former teammate,
Brandon Flowers
, but popped right up. That the play went for a touchdown made it even sweeter.
One more thing about Charles and his record: Most of his yards have come honestly. He didn't pile up a lot of big numbers after the Chiefs were hopelessly behind or far ahead but when his team needed them.
In 2009, when Charles set the Chiefs' all-time single-game record for rushing yardage, he had the chance to break the league record. But the Chiefs had a healthy lead in the fourth quarter and Charles wasn't interested in getting the record that way. He asked to be removed from the game and the Chiefs complied.
That's another reason why Charles, franchise record or not, is the best runner the Chiefs have ever had.