October, 21, 2014
Oct 21
10:01
AM ET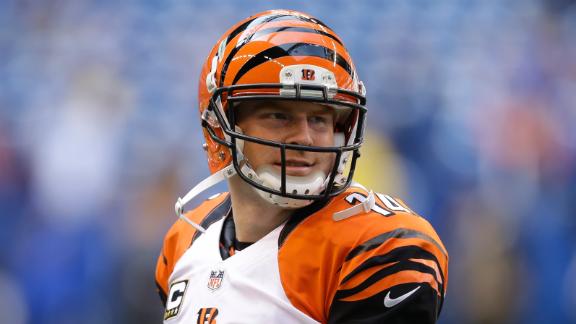 Let's take our weekly deep dive into the Sunday performance of five NFL quarterbacks, using data supplied by analyst Jacob Nitzberg via ESPN Stats & Information. After all, the numbers don't always speak for themselves. (For all Inside Slant posts, including the weekly QB Report,
follow this link
. For a full statistical breakdown of all NFL quarterbacks, see
ESPN.com's QBR page
.)
WEEK 7
CMP: 18
ATT: 38
YDS: 126
PCT: 47.4
TD: 0
INT: 0
WHAT YOU MISSED
Through three quarters of a 27-0 loss to the Colts, Dalton averaged a staggering 1.96 yards per attempt (49 yards on 25 attempts). He converted only one first down via pass (on 11 attempts) and his third-down QBR was 3.9 (out of 100). And the Bengals went three-and-out on each of their first three drives, the highest consecutive total in a game since 2011. Why did this happen? It's likely that Dalton missed receiver A.J. Green -- he threw only two passes of at least 10 yards downfield, his lowest total of the season -- but this might be one occasion where we credit the opposing defense. Of Dalton's 20 incompletions, nine were pass breakups by the Colts' defense; that figure tied the second most by a team in a game this season. The Colts also managed to put Dalton under duress on 29.3 percent of his dropbacks, his most in a game during the past two seasons, even though they blitzed less frequently than usual (33.3 percent versus 39.8 percent). Finally, the Bengals managed just 1.0 yards before contact per rush against the Colts' defense, their season low. First contact came at or behind the line of scrimmage on six of their eight first-half rushes. In other words, the Colts beat the Bengals up front.
FINAL ANALYSIS
Surely this game wasn't Dalton's finest moment and he could have played better. But more often than we care to admit, it's not just about what you did. Based on these numbers, the Colts deserve much credit for Dalton's bad day.
WEEK 7
CMP: 27
ATT: 42
YDS: 344
PCT: 64.3
TD: 2
INT: 0
WHAT YOU MISSED
Total QBR was designed to provide more context and breadth to a quarterback's evaluation than simply passer rating. So it's worth digging into why Luck had a 105.7 passer rating after a 344-yard day but only an average 49.2 QBR. Nearly two-thirds of his yardage total (215 of 344) came after the catch, and 38 of his 42 attempts traveled fewer than 15 yards downfield. In fact, 28 of Luck's passes traveled 5 yards or fewer downfield -- one short of his career high. So when you look to dish out credit for those yards, a majority should go to Luck's receivers. QBR also attaches weight to individual plays, and both of Luck's touchdown passes came in the second half -- during which the Colts maintained a double-digit lead thanks to their defense. In the first half, meanwhile, Luck had thrown incomplete on all four of his third-down attempts. He took two sacks on third down as well.
FINAL ANALYSIS
By no means did Luck play poorly Sunday. But not every 344-yard performance is the same. In this case, QBR leads us in different directions than simply the quarterback when digging deeper into the reasons for the Colts' success.
WEEK 7
CMP: 17
ATT: 31
YDS: 205
PCT: 54.8
TD: 2
INT: 1
WHAT YOU MISSED
The Chargers turned noticeably from what has worked best for them in 2014, a contributing factor in their loss to the Chiefs. Rivers threw the fewest number of passes within 5 yards of the line of scrimmage -- eight -- in any game this season. He completed five of them, also a season low. All told, those passes represented a season-low 25.8 percent of his total attempts, and Rivers averaged 2.5 yards per attempt on them. The latter was his lowest figure in a game in seven years. Meanwhile, Chargers receivers, who have excelled after the catch, were stymied by the Chiefs' defense. They totaled 28 yards after the catch, the second fewest in a game this season and the second fewest by a Chargers team since at least the start of the 2006 season. How did the Chiefs accomplish this relative shutdown? They blitzed on only 9.1 percent of Rivers' dropbacks, the smallest percentage he's faced in a game since the start of the 2012 season, and played coverage the rest of the time.
FINAL ANALYSIS
It would be premature to suggest the Chiefs "solved" the Chargers' efficient offense. But their approach made sense and kept Rivers from getting into his usual rhythm.
WEEK 7
CMP: 19
ATT: 22
YDS: 255
PCT: 86.4
TD: 3
INT: 0
WHAT YOU MISSED
Rodgers' 19 completions in 22 attempts translated into an 86.4 completion percentage, his career-best mark in a start. And on the strength of a 59-yard touchdown pass to receiver Jordy Nelson, Rodgers also averaged 11.6 yards per attempt -- the third-highest mark in his career for a game he threw at least five passes. After the Nelson touchdown, Rodgers didn't throw another pass that traveled at least 15 yards downfield until his final throw of the game. Two throws of 15-plus yards in a start are tied for the second fewest in his career. Since telling Packers fans to "R-E-L-A-X" prior to Week 4, Rodgers leads the NFL with 13 passing touchdowns and a 93.2 QBR. His completion percentage jumped from 62.7 to 70.6 during the past four weeks, in part because he has cut back on under- and overthrows. He averaged 6.7 inaccurate throws prior to "R-E-L-A-X" and 4.25 since. Rodgers has an NFL-high nine passing touchdowns in the red zone since that point and also has been more successful in targeting receiver Randall Cobb. They connected for a completion on 14 of their first 21 targets this season but have now hit on 20 of their past 25, for 320 yards and five touchdowns.
FINAL ANALYSIS
Rivers and Peyton Manning have received most of the quarterback headlines this season, but for the past month, neither has played as well as Rodgers. Sunday's game capped a remarkable four-week stretch even by his standards.
WEEK 7
CMP: 25
ATT: 32
YDS: 277
PCT: 78.1
TD: 2
INT: 0
WHAT YOU MISSED
Much was made of Tannehill opening the game with 14 consecutive completions. He finished the first half with a 93.3 completion percentage, the highest for a quarterback in a game this season. But it's worth pointing out that all but one of those 14 completions traveled less than 15 yards downfield. Overall, Tannehill attempted just three passes that traveled at least 15 yards downfield -- his fewest in a game this season. In other words, Tannehill and the Dolphins were on board with an NFL trend that recognizes how easy it can be to complete short passes. Tannehill was accurate in his own right, however; only two of his incompletions were judged in video review to be over- or underthrown. That's the lowest such figure of his career. The Dolphins gained 84 rushing yards on 17 zone-read plays, including a 30-yard run from Tannehill on fourth-and-1. That success helped Tannehill complete 11 of 13 play-action passes. He had entered the game with the eighth-lowest completion percentage (60.8) on play-action throws in the league.
FINAL ANALYSIS
Tannehill had an accurate day and the Dolphins provided him a smart game plan. The Bears' defense has been atrocious at times this season, and Tannehill's 15-for-18 performance against their standard rush is a strong indicator of the Bears' ineffectiveness. Regardless, this type of quick-hitting passing game should be one Tannehill can sustain against other opponents as well.
October, 21, 2014
Oct 21
9:03
AM ET
Here are the most interesting
Miami Dolphins
stories Tuesday from around the Web:
Andrew Abramson of the Palm Beach Post writes the Dolphins' offense is improving.
Morning take: I was impressed by the play calling and quarterback play in Miami's win against the Chicago Bears. If the Dolphins can get those two right on most weeks, Miami has a chance to make noise in the second half of the season.
Juan C. Rodriguez of the Sun Sentinel writes better practices led to the Dolphins' victory.
Morning take: Miami's coaches raved all week about its preparation. The proof is in the performance, as the Dolphins put together a great game for four quarters.
Barry Jackson of the Miami Herald writes the Dolphins now must avoid a letdown.
Morning take: The Dolphins face the lowly Jacksonville Jaguars next week. It's an ideal opponent to try to win two in a row for the first time this season. But Miami must remain focused.
Morning take: Eight players caught at least two passes in a win over Chicago. Every player was ready to produce and provide an open target for quarterback Ryan Tannehill.
October, 20, 2014
Oct 20
4:30
PM ET
The
Miami Dolphins
(3-3) improved to .500 after picking up a win over the
Chicago Bears
(3-4).
Here is a look at whose stock is rising in Miami:
Tannehill
1. Ryan Tannehill, quarterback:
Sunday's win was the most dominant performance I've seen from Tannehill in three seasons. He threw for 277 yards and two touchdowns. But Tannehill's command of the offense, accuracy and decision making was off the charts. Tannehill completed 14 straight passes in the first half and 19 of 21 after three quarters. He also rushed for 48 yards. Tannehill was lights out on the road.
2. Joe Philbin, head coach:
Philbin was ridiculed last week for his bad coaching performance. But he deserves props for making sure his team was able to bounce back from a tough loss in Week 6 against the
Green Bay Packers
to be ready to play against Chicago. Philbin and his staff coached aggressively and put together a strong game plan to beat the Bears. Miami's staff outcoached the Bears on both sides of the ball. Philbin brought his "A" game.
3. Cortland Finnegan, cornerback:
Finnegan played with a chip on his shoulder after struggling against Green Bay. He responded with four tackles, a team-high four pass defensed and a forced fumble. Finnegan did a solid job throughout on Chicago star and former Dolphins receiver
Brandon Marshall
, who had just six catches for 48 yards. Finnegan frustrated Marshall, and it boiled over in the final seconds as Marshall shoved Finnegan after a turnover on downs.
4. Mike Wallace, receiver:
Wallace scored his fifth touchdown of the season in the second quarter against Chicago. He led the Dolphins with five receptions in a game where eight players had a reception for Miami. Wallace's consistency has been strong this season. He's caught a touchdown in every game this season except one.
5. Reshad Jones, safety:
Jones spent the first four games on suspension for violating the NFL's policy on performance-enhancing substances. He returned last week against Green Bay but played his best game of the season thus far against Chicago. Jones led the Dolphins with seven tackles and had an interception off Chicago quarterback
Jay Cutler
that set up a second-quarter touchdown. Jones has added more playmaking to Miami's secondary.
October, 20, 2014
Oct 20
2:35
PM ET
DAVIE, Fla. -- The
Miami Dolphins
(3-3) are getting another key addition to their roster this week. Former 2013 No. 3 overall pick
Dion Jordan
completed his six-game suspension for violating the NFL's performance-enhancement and substance abuse policies. He became eligible to return on Monday, although a roster move isn't expected until later in the week.
Jordan
Per NFL rules, Miami's coaches haven't seen or heard from Jordan since he began his suspension on Aug. 29, one day after the Dolphins' preseason finale against the
St. Louis Rams
. Almost seven weeks have gone by, and the Dolphins will finally see Jordan back in practice on Tuesday.
"We're going to have to get him on the field and start working him and see where he's at," Dolphins head coach Joe Philbin said. "It will be great to have him back. But we have to take it one day at a time."
Jordan's role on the team remains uncertain. He was slotted to be the No. 3 defensive end at the start of training camp behind starters
Cameron Wake
and
Olivier Vernon
. But Jordan fell behind on the depth chart after the suspension and a lot has changed since.
Miami's current No. 3 defensive end,
Derrick Shelby
, is third on the Dolphins with three sacks this season. Rookies such as
Chris McCain
and
Terrence Fede
have also flashed and earned playing time. Defensive end is arguably the deepest area of Miami's roster, which will make it tough for Jordan to immediately find a significant role.
The most important aspect of Jordan getting back on the field quickly is his health, which is unknown. But Dolphins defensive coordinator Kevin Coyle is confident Jordan did the right things during his suspension.
"I envision that he will be in good shape," Coyle said Monday. "He's the type of athlete that can run all day. We've never had issues with him being out of shape. So I hope he comes back and he's ready to go."
Coyle, in some ways, is getting a new toy on defense near the midpoint of the season. Jordan is one of Miami's best pure athletes, although he hasn't come close to reaching his potential in two seasons.
The Dolphins had high hopes for Jordan in 2014, but the suspension to start the year stunted his growth. Miami still has 10 games remaining and could use as much talent as possible to make a push for the playoffs in the second half of the season.
"If you have good players you find ways to utilize them," Coyle said of Jordan. "He's certainly a talented guy."
October, 20, 2014
Oct 20
12:00
PM ET
October, 20, 2014
Oct 20
10:00
AM ET
CHICAGO -- The
Miami Dolphins
are .500 and still in the thick of things. But for some reason, opponents seem to unravel after losing to the Dolphins, treating the experience like a defeat at the hands of an expansion team.
After losing to the Dolphins in Week 4, the
Oakland Raiders
became the first team this season to fire its head coach. Miami's next victory came on Sunday in Chicago,
27-14 over the Bears
, and
things got ugly
in the home team's postgame locker room.
According to ESPN Bears reporter Michael C. Wright, Bears receiver
Brandon Marshall
called out quarterback
Jay Cutler
after the game. A source also told Wright, "[there] are some very selfish individuals in the locker room."
Offensive lineman
Kyle Long
also called out
Chicago fans for booing
the Bears at home.
Why such behavior after losing to Miami? Perhaps the Dolphins don't command respect around the NFL because they haven't won consistently. Still, they are on pace for another 8-8 season. That means five more teams have a chance to lose their cool after losing to Miami.
October, 20, 2014
Oct 20
7:00
AM ET
Here are the most interesting Miami Dolphins stories Monday from around the Web:
Morning take: The Dolphins bounced back from their tough loss to the Green Bay Packers and dominated the Bears. This was an impressive road win to get Miami back to .500.
Morning take: Miami got "bad Jay Cutler" in this game. He has the tendency to be inconsistent, and this is why the Bears will struggle to be a consistent contender.
Morning take: This was as dominant a performance for four quarters that I've seen from Tannehill. The Dolphins could be dangerous if Tannehill brings his A-game every week.
Morning take: This was one of the better speeches for Philbin. The key thing he mentioned was getting on a roll. Miami has yet to win two in a row this season.
October, 19, 2014
Oct 19
7:29
PM ET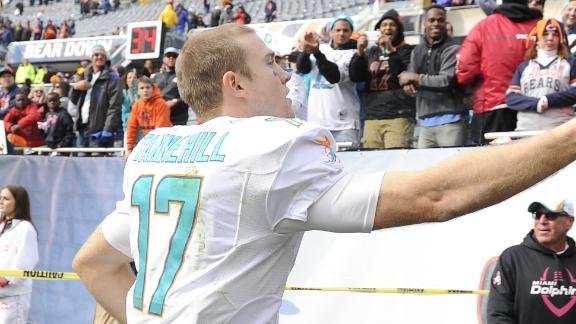 CHICAGO -- So
this
is what
Miami Dolphins
quarterback
Ryan Tannehill
looks like at his absolute best.
Miami's
27-14 victory
over the
Chicago Bears
on Sunday finally showed what a consistent, dominant Tannehill looks like under center. Better yet for the Dolphins, it happened over four full quarters -- not the usual one good half or quarter Tannehill has provided this season.
How locked in was the third-year quarterback? On his second touchdown pass of the day, the Bears took away his first and second options. So Tannehill went to his third progression -- which he rarely does successfully -- to complete a 10-yard touchdown to
Mike Wallace
.
Wallace said after the game that the Dolphins (3-3) couldn't even hit that play in practice. But with Tannehill in the zone, they made it look easy when it mattered most, giving Miami a lead it never relinquished.
"I was the last read on the play," Wallace said. "On that play in practice, I've been working that [route] probably since I was in Pittsburgh and never got the ball, not one time, on that play. That was the first time.
[+] Enlarge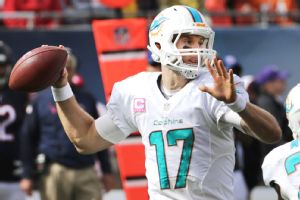 AP Photo/Charles Rex ArbogastQB Ryan Tannehill capitalized on short passes to lift the Dolphins over Chicago in Week 7.
"You could fall asleep on that play, but you gotta stay focused. Honestly, I got that same play on Tuesday or Wednesday in practice and he threw it. We didn't connect on it, and I told him I will be better on it the next time. Tonight was our next time, and we were better."
There have been games when Tannehill was good, but never the best player on the field. That changed in Chicago. Afterward, backup quarterback
Matt Moore
got a chuckle out of Tannehill by telling him, "You inspire me."
Tannehill's day started with 14 straight completions, and he finished with 277 yards and two touchdown passes. He posted a career-high 123.6 passer rating and didn't have his first incompletion until 54 seconds left in the first half.
First-year offensive coordinator Bill Lazor is getting a better grasp of his quarterback's capabilities. The Dolphins used a well-devised game plan that highlighted Tannehill's strengths: throwing short and intermediate passes. His longest completion was for 26 yards to backup tight end
Dion Sims
. Tannehill also used his athleticism by rolling out of the pocket on passing plays, rushing for 48 yards on six carries.
Dolphins tight end
Charles Clay
said Tannehill's confidence was at an all-time high, especially after getting hot early.
"It's hard to pinpoint, but it was just something about him," said Clay, who had four receptions and caught Tannehill's first touchdown pass. "It gave me confidence, and I'm sure it gave everybody else in the huddle confidence."
Tannehill said he has never completed 14 straight passes to start a game at any level. He did complete 14 straight between the second and third quarters this season against the
Oakland Raiders
, but this performance was from the start and more dominant.
On this day, if you were open, Tannehill easily identified it and made the right decisions. He completed 78.1 percent of his passes, and eight Dolphins players had at least two receptions.
"Everyone was getting open," Tannehill said. "It's fun to be able to spread the ball around like that."
Was this a one-game performance or a potential career turning point? That remains to be seen.
One of the biggest critiques of Tannehill is he rarely strings together strong games in back-to-back weeks. This season alone he has struggled from half to half. That is one of the major reasons Tannehill is just 18-20 as a starter and still trying to prove he is Miami's long-term solution.
But Sunday's lights-out performance at least provided a one-game snapshot that Tannehill is
capable
of dominating a game. He has good athleticism and can make most of the throws needed to thrive in the NFL, with the exception of a consistent deep ball.
After six games, it's clear the Dolphins will go only as far as Tannehill takes them this season.
"We're definitely playoff-caliber, and if he's playing like [Sunday], we could be Super Bowl-caliber, honestly," Wallace said. "But we got to put in the work every day. We know it's not going to just come to us. We have to keep grinding and stay focused."
October, 19, 2014
Oct 19
5:43
PM ET
CHICAGO --
Chicago Bears
receiver
Brandon Marshall
shoved
Miami Dolphins
cornerback
Cortland Finnegan
following the last offensive play in Miami's
27-14 victory
.
Finnegan
The two emotional veterans have a history of confrontations from previous battles. It also didn't help that Marshall lost to his former team, which added to his frustration.
But when asked about their brief squabble, Finnegan shrugged it off in front of the media and quickly wanted to switch topics.
"I'm not sure," Finnegan said. "I know we won the game and that's all that matters."
Several of Finnegan's teammates nearby in the locker room began to laugh, as though Finnegan had much more to say about Marshall before the media arrived. Finnegan then smiled but refused to elaborate on the situation.
"It was just a good team victory," Finnegan said with a sly grin.
Sunday was a victory for Miami's little guys. Much was made of the height difference between Chicago's receivers Marshall (6-feet-4) and Alshon Jeffrey (6-3) against Miami corners Finnegan (5-10) and
Brent Grimes
(5-10).
Finnegan, in particular, was coming off a poor outing with several missed tackles and poor coverage in a loss to the
Green Bay Packers
. Finnegan said during the week he must play better or find a seat on the bench.
But the veteran corner responded with his best game of the season and a tough assignment against Marshall and Jeffrey. Finnegan finished with four tackles, a team-high four pass defenses and a forced fumble.
"It was huge," Finnegan said of bouncing back. "But I have the support of my team and my coaches, and that's big. ...The fact that you have all those intangibles with the young guys, coaches and Brent [Grimes] pushing you, it's helpful for everybody."
October, 19, 2014
Oct 19
5:11
PM ET
CHICAGO -- Observed and heard in the locker room after the
Miami Dolphins
' 27-14 win over the
Chicago Bears
:

Wallace
On the rebound:
The Dolphins felt vindicated after their bounce-back performance Sunday evening. Many questioned if Miami would bounce back from last week's deflating, last-second loss to the
Green Bay Packers
. But the Dolphins put forth one of their most impressive games on both sides of the football, proving they have the talent to play with most teams. Now, the Dolphins must work on their consistency. "People just last week were telling us we were trash," receiver
Mike Wallace
said. "So we've got to keep our head up and stay focused, no matter good or bad."
Win for the little guys:
Much was made of the size difference this week between Bears receivers
Brandon Marshall
(6-foot-4) and
Alshon Jeffery
(6-3) against Miami cornerbacks
Brent Grimes
(5-10) and
Cortland Finnegan
(5-10). But the corners won this matchup. Marshall and Jeffery combined for just eight receptions for 57 yards. Finnegan and Grimes were physical and covered well for most of the game. "You guys made a story of it," Finnegan said afterward. "But Brent said it earlier; we go against receivers who always are bigger than us. It's just one of those things."
Tannehill's wheels:
Dolphins quarterback
Ryan Tannehill
is running the ball more and it's paying dividends. Head coach Joe Philbin praised Tannehill's wheels after the quarterback rushed for 48 yards on six carries. Tannehill made a long run of 30 yards that gave the Dolphins a lot of momentum. He now has a 30-yard run and a 40-yard run in back-to-back weeks. "He's done a very consistent job in it," Philbin said. "I think it's repetition, repetition, repetition. It paid off today a couple times."
October, 19, 2014
Oct 19
3:51
PM ET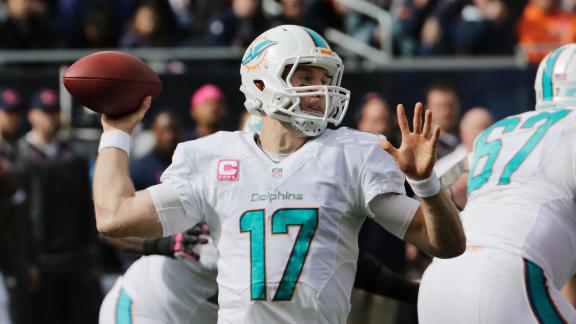 CHICAGO -- A few thoughts on the
Miami Dolphins
' 27-14
win
Sunday over the
Chicago Bears
.
What it means:
The Dolphins continue their roller-coaster ride by picking up a key road victory and improving to 3-3. This was a complete performance on both sides of the ball. Miami cashed in on three red zone touchdowns and forced three turnovers on defense, bouncing back from a last-second loss in Week 6 to the
Green Bay Packers
. The Dolphins, who have yet to win two in a row, will try to work on their consistency.
Stock watch:
Dolphins fans have been clamoring about the lack of fast starts. Miami finally got it going early by jumping out to a much-needed 14-0 halftime lead on the road. The offense moved the chains and had early touchdown catches by tight end
Charles Clay
and receiver
Mike Wallace
. The defense also picked off quarterback
Jay Cutler
and held the Bears scoreless in the first half. The second half wasn't as clean. The Dolphins allowed two touchdowns defensively and had a field goal blocked. However, Miami was good enough in the first half that it didn't matter.
Jones, Shelby make impact:
The Dolphins received key contributions from two players who were recently suspended. Miami starting safety
Reshad Jones
had his best performance of the season in his second game back. He recorded seven tackles and a second-quarter interception to set up a Miami touchdown. Sunday also marked the first game back for
Derrick Shelby
, who missed one game after being arrested at a nightclub. He registered an early sack off the bench.
Game ball:
Dolphins quarterback
Ryan Tannehill
gets his second game ball of the season. Tannehill was locked in and threw for 277 yards and two touchdowns. He had a 123.6 passer rating. Tannehill produced a near-perfect first half by completing his first 14 passes. His first incompletion happened with 54 seconds left in the second quarter.
What's next:
The Dolphins will continue their stretch away from Miami with another road game against the
Jacksonville Jaguars
(1-6). The Dolphins will play four of their next six games on the road.
October, 19, 2014
Oct 19
11:39
AM ET
CHICAGO -- Here are the
Miami Dolphins
(2-3) players you won't see in Sunday's game against the
Chicago Bears
(3-3):
The most interesting scratch is veteran receiver Brandon Gibson, who practiced all week and was listed "probable" with a hamstring injury. But rookie
Jarvis Landry
had a strong game against the
Green Bay Packers
and will get a lot of snaps.