October, 24, 2014
Oct 24
3:40
PM ET
MIAMI – The
Miami Dolphins
(3-3) have another important game Sunday against the
Jacksonville Jaguars
(1-6).
Here is the final game status for the Dolphins:
Doubtful:
S
Jimmy Wilson
(hamstring)
Questionable:
LB
Koa Misi
(ankle)
Probable:
LT
Branden Albert
(elbow), TE
Charles Clay
(knee), LS
John Denney
(knee), CB
Cortland Finnegan
(neck), CB
Brent Grimes
(groin), DT
Jared Odrick
(neck), C
Samson Satele
(hamstring), TE
Dion Sims
(neck), LB
Philip Wheeler
(shoulder/thumb)
Analysis:
The Dolphins only major injury concern this week was Wilson, who also missed last week's game against the
Chicago Bears
. It appears he will miss his second straight week with a hamstring injury. That will open the door for backup defensive backs
Michael Thomas
,
Jamar Taylor
and/or
Will Davis
to get more snaps. Misi is questionable after re-tweaking his ankle. If Misi can't go, backup linebacker
Jason Trusnik
most likely would fill in the middle of the defense. For the Jaguars, cornerback
Alan Ball
(bicep) and defensive end
Andre Branch
(groin) were both ruled out for Sunday's game. Cornerback
Dwayne Gratz
(hip) also is listed questionable for Jacksonville's banged-up defense.
October, 24, 2014
Oct 24
1:46
PM ET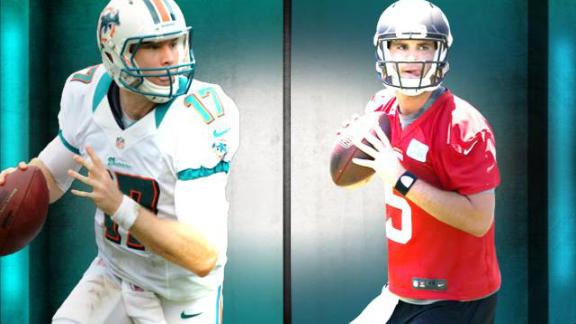 JACKSONVILLE, Fla. -- The Jacksonville Jaguars will be without one starting cornerback and possibly his backup for Sunday's home game against the Miami Dolphins.
The team said Friday that Alan Ball will not play because of a biceps injury. The player who would replace Ball in the lineup, Dwayne Gratz, is questionable with tightness in his hip flexor. That may leave the Jaguars with a pair of 2013 seventh-round picks as the starting cornerbacks.
The Jaguars defense is already down middle linebacker Paul Posluszny (pectoral/IR) and defensive end Andre Branch (groin). Ball hasn't practiced this week after suffering the injury in the Jaguars' 24-6 victory over Cleveland last Sunday.
Ball has been the Jaguars' best corner since joining the team in March 2013. He started 15 games last season and led the team with 14 pass breakups and had a career-high 47 tackles. He also intercepted two passes. Ball has 22 tackles, one interception, and three pass breakups this season.
Gratz, the team's third-round draft pick in 2013, is questionable for Sunday's game. He will be evaluated in pre-game to see if he's able to play. If not, the Jaguars would be forced to start Jeremy Harris. He was one of the Jaguars' two seventh-round draft picks in 2013. The other is Demetrius McCray, who has started at left cornerback the past three weeks.
October, 24, 2014
Oct 24
1:00
PM ET
The
Miami Dolphins
(3-3) haven't won two games in a row all season. But their chance best to accomplish that feat is Sunday when the Dolphins travel to face the lowly
Jacksonville Jaguars
(1-6).
The Dolphins have been telling themselves and the media all week that they're aware this will not be an easy road game. According to Miami head coach Joe Philbin, all you have to do is "throw in the tape" to realize Jacksonville is not your typical 1-6 team. For example, the Jaguars' defense is second in the NFL in sacks and they are the least-penalized team in the league. Despite a talent difference, these are things that should make for a competitive game.
But the Dolphins appear to be turning the corner and have been a good road team this year, where they are 2-1. Miami also is fourth in the NFL in rushing at 136.2 yards per game, which should expose a depleted Jaguars defense.
Miami has tough games upcoming in November against contenders such as the
San Diego Chargers
(5-2),
Detroit Lions
(5-2) and
Denver Broncos
(5-1). The Dolphins must win Sunday's game in order to stay in the hunt.
Prediction:
Dolphins 20, Jaguars 14
October, 24, 2014
Oct 24
11:00
AM ET
DAVIE, Fla. -- Although it hasn't been publicized much on a national level,
Ryan Tannehill
of the
Miami Dolphins
has quietly been one of the hottest quarterbacks in the NFL during the past three weeks.
Tannehill has been lights out in 10 of his past 12 quarters, with the exception being the first half in a Week 6 loss to the
Green Bay Packers
.
Tannehill
The Dolphins are 2-1 in that stretch and 3-3 overall heading into Sunday's game against the
Jacksonville Jaguars
(1-6). Tannehill appears to be finding his groove at the right time. This is an important part of the season where we will find out if Miami is a contender or pretender this season.
"It's a natural progression, right?" Tannehill said this week. "As a play-caller, as an offense, as you get in the flow of things, you figure out the things that your team is good at, that your players are good at, and you try to highlight those things. You can't only do those things because you have to be balanced. But I think [offensive coordinator] Bill [Lazor] has done a great job of game-planning, and then when the games come around, calling great games."
Tannehill's numbers are up across the board during his three-game run. He is completing 72.3 percent of his passes in that stretch and making fewer mistakes. Tannehill also is using his legs more and produced runs of 40 and 30 yards in his past two games.
Tannehill's recent play has fueled newfound optimism that he could potentially develop into Miami's long-term solution at quarterback. Just before this three-game run, there was speculation that Tannehill was in danger of being benched.
Miami head coach Joe Philbin refused to name a starting quarterback before the Week 4 game against the
Oakland Raiders
. That fueled questions of whether Tannehill needed to play better quickly or risk being benched. From that point, Tannehill has played some of the best football of his career.
"I'm just glad we're playing good football, myself and the team," a happy Tannehill said. "You want to improve every week, and you know I think we've done that. Sometimes it's been obvious, sometimes not so obvious. But I think we're improving consistently, and that's what you want is guys getting more comfortable on the field, myself included and things start clicking."
The next step for Tannehill is to prove his hot streak isn't just a short-term solution. It is easier for NFL quarterbacks to get hot, but franchise quarterbacks are able to consistently stay hot.
Tannehill has 10 more games to get the Dolphins in the postseason and prove he is Miami's long-term answer under center. A good game against the lowly Jaguars Sunday would be another step in the right direction for Tannehill's development.
October, 24, 2014
Oct 24
8:12
AM ET
Here are the most interesting Miami Dolphins stories Friday from around the Web: Morning take: Jenkins patiently waited his turn as a 2013 draft pick. Once Dannell Ellerbe went down, Jenkins took over and is leading the team in tackles.
Morning take: Shutting down running back Denard Robinson and confusing rookie quarterback Blake Bortles are the two best ways to keep Jacksonville at bay. The Jaguars' defense is not bad statistically and could offer Miami some trouble.
Morning take: Misi is the only true injury concern for the Dolphins, who are very healthy entering Week 8. If Misi can't go, Jason Trusnik could take over the middle.
Morning take: Jones did a good job in two games coming off a suspension. His seven tackles and interception last week against the Chicago Bears sparked Miami's defense.
October, 23, 2014
Oct 23
4:00
PM ET
DAVIE, Fla. --
Miami Dolphins
offensive lineman
Mike Pouncey
was honest Thursday when asked if he missed playing center.
"Of course," Pouncey said candidly. "I was so good at it."
Pouncey
But Pouncey and the Dolphins' coaching staff believe playing their Pro Bowler at right guard has been best for the offensive line. A year ago, this was Miami's most-maligned group. This season offensive line has developed into a strength.
The Dolphins (3-3) are fourth in the NFL in rushing at 136.3 yards per game and have allowed only 14 sacks this season.
Pouncey is the only returning starter on Miami's offensive line this year -- and even Pouncey switched positions.
Pouncey missed the first four games due to offseason hip surgery, and replacement
Samson Satele
did a nice job at center. Instead of moving Satele, the Dolphins thought it was best to plug Pouncey in at right guard, which was an area of concern.
"But it doesn't bother me at all," Pouncey said of the move. "I like the way our five guys jell together and the rotation we have now. Whatever's best for the team, and we're going to keep it that way until they say different."
Pouncey is still getting his legs under him. He missed all of training camp, the preseason and the first four games of the regular season.
Dolphins offensive coordinator Bill Lazor praised Pouncey for the progress he's making just two games in.
"Mike Pouncey was definitely better," Lazor said from his first to second game. "I thought in every way we would have expected, balance, finish, drive, pass protection, run blocking. It's probably what we expected. I thought the guy played a really good game. I'm excited for Mike."
This wasn't an easy decision for the Dolphins. Pouncey arguably is a top-five center in the NFL. He's not a top-five guard.
Pouncey also has shown some early rust. He allowed 1.5 sacks last Sunday to defensive tackle
Jeremiah Ratliff
in a win over the
Chicago Bears
.
But overall Dolphins quarterback
Ryan Tannehill
is getting the best pass protection of his career, and it's showing in his career-best 87.8 passer rating. Running back
Lamar Miller
also is getting bigger holes and on his way to his best individual season.
"I can say that we're much improved obviously, because of the way the statistics are," Pouncey said. "But we go out there and come in and work every day, trying to work as hard as we can. We've gotten better as an O-line."
October, 23, 2014
Oct 23
12:52
PM ET
Associated Press
MEMPHIS, Tenn. -- John "Bull" Bramlett, a former professional football and baseball player who was nicknamed the "Meanest Man in Football," has died. He was 73.
Shelby County Mayor's Office spokesman Steve Shular told The Associated Press that family members say the Memphis native died early Thursday. Shular said Mayor Mark H. Luttrell was close to Bramlett, who had been in declining health.
Bramlett was a star baseball and football player at Memphis State, now the University of Memphis.
He went on to play professional baseball with the St. Louis Cardinals for two years before changing to the NFL, where he played from 1965 to 1971 and was a two-time All-Pro linebacker. He was runner-up to Joe Namath for American Football League rookie of the year in 1965.
His pro football career included four teams: the Denver Broncos, Miami Dolphins, Boston Patriots (now New England) and Atlanta Falcons.
Because of his on-field aggressiveness and his antics off the field, Bramlett was given his nickname. But he changed his behavior when he retired from football, becoming a Christian evangelist.
According to a website dedicated to his ministry, Bramlett spent 40 years speaking to hundreds of churches, schools, prisons and conventions, as well as NFL and MLB chapel services.
"Indeed, he inspired many people as a professional football player," Luttrell said in a statement. "Yet ... John's stories of forgiveness and hope through his Christian witness made a real difference in the lives of countless people throughout the nation and here in Shelby County.
"John Bramlett was ... a dear friend. I'm grateful for having known him and his family."
October, 23, 2014
Oct 23
11:00
AM ET
Here are the most interesting Miami Dolphins stories Thursday from around the Web: Morning take: The season is not over. But it appears Miami hit on some veteran signings. Defensive linemen Randy Starks and Earl Mitchell are having fast starts.
Morning take: This game won't be the blowout some expect. The Jaguars (1-6) are playing their best football of the season, and the inconsistent Dolphins (3-3) still have things to work on.
Morning take: Wallace has five touchdowns in six games, which is an astounding clip. He's on pace for a career-high 13 touchdowns.
Morning take: It took more than two years for Miami to finally get the most of Tannehill's mobility. This is another weapon to add to Tannehill's arsenal.
October, 23, 2014
Oct 23
8:00
AM ET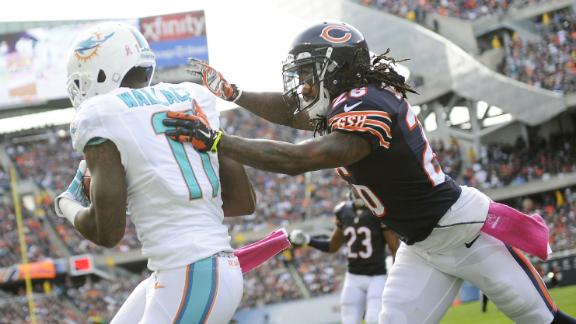 Sunday's
Jacksonville Jaguars
-
Miami Dolphins
matchup at EverBank Field features two teams coming off big victories and searching for something neither has had in a while: a winning streak.
The Jaguars haven't won back-to-back games since Weeks 12-14 of the 2013 season, and the Dolphins haven't accomplished that since Weeks 13-15 of last season. Even worse for the Jaguars: They haven't won back-to-back home games since the 2011 season.
ESPN Dolphins reporter James Walker and Jaguars reporter Michael DiRocco break down the matchup.
Michael DiRocco:
Everyone in Jacksonville is convinced
Blake Bortles
is the franchise quarterback the team has needed. What's the feeling in Miami on
Ryan Tannehill
?
James Walker:
Just like Tannehill's play, the mood has been up and down on Miami's starting quarterback. There was a lot of optimism entering this season that Tannehill would carry Miami's offense. The Dolphins hired a new offensive coordinator in Bill Lazor, who helped quickly develop
Nick Foles
last season in Philadelphia. So many Dolphins fans, perhaps prematurely, expected quick results from Tannehill, as well. But it's been a slow progression in his third season. He was average for the first three games. Then, Tannehill started to put together better performances against the
Oakland Raiders
,
Green Bay Packers
and
Chicago Bears
. Last week was really the first time in 38 starts that I felt Tannehill was the best player on the field. He started with 14 straight completions, which Tannehill told me he's never done at any level to start a game. He appears to be turning the corner and clicking in this new offense. But the bottom line is Tannehill is still 18-20 as a starter. Gaining consistency over these next 10 games will be key.
I'm not sure if the Jaguars getting their first win makes them more or less dangerous to upset the Dolphins. What are your thoughts?
DiRocco:
If you had asked me this question on Sunday night, I would have said more dangerous. The defense just played its best game, and the offense took advantage of some Cleveland turnovers and scored a season-high 24 points despite Bortles playing his worst game. Things had been starting to come together for the Jaguars in the previous two weeks, and they finally put a complete game together, eliminated mistakes and made big plays. But the loss of middle linebacker
Paul Posluszny
(torn pectoral muscle) for the rest of the season and defensive end
Andre Branch
(groin) for at least six weeks is a huge blow. It's almost as if this team is snakebitten. They get some good news (a victory) but can't enjoy it because of the injuries. That will definitely impact the team's psyche because there are so many young players (29 first- or second-year players) who haven't been through a situation like this before.
How does the return of
Dion Jordan
impact the defense? Will that help
Cameron Wake
?
Walker:
I don't expect a huge impact from Jordan right away. Six weeks is a long time to be away from football, especially during a suspension when you can't communicate with coaches or have a playbook. Jordan practiced with the team for the first time since Aug. 28 on Tuesday and a lot has changed. Backups such as
Derrick Shelby
,
Chris McCain
and
Terrence Fede
have stepped forward and developed. Miami's defense also added a few wrinkles since the summer. Jordan has a lot of catching up to do. The practice week is still ongoing, and how he responds physically and mentally will be key. If Jordan sees action Sunday in Jacksonville, his biggest contribution would most likely be on special teams until he gets his legs under him.
How much will the loss of Posluszny impact Jacksonville's defense?
DiRocco:
As mentioned before, it's huge, and it goes beyond what he does on the field. Posluszny has his limitations in pass coverage, but he's a fantastic two-down linebacker. He's a tackling machine, one of the team's leaders, one of the team's smartest players, is responsible for calling the defensive plays and is the Jaguars' best defensive player. There's no way the Jaguars will be able to replace his production or leadership, especially since they're going to be relying on players who have mainly contributed on special teams (
J.T. Thomas
and
LaRoy Reynolds
). Though the Jaguars' defensive line has played pretty well, not having Posluszny makes the run defense considerably weaker -- not good since the Dolphins are fourth in the NFL in rushing.
The Dolphins had a big win in Chicago last week. Was that an aberration or are they legitimate contenders for a playoff spot?
Walker:
I won't put the Dolphins into the "contender" category until they can at least win two games in a row -- a feat they have yet to do this season. The Dolphins are in that middle of the pack with about 12-15 other teams about which you're not sure what to expect week to week. There have been times -- such as wins against the
Chicago Bears
and
New England Patriots
-- when the Dolphins have looked like contenders. There is certainly enough talent, especially when the quarterback is playing well, but Miami hasn't developed enough consistency to this point to inspire confidence this is a 10-win team. We will learn a lot about the Dolphins with how they respond Sunday in Jacksonville.
Have the Jaguars finally found a spot for
Denard Robinson
at running back?
DiRocco:
It appears so, although I don't think you're going to see him get the kind of workload he did against Cleveland (22 carries) on a consistent basis. Though he's the most explosive of the Jaguars' backs, he's not used to carrying the ball that many times. Carrying the ball as a running back is different than carrying it as a quarterback, the way he did during his career at Michigan. And, he's not used to taking the kind of pounding he did on Sunday. When
Toby Gerhart
returns from a foot injury (which should be Sunday), Robinson's carries will decrease, though he should still be the No. 1 back. I'd also like to see him used more on the edge and in the passing game, where he can use his open-field abilities a little more.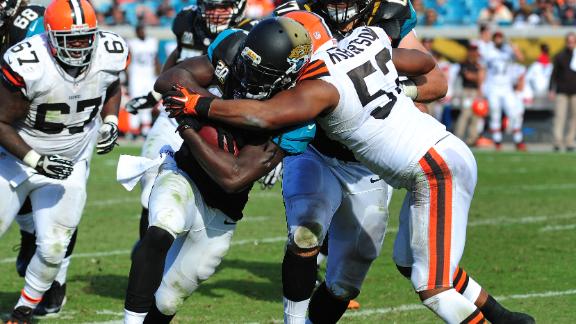 October, 22, 2014
Oct 22
6:35
PM ET
DAVIE, Fla. -- The
Miami Dolphins
(3-3) completed their second practice in preparation for Sunday's game against the
Jacksonville Jaguars
(1-6).
Here is the full injury report for Miami:
Limited participation
: S
Jimmy Wilson
(hamstring), LT
Branden Albert
(elbow), TE
Charles Clay
(knee), CB
Cortland Finnegan
(neck), WR
Brandon Gibson
(hamstring), CB
Brent Grimes
(groin), C
Samson Satele
(hamstring), TE
Dion Sims
(stinger)
Full participation:
LS John Denny (knee), LB
Philip Wheeler
(shoulder)
Analysis:
The Dolphins are in very good shape as every player on the roster participated Wednesday in their full-padded practiced. Wilson was the only major injury concern. He missed last week's game against the
Chicago Bears
with a hamstring injury. But Wilson returned on Wednesday, which bodes well for his chances of playing Sunday. Grimes (groin) and Sims (stinger) were both injured against the Bears, but the ailments do not appear to be serious.
October, 22, 2014
Oct 22
4:00
PM ET
DAVIE, Fla. -- His nickname is "Shoelace." But to the
Miami Dolphins
,
Denard Robinson
is the dynamic player their defense must be wary of when they travel to face the 1-6
Jacksonville Jaguars
.
The Deerfield Beach, Florida, native is finding his way at the NFL level. Jacksonville, for the first time in Robinson's career, gave the versatile player 22 carries at running back, and he produced a career-high 127 rushing yards and a touchdown in an upset win over the
Cleveland Browns
.
Robinson played quarterback at the University of Michigan. He was drafted in the fifth round in 2013 despite not having a set position. Jacksonville only would label him an "offensive weapon," as Robinson played receiver, Wildcat quarterback and now running back in the past two years.
"He's a football player. That's the one thing you've got to be impressed about him," said Dolphins head coach Joe Philbin. "That's a term we like to use around here. I think he's tough, he's a hard guy to bring down. I like the way he plays the game."
Robinson looked the part of an NFL running back last week. He averaged 5.8 yards per carry against Cleveland and grinded out those yards. Robinson's longest rush was for 20 yards.
Jacksonville asked Robinson to put on weight in the offseason and he hasn't lost his speed.
"I put on 15 pounds just to be able to take the pounding and just take the hits. ... be able to make guys miss and be able to deliver a blow sometimes," Robinson explained on a conference call with the Miami media Wednesday. "That's the reason why I put on the weight. They asked me to do that, and I was down for it."
The Dolphins (3-3) are making it a point not to overlook the Jaguars this week. Jacksonville's offense is ranked 28th, near the bottom of the league. But Robinson is one of the few offensive players who can break open the game for the Jaguars.
Look for Miami's defense to key on Robinson and potentially stack the box more than usual with a rookie quarterback (
Blake Bortles
) under center.
"He can definitely take it to the house. We saw that at Michigan," Dolphins outside linebacker
Jelani Jenkins
said of Dennard. "He will run it 80 yards easily. But he put on weight and most of that has to do with his heart and passion for the game and to keep fighting."
October, 22, 2014
Oct 22
1:30
PM ET
DAVIE, Fla. -- The
Miami Dolphins
(3-3) practiced Wednesday in preparation for their upcoming game against the
Jacksonville Jaguars
(1-6).
Wilson
Here are notes from Wednesday's practice for Miami:
The Dolphins received some good injury news with safety and nickel corner Jimmy Wilson returning to practice. Wilson missed last week's game with a hamstring injury. He is the team's top defensive back off the bench and looks poised to return on Sunday.
This also was the first full-padded practice for Dolphins defensive end Dion Jordan. He returned from suspension this week. Miami's coaching staff is trying to figure out if Jordan is ready to return to the field or if he needs more time. Jordan showed good "punch" and quickness going through position drills during the portion of practice open to the media. Miami could activate Jordan later this week if the team feels he's ready to play.
Overall, the Dolphins are very healthy going into Sunday's game. There are no major injury concerns so far this week. Barring a last-minute injury, Miami should be going into Jacksonville close to full strength.