November, 23, 2014
Nov 23
8:35
PM ET
MINNEAPOLIS --
Aaron Rodgers
has faced Mike Zimmer's defenses three times in the last two years now, and the
Green Bay Packers
quarterback seems to be taking note of the
Minnesota Vikings
coach as one of the few defensive strategists he's yet to fully solve.
Rodgers
Rodgers had thrown for 656 yards, nine touchdowns and one interception in the Packers' last two games, which each had him wearing a baseball cap by the fourth quarter as Green Bay piled up 108 combined points. But facing a coach who's been able to stifle him on more than one occasion, Rodgers was never able to get the Packers' offense into top gear.
He completed 19 of his 29 passes for 209 yards and two touchdowns Sunday, but the Packers finished their season sweep of the Vikings thanks largely to running back
Eddie Lacy
's 125 rushing yards (and Rodgers' own ability to gain another 34 yards scrambling). Rodgers has now faced Zimmer four times in his career -- twice this season, as well as in 2013 and 2009 when Zimmer was the Bengals' defensive coordinator -- and three of those games rank among the quarterback's 27 worst days, in terms of average yards per attempt.
"It was different playing against a Mike Zimmer team," Rodgers said. "Mike is a great football mind, and he had a great plan for us again. He had a great plan for us the first time [On Oct. 2], but we were able to turn turnovers into points. They put a lot on Xavier [Rhodes] and Captain [Munnerlyn] and Josh [Robinson]. Those guys tackled well, they covered pretty well and you've got to give them credit."
The Packers have thrived on the deep shots they've been able to take, particularly to
Jordy Nelson
, but the Vikings took those away Sunday, with a game plan that put safeties
Harrison Smith
and
Robert Blanton
in coverage over the top of Rhodes, Munnerlyn and Robinson (who played most of the game with the Vikings in nickel). Zimmer asked his corners to reroute receivers, and Rodgers wasn't able to find much downfield; he completed just four of the 11 throws he attempted longer than 10 yards, according to ESPN Stats & Information, and the 29-yarder he hit to
Randall Cobb
-- just behind tight coverage from Munnerlyn -- was his only completion that traveled more than 20 yards in the air.
"We just tried to show them different looks, confuse them a little and play tighter coverage," Munnerlyn said. "[Secondary] Coach [Jerry] Gray, and Coach Zim, they've been preaching it all week; 'They don't like guys to get up in their face and knock off their timing,' and that's what we did today. We just got up in their face and challenged them. We know they're great receivers. They've got a great quarterback, but at the same time, we feel like we're a pretty good secondary."
The danger with the Packers, of course, is that Lacy can punish defenses that opt to stay back in coverage, and he did that well enough for Green Bay to win Sunday. But teams that slow Rodgers down typically have done it by making him settle for shorter throws, and if the Vikings can pair their coverage approach with a better run defense and a more consistent pass rush -- they pressured Rodgers just 15.2 percent of the time, despite blitzing on 36.4 percent of his dropbacks -- they could have a solid plan for Zimmer's future duels with the quarterback.
November, 23, 2014
Nov 23
8:10
PM ET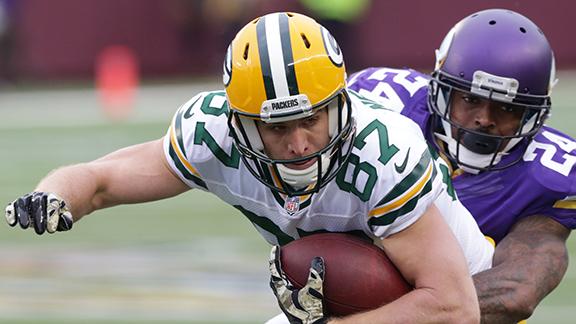 MINNEAPOLIS --
Teddy Bridgewater
's first NFC North game was supposed to come against the
Green Bay Packers
in prime time at Lambeau Field four days after he threw for 317 yards in his first NFL start. The fact the rookie missed that game with a sprained ankle, evidently, was still on his mind on Sunday, when a quarterback usually lauded for his composure came out firing rockets.
[+] Enlarge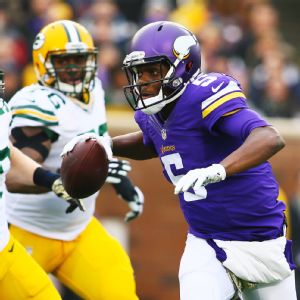 Adam Bettcher/Getty ImagesTeddy Bridgewater struggled in the first half of his first game against NFC North rival Green Bay.
"I wasn't able to play the first time we played the Green Bay Packers, and I was just trying to get a feel for this rivalry," Bridgewater said. "I think I was just very excited to be able to play the Green Bay Packers for the first time. I just have to settle down and remain poised and let the game come to me."
On a day when their defense held the league's hottest offense to 24 points and their cornerbacks won plaudits from
Aaron Rodgers
, the Vikings will have to wonder if they could have secured their first NFC North win of the year had Bridgewater been more accurate. In the first two quarters, he overshot
Charles Johnson
deep, threw too high for
Jarius Wright
, had an interception overturned by a holding penalty, fired a 9-yard pass that required a leaping grab from
Greg Jennings
, floated an interception that
Micah Hyde
said "felt like it was in the air for five seconds" and threw another high pass that
Tramon Williams
nearly intercepted. In the third, he missed Johnson on a deep throw after
Sam Shields
fell down, costing the Vikings a chance at a touchdown before
Blair Walsh
's field goal.
Bridgewater settled down in the fourth quarter, playing his best as he usually does when the Vikings tried to rally late. He hit eight of his 10 throws in the fourth quarter, for 69 yards and a touchdown, as the Vikings pulled within three of Green Bay. But the efficient, assured quarterbacking Bridgewater did at the end of the game made it easy to wonder why he couldn't play that way earlier.
"I didn't think he was as accurate as he normally is early in the ballgame," coach Mike Zimmer said. "He had a couple of high throws, a couple of missed throws. He seemed to settle down in the second half -- now, he got hit a bunch of times; we didn't protect him nearly well enough. He continued to keep drives alive in the second half, so those were all good things. We have to start, he needs to play better in the first half."
According to ESPN Stats and Information, Bridgewater was off target on seven of his 37 passes on Sunday, which was tied for the third-most off-target throws he has had in a game this season. He generally hasn't been among the league's wildest quarterbacks this season -- he's 15th in the league in terms of the most off-target throws per game -- but what sticks out is how many of his struggles have come early in games. On Sunday, six of his seven off-target throws came in the first half, and for the season, Bridgewater has the league's fifth-lowest QBR through two quarters.
"One of the things I told him is, 'You can't win a game by yourself; you can't lose a game by yourself,'" Jennings said. "When you have a guy that you know is trying to do everything the right way, you're willing to be patient. There's mistakes that I will make. There's mistakes he's going to make. But at the end of the day, I can't focus on the mistakes. We have to learn how to be together, and make sure we're doing things the right way to give our team a chance to win."
Bridgewater has criticized himself for overthinking things on a number of occasions this season, and his rough start to Sunday's game seemed to be because he was too fired up. It's another thing he's working through as a rookie quarterback, but on Sunday, it cost him a chance for a better debut against the Vikings' biggest rival.
November, 23, 2014
Nov 23
6:06
PM ET
November, 23, 2014
Nov 23
6:05
PM ET
MINNEAPOLIS -- Observed and heard in the locker room following the
Minnesota Vikings
' 24-21 loss to the
Green Bay Packers
on Sunday at TCF Bank Stadium:
Patterson
Patterson doesn't want to drop kickoff duties:
Wide receiver
Cordarrelle Patterson
was slow to get up after he was dragged down on his 42-yard kickoff return in the third quarter and sustained knee and ankle injuries on the play. But Patterson said he thought he'd be fine and added he didn't want to give up kickoff-return duties because of the injury risk. "Of course it's always risk-reward every time you get back there on a kickoff return," Patterson said. "But it's my job. Being back there, I have to take full advantage of it."
Tate active but absent in debut:
Running back
Ben Tate
was active for his first game in a Vikings uniform but was one of two players on the Vikings' active roster not to see the field on Sunday (
Christian Ponder
was the other).
Joe Banyard
got his first NFL carries instead, running five times for 26 yards in
Matt Asiata
's absence. "I think Banyard had the hot hand at the time," coach Mike Zimmer said.
Loadholt to have MRI:
Right tackle
Phil Loadholt
will have an MRI on his shoulder after getting injured in the fourth quarter, Zimmer said.
Mike Harris
took over for Loadholt, who didn't want to discuss his injury after the game.
November, 23, 2014
Nov 23
4:00
PM ET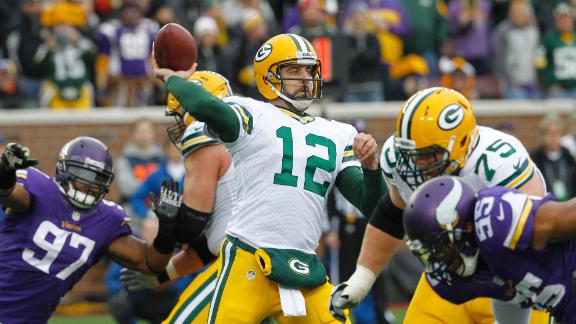 MINNEAPOLIS -- A few thoughts on the
Minnesota Vikings
'
24-21 loss
to the
Green Bay Packers
on Sunday at TCF Bank Stadium:
What it means:
The Vikings can effectively put away any flickering hopes of a late hot streak to make a playoff run. They dropped to 4-7 with the loss, which was their fourth in as many division games this season, on a day when their defense did well to contain
Aaron Rodgers
. The Vikings can point to familiar culprits in the loss -- they were flagged seven times for 77 yards (with three penalties for 35 yards on
Matt Kalil
), and they converted just 5 of 13 third-down attempts.
Bridgewater misfiring:
Teddy Bridgewater
was at his best late in the game, when the Vikings had to cover 79 yards in 13 plays to get within a field goal, but he missed too many throws early in the game, firing too high for
Jarius Wright
, overthrowing
Charles Johnson
deep and tossing an interception that was overturned when
Micah Hyde
was flagged for illegal contact. Through three quarters, Bridgewater had connected on just 13 of his 27 passes for 141 yards, before posting 69 on the Vikings' final TD drive.
Lacy burns Vikings again:
Eddie Lacy
's only 100-yard game of the season before Sunday came on Oct. 2, when he ran for 103 yards on 13 carries in the Packers' win over the Vikings at Lambeau Field. It was a more workmanlike day for Lacy this time -- he carried more than 20 times for the first time this season, and scored a pair of touchdowns (one rushing, one receiving) before helping the Packers salt away the victory. He finished with 25 carries for 125 yards, and in four games against the Vikings, he has six TDs.
Game ball:
Cornerback
Xavier Rhodes
was a major factor in the Vikings' ability to slow down Rodgers; he spent much of the day lined up on
Jordy Nelson
, and the Packers weren't able to hit the deep shots to Nelson they've used so often this season. Nelson's longest catch of the day was 14 yards as Rhodes' physical play helped throw off his timing with Rodgers.
What's next:
The Vikings (4-7) continue their three-game homestand next Sunday at noon against the
Carolina Panthers
.
November, 23, 2014
Nov 23
12:50
PM ET
MINNEAPOLIS -- Hello from an overcast day at TCF Bank Stadium, where the
Minnesota Vikings
and
Green Bay Packers
are set to square off at noon CT on Sunday. The Vikings will be tasked with trying to slow down the league's hottest offense, and they'll have to do it without the help of defensive tackle
Sharrif Floyd
.
Floyd, who didn't practice Thursday or Friday after banging knees with another player during practice, is among the Vikings' inactives for Sunday's game. Rookie
Shamar Stephen
will start in his place at defensive tackle, though the Vikings are likely to use a rotation of Stephen,
Tom Johnson
and
Linval Joseph
. Floyd, however, has played some of his best football in recent weeks, and his absence will likely be felt as the Vikings try to slow down Packers running back
Eddie Lacy
, who ran for 105 yards when the teams last met Oct. 2.
Running back
Ben Tate
will be active for the Vikings after the team claimed him off waivers last week; Tate could take part of
Matt Asiata
's role in goal-line and passing situations, with Asiata out with a concussion. Wide receivers
Greg Jennings
and
Jarius Wright
are also active after being listed as questionable with rib and hamstring injuries, respectively.
Here is the Vikings' full list of inactives:
November, 23, 2014
Nov 23
9:01
AM ET
ESPN.com news services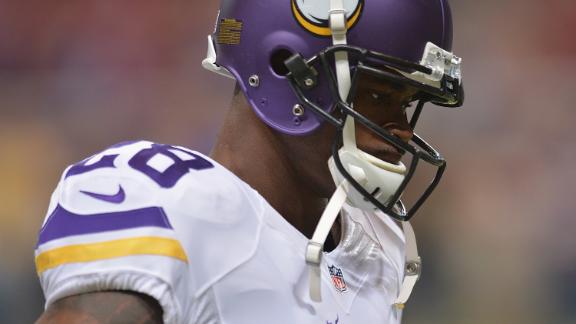 Though Adrian Peterson has said that a fresh start with a new team might be beneficial, coach Mike Zimmer told ESPN NFL Insider Ed Werder that he believes the star running back will return to the Minnesota Vikings when he's reinstated.
In an exclusive interview published by USA Today Sports on Thursday, Peterson hinted that some within the Vikings organization haven't been supportive and so he's thought about getting a fresh start with a new team.
"I know there's people in the organization that support me and there's people that I know internally that has not been supporting me," Peterson told USA Today Sports. "Maybe it's best for me to get a fresh start somewhere else."
League sources told ESPN NFL Insider Adam Schefter that Peterson was referring to Vikings general counsel Kevin Warren as the individual who wasn't in favor of his return.
Sources familiar with the case also told Schefter that Warren and the NFL have been working together to make sure Peterson does not return this season.
Earlier this week, NFL commissioner Roger Goodell suspended Peterson for the rest of the season amid child abuse allegations in Texas and told Peterson that he will not be considered for reinstatement before April 15, 2015, for his violation of the NFL's personal conduct policy.
Peterson, who has not played since Week 1, pleaded no contest on Nov. 4 to misdemeanor reckless assault for injuring his 4-year-old son with a wooden switch. His appeal of the NFL suspension will be held Dec. 2.
November, 22, 2014
Nov 22
8:00
AM ET
MINNEAPOLIS -- Thanks to all of you who submitted questions for this week's
Minnesota Vikings
mailbag. You can submit them at any point during the week on Twitter, using the hashtag #VikingsMail.
@GoesslingESPN Given the obvious trend toward devaluing RBs, why would #Vikings bring Peterson back? Will they renegotiate? #VikingsMail

— Tony Vincelli (@LivGavRocco208) November 21, 2014
@GoesslingESPN: Good morning, everyone. We'll get right into it with the 'A' topic: Peterson's future in Minnesota. My sense of it has been that Peterson will play somewhere else next year -- I think there's a feeling in some corners of the organization (and possibly in Peterson's mind) that it's time to move on -- but that said, here are the reasons the Vikings could decide to bring Peterson back: They'd be getting a running back who's fresh (if his suspension is upheld, he'll have been tackled a total of 21 times this year), and they know better than anybody what Peterson can do when he's out to prove something (see: 2012). Coaches and players support him, and if emotions cool over time, Peterson could return to be a force both on and off the field. The hangup in all that, though, could be his contract. I can't see the Vikings paying a 30-year-old running back $13 million in 2015, and if Peterson is going to play for less money, he might be more inclined to do it elsewhere. We'll see, though. It'll unquestionably be the top storyline of the offseason.
Will the Vikings Deploy more Double A gap pressure on Sunday, if so where does that expose the defense? #VikingsMail

— Michael Tarp (@MikeyTarp) November 20, 2014
@GoesslingESPN: The Vikings didn't blitz Aaron Rodgers much the last time they faced him, and there's an inherent danger in bringing extra pressure after him; Rodgers has the fifth-best QBR in the league against the blitz, according to ESPN Stats & Information, and while the Vikings' double-A gap blitz works well in part because it doesn't expose major holes in coverage, Rodgers could find room to work on quick throws over the middle. Even if the Vikings don't use it much on Sunday, though, we'll undoubtedly see the look; they like to put Anthony Barr and Chad Greenway on either side of the center, even though they'll often drop one or both players into coverage and rarely send more than five rushers. It can confuse protection schemes, and open up space for edge rushers if teams adjust their protection to block down on inside rushers.
@GoesslingESPN What happened to the downfield passing game? And can it be fixed? #VikingsMail

— Peder DeFor (@pdefor) November 20, 2014
@GoesslingESPN: The Vikings contend it can; they feel like Teddy Bridgewater throws the deep ball well enough to succeed in the NFL, and they say he hits downfield throws in practice. There are a few things that need to be fixed, though. First, the Vikings need to protect Bridgewater better; he won't have time to work downfield if he's evading pass-rushers within a couple seconds. They also need their receivers to do a better job of gaining separation, and lastly, Bridgewater's downfield accuracy needs to improve. He's still learning to trust himself on deep throws, and there have been too many times where he's not giving himself a split-second to set his feet and put the ball where it needs to be. The Vikings, though, wouldn't have put Bridgewater in Norv Turner's offense if they didn't think he could consistently hit throws of 15 yards or longer, and they're counting on him figuring it out in time.
@GoesslingESPN Which ONE position/player upgrade would improve this team the most. #VikingsMail

— Ty Hall (@VikingTy) November 20, 2014
@GoesslingESPN What positions on defense do you think will look the most different next year #VikingsMail

— Eric Bowe (@theEricBowe) November 20, 2014
@GoesslingESPN: I'll close by answering these two together, since they hit similar themes. As for the position upgrade, the obvious answer is that better play from the quarterback and left tackle spots would help the Vikings the most. But I don't think that's what you're getting at, since the Vikings plan to solve those problems with development (in Bridgewater's case) or a return to a previous level of play (in Matt Kalil's case). In terms of where the Vikings could realistically upgrade their personnel to help the roster, I'd probably say safety or left guard. If the Vikings had a really good safety next to Harrison Smith, they could be even more flexible on defense, and could conceivably stay in base packages more often. That's a big part of what helped turn Seattle's defense into a dominant unit, and the Vikings would like to be able to do that with their safeties, as well. And as much criticism as Kalil has taken this year, Charlie Johnson has been a major concern in pass protection, as well. David Yankey isn't strong enough yet to play in the NFL, but he could push Johnson for time next year.
As for the position that will look the most different on defense next year, I'd also suggest linebacker; the Vikings need to find a long-term answer in the middle, and Chad Greenway's future is in some doubt. Greenway's had a rebound year this season, in my opinion, but he'll be 32 next year and is due to count $8.8 million against the cap. He's certainly a candidate for another contract restructuring, but the Vikings might be inclined to see if Gerald Hodges is the future answer at weakside linebacker. My guess is Greenway plays one more season in Minnesota on a reduced deal, but even if he's back, the linebacker group could have a different look.

That'll do it for this week. Thanks for the great questions, everyone. Enjoy your Saturday, and we'll talk to you from TCF Bank Stadium on Sunday.
November, 21, 2014
Nov 21
3:35
PM ET
EDEN PRAIRIE, Minn. -- The
Minnesota Vikings
will head into Sunday's game against the
Green Bay Packers
with four of their starters listed as questionable, but most of the players in question --
Greg Jennings
,
Jarius Wright
,
Matt Kalil
and
Sharrif Floyd
-- seemed optimistic they would play Sunday.
Of the four, Floyd would seem like the biggest unknown. The defensive tackle did not practice Friday after banging knees with another player during Wednesday's practice. He said a MRI showed no damage to his knee, but the fact he did not participate on Thursday or Friday -- and had crutches next to his locker both of those days -- leaves his status in some doubt.
"It's in Coach [Mike Zimmer]'s hands," Floyd said. "I'll go as he goes."
Kalil got a day off on Friday, with what Zimmer called a "minor aggravation" to his knee. Zimmer said Kalil has been dealing with the issue for a while, and gave him a day to rest it on Friday. The left tackle said he's planning to play Sunday.
Jennings and Wright also seem likely to play; Jennings hurt his ribs on Sunday and Wright strained his hamstring, but both receivers practiced in full on Sunday.
Running back
Matt Asiata
, however, won't play on Sunday after sustaining a concussion last week. That could mean a larger role for
Ben Tate
, whom the Vikings claimed off waivers from Cleveland on Wednesday.
"He's catching on quick," Zimmer said. "He's got some explosiveness hitting the hole. Obviously he's a big-bodied guy. He's done a good job in protection so far, so we'll see how it goes."
November, 21, 2014
Nov 21
3:20
PM ET
EDEN PRAIRIE, Minn. -- Among
Adrian Peterson
's comments in the course of a 90-minute interview with USA Today on Thursday, the running back again floated the idea that his career might lead him somewhere other than Minnesota. It's a possibility we've heard Peterson raise before -- whether it's been him
musing
(
or talking to Jerry Jones
) about playing in Dallas, or
admitting he would think about going elsewhere
if the Vikings weren't in Super Bowl contention.
[+] Enlarge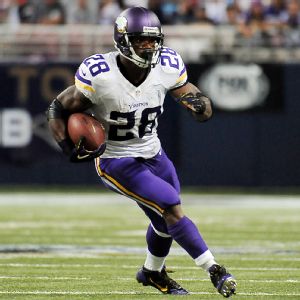 AP Photo/L.G. PattersonIf Adrian Peterson is no longer with the Vikings next season, Dallas or Seattle could be destinations that make sense.
But Peterson's comments carried a little more weight this time, because of what's gone on this season. The Vikings' decision to activate Peterson, then put him on the commissioner's exempt list in the wake of sponsor backlash, certainly strained the relationship between the team and the running back. Peterson's comments that "there's people I know internally that has not been supporting me" fall in line with what we've heard through the running back's time on the exempt list; the Vikings are certainly aware of what Peterson could do for their on-field interests, but they're also aware of the effects his return could have on their business and PR interests. Gauging those effects could take some time, and especially when Peterson will turn 30 in March and not be eligible for reinstatement until April, the Vikings could decide the $13 million they'd pay him next season would be better used elsewhere.
And then there's this: Peterson is someone who places a high value on loyalty. If he feels he's been kept at length by some in the organization, he's not likely to forget it, just as he's not likely to forget the coaches and teammates who have supported him through his time away from the Vikings. Once again, navigating those relationships will take time, and Peterson mentioned wanting to see if Minnesota would still be a place that would support him, but the thinking here has been that all parties might decide it's best to move on.
If that happens next spring, where might Peterson turn up?
Several destinations come to mind, and the Cowboys are first on the list. Peterson and Jones have talked with each other about their desire to work together, and if the Cowboys decided to pay
Dez Bryant
instead of
DeMarco Murray
this offseason, Peterson could be an alternative, especially if he signed a deal more in line with the current market for running backs than the one he has now. It's difficult to see Peterson going anywhere where he wouldn't be the featured running back, but he's made no secret about his desire to play in Texas at some point, and now might be his chance.
Another team to keep in mind is Seattle; the Seahawks could part ways with
Marshawn Lynch
after the season. They've had a history of bringing in former Vikings players, Peterson's old offensive coordinator (Darrell Bevell) is there, and he'd walk into both an offense that prioritizes the running game and a team with a strong culture. Teams that have a chance to win would presumably appeal to Peterson, and the Seahawks would offer that, as well.
He's got a home in Houston, and teams with impending change at the running back position, like San Francisco and Atlanta, might make sense. The first step for Peterson and the Vikings would be to figure out if they have a future together. Like so many things about this issue, that might not be as easy at it seems.
"I'm sure at some point this offseason -- or in the next several weeks -- he'll come back up here. I'm not sure what he has planned," said fullback
Jerome Felton
, who has been one of Peterson's strongest supporters throughout his time away from the team. "I know that's going to be a big factor. If I was uncomfortable, I wouldn't want to be somewhere.
"When it comes to Adrian, I didn't feel a negative reaction when we went to games on Sunday -- there were more [No.] 28 jerseys in the stands than any other jersey. I think the fans support him. I think people probably have strong feelings on both sides of the issue. But if he's going to be remorseful, I don't see any reason they wouldn't support him."
November, 21, 2014
Nov 21
1:00
PM ET
It's clear
Minnesota Vikings
coach Mike Zimmer has spent part of his week trying to instill confidence in his defenders that they weren't far off from stopping the
Green Bay Packers
on Oct. 2, despite a 42-10 final score that was made more lopsided by a pair of
Christian Ponder
interceptions.
Zimmer might have a point. The Vikings forced five three-and-outs in the first half of their Thursday night game with the Packers, and were able to get off the field with a defense that kept
Aaron Rodgers
from taking deep shots and converted on 7 of 11 third downs. Had the Vikings been able to sustain anything on offense, the thinking goes, the game might have been competitive.
The Vikings' problem is, Rodgers was still able to hit a 66-yard TD to
Jordy Nelson
, and
Eddie Lacy
rumbled for 103 yards. The Packers have been even better since then, allowing Rodgers to be sacked just six times in the last three games. Rodgers and Nelson have been a lethal combination, and on passes of 20 or more yards this season, Rodgers is 14-of-27 for 652 yards, eight TDs and no interceptions.
If the Vikings are able to take away Rodgers' deep shots, and if they get a better performance from
Teddy Bridgewater
than they did last week, they should be able to keep the Packers within reach for a while at home. But facing the league's highest-rated quarterback, who's playing at the top of his game, the Vikings won't be able to keep Rodgers down all day.
Prediction:
Packers 30, Vikings 14