March, 28, 2015
Mar 28
8:05
AM ET
ESPN.com news services
[+] Enlarge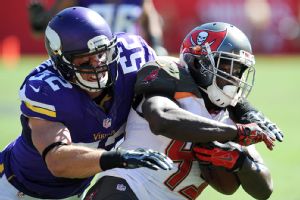 Cliff McBride/Getty ImagesChad Greenway recorded a career-low 93 tackles in 2014.
Minnesota Vikings linebacker Chad Greenway has taken a pay cut that will give Minnesota more than $3 million in salary cap space, a league source told ESPN's Field Yates.
Greenway's base salary for 2015, the final year of his contract with Minnesota, has been reduced from $7 million to $3.4 million, the source told Yates. Greenway will receive $1 million in guaranteed money and can make up to $600,000 from various bonuses, according to the source.
The restructured deal creates $3.225 million in cap space for the Vikings, according to the source. Greenway previously would have counted for $8.8 million against Minnesota's salary cap.
Vikings general manager Rick Spielman said earlier this month that the team wanted Greenway, 32, to finish his career in Minnesota. The two-time Pro Bowler has played his entire eight-year career with the Vikings.
Greenway recorded a career-low 93 tackles, tied for second-most on the team, last season despite appearing in just 12 games. It marked the first time since 2009 that Greenway failed to record at least 100 tackles.
March, 28, 2015
Mar 28
8:00
AM ET
Thanks to all of you who submitted questions for this week's Minnesota Vikings mailbag. You can submit them at any point during the week on Twitter, using the hashtag #VikingsMail. You busted the mailbag this week, and after tackling a round of Adrian Peterson-related questions yesterday, we're back to look at some other Vikings topics this morning.
@GoesslingESPN #VikingsMail with Greg gone who do you see emerging as a leader for the WRs now that we already had issues with 84, now MikeW

— ericthviking (@ericthviking) March 24, 2015
@GoesslingESPN: Good morning, everyone. We'll get started here. This is one element of the Vikings' switch from Greg Jennings to Mike Wallace that's worth keeping in mind as we go forward. Jennings was often portrayed as a mentor for the wide receiver group. That narrative was probably overcooked -- Jennings didn't seem to rub off on Cordarrelle Patterson, whom he was tasked with mentoring -- but it will be interesting to see how Wallace handles being the senior member of the wide receiver group after clashing with head coach Joe Philbin in Miami. Mike Zimmer said on Wednesday the Vikings might be more concerned about Wallace if they didn't have two coaches who had been on teams with him in the past (running backs coach Kirby Wilson in Pittsburgh and defensive coordinator George Edwards in Miami). He said players in Miami loved how hard Wallace worked, and added he didn't have any problems with players who want the ball, as long as they're putting the work in during the week. Wallace's work habits and his resume probably makes him the leader for the moment, though I could see Jarius Wright growing into a bigger leadership role, as well. Whatever happens, the Vikings have a couple receivers with something to prove this year in Wallace and Patterson, and it'd help their case if the former is a positive influence on the latter.
@GoesslingESPN if Evan Mathis is cut by PHI do you see Vikings being players? Still quite elite, and can let Yankey develop. #VikingsMail

— Andrew Renschen (@InfraRen) March 24, 2015
@GoesslingESPN: Yes, I could see that; from what I've heard, the Vikings could be looking to fill their guard opening with a veteran that gets cut and wouldn't hinder whatever chance they have at a compensatory pick in 2016. The Vikings weren't going to give up players or draft picks for a 33-year-old guard, as was rumored earlier this month, but Evan Mathis is a Pro Bowl guard who has a couple of noteworthy connections to the Vikings' coaching staff. He was in Cincinnati for three seasons when Zimmer was the defensive coordinator there, and his final year in Carolina was in 2007, which was current Vikings offensive line coach Jeff Davidson's first year as the offensive coordinator. If the Eagles do release Mathis, who is scheduled to make $5.5 million in 2015, I can definitely see the Vikings being players.
@GoesslingESPN I see we have brought back Berger and Harris but do you see us bringing in a guy like Wisniewski? Can play G/C. #VikingsMail

— Ryan Ortega (@Ortega423) March 24, 2015
@GoesslingESPN: I've asked a couple times, and the Vikings hadn't shown any interest in former Raiders center Stefen Wisniewski, who is still on the open market and reportedly had shoulder surgery after playing with a torn labrum last season. That might explain why he's still a free agent. Wisniewski could shift to guard, but when the Vikings already have two linemen recovering from torn pectoral muscles, another rehabbing lineman might not be the best fit.
@GoesslingESPN bigger linebacker concern? Getting Barr a bash-brother on the other side OR solidifying the middle? #VikingsMail

— David Swanson (@TheDaveSwanson) March 24, 2015
@GoesslingESPN: If the Vikings are going to spend as much time in the nickel as they did last season, getting linebackers who can stay on the field in passing situations should be the main goal. Those players can be middle linebackers or outside players, but they have to be able to hold up in pass coverage. The Vikings seem intent on bringing Chad Greenway back, and they were pleased with the progress they saw in Gerald Hodges last season. I think Anthony Barr and Hodges could eventually be the team's two nickel linebackers, and in this day and age, a fifth defensive back is probably more important than a third linebacker. But the Vikings do need to fill a spot in the middle of their base defense after Jasper Brinkley left, and unless they're smitten by a player like Washington's Shaq Thompson or Clemson's Vic Beasley, I think they'd be more likely to pursue a middle linebacker.
@GoesslingESPN Which would be the better luxury pick at 11...CB to play opposite Rhodes or S to play opposite Smith? #VikingsMail

— Drew (@66AlbinoRhino99) March 24, 2015
@GoesslingESPN: I'm intrigued by the idea of adding another dynamic safety next to Harrison Smith, but there might not be a safety that fits the Vikings' defense at No. 11 as well as Michigan State cornerback Trae Waynes might. His size and speed would make him a fantastic complement to Xavier Rhodes in the Vikings' defense, and considering the receivers the Vikings see twice each season, I'm not sure I'd call cornerback a luxury so much as a premium position. Alabama's Landon Collins is interesting, but he's more of an in-the-box safety, and the Vikings could use a guy with some coverage skills. If it came down to adding Waynes or a safety at 11, I'm taking Waynes.
That'll do it for this edition of the mailbag -- though we've got enough leftovers that we might tackle a few more questions early next week. Thanks for the great response this week, everyone, and enjoy your weekend.
March, 27, 2015
Mar 27
5:10
PM ET
Associated Press
[+] Enlarge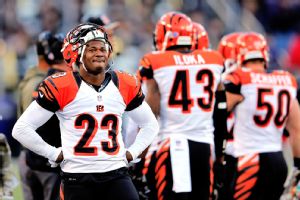 Rob Carr/Getty ImagesTerence Newman joins a Vikings secondary in need of more depth.
MINNEAPOLIS -- The Minnesota Vikings and cornerback Terence Newman have agreed to terms on a one-year contract worth as much as $2.5 million, including $750,000 guaranteed, that will reunite the veteran with coach Mike Zimmer for his 13th NFL season.
The Vikings announced the deal Friday with Newman, who spent the past three years with Cincinnati after nine with Dallas. Zimmer, entering his second season with Minnesota, was Newman's defensive coordinator for six years: four with the Cowboys and two with the Bengals.
Newman, who was drafted by Dallas with the fifth overall pick out of Kansas State in 2003, has 37 career interceptions, the third most among active players in the NFL.
The production and stability at cornerback for the Vikings was better in 2014, but that's still a position where they could use more depth with Xavier Rhodes, Captain Munnerlyn and Josh Robinson their leading returning players.
Newman has been relatively durable, averaging 15 games per season. He is a two-time Pro Bowl pick with 11 fumble recoveries, eight fumbles forced and 169 pass breakups over his career.
March, 27, 2015
Mar 27
8:00
AM ET
MINNEAPOLIS -- Thanks to all of you who submitted questions for this week's Minnesota Vikings mailbag. You can submit them at any point during the week on Twitter, using the hashtag #VikingsMail. After a couple weeks off from the mailbag, we probably had more questions submitted this week than we ever have (for some obvious reasons). We'll devote the first half of this week's mailbag to your Adrian Peterson-related queries, and we'll come back with some other topics tomorrow.
@GoesslingESPN if AP is still on the vikes roster come April 30, can we assume it will stay that way or will the drama continue #VikingsMail

— Ian Parrague (@IParrague) March 24, 2015
@GoesslingESPN: Good morning, everyone. We'll get started here. If the Vikings have any intent to trade Adrian Peterson -- and at this point, I don't think that's in their plans -- they'd want to get it done before the draft. They certainly could consummate a trade after that point, but their incentive to do so is greatest before April 30. That's why I think you're hearing Peterson's agent, Ben Dogra, turn up the volume on Peterson's unhappiness now; effectively, the Peterson camp's best play is to make the situation uncomfortable enough for the Vikings that their hand is forced. I think a trade is much more likely to be triggered by a great offer, though, and unless one of those exists, the Vikings seem to be planning to ride things out. As we discussed earlier this week, the Vikings have enough leverage to wait, and they believe Peterson will eventually come around if his only alternative is not to play. So I'd say it's safe to assume Peterson will be on the roster if he isn't traded by the draft, but that by no means rules out further drama. It seems to follow this team around, doesn't it?
@GoesslingESPN Any chance Dogra(APs Agent) says things AP might not want public? #VikingsMail

— Yinka Ayinde (@Saxyprince) March 24, 2015
@GoesslingESPN: I'd highly doubt that. In fact, I'd say the opposite is probably true. From what I've been told, Dogra is talking more now because it makes more sense for him, not Peterson, to engage in a public battle. Agents can play the role of the pit bull more effectively than players can; they're not the ones who will eventually be seeking goodwill if they wind up with a new team, or trying to project a certain image to sponsors. It's highly likely Dogra is saying much of what Peterson thinks, and he's being paid to represent Peterson's position. But in these situations, agents generally try to create a layer of separation between the player and unpleasantness. Peterson voiced many of his concerns when we talked to him last month; Dogra is saying things more forcefully now.
@GoesslingESPN How much do AP/Dogra & team pay attn to local/national chatter? They have to see AP is getting raked, right? #VikingsMail

— Trevor Campbell (@TCampbell1980) March 24, 2015
@GoesslingESPN: Sure -- Peterson has a Twitter account, and I'd bet he sees plenty of what people are saying to him. I know one of the reasons he was initially leery about coming back here was his concern about how he would be received in Minnesota. But that's why I say Dogra is speaking up now; his best strategy at this point might be to sour the relationship enough that the Vikings decide they have to rid themselves of a problem. It's a move that comes with plenty of flak, and it certainly suggests Peterson is more focused on an exit than he is on how he's perceived in Minnesota. His camp doesn't have many other options right now than to try and force the Vikings' hand, and if they're committed to that strategy, they're committed to weathering everything that comes with it.
@GoesslingESPN Some believe vikes offense with AP back might be really good. Aren't Matt Kalil and no LG still a huge problem? #VikingsMail

— Troy Podoll (@tpodoll1) March 24, 2015
@GoesslingESPN: Possibly. From what I've heard, the Vikings could still dive back into the market for a veteran guard that gets released. The Vikings also still have hopes for Matt Kalil; he improved toward the end of the season, and should be beyond his knee issues in 2015. But think about what Peterson would do for this offense. He'd open up the play action game (where Teddy Bridgewater struggled in 2014). He'd potentially free up Cordarrelle Patterson for more plays out of the backfield; it's no coincidence the jet sweep was only part of the Vikings' game plan in Week 1 when Peterson was still on the field. Peterson's presence in the backfield could also slow opposing pass rushes, conceivably making things easier on the offensive line. And an offense that had Peterson, Jerick McKinnon, Kyle Rudolph, Wallace, Patterson, Charles Johnson and Jarius Wright would be well-stocked enough to keep pace with the prolific offenses around the NFC North. That's why the Vikings want to wait out Peterson -- with him in the backfield next to Bridgewater, and an improving young defense, they might have their most dangerous team since Brett Favre was here. They might have to wade through some unpleasantness to get there, but right now, the payoff looks enticing enough to try it.
We'll wrap it up there for this morning, and we'll come back tomorrow with a round of non-Peterson questions. Enjoy your day, and we'll talk to you tomorrow morning.
March, 26, 2015
Mar 26
10:12
PM ET
Associated Press
MINNEAPOLIS -- The Wilf family is pledging another $19.5 million toward the Minnesota Vikings' stadium project to cover more of the costs in several aspects of building and surrounding areas.
The Vikings made the announcement on Thursday night before the Minnesota Sports Facilities Authority holds a meeting on Friday. They say the extra money will go to enhancements in the plaza, food service equipment, entertainment areas in the stadium, upgrades to retractable seating and a deck that will overlook downtown Minneapolis.
The additional money brings the Vikings contribution to nearly $551 million of the $1.061 billion project. That's about 52 percent. The public share remains at $498 million.
Vikings owner Mark Wilf says their "focus remains on providing a first-class experience to all of our fans."
March, 26, 2015
Mar 26
6:00
PM ET
[+] Enlarge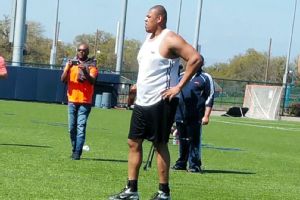 Courtesy of Adam BairThe Vikings have signed 6-foot-9, 351-pound tackle Babatunde Aiyegbusi, who most recently played in the Polish American Football League.
The Minnesota Vikings announced Thursday the signing of offensive tackle Babatunde Aiyegbusi, an undrafted free-agent tackle, who never played college ball but most recently spent time in the Polish American Football League and the German Football League.
Listed at 6-foot-9 and 351 pounds, Aiyegbusi, whose name is pronounced bah-BUH-tune-day ah-YEG-boo-see, caught the eye of Minnesota's scouts during a pro day workout Monday at the University of Texas-San Antonio, which led to a Wednesday workout at the team's facilities.
"It's just surprising to me. I'm just so grateful of the opportunity the Vikings gave me. I'm aware that this is the real deal, that I have to prove myself," said Aiyegbusi, who goes by the nickname "Babs." "I'm ready to do it. I was dreaming [of this moment], and actually practicing back in Poland going every day to the gym, I was thinking 'If I would have been born in the States, I would have an easier opportunity to get there.' But I'm not. They told me [the NFL] would never happen, but it did. I'm very happy."
A native of Olesnica, Poland, Aiyegbusi most recently played for the Dresden Monarchs of the German Football League. Aiyegbusi helped the Wroclaw Giants in 2013 win the Polish American Football League championship.
March, 26, 2015
Mar 26
12:00
PM ET
MINNEAPOLIS -- On several occasions during a difficult 2014 season, Minnesota Vikings left tackle Matt Kalil hinted his surgically-repaired left knee was bothering him, either by limiting his ability to handle outside rushers or toying with his confidence as he stepped into pass sets. After talking with Kalil recently, Vikings coach Mike Zimmer sounded confident the tackle's issues are gone.
"He feels very healthy again, so that's a good sign," Zimmer said at the NFL owners meetings in Phoenix on Wednesday. "His knees were hurting a lot, bothering him, but he'll be important to our success, as well -- making sure that he plays good, which will allow us to play better."
Kalil's struggles were a frequent topic of conversation during the 2014 season, and things came to a head after a Nov. 23 loss to the Green Bay Packers, when the former first-round pick got into a brief altercation with a fan outside TCF Bank Stadium. Zimmer talked on different occasions last season about Kalil's need to put bad plays behind him, and toward the end of the season, the Vikings started to see Kalil improve. He was only credited with one sack after Week 11, according to Pro Football Focus, and gave up just two hurries during that time.
The guess here is the Vikings will pick up Kalil's fifth-year option in May, so they can have another year to decide whether he's worth a lucrative contract extension. If Kalil plays the way he did as a rookie, an eight-figure salary could be in his near future. The Vikings likely won't pay him, though, if they don't see some stability in 2015.
"He might play great 70 plays, and eight plays he's not very good at all," Zimmer said. "We have to make him more consistent. We have to get him to finish better. I'm encouraged with some of the things he talked to me about the other day."
March, 26, 2015
Mar 26
8:00
AM ET
MINNEAPOLIS -- At the end of the 2014 season, the Minnesota Vikings sent some not-so-subtle messages to wide receiver Cordarrelle Patterson that he needed to smooth out some of the rough edges in his game before next season. Judging by what coach Mike Zimmer had to say about Patterson's progress so far this offseason, it sounds as though those messages were received.
At the NFC coaches breakfast on Wednesday morning, Zimmer said Patterson has "been working quite a bit this offseason -- actually working really, really hard.
[+] Enlarge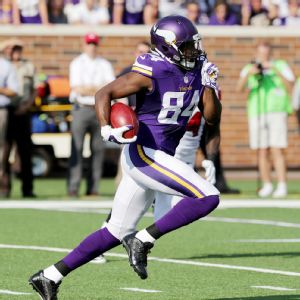 AP Photo/Jim MoneThe Vikings still want Cordarrelle Patterson to develop as a traditional receiver in their offense.
"Development-wise, he's really young in his development. There's obviously things that the fans see and say, 'Wow,' but he's got so much work to do on his overall game, not just the flash plays that you see. I think the big thing there is being in the same system again, understanding where he's going to be at, and us understanding a little bit more, too."
A report out of New England last month said that former Patriots receiver Troy Brown -- who played for Zimmer's mentor Bill Parcells -- was rumored to be working with Patterson this offseason. Zimmer still wouldn't offer details about Patterson's offseason regimen on Wednesday, though, adding, "I don't really want to get into his personal business, and then he gets asked all kinds of questions about it." But Zimmer said he's seen videos of what Patterson has been doing, adding, "I'm proud of him."
Patterson thrived as a rookie when the Vikings manufactured touches for him. According to ESPN Stats and Information, he caught 29 of his 45 passes as a rookie on balls thrown five yards or less from the line of scrimmage. His production dropped in 2014 when the Vikings tried to work him as a traditional split end, and Patterson eventually lost his spot in the starting lineup. But Zimmer said Wednesday the Vikings still want Patterson to become a traditional receiver, adding, "His pace is going to determine how fast he does that. I do feel like he's heard some of the terminology for a while. This is the first time in three years that it's really been the same offense [for him] -- maybe four years."
The 24-year-old receiver might have to get his touches in the flow of the offense, considering how many other receivers the Vikings have who can run some of the plays that were earmarked for Patterson as a rookie. According to ESPN Stats and Information, Jarius Wright caught 22 of his 42 passes within five yards of scrimmage. Charles Johnson caught 10 such passes, as the Vikings worked both receivers into a favorite screen play toward the end of the season. Zimmer talked on Wednesday about how the Vikings might want to use some short throws to take advantage of newcomer Mike Wallace's speed.
"I competed against him when he was in Pittsburgh," Zimmer said. "The little screens they ran -- they ran some great screens. He had three reverses against us -- I think the first three plays of the game one time. The crossing routes, the curls that he ran, some of the speed outs off motion. I think I've got a pretty good idea [of what he can do]."
Zimmer also said he might be more concerned about Wallace clashing with coaches in Miami "if two of my coaches hadn't coached him different places." Vikings running backs coach Kirby Wilson was with Wallace in Pittsburgh, and defensive coordinator George Edwards came to Minnesota after a year with Wallace in Miami. "We'd have been less inclined to do the deal if we didn't know so many things about him," Zimmer said. "I'm OK with guys who want the ball. If they practice hard and do all that stuff, I'm OK with that."
And while we're on the subject of wide receivers, Zimmer said Wednesday he thought the Vikings would still have used Greg Jennings in 2015, "but maybe not as much as he would want to be used." In the NFL, smaller roles usually go hand-in-hand with smaller salaries. The team had approached the 32-year-old Jennings about a pay cut, but when the two sides weren't able to come to a deal, the Vikings cut Jennings the day after they traded for Wallace, taking on $6 million of dead money in exchange for $5 million of cap relief.
March, 25, 2015
Mar 25
4:00
PM ET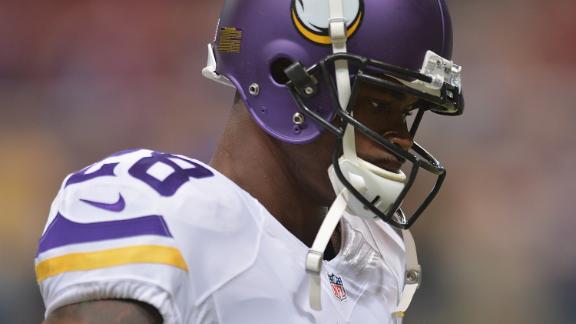 Questions about Adrian Peterson consumed the better part of Mike Zimmer's hour-long media session at the NFC coaches' breakfast on Wednesday in Phoenix, as Zimmer stayed squarely on message for the groups of reporters who stopped at his table. The Vikings aren't planning to trade Peterson, Zimmer said. The running back has a contract and the team expects him to honor it, the coach added. And no, the team isn't planning to grant Peterson's wish for a fresh start simply because he's unhappy at the moment.
Zimmer took great pains to clarify his stance on Peterson, after Pro Football Talk quoted Zimmer as saying the Vikings would accommodate Peterson if he wanted to leave. "I never said I would accommodate," Zimmer said. "All I said was that I want him to want to be there, like I want all of my players to want to be there. I've been in situations before that I thought were not the best situations. I've been under contract, and so I did what I was supposed to do, and it turned out pretty good."
For his part, Peterson told ESPN last month he believed the Vikings would let him move on if he wasn't happy in Minnesota. "I understand they respect me enough that if, for whatever reason, I wasn't happy and didn't want to come back to Minnesota, they wouldn't want me to be unhappy," Peterson said. "I know I have enough respect and know those guys well enough to know that much about them."
But at the moment, the Vikings are saying they don't plan to move Peterson. And it appears that stance is rooted in a belief that when it comes time to decide between playing or sitting, Peterson won't miss a second consecutive year simply because he's unhappy being in Minnesota.
As we discussed yesterday, the Vikings do not believe Peterson would be a malcontent once he shows up in Minnesota. I tend to agree with that stance; Peterson has too much professional pride and competitive drive to loaf on the field. And for all his concerns with people outside the team's football department, his relationships with his direct supervisors -- running backs coach Kirby Wilson, offensive coordinator Norv Turner and Zimmer -- remain strong. Essentially, a big part of the Vikings' approach is their belief Peterson won't become a problem in their locker room.
"I think the relationship is still right," Zimmer said. "I'm trying not to say what he's told me, but I think both of us, we understand we have a good relationship -- him and myself, football-wise, the team, our football organization. I think he feels good about it."
Zimmer also appealed to Peterson's previous statements about playing his entire career in Minnesota, referencing a player Peterson grew up watching.
"It might be a good question to ask Emmitt Smith if he wished he would have gone to Arizona those last two years," Zimmer said.
It sounded as though the coach had used that approach to sell Peterson on staying in Minnesota, as well. And unless they're just doing an extremely thorough job of posturing, the Vikings' lack of urgency to move Peterson would seem to reflect a belief the running back will eventually come around.
"I think he's a great competitor. I know he loves being around the team -- our team and Adrian communicate a lot," Zimmer said. "I think when he comes back, he'll be great."
March, 25, 2015
Mar 25
12:25
PM ET
MINNEAPOLIS -- After the Minnesota Vikings hosted former Cincinnati Bengals defensive back Terence Newman on a free-agent visit last week, coach Mike Zimmer said on Wednesday morning he expects he'll begin his third tour with Newman shortly.
Speaking at the NFC coaches breakfast at the NFL owners meetings on Wednesday morning, Zimmer said the Vikings will likely sign the 36-year-old defensive back. "It should get done here pretty quickly," Zimmer said.
Newman, who began his career in Dallas while Zimmer was the Cowboys' defensive coordinator, came to Cincinnati in 2012 after making two Pro Bowls with the Cowboys. He started every game he played for the Bengals in three seasons with the team, and was one of Zimmer's most vocal supporters when the former Bengals defensive coordinator was interviewing for head coaching jobs in 2014.
He would be the third former Bengals defensive back the Vikings have signed since Zimmer became the head coach, following safety Chris Crocker during last year's training camp and safety Taylor Mays on Tuesday. The Vikings twice tried to sign defensive end Michael Johnson, who went to Tampa Bay last year and came back to the Bengals this month.
Newman has started at left cornerback, and would have a shot to play there again in Minnesota, particularly if the Vikings aren't completely comfortable with what they've seen from Josh Robinson. Zimmer and general manager Rick Spielman indicated earlier this offseason they saw Captain Munnerlyn -- who started at left cornerback in the base defense last year -- as a nickel cornerback, and what Zimmer said on Wednesday morning would again indicate the Vikings want Munnerlyn to focus on the slot. Asked how he planned on using Newman, Zimmer said, "Left corner -- where he's always played."
Newman will be 37 by the time the season starts, but Zimmer said, "He can still play.
"He came in the league later -- I think he was 25 when he came in," Zimmer said. "He struggled a little bit in Dallas, but played great in Cincinnati. Last year, he didn't play quite as good. Seemingly with me, we get things fixed a little bit. I really respect him, and I think he really respects me."
Newman's willingness to mentor younger players also stuck out to Zimmer, given the youth of the Vikings' defensive backfield. "Even for a guy like Xavier Rhodes, who is learning about the game, this guy can help the progress of him -- where when I'm not talking to him, he can be talking to him about some of these things."
March, 25, 2015
Mar 25
12:09
PM ET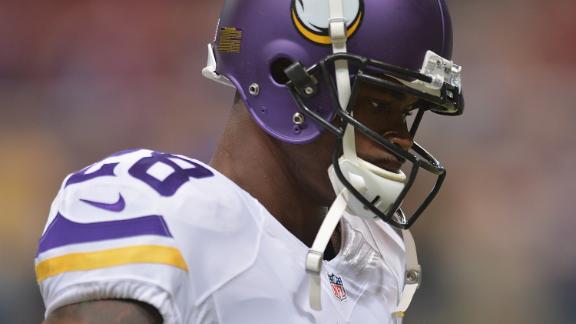 PHOENIX -- Minnesota Vikings coach Mike Zimmer reiterated the organization's stance on the status of tailback Adrian Peterson, saying he expects Peterson to honor his contract and play for the team in 2015.
"I'm not going to speculate on what he wants or doesn't want," Zimmer said. "Adrian's under contract for three more years with us, and that's why you sign those contracts. That's why you get these big bonuses, you know?"
He later stated emphatically: "We have no plans to trade Adrian."
Zimmer's comments reflected those made by co-owner Mark Wilf and general manager Rick Spielman earlier this week at the NFL owners meetings. Peterson's agent, Ben Dogra, said Monday that he didn't think it was in Peterson's best interest to remain in Minnesota after pleading guilty to charges related to injuries his son suffered last summer.
Zimmer met with Peterson earlier this month and has spoken to him on other occasions. He expressed hope that Peterson would revise his stance and suggested it would be the best decision for his long-term legacy.
"I think when he goes into the Hall of Fame, he's going to want to go in with the jersey that everyone remembers him as," Zimmer said. "That will be as a Viking."
Commissioner Roger Goodell said Wednesday that the NFL still considers April 15 as the relevant date for a decision on Peterson's reinstatement despite his appeal of the suspension he was issued by the NFL last year. Goodell said the NFL continues to examine the case and he expects to meet with Peterson again before that April deadline.