July, 24, 2014
Jul 24
6:35
PM ET
MANKATO, Minn. -- After weathering instability at quarterback for the better part of his seven seasons with the
Minnesota Vikings
,
Adrian Peterson
might be one of the more interested stakeholders in the Vikings' three-man quarterback competition during training camp. And as the Vikings reported to Minnesota State University on Thursday, Peterson had a simple message for coach Mike Zimmer: Pick a QB and stick with him.
Peterson
"I felt like it was going to be very important for us [to stick with one quarterback]" he said Thursday. "Like I said, I feel like the coaching staff and the guys up top will evaluate and do what's best for us. It feels good to know you have a couple guys to lean on, as well. It's not a secret. The quarterback position really hasn't played well, but that's why you bring guys in, you improve as an individual and you try to take steps forward. From what I've been able to see from Christian [Ponder] and Matt [Cassel], those guys have done that and that's the approach that they're taking. That's all you can really ask."
The Vikings used three different starting quarterbacks during a tumultuous 2013 season, eventually settling on Cassel at the end of the season. Zimmer said on Thursday that Cassel enters camp as the No. 1 QB in his mind, but said on-field performance will determine the Vikings' eventual starter. Peterson also put Cassel at the head of the race, for now.
"I feel like we have three good quarterbacks right now," Peterson said. "Basing everything off OTAs and the minicamps, of course
Matt Cassel
is our guy. With
Christian Ponder
and [
Teddy] Bridgewater
, right there, I'm behind them, but those guys are looking good as well. I have confidence in our organization from the top to the bottom, the head coach. We're going to do what's best for our team and the best player will play at any position. I'm just excited to get started
tomorrow
."
It's already been a busy month for the running back; he proposed to his girlfriend, Ashley Brown, on July 4 -- "an exciting and explosive night," Peterson called it -- and the two were married in a small ceremony on July 19.
"It was kind of funny because we were talking about going to the court and getting married and just did something more intimate at the house," Peterson said. "I only [had] like, 20 people and just the texts I've been getting from family members and my brothers, some of my brothers didn't make it. It was supposed to be something small and do something later, but plans don't always work out. I'm sure I'll hear something from [teammates]."
As for a honeymoon? Peterson said that happened at the Starkey Hearing Foundation gala in St. Paul last Sunday.
"Met Forest Whitaker, Hillary Clinton," Peterson said. "John Legend performed, so it wasn't bad at all."
July, 24, 2014
Jul 24
5:35
PM ET
MANKATO, Minn. -- Though
Minnesota Vikings
coach
Mike Zimmer
maintains the team will have an open competition at quarterback during training camp, he does have an incumbent in his mind for now.
Cassel
Zimmer said veteran
Matt Cassel
-- who started the final four games of the 2013 season -- heads into camp as the No. 1 quarterback. Cassel and
Teddy Bridgewater
got more snaps than
Christian Ponder
during the Vikings' organized team activities and minicamp, and while Zimmer said all three quarterbacks will get similar work at the beginning of camp, the Vikings will eventually start tailoring the practice work toward specific quarterbacks.
"It's not exactly even -- one-third, one-third, one-third," Zimmer said. "It's a little bit more and then some drills it's going to be a little bit less. You'll figure it out by watching practice."
Cassel, who signed a new two-year, $10 million contract after opting out of his original deal in February, starts camp with the benefit of the doubt, but Zimmer said again the Vikings wouldn't be afraid to start Bridgewater as a rookie if he's ready.
"They're going to determine who the starter is on the practice field about how they go about their business, how they perform in the preseason games," Zimmer said. "I understand the quarterback's a big situation. Part of the question about answering who the quarterback's going to be is, what kind of defense do we have? What are we going to ask the quarterback to do? How can we use the quarterback in different ways. I think a lot of that has a factor on who the quarterback will end up being."
July, 24, 2014
Jul 24
4:14
PM ET
MANKATO, Minn. -- Saying he's learned a "hard lesson," Minnesota Vikings special-teams coordinator Mike Priefer apologized Thursday for the homophobic remark he made during the 2012 season, while coach Mike Zimmer and general manager Rick Spielman stood behind the coach the organization decided to discipline instead of fire.
Priefer will be suspended for the first three weeks of the 2014 regular season, and he will not be allowed to have contact with the team during that suspension, Spielman said Thursday. Priefer will attend a week of sensitivity training and could see his suspension reduced to two weeks if Vikings ownership determines he is ready to return.
"I'd like to start off by saying that I like to set a higher standard for myself: a higher standard of conduct, a higher standard of work ethic, a higher standard of being a father and a husband, and I expect a lot from my players, as well," Priefer said. "My wife and I raise our children this way in terms of our last name and what that means. Remember who you are. In this regard, in this situation, with my comment, I failed. I didn't just go below the bar. I went way below the bar. I made a mistake. I was wrong. I brought a lot of undue attention to the Minnesota Vikings organization and brought an unwanted distraction, and I apologize. The apology that I spoke about, that I put out on Friday, I want to reiterate that in a very humble and sincere manner."
July, 24, 2014
Jul 24
8:00
AM ET
MINNEAPOLIS -- Between now and the
Minnesota Vikings
' first training camp practice July 25, we will break down each position group. We'll look at the linebackers this morning.
Returning players:
Chad Greenway
,
Michael Mauti
,
Gerald Hodges
,
Audie Cole
,
Larry Dean
Gone from last season:
Erin Henderson
,
Desmond Bishop
,
Marvin Mitchell
New this season:
Anthony Barr
(first-round pick from UCLA),
Brandon Watts
(seventh-round pick from Georgia Tech),
Jasper Brinkley
(free agent from Arizona),
Dom DeCicco
(free agent from Tampa Bay),
Mike Zimmer
(free agent from Jacksonville)
Position coach:
Adam Zimmer (first season)
Biggest issue:
As the Vikings begin camp, they've almost got a blank slate at the position. Greenway figures to start, but will it be at middle linebacker or weak-side linebacker? Will Brinkley return to start in the middle? Will Cole be able to lock down a starting spot after playing well at the end of last season? And will Barr be ready for a featured role in the Vikings' defense after the team used the No. 9 pick in the draft on him? There's some young talent at the position, but the Vikings don't have much settled at linebacker, and they'll have to run through a number of permutations to figure out what will work. Hodges -- who struggled as a rookie and didn't seem to play with the edge the Vikings wanted to see -- could also get a chance to turn things around and showcase his quickness in Mike Zimmer's defense.
Player to watch:
Barr is the obvious choice -- the Vikings seem to have big plans for him as a pass-rusher that can occasionally set up on the defensive line. He'll have to prove he can handle coverage responsibilities, especially in light of the fact the Vikings toyed with him in their nickel package during minicamp, and he'll have to adjust to offensive linemen that know how to counter his pass-rushing moves. But the Vikings were thrilled to get him, and if he's able to handle the learning curve as a rookie, he's got the potential to unlock a series of different looks for the Vikings defense.
Medical report:
Greenway played with a broken wrist last season, but is healthy this season, and Mauti, who had three ACL operations in college, is now 20 months removed from his last surgery.
Help wanted:
The Vikings seemed confident enough in their young linebackers not to pursue much help (outside of Brinkley) in free agency, and barring injury, they're likely to head into the season with the group they've got at the position.
Quotable:
"When you go into a game with six linebackers, if something happens, they've got to be ready to go, so part of the deal with guys is we're trying to give them a lot of different things to do," Mike Zimmer said. "I've always felt like the more you can do, the more valuable you are on game day."
July, 23, 2014
Jul 23
5:45
PM ET
MINNEAPOLIS -- The
Minnesota Vikings
made a minor roster move the day before players are scheduled to report to training camp, cutting defensive end
Spencer Nealy
less than two weeks after the NFL suspended him four games for violating its performance-enhancing substance policy. The team signed tight end Mike Higgins to take Nealy's roster spot.
The 26-year-old Higgins spent last season on the
New Orleans Saints
' practice squad after he played a total of four games for the team in 2011 and 2012. Higgins caught two passes for a total of 1 yard in those two seasons, after signing with the Saints as an undrafted free agent out of Nebraska-Omaha.
He'll join the team in Mankato, Minnesota, this week for the start of training camp.
July, 23, 2014
Jul 23
2:17
PM ET
[+] Enlarge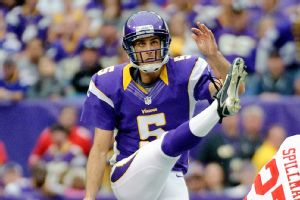 Hannah Foslien/Getty ImagesFormer Vikings punter Chris Kluwe's lawsuit is on hold as conversations between his lawyer and a Vikings attorney re-opened the door for settlement discussions.
MINNEAPOLIS -- The attorney for former Minnesota Vikings punter Chris Kluwe said he won't file suit against the team for now, after conversations with a Vikings attorney re-opened the door for settlement discussions.
Clayton Halunen, Kluwe's attorney, said in an email on Wednesday afternoon that he had talked with Vikings attorney Joe Anthony, and that both agreed to recommend continued discussions to their clients.
"We will not be taking any action pending the completion of those discussions," Halunen wrote. He later said "we would expect to know where things are at within the next few weeks," adding the Vikings have agreed to continue discussions.
Halunen had said he planned to file suit against the team on Wednesday, after it declined to release the full report from a six-month independent investigation of Kluwe's allegations that he was subjected to homophobic remarks from special teams coordinator Mike Priefer and was eventually released for his support of same-sex marriage.
July, 23, 2014
Jul 23
1:00
PM ET
MINNEAPOLIS -- For at least one more year,
Adrian Peterson
has one-upped
LeSean McCoy
. Or at least the virtual version of him has.
Peterson is the top-rated running back in 'Madden NFL 15,' with an overall rating of 98. EA Sports released its running back ratings for this year's version of the game on Wednesday, and Peterson edged McCoy and Kansas City's
Jamaal Charles
by a point, a year after carrying a 99 rating and gracing the cover of the next-generation console version of 'Madden NFL 25.' Chicago's
Matt Forte
and Seattle's
Marshawn Lynch
are the next-best running backs in the game, with overall ratings of 95 each.
Peterson
We got a chance to talk with Donny Moore, who carries the title of "Madden NFL Live Content Producer and Ratings Czar" -- and who might have one of the only jobs in the world we'd think is cooler than ours -- about the process of rating players for the game. Essentially, Moore and his team spend countless hours dissecting proprietary NFL film, reading updates on players and digesting advanced stats in a meticulous (and in the days of week-to-week online updates, continual) effort to make the game as realistic as possible. Their job is to distill all of that information into a player profile, rating each player in the NFL across more than three dozen categories to make his digital doppelganger behave like the real thing.
"The ratings pipe right back into the gameplay," Moore said. "We get so many requests and expectations for game play; it's got to be fun, but it's got to be authentic."
Peterson, Moore said, slipped a point for several reasons: His yards per carry dropped from an otherworldly 6.0 in 2012 to 4.5 last season, he fumbled five times (his most since 2009) and he was hampered by injuries for much of last season. Still, there's no one in the game with the combination of speed and power that Peterson has.
"Everybody says, 'What? How is he the top guy? He certainly didn't have the 2,000-yard season (in 2013), but the overall rating is still a calculation of their attributes," Moore said. "He's a 97 across the board in the three physical categories that matter the most. I don't think there's anyone that has that collection of ratings. He's a 93 (in) trucking, 95 (in) elusiveness. When he's out in the open, he's not going to be caught. In contact situations, he'll still succeed better than any running back."
Moore said the most time-consuming part of his job is creating rookies for 'Madden,' since the game developers don't rely much on the corresponding characters in EA's college football games (which were discontinued after last season). The college game was more favorable to players, Moore said, than 'Madden' aims to be, so rookie creation means starting almost from scratch.
Vikings rookie running back
Jerick McKinnon
, Moore said, was "pretty fun to create," in large part because of McKinnon's eye-popping numbers at the NFL scouting combine. The Georgia Southern product bench pressed 225 pounds 32 times, ran a 4.41-second 40-yard dash, flashed a 40 1/2-inch vertical and an 11-foot broad jump. "It's easy to rate his physical attributes very well because of how he timed (at the combine)," Moore said. "How he rates on his trucking or his elusiveness remains to be seen, but between his speed, his agility, his acceleration and his jumping, that's pretty nice for a guy from Georgia Southern."
One more Vikings-related note on this year's game, which will be released on August 26:
Teddy Bridgewater
-- an avid 'Madden' player who
reacted with mock indignation
to his rating in this year's game -- is the second-best quarterback on the Vikings' roster, a point behind
Matt Cassel
. Moore said Cassel, Bridgewater and
Christian Ponder
are "all bunched up in the high 70s," and while Bridgewater was slated to be the top rookie QB in the game when Moore started putting his ratings together, his stock slipped because of his now-famous pro day, just like it did in real life.
"I had to knock his throw power down a point or two," Moore said. "I had him at an 89, and now it's an 87. I think he has the top short accuracy of all the rookie quarterbacks, and his overall accuracy is pretty stellar. His deep accuracy needs to improve. His speed rating is in the low 80s, which puts him in the
Aaron Rodgers
category (for quarterbacks).
July, 23, 2014
Jul 23
10:00
AM ET
By
ESPN.com staff
| ESPN.com
ESPN.com
Minnesota Vikings
reporter Ben Goessling discusses the conditioning test facing the team.
July, 22, 2014
Jul 22
4:25
PM ET
MINNEAPOLIS -- Between now and the
Minnesota Vikings
' first training camp practice July 25, we will break down each position group.
Today, we'll take a look at the defensive line.
Returning players:
Brian Robison
,
Everson Griffen
,
Sharrif Floyd
,
Fred Evans
,
Chase Baker
,
Spencer Nealy
,
Justin Trattou
Gone from last season:
Jared Allen
,
Kevin Williams
,
Letroy Guion
New this season:
Linval Joseph
(free agent from
New York Giants
),
Tom Johnson
(free agent from New Orleans),
Corey Wootton
(free agent from Chicago),
Kheeston Randall
(free agent from Cincinnati),
Scott Crichton
(third-round pick from Oregon State),
Shamar Stephen
(seventh-round pick from Connecticut),
Rakim Cox
(undrafted free agent from Villanova),
Isame Faciane
(undrafted free agent from Florida International),
Tyler Scott
(undrafted free agent from Northwestern),
Jake Snyder
(undrafted free agent from Virginia)
Position coach:
Andre Patterson (first season)
Biggest issue:
There might not be any position group on the roster that went through a bigger change this offseason than the defensive line, and after the Vikings spent considerable resources to put together a line that can play coach Mike Zimmer's system, it will be incumbent upon players to execute it. Zimmer wants his linemen to engage blockers first and stay disciplined against the run, which means Robison and Griffen, in particular, will see a change in the way their position is coached. The Vikings' old system often gave defensive ends -- particularly Allen -- the freedom to take an aggressive pass-rushing stance and charge upfield, rather than working off blockers first .Zimmer's ends typically play with a more balanced stance, and don't get to set up in a wide alignment as often as pass-rushers like Allen did in the past. Reconstructing the Vikings' line play might be one of the more important steps in Zimmer's effort to rebuild the defense.
Player to watch:
It's an important year for Floyd, who will take on a more significant role at defensive tackle after an underwhelming rookie season. The 23-year-old lost weight over the winter, and will likely play more this season after staying on the field for just 39.6 percent of the Vikings' defensive snaps last season. The Vikings want to see him turn into the kind of three-technique defensive end that Zimmer had in
Geno Atkins
while he was in Cincinnati, and it's an important year for Floyd to prove he can turn into a key piece of the defensive line.
Medical report:
Joseph was limited by shoulder surgery during the Vikings' organized team activities and minicamp, but should be ready for the start of camp. Wootton had hip surgery last winter, and after playing hurt last season in Chicago, he believes he will have more pass-rushing productivity now that he has regained some of his explosiveness.
Help wanted:
There is some reason to be concerned with the interior line depth, but they have a solid group of ends and will get some flexibility from a few players that can work inside or outside, like Griffen, Wootton and Crichton. As common as injuries are on the defensive line, though, the Vikings are likely always on the lookout for another body (as they were when they tried to bring Williams back this spring).
Quotable:
"That group, I think, is a good group," defensive coordinator George Edwards said. "There was a lot of holes there when we first came in here. We've added some new players to that position. One thing you always like to see is guys working together and trying to help each other, and you see that group right now coaching each other when we're not around, helping each other, trying to talk about pointers, trying to talk about the message that we're trying to get accomplished, what we're trying to do schematically, defensively the fundamentals and techniques of it."
July, 22, 2014
Jul 22
2:15
PM ET
MINNEAPOLIS -- As
Christian Ponder
begins his fourth training camp with the
Minnesota Vikings
, there's less guaranteed to the quarterback than at any point since the team made him the 12th overall pick in the 2011 draft.
Ponder
Ponder will head to Mankato, Minnesota, as the third member of an open quarterback competition that will quite possibly end with him standing on the bench. The number of snaps given to veteran
Matt Cassel
and first-round pick
Teddy Bridgewater
during the Vikings' OTAs and minicamp far outpaced the number given to Ponder, and even the quarterback sounded unsure of how much time he'd get when the Vikings begin practice later this week.
"It's a way to learn from these coaches, and watching Matt and Teddy," Ponder said Tuesday after working out with Vikings tight end
Kyle Rudolph
and
Arizona Cardinals
receiver
Larry Fitzgerald
, among others. "I don't know how many reps I'm going to get, but I'm going to try to take advantage of them and play as well as I can. You've always got to be prepared."
Ponder's time as the Vikings' starting quarterback could well be over, but his outlook on things other than football might be clearer than ever. Ponder and his wife, ESPN college football reporter Samantha Ponder, welcomed their first child earlier this month. They named their little girl Bowden Sainte-Claire Ponder -- the middle name is the same as Samantha's, while the first, of course, pays homage to retired Florida State coach Bobby Bowden -- and they plan to call her "Scout," after the young narrator of Harper Lee's "To Kill a Mockingbird." Christian Ponder said his wife contacted his old college coach and arrange a surprise congratulatory phone call after the baby was born.
And as Christian Ponder prepares for the season, he's also preparing to divide his time between the grind of an NFL season and the demands of fatherhood.
"It's crazy to take such a responsibility -- you have someone that's so dependent on you," Ponder said. "You've got to take care of her and your family. It's an eye-opening experience, it's fun and it's scary at the same time."
The quarterback said he read three books on parenting before his daughter was born, and he mixed those in with his study of a Vikings offense that will look markedly different than the one Ponder played in for the last three seasons. Offensive coordinator Norv Turner has defended Ponder against his critics, saying the 26-year-old quarterback still has the ability to develop in his system, and Ponder said he's enjoyed how he fits in the offense so far.
He'll be a free agent after this season and might not get much playing time to make any kind of statement about his future. But after three tumultuous years as a starter, Ponder seemed to have things in perspective Tuesday.
"It's going to have a different feel to it," Ponder said of training camp. "People say they're going to try to approach it the same way, but you can't. If you're not the starter, you can't approach it the same way. I'm going to try to take full advantage of everything I'm given, learn as much as possible and put the work in to get better. We'll see what happens."
July, 21, 2014
Jul 21
5:45
PM ET
MINNEAPOLIS -- Between now and the
Minnesota Vikings
' first training camp practice July 25, we will break down each position group.
Today, we'll take a look at the offensive line.
Returning players:
Matt Kalil
,
Charlie Johnson
,
John Sullivan
,
Brandon Fusco
.
Phil Loadholt
,
Joe Berger
,
Jeff Baca
,
Mike Remmers
,
Kevin Murphy
Gone from last season:
J'Marcus Webb
New this season:
David Yankey
(fifth-round pick from Stanford),
Vladimir Ducasse
(free agent from
New York Jets
),
Antonio Richardson
(undrafted free agent from Tennessee),
Matt Hall
(undrafted free agent from Belhaven),
Pierce Burton
(undrafted free agent from Mississippi),
Austin Wentworth
(undrafted free agent from Oklahoma State),
Zac Kerin
(undrafted free agent from Toledo)
Position coach:
Jeff Davidson (fourth season)
Biggest issue:
The Vikings' offensive line has been one of the most reliable units on the team for the past two seasons, but after a season when Kalil and Johnson struggled at times on the left side, the group will have to adapt to an offense with a different focus than the one the Vikings have used for the past several seasons. Run blocking has been the forte of this group, and while the line has been decent in pass protection, offensive coordinator Norv Turner's scheme, which will likely have the Vikings throwing more often and further downfield than they did under Bill Musgrave, will require linemen to hold their blocks longer and let plays develop. Kalil, in particular, needs to be better after a subpar follow-up to his Pro Bowl rookie season.
Player to watch:
The Vikings were thrilled to see Yankey still available in the fifth round, and the rookie could push for a starting job before too long. He's a mean, physical guard who comes from a school that's produced a number of solid offensive linemen in recent years, and while he's been a left guard -- which might be the most vulnerable position on the Vikings' line -- Yankey has played both guard and tackle spots. His versatility and size (6-foot-6, 315 pounds) could make him a versatile backup, at the very least.
Medical report:
Kalil had knee surgery after last season, and was limited to individual drills during the Vikings' organized team activities and minicamp. He's expected to be ready for the start of training camp, however.
Help wanted:
The Vikings could look for backup help at tackle, and though they'll be helped by the fact Yankey and Ducasse can line up in a few different spots, it wouldn't be terribly surprising to see them add a veteran backup at some point, like they had in Webb last year.
Quotable:
"A lot of the ways that we're doing protections have changed," Davidson said. "There's a lot of nuances that have taken on different responsibilities for everybody within the line. The communication part is very important. That's what we spent an inordinate amount of time on, during the OTAs especially. The run game, there are some changes. I would call them minor tweaks, as compared to what we've done in the pass. Protection-wise is where we've made a substantial change. Some of the adjustments we're making with the protections, that's taken a lot of time."
July, 21, 2014
Jul 21
2:30
PM ET
MINNEAPOLIS --
Teddy Bridgewater
will begin his first training camp as a
Minnesota Vikings
quarterback later this week under close scrutiny, as he tries to win the Vikings' starting job as a rookie. Bridgewater, however, doesn't plan to pay much attention to the race for the job -- or at least he's saying he doesn't.
[+] Enlarge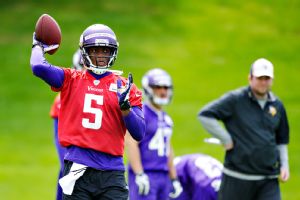 Hannah Foslien/Getty ImagesTeddy Bridgewater said he didn't feel comfortable talking about the QB competition.
After a workout at the University of Minnesota on Monday, Bridgewater said he hasn't thought much about the number of first-teams snaps he has received to this point, and he doesn't plan to keep track of it during training camp. He wouldn't talk much about his bid for the job against
Matt Cassel
and
Christian Ponder
, discussing instead what he has been doing since the end of the Vikings' minicamp last month.
"That's something I don't feel comfortable talking about," Bridgewater said of his chances to start. "I'm just looking forward to training camp. Can't wait to get to Mankato, put the pads on and just continue doing what we've got to do -- play football."
Bridgewater, who has been training in Florida with former NFL quarterback Ken Mastrole, said he has been studying the Vikings' playbook for two hours each morning since the end of minicamp. He wouldn't discuss how much contact he'd had with offensive coordinator Norv Turner and quarterbacks coach Scott Turner in the last month, but he said he feels good about the relationship he has with both men and his preparation for his first season.
"I've been doing everything the Minnesota Vikings asked me to do," Bridgewater said. "I can't wait to put the pads on and get started."
The quarterback worked out with Vikings tight end
Kyle Rudolph
on Monday, as part of the workout group organized by
Arizona Cardinals
receiver
Larry Fitzgerald
. He said he plans to do some work at the Vikings' facility this week, as well, before players report to training camp on Thursday.
July, 21, 2014
Jul 21
2:05
PM ET
MINNEAPOLIS -- Former
Minnesota Vikings
punter Chris Kluwe plans to file suit against the team this week, in part to obtain the full report from a six-month independent investigation of his allegations against special teams coordinator Mike Priefer. But Kluwe is employing another tool to pressure the Vikings to release the report.
Kluwe
He started a petition on
Change.org,
asking the Vikings to release the full 150-page report to the public. The team engaged another law firm to review the full report last week and released a 29-page summary of the investigation on Friday evening. In an interview on Saturday, however, Kluwe said the report contained inaccuracies about Priefer's conduct and called again for the Vikings to release the complete report. As of Monday afternoon, his petition had received about 900 digital signatures.
Kluwe's attorney, Clayton Halunen, said on Saturday that he would start the discovery process the same day he serves the Vikings with a lawsuit. Of the report, he said, "We're going to get that within 30 days (of a lawsuit being filed)."
In the explanation of the petition he wrote on Change.org, Kluwe said the Vikings had promised to release the findings from their six-month investigation, and he called a news conference on July 15 to criticize the team after it informed him it would not release the complete report. The Vikings, however, released a statement on July 15 saying they had never made or broken any promises to Kluwe about what they planned to do with the report, and investigators Chris Madel and Eric Magnuson released a statement the same day saying they did not tell Kluwe or Halunen in a July 14 meeting the team would not release the report.
A representative from Halunen's office said the attorney plans to file suit in Minnesota state court by Wednesday.