April, 17, 2014
Apr 17
5:59
PM ET
ESPN.com news services
[+] Enlarge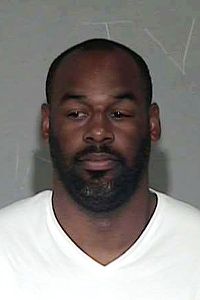 AP Photo/Maricopa County Sheriff's OfficeFormer NFL QB Donovan McNabb was released Thursday from an Arizona jail after serving a one-day sentence for a DUI arrest.
MESA, Ariz. -- Former NFL quarterback Donovan McNabb was released Thursday from an Arizona jail after serving a one-day sentence for a misdemeanor DUI arrest late last year.
Records released by West Mesa Justice Court show McNabb served his time Wednesday and was released Thursday morning.
"I have had other high-profile athletes who have been incarcerated with no problems, and this latest athlete follows that same pattern," Maricopa County sheriff Joe Arpaio said.
McNabb, 37, was arrested Dec. 15 on the Salt River Pima-Maricopa Indian Community east of Phoenix, according to court records.
A copy of the citation shows McNabb was stopped on the Loop 101 freeway just after 3 a.m., and radar clocked his Range Rover at 81 mph in a 65-mph zone. He also was cited for DUI, but no information about blood-alcohol level was on the citation.
McNabb pleaded guilty on March 27, and nine days of his sentence was suspended.
The Maricopa County Sheriff's Office released McNabb's mug shot Thursday morning, and that started a media frenzy about the arrest, which had not been previously reported.
McNabb's Phoenix-based attorney, Stephen Benedetto, didn't immediately return a call Thursday seeking comment on the case.
April, 17, 2014
Apr 17
3:15
PM ET
MINNEAPOLIS -- Because the
Minnesota Vikings
-- and the other 31 teams in the NFL -- are limited mostly to strength and conditioning work during the first two weeks of their offseason workout program, it's hard to see many concrete differences at this point between new coach Mike Zimmer's regime and that of former coach Leslie Frazier. Those will become more obvious once Zimmer is able to get on the field with his players, but as the Vikings get back to work, there are a couple of noticeable changes around the team's facility already.
[+] Enlarge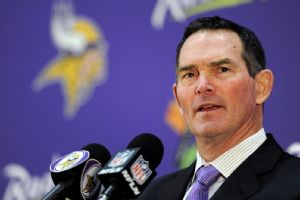 Hannah Foslien/Getty ImagesUnder coach Mike Zimmer, the Vikings have a new strength and conditioning coach (Evan Marcus) and a new approach to lifting weights.
Zimmer had talked at the NFL scouting combine about wanting to build a meeting room big enough for the entire team, with stadium seating that would allow him to meet each player's eye level, rather than the traditional classroom setup the Vikings had before. That was a bit of a logistical challenge in the Vikings' cramped facilities, but operations and facilities director Chad Lundeen directed the effort to build the room, which is now finished in the southwest corner of the Vikings' field house where the team previously only held news conferences. The meeting room is big enough for 115 people, with desks for players to take notes and wi-fi so they can watch film on their iPads. It also includes a projection screen in the front, and is cordoned off from the Vikings' indoor practice field by a set of tall black curtains.
The team's weight room also has a new look, spurred by new strength and conditioning coach Evan Marcus' emphasis on a simpler weight program. The Vikings used to do most of their weight work on machines, but those have been switched out in favor of barbells and lifting platforms. As linebacker
Chad Greenway
pointed out, the program is more like what players did in college, working together on bench presses and power cleans, and the program as a whole is designed to put more of a focus on explosive movements, which Marcus believes will do a better job of giving players football-specific strength.
"With machines, there's only so much power you can generate on a machine that's basically -- you're isolating a muscle," Marcus said. "We're trying to do total body movements. A lot more ground-based stuff. Because they play on their feet, we're doing things that they're standing up and driving power into the ground."
Marcus, who was the
Miami Dolphins
' strength and conditioning coach from 2008-10 before spending the past three seasons at the University of Virginia, said he made a simple pitch to the Vikings during his job interview: If you hire me, you can expect your weight program to change from machines to free weights.
"I don't think I would have been hired (if they didn't buy into that)," he said. "They came out and they knew when I interviewed, this is what we're about. This is what they'd have to do if I was the guy they chose. To get this done, this is how we were going about doing this. ... We're going to train dynamic, we're going to be strong, we're going to be physical. We'll have the mindset that we're going to be aggressive in attacking what we're doing in the weight room. If this is what sounds good for where you want your program to go, this is going to be a good fit. If not, then you're going to go in another direction."
By the time players returned to the team facility on April 7 for the start of offseason workouts, they'd already received a letter from Marcus telling them about the changes in the program. The early stages of it, he said, have been about making sure players are using proper technique on lifts they might not have done since college. From there, players can add more weight to their lifts.
"I loved (previous strength coach) Tom Kanavy and his program, what he did here," Greenway said. "I thought he was great for a lot of different reasons. Obviously moving forward with a new staff, a new regime coming in the weight room, its really a mentality, just buying in and just putting this new stuff that we're doing to work. It's not new to any of us. It's just, some of us have done it more recently than others, but it's a great program. It's great for power, speed and quickness. Just a little bit different than what we were doing."
April, 17, 2014
Apr 17
1:20
PM ET
MINNEAPOLIS -- The dates and times for the
Minnesota Vikings
' 2014 preseason schedule are set, and the team will play its first game at the University of Minnesota's TCF Bank Stadium on Aug. 8.
The NFL announced the preseason schedule for all 32 teams last Thursday, but only announced a window of dates in which the games might occur. The Vikings posted specific dates and times on their website this afternoon, and here's what we now know about the preseason schedule. All times are Central:
Friday, Aug. 8: vs.
Oakland Raiders
, 7 p.m.
Saturday, Aug. 16: vs.
Arizona Cardinals
, 7:30 p.m.
Saturday, Aug. 23: at
Kansas City Chiefs
, 7 p.m.
Thursday, Aug. 28: at
Tennessee Titans
, 7 p.m.
So, there you have it. That also means the earliest the Vikings can start training camp is July 24, 15 days before their preseason opener. As for the regular-season schedule, it appears we'll see that next week, and the Vikings' entire 2014 slate will be lined up.
April, 17, 2014
Apr 17
12:15
PM ET
Earlier this month, ESPN draft expert Mel Kiper Jr., stood firmly by his belief that the
Minnesota Vikings
needed to address their quarterback situation before doing anything else in the draft. He said the team needed to chart its future at the position more than it needed to fill holes on its defense in the first round.
"You can't be the fourth team in the division at quarterback by a wide margin and have any chance of being any more than a borderline playoff team, at best, and probably in the cellar, more than likely, if things at other positions don't go your way," Kiper said.
In his fourth mock draft
, Kiper still believes the Vikings will take a quarterback with the eighth overall pick, counting on the presence of
Matt Cassel
to help buy them time to develop their new signal-caller before putting him on the field.
To continue reading this article you must be an Insider
April, 17, 2014
Apr 17
11:10
AM ET
MINNEAPOLIS -- The
Minnesota Vikings
' top-30 prospects event continues today, as draft hopefuls from around the country visit the team's facility in Eden Prairie, Minn., for meetings with coaches and team executives. We can add two more names to the list of prospects known to be visiting the Vikings.
Florida State running back
Devonta Freeman
is visiting the Vikings on Thursday, according to a league source, and the Baltimore Sun reported University of Virginia center
Luke Bowanko
is also coming to Minnesota for a Thursday visit.
Freeman, who declared for the draft after his junior year at Florida State, is just 5-foot-8, but weighed 206 pounds at the NFL scouting combine and could find success as an inside runner in the NFL. His 40-yard dash time was a modest 4.58 seconds, but he's got the kind of compact frame to slash through holes in an offensive line and gain tough yards. The Vikings could be in the market for a backup for Adrian Peterson, and Freeman is the second running back with whom the Vikings are known to have visited, behind Towson's
Terrance West
.
Bowanko measured 6-foot-5 and weighed in at 302 pounds at his pro day, and also saw time at guard for Virginia. He figures to start his NFL career as a backup at both interior line spots.
With those names added, here is an updated list of the players known to have visited the Vikings, either through ESPN or other media reports:
Preston Brown, LB, Louisville
Teddy Bridgewater, QB, Louisville
Demarcus Lawrence, LB, Boise State
Anthony Barr, LB, UCLA
Deone Bucannon, S, Washington State
Billy Turner, T, North Dakota State
Keith Wenning, QB, Ball State
Brock Vereen, S, Minnesota
Khalil Mack, LB, Buffalo
Devonta Freeman, RB, Florida State
Luke Bowanko, C, Virginia
Terrance West, RB, Towson
April, 16, 2014
Apr 16
9:25
PM ET
MINNEAPOLIS --
Minnesota Vikings
offensive lineman
Josh Samuda
, who sustained a gruesome injury to his right ankle during the team's workout on Tuesday, had surgery in the Twin Cities to mend a broken fibula, dislocated ankle and deltoid ligament damage on Wednesday, according to a source close to the situation. He should get more information about his prognosis as the week draws to a close, the source said, but while the injury isn't thought to be career threatening, the initial expectation is Samuda will miss nine to 10 months.
Samuda, who signed a reserve/future contract with the team in January, was injured during a footwork drill where one player chased another in a close circle. His ankle appeared to give out, and he was helped off the field several minutes later. On Tuesday, there was some concern that Samuda sustained more serious damage inside his deltoid ligament, but those fears were allayed once doctors were able to see the full extent of the injury.
"We'll wait, like, six weeks and see how he starts to heal," the source said. "He's in good spirits. It's a freak accident; it's unfortunate and severe, but he's focused on rehabbing his body."
The Massachusetts product spent the 2012 season with the
Miami Dolphins
, playing in all 16 games before the team cut him at the end of training camp in 2013. He had signed with the Vikings to give the team some interior line depth, but while the 25-year-old figures to play again, he's got a long road back from a nasty injury.
April, 16, 2014
Apr 16
1:39
PM ET
MINNEAPOLIS -- Some quick thoughts on a few
Minnesota Vikings
quarterback items:
Freeman

Josh Freeman has signed a one-year deal with the New York Giants -- the beneficiaries of his now-infamous "Monday Night Football" misadventure last October -- and one of the most bizarre quarterbacking episodes in Vikings history has an appropriately perplexing conclusion. But for a team like New York, who has a proven quarterback in Eli Manning, there might be some logic behind the move. The Giants obviously evaluated Freeman on more than his 20-for-53 performance against them at MetLife Stadium, and after Freeman's 2013 season -- which included an unsightly divorce with Tampa Bay Buccaneers coach Greg Schiano -- the Giants probably didn't spend much to acquire the quarterback. If they felt they could rehabilitate his game away from the pressure of a starting spot, they might have made a sensible move in signing Freeman. It's essentially the same reason the Green Bay Packers would have had interest in signing Freeman had they not brought back Matt Flynn, according to ESPN NFL Insider Adam Caplan, and it's a derivation of what the Vikings were trying to do with Freeman, with one important difference. The Vikings didn't have a stable enough quarterback situation to treat Freeman purely as a speculative signing, which is probably what they should have done. Instead, they tried to rush him into the lineup, and paid for it with an embarrassing loss to an 0-6 team on national TV.
Ponder

By May 3, NFL teams have to decide whether they will exercise fifth-year contract options for 2011 first-round picks, keeping those players under contract through the 2015 season. Those options are guaranteed only against injury; otherwise, teams face no penalty for cutting a player before the start of the 2015 season. If the Vikings picked up quarterback Christian Ponder's option for the 2015 season, and Ponder played under that contract, it'd cost the team the average of the third through 25th-highest paid quarterbacks in the NFL, or $9.686 million. As expensive as that number sounds, the Vikings could always buy insurance against injury and pick up the option if they saw any chance of offensive coordinator Norv Turner coaxing more out of Ponder. Essentially, it's another year of control that likely doesn't include any guaranteed money, since insurance would get the Vikings a cap credit in the event of injury -- and the only way Ponder would play at that number in 2015 is if he surprised the Vikings so much in 2014 that they felt compelled to keep him. The decision will indicate what the Vikings still think they have in Ponder: whether they see any potential left, or whether they're just hanging onto him as a backup in case they only take a developmental QB in the draft. If the Vikings do harbor any belief Ponder can still improve, though, they'll be going against the current of history, as ESPN NFL Insider Mike Sando points out. There's a strong historical precedent to suggest quarterbacks are who they're going to be after just 16 starts.
Georgia quarterback Aaron Murray threw at his pro day on Wednesday morning, five months after tearing his ACL, but as CBS Atlanta reporter Robbie Rosenhaus told Vikings play-by-play guy Paul Allen on his show this morning, the Vikings only had a scout there. General manager Rick Spielman and coach Mike Zimmer were both at the team facility during the Vikings' offseason workout on Tuesday, and the Vikings have draft hopefuls in town on Wednesday and Thursday for their top-30 prospects event. They've typically been sending Spielman, Zimmer and Turner to meet with quarterbacks after their pro days, and though the Vikings could still schedule a private workout with Murray between now and the draft, their approach to his pro day might indicate he's not as high on their list as other quarterbacks. Then again, we're in that time of year where teams are doing their best to conceal their intentions, and it's always possible the Vikings are trying to do that with Murray.
April, 16, 2014
Apr 16
8:00
AM ET
MINNEAPOLIS -- The
Minnesota Vikings
will begin welcoming players to town on Wednesday for their top-30 prospects event, which uses many of their 30 allotted pre-draft visits to create a two-day convention of sorts for draft hopefuls at the team's facility. The Vikings have held the event about 3 1/2 weeks before the draft for the past several years, and players will meet with coaches and team executives while in the Twin Cities.
Here is a partial list of prospects attending the event, based on what we've been able to confirm and what other outlets have reported:
The Vikings also met with Louisville quarterback
Teddy Bridgewater
over the weekend, and reportedly met with Towson running back
Terrance West
on Tuesday.
The event doesn't necessarily indicate the prospects at the top of the Vikings' draft board -- some of the players brought to the Twin Cities for visits might not be taken until the third day of the draft -- and is an inconsistent predictor of whether the team will actually draft a player. The Vikings invited left tackle
Matt Kalil
to the event in 2012, and selected him fourth overall. Safety
Harrison Smith
wasn't at the event, and the Vikings traded back into the first round to select him in the same draft.
But even though the Vikings won't take a large number of the players they invite to the event, they can still use it for other purposes: possibly to learn more about a player's teammate, to make other teams think they're interested in a certain player or to file away information on a player for years down the road. That last reason can be particularly useful; after the Vikings signed defensive tackle
Linval Joseph
last month, general manager Rick Spielman mentioned the team hosted Joseph at its top-30 event before the
New York Giants
drafted him in 2010.
And of course, there are players like Mack and Barr, who could be legitimate options for the Vikings with the No. 8 overall pick. It's best not to treat the event as a be-all, end-all -- or anything close to it -- but for the Vikings, it can be a useful piece of the pre-draft evaluation puzzle.
April, 15, 2014
Apr 15
5:05
PM ET
MINNEAPOLIS -- The
Minnesota Vikings
made a pair of roster additions Tuesday, bringing back tight end
Allen Reisner
and claiming former
San Diego Chargers
linebacker
Terrell Manning
off waivers.
Reisner spent the 2011 and 2012 seasons with the Vikings, shuttling between the practice squad and the active roster after signing with the team as a rookie free agent. He signed with Jacksonville before the 2013 season and played five games for the Jaguars, starting three and catching five passes for 40 yards.
Manning played one game with the Chargers last season after being drafted by the
Green Bay Packers
in 2012. He played mostly special teams in five games with the Packers in 2012 and was let go by the team in the final round of cuts last August, after returning from a parasitic infection that caused him to lose 20 pounds during training camp. He was an outside linebacker at North Carolina State, and Packers general manager Ted Thompson thought enough of him to trade three picks in order to move up and draft Manning in the fifth round in 2012.
With competition likely coming at linebacker, Manning might have a chance to push for playing time.
April, 15, 2014
Apr 15
2:40
PM ET
EDEN PRAIRIE, Minn. --
Jasper Brinkley
and
Captain Munnerlyn
were teammates for three seasons at the University of South Carolina, defensive starters on some of Steve Spurrier's first teams at the school. More than that, though, they were roommates in college, sharing life experiences at a time when both were trying to see if they'd have what it took to make it in the NFL.
"We've been through a lot together -- sweat, blood, tears, injuries," Brinkley said after the Vikings' workout on Tuesday. "We've been through a whole lot together, so it's like having one of your brothers with you."
So when Brinkley was returning to the Vikings for his second stint with the team, having signed a one-year deal with Minnesota a year after departing for Arizona in free agency, he jumped at the chance to sell Munnerlyn on coming with him. "We talked a lot," Brinkley said. "When he told me he was taking a visit, I was just coming off of mine. I told him what my idea was about coming back here. I told him that this felt like home for me and that he would like it."
Brinkley and Munnerlyn play together for the first time since college, in a defense that would seem to have roles ready for both of them. Munnerlyn will be the Vikings' slot cornerback in the nickel package, and said he plans on playing outside in the team's base defense, as well. And Brinkley returns to a vastly different system than the Vikings ran before; he'll be asked to play in the box and stop the run as a middle linebacker this time around, rather than dropping into coverage in the Vikings' old Cover-2 scheme. If Brinkley wins the competition for the middle linebacker spot, he could find a system more suited to his skill set than what he'd had in Minnesota before.
"That's all I've ever done my whole life. So it kind of feels great with me," Brinkley said. "(In Cover-2), the middle linebacker is just really not involved in everything in the box. You're more of a pass-first guy. And now you can be more of a run-type guy. That's the only difference."
The Vikings won't know for months how well their defensive changes have worked, and there's plenty that can happen before April's talk of a physical, aggressive defense can become September's reality. But both Brinkley and Munnerlyn said on Tuesday how comfortable they feel in the scheme. On top of that, they've got the chance to reunite on the field.
"I feel I'm a people person. When people get around me, they seem to feel me. I feel them out a bit," Munnerlyn said. "You know, Jasper Brinkley made it a whole lot easier, my college roommate. He made it a whole lot easier for me. I'm just excited, man. New faces, I'm the new face around here. I'm excited to play football and make plays."
April, 15, 2014
Apr 15
12:50
PM ET
MINNEAPOLIS -- Headed into what might be his most important season with the
Minnesota Vikings
, tight end
Kyle Rudolph
said on Tuesday his broken foot is completely healed, and he's been running without any problems since mid-February.
Rudolph
Rudolph will be a free agent after the 2014 season, and looked on his way to the best season of his career until he broke his foot against Dallas on Nov. 3. He said again after the Vikings' Tuesday workout that he'd like to get a contract extension done before the season, but Rudolph added the Vikings haven't approached him about a new deal yet.
Still, if he's able to put up the kinds of numbers that other tight ends
have produced in Norv Turner's offenses, Rudolph could be in line for a big payday.
"Everybody in the front office, the new staff, I really like the direction this team is going in. I'm excited to be a part of that future," Rudolph said. "That's completely up to them. Obviously, I would love to be here for a while, but that's something you'd have to ask them. It's all on their terms, obviously."
While he was waiting to start his offseason running program, Rudolph said, he watched film of
Cleveland Browns
tight end
Jordan Cameron
, to see how Turner used him in his offense. "I've always watched a lot of (Antonio) Gates tape, just to see the unique things that he's done (when he played for Turner in San Diego). But now it's kind of fun to go back as we're learning the offense, you can see what they're doing and why they're doing it.
"Obviously everyone knows the success that Coach Turner has had with tight ends. If you go back all the way back to the Dallas days and Washington, a little bit of time in San Francisco, San Diego, you just look at the tight ends he's had, I hope to fall in line with that. I'm excited to get into this offense."
April, 15, 2014
Apr 15
8:01
AM ET
MINNEAPOLIS -- During an offseason full of moves to improve the first and third levels of their defense, the
Minnesota Vikings
have left their linebacking group largely unchanged. The team brought back
Jasper Brinkley
after letting him leave in free agency a year earlier, but five of the seven linebackers presently on the Vikings' roster were also there last year. It seemed obvious they needed to improve at the position, but considering how thin the free agent linebacker class was, it was always more likely the Vikings would address the position in the draft.
Based on how they're setting up their top-30 prospects event for Wednesday and Thursday, the Vikings certainly seem to be doing their homework on linebackers. Louisville linebacker
Preston Brown
said he will attend the event, and two league sources said UCLA's
Anthony Barr
and Boise State's Demarcus Lawrence will also be there. Additionally, NFL.com reported that Buffalo linebacker
Khalil Mack
-- who could be drafted well before the Vikings make the eighth pick in next month's draft -- will travel to the Twin Cities for the event, as well.
General manager Rick Spielman said last month he feels good about some of the young linebackers the Vikings already have, and
Audie Cole
might have played his way into contention for a starting spot based on how he did at the end of last year.
Michael Mauti
is
more than a year removed from knee surgery
, and could push for a starting spot at either middle or outside linebacker. But with
Chad Greenway
at age 31, having renegotiated his contract and due to become a free agent after 2015, the Vikings need to get some things in place for their future at the position. They could especially use an active, physical linebacker who could cast an imposing presence in Mike Zimmer's defense, and all of the linebackers we know the Vikings are bringing in for pre-draft visits would fit that profile.
It's always dangerous to assume the Vikings' top-30 event reveals anything definitive about the team's pre-draft thinking, since teams have so many other avenues to talk with and evaluate prospects before the draft. But as purposefully as the Vikings have addressed their defensive needs this offseason, they've left themselves some work to do at linebacker. If nothing else, their top-30 event could hint at the strategy they plan to use to improve the position.
April, 14, 2014
Apr 14
3:36
PM ET
ESPN.com news services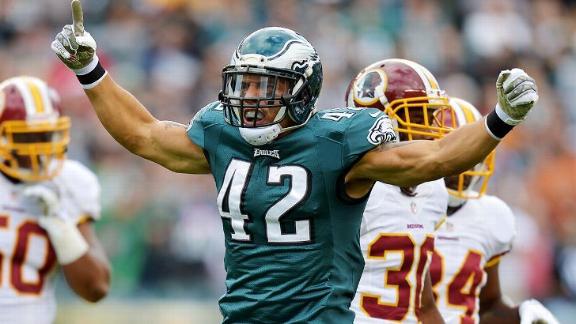 MINNEAPOLIS -- Free-agent safety Kurt Coleman has agreed to terms with the Minnesota Vikings.
Coleman's agent, Blake Baratz, said Monday the deal was done. The Vikings have not yet made an announcement.
Coleman, a former seventh-round pick who started 27 games for the Philadelphia Eagles between 2011 and 2012, had been weighing his options since meeting with the Vikings last Friday.
Coleman likely would come in as a special-teams contributor and a backup at both safety spots, where he'd compete with Jamarca Sanford and Andrew Sendejo for playing time at one of them. He has averaged 42.5 tackles over a four-year career, but only had 13 last season.
ESPN NFL Insider Adam Schefter, ESPN.com Vikings writer Ben Goessling and The Associated Press contributed to this report.