October, 23, 2014
Oct 23
8:00
AM ET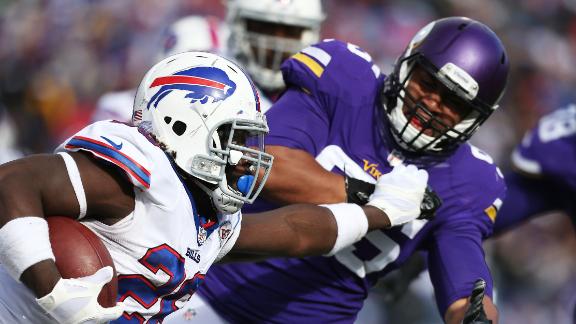 Don't expect any fine offensive displays Sunday at Raymond James Stadium.
That's because the
Minnesota Vikings
and
Tampa Bay Buccaneers
both are struggling on offense. The Vikings (2-5) and Bucs (1-5) are starting young quarterbacks and ranked near the bottom of the league in most offensive categories.
The Vikings, led by rookie quarterback
Teddy Bridgewater
, rank No. 29 in overall offense and are last in passing offense. The Bucs have been starting second-year pro
Mike Glennon
and they're ranked No. 30 in overall offense.
ESPN Vikings reporter Ben Goessling and ESPN Buccaneers reporter Pat Yasinskas preview the matchup:
Yasinskas:
Ben, I know the numbers aren't pretty. But has Bridgewater been showing any signs of progress?
Goessling:
He has shown some. He hit 12 of his 15 throws after a pair of interceptions in Buffalo on Sunday, and I thought he did a better job of trusting himself to find his receivers downfield than he has in recent weeks. He has looked great at times, especially in the Vikings' win over Atlanta last month, but he's still figuring a lot of things out.
He needs to be better about throwing on target, and he has fallen victim to the same problems that plague many rookies, when he has held the ball a little too long or thrown late because he didn't make up his mind soon enough. But it's important to remember Bridgewater doesn't have
Adrian Peterson
,
Kyle Rudolph
and an offensive line that can protect him. The Vikings have given up 27 sacks this season, which is the second-most in the league, and they've forced Bridgewater to run for his life on a number of other occasions.
Speaking of quarterbacks, will Glennon remain the starter or will
Josh McCown
get the job back now that he's getting healthy?
Yasinskas:
Coach Lovie Smith has been coy about his plans. My best guess is Glennon will get at least one more start because McCown returned to practice only this week and was out for more than a month. I think Glennon has played well enough to be the full-time starter, but I'm not sure Smith sees it that way. McCown was Smith's hand-picked quarterback and the two have history together from their Chicago days. Smith's history has shown he prefers to go with veterans. Back in Chicago, he once benched
Kyle Orton
, who was playing well, as soon as Rex Grossman got healthy. It wouldn't surprise me if Smith goes back to McCown.
You mentioned Minnesota's offensive line. I know it has been banged up. Will it be any healthier this week, and can it at least give Bridgewater some protection against a Tampa Bay pass rush that hasn't been good?
Goessling:
It's hard to say at this point if it will be healthier. Guard
Vladimir Ducasse
is optimistic about his chances to play after injuring his knee on Sunday, but
John Sullivan
is still going through the concussion protocol, and his loss would be a big one. He's the Vikings' most reliable blocker, and does plenty to help Bridgewater set protections.
The biggest problem, though, has been left tackle
Matt Kalil
, who got beat again several times on Sunday and has struggled in pass protection all season. Kalil was the No. 4 pick in the draft in 2012 and made the Pro Bowl as a rookie, but got hurt last year and hasn't looked like the same guy. The Vikings were able to protect Bridgewater effectively against Atlanta, another team with an underwhelming pass rush, so I'd expect they'll fare better this week than they have against Detroit and Buffalo.
Shifting to the defensive side of the ball, how has the Vikings' old coach, Leslie Frazier, fared as the coordinator? The Bucs have obviously been shredded on defense; how much of that do you think is Frazier and Smith's old Cover 2 scheme and how much is personnel?
Yaskinsas:
Tampa Bay ranks last in total defense and also is No. 32 in pass defense. That's shocking since Smith and Frazier are supposed to be defensive gurus. I think this team has good defensive personnel, especially with tackle
Gerald McCoy
and linebacker
Lavonte David
. But the pass rush has been non-existent, and that has taken a toll on the secondary. The main problem might be Smith's stubbornness. He's sticking with the Tampa 2 scheme even though it looks like it might be outdated. I'm not saying he should totally ditch the Tampa 2, but it might be wise -- and productive -- to mix in some man coverage at times.
The Vikings lost a last-minute game against Buffalo last week. That reminded me that the Vikings lost a lot of games in the final minutes last season. Is there some sort of flaw there or is this just a young team that needs to learn how to win?
Goessling:
They believe it's the latter. The approach the Vikings took on the final drive on Sunday didn't look like what they did last year, when they sat back in coverage on a lot of those final drives. They were aggressive with their fronts, blitzing Orton four times on the drive and sacking him twice. But there were breakdowns that probably can be traced to inexperience.
Josh Robinson
needed to reroute
Sammy Watkins
when he pressed him on third-and-12,
Xavier Rhodes
misplayed Watkins' game-winning touchdown, and first-year coach Mike Zimmer said he probably should have called a timeout before a fourth-and-20 play -- like Frazier did in a couple games last season -- to get the defense settled. The Vikings gave up a first down there after
Chad Greenway
was trying to get
Captain Munnerlyn
in the right spot in a no-huddle situation. Greenway had his head turned at the snap and didn't get deep enough in coverage to keep Orton from hitting
Scott Chandler
for a first down.
The Vikings are young in the secondary, especially, and I think that showed up Sunday, but I continue to see progress in what they're doing. They have Pro Bowl-caliber players in
Anthony Barr
and
Harrison Smith
, and Rhodes has continued to improve as a corner. It'll take another year of player acquisitions, but they're headed in the right direction.
To wrap this up, why has the Buccaneers' ground game struggled so much? It might be a function of playing from behind as much as they have, but it seems like they've struggled to run the ball in closer games, too. What do you think the problem has been there?
Yasinskas:
It's true they have had to abandon the running game at times because they've fallen so far behind. But even at the start of games, they've struggled to run the ball. That's puzzling because they have a rebuilt offensive line and running back
Doug Martin
is healthy after missing much of last season with a shoulder injury. I put the majority of the blame on the offensive line. But I also put some blame on Martin. He is averaging only 2.9 yards per carry. His backup,
Bobby Rainey
, is averaging 4.9 yards a carry. Martin needs to make more out of his opportunities.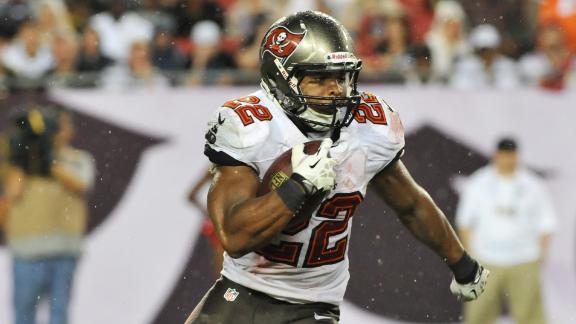 October, 23, 2014
Oct 23
8:00
AM ET
Welcome to Around the Horns, our daily look at what's happening on the Vikings beat:
Minnesota Vikings
coach Mike Zimmer has talked on a number of occasions about how he's more concerned with the team's overall number of sacks than individual totals, and the topic came up on Wednesday in a discussion of
Everson Griffen
's seven sacks in seven games. Griffen is on pace to become just the third player since 2008 to post double-digit sacks in Zimmer's defense -- one of the first two,
Michael Johnson
, will face the Vikings on Sunday with the
Tampa Bay Buccaneers
-- but Zimmer professed not to know how many sacks Griffen had until someone told him earlier this week.
Brian Robison
, who lines up on the opposite side of the Vikings' defensive line from Griffen, is also on the opposite end of the statistical spectrum. Robison has been one of the Vikings' most consistent pass-rushers this season, but hasn't been able to wrap up quarterbacks, missing out on several sacks and sitting with just a half sack through seven games. But Robison is tied for ninth in the league in total quarterback pressures, according to Pro Football Focus, and leads the team with 23 (two more than Griffen). He's one of two players with less than a full sack in the site's top-10 list of pressures for a 4-3 defensive end (Chicago's
Lamarr Houston
and Dallas'
Jeremy Mincey
are the others), and while the Vikings would like to see him start finishing some of his sack opportunities, his consistent pressure has helped set up chances for others.
"You know, the hardest thing for guys that aren't getting numbers is, they start to panic a little bit and say, 'Oh I'm not getting this and I'm not getting that,'" Zimmer said. "But really, guys (have to) just stick with it and understand that it's a long season. Sacks are not hard to get in the first place but if they'll keep sticking with it and keep understanding and keep doing the things we're asking them to do then he'll have a lot of success. I believe that.
"Honestly, I didn't know who had sacks, I never know. I don't know who has interceptions, anything like that. I just asked somebody the other day about who has sacks on the team and they said, 'Well, Tom Johnson has four,' and that's a product of other guys doing their job as well. I've always felt like what's good for everybody becomes good for each one of us."
In case you missed it on ESPN.com:
Best of the rest:
October, 22, 2014
Oct 22
5:03
PM ET
Associated Press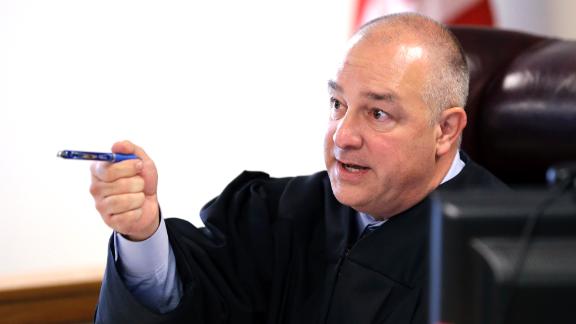 CONROE, Texas -- A prosecution request to remove the judge handling the felony child abuse case against Minnesota Vikings star Adrian Peterson was denied on Wednesday.
Montgomery County state District Judge Kelly Case will continue handling the case following a recusal hearing in which he was accused of being biased against prosecutors. Retired Tarrant County District Judge Jeff Walker, who presided over the recusal hearing, ruled against prosecutors, saying they had not met the high standards required for recusing a judge.
Peterson was indicted last month on a felony charge of injury to a child for using a wooden switch to discipline his 4-year-old son earlier this year in suburban Houston. Peterson has said he never intended to harm his son and was only disciplining him in the same way he had been as a child growing up in East Texas. He faces up to two years in prison and a $10,000 fine if convicted.
The All-Pro running back, who was not at Wednesday's hearing, is on paid leave from the Vikings.
At the hearing, Montgomery County First Assistant District Attorney Phil Grant listed a series of incidents he argued illustrated Case's bias against prosecutors, including: Case calling each lead attorney in the Peterson case a "media whore" and Case having been represented in a prior court case by one of the attorneys on Peterson's legal team.
Grant tried to present additional evidence about a history of bias between the DA's office and Case over legal disagreements the two sides have had in recent years. But Walker didn't allow it, ruling the DA's office had failed to bring these issues up in a timely manner.
After the hearing, Grant said prosecutors will now go forward and prepare for trial. Case has set a tentative trial date of Dec. 1.
October, 22, 2014
Oct 22
5:00
PM ET
EDEN PRAIRIE, Minn. --
Chad Greenway
got back on the field at weak-side linebacker last Sunday against the
Buffalo Bills
, after a three-game absence because of broken ribs. But even now that he's back, the Vikings might still have depth concerns with their linebackers this week.
Gerald Hodges
missed practice on Wednesday with a hamstring injury, after missing all three practices last week and sitting out Sunday's game against Buffalo, and it appears he could have a difficult time returning for Sunday's game in Tampa Bay if his injury doesn't improve in the next two days. The Vikings eased Greenway back into their nickel package on Sunday, but had him playing every snap by the end of the game. Still, the Vikings had made effective use of Hodges even when both he and Greenway were healthy, putting Hodges at strong-side linebacker in situations where they moved
Anthony Barr
to defensive end.
Greenway, it should be noted, was completely off the injury report after recovering from his broken ribs.
Center
John Sullivan
also did not practice on Wednesday with a concussion; coach Mike Zimmer said Sullivan passed the first part of the NFL concussion protocol, and has a good chance to play Sunday. Tight end
Kyle Rudolph
did not practice with a sports hernia, but was out on the field for some conditioning work for the first time since his Sept. 23 surgery.
Defensive end
Corey Wootton
, who missed Sunday's game with a low back injury, was limited, as was defensive tackle
Sharrif Floyd
with an ankle injury. Guard Vlad Ducasse returned to practice in a limited capacity after injuring his knee on Sunday, and rookie defensive backs
Jabari Price
and
Antone Exum
were limited with hamstring and ankle injuries, respectively. Safety
Harrison Smith
(ankle) and tight end
Chase Ford
(foot) were full participants.
October, 22, 2014
Oct 22
3:22
PM ET
EDEN PRAIRIE, Minn. -- As the
Minnesota Vikings
travel to Tampa Bay this weekend in search of their second road win of the year and their first victory over the Buccaneers since 2001, they'll have plenty of familiarity with the defensive scheme they'll be facing.
[+] Enlarge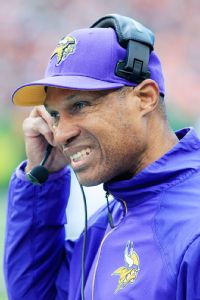 AP Photo/Tom UhlmanFormer Vikings head coach Leslie Frazier is Tampa Bay's defensive coordinator.
The team practiced against Buccaneers defensive coordinator Leslie Frazier's scheme since 2007, when Frazier became the Vikings' defensive coordinator and replaced Brad Childress as the head coach in 2010. And Tampa Bay head coach Lovie Smith ran a similar version of the Tampa 2 defense (originally popularized by Tony Dungy) when he faced the Vikings twice a year as the
Chicago Bears
' head coach from 2004-12.
That defense has been maligned in recent years by critics who say it's out of date and too easy to solve, and the Vikings certainly heard those sentiments under Frazier in Minnesota;
defensive end
Brian Robison
said in training camp
the scheme had gotten so stale that
Green Bay Packers
quarterback
Aaron Rodgers
could call out the Vikings' plays as they lined up.
The Vikings gave up the most points in the league last season, and though the Buccaneers seemed to have plenty of talent on defense, they've allowed an average of 34 points a game this year (also the highest in the league). But Smith said in a conference call on Wednesday that those who criticize the defense "don't know what they're talking about."
"When people say the 'Tampa 2,' it's more than the Tampa 2," Smith said. "You play Cover 2, but it's just a small part of what we do. Every team in the league plays some form of Cover 2. When it's described that way and how it can't work, Cover 2 has been around since the beginning of time, and it's not going anywhere."
Frazier and Smith had coached against one another for years, and both come from Dungy's coaching tree. After the Vikings fired Frazier on Dec. 30, he quickly joined Smith in Tampa.
"The year that I was off, I didn't plan on having the opportunity to hire Leslie," Smith said. "But when he was available, I've known him a long time, I've competed against his teams for a long time. It was a natural fit."
Said defensive end
Michael Johnson
, who played for new Vikings coach Mike Zimmer in Cincinnati before joining Frazier: "He's very positive. Always positive and believes in guys. You can feel that. So in the same sense (as Zimmer), with him the way he believes in us, it makes us want to go out there and not let him down also. It's been kind of frustrating because I want to be better and I want us to be better because Leslie is a good dude, man. We owe him more than we've been able to give him so far."
October, 22, 2014
Oct 22
2:55
PM ET
EDEN PRAIRIE, Minn. -- Shortly after they were allowed to begin contacting free agents last March, the
Minnesota Vikings
placed a call to the agent for former
Cincinnati Bengals
defensive end
Michael Johnson
, to explore the possibility of reuniting him with coach Mike Zimmer in Minnesota.
Johnson wound up agreeing to a five-year deal with the
Tampa Bay Buccaneers
an hour after players were able to sign with new teams;
Zimmer said in a radio interview in March that Johnson "wanted to be with me,"
but ultimately wanted to be closer to his hometown of Selma, Alabama. And in a conference call with Twin Cities reporters on Wednesday, Johnson said he thought about following Zimmer to Minnesota after five years with him in Cincinnati.
"Of course," Johnson said. "I came into the league under Coach Zimmer. I learned a lot under him. He's a great coach and a great, great guy. It was a pleasure playing under him."
[+] Enlarge
AP Photo/Tom GannamEverson Griffen has been productive in Mike Zimmer's scheme, collecting 7.0 sacks through the first seven games.
The Vikings, meanwhile, had agreed to a new five-year deal with
Everson Griffen
before the start of free agency, keeping the player that Zimmer said in March was their first choice at defensive end. It seemed difficult to imagine a scenario where the Vikings could have paid both Griffen and Johnson, and it might be a moot point now, but seven months later, the Vikings seem to have no regrets about their decision.
Griffen has seven sacks this season, which has him tied for the second-most in the league, and he matched his career high with three on Sunday against the
Buffalo Bills
. Zimmer doesn't place much value on individual sack totals; they're easy to come by, he said on Wednesday, and repeated his mantra about being more concerned with team's overall number of sacks than who gets them. But in the time he's had Griffen, Zimmer said, he's seen a player who was eager to embrace the defensive philosophy the coach brought to Minnesota.
"Since the day we walked in, he's kind of been excited about this regime defensively, how he can go from just being an athlete to being a football player," Zimmer said. "That's how I always got the impression with him. He's been very, very diligent about buying into what we're preaching. It's not just about running up the field and sacking the quarterback. It's about doing your job so other people can have success, too."
That's a philosophy Johnson knew well, and it probably took some projection on the Vikings' part to see that Griffen could work as an every-down right end in the scheme after playing in three different defensive line spots under former head coach Leslie Frazier. Johnson, of course, is playing for Frazier in Tampa, and has two sacks in four games for a 1-5 team. He's looked back on some of the advice he got from Zimmer, whom he called a "father figure," to help get him through the tough start.
"He'd say, 'Tough times don't last, tough people do,'" Johnson said. "That was his mentality. These first six games here have been tough times down here. So tough times don't last but tough people do. I've taken that with me from Cincinnati. I try to apply that not only in football but life as well."
It's clear Zimmer and Johnson still hold each other in high regard, but the Vikings made their investment in Griffen last March. So far, Zimmer seems happy with the choice.
"It's not only the pass-rush things," Zimmer said. "It's buying into playing the run, too. I think that allows him to have success."
October, 22, 2014
Oct 22
1:55
PM ET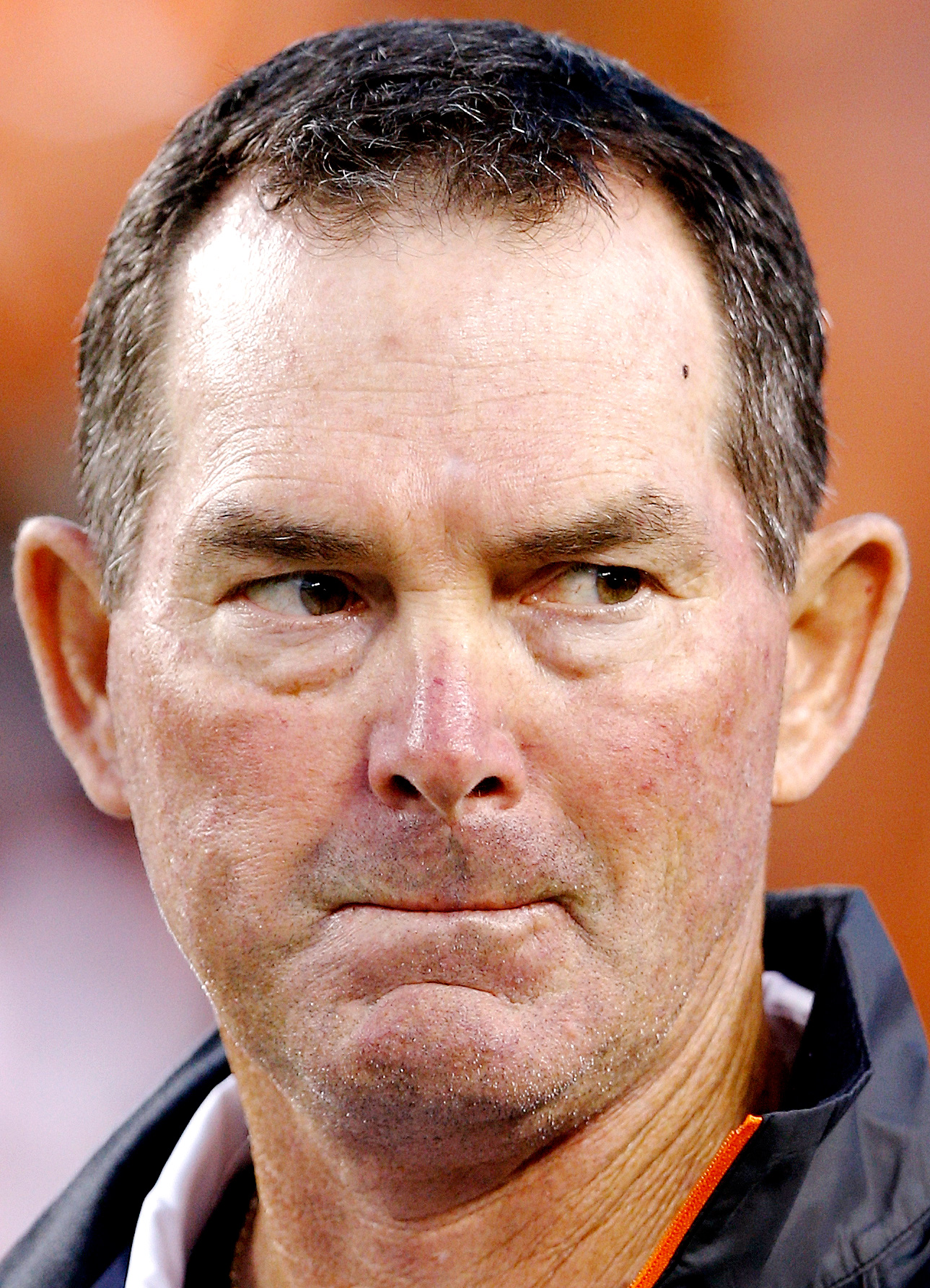 Zimmer
EDEN PRAIRIE, Minn. -- How was your Tuesday? However it went, it was probably more enjoyable than Mike Zimmer's.
While players took their day off on Tuesday, the
Minnesota Vikings
coach had another procedure to remove the rest of the kidney stones that first sent him to the hospital on Friday and gave him some pain during the Vikings' game with the
Buffalo Bills
on Sunday. The operation on Tuesday was "not pleasant at all," Zimmer said on Wednesday, but he said the ordeal should be behind him now, and was in a good enough mood to joke about it on Wednesday.
"(Athletic trainer) Eric Sugarman was talking to the team today, and I told him to get the video of the procedure I had done and show the team," Zimmer said. "I think there would have been some throwing up or something."
When a reporter joked that Zimmer was probable for Sunday's game, the coach responded, "I'm definite."
October, 22, 2014
Oct 22
1:35
PM ET
EDEN PRAIRIE, Minn. --
Minnesota Vikings
center
John Sullivan
has passed the first part of the league's concussion protocol, coach Mike Zimmer said on Wednesday, indicating Sullivan has a good chance to return for Sunday's game against the
Tampa Bay Buccaneers
.
Sullivan
"I would assume he'll be available," Zimmer said.
The return of Sullivan, who plays an integral part in the offensive line and might be the Vikings' most consistent blocker, would be a boon to the Vikings as they try to end a three-game losing streak on Sunday in Tampa Bay. They've given up 19 sacks in their last three games, and with right guard
Brandon Fusco
out, the Vikings lean even more on Sullivan as a pulling lineman in their run game.
Right guard
Vlad Ducasse
also has a good shot to play on Sunday, Zimmer said. A league source told ESPN's Adam Caplan
on Tuesday that Ducasse's injury
wasn't believed to be serious, adding the "sharp pain" Ducasse felt on Sunday might be nothing more than tendinitis.
Without Sullivan and Ducasse, the Vikings finished the game with their final two backups --
Joe Berger
and
Mike Harris
-- playing center and right guard, respectively. Harris said he hadn't played guard since Pop Warner football, but the Vikings' line looks like it could be in better health this weekend if Sullivan and Ducasse return.
"I think they should both be fine," Zimmer said.
October, 22, 2014
Oct 22
8:00
AM ET
Welcome to Around the Horns, our daily look at what's happening on the Vikings beat:
When
Minnesota Vikings
coach Mike Zimmer took the podium for his Monday news conference, there was a noticeable change behind him: The Vikings' news conference banner, which had gone without a sponsor since Radisson suspended its sponsorship of the team in September, had a new corporate logo on it.
Pepsi, which is the Vikings' official soft drink provider, stepped in to put its logo on the banner, which serves as a fairly public reminder of the relationship between a team and its corporate partners. The company has had a strong presence in the Twin Cities -- it purchased Minneapolis-based PepsiAmericas, its second-biggest bottler, in 2010. And while the Vikings are unable to sell Pepsi at their games during the next two seasons while playing at TCF Bank Stadium (where the University of Minnesota sells Coca-Cola products), the news conference banner is another avenue through which they can promote the company.
Most teams use a banner with a sponsor's logo as a backdrop for news conferences, guaranteeing the logo will get plenty of visibility through photographs and video. That can backfire, though, in situations like the one the Vikings encountered on Sept. 15, when Radisson's logo was splashed behind general manager Rick Spielman as he tried to explain the team's decision to keep
Adrian Peterson
active while he fought child abuse charges in Texas. Radisson suspended its sponsorship of the Vikings hours after the news conference, and the Vikings reversed their decision two days later amid mounting pressure from sponsors to take Peterson off the field.
As the running back's court case resumes on Wednesday, Zimmer and quarterback
Teddy Bridgewater
will step to the podium to talk about preparations for Sunday's game against the
Tampa Bay Buccaneers
, and the remnants of the sponsor fallout from the Peterson ordeal will be a little less obvious.
In case you missed it on ESPN.com:
Best of the rest:
October, 21, 2014
Oct 21
1:20
PM ET
MINNEAPOLIS -- For 57 minutes, the
Minnesota Vikings
put together what would have stood up as their best defensive performance of the season, if not for what happened in the game's final three minutes. The Vikings had forced four turnovers, sacked
Kyle Orton
four times and held the Bills to 10 points, in a game that was one defensive stand away from a Vikings victory.
But it's what happened on that final drive that commanded most of the attention after the game, and deservedly so. The Vikings put the Bills on the brink of defeat several times on a 15-play, 80-yard march, only to give Buffalo new life on a series of coverage breakdowns.
Floyd
Though the result was the same as the four games the Vikings lost on last-minute touchdowns last season, the approach wasn't. Nearly a year after defensive end
Brian Robison
and defensive tackle
Kevin Williams
criticized former defensive coordinator Alan Williams for being too timid in a final-drive loss to Dallas, the Vikings blitzed Orton four times on the final drive, sacking him twice on blitzes and using a number of creative fronts that bumped tackles
Sharrif Floyd
,
Linval Joseph
and
Tom Johnson
out to wide alignments.
The breakdowns at the end of the game, though, are what will stick out about an otherwise impressive performance.
"This is a 'now' business," safety
Harrison Smith
said. "Everything is right now; you want to win right now. That's just the world we live in. We have to (develop) as fast as possible."
Here are some other observations about the Vikings' defensive performance after a film review of the
17-16 loss
to the Bills:
Vikings coach Mike Zimmer alluded to the Vikings getting burned by their aggressiveness on the final drive, and while his blitzes worked, Josh Robinson's press coverage of Sammy Watkins on a third-and-12 didn't. Watkins, who has two inches and 12 pounds on Robinson, quickly fought off his jam and got inside for a 20-yard gain on a slant. "Poor technique," Zimmer said of the play. Robinson had inside leverage on the play but is still learning to press effectively and needed to throw off Watkins' timing on the route.
Floyd had what might have been his best game of the season, thanks to a game plan that moved him around the Vikings' defensive front. Floyd had a sack and two hurries, one of which came after he lined up over the left tackle and chased Orton outside the pocket. Joseph's sack on the final drive also came from a three-technique spot, and Everson Griffen's third sack came when he worked a stunt with Floyd after the Vikings showed a seven-man blitz and rushed four.
Linebacker Anthony Barr was targeted early and often on shallow crossing routes, but the rookie had a monster day, registering 10 tackles, ranging back to break up a pass, recovering two fumbles and rushing Orton on 11 of Zimmer's 13 blitzes. He missed several tackles and also blew up another screen pass, showing great reaction time to take down fullback Frank Summers for a 1-yard loss in the first quarter. It wasn't a complete performance for Barr, but it was an impressive one, which once again hinted at the rookie's potential to be a dominant player once he figures everything out.
October, 21, 2014
Oct 21
12:30
PM ET
MINNEAPOLIS --
Teddy Bridgewater
's afternoon in Buffalo on Sunday was a menagerie of all the things that make a rookie quarterback's development a messy process: missed targets, hesitation, impressive strikes down the field and important throws at key moments in the game. At the end of the day, the
Minnesota Vikings
lost 17-16, Bridgewater had an unimpressive box score (15-for-26, 157 yards, his first NFL touchdown pass and two interceptions) and coach Mike Zimmer had reason to hope his rookie quarterback was headed in the right direction.
"That's what we see every day out of him," Zimmer said of the third-down throws Bridgewater made to extend several drives. "He made a great throw to
Jarius (Wright)
; two of them, I think. There are a lot of positives to take from this game. Even though it's going to show up as a loss, I do think there are a lot of positives of where we can go from here."
Here are some observations about Bridgewater's day, and the rest of the offense, after a film review of the Vikings'
17-16 loss
to the Bills:
Bridgewater

Bridgewater said he was overthinking things in the first half, and that might not have been more evident on any play than the first interception he threw, when he passed up deep throws to Wright and Greg Jennings on third-and-7, escaped the pocket and threw late to Chase Ford on a ball that was intercepted by Leodis McKelvin after it was deflected by Brandon Spikes. Both Wright and Jennings were waving their arms downfield, and Wright appeared to have his man beat at the moment Bridgewater broke the pocket, looking for Ford. If Bridgewater had stayed on Wright a split second longer, he might have had a touchdown. It's a throw that requires some brass, and it's a play we're used to seeing quarterbacks like Aaron Rodgers and Drew Brees make, but Bridgewater's mobility gives him the chance to extend plays the way those quarterbacks do. It'll be an even better weapon for him as he uses it to open things up downfield.
Bridgewater blamed himself for holding the ball too long on several sacks, and the Vikings protected him a little more effectively than they did against Detroit the week before, but the line still had trouble handling the Bills' stunts, and breakdowns on the left side of the line were to blame for a couple of the Bills' six sacks. Matt Kalil and Charlie Johnson appeared to think the other one was responsible for Marcell Dareus on Buffalo's first sack -- both blocked him initially before turning away to block other players, and Dareus surged through to drop Bridgewater. And in the fourth quarter, Bridgewater said he checked out of a run from the Bills' 14-yard line, adding he shouldn't have planned to throw there. But the Bills had seven men near the line of scrimmage and single coverage on the Vikings' three receivers before Jerry Hughes beat Kalil with an inside move.
Running back Jerick McKinnon got his 103 yards the hard way, gaining 57 of them after contact, according to ESPN Stats & Information, but the Vikings found some innovative ways to neutralize the league's top run defense. Fullback Jerome Felton's first carry in a Vikings uniform, which went for 21 yards, came on the backside of an unbalanced line that had two tight ends on the opposite side of the field. The Vikings also ran toss plays away from the Bills' two tackles (Dareus and Kyle Williams), with McKinnon gaining 19 yards on four plays outside the tackles.