September, 2, 2014
Sep 2
1:00
PM ET
MINNEAPOLIS -- While the
Minnesota Vikings
waited for the NFL to make a decision on whether or not to uphold
Jerome Simpson
's three-game suspension following a drunken driving arrest last November, they quietly were diversifying Simpson's role in their offense as part of a three-receiver package with a trio of interchangeable pieces.
[+] Enlarge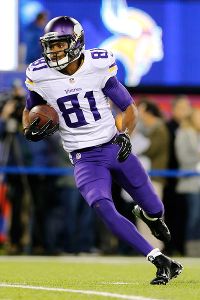 AP Photo/Ric TapiaJerome Simpson has been seeing more time in the slot during the preseason.
The Vikings planned to move second-year receiver
Cordarrelle Patterson
around in their offense more this season, but it was actually Simpson for whom variety was going to be an adjustment. He caught just four of his 48 passes from the slot last year, according to ESPN Stats and Information, running only 58 of his 367 routes from there. Otherwise, Simpson was split wide, and most of the time he was split to the left, running more than half his routes from a traditional split end position.
During the preseason, though, the Vikings showed a newfound flexibility with their top three-receiver set (Simpson, Patterson and
Greg Jennings
). During their third preseason game in Kansas City, when the Vikings' starters played almost all of the first three quarters, they ran 18 plays out of three-receiver sets, displaying impressive variety in how they lined up their three wideouts. After a brief film review, here is how the night broke down for the three:
Patterson: 9 snaps split left, 6 split right, 2 slot left, 1 slot right.

Jennings: 2 snaps split left, 3 split right, 6 slot left, 7 slot right.

Simpson: 5 snaps split left, 3 split right, 3 slot left, 7 slot right.
Of the three, only Patterson spent 50 percent of the Vikings' three-receiver sets in the same spot. For the preseason as a whole, offensive coordinator Norv Turner avoided being pigeonholed with his personnel. Simpson ran 26.5 percent of his routes from the slot during the preseason, according to Pro Football Focus, and Patterson (at 26.0 percent) saw nearly the same percentage. Jennings got 58.7 percent of his routes in the slot, but the 30-year-old has done much of his work from there during his career. Now that Simpson has added slot receiver work to his game -- following the increased diversity Patterson saw late last season -- the Vikings have three players they can feel comfortable moving across the field.
With Simpson out for the first three games, though, what happens to the Vikings' three-receiver sets? Fortunately for the Vikings' receiver depth, their offense has two things working in its favor. First, Turner makes frequent use of two-tight end sets; the
San Diego Chargers
used more of them than all but one team while Turner was the head coach from 2007-12, and used the fewest three-receiver formations during that time. And second, the Vikings have another versatile wideout in third-year man
Jarius Wright
.
The 5-foot-11 Wright, who'd been cast as a slot receiver early in his rookie year, actually ran 192 of his 252 routes lined up wide last season, as Jennings and Patterson got more of the slot work. He caught 23 of his 26 passes lined up out wide, and clicked with quarterback
Matt Cassel
late in the season, catching 14 of his 26 passes from Cassel for 252 yards. Wright saw 30.7 percent of his routes from the slot during the preseason, and he's got plenty to prove in Year 3 as he tries to carve out a niche in the offense, so he should be ready and eager to fit into the Vikings' scheme while Simpson is out. The Vikings don't figure to use many four-receiver sets -- Turner's teams used them on just three snaps last season -- but if undrafted free agent
Adam Thielen
finds his way onto the field during Simpson's suspension, he'll be able to move around, too; he got 25.6 percent of his work in the slot during the preseason, according to Pro Football Focus.
The Vikings will get Simpson back for their fourth game of the season, and they'll have enough options independent of three-receiver sets that they should be able to survive without him. But if they're looking to continue the diversity they'd created with Simpson during the preseason, they should find ways to do it in his absence.