March, 7, 2014
Mar 7
9:40
PM ET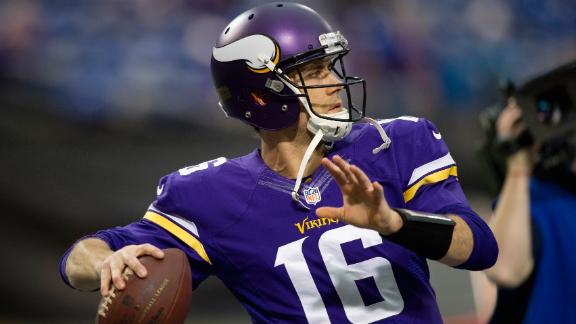 MINNEAPOLIS -- Ever since
Matt Cassel
opted out of his contract with the
Minnesota Vikings
after the Super Bowl, bringing him back for the 2014 season and buying some time at the quarterback position was always the move that made the most sense. The Vikings approached it that way, too, talking with Cassel's agent at the NFL scouting combine and letting him know they'd like to have him back.
Put simply, while Cassel is far from a perfect option, the alternatives without him were too dicey for the Vikings to approach it any other way.
That's why the Vikings re-signed Cassel to two years for $10 million.
Had they not brought Cassel back, they would have had to navigate the following currents to find a starting quarterback:
1. The rest of the free agent market is thin, with a soon-to-be 34-year-old
Michael Vick
possibly being the best option.
2. The eighth pick in the draft means the Vikings could be on the clock with
Blake Bortles
,
Teddy Bridgewater
and
Johnny Manziel
already off the board.
3. The Vikings' only other quarterback under contract before the start of free agency was
Christian Ponder
.
Now, the Vikings at least have their much-discussed bridge to the future, whatever that is. If they don't get a quarterback in the first round of the draft, they can at least take one in a later round and let him compete for the job with Cassel, knowing they can probably survive if he's not ready to play right away. And if they choose to look toward a 2015 quarterback class that could include Oregon's Marcus Mariota and UCLA's Brett Hundley, they could have Cassel's hand at the helm for 2014.
Let's be clear about what Cassel is, and is not. He is the most reliable quarterback on the Vikings' roster at the moment, after turning in more solid performances than bad ones in a goofy year at quarterback in Minnesota. He is not the kind of QB the Vikings will build around, and his two-year deal reflects that. He's had two good full seasons as a starting quarterback -- in 2008 for the Patriots and 2010 for the Chiefs -- and has been mediocre in the full-time role otherwise. But the Vikings were never asking Cassel to be a long-term solution at the position. They were simply hoping he could drive them from here to their next quarterback without banging the car up too badly. He should be able to do that, and now, the Vikings don't have to head into the rest of the spring staring at a gaping hole at the NFL's most important position.
The Vikings shouldn't feel like they don't have a major need at quarterback. They should feel like they don't have an imminent crisis on their hands. They've bought themselves some assurance, and Cassel -- who was scheduled to make $3.7 million under the terms of his old deal -- has a better contract with a team that should give him a good chance to play. That sounds like a good, sensible deal for all parties involved.
March, 7, 2014
Mar 7
8:28
PM ET
ESPN.com news services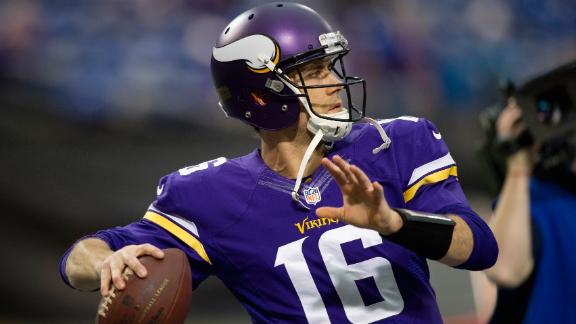 Quarterback Matt Cassel will return to Minnesota next season, signing a two-year deal with the Vikings on Friday, a league source confirmed to ESPN NFL Insider Adam Schefter.
The deal is worth $10 million, according to CBSSports.com.
Originally signed by the Vikings to back up Christian Ponder last March, Cassel took over the Vikings' starting job in September, filling in for an injured Ponder in a win against the Pittsburgh Steelers in London.
He went on to start six games for the Vikings, emerging from their quarterback carousel as the starter at the end of the season once Ponder and Josh Freeman had fizzled. Cassel threw for 1,807 yards with 11 touchdowns and nine interceptions in nine games total. He passed for 382 yards in a Dec. 15 win against the Philadelphia Eagles.
Cassel had signed a two-year contract with the Vikings, but it included a clause that let him void his 2014 deal within five days of the Super Bowl. Cassel opted out of his contract on Feb. 7, though the Vikings had stayed in contact with his agent and maintained they wanted to bring the 31-year-old quarterback back on a new deal.
Cassel wound up leading the Vikings in passing yards and touchdowns, despite starting three fewer games than Ponder and losing his job for nearly two months in a bizarre season that saw Minnesota use three different starters in as many weeks in October.
Cassel's new deal with the Vikings was earlier reported by NFL Network.
March, 7, 2014
Mar 7
4:10
PM ET
MINNEAPOLIS -- The
Minnesota Vikings
announced on Friday afternoon they've re-signed
Marcus Sherels
, the cornerback who's gone from an undrafted free agent to a capable backup and one of the more reliable punt returners in their history.
Sherels averaged 15.2 yards per punt return in 2013, the top mark in franchise history, and brought a punt back 86 yards for a touchdown on Oct. 21 against the
New York Giants
. He was also pressed into a starting role after injuries depleted the Vikings' cornerback group, and held up well after being asked to start three games. Sherels recorded his first career interception and broke up seven passes.
The restricted free agent's new deal comes on the same day his older brother, Mike, was promoted to linebackers coach at the University of Minnesota, where both Sherels brothers played. Mike was a walk-on for the Gophers and Marcus has won one of the last spots on the Vikings' roster in a couple training camps, including last year.
He missed the Vikings' third preseason game in San Francisco to be with his family after the death of his father, Ben. He returned for the Vikings' final preseason game four days later, ran the opening kickoff back 109 yards for a touchdown and intercepted a pass later in the game.
Both Sherels brothers have carved out quite a testament to hard work and perseverance, and both of them had reason to celebrate on Friday.
March, 7, 2014
Mar 7
4:07
PM ET
ESPN.com news services
The Arizona Cardinals signed former Vikings tight end John Carlson to a two-year deal Friday, the team announced.
The deal is worth a total of $4 million, a league source told ESPN NFL Insider Adam Schefter.
Minnesota released Carlson Wednesday after the Vikings failed to agree with the 29-year-old tight end on a second straight restructured deal.

Carlson, who signed a five-year, $25 million deal with the Vikings in 2012, was scheduled to make $5 million next season. The Vikings saved $2 million in cap room by releasing Carlson after the remaining $3 million on his signing bonus is escalated onto their 2014 salary cap.
Carlson, who signed with the Vikings after missing all of 2011 with the Seattle Seahawks, caught just eight passes in an injury-plagued first year with the team. The Litchfield, Minn., native then carved out a respectable role in the Vikings' offense last season after tight end Kyle Rudolph broke his foot, catching 32 passes for 344 yards. But his season ended prematurely because of concussion issues that have dogged him throughout his career.
Information from ESPN.com's Ben Goessling was used in this report.
March, 7, 2014
Mar 7
11:00
AM ET
»
AFC Free-Agency Primer
:
East
|
West
|
North
|
South
»
NFC
:
East
|
West
|
North
|
South
Key free agents:
QB
Matt Cassel
, DE
Jared Allen
, DT
Kevin Williams
, DE
Everson Griffen
, CB
Chris Cook
, WR
Jerome Simpson

Where they stand:
The Vikings' biggest issue is at quarterback, where
Christian Ponder
is the only player they have under contract. They've told Cassel's agent they want to bring him back, but that could depend on how much more interest Cassel attracts on the free-agent market. Of the free agents on the Vikings' defensive line, Griffen probably has the best chance of returning to Minnesota to play in Mike Zimmer's new-look defense. But he, too, could attract attention from teams who think he can be an outside linebacker in a 3-4 scheme.
What to expect:
Cincinnati defensive end
Michael Johnson
could find a natural landing spot in Minnesota because of his familiarity with Zimmer and the Vikings' likely need for a new right end. Tennessee cornerback
Alterraun Verner
, who played for new Vikings defensive backs coach
Jerry Gray
in Tennessee, could also make sense for Minnesota, though both Verner and Johnson will have plenty of suitors. The Vikings have more than $40 million in cap space, though, so they could be contenders for both. If Cassel doesn't come back, the Vikings will also have to pursue another veteran quarterback; running back
Adrian Peterson
tweeted on Wednesday that
Michael Vick
could quickly turn the team into a playoff contender.
March, 7, 2014
Mar 7
9:50
AM ET
MINNEAPOLIS -- If
Chris Cook
does wind up returning to Minnesota next season, he'll probably be greeted with a quick -- and direct -- discussion about new coach Mike Zimmer's thoughts on social media. Zimmer said on Thursday that Cook "probably shouldn't be tweeting our conversations," though the coach isn't on Twitter and hadn't seen that
Cook had only posted
that he and Zimmer had an honest conversation about his future.
But beyond the admonishment -- which had
Cook riled up on Twitter again on Thursday
-- Zimmer offered another hint that there still could be a place for the underachieving cornerback in Minnesota.
"He's a guy that has some ability that I've had some luck in the past with, getting guys to play good that have ability," Zimmer said. "So if he comes back here then I'm going to coach him as hard as I can and see if I can get him to play good."
Zimmer has said on several occasions that he gravitates toward players with something to prove, and Cook would certainly fit in that category. His size (6-foot-2) and ability to be physical with receivers could make him a fit in Zimmer's defense, and other than
Xavier Rhodes
, the Vikings don't have many corners who fit that mold. Zimmer's comments, in some ways, sounded to me like he was making an appeal to Cook that the Vikings would still be a good fit for him.
I think it's likely the team will try to upgrade its defensive backs group either in free agency or the draft, so Cook might not come in as a starter. If he's the third or fourth cornerback, though, with an urge to be more than that, he might match up well with Zimmer -- aside from the occasional Twitter flap.
March, 6, 2014
Mar 6
5:30
PM ET
EDEN PRAIRIE, Minn. -- The
Minnesota Vikings
continued to remake their defensive line on Thursday afternoon, releasing defensive tackle
Letroy Guion
and clearing another $4 million of cap room by shedding the final year of the 26-year-old's deal. That move, along with the release of wide receiver
Greg Childs
, gives the Vikings more than $41 million in cap room heading into the start of free agency next week.
Allen
If they wanted to, they could certainly use some of it to re-sign veteran defensive linemen
Jared Allen
and
Kevin Williams
. But as new coach Mike Zimmer molds the team's defense to fit his scheme, Allen and Williams could find there is not much familiarity in a return to their old team.
Zimmer's defenses traditionally have emphasized run discipline, particularly on the defensive line, over big sack numbers. Both
Geno Atkins
and
Michael Johnson
posted double-digit sacks in 2012, but no other Bengals defensive lineman reached double-digit sacks in Zimmer's seven seasons as defensive coordinator. Zimmer said again on Thursday that the Vikings will emphasize run defense in their linemen's techniques and assignments, and added Allen would have to decide whether he would buy into the scheme the coach is planning to run.
"He's the one that would have to decide that he wants to come back and fit into what we do and how we do it," Zimmer said. "He has to decide how much money that needs to be due for him to buy into doing that. And we're the ones that have to decide how much we want to pay him for that, too."
Allen has often talked about how he's paid primarily to rush the passer, and said last season -- as he was in danger of seeing his streak of double-digit sack seasons end at seven -- that posting 10-plus sacks means "the world" to him. It sounded like Zimmer was saying, in so many words, that Allen wouldn't be able to count on that happening if he returned to Minnesota. The Vikings will certainly take sacks when they can get them under Zimmer, but they won't be sending their linemen upfield past blockers, especially when an incorrect guess about an offense's play call can leave a defensive end out of position to play the run.
It has already seemed unlikely to me that Allen would be back in Minnesota, simply because other teams could offer him a chance to do what he's done best over the years and put him closer to a championship. The fact that he -- and to a lesser extent, Williams -- would have to adjust his role with the Vikings might make the chances of a return even slimmer.
March, 6, 2014
Mar 6
4:35
PM ET
EDEN PRAIRIE, Minn. -- Since
Matt Cassel
opted out of his contract a week after the Super Bowl, the
Minnesota Vikings
have said they want to bring Cassel back on a new deal. They met with his agent at the NFL scouting combine to communicate that point. The fact that coach Mike Zimmer said it again on Thursday afternoon was not a new development.
But Zimmer hit on a key point with the Cassel situation, when he said this:
"You know what. I would love to have Matt Cassel back if Matt Cassel wants to be back," he said. "I don't know if that will happen or won't happen. But we're going to find a quarterback somewhere. And if it's not Matt Cassel, then we'll find someone else. I want guys who want to be here. I want guys that want to be part of the franchise, be part of the organization, be part of the team. And if Matt wants to come back, I'm sure that we'll get it worked out."
At this point, the decision is Cassel's about where he will play next year, and there's a valid case to be made about why he
wouldn't
want to return to the Vikings after a season where he went from the starting quarterback to the inactive roster in a two-week span, only to come back to the lineup at the end of the season. Cassel could have the opportunity to reunite with
Houston Texans
coach Bill O'Brien, who was an offensive assistant with the
New England Patriots
when Cassel was there, and in a year with a thin free agent quarterback class, he could have other opportunities to make more money and get a chance to start.
The Vikings, who don't have their starting quarterback situation solved and might not be able to get a top quarterback with the No. 8 pick in May, could have an appealing situation to offer Cassel. It's far from a guarantee they'll be the only team that can make that kind of offer. So while Zimmer's remarks on Thursday weren't novel, they did reflect an uncertain reality as they try to bring back a quarterback who's gone from a Kansas City castoff to the top of a weak market in just a year.
"I think everyone wants to explore," Zimmer said. "He's got a bunch of pretty girls looking at him right now. And he wants to explore and see what's best for him. I don't blame any of these guys. In free agency, I think that's why they have the rules is that they get a chance to go see what their market's worth. Then if they find a better situation than what they think is here then I think that's everywhere."
March, 6, 2014
Mar 6
2:00
PM ET
MINNEAPOLIS -- In Todd McShay's
third mock draft

for ESPN, he has the Vikings taking Oklahoma State cornerback
Justin Gilbert
with the eighth overall pick. That's certainly a viable possibility -- the Vikings need another cornerback to play opposite
Xavier Rhodes
, and Gilbert put himself ahead of the pack with his 4.37-second 40-yard dash at the NFL scouting combine. But the nature of this draft, and of the Vikings' needs, means Gilbert is just one of several players who could make sense for the Vikings at No. 8.
What if
Blake Bortles
,
Teddy Bridgewater
or
Johnny Manziel
is there? The Vikings would have to think seriously about taking one of the three quarterbacks. If a linebacker like Buffalo's
Khalil Mack
is still on the board? He'd make sense, too. Gilbert would fit. So would Michigan State cornerback
Darqueze Dennard
, or Alabama linebacker
C.J. Mosley
. It's a good place to be, in the sense that any number of players would work, but it also reflects how many needs the Vikings have.
One way Gilbert could be a fit is if the Vikings trade down a couple picks to obtain extra selections later in the draft. If he's still there at, say, No. 10, the Vikings might be very happy to pick him there and add more selections with a trade back. They've moved back into the first round each of the last two years, after making trades to acquire extra picks (and the flexibility to make further moves), and it wouldn't be surprising to see general manager Rick Spielman repeat the move again.
March, 6, 2014
Mar 6
11:20
AM ET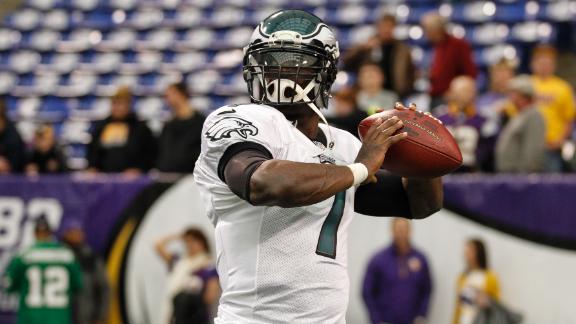 MINNEAPOLIS -- Admit it: You scoffed at
Adrian Peterson
's Twitter
lobbying Wednesday night
for the Vikings to sign
Michael Vick
, didn't you?
Vick hasn't played more than 13 games in a season since he was reinstated following his prison sentence in 2009 and has completed more than 60 percent of his passes once (during his Pro Bowl season of 2010). He is not the most natural fit for Norv Turner's offense and is not a long-term solution for the Vikings at quarterback (if he can even be counted on to stay healthy enough to be a short-term one).
Peterson
Vick
But before you dismiss the idea completely, ask yourself two questions: Are the Vikings in a position to rule it out? And is Peterson in a position to sit back and wait for the Vikings to develop a young quarterback without at least offering his input on a more proven option?
Peterson, as we've discussed many times, turns 29 this month. He is coming off his third surgery in as many seasons and will spend the next two seasons playing outdoors. The Vikings have only
Christian Ponder
under contract and are not guaranteed to get a top quarterback prospect with the No. 8 pick in the draft. There is a real possibility
Matt Cassel
could head elsewhere, rather than returning to the Vikings, after opting out of his 2014 contract; Cassel could reunite with Bill O'Brien, who was an assistant coach during Cassel's Patriots days, in Houston. There is nothing in place to give Peterson a sense that the Vikings have the quarterback position figured out, and that could still be the case as they head into the draft this May, possibly hoping one of the quarterback-needy teams picking in front of them decides to pass on
Blake Bortles
,
Teddy Bridgewater
or
Johnny Manziel
.
The possibility exists, as
Mark Craig of the Minneapolis Star Tribune pointed out this morning
, of re-signing
Josh Freeman
and seeing if Turner can coax a solid season out of him. I think the Vikings and Freeman probably saw enough of each other's warts last season to prevent a reunion from happening, but the allure of Freeman -- his big arm -- remains the same and might fit in better in Turner's offense.
Then again, if those are the options the Vikings are considering, how is Vick worth dismissing?
A Peterson-Vick partnership in Minnesota could still be a remote possibility, and there are many examples of players not being the best judge of talent. But Peterson's tweet is probably more instructive as a window into how the 2012 league MVP is feeling. He is getting antsy to win. He sees potential in the possibility of putting Vick -- at age 34 no longer the whirling dervish he used to be -- in an offense with Peterson and
Cordarrelle Patterson
. And he is looking too hard for quick-strike opportunities not to open his mouth when he feels he sees one.
March, 6, 2014
Mar 6
11:00
AM ET
Todd McShay's third NFL mock draft for 2014 is out on ESPN Insider today. Of course the Vikings would ideally love to land a franchise quarterback with this pick and might even consider trading up to do so. Of all the quarterback-needy teams, landing with Norv Turner,
Adrian Peterson
, some quality receiving weapons and a good offensive line, Minnesota would be a great spot for a rookie quarterback. But, if that isn't in the cards, the Vikings really could more or less take the best defensive player remaining on their draft board. In fact, the Vikings could be a prime trade-down contender if they don't go quarterback.
Whom does McShay have the Vikings drafting at No. 8?
Let's take a look
:
To continue reading this article you must be an Insider
March, 6, 2014
Mar 6
10:13
AM ET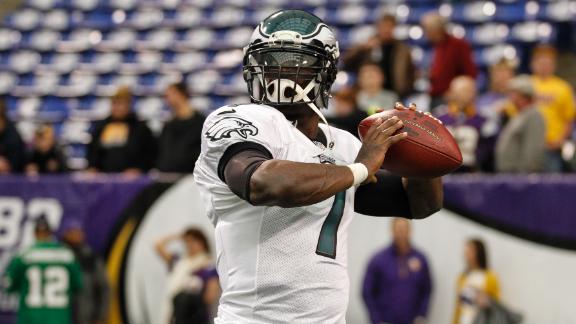 MINNEAPOLIS -- As the Minnesota Vikings head into free agency in search of a veteran quarterback, their franchise player has an idea about what they should do next.
Running back Adrian Peterson is interested in the team bringing Michael Vick to Minnesota to be the team's starter. The 2012 NFL MVP tweeted his thoughts Wednesday night.
@MikeVick would intently make the vikings a playoff team!

- Adrian Peterson (@AdrianPeterson) March 6, 2014
Vick, who will turn 34 in June, started just six games for the Philadelphia Eagles last season before losing his job to Nick Foles after a hamstring injury. Vick hasn't started more than 13 games in a season since 2006, and it wouldn't seem like he is the best fit for new offensive coordinator Norv Turner's offense.
But considering the Vikings' quarterback situation, it's difficult to rule anything out.
Christian Ponder is the only Vikings quarterback under contract, after Matt Cassel opted out of his 2014 contract in February. Josh Freeman, whom the Vikings signed to a one-year, $2 million deal and used in one game last season, also is a free agent.
March, 6, 2014
Mar 6
8:00
AM ET
MINNEAPOLIS -- Welcome to another edition of "What If" Wednesdays, where we take a peek in the funhouse mirror to show how things might have changed if a key moment in Vikings history had gone differently.
(The keener observers among you will note that today is Thursday, not Wednesday. I'm not trying to deprive you of your progress toward the weekend; I just didn't get a chance to post this while we were wrapping up our ESPN NFL Nation summit in Bristol and traveling back to our respective locales. So call this a special Thursday edition of "What If" Wednesday.)
For today's edition, we've only got to go back to the spring of 2009, when the Vikings held the 22nd overall pick. They liked Kansas State quarterback
Josh Freeman
, as general manager Rick Spielman confirmed when the Vikings signed Freeman to a one-year, $2 million deal last fall. They were in need of a quarterback, but so were the
Tampa Bay Buccaneers
, and Freeman went there with the 17th overall pick, instead of lasting until the Vikings could have taken him.
Instead, the Vikings drafted Florida receiver
Percy Harvin
, coaxed
Brett Favre
out of a second retirement and embarked upon one of the most exciting seasons in franchise history.
Would all that have happened if the Vikings had drafted Freeman? It's hard to say, but tempting to think about. Favre seemed to have an itch to play for the Vikings and stick it to the
Green Bay Packers
ever since the team decided to trade him instead of giving him his old job back in the summer of 2008. As surreal as it would have been to see Favre giving another first-round pick a chance to develop behind him after he famously bristled at the idea of mentoring
Aaron Rodgers
, it might have been tough for the Vikings to draft Freeman and also bring in Favre. If Freeman had lasted until No. 22, it's possible the Vikings don't get Favre, and the wild ride of 2009 that went with him.
It's almost certain, however, they don't get Harvin under this scenario. Would Freeman have been able to develop without a dynamic young wideout? Would
Sidney Rice
have blossomed like he did in 2009 with Favre? If Freeman had eventually fizzled in Minnesota like he did in Tampa Bay, and the Vikings didn't have Harvin to juice their offense, their next few seasons might have looked very different, especially without the 2009 NFC title game run to prolong the tenures of coach Brad Childress and general manager (then VP of player personnel) Rick Spielman. It's possible Freeman would have put together some good years in Minnesota, especially with a team that had gone to the playoffs the year before with
Tarvaris Jackson
, but the experience of 2009 centered around one man, and it wouldn't have been nearly as rich without Favre.
We could follow this one down a number of different threads, and we won't venture too much further down the rabbit hole with it, but knowing what we know about Spielman's three-year plan for quarterback development, the Vikings likely wouldn't have drafted
Christian Ponder
in 2011 if they'd taken Freeman just two years earlier. When would they have come up in a search for another quarterback? Would
Adrian Peterson
have felt good enough about all of it to sign his seven-year, $100 million extension in 2011? Without the energy of Favre's run in 2009, the Vikings could have gone in any number of different directions.
As Freeman prepares to hit free agency after a disjointed 11-week stretch with the Vikings, we'll close with Spielman's logic about why it made sense for the Vikings to sign him at all last October: It gave them a chance to observe a quarterback they had liked in the 2009 draft, at little cost to them. While we can debate the soundness of that reasoning, it's no stretch at all to say that if Freeman was going to fizzle in Minnesota, it was certainly better to have that happen in 2013 than if it had precluded the Vikings for their unforgettable season with Favre.