December, 6, 2013
Dec 6
4:17
PM ET
EDEN PRAIRIE, Minn. -- As we close out the week and get you ready for the
Minnesota Vikings
-
Baltimore Ravens
game on Sunday, I've got a few items left in the notebook to pass along. This post will serve as a place to discuss a handful of odds and ends. Here we go:


Cole looking set at MLB:
If the fact the Vikings moved
Erin Henderson
back to weak-side linebacker didn't clear it up, the fact the Vikings plan to make
Audie Cole
, and not Henderson, their middle linebacker in the nickel package should suggest the plan to make Cole the middle linebacker isn't a passing fancy. Coach Leslie Frazier said Henderson took to his old outside linebacker spot "like riding a bike," and as well as Cole has played in pass coverage the past two weeks, there's probably no reason to switch anything up there. Henderson admitted the move hurt his pride, but he seems to be accepting it for now. Given what Frazier said this week about Henderson not being the Vikings' preferred plan at middle linebacker, it's safe to assume he could stay outside if Cole keeps showing he can handle the middle.
Special teams could be pivotal:
The Ravens and Vikings both have dynamic return men who could affect Sunday's game; Baltimore kick returner
Jacoby Jones
has a 26.5-yard return average this season, and punt returner
Tandon Doss
is averaging 15.6 yards per return, with an 82-yard touchdown to his credit. The Vikings, of course, have three TDs between kick returner
Cordarrelle Patterson
(two) and punt returner
Marcus Sherels
(one). "Their kickoff return guy, Jones, he's impressive," Frazier said. "Of course, our guy is special as well. Whether it be a turnover or kick return or punt return, it could turn this game for sure."
Preparing for Pitta:
Ravens tight end
Dennis Pitta
is hopeful he'll make his season debut on Sunday after dislocating his hip in July, and if he does, the Vikings will have another element of the Ravens' offense to think about. They've been burned by several tight ends this year, giving up at least 60 yards to an opposing tight end in six games, but Cole's presence could help there. If Pitta plays -- which coach John Harbaugh wouldn't divulge on Friday -- the Vikings will be in for a test. "He's a pretty tough matchup for linebackers and sometimes even safeties," Frazier said. "He's almost a wide receiver in a lot of ways and it seems like he's one of those guys that their quarterback looks for often. So he presents some challenges for your defense for sure."
Wet weather possible:
Aside from rain in Week 2 in Chicago, the Vikings haven't had to deal with much inclement weather the past few seasons. That could change on Sunday, with the game-time forecast calling for a mix of rain and snow. And as we mentioned earlier this week, the Vikings are just 1-6-1 since 2006 when game-time temperatures are 40 or below, according to ESPN Stats & Information. "The guys will figure it out. We'll go play, regardless of the elements," Frazier said. "Depending on how bad the conditions are, it'll determine how much you're throwing the ball and how much you're running the ball. We'll see when we get out there in pregame."
Cassel vs. Ravens:
Even though he'd spent his entire career in the AFC before this season,
Matt Cassel
had only started one game against the Ravens -- and he probably doesn't have many good memories about it. He completed nine of his 15 passes for 92 yards and two interceptions last year, being knocked out with a head injury and missing the
Kansas City Chiefs
' next game after they lost 9-6 to the Ravens at Arrowhead Stadium. The Ravens' defense looks quite a bit different than the one Cassel faced last year, but he'll look to solve Baltimore's scheme on Sunday.
December, 6, 2013
Dec 6
2:45
PM ET
EDEN PRAIRIE, Minn. -- What seemed like a virtual certainty all week is now official:
Matt Cassel
will start at quarterback for the
Minnesota Vikings
on Sunday in Baltimore, with
Christian Ponder
out for the game because of the concussion he sustained last Sunday against the
Chicago Bears
.
Ponder still has not passed the NFL's concussion protocol, and hasn't been able to practice all week. He worked out on Friday without a helmet, but will still need to clear the concussion test to put himself in the mix to play on Dec. 15 against the
Philadelphia Eagles
.
For Sunday, Cassel will start, with
Josh Freeman
backing him up. Ponder is one of three players the Vikings ruled out for the game, along with cornerback
Josh Robinson
(fractured sternum) and tight end
Kyle Rudolph
(fractured foot).
Running back
Adrian Peterson
got some light work on Friday, and will play Sunday with his strained groin. Coach Leslie Frazier said the Vikings will likely have to limit Peterson's practice time the rest of the year because of the injury; they have held him out of Wednesday and Thursday practices for the past three weeks before practicing him on Friday.
"It's similar to what we had to do a year ago, when he had a similar injury [a sports hernia] in the month of December," Frazier said. "We'll have to manage it through the rest of the regular season."
Frazier also said wide receiver
Greg Childs
practiced for a third straight day on Friday, as he tries to recover from two torn patellar tendons in time to be activated off the physically unable to perform list by next week's deadline and possibly see game action for the first time since he was injured in August 2012. And safety
Harrison Smith
is still on track to return from injured reserve next week and play against the Eagles after missing two months with turf toe.
December, 6, 2013
Dec 6
8:00
AM ET
Welcome to Around the Horns, our daily look at what's happening on the Vikings beat:
When the Vikings drafted UCLA punter
Jeff Locke
in the fifth round of last April's draft, ostensibly to replace
Chris Kluwe
, they made the move largely because of how they thought Locke could help them pin opponents deep in their own territory. Locke had a strong leg, but was also a skilled directional kicker and had learned the Aussie-style kicks favored by many punters for shorter kicks.
But Locke struggled early this season, and special teams coordinator Mike Priefer told the punter, as only he could, that Locke was "the dumbest smart guy I've ever met in my life.
"Because all he did was think,"
Priefer said, according to Derek Wetmore of 1500ESPN.com.
"He was overthinking, overanalyzing everything and he just wasn't going out there and doing what he does. He's got a beautiful leg swing when the drop is closer to being perfect or perfect, we get what we want. And when it's not perfect, that's OK, that's football. He's just got to understand that he's going to be a more consistent punter when he approaches it that way."
Locke graduated from UCLA with a degree in economics, a 3.885 GPA and a banking internship. He helped publish a study on whether college athletes should be paid. There's no question the rookie punter is an intellectual, but that can sometimes backfire on athletes. Locke has put five punts inside the 20 in the last two games, and seems on his way to evening out his first season in the NFL. He was Priefer's handpicked punter before the draft, and the Vikings believe he can become one of the better specialists in the league, in time.
Here are today's other Vikings stories of note:
December, 5, 2013
Dec 5
5:49
PM ET
GREEN BAY, Wis. -- Packers cornerback Tramon Williams escaped a suspension, but he was fined for making contact with an official in the Thanksgiving Day loss at the Detroit Lions.
Williams said Thursday that he was fined $26,000, but the exact amount likely was $26,250, which is the minimum fine for that offense. The NFL confirms most fines on Friday. Minnesota Vikings cornerback Chris Cook received a similar fine this week for making contact with an official in Sunday's game against the Chicago Bears.
Unlike Williams, Cook was ejected.
"I think they might have said, 'OK guys let's emphasize this,'" Williams said. "But I mean, c'mon man, the referee's on the field just like us. I didn't think Chris Cook's was actually that bad for him to get thrown out."
After the game, Williams called it a "total misunderstanding."
On Thursday, he said Lions center Dominic Raiola shoved him at the end of the play -- a 1-yard touchdown run by Joique Bell in the fourth quarter. Williams appeared to be walking toward Raiola when back judge Dino Paganelli walked in between the two. Williams then brushed away Paganelli.
"I don't think I initiated the contact, but I did finish the contact, I guess," Williams said.
Williams said he planned to appeal the fine.
"Didn't mean any harm by it at all," Williams said. "Wouldn't do that if I knew who it was. Hopefully they give me some money back."
December, 5, 2013
Dec 5
5:25
PM ET
EDEN PRAIRIE, Minn. --
Minnesota Vikings
running back
Adrian Peterson
missed his second consecutive day of practice, in what is becoming a weekly routine to limit wear and tear on last year's NFL MVP. But coach Leslie Frazier doesn't expect Peterson, who has carried 67 times in the last two games despite a strained groin, to be limited on Sunday against the
Baltimore Ravens
.
Peterson
"It just tells you how amazing he is," Frazier said. "Not only does he play, he plays extremely well. It's just incredible, when you think of what those injuries can do for any position, let alone a running back. He's a special guy. His body is definitely unique. He's different in a lot of ways."
Peterson still leads the league with 1,208 rushing yards, and he might have more if he were able to run at full speed. "I know this: Some of those 20-yard runs could be 40- or 60-yard runs. We've seen that," Frazier said. "He's working as hard as he can, but it's tough to get [to] 100 percent in two or three days [of practice]."
In other Vikings injury news:
December, 5, 2013
Dec 5
3:40
PM ET
EDEN PRAIRIE, Minn. -- Even though the numbers would suggest
Adrian Peterson
has done his best work over the past two seasons when he's following a fullback, the reigning NFL MVP said on Thursday he still hasn't come around completely to the idea of two-back sets.
But, he admitted, the thing he often doesn't like about them might be the thing that helps him the most.
Peterson likes to be alone in the backfield because it allows him to hit the line of scrimmage with a full head of steam, but that can occasionally work against him when he's not patient enough to let a play develop.
"I'm just so quick to shoot the gun sometimes. Plays when you have two pullers or three pullers in front of you, you have to be more patient," he said. "I haven't had a lot of time over my career being patient. So that's why sometimes, I don't like the fullback in front of me. When I work on myself and try to be more patient, you see what happens last week."
Peterson averaged 7.15 yards per carry in two- or three-back sets last year, according to ESPN Stats & Information, and was at a pedestrian 4.05 yards per carry when he was the only running back in the backfield. This year, he hasn't found the same success running behind a fullback; he's at 4.27 yards per carry in two-back sets, and 5.20 in a one-back set.
But last Sunday, when Peterson established season highs in both carries and yards, he did much of his work behind another running back. He got 21 of his 35 carries with two or more running backs in the backfield, and ran for 139 of his 211 yards -- averaging 6.62 yards a carry with at least one other back.
"Based off last week, I wouldn't say it was difficult," he said. "You've got Jerome [Felton] pulling around, you've got [John] Carlson pulling around, and I'm doing my job, being more patient, allowing those guys to get in front of me. You see how effective it can be in the run game. It worked out well."
December, 5, 2013
Dec 5
12:45
PM ET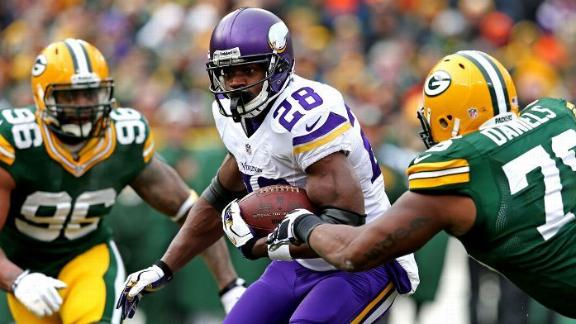 EDEN PRAIRIE, Minn. -- When
Adrian Peterson
said on ESPN Radio on Wednesday that he'd be intrigued by the possibility of playing in his home state, it wasn't the first time he'd raised the idea. Peterson is a proud Texan who spends his offseasons in Houston and returns to his hometown of Palestine each year for "Adrian Peterson Day." He sponsors a girls basketball team in his hometown, and when he got
asked in an online chat this summer
which team he would have preferred to play for had the
Minnesota Vikings
not drafted him, Peterson simply replied, "Texans!"
That the 28-year-old should have ties to home isn't a surprise. But it will be particularly interesting to see what happens in the next year or two, and whether the reigning NFL MVP gets any urge to act on them.
Peterson is signed with the Vikings through 2017, and in the same SVP and Russillo interview, he talked about how "it would be so amazing to be one of those players who stays with one team his entire career." In reality, his fate is more in the Vikings' hands than anyone else's, and the salary-cap ramifications of his contract complicate any potential move. But he turns 29 next spring, and could conceivably spend the rest of his prime with the Vikings as they try to bring up another young quarterback. Peterson got to the doorstep of the Super Bowl in 2010 -- he fumbled twice in a NFC Championship Game the Vikings lost in overtime -- and badly wants to win a championship. He's supported coach Leslie Frazier and quarterback
Christian Ponder
, and said he believes the Vikings are on the right track, but another year or two of losing could test his loyalty.
The refreshing thing about Peterson -- and the important thing to remember here -- is that he'll often entertain hypotheticals in interviews, speaking his mind about far-off scenarios rather than gunning them down and keeping his answers rooted in bland NFL minutiae. The barriers to him playing anywhere else are high, and it's hard to say right now that the Cowboys or Texans would be in any better position to get Peterson a championship than the Vikings would. But his comments are a reminder that Peterson's eyes are open to what's going on elsewhere, and that the Vikings need to take advantage of the reigning NFL MVP in his prime while they have him.
December, 5, 2013
Dec 5
10:50
AM ET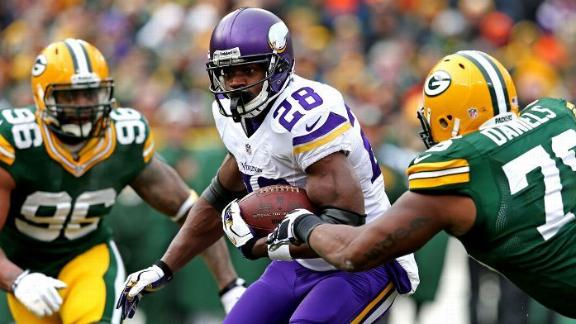 Adrian Peterson is signed through 2017 with the Minnesota Vikings, meaning the reigning NFL MVP is scheduled to play out the rest of his prime for the team that drafted him in 2007.
And while Peterson says he'd like to spend his entire career in Minnesota, he admitted Wednesday in an ESPN Radio interview that he has also thought about what it would be like to play for another team -- namely, one in his home state of Texas.
"You know, I'd be a liar if I said it's something that hasn't crossed my mind before," Peterson said on "SVP & Russillo."
"But I've also said to myself it would be so amazing to be one of those players who stays with one team his entire career, it would be good if I could do that. But being from Texas, I've always wondered, wow, it would be cool to play in Dallas, to play back home. Or to play in Houston."
Peterson grew up in Palestine, Texas, about two hours from Dallas, and rooted for the Cowboys as a kid. He lives in Houston in the offseason, and did most of his rehab from reconstructive knee surgery there in 2012.
He bought tickets for more than 100 friends and family when the Vikings played in Houston last December. When the Vikings traveled to Dallas on Nov. 3, Peterson purchased tickets for 62 people.
Peterson said before the game he knew many of his family and friends would be rooting for the Cowboys. But what he said then sounded very similar to what he said on ESPN Radio this week.
December, 5, 2013
Dec 5
10:00
AM ET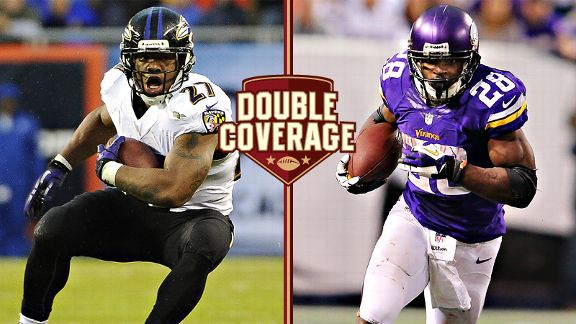 Getty ImagesRay Rice and the Ravens have struggled running the ball while Adrian Peterson leads the NFL.
The
Baltimore Ravens
are looking to continue their push for a sixth consecutive playoff berth Sunday when they play the
Minnesota Vikings
at M&T Bank Stadium.
The Ravens (6-6) have won two straight to take control of the last playoff spot in the AFC and are coming off an emotional victory over the rival
Pittsburgh Steelers
. What Baltimore can't afford is a letdown against the last-place Vikings (3-8-1).
The Vikings are quietly playing their best football of a disappointing season, rallying from a 10-point deficit in the fourth quarter to beat the
Chicago Bears
on Sunday. And while the Ravens are playing for their playoff lives, coach Leslie Frazier and the Vikings players are equally desperate because their jobs could be on the line in the final month of the regular season.
This is how ESPN.com Vikings reporter Ben Goessling and Ravens reporter Jamison Hensley see the fifth meeting between these teams unfolding:
Jamison Hensley
: The Vikings have only lost once in their past four games. What's been the biggest difference with the Vikings recently?
Ben Goessling
: The biggest constant in the two wins (and the tie against Green Bay) has been their quarterback play; it still hasn't been great, and probably won't be at any point this year, but
Christian Ponder
(or
Matt Cassel
last week) has been able to keep the offense moving without turning the ball over as frequently as the Vikings' QBs were earlier this season. In their three wins and one tie, the Vikings have a combined four turnovers. With
Adrian Peterson
coming off his two best games of the season, the rest of the offense doesn't have to be great. It merely has to hang on to the ball, keep drives moving and let Peterson do his work.
What's been the problem with the Ravens' running game?
Ray Rice
was never the most efficient back, in terms of yards per carry, but it's been stunning to see how limited he's been. What's going on there?
Jamison Hensley
: The Ravens' running game has been the biggest weakness on offense all season. Ray Rice doesn't have the same burst, and the offensive line isn't creating any space for him. Rice, who is averaging 2.9 yards per carry, can't shoulder all the blame. Backup
Bernard Pierce
is gaining 2.8 yards per carry. The Ravens haven't totally abandoned the running game, they're just not relying on it. Rice has only carried the ball more than 20 times once in the past seven games. Baltimore could test the Vikings' run defense, which ranks 23rd, just like it did against the Bears last month. But this has been a pass-heavy offense for most of the year.
It's a totally different story with the Vikings. Peterson is leading the NFL with 1,208 yards rushing, which is 235 more than the Ravens have totaled as a team. How does he continue to be effective when defenses are always focused on stopping him?
Goessling
: That's the remarkable thing about him -- he does all this when everybody knows he's getting the ball. And right now, he's doing it with a strained groin that has robbed him of some of his breakaway speed. He had 211 yards on Sunday, but probably could have pushed toward 250 if he'd been able to extend a couple of runs the way he normally does. Peterson is the best in the business at a lot of things, but chief among them might be his ability to find cutback lanes and isolate himself on one defender. Once he does that, your odds of bringing him down aren't very good; if he doesn't have his top speed, he'll just run you over.
It seems like the Ravens' defense is finally hitting its stride with all of its new pieces after a rough start to the season. What has led to that, and do you think the Vikings will be able to run effectively on the Ravens with Peterson?
Hensley
: The Ravens knew their defense was going to be a work-in-progress, especially in the first half of the season. Baltimore had to replace six players who started on defense in the Super Bowl. As expected,
Terrell Suggs
and
Elvis Dumervil
have provided pressure off the edge. The surprising part has been the play in the middle of the defense with defensive lineman
Art Jones
, middle linebacker
Daryl Smith
and safety
James Ihedigbo
. The run defense ranks No. 6 in the NFL, although I wouldn't describe the Ravens as dominant in this area. The Ravens can't expect to shut down Peterson. The key is containing him and keeping him under 120 yards.
While the focus is undoubtedly on Peterson, the other storyline is the Vikings' starting quarterback position, which has been in flux all season and remains up in the air for Sunday. Is there a drop-off if Matt Cassel has to replace Christian Ponder against the Ravens?
Goessling
: I really don't think so; the Vikings' passing game, in some ways, has functioned better with Cassel than it has with anyone else all season. He's still the only Vikings quarterback to throw for more than 240 yards in a game, and he just looks more assertive commanding the offense than Ponder does.
Greg Jennings
has his only three touchdown catches from Cassel, and part of that, I think, is that Cassel gets the ball out quickly and finds Jennings in stride better than Ponder can. Jennings needs a quarterback who will give him room to run after the catch, and Cassel has done that effectively. If he starts, there's no reason he can't be as productive or more productive than Ponder.
After winning a Super Bowl and getting his big contract,
Joe Flacco
doesn't look the part of an elite quarterback right now. Can he turn it around against a Minnesota pass defense that's been pretty inept all year?
Hensley
: Flacco has been slowly turning around his season lately, and he could be on the verge of a big game against the Vikings. One of the reasons why the Ravens have won their past two games is Flacco's ability to stretch the field again. Baltimore's offensive line has been giving Flacco a safer pocket, which has allowed him time to find the likes of
Torrey Smith
and
Jacoby Jones
deep downfield. Flacco has to like what he saw on tape from last Sunday's game, when
Josh McCown
threw for 355 yards and two touchdowns against Minnesota.
December, 5, 2013
Dec 5
8:00
AM ET
EDEN PRAIRIE, Minn. --
Minnesota Vikings
defensive tackle
Kevin Williams
said he can't think of too many times where he came in on Monday or Tuesday after a game and didn't think he was going to play. That's partially because of good luck with injuries, but it's largely because the six-time Pro Bowler has set a high threshold for what would keep him out of a game.
Williams has missed just three games because of injury in 11 seasons. The third one came in the first week of this season, after Williams had hyperextended his knee on a low block from San Francisco's
Joe Looney
in the preseason. Still feeling the effects of the injury, Williams returned the next week in Chicago and made an interception.
[+] Enlarge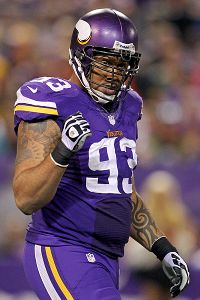 Brace Hemmelgarn/USA TODAY SportsKevin Williams has missed just three games to injury over his stellar 11-year career.
"You can't make plays and you can't be counted on if you can't show up," he said. "That's one thing I've always thought. If you're able to be available and make plays when you're out there and be ready at all times, and just showing up is half the battle. You've got to put in the work, but just showing up and then playing the game, that's the easy part."
Williams' teammates voted him their recipient of the Ed Block Courage Award, which is given to a player from each team who embodies the principles of sportsmanship and courage. The award generally goes to a player who has overcome long odds to get where he is, but for Williams, the triumph might come simply in his longevity.
He has played more games than any other defensive tackle in Vikings history, having surpassed Alan Page earlier this season, and even though the team planned to use him less frequently this season, the 33-year-old Williams is still a vital part of the defensive line. He has 2.5 sacks and a fumble recovery to go with his interception, and has seen some snaps at nose tackle since he filled in for
Letroy Guion
there and recorded all of his sacks on Nov. 7 against Washington.
"He has been outstanding in every area, whether it be off the field or on the field," coach Leslie Frazier said. "He's well-deserving of this award, and it shows you the respect that his teammates have for him."
Williams' teammates could also be getting one of their final chances to honor the defensive tackle. He is in the final year of his contract after agreeing to forfeit the 2014 season on his deal and give back $2.5 million this season in exchange for a guaranteed base salary. The Vikings drafted
Sharrif Floyd
to succeed him, and Williams seemed to know on Wednesday that his time in Minnesota might be drawing to a close. When asked about playing with defensive end
Jared Allen
, who is also a free agent after this season, Williams said, "You're going to make me get sentimental," and gave a wise dissertation on the realities of the NFL.
"Coming in as a rookie, you're bright-eyed and bushy-tailed and you never know what to expect," he said. "It takes three or four years to actually realize this is is a billion-dollar business and each team does everything it can to win. It's nothing personal, but it's all business and you have to soak up all of the moments you can, all the wins you can get, enjoy the playoff runs and embrace all of the people you meet and the friends you make because one day it's eventually going to be done. Right now I'm just trying to play ball, enjoy the group I'm with and we'll see where we go at the end of the year. "
It's possible the Vikings could bring Williams back on a one-year deal, especially after they've relied on him so much this season, but their willingness to part with
Antoine Winfield
suggests Williams shouldn't count on that. If he is in his final days with the Vikings, though, he's closing a run that could one day land him in the Hall of Fame. This week, it earned him an award from his teammates.
"It's a tremendous honor for me for my teammates to think that highly of me," he said. "It just shows you what you're doing on the team and in the community, it really pays off."