September, 19, 2014
Sep 19
4:40
PM ET
Associated Press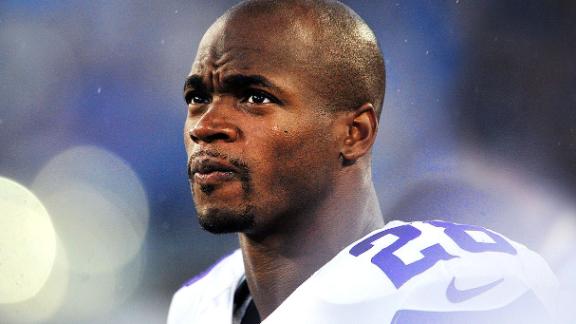 MINNEAPOLIS -- Authorities in Minnesota filed a petition Friday seeking a protective order for the 4-year-old son of Vikings running back Adrian Peterson.
In the petition, Hennepin County Human Services asked a judge to block Peterson from using corporal punishment or physical discipline on the boy. It also would block unauthorized or unsupervised contact, and require Peterson to complete a parenting assessment.
Peterson faces a child abuse charge in Texas for using a wooden switch to spank the boy in May. He has said he meant only to discipline the boy and not hurt him. The order says Peterson told investigators in Texas that he also used a belt to spank his son.
Peterson has been dropped from the Vikings' active roster while the criminal case against him is pending in Texas, where he has an Oct. 8 arraignment.
Peterson's attorney, Rusty Hardin, didn't immediately respond to an email seeking comment.
According to the petition:
The child visited Peterson in Montgomery County, Texas, from about May 6-22. His mother reported possible abuse to Hennepin County Child Protection services on May 22. Separate exams by a doctor May 22 and a nurse practitioner May 23 documented injuries "clinically diagnostic of child physical abuse."
A follow-up exam May 29 found the boy still had traces of the injuries "10 days after the last known time he was physically abused."
"His injuries are significant and may cause some scarring," a summary of the exam said.
The petition also described Peterson's interviews with Texas child protection investigators, including: "Respondent Peterson admitted that Child No. 1 received two spankings as a form of physical discipline, one with a belt and one with a switch."
September, 19, 2014
Sep 19
3:40
PM ET
EDEN PRAIRIE, Minn. --
Minnesota Vikings
linebacker
Chad Greenway
returned to practice Friday after missing Wednesday's and Thursday's practices with a broken left hand.
While coach Mike Zimmer was playing it coy about Greenway's status for Sunday's game against the
New Orleans Saints
, the linebacker sounded hopeful he'll be able to play.
"I felt good [in practice]," Greenway said. "It was good to practice and get some [work]."
Greenway has never missed a game in his career, starting 113 of 114 games since the Vikings drafted him in 2007. He played much of last season with a broken right wrist.
"I'm experienced, I think," he said, when asked Friday what it's like to play with an injured hand. He wouldn't discuss what kind of cast he would wear on Sunday if he's on the field but didn't seem to think the injury was something that would need to keep him off the field.
"[I need to] not let that be anything, other than we need to get out there and play," he said. "It's never going to be an excuse. Go play football, and just make it work."
Asked about Greenway's status for Sunday, Zimmer simply said, "We'll see."
Greenway was officially declared questionable for the game, as was linebacker Brandon Watts (knee) and wide receiver Rodney Smith (hamstring). Tight end Kyle Rudolph (abdomen), wide receiver Cordarrelle Patterson (chest), tackle Phil Loadholt (ankle), defensive tackle Sharrif Floyd (shoulder), cornerback Xavier Rhodes (groin) and linebacker Michael Mauti (foot) are all probable.
September, 19, 2014
Sep 19
1:00
PM ET
MINNEAPOLIS -- According to ESPN Stats and Information,
New Orleans Saints
quarterback
Drew Brees
has had three or more wide receivers on the field for 49 of his 85 dropbacks this season. And he's already hit tight end
Jimmy Graham
on 18 of the 23 passes he's targeted for him. Those statistics make me wonder if the
Minnesota Vikings
have enough secondary depth to hang with the Saints in their home opener this weekend.
Tom Brady
didn't spread the Vikings out like we thought he might last weekend, when the Patriots opted to run the ball 37 times and used a six-lineman formation for large chunks of New England's 30-7 win. That probably won't be the case this weekend. The Saints won't have
Mark Ingram
in their stable of running backs, but they'll have enough receivers to cover the field and stretch the Vikings' defense.
I'm not sure if the Vikings will be able to handle that kind of a game. Cornerback
Xavier Rhodes
is coming off one of the worst games in his short career,
Captain Munnerlyn
has had some rough moments in coverage (he's given up six catches in six targets, according to Pro Football Focus), and Graham has proved to be too tough of a matchup for most teams to handle. With Brees, who's one of the game's best at moving around in the pocket, at the trigger of the Saints' offense, New Orleans is going to test the Vikings' defense at the Superdome.
The Saints are 0-2, and they've shown enough defensive issues that a win isn't as difficult to imagine as it might have seemed. But as the Vikings' offense adapts to life without
Adrian Peterson
, they could be asked to put up plenty of points this weekend. I don't think they'll have quite enough to keep up.
Prediction:
Saints 31, Vikings 20
September, 19, 2014
Sep 19
11:30
AM ET
METAIRIE, La. -- How quickly things change in the NFL.
We're coming up on the five-year anniversary of the NFC championship game between the
New Orleans Saints
and
Minnesota Vikings
, and only 14 players remain on their combined rosters as they head into Sunday's Week 3 matchup back in the Mercedes-Benz Superdome.
The Vikings have six players left, not counting reserved running back
Adrian Peterson
. The Saints have just eight players, including two who left and came back (center
Jonathan Goodwin
and receiver
Robert Meachem
).
The Saints "feel" a lot more like the same team, though, with coach Sean Payton and quarterback
Drew Brees
still directing one of the NFL's most potent passing offenses.
Meanwhile, Minnesota has experienced far more turbulence. Since 2009, the Vikings have switched coaches twice (from Brad Childress to Leslie Frazier to Mike Zimmer). And they've used a total of seven starting quarterbacks in the past four seasons, with first-round draft pick
Teddy Bridgewater
likely to make it eight sooner than later.
The Saints have returned to the playoffs three times in the last four seasons, with a combined regular-season record of 42-24. The Vikings have returned to the playoffs only once, with a combined regular-season record of 25-40-1.
The disparity would be even greater if not for the Saints' 7-9 campaign in 2012, during which Payton and others were suspended for allegations of running a bounty program -- including a specific bounty on Vikings quarterback Brett Favre in that January 2010 NFC championship game.
Both Favre and Saints linebacker Jonathan Vilma are currently out of the league -- as is kicker Garrett Hartley, who nailed the game-winning field goal in that 31-28 thriller.
Another Saints hero from that game, cornerback
Tracy Porter
, has played with three other teams since then.
Here's a look at the players who remain:
Saints
QB Drew Brees
WR
Marques Colston
G
Jahri Evans
OT
Zach Strief
RB
Pierre Thomas
P
Thomas Morstead
WR Robert Meachem
C Jonathan Goodwin
Vikings
LB
Chad Greenway
OT
Phil Loadholt
C
John Sullivan
DE
Brian Robison
LB
Jasper Brinkley
LS
Cullen Loeffler
September, 19, 2014
Sep 19
8:00
AM ET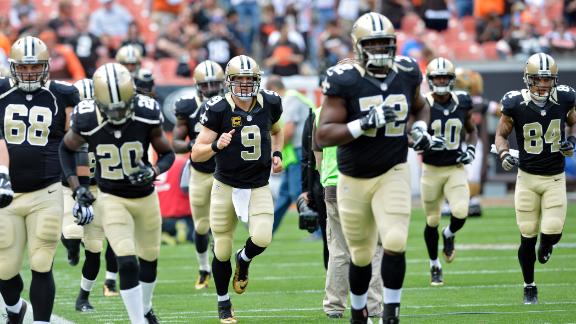 It has been a turbulent start to the 2014 season, to say the least, for both the
Minnesota Vikings
(1-1) and
New Orleans Saints
(0-2) as they head toward their Week 3 matchup in the Mercedes-Benz Superdome.
Minnesota's issues run much deeper than football. Star running back
Adrian Peterson
has been indicted on a felony child-abuse charge in Texas; on Wednesday, the Vikings put Peterson
on their exempt list
, barring him from games and practices.
The Vikings deactivated Peterson for their Week 2 game, a 30-7 loss at home to the
New England Patriots
.
The Saints, meanwhile, are hoping to use their home opener to rally back from two stunning, last-second losses at Atlanta and Cleveland.
ESPN Saints reporter Mike Triplett and ESPN Vikings reporter Ben Goessling discuss this week's matchup:
Triplett:
How much did the Vikings miss Peterson on the field last Sunday? And how do they try to fill that void this week?
Goessling:
Against a Patriots team that appeared vulnerable against the run, they missed Peterson considerably. He didn't have a great first game of the season in St. Louis, but a large part of what Peterson brings to the offense, even when he's not being terribly productive, is the number of looks he opens up for others simply by the attention he commands from defenses.
Matt Asiata
caught a touchdown pass last week and is a decent between-the-tackles runner. They also like rookie
Jerick McKinnon
, though they haven't gotten him involved in the offense yet. But no matter what the Vikings do, they're not going to be able to replace Peterson. They have some good weapons in their passing game, and they'll have to make them work. Without Peterson, though, the Vikings' offense looks a lot less intimidating.
The Saints will be without running back
Mark Ingram
. How will that change their offense this weekend?
Triplett:
It's basically the exact opposite of what you just described. Ingram has been off to a fantastic start -- probably playing the best of his career. But he's also more replaceable than Peterson because the Saints have such good depth at running back. Veteran
Pierre Thomas
and second-year pro
Khiry Robinson
are both off to good starts this season as well. And they're more than capable of increasing their workload.
Most important, the entire Saints run game has been thriving since late last season, which has helped all three of their backs. The Saints are tied for fifth in the NFL with 156.5 rushing yards per game, and they're ranked second with 5.7 yards per carry. Normally those numbers translate to victories.
What other parts of Minnesota's offense will the Saints need to prepare for? It looks like
Cordarrelle Patterson
has given the Vikings a new dimension. And can
Matt Cassel
match points with
Drew Brees
if needed?
Goessling:
You're right about Patterson adding some new wrinkles to the Vikings' offense. He has taken the baton from
Percy Harvin
, in the sense that the Vikings can use him out of the backfield, get the ball to him on screens and employ him as a kick returner. The one area where Patterson still needs to improve, actually, is as a receiver. He struggled mightily last week while trying to get separation from press coverage, and while his route-running has improved, he's still learning how to be a reliable option for Cassel.
As for Cassel's ability to match points with Brees ... boy, I don't know. The Vikings had trouble protecting him last week, and he threw a couple of bad interceptions when he wasn't able to look off defenders. If it turned into that kind of game, I'd be a little worried about the Vikings' ability to keep up.
One of the ways the Saints' offense could get rolling, obviously, is
Jimmy Graham
. Is there any recipe to slowing him down right now? What would your advice be to the Vikings about how to cover him?
Triplett:
Well, don't ask the Browns. They tried a little bit of everything last week, including Pro Bowl cornerback
Joe Haden
and corner
Buster Skrine
at times. And Graham just exploited the size mismatch.
When teams have had success against Graham, they had to devote more than one resource. The Patriots pressed him with corner
Aqib Talib
and played zone behind him; the Seahawks bracketed him, often using
Earl Thomas
as a spy; and the Eagles chipped him with defensive ends off the line. The problem, though, is that exposes teams to all of the Saints' other weapons, including their much-improved run game and dynamic new receiver
Brandin Cooks
. It's a pick-your-poison offense that's almost immune to double-teams.
So where is the Vikings' defense most vulnerable?
Goessling:
Especially against a team that can spread them out like the Saints can, I'd have to say it's the secondary.
Xavier Rhodes
is the top cornerback, but he was playing with a groin injury last week, gave up four catches and got flagged three times.
Captain Munnerlyn
gave up a touchdown, and the secondary depth is a concern. As you mentioned, the process of stopping Graham is a group effort, and the Saints have so many options that the Vikings could have trouble keeping up, especially if they have as much trouble getting to Brees as they did to
Tom Brady
last week.
Speaking of defensive vulnerabilities, the Saints' defense looks to have taken a significant step back in the first two weeks of the season. First, where has the pass rush gone, and second, do you see a quick fix for the defensive issues?
Triplett:
I definitely expect vast improvement by the Saints' defense. The talent is there, from pass-rushers
Cameron Jordan
,
Junior Galette
and
Akiem Hicks
to middle linebacker
Curtis Lofton
to No. 1 cornerback
Keenan Lewis
and safeties
Jairus Byrd
and
Kenny Vaccaro
. All have actually played well this season. But the Saints were done in by things such as missed tackles in Week 1 and blown assignments and penalties in Week 2. All extremely frustrating -- but correctable -- issues.
The biggest concern is the depth at cornerback. The Saints might have to make a change at the No. 2 cornerback spot, where teams have been picking on
Patrick Robinson
. A more consistent pass rush would certainly help in that department as well.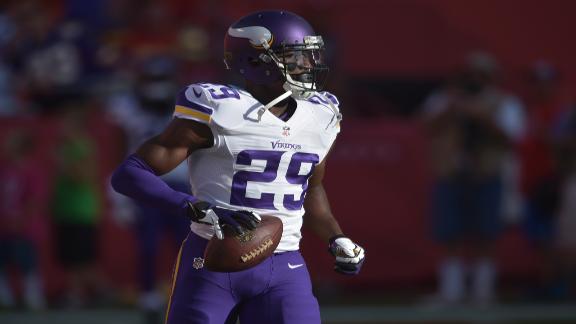 September, 19, 2014
Sep 19
7:45
AM ET
Welcome to Around the Horns, our daily look at what's happening on the Minnesota Vikings beat:
The
Cleveland Browns
, in the view of Vikings defensive coordinator George Edwards, used some different looks against
New Orleans Saints
tight end
Jimmy Graham
to "kind of get him out of the ball game" in a 26-24 win over New Orleans last weekend.
"They changed the leverage up on him, they doubled him some, they did some different things coverage-wise," Edwards said. "You've got to kind of pick and choose what it is you're going to do and what you're trying to take away. They move him around a lot in the formations; you'll see him out at No. 1, flexed out as a receiver. They move him around a lot. The biggest thing is, what you're doing within the coverages to try and take away what he's trying to do coverage-wise."
Granted, Graham caught 10 passes for 118 yards and a touchdown in the game, but his first catch didn't come until three minutes before halftime. The way Graham is playing right now, that probably has to be counted as progress.
The 6-foot-7 tight end has a league-high 18 catches in his first two games for 200 yards and a touchdown, and dealing with him might be the biggest assignment the Vikings face this weekend. As Edwards said, the Saints move Graham around enough that covering him will be a group effort; he caught three passes and a touchdown against Browns Pro Bowl cornerback
Joe Haden
, and also was matched up with Cleveland's linebackers and safeties. If the Vikings are without linebacker
Chad Greenway
because of a broken hand on Sunday, they could put linebacker
Gerald Hodges
(who started his college career as a safety) in Greenway's place, and
Harrison Smith
might spend more time in coverage than up near the line of scrimmage. Cornerback
Xavier Rhodes
could also draw some time against Graham. Whatever the Vikings do, controlling Graham won't be a one-man job.
"All these guys, they're going to get some catches at some point in the ballgame, no matter how much you preach," coach Mike Zimmer said. "You can't double-cover a guy every single play, for the most part, because now you can't play the running game, and they had 150 yards rushing (against Cleveland). You have to pick your spots with all of these guys. He's like a wide receiver -- he's just taller. A guy with height is always a matchup problem, especially if he can run and jump like this guy can."
In case you missed it on ESPN.com:
Best of the rest:
September, 18, 2014
Sep 18
10:06
PM ET
ESPN.com news services
The NFL has agreed with the National Domestic Violence Hotline in a deal the organization says will fund it to the point it expects to be able to field every call, chat and text it receives for the next five years.
A hotline spokesperson told ESPN.com's Darren Rovell the commitment was a "multiyear, multimillion dollar deal."
The hotline was unable to answer more than 77,000 calls last year due to funding issues, president and CEO Katie Ray-Jones said in a news release Thursday.
"Recent domestic violence incidents involving NFL players pushed the capacity of our organization to unprecedented levels," Ray-Jones said in the statement. "Because of this long-term commitment by the NFL to provide The Hotline with much-needed resources, our services will finally be accessible to all those who need us when they bravely take the first step to find safety and live a life free of abuse."
Anna Isaacson, the NFL's recently hired vice president of social responsibility, said in a phone interview with USA Today Sports earlier in the day that she and other league officials, including commissioner Roger Goodell, are fully in tune with the domestic violence controversy and take it "incredibly seriously."
"I think the good news is that we have cared about these issues for many years," Isaacson told USA Today. "We know we don't have all the answers. We are bringing in the right people to guide us, to help us make decisions that move this issue forward and to really now take this opportunity and allow us to make a massive difference for thousands of women around the country."
Isaacson said she talks to Goodell probably six times a day and that he is an "active part" of her group's meetings.
September, 18, 2014
Sep 18
7:11
PM ET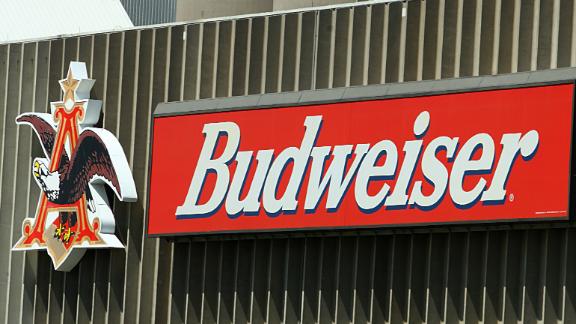 If Anheuser-Busch wanted to drop its sponsorship of the NFL, it potentially could without penalty.
A source with a copy of the brewer's six-year, $1.2 billion contract with the league signed in 2011 provided ESPN.com with language of the deal's clause relating to termination.
Anheuser-Busch could unilaterally end the deal in writing if a "league-wide" event "brings the entire NFL, not just particular member clubs, players, coaches or employees, into national disrepute, scandal or ridicule."
The clause in the contract makes reference to the fact that the event cannot include a labor dispute, including a work stoppage.
The clause also states that the licensee -- in this case, Anheuser-Busch -- must prove that the event resulted in a loss of value in the deal.
The latter might be the hardest to prove. While the handling of the Ray Rice, Adrian Peterson and Greg Hardy cases have been embarrassing for the league, business, including attendance, TV ratings and merchandise sales, hasn't suffered.
A spokesperson for Anheuser-Busch would not confirm or deny the specificity of the morals clause or speak to whether the company would consider severing the deal.
NFL spokesman Brian McCarthy would also not comment on the contract.
On Tuesday, the company issued the harshest criticism of the league that came from any sponsor, though it came hours before Peterson was placed on the exempt list.
"We are disappointed and increasingly concerned by the recent incidents that have overshadowed this NFL season," a spokesperson for Anheuser-Busch said in a statement. "We are not yet satisfied with the league's handling of behaviors that so clearly go against our own company culture and moral code. We have shared our concerns and expectations with the league."
September, 18, 2014
Sep 18
7:05
PM ET
EDEN PRAIRIE, Minn. -- The
Minnesota Vikings
' time without
Adrian Peterson
officially began last week, but it wasn't until early Wednesday morning that the team made a move to suggest it would be without the 2012 NFL MVP for the foreseeable future.
[+] Enlarge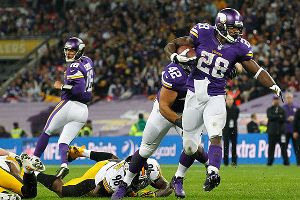 AP Photo/Sang TanMatt Cassel is not likely to see opposing defenses selling out to stop the run game without Adrian Peterson, but he's been in similar situations before.
Vikings players head into Sunday's game against the
New Orleans Saints
knowing it could be weeks, if not months, before Peterson is back on the field. The practical effects of that move might weigh heaviest on the man now charged with running the Vikings' offense on the field, knowing he won't have Peterson to occupy defenses' attention.
Matt Cassel
has been in this situation before, winning a pair of games when Peterson was out with a foot injury in December. But the Vikings could be without Peterson for a longer period of time this year. Unlike last year, when Cassel had emerged the winner of the Vikings' bizarre quarterback carousel and was playing for a team with no playoff prospects and little to lose, he's trying to keep the job he won over rookie
Teddy Bridgewater
in training camp.
Cassel threw four interceptions in the Vikings' 30-7 loss to the
New England Patriots
last Sunday, though coach Mike Zimmer said Cassel had played well from training camp through the Vikings' season-opening win over the
St. Louis Rams
, adding, "I'm not going to let one bad afternoon define it."
What I'll be curious to see, however, is how long Cassel can keep the Vikings' offense productive, and the team can keep its record competitive. Otherwise, the Vikings could have reason to turn over the job to Bridgewater at some point this season and give him a chance to develop on the field.
In the meantime, Cassel will have to work without one of the underrated luxuries of quarterbacking next to Peterson. According to ESPN Stats & Information, Vikings quarterbacks have seen eight-man fronts on 122 dropbacks since the start of the 2012 season, the second-most in the NFL during that time. Some of those looks have been a tacit sign that defenses didn't have to worry about getting beat by the Vikings' passing game, but many have been a reflection of how much attention Peterson commands. Neither Cassel nor
Christian Ponder
were able to make the most of the single-coverage looks they saw last year, but Cassel had drilled both of his throws against eight-man fronts this year for a total of 31 yards.
In any case, Cassel is not likely to see defenses selling out against
Matt Asiata
or
Jerick McKinnon
in the same way, and the Vikings won't be able to rely on the big gains they came to count on from Peterson in their offense.
"I think when you have a back who is capable of making big plays and has a history of making plays -- 10, 15-yard runs -- those plays can supplant some plays you're not getting in another area," offensive coordinator Norv Turner said. "I think when you're coaching a player like that you kind of count on that you're going to get those kind of plays. I think Matt and Jerick both had big runs, but I don't think you can say, 'Hey, in this game we are going to get three or four runs over 15 yards,' like you would with Adrian. You just have to adjust your plan."
The defining moment of Cassel's career came in 2008, when he stepped in for an injured
Tom Brady
and led the New England Patriots to an 11-5 record in the wake of Drady's deflating injury. He drew parallels to that experience Thursday, but the difference this time is, he's not working with the remainder of a team that went 18-1 the year before. These Vikings are young, they've lost their best player and they'll need Cassel to play well.
"We do have a young, impressionable team. I think that the main thing is trying to block out the noise on the outside because there is a lot of it going on right now," Cassel said. "The Saints aren't going to feel sorry for us when we go down there on Sunday. Part of doing this job is overcoming some adversity, and we've faced some adversity, obviously, early this year."
September, 18, 2014
Sep 18
7:00
PM ET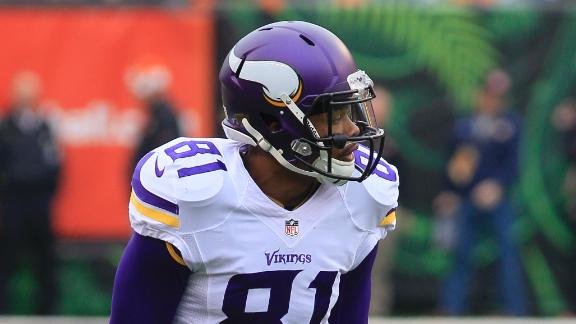 EDEN PRAIRIE, Minn. -- Jerome Simpson's latest run-in with the law has cost him his job with the Minnesota Vikings.
The team released Simpson on Thursday, hours after ESPN reported he was cited on July 7 for misdemeanor charges of marijuana possession, driving on a limited license and having an open bottle in a motor vehicle. Simpson has a Nov. 3 arraignment scheduled in Hennepin County for the charges, which came after a traffic stop in Bloomington, Minnesota.
Simpson was not arrested but was cited for the aforementioned charges.
Coach Mike Zimmer said he hadn't heard about Simpson's latest run-in with the law until he was told about it by a team PR person on Thursday, and that he did not want to comment on it until he'd talked with general manager Rick Spielman.
Speaking generally about the team's recent spate of legal trouble, however, Zimmer said, "We're going to look for high-quality guys. We're going to keep guys who care about football, guys who are passionate about playing the game. We're going to continue to get those guys and keep working. There's really nothing I can do about what everybody else says. All I can do is what I think is best at the time."
Simpson was already serving a three-game suspension at the start of the season after he was arrested for drunken driving last November in Minneapolis. He pleaded guilty to lesser charges of reckless driving on Jan. 2, but was still suspended by the NFL. It was his second suspension in three years with the Vikings, following a three-game ban in 2012 stemming from a marijuana-related arrest in Kentucky in '11.
September, 18, 2014
Sep 18
5:10
PM ET
EDEN PRAIRIE, Minn. --
Minnesota Vikings
coach Mike Zimmer still sounded optimistic on Thursday he'd have
Chad Greenway
on the field this Sunday in New Orleans, despite Greenway's broken left hand. But the Vikings have injuries to several starters to track on the other side of the ball.
Wide receiver
Cordarrelle Patterson
was added to Thursday's injury report after being limited in practice with a chest injury, and tight end
Kyle Rudolph
was again limited in practice with an abdominal injury. Right tackle
Phil Loadholt
was a limited participant with an ankle injury for the second straight day, though Zimmer thought Loadholt would be ready to go for Sunday's game.
"He'll be fine," Zimmer said. "He's tough."
Cornerback
Xavier Rhodes
(groin) and wide receiver
Rodney Smith
(hamstring) returned to full participation on Thursday, while defensive tackle
Sharrif Floyd
was a limited participant after missing Wednesday's practice. Linebacker
Brandon Watts
also worked in a limited capacity for the second consecutive day, after returning from a knee injury.
"He's got great speed," Zimmer said of Watts. "He's a young, developing player that I think has a great future in this league. He's got some coverage ability and it's hard to find linebackers with coverage ability nowadays, the way the league is."
Linebacker
Michael Mauti
was a full participant with a foot injury for the second straight day, and could be in line to make his regular-season debut on Sunday. If Greenway is unable to go, Mauti or
Gerald Hodges
might start in his place at weakside linebacker, but Zimmer said he thinks Greenway is improving.
"He feels a lot better today," Zimmer said. "He didn't practice, but he feels a lot better. He was running around pretty good, so we'll see how he does tomorrow."
September, 18, 2014
Sep 18
4:40
PM ET
EDEN PRAIRIE, Minn. -- As he sat on his couch last Sunday, watching a handful of
Minnesota Vikings
special-teams mistakes in the final game of his suspension, special teams coordinator Mike Priefer said he did a fairly good job of following his wife's "lecture" to stay calm in front of his kids.
That is, except for when he saw the Vikings put just nine players on the field for a third-quarter punt return, after the
New England Patriots
faked a decision to go for it on fourth down and made a late switch to their punt personnel.
[+] Enlarge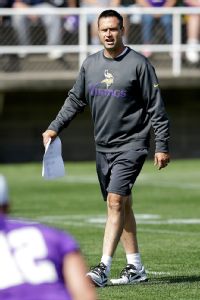 AP Photo/Charlie NeibergallSpecial teams coordinator Mike Priefer returned to the Vikings this week after completing sensitivity training.
Of his reaction to that play, Priefer said, "I probably can't say it in public."
Priefer has the Vikings' special-teams units back under his control now after he completed sensitivity training to shorten his suspension from three games to two for making a homophobic remark during the 2012 season. The Vikings brought Priefer back to work on Monday, and the coach received a standing ovation from players in his first meeting.
"It was awesome," Priefer said. "Normally, I'm there three or four minutes before the meeting starts. I walked in right as the meeting started because we had just finished up a staff meeting, and it was really, really a cool thing. It was something I didn't expect. It was a warm reception and I really appreciated it. I'm an emotional guy and I really did appreciate it. Reflecting back on it, I think that will be one of the great things that's ever happened to me as a football coach."
Priefer wouldn't get into the details of what he did during sensitivity training, but said he embraced the training session. "I don't know if I've changed," he said, "but I think I have more awareness of my surroundings and other people around me. I think I'm a better man because of it."
Now that he's back and he's served the full punishment that resulted from a six-month independent investigation into former punter Chris Kluwe's allegations against him, Priefer said he told players the situation is "all behind us. It's over.
"The situation is a dead issue and it's time to move on. I know it was hard for them. I apologized to them because of what I basically put them through being away for two weeks. But now it's time to improve and get better. We have a lot of work to do."