September, 16, 2014
Sep 16
4:00
PM ET
By
Lee Schechter, Special to ESPNBoston.com
Some leftovers from Tuesday's conference calls with Patriots coach Bll Belichick, offensive coordinator Josh McDaniels and defensive coordinator Matt Patricia:
Belichick's high praise for Ebner.
The Patriots used special-teamer
Nate Ebner
on defense at various times against the Vikings. Ebner has mainly been a special-teams contributor, even going back to his college days at Ohio State, but Belichick has seen Ebner's confidence and ability on the field grow.
"I would probably put him in the, not the all-time top, but maybe in the top 5 percent all-time of players that I've coached from where they were in college to how they grew in the NFL," Belichick said. "Nate had almost no defensive experience at Ohio State. He's adapted in a relatively short amount of time -- going into his third year so it's really two-plus years -- adapted very well to the knowledge of our defense, to the understanding of opponents' offenses, to instinctiveness and reading and recognition at a position that he plays right in the middle of the field, which is among the most difficult -- inside linebacker and safety, where the volume and the number of things that can happen are the greatest, where you have to really see everybody on the field, all 11 guys. His development has really been outstanding."
[+] Enlarge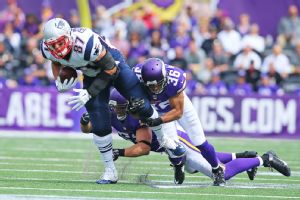 Adam Bettcher/Getty ImagesRob Gronkowski has eight receptions for 72 yards through two games.
Josh McDaniels on Gronkowski's progress.
Tight end
Rob Gronkowski
saw a reduction in the number of snaps played as he went from 38 of 86 against Miami to 28 of 67 snaps against the Vikings.
"I think Rob is making strides each week in terms of what he's been able to do for us in practice and on the field during the game. I think a little bit of it last week was situational," McDaniels said. "We used
Cameron Fleming
a little bit more in last week's game in some different situations. We did that because we wanted to add a little size and so on and so forth. That dictated some different personnel groupings on the field. But I think Rob is doing a good job. These are his first two opportunities to get out there in a game this year, and I think every opportunity that we have is just a better day to improve on where he's at and where we're at offensively and get him involved in different things."
Patricia preparing for Carr.
The
Oakland Raiders
are starting rookie quarterback Derek Carr this season. Patricia credited Carr's football intelligence and good habits in college as reasons for his success into his young NFL career.
"Obviously this guy's doing a good job running their offense as a rookie quarterback and someone who has come in and made some good adjustments in the game and also tries to put his team in good position to be successful out on the field," Patricia said. "He's really done a good job of studying what opponents are doing against him. He's a smart guy, he's a great athlete, he's very fast, he's got a good, strong arm. He can do something back there that can cause the defense to be under duress for the game. So you really have to be very disciplined and make sure you don't get beat -- not only with his arm, but with his legs if he's out of the pocket."
Look out for the Wildcat package.
In 2008, the
Miami Dolphins
utilized the Wildcat formation to perfection by scoring five touchdowns from the Wildcat against New England. With former Dolphins head coach Tony Sparano on the Raiders' sideline as assistant head coach/offensive line coach, Patricia and the Patriots are aware of the threat of the Wildcat.
"One of the coaches on their staff is obviously very familiar with us -- Tony Sparano -- and when he's out there with the Wildcat versions we've seen from him in previous years, we have to be ready for all the different facets involved," Patricia said. "It certainly will be a challenge for us to make sure we have it handled: we can recognize it, get to it and defend it."