Football journey: Chris White
October, 26, 2013
10/26/13
5:00
AM ET
FOXBOROUGH, Mass. -- Receiver
Wes Welker
is the highest profile acquisition the
New England Patriots
have made for a player with AFC East ties. But he's far from the only one.
The familiarity of facing a player twice a year in division play has led the Patriots to sign several others in Bill Belichick's 14-year coaching tenure, such as receiver Sam Aiken (Bills), cornerback
Marquice Cole
(Jets), defensive end Shaun Ellis (Jets) and running back Sammy Morris (Bills/Dolphins), among others.
White
This year, core special teams player
Chris White
has been added to the list.
White played 22 games for the Bills in 2011-2012 after being selected in the sixth round of the NFL draft, so when the Patriots were looking for special teams help at the 53-man roster cutdown in September, the 6-foot-3, 240-pound White was at the top of their list.
"He's a young guy [24] but experienced and plays in all four phases of the game [kickoff return, kickoff coverage, punt return, punt coverage]," Belichick said. "He's a core guy for us -- dependable, smart, works hard."
White, who has played in all seven games this season, totaling three special-teams tackles (2 solo, 1 assisted), shares his "football journey":
When he first started playing football:
"I started when I was young, flag football. I was 5 or 6 maybe. My mom [Amy Myrick] had put me in all sports -- basketball, baseball, football. I did everything."
First positions:
"Running back and linebacker."
Role models in his life:
"My mom. I look up to her bigtime. She kind of raised me and my brother [Carl] by herself. My parents got divorced, and my dad [Larry] died when I was 8. It was tough, but she's always been there for me. She's the reason why I'm here today."
[+] Enlarge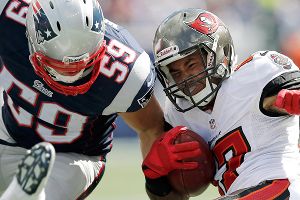 Winslow Townson/Getty ImagesChris White, left, has played on special teams in all seven Patriots games this season.
Learning important lessons at Vancleave (Miss) High School:
"To tell you the truth, I kind of messed around in high school and didn't take my classes as seriously as I should have. That led me to Junior College, which was probably the best thing that happened to me. The only D-I school I had been getting recruited to was Southern Miss., and I ended up going to Mississippi State [after junior college]. We had a pretty good two years when I was there, under a new coach, Dan Mullen. That helped my career out a lot."
Attending Mississippi Gulf Coast Community College:
"It definitely helped [get me on track] -- small school, small Mississippi town. It was close to home, about an hour away, and that helped. I could go home on the weekends and see my family and stuff like that. They check classes there; you have to keep your grades up. [Coach] Steve Campbell, he does a really good job with that program. He's still there and is a great head coach."
How he ultimately turned the corner with grades:
"I think football helped a lot. I started seeing I was pretty good at football, so I said, 'You know what, I'm going to take my grades and classes pretty seriously now.' In high school, I just wanted to have fun. I got by."
Football at Mississippi Gulf Coast Community College:
"We won a national championship my freshman year, which was awesome, 12-0. Then my sophomore year, we went 10-2. We won a lot of games there, and they're still really good."
Earning a scholarship at Mississippi State:
"It was in-state, an SEC school, and it's a good college town. I definitely enjoyed it. I had committed after my first year of junior college. Other schools were talking to me -- South Florida, Kansas State, Southern Miss -- but they didn't really offer me a scholarship because I was already committed."
Top football memories at Mississippi State:
"I'd probably say beating Florida and Georgia my senior year. Those were pretty fun games. We played Florida in Gainesville, and I was the national defensive player of the week. I enjoyed that [smiling]. "
Drafted in the sixth round by the Bills in 2011:
"I was expecting it, knowing I was going to go late, but I was still disappointed [it wasn't earlier]. Still, you get the call and you're excited. I was pumped."
Lessons from his two-plus years with the Bills:
"You learn that NFL is 'Not For Long' -- guys come and go. It's a tough business, but it's a good business. It's a great town, a great sports town. They love their Bills, so it's a good place to play."
Top football memory from the Bills:
"[Laughing] Probably beating the Patriots my rookie year. That was a great game for us."
Traded by the Bills in the 2013 preseason for Lions QB Thad Lewis:
"I was kind of shocked and surprised by it, but that happens. I had to go with it. Then the Lions released me [within a week] and I ended up here. So I'm happy about playing here."
If he takes anything with him from his brief stop in Detroit:
"Not too much. When it's that fast, it's kind of like a blur."
Reaction to being claimed by the Patriots on Sept. 1:
"I was pumped. There's a lot of winning here. I like that."
Proud of his Mississippi roots:
"I love Mississippi. People are really nice down there. It's a lot of small towns and just great people. The coast is a good place to live, because you have the water and a few things to do. Not as much compared to Boston, but still things to do."
Favorite professional athlete growing up:
"Brett Favre. Obviously, a Mississippi guy [smiling]."
Favorite professional team growing up:
"The
Washington Redskins
. My dad was a big Redskins fan, I don't know why he was. But we were bigtime Redskins fans. I was a Saints fan, too. My stepfather [Nick Myrick], that's still one of his favorite teams, behind us obviously [smiling]."
Impressions of New England from a Mississippian:
"I like it a lot. The country is so pretty up here; the trees and stuff are beautiful. In Mississippi, you see a lot of pine trees. You come up here and it's different. I love it."
Summing up his football journey:
"Kind of the underdog. I've always been fighting to earn a job and keep playing. That's what I'm still trying to do -- keep fighting."