April, 23, 2014
Apr 23
4:25
PM ET
Associated Press
AVONDALE, La. -- The New Orleans Saints have not decided whether to exercise a 2015 team option on running back Mark Ingram's contract, coach Sean Payton said Wednesday.
New Orleans already has exercised a similar option on defensive end Cameron Jordan worth $6.97 million in base salary. The club has until May 3 to do so for Ingram, who like Jordan was a 2011 first-round draft choice.
The 2009 Heisman Trophy winner said this week he isn't sure what New Orleans will do.
"We've got time to do all of that. So there's nothing we've decided permanently," Payton said before teeing off at the pro-am for the PGA Tour's Zurich Classic. "I know we made the transaction with Cam. But it's pretty common with the new CBA at least to have that flexibility."
Hampered by a toe injury that caused him to sit out five games, Ingram rushed for 386 yards and one touchdown last season, averaging 4.9 yards per carry. His best performance came against Dallas, which he rushed for 145 yards and a touchdown.
He also rushed for 97 yards and a score in a playoff victory at Philadelphia.
Ingram also participated in several events surrounding the Zurich Classic. He was in town for the start of offseason workouts at Saints headquarters.
So far, star tight end Jimmy Graham has skipped those workouts while his agent, Jimmy Sexton, and the Saints continue protracted negotiations over a long-term extension.
"I think it's pretty normal," Payton said.
April, 23, 2014
Apr 23
4:15
PM ET
AVONDALE, La. -- The
New Orleans Saints
began their offseason conditioning program this week with tight end
Jimmy Graham
still unsigned. But it's still too early in the year for anyone to be concerned about his absence.
Graham is not expected to participate in the Saints' workouts since he's not under contract. Although the Saints placed the franchise tag on Graham, he hasn't signed the offer yet. So he'd have to sign a waiver to participate.
[+] Enlarge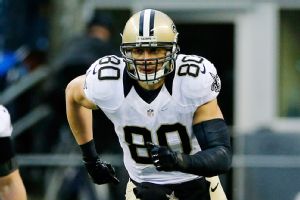 AP Photo/Ric TapiaSeeking a long-term deal with the Saints, Jimmy Graham could miss a big portion of the team's offseason workouts.
Saints coach Sean Payton seemed to indicate Wednesday that he doesn't expect that to happen when asked if he anticipates Graham joining the team for any workouts.
"I think it's pretty normal. I think everything the first week was pretty much as expected," said Payton, who spoke with the media before teeing off in the pro-am at the Zurich Classic PGA tournament.
It's also highly possible that Graham could miss the Saints' OTAs and minicamp practices in May and June while the two sides continue to negotiate over a long-term contract extension.
The important deadline is July 15. After that date, franchised players can only sign one-year agreements with their teams. History suggests that the standoff could last right up until the deadline (as was the case with quarterback
Drew Brees
' deal when he was franchised in 2012).
Brees spoke confidently about Graham's situation while appearing on "The Dan Patrick Show" on Wednesday. Brees said he is confident a deal will get done "very soon."
However, Brees seemed to be speaking in general terms rather than giving any specific insight that a deal is close.
Among other topics Payton discussed Wednesday:
He said the team has not yet made a permanent decision on whether to exercise the fifth-year option on running back Mark Ingram's contract, which would require the Saints to pay him $5.2 million in 2015. The Saints have until May 3 to make that decision, though it seems unlikely that they will. The Saints already exercised their option on defensive end Cameron Jordan earlier this week.

As usual, there was a full-team meeting to kick off the offseason program on Monday. Payton said that's typically just used to lay out the summer calendar through the start of training camp. He said there hasn't been much football talk yet. "Really, I think it's important that in the early stages of all this that the players, when they come to the facility, they feel like they're coming to lift weights and condition," Payton said. "There's so much time for football and X's and O's and all of those other things. Really, it's just encouraging the way the weight room looks. We have a new nutrition cafe, a lot of different elements that go into just being in really good shape."

Payton said he believes the Saints' first preseason game at the St. Louis Rams will be played on Friday, August 8 -- though the specific date hasn't been announced yet. He said the team will likely open training camp at the Greenbrier resort in West Virginia with conditioning tests on Thursday, July 24.

Payton said he doesn't mind the draft being pushed back this year because it's beneficial for the team to get more time to study film on players. But he said the longer wait might be "more stressful to the player because I think players then visit more teams, there's more workouts, they're pulled a little bit more than maybe normally."
April, 23, 2014
Apr 23
12:00
PM ET
AVONDALE, La. -- It's unlikely that the
New Orleans Saints
will exercise the fifth-year option on running back
Mark Ingram
's contract before the May 3 deadline. The Saints would have to pay him a salary of $5.2 million in 2015 to extend his deal for another year, which is more than the going rate for free-agent running backs these days.
Ingram
But Ingram insisted that he's not overly concerned about the Saints' pending decision.
"I'm not too sure if they'll pick up the fifth-year option," Ingram said Tuesday. "But I'm just working one day at a time. I'm just glad to be on a team that's a championship contender."
Ingram, who spoke to the media before participating in a celebrity golf shootout at the Zurich Classic PGA tournament, is understandably excited about the upcoming season.
Ingram, 24, started to play some of his best football down the stretch last season after an up-and-down start to his three-year NFL career. And his role could potentially increase in 2014 after the Saints decided to trade fellow running back
Darren Sproles
to the
Philadelphia Eagles
.
"I really haven't had any direction conversation with (the Saints about) that," Ingram said of a potentially-increased role. "But I guess that's an assumption that everybody else makes."
Ingram will still have to split touches with fellow running backs
Pierre Thomas
,
Khiry Robinson
and
Travaris Cadet
in a crowded backfield. But Ingram's arrow is clearly pointing up. And as an added bonus, he's fully healthy after battling a variety of nagging injuries throughout his pro career.
"I'm very excited," said Ingram, who joined his teammates for the start of the offseason conditioning program this week. "Excited to be back with the team, getting ready going for a championship."
April, 23, 2014
Apr 23
10:00
AM ET
By
ESPN.com staff
| ESPN.com
April, 23, 2014
Apr 23
8:00
AM ET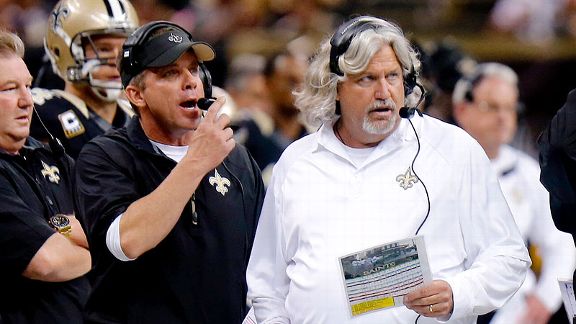 AP Photo/Bill HaberSean Payton, shown with Rob Ryan, says Saints "pay attention to what is winning, who is winning."
The
New Orleans Saints
are evolving.
At their core, they haven't changed much since coach Sean Payton and quarterback
Drew Brees
arrived in 2006. The Saints are still led by a dynamic passing offense that toys with opponents inside the Mercedes-Benz Superdome, where New Orleans was 8-0 last season.
But the Saints will win the NFC South this year because they might just have the best defense in the division, too. Adding three-time Pro Bowl safety
Jairus Byrd
and future Hall of Fame cornerback
Champ Bailey
further bolstered a young defense that had a breakout year in 2013 under new coordinator Rob Ryan.
Meanwhile, New Orleans has also been embracing a more traditional run game while parting ways with offensive weapons like
Darren Sproles
and
Lance Moore
.
The Saints are showing a
New England Patriots
-like ability to keep adapting to stay on top.
"Everybody's always looking for ways to reinvent themselves, to improve themselves, without losing who they really are," said ESPN analyst Louis Riddick, who believes New Orleans is doing just that.
[+] Enlarge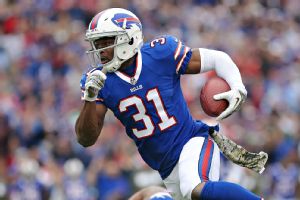 Tom Szczerbowski/Getty ImagesSafety Jairus Byrd, who had four interceptions and a forced fumble last season with Buffalo, should help the Saints cause more turnovers.
"This is one of my favorite teams to watch. I like their style," Riddick, a former personnel director for the
Philadelphia Eagles
, said of the Saints. "Multiple is a big word in my vocabulary when it comes to football. And they're multiple on both sides of the ball. They can run it or throw it. On defense they can sit back and play zone or pressure you. I like that about them."
The Saints have only seven players remaining from their 2009 Super Bowl team. But New Orleans still should be considered a bona fide contender to get back there five years later.
"I like what they're doing," Riddick said. "I think they're positioning themselves well to make sure that they stay among the heavyweights in the NFC and try to knock some of them off and get back to the big game."
The Saints' defense was surprisingly sensational last year, led by breakout seasons from pass-rushers
Cameron Jordan
and
Junior Galette
, cornerback
Keenan Lewis
and safety
Kenny Vaccaro
, among others. They ranked fourth in the NFL in yards allowed (305.7 per game) just one year after setting the record for most yards allowed in a season (440.1 per game).
But just as surprisingly, the Saints decided that wasn't enough.
Although conventional wisdom in New Orleans has always been that the Saints just need to be decent on defense to complement their high-powered offense, the team didn't feel that way. Especially after falling victim to the
Seattle Seahawks
' dominant defense twice last season.
When Payton was asked in his season-ending news conference if there was less of a need to improve the defense than ever before, he quickly shot down the idea.
"I think we try to pay attention to what is winning, who is winning," Payton said. "I think you study the San Franciscos and the Seattles, and you recognize that there is still this formula that has won in our league for a long time. And that is your ability to stop the opponent ... and then have balance in both the running and passing game."
So the Saints went all-in with a six-year, $54 million deal for Byrd. He's a ball-hawking safety who should help in the one area where the Saints' defense struggled last year: forcing turnovers.
[+] Enlarge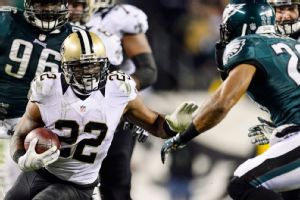 Howard Smith/USA TODAY SportsMark Ingram carried 18 times for 97 yards and a touchdown in the Saints' playoff win at Philadelphia.
Offensively, Payton also seems to be embracing that pass-run balance as much as ever. The Saints rode the run game to their first road playoff win in franchise history. They're clearly intent on finding more touches for emerging running backs
Khiry Robinson
and
Mark Ingram
, who led the way that night in Philadelphia. That was one of the reasons for the Saints' decision to trade Sproles, a veteran runner/receiver, to the Eagles.
"You want to kind of be like a chameleon from week to week and do whatever is necessary to win a game, depending on what your opponent doesn't do very well," said Riddick, who remembers the Saints having a better pass-run balance when they steamrolled his Eagles during the 2009 season. "[Patriots coach] Bill Belichick has been lauded for that for years."
It's no coincidence that Payton and Saints general manager Mickey Loomis are being credited for some of the same things as Belichick. Ever since Payton arrived, they have talked openly about modeling themselves after the Patriots organization in many ways.
"What they're doing is [Patriots-like]," said former Saints and Patriots fullback Heath Evans, who now works as an analyst for the NFL Network. "And Sean's never really shied away from, 'Hey, what the Patriots do, it works. So why not to the best of your ability, with your own talent pool and your own system of thinking, try to copy what they do?'"
Evans also pointed out that copying the Patriots' model means borrowing from other teams, as well.
"You've got to go with the flow of this league. And what Seattle's done, they're really the ones that everyone needs to try to be copying," Evans said. "Because they can beat you in 15 different ways. Their quarterback doesn't have to play well to win."
In that same postseason news conference back in January, Payton also shot down another reporter's question, when he was asked if the Saints' "window of opportunity" might be closing as many of their longtime stars get older.
"Honestly, the 'window,'" Payton said, "as long as I am the head coach here, we are trying to slam it open always."
April, 22, 2014
Apr 22
6:10
PM ET
AVONDALE, La. --
Champ Bailey
met with the New Orleans media for the first time on Tuesday. Naturally, one of the first questions for the Saints' new 35-year-old cornerback was how much football he has left in him.
"We'll see," Bailey said. "I still got some now. That's all I'm worried about right now. I'm not looking beyond that."
Bailey, who spoke before teeing off in a celebrity golf shootout as part of New Orleans' Zurich Classic PGA tournament, hasn't had to deal much with those types of questions throughout his stellar career.
[+] Enlarge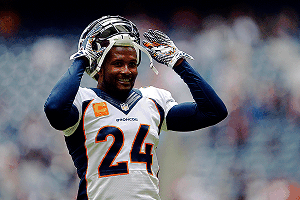 Thomas Campbell/USA TODAY Sports"I can't get out and run 365 days a year. That's just not smart," Champ Bailey said. "So it's just trying to prepare smarter and do things the right way so I can play a lot longer."
The former
Denver Broncos
and
Washington Redskins
standout is a 12-time Pro Bowler and a future Hall of Famer. But for now, the
jury is still out
on how much he has left in the tank.
"Well, that comes with the business," Bailey said. "People are always gonna doubt you. You have one hiccup, and you know, you're just not the same. My thing is just to go out there and play the best I can.
"I'm not trying to prove anything to anybody but myself and my teammates. That's all I've got to do."
Bailey struggled last season with the Broncos, largely due to a foot injury that sidelined him for 11 games.
He was then released by Denver after the season. And though the Saints showed interest in him early, he went unsigned for a month before the Saints inked him to an incentive-laden two-year deal that included only $500,000 in guaranteed money.
The Saints obviously
feel like Bailey still has something left.
They added him despite releasing several of their own aging players at other positions this offseason.
Bailey will compete for the No. 2 cornerback job opposite
Keenan Lewis
. He'll compete against younger corners
Corey White
and
Patrick Robinson
, among others.
"My thing is to find my place on this team and my role and just play to the best of my ability," Bailey said.
Bailey mentioned more than once that the goal in New Orleans is to win a championship. He said the Saints' ability to do that was one of the main attractions for him.
When asked Tuesday if there was any one deciding factor -- be it head coach Sean Payton or defensive coordinator Rob Ryan -- Bailey pointed to quarterback
Drew Brees
above all others.
"Well, those are definitely some big factors," Bailey said of Payton and Ryan. "I mean, you want a good head coach (with) a good track record. And Rob Ryan, we know what he's done in this league for defenses. But, you know, when I look around the league in my experience, you've got to have a good quarterback. And Drew Brees was a big part in that.
"You're not gonna win that many games without a good quarterback and a good pass rush. Those two things together, plus the good coaches, it makes for a good team."
Bailey, who turns 36 in June, said he doesn't plan to alter his training regimen much this year from recent years. But he said that he did change up his routine a few years ago to better pace himself because of age and injuries.
"I can't get out and run 365 days a year. That's just not smart," Bailey said. "So it's just trying to prepare smarter and do things the right way so I can play a lot longer."
April, 22, 2014
Apr 22
11:50
AM ET
ESPN draft analyst Mel Kiper Jr. broke down the
top four or five needs

for every NFL team heading into the draft.
Kiper has a good feel for the Saints' needs. He listed cornerback and receiver as his top two. I would reverse the order, but I agree with his thinking. As he pointed out, even though the Saints signed future Hall of Fame cornerback Champ Bailey to compete for the No. 2 cornerback job, they still need to develop more young talent at the position.
That's really the case for all of the Saints' draft needs. They've got a veteran penciled in at just about every starting position. So there's nowhere that they should feel forced to reach for any specific position.
But there are several areas where they could use an influx of young talent to rotate into the mix right away and develop into future starters. Chief among them are receiver, cornerback, the entire offensive line, inside linebacker and outside linebacker.
I'll break down each position in a more in-depth series leading up to the draft.
Worth a click:
Second-year Saints offensive tackle Terron Armstead spoke with SiriusXM NFL Radio's Alex Marvez and Gil Brandt. Among the topics he discussed, he said Saints outside linebacker Junior Galette is "hands down" the best NFL player he's faced so far, in part because of his "unorthodox style." Saints right tackle Zach Strief talked to me about the same thing last year, saying Galette's style makes him unpredictable.
The Advocate's Ramon Antonio Vargas caught up with Saints receiver Robert Meachem after he signed his new deal with the team. Meachem talked about the pride he takes in his blocking – and why it helps him wear down defensive backs. Meachem's blocking has long been his most underrated skill set – and it's a key reason the Saints keep bringing him back. His 20-plus yards per catch last season didn't hurt either.
CST's Mike Nabors caught up with Saints receiver Marques Colston in this video interview. Pretty much everything about Colston has been underrated on a national level during his eight-year career.
April, 21, 2014
Apr 21
4:17
PM ET
The
New Orleans Saints
just got themselves a $7 million bargain by
exercising a fifth-year option
on defensive end
Cameron Jordan
for 2015.
Jordan, 24, is worth every penny. And the Saints will pay him even more than that when they lock him up with his next long-term extension in a year or two.
Sure, the Saints are facing even more salary-cap constraints in 2015 and beyond. They now have $134 million counting against their 2015 salary cap for just 42 players, according to ESPN Stats and Information. And that doesn't include the looming new mega-deal for tight end
Jimmy Graham
.
So the Saints will have to continue to make tough choices when it comes to releasing veterans or demanding pay cuts from them when they feel like their skills are in decline.
But what the Saints won't do is let core players like Jordan and Graham get away.
As I've written several times this offseason, the Saints have done an outstanding job of making calculated decisions on how to invest their cap space -- while still aggressively adding new core players like safety
Jairus Byrd
this year and cornerback
Keenan Lewis
last year.
The Saints had to backload the salary-cap charges on recent deals for Byrd and Lewis and quarterback
Drew Brees
, among others, to make them fit under the cap. But the Saints have proven that they can keep pushing those charges back.
And now they're starting to benefit from the fact that the NFL's salary cap is finally rising significantly -- possibly above $140 million next year and $150 million in 2016.
Some teams prefer not to
live so close to the salary-cap edge
. But the Saints are proving it can work -- as long as they keep making the right personnel decisions.
As general manager Mickey Loomis said earlier this offseason, those cap constraints lower the margin for error on each decision the team makes.
ESPN analyst and former
Philadelphia Eagles
personnel director Louis Riddick echoed that sentiment.
"With that kind of philosophy, what you better be doing in the interim is being able to draft and have young players contribute and have cheap affordable labor that is playing at a high level," Riddick said. "New Orleans, they have guys like [2014 rookies]
Kenny Stills
and
Khiry Robinson
and
Kenny Vaccaro
. And Cameron Jordan (a bargain up to this point).
"So far they've been OK because they've still been able to fill in the other parts of their roster with good quality draft picks and cheap free-agent signings. That's a testament to Mickey and Sean [Payton] and the rest of the scouts down there. ...
"Teams that can't do that, you see what's happened to Dallas. They've had salary-cap issues, and then had those players either not perform or get old on them. And they haven't been able to hit on young, good, cheap, affordable players who have been able to balance them out and keep them competitive."
2014 Cap Update:
Meanwhile, the Saints are about $3.5 million under the 2014 salary cap after signing receiver
Robert Meachem
to a one-year contract worth $920,000 (including a $65,000 signing bonus). Since Meachem signed for the veteran minimum, it only counts $635,000 against the cap.
At this point in the offseason, only the top 51 salary-cap costs count against a team's cap figure.
April, 21, 2014
Apr 21
3:06
PM ET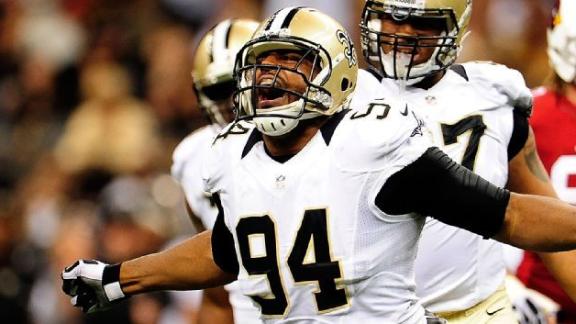 The New Orleans Saints exercised their fifth-year option on Pro Bowl defensive end Cameron Jordan, a league source told ESPN. The one-year option is worth $6.969 million.
Jordan, 24, had a breakout year in the national spotlight in 2013 with a career-high 12.5 sacks and his first Pro Bowl invite. But he has been a full-time starter and steady producer for the Saints ever since they drafted him with the 24th pick out of California in the 2011 draft.
The 6-foot-4, 287-pounder has proven to be a versatile lineman as both an end and tackle in 4-3 and 3-4 schemes. He has 21.5 sacks and five forced fumbles in his career.
This is the first year that these fifth-year options have been available to NFL teams as part of the new collective bargaining agreement that was completed in 2011.
The Saints had two first-round draft picks that year, when they also traded up to select running back Mark Ingram with the 28th pick. But it seems less likely that the Saints will pick up their option on Ingram, which would cost $5.211 million.
The Saints are still high on Ingram's potential -- especially after he finished so strong in 2013. However, he remains a part-time player, and that price tag is high compared to the going rate for free-agent running backs these days.
Teams have until May 3 to exercise the fifth-year options. Several others around the league have already been exercised, including fellow defensive linemen J.J. Watt
April, 21, 2014
Apr 21
11:45
AM ET
The
New Orleans Saints
' players are officially back to work for the start of the 2014 season. Monday marks the beginning of the team's offseason conditioning program.
Participation is optional and limited to strength and conditioning activities. Typically the full squad will get together for a team meeting on the first day.
The morning chatter on Twitter had a "first day of school" feel to it:
Gettin back to the grind today... #whodatnation first day back liftin lets get it today http://t.co/o7laQNesNg

— cameron jordan (@camjordan94) April 21, 2014
First day back at the office for the 2014 season. Let's get it started! #WhoDat

— Benjamin Watson (@BenjaminSWatson) April 21, 2014
First day of @Saints off-season, Excited to meet my new teammates and prepare for the 2014 season #WhoDat

— Thomas Morstead (@thomasmorstead) April 21, 2014
On-field practice sessions are scheduled to begin the week of May 27 and last through June 19. The team's mandatory three-day minicamp is scheduled for June 10-12.
The Saints have not yet announced their starting date for training camp, which will begin at the Greenbrier resort in West Virginia sometime in late July.
April, 19, 2014
Apr 19
12:00
PM ET
Thanks for all of your
New Orleans Saints
questions on Twitter this week. Send 'em my way anytime @MikeTriplett.
April, 18, 2014
Apr 18
3:40
PM ET
Bringing back veteran
Robert Meachem
makes a lot of sense for the
New Orleans Saints
. They were thin on veteran receivers. And Meachem is
still a good fit
in his specific role -- as a standout blocker and effective deep threat on play-action passes.
Meachem
The Saints now have solid depth at the position, with Meachem,
Nick Toon
,
Joe Morgan
and
Andy Tanner
among the candidates for backup roles behind starters
Marques Colston
and
Kenny Stills
.
However, the Saints should absolutely still draft a receiver this year. And I think they will. Maybe even in Round 1 if the draft grades line up.
Draft analysts universally agree that this year's rookie class is loaded with receiver talent. I've seen at least nine different receivers mentioned as possible first-round picks, including fast-rising Indiana prospect
Cody Latimer
, whom ESPN draft analyst Mel Kiper paired with the Saints in
his latest mock draft

.
More than a dozen intriguing receiver options will be available beyond the first round.
The Saints could use a dynamic receiving threat immediately to help them stretch the field. More important, they need to start developing a future No. 1 or No. 2 guy with Colston now in his 30s.