November, 21, 2014
Nov 21
11:05
AM ET
METAIRIE, La. – Rookie receiver
Brandin Cooks
played such a versatile role for the
New Orleans Saints
that no one single player will be able to replace his production .
Fortunately for the Saints, they have more than a half-dozen options to help pick up the slack. Especially now that pass-catching running back
Pierre Thomas
and deep-threat receiver
Robert Meachem
are on the mend from lingering injuries.
[+] Enlarge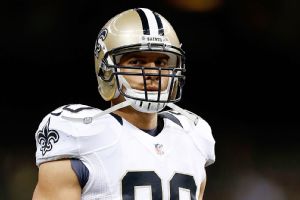 Wesley Hitt/Getty ImagesJimmy Graham could get more targets after the injury to Brandin Cooks.
"Here's the thing. Are we gonna miss him? Yeah. Is he a great player, was he really kind of coming into his own? Yes. So it's unfortunate that he had the injury he had and he's going to be out," Saints quarterback
Drew Brees
said of Cooks, who was placed on injured reserve with a broken thumb. "But I'm excited by the opportunity this now poses for these young guys. And I feel like they're gonna do a great job."
"This has happened with us before with regards to a number of different players," Saints coach Sean Payton added. "And it falls on the rest of the group picking up his touches. It's the receivers, the running backs – candidates that would be doing some of the same things."
Mostly, I think we'll see a slight uptick in targets for all of the Saints' usual suspects – tight end
Jimmy Graham
, receivers
Marques Colston
and
Kenny Stills
and Thomas, who can provide a similar threat to Cooks in the screen game.
But as I wrote the other day, the area of the Saints' offense that most concerns me is
the deep passing game
. That was a problem even before Cooks's injury. But he had definitely started to emerge as their most dynamic downfield threat.
The Saints could turn to Meachem, Joe Morgan or even Stills on those routes. All have thrived in that role in the past – we just haven't seen it consistently from any of them this year.
"Everybody kind of has the ability to be in there during those [shot plays], just depending on when they are called," Brees said. "Did I think Brandin was doing a nice job with that stuff? Yes, I do. I also believe that the guys that we have can do a nice job as well."
Brees and Payton were both asked if they think the loss of Cooks will hurt Graham, since defenses can now focus even more attention on the All-Pro tight end. But they both kind of shot down that notion since Graham already receives so much attention as it is.
"I would imagine everybody who we play looks at Jimmy and says, 'We've got to have a plan for this guy.' So I don't think it's really gonna change a whole lot," Brees said.
Regardless, I believe the Saints must find a way to keep Graham heavily involved in their passing game, even if Brees has to risk interceptions while force-feeding him. Brees and Graham are the two guys who most make the Saints special. And they lost that special quality last week while losing a 27-10 dud to the
Cincinnati Bengals
. Graham had just three catches for 29 yards and no touchdowns.
Colston is another guy the Saints need to resurrect after he has been so inconsistent this year, both with dropped passes and just plain lack of involvement.
I think Brees gave the best answer of all when asked specifically about Colston. Essentially Brees suggested that the biggest key to success for everyone is simply cleaning up a passing game that hasn't lived up to its usual standard all year -- even when Cooks was healthy.
"I think [Colston] is as involved as he's ever been. I would say we haven't been hitting on all cylinders," Brees said. "We haven't been hitting all of the plays necessarily that we want to hit on."
November, 21, 2014
Nov 21
11:00
AM ET
OWINGS MILLS, Md. -- By the way the
Baltimore Ravens
have talked about
Jimmy Graham
this week, they understand that the
New Orleans Saints
tight end is a major x-factor in Monday's night's game.
Since the start of last season, the Saints are 2-5 when Graham finishes with three catches or fewer. But, when Graham has at least four catches, New Orleans is 13-6.
How will the Ravens cover Graham? At 6-foot-7 and 265 pounds, Graham is bigger and more athletic than most tight ends. It's tough to ask linebackers to cover him because of his leaping ability, and it's tough to line up a safety against him because of his size.
[+] Enlarge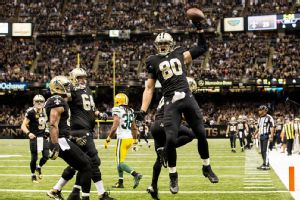 Derick E. Hingle/USA TODAY SportsJimmy Graham is a matchup nightmare, but the Ravens have done a good job limiting opposing tight ends.
That's why there are no simple answers.
"Anytime you have to match up against a natural mismatch like that, it is a challenge. You can't just do it one way," Ravens coach John Harbaugh said. "You're not going to just find one method to do that. You match up in many different ways, and that'll be a challenge with Jimmy Graham. He's one of the premier receivers in football. That's going to be tough for us, but we'll have to do it man coverage, zone coverage, on the line, off the line. There will be a lot of different ways we'll have to face that challenge."
Since 2011, Graham ranks fifth in the NFL (and first among tight ends) with 329 catches for 4,130 yards and a league-leading 43 touchdown catches. Where Graham inflicts most of his damage is in the red zone. Of those 43 touchdowns, 32 have come inside the 20-yard line (74.4 percent). That's two more red-zone touchdowns than anyone else in the NFL over that time.
Based on what defensive coordinator Dean Pees said about safety
Will Hill
a couple weeks ago, it could be his job to defend Graham in the red zone Monday night.
"He's a little better matchup on a lot of the tight ends that we face, because a lot of times if you're a smaller safety against these doggone huge tight ends that everybody has, that's a tough duty -- especially down in the red area where they just like to throw the ball up to them," Pees said.
The Ravens have done an outstanding job in limiting tight ends this season. There have been four tight ends who have caught more than four passes against the Ravens:
Jermaine Gresham
,
Heath Miller
,
Dwayne Allen
and Austin Seferian-Jenkins. Only two tight ends have caught touchdowns against the Ravens this season (Allen and Pittsburgh's
Matt Spaeth
), and none have surpassed 60 yards receiving.
The last tight end to record 100 yards receiving against the Ravens was Denver's Julius Thomas in the 2013 season opener. But Graham isn't your typical tight end.
"He's unique," Pees said of Graham. "There have been some really talented tight ends [that we've faced, but] none of them are as big as he is. Like all those teams, they split him out and try to do some things with him [to] get you singled up on him, but there's nobody that is quite that big and that big of target and [has] that good of hands. He's a special tight end, no doubt about it."
November, 21, 2014
Nov 21
8:00
AM ET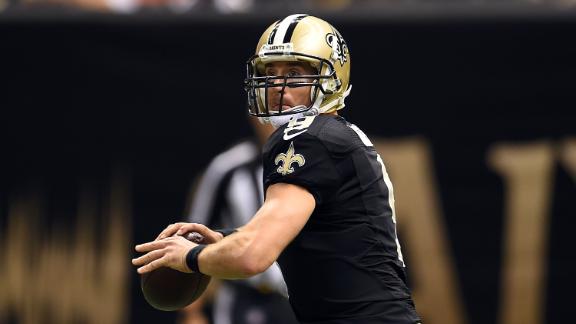 When:
8:30 p.m. ET Monday
Where:
Mercedes-Benz Superdome, New Orleans
TV:
ESPN
The
New Orleans Saints
(4-6) have perhaps never appeared less intimidating in the Sean Payton-
Drew Brees
era than they do right now after limping away from a 27-10 loss at home to the
Cincinnati Bengals
.
But the "Monday Night Football" stage offers New Orleans its best chance to bounce back against the
Baltimore Ravens
(6-4). The Saints have won 14 straight prime-time games at home, including the playoffs, by nearly 20 points per game.
The Ravens, however, have dominated the woeful NFC South with a 3-0 record. They will try to make it a clean sweep coming out of their bye week.
ESPN Saints reporter Mike Triplett and ESPN Ravens reporter Jamison Hensley discuss this week's matchup:
Triplett:
Jamison, the Saints' pass defense has been struggling all season -- especially on third-and-long -- and now they have big injury concerns. Is
Joe Flacco
capable of taking advantage like fellow up-and-down quarterback
Andy Dalton
did last week against the Saints?
Hensley:
It certainly would follow Flacco's trend of exploiting bad secondaries this season. In four games against pass defenses ranked in the bottom 10, Flacco has completed 65.9 percent of his throws and has averaged 281.5 yards passing. He has thrown 10 touchdowns and three interceptions for a 112.0 passer rating. The Saints are the NFL's ninth-worst pass defense, and they looked even worse in allowing Dalton to regain his confidence.
The biggest concern with Flacco's inconsistency is he typically has his "down" games on the road. Since the start of the 2013 season, Flacco's passer rating on the road is 73.1, the fifth worst in the NFL over that span. Only
Jason Campbell
,
Kirk Cousins
,
EJ Manuel
and
Geno Smith
have been worse. This isn't exactly elite company. Beyond these numbers, the Ravens' ability to pick up blitzes and Flacco's poise under pressure will ultimately determine whether he keeps the Ravens in this game.
Mike, Flacco is 2-of-10 on passes of 25 yards or more over his past three games. Based on the current state of the Saints' secondary, what are the chances that Flacco gets back on track with the deep pass?
Triplett:
He has a great chance -- especially if the Saints' top cornerback,
Keenan Lewis
, continues to be limited by a knee injury. Lewis is underrated as one of the NFL's best cover men, but the rest of the Saints' cornerbacks have been inconsistent. Now they are down to their third option at free safety with veteran
Rafael Bush
suffering a season-ending leg injury last week.
The Saints will have to rely heavily on their pass rush, which should be their strength, led by
Cameron Jordan
and
Junior Galette
. They have been inconsistent, too, this season. But it's worth noting that Dalton's success last week came almost exclusively on quick, short throws. He attempted only four throws of 15 yards or more (completing three).
On the flip side, the Saints' passing offense has had two of its worst performances against AFC North teams this season, in losses to Cleveland and Cincinnati. But it looks like Baltimore is much stronger against the run than the pass. What do you expect in that matchup, and how will the Ravens handle tight end
Jimmy Graham
?
Hensley:
You are exactly right about the Ravens' run defense. That has been a major strength of the team because of the front seven. Defensive tackle
Haloti Ngata
and nose tackle
Brandon Williams
clog up the middle, and rookie inside linebacker
C.J. Mosley
has great instincts. This is why the Ravens have allowed 100 rushing yards twice this season, and they are allowing 2.9 yards per rush since Week 8, the second fewest in the NFL over that span. They have not allowed a 100-yard rusher in 20 straight games, the longest current streak in the NFL.
Where the Ravens are vulnerable is the deep pass. Teams have thrown six passes of more than 40 yards against the Ravens this season, and they have completed five (tied for most in the NFL). The Ravens are hoping that free safety
Will Hill
, who has started the past two games, develops into a ball hawk and cuts down on the big plays.
As far as Graham, the Ravens believe the best way to match up against him is to change how they match up. Coach John Harbaugh said the Ravens will use man coverage as well as zone coverage. They will jam Graham at the line and then back off. The Ravens don't want him to feel comfortable.
How committed to the run do you expect the Saints to be?
Triplett:
Based on this matchup, I don't expect the Saints to be too stubborn with the run -- especially after their run game was surprisingly shut down by Cincinnati last week. But in general, the Saints have relied on the run game more this season than ever in the Payton-Brees era. They are eighth in the NFL in rushing yards per game, and
Mark Ingram
had three straight 100-yard games before last week.
But the offense is really stuck in a sort of identity crisis that we haven't seen before. The efficiency stats are up: Brees leads the NFL in completion percentage and the Saints lead the NFL in third-down success. But Brees also has turned the ball over too much (10 interceptions, two fumbles). And the deep ball has been hit or miss -- even before they lost their best deep threat,
Brandin Cooks
, to a broken thumb. I'm guessing we will see the Saints get pretty aggressive to try to get out of their rut Monday night.
The other complicating factor is Baltimore's pass rush. How disruptive have guys such as
Elvis Dumervil
,
Terrell Suggs
and Ngata been this season?
Hensley:
With the injuries to the Ravens' secondary, the only way they are going to slow down a top quarterback like Brees is to get pressure on him. Few teams can get to the quarterback like the Ravens. Over the past seven games, the Ravens have 23 sacks, which is tied for the third most in the NFL. Dumervil and Suggs get most of the attention crashing the edges. They have acknowledged there is a competition on who can get the most sacks. What often goes unnoticed is the pressure the Ravens get up the middle. Ngata and
Pernell McPhee
constantly collapse the pocket. It's difficult for teams to shift their protections, because the Ravens win their one-on-one battles so often. In total, these four rushers have combined for 67 quarterback hurries this season. The Ravens need to rush quarterbacks so they don't have enough time to pick apart a secondary that has started six cornerbacks in the first 10 games.
The Saints have been surprisingly vulnerable at home recently, but they have been dominant in prime-time games at the Superdome. Why is it so tough to beat the Saints in those home night games?
Triplett:
It really is uncanny how dominant they are in these games. They don't just win them. They routinely score in the 40s and win by 20 points. Obviously the atmosphere has a lot to do with it. The crowd is even more frenzied from the start in night games, and the Dome is one of the louder venues in the league. The conditions obviously favor New Orleans' offense (fast track, no weather, no crowd noise). And the Saints defense probably benefits even more because of that volume, which forces a lot of timeouts and false starts.
All of that being said, it's up to the Saints to keep that crowd in a frenzy with big plays. And it was really stunning to see how lifeless both the team and the fans were last week. The Saints have lost two straight home games now, after having won 11 straight before that. And their 10 points against Cincinnati was the lowest total at home since 2006.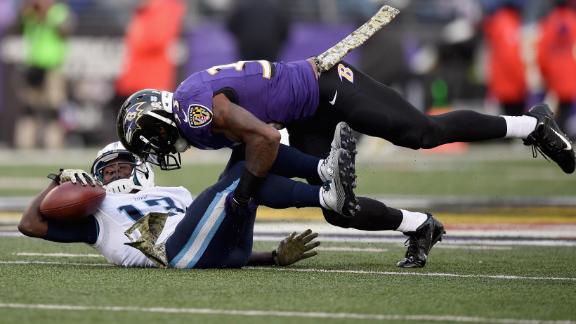 November, 20, 2014
Nov 20
8:25
PM ET
METAIRIE, La. – Unlike
Terrell Suggs
,
New Orleans Saints
quarterback
Drew Brees
is well aware that the
Baltimore Ravens
are the only NFL team
he has yet to beat
in his 14-year NFL career.
"Just this one," Brees said, almost interrupting a reporter when the question was asked Thursday.
Brees
Anyone familiar with Brees' encyclopedic knowledge of pretty much every game he's played shouldn't be surprised at that.
"I can tell you each game too. It was really just three, '03 in San Diego, '06 here, '10 there," Brees said.
Then when asked if that adds a little extra motivation heading into the Saints' Monday night matchup against Baltimore, Brees said, "Maybe a little bit."
That also shouldn't surprise anyone who's familiar with Brees' ultra-competitive nature.
But Brees doesn't exactly need any extra motivation this week, considering the Saints are 4-6 and coming off of one of their most lackluster offensive performances in his nine-year tenure in New Orleans. The Saints lost 27-10 at home to the
Cincinnati Bengals
, their lowest point total at home since 2006.
Brees was efficient, completing 33 of 41 passes for 255 yards without a turnover. But he didn't complete a pass longer than 17 yards as the Saints' long drives stalled repeatedly.
Brees said he thinks the extra day off this week leading up to a Monday game was helpful for guys, "especially maybe coming off that game, just to kind of get realigned and really focused on the task."
But he added that he didn't want to dwell too much on the Cincinnati game since it's now "in the past."
"I think you walk away from that saying, 'Gosh we didn't feel like we had a whole lot of opportunities offensively, and we weren't really efficient with the ones we did have. We sustained drives, we did some things, but obviously not near enough," Brees said. "So in some ways you just say, 'We've gotta find ways to be more efficient, take the things that we're doing well, continue to master those, and then the things that we need to work on, let's really fine-tune.'
"Because when you get out there, you want to be able to simplify the game as much as possible. And you want to play fast and confident."
There's no better opportunity for the Saints' offense to do that than at the Mercedes-Benz Superdome in prime time. They've won
14 straight primetime home games
, including the playoffs, by nearly 20 points per game.
"It's primetime 'Monday Night Football.' We've had a lot of these games here. Our fans always seem to rise to the occasion. I think our team always seems to rise to the occasion," Brees said. "And we need it more than ever right now."
November, 20, 2014
Nov 20
5:30
PM ET
METAIRIE, La. –
New Orleans Saints
running back
Pierre Thomas
returned to practice on a limited basis Thursday for the first time since suffering shoulder and rib injuries in Week 7.
Thomas was in great spirits while talking with the media, but he playfully refused to reveal whether he expects to play Monday night against the
Baltimore Ravens
.
Thomas
"You're gonna have to find that out. You're gonna have to wait and see," said Thomas, who even threw in a suspenseful sound effect at one point: "Who knows when it's gonna be? It might be Monday. Oooooh."
"I did not think it was gonna take this long," Thomas added. "But, hey, I had to make sure it was right, and I still have to make sure it's right before I step out on that field so I don't have any setbacks. Because I don't want to put myself out here and play one game and get hit and then that's it.
"No, I want to finish this season out and then continue on into the playoffs, too. So I want to help out my team and help myself as much as possible. I gotta be smart about my decision. That's what I'm doing."
Thomas' return would be a huge lift for a Saints offense
that just lost dynamic rookie
receiver
Brandin Cooks
to a season-ending thumb injury. Thomas has always been a big part of the Saints' passing game, especially on screen passes – an element of their offense that they'll miss with Cooks out.
Plus, fellow pass-catching running back
Travaris Cadet
was held out of team drills Thursday with a hamstring injury, the severity of which was unknown.
Thomas can also help relieve running back
Mark Ingram
, who has carried a heavy load with 26 carries per game in the past four weeks.
Fellow running back
Khiry Robinson
also has been sidelined since Week 7 with an unspecified arm injury. Robinson remained absent from practice Thursday. His timetable remains unclear.
"Oh, man, he's been holding it down. He's been holding it down, seriously," Thomas said when asked about Ingram, who had three straight 100-yard games before the run game was shut down last week against Cincinnati. "I mean, Mark's been doing a job we all knew he could do; he's just getting more reps.
"With this organization, with this team, we rotate, and it's hard to get on a rhythm. And he was on a rhythm. He was moving the ball; he was holding it down for some of us running backs that was down. He was doing the job that he needed to do. Everybody knows that he can do the job. Everybody knows that he can step up to the challenge, and he answered. I'm proud of him."
Other injury notes:
November, 20, 2014
Nov 20
2:00
PM ET
METAIRIE, La. – Former
New Orleans Saints
cornerback Jabari Greer is still keeping close tabs on the team and has agreed to join me on occasion to share his thoughts.
Click here for Greer's thoughts
on the Saints' struggles up until now. Here are his scouting reports on some of the Saints' defensive backs, as well as a look ahead to Monday night's matchup with the
Baltimore Ravens
:
On the up-and-down play of safety Kenny Vaccaro and cornerback Corey White:
"This is the first year of both of these guys being THE guys, people who are solidified as starters and expected to make plays, especially Corey. So we've seen glimpses from Corey in which he's made plays, and I definitely think [he can still be an asset]. I'm not too critical, because I understand how tough it is when nothing's going right, we're gonna search for someone to blame.
[+] Enlarge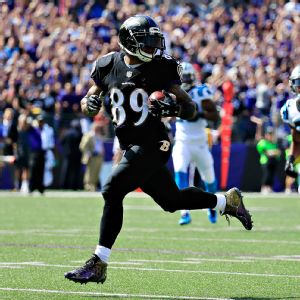 Rob Carr/Getty ImagesThe Saints are familiar with Ravens receiver Steve Smith from his Carolina Panthers days.
"And I think the fans had such expectations for Kenny that he hasn't met. But the thing is that Kenny has higher expectations for himself, and I'm sure that he is at the facility right now wondering what he can do to become a better player. Knowing Kenny, he's extremely motivated to become great. And this slump that he's having, I know it's only for a time. I've talked to him, and I'm sure that he's the worst critic. So even though I've expected him to have a better season, I think we also see the effect of just the shake-up of the secondary. He's worn so many different hats. At the beginning of the year, when they signed
Jairus Byrd
, Kenny is looking to him like, 'How do I get to that level? How do I become one of the best in the league?' So with that being taken away, Kenny is thrust into a new leadership position in his second year. While he's still learning who he is as a player, people are looking at him as the face of a secondary, saying, 'Where do we go?' People don't understand how that impacts your game. But that's why we get paid the big bucks."
On defending the Ravens:
"You know I'm familiar with
Steve Smith
. He has been so successful for such a long time, and he's having a great season. I would think, depending on how the secondary looks this week, with
Rafael Bush
being put on IR, it's interesting to see how they'll shake things up. But if
Keenan [Lewis]
is healthy, I look for him being on Steve Smith. Steve Smith is a stutter-and-go receiver. I don't mean the double move. I mean when he comes off the line, as soon as the ball snaps, he is going to hesitate to get you to sit back on your heels, and then he's gonna run 100 miles per hour in the opposite direction. He lives off that. But the good thing about Keenan is he is one of the most patient, technique-savvy guys in the league. So he's a great matchup for Steve Smith. Keenan's gonna finish the play better than anybody.
"Now
Torrey Smith
is another guy that doesn't take a long time getting out, either. He's a one-cut guy; he'll make one move and then go full-speed. So Corey or
Patrick [Robinson]
could be in that position, depending on what they do. If Patrick is playing Torrey Smith, it fits with his strength set. Patrick is patient; he's a guy that is extremely fast and can stay with the best receivers. I think he'll succeed in that matchup; he just has to make sure he keeps his eyes on Torrey Smith's hips. And one thing I've noticed, even though Patrick took a lot of flak, if you watch last game or the last couple games, I haven't see one catch in which Patrick hasn't contested, whether it's a catch and tackle or a pass break-up. He is playing at a high level right now. As an evaluator of corners, you want to see contested passes, you want to see that corner right next to the receiver as soon as he catches it.
"If Corey plays that position, then he has to understand they're going to look for him. But Corey is strong, and he can battle with Torrey Smith on the short routes. He has to stay technique-sound and stay on Torrey Smith's upfield shoulder. They both can do the job; they're just gonna have to be aware that
Joe Flacco
's gonna target them."
November, 20, 2014
Nov 20
1:45
PM ET
The start of Week 12 means only one thing in these parts. It's time to start playing with
ESPN's Playoff Machine
, which provides playoff seeding for any series of regular-season game results you can imagine.
The possibilities are particularly relevant now, at a time when two-thirds of NFL teams (21 of 32) are either sitting in a playoff position or are within one game of it. And even as the NFL seems destined to expand the postseason field, perhaps as early as next year, the NFC South is vying to send a sub.-500 team to the playoffs. It's not too difficult, in fact, to find scenarios where someone clinches the NFC South with just five wins.
[+] Enlarge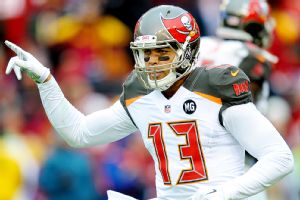 Mitchell Layton/Getty ImagesMike Evans and the Bucs are 2-8, yet very much alive in the NFC South race.
Currently, the
New Orleans Saints
and
Atlanta Falcons
are atop the division at 4-6, with the
Carolina Panthers
(3-7-1) only semi-comatose at their heels. The
Tampa Bay Buccaneers
are 2-8, a near-fatal record in most years but one that has kept them in contention as Thanksgiving approaches. In fact, a 4-2 finish could be all the Bucs need.
That's right. If everything goes their way -- and with six weeks remaining, there are so many variables --
the Bucs could win the division at 6-10
. The Panthers could win it
with as few as five
victories,
as could the Falcons
. It appears the Saints would need
at least six victories
to win the title, based on tiebreakers. (Note: I didn't consider future ties in generating these scenarios.)
The NFC South debacle conjures bad memories of the 2010 NFC West race, the only other instance since 1967 when a division leader has been two games under .500 this late in the season, per the Elias Sports Bureau. In 2010, the
Seattle Seahawks
overcame the
St. Louis Rams
in Week 17 to win the NFC West at 7-9.
What would you think if the 5-11 Falcons hosted an 11-5
Philadelphia Eagles
team on wild-card weekend, while a 10-6
San Francisco 49ers
team stayed home? That could happen, according to the Playoff Machine.
How would you react if the 11-5 49ers had to make a cross-country trip to face the 5-10-1 Panthers, with the 10-6 Eagles home for the holidays? That could happen as well.
Expanding the playoffs a year after a sub-.500 team wins its division might be a bad look, but
as we discussed in the spring
, it appears inevitable. It's also worth noting that adding a seventh playoff team to each conference, for a total of 14 league-wide, would reduce the chances of a team like the Eagles or 49ers in our scenarios of missing the postseason.
The NFL tabled discussions on a proposed 2015 playoffs expansion during its spring meeting, and perhaps the delay -- and the NFC South's situation -- will spur further discussion. Is there a way to reduce, but not eliminate, the reward of winning a division? Should playoff seeding be based purely on record, or is there a way to differentiate division winners from wild-card teams while still avoiding a 5-11 team hosting a playoff game?
Have an idea? Leave it in the comments section. We have plenty of time to hash it out. And who knows? Maybe an NFC South team will emerge to make the discussion moot for another year.
November, 20, 2014
Nov 20
12:00
PM ET
A look at where the
New Orleans Saints
(4-6) and
Baltimore Ravens
(6-4) rank in key statistical categories through 11 weeks of the NFL season:
SAINTS OFFENSE:
Total yards: 2nd (424.5 per game)
Passing yards: 3rd (299.8 per game)
Rushing yards: 8th (124.7 per game)
Third-down conversions: 1st (51.6 percent)
Red zone touchdowns: 10th (60.0 percent)
Turnovers (giveaways): tie-8th most (19)
Sacks allowed: tie-4th fewest (14)
SAINTS DEFENSE:
Total yards: 20th (369.9 per game)
Passing yards: 24th (255.2 per game)
Rushing yards: tie-19th (114.7 per game)
Third-down conversions: 30th (45.7 percent)
Red zone touchdowns: 24th (61.3 percent)
Turnovers (takeaways): tie-27th (10)
Sacks: tie-17th (22)
SAINTS TEAM:
Points scored: tie-7th (26.1 per game)
Points allowed: 21st (25.2 per game)
Turnover ratio: tie-27th (minus-9)
Time of possession: 7th (31:13 per game)
SAINTS INDIVIDUALS:
QB
Drew Brees
: 307 yards per game (3rd), 19 TDs (8th), 10 INTs (tie-4th most), 69.5 completion percentage (1st), 95.9 passer rating (8th), 73.5 Total QBR (6th)
RB
Mark Ingram
: 618 rushing yards (12th), 6 rushing TDs (tie-5th)
RB
Khiry Robinson
: 5.2 yards per carry (tie-2nd among qualifying running backs)
TE
Jimmy Graham
: 59 receptions (tie-8th), 623 receiving yards (24th), 7 receiving TDs (tie-11th)
LB
Curtis Lofton
: 93 tackles (6th)
OLB
Junior Galette
: 6.0 sacks (tie-15th)
DE Cam Jordan: 5.0 sacks (tie-22nd)
CB
Keenan Lewis
: 11 pass defenses (tie-7th)
RAVENS OFFENSE:
Total yards: 12th (364.8 per game)
Passing yards: 16th (240.7 per game)
Rushing yards: 10th (124.1 per game)
Turnovers (giveaways): tie-12
th
fewest (14)
Sacks allowed: tie-4th fewest (14)
RAVENS DEFENSE:
Total yards: 11th (335.7 per game)
Passing yards: 21st (251.2 per game)
Rushing yards: 5th (84.5 per game)
Turnovers (takeaways): tie-16th (15)
Sacks: tie-11th (25)
RAVENS TEAM:
Points scored: tie-7th (26.1 per game)
Points allowed: 5th (18.1 per game)
RAVENS INDIVIDUALS:
QB
Joe Flacco
: 252 yards per game (16th), 17 TDs (tie-11th), 9 INTs (tie-15th most), 62.4 completion percentage (18th), 90.7 passer rating (17th), 63.7 Total QBR (12th)
RB
Justin Forsett
721 yards (7th), 5.4 yards per carry (first among qualifying running backs), 5 TD runs (tie-8th)
WR
Steve Smith
: 728 receiving yards (17th), 49 receptions (tie-25th)
WR
Torrey Smith
: 6 receiving TDs (tie-15th)
OLB
Elvis Dumervil
: 10.5 sacks (tie-2nd)
OLB
Terrell Suggs
: 5.0 sacks (tie-22nd)
ILB C.J. Mosley: 87 tackles (8th)
ILB
Daryl Smith
: 83 tackles (9th)
November, 20, 2014
Nov 20
10:00
AM ET
METAIRIE, La. -- Former
New Orleans Saints
cornerback Jabari Greer is still keeping close tabs on the team and has agreed to join me on occasion to share his thoughts.
Stay tuned for Greer's scouting report on some of the Saints' defensive backs, as well as a look ahead to Monday night's matchup with the
Baltimore Ravens
. Here are Greer's thoughts on the Saints' struggles up until now:
"If you look at their two losses against the 49ers and Bengals, they were unable to get enough pressure on the quarterback, they had tackling issues. And when there's mistakes in a game, great defensive teams cover up for one another. Great defensive teams usually have a player that is able to fix another player's mistake. And one thing that I see is that the Saints' defense, they're not playing complementary football. When one person makes a mistake, it compounds, and you see explosive plays."
On their third-and-long struggles:
"Oh, goodness. ... When an offense converts third-and-2, it's easy for the defensive player to reset his focus, to get realigned and to clearly define who the opponent is: 'OK, let's get back to work.' When an opponent converts a third-and-11-plus, then the linebackers start to blame the secondary, the secondary starts to blame the defensive linemen, and it totally deflates the morale of the entire team. If you look on the sideline, the offense is ready to come on the field, they're getting the game plan together. When the opposing team converts a third-and-11, it deflates your offense, too. It takes the entire energy out of your sideline. So it's more than just a continued drive. That's usually why after a third-and-long conversion, you see an explosive run, because it's so psychologically hard to get back into the mindset of dominance. And the Saints have done that too many times."
On whether he has seen any consistent reason for the problem:
"It's been very different each play. When you look at the (73-yard TD by
Golden Tate
at Detroit), the defensive back (
Corey White
) was in his position. He could've got a little wider in his drop. But that was a great throw and a great catch that beat the zone. On the fourth-down play (
Michael Crabtree
's 51-yard catch vs. San Francisco), given what the safety (
Kenny Vaccaro
) saw, I don't blame him at all, even though the outcome dictates that you get behind the deepest guy. But if you saw what (Vaccaro) saw, they were in Cover 2. There was a guy that was 30 yards deep, but there was also a guy that was 17 yards deep that was right in his zone, so either one of those would've been a converted first down. So basically the 49ers exploited the extended play. ...
"It's different circumstances, but it goes back to my first point. It's not playing complementary football. Because as players, you have to be able to play off each other. It seems as they're still jelling and still learning about each other. And even though as professional players you expect greatness, sometimes when you're establishing an entirely new culture, it takes more than six, seven games." (Note: Greer warned about that exact concern in his
preseason scouting breakdown
, when expectations for New Orleans' secondary were sky-high).
On expectations for the defense going forward:
"If you look at some of those games, the Tampa Bay game when they fought and clawed, and then the Green Bay and Carolina games, you saw what they could do. You saw them establishing an identity, putting pressure on the quarterback, playing tight coverage, communicating. You saw them on their best game. But then taking that success, it was another opportunity to respond. They weren't in a dogfight anymore, they were living on the top, and they had to approach the game as the alpha dog. And it seems as if they didn't respond in the fashion that they should have. Now they're in a fight to become dominant again, so I believe they're going to respond well. But the question is, how will they respond if they get to the top of the NFC South again?"
November, 20, 2014
Nov 20
8:00
AM ET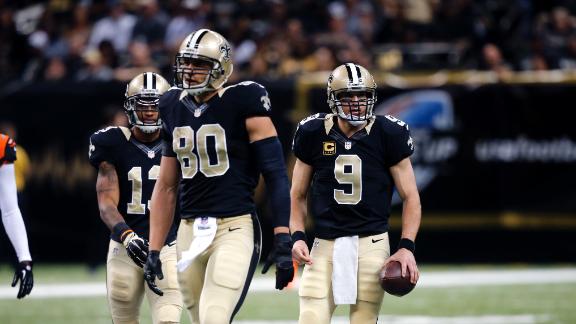 METAIRIE, La. -- The
New Orleans Saints
(4-6) haven't been themselves this year. Not even at home, where they've lost two straight games to snap an 11-game win streak.
But there's still one streak they've continued to maintain -- their dominance in prime-time games inside the Mercedes-Benz Superdome, where they'll host the
Baltimore Ravens
(6-4) on "Monday Night Football."
The Saints routed the
Green Bay Packers
, 44-23, on Sunday night in Week 8. They've now won 14 straight prime-time home games, including the playoffs, by nearly 20 points per game. They've won 17 of their last 18, dating back to 2008.
Saints quarterback
Drew Brees
has won seven consecutive home starts on "Monday Night Football," according to the Elias Sports Bureau. That's one shy of
Peyton Manning
's all-time record, which is still active.
And the Saints' streak of scoring 28 points in seven straight Monday night home games is also an NFL record.
Ravens' dominance:
On the flip side, however, the Ravens are one of two teams that the Saints have failed to beat since coach Sean Payton and Brees arrived in 2006. And they are the only team that Brees has never beaten, dating back to his days with the
San Diego Chargers
.
Brees is 0-3 against Baltimore, including two losses with the Saints (a 35-22 loss in the Superdome in 2006 and a 30-24 loss at Baltimore in 2010).
The Saints are also 0-2 against the
Denver Broncos
in the Payton/Brees era.
Flacco's dominance:
Ravens QB Joe Flacco has been up and down this year, but he's dominated the NFC South, going 3-0 with 297 passing yards per game, 10 passing TDs and two interceptions. According to ESPN Stats & Information, his Total QBR of 97.0 against the NFC South is the second highest of any quarterback against a division in a single season since ESPN started calculating QBR data in 2006.
Ravens insight:
For news and notes on the Ravens this week, check out their
team page
on ESPN.com and follow Ravens reporter Jamison Hensley on Twitter @JamisonHensley.
November, 19, 2014
Nov 19
6:30
PM ET
METAIRIE, La. -- To help fill the void left by injured
Brandin Cooks
, the
New Orleans Saints
took a flier on another rookie receiver Wednesday by signing
Jalen Saunders
off the Seattle Seahawks' practice squad, according to ESPN NFL Insider Field Yates.
Saunders is already on his fourth team since being drafted in the fourth round by the
New York Jets
this year. The 5-foot-9, 165-pounder from Oklahoma began the year as the Jets' punt returner. But he was released after he muffed two punt returns. He then spent time on the Arizona Cardinals' practice squad before landing in Seattle.
It's unclear if the Saints envision Saunders as an immediate punt-return candidate -- a job that became vacant when Cooks was
placed on injured reserve
with a broken thumb. Chances are even slimmer that they would use Saunders on offense right away.
Coming out of college, Saunders was expected to be a poor man's version of Cooks -- a speedy and elusive slot receiver/punt returner. But ESPN Jets reporter Rich Cimini reported that sources said he wasn't as explosive as draft reports indicated. Maybe another change of scenery will serve him well.
Saunders, who transferred to Oklahoma from Fresno State, caught a total of 123 passes for 1,558 yards and 11 touchdowns during his two seasons with the Sooners. He returned a total of 25 punts for 396 yards and three touchdowns.
To make room on the roster, the Saints released running back
Brian Leonard
-- a good sign that they must be expecting either
Pierre Thomas
and/or
Khiry Robinson
back from lingering injuries this week.
Thomas also tweeted out a picture and message to his fans Wednesday insisting he's working his way back from shoulder and rib injuries.
Getting Right Who Dat Fans!!! #tryingtogetthatbodyback #causeifeellikeit http://t.co/5KoZjt5odm

— Pierre Thomas (@Pierre_Thomas) November 19, 2014
The Saints' first practice (and injury report) is Thursday this week since they're not playing until Monday night against the
Baltimore Ravens
.
November, 19, 2014
Nov 19
3:30
PM ET
METAIRIE, La. -- The
New Orleans Saints
' defense didn't start flat in last Sunday's
27-10 loss
to the
Cincinnati Bengals
. They just quickly became deflated after they couldn't get off the field on third-and-long.
I've already written at length about the Saints'
third-and-long struggles
(Cincinnati converted six times on third-and-8 or longer). But it can't be overstated how demoralizing that is.
The Saints' defensive energy looked good for a handful of plays to start the game, including shutting down running back
Jeremy Hill
for gains of 1, 1 and 2 yards on his first three carries. But they never got any momentum as Cincinnati converted three third-and-8s on that touchdown drive to set the tone for a long, ugly day.
[+] Enlarge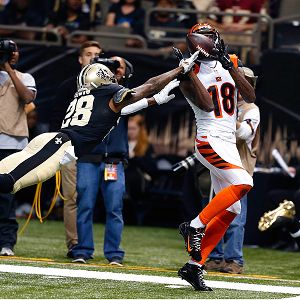 AP Photo/Rogelio SolisSaints CB Keenan Lewis attempts to cover Bengals WR A.J. Green on this 24-yard touchdown catch in the fourth quarter of Sunday's Week 11 game.
Here are more thoughts after reviewing the tape:
Gresham's fancy footwork:
The game ball should probably be awarded to Bengals tight end
Jermaine Gresham
's feet. Not only did he do a fantastic job of kicking the loose ball to himself in the end zone after fumbling near the goal line in the first quarter, but a closer look at the replay showed Gresham also used his other foot to kick away Saints cornerback
Brian Dixon
's hand as Dixon was trying to scoop up the ball.
I'm not sure if Gresham's footwork was legal (CBS referee analyst Mike Carey said the player gets the benefit of the doubt when you're not 100 percent certain the kick is intentional). But he definitely deserves credit for effort and precision.
62 yards without trying:
My jaw dropped even further when I re-watched Hill's 62-yard run that set up a last-second field goal before halftime. The Bengals were clearly content to run out the clock. They did everything but kneel.
However, credit Hill for making a terrific cutback to the middle after starting to run right. It didn't look like there was an opening at first -- which is probably why Saints linebackers
Curtis Lofton
and
David Hawthorne
both ran to fill the gap that Hill started running toward.
But a crease opened up the middle between two double-team blocks against Saints linemen
Tyrunn Walker
and
Cameron Jordan
. And once Hill got through, he had tons of room to roam. Safety
Rafael Bush
was the only one with a shot at him, and he whiffed.
Run D highs/lows:
The Saints' run defense was actually very good for much of the game. They held the Bengals' backs to 2 yards or less on 17 of 31 carries, with Lofton and Hawthorne, nose tackles
Brodrick Bunkley
and
John Jenkins
, Jordan, outside linebacker
Junior Galette
and safety
Kenny Vaccaro
all having one or two big-time plays.
However, they broke down on four big runs -- the 62-yarder, 21-yarders by Hill and
Cedric Peerman
in the first half and an 11-yarder by Hill on third-and-8 in the fourth quarter. Both of the 21-yard runs were identical, with a pulling guard and a fullback sealing off a path around the right end.
Ineffective pass rush:
The Saints' pass rush had started to come on strong recently, but it disappeared in this game. That was due largely to
Andy Dalton
's quick release. Pro Football Focus said Dalton threw in under 2.5 seconds on 17 of 25 drop-backs. Dalton also took off scrambling on most of the plays when the Saints did get some pressure (mostly from Galette or a handful of blitzes). The Saints' only sack was for a 1-yard loss when linebacker
Parys Haralson
caught Dalton as he scrambled away from a six-man blitz.
Still, Dalton had too much time to throw on the few occasions when he did stand back in the pocket, with nobody else on the Saints' line besides Galette getting near him. He got hit once -- by blitzing safety Vaccaro, but it drew a flag for unnecessary roughness (and he completed the pass anyway).
Ineffective coverage:
Cornerback
Keenan Lewis
' knee injury definitely hurt the Saints. He played only 10 snaps, and the Bengals targeted him when he was on the field -- including a 24-yard touchdown pass to
A.J. Green
in the fourth quarter. Lewis got a decent jam on Green at the line but couldn't keep up with the dynamic receiver down the left sideline.
The Saints didn't get torched repeatedly through the air. Dalton attempted only four passes of 15 yards or more, according to ESPN Stats & Information. But he completed three of them (and he almost completed the fourth in the end zone to Green, who got behind cornerback
Corey White
).
Dixon's coverage was decent on a back-breaking 38-yard pass to Green on third-and-18 in the fourth quarter. But Green had a step on him and used his hands to gain separation. Green also shot past White after a jam attempt for a 21-yard gain. Another time, the Saints' corners gave Green way too much cushion on an easy third-and-2 conversion. And Green also made a terrific fake to get open vs. Dixon on a quick slant for an 18-yard gain on third-and-2.
On a brighter note, Saints corner
Patrick Robinson
had two physical pass break-ups and continued his resurgence.
Other good stuff:
Coach Sean Payton was right about Vaccaro's effort on the final drive even when the game was out of reach. He stood out on three run tackles. ... The Saints did an excellent job of shutting down a flea-flicker attempt on the first drive, with Lofton hitting Dalton as he threw incomplete. Lofton had another solid performance.