July, 28, 2014
Jul 28
2:00
PM ET
WHITE SULPHUR SPRINGS, W. Va. -- One of the hot topics early in camp has been the lofty expectations for the
New Orleans Saints
this year now that they have a top-notch defense to go with their always-stellar offense.
None other than former Saints QB Archie Manning said earlier this month: "I think the Saints' lineup on paper to start the season is maybe as strong as I've ever seen."
The reactions to bold proclamations like that have been mixed, however.
Some, like general manager Mickey Loomis and cornerback
Champ Bailey
, are taking a conservative approach. They both said they like what they see right now, but they know there are a lot of variables that go into an NFL season.
[+] Enlarge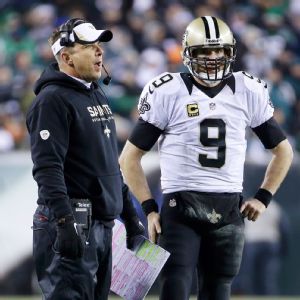 AP Photo/Matt RourkeSean Payton and Drew Brees have restored high expectations around the Saints for the upcoming season.
"I don't pay a lot of attention to that because no one said that in 2009 when we won the Super Bowl," Loomis said. "You still have to come together as a team, you need to have the right chemistry, you have to have the right things happen for your club. There are just so many variables that your roster on paper is just kind of meaningless to us at this point."
However, others like defensive end
Cameron Jordan
openly invite such lofty expectations. When asked on the NFL Network earlier this month if the Saints will return to the top of the NFC South this year, Jordan said, "This is the year I get a Super Bowl."
"If every year you're not aiming for the Super Bowl, then what are you aiming for?" Jordan said this week. "The point of the football season is to bring home that championship, and honestly that's what we're here to do.
"We're not here to be a good defense, we're here to be the best defense. We're all here to be the best that we can be, and so the highest achievement we can get is a Super Bowl."
Then there are others like coach Sean Payton and guard
Jahri Evans
, who have married those schools of thought.
Yes, preseason predictions are meaningless. But at the same time, this is the kind of culture the Saints set out to create when Payton and Evans and quarterback
Drew Brees
and others first arrived in 2006 on the heels of a 3-13 season.
"Honestly, one of the challenges as a head coach every year is managing the outside … I don't want to use the word noise … but managing the outside," Payton said. "When things are going well and managing that and being guarded, and when things aren't going well, managing that and staying focused to not let that derail you.
"Look, this team will be measured not by what people are saying today on talk shows or in the newspapers. It will be measured really at the end of the season. And that is the great thing about the NFL, that you play and you try and win the division, you try to advance to the postseason, you try and go on to win a Super Bowl. And you don't have to worry about how you stack up maybe in a BCS. …
"But with regards to the beginning of [the high expectations] question, the overall expectation, it is what we wanted, right? It is trying to change a culture to create an environment where you feel like you have a chance to be successful, a chance to win each season. And with that comes Sunday night games, Monday night games, flex schedules, some of those challenges scheduling-wise. But that is part of the deal. If you are playing every game at 1 p.m. except the one Thursday night game the league gives you then you are probably not having a lot of success. They go hand in hand."