November, 27, 2014
Nov 27
5:15
PM ET
The
New Orleans Saints
officially placed nose tackle
Brodrick Bunkley
on injured reserve Thursday with the quadriceps injury he suffered last Sunday against the
Baltimore Ravens
.
Bunkley
The Saints promoted undrafted rookie defensive tackle Lawrence Virgil from their practice squad to fill the vacant roster spot. Virgil (6-foot-5, 290 pounds) signed with the Saints right after the draft out of Valdosta State, and has been on their practice squad all season. Most likely, though, he will remain behind more experienced backups
John Jenkins
and
Brandon Deaderick
on the depth chart.
As I wrote Wednesday, Jenkins will play an important role for a Saints' defense that has started to
struggle mightily against the run
.
The Saints replaced Virgil on the practice squad with another undrafted rookie defensive tackle -- Garrison Smith from Georgia.
Bunkley, 31, has been solid as a run defender for the Saints over the past three seasons. But he has been more of a part-time player in that role, and he never lived up to the lofty expectations after he signed a five-year deal in 2012 worth between $22.5 million and $25 million.
Bunkley has just 53 tackles and 2.5 sacks in three seasons with New Orleans. He took a $2.85 million pay cut to stay with the team this season. The Saints will have to make another decision next season to either release him or work out another pay cut since he is due another $4.5 million in salary and bonuses in each of the next two seasons.
The former first-round pick of the
Philadelphia Eagles
has had an up-an-down career. His best season came with the
Denver Broncos
in 2011.
There were no other changes to the Saints' injury report Thursday:
Running back
Khiry Robinson
(forearm) and linebacker
Kyle Knox
(hand) did not participate in team drills.
Cornerback
Keenan Lewis
(knee), linebacker
Curtis Lofton
(ankle), guard
Ben Grubbs
(neck) and center
Jonathan Goodwin
(toe) were limited in team drills.
Receiver
Robert Meachem
and running backs
Mark Ingram
,
Pierre Thomas
, and
Travaris Cadet
practiced fully.
November, 27, 2014
Nov 27
3:00
PM ET
METAIRIE, La. --
Keenan Lewis
grew up with the
Pittsburgh Steelers
. And not only did his time spent there help shape him as a player and a person, but it's even having an impact on his new team, the
New Orleans Saints
.
Moore
Lewis
Lewis has mentioned often this year how he's tried to step up as more of a vocal leader for a young Saints secondary, passing on the kind of advice that veteran Steelers like
Troy Polamalu
,
Ike Taylor
and
Ryan Clark
once passed on to him.
"I'll tell 'em things I learned from guys like Troy and Ike and those guys and to the best of my ability I'll try to help them out," Lewis said Wednesday as he prepares to face his former team for the first time in Pittsburgh on Sunday. "My main goal is to tell them not to get caught up in what the media, what people have to say. Because once you get in that ... when your mind's going, you can't really focus on your game. So I try to help 'em most with that part."
Lewis has also talked often about how much he "truly appreciated" his time spent in Pittsburgh, where he got to learn from some "Hall of Fame guys."
But it's back in his hometown of New Orleans where Lewis has now established himself as a true No. 1 cornerback over the past two years. The Saints signed Lewis to a five-year deal worth between $25.5 and $26.3 million last offseason, and it was some of the best money they've ever spent in free agency.
Steelers coach Mike Tomlin said this week he's not surprised to see that continued development in the former third-round draft pick.
"The thing that comes to mind when I think about K-Lew is his competitive spirit and his willingness to work on a daily basis," Tomlin said. "This guy works at every opportunity, he's a big-time competitor. Everything is personal. He has all of the components to be a real good corner, which his New Orleans tape has proven that he is. He just brings a blue-collar work ethic, a competitive spirit, to work every day, and those guys you love working with."
Likewise, Saints coach Sean Payton and players this week raved about former receiver
Lance Moore
, who signed with the Steelers this past offseason after being released by New Orleans.
Moore was a huge part of the Saints' Super Bowl foundation. He actually pre-dated Payton and quarterback
Drew Brees
, having originally joined New Orleans' practice squad in 2005. Both of them talked this week about how much Moore epitomized all the traits you're looking for when building a team, from his work ethic to his football smarts.
"Lance is the epitome of like a true professional -- a guy who came in, started off on the practice squad and then worked his way to becoming one of our best receivers," Brees said of the undrafted receiver who began his career with the
Cleveland Browns
.
But the Saints decided to release Moore this offseason when they felt his diminishing role no longer matched his increasing salary.
In Pittsburgh, Moore has played a smaller role as a third or fourth receiver, with 11 catches for 156 yards and two touchdowns.
"He's the savvy veteran that we expected him to be," Tomlin said. "He's a low maintenance guy, he's extremely professional, he's smart, he comes with good ideas, he knows all of the positions. He's very versatile in that way, and we've had to utilize him in that way because he is playing with some young people."
Moore said, "Obviously, thinking selfishly, I would have liked [my time in New Orleans] to have ended in a different way." But he said there were no hard feelings.
"I totally understand the business side," Moore said. "It can't always work out the way that you want it to. That's how it goes. Most guys in their careers at some point come to a situation where you get cut or have to take a pay cut or you get traded.
"I've been cut four times in my career so it's not like I feel like I'm invincible when I'm under contract."
Moore, who still keeps in regular contact with some of his close friends on the Saints, added, "It's definitely going to be one of the more weird games that I've played in."
November, 27, 2014
Nov 27
1:30
PM ET
Watson
METAIRIE, La. --
New Orleans Saints
tight end
Benjamin Watson
's thoughtful take on the unrest in Ferguson, Missouri, has received a lot of attention and mostly positive feedback in recent days.
The longtime NFL veteran often writes about his faith and his perspective on such societal issues on his website or other social media outlets. This time, Watson seemed to strike a chord when he opened up about all the conflicting emotions he faced in the wake of a grand jury deciding not to indict officer Darren Wilson in the shooting death of teenager Michael Brown. His post was shared or "liked" on Facebook by hundreds of thousands of users.
Watson went into detail about why he is angry, frustrated, fearful, embarrassed, sad, sympathetic, offended, confused, introspective, hopeless, hopeful and encouraged.
Click here for his full post
.
November, 27, 2014
Nov 27
12:00
PM ET
METAIRIE, La. -- Some
New Orleans Saints
players were asked Wednesday what they're thankful for in terms of football. I didn't catch all the answers, but the ones I heard from safety
Kenny Vaccaro
and cornerback
Keenan Lewis
were heartfelt.
Both talked about not taking it for granted that they are living their lifelong dream of playing in the NFL. And Vaccaro mentioned the recent news that fellow safety
Eric Berry
of the
Kansas City Chiefs
is facing a possible lymphoma diagnosis.
Vaccaro
Vaccaro:
"Just being able to play this game, period. You get down (sometimes), you start thinking about, individual (accolades), for me, 'Oh, am I going to make this this year, or Pro Bowl?' Then again, it's just a blessing to be in this league, period. Because you go against elite players. Like, what's the chances when I was born that I was going to make it to the NFL, you know what I'm saying? But I think about that before every game. Every snap, you can't take it for granted. Especially seeing the Eric Berry situation, that really hit me when I saw that. Somebody that's so athletic, so healthy, that something like that happens to him. You can't take any snaps for granted. You just gotta thank God that you can go out there.
"You can listen to critics on Instagram and Twitter saying, 'You can't do this, you can't do this.' Well, a lot of people can't in this position, period. At least I have the opportunity to even step on the field with guys like
Drew Brees
,
Jimmy Graham
. These are guys people are going to talk about way long after they're gone. ...
"Just these moments, what we're going through right now, I'll always remember this the rest of my life. The struggles, I think it's all a blessing in disguise."
Lewis:
"Just having an opportunity to gel with a lot of guys. I thought I'd probably never meet guys like Troy (Polamalu when he played in Pirrsburgh), Drew and those types of guys who one day they'll be in the Hall of Fame. And I could tell my children that I had the opportunity to play with those type of guys. And just living the dream, that's something I've been dreaming as a kid, of making it to the National Football League, and I'm living it and I'm proud of that."
November, 27, 2014
Nov 27
10:00
AM ET
METAIRIE, La. --
Drew Brees
has already admitted multiple times that he's "annoyingly optimistic."
But he's just plain annoyed whenever people suggest that the 4-7
New Orleans Saints
can benefit from playing in one of the worst divisions in NFL history.
Brees isn't interested in "backing in" to the playoffs.
"I don't care," Brees said when the subject came up Wednesday. "I don't care what the rest of the division does. I really don't. I'm not even thinking about them. Put it this way: If I play Tiger Woods in golf and he beat me, he shot 79 and I shot 80, is he gonna be happy? Did he play up to his potential by doing that? No he didn't.
[+] Enlarge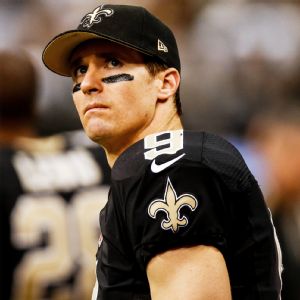 Derick E. Hingle/USA TODAY Sports Drew Brees insists the Saints are more focused on playing to their potential than taking advantage of a weak NFC South.
"So for us, we shouldn't be worried about just winning the division by one game because everybody in the division is 4-7 or less right now. No, let's play to our potential. Let's worry about us and the way we know we can play."
Both Brees and coach Sean Payton have acknowledged, however, that there is value in the fact that they still have something to play for and "control their own destiny."
For that reason, the goals remain lofty. Payton said he has made references to players about other teams that have survived slumps and gotten hot at the right time -- like the 2011
New York Giants
, who lost four straight games to fall to 6-6 before winning the Super Bowl.
Payton said he's even referenced teams in other sports. Someone asked about the 2004
Boston Red Sox
, who were down 3-0 to the
New York Yankees
in the American League Championship Series before going on to win the World Series.
"There you go," Payton said. "I think you're constantly as a teacher trying to do that. You look closely at some parallels, some comparisons. No different than I'm sure they're doing right now in Atlanta right now or Carolina or Tampa.
"And look, you guys have seen this happen to us before, it happened to us in '09. We lose three games in a row at the end of '09, and no team's ever lost (that many) heading into the playoffs and gone on to win a Super Bowl. And immediately after the first playoff win, that's all gone. It dissipates.
"But in order for that to happen, we need to find a way to improve. Obviously we're not playing well enough right now."
The challenge doesn't get any easier for the Saints this week -- on the road against a good team in the
Pittsburgh Steelers
(7-4). But after losing three straight games at home, Brees suggested it might actually be a good change-up to hit the road.
There's that "annoyingly optimistic" side of him kicking in again.
"I'd say for the young guys, the biggest thing that we can do as veteran guys is just show them a presence as to how you handle this situation. And our presence is being positive, encouraging," Brees said. "We're about to hit the tipping point. I believe that. It's only a matter of time before we're gonna catch some breaks, we're gonna start to win. And hopefully those wins will come in bunches. But we gotta get the first one first."
November, 27, 2014
Nov 27
8:00
AM ET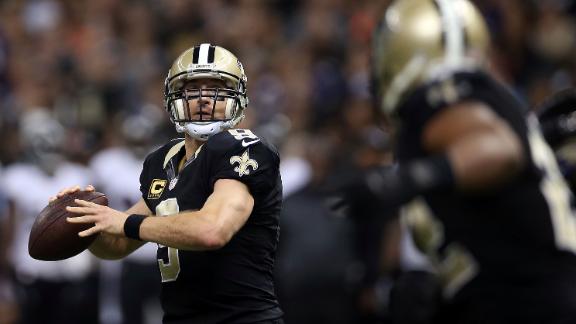 When:
1 p.m. ET, Sunday
Where:
Heinz Field, Pittsburgh
TV:
Fox
The
Pittsburgh Steelers
and
New Orleans Saints
are in the hunt for division titles, but for different reasons. Despite a couple of bad losses, the 7-4 Steelers have managed to keep pace in an AFC North, where every team is at least three games over .500.
The 4-7 Saints, despite their best efforts to play golf in January, are tied for first in the NFC South, which has delivered the kind of parity that the NFL doesn't want.
ESPN Saints reporter Michael Triplett and Steelers reporter Scott Brown take a closer look at the game.
Brown:
Mike, Steelers coach Mike Tomlin made the Saints' offense sound all but unstoppable earlier this week. With the weapons they have, starting with
Drew Brees
at quarterback, why does this team have only four wins in late November?
Triplett:
The biggest problem has been the Saints' defense, which ranks 27th in the NFL in yards allowed, 29th in takeaways and dead last in third-down percentage. But Brees deserves plenty of blame, too, for way too many costly turnovers in big moments. Essentially, he's been under pressure to do it all this year, and he hasn't handled that well enough, forcing the ball too many times on third downs or under pressure.
Brees has still been sharp in a lot of areas (on pace for over 5,000 yards and a league-best 70.3 completion percentage). But he's thrown 11 interceptions and lost two fumbles -- many of them in huge moments. Last week was a perfect example. He threw for 420 yards and three touchdowns against the Ravens, but the Saints couldn't overcome the pick-six he threw in the third quarter.
The Saints do have the NFL's second-ranked offense, though. And they're deep and diverse with guys like tight end
Jimmy Graham
and a run game that started great before stalling the past two weeks. What should they expect from Pittsburgh's defense? Where are they strongest, and where are they most vulnerable?
Brown:
The Steelers are getting healthy at the right time on defense and they should at least get strong safety
Troy Polamalu
and cornerback
Ike Taylor
back for the Saints game. The return of two key players in their secondary, however, may not matter much if the Steelers don't get more out of what has been an inconsistent pass rush.
The Steelers did anything but bother or fluster
Tennessee Titans
rookie quarterback
Zach Mettenberger
in their last game. That is one reason why they had to rally from an 11-point halftime deficit to beat one of the worst teams in the NFL. If Brees gets as comfortable in the pocket as Mettenberger did, the Saints are going to put up a lot of points.
The Steelers were able to generate consistent pressure against Indianapolis'
Andrew Luck
and Baltimore's
Joe Flacco
the last two times they played at Heinz Field. They are home again and the defense should have a little extra juice Sunday given some of the players who are returning and the fact that the Steelers are coming off a bye week.
Jimmy Graham's numbers are down a bit this season, but he is still an elite player and the Steelers have struggled against tight ends. Assuming the they pay extra attention to Graham, what other receiver or receivers could step up and hurt the Steelers?
Triplett:
The Saints' receivers have been inconsistent this year, and they lost their most dynamic weapon two weeks ago when rookie
Brandin Cooks
suffered a broken thumb. But then the receivers stepped up big last week, with
Marques Colston
,
Kenny Stills
and speedy backup Joe Morgan all making big plays. Morgan had a 67-yard run and a 62-yard catch in the first quarter, even though he was only a small part of the game plan.
For most of this season, the Saints have been content to establish the run with
Mark Ingram
and settle for shorter passes/screens, etc. I'm sure they'll do some of that to keep their defense off the field at Pittsburgh. But they vowed to be more aggressive after they were way too "flat" and passive against the Bengals two weeks ago. So I'm sure they'll keep taking their shots Sunday, as well.
It sure feels like the Saints' only chance is to win a shootout. I'm not sure they can stop Ben Roethlisberger or Le'Veon Bell. Is Roethlisberger playing as well as he ever has?
Brown:
Statistically, there isn't any question that Roethlisberger is in the midst of his best season. The 11th-year veteran is on pace to establish career highs in completions, passing yards and touchdown passes for a season. I'm not sure, though, that this is the best Roethlisberger has played; he hasn't been as consistent as he would probably like. He didn't play well at Jacksonville and Cleveland earlier this season. Nor did he play well at the
New York Jets
after absolutely strafing the Colts and Ravens in back-to-back weeks at Heinz Field, and he was just OK at Tennessee on Nov. 17. Seeing a pattern here? Roethlisberger has been lights-out at home this season and rather ordinary on the road.
Fortunately for the Steelers, they don't need to delve further into why Roethlisberger has 18 touchdown passes at Heinz Field and just six away from it until after this game. If he plays as well at home as he has in earlier games, Roethlisberger and Brees could stage quite a shootout. Former Steelers cornerback
Keenan Lewis
was a big loss when he signed with the Saints in 2013. How has he played, and do you expect him to shadow Pro Bowl wide receiver Antonio Brown?
Triplett:
Lewis has arguably been the Saints' second-most-valuable player behind Brees this year. Up until three weeks ago, he was the one constant in a shaky secondary. He routinely matches up against the opponents' No. 1 receiver and holds his own (see quiet performances from
Dez Bryant
and
Jordy Nelson
, among others). Fox analyst John Lynch said he'd put Lewis with
Richard Sherman
and
Patrick Peterson
as the best corners in the league right now. That was the same case last year, when I thought Lewis was a blatant Pro Bowl snub.
However, Lewis suffered a knee injury in Week 10, and he hasn't quite gotten back to 100 percent (though he was closer this past week). Obviously it would be huge for Lewis to help neutralize a guy playing as well as Brown is right now. Even if he does, the Steelers will pick on up-and-down corners like
Patrick Robinson
,
Corey White
and
Brian Dixon
with some other frightening big-play threats.
To make matters worse, the Saints have suddenly become terrible against the run. Tell me more about Bell. He must be licking his chops after what fellow AFC North backs
Justin Forsett
and
Jeremy Hill
did against the Saints the last two weeks.
Brown:
Man, he has been a revelation in his second season. I thought Bell would build on what he did as a rookie and give the Steelers a nice all-around running back. I did not see the 2013 second-round draft pick emerging as one of the best running backs in the NFL, but there is no question Bell has done just that. The Steelers love him because there is nothing he can't do. Bell is an excellent receiver and he earned Roethlisberger's trust last year in picking up blitzes, something that is not easy for a rookie to do.
Bell has really impressed me as a runner with his uncanny patience and ability to run with power and make people miss. His emergence as a premier runner, ironically enough, led to the exit of
LeGarrette Blount
, his good friend, from Pittsburgh. When the Steelers signed Blount in March, they envisioned more of a timeshare in the backfield as far as how carries were divvied up between Bell and Blount.
Bell became so valuable to the Steelers that they didn't want him coming off the field in goal-line or short-yardage situations. Blount's shrinking role eventually led him to leave the field before the end of a game, and for the Steelers to waive him.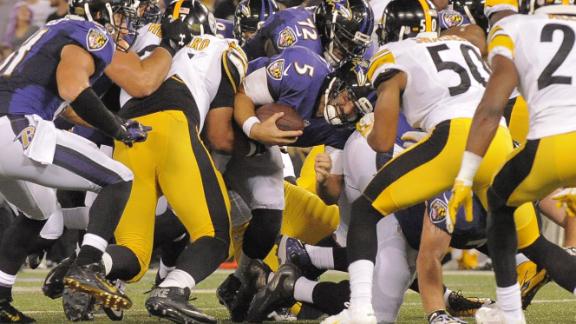 November, 26, 2014
Nov 26
7:15
PM ET
METAIRIE, La. -- The
New Orleans Saints
defense found a new way to struggle in last Sunday's 34-27 loss to the
Baltimore Ravens
. It was really the first time all season their run defense got beat so badly at the point off attack. (Most of the big gains by the Cowboys, 49ers and Bengals had come around the edges).
Both end
Akiem Hicks
and nose tackle
John Jenkins
got shoved back at least three times by 1-on-1 blocks on big run plays.
[+] Enlarge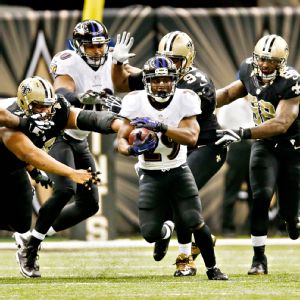 Derick E. Hingle/USA TODAY SportsEclipsing 95 yards or more rushing in four games this season, Ravens RB Justin Forsett has at least earned his way into Pro Bowl consideration.
Clearly the Saints didn't adjust well to the Ravens' zone-blocking scheme and stretch-run plays. Jenkins, who was singled out by ESPN analyst Jon Gruden for getting blown up three times in the second quarter, said that was the case for him.
"I was trying to get the feel of that whole scheme, it's not often we go against a zone team like that," Jenkins said. "So trying to get the feel, trying to find a fit and being able to make plays was on my mind."
Jenkins did respond with a big-time run stuff right after Gruden's comments. And he settled in better in the second half. The Saints will need that type of continued improvement from the second-year big man going forward since veteran nose tackle
Brodrick Bunkley
will miss time with a quadriceps injury -- possibly the remainder of the season.
"Honestly, just whatever they need me to do, that's what I'm gonna do. So it's unfortunate that Brodrick went down and so late in the season, but I guess I gotta do what I gotta do," said Jenkins, who's had a roller-coaster season with a torn pectoral muscle in the summer, followed by inconsistent play on the field that left him inactive for three games.
The 6-foot-3, 359-pounder said he feels like he's been making progress, though.
"Being able to overcome that injury and then trying to find my fit back on the team and being able to play the schemes that I'm playing, it was a growth period for me this whole season," Jenkins said.
Those interior linemen were hardly the Saints' only problem against Baltimore, though, as the Saints gave up a season-high 215 rushing yards. Running back
Justin Forsett
ran for 182 of them and two touchdowns. He and backup
Bernard Pierce
combined for five runs of 20-plus.
Safety
Kenny Vaccaro
whiffed once when Forsett came around the corner. Linebacker
Curtis Lofton
missed one potential tackle. He and linebacker
David Hawthorne
each ran into blocks at least once when Forsett made some sharp cutbacks.
And the Ravens' linemen and fullback did a consistently good job of sealing off the edges and moving up into the second level to take out New Orleans' linebackers (sometimes a result of the Saints' linemen not being able to occupy multiple blockers).
"If we went through some of the breakdowns in the runs last week, it's just gap integrity and fitting it correctly," Saints coach Sean Payton said. "Especially when you're playing some down-safety defense, understanding your alignment to begin with, and then your gap to fit it correctly. I think that's the No. 1 thing when you look at the runs."
"A lot of different reasons," Vaccaro said. "It kind of goes back to the first of the season, a guy's out of his gap on this play, then another guy's out of his gap on this play. 'Cuz it only takes one person out of your 11 to get creased, especially with these schemes like the Ravens run. We've just gotta be more clutch all together."
Put even more succinctly, Lofton said, "It's guys not doing their job."
As Payton also pointed out, when the Saints are forced to add an additional safety into run defense, it puts even more stress on the secondary. So it can be a domino effect.
The good news is this hasn't been a consistent problem for New Orleans' defense all season. Their struggles against Cincinnati a week earlier came mostly from four big runs, but the Saints actually stuffed the Bengals for two yards or less on 17 of their 31 carries.
The bad news is that the task doesn't get any easier as they face the
Pittsburgh Steelers
on the road this week. Pittsburgh's Le'Veon Bell is second in the NFL with 951 rushing yards (not to mention 484 receiving yards).
"It surprises me a little bit," Vaccaro said of the recent breakdowns. "I thought after that Lions game [in Week 7], our run defense was going uphill. And then to have something like this these last two weeks, it's just kinda like, 'Alright man, let's get this handled.'
"We've gotta get it fixed because the Steelers are a big running team. Le'Veon Bell to me is the most complete back in the league."
November, 26, 2014
Nov 26
5:30
PM ET
METAIRIE, La. --
New Orleans Saints
running back
Khiry Robinson
didn't participate in full-team drills during Wednesday's light walk-through practice, according to the team's injury report. So it remains unclear if he was referencing his health when he tweeted, "Yeeeaah! Back in action!"
We should get a better feel for the Saints' injury report Thursday and Friday since their walk-through was closed to the media on Wednesday. The Saints didn't hold a regular full practice to aid their recovery coming off of a Monday night game.
As expected, defensive tackle
Brodrick Bunkley
(quadricep) did not practice, though the Saints didn't say yet whether he will be placed on injured reserve. Linebacker
Kyle Knox
(hand) also did not participate in team drills.
Cornerback
Keenan Lewis
(knee), linebacker
Curtis Lofton
(ankle), guard
Ben Grubbs
(neck) and center
Jonathan Goodwin
(toe) were limited.
Lewis admitted he was "a little winded" while playing every snap last week against the
Baltimore Ravens
. But he said he feels like it helped him get his "cardio back" and feels now like, "I'm back to my form."
Receiver
Robert Meachem
(ankle) returned to full participation Wednesday after missing the past two games. Running backs
Pierre Thomas
,
Mark Ingram
and
Travaris Cadet
also practiced fully.
November, 26, 2014
Nov 26
1:00
PM ET
A look at where the
New Orleans Saints
(4-7) and
Pittsburgh Steelers
(7-4) rank in key statistical categories through 12 weeks of the NFL season:
SAINTS OFFENSE:
Total yards: 2nd (433.6 per game)
Passing yards: 3rd (308.8 per game)
Rushing yards: 8th (124.8 per game)
Third-down conversions: 1st (50.7 percent)
Red-zone touchdowns: 10th (57.8 percent)
Turnovers (giveaways): 7th most (20)
Sacks allowed: 8th fewest (18)
SAINTS DEFENSE:
Total yards: 27th (377.1 per game)
Passing yards: 23rd (253.3 per game)
Rushing yards: 23rd (123.8 per game)
Third-down conversions: 32nd (47.9 percent)
Red-zone touchdowns: 22nd (60.0 percent)
Turnovers (takeaways): 29th (11)
Sacks: tie-18th (23)
SAINTS TEAM:
Points scored: tie-8th (26.2 per game)
Points allowed: 25th (26.0 per game)
Turnover ratio: tie-28th (minus-9)
Time of possession: 8th (31:05 per game)
SAINTS INDIVIDUALS:
QB
Drew Brees
: 317 yards per game (3rd), 22 TDs (tie-6th), 11 INTs (4th most), 70.3 completion percentage (1st), 98.1 passer rating (8th), 72.8 Total QBR (6th)
RB
Mark Ingram
: 645 rushing yards (14th), 6 rushing TDs (tie-8th)
TE
Jimmy Graham
: 65 receptions (tie-9th), 670 receiving yards (26th), 9 receiving TDs (tie-4th)
LB
Curtis Lofton
: 100 tackles (5th)
OLB
Junior Galette
: 7.0 sacks (tie-16th)
CB
Keenan Lewis
: 11 pass defenses (tie-12th)
STEELERS OFFENSE:
Total yards: 5th (406.4 per game)
Passing yards: 5th (286.9 per game)
Rushing yards: tie-10th (119.5 per game)
Turnovers (giveaways): tie-15
th
fewest (16)
Sacks allowed: tie-10th most (30)
STEELERS DEFENSE:
Total yards: 13th (343.8 per game)
Passing yards: 16th (241.6 per game)
Rushing yards: 10th (102.2 per game)
Turnovers (takeaways): tie-22nd (14)
Sacks: 25th (20)
STEELERS TEAM:
Points scored: tie-8th (26.2 per game)
Points allowed: 19th (23.9 per game)
STEELERS INDIVIDUALS:
QB Ben Roethlisberger: 297 yards per game (4th), 24 TDs (5th), 6 INTs (tie-23rd most), 68.3 completion percentage (4th), 105.3 passer rating (4th), 71.7 Total QBR (7th)
WR Antonio Brown: 88 receptions (1st), 1,161 receiving yards (2nd), 9 receiving TDs (tie-4th)
RB Le'Veon Bell: 951 rushing yards (2nd), 4.9 yards per carry (tie-6th among qualifying RBs)
LB
Lawrence Timmons
: 94 tackles (tie-7th)
CB
Cortez Allen
: 11 pass defenses (tie-12th)
November, 26, 2014
Nov 26
10:00
AM ET
By
ESPN.com staff
| ESPN.com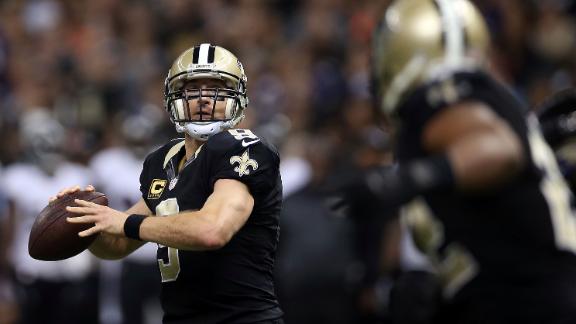 ESPN
Saints
reporter Mike Triplett says New Orleans' identity is clear now: This is a bad defensive team that places all its hopes on
Drew Brees
to work magic with the offense.
November, 26, 2014
Nov 26
8:00
AM ET
A look at the
New Orleans Saints
' snap counts in their 34-27 loss to the
Baltimore Ravens
in Week 12:
OFFENSE (73 snaps)
Quarterback --
Drew Brees
73
Running back --
Pierre Thomas
39,
Mark Ingram
25,
Travaris Cadet
9
Fullback --
Erik Lorig
6
Receiver --
Marques Colston
67,
Kenny Stills
51,
Nick Toon
44,
Joe Morgan
18
Tight end --
Jimmy Graham
52,
Benjamin Watson
37,
Josh Hill
15
Offensive tackle --
Terron Armstead
73,
Zach Strief
73,
Bryce Harris
1
Guard --
Jahri Evans
73,
Ben Grubbs
73
Center --
Jonathan Goodwin
73,
Tim Lelito
1
Thoughts:
Joe Morgan's low snap total is a head-scratcher after he made two explosive plays of 60-plus yards in the first quarter -- especially compared to Nick Toon's 44 snaps. Perhaps Morgan just had a limited package of plays in the game plan, but I'm surprised Toon played so much more since he's not any more experienced, and Morgan is more highly-touted as a blocker. If Morgan had an injury, neither he nor coach Sean Payton mentioned it. Payton's postgame explanation was vague, suggesting that the Saints opted to give Kenny Stills more reps instead of Morgan.
On the flip side, Marques Colston's high snap count is another example of what a workhorse he has continued to be even though his production has been down. He played one of his best games of the season.
Surprisingly, Pierre Thomas wound up with more snaps than Mark Ingram in Thomas' return from injury. Most of that was surely motivated by Thomas' role in the passing game as both a receiver and pass protector. But the Saints also gave Thomas five carries, compared to 11 by Ingram, against a stifling Ravens run defense. Going forward, I expect Thomas to play the same role in passing sets, but I expect a bigger disparity in rushes.
DEFENSE (59 snaps)
Cornerback --
Keenan Lewis
59,
Patrick Robinson
56,
Brian Dixon
11,
Corey White
5
Safety --
Kenny Vaccaro
59,
Pierre Warren
56,
Marcus Ball
3,
Jamarca Sanford
3
Outside linebacker --
Parys Haralson
54,
Junior Galette
49,
Kasim Edebali
10
Inside linebacker --
Curtis Lofton
59,
David Hawthorne
57,
Ronald Powell
1
Defensive end --
Cameron Jordan
59,
Akiem Hicks
48,
Tyrunn Walker
11
Defensive tackle --
John Jenkins
39,
Brodrick Bunkley
10
Thoughts:
Less than a week after he was signed off the Minnesota Vikings' practice squad, undrafted rookie Pierre Warren made his NFL debut as the Saints' starting free safety. Payton said the Saints didn't make their final decision on that job until later that week after former starter Rafael Bush suffered a season-ending injury. Warren played pretty well under the circumstances, with a huge forced fumble and recovery. He also tied for the team high with seven tackles. But on a day when the defense gave up five plays of 35-plus yards, Warren obviously wasn't flawless.
Patrick Robinson also had a decent-but-imperfect performance while returning to the starting job he had lost earlier in the season. The Saints bumped previous starter Corey White all the way down to fourth in the rotation. Perhaps the Saints valued the speed of Robinson and Brian Dixon since they were facing Baltimore's speedy No. 2 and No. 3 receivers. But next week's opponent, the Pittsburgh Steelers, present a similar challenge.
Cornerback Keenan Lewis also wasn't perfect, but it's a good sign that he's getting close to full health after playing every snap. It will be interesting to see if the Saints plan to match up Lewis against Pittsburgh's outstanding receiver, Antonio Brown.
Rookie Ronald Powell made his NFL debut on defense. But he played just one snap -- and he was the guy who didn't get on the field in time when the Saints had to burn a timeout with just 10 men on the field.
The Saints got burned for going with just five active defensive linemen. When Brodrick Bunkley went down with an injury, John Jenkins was their only remaining nose tackle, and he appeared to struggle in the role.
November, 25, 2014
Nov 25
3:00
PM ET
METAIRIE, La. -- ESPN analysts Steve Young, Trent Dilfer and Ray Lewis absolutely nailed the current state of the
New Orleans Saints
in their postgame breakdown after Monday night's
34-27 loss
to the
Baltimore Ravens
.
Naturally, the ex-QBs Young and Dilfer were defensive of
Drew Brees
. But they correctly pointed out that Brees' woes are magnified because -- as Young put it -- he's been "neutered because he has no help."
Here's the recap:
[+] Enlarge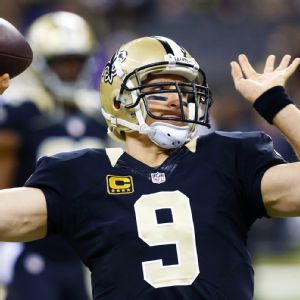 AP Photo/Jonathan BachmanThe problems surrounding Drew Brees appear more prominent when the Saints QB does make a mistake.
Young: "You gotta know that whoever that wild-card team that has to come down here if that's the case ... (the Saints) are just not gonna play enough defense. There's nothing about this Saints team that's scary, other than No. 9..."
Dilfer: "And he has to be perfect ..."
Young: "And he's been neutered because he has no help and he's not getting protected. So, to me, whoever comes out of the division, put 'em in the playoffs and they're gonna be one-and-out. There's no way you can go forward with what they have. Now, we've seen teams get hot and strengthen and turn the ball over defensively. But (Sean Payton said last week) it's a six-game season? I think it's gonna be tough for them to get very far."
Dilfer: "What's unfair is when you're not supported by a good defense, it magnifies every mistake..."
Young: "And you're unprotected by the offensive line..."
Dilfer: "Yeah, it magnifies every mistake you make. So Drew (had some) missed throws. He wasn't perfect. But hardly any quarterback is perfect. But his mistakes become magnified because you feel like every time he has the ball, he has to be perfect."
Dilfer and Young then dissected how often Brees was under pressure on Monday night, when Brees was sacked four times and hit as he threw the third-quarter interception that was returned for a touchdown.
"It just takes away from his brilliance, because there is so much good that No. 9 does to get things going," Dilfer said.
Protection hasn't been a constant issue for Brees this season -- but it certainly was on Monday night since the Saints couldn't run against Baltimore's defense and became one-dimensional.
Young put Brees in the elite class with
Tom Brady
,
Peyton Manning
and
Aaron Rodgers
and said all of them "go south" when they have protection issues.
"The problem with what's happening with Drew now is he's 35 and everybody's starting to talk about (a decline), and this is only going to add to that. And that just frustrates him, I'm sure," Young said. "But unfortunately he doesn't have a lot of weapons to fight back with right now."
Host Steve Levy then pointed out the Saints can no longer count on their home mystique, either, after dropping three straight home games for the first time since 2006-07. The Saints' streak of 14 straight prime-time wins in the Mercedes-Benz Superdome fell on Monday night.
Then Lewis interjected with perhaps the most damning line of all:
"They were good then, Steve."
"That's a big deal," Young added. "The whole league knew, no matter how they were playing they could come down here (in the Superdome) and get healthy. Things could get right. Now that's all gone. You have nothing left."
November, 25, 2014
Nov 25
1:00
PM ET
A quick observation of quarterback
Drew Brees
and how he played in the
New Orleans Saints
' 34-27 loss in Week 12:
Believe it or not, Brees is actually on pace to throw for 5,078 yards with 32 touchdowns and a league-best 70.3 completion percentage.
Brees
But it's still easy to see that he's not playing up to his usual standard. And it's easy to identify why: the turnovers.
Brees has thrown 11 interceptions and lost two fumbles this year. And it's not just the volume that's disturbing -- it's how incredibly costly they've been in huge moments. His interception returned for a touchdown in the third quarter of Monday's loss to the
Baltimore Ravens
was the latest example.
Brees has thrown three pick-sixes this year. Only
Blake Bortles
and
Austin Davis
have thrown more, according to ESPN Stats & Information.
Brees' accuracy also has been a tick off on some of his deep balls throughout the year and some of his red zone throws Monday night. And I don't disagree with analysts who say he's
not the same as usual
this season.
But I also believe that's magnified by the fact that the Saints so desperately need Brees to do it all for them. Brees has been pressing too much with the Saints' defense once again playing so poorly (
a flashback to 2012 in both regards
).