October, 21, 2014
Oct 21
4:00
PM ET
The New Orleans Saints' season is stuck on repeat. Once again,
Drew Brees
and the offensive line were great for most of Sunday's game against the
Detroit Lions
-- but dreadful for about 20 percent. This time, that lull came during a fourth-quarter collapse in a stunning 24-23 loss.
As I wrote in Tuesday morning's
Film Don't Lie
breakdown, this season has not been a case of Brees constantly facing pressure. In fact, the Saints rank among the top NFL teams in that department.
But when Brees has been under duress, it has led to disaster. He threw a career-high 10 straight incomplete passes during the fourth quarter at Detroit, including a game-changing interception on third-and-9 with 3:20 remaining.
I'll start this week's play-by-play review with what went wrong:
[+] Enlarge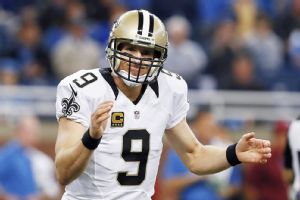 AP Photo/Paul SancyaDrew Brees had a stretch of 10 consecutive incompletions against the Lions.
The interception:
The Lions blitzed five rushers, and Saints left tackle
Terron Armstead
got beat by end
George Johnson
, forcing Brees to scurry up in the pocket. Brees still found room and was able to step into his throw. But he admittedly kept his eyes on receiver
Marques Colston
for too long while waiting for Colston to shake cornerback
Danny Gorrer
. Safety
Glover Quin
, playing the role of "robber," easily jumped the route.
The final drive:
The Saints' offensive line really started to struggle over the final 1:48, with New Orleans needing a field goal to win. The Lions went with just a four-man rush for most of the drive, but they still caused major headaches.
End
Darryl Tapp
spun through the duo of right tackle
Zach Strief
and tight end
Jimmy Graham
to force an incomplete pass on the final fourth-and-3. Earlier on the drive, end
Ezekiel Ansah
burned Armstead to force one incompletion and got eventual pressure past Armstead on another. Guards
Jahri Evans
and
Ben Grubbs
each got beat more than once by tackles
Ndamukong Suh
and
Nick Fairley
on that drive. And Strief struggled at least one other time with end
Jason Jones
.
Brees, line started great:
That finish was hardly representative of the entire game. Brees completed 26 of his first 31 passes (not counting an intentional spike) for 335 yards and two touchdowns. He had plenty of time on many throws as he rediscovered receivers Colston and
Kenny Stills
. He even found the deep ball again with a beautiful 46-yard TD pass in stride to Stills in the third quarter.
Stills beat cornerback
Darius Slay
with an in-and-up move. And running back
Travaris Cadet
did a great job picking up a blitz to allow Brees time to step into the throw, which sailed 46 yards in the air.
By the way, Brees wasn't perfect on those deep throws, but it wasn't a matter of arm strength. He earlier threw one 50 yards in the air that overshot receiver
Robert Meachem
, who had a full step behind two defenders.
The pass protection also wasn't perfect (center
Jonathan Goodwin
struggled twice against Suh, and running back
Khiry Robinson
missed a blitz pickup on a sack). But it was very good. Most of Brees' throws were in the 20-yard range to Colston in the middle of the field. The Saints needed that with Graham limited by a shoulder injury and the run game limited by Detroit's defense.
Graham's quiet day:
I can't decide if Graham was truly used as a "decoy" in the literal sense of the word. Brees targeted him only twice, both times in the fourth quarter on desperate throws under pressure. But I'm not sure there was a deliberate plan never to throw Graham's way since he was on the field for 30 snaps (mostly in the hurry-up offense).
Mostly, Graham ran short routes into the flat. And maybe Brees would have checked down to him if he wasn't having so much success throwing down the field. Graham was even involved in a few chip blocks at the line of scrimmage and a couple run blocks (one an outstanding block against linebacker
DeAndre Levy
on a 12-yard run by
Pierre Thomas
. So it's not like the Saints completely kept Graham under bubble wrap.
Running the wrong way:
The Saints had a handful of nice double-digit runs (one each by Thomas, Robinson,
Mark Ingram
and Brees). But they also had a handful of runs that went for minus-3 and minus-4 yards.
Detroit's Suh lived up to his reputation in that department, but the Saints' run-blocking issues seemed to spread across the board. Armstead had a few miscues. Evans, Grubbs, tight end
Josh Hill
and fullback
Austin Johnson
each got beat at least once or twice.
The most costly miscue was Robinson's fumble after a 4-yard gain in the second quarter. Robinson got his pads low as he braced for contact, but Detroit tackle
C.J. Mosley
got even lower and popped the ball loose with a shoulders-to-shoulders hit.
Mostly, the Saints just decided to throw the ball against Detroit. Fifteen of the first 18 play calls were passes. The screen passing game was also shut down repeatedly.
Costly (questionable) penalties:
It's easy to see why Sean Payton was so upset by the officiating since the two most egregious missed calls hurt the offense. Cadet got taken out by a head slap by Fairley when he was heading out for a screen pass on a third-down play in the fourth quarter. And Colston was flagged for an illegal block that wiped out a first-down in the third quarter, even though the replay showed that linebacker
Josh Bynes
actually stumbled over his own teammate.
Other good stuff:
The Saints had a lot of success with their no-huddle offense and some quick snaps. They scored a quick field goal at the end of the first half and a quick TD to start the second half in hurry-up mode. They also hit Colston wide open for a third-down conversion after a quick snap when Detroit's defense wasn't set yet. … The 13-yard play-action TD pass to Johnson in the second quarter was very well designed and aided by a great block by Stills.