September, 14, 2014
Sep 14
7:00
PM ET
EAST RUTHERFORD, N.J. -- Earlier in the week, I asked
New York Giants
defensive end
Jason Pierre-Paul
whether sacking a quarterback is something you have to remind yourself how to do when it's been a while. You're not allowed to do it in practice, and starters don't play much in the preseason. Pierre-Paul had just two sacks in the Giants' last 24 games entering Sunday's game against Arizona. He was hungry.
Pierre-Paul
"Yes, absolutely," he told me Thursday. "It's like if you go a long time without driving a car. You have to remind yourself about every step. Put on the seatbelt. Check your mirrors."
Pierre-Paul said making tackles in the run game helped, but that the feeling of finishing off a quarterback when you get close to him is unique and special.
He got to feel it again in the first quarter Sunday, when he sacked Arizona quarterback
Drew Stanton
on the seventh play of the game. He teamed with
Mathias Kiwanuka
on another sack of Stanton in the third quarter. For the game, the Giants had four sacks, as
Robert Ayers
got one and defensive tackle
Johnathan Hankins
got the first sack of his career. It was refreshing for a team that's determined to improve on last year's total of 34 sacks to collect a few in Week 2, even if it was against a backup quarterback who seemed to be holding the ball too long.
"That's what we have to do as a defensive line," Pierre-Paul said. "That's our job. Get to the quarterback. We've got to do it even more."
Second-year defensive end
Damontre Moore
looked active in the pass rush, and he will play end on occasion as Pierre-Paul and/or another end moves inside to play tackle on passing downs. The Giants believe they have a good rotation at defensive end and should be able to generate more pressure on quarterbacks than they did a year ago, even though 2013 sack leader
Justin Tuck
is now an Oakland Raider. Sunday's game may have reminded them what it's like to have a strong pressure game. And as Pierre-Paul admitted earlier in the week, everyone could use a refresher.
September, 14, 2014
Sep 14
7:00
PM ET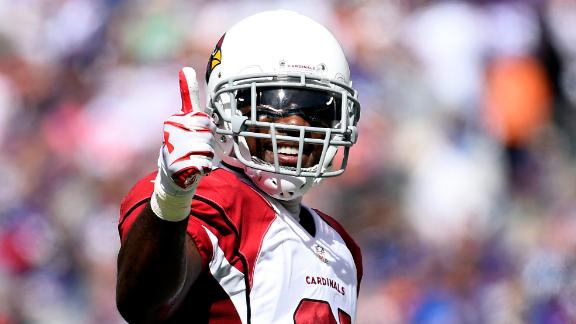 EAST RUTHERFORD, N.J. -- The most disappointing group in the
New York Giants
'
25-14 loss
to the
Arizona Cardinals
wasn't the much-maligned Giants offense. It was their special teams unit.
The Giants had a 14-13 lead early in the fourth quarter Sunday, before back-to-back special teams gaffes handed the Cardinals two scores and, ultimately, a victory.
First, the Giants allowed
Ted Ginn
to return a
Steve Weatherford
punt 71 yards for a touchdown. Yes, Ginn is a very good returner, with six combined kick and punt return touchdowns in his career entering Sunday's game. But Giants gunner
Zack Bowman
had Ginn practically tackled right after the catch, before Ginn wiggled free and sprinted through the rest of the Giants' coverage team to the end zone.
"I went in there, took a shot at him, hit him real hard and I was trying to wrap him up and I just wasn't able to wrap him up," Bowman said. "Everybody has their lanes and stuff that they need to fill, we weren't able to do it. But at the end of the day, it starts with me. I make the contact, [if] I get him down, no touchdown."
Weatherford, who gamely gave it a go Sunday despite tearing ligaments in his left ankle six days ago, tried to make a touchdown-saving tackle, but missed.
"I don't think my ankle is to blame for that," Weatherford said. "At that point in the game I would have liked to hit a better punt than that, better hang time."
"It wasn't his fault," coach Tom Coughlin said. "It had to do with pushing off of that bottom [left] foot."
The worst was yet to come. On the ensuing kickoff, the Giants'
Quintin Demps
caught the ball four yards deep in the end zone, took it out, and subsequently fumbled at the Giants' 22-yard line, recovered by the Cardinals.
"I didn't squeeze the ball," Demps said. "I was fighting for extra yards. ... Nobody's fault but mine. Gotta protect the ball."
The Giants finished 27th in the NFL in kickoff return average last season (21.2 yards), and signed Demps, who was third in the league individually last year (30.1 yards), including a 95-yard touchdown return.
But Demps gained just 14 yards in his one return against the
Detroit Lions
last week, and failed to advance the Giants past the 22-yard line on the five other kickoff returns he had against the Cardinals, besides the fumble.
"Very frustrating, especially for myself," Demps said. "I know I gotta get it together, I know that. ASAP."
The Giants, who also were 26th in punt return average (7.2 yards) last season, hoped to have a much-improved return game in 2014. But Demps hasn't panned out as of yet,
Trindon Holliday
injured a hamstring in training camp and didn't make the final roster, and first-round draft pick Odell Beckham has yet to make it onto the field, also because of a hamstring issue.
Bowman is a new addition, too, on a team that gave up three punt returns for touchdowns a year ago, tied for the league lead.
The names have changed, but so far, the results look very familiar.
September, 14, 2014
Sep 14
6:35
PM ET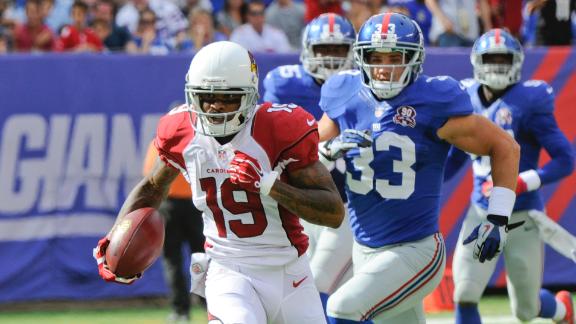 EAST RUTHERFORD, N.J -- Victor Cruz is one of the last professional athletes in this market any critic would want to slash and gash. He is accountable to his team, he is accessible to fans and reporters, and, better yet, he is local.
The pride of Paterson, New Jersey, gets it. Cruz didn't lose his way on the high-speed freeway from undrafted scrub to Super Bowl champ and crossover celebrity, and he proved it two years ago in the way he responded to a family in dire need, the Pintos of Newtown, Connecticut, who buried their murdered son in the colors of his favorite New York Giant, white jersey No. 80.
An ambassador of the Giants' brand and the kind of uplifting figure the NFL could use now more than ever, Cruz has done his franchise proud. At a time in sports when stars try to make themselves untouchable, retreating from a media climate (social and otherwise) defined by 24/7 surveillance, Cruz remains touchable. He stands at his locker in good times and in bad.
So it was no surprise Sunday that the most recognizable receiver on an 0-2 football team turned and faced a circle of inquiring minds and, without blinking, fielded all questions fired like tight spirals at his chest.
On cue, Cruz took full responsibility for a couple of fourth-quarter drops, including one on third down that helped turn what looked like a necessary home victory over the Arizona Cardinals into a Week 2 disaster that could destroy the season.
Cruz showed a hint of defiance just once, when asked about the fellow locals in the stands booing him for the first time.
"I could care less," the receiver said.
September, 14, 2014
Sep 14
6:25
PM ET
September, 14, 2014
Sep 14
6:15
PM ET
EAST RUTHERFORD, N.J. -- The
New York Giants
lost another game Sunday, and lost two key defensive players as well.
Middle linebacker
Jon Beason
and cornerback
Walter Thurmond
suffered injuries in the Giants' 25-14 loss to the
Arizona Cardinals
, and their availability for next week and beyond is uncertain.
Beason
Beason and Thurmond both exited the game in the second half and did not return. Beason suffered a toe injury, and will undergo an X-ray and MRI. Coach Tom Coughlin said he thinks it is the same toe Beason injured in the spring, which caused him to miss the entire preseason.
Thurmond suffered a pectoral injury and said he will have tests done Monday as well.
"It's kind of sore right now," Thurmond said. "Hopefully it's not too bad, where I can come back very quickly from this. I'll know more in the next couple days."
Beason was credited with turning the Giants' defense around last season after coming over via trade from the
Carolina Panthers
in October, and he was named a defensive captain prior to the start of this regular season.
His injury left the Giants very thin at linebacker, since rookie
Devon Kennard
was inactive due to a hamstring injury.
Mark Herzlich
, primarily a special teams player, had to enter in Beason's place.
Thurmond is the Giants' third cornerback but plays a lot, with teams using three and four wide-receiver sets so frequently.
Trumaine McBride
stepped in for Thurmond -- McBride did play very well last season for the Giants after replacing the injured and ineffective Corey Webster.
September, 14, 2014
Sep 14
6:00
PM ET
EAST RUTHERFORD, N.J. -- If you were looking for some kind of complex explanation from
New York Giants
running back
Rashad Jennings
, you're going to be disappointed.
Jennings' noncontact fumble in the final five minutes of Sunday's 25-14 loss to the
Arizona Cardinals
was about as simple as it gets.
[+] Enlarge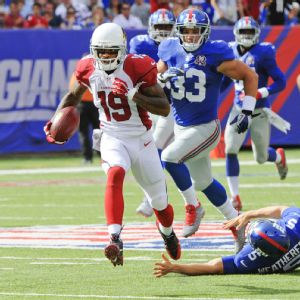 AP Photo/Bill KostrounTed Ginn's punt return for a touchdown was part of a series of miscues that saw the Giants' one-point lead turn into an eight-point deficit between touches on offense.
"I turned around. My foot didn't get set on the ground. I slipped as I took off running. My elbow hit the ground. The ball came out," Jennings said.
That is pretty much what everyone saw, and Jennings has no idea why such a thing would happen. The Giants were down by eight points and driving. This happened on the Arizona 15-yard line, with the goal line in sight and the game still attainable.
"We were moving the ball. No doubt we were going to score," Jennings said. "That one hurts."
That last part could be applied to the game itself. The Giants didn't play beautifully by any means, but their offense did look considerably more competent Sunday than it had six days earlier in the season-opening loss in Detroit. The defense had done a decent enough job bottling up Cardinals quarterback
Drew Stanton
, who started in place of an injured
Carson Palmer
. The Giants got to the fourth quarter of their home opener with a 14-10 lead against a team playing its backup quarterback, which sure sounds like a recipe for a win.
But win they did not, because of a stunning run of fourth-quarter mistakes that took them out of the game.
Up 14-13 with 10:36 to go,
Victor Cruz
dropped a third-down pass from
Eli Manning
and the Giants punted. Arizona's Ted Ginn returned the punt 71 yards for a touchdown. The two-point conversion failed, but Giants safety
Quintin Demps
fumbled the ensuing kickoff and the Cardinals would get a field goal out of that gaffe.
"We've got a one-point lead, and the next time we touch the ball, we're down eight," Manning would say when it was over.
Tough to believe, but then Jennings' blunder made it even tougher to believe -- and ensured that the Giants would start 0-2 for the second season in a row.
It boils down to this: The Giants aren't a good team right now. They're a work in progress on offense, and while the defense looked better as this game went along, the secondary was a ragged, penalty-infested mess at the beginning.
In spite of that, the Giants were in a position to win it. But when you're not a good team, you can't get away with the kinds of mistakes they made. They turned the ball over four times, forced zero turnovers and committed nine penalties.
"When you do have an adverse circumstance, you've got to fight your way out of it," Giants coach Tom Coughlin said of the way in which the fourth-quarter mistakes piled on top of each other. "But we would have been fine if we scored."
The problem is, right now, scoring is tough for the Giants. If you can't score
and
you're going to make a whole bunch of mistakes, you're going to lose. Pretty much every game. Even the ones you feel like you have in your pocket.
"We talk about winning the fourth quarter," Coughlin said. "We had the lead 14-13, and from there it was a nightmare."
Second time in as many weeks that Coughlin has used that word, "nightmare," unsolicited in a postgame news conference. That's a sign things are a long way from being fixed.
September, 14, 2014
Sep 14
4:04
PM ET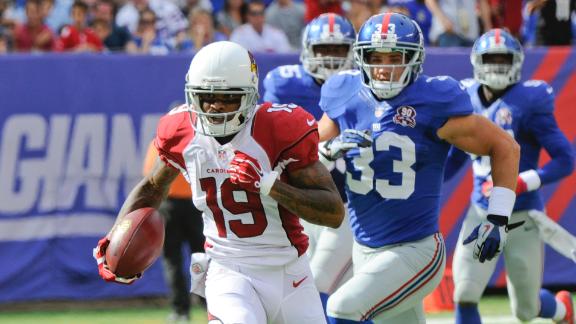 EAST RUTHERFORD, N.J. -- A few thoughts on the
New York Giants
' 25-14
loss
to the
Arizona Cardinals
at MetLife Stadium.
What it means:
It means an 0-2 start for the second year in a row, and this was a gut-punch loss. The Giants had a 14-10 fourth-quarter lead in their home opener against a Cardinals team playing a backup quarterback, and they handed Arizona the game with a pair of fumbles and a blown punt coverage. The offense actually looked competent for long stretches Sunday, but it's still a ways from dynamic, and it can't afford the turnovers. They were moving the ball with a chance to tie it when
Rashad Jennings
fumbled the ball away on the Cardinals' 15-yard line with 4:30 to go.
Stock watch:
Giants special teams -- DOWN. This game fell apart for the Giants in the fourth quarter when Arizona's
Ted Ginn
returned a punt 71 yards for a touchdown and Giants kick returner
Quintin Demps
fumbled away the ensuing kickoff. That resulted in a total of nine points for Arizona (touchdown, missed two-point conversion, field goal) and turned a 14-13 Giants lead into a 22-14 deficit. Not even the Giants' good special teams plays were good. Jennings blocked a punt in the third quarter, but a penalty on Demps forced the Giants to start the drive on their own 18.
Key injuries on D:
Linebacker
Jon Beason
(toe) and cornerback
Walter Thurmond
(pectoral) had to leave the game due to injuries, and either would be a significant loss. With
Devon Kennard
already out with a hamstring injury, Beason's injury left the Giants thin at linebacker and required
Mark Herzlich
to play in the middle in the second half. He struggled. The Giants have depth at cornerback, but they believe Thurmond gives them an edge in the nickel spot because he's among the best in the league at that role.
Game ball:
DE
Jason Pierre-Paul
. The Giants' pass rush did a good job getting to Arizona backup quarterback
Drew Stanton
(who started in place of an injured
Carson Palmer
), and Pierre-Paul set the tone early. He played the run well again and ended up with his first 1.5 sacks of the year. When Pierre-Paul is clicking, the Giants' pass rush is clicking. It's no coincidence that they had four sacks in a game Pierre-Paul played with good energy.
What's next:
The Giants host the
Houston Texans
at 1 p.m. ET Sunday at MetLife Stadium.
September, 14, 2014
Sep 14
12:45
PM ET
EAST RUTHERFORD, N.J. -- No surprises on the list of
New York Giants
inactives for Sunday's home opener against the
Arizona Cardinals
, but there is big news from the Arizona end of things, where starting quarterback
Carson Palmer
is
inactive due to a shoulder injury
. Backup
Drew Stanton
, who hasn't played in the NFL since 2010, will start for the Cardinals.
This is welcome news for a Giants team that doesn't have its own offense together and likely will need a low-scoring game to win. Recall that when the Giants started to win games last year after an 0-6 start it was a run of games against backup quarterbacks -- Minnesota's Josh Freeman, Green Bay's
Scott Tolzien
, Philadelphia's
Matt Barkley
-- that helped get them off the mat. No way to know what to expect from Stanton today, and obviously the Giants have plenty of their own issues to figure out, but it's not unfair to believe Stanton starting gives them a better chance to win than they'd have had with Palmer starting.
For the Giants, the list of inactives is as follows:
This means punter
Steve Weatherford
is going to go in spite of a sprained left ankle and that 2014 third-round pick
Jay Bromley
is active for his first NFL game and could factor into the defensive tackle rotation along with
Johnathan Hankins
,
Cullen Jenkins
and
Mike Patterson
. Jenkins missed some practice time this past week with a hip injury, so there could be some snaps available there.
For the second week in a row,
John Jerry
starts at right guard with
Brandon Mosley
on the bench.
We'll be here all day with your updates. Enjoy the game.
September, 14, 2014
Sep 14
11:38
AM ET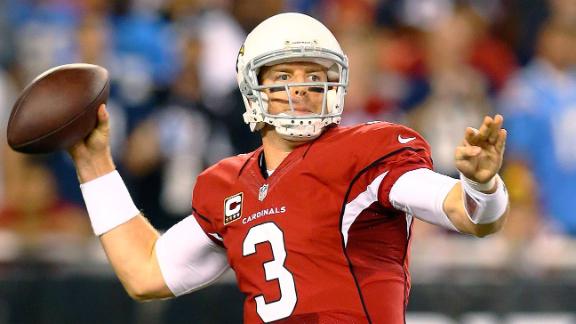 EAST RUTHERFORD, N.J. -- Arizona Cardinals quarterback Carson Palmer will not play Sunday against the New York Giants.
Palmer was limited all week with a right shoulder injury -- his throwing shoulder -- and was ruled questionable on Friday's injury report.
"It's a little bit of a nerve thing and they're very finicky," Cardinals coach Bruce Arians said on Friday.
Backup quarterback Drew Stanton will get his first start -- and first game action -- since Dec. 19, 2010 when he was with Detroit, a stretch of 1,365 days. In Week 15 that season, he was 23-of-37 passing for 252 yards and a touchdown in a 23-20 win over Tampa Bay. Stanton also ran for 24 yards.
During the 2014 preseason, Stanton was 27-of-38 (71.1 percent) passing for 341 yards and three touchdowns.
Without Palmer, rookie Logan Thomas would be activated as the backup quarterback.
September, 13, 2014
Sep 13
3:00
PM ET
The
New York Giants
play the
Arizona Cardinals
at 1 p.m. ET on Sunday at MetLife Stadium. Here are three things we'll be watching especially closely as the Giants try to avoid an 0-2 start:
[+] Enlarge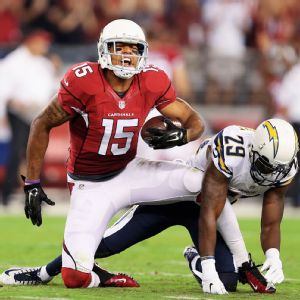 Christian Petersen/Getty ImagesArizona has many potent options in the passing game, none more dangerous than Michael Floyd, who had 119 yards in the opener.
1. How will they cover the Cardinals' receivers?
Coverage was a big problem Monday night in Detroit against
Calvin Johnson
,
Golden Tate
and the Lions, and it's not likely to get much easier this week. The Cardinals love to empty the backfield and load up with multiple-wide-receiver sets. You'll see the Giants in nickel and likely some dime this week, with
Trumaine McBride
on the field as a fourth cornerback in some situations. The biggest threat right now among the Arizona receivers is
Michael Floyd
, although rookie
John Brown
is a speed threat on the outside and veteran
Larry Fitzgerald
obviously can't be ignored in the slot. The Cardinals also throw to their tight ends and can throw it to running back
Andre Ellington
out of the backfield if Ellington is healthy. There's going to be a lot to keep track of in the secondary for a Giants team that didn't look to have everything together back there in the opener.
2. Will they get the ball to Victor Cruz?
The Giants' best wide receiver said Tuesday that he thinks the offense will work better if he and
Rueben Randle
see more targets, so it'll be interesting to see whether New York runs plays specifically designed to do that. The Giants threw to
Jerrel Jernigan
and
Larry Donnell
a lot Monday because those guys were open, so the question becomes whether Randle and Cruz can get separation from defenders in short range better than they have so far -- and whether Cruz, who dropped two passes Monday, can catch everything they do throw to him. It's an offense that's out of sync, and a lot depends on the ability of the big guys up front to protect quarterback
Eli Manning
and allow him to get comfortable. But assuming he has enough time back there, it's important to watch to see how his timing with his better receivers looks this week. That's where the improvement has to come.
3. Can they run the ball against Arizona?
The Cardinals' defense was the toughest against the run in the entire league last year, and it allowed just 52 rushing yards last week to a San Diego team that wants to establish the run. So it won't be easy, but the Giants still believe the best way to get their offense going is to establish balance and run the ball reliably.
Rashad Jennings
is the lead back, and if they can get enough run plays into the game (i.e., extend some drives with some first downs), they could work
Andre Williams
into the mix more as a ball carrier. But they need to find a way to get their bread-and-butter run plays blocked against Arizona's tough front early in the game or they won't be able to operate the rest of the offense the way they want to.
September, 13, 2014
Sep 13
10:00
AM ET
Thanks to all of you who keep coming up with
New York Giants
questions and sending them in via Twitter with the #nygmail tag. This weekly feature would, quite literally, not be possible without you.
@DanGrazianoESPN Stevie Brown blew some coverages two years ago. Looks like he was involved in a few big DET gains. Did you see? #nygmail

— Alex Weber (@nycwebs90) September 10, 2014
@DanGrazianoESPN: Giants safety Stevie Brown was one of several culprits on Calvin Johnson's 67-yard touchdown catch in the first quarter Monday Night in Detroit, as he collided with cornerback Dominique Rodgers-Cromartie and allowed Johnson to come wide open to receive the pass from Matthew Stafford. From what I could see on the play, it looked as though Rodgers-Cromartie let Johnson go anticipating the safety help from Brown, but Brown was coming up to play the quarterback scramble because it looked as though Stafford was going to try to run after he had eluded the Damontre Moore pass rush. If this is the case, it was a bad decision by Brown, as a run by Stafford in that situation is a far less damaging event than allowing Johnson to get open. Someone surely would have tackled Stafford if Brown didn't come up to do it. But once he let Johnson go by him, there was no one to stop the league's best receiver from going the distance. Brown in general was hit-and-miss in coverage in his breakout, eight-interception 2012 season. But he has looked more reliable as an all-around safety in camp and in the preseason. He can come up and play the run, and he can handle himself in coverage. I think he's going to be fine back there, but the breakdown on that play in particular was inexcusable.
@DanGrazianoESPN #nygmail it seemed like the giants d line was getting decent pressure most of the game, was that their strongest unit?

— Yokes (@RyYokes) September 11, 2014
@DanGrazianoESPN: You could make that case, but the Giants' defensive line wasn't happy with its own performance. The pass-rushers aren't satisfied with getting to the quarterback and hurrying him. They want to sack him. After collecting just 34 sacks last season, the Giants' pass rush is focused on bringing that number up, and they are not happy they only had one sack Monday Night. Jason Pierre-Paul was very good against the run, as were Cullen Jenkins and Johnathan Hankins on the interior of the line. But Pierre-Paul isn't satisfied with playing the run well. He wants sacks, and he wants Moore, Mathias Kiwanuka and Robert Ayers to get sacks, too. So if you want to say the defensive line was the Giants' strongest unit in the opener, I think I can agree with that. But I also think it's important to remember that (a) that's not necessarily a compliment, considering the way the other units looked and (b) the defensive line isn't going to be happy with its own performance unless the sack totals improve.
@DanGrazianoESPN you think DRC shadows fitz or Floyd? My gut says fitz, but Floyd looked great last week. #nygmail

— RFG (@rgennario) September 11, 2014
@DanGrazianoESPN: If the Giants stick to their plan of having Rodgers-Cromartie shadow the opponent's top wide receiver, he is going to go with the Cardinals' Michael Floyd this week. Floyd plays on the outside, and the Cardinals have been using Larry Fitzgerald in the slot. Floyd is, at this point, a bigger, faster, scarier threat than Fitzgerald, who is likely to draw Walter Thurmond if he stays in the slot. I'm more intrigued by the rookie, Arizona's John Brown, who plays on the side opposite Floyd. He is super-fast, and Prince Amukamara could have a hard time staying with him. Amukamara has looked fantastic through camp and the preseason, and I thought he looked good Monday. I wrote something in camp about how he feels faster this year because of new, lighter cleats he's wearing. So it's possible he can handle the speedy rookie. But the coverage situation will surely be worth watching, as Arizona runs a lot of four-wide and five-wide sets with empty backfields. You're likely to see a lot of nickel and dime packages from the Giants on Sunday, with Trumaine McBride coming in as a fourth cornerback in a lot of situations.
@DanGrazianoESPN #nygmail why is Jaquan Williams on the team?

— ® (@Rdubbyy) September 11, 2014
@DanGrazianoESPN: This question about linebacker Jacquian Williams obviously rises from the fact that Williams had a rough game Monday. But his case is an interesting one, as he did not come off the field for any of the team's 68 defensive snaps. Williams used to be a linebacker the Giants used on the weak side in their nickel package. But they believe he developed this offseason as a guy they could use on all three downs, and they backed that up Monday by playing him every play. His strength is supposed to be as a coverage linebacker because of his speed, and though he did struggle Monday, they are not giving up on him just yet. Expect him to stay on the field for much if not all of the game Sunday, especially because Arizona will use tight ends in the passing game and they believe Williams is among their best bets for coverage against tight ends..

Thanks for all of the questions. Enjoy the rest of your Saturday.
September, 12, 2014
Sep 12
4:30
PM ET
EAST RUTHERFORD, N.J. --
Victor Cruz
began the week by saying he needs to be more involved in the Giants' offense, and
have more balls thrown his way
.
He ended the week talking positively about the offense, saying he saw signs of progress this week.
"I did. I saw kind of a higher energy out there on the practice field, a lot of guys paying attention to detail," Cruz said Friday. "We were excited to be out there, and you could really see the difference."
Cruz
But it won't be easy to rack up passing yardage Sunday, against a very talented
Arizona Cardinals
secondary. All-Pro cornerback
Patrick Peterson
, who signed a $70 million contract extension this summer, may be the best in the league. And fellow corner
Antonio Cromartie
, who was with the
New York Jets
the past four seasons, made the Pro Bowl in 2012 and 2013.
Cruz, who mostly plays in the slot, isn't sure who he'll be lining up against on Sunday -- but he likes his team's chances.
"We definitely think we're gonna see a lot of man-to-man coverage, which is something that we feel like we can take advantage of," he said.
The bottom line:
The Giants' offensive line struggled in Week 1 -- in fact, all five starting O-linemen received negative grades, according to Pro Football Focus.
To beat the Cardinals, the Giants need them to create more holes for the running backs, and give
Eli Manning
more time in the pocket.
It is a brand-new unit, with three new starters on the interior, in between left tackle
Will Beatty
and right tackle
Justin Pugh
.
"Play with more continuity, together," coach Tom Coughlin said, when asked what he is looking for. "Hopefully the young guy (rookie
Weston Richburg
) has got a game under his belt, he'll play better. The whole team has to play more physical against a very good, physical team."
The Cardinals played very well up front on defense in an 18-17 win over the
San Diego Chargers
in Week 1, giving up just 52 rushing yards on 24 carries -- the second-fewest rushing yards in the league. Only the Jets gave up fewer (25), against the
Oakland Raiders
.
Family reunion:
Giants tight end
Daniel Fells
will be playing against his younger brother, Darren, on Sunday.
Darren, 28, is two years younger than Daniel, but is just starting his NFL career. He passed up football to play college basketball at UC-Irvine and then played professionally overseas before deciding to take up football again.
He spent time on the Cardinals' practice squad last season, and made the final 53-man roster this year, although he was inactive last week. He, like his brother, plays tight end.
"I think they fly in this evening, so hopefully I'll get to see him with a little bit of downtime tomorrow," Daniel said Friday.
The big 9-0:
This is the Giants' 90th season in the NFL, and the team will celebrate that before and during Sunday's home opener.
For instance, the players and coaches will run through a group of 90 season ticket holders when taking the field, and some season ticket holders will also be involved in unfurling a field-size American flag for the national anthem.
Former Giant and Hall of Famer Frank Gifford will serve as the team's honorary captain for the coin toss.