October, 31, 2014
Oct 31
4:45
PM ET
EAST RUTHERFORD, N.J. -- The
New York Giants
' coaches have one defensive game plan for Monday Night if cornerback
Dominique Rodgers-Cromartie
can play and another in case he can't. But based on the way Rodgers-Cromartie has practiced this week, they are optimistic he'll be able to help them against the Colts.
Rodgers-Cromartie
"We're working him, and it depends on how he feels," defensive coordinator Perry Fewell said Friday. "He's been good in back-to-back practices now, and that's something he didn't do before our last game. So we'll see how he feels (Saturday) and if it stiffens up, but it's that day-to-day assessment with him right now."
Rodgers-Cromartie has been dealing with leg and back problems for more than a month, and wasn't able to play in much of the team's Week 7 loss in Dallas. He's been getting treatment through the bye week, but his health issues obviously haven't cleared all the way up, and head coach Tom Coughlin said "I don't believe we can do that at this point" when asked about counting on Rodgers-Cromartie being able to play the whole game.
Colts quarterback
Andrew Luck
leads the league in passing yardage, so he obviously poses a serious challenge to a Giants secondary that is already without nickel cornerbacks Walter Thurmond and
Trumaine McBride
. A limited Rodgers-Cromartie is a potentially big problem in a game like this.
On the offensive side of the ball, Coughlin called guard
Geoff Schwartz
"a long shot" to return from injured reserve this week. Schwartz just started practicing this week on the toe injury that's kept him out since training camp, and they still have 17 more days before they are required to activate him.
And running back
Rashad Jennings
, who has already been ruled out of a third straight game with his knee injury, said he's still a few days from trying to move laterally on his leg, and that Week 11's game against the 49ers is a more realistic goal than the Week 10 game in Seattle, though he wouldn't rule that out.
October, 31, 2014
Oct 31
3:30
PM ET
EAST RUTHERFORD, N.J. -- The
New York Giants
don't play until Monday night, which is a nice break for rookie wide receiver
Odell Beckham Jr
. His mother, Heather Van Norman, is running in the New York City Marathon on Sunday, and because he has no game that day, Beckham has a chance to go and watch her.
Beckham
"I'm going to try and find her, maybe help her with that last stretch," Beckham said Friday. "I know she'll make it, but I'm going to be there for her."
Van Norman was a six-time All-America sprinter at LSU and is now the track and cross country coach at Nicholls State University. Beckham said she runs more than 10 miles a day but that this will be her first marathon. He said he'd like to run the final eight miles with her, though that seems unlikely considering he has a game the next night and the security measures the marathon has in place to make sure only registered runners are on the course.
Regardless, Beckham will be there to support his mother, with whom he has a strong running rivalry.
"We have this ongoing bet. She thinks she can beat me in the mile," Beckham said. "I don't even know what I run a mile in, but I know I'm faster than my mom."
Beckham said he didn't know how he'd navigate the course as a spectator, since he refuses to ride the subway and he knows streets will be closed. He also said his mother doesn't have a time goal -- that since it's her first marathon, "she just wants to finish."
Her and thousands more.
October, 31, 2014
Oct 31
1:00
PM ET
The
New York Giants
have to be encouraged by the brilliantly efficient passing day
Ben Roethlisberger
and the
Pittsburgh Steelers
had Sunday against the
Indianapolis Colts
' defense. Giants quarterback
Eli Manning
said he watched each of the last two Colts game -- their 27-0 shutout of the
Cincinnati Bengals
and their 51-34 loss to Pittsburgh. So he's seen the difference between having no success and a ton of success against the Indianapolis defense. Following the bye, this is a chance for the Giants' offense to start clicking again.
The problem is, I think they're going to have to score a ton of points, because Colts quarterback
Andrew Luck
is as hot as anyone in the league. In the Colts' last five games, Luck has completed passes to nine, seven, seven, eight and eight difference receivers. He's leading the league in passing yards and didn't miss a beat last week without veteran
Reggie Wayne
in the lineup. The Giants are banged-up and shorthanded in the secondary, and unless they have a huge pass-rushing game, they'll have a hard time covering everyone to whom Luck might throw the ball.
The Giants' best hope is to run their offense effectively, take time off the clock and limit the amount of time Luck and the Colts' offense spend on the field. But with starting running back
Rashad Jennings
out for a third straight game with a knee injury, their ability to do that could be compromised. The dropoff from Jennings (4.4 yards per carry) to rookie
Andre Williams
(3.1) has been more significant than the Giants anticipated, and the run game struggles have limited them on offense. So I doubt they have enough to outscore an offense like the one Luck's bringing to town.
Colts 36, Giants 28.
October, 31, 2014
Oct 31
10:48
AM ET
October, 31, 2014
Oct 31
10:45
AM ET
EAST RUTHERFORD, N.J. -- Former
New York Giants
defensive end and newly minted Pro Football Hall of Famer Michael Strahan will be presented with his Hall of Fame ring during a ceremony at halftime of Monday night's game against the Colts at MetLife Stadium.
The Giants say about 100 former Giants will be on hand for the game, and that they have something special planned for Strahan's ceremony:
Strahan

At halftime, more than 40 of Strahan's former teammates will recreate the gauntlet for the 2014 Hall of Fame inductee as he makes his way to the center of the field for the ceremony. Strahan will be joined on stage by fellow Giants Hall of Famers Frank Gifford, Harry Carson and Lawrence Taylor. He will be presented his ring by David Baker, the President and Executive Director of the Pro Football Hall of Fame.
Among the other Giants expected to be on hand are several who predated Strahan, including Mark Bavaro, Leonard Marshall and Carl Banks.
It should be a fun night if you're a Giants fan, and I think think the attention Strahan's football career has received this year has been especially fun for this most recent generation of Giants fans, who have long been told of the great players from Giants teams past but can embrace Strahan's August Hall of Fame induction and Monday night's ring ceremony as a way to reflect on the more recent Super Bowl triumphs. If your father has been telling you all about Taylor and and those guys your whole life, now you have your own Hall of Famer, from one of
your
Giants teams.
Celebrating Strahan is a way for the current generation of Giants fans to plug themselves into the history of the franchise and feel a part of the greatest aspects of it. You can obviously see Strahan on TV every single day of the year in his new, post-career roles. But remembering who and what he was as a player is an enjoyable reminiscence for those who enjoyed the surprise Super Bowl run of 2007-08.
October, 31, 2014
Oct 31
8:00
AM ET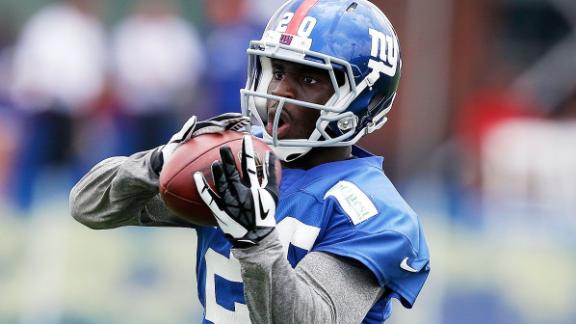 The
Indianapolis Colts
had won five games in a row before last week's 51-34 loss to Pittsburgh. The
New York Giants
had won three in a row before losing in Philadelphia and Dallas prior to last week's bye. These two teams are looking to remind everyone of better times as they meet at MetLife Stadium on "Monday Night Football."
ESPN Colts reporter Mike Wells and ESPN Giants reporter Dan Graziano are here with your game preview:
Wells
: Dan, the Cowboys went from Super Bowl contenders to having to worry about
Tony Romo
's back, and the Eagles are coming off a loss. Do you feel like the Giants have a realistic shot at winning the NFC East?
Graziano
: It's not impossible, but I don't think it's realistic. They trail Dallas by 2½ games and Philadelphia by two, and they lost to each of those teams before the bye. The idea that they could catch both is far-fetched, especially since they can't go 2-0 against either.
Fundamentally, I just don't think the Giants are very good.
Eli Manning
is playing well in the new offense, but the group around him is made up of young guys and backups. Injuries to
Victor Cruz
(out for the year) and
Rashad Jennings
(who will miss a third straight game) have sapped the offense of much of its explosiveness, and guys such as
Odell Beckham
,
Rueben Randle
,
Larry Donnell
and
Andre Williams
have shown promise but are still developing. The offensive line, also quite young in spots, has been inconsistent. On the defensive side, they're extremely banged up at cornerback and they just lost middle linebacker
Jon Beason
for the season.
The Giants are a team with a clear vision for the future and they've already shown progress in the new offense, but they're going to be outmanned most weeks.
How about the Colts? The group around
Andrew Luck
seems to have come together better than I expected it would. What are the main reasons (other than himself) that Luck is leading the league in passing yards?
Wells
: The main reason is that Luck's ability to spread the ball around makes it difficult for defenses to key on one area. He had back-to-back games earlier this season where he completed passes to nine different receivers. Another reason: Two key players -- receiver
Reggie Wayne
and tight end
Dwayne Allen
-- are back after having their 2013 seasons cut short. Wayne is second on the team with 434 receiving yards -- trailing only
T.Y. Hilton
-- despite missing the Pittsburgh game. Allen is tied with former Giants running back
Ahmad Bradshaw
for the team lead in receiving touchdowns with six.
Offensive coordinator Pep Hamilton took a lot of criticism last season for being determined to make Indianapolis a power-running team despite having Luck at quarterback. Hamilton is more comfortable in Year 2 as an NFL coordinator and it's showing, as the Colts run the ball just enough to keep defenses honest.
Manning is 22nd in the league in passing yards. Would it be safe to say he's on the decline of his career, or does he have enough left in the tank to win his third Super Bowl ring at some point?
Graziano
: I don't think he's declining. They just totally changed the offensive system. Longtime coordinator Kevin Gilbride "retired" (cough, was forced out, cough) and was replaced by Ben McAdoo, a former Packers assistant who brought Mike McCarthy's West Coast offense with him. The emphasis for Manning has been on avoiding turnovers after leading the league with 27 interceptions last year, and as a result the Giants are leaning hard on the run and the short-passing game. A whopping 67 percent of Manning's throws have traveled fewer than 10 yards down the field, compared with 61 and 62 percent the two seasons prior.
It's possible the offense develops more of a downfield element as everyone continues to develop -- especially first-round rookie Beckham, who has field-stretching speed but has only played three games. GM Jerry Reese said Monday that he'd like to see the offense be more aggressive, but coach Tom Coughlin has insisted that they're not looking to take more chances downfield and prefer to play it close to the vest so as to avoid a recurrence of last year's turnover problems.
Long term, I think Manning has enough time to win another Super Bowl if this new group develops around him. I imagine he'll get his contract extension this offseason, and the way the league is set up for quarterbacks right now, it's not crazy to think he has five or six good years left.
When we talked to Eli on Monday, he said he'd watched the Colts' past two games and noted the significant difference in the number of points they surrendered in them. His take was that the defensive scheme wasn't different but that Pittsburgh did a great job against it, while Cincinnati obviously did not. What on earth went wrong Sunday, and which Colts defense is the one we should expect to see Monday?
Wells
: I'm not even sure the Colts know what went wrong against the Steelers. There wasn't a defense in the league that probably could have stopped
Ben Roethlisberger
. Defensive lineman
Ricky Jean Francois
summed it up best when he said they got a wake-up call and Roethlisberger was a step ahead of them the entire game. He found the soft spots of the defense when they played zone and torched them when they blitzed. He also laid out the blueprint on how to beat a Colts defense that had 20 sacks and nine turnovers in the five games leading up to that matchup. Indy's front seven couldn't get any pressure on Roethlisberger; it was the first time since Week 2 that the Colts didn't have a sack.
Luck has thrown for at least 300 yards in six straight games. The Giants are 25th in the league against the pass. How do they expect to slow Luck down?
Graziano
: Their best bet is that the offense clicks and they put together long, sustained drives that keep Luck off the field for long stretches. Their pass defense is in tatters. Top cornerback
Dominique Rodgers-Cromartie
has been trying to play through leg and back injuries, and he doesn't seem to have improved much over the bye. They lost nickelback
Walter Thurmond
(arm) and backup nickel
Trumaine McBride
(thumb) to a season-ending injuries.
To overcome those losses, they've been putting
Prince Amukamara
on the opposing team's top receiver and experimenting with a three-safety look that includes
Antrel Rolle
,
Quintin Demps
and
Stevie Brown
, who was demoted earlier in the year due to ineffectiveness. It would help if they could generate more pressure on opposing quarterbacks, but in spite of a solid performance against the run,
Jason Pierre-Paul
and the rest of the defensive line have not been getting sacks. (As a team, the Giants have only 13 in seven games.) Luck has a chance for a big night.
If Luck does have a big night, however, it doesn't seem as though former Giant
Hakeem Nicks
will be a part of it. Has he been as much of a non-factor there as he was here last year, and if so, why do the Colts think that is?
Wells
: The Colts are saying the right things publicly, but it's been a mystery why Nicks hasn't been a factor. Last weekend's game basically summed up his time with the Colts. With Wayne out with an elbow injury, Nicks was the No. 2 receiver, but he was clearly outplayed by rookie
Donte Moncrief
. Nicks only caught one of the six targets from Luck for 27 yards while playing 60 of 66 snaps. Moncrief only needed 40 snaps to catch seven passes for 113 yards and a touchdown. You would have thought having a bigger role in the offense would help Nicks. Now you have to wonder if he'll fit in at all this season because Wayne will likely play Monday and Moncrief's performance may have been good enough to move him ahead of Nicks as the third receiver.
Graziano
: Thanks, Mike. Travel safe and I'll see you Monday.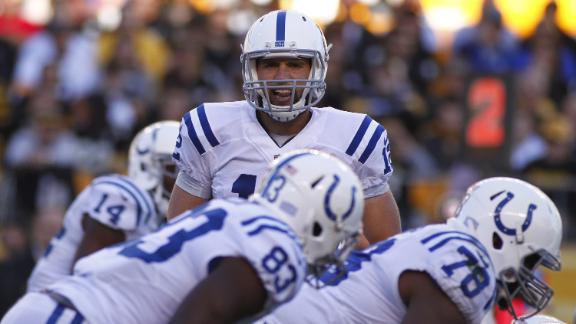 October, 30, 2014
Oct 30
5:30
PM ET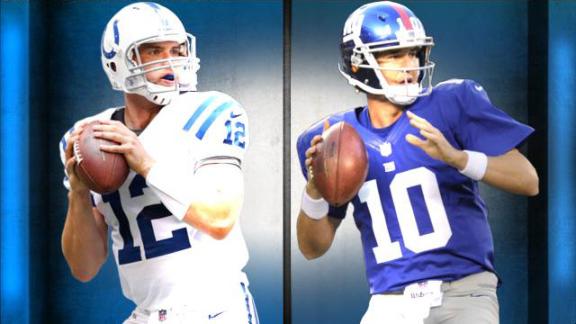 EAST RUTHERFORD, N.J. -- It all sounds good, and the fact that it came from his general manager forces him to take it seriously. But while
New York Giants
quarterback
Eli Manning
understands Jerry Reese's desire for the offense to be more aggressive, he wants to make it clear that he's not going to take chances with the ball just for the sake of taking chances.
"I think we're just trying to run the offense," Manning said Thursday. "I think we're trying to run things we feel comfortable with and that we know our guys do well. If we can create some throws down the field, that's great. But we can't force them just because you want to throw the ball downfield. We're looking for completions, and then hopefully we can create some big plays."
The Giants changed offensive coordinators and installed a new West Coast system designed to limit turnovers after Manning led the league with 27 interceptions last season. Manning has said he enjoys not having to constantly be trying to extend plays and make the big play downfield, and while the Giants were winning three games in a row earlier this season, the offense was scoring points reliably and in rhythm.
Now that they're playing without starting running back
Rashad Jennings
and top wide receiver
Victor Cruz
due to injury, the Giants likely are concentrating even more on sticking to the game plan and executing the plays that are called. But again, this suggestion comes from the top, so Manning can't just dismiss it.
"I'm just trying to go through my reads," Manning said. "In some cases, maybe my first progression might have been open, and you look back and say, 'Well, if you would have gotten to your second progression, you had a go-route that was open on it. But that's part of football. You can't start second-guessing or start changing your reads just to try to get something deep, because all of a sudden you do that, and the deep one doesn't win, then you're stuck with sacks or several bad plays.
"So I just have to stay the course and keep going through my progressions, and hopefully guys can keep winning their routes and we'll find completions. As long as you're getting completions and first downs, moving the ball, having drives, that's good also."
When the crowd dispersed a bit, I asked Manning this question: "If your first read is open, you have to throw it to him, right?"
"Pretty much, yup," he said.
So then I asked whether they'd consider changing the plays so that the first reads are occasionally deeper ones, and he pretty much said no to that too.
"You can throw it short and still hit a big play," Manning said.
So there you have it. Don't expect any big changes anytime soon. If they get a great matchup and have a chance to throw deep without significant risk of a turnover, sure, the Giants will try that out. But this is a run-based, short-passing-game offense, and that's what it's going to continue to be.
October, 30, 2014
Oct 30
5:00
PM ET
EAST RUTHERFORD, N.J. --
New York Giants
guard
Geoff Schwartz
practiced with the team Thursday, but it doesn't sound as though he has a good chance of returning from his toe injury in time for Monday night's game against the Colts.
"He's coming off of a significant injury, so we'll see how he practices and we'll go from there," Giants coach Tom Coughlin said Thursday morning before practice. "He hasn't practiced yet. He's going out there, he's going to go through individuals, and then we'll spoon-feed him in there on the scout side of the ball first."
Schwartz injured his toe late in the preseason and has so far spent the entire season on short-term injured reserve. Monday's would be the first game in which he's allowed to play by rule, but the Giants can wait as long as Nov. 17 to return him to the active roster if they believe he needs more time. That means he could still miss the next three games without counting against the 53-man roster, but after that time they'd have to decide whether to activate him or officially end his season.
At this point, Schwartz would have to suffer a major setback in order for that to happen, though. If not Monday, expect to see him make his Giants debut either Week 10 in Seattle or Week 11 at home against the 49ers. And while he and they don't know yet whether he'll play left guard or right guard upon his return, Schwartz says he'll be ready to go.
"I've been going to meetings, so as far as off the field, that hasn't really changed," Schwartz said. "On the field, maybe the verbal communication, just getting used to doing that again. Especially today, heading the cadence and getting off the ball, some little stuff like that. But it shouldn't be too bad. I'm not terribly worried about the communication part of it."
October, 30, 2014
Oct 30
4:30
PM ET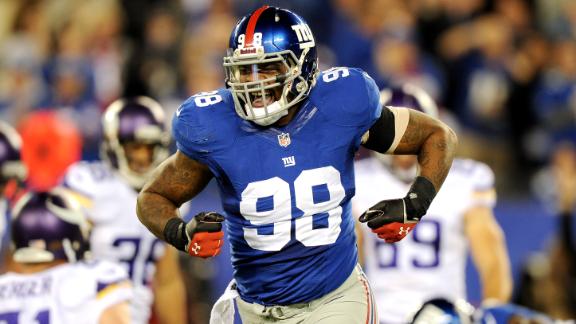 EAST RUTHERFORD, N.J. -- One of the more common frustrated-fan questions I get about the
New York Giants
is when they'll let second-year pass-rusher
Damontre Moore
play more on defense. General manager Jerry Reese mentioned earlier this week that he'd like to see it. Defensive line coach Robert Nunn said last week he planned to try it. Even head coach Tom Coughlin mentioned in his Thursday morning news conference that he'd like to get Moore involved in the pass-rush rotation, though Coughlin did add, "and
Robert Ayers
as well."
Moore
It's all reasonable and understandable. Moore has electrifying speed and talent and has shown an ability to make an impact on special teams and on defense. And part of the reason they picked him in the third round of the 2013 draft was because they thought his college production indicated he was a player who could help right away, at least as a situational pass-rusher.
But the answer I give when I get the question is that Moore is still quite young (he just turned 22 last month) and inexperienced and hasn't yet earned the trust of the coaching staff. You know who knows this as well as anyone? Damontre Moore does.
"We've been putting more of an emphasis on making sure I'm fundamentally sound in my technique, but Rome wasn't built in a day," Moore said Thursday. "This second half of the season, I want to make sure I'm more fundamentally sound and studying my opponent more, doing all of the little things and making sure I don't leave anything to chance. I have to prove I know my scheme and make sure my teammates know they can trust me not to make mistakes."
That's it. Once the Giants feel they can put Moore into a key spot and trust him not to jump offside or overpursue a running back or make any number of mistakes you'd expect a high-energy 22-year-old to make, they'll play him more. They only have 13 sacks so far, and it's not as though
Mathias Kiwanuka
is playing at such a high level at defensive end that there aren't reps to be had. With defensive tackle
Cullen Jenkins
likely out a few weeks with a calf injury, Kiwanuka and Ayers are going to have to play inside more, and that could be the chance for Moore to demonstrate whatever improvements he's made on his own reliability.
"I've got all the right people saying it," Moore said of his chances of getting more plays. "I'm just waiting for it to come when they say it's going to come, like everything else has. I think I can make some things happen."
October, 30, 2014
Oct 30
12:10
PM ET
EAST RUTHERFORD, N.J. -- The
New York Giants
hoped starting running back
Rashad Jennings
would be able to return from his knee injury and play Monday night against the Colts. He will not.
Giants coach Tom Coughlin said Thursday that there was no chance Jennings would be able to play Monday, leaving the running game once again in the hands of rookie
Andre Williams
and fading veteran
Peyton Hillis
. Jennings will miss his third game in a row since spraining his knee in the Week 5 victory against the Falcons.
The Giants rank 27th in the NFL so far in rush yards per attempt -- 3.7. And in that category, there hasn't been a perceptible dropoff since Jennings went down. They were averaging 3.7 yards per carry in their first five games and are averaging 3.8 in their past two, which are the two Williams has started.
However, when Jennings was the starter, they were averaging 121 rush yards per game. In the two games Williams has started, they're averaging 95. Part of that may be skewed by the fact that they trailed and lost by so much in Week 6 in Philadelphia, but the Giants' run game hasn't generated nearly as much confidence as they had in it when Jennings was healthy.
The coaching staff doesn't yet trust Williams as a receiver or a blocker in passing situations, so there's more juggling going on in terms of substitution and play-calling, and as a result, they haven't established the same kind of rhythm on offense as they had during their three-game winning streak.
Williams himself is averaging 3.1 yards per rush attempt and has caught four passes for 25 yards on the season. Jennings is averaging 4.4 yards per carry and has 11 catches for 109 yards. He's the more complete back and obviously the more experienced, and Williams has played like a rookie still finding his way in the league and the offense, which is what you'd expect. He could have a hard time getting things going Monday night against the Colts, who rank ninth in the league in rush defense, allowing 99.3 rush yards per game.
As for when to expect Jennings back, he's working on it. He was planning to do some running and cutting Wednesday to evaluate the strength in his knee and the surrounding muscles. It's not out of the question he could return for the Week 10 game in Seattle, though he obviously has to make significant progress before that happens.
Also not practicing Wednesday was defensive tackle
Cullen Jenkins
, who's likely to miss a few games with the calf injury he suffered in Week 7 in Dallas. Coughlin said cornerback
Dominique Rodgers-Cromartie
, who's been severely limited by back and hamstring problems, would continue to practice on a limited basis. Guard
Geoff Schwartz
, who's eligible to return this week from the toe injury that's kept him out since the preseason, is just starting to practice and likely isn't ready to be activated for this upcoming game.
October, 29, 2014
Oct 29
2:35
PM ET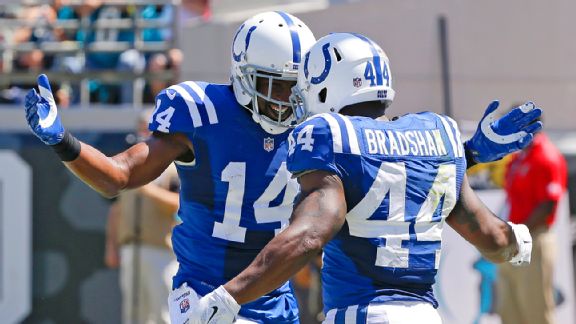 AP Photo/Stephen B. MortonHakeem Nicks, Ahmad Bradshaw and the Colts lead the AFC South with a 5-3 record.
The
New York Giants
let
Ahmad Bradshaw
walk after the 2012 season because they couldn't trust him to stay healthy and because they felt they had running back covered with younger, cheaper options in Andre Brown and
David Wilson
.
The Giants let
Hakeem Nicks
walk after the 2013 season because they were mystified as to why he'd performed so poorly in his contract year. They decided it was best to move on to younger, cheaper wide receiver options such as
Rueben Randle
and, ultimately, first-round draft pick
Odell Beckham Jr
.
Bradshaw and Nicks will return Monday night to the stadium in which they played home games en route to the Giants' most recent Super Bowl title. They are members of the
Indianapolis Colts
now, and they bring with them no ill will.
"It didn't take me long to get over it, but it just hurt me because I felt that was my family, that I was a big part of that team and that I still had a lot of football left," Bradshaw said on a conference call Wednesday, reflecting on the Giants' decision to release him two offseasons ago. "I knew it was a business. I know how this business goes. I gave everything I could to the Giants. Injury-wise, I just couldn't get out there on the field.
[+] Enlarge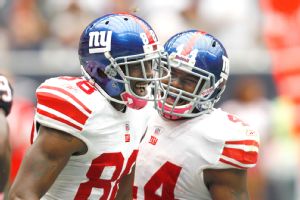 AP Photo/Eric GayNicks (88) earned one Super Bowl ring and Bradshaw won a pair during their time with the Giants.
"When I left, at first I didn't know why. But I kind of sat back and thought about it, and it being business, money and injuries."
The injuries followed Bradshaw to Indianapolis, where he played just three games last year and ended up needing career-threatening neck surgery. He has managed to recover from that and so far lead the 5-3 Colts with 371 rushing yards. He also has 31 receptions for 264 yards and six touchdowns. He's eager to show off in front of Giants fans on Monday Night.
"Like I said, that was a family to me at one time, and that was like home to me," Bradshaw said. "And just to be able to go back home and be around old fans of mine and play in front of old fans of mine and family and just get back and see those guys and be in that atmosphere, it makes me anxious to be ready for this game and be ready to go."
Nicks was a former first-round pick who was one of the top wide receivers in the league for a time and a critical part of the Giants' Super Bowl run in 2011. But his disappearance from the offense in 2013 was one of the great mysteries of that disappointing season. He ended without a touchdown catch despite playing in all but one game. Other than a brilliant performance in a home preseason game against the Giants, Nicks' time in Indianapolis has been a disappointment so far as well. He's tied for sixth on the team with just 18 receptions for 168 yards, though he has caught two touchdowns.
"There's only one football, and we've got a ton of skill guys and a ton of playmakers surrounding our quarterback," relentlessly upbeat Colts coach Chuck Pagano said by way of explanation. "The numbers may not look outstanding at this point, but he's come in here and done a great job and worked his tail off. He's a selfless guy, and right now he's trying to do whatever he can to help the team win."
Nicks was known around the Giants as a hard worker and a selfless player, which is part of what made 2013 so difficult to understand. Looking back, he doesn't seem to have much of an idea what happened, nor any interest in discussing it. He did say he felt better physically than he has in years, but as far as anyone around the Giants knew he was healthy last year, so that doesn't make much sense as an explanation either.
"I'm in a new situation, and I've got a chance to prove to this team what I can bring to the table," Nicks said. "I take everything from the past and I learn from it. I don't dwell on it. It's life. There's going to be ups and downs, and you just learn from it."
October, 29, 2014
Oct 29
10:15
AM ET
New York Giants
GM Jerry Reese might have just been playing to the fan base Monday when he said
he'd like the offense to be more aggressive
. Reese's frustration about the team's 3-4 record is understandable, and it's possible he might have been letting his inner fan show. More than once, he emphasized that he's not a coach and was only expressing his opinion, which he'd shared with the coaches as well. But Giants fans should hope the coaches listened to Reese, thanked him for his opinion and then proceeded to ignore it.
[+] Enlarge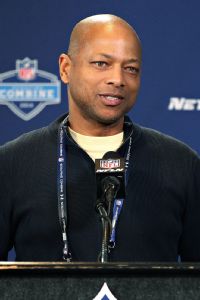 Pat Lovell/USA TODAY SportsGiants GM Jerry Reese would like to see a more explosive offense, but now is not the time for wholesale changes.
Now is not the time for the Giants to change their offensive approach. First of all, it's basically working. No, the offense hasn't clicked in its last two games the way it was clicking in the three games before that, but how many offenses can weather the loss of their starting running back and top wide receiver without negative effect? Regardless of the way the Eagles and Cowboys games went, this year has provided plenty of encouraging signs about players like
Larry Donnell
,
Rueben Randle
and
Odell Beckham Jr
. The running game was working quite well when
Rashad Jennings
was healthy, and he'll return at some point. And quarterback
Eli Manning
seems extremely comfortable and efficient in a system designed to limit his mistakes. He's thrown only one interception since Week 2.
This is a young group that spent several months learning this system together, sharing in the joy of its successes, learning from its failures, getting used to each other and forging an identity. To tell such a group of players after only seven games, "OK, forget all that stuff we've been preaching about taking care of the ball; we're going to start chucking it downfield" would be a rash overreaction to a disappointing two-game stretch. And that's not the way the Giants roll.
Fortunately for the Giants, Tom Coughlin and his coaches are self-assured enough to keep the bigger picture in mind. There are teams in which a public edict such as this from the GM would signal trouble in the ranks, or prompt a skittish coach to change course midstream. The power structure in the Giants' organization is not beset with those kinds of insecurities, which means Reese's words Monday weren't a sign of discord but rather a manifestation of understandable in-season frustration.
A 3-4 start isn't making anyone in East Rutherford happy, but it's no reason to alter or undo decisions and plans that were made in sober times. This plan is about more than just one season.
The defining quote of the 2014 Giants offseason was owner John Mara's proclamation that the offense was "broken." In response, the Giants brought in a new coordinator, an entirely new offensive approach and new players at running back, wide receiver and tight end. They made a clear, reasoned plan for fixing what was broken, and it was always unreasonable to assume the fix could be made in as short a time as one year. It's not crazy to think
Coughlin can coach nine wins out of this team
and sneak into a mediocre NFL playoff field, but that's not the only goal for this organization right now, and it's surely not the most important one, either.
The goal for the Giants is to build a consistent, long-term contender that's capable of winning championships when it gets into the postseason. The people running the Giants have shown an ability to do that. But with the exception of the coach and quarterback positions, they're very much starting over in 2014. It's important for the people watching this team and the people running this team to maintain that perspective, and not to force changes before they're ready for them.