October, 22, 2014
Oct 22
9:30
PM ET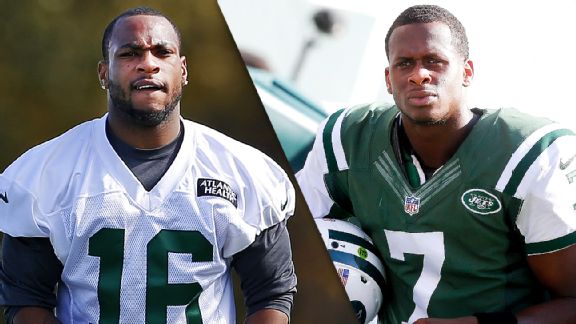 AP Photo, Getty Images
FLORHAM PARK, N.J. -- We're five days removed from the
Percy Harvin
trade, and there's still an element of mystery surrounding the
New York Jets
' motivation for the deal. One theory being floated is they believe a playmaker of Harvin's ilk will accelerate the development of
Geno Smith
, assisting the organization as it formulates an evaluation of the quarterback over the final nine games.
I don't think that was the primary reason for the trade. If it was, my question is this: Why didn't they take that approach in the offseason? Why didn't they try to sign another wide receiver to go along with
Eric Decker
? Bringing Harvin into the fold at this point in the season, asking him to learn an offense on the fly and develop a rapport with Smith, is a too-little, too-late move. It may provide some help to Smith, but it won't elevate him to a new level.
Harvin won't save Smith. The only person who can save Geno is Geno. He has nine games to convince the brass he's their long-term answer. Let's be honest, it'll have to be one whale of a nine-game run to erase the first 23 games.
"Receivers don't make quarterbacks; quarterbacks make receivers," a longtime personnel executive said Wednesday, speaking on the condition of anonymity. "I don't think Geno can play, I don't care who you put around him. Yeah, [Harvin] will make him a little better, but I've seen enough of Geno. You can't saddle the next coach with another year of Geno."
Smith played one of his best all-around games in last week's loss to the
New England Patriots
, managing to go a full game without an interception -- only the fifth time he's done that in 23 starts. There were some positives (an 88.6 passer rating), but the question is whether he can sustain it. This is hard to believe, but only once has he posted an 80 rating or better in back-to-back games -- the final two games last season.
Starting Sunday against the
Buffalo Bills
(4-3), Smith needs to put together a string of feel-good performances. He dismissed the idea that last week was a building block, saying, "No, we lost the game. That's that."
Good answer.
Smith has made slight improvements from last season in most of the major statistical categories, but as Bill Parcells always used to say, the quarterback's job is to get his team into the end zone. Smith isn't doing that. The Jets are averaging only 17 points per game, tied for 28th in the league. That's not good enough. Not even close.
Decker believes Harvin's presence will take some pressure off Smith, because he can take a short, high-percentage throw and break it for 40 or 50 yards. That's a fine theory. The
Seattle Seahawks
felt the same way, except the longest of Harvin's 22 receptions was only 33 yards. The Seahawks didn't know how to use Harvin and gave up. Why should we believe the Jets will be any different?
Smith spoke highly of Harvin's "dynamic" ability -- that's the new favorite word in the Jets' locker room -- but he stopped short of making any bold predictions. "This isn't video games,"
he said
, meaning that integrating Harvin into the offense will take longer than popping a disc into a Play Station.
It's funny how general manager John Idzik and Rex Ryan have tried to remove Smith from the Harvin equation, insisting their young quarterback's development wasn't the impetus for the trade. "No, I don't see that," Ryan said. Of course, if he acknowledged that, he'd basically be calling out his GM for doing a lousy job of stocking the receiver position in the offseason.
Which he did.
Stephen Hill
was hopeless,
Jalen Saunders
was a bust,
Jacoby Ford
was an inexpensive flyer who couldn't fly (at least not with the ball in his hands) and
David Nelson
was a possession receiver who didn't excite the brass. And yet Idzik said Monday, "I think we have some weapons, I really do."
If the Jets have weapons, they're dormant. The reason is Smith. The quarterback makes everybody better -- or worse. Maybe Harvin can provide a spark, but a spark won't ignite a damp firecracker.
October, 22, 2014
Oct 22
6:50
PM ET
FLORHAM PARK, N.J. -- For the second time in two months, Rex Ryan played reporter.
The
New York Jets
' coach popped his head into an interview room Wednesday during a conference call between the media and
Buffalo Bills
wide receiver
Sammy Watkins
. Ryan joined the group and fired away.

Ryan
Watkins
"Sammy, I've got a question," Ryan said. "How did you help Seth Ryan out? How'd he do out there? And if you could really help him, you wouldn't play this game [on Sunday]. This sounds like Rex Ryan -- I know it does -- but this is a reporter."
Watkins laughed, but never really answered the questions.
The back story: Ryan's son, Seth, is a wide receiver at Clemson.
Seth Ryan
and Watkins were teammates last season, so it was only natural for the elder Ryan to pay close attention.
Earlier on the conference call, Watkins was asked by a reporter -- a real reporter -- about his relationship with Rex Ryan.
"I know Rex, I have seen him down there at Clemson a couple of times," Watkins said. "He's a great guy, great coach, great dad and he's always been funny with me at times, but he's a great coach."
Ryan has a high regard for Watkins, comparing him to
A.J. Green
and
Julio Jones
.
"He's like he's one of those guys that doesn't come around very often," Ryan said.
You may recall Ryan pulled a role reversal in training camp. In mid-August, during the dog days of camp, Ryan sat with the reporters one day and fired questions at a grizzled beat reporter.
He loves coaching, but it sure seems like he has a hidden desire to be a sports writer.
October, 22, 2014
Oct 22
5:46
PM ET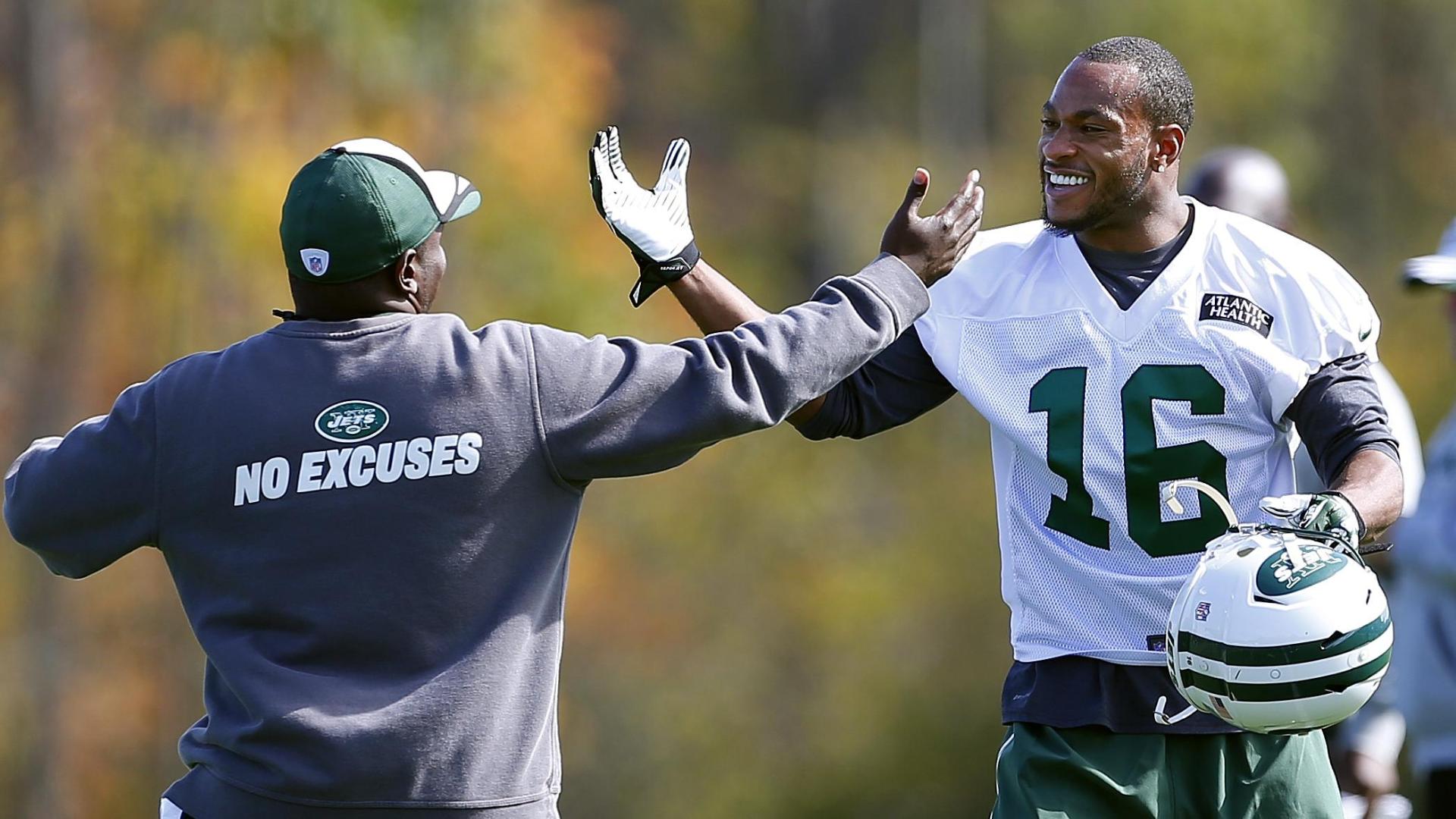 FLORHAM PARK, N.J. -- Now comes the Percy Harvin balancing act for the New York Jets.
From all indications, the newly acquired wide receiver will have a prominent role in his Jets debut Sunday against the Buffalo Bills, but quarterback Geno Smith said Wednesday the team can't change its offensive approach to accommodate Harvin.
"This isn't video games," Smith said. "We've got to go out and play football. I do understand what he can bring to the table and I expect him to make great plays -- don't get that misunderstood -- but we've got to play football.
"We've got [Eric] Decker, we've got [Jeremy] Kerley, we've got Jace [Amaro], we've got Jeff [Cumberland]. We've got a bunch of guys and we've got to get the ball into their hands. We're putting together a game plan for the Buffalo Bills. It's not based on one or two players."
Of course, the Jets are ranked 26th in total offense, so maybe change wouldn't be a bad thing.
Coach Rex Ryan wouldn't get into specifics regarding Harvin's projected role, except to say it's "unrealistic" to expect him to play most of the snaps on offense. Ryan said it will take time before Harvin gets comfortable with the playbook. He will return kickoffs and possibly punts, according to the coach.
"I think he's a special, special talent," Ryan said.
Harvin wasn't made available to the media. After speaking to reporters Monday, he will be off limits until Friday.
The Jets, who acquired the mercurial Harvin last Friday in a trade with the Seattle Seahawks
October, 22, 2014
Oct 22
5:20
PM ET
FLORHAM PARK, N.J. -- New York Jets linebacker
Quinton Coples
did not start for the first time this season last week against the
New England Patriots
and played only 19 snaps -- less than half as many as his replacement,
Jason Babin
(40).
But Coples expects to have a bigger role Sunday against the
Buffalo Bills
.
Coples
"It's back to what it was before Thursday," Coples said after practice Wednesday. "I'll be getting a lot more reps, and back out there a lot more than I was this past Thursday."
We'll see if that is indeed the case. Coach Rex Ryan was coy when asked if Coples will return to the starting lineup this week.
"Sure, why not?" Ryan said, before adding, "We play our players. We play all our guys."
Coples, a 2012 first-round pick (16th overall), had 30 tackles and 5.5 sacks in his rookie season. Last season he had 38 tackles and 4.5 sacks.
So far this year in seven games, Coples has just five tackles and one sack -- although he does have 16 quarterback hurries according to Pro Football Focus, which ranks him fifth in the NFL among 3-4 outside linebackers (behind only
Ryan Kerrigan
,
Dwight Freeney
,
Justin Houston
and
Clay Matthews
).
Asked if he was disappointed by the lack of playing time against the Patriots, Coples said, "Nah. It was a coach's decision. They made a decision, and my job is to make sure I'm ready and prepared when the time comes."
Babin, a veteran free agent picked up by the Jets this summer, has seven tackles and one sack (and nine QB hurries, according to PFF) in about half as many snaps as Coples.
Asked if he's the new starter at "rush" linebacker, Babin was vague, saying, "To quote the pop-culture phenomenon that goes on with these young kids today, we don't put labels on it."
October, 22, 2014
Oct 22
4:45
PM ET
FLORHAM PARK, N.J. -- The
New York Jets
did not make new addition
Percy Harvin
available to the media Wednesday, but fellow wideout
Jeremy Kerley
did talk.

Kerley
And there was more to speak about than Harvin, since Kerley just signed a
four-year contract extension
Tuesday. (The deal is worth $16 million, with $5.4 million guaranteed, a league source told ESPN's Adam Caplan.)
"It's been back and forth for a little while," Kerley said, when asked how long he and the Jets had been discussing an extension. "I'm glad it got done in the time that it got done. It feels good to be here for hopefully another four years."
The former fifth-round pick out of TCU is in his fourth NFL season. In 2012, his best year, Kerley had 56 catches for 827 yards and two touchdowns. Last year, in 12 games, he had 43 catches for 523 yards and three touchdowns.
So far this season, in seven games, Kerley has 22 catches for 201 yards and one score.
Kerley said he did not think about testing free agency. "I thought that this is the place I call home, I've been feeling good since I've been here," he said. "To get the deal done here, it's a great thing for me and my family."
It remains to be seen exactly how the Jets will use Harvin. But there's a chance his presence could lead to less opportunities for Kerley, since Kerley is a slot receiver and Harvin has been used extensively in the slot in the past. But Kerley doesn't sound concerned about that.
"First thing I thought when we got him was (he is) just another playmaker," Kerley said. "The things that he brings to the table is amazing. So, it just helps Geno (Smith) out, (it) helps this offense out and gives us a better chance to win."
October, 22, 2014
Oct 22
4:05
PM ET
FLORHAM PARK, N.J. --
Trevor Reilly
is the only New York Jet who did not practice Wednesday, per coach Rex Ryan.
The rookie linebacker from Utah has a knee injury, which also forced him to miss the Jets' game against the
New England Patriots
last Thursday.
The official injury report:
New York Jets
Did not practice:
Reilly.
Limited:
G
Oday Aboushi
(shoulder), CB
Phillip Adams
(groin), G
Willie Colon
(knee), WR
Eric Decker
(hamstring), LB
David Harris
(shoulder) and WR
Greg Salas
(wrist, ankle).
Full:
LB
Antwan Barnes
(knee), RB
Chris Johnson
(ankle), C
Nick Mangold
(shoulder), RB
Bilal Powell
(foot) and CB
Darrin Walls
(knee).
Buffalo Bills
Did not practice:
WR
Marquise Goodwin
(hamstring), RB
Fred Jackson
(groin) and LB
Ty Powell
(ankle).
Limited:
WR
Marcus Easley
(knee), S
Aaron Williams
(neck).
Full:
LB
Brandon Spikes
(ribs), WR
Sammy Watkins
(groin) and DE
Mario Williams
(thumb).
October, 22, 2014
Oct 22
1:10
PM ET
FLORHAM PARK, N.J. -- The
New York Jets
got back to work Wednesday, the second day of practice for new wide receiver/kick returner
Percy Harvin
.
Harvin was on the field during the portion of practice open to the media, trying to get up to speed with the Jets' offense. The team was working indoors due to the inclement weather.
The Jets appeared to be at full strength, with all players at least participating in positional drills.
That includes wide receiver
Greg Salas
(wrist/ankle) and linebacker
Trevor Reilly
(knee), both of whom sat out the team's loss to the
New England Patriots
last Thursday.
That also includes running back
Bilal Powell
, who left the game against the Patriots with a foot injury. The same goes for cornerback
Phillip Adams
, who was suffering from a groin injury against the Patriots according to coach Rex Ryan.
October, 22, 2014
Oct 22
10:00
AM ET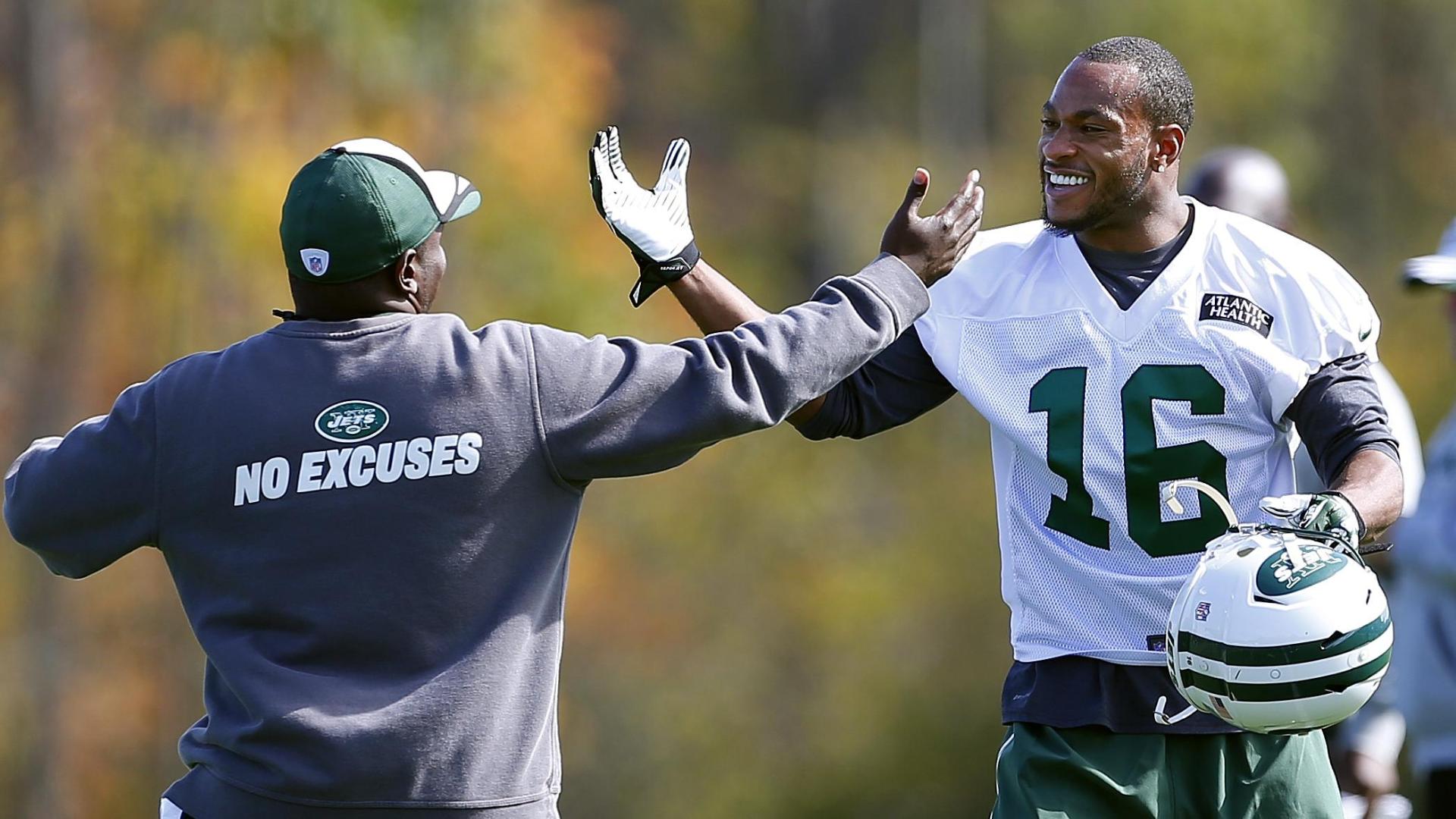 ESPN Jets reporter Rich Cimini says the Jets need a receiver who stretches the field vertically, whereas
Percy Harvin
is a different kind of wideout. Maximizing his potential requires getting the ball to him outside of the normal flow of the passing game.
October, 22, 2014
Oct 22
6:00
AM ET
If the
New York Jets
can't beat the
Buffalo Bills
at home, who can they beat?
The Jets have won the last four meetings at MetLife Stadium by a combined score of 141-79. Despite a six-game losing streak, they're actually favored in this game. The Bills, making positive strides in their second season under Bronx native Doug Marrone, are bidding for their first winning season since 2004. It's an important AFC East game for the Bills, who can't afford a loss to the struggling Jets.

Let's take a closer look at the Bills:
Record
: 4-3
Coach
: Doug Marrone (10-13)
Offensive coordinator
: Nate Hackett
Defensive coordinator:
Jim Schwartz
THREE PLAYERS TO KNOW, OFFENSE:
Sammy Watkins, wide receiver
: Rex Ryan's son, Seth, is a wide receiver at Clemson, so he knows all about the former Tigers' star. In other words, he knows how good he is. Watkins, chosen fourth overall last May, is coming off his best game, a nine-catch, 122-yard, two-touchdown performance in which he scored the game-winning touchdown in the final seconds to beat the
Minnesota Vikings
. Bill Belichick compared Watkins to
Larry Fitzgerald
, high praise. The Bills mortgaged part of their future to pick Watkins, trading their 2015 No. 1 choice to move up five spots. There have been some uneven moments (two drops), but he looks like a future star.
Kyle Orton, quarterback:
He's 2-1 since replacing
EJ Manuel
. In his first start, Orton became the first Bills' quarterback in 28 games to throw for 300 yards, a rather stunning run of ineptitude. Orton, 31, who seems like he's been around forever, has a 92.5 passer rating and a 68.5 completion rate, adding veteran leadership and consistency to the offense. He's particularly good in the red zone (109.1 rating). Orton created a minor stir last week when he shaved his 1970s-style mustache. He's 1-0 without the 'stache.
Anthony Dixon, running back
: Who? Without injured stalwarts
Fred Jackson
(groin) and
C.J. Spiller
(broken collarbone), Dixon -- a career backup -- could be the Bills' new lead back. Originally a sixth-round pick of the
San Francisco 49ers
, he spent four seasons there before moving on to the Bills. At 6-foot-1, 233 pounds, Dixon has terrific size, but he's never carried the ball for more than 70 times in a season. After Jackson and Spiller got hurt last week, he was the only active and healthy back. "It's time to step up and be great," he said after the game.
THREE PLAYERS TO KNOW, DEFENSE
Mario Williams, defensive end:
His cap charge this season is an astounding $18.8 million. The combined cap charge for the 11 starters on the Jets' defense is $22.7 million. Wow. The former No. 1 overall pick (2006), who signed a six-year, $96 million contract in 2012, has 29 sacks in 39 games with the Bills -- but none against the Jets. Former right tackle
Austin Howard
always did a nice job against Williams. Now the assignment falls to
Breno Giacomini
. Williams is coming off a game in which he played a season-low 37 snaps for a season-low 58 percent play time.
Kyle Williams, defensive tackle:
He made the Pro Bowl last season, but he still seems underrated. The Jets know all about Williams, who recorded two sacks and a forced fumble in the second meeting last season. Much of that damage came against guard
Brian Winters
, now sidelined with a knee injury. Williams missed Week 5 with a knee injury, but he seems back to normal. He's a tough, relentless, strong inside pass-rusher with the ability to wreck a game.
Stephon Gilmore, cornerback:
With Jets killer
Jairus Byrd
gone, off to New Orleans, Gilmore becomes the defensive back most likely to torment the Jets. Gilmore, the 10th overall pick in 2012, hasn't developed as quickly as hoped, but he's a good-sized corner (6-foot-1) with playmaking ability.
October, 21, 2014
Oct 21
5:22
PM ET
A few thoughts on wide receiver
Jeremy Kerley
signing a four-year, $16 million contract extension Tuesday with the
New York Jets
:
1. The timing is curious, considering Kerley's recent slump and the arrival of
Percy Harvin
, but this is a good business move by the Jets. The bottom line is, Kerley is a good football player, he's only 25 years old (he turns 26 on Nov. 8) and the cost isn't outrageous -- a reported $5.4 million in guarantees. He's making $1.4 million this season, the final year of his rookie contract.

Kerley
2. Kerley is one of the few good draft picks they've made on offense in recent years, so it made sense to lock him up before he hit the free-agent market after the season. The philosophy behind conserving cap room is to re-sign your own players, and that's what GM John Idzik has done.
3. This has no bearing on Harvin's future; it's apples and oranges. Financially, he's in a different league than Kerley. The Jets will make the Harvin decision based on whether they believe he's worth his 2015 salary ($10.5 million), which puts him near the top of the salary-structure for wide receivers.
4. Ever since a seven-catch game in Week 3, Kerley's production has dipped -- only seven catches for 60 yards and no touchdowns over the last four games. His playing time also has decreased -- 61.9 and 58.6 percent of snaps in the last two games, his lowest percentages of the season. Harvin, too, is a slot receiver, so it'll be interesting to see how it plays out in the coming weeks.
5. Don't be surprised if Idzik continues along this path, extending other potential free agents. The top names are running back
Bilal Powell
and linebacker
David Harris
, who actually is looking for his third contract. The big fish is defensive end
Muhammad Wilkerson
. He's signed through 2015, but the two sides are talking and it wouldn't be a shock if a deal is done in the coming weeks.
October, 21, 2014
Oct 21
2:47
PM ET
ESPN.com news services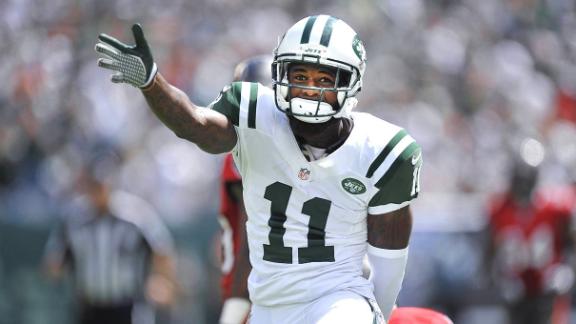 The New York Jets have signed wide receiver Jeremy Kerley to a four-year contract extension, the team announced Tuesday.
The deal is worth $16 million, with $5.4 million guaranteed, a league source told ESPN's Adam Caplan.
"I'm happy it's done, and I'm happy that me and my family are going to be taken care of now. So that is out the way," Kerley told ESPN's Josina Anderson.
Kerley's deal comes just days after the Jets acquired Percy Harvin in a trade with the Seattle Seahawks. Kerley said he wasn't worried that Harvin's addition would keep him from getting a new contract.
"I think whatever was going to happen between me and the Jets was going to happen," he said.
"I've always felt confident in my role. I've always had that approach and mentality that whatever they needed me to do, I would do it. So, I don't feel like my role will lessen or anything like that with the addition of Percy.
"So, I just feel like with him, he obviously opens up a lot of things for our offense. There are a lot of things we could do to get the ball in his hands. Like I said, he's a special player, so having him only helps us have a better chance of being successful."
Kerley, a fifth-round pick out of TCU in 2011, has 22 receptions for 201 yards and a touchdown this season for the Jets (1-6).
He's established a good rapport with second-year quarterback Geno Smith, ranking first on the team in targets with 45.