December, 22, 2014
Dec 22
12:07
PM ET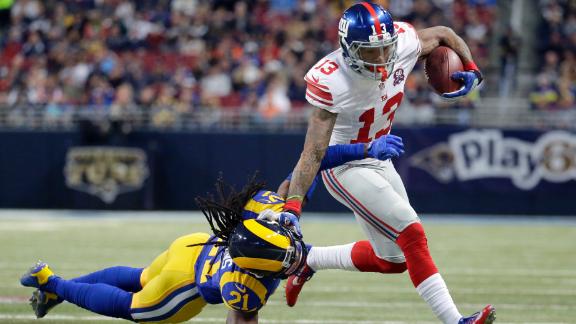 New York Giants coach Tom Coughlin came to Odell Beckham Jr.'s defense Monday, a day after his star rookie wide receiver received a taunting penalty and was involved in a sideline brawl with the St. Louis Rams.
"Every time Odell plays, he learns more about the National Football League, and he learns about the way in which he is being interpreted -- some good, some bad," Coughlin said. "And I think he continues to try to want to do things the right way, and we'll continue to try to teach him, without taking away from his ability and his excitement."
After the first of his two touchdown catches in the game, Beckham spun the ball on the ground. It's something he's done before without being flagged, but this time the officials penalized him.
The TD celebration also upset the Rams, according to St. Louis safety T.J. McDonald. A second-quarter melee broke out thanks to a late hit by Rams linebacker Alec Ogletree on Beckham.
Coughlin doesn't think Beckham was taunting the Rams.
"There's no way you want to take anything away from the guy on the field, except some of the things that you see -- and I'm not trying to tell you that everything that he does is intentionally directed at the opponents; it's not," Coughlin said. "But if it's being interpreted by the officials as it is, then we've gotta do something about it."
So Coughlin did -- he pulled Beckham aside on the Giants' return trip to New Jersey.
"I spoke to him on the way out on the plane about a couple of things that I was interested in continuing to talk to him about," Coughlin said. "I want everyone to realize the quality of the young man and not be offset by some of the things that he has done. And he looked at me and said, 'Coach, stay after me.'
"So he wants to learn, he wants to continue to improve and be better, and I think he will. And I think going forward as he understands the professional game that he will understand that some of the things that take place send the wrong message."
Beckham has also communicated with Michael Jordan
December, 22, 2014
Dec 22
10:00
AM ET
ST. LOUIS -- The Rams had cut the lead back down to seven points with more than 16 minutes left in the game, so the
New York Giants
' offense had to keep humming.
Odell Beckham Jr
. had been knocked around like a rag doll all day by a Rams team that was trying to send some kind of stupid tough-guy message, so he needed a big play to put his stamp on the game. In a flash, both things happened.
The Giants got the ball at their own 20 to start the drive with 1:37 left in the third quarter. Rookie running back
Andre Williams
ran for no gain on first down. On second down,
Eli Manning
fired one quickly to Beckham in the flat, but two defenders were launching themselves irresponsibly at Beckham, and the rookie wide receiver wisely backed out of the play rather than get cut in half.
The Rams did themselves harm on the play, as cornerback
E.J. Gaines
was injured and had to be carted off the field and checked for a concussion. On the next play, a third-and-10 from the Giants' 20, a coverage bust cost the Rams the play of the game.
Beckham faked a corner route, and the corner bit on it, and Beckham raced past the safety and Manning hit him in stride for an electrifying 80-yard touchdown pass.
"You're catching it and you're running free," Beckham said with a smile. "There's no better feeling than that."
The touchdown gave the Giants a 34-20 lead and they would go on to win 37-27. It was Beckham's second touchdown catch of the game and his 11th in just 11 games this year. He finished the game with eight catches for 148 yards, broke Jeremy Shockey's Giants rookie record of 74 catches in a season and went over 1,000 receiving yards for the year with one game to go.
December, 22, 2014
Dec 22
8:00
AM ET
ST. LOUIS -- The only one not impressed with the day rookie defensive end
Kerry Wynn
had Sunday was teammate
Markus Kuhn
. As a crowd gathered around Wynn's locker after the game, Kuhn smiled and said, "Scoop and score, Kerry! Come on!"
The reference was to Wynn's fumble recovery, which he did not pick up and run back for a touchdown, as Kuhn did two weeks ago in Tennessee.
Wynn
"We can't all take it to the end zone," Wynn said.
"Must be a German thing," the German-born Kuhn said.
Wynn smiled, because it gave him a break from the interviews, which seem to make him uncomfortable. The soft-spoken rookie out of Richmond repeated over and over again that he doesn't like to talk about his own performance and only cares about it as far as it helps the team win. But with a sack, a fumble recovery and an interception on a tipped pass Sunday, the former absolutely accomplished the latter.
"Kerry Wynn should be recognized for some of the things he's doing as a young player and for taking advantage of his opportunity," Giants coach Tom Coughlin said.
So consider it done. The 6-foot-5, 264-pound Wynn has emerged as a versatile and helpful part of the Giants' pass rush during their three-game winning streak. He can play defensive end. He can move inside and rush from a defensive tackle spot. He was standing up at outside linebacker in one formation Sunday.
I've been very hard on
New York Giants
GM Jerry Reese for his terrible performance in the draft, and for good reason. But one thing Reese has done well as Giants GM is unearth small-school talent and find undrafted bargains. Wynn was not drafted -- he was signed as a rookie free agent out of Richmond and made the team as a tail-end roster player with a strong training-camp performance. He sat inactive for the first 11 games of the season before injuries to defensive ends
Mathias Kiwanuka
and
Robert Ayers
pushed him onto the game-day roster.
"That time was just about mental reps," Wynn said of what he learned while inactive. "Just getting into my playbook and making sure I knew the defense as well as I possibly could so I was mentally prepared as much as I was physically prepared."
It's been months since the Giants had anything meaningful for which to play, and these games are about putting things on tape for the coaches and front office to evaluate as they make decisions about next year's roster. Wynn is certainly opening eyes, though he doesn't want to talk about it.
"That all sounds great, but really I'm just glad to do something well in a team win," Wynn said.
December, 21, 2014
Dec 21
10:38
PM ET
December, 21, 2014
Dec 21
10:29
PM ET
ST. LOUIS -- There are eye-popping numbers all over the box score from the
New York Giants
' 37-27
victory
over the
St. Louis Rams
on Sunday. Rookie
Andre Williams
ran for 110 yards.
Eli Manning
passed for 391 yards and three touchdowns.
Odell Beckham Jr
., of course, had his usual eight catches for 148 yards and two touchdowns.
Orleans Darkwa
had a touchdown run. This was a serious group effort right here.
[+] Enlarge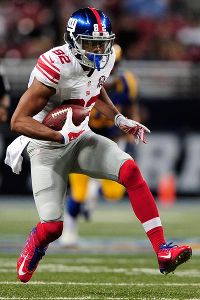 Jeff Curry/USA TODAY SportsGiants receiver Rueben Randle had a breakout game against the Rams, notching his second 100-yard game this season.
But of all the offensive contributors, few were as flat-out relieved to have a big game as wide receiver
Rueben Randle
, who caught six passes for 132 yards and a touchdown.
"Yeah, I guess you could say that," Randle said. "I'm just out there trying to make the most of my opportunities. But the coaching staff was expecting a big game from me, and I was able to deliver, so I'm happy about that."
It's been a rough season for Randle, a player the Giants hoped would take a big step forward in his third season. Sunday was only his second 100-yard game this season, and his touchdown catch was his first since Week 5. Moreover, he'd been benched for parts of two of the previous three games by coach Tom Coughlin for disciplinary reasons relating to being late for meetings.
Neither Randle nor Coughlin have discussed the most recent benching in detail, but Coughlin made it clear last week he believed the issues with Randle could and would be resolved, and Randle was on the field for the very first play Sunday. He also was on the field for the fourth play, which was a 49-yard second-down completion that moved the ball from the Giants' 33-yard line to the Rams' 18 and helped set up the Giants' first field goal.
"I usually don't get the ball on that one," Randle said. "I'm the decoy on that play. But I guess everything else was covered, so I was happy I was able to make the play."
It was the kind of play the Giants hope to see more from Randle, as he used his size to go up and out-fight the defender for the ball.
"I was real happy to see him get back in the end zone," said Beckham, who's been stealing Randle's thunder and basically all of the touchdowns lately with his own brilliant run.
As for all of the other stuff, Randle insists he's focused on finishing strong with another big game next week and "just trying to move forward from here on out."
Coughlin had no comment on Randle, because he cut his news conference short and stormed out after he didn't like the first few questions.
December, 21, 2014
Dec 21
10:15
PM ET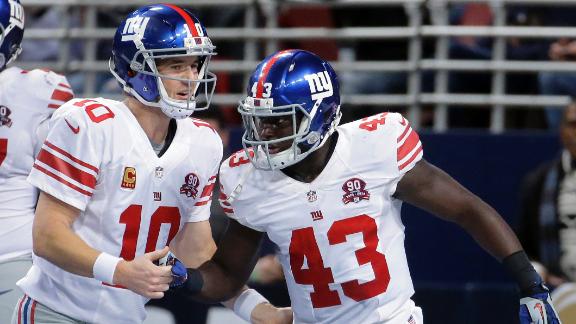 ST. LOUIS -- He faked a corner route, which took care of the cornerback in front of him, then he zipped past the safety on what was suddenly a post route, and
Eli Manning
's pass found him in stride. Seconds later,
New York Giants
rookie
Odell Beckham Jr
. was back in the end zone on the tail end of an electrifying 80-yard touchdown catch. And this time, instead of spinning the ball on the ground or doing some bizarre dance, Beckham just handed the ball to the official standing nearby.
"Just celebrate with your team, that's what we're supposed to do," Beckham said. "It feels good when all those big guys are running down 80 yards to celebrate with you. I didn't want to hear anything else."
[+] Enlarge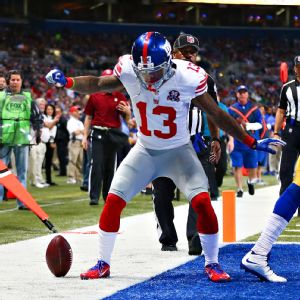 Dilip Vishwanat/Getty ImagesOdell Beckham Jr. was flagged for taunting for spinning the ball after the first of his two touchdown catches on the day.
It had indeed been a cacophonous day in the life of young Mr. Beckham. With eight catches for 148 yards and two touchdowns -- eye-popping numbers that have become routine for him over the past few weeks -- he broke Jeremy Shockey's Giants rookie record for receptions, went more than 1,000 yards receiving for the season (in just his 11th game) and jumped into the top 10 in the league with 11 touchdown catches.
But he also got flagged for a taunting penalty for spinning the ball after his first touchdown. And while he obviously didn't start it, he did admit to and apologize for his own loss of temper that helped escalate the
second-quarter brawl
that got three players thrown out of the game for fighting.
"He has a little something, a little flair to him, which obviously we like, the fans like and people like, but opposing teams will try to get into his head," Manning said. "He's a young guy. They're going to try to not let him high-step and do his things on the sidelines, and today it looked like they weren't going to let him get away with that and showboat. So he's just got to know, around the sidelines when people can take shots, they're going to."
Beckham's talent is undeniable and formidable. There is no one in the NFL playing the wide receiver position better than he's playing it right now, and Sunday was only his 11th NFL game. He's having dinner with
LeBron James
and exchanging texts with Michael Jordan. He is a shooting star. But as Manning points out and Beckham readily admits, he's also still a rookie with a lot to learn about life in the NFL. Sunday's lesson was about the manner in which his "flair" has a chance to make him a target for opposing teams.
"Since the first play, it felt as if there were a bunch of hawks all eyeing you," Beckham said. "And we knew it was going to be like that. I was just trying to find a way to keep my composure. It was sometimes difficult today, but I tried my best to keep my head in the game and stay the course."
He said he didn't think spinning the ball after his touchdown should have resulted in a taunting penalty, because it wasn't directed at anyone. But Giants coach Tom Coughlin felt otherwise and let Beckham know about it.
"He finally got flagged for a celebration," Coughlin said. "So I hope that lesson is learned. He will tone it down. He will. He did."
"I didn't quite understand the penalty, but Coach Coughlin addressed it with me and said, 'You know we can't get those,' and I completely understand," Beckham said. "That's just being young and trying to learn the rules of what you can and can't do."
But in terms of post-touchdown celebrations in general, Beckham doesn't expect to stop completely. And he doesn't believe it gives his opponents extra motivation to mess with him.
"I don't think it fuels them; I think it fuels me," Beckham said. "Of course I don't want the penalty, but we're out there having fun. If you get into the end zone, you deserve to celebrate. It's what we work for."
That is completely true. Contrary to the way Beckham makes it look on a weekly basis, it's hard to score touchdowns in the NFL, and celebrating them is perfectly all right. I'm not here to tell Beckham he has to stop dancing or even spinning the ball after touchdowns if that's the way he chooses to express himself.
But the lesson of Sunday is that this stuff doesn't happen in a vacuum, and Beckham has to be conscious of the way his antics are viewed by officials and opponents. Moving forward, he must find a way to walk a line -- to find ways to have fun and be his ebullient self without causing a problem for his team or putting himself in unnecessary danger. It's entirely possible to be a great, thrilling NFL player and still not give opponents a reason to treat you as rudely as the Rams tried to treat Beckham on Sunday. If Beckham can cultivate that skill as effectively as he has polished his speed, hands and route-running, there will be very little that can stop him.
December, 21, 2014
Dec 21
8:45
PM ET
ST. LOUIS -- Observed and heard in the locker room after the
New York Giants
' 37-27
victory
over the
St. Louis Rams
on Sunday:
McClain

Linebacker Jameel McClain walked from the field to the locker room hollering, "Dirty-ass team! That dirty [stuff] doesn't help you win! They suck as an organization!" This was in obvious reference to the Rams, as the Giants felt they'd been targeting Odell Beckham Jr. with cheap shots all game and trying to get under his and the Giants' skin. "I'm just not interested," McClain said later. "I had a lot of respect for the things their defense did. I'm just not interested in chippiness and dirty play. It's not what this game is about, and it has no room in the league." Jason Pierre-Paul and Antrel Rolle were among the other Giants to use the word "dirty" to describe the Rams.

Coughlin

"Doesn't anyone want to talk about the game?" a frustrated Giants coach Tom Coughlin asked after several questions about Beckham and the first-half brawl. Seconds later, he ended his postgame news conference early with a sarcastic "Happy Holidays" and stormed out before his "game" questions could be asked -- or before someone could explain to him that when you're 6-9 and were eliminated on Thanksgiving, it's not unreasonable for people to ask about the brawl that saw two of your players get kicked out of the game or the continued maturation and development of your superstar rookie before they ask about the game. Not Coughlin's finest moment.
For his part, Beckham said Coughlin spoke to him about his ball-spinning end zone celebration that drew the flag, and Beckham apologized on behalf of himself and the team for his role in sparking the brawl. But he said he wouldn't apologize for playing with passion or for his teammates' standing up to protect him and one another. Damontre Moore, who along with Preston Parker was ejected for his role in the brawl, said he felt bad he let his team down by getting ejected, but he wouldn't do anything differently if the same circumstances presented themselves.
December, 21, 2014
Dec 21
7:25
PM ET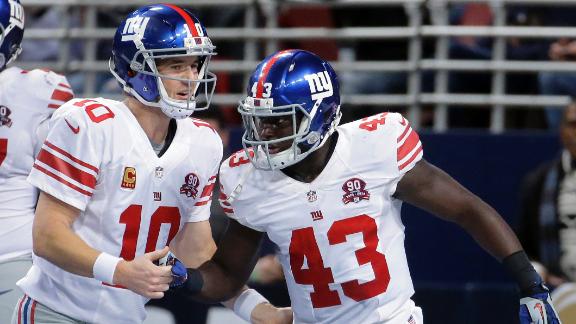 ST. LOUIS -- A few thoughts on the
New York Giants
' 37-27
victory
over the
St. Louis Rams
on Sunday at the Edwards Jones Dome:
What it means
: If the Giants are looking for reasons to feel good about their team going into next season, this game was loaded with them. The Rams had not allowed a touchdown since Week 12, but the Giants scored four of them and rolled up 514 yards in the process. Quarterback
Eli Manning
was 25-for-32 for a season-high 391 yards and three touchdowns. Odell Beckham Jr. was incredible again, with eight catches for 148 yards and a pair of touchdown catches, including an 80-yarder in the third quarter.
Rueben Randle
went for more than 100 receiving yards and caught a touchdown.
Andre Williams
had 100 rushing yards.
Orleans Darkwa
scored a rushing touchdown. I mean,
everybody
was into the act here. It was as complete an offensive performance as the Giants have delivered all season, especially when you consider they were facing one of the league's toughest defenses.
Stock watch
: Randle --
Up
. Few Giants needed a big game more than Randle did. The third-year wideout has been clearly surpassed by his former LSU teammate, Beckham, all season, and he's been benched twice in the past month by Tom Coughlin for being late to team meetings. But he started Sunday's game and played very well in catching six passes for 132 yards and a touchdown. In doing so, he likely helped his own confidence and the team's faith in him moving into next season.
Ugliness
: The Rams clearly wanted to be physical and deliver messages to Beckham, and things got out of hand in the second quarter. Rams linebacker
Alec Ogletree
delivered a completely unnecessary late hit out of bounds on Beckham, then the two of them shoved each other in the face on the ground, which touched off an ugly brawl that saw Giants receiver
Preston Parker
, Giants defensive end
Damontre Moore
and Rams defensive end
William Hayes
ejected for fighting. It appeared Moore also was called for a foul on an official, which could result in a suspension for him.
Game ball
: Manning. The Giants' QB was on the money all night, in full command of the offense and pinpoint with decisions and throws. He was 25-for-32 for a season-high 391 yards and three touchdowns and completed passes to six different receivers. He checked into a run call on a play that resulted in a 45-yard Williams run. It was the most comfortable and in command he's been all season.
What's next:
The Giants will wrap up their 2014 season with a 1 p.m. ET home game Sunday against the 9-6
Philadelphia Eagles
, who were eliminated from playoff contention with the Cowboys' victory Sunday. It will be the fifth game in a row in which the Giants and their opponent have both been eliminated from playoff contention. The Eagles beat the Giants
27-0 in Week 6
in Philadelphia, in the game in which
Victor Cruz
suffered his season-ending knee injury.
December, 21, 2014
Dec 21
6:02
PM ET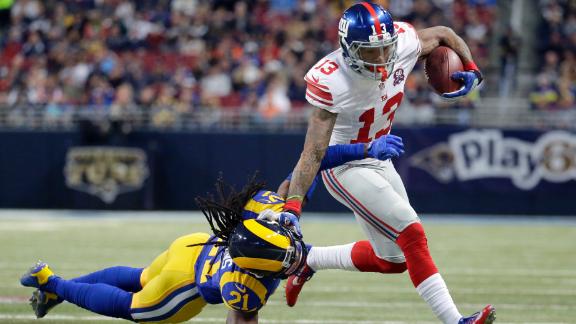 ST. LOUIS -- The New York Giants believe the Rams played dirty in Sunday's 37-27 win. The Rams think the Giants, particularly receiver Odell Beckham Jr., were disrespectful.
The result was a chippy game between the teams that resulted in a sideline melee in the second quarter.
Giants linebacker Jameel McClain was heard calling the Rams dirty, saying they "suck as an organization" as he ran into the locker room after the game. He elaborated afterward.
"I'm just not interested," McClain said. "I had a lot of respect for the things their defense did. I'm just not interested in dirty play. It's not what this game is about, and it has no room in this league. I think we showed the proper response as time went on, but I'm not going to accept anyone pushing my family around. It's just unnecessary for a good team, a good organization to allow that to happen consistently."
A late hit by Rams linebacker Alec Ogletree on Beckham sparked a fight between the two sides late in the second quarter of Sunday's game.
With two minutes and 10 seconds to go in the second quarter, Giants quarterback Eli Manning hit Beckham for a gain of 6 as Ogletree tackled Beckham out of bounds on New York's sideline.
Beckham threw a right cross with the ball at Ogletree but didn't connect. Ogletree responded by shoving Beckham.
The fight exploded from there with both teams shoving each other and throwing punches.
"I was very disappointed in the actions on the other sideline," Rams coach Jeff Fisher said. "There's no place for that in the game. It was unfortunate, it got out of hand over there and I thought the officials did a nice job of controlling it."
By the time the officials sorted it all out, they ejected Giants defensive end Damontre Moore
December, 21, 2014
Dec 21
3:44
PM ET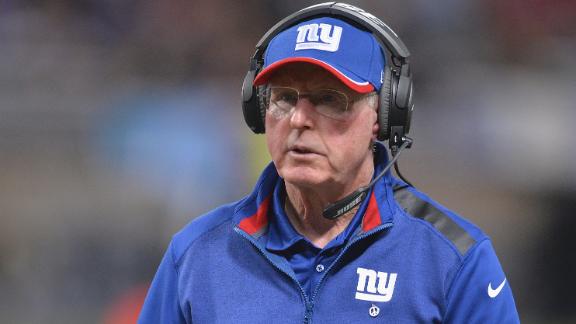 ST. LOUIS -- New York Giants coach Tom Coughlin wore a black strip on his left shoulder and a peace sign under the "NY" logo on his blue pullover for the Giants' game against the Rams on Sunday.
The Giants said it was a tribute to the two NYPD officers, Rafael Ramos and Wenjian Liu, who were shot and killed while sitting in their car in Brooklyn on Saturday afternoon.
Coughlin grew emotional after the game when explaining the black bar on his left shoulder and the peace sign medallion on his shirt. He opened his postgame news conference with an explanation and had to stop several times during his remarks as he was obviously struggling with his emotions.
"The New York Giants wanted to honor and mourn the assassination of the two New York City policemen that took place last night," he said. "Let's let the voice of reason prevail. Violence never solved anything. I realize there are issues, but solve them with non-violent means."
Coughlin has been a consistent and outspoken supporter throughout the years of law enforcement and the military.
The Giants said Coughlin was the only member of the staff wearing the tribute.
The New York Jets held a moment of silence before Sunday's game against the New England Patriots, as did the Brooklyn Nets before their game against the Detroit Pistons.