January, 24, 2015
Jan 24
10:00
AM ET
Thank you for your #nygmail questions on Twitter. Here are a few of them.
@DanGrazianoESPN #Nygmail Based on this snapshot of the Giants' top 10 cap hits, who do you think is a cap casualty? pic.twitter.com/WvIhQ9l5m0

— Shane Richardson (@ShaneNFL) January 22, 2015
@DanGrazianoESPN:
Mathias Kiwanuka
is the most obvious
New York Giants
cap casualty this offseason, as it's been a long time since his production matched up with his salary and they can save $4.85 million by cutting him. Also looming as potential cuts are linebacker
Jon Beason
and center J.D. Walton, though Walton's not overpriced and the decision on him could come down to how much other work they're able to do on their offensive line this offseason. Beason's case is an interesting one. They obviously like him and believe he makes a difference to their defense. And he's guaranteed $900,000 in salary this year anyway. But the $7.37 million cap number is unwieldy, and they'd save about $3.53 million by cutting him. They could try to talk him into a pay cut, but if they really believe
Jameel McClain
functioned as a capable replacement, then it's not crazy to move on from Beason at this point.
@DanGrazianoESPN where do u believe the G men will go for as their first 3 picks #nygmail

— TrickyyMUT (360-1) (@TrickyyMUT) January 22, 2015
@DanGrazianoESPN:
Obviously, a lot depends on what they do in free agency. And even after that, the Giants do have a tendency not to target specific positions but to go with the best possible player at their spot. If you're looking for a basic framework, my sense is that the market will send them toward offensive linemen in free agency and defensive players in the draft. Given where they're drafting, they could have a chance at a top-flight pass-rusher or a stud safety like Alabama's
Landon Collins
at No. 9. And while they don't tend to draft linebackers, they do have a significant need at that position, so maybe they'll try for one of those in the second or third round. And even if they do sign a bunch of offensive linemen in free agency, they could (and maybe should) find a tackle or a guard in the second or third round with an eye toward the long term.
@DanGrazianoESPN Last year the #NYG spent big on DRC. Any sense of landing another marquee FA? Who are the likeliest candidates? #nygmail

— Matthew DeCapua (@mdecapua1) January 22, 2015
@DanGrazianoESPN:
It was something of a surprise that the Giants spent big on cornerback Dominique Rodgers-Cromartie in March, even as part of their big free-agent frenzy. But it does show you where their priorities are focused right now, and I think if they did spend big on a marquee free agent this year it would be on the back end of their defense, possibly a safety like
Devin McCourty
or Da'Norris Searcy. They will make offensive line a priority, but since they consider themselves set at left tackle with
Will Beatty
, they're unlikely to bring in any "marquee" names on the line. (Guards and right tackles aren't generally marquee names.) The only two safeties on the roster right now are
Cooper Taylor
and
Nat Berhe
, and there's some question about whether they'll bring back free agent
Antrel Rolle
, so this is a place where they have significant resources to spend.
@DanGrazianoESPN if Mariotta is there at 9 do the Giants take him #nygmail

— Lance Zacker (@Lzacker) January 22, 2015
@DanGrazianoESPN:
I do not think taking a top quarterback such as
Marcus Mariota
or
Jameis Winston
would be a good use of the Giants' first-round draft pick this year, even if one of those guys fell to No. 9. The Giants' roster is not in strong enough shape to allow them to double up major resources on the quarterback position, where they're heavily committed to
Eli Manning
this year and likely to extend his contract into the future. If they believed they were moving on from Manning after this year, then you could maybe make the case for taking Mariota in the first round. But let's be honest -- Mariota or Winston would do well to ever be half as good an NFL quarterback as Eli Manning already is. The Giants know this, and with Manning still in his prime, they're not interested in cutting bait and turning the franchise over to an unproven commodity at the most important position.
Thanks for all of your questions. Enjoy the Pro Bowl.
January, 23, 2015
Jan 23
6:35
PM ET
SCOTTSDALE, Ariz. -- They were teammates for just one season at LSU, but that was all
New York Giants
receiver
Odell Beckham Jr
. needed to develop a respect for
Arizona Cardinals
safety
Tyrann Mathieu
that's still strong four years later.
Mathieu
Beckham
Beckham was a freshman at LSU when Mathieu was a sophomore in 2011, and together they lost in the national championship to Alabama. They would've been teammates again in 2012 but Mathieu was kicked off the team that August for failing a drug test and later had any chance of reinstatement disappear after he was arrested two months later.
"It's been a guy that I've looked up to for a long time," Beckham said after Friday's Pro Bowl practice at Scottsdale Community College. "A guy who's been at the top and a guy who's been all the way down at the bottom and still remained the same the entire way through.
"Skills like that is something that I admire in a person -- someone who goes through such controversy and adversity and is still able to overcome it."
But Beckham never thought Mathieu would give up.
"Just says a lot about the person and his character," Beckham said. "It's something that I expect from him. I expect nothing but greatness from him. That's what he gives every time."
Beckham experienced some of that adversity during his rookie season in 2014.
He missed the first four games with a hamstring injury but recovered to lead all rookie receivers with 1,305 yards and 12 touchdowns in 12 games. His injury, coupled with the knee injury Mathieu suffered in Week 14 of 2013, kept them from working out together during last offseason.
The two New Orleans natives kept in touch and would "chop it up back-and-forth," Beckham said. They also share a similar style: Like Mathieu, Beckham has the top of his hair dyed blonde.
"I don't know if it's really [a tribute] to him," Beckham said. "It's our little style, so it just works out."
January, 23, 2015
Jan 23
11:55
AM ET
One of the
New York Giants
' top priorities this offseason will be to improve their run game, and they're likely to address it in free agency. But while many of you want to talk about which running backs the Giants will target, I think you may be missing the point. The Giants like running backs
Rashad Jennings
and
Andre Williams
. And while they may go out and look for a veteran running back who can augment that pair and possibly help in the passing game, their primary focus is to improve the run-blocking effectiveness of their offensive line.
While the Giants plan to have
Will Beatty
back as their starting left tackle,
Weston Richburg
back as either a guard or (they hope) their starting center,
Geoff Schwartz
healthy and back to play one of the guard spots and
Justin Pugh
back as either a guard or right tackle, don't be surprised if the Giants add multiple pieces on their offensive line. Part of their issue there the past couple of years has been a lack of depth, and they don't want to keep getting caught short on the line.
With that in mind, here's a very short, partial list of potential offensive line targets in free agency:
Joe Barksdale, Rams tackle:
This is a 6-foot-5, 326-pound giant who just turned 27 three weeks ago. He graded out as Pro Football Focus' No. 10 tackle (and No. 3 right tackle) in run-blocking in 2014. If the Giants' plan is to get a mauling right tackle who would allow them to move Pugh inside to a guard spot, this is a guy to watch -- assuming the Rams let him hit the market, which is no certainty.
Bryan Bulaga, Packers tackle:
Grades out better in pass protection, but he's no slouch as a run-blocker. Former first-round pick turns 26 in March and could leave Green Bay if the bidding for his services gets out of their preferred price range.
Doug Free, Cowboys tackle:
He has rebounded from a rotten 2012 with two strong seasons at right tackle for Dallas, and was a big part of the league's No. 2 rush offense in 2014. But Free is 31 and therefore a bit older than the Giants' preferred free agents tend to be.
Orlando Franklin, Broncos guard:
He has played tackle and guard in his career, and the Giants like that versatility in their linemen. Franklin is 27 years old, which makes him appealing as well.
Mike Iupati, 49ers guard:
Turns 28 in May. Graded out as PFF's No. 2 run-blocking guard in 2014. Likely to be in demand.
Clint Boling, Bengals guard:
He is quite young, as his 26th birthday is not until May. At 6-foot-5, 310, he's a bit smaller than those first two guards I listed.
January, 22, 2015
Jan 22
1:45
PM ET
Actually, Mel Kiper Jr. re-graded every team's 2014 draft in
this Insider piece here

. But since this is a
New York Giants
blog, you're interested in what he thinks about the Giants' draft in particular. He likes it.
Mel liked the Giants' draft in the first place, giving it a "B" immediately after it was over. Since this is an Insider piece, I'm not going to tell you here what the re-grade is. But considering they got 12 rookie-of-the-year-caliber games from first-rounder
Odell Beckham Jr
., 15 starts from second-rounder
Weston Richburg
, a team-leading 721 rushing yards from fourth-rounder
Andre Williams
and 4.5 sacks from fifth-rounder
Devon Kennard
, you can assume the grade improved upon consideration of the season's worth of evidence.
The Giants desperately needed a strong 2014 draft, after years of unproductive ones, and the early returns indicate that this could be the most productive since Jerry Reese became GM in 2007. If Williams can be a starting running back, Kennard a starting linebacker, Richburg the team's center of the future and Beckham the kind of star performer he was as a rookie, there will be no doubt.
January, 22, 2015
Jan 22
10:41
AM ET
[+] Enlarge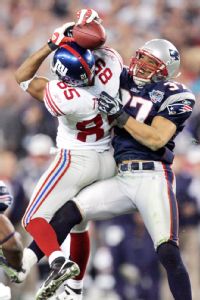 AP Photo/Gene J. PuskarThis Giants catch helped keep Bill Belichick's Pats from a perfect season ...
NEW YORK -- If you believe the assertion that you can tell how much something really bothers someone by how much they squawk, then the way a couple of former Patriots responded on television this week to a few taunts that former Giants place-kicker Lawrence Tynes tweeted after New England routed the Colts 45-7 in last Sunday's AFC title game was telling.
Retired cornerback Ty Law scowled and said, "Who is this dude?"
He's a kicker, Law and former Pats wide receiver Troy Brown were reminded.
"A kicker? Next subject," Law scoffed.
"Don't count. Next subject," Brown agreed.
"Go soak your foot," Law added.
For Tynes, who's built a burgeoning reputation as a Twitter smart aleck since leaving the Giants for Tampa and getting knocked out of the league in 2013 by a serious staph infection, the social media blowback he caught in the first 36 hours after his tweets proved he'd hit a sore spot. Tynes insists, "I actually have great respect for how much winning the Patriots have done, all the division titles they've won" -- even if he did also tweet that "maybe the Pats will have a chance now that they're not playing the G-Men."
Pats supporters and former players don't want any reminders of New York's role in interrupting Bill Belichick, Tom Brady and the franchise's coronation as the best NFL coach, quarterback and NFL dynasty of all time.
January, 22, 2015
Jan 22
8:30
AM ET
The
New York Giants
' lone Pro Bowl representative, rookie wide receiver
Odell Beckham Jr
., will play Sunday night on a team full of
Dallas Cowboys
.
Beckham
Beckham was the No. 4 overall selection in Wednesday night's
Pro Bowl draft
-- the second pick of the team selected by former Cowboys wideout Michael Irvin. Irvin took Cowboys quarterback
Tony Romo
with his first pick after designating Cowboys running back
DeMarco Murray
one of his captains a day earlier. Later, he picked Cowboys tight end
Jason Witten
, tackle
Tyron Smith
, center
Travis Frederick
and rookie guard
Zack Martin
.
Team Irvin will be coached by Cowboys coach Jason Garrett, who'll be familiar with his roster. The only Cowboy selected by Team Cris Carter was long-snapper
L.P. Ladouceur
.
Beckham is (obviously) playing in his first Pro Bowl after a dazzling rookie season in which he missed the first four games due to a hamstring injury but still managed to catch 91 passes for 1,305 yards and 12 touchdowns. The Pro Bowl is at 8 p.m. ET on Sunday in Glendale, Arizona, and will be broadcast on ESPN.
January, 21, 2015
Jan 21
10:00
AM ET
January, 20, 2015
Jan 20
11:00
AM ET
The
New York Giants
right now project to have about $14 million in salary cap space for 2015. That assumes a $140 million cap (which I think is a conservative projection) and accounts for the $1.3 million reduction once
David Wilson
's retirement becomes official. It does not take into account the additional $4.825 million they can save by cutting
Mathias Kiwanuka
(which I expect they will) or the additional $3.53 million they can save by cutting
Jon Beason
(which is possible).
So at this point assume something close to $19 million in cap room and expect them to push it over $20 million with roster cuts, pay cuts or other contract adjustments. That would give the Giants enough cap room to operate their offseason even if they don't extend the contract of quarterback
Eli Manning
.
[+] Enlarge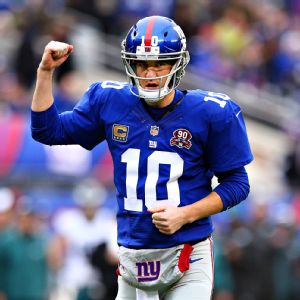 Brad Penner/USA TODAY SportsThe Giants could extend Eli Maning's contract to gain cap space in the short term and keep the QB around for the long term.
But extending Manning would help make things even looser for the Giants under the cap this offseason. He has one year left on his deal at a salary of $17 million and a cap number of $19.75 million. By not extending him now, they run the risk of having to pay him more (or franchise him) in 2016 and beyond, or of losing him in free agency and having to start over with a new, likely far less reliable quarterback option.
If the Giants do extend Manning this offseason, what would that deal look like? He has averaged $16.25 million a year on the six-year, $97.5 million deal he signed just prior to the 2009 season. Given his production in recent years, it's easy to say they should just extend him for the same money. But given the way quarterback contracts have gone since then, with guys such as
Matt Ryan
and
Joe Flacco
averaging more than $20 million a year on new deals and
Jay Cutler
,
Tony Romo
and
Matthew Stafford
coming in around $18 million a year, it's legitimate for Manning to ask for more.
For the sake of argument (JUST AS AN EXAMPLE), let's give him Romo's deal -- six years, $108 million with a $25 million signing bonus. Takes him to age 40 if he plays it out, but we all know those last couple of years aren't guaranteed. If they structured it the way Dallas structured Romo's deal, they'd knock another $11 million off this year's cap by rolling this year's salary into the new deal and giving Manning a low base salary in 2015 in exchange for the signing bonus. They'd be on the hook for big guaranteed salaries in 2016 and 2017 but nothing after that, and the length of the deal would allow them to restructure that big guarantee in Year Two if they wanted to do it.
I don't know what the Giants' plans are for this. I know they're considering all options, and I know they'd like to keep Manning around for the rest of his career. I know the options on the market aren't any better than Manning, and I believe an extension for Manning is the right way for the Giants to go -- whether now or a year from now. As for the timing: Yes, they can operate their offseason with a fair amount of flexibility if they don't extend Manning this year. But they could have a much more effective and helpful offseason if they do.
January, 19, 2015
Jan 19
2:58
PM ET
Former
New York Giants
defensive end
Justin Tuck
made a little bit of a headline last week when he said on ESPN Radio in New York that the Patriots'
Tom Brady
would be "
no question
" the best quarterback in NFL history but for the Giants beating him in two Super Bowls. And with the Super Bowl (and the Patriots) returning this year to the site of the Giants' Super Bowl XLII upset of an undefeated New England team, that game is going to be revisited a lot in the next two weeks.
Tedy Bruschi, the former Patriots linebacker who's now an NFL analyst for ESPN, has no trouble remembering the game, painful though it may be for a member of that year's Patriots to recall.
"I can't think of a game in Super Bowl history with more on the line than there was that day," Bruschi said Monday in a phone interview. "This was THE SUPER BOWL, all caps. The one that would trump all the others. A chance to go 19-0, be the only team that ever did that, call ourselves the greatest team of all time? No question about it. But the better team won. They were definitely the better team."
[+] Enlarge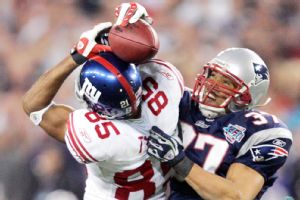 AP Photo/Gene J. PuskarThe breaks the Patriots got during a 16-0 season seemed to go the Giants' way in Super Bowl XLII.
That's something of a startling admission by a member of that Patriots team, which set NFL records on offense and rolled into the Super Bowl with an 18-0 record. That season's Giants were a 10-6 wild-card team that lost to New England in Week 17. It was a surprise to everyone that they even got to the Super Bowl. Their winning it was among the biggest upsets in sports history. But Bruschi sticks to his story.
"I definitely feel the right team won," Bruschi said. "The way we played, the way they played, they should have won. And that's just the respect I have for the NFL game. To sit here and say we were the better team, or we'd have beaten them nine out of 10 times, come on. What a slap in the face it would be for me to say that."
Bruschi can recall several moments from the game that made him think things weren't going to go the Patriots' way -- the David Tyree helmet catch, of course, but also a dropped interception by Asante Samuel, another pass that went off
Brandon Meriweather
's hands, an
Ahmad Bradshaw
fumble that Bradshaw improbably recovered, etc. The kinds of things, Bruschi said, that used to go the Patriots' way when they started winning Super Bowls. But he says it would be a mistake to lay that loss on a few bad bounces.
"They came at us with that power running game with [Brandon] Jacobs and Bradshaw and the fullback, [Madison] Hedgecock," Bruschi said. "Physical offensive line, they had a defensive line, powerful. It validates what really wins football games. We had the highest-scoring offense in the history of the NFL, and we ran into a more physical team that day and lost."
Truly believing the other team was better doesn't help Bruschi deal with the loss, though. What the Patriots lost that day went well beyond one game or even one title. They lost the chance to lay claim to the title of greatest team in NFL history. Bruschi took it so hard, he put off retirement plans.
"I couldn't finish my career with that taste in my mouth," he said. "If we had won that game, I would have retired. No doubt in my mind. But after we lost, I had to come back and play another season."
Bruschi is a Patriot for life, and he recognizes that people will say Bill Belichick and Tom Brady have a chance to go exorcise some demons in the desert in a couple of weeks. But he doesn't think that's really the case.
"I know Tom wants to go out there and right the wrong," Bruschi said. "But if they go out there and win that Super Bowl, it doesn't fix anything for me. I'll be ecstatic and I'll be proud of the organization, but the big one was lost. Nothing's going to change that."
January, 19, 2015
Jan 19
11:40
AM ET
The
New York Giants
signed 26 free agents last offseason, more than any other team in the NFL. As we have discussed many times, they did this out of necessity rather than in some misguided, George Steinbrenner-style win-now effort to beef up the team for the short term. Their roster was hollowed out and full of holes that needed to be patched just so they could field a team in 2014.
Obviously, the results were mixed, as you'd expect. Some of these guys never played for the team. Some of these contracts continue into 2015 and beyond. Here's a look back at the deals the Giants signed last year and how they look after Year 1:
CB Dominique Rodgers-Cromartie
(5 years, $35 million): Played hurt most of the year, but within that framework more or less gave them what they hoped for. He's not going anywhere, as he has a $1.25 million guarantee for this year on top of prorated signing bonus and roster bonus money. Their hope is that he gets and stays healthy and performs like the elite player they're paying him to be.
LB Jon Beason
(3 years, $17 million): This looked like way too much at the time, though the Giants believed Beason was critical to their defense after they acquired him via trade in 2013. A springtime foot injury never healed, and Beason played in only parts of four games before going on injured reserve. Even though he has $900,000 in guaranteed salary coming in 2015, he's a candidate for release or restructure as his next two years' cap numbers ($7.37 million and $6.57 million) are out of line with his production.
G Geoff Schwartz
(4 years, $16.8 million): Signed to play left guard, Schwartz injured his toe in camp and played in only two games all year. The one positive is that he played right tackle in those games, demonstrating versatility that could help the Giants structure their offensive line going forward. With $1 million in guaranteed salary plus a $475,000 roster bonus for 2015, he gets a mulligan and a chance to show he can hold up over a full season at some position on the line.
[+] Enlarge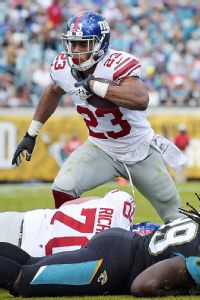 AP Photo/Phelan M. EbenhackRashad Jennings battled injuries, but he was one of the Giants' best free agent signings from a year ago.
RB Rashad Jennings
(4 years, $10 million): Considering how good Jennings looked when he was healthy and the Giants' offense was rolling during its early-season three-game win streak, this is a totally reasonable deal. Jennings' cap number is about $2.8 million each of the next two years and a tick over $3 million in 2017, and there's no guaranteed salary left. The issue is health, as multiple leg injuries limited Jennings to 639 rush yards in 11 games in his first season as a Giant. He's still a part of the backfield plan along with
Andre Williams
, but they could add a piece here, and if Jennings continues to struggle with his health, he may not be a long-timer in New York.
C J.D. Walton
(2 years, $6 million): The Giants were happy with the way he picked up the new offense and helped others learn it. But with 2014 second-rounder
Weston Richburg
slated for center long-term, Walton is a potential cap casualty. They'll save $2.5 million if they cut him.
LB Jameel McClain
(2 years, $4.5 million): Something of an afterthought signing in the way of the Rodgers-Cromartie one, McClain ended up playing middle linebacker in Beason's place and leading the team in tackles (as a 4-3 middle linebacker should). If they keep Beason, they could decide McClain is extraneous and save $3.1 million against the cap by cutting him. But he seems like a useful enough piece to keep around for one more year even as a starter on the outside.
DE Robert Ayers
(2 years, $3.75 million): Most of this deal's money is in this second year, with a $1.23 million salary, $500,000 in prorated signing bonus and a $500,000 roster bonus due on March 12. Assuming they move on from
Mathias Kiwanuka
, the Giants have a place for Ayers as a starting defensive end. But he's coming off his own serious injury, so it's no sure thing. And even if he's back, they could seek to reduce the cost, though it's reasonable enough that they don't have to.
CB Walter Thurmond
(1 year, $3 million): He said he turned down multiyear deals in the hope of having a big year and cashing in this spring. But he played in only two games before his season-ending injury. The Giants would like him back, assuming low cost in free agency.
CB Trumaine McBride
(2 years, $2.875 million): A broken thumb ended his season early, but at $1 million in salary for 2015 he's a valuable piece for the Giants in their secondary.
S Stevie Brown
(1 year, $2.75 million): Benched early in the year, rebounded a bit, now a free agent. Could bring him back as long as the cost is minimal. The Giants don't have a starting safety on the roster right now.
K Josh Brown
(2 years, $2.5 million): Gave them no reason to regret or alter this deal.
RB Peyton Hillis
(2 years, $1.8 million): Concussion issues could force him to retire. Minimal cap cost to the Giants ($945,000) if he is back.
LB Spencer Paysinger
(1 year, $1.431 million): Pushed into a part-time role due to the development of
Jacquian Williams
and
Devon Kennard
. No real reason to bring him back.
S Quintin Demps
(1 year, $1 million): Signed to return kicks, played a bunch of safety when Brown got benched. He and the team wish he'd played better. Free agent. They'll likely look elsewhere.
FB Henry Hynoski
(1 year, $1 million): To the (somewhat minimal) extent that the Ben McAdoo offense uses a fullback, Hynoski is a fine one.
DT Mike Patterson
(1 year, $920,000): Decent rotational player. Played in all 16 games. Giants like him, cost is low, but he'll turn 32 in September and is no lock to return.
G John Jerry
(1 year, $795,000): Signed as a backup, Jerry surprisingly started all 16 games at right guard following the retirement of Chris Snee. But like everyone else on the line, he struggled greatly in the run game. They'll likely seek to upgrade.
CB Zack Bowman
(1 year, $795,000): Played in all 16 games, had two interceptions. Didn't hold up when asked to step in as a starter, but that wasn't what they signed him for. As part of the overall cornerback plan, he makes sense to bring back on a minimal deal.
OT Charles Brown
(1 year, $795,000): Injured early, and when he finally got into a game it was as a sub for
Justin Pugh
against the 49ers. He was awful in that game and was cut the following week.
WR Mario Manningham
(1 year, $795,000): Never looked healthy in camp, got hurt again at the end of it, placed on IR before season started.
QB Curtis Painter
(1 year, $795,000): Lost the backup QB job to
Ryan Nassib
in camp, was released.
TE Kellen Davis
(1 year, $795,000): Released at the end of camp. Ended up on the Lions.
KR Trindon Holliday
(1 year, $700,000): Training camp hamstring injury landed him on IR before the season ever started.
WR Travis Harvey
(1 year, $420,000): Didn't make the team out of camp.
QBs Josh Freeman and Rusty Smith
: Remember? The whole thing about
Eli Manning
was going to have to miss spring practices following ankle surgery and they needed quarterbacks to take reps. Remember how people actually thought Freeman had a shot to stick? Good times. Good times.
January, 18, 2015
Jan 18
10:45
PM ET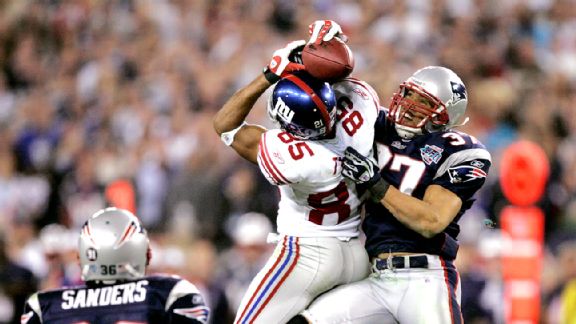 AP Photo/Gene Puskar
The New England Patriots just won the AFC Championship Game, hammering the Indianapolis Colts 45-7 and earning a trip to Super Bowl XLIX in Glendale, Arizona.
Not impressed: former NFL kicker Lawrence Tynes, who helped the New York Giants win two Super Bowl titles -- both against Bill Belichick, Tom Brady & Co.
Ouch. And he added the (nonfunctional) Glendale hashtag, which references the Giants' first Super Bowl vs. the Patriots -- you know, the one New England entered 18-0 and ...
If we could type fire emojis in this space, we would.
More awesome stories
• Seahawks fans leave NFC title game early, can't get back in
• Phoenix Suns make Gerald Green foam hands with just 4.5 fingers
January, 17, 2015
Jan 17
10:00
AM ET
If it's Saturday, it's
New York Giants
Twitter mailbag. And it's Saturday, so here you go.
Wouldn't it make the most sense to move pugh inside and get a f/a tackle..then draft picks can be defense.. #nygmail.. - brett vollant (@BLV2180) January 15, 2015
@DanGrazianoESPN
: I do think it would make sense to move
Justin Pugh
to guard and find a big-time, mauling, run-blocking right tackle. I have thought that for a couple of years now, and based on the comments the Giants' decision-makers made on the radio earlier this week, it sounds as though they believe it now as well. And your plan -- to find a tackle in free agency and not leave it for the draft -- is likely to be the one they pursue. I believe in the value of building the line through the draft, but at the No. 9 pick it does not appear as though there's going to be a must-take tackle for the Giants this year. There are some interesting tackle names on the free-agent market (
Doug Free
?
Bryan Bulaga
?
Joe Barksdale
?), and it's possible the Giants have their eye on one of them. If they can't upgrade at right tackle, they're fine with Pugh there and could beef up at guard again instead. But it sounds to me as though they'll be in the tackle market, yes. And I think they should be.
@DanGrazianoESPN what are the chances we bring back both JPP and Rolle? #nygmail - Jason De Rozario (@THE_REAL_JayDee) January 14, 2015
@DanGrazianoESPN
: It's certainly not impossible that the Giants could re-sign free agents
Jason Pierre-Paul
and
Antrel Rolle
, but the chances depend on a number of things. First and foremost is price. If Pierre-Paul is determined to max out as a free agent (which I believe he is), then the Giants would either let him leave or franchise him. If they franchised him, there would be less money for Rolle, who also believes he's worth a lucrative free-agent deal and could leave if they lowball him the way they did
Justin Tuck
last year. Their best chance for keeping both is that at least one of them gives some sort of "hometown discount." They're not likely to get that from Pierre-Paul. But as a 32-year-old safety, Rolle might not find the market for which he's hoping and could decide staying with the Giants at their price is the best option for finishing his career.
@DanGrazianoESPN Will Cruz's return help or hurt Odell's production and who is the odd man out in the wr rotation? #nygmail - Kerry Loomis (@kerryloomis) January 14, 2015
@DanGrazianoESPN
: A return to full health for wide receiver
Victor Cruz
is not guaranteed. But if he does make one then his return to the offense would help
Odell Beckham Jr
. and the rest of the offense immensely. I do not think Beckham's role would change at all, and if he continued to play at the level at which he played in 2014, he would continue to pile up targets and catches. But offensive coordinator Ben McAdoo had big plans for Cruz before his season-ending injury last year, and having Cruz back as the slot receiver could make things even easier for Beckham as defenses had someone else who required their attention. Cruz is a guy the Giants feel they can use in a role similar to the one in which the Packers use
Randall Cobb
-- move him around the formation, line him up in the backfield, etc. And having Beckham as the threat he represents on the outside would enable them to maximize those options. Cruz and Beckham played only one full game together in 2014. As for the "odd man out," good question. Assuming
Rueben Randle
as the No. 3 (which I think is a fair assumption), they have a fair bit of depth with guys such as
Marcus Harris
(assuming he comes back from his injury),
Corey Washington
and
Preston Parker
and
Kevin Ogletree
if they bring those guys back. They were surprised by what Parker delivered for them this year, and they view him and Ogletree as good fits for their offense. Wide receiver could be a position of good depth for the Giants if Cruz does return.
@DanGrazianoESPN #nygmail to take next step with new O, do Giants need a better passing threat TE? - Steven Haderer (@stevenhaderer) January 14, 2015
@DanGrazianoESPN
: I don't think so. If we go back to the Packers comparison (which I think we should always do when talking about the new Giants offense), they really haven't had a high-impact passing-threat tight end recently, right? Jermichael Finley for a time, maybe, but not lately. The Giants (a) don't like to spend big resources on tight end and (b) really like
Larry Donnell
as a high-ceiling developmental player. They believe that another productive offseason will help Donnell make another leap and emerge as a major threat in their passing game. But even if he doesn't, they showed this year that he can be useful as-is, and as we discussed above, they might have more than enough options at wide receiver.
Thanks for all of your questions.