November, 24, 2014
Nov 24
5:50
PM ET
A day after the
New York Giants
' bitter 31-28 defeat at the hands of the
Dallas Cowboys
, Giants coach Tom Coughlin admitted that he'd do things differently, if given another chance.
Leading 28-24 with three minutes remaining, the Giants allowed the Cowboys to march 80 yards down the field with relative ease for the game-winning score.
[+] Enlarge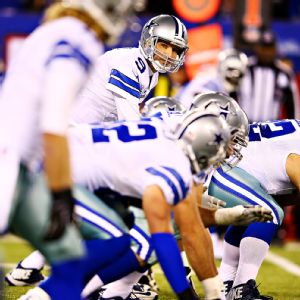 Al Bello/Getty Images
Cowboys quarterback
Tony Romo
was given all kinds of time, thanks to a practically non-existent Giants pass rush. Romo delivered and connected with
Dez Bryant
for a 13-yard touchdown with just more than a minute to play.
The Giants stayed away from the blitz on that final drive, choosing instead to rush just four linemen and try to beat Romo that way. It backfired, and Coughlin was asked Monday if he would have preferred more aggressive defensive play-calling down the stretch.
"Those things have been discussed long and hard in the meeting rooms today," Coughlin said, on a conference call with reporters. "I hear ya, and on paper theoretically I agree with you. We all feel that there should have been more done, more accomplished, perhaps even throughout the entire game but definitely on that last drive. You'd love to be able to do it over."
The drive began with short completions to Bryant and
Jason Witten
, followed by a nine-yard run by
DeMarco Murray
. Then, following the two-minute warning, on 1st-and-10 from the Cowboys' own 38-yard line, Giants defensive end
Mathias Kiwanuka
was flagged for a neutral zone infraction. Coughlin revealed Monday that the Giants did have a blitz dialed up on that play.
"If you remember the play in which we jumped, there was a pressure called there," he said. "Quite frankly I think that we kind of scared ourselves out of [blitzing] because of the penalty."
Romo made the rest look easy, hooking up with
Cole Beasley
for 21 yards, Witten for 15, and then Bryant in the back of the end zone. On the touchdown play, Romo had a full six seconds in the pocket to wait for Bryant to break free -- an eternity by NFL standards.
"That is about as tough as it gets," Kiwanuka said Monday, of watching that play on tape. "Especially being out there and feeling personally responsible for the outcome of the game. That is a tough one to swallow."
On further review, Kiwanuka and the Giants' other three defensive linemen weren't even close to getting to Romo. And it's worth noting that
Robert Ayers
was not in the game at that point. In fact, Ayers played only 20 of a possible 54 defensive snaps Sunday, even though he's been the Giants' best pass-rusher this season, and leads the team with five sacks.
"I can just tell you there were reasons why perhaps Robert wasn't in there," Coughlin said. "There was sound thinking behind that."
That's debatable. What isn't debatable is that the Giants' defensive line simply hasn't been good enough this season.
The team is ranked 26th in the NFL in sacks, with just 19 in 11 games. Not to mention that they are second-to-last against the run, giving up 142.6 yards per game.
"Obviously there's a lot that goes into it," Kiwanuka said, when asked about the team's lack of sacks. "The opportunities when they're there, we're not taking advantage of them. When they're not, we have to find a way to create them. We just have to find a way to make plays."
Jason Pierre-Paul has just 3.5 sacks, Kiwanuka has only 2.5, and you have to think the Giants will be looking to upgrade at defensive end this coming offseason.
"On a positive note," Kiwanuka added, "there is a lot of football left to be played and we could still change the story of this season before it is over."
That's highly debatable, too. At 3-8 and virtually eliminated from playoff contention before Thanksgiving, this Giants season can already be labeled a major disappointment.