December, 11, 2013
Dec 11
4:45
PM ET
GREEN BAY, Wis. -- Thanks to
Green Bay Packers
tight end
Andrew Quarless
, we know that quarterback
Aaron Rodgers
took
snaps with the starting offense
Wednesday.
Rodgers
While
Matt Flynn
still took the majority of the starter's reps and at this point is planning to start Sunday's game against the
Dallas Cowboys
, it represented a significant step for Rodgers in his recovery. How his collarbone feels Thursday will dictate his activities for the rest of the week.
"We'll see how he is tomorrow," Packers coach Mike McCarthy said after Wednesday's practice. "We'll set a plan for him again tomorrow."
Rodgers is expected to hold his weekly news conference Thursday.
Meanwhile, receiver
Randall Cobb
, who has been on the injured reserve/designated to return list since Oct. 15 because of his fractured tibia, still has not returned to practice. He is eligible to return to game action this week, but that appears unlikely.
"Randall is doing more, he's doing more in his rehab," McCarthy said. "He's progressing, looks good. He's starting to bounce around. He definitely took a step."
Running back
Eddie Lacy
won't practice until Friday at the earliest because of the sprained ankle he sustained Sunday against the
Atlanta Falcons
. Lacy finished the game after getting re-taped but if he can't play this week,
James Starks
would be the starter, and it could mean the recently signed
Kahlil Bell
would be the backup. Bell was inactive against the Falcons.
McCarthy said he did not have major concerns about inside linebackers
Brad Jones
(ankle) and
Jamari Lattimore
(knee) despite the fact that neither practiced Wednesday.
Receiver
Myles White
, who was
placed on season-ending injured reserve
Tuesday, said he injured his knee on his third-quarter catch against the Falcons. White said he has a partially torn meniscus but will not need surgery.
Here's the full injury report:
C Evan Dietrich-Smith (knee/ankle, limited participation in practice)
LB Brad Jones (ankle, did not practice)
RB Eddie Lacy (ankle, did not practice)
LB Jamari Lattimore (knee, did not practice)
OLB Mike Neal (abdomen, did not practice)
OLB Nick Perry (foot, limited participation)
QB Aaron Rodgers (collarbone, limited participation)
DE C.J. Wilson (ankle, did not practice).
December, 11, 2013
Dec 11
4:30
PM ET
EAST RUTHERFORD, N.J. -- Once the postseason is no longer a feasible goal, some teams will use the final games of their season to play some of the younger, more inexperienced players on their roster to see how they're developing and whether they can be a part of the plans for the coming offseason. The
New York Giants
, who were eliminated from playoff contention Sunday, have no such plans.
"We're going to try to play the best we can and win with the roster that we have," Giants coach Tom Coughlin said Wednesday, clearly annoyed by the premise of the question. "If the opportunity is there, then so be it. But that's not going to be the No. 1 thought on our minds."
[+] Enlarge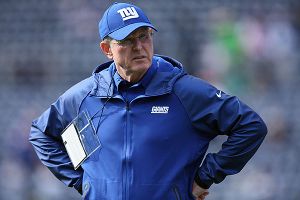 Jeff Gross/Getty ImagesDon't look for Giants coach Tom Coughlin to empty his bench during the season's last three weeks.
Coughlin and the Giants believe in developing players a certain way, and he mentioned that he's able to evaluate his bench players by watching them perform on special teams. He feels it's important to play the final three games of this season honestly and try to win all three of them, and he'll only alter his lineup if he believes the alteration is to that end.
"Those people who are playing have earned their right to play," Coughlin said.
He also asked for specific examples of players who might conceivably see more playing time for future-evaluation purposes, and several of the reporters in attendance obliged. Coughlin was asked about:
Tight end
Adrien Robinson
: "He was hurt for a long time. He's practiced for a few weeks now. He did a nice job of being a scout squad tight end for
Antonio Gates
a week ago. He's improved from that I can tell on special teams and if he can continue to improve, perhaps that opportunity will come."
Guard
Brandon Mosley
: "Well, he's been the XO tight end, did a nice job with that the other day. Hopefully you noticed that. And again, if the opportunity presents itself, so be it. But who would you like me to take out?
James Brewer
is also getting playing time, if you haven't noticed. He hasn't had a whole lot of time and he's getting playing time and he is responding, so I'd like to see Brewer continue to get better, too."
(Editor's note: The obvious answer from fans to "who would you like me to take out?" is right guard
David Diehl
. But it's obvious by this point that the Giants won't consider that.)
Quarterback
Ryan Nassib
's chances of being issued a uniform and joining the active roster one of these weeks, if not actually playing: "Not at this point in time. He's done very well as a scout team player. He's taking all these running quarterback roles and done a great job with it, played some safety, done a lot of good things. He's a very good, very sharp kid. Works his tail off, knows what his spot is, he's in that room with those guys and he's like a sponge, that's what the intent was."
So those are the answers in case you've been wondering. Nassib said he was going to play
Russell Wilson
on the scout team this week as the team gets ready for Seattle, and that's been his role for much of the year. It's unlikely to change, as the Giants obviously aren't going to sit down starter
Eli Manning
and
Curtis Painter
has been working as the backup all year and would therefore deserve first crack at the job even if they did.
Basically, the Giants believe they have a means of developing their back-of-the-roster players and evaluating that development. It's tough to figure out which guys they view as actual prospects and which they view as roster-filler. But it's tough when the players in question don't play. Brewer, for instance, was supposed to have been a worthy starter by this point but doesn't appear to be one. The Giants have a lot of offensive line questions to answer in the offseason, and it would be interesting to see what they have in someone like Mosley. But they're not going to weaken their chances to win one of these games just to see someone like Mosley in a game. That's not the way they do it.
December, 11, 2013
Dec 11
3:35
PM ET
EAST RUTHERFORD, N.J. -- Defensive end
Jason Pierre-Paul
, who has missed the last two
New York Giants
games due to his shoulder injury, did not practice with the team Wednesday as his status for the final three games of the season remains in doubt.
"It's as always," Giants coach Tom Coughlin said when asked what the plan was for Pierre-Paul. "What are the medical people telling me? How good does he feel? Where is his confidence level? Physically, strength, how much strength is there? Can he defend himself? Can he do the things that he has to do in order to play? Once those questions get answered, maybe I can help you a little bit better, but right now, even though he's very optimistic right now, I look at the sheet and he's not going today."
Defensive tackle
Cullen Jenkins
also missed practice Wednesday with shin and quadriceps injuries. Safety
Cooper Taylor
sat out with the hamstring injury he suffered in Sunday's loss in San Diego. Cornerback
Terrell Thomas
got his weekly Wednesday off to rest his surgically repaired knee. And cornerback
Corey Webster
was listed as a limited participant as he continues to deal with an ankle injury.
Cornerback
Prince Amukamara
, oddly, was listed on the pre-practice injury report due to an illness, but he did in fact practice with the team and was not listed on the injury report the Giants issued after practice. So he seems good to go.
December, 11, 2013
Dec 11
3:25
PM ET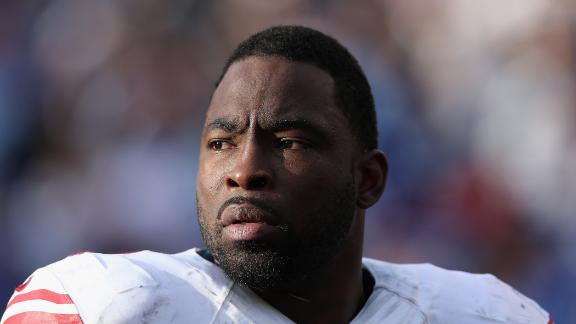 EAST RUTHERFORD, N.J. -- They're eliminated from playoff contention with three weeks to go, but Justin Tuck and the New York Giants won't want for motivation when they host the NFC-leading Seattle Seahawks on Sunday.
"The last thing you want to be is embarrassed," Tuck said after practice Wednesday. "And this is a team that, if you're not ready to play, they will embarrass you ... and then laugh at you about it."
In other words, the Giants are well aware of both how good the Seahawks are and the swagger with which they carry themselves.
Led by vocal cornerback Richard Sherman, the Seahawks (11-2) are one of the most openly confident teams in the league, and their performance this season backs the confidence up.
Someone jokingly suggested to Tuck that the primary thing on the Seahawks' minds when they get to MetLife Stadium might be what it would be like to return for Super Bowl XLVIII.
"I don't necessarily blame them if that's the case," Tuck said.
The Giants, 5-8 and playing uphill since losing their first six games, have been talking a lot this week about how much they have left to play for even though the playoffs are no longer attainable.
Coach Tom Coughlin continues to stress that the focus needs to be on the game at hand, rather than on feeling sorry for themselves or making plans for the offseason. He and the players believe that an opponent the quality of Seattle will help them maintain that focus.
December, 11, 2013
Dec 11
1:40
PM ET
GREEN BAY, Wis. --
Green Bay Packers
quarterback
Aaron Rodgers
continued to work with the backup centers during individual drills at Wednesday's practice just like he did last week.
But unlike last week, he did more throwing on the run.
At one point, Rodgers scrambled to his left and threw a sharp pass to
Jordy Nelson
along the sideline. Rodgers said he experienced pain his collarbone after last Wednesday's workout, so how he feels after this latest session will help determine when he can return from his Nov. 4 injury.
While Rodgers worked with backup lineman
J.C. Tretter
and practice-squad lineman Garth Gerhart,
Matt Flynn
took snaps from starting center
Evan Dietrich-Smith
.
Running back
Eddie Lacy
, who finished Sunday's win over the
Atlanta Falcons
after he sprained his right ankle in the second quarter, was not practicing during the portion that was open to reporters.
Others not practicing were: linebacker
Jamari Lattimore
(knee), linebacker
Brad Jones
(ankle), outside linebacker
Mike Neal
(abdomen) and defensive end
C.J. Wilson
(ankle).
Receiver
Randall Cobb
, who is eligible to come off the injured reserve-designated to return list this week, was not practicing. Cobb was scheduled to test his fractured tibia in a workout on Tuesday.
December, 11, 2013
Dec 11
1:05
PM ET
EAST RUTHERFORD, N.J. -- The Super Bowl 'countdown clock' that
New York Giants
' GM Jerry Reese hung in the team's locker room on the first day of training camp when he said everybody in the organization was "
on notice
" appears to have been taken down.
Not actually a "clock," but rather a piece of paper that was changed every day to reflect the number of days remaining until the Super Bowl was to be played in the stadium across the parking lot, it was not on the bulletin board Wednesday morning when reporters walked past the locker room on the way to practice. The Giants were eliminated from postseason contention with their loss Sunday to the Chargers in San Diego, so the number of days left until this year's Super Bowl is no longer a relevant piece of information for them unless they're planning on going and sitting in the stands.
The Giants lost their first six games of this season, eradicating realistic chances of making the postseason. But the mediocre state of the NFC East allowed them to stay mathematically alive while winning five of their next six. But their loss Sunday, coupled with victories by the Eagles, Cardinals and 49ers, assured that they cannot qualify for this year's playoffs. Giants coach Tom Coughlin, already grumpy Wednesday morning after answering questions about whether younger players will get playing time the rest of the way so the team can evaluate them for the future, was asked whether he planned to remove the clock.
"I don't know," Coughlin said. "I didn't put it up, so I'm not taking it down."
December, 11, 2013
Dec 11
12:00
PM ET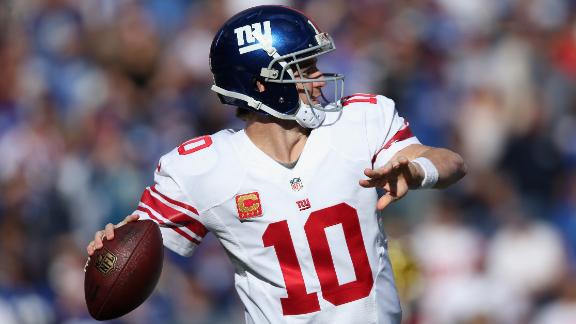 Giants reporter Dan Graziano says the Giants, who have been eliminated from playoff contention, will have something to prove when the NFC-leading Seahawks visit MetLife Stadium.
December, 11, 2013
Dec 11
9:30
AM ET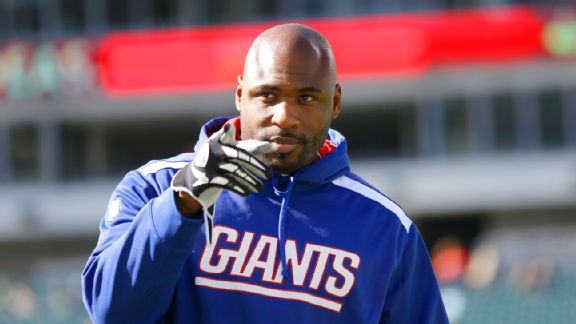 AP Photo/Matt RourkeBrandon Jacobs rushed for 5,087 yards and 60 TDs in eight seasons with the Giants.
The
New York Giants
placed running back
Brandon Jacobs
on injured reserve Tuesday night, ending his 2013 season. It's also possible that Jacobs, who will be 32 when the 2014 season starts, will retire, which would mean the move would end his career. Whether that's the case or not, a few words on Jacobs as a Giant are called for here.
In terms of this season, Jacobs was a surprise Week 2 signing after
Andre Brown
got hurt in the preseason and
David Wilson
fumbled twice in the opener. It looked like a pure depth move, but Jacobs ended up making a fairly significant contribution to the Giants' run game at a time when it was basically nonexistent. His best game was the Week 6 Thursday night game in Chicago, in which he ran for 106 yards and two touchdowns on 22 carries. He injured his hamstring in that game, and hamstring and knee injuries have limited him since. He played in only two games since then, and while he ran for 75 yards on nine carries in the Week 12 loss to the Cowboys, he missed the past two games due to the knee and apparently can't get healthy enough to play this year.
This happens to running backs, of course, in their 30s, and Jacobs is a back who took a lot of physical punishment early in his career. If this is the end for him, there would be neither surprise nor shame in that. And while the Giants' season hasn't gone as anyone hoped it would, Jacobs clearly has taken personal enjoyment in being back. This has always been his NFL home. He played seven seasons for the Giants, and made a major contribution to two Super Bowl titles, before leaving as a free agent following 2011 and signing with the 49ers. He did nothing for the 49ers and was admittedly unhappy there, and when the Giants came calling early this season he dedicated himself to killing the workout so they'd see him as worth bringing back. He did, and they did, and it has been clear ever since that Jacobs (a) wishes he'd never left and (b) felt wonderful about being back.
As has almost everyone on the roster, Jacobs played hard and stayed upbeat in spite of the 0-6 start and the lack of realistic hope it engendered. He took a lead role when called on, and he quietly took a back seat to
Peyton Hillis
and Brown when the coaches decided that's what was best. Other than the disappointment of the team's season writ large, Jacobs' return-home story was a nice one. If all is in fact said and done, he'll have been a great and decorated Giant -- fourth in team history in rushing yards, fourth in team history in total touchdowns, the franchise's all-time leader with 60 rushing touchdowns and, of course, tied for first in team history with two Super Bowl rings. And I'll bet he'll forever be glad he got this one last season as a Giant.
December, 11, 2013
Dec 11
8:00
AM ET
Your daily morning check-in on news and notes about and of interest to the New York Giants
Pierre-Paul
The news of the day
: The Giants get back to work today to prepare for Sunday's game against the NFC-leading Seahawks, which will obviously be as tough a game as they've played all year. This is the first week the Giants' preparations don't come with at least some shred of mathematical hope for the postseason, and that's an unusual position for this group to find itself in at this time of the year. So I think we're all at least a little bit interested to see how they handle that. I expect they'll be professionals and conduct their business the way they always do, but I guess you never know. Also interested to see whether
Jason Pierre-Paul
can practice this week or think about playing Sunday, or if we'll learn this week that he's out for the rest of the year. I'll be there to monitor it all for you guys, because that's the kind of dude I am. And because it's my job. But mainly because I care.
Behind enemy lines:
Even as the Seahawks have rolled through a remarkably successful season, coach Pete Carroll has consistently said they've committed too many costly penalties. This past week was
no exception
.
Around the division:
The Cowboys can't seem to get their defense right, regardless of who they hire to run it, and
Todd Archer thinks
part of the season is that Jerry Jones doesn't seem to be able to decide what he wants and stick with it. Dallas still controls its own destiny in terms of the division race, but it's going to need to play well the next two weeks if it wants that Week 17 game against the Eagles to mean something. The Eagles are obviously rolling.
Around the league:
Did you miss this week's
Power Rankings
? The Giants are back down to No. 23. This week's opponent remains No. 1. And there's a video with me and Mike and Jamison if you want to watch, which would be nice, but no pressure or anything.
December, 10, 2013
Dec 10
10:27
PM ET
Associated Press
EAST RUTHERFORD, N.J. -- The New York Giants have placed running back Brandon Jacobs on season-ending injured reserve, two days after a knee injury kept him out for a second straight game.
Jacobs finished the season with 238 yards rushing and four touchdowns -- most among Giants running backs -- and two receptions for 13 yards in seven games.
New York also signed linebacker Marcus Dowtin from the practice squad on Tuesday night, terminated the practiced squad contract of linebacker Darin Drakeford, and singed defensive end Kendrick Adams and defensive back Chaz Powell to the practice squad.