March, 11, 2014
Mar 11
11:51
AM ET
The
New York Giants
have reached an agreement with cornerback
Trumaine McBride
on a two-year, $3.1 million deal, per ESPN and media reports.
McBride
It's a nice re-signing for the Giants. After a year out of the league in 2012, McBride joined the Giants in 2013 and found himself a starting cornerback following injuries to
Corey Webster
and
Aaron Ross
, and he played much better than expected. He was likely to draw interest from other teams had he hit the open market at 4 p.m. ET on Tuesday, so if he's a guy the Giants liked, good for them for keeping that from happening. If nothing else, he's an insurance policy in case they get shut out in their pursuit of a top free-agent cornerback or can't find one early in the draft.
But signing McBride should not deter the Giants from those pursuits. They have expressed interest in several of the top cornerbacks on the market, and they would be much better off in the secondary if they could land someone like
Alterraun Verner
or
Captain Munnerlyn
or one of the many cornerbacks hitting the market Tuesday afternoon. That would enable them to use McBride as the nickel corner or as a reliable backup to their inside and outside starters. That's the ideal role for a guy like McBride. The Giants used him as a starter in 2013 and know they can do it again in a pinch, but their preference would be to get a premier guy who pushes McBride down the depth chart a bit, strengthening them overall at this important position.
It appears as though veteran
Terrell Thomas
, who served as the Giants' nickel corner in 2013, will hit the open market. 2012 third-round pick
Jayron Hosley
is still looked at as a guy who can play the nickel, but injuries have hampered his development.
March, 11, 2014
Mar 11
10:00
AM ET
March, 11, 2014
Mar 11
9:38
AM ET
[+] Enlarge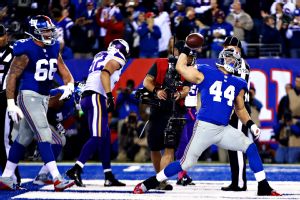 Al Bello/Getty ImagesPeyton Hillis rushed for 247 yards and two touchdowns in seven games with the Giants last season.
The New York Giants are still looking for help at running back, but they liked what Peyton Hillis did for them last season enough that they are on the verge of re-signing the veteran to a two-year deal before free agency opens at 4 p.m. ET Tuesday.
Hillis is having a physical in New Jersey on Tuesday, and the deal is expected to be completed soon, a league source confirmed to ESPN.com.
The Giants also retained Trumaine McBride on Tuesday, agreeing with the cornerback on a two-year deal worth $3.1 million, according to a league source.
The Giants signed Hillis off the street in October after a rash of injuries made their running back situation as desperate as any in the league. He carried the ball 73 times for 247 yards and two touchdowns in seven games, impressing quarterback Eli Manning and the coaches with his physical style and his ability to help in the passing game.
March, 11, 2014
Mar 11
9:30
AM ET
Yeah, that's right. Free agency begins today at 4 pm ET along with the start of the new NFL league year. That means the
New York Giants
, who by my count need at least 10 new starters and a whole bunch of depth, are going to get busy figuring out what their 2014 roster is going to look like.
The industry scuttlebutt this morning is the Giants will sign a center quickly, as they did three years ago with
David Baas
when the market opened. They have decided to release Baas,
as you learned Monday
, and with nothing behind him on the current roster, center becomes a priority item. The Packers'
Evan Dietrich-Smith
makes a lot of sense and could be the guy they sign right away, within minutes or hours of the opening of the market. Dietrich-Smith turns 28 in July, and new Giants offensive coordinator Ben McAdoo knows him from their work together in Green Bay. The Giants also have spoken with the agents for Saints free-agent center Brian de la Puente and others.
The Giants also are known to be looking at cornerbacks. They are close to an agreement with
Trumaine McBride
, who became a starter for them last year after
Corey Webster
and
Aaron Ross
got hurt. But they see McBride as a valuable reserve or swing corner who can play inside or outside. They'd prefer not to have to rely on him as a starter on the outside if they can help it. Now, obviously, the biggest name on the cornerback market all of a sudden is
Darrelle Revis
, who is apparently about to get cut by the Buccaneers. If the Giants want to play in the deep end of the cornerback pool, they would have to at least check on Revis. My guess is that he'll cost more than they want to pay, but they'd be crazy not to look into it. The Giants have about $25 million in salary cap space right now, and while they have a lot of needs, that's enough to enable them to afford anyone.
The Giants also continue to work on a new deal for linebacker
Jon Beason
, though it seems as if he's interested in finding out what else is out there for him. Remember, because Beason is acting as his own agent, he hasn't yet been able to have the conversations with teams that other agents have had about their players for the past three days. So, assuming everyone's been following the rules, Beason doesn't yet know what his market is. Once he finds out, he could decide the Giants' offer is the best he'll do. But he owes it to himself to find out.
Other than McBride, it seems the only Giants free agents who'll be locked up by 4 pm ET are kicker
Josh Brown
and possibly running back
Peyton Hillis
. That means Beason,
Justin Tuck
,
Linval Joseph
,
Terrell Thomas
,
Stevie Brown
,
Hakeem Nicks
and all the rest should be on the market when it opens. Of that list, I'd guess Beason and Brown are the most likely to be back, and I wouldn't rule out Tuck just yet. The others are looking for bigger paydays than the Giants are willing to offer right now.
Stay tuned throughout the day, of course. We'll have plenty of coverage, including a live chat with all of our NFL reporters that runs from 2 p.m. ET to 10 p.m. ET. I'll be popping in and out of there as news warrants, but the chat should be active all day with news from around the league. Stop by at
this link right here
. Catch up with you later.
March, 10, 2014
Mar 10
7:21
PM ET
The New York Giants continue to position themselves for a big start to free agency, and with less than 24 hours to go until the start of the new league year, longtime right guard Chris Snee has agreed to a significant reduction in his salary to assist in the effort.
Snee's pay cut is no surprise. He said publicly that he expected to have to take a pay cut when he decided to put off retirement and play another season for the Giants.
Snee has agreed to reduce his base salary from $7.2 million to $1.1 million, plus another $1 million in incentives, a source told ESPN NFL Insider Adam Schefter.
Prior to Monday, the Giants had about $18.1 million in cap space, according to ESPN's figures. They'll gain an additional $1.775 million with the release of center David Baas ($5 million if they designate him for post-June 1 release) and then the big chunk ($5.6 million) Snee has agreed to hand them.
The Giants are expected to be aggressive once free agency starts at 4 p.m. ET on Tuesday, pursuing a new center, likely at least one new guard and a cornerback early in the free-agent signing period.
Other needs include wide receiver, tight end, running back, middle linebacker, defensive tackle and defensive end. Some of those could be filled if they were to re-sign some of their own free agents, such as Hakeem Nicks, Andre Brown, Jon Beason, Linval Joseph and Justin Tuck.
March, 10, 2014
Mar 10
4:57
PM ET
The New York Giants have decided to release center David Baas, two sources told ESPN.com on Monday.
Baas has been the Giants' starting center since signing as a free agent from the San Francisco 49ers in 2011, but he has struggled to stay fully healthy, and his 2013 season ended early as a result of a neck injury.
The decision to release Baas likely indicates the Giants believe, based on the conversations they've had with agents over the past three days, that they will be able to sign a free-agent center to replace him. Green Bay's Evan Dietrich-Smith and New Orleans' Brian De La Puente are two free-agent centers in whom the Giants have expressed interest.
It's unclear whether Baas will be an outright release or whether the team will designate him a June 1 cut. The latter would make more sense, as the Giants would save $5 million against this year's salary cap if they went that route, and only $1.775 million by making the cut effective Monday.
Baas will become a free agent right away -- the only difference would be that the Giants wouldn't be able to use the cap savings until June 2. That's not a major issue for them, as they have plenty of cap space with which to operate when free agency opens at 4 p.m. ET Tuesday.
March, 10, 2014
Mar 10
2:16
PM ET
I have a source who has confirmed
this New York Daily News report
that the
New York Giants
have called to express interest in free-agent center
Brian de la Puente
, who was last with the
New Orleans Saints
. This source believes the Giants have called to express interest in quite a number of interior offensive linemen but was confirming the de la Puente interest because it already had been reported.
At this point, it's impossible to handicap the Giants' chances of signing de la Puente or even whether he's their first choice for center. The "legal tampering period" reports make it tough to know what to believe, because what you hear and read is only a sliver of the amount of activity that's actually going on.
But I have heard some things with regard to the Giants and the offensive line, so I will share them with you here, provided you promise not to fixate on specific names. There are a lot of moving parts, and the point of this analysis is that the likelihood of some moves depends on the way others break in the meantime. So without further ado:
Baas
The David Baas situation.
The Giants are not averse to keeping Baas, though it would have to be at a lower salary than his currently scheduled $4.75 million for 2014. They have discussed with Baas a pay cut and also a restructure, and either option would reduce his 2014 salary-cap number. They also haven't ruled out releasing him, especially if a better option (de la Puente, for example) presents itself in the meantime. The Giants would save $1.775 million against the cap if they cut Baas, and they would save $5 million if they designated him a June 1 cut, as the Steelers did Monday with linebacker
LaMarr Woodley
. The issue could be one of leverage: Until the Giants have secured a new center, Baas can wait and hold them up on the salary as long as he's their best option. But that's a risky strategy, since he could find himself out of a job the minute they sign someone else.
UPDATE
: The Giants have
decided to release Baas
before the start of free agency, which likely means they were encouraged by what they learned this weekend in terms of their chances to find a suitable replacement on the free-agent market.
Snee
The Chris Snee situation.
The veteran right guard has said publicly he'll take a pay cut, and the Giants appreciate this because they don't know the extent to which they'll be able to count on Snee and his surgically repaired hips as a starter. Snee's decision to return for 2014 surprised some people around the Giants, though not necessarily unpleasantly. They are happy to have him if he's healthy enough to play, though his return doesn't preclude them from securing a young free-agent guard or drafting an offensive lineman to take his place, either now or eventually. Snee said recently that he would step aside and help as a tutor if a younger player came in and took his job, and his flexibility on these matters is an asset to the Giants as they make their offseason plans.
Boothe
The Kevin Boothe situation.
I have heard conflicting things on Boothe from different sources. One person told me early in this process that the Giants weren't planning to bring back Boothe. Another has since told me they're amenable to bringing back Boothe but that they would prefer him as a backup at guard and center than as their starter at either position. As is the case with Baas, they appear to be holding off on doing anything with Boothe until they figure out whether they can do better. The difference is that Boothe is a free agent as of 4 p.m. ET Tuesday while Baas is still under contract. I just don't get the sense they would be devastated if someone else wanted to pay Boothe as a starter and they ended up having to replace him.
Free-agent possibilities.
In addition to de la Puente, the Packers'
Evan Dietrich-Smith
and the Patriots'
Ryan Wendell
have both come up in connection with the Giants in terms of centers. Wendell is likely a cheaper fallback option in case they get priced out of the high end of the center market. Guard possibilities continue to include the Chiefs' duo of
Jon Asamoah
and
Geoff Schwartz
, though Monday's rumblings indicate Atlanta as the front-runner for Asamoah. Recently released
Davin Joseph
and
Uche Nwaneri
are possibilities, but the Giants are hoping to sign players under 30 years old as they view the line situation as a long-term rebuild as much as a necessary short-term fix.
March, 10, 2014
Mar 10
10:00
AM ET
Here are the top 15 free agents, followed by their rankings, entering Tuesday's signing period as compiled by NFC East reporters Dan Graziano, Todd Archer, Phil Sheridan and John Keim. There are some strong options at the top, but there is not a lot of depth in the NFC East when it comes to free agency. And if Dallas'
DeMarcus Ware
gets released, he vaults to a top spot on this list. As always, ESPN's free-agent tracker will keep you updated during this period.
1. LB Brian Orakpo, 8.5:
The Redskins used the franchise tag on him, so barring a surprise, he'll be back. It's a controversial move among fans, but the Redskins need his pass rush and promise to unleash him more often. His career best for a single season is 11 sacks.
2. DT Linval Joseph, 8:
A very big, strong and young (25) interior run-stuffer who has also shown the ability to create pressure from the interior, Joseph could be available because of the Giants' depth at defensive tackle and their many needs.
3. DT Jason Hatcher, 8:
He is coming off an 11-sack season, but he turns 32 in July and Dallas doesn't have much cap space.
4. LB Jon Beason, 7:
The Giants are working hard to sign him before free agency opens, as his leadership and high-energy play at middle linebacker helped transform their defense during the 2013 season.

Nicks
5. WR Hakeem Nicks, 7:
This grade is based on talent and past accomplishments, and a feeling that he was being overly careful in 2013 in order to hit free agency healthy. Lacks his early career speed, but knows how to play the position as well as anyone.
6. WR Jason Avant, 7:
For a team in need of a third-down possession guy, the sure-handed Avant will be a great value.
7. P Donnie Jones, 7:
The Eagles are expected to re-sign Jones, who was an underrated contributor to their NFC East title team.
8. DE Anthony Spencer, 6:
He is coming back from microfracture surgery, so the cost won't be high.
9. LB Perry Riley, 6:
The Redskins need to re-sign him because they already have a hole at inside linebacker after
London Fletcher
retired. But they won't break the bank for Riley, who needs to improve in coverage.
10. DE Justin Tuck, 6:
Coming off an 11-sack season that came out of nowhere after two down years, Tuck turns 31 later this month but is a locker-room leader and a 4-3 defensive end who can set the edge against the run.
Vick
11. QB Michael Vick, 6:
With
Nick Foles
' ascension, Vick is looking for a chance to start elsewhere.
12. RB Andre Brown, 5:
He played very well in his first few games back off a broken leg, but faded down the stretch and fumbled too much in the final few games. He is likely not a guy who can be relied on as a starter, but potentially a valuable piece.
13. TE Brandon Myers, 5:
A huge disappointment in New York after catching 79 passes as a Raider in 2012, Myers also contributed little as a blocker. The Giants are likely to let him go. He could fit better with a different system.
14. CB Terrell Thomas, 5:
He played all 16 games after missing the previous two seasons because of ACL tears in the same knee. Thomas believes he can hold up as a starter off a real offseason, and would like to cash in.
15. S Danny McCray, 5:
He is a core special teamer only, so the Cowboys could find value here.
March, 10, 2014
Mar 10
9:30
AM ET

Nicks
New York Giants
wide receiver
Hakeem Nicks
got some bad advice somewhere along the way in 2013. The manner in which he carried himself and handled his business during the Giants' disappointing season -- as a man more concerned about keeping himself healthy than about helping the team win -- seems to have been generated by the people who were representing him at the time. His act turned off Giants coaches, and when free agency opens at 4 p.m. ET on Tuesday, Nicks is likely to be heading elsewhere.
Nicks has since switched agents, and the advice he's getting now appears to be pretty good. His new agents circulated letters to teams over the weekend in which doctors assert Nicks is medically fine and that past leg injuries should not hamper him in the future, according to our man Chris Mortensen. And then on Sunday, Nicks
spoke with our Josina Anderson
and said he was looking forward to signing a long-term deal with a team for whom he could be the "missing link."
"I know if I went to a place like Indianapolis, I would be dangerous with a quarterback like Andrew Luck," Nicks said. "I can see myself catching passes from Cam Newton or even Philip Rivers."
Now, if you're a Giants fan, you're 100 percent justified in wondering why Nicks didn't feel up to performing like the "missing link" for
Eli Manning
on a struggling Giants offense in 2013. If he was looking for opportunities to show he could be a difference-making No. 1 wide receiver, the Giants this past year offered him several. But he sleepwalked through the season because health was the most important thing.
Which is fine. Health is a precious asset for these players. The NFL is tough, and you have to make sure you get your money when you can get it. I'm just saying that the Giants and their fans have every right to roll their eyes at this latest statement from a guy who does not appear to have given his all in his final season with the team.
However, as for the future, I think Nicks is doing very well for himself in this pre-free agency period. The teams he lists all could certainly use him, and now he's got fan bases and front offices in those cities imagining him as the difference-maker at wide receiver that could put them over the top. All three of those teams made the playoffs in 2013 in spite of deficiencies at wide receiver, and all three likely are looking for upgrades at the position for 2014 and beyond.
As I have believed all along, Nicks is going to get a long-term deal from some receiver-needy team, and I also think (assuming he really is healthy) that he'll perform well for his new team. But while it's important to remember that he did perform brilliantly in 2011 and help them win a Super Bowl, the fact that the Giants aren't likely to be that team is something that will annoy Giants fans for a long time to come.
March, 9, 2014
Mar 9
3:35
PM ET
ESPN.com news services
[+] Enlarge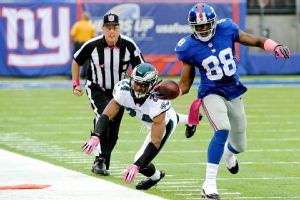 AP Photo/Bill KostrounHakeem Nicks said 'there are a number of teams that I have my eye on' once he becomes an unrestricted free agent Tuesday.
Hakeem Nicks emphasized Sunday that he wants a long-term contract as a free agent, claiming he can be a "missing link" to a team with championship aspirations.
Nicks, who will become an unrestricted free agent Tuesday, told ESPN's Josina Anderson that he is considering "a number of teams."
"Ideally this is what I want," Nicks told Anderson. "I want to go to a team where I'm the missing link. There are a number of teams that I have my eye on once I hit the market."
Nicks, who was plagued by injuries during his final two seasons with the New York Giants, specifically mentioned several quarterbacks that he envisioned teaming up with.
"I know if I went to a place like Indianapolis, I would be dangerous with a quarterback like Andrew Luck," Nicks said. "I can see myself catching passes from Cam Newton or even Philip Rivers."
March, 9, 2014
Mar 9
2:50
PM ET
You have to be careful this weekend with what you hear and where you hear it. The NFL's legal tampering window opened at noon ET on Saturday, so while no free agent can sign with a new team until 4 p.m. ET on Tuesday, teams are allowed to talk to agents for free-agent players, and talk they do. Reports Saturday indicated the
New York Giants
had reached out to the representatives for Tennessee cornerback
Alterraun Verner
and Baltimore defensive lineman
Arthur Jones
.
Verner
The calls could mean any number of things. Take Verner, for example, who is likely to be one of the most sought-after and highly paid cornerbacks on the free-agent market. The Giants could be looking around to see whether they can afford to spend on a cornerback this offseason, and calling the agent for the top one to see where the market is going is one way to find out. Green Bay just re-signed
Sam Shields
on Saturday for four years and $39 million with at least $12 million guaranteed. So if the Giants want Verner (or another top cornerback), it's fair to assume they will need to offer $9 million or $10 million a year to get him.
That's a significant price to pay, especially for a team with so many significant needs on the offensive side of the ball. But the idea of making
Prince Amukamara
the No. 2 cornerback again isn't a bad one for the Giants. That is not to say Amukamara is a No. 2 corner. I think he's a very good player -- not a "shutdown" type of guy, but a good, smart technician who knows the position and works hard at it and will contribute more good than bad. A borderline No. 1 at least. Adding a corner who is better than he is would make the defensive backfield very strong. Defensive back is a position on which the Giants have long shown a willingness to spend big resources (early draft picks or free-agent dollars), and so it wouldn't be out of character for them to throw money at a cornerback early in free agency.
As for Jones, who was a defensive end in Baltimore's 3-4 front, he'd be a defensive tackle in the Giants' scheme and could be an option if they believe
Linval Joseph
is leaving as a free agent. Pro Football Focus ranked Jones the No. 12 overall 3-4 defensive end last year. He'll be 28 in June and he's a Syracuse guy, and you know how the Giants like those Syracuse guys.
Much more to come, obviously.
March, 8, 2014
Mar 8
5:05
PM ET
ESPN's Chris Mortensen is reporting that
New York Giants
wide receiver
Hakeem Nicks
has
circulated documents to all NFL teams
that include doctors' assurances that " past foot and knee injuries should not inhibit the wide receiver's 2014 season, according to a league source."

Nicks
Unless Nicks re-signs with the Giants before 4 pm ET on Tuesday (which is extremely unlikely), he will be a free agent and able to negotiate with any team. As of noon Saturday, in fact, teams were permitted to contact Nicks' agent to discuss contract parameters.
Mort also reports that Nicks " is willing to weigh a one-year contract to prove his past two seasons were aberrations, league sources said."
So, a couple of things on this:
1. If Nicks really can offer documented proof that past leg injuries haven't sapped his speed and explosiveness, good for him, because there's none on his 2013 game tape.
2. If physical problems weren't limiting Nicks in 2013, and I were an interested team, I'd have a ton of questions about what
was
limiting him. If he was as healthy as he says he was, then it's reasonable to conclude that we were watching a player give somewhat minimal effort on the field because he was overly concerned about getting injured in his walk year. And if he's that kind of player (which nothing in his previous history ever indicated he was), that's going to turn off a team or two.
3. The one-year deal thing could happen with a lot of high-profile guys coming off down years. B.J. Raji is talking about one with the Packers, for instance. With the salary cap set to rise dramatically in the next two seasons, players know there's going to be even more money in the pool for them next year. If you're willing to bet on yourself, why not take a one-year deal and hit the market again a year from now after a better season? Nicks would only be 27 when next year's market opened.
The problem is, Nicks just had a lousy contract year, and signing a one-year deal would put him in the same position he occupied in 2013. And who'd want that player again? That's a player that gets offensive coordinators fired.
I have been saying for a while that, if Nicks really is healthy, someone's going to get a very good player for next year and beyond. My sense with regard to the Giants is that they're far enough down on Nicks due to his disappointing 2013 season that they won't be the team that signs him. I think a team or two will be willing to pay for the player Nicks was earlier in his career on the belief that, at age 26, he can still be that player again. So he'll probably get a nice deal somewhere. Other than East Rutherford.
March, 8, 2014
Mar 8
4:03
PM ET
On the day prospective free agents can begin negotiations with NFL teams, Hakeem Nicks has circulated medical assurances to all clubs from two of the nation's leading specialists that past foot and knee injuries should not inhibit the wide receiver's 2014 season, according to a league source.
Nicks' final two seasons with the New York Giants, with whom his productivity dipped dramatically since they selected him in the first round of the 2009 draft, were plagued by the injuries. He officially becomes an unrestricted free agent Tuesday, the first day of the new league year.
Dr. Robert Anderson, who performed foot surgery on a Jones fracture that was repaired with a screw in late May 2012, wrote to teams that a recent MRI provided no discernible ankle or foot problems that would prohibit Nicks from resuming an active career.
Dr. James Andrews also wrote a hearty endorsement related to Nicks' PCL surgery in February 2013 for a left knee injury he suffered in September 2012. Andrews declared Nicks' knee to be "completely healed" and does not have "any hesitation" in recommending teams to consider him.
Copies of the doctors' letters were obtained through a league source.
Nicks is receptive to returning to the Giants. If he does not re-sign with New York, he is hopeful of finding a team with a proven quarterback.
He is willing to weigh a one-year contract to prove his past two seasons were aberrations, league sources said.
March, 8, 2014
Mar 8
11:00
AM ET
You have questions about the
New York Giants
. You have a Twitter account. You use the #nygmail hashtag. I have a Saturday post. World spins on.