November, 26, 2014
Nov 26
5:15
PM ET
EAST RUTHERFORD, N.J. -- He has seen them all, has
New York Giants
wide receiver
Odell Beckham Jr
. A child of the 1990s, Beckham is no stranger to Internet memes, and since Sunday night he's seen the superimposed images of himself in his one-handed-catch pose on the Sistine Chapel, rescuing Steve Bartman from infamy, dunking over
LeBron James
... all of them. Pressed on Wednesday for a favorite, Beckham said he enjoyed the one where he's catching 50 Cent's shockingly errant ceremonial first pitch at a Mets game.
"That one gave me a good laugh," Beckham said.
[+] Enlarge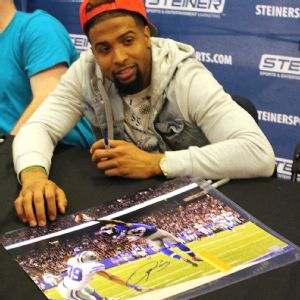 Steiner Sports Odell Beckham Jr. has been getting plenty of attention this week for eye-popping Sunday night TD grab.
He's watched his brilliant touchdown catch several times, and in a serious moment Wednesday he said it "got me into my religious side." That likely came up in conversation with Giants player development director David Tyree, who told Beckham he thought that catch may have been better than his own famed "helmet catch" that helped beat the Patriots in Super Bowl XLII.
"I told him, 'No way. Yours was in the Super Bowl. Period,'" Beckham said. "Mine was just in a regular-season game. I still have to take my hat off to him for that."
The catch has obviously defined Beckham's week, as he hasn't been able to go anywhere without seeing it, hearing about it or being asked to talk about it. That includes autograph signings and other appearances he's made this week, and of course Wednesday's post-practice session with the media.
"It's definitely still there," Beckham said. "There's no way of denying that. For the most part, I'm just trying to get ready for this week. We do have another game coming up Sunday, so you've got to find a way to put it behind you at some point."
Wednesday he was asked to pose in front of his locker with the gloves he wears during games. They are sticky Nike gloves he's used since college, where he said he and his teammates were asked to offer feedback on them and he said they were among his all-time favorites. Some have pointed out that the gloves have a lot to do with Beckham's ability to make his one-handed catches, and he agrees.
"The gloves definitely help, but that's part of the game," Beckham said. "You're allowed to wear gloves. They're not against the rules, but they definitely do help."
Asked whether he could repeat the play bare-handed, Beckham said he didn't know, but he didn't rule it out. He's been practicing one-handed catches since high school, and spent time before practices at LSU competing with teammate and current Dolphins receiver
Jarvis Landry
to see who could make the craziest ones. Landry has emerged as a strong young wide receiver option for
Ryan Tannehill
in Miami, and he and Beckham are
enjoying each other's success from afar
. Beckham's mission now is not to enjoy his own too much.
"Just continue to keep doing the little things right," Beckham said of what he does moving forward. "Obviously, as a receiver, we're supposed to catch the ball with two hands. So any time the ball's coming your way, catch the ball, and just keep continuing to get better each and every day."