October, 30, 2014
Oct 30
5:30
PM ET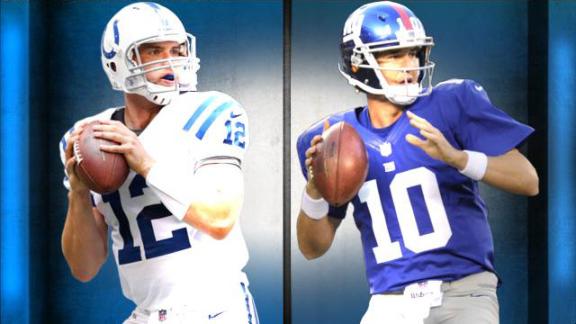 EAST RUTHERFORD, N.J. -- It all sounds good, and the fact that it came from his general manager forces him to take it seriously. But while
New York Giants
quarterback
Eli Manning
understands Jerry Reese's desire for the offense to be more aggressive, he wants to make it clear that he's not going to take chances with the ball just for the sake of taking chances.
"I think we're just trying to run the offense," Manning said Thursday. "I think we're trying to run things we feel comfortable with and that we know our guys do well. If we can create some throws down the field, that's great. But we can't force them just because you want to throw the ball downfield. We're looking for completions, and then hopefully we can create some big plays."
The Giants changed offensive coordinators and installed a new West Coast system designed to limit turnovers after Manning led the league with 27 interceptions last season. Manning has said he enjoys not having to constantly be trying to extend plays and make the big play downfield, and while the Giants were winning three games in a row earlier this season, the offense was scoring points reliably and in rhythm.
Now that they're playing without starting running back
Rashad Jennings
and top wide receiver
Victor Cruz
due to injury, the Giants likely are concentrating even more on sticking to the game plan and executing the plays that are called. But again, this suggestion comes from the top, so Manning can't just dismiss it.
"I'm just trying to go through my reads," Manning said. "In some cases, maybe my first progression might have been open, and you look back and say, 'Well, if you would have gotten to your second progression, you had a go-route that was open on it. But that's part of football. You can't start second-guessing or start changing your reads just to try to get something deep, because all of a sudden you do that, and the deep one doesn't win, then you're stuck with sacks or several bad plays.
"So I just have to stay the course and keep going through my progressions, and hopefully guys can keep winning their routes and we'll find completions. As long as you're getting completions and first downs, moving the ball, having drives, that's good also."
When the crowd dispersed a bit, I asked Manning this question: "If your first read is open, you have to throw it to him, right?"
"Pretty much, yup," he said.
So then I asked whether they'd consider changing the plays so that the first reads are occasionally deeper ones, and he pretty much said no to that too.
"You can throw it short and still hit a big play," Manning said.
So there you have it. Don't expect any big changes anytime soon. If they get a great matchup and have a chance to throw deep without significant risk of a turnover, sure, the Giants will try that out. But this is a run-based, short-passing-game offense, and that's what it's going to continue to be.