Report Card: Grading the Giants' draft
April, 27, 2013
4/27/13
3:30
PM ET
---
Justin Pugh, OT, Syracuse
Round 1, 19th pick
Analysis: A lot of the players the Giants were eyeing had been picked. Alabama tackle D.J. Fluker, Texas safety Kenny Vaccaro and LSU safety Eric Reid were all gone. In fact, the Niners traded with the Cowboys to take Reid right before the Giants picked. So the Giants opted to fill a big need with an offensive lineman they feel can play tackle, guard or center.
Jerry Reese said he could not pass on Pugh's versatility. While they did pass on a potential top-10 talent in DT Sharrif Floyd, the Giants got a guy who could potentially enter the mix to start at right tackle this season. At the very least, Pugh offers immediate and much-needed depth on the line that Reese knows isn't getting any younger. Pugh could be a starter in 2014 when Kevin Boothe and David Diehl are expected to be free agents.
---
Johnathan Hankins, DT, Ohio State
Round 2, 17th pick (No. 49 overall)
Analysis: The Giants have made it clear that they are looking to solidify themselves in the trenches with their first two picks. In the second round, the Giants added more beef -- a lot of beef -- to the defensive line. Hankins gives the Giants 320-plus pounds to plug inside for a unit that finished 25th against the run last year. He should complement more agile defensive tackles like Linval Joseph and Cullen Jenkins with his wide body. But with the depth at defensive tackle for this season, Hankins might see limited snaps. His biggest impact may come in 2014. Joseph is entering the final year of his deal and Mike Patterson and Shaun Rogers are on one-year deals. Even though they could have gone cornerback or defensive end, the Giants clearly want to keep their defensive interior stocked with a young prospect. Hankins is the third defensive tackle drafted in the second round by the Giants in their last four drafts.
---
Damontre Moore, DE, Texas A&M
Round 3, 19th pick (No. 81 overall)
Analysis: The Giants may have gotten terrific value with Moore, who was considered to be a potential first-round talent. The defensive end also has the kind of production that excites the Giants with 26.5 sacks in three seasons. Moore has the tools to be a "joker" hybride type of player but Jerry Reese envisions him as an edge rusher. The Giants, who like Moore's effort on tape, needed to come out with a pass rusher in this draft with Osi Umenyiora gone and Justin Tuck entering the final year of his contract.
Moore, 20, may have dropped to the third round because of concerns over his maturity and a slow combine time (4.9). He was arrested for marijuana possession in 2011 and Tom Coughlin said Moore has to improve his practice habits. His biggest immediate impact may come on special teams but the Giants hope he can compete for snaps in the pass rusher rotation this season.
---
Ryan Nassib, QB, Syracuse
Round 4, 13th pick (No. 110 overall)
Analysis: It's hard to argue with the value the Giants got with this pick. Some thought Nassib could go as high as the first round, and the Giants had him rated as a guy with second-round value. They have been looking for a quarterback to groom behind Eli Manning for "a while" according to Jerry Reese. But they had to trade up to grab Nassib and gave up their sixth-round pick. And quarterback isn't a need, since Manning never misses a game. There were a lot of good players on the board for the Giants to take to fill other needs, like at CB, S, LB and TE. But the Giants went for a quarterback of the future, one that Reese likens to Cincinnati's Andy Dalton. The problem is, when will he play? That answer could be several years from now. Reese even admitted that if he never plays, that would be the ideal situation, since that would mean Manning is healthy and good. But I do commend the Giants for addressing an issue they've ignored to a certain degree, and they now have a future plan if Manning were ever to get seriously injured.
---
Cooper Taylor, S, Richmond
Round 5, 19th pick (No. 152 overall)
Analysis: The Giants might have helped themselves in two areas with this pick. Taylor is a 6-4, 228-pound safety who may be able to play outside linebacker as well. That means he could potentially play the Deon Grant third-safety role. The Giants like to use a three-safety look on passing downs, and Taylor appears to have the size and speed (clocked 4.49 at his pro day) to cover tight ends (and maybe even a slot receiver) and tackle. This coming season, he could factor in on special teams and perhaps push for the third safety spot with an impressive camp. Next season he could have a bigger impact with Stevie Brown playing on a one-year tender. The negative on Taylor is that he had surgery to correct a heart condition (Wolff-Parkinson-White syndrome) and has dealt with a series of injuries the past two seasons.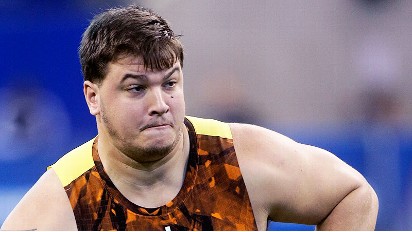 Eric Herman, OG, Ohio
Round 7, 19th pick (No. 225 overall)
Analysis: The Giants passed on a chance to add a cornerback or linebacker and took another offensive lineman. Herman is a large guard (6-4, 320) who may not be athletic but has a nasty disposition and plays physical. In other words, he fits exactly what the Giants like in their offensive linemen. Herman may come from a small school but the Giants believe he will create competition for a roster spot and add to the depth of the offensive line. The Giants repeatedly used the words tough, physical and nasty with Herman.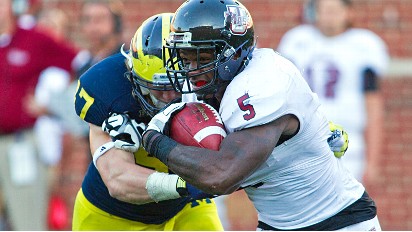 Michael Cox, RB, UMass
Round 7, 47th pick (No. 253 overall)
Analysis: The Giants are hoping to strike it big again with a running back taken late in the seventh round. They used their compensatory pick on UMass' Michael Cox. Cox rushed for just 715 yards and five touchdowns as a graduate student transfer from Michigan, where he was a backup. He had just 19 carries while at UMass. But the Giants absolutely love his size (6-0, 214), speed and hands and think he could challenge Da'Rel Scott and Ryan Torain at the third running back spot. They did pass on a linebacker and cornerback in the draft but who are we to doubt the Giants, who found Ahmad Bradshaw once upon a time in the seventh round in 2007.
---