December, 18, 2014
Dec 18
8:00
AM ET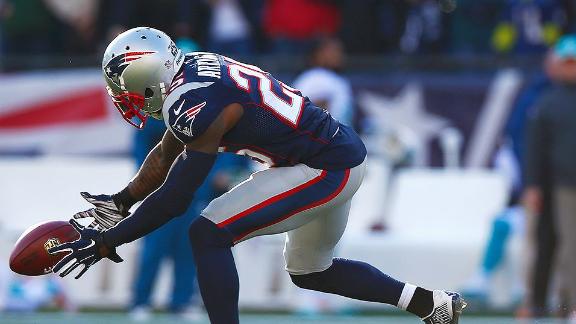 When
: 1 p.m. ET Sunday.
Where
: MetLife Stadium, East Rutherford, N.J.
TV
: CBS.
Back in the day, it was called the Border War. This time it will be more like the Border Snore -- at least in terms of the overall stakes.
It means something to the
New England Patriots
(11-3), who can clinch home-field advantage in the playoffs, but it's strictly a pride game for the
New York Jets
(3-11). That said, it's Patriots-Jets, which means there's always intriguing subtext. The main storylines are Rex Ryan's final home game, presumably, and
Darrelle Revis
' return.
NFL Nation reporters Mike Reiss, who covers the Patriots, and Rich Cimini, who covers the Jets, discuss the matchup.
Cimini:
Bill Belichick has faced Ryan more often than any AFC East coach. They're polar opposites in terms of personality and coaching style, so I'm wondering: If you could inject Belichick with truth serum, what do you think he'd say about Ryan?
Reiss:
Reading Belichick's mind is sometimes as difficult as a quarterback trying to get a read on Ryan's spin-the-dial defensive schemes when Rex is at his best (e.g., the 28-21 road playoff victory over the Patriots in the 2010 season). But I'll take a shot at it. I think Belichick has a pretty good feel for him personally after having his brother, Rob, on his staff in the early 2000s and I think he respects him as a defensive coach and a competitor. This hasn't been the Harlem Globetrotters against the Washington Generals over the past six years; Ryan has given the Patriots quite a bit to handle. Now, if that truth serum were a really strong dose, I might envision a scenario in which Belichick rolls his eyes at some of the bravado and says something like: This has been very similar, both on and off the field, to coaching against his father Buddy back in the day. Like father, like son.
Ryan talked about not coming into the AFC East to kiss Bill Belichick's rings. How would you sum up what he has accomplished in the past six seasons?
Cimini:
You're right. Ryan was full of bravado when he arrived in 2009, vowing to tilt the balance of power in the division. It hasn't worked out the way he planned, as the Jets have finished as also-rans every year. I really thought they had a chance to close the gap on the Patriots after beating them in the 2010 divisional playoffs, the Jets' biggest victory since Super Bowl III, but Ryan & Co. slid back down the mountain. Ryan is 4-8 against the Patriots, plus that memorable postseason win -- not a very good showing. But Ryan has fared better than his predecessors, and I think that should count for something. He gave it his "best shot," as he likes to say, but he's had the misfortune of being in a division with arguably the greatest coach-quarterback tandem in history.
The site of Revis in a Patriots uniform probably will nauseate many Jets fans. So what do you think: Will Revis stick around beyond this year, or will he chase the money elsewhere?
Reiss:
The Patriots are going to take their best shot to re-sign him, and my viewpoint has been that if New England is competitive with the best offers from a total dollars, structure and guaranteed-money standpoint, they will have the tiebreaker edge based on the positive experience that Revis has had in 2014. But they have a team philosophy as it relates to the salary cap that is extremely disciplined, and it's hard for me to see them blowing that up for one player if the bidding gets to extremely high levels. As for Revis, I would expect him to attempt to maximize his financial opportunity, but I don't sense that he would "chase the money" if it meant landing in a place that he viewed as being similar to a 2014-Oakland-Raiders-type sitaution. So there's a balance there. In the end, it's impossible to answer this question without knowing what the market will dictate. One interesting aspect to it would be if Ryan is let go by the Jets, lands with a new team as head coach, and that team makes a big run at Revis. That would certainly affect the market for Revis and potentially make it tougher for the Patriots to re-sign him.
Few saw 3-11 as where the Jets would be. How would you sum up what has led to this?
Cimini:
It's pretty simple, and I'm going to break out another Ryan quote to illustrate my point. He always says the two positions that can win (or lose) games faster than any others are quarterback and cornerback -- and the Jets lost a bunch of games because of poor play at those spots. General manager John Idzik mismanaged the cornerback position in the offseason, leaving his head coach with a thin and talent-deprived unit. To play his scheme, Ryan needs man-to-man corners the way humans need water and oxygen. At quarterback,
Geno Smith
hasn't developed as well as they had hoped, throwing the offense out of whack. They've been operating with a small margin for error, hurting them in close games. They're 3-6 in games decided by eight points or fewer.
For the Jets to pull off the upset, they have to play their best game of the year and "hope something is missing" from the Patriots, according to Ryan. What could possibly be missing for them?
Reiss:
We saw it Oct. 16, when the Jets came into the Patriots' home stadium and nearly pulled off the upset -- shoddy tackling on defense, and a time-of-possession edge for the Jets of 40:54 to 19:06. If the Patriots can't stop the running game, that would be one ingredient that could produce a carbon copy of what we saw in mid-October, and maybe this time the Jets could pull off the victory. The other thing that comes to mind is shaky play by the offensive line, which has had some ups and downs in recent weeks. If the Jets can get to quarterback
Tom Brady
early and capitalize on some of the O-line miscues we've seen, that would be another area they could have an edge.
A win over the Patriots would mean a lot to Rex Ryan and this team. What are the key areas you see that could help the Jets spring the upset?
Cimini:
Basically, this is the Jets' playoff game -- and, yes, I do think they have a chance to win. It would take a ball-control offense and a plus number in the turnover margin. As the Jets proved in the previous meeting, it takes more 200 rushing yards and a 40-minute possession time to knock off the Patriots. They need a couple of field position-changing plays, either on offense or defense or special teams -- or all of the above. The X factor could be
Percy Harvin
, who didn't play in the first game. That could depend on the condition of his sprained ankle. He didn't do much last week. If they can get a big play or two out of him, the Jets might have a chance.