September, 19, 2014
Sep 19
5:45
PM ET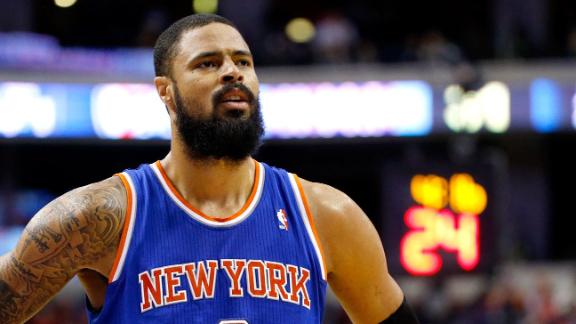 DALLAS -- Months later, Dallas Mavericks center Tyson Chandler is still mad about insinuations that he caused chemistry issues for the New York Knicks last season.
Knicks president Phil Jackson cited the desire to "change some of the chemistry" of the team as one of the reasons he sent Chandler and point guard Raymond Felton to Dallas in the late-June deal.
Chandler has been portrayed in several media reports since then as a player who caused internal problems for the Knicks last season, much to his chagrin.
"I did nothing but try to help the culture there the three years I was there," Chandler said Friday. "You can say I didn't live up to whatever or you didn't like the way I played or anything. But to ever question who I am and the type of leader I am in the locker room, I don't even know where that came from.
"I honestly don't know where that came from. I don't know if Phil put that out there or who put that out there, but to me, that was the ultimate shock. And you don't have to say that to get rid of me or to trade me. The trade is over.
"So to judge my character and what I've done, you can go look at all my teammates and ask all of my teammates in the past, and the coaches I've played for, and I've never been a problem and never had a problem. So that was a shock to me that I didn't appreciate."
September, 19, 2014
Sep 19
2:22
PM ET
By
Ian Begley
| ESPNNewYork.com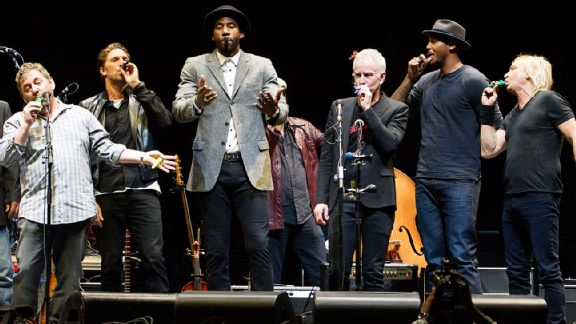 Courtesy MSGIt was all about kazoos for a cause Thursday night at Madison Square Garden.
Knicks owner James Dolan takes a lot of criticism in this town. Some of it is deserved.
But Dolan should get some credit for his actions Thursday night.
Dolan donated $100,000 to the ALS Association as part of his participation in the ALS challenge.
Dolan donated the money after the MSG audience, on hand to watch Dolan's band, JD & The Straight Shot, open for the Eagles, set the "world record" for simultaneous kazoo playing.
Say what you want about kazoo playing, but the end result was a generous gesture.
Dolan was joined on stage by
Carmelo Anthony
,
Amar'e Stoudemire
,
Henrik Lundqvist
and John McEnroe.
"I'm honored to make this donation to ALS, and very proud that Eagles fans came together to make this moment happen," Dolan said in a statement. "I want to thank Carmelo, Amar'e, Henrik and John for taking the time and having so much fun with us on stage, and to the fans at the Garden on Thursday for making this such a memorable event for an important cause."
September, 19, 2014
Sep 19
10:22
AM ET
With training camp one week away, we're examining the burning questions facing the
New York Knicks
.
Today's question:
Who's the most important bench player?
This question is a little difficult to answer considering we don't know who Derek Fisher will start yet.
Will he start
J.R. Smith
or have Smith return to being the super sixth man again? Will
Iman Shumpert
start or be a critical sub for Fisher? How about
Tim Hardaway Jr.
?
If Smith were to come off the bench, he obviously would be the most important bench player. If Fisher wanted to bring Shumpert off the bench while starting Smith, then Shump would be the vital bench player who would have to provide critical defense and outside shooting.
My guess is that Fisher will start Shumpert and Smith at shooting guard and small forward to go with
Jose Calderon
,
Carmelo Anthony
and
Samuel Dalembert
. So operating under that assumption, my vote for most important bench player is
Amar'e Stoudemire
.
The reason? If Stoudemire can stay healthy, he gives the Knicks another dimension -- a big man who can score, rebound and block shots -- with All-Star experience. Yes, he may not be the same player he once was due to age and health. But entering his final season under contract, Stoudemire will be even more motivated than he already is, and that is saying quite a bit.
Last season, Stoudemire averaged 11.9 points, 4.9 rebounds and 55.7 percent shooting in 22.6 minutes a game. He played in 65 games; it's unclear how many games he can play this season for Fisher.
The Knicks will have to monitor Stoudemire's health and keep him fresh if they can make the playoffs. But Stoudemire showed glimpses of what he can do when feeling good last season. In 14 games during March, Stoudemire averaged 16.9 points, 6.6 rebounds, 56.9 percent shooting and 28.4 minutes.
While we don't expect Stoudemire to have those kind of numbers for this entire season, the Knicks can use a big man who can provide scoring punch to help Anthony. There will certainly be challenges ahead for Stoudemire. Besides trying to keep his knees healthy, he has to adapt his game to the triangle. Can he and will the Knicks allow him to play in back-to-backs?
But when feeling good, Stoudemire clearly gives the Knicks something they don't have much of, and that is a big man who can score in double figures -- sometimes with ease.
Fisher will have several key bench players, like Hardaway Jr., who will be looking to take another step forward and provide a spark with his outside shooting.
Andrea Bargnani
, who is also in a contract year, will give the Knicks some scoring if he can stay healthy.
Jason Smith
might be a solid fit in the triangle with his ability to knock down the midrange jumper.
Cleanthony Early
could provide the Knicks with length and athleticism if he can earn Fisher's trust as a rookie.
Quincy Acy
and
Travis Outlaw
provide Fisher with two veteran forwards.
Pablo Prigioni
will give Fisher a savvy point guard who can shoot. And
Shane Larkin
could be a wild card if the Knicks can tap his first-round potential.
But a healthy Stoudemire can add a different dimension off the bench -- a former All-Star scoring big man who is highly motivated in a contract season.
Question:
Who do you think is the Knicks' most important player coming off the bench?
September, 18, 2014
Sep 18
7:59
PM ET
By
Ian Begley
| ESPNNewYork.com
Knicks owner James Dolan has insisted he won't be involved with the day-to-day operations of the Knicks.
He reiterated that stance Tuesday in an interview with WFAN.
"I was much more involved than I wanted to be in the last couple of years. Now I got somebody who I think is the smartest mind in basketball. It's great. Let him go," Dolan said on WFAN Tuesday, reiterating comments he made last week to the New York Times.
Dolan has a history of getting involved in basketball decisions. One notable example came in 2011, when the owner orchestrated a trade to acquire
Carmelo Anthony
from the
Denver Nuggets
. The move was made against the wishes of GM Donnie Walsh.
He also decided to fire GM Glen Grunwald days before training camp last season after the executive put together a team that won 54 games. The Knicks then went on to win 37 games last season.
Since Jackson has taken over, it seems like Dolan has mostly left his president alone.
There reportedly was an issue between Jackson and the owner in April over a personnel matter.
According to New York Daily News reports, Jackson wanted to make changes to the team personnel but was overruled by Dolan. ESPN's Stephen A. Smith later reported that Jackson wanted to make changes to the medical staff but was again rebuffed by Dolan.
Since then, there hasn't been anything to suggest Dolan and Jackson are at odds. The relationship is one worth monitoring, however. But until there is evidence of an issue, we're going to take Dolan at his word and assume that he is letting Phil run the show.
Knicks ink St. John's standout:
As
first reported by ESPNNewYork.com
, the Knicks have signed former St. John's standout
Orlando Sanchez
to a training camp contract. In addition to suiting up for the Johnnies, the 6-9 forward has played for the Dominican national team.
Sanchez averaged 7.4 points and 5.6 rebounds per game for the Johnnies last season.
Sanchez joins
Langston Galloway
and
Travis Wear
as players in for training camp. If they get released, the Knicks will have the option of signing each player to a D-League contract.
Knicks buried by ESPN The Magazine:
ESPN The Magazine has released its annual professional sports franchise rankings -- and the Knicks didn't fare well. Dolan's team ranked 121st out of 122 professional sports teams. The Knicks were one spot ahead of the Toronto Maple Leafs. For the full ranking, click
here
.
You can follow Ian Begley on Twitter.
September, 18, 2014
Sep 18
8:00
AM ET
NEW YORK -- Whether it's a spontaneous chat with Phil Jackson or the opportunity to showcase his game in the triangle,
Jason Smith
is downright giddy about being a Knick this coming season.
The Knicks' signing of the 7-foot center flew under the radar in free agency. But a healthy Smith could prove to be one of Jackson's better moves if the jump-shooting center fits in the triangle the way most think he can.
Smith can bury shots from the perimeter, block shots and be active around the glass. He's eager to show what he can do now that he's healthy.
"Good energy level, smart, savvy player," Smith said when asked what he wants to show this season while making an appearance at Charity Day hosted by Cantor Fitzgerald and BGC Partners last Thursday. "Pick-and-pop jumper, 15-17 foot midrange jumper, really going out there and giving it my all, selfless player, will do anything to help the team win."
Smith played in just 31 games last season, starting 27 of them. He had his knee scoped to clean out some floating particles and says he is ready to go for camp.
"Feeling great," Smith said. "Body is feeling good. Can't wait for the season to start."
Smith averaged 9.7 points and 5.8 rebounds in 26.8 minutes last season. He shot 46.5 percent from the field. If he can stay healthy, Smith should see minutes at center with
Samuel Dalembert
. The two will have to help replace
Tyson Chandler
, who was traded to Dallas.
Smith may not be the tenacious defender, rebounder or shot blocker that Chandler is. But his ability to hit the mid-range jumper should be an asset in the triangle.
Smith said he hasn't been told what his role will be exactly or who will start at center yet. In the meantime, he's trying to get every nuance of the offense down.
"Kind of getting the grasp of the offense and how it goes, it has been great," Smith said. "I think I am really grasping the concepts of it. The team that we have assembled this year, I think we are going to do great things."
"As long as we play within the system and everybody buys into the system, that is what makes good teams great," Smith added. "If we have everybody buy into it, we should be good."
Smith certainly sounds like he has bought in. Smith described a recent chat with Jackson last week and how he tried to soak in everything Jackson had to say.
"Talking to Phil, he is such a fountain of knowledge," Smith said. "You always want to make sure that you take everything in that he has to say. It has been great so far."
September, 17, 2014
Sep 17
10:00
AM ET
By
Ian Begley
| ESPNNewYork.com
With training camp less than two weeks away, we're examining the burning questions facing the
New York Knicks
.
Today's question:
Which player has the most to prove during training camp?
The Knicks are coming off of a horrific 37-win season. So you can make a strong case that each member of the organization enters training camp with something to prove.
Carmelo Anthony
has to show that the can adapt to Phil Jackson and
Derek Fisher
's triangle offense.
Fisher has to show that he can transition from championship player to competent coach.
Jackson has to show that he can weather the maelstrom of the NBA season as team president.
But certain members of the organization -- due to circumstance, past performance or their contract -- have more to prove than others.
[+] Enlarge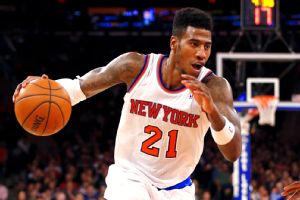 Jim O'Connor/USA TODAY SportsWill the triangle be good for Iman Shumpert?
One employee with a lot to prove entering camp is
Iman Shumpert
.
Around this time last year, many expected Shumpert to emerge as a consistent scorer and lock-down defender.
The 2011 first-round pick was coming off of a strong postseason, with big performances in the Knicks' series clinching win over Boston and series clinching loss to Indiana.
The next logical progression for Shumpert was to average double digits as a starter and continue to thrive as a perimeter defender.
But Shumpert entered training camp at less than 100 percent health (his surgically-repaired knee was an issue) and never seemed to get fully on track.
It's hard to know what exactly went wrong.
Shumpert suffered several nagging injuries throughout the season. He was also the subject of constant trade rumors.
And both seemed to impact his performance.
Shumpert posted career lows in points and assists per 36 minutes. His field goal and free-throw percentages were also career-lows, as was his PER, a per-minute measure of a player's performance.
Shumpert had some impressive offensive outbursts (the Texas trip in early January comes to mind). But he struggled to produce consistently. There were 19 games in which Shumpert played at least 25 minutes but scored fewer than six points.
One thing to note, though: Shumpert continued to defend at an elite level last season, at least according to one metric. Shumpert's defensive real plus-minus, which measures his impact through the prism of points allowed per 100 defensive possessions, was quite strong -- he ranked first among shooting guards who played at least 25 minutes per game (and fourth among all shooting guards).
Maybe this was one reason why Jackson made a point to praise Shumpert's defensive energy several times over the spring and summer.
But Jackson's praise may have served a duel purpose.
The Knicks continued to explore opportunities to trade Shumpert over the summer, according to league sources, so Jackson may have been trying to improve the league-wide perception of his player.
Still, we think Shumpert has an opportunity to make a strong impact this season in the triangle. Tall guards such as
Ron Harper
have thrived in the offense. Can Shumpert fill the same role?
Answers to that question will start to emerge during training camp and the preseason.
For what it's worth, Shumpert
said a few weeks ago
that he was looking forward to playing in the triangle because of the player and ball movement it engenders. He pointed out that it would be a better approach than last year, when he found himself "standing in the corner" in Mike Woodson's isolation-heavy offense.
Shumpert also said that he felt increased strength and comfort in his left leg -- the same leg that was surgically-repaired at the end of his rookie season.
But he didn't want to offer any predictions about how he would fare in the triangle. When asked if he thought he would thrive in the offense, Shumpert said only, "We'll find out."
We sure will. And the process will start in a couple weeks, in what could be a pivotal training camp for Iman Shumpert.
Question:
Which Knick do you think has the most to prove in training camp? Iman Shumpert? J.R. Smith? Someone else?
You can follow Ian Begley on Twitter.
September, 16, 2014
Sep 16
5:00
PM ET
NEW YORK –-
Tim Hardaway Jr.
made some noise with his offense as a rookie.
Now he's hoping to take the next step in his game by improving his defense and being more vocal on the court.
The Knicks' promising second-year shooter has spent his offseason focusing on his defense and agility, practicing with Team USA on a select team and playing on the Knicks' summer league team.
"I just want to be a better defender, a better vocal leader out there," Hardaway Jr. said at Charity Day, hosted by Cantor Fitzgerald and BGC Partners last Thursday. "That is my main focus. I know offense will come and I will get better at that each and every day. Where you separate yourself in the league is by playing team defense and I want to be a part of that."
Shooting and providing offensive punch certainly isn't a problem for Hardaway Jr. In 23 minutes a game this past season, Hardaway Jr. averaged 10.2 points, 42.8 percent shooting overall and 36.3 percent from beyond the arc. He should only get better as he continues to expand his offensive game and learn what defenses will give him.
The 6-6 wingman also would appear to be a good fit for Derek Fisher's triangle. Defensively, Hardaway Jr. needs to improve on the ball and his length could be an asset.
"I think the triangle we ran summer league, it was great," Hardaway Jr. said. "You just got to trust each and every person, whoever is on the floor. And that's the only way I think it will be able to work."
September, 16, 2014
Sep 16
4:01
PM ET
By
Ian Begley
| ESPNNewYork.com
Individual tickets for Knicks games will go on sale starting Sept. 30.
The team announced Tuesday that limited tickets will be available starting at noon via the team's website and Ticketmaster.
Fans will be limited to purchasing four tickets per game.
Also, Chase cardholders have access to a special presale, which began today at 2 p.m. Additionally, Knicks fans that follow the team on social media, as well as members of the Knicks Insider e-newsletter community, will have the opportunity to access tickets on Thursday, Sept. 25 at 12 p.m.
Dolan sings the blues:
Knicks owner James Dolan has drawn attention -- and criticism -- for his recent musical endeavors. Dolan plays the blues with his band "JD and the Straight Shot."
The Knicks and Rangers owner performed on Fox 5's morning television show Tuesday. We didn't watch and don't consider ourselves music critics. So we'll let you be the judge on Dolan's musical stylings. Click
here
to view Dolan's appearance.
You can follow Ian Begley on Twitter.
September, 15, 2014
Sep 15
11:47
AM ET
Getty ImagesWithout a Robin by his side, can Carmelo Anthony make Phil and Fisher's dream come true?
With training camp a few weeks away, we're examining the burning questions facing the
New York Knicks
.
Today's question:
Who has the most pressure on him?
You could say it's Phil Jackson, who is being paid a fortune to turn the Knicks around. Or you could say it's Derek Fisher, who is coaching for the first time in his life and is also being paid millions to get the Knicks back to the playoffs.
Without a doubt, those two will have pressure on them. But the one Knick with the most pressure is
Carmelo Anthony
. And there are more than 124 million reasons why.
Anthony was the center of NBA free agency this past summer. The Knicks had to sweat it out before Anthony spurned the Bulls, Rockets, Lakers and Mavs to re-sign with the Knicks to the tune of $124 million.

While he did take $5 million less than the max to give Jackson a helping hand with the cap situation in the future, Anthony will shoulder the maximum amount of pressure as long as he's a Knick.
Jackson has to build the entire franchise around Anthony. And whatever pieces Jackson surrounds Anthony with, the franchise star will have to make it work.
Carmelo not only has to adapt to the triangle and perhaps make some sacrifices to his individual game, but he also has to find a way to make his teammates better.
He has the pressure of trying to follow in the footsteps of great individual scorers who had success with Phil such as
Michael Jordan
and
Kobe Bryant
. Anthony has to make alterations to his game and sacrifice for the team -- a Jackson must. All the while, Anthony has to do this while helping Fisher transition into coaching.
Sure, the pressure on Anthony won't be as great this season as it will be in the future because the Knicks aren't going to contend this season. They can and should make the playoffs. But they aren't built to win the East right now. Not yet anyway.
But if Jackson is able to add another star or two very good complementary pieces, all the pressure will be on Anthony. He won't have any excuses if Jackson can somehow find him the necessary reinforcements to contend with
LeBron James
,
Kevin Love
and
Kyrie Irving
for the future.
And let's say that Jackson isn't able to get two stars to join Anthony. The pressure is still on Melo. After all, the Knicks signed him for $124 million. Instead of just trying to rebuild completely, the Knicks kept Anthony to keep the Garden packed and to stay in contention. He'll have to shoulder the load and keep the Knicks relevant.
That's just what comes with the territory of being a superstar making basically max money.
Let's face it: Anthony could have left for Chicago for a greater chance at winning it all. He opted to stay in New York. He bought into Phil's plan. He will make a lot of Jim Dolan's money.
Melo is at a critical juncture in his career. At 30, Anthony has to show that he can be more than just a great scorer.
The pressure is on Anthony to prove he can win and be the player Phil wants him to be, not to mention the pressure of delivering for 124 million other reasons.
Question:
Which Knick do you think has the most pressure on him?
September, 13, 2014
Sep 13
2:56
PM ET
By
Ian Begley
| ESPNNewYork.com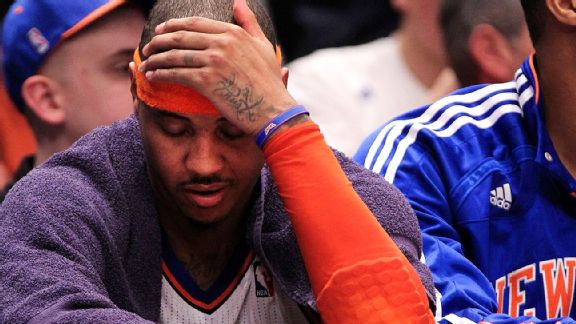 Nick Laham/Getty ImagesCarmelo Anthony didn't like how his season ended. So he hit the gym early this offseason.
NEW YORK --
Carmelo Anthony
usually takes a month off to rest and recharge after the NBA season.
This year was a little different.
Anthony started working out two weeks after the end of the Knicks' 37-win season.
Why such a short break?
"I was angry," Anthony said Saturday at the Citi Carmelo Anthony Basketball camp in Manhattan.
Anthony also probably wanted to be in top shape for free agency. He tested the market over the summer and ended up signing a five-year, $124 million deal with the Knicks.
The star forward has been working out at the team's facility in Westchester recently, along with "six or seven" other Knicks, to get a head start on the new triangle offense.
"I haven't been broadcasting it, man. But I've been at the facility for the last couple of weeks with the young guys, with the coaches, trying to figure out that triangle offense," Anthony said.
The Knicks and new head coach Derek Fisher are expected to install the triangle offense this season.
Anthony says that he "can't wait" to learn the offense that helped
Michael Jordan
and
Kobe Bryant
win championships under Phil Jackson-coached teams.
"Without a doubt, without a doubt. When people say spots, I'm going to be all over the floor in the triangle," Anthony said. "It makes it hard to guard, it keeps all eyes off of you. I'm looking forward to it, I've been saying it all summer. I can't wait."
Anthony has said that he expects the Knicks to make the playoffs but doesn't see them winning a title this summer.
On Saturday, he noted that the Eastern Conference is vastly different because of free-agent movement and
Paul George
's injury.
"Every year is different. Last year I don't think nobody thought Toronto would do what they [did]. I don't think nobody thought the Wizards was going to do what they did last year. So every year is always different," Anthony said. "Of course Cleveland is the top right now. Chicago will always be there. But as far as basketball goes, I'm excited to get back and play on the court because I know what we have with the
New York Knicks
, and we're only going to get better. So I'm excited about that."
Carmelo on LeBron's move to Cleveland:
Anthony supports his buddy
LeBron James
' move to the Cavs.
"I applaud him. I applaud him. I thought it was a great move for him," Anthony said. "That's not to take nothing away from what he's already established and created down in Miami, but for him to go back home at this point in his career, you can't ask for nothing better than that."
Anthony didn't want to talk much about the team James formed in Cleveland with
Kevin Love
and
Kyrie Irving
. The Knicks play the Cavs in Cleveland on the second game of the season -- James' first game back in his hometown.
"We'll see them when we play them," Anthony said. "They're not on my radar right now. Don't take that the wrong way. But they're not on my radar. I'm focusing on one game at a time. When we play them the second game of the season, we'll be ready."
Carmelo on his weight loss:
Anthony also talked in detail about his much-discussed weight loss over the summer.
"I think people kind of overreacted to that. I love to work. I love to train. It's the accumulation of a lot," Anthony said.
He added: "Kind of switching up my eating habits, kind of taking on new workout routines, training a little different, trying to test myself and challenge myself differently from a training aspect. Also, I took maybe a week, two weeks off this year, so I was still in the mode from last training camp. I took maybe two weeks off over the year, and this is the result you're seeing now."
Anthony supports the idea of a longer, week-long break for the All-Star Game this season. The game will be played in New York. "I love it, I'm a big fan of that. I wish it was two weeks," he said. Anthony isn't bothered by the idea of playing an extra back-to-back to extend the break. "We play too many games as it is. So another back-to-back is not gonna hurt," he said.
You can follow Ian Begley on Twitter.
September, 13, 2014
Sep 13
1:18
PM ET
By
Ian Begley
| ESPNNewYork.com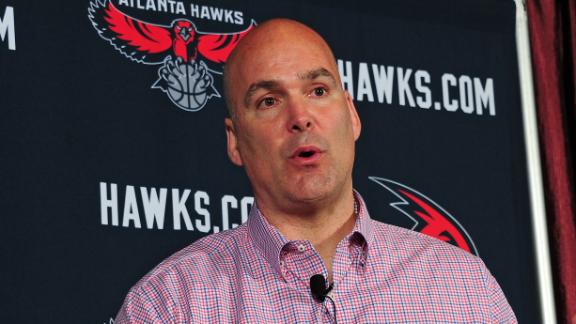 NEW YORK -- Knicks star forward Carmelo Anthony believes future NBA free agents will be hesitant to sign with the Atlanta Hawks in light of statements made by general manager Danny Ferry.
"[There] ain't nobody [who] would want to go there," Anthony said Saturday at the Citi Carmelo Anthony Basketball camp in Manhattan. "At the end of the day, Atlanta, I think it puts Atlanta back even further now, from that standpoint.
"Atlanta is a great city, a great market, great people, great atmosphere. But as far as the comments [that] were made, I think it was uncalled for. From an owner, from a GM, those are not things you play with."
Ferry, paraphrasing a scouting report, described then-free agent Luol Deng as someone who "has a little African in him."
"He's like a guy who would have a nice store out front and sell you counterfeit stuff out of the back," Ferry said on the call, which was recorded.
Deng, who was born in what is now South Sudan, eventually signed with the Miami Heat.
Anthony, who tested free agency over the summer and ultimately re-signed with the Knicks, said players "wouldn't look at" Atlanta as a potential destination.
"As a player, as an athlete, we're looking for a job, we're trying to find a place where we can move our family, we can make our family comfortable, where we can be comfortable in a comfortable environment," Anthony said. "But those comments right there, we would never look at [playing there].
"I'm speaking on behalf of all athletes. We would never look at a situation like that, I don't care what it is."
September, 12, 2014
Sep 12
4:35
PM ET
September, 12, 2014
Sep 12
11:48
AM ET
By
Mike Mazzeo
| ESPNNewYork.com


Knicks and Rangers owner Jim Dolan completed the ALS Ice Bucket Challenge during Friday's "Today" show on NBC.

Dolan was challenged by former Knicks center Patrick Ewing. Joe Walsh, guitarist from the Eagles, dumped the ice-water bucket on Dolan's head.

Dolan and his band "JD & The Straight Shot" will open for the Eagles on Saturday at Madison Square Garden.