December, 20, 2014
Dec 20
9:08
PM ET
NEW YORK -- It's not only the losses that are driving the
New York Knicks
crazy. It's the way they're losing games.
Nineteen times, the Knicks have played games that are within five points with five minutes to go.
And they've lost 16 of those games, including Saturday's 99-90 defeat to the
Phoenix Suns
.
"It's the same thing that's happening game in and game out,"
Carmelo Anthony
said. "I don't think we're believing in ourselves right now as a team [down] the stretch of the basketball game."
The Knicks' winning percentage in close games (as described above) is a league-low .158. Even the
Philadelphia 76ers
win a higher percentage of games in clutch situations (.200).
So, what's the issue? According to Carmelo, it's a lack of confidence.
[+] Enlarge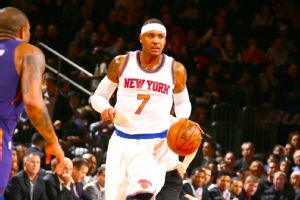 Nathaniel S. Butler/Getty ImagesCarmelo Anthony (25 points, 11 rebounds) has seen his team sink lower in the East.
"I can just see it out there on the court that we don't believe in ourselves to be able to go down the stretch and win basketball games," he said. "I think it's more mental than it is physical out there. When we're up and we're winning, we have some momentum. When a team makes the run and come back it kind of drains us as a team and we lose that momentum. We just lose it at that point."
On Saturday, the Knicks trailed the Suns by two with five minutes to play. That's when
Eric Bledsoe
took over. Bledsoe scored 11 of the Suns' final 17 points to help Phoenix seal the win. Thanks in part to Bledsoe, Phoenix hit five of its last seven shots and scored on nine of its final 10 possessions.
"We were trying to leave everything we've got out there,"
Jose Calderon
said. "They made some plays at the end."
That's nothing new for the Knicks. They are allowing 119 points per game in clutch situations, the second-worst rate in the NBA. They're also being outscored by an average of 3.1 points per game in those situations.
"I think the intentions are good," Knicks coach
Derek Fisher
said. "I think there is purpose to what we're trying to do. We just can't sustain it."
That's been an issue all season.
Saturday's loss left the Knicks at 5-24. They have the most losses in the NBA -- one more than the Philadelphia 76ers -- and are on pace go 14-68, which would be the worst record in team history.
No one came into this season thinking the Knicks would win the championship, but who knew it would be this bad?
"It's tough," Calderon said. "We've got to stay together... . We've got to just be better."
You can follow Ian Begley on Twitter.