November, 23, 2014
Nov 23
4:36
PM ET
This season, Amar'e Stoudemire said he planned on reminding people how good he can be when healthy.
In his past three games, Stoudemire has shown flashes of vintage Amar'e, averaging 16.3 points, 6.3 rebounds and shooting 17-of-21.
During Saturday's much-needed
91-83 win
over the lowly Sixers, Stoudemire made 5 of 6 shots and had 16 points and 11 rebounds in just 20 minutes.
Perhaps he found the
Fountain of Youth in those red wine baths
he's been taking.
"I feel great," Stoudemire said after the win over the Sixers. "To feel this explosive and energetic and quick, everything is back. I feel blessed to be able to say that once again."
It's been a long road back for Stoudemire, who has done all he can to return from surgeries on both knees. This season, Stoudemire is averaging 12 points, 7.4 rebounds and 54.8 percent shooting in 22.8 minutes per game.
With the Knicks monitoring his health and minutes, Stoudemire has sat out just one of the Knicks' first 14 games.
Last season, Stoudemire played in 65 games, averaging 11.9 points and 4.9 rebounds in 22 minutes per game. But Stoudemire came on strong at the end, averaging 16.9 points and 6.6 rebounds in March.
He looks like he is picking up where he left off last season.
Knicks coach Derek Fisher says his big man has been able to adapt to the triangle pretty well so far.
"I think Amar'e has been effective all season long, in a sense, but I think he understands where his opportunities come from within the system," Fisher said. "He is taking advantage of those, being aggressive and rebounding the ball."
Carmelo Anthony
is certainly appreciative of Stoudemire's efforts to regain his old form.
"I think he's getting more comfortable with himself, his body, knowing what he can do out there on the basketball court and taking advantage of the mismatches and the situations," Anthony said. "He's our go-to post player. We need a bucket at times, we're definitely going to him."
There's a lot of season left to play, but Stoudemire's contract year is off to a good start.
"It took me a little longer [than expected]," Stoudemire told reporters when asked how long he thought it would take to get back to feeling healthy and playing his game again.
"Those two years previously were extremely tough to go through. But I knew hard work and dedication to the game of basketball -- staying focused, it'll all pan out.
"So far, feeling great. Going to do everything I can to keep that feeling."
November, 23, 2014
Nov 23
12:38
AM ET
By
Ian Begley
| ESPNNewYork.com
NEW YORK -- By and large, great scorers love great point guards.
Carmelo Anthony
is no different.
Anthony has thrived with lead guards such as
Andre Miller
,
Chauncey Billups
and Jason Kidd over the course of his career.
"I don't think there's anything like playing with great PGs," he said late Saturday night.
[+] Enlarge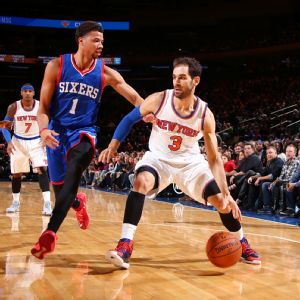 Nathaniel S. Butler/Getty ImagesJose Calderon had a positive impact in his return to the Knicks' lineup.
That's one reason Anthony is pleased to see
Jose Calderon
back on the court.
"Jose knows how to run an offense, especially an offense like this," Anthony said. "He can shoot the ball, he can spread the court. But most importantly, his IQ out there on the basketball court, I thin,k is very high. That's something that, at that position, we've been missing."
Anthony makes a good point. If there's one position that requires a high IQ in the Knicks' new triangle offense, it's the lead guard.
Calderon, who has 10 years of NBA experience, should help organize the Knicks' offense now that he's back on the floor.
New York ranks 19th in the NBA in points scored per possession. The club can use Calderon's steady hand and perimeter shooting (44.9 percent from beyond the arc last season) to help ease the pressure off Anthony and create open looks for others.
On Saturday night, Calderon tallied three points and three assists in 21 minutes in his season debut.
He jokingly apologized to his teammates about his conditioning -- or lack thereof -- during the game.
"I know you guys want some lobs," he told his teammates on the bench, "but I don't have it yet."
If all goes well for the Knicks, Calderon will get back in game shape shortly and help the team rebound from a 4-10 start. He missed the season's first 13 games with a calf strain.
On Saturday night, Calderon was on the floor while New York built an early lead that bubbled to 21 points in the second half. The Knicks held off a late
Philadelphia 76ers
' rally to win.
Afterward,
Iman Shumpert
talked about the impact Calderon can have on the team.
"He doesn't rush things, he never looks rattled ... Nothing really bothers him," Shumpert said. "He knows there's always another game, there's always another possession, there's always another quarter. He just thinks about the next play. It keeps everybody calm."
Calderon was fourth in the NBA in assist-to-turnover ratio last season, with a 3.66:1. His experience and ability to protect and distribute the ball should help the Knicks' offense late in games. That's no slight to
Shane Larkin
, but it's clear Calderon will be an upgrade for New York.
One issue potential issue for the Knicks?
Calderon has never been a strong defender, so it's unclear how his return impacts the Knicks on that end of the floor. New York entered play ranked 28th in points allowed per possession.
His greatest impact with this Knicks team might be less tangible, though.
"He's a guy that kind of bonds people together," Knicks coach
Derek Fisher
said.
The Knicks acquired Calderon in June in a six-player deal that sent center
Tyson Chandler
and point guard
Raymond Felton
back to Dallas.
Aside from re-signing Anthony, the trade for Calderon was Knicks president Phil Jackson's key acquisition. Now, Jackson and the Knicks hope a healthy Calderon can help turn the season around.
For what it's worth, Calderon seemed optimistic after one night.
"Better things are coming, for sure," he said.
Question: What kind of an impact do you think Jose Calderon will have on the Knicks?
You can follow Ian Begley on Twitter.
November, 22, 2014
Nov 22
11:35
PM ET
Associated Press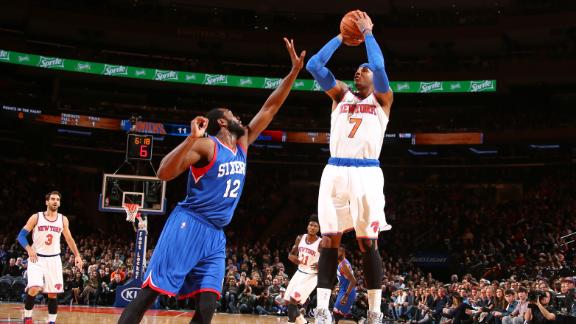 NEW YORK -- Even with a winless team coming to Madison Square Garden, there was no chance of the New York Knicks being overconfident.
"For us, right now, it's not like we were playing great," point guard Jose Calderon said.
They were good enough to beat Philadelphia.
Carmelo Anthony scored 25 points, Amare Stoudemire added 16 points and 11 rebounds, and the Knicks dropped the 76ers to 0-13 with a 91-83 victory on Saturday night.
Calderon made his season debut for the Knicks (4-10), who had lost consecutive games but jumped out to a big early lead and had an easy time against a team that was every bit as bad as its record for most of the game.
"You don't want to give a team like that no type of edge, no type of confidence, because when you do it can be a dangerous night for you," Anthony said.
The 76ers are the first team to drop their first 13 games since the 2009-10 Nets lost 18 straight during the worst start in NBA history. The Sixers are nearing their franchise-worst start of 0-15 in 1972-73, when they finished 9-73 for the worst 82-game mark in league history.
They played hard to keep from getting blown out but couldn't overcome three quarters of dismal shooting that had them trailing by as many as 21 points.
"We all are sticking together," forward Nerlens Noel said. "We feel like we're getting closer to our first win."
Noel had the best night of his young career with season highs of 17 points and 12 rebounds.
"That was Nerlens' best game. So everybody in Philadelphia is seeing what we're seeing. It's slow but it's coming," coach Brett Brown said.
November, 22, 2014
Nov 22
10:11
PM ET
By
Ian Begley
| ESPNNewYork.com
NEW YORK -- The return of
Jose Calderon
and the ineptitude of the
Philadelphia 76ers
were all it took for the
New York Knicks
to get a win.
The Knicks topped the Sixers 91-83 on Saturday night in Calderon's first game as a Knick. He'd missed the first 13 with a calf injury.
Calderon had three points, three assists and three rebounds in 21 minutes. He missed five of six shots and turned it over once. The Knicks got a big lift, naturally, from
Carmelo Anthony
. He had 25 points and seven rebounds, making 10 of his 20 shots.
The Knicks, who had lost nine of 10, improve to 3-5 at home with the win. Philadelphia drops to 0-13.
Stat of the night:
16 and 11. That's what Amar'e Stoudemire put up Saturday against Philly. Stoudemire was dominant and efficient in the post, hitting four of his five shots and all six of his free throws. He has made 17 of his last 21 shots from the field. His rebound total (11) was one shy of his season-high.
Stat of the night II:
25-15. The Knicks haven't won many third quarters this season. But they outscored Philly 25-15 in the third to take control. Philadelphia cut the Knicks' lead to five early in the quarter but
Iman Shumpert
keyed a 16-4 run as the Knicks went up by as many as 21.
Shumpert had six points, an assist and a key steal in the spurt. He finished with seven points, three assists and four steals.
Question: How can Jose Calderon impact the Knicks?

You can follow Ian Begley on Twitter.
November, 22, 2014
Nov 22
7:41
PM ET
By
Ian Begley
| ESPNNewYork.com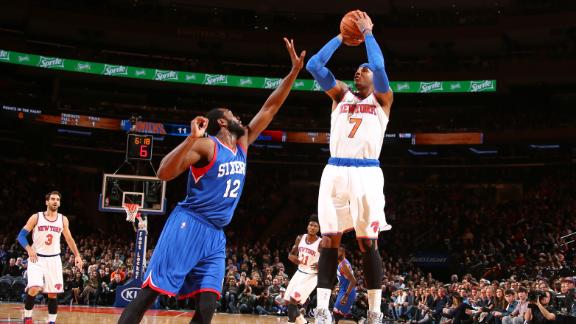 NEW YORK -- Knicks point guard Jose Calderon made his season debut Saturday night in a 91-83 win against the Philadelphia 76ers.
Calderon, who had missed the Knicks' first 13 games with a calf strain, started at point guard Saturday and tallied three points and three assists in 21 minutes.
"Jose was good tonight," Knicks coach Derek Fisher said. "He looked like he was able to find some comfort level and you could tell he was easing his way into being aggressive out there. Those were 20, 21 good minutes."
Calderon's calf felt "good" after his first game action since Oct. 20.
"No pulling at all. Nothing to be worried about so that's the good news," he said.
Calderon should help the Knicks on the offensive end. He hit 44.9 percent of his 3-point attempts last season, so opposing defenses likely will have to pay attention to the 33-year-old veteran.
The Knicks' biggest issue of late has been on defense, where they rank 28th in points allowed per possession. Calderon, acquired in a trade with the Dallas Mavericks in June, is not known as a strong defender.
Fisher, however, is hoping Calderon can help the Knicks' ball movement and provide some leadership for a team that is struggling.
"He's just another kind of quarterback guy that can facilitate plays for us ... from a teamwork standpoint, from a chemistry standpoint, he's a guy that kind of bonds people together," Fisher said.
November, 21, 2014
Nov 21
7:31
PM ET
GREENBURGH, N.Y. – If all goes as expected, the Knicks will have
Jose Calderon
back in the lineup on Saturday against the
Philadelphia 76ers
.
Calderon went through a full practice on Friday and the Knicks hope their point guard wakes up without any setbacks on Saturday morning.
"We tried to run a little bit harder yesterday, do some full-court stuff and sprints and conditioning at the same time," said Calderon, who has been sidelined by a calf injury since the beginning of the season. "It felt good today, I was able to jump with the team and play with them for a little bit."
Andrea Bargnani's return seems a bit more uncertain. Bargnani, who has been out with a hamstring injury since the preseason, went through a limited practice. Knicks coach Derek Fisher said Bargnani hasn't done a lot of contact yet in practice.
"There was some today but not at a place where you can just put him out there and not be fully concerned whether or not he can handle everything going on," Fisher said. "But he is trying his best to get back and we will just continue to monitor him day to day."
The Knicks (3-10) can use the reinforcements. They've lost nine of their past 10 games and certainly want to avoid defeat at the hands of the Sixers, who were 0-11 going into Friday night's game against Phoenix at home.
Fisher isn't concerned with the Knicks potentially overlooking the lowly Sixers.
"Not from what I saw," Fisher said. "Guys showed up today ready to go to work. I don't think we can look at ourselves as better than anyone. We are fighting and scrapping hard to become better ourselves.
"We are in no position to judge and until we show up and we start winning, we can't lift our nose at anybody."
Calderon's return could lift the Knicks' spirits and chances. He's the team's starting point guard and he showed an ability to run the triangle smoothly at times during the preseason.
"I talk to my teammates, I listen to coaches, I see what they're (saying) in timeouts, just trying to get ready, try to be active," Calderon said. "It's gonna take a while, I'm going to make mistakes, but it's different when you (finally) have a uniform on."
"I have to be myself," Calderon added. "I've played 10 years now, I gotta try to get everybody organized, I gotta pass the ball, shoot when I'm open, try to make everybody feel a little bit comfortable out there. So that's what I can do, and try to be 100 percent every night to try to turn this around."
Fisher would not say whether Calderon will start if he is available on Saturday.
"We don't want to put too much pressure on Jose individually," Fisher said in general when speaking about Calderon's health. "He looked good today, he's moving well.
"Any time you can add a good veteran presence, a guy that understands the game and even as he's learning exactly what to do just like everybody else is, he still has a feel for how to play that, I think, helps to be a good symbol of composure, poise and leadership out there on the floor."
November, 20, 2014
Nov 20
2:22
PM ET
By
Ian Begley
| ESPNNewYork.com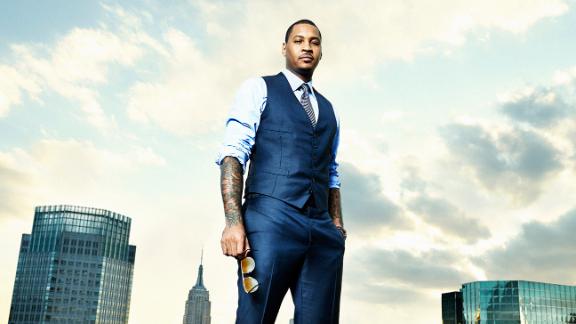 New York Knicks
star
Carmelo Anthony
doesn't want his legacy to be defined solely by wins and losses -- he wants to be known as more than a basketball player when his career ends.
"What I really want is a bulletproof legacy," Anthony told ESPN The Magazine. "How can I be known for being a visionary, for being truly great?"
The Magazine has a fascinating look at Anthony's business pursuits, his long-term goals and the legacy he'd like to leave.
He told the Magazine he doesn't like being defined by the success or failure of his team.
"People say every year is the one that will determine if I'm great or terrible, if I've met expectations or been a disappointment," Anthony says in the story. "To be honest with you, I'm tired of it."
To read the full story and see the video of Anthony's interview, click here and here.
Question: How would you define Carmelo's legacy at this point?
You can follow Ian Begley on Twitter.
November, 19, 2014
Nov 19
10:42
PM ET
By
Ian Begley
| ESPNNewYork.com
If you didn't know any better, you'd think the
New York Knicks
were tanking this season.
The Knicks lost in embarrassing fashion to one of the worst teams in the league on Wednesday night, falling 115-99 to the
Minnesota Timberwolves
.
The Knicks fell to 3-10 with the loss and have dropped nine of 10. The Timberwolves snapped a five-game losing streak with the blowout win.
Embarrassing defense:
During their five-game losing streak, the Timberwolves lost games by an average of 18 points. They'd given up and average of 135 points over the previous two games.
But the Knicks made them look like a decent defensive team.
New York allowed Minnesota to hit 49 percent from the floor and 50 percent from beyond the arc.
Kevin Martin
scored 37 points on 14-of-20 shooting.
The Timberwolves entered the game averaging five made 3s per. Against the Knicks, who have been torched from beyond the arc this season, the Timberwolves hit 11 of 22 3s. Martin, who supposedly had flu-like symptoms earlier in the game, knocked down seven of his 11 attempts.
Nothing from SG:
The Timberwolves were shorthanded on Wednesday as three starters (
Ricky Rubio
,
Nikola Pekovic
and
Thaddeus Young
) were out with injury. But New York couldn't take advantage, in part because of a lack of production from shooting guard.
Iman Shumpert
missed 10 of 11 shots. Shumpert,
J.R. Smith
and
Tim Hardaway Jr.
combined for 12 points on 4-for-19 shooting.
Bright spots:
Carmelo Anthony
had 20 points on 7-for-10 shooting and Amar'e Stoudemire added 19 points, hitting seven of nine shots. Both stars sat out the entire fourth quarter after New York fell behind by 26.
Question: What's the one thing the Knicks need to do to turn this season around?
You can follow Ian Begley on Twitter.
November, 19, 2014
Nov 19
10:35
PM ET
Associated Press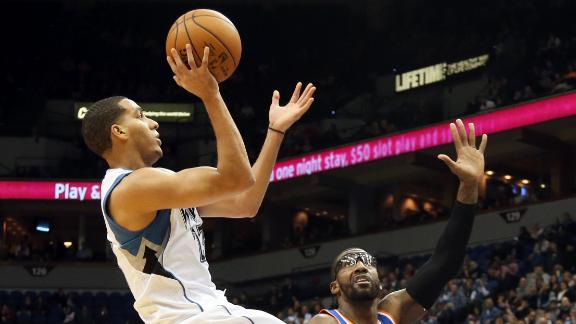 MINNEAPOLIS -- Kevin Martin shook off an illness to score 37 points, and the Minnesota Timberwolves, missing three starters, beat the New York Knicks 115-99 on Wednesday night.
Martin tied a career high with seven 3-pointers and Shabazz Muhammad had 17 points and eight rebounds for the Wolves, who were missing Ricky Rubio, Thaddeus Young and Nikola Pekovic. Rubio and Pekovic were out because of injuries and Young was away because of the death of his mother.
Carmelo Anthony had 20 points and Amare Stoudemire added 19 for the Knicks. But New York had nothing else on the second night of a back-to-back following a loss in Milwaukee.
Anthony and Stoudemire combined to shoot 14 of 19 and the rest of the Knicks were just 20 for 50.
November, 19, 2014
Nov 19
10:48
AM ET
By
Ian Begley
| ESPNNewYork.com
Here's how J.R. Smith summed up the New York Knicks' effort in the first half against the Milwaukee Bucks on Tuesday night: "Really embarrassing."
The Knicks lost to the Bucks 117-113, allowing them to score 66 points in the first half. The Bucks hit six of their first nine 3-pointers and went on a 30-9 run in the second quarter.
Smith said Knicks coach Derek Fisher had to remind his players to play with some intensity in the locker room at halftime, according to reports.
That didn't sit well with Smith.
"Coach challenged us at halftime to go out there and play hard and see what happens. For some reason, it's something we have to be reminded of, to play hard, which is really embarrassing at some point because you're a professional athlete," Smith said. "People pay a lot of money to come watch us play. Competing shouldn't be an issue. So they came out and ... that second quarter, they just kicked it into another gear. For some reason, we just wait until we're down and just start playing, and we can't do that."
Milwaukee entered play Tuesday with the lowest shooting percentage on 3-pointers in the NBA. But the Bucks hit 53 percent of their 3s against New York (9-for-17), which is an
ongoing issue
for Fisher's club.
Smith said the Knicks didn't react well to the Bucks' hot shooting.
"They were getting a lot of wide-open shots. We just have to be mentally tougher than what we were -- putting our heads down and quote-unquote bad body language and stuff like that," Smith said. "Whenever they score, we just have to understand that they're professional just like we are. People are going to score points, it's just a matter of how we react to it. We couldn't get stops in the crunch and we just have to do a better job of that."
The Knicks fell to 3-9 with the loss and have dropped eight of their last nine games. They play at the Minnesota Timberwolves on Wednesday.
Question: Do you agree with J.R. Smith? Was the Knicks' lack of effort on defense embarrassing Tuesday night? How can they solve their issues on defense?
Note:
You can listen to Knicks vs. Timberwolves starting at 7:30 p.m. on 1050 AM.
You can follow Ian Begley on Twitter.