July, 31, 2014
Jul 31
2:23
PM ET
Associated Press
MILWAUKEE -- Free agent Jerryd Bayless signed with the Milwaukee Bucks in large part because of Jason Kidd.
The 6-foot-3 guard played for Memphis and Boston last season, averaging 9.3 points in 72 games. Now he gets a chance to play for Kidd, who left the Brooklyn Nets this summer to coach the Bucks.
"The thing that was most intriguing was Kidd," Bayless said Thursday at the Bucks' training facility. "He can help me in a variety of different ways. There aren't a lot of guys like him that come around."
General manager John Hammond announced the deal Thursday. Bayless signed for two years at $3 million per season.
Kidd, one of the NBA's great point guards, spent 19 seasons in the league. He is beginning his second year as an NBA coach. Bayless calls him a "once-in-a-generation" player.
"He's a young coach, but he's been in the league a long time," Bayless said.
Bayless was selected by the Indiana Pacers with the 11th pick in the 2008 draft. He was traded to Portland before his rookie season. Only 25 but entering his seventh NBA season, Bayless joins a team that has three teenagers on its roster.
"Even though I'm younger I've been through a lot in this league and I'll try to teach these guys the right way to do things," Bayless said.
Bayless played one season in college. At Arizona in 2007-08 he became the first freshman in school history to lead the team in both scoring (19.7 points) and assists (4.0).
July, 30, 2014
Jul 30
11:03
AM ET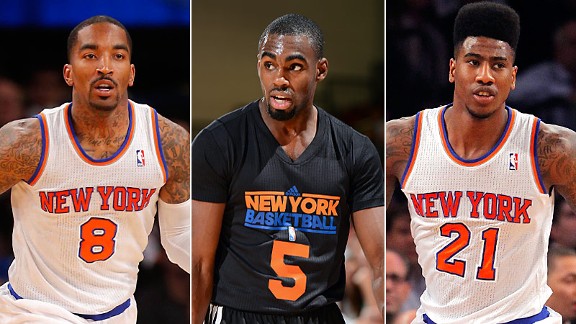 USA TODAY Sports, Getty ImagesIn the triangle, J.R. Smith, Tim Hardaway Jr. and Iman Shumpert will need disciplined shot selection.
Now that free agency has died down, we're taking a look at where the Knicks currently stand position-by-position. Today, we look at shooting guard.
SHOOTING GUARD
New additions:
SG
Wayne Ellington
.
Returning/on roster:
SG/SF
J.R. Smith
, SG/SF
Iman Shumpert
, SG/SF
Tim Hardaway Jr.
Gone:
SG/PG Shannon Brown.
The starter:
Head coach Derek Fisher could go in a couple of different ways. He could start Smith and Shumpert if he opts to play
Carmelo Anthony
at power forward. If he sees Smith as a sixth-man weapon, then he could start Shumpert at shooting guard or start Smith and bring Shumpert off the bench.
The wild card:
Smith. When Smith plays at a high level, the Knicks are so much more dangerous. Coming off offseason surgery, Smith got off to a very slow start last year before playing better toward the end of the season. He averaged 14.5 points while shooting 41.5% for the season. When he is on top of his game both physically and mentally, Smith can be a force like he was in 2012-'13 when he averaged 18.1 points, 5.3 assists and 4.5 rebounds while shooting 42.2% from the field.
Outlook:
This position has so much potential for the Knicks. If Smith and Shumpert can regain their form from two seasons ago, the Knicks' offense -– and defense -- can be potent. Perhaps the triangle can rejuvenate them both as Fisher and Phil Jackson hope that the pair can spark the team on both sides of the ball. Smith could see open catch-and-shoot opportunities in the triangle. Shumpert could spark the team as a defender with steals that lead to transition buckets much like past defenders have done in the triangle like Scottie Pippen and Ron Harper did for Jackson. The Knicks also hope that Hardaway Jr. can continue his progression. He has already proven that he can shoot and catch fire quickly but needs to improve defensively and add more versatility to his offensive game. With the addition of Ellington, the Knicks have streaky but highly flammable shooters who could all be nice fits in the triangle. Smith, Shumpert and Hardaway Jr. will all have to show some discipline in the triangle with their shot selection. Smith may have to cut down on the dribbling in the triangle as well. SG/PG
Toure' Murry
is an unrestricted free agent.
Question:
Who has to have the bigger bounce back season: J.R. or Shumpert?
July, 28, 2014
Jul 28
10:54
AM ET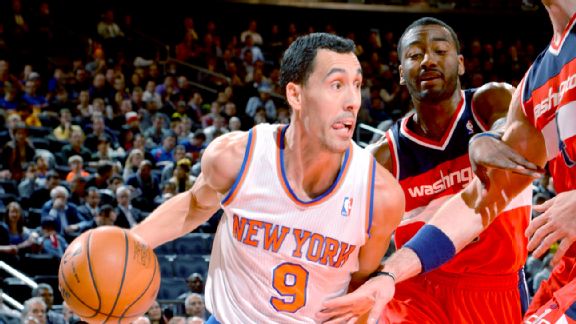 Jesse D. Garrabrant/NBAE/Getty ImagesPablo Prigioni, a savvy veteran who can provide outside shooting, is still under contract.
Now that free agency has died down, we're taking a look at where the Knicks currently stand position-by-position. Today, we look at point guard.
POINT GUARD
New additions:
PG
Jose Calderon
, PG
Shane Larkin
.
Returning/on roster:
PG
Pablo Prigioni
Gone:
PG
Raymond Felton
, PG/SG Shannon Brown, PG
Beno Udrih
.
The starter:
Calderon. Acquired in the Felton and
Tyson Chandler
trade to Dallas, the Knicks improved their shooting at the point guard position. It remains to be seen how Calderon does defensively for the Knicks. He could struggle to defend but the Knicks are expecting Calderon to improve the team's chemistry in addition to the shooting.
The wild card:
Larkin. Also acquired in the Dallas trade, Larkin was the 18th overall pick in the 2013 draft. He played in just 48 games, averaging 2.8 points in 10.2 minutes per game. But the Knicks have a young, albeit small at 5-11, point guard to develop. Perhaps Larkin could be a spark on some nights.
Outlook:
The Knicks did upgrade at point guard by bringing in Calderon after Felton struggled mightily last season. Calderon also could be a much better fit in the triangle than the underachieving Felton. Calderon averaged 11.4 points, 45.6% shooting overall and made 44.9% of his shots from behind the three-point arc last season. He also averaged 4.7 assists for the Mavs. Felton shot just 39.5% from the field and 31.8% from three-point land. Prigioni shot 46.4% from behind the arc last season. With the Knicks going to a triangle this season, Calderon and Prigioni may be counted on for their outside shooting. Phil Jackson's point guards in the past often were more spot-up shooters like
John Paxson
and
B.J. Armstrong
. The point guard that will make the biggest difference on the team is the one who is retired -– Derek Fisher. Even though he is coaching for the first time in his career, Fisher brings a wealth of championship experience, toughness and leadership. If Fisher can transfer that to the team from the sidelines, the Knicks' point guard play can only get better after last season.
Question:
How do you think the Knicks did at point guard this offseason?
July, 25, 2014
Jul 25
5:20
PM ET
CHICAGO --
Chicago Bulls
center
Joakim Noah
said Friday he likes what the Bulls have done in the offseason and has gotten over
Carmelo Anthony
's decision to re-sign with the
New York Knicks
.
"I'm really excited," Noah said of the Bulls on Friday. "I think Gar [Forman] and [
John Paxson
] and everybody did a real good job. I'm really, really excited about the Bulls. It just makes you want to work hard and be as ready as possible for the upcoming season."
[+] Enlarge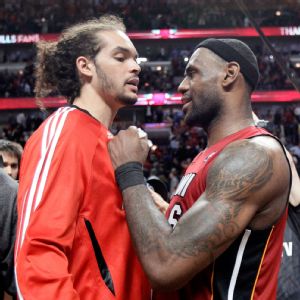 AP Photo/Nam Y. HuhJoakim Noah looks forward to matching up against LeBron James' Cavaliers this season.
Noah hoped Anthony would join the Bulls and he helped recruit him, but he understands Anthony's decision.
"I think he did the right decision for him," Noah said. "We obviously recruited him pretty hard. I think he had to make the best decision for him. I'm really excited for our team the way it is. I think we're deeper. I think those things, me personally, I can't control where another man goes. He feels like New York is the best position for him. I'm happy for him. But at the end of the day, what I care about is this city and the Chicago Bulls."
Noah is especially excited about adding
Pau Gasol
to the Bulls' frontcourt.
"I think it's going to be great," Noah said. "Pau is someone who is very, very smart. I think his father was a doctor. Someone who comes with a lot of experience. Not just a great player, but somebody who cares about the community as well. I'm excited to see him help us as well to try to slow down the violence and help the kids out here in Chicago. Somebody who is also very humbling to play with, somebody who has won championships and with his pedigree somebody I can really learn from."
Noah reported he's been rehabbing his left knee every day after having arthroscopic surgery in May.
He has also kept tabs on teammate
Derrick Rose
and his road to recovery in the offseason.
"I'm really proud of him because I know he sacrificed his whole summer," Noah said. "He sacrificed a lot to be the best that he can. That's all you can do. People's expectations, all that stuff doesn't matter. I'm proud of him for putting the work that he put in to be in the best position possible. He's doing a lot of things. He's helping us out too with our foundation. I got nothing but love for him."
Noah doesn't exactly have love for
LeBron James
and the
Cleveland Cavaliers
, though.
"Good for LeBron," Noah said of James rejoining the Cavaliers. "I'm happy for LeBron James. He gets to go home. People are happy over there. But I really hope that we can kick his [butt] as many times as possible."
July, 25, 2014
Jul 25
12:43
PM ET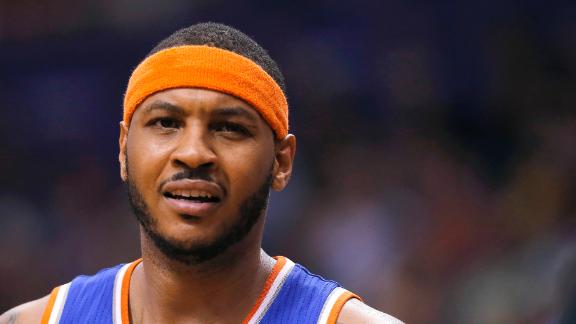 LAS VEGAS -- Carmelo Anthony said it was not the money, but instead his confidence in team president Phil Jackson and his belief that the New York Knicks "aren't that far away from contending for an NBA title," that made him opt to remain in New York instead of signing with the Chicago Bulls.
"I want to win. I don't care about the money," Anthony told ESPN.com. "I believe Phil will do what he has to do to take care of that.
"I don't think we're that far away," he added. "People use 'rebuilding' too loosely."
In what were believed to be Anthony's first public comments since agreeing to a five-year deal worth $124 million earlier this month, he told ESPN.com that the decision was so agonizing in the final days that he could not watch TV or go on the Internet.
"It was overwhelming," Anthony said. "It was stressful in the final days, one of the hardest decisions I've ever had to make."
Anthony said, though, it ultimately came down to New York and Chicago.
"I was flip-flopping," he admitted. "It was hard. It was Chicago, but then after I met with L.A., it was L.A. But it came back to Chicago -- and was pretty much always Chicago or New York. That's a situation where I could have walked in now to an opportunity to compete for the next however many years."
But the 30-year-old Anthony said he is invigorated to work with a new team president in Phil Jackson and a new coach in Derek Fisher.
"It's a matter of me believing in the organization, believing in Phil," Anthony said. "I wanted to go somewhere where I can end my career."
July, 25, 2014
Jul 25
11:03
AM ET
A common refrain you'll hear at summer league is "it's just summer league," the idea that somehow the action on the court is invalidated by the very nature of the competition: witless rookies, semi-interested second- or third-year players and the remaining churn of nameless wonders who jack shots up with no regard for human life in an effort to get noticed by an international club willing to cut a check.
While some of those archetypes might actually exist, summer league is much more than that. It's a training ground, an experimental laboratory for rookies to find their way, an avenue for older players to try out new roles, and a means for hopefuls to snag a training camp invite.
But the experimentation doesn't stop with the players: On the sidelines, new coaches like David Blatt of the Cavaliers, Steve Kerr of the Warriors and Derek Fisher of the Knicks are trying to get their feet wet in a head role. And while summer league doesn't afford them the circumstances to figure out the obstacles of coaching LeBron James, Stephen Curry and Carmelo Anthony, respectively, it's a great opportunity to figure out their philosophical approach to coaching the game. Even though it's not personnel-driven -- most of the guys they'll coach won't even be on the roster on opening night -- there are still lessons to be learned at summer league.
Here's a look at key lessons each of the three new head coaches, as well as one new assistant, learned during summer league.
---
David Blatt | Cleveland Cavaliers
Key lesson: The rules
It might sound silly, but something as simple as "can we do that?" regarding a rule might not be clear, even for people who have followed the game closely. Example: Can you make a substitution during a 20-second timeout? The answer is yes, if you called the timeout, or if the team that called the timeout made a substitution as well.
Little nuances like that are the small bumps in the road an experienced coach who is new to the NBA, like Cavaliers coach David Blatt, might come across.
"I'm coming from a different set of rules ... and the best thing I can do is immerse myself in that and take my hits," Blatt said. "Nothing earth-shattering, just knowing the rules and what goes and doesn't go. [Being at summer league] has helped me a lot."
July, 23, 2014
Jul 23
5:00
PM ET
By
Ian Begley
| ESPNNewYork.com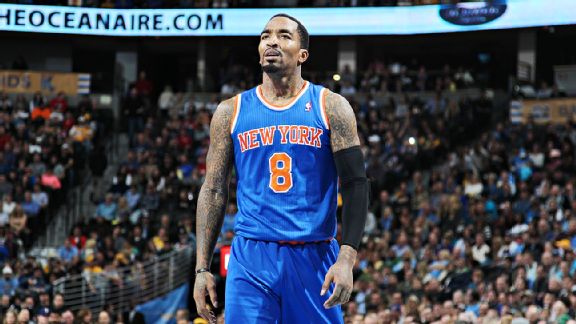 AP Photo/David ZalubowskiJ.R. Smith can be fantastic -- and frustrating. Do you think he's worth the headache?
We're not breaking any news when we tell you that, to many NBA observers,
J.R. Smith
is a talented but erratic scorer whose behavior can leave coaches, GMs and team presidents pulling their hair out.
Viewed in that context, Smith's 2013-14 season with the Knicks may have been his defining campaign.
It began with an offseason knee surgery that was timed, by Smith's own admission, to allow him to capitalize on his free agency.
It continued with a five-game suspension for a violation of the NBA's banned substance policy.
After a slow start on the court due in part to the knee surgery, Smith made headlines in November for appearing to threaten
Brandon Jennings
on Twitter after Jennings insulted Smith's younger brother,
Chris Smith
. He was fined $25,000 for the tweet. Then, in late December, Smith angered the Knicks by publicly questioning the team's decision to cut his brother.

As if that wasn't enough, Smith was fined $50,000 by the NBA for attempting to untie his opponents' shoelaces in early January.
At the time of the fine, Smith was shooting just 34.8 percent from the field and scoring 11.3 points per game -- nearly seven points fewer than the previous season.
But a funny thing happened on the way to what looked to be a disastrous year for the 2012-13 Sixth Man Award winner.
Smith's surgically-repaired knee started to feel normal again, and his shots started falling. In the final 43 games of the season (after Smith's second shoelace-related benching) he averaged 16.7 points per game on 45 percent shooting and knocked down 42 percent of his 3-point attempts; in the 31 games prior, Smith hit just 34 percent of his 3s.
Need more evidence to support his second-half revival?
Smith's effective field goal percentage jumped nearly 11 percent over his final 43 games. (Effective field goal percentage is a shooting metric that adjusts for the value of 3-point shots.)
Smith was even more valuable later in the season for the Knicks. After being inserted into the starting lineup for the final 22 games, Smith averaged 18.1 points per game as the Knicks finished the season 16-6.
To Knicks general manager Steve Mills, Smith's success in the second half of the season can be attributed to more than just an improved jump shot.
"I think we saw in the last month and a half of the season that J.R. was much more locked in as a player," Mills said earlier this month on the MSG Network. "I think when you walked in the locker room you could see ... that he was focused in a way that he wasn't at the beginning of the season."
The big question now for the Knicks and president Phil Jackson is this: Which Smith will show up for the 2014-15 season?
Will it be the player who caused headaches with his shot selection and impulse control in the first half of the season? Or the otherworldly scorer who gave opponents fits in the second half of the year? Or (the most likely option) a combination of both?
Says Mills, "We have all the confidence in the world that [Smith] will come back and be focused and locked in the way he was at the tail end of the season."
Smith's success this season will depend, in part, on how well he can fit into the triangle offense. Smith has been accused of over dribbling in the past, which is a no-no in the triangle. But as long as he can curtail that, there's reason to believe Smith can thrive as a jump shooter in the triangle.
The 28-year-old hit 45 percent of his catch-and-shoot attempts last season, including 46.2 percent on catch-and-shoot 3s last season, per SportVU. That 3-point percentage was the sixth highest among players who attempted at least 1.5 catch-and-shoot 3-pointers per game, according to the stats site.
That kind of efficiency would fit well in the triangle offense which, when run properly, produces ample open jump shots.
But will Smith get the opportunity to show what he can do in the triangle? The New Jersey product referred to last season as the "worst" of his career in an interview on ESPN's "First Take." He also said he wouldn't have been surprised if he was traded last season.
According to a league source, the Knicks have had discussions recently about making a move at shooting guard by trading
Iman Shumpert
or Smith to clear up the logjam at the position.
Smith, though, is set to make $5.9 million this season and has a $6.4 million player option for 2015-16. Those financial commitments to Smith, in addition to a resume filled with inconsistent play, would appear to diminish the shooting guard's value on the open market.
So if he ends up in a Knicks uniform on opening night, the team can only hope to have the version of Smith that suited up in the second half of last season: focused, productive and professional.
"I believe that Derek [Fisher] will be able to communicate with him and get him focused on what he can do to make our team better," Mills said of Smith.
The GM added that he thinks Smith can "buy into the philosophy that we have and make himself a better player."
Question: Do you agree with Mills? Can Smith help the Knicks win this season? Or should they look to trade him?
You can follow Ian Begley on Twitter.
July, 23, 2014
Jul 23
4:56
PM ET
By
Ian Begley
| ESPNNewYork.com
The Knicks have waived veteran guard
Shannon Brown
.
Brown's tenure with the Knicks was short-lived.
He signed the first of two ten-day contracts with the Knicks on Feb. 27 and then signed for the remainder of the season in late March. He appeared in 19 games for New York, averaging 2.1 points per game in 7.8 minutes.
The veteran also played on the Knicks' summer league team.
With Brown off of the roster, the Knicks are down to eight guards (including free agent
Toure' Murry
).
Phil Jackson and Steve Mills both said earlier this month that the roster needs better balance, mentioning the abundance of guards on the roster.
Sources say that the Knicks discussed internally their options regarding potential trades of
Iman Shumpert
,
J.R. Smith
or
Shane Larkin
to clear space in the back court. The team had been considering this as recently as last week.
You can follow Ian Begley on Twitter.
July, 23, 2014
Jul 23
11:05
AM ET
Associated Press
[+] Enlarge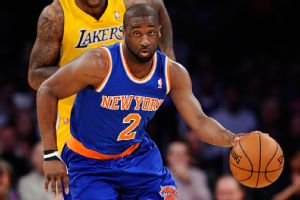 Robert Hanashiro/USA TODAY SportsRaymond Felton, who was traded by the Knicks to the Mavericks last month, took a plea deal that involves admitting a felony but spares him jail time.
NEW YORK -- Dallas Mavericks point guard Raymond Felton pleaded guilty Wednesday in a New York gun case, taking a plea deal that involved admitting a felony but spares him jail.
Felton pleaded guilty to attempted criminal possession of a weapon and criminal possession of a firearm. He admitted he knowingly had a large-capacity ammunition magazine and a semi-automatic pistol without a license.
"Are those charges true?" Manhattan state Supreme Court Justice Larry Stephen asked.
"Yes, sir," Felton said, later adding in a soft voice: "I apologize. I realize what I did was wrong."
He was immediately sentenced to 500 hours of community service and ordered to pay a $5,000 fine. Manhattan Assistant District Attorney Jonathan Rebold said Felton will be allowed to do the service outside New York.
If he complies, the case will be closed without jail time or probation.
"At this point, Raymond is looking forward to starting the next chapter of his life and focusing on success in Dallas," his lawyer, James Walden, said after court.
July, 22, 2014
Jul 22
12:15
PM ET
By
Ian Begley
| ESPNNewYork.com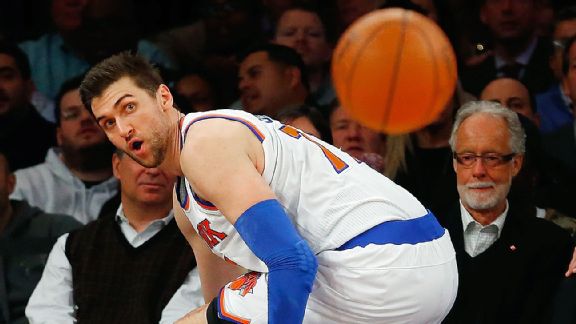 Jim McIsaac/Getty ImagesLast season, the 'Bockers were better off with Andrea Bargnani on the bench. But Phil Jackson says he might "surprise" next season. Agree?
By most measures,
Andrea Bargnani
's season with the Knicks last year was a forgettable one.
New York's offense was 6.8 points better (per 100 possessions) when Bargnani was on the bench. On defense, the Knicks allowed one fewer point per 100 possessions when Bargnani was off the court.
And then there's this: The Knicks went 15-27 before Bargnani went down with an elbow injury and finished the season 21-18 after he got hurt.

It's unfair to put that all on Bargnani, but it doesn't reflect well on the former No. 1 overall pick.
"He just never seemed to be a good fit," one NBA scout said of Bargnani last season.
But when viewed through the prism of individual statistics, Bargnani's 2013-14 season doesn't seem so terrible. He averaged 13.3 points and 5.3 rebounds per game, numbers the Knicks probably would have signed up for when they acquired Bargnani last summer.
The bigger issue last season for Bargnani was that he never fit well on the floor with
Carmelo Anthony
. The Knicks hoped Bargnani could be a strong secondary scoring option. That didn't happen.
New York outscored teams by 3.5 points per 100 possessions when Anthony was on the court without Bargnani. But when Anthony and Bargnani shared the floor, the Knicks were outscored by 3.9 points per 100 possessions.
Maybe that was one reason, along with his salary, that Bargnani was deemed expendable earlier this summer by the Knicks. The Knicks' hierarchy tried to ship Bargnani out, along with one of their guards, in an effort to shed his $11.5 million salary and free up some money for then-free agent
Pau Gasol
, sources say.
Either New York couldn't find an amenable trade partner or couldn't construct a deal to its liking because Bargnani is still a Knick and Gasol is with the
Chicago Bulls
.
It is unclear if Bargnani is still on the trading block.
Phil Jackson said last week he thinks Bargnani will "surprise" some people this season. He also called the seven-footer "overlooked."
"We think he's going to really do well in the kind of system we have," Jackson said in an interview on MSG Network. "We've got a couple guards he likes to play with in Jose [Calderon] and Pablo [Prigioni] because he's played with them before in situations. I think he's going to be a surprise and I think he's going to be a pleasant one for our fans."
Some see Jackson and Derek Fisher's triangle offense as a panacea for Bargnani. If he can knock down the open shots produced by the triangle, the theory goes, maybe Bargnani can have a successful run in his second season in New York?
(That theory ignores that Bargnani isn't a strong passer and doesn't move well -- two essential skills in the triangle.)
Offense, though, hasn't been Bargnani's biggest issue over eight years in the league. Defense and rebounding have also held him back -- maybe to a larger degree than any drawbacks he has on the offensive end.
So Fisher and the Knicks will have to figure out not only how to get Bargnani open looks on offense but also how to overcome his porous perimeter defense and spotty rebounding.
And, oh yeah, they'll also have to find a way to incorporate him on offense without hindering Carmelo.
Is that possible? Sure. Anything's possible. But, based on last season, it doesn't seem all that likely.
Question: Do you agree with Jackson when it comes to Bargnani? Do you think Bargnani can be a "surprise" for the Knicks this season? Or should they look to trade him?
You can follow Ian Begley on Twitter.
July, 22, 2014
Jul 22
11:55
AM ET
By
Staff
| ESPNNewYork.com
Fresh off an impressive showing at the Las Vegas Summer League, rookie
Doug McDermott
will join
Chicago Bulls
teammate
Jimmy Butler
on the USA Select Team that will practice against the national team as it prepares for the FIBA World Cup.
Butler

McDermott
McDermott and Butler were chosen for the Select Team along with the
Golden State Warriors
'
Harrison Barnes
and
Draymond Green
, the
Utah Jazz
's
Trey Burke
(Utah Jazz), the
New York Knicks
'
Tim Hardaway Jr
., the
Orlando Magic
's
Tobias Harris
and
Victor Oladipo
, the
Brooklyn Nets
'
Mason Plumlee
, the
Phoenix Suns
'
Miles Plumlee
, the
Boston Celtics
'
Marcus Smart
, the
Cleveland Cavaliers
'
Dion Waiters
and the
Charlotte Hornets
'
Cody Zeller
.
McDermott, drafted by the
Denver Nuggets
with the 11th pick in last month's draft and then traded for two picks to the Bulls, was a first-team pick for the summer league all-star team along with second-year swingman
Tony Snell
. McDermott averaged 18 points a game and shot 44 percent from three-point range in Vegas.
Butler, 24, averaged a career-best 13.1 points a game last season, his first as a starter. The young Bulls duo will train with teammate
Derrick Rose
, who is expected to participate in Team USA practices.
"USA Basketball's Select Teams are critical for getting some of the game's brightest and most promising young players experience at the USA National Team level, and getting them into our pipeline," USA Basketball National Team managing director Jerry Colangelo said in a statement. "Again this summer, as was done in 2007, 2008, 2010 and 2012, the members of the USA Select Team will play an important role in helping prepare the USA National Team for the 2014 FIBA World Cup.
"Being chosen for the Select Team is an honor and an important step in becoming involved in USA Basketball's National Team program in the future. In the past, current national team players like
Kevin Durant
,
Kyrie Irving
,
Kevin Love
, Derrick Rose,
Russell Westbrook
, as well as many other outstanding players got their USA National Team start through the Select Team."
The Select Team will train with Team USA from July 28-31 in Las Vegas. The FIBA World Cup runs from Aug. 30-Sept.14 in Spain.