October, 31, 2014
Oct 31
7:58
PM ET
By
Ian Begley
| ESPNNewYork.com
It's safe to say Bernard King knows a thing or two about scoring in the NBA.
The 14-year NBA veteran scored nearly 20,000 points in his career, almost 5,500 of which coming with the
New York Knicks
.
So while some question
Carmelo Anthony
's ability to succeed in the triangle offense, the former elite Knicks scorer thinks Anthony is a perfect fit.
If he gets some help.
"Carmelo has not had a second superstar to play with. And you're not going to win a championship, by and large, unless at minimum, a second superstar," King said. "Sometimes, three (stars) are necessary (to win the title). If you look at San Antonio and their success other than when David Robertson and
Tim Duncan
were together. ... Look at Michael (Jordan) and Scottie (Pippen)."
Anthony, of course, hopes to attract another superstar to New York this summer or next. With
Amar'e Stoudemire
and
Andrea Bargnani
's contract coming off of the books, the Knicks are expected to have enough money to sign a free agent to a maximum contract this summer. Memphis'
Marc Gasol
and Boston's
Rajon Rondo
are expected to test free agency. In 2016,
Kevin Durant
is expected to be available.
As far as this season goes, King, who has a relationship with Anthony, sees good things ahead for Anthony.
"If you have a high basketball IQ, you can play in any system," King says. "And the triangle is really all about spacing, keeping the floor open, moving the basketball and moving your body. In a very simplistic way, it's a passing game more than anything else.
"For that system to succeed, you have to have personnel who are good passers and you have to have personnel that understand floor-spacing and understand movement and all of that constitutes part of the triangle. And Carmelo's game fits very nicely into that," King said.
Some wonder how well Anthony -- a player who has thrived in isolation in the past -- will fit into an offense predicated on ball movement. But King sees it as a good marriage of player and system.
"He moves well without the basketball," King said. "He's a great open-court shooter. If he catches the ball, he can catch-and-shoot, he can come off screens, he can drive to the basket. And if he comes off a screen and he gets in the lane, he can also find you in the corner for a teammate to take a set jump shot. So he has all the prerequisite skills to be successful in the triangle."
Anthony has said it will take some time before he is fully comfortable in the new offense. He looked a little passive on opening night, scoring just 14 points on 13 shots in a blowout loss to Chicago. On Thursday, Anthony had a strong night on both ends of the floor, scoring 25 points on 9-for-17 shooting and handing out six assists in the Knicks' upset of the Cavs.
Running for a cause:
King is among a group of NBA players and executives running the NYC Marathon on Sunday as a relay team to promote the NBA's commitment to youth fitness.
"Oh, that's going to be interesting," King said with a laugh. "I hope there is oxygen at the end of the run."
NBA commissioner Adam Silver will participate in the race by running the first three miles and
Dikembe Mutombo
will finish it. Ex-Knicks
Charles Oakley
and
Greg Anthony
will also participate.
King also helped conduct an NBA-sponsored clinic for NYC youth that stressed the importance of education and maintaining an active lifestyle.
"A lot of these kids are sedentary and they're not active so this is a very good way to get this messages out -- the importance of being active and being fit," King said.
Stamp of approval:
One of King's newest business ventures will be producing stamps with images of NBA stars on them.
He has a license with the NBA that allows him to take images of the players from game action and place it on a postage stamp. You can find more information on
bkingstamps.com
.
October, 31, 2014
Oct 31
6:21
PM ET
Associated Press
[+] Enlarge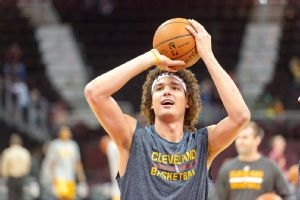 Jason Miller/Getty ImagesAnderson Varejao has played in 535 games with the Cavaliers, appearing in a franchise-record tying 71 postseason games.
CLEVELAND -- Best known for his wild hair and hustle, Anderson Varejao's heart and hard work got him a new contract with the Cavaliers.
Cleveland signed its starting center to a contract extension on Friday. Terms of the deal were not immediately confirmed, but the sides had been discussing a three-year, $30 million contract.
Varejao was in the final year of a six-year contract he signed in 2008. He's making $9.7 million this season and would have been eligible to become a free agent this summer before the Cavs decided to lock him up for a few more seasons.
"Anderson represents how this franchise wants to approach the game of basketball, both on the court and off," Cavaliers general manager David Griffin said.
"He has been a key part of our foundation for years and we are very happy that he will continue to be part of our Cavs family as we work toward our goals at the highest level.
"Andy is, and has been, a tireless worker, an incredible teammate and a great competitor that plays with a rare combination of energy and intensity that makes him truly special."
The 32-year-old Varejao has played in 535 games with Cleveland, averaging 7.8 points and 7.8 rebounds per game. The Brazilian has appeared in a franchise-record tying 71 postseason games. Varejao averaged 14.4 rebounds in 2012-13.
October, 31, 2014
Oct 31
1:51
AM ET
By
Ian Begley
| ESPNNewYork.com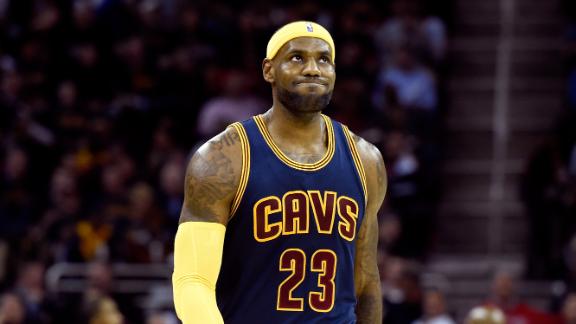 CLEVELAND -- Thursday night started off as a celebration of
LeBron James
.
The King was back in Cleveland.
Carmelo Anthony
and the
New York Knicks
were a mere afterthought.
But by the time the night was over, the only people who were in the mood to party were the 15 guys in the visiting locker room after the Knicks' surprising 95-90 win Thursday night.
"We came in and spoiled the excitement," said Knicks forward Amar'e Stoudemire said. "Great for us."
The Knicks registered the biggest stunner of the young NBA season, doing so thanks, in part, to their defense on James.
[+] Enlarge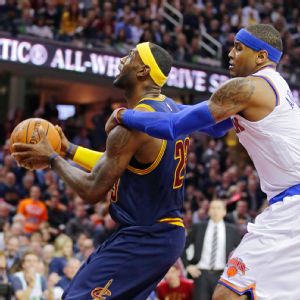 AP Photo/Tony DejakCarmelo Anthony and the Knicks held LeBron James to 5-of-15 shooting in his return to Cleveland.
James missed 10 of his 15 shots and turned it over eight times as the Knicks kept him out of the paint and took away his transition opportunities.
"I was just out of rhythm," James said. "I think some of my turnovers were careless, some were chemistry."
And maybe some were due to the enormity of the moment. But the Knicks also deserve some credit.
"I thought we did a great job kind of containing him," Anthony said.
The numbers bear that out.
James was 3-for-4 in transition, but shot just 2-for-11 in the half-court offense, according to ESPN Stats & Information.
He also shot 1-for-9 from outside the paint.
It's incorrect to credit one player for stopping James on Thursday. Knicks coach Derek Fisher used Anthony,
Iman Shumpert
,
Quincy Acy
and -- in a surprising move -- rookie
Travis Wear
on James.
Shumpert guarded James for long stretches in the fourth quarter with great success. On the six plays he defended a possession that ended in a James action, he limited the four-time MVP to 0-for-2 shooting and four turnovers.
"Great players like LeBron, you don't necessarily stop or take out of the game," Fisher said. "I think this team the Cavaliers, they're still trying to find out who they are and how they're going to play the game."
The same can be said of the Knicks. But they showed what Anthony called "mental toughness" by coming into Cleveland and stealing a game a night after they were embarrassed by the Bulls in both teams' season opener.
Said Anthony: "We did a great job of putting that game behind us."
They also did a great job of keeping James in front of them. And that, more than anything else, made the difference Thursday night.
Question: What did you think of the Knicks' defense of LeBron James?
You can follow Ian Begley on Twitter.
October, 30, 2014
Oct 30
11:43
PM ET
By
ESPN Stats & Information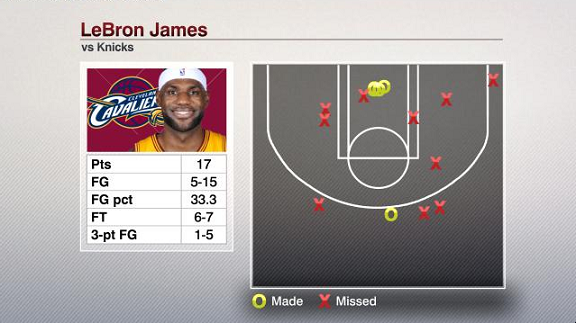 LeBron James
returned to the
Cleveland Cavaliers
on Thursday night.
But the
New York Knicks
spoiled the welcome home party in a big way.
James had one of the worst games of his career in the 95-90 loss.
He shot 5-for-15, was 1-for-9 outside the paint and had eight turnovers.
James was 3-for-4 in transition, but shot 2-for-11 in the half-court offense.
This was the first game of James' career (regular season or postseason) in which he had at least eight turnovers, fewer than 20 points and fewer than five assists.
The various combos didn't work
The Cavaliers were outscored by 13 points with James on the court. They outscored the Knicks by eight points in the 4 minutes, 46 seconds in which he didn't play. James had only one home game last season in which he had a minus-13 or worse.
The Cavaliers' big three of James,
Kevin Love
and
Kyrie Irving
were outscored by three points when all three of them were on the court. But the Cavaliers couldn't score when one was out, shooting 41 percent when the big three weren't on the floor.
In particular, James and Irving were not a potent combo on this night. The Cavaliers were outscored by 12 points when James and Irving were on the court together. They outscored the Knicks by seven when at least one was on the bench.
Knicks make their jumpers
One night after shooting 31 percent on jump shots, the Knicks made 23 of 45 (51 percent) against the Cavaliers.
The Knicks were 8-for-20 on jump shots judged to be open looks by video review against the Bulls. They were 11-for-15 on those shots against the Cavaliers.
The Cavaliers did not make their jump shots. They were 14-for-43 when shooting from more than 10 feet away from the basket.
Carmelo Anthony
came up with a big game after having been outscored and outshot by James in their previous three head-to-head meetings. He finished with 23 points, and shot 6-for-10 for 17 points when guarded by James.
Unsung hero of the game
Travis Wear
had two points, two rebounds and two assists in his 13 minutes off the bench for the Knicks.
But he held James to 0-for-4 shooting from the field when he was James' primary defender.
October, 30, 2014
Oct 30
10:58
PM ET
By
Ian Begley
| ESPNNewYork.com
CLEVELAND -- Hours before tipoff, Thursday's Knicks-Cavs game was being billed as one of the biggest moments in the history of Cleveland sports. But
Carmelo Anthony
& Co. ruined all that.
The Knicks pulled the biggest stunner of this young NBA season by beating
LeBron James
and the Cavs 95-90 in King James' first game back in Cleveland in four seasons.
Anthony and his teammates forced James to miss 10 of 15 shots, and Melo delivered a dagger late in the fourth quarter, hitting a baseline jumper over James with 27 seconds to play to seal the win at Quicken Loans Arena.
Stat of the night:
James didn't get off to a strong start in his second act with the Cavs. He had 17 points on 5-for-15 shooting and turned the ball over eight times.
The enormity of his homecoming might have impacted James, but the Knicks certainly played a role. A combination of Carmelo Anthony, Iman Shumper and rookie
Travis Wear
helped limit James all night.
The Knicks certainly aren't used to seeing this kind of performance out of LeBron. The four-time league MVP averaged 32.8 points on 63.8 percent shooting in four games against New York last season, and has been on the winning side in 21 of his past 27 matchups.
Stat of the night II:
The Knicks finished with 30 assists on 37 made field goals. Their season-high last year was 29. The ball movement in the triangle was strong, and the scoring was balanced.
Anthony had a game-high 25 points on 9-for-17 shooting with six assists.
Iman Shumpert
and
Jason Smith
had 12 apiece and
J.R. Smith
had 11, including a key runner late in the fourth that helped the Knicks keep their lead. Smith also had seven assists.
For one night at least, the Knicks weren't hurt by the loss of point guard
Jose Calderon
, who is out for at least two weeks with a calf strain. In his absence,
Shane Larkin
,
Pablo Prigioni
and Shumpert handled the lead guard duties and combined for nine assists.
Adjustment of the night:
Derek Fisher started the game with
Samuel Dalembert
, a traditional center, on the floor. But he quickly moved away from that strategy, benching Dalembert in favor of more minutes for Stoudemire, Jason Smith,
Quincy Acy
and Wear. The smaller lineup helped slow James down, allowed the Knicks to rebound from an early 11-point deficit and helped Fisher earn his first win as an NBA coach.
Celebrity sighting of the night:
There were plenty in Cleveland tonight. Usher Raymond sung the national anthem. He then sat next to Justin Bieber and Michael Strahan. The crowd greeted Bieber with intense boos. Geraldo Rivera also got booed by the Cavs fans.
LeBron-related gimmick of the night:
LeBron's chalk toss was back. The fans joined him in the act:
The Cavs are supplying fans at Quicken Loans Arena with this "chalk toss" bag to celebrate Lebron's first game back. pic.twitter.com/cJSrICnYXk

— Ian Begley (@IanBegley) October 30, 2014
Tweet of the night:
From our buddy Seth Rosenthal, who tweeted the following while Jason Smith was knocking down jump shots in the third quarter:
The Cavs only signed Kevin Love because Jason Smith wouldn't take a pay cut.

— Seth Rosenthal (@seth_rosenthal) October 31, 2014
Question:
What do you make of the Knicks following this win?
You can follow Ian Begley on Twitter.
October, 30, 2014
Oct 30
10:52
PM ET
Associated Press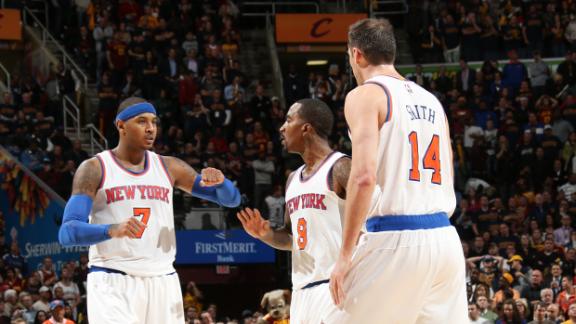 CLEVELAND -- LeBron James struggled from the start in his first game with Cleveland in four years, and the New York Knicks ruined the megastar's emotional homecoming with a 95-90 victory over the Cavaliers on Thursday night.
James, who returned to the Cavs and his native Ohio this summer after winning two NBA titles in Miami, finished with 17 points on 5-of-15 shooting. He also committed eight turnovers and never looked comfortable on a night when the entire city -- and a star-studded crowd -- celebrated his comeback.
Carmelo Anthony scored 25 points and buried a jumper with James in his face with 25 seconds left to give the Knicks a 92-87 lead.
Kyrie Irving scored 22 and Kevin Love added 19 points and 14 rebounds for the Cavs, who have some work to before they can start thinking about any titles.
October, 30, 2014
Oct 30
2:53
PM ET
CLEVELAND -- Major League Baseball enjoyed the two greatest words in all of sports with a Game 7 in the World Series on Wednesday, but LeBron James believed his regular-season opener with the Cleveland Cavaliers had the potential to draw even more attention.
"For me, I know all of us shouldn't take this moment for granted," James said after shootaround Thursday in advance of the Cavs' home game against the New York Knicks. "This is probably one of the biggest sporting events that is up there ever."
Hyperbole? To some extent. But one can hardly blame James for getting caught up in the hype of his return. At the same time James was speaking to reporters at Quicken Loans Arena, Nike was busy unveiling a 10-story banner of his likeness just a couple of blocks away.
James was playing Thursday in his first official game for the Cavs in more than four years since leaving for Miami, and while things have changed in his absence -- Cleveland has new uniforms, a new court design and a new video scoreboard that owner Dan Gilbert has dubbed the "humongotron" -- there is plenty that is familiar, from James going back to his old No. 23 to him putting it up to the fans to decide whether they want to see his pregame chalk toss ritual again. James revealed the result of his fan poll Thursday afternoon, hours before tipoff.
You guys are incredible!!! Thank you pic.twitter.com/Meo3tE9Yu9

- LeBron James (@KingJames) October 30, 2014
October, 30, 2014
Oct 30
2:32
PM ET
By
Ian Begley
| ESPNNewYork.com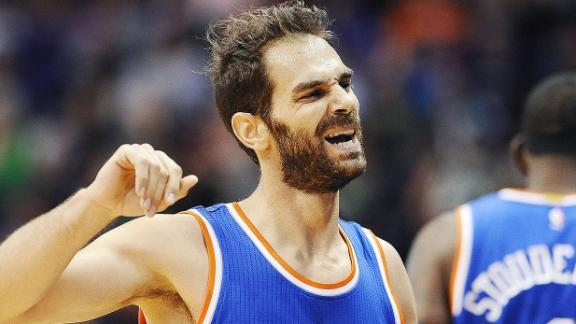 CLEVELAND -- New York Knicks point guard Jose Calderon will miss two to three weeks because of a right calf strain, the team announced Thursday.
An MRI revealed the injury. Shane Larkin will likely start in Calderon's absence Thursday night against the Cleveland Cavaliers.
Calderon's injury leaves the Knicks thin at point guard. Pablo Prigioni, 37, and Larkin, a second-year guard, are the only two true point guards on the roster. The Knicks may ask combo guard Iman Shumpert to handle the ball with Calderon out or may seek to add a point guard in free agency.
New York penciled Calderon into its starting lineup 90 minutes before tipoff of its season opener Wednesday. But the veteran was a late scratch because he aggravated the calf injury during warm-ups.
Calderon had been hobbled by the injury late in the preseason, missing the Knicks' final two exhibition games.
Larkin started at point guard alongside Shumpert in the New York backcourt against Chicago. He finished with six points and three assists in 26 minutes in the Knicks' 24-point loss.
Calderon's absence comes at an inopportune time for New York (0-1). The Knicks face a tough group of point guards in their next three games: Cleveland's Kyrie Irving, Charlotte's Kemba Walker and Washington's John Wall.
October, 30, 2014
Oct 30
1:43
PM ET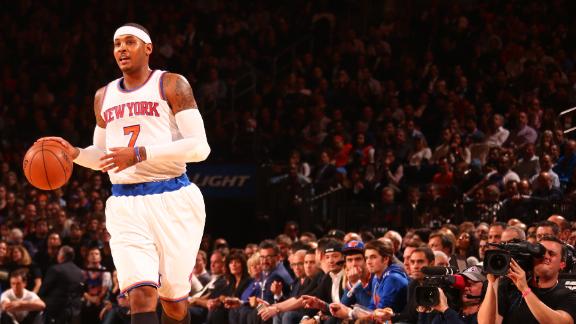 NEW YORK --
LeBron James
' much-anticipated return to the
Cleveland Cavaliers
will have an All-Star Game feel to it.
Kendrick Lamar and Imagine Dragons will perform pregame. Comedian Kevin Hart will provide the jokes.
And then the
New York Knicks
hope the laughs won't continue after they jump ball.
The Knicks looked like a joke in their season-opening 104-80 loss to the
Chicago Bulls
on Wednesday. Only two Knicks players (
Carmelo Anthony
and
Amar'e Stoudemire
) reached double figures in scoring as the team managed to turn the triangle into a punch line on Twitter.
Now with James on deck, readying to make up for all the hard feelings from his departure to Miami from Cleveland, the Knicks might as well be walking right into a buzz saw.
If Anthony was the slightest bit curious to see what he passed up on with the Bulls on Wednesday, he may not like this upcoming glimpse at what he will be chasing for the next several years in the East on Thursday.
"I am anxious to see myself and how I am going to bounce back and how we are going to bounce back," Anthony said Wednesday night. "I am not worried about Cleveland and what LeBron and them guys have going on over there.
"I got to figure out what is going on over here with the New York Knicks."
The harsh reality that Anthony and the rest of the Knicks will figure out is that they are already several laps behind the Cavaliers in the title race, for years to come.
By the time new team president Phil Jackson can get Melo some legitimate help, LeBron,
Kevin Love
and
Kyrie Irving
could already have a championship ring or have at least gone through the necessary growing pains that title-contending teams often need to experience.
And assuming that Jackson is able to overhaul this roster next season and finds some difference-making reinforcements, Melo's new cast will have to learn the triangle and the Knicks will have to figure out how to play together in it all over again.
Think about how hard it is just learning it right now. You could actually see the Knicks thinking and overthinking when they were on offense against the Bulls.
J.R. Smith
said the Knicks stopped competing in the second half and "we put our heads down and tucked our tails" when they could sense the Bulls sinking their teeth in.
Now they try to match effort and desire with the best player on the planet on what figures to be an emotional night for him.
"I don't think we should watch the news because it's going to be everywhere, [stay] off the Internet," Smith said on Wednesday about playing the Cavs. "It's just a matter of staying focused or locked in. ... I don't think we should get caught up in the hoopla."
"Honestly, I don't know [what to expect]," Smith said. "This is something I've never seen before. I mean, it's almost like the Super Bowl for them, first game of the year -- so many acts, start the season off, comedians coming. I don't know what to expect to be honest."
It's still very early. The Knicks have 80 more games after Thursday to figure out the triangle, get better and try to make the playoffs. And then from there, Jackson will try to earn his fortune by reshaping the roster.
With the Bulls and Lakers, Jackson always had the benefit of having the best player on the planet on his roster. Thursday, the Zen Master will see what it's like on the other side of those matchups.
The Knicks' rebuilding process feels like it will be even slower and more tedious than expected. It feels like it will take years to get to where they want to be.
Meanwhile, James starts his new dynasty Thursday night in Cleveland. The Knicks just hope they won't play the role of the Washington Generals on his big night.