January, 29, 2015
Jan 29
12:00
PM ET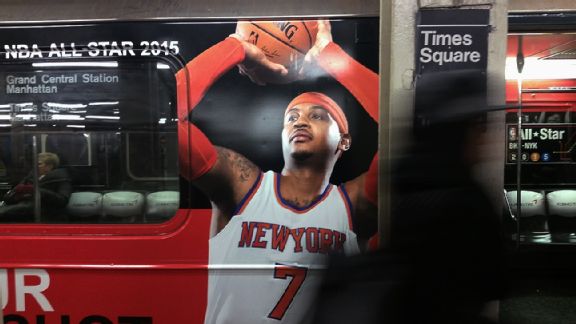 Ian Begley/ESPNCarmelo Anthony's presence is larger than life on the New York City subway's "S" trains.
NEW YORK -- Back in July, he could have ended up with the
Houston Rockets
, teaming with
James Harden
and
Dwight Howard
to form the NBA's latest "big three." Or he could have signed with the
Chicago Bulls
, adding some star power to a ready-made title contender.
Instead,
Carmelo Anthony
re-signed with the
New York Knicks
.
With the Knicks 28 games under .500 and tied for last place in the Eastern Conference, that decision looks a bit cockeyed now.
But Carmelo had his reasons back then.
New York, of course, offered more money and long-term financial security than the other suitors. It also gave Anthony a chance to chase a title under Phil Jackson, one the greatest winners in league history.
But another, under-the-radar factor in Anthony's decision can be found about 20 feet underground in midtown Manhattan these days.
An image of Anthony holding a basketball, ready to shoot, is plastered on the side of the "S" Train in New York City, a subway train that carries passengers between Times Square and Grand Central Terminal. It's part of an ad campaign to promote the All-Star Game in New York City. And it's the kind of opportunity Anthony was looking for when he signed a five-year, $124 million deal with the Knicks: to be the face of one of the biggest franchises in the NBA.
"I want to stay and build here with this city," he said on the day he announced his return to New York.
Of course, not much has gone right for Anthony or the Knicks since that day in mid-July.
The Knicks have suffered through losing streaks of 10 and 16 games this season and are on pace to finish the year with the most losses in franchise history.
"I never expected this," Anthony said recently.
Neither did Chris Hill. Hill, an NYU student and Knicks fan, is reminded of that on a recent morning as he rides the "S" Train, standing next to Anthony's ad.
"A lot has gone on with injuries and trades and it's been unfortunate," Hill said.
Some New Yorkers may want to blame Anthony for everything that ails the Knicks, but Hill doesn't fall into that camp.
[+] Enlarge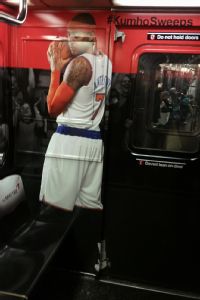 ian Begley/ESPNRiders of the "S" train also get to see Carmelo Anthony inside the subway car as well.
"All the pressure is on him, and that's not fair," he said. "He's in a situation where he's on an island. He has no one to pass to. It's like Melo is our front man, but who's helping him? New York puts a lot of pressure on you, but it's not all his fault."
Anthony, for the most part, has handled the pressure New York has thrown at him. He hasn't been in trouble off the court and has mostly accepted the criticism thrown his way for the Knicks' failures.
"A lot of times I'll take the blame," he said recently. "I accept that."
There has been plenty of blame to go around.
New York, after all, has won just one playoff series since Anthony arrived in a three-team trade in 2011. The Knicks are a combined 150-154 (134-127 when he plays) in the regular season since Anthony's arrival.
So he may be able to deliver you from Times Square to Grand Central on the "S" train these days, but Melo hasn't delivered much else to a Knicks fan base starving for a winner.
"I don't know if you can build a championship team around him," Lou, an "S" train rider from Brooklyn who only wished his first name be used, said on a recent morning. "I don't know if he's that type of player. He doesn't make anyone better. That's what great players do."
This is a familiar refrain among some Knicks fans. Anthony has been out of the first round of the playoffs just twice in his 12-year career.
"If he's such a great player, why hasn't he been to the Finals?" Lou says. "He's a great scorer, but that's it."
This is a perception Anthony will have to fight for the rest of his career. The only thing that will truly change it is if Anthony wins a title in New York.
And that's not happening this season.
For now, the biggest accolade Anthony has to look forward to is starting for the Eastern Conference in the All-Star Game on Feb. 15 at Madison Square Garden.
Anthony will be the only representative from either New York team at the game on Feb. 15.
Just call New York the Lone All-Star State.
"It's really been terrible to watch -- both teams, the Knicks and Nets. But this is the worst Knicks team I've ever seen," Hunter, a 58-year-old Knicks fan from Manhattan, who declined to give his full name, said sitting under Anthony's ad on the "S" train last week.
Hunter, like most Knicks fans of a certain age, remembers the glory years in New York -- the 1969-70 and 1972-73 title-winning teams.
"Those teams were amazing, my best memories as a Knicks fan. This one is terrible," Hunter said. "I thought they would be much better with this roster, with Melo back. I don't know if it's the players or the coach but they have been a huge disappointment."
Hunter looks at Anthony's ad on the "S" train and can't help but smile.
"I guess they had to have at least one player from New York in the game, right? But I'd rather see him in the playoffs than the All-Star Game."
Most players would trade an All-Star appearance for a shot at the title. Anthony is probably no different in this regard.
But, make no mistake, playing in the All-Star Game is important to Anthony.
He has been playing through soreness in his injured left knee for much of the season. He said he will eventually need surgery to repair the injury. But he has held off on going under the knife, in part, to be on the Garden floor for the All-Star Game.
"I still get excited for these moments," Anthony said last week. "It's a blessing to be able to represent New York here. I never thought I would be in the All-Star Game here in New York."
But, as with most things that involve Melo in New York, this appearance isn't without controversy.
Some, such as TNT analyst
Reggie Miller
,
have criticized Anthony
for seemingly prioritizing an All-Star appearance over his long-term health and the well-being of the Knicks.
And that's the rub with Anthony from the media's perspective.
He's one of the best scorers on the planet, but doesn't have the ring that would cement his legacy.
So, 12 years into his career, some wonder if this is just who Melo is.
Is he a guy content to be plastered on ads on subway cars and billboards in Manhattan -- the face of a bad franchise? Or is he driven for more?
Of course, only Anthony himself can answer that question.
Stay tuned, New York.