Coach's Report: Woodson to go small ball
April, 21, 2013
4/21/13
6:12
PM ET
By
Jared Zwerling
| ESPNNewYork.com
On Sunday, Mike Woodson said
Pablo Prigioni
was "definitely" missed on both ends of the floor in Game 1 of the Knicks' first-round series against the
Boston Celtics
. The coach noted the offense became too stagnant at times, and Celtics starting point guard
Avery Bradley
had one too many easy backdoor cuts.
That's why when Prigioni, listed as day-to-day, returns from a sprained right ankle, Woodson will continue to start him at point guard, and the Knicks coach will have
Raymond Felton
guard
Paul Pierce
and
Iman Shumpert
stick
Jeff Green
in the Celtics' bigger-sized starting five. It will arguably be the biggest size difference the Knicks have faced this season, and Woodson is aware. But he's confident in Felton and Shumpert's defensive abilities. He also wants to maintain the two-point-guard lineup he's used all season.
[+] Enlarge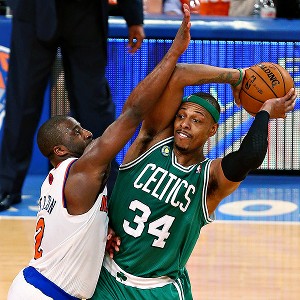 Debby Wong/USA TODAY SportsThe undersized Raymond Felton will draw a tough defensive assignment when Pablo Prigioni returns.
"It gives us an opportunity to have two point guards on the floor that can run a team," he said. "And they both are defensive-minded type guys, too, so that doesn't hurt. I know there is a size difference there, but we never have concerned ourselves with size ... We still match [
Carmelo Anthony
] up at the 4 because at the other end they have to match up with him."
Felton and Shumpert's defensive pressure and quick instincts could come in handy against Pierce and Green. The Knicks' duo also plays passing lanes well, and that was key on Saturday at MSG, where the Knicks converted 21 turnovers into 20 points. With the Celtics missing their one-man fast break,
Rajon Rondo
, the Knicks' smaller lineup has the speed advantage, which should enable them to control the tempo in the series.
Most importantly, the Knicks need to improve their perimeter rotations from Game 1, as Woodson will continue to call for an extra defender at times on Pierce, Green and
Kevin Garnett
. A few times in first half on Saturday, the Celtics quickly swung the ball around the perimeter to an open 3-point shooter, as a Knicks guard scrambled to cover. The Knicks' defensive positioning could also improve, as the team occasionally turned their back to the ball when it was in the post. Piece, Green and Garnett, who are underrated passers out the post, made the Knicks pay.
THE CLOSER:
In the regular season, the Knicks were the second-best team in average fourth-quarter margin (plus-2.2). For the Knicks, it's been their best defensive quarter, and it was in Game 1 when they outscored the Celtics 18 to 8. The Knicks had five steals in the final period, led by their veterans
Jason Kidd
,
J.R. Smith
and
Kenyon Martin
. In addition, Anthony manned up to guard Green, the Celtics' hottest hand of the game, whose only points in the final 12 minutes came from two free throws.
On the Knicks' strong finish, Woodson said, "That's what good teams are supposed to do."
"We've been solid in that area all year," he added. "That's when you have to step up and make plays. We've done that. I thought that third and fourth quarters we were probably more solid than we have been all season, in terms of locking in and rotating and doing what we're supposed to do from a defensive standpoint."
In addition, the Knicks have an advantage in closing out the Celtics because of their deeper bench. That enables the Knicks to pick up their aggressiveness later in games, which Green referenced after Game 1. On the flip side, the Celtics looked a bit winded in the fourth quarter and their offense suffered. Coach Doc Rivers said his team's spacing was off and they made uncharacteristically forced passes into the post from beyond the arc. He said his guys need to make the extra pass in Game 2 to increase their efficiency.
You can follow Jared Zwerling on
Twitter.