October, 28, 2014
Oct 28
11:30
AM ET
EAST RUTHERFORD, N.J. -- It would be another 10 hours before previously-red-hot Dallas lost at home to battered Washington on "Monday Night Football." But had
New York Giants
coach Tom Coughlin been able to see that far into the future, he'd have found another useful data point for the passionate speech he was giving his team at the end of Monday's practice.
"You look around the league, and you see teams that are playing superbly that maybe hadn't been playing superbly," Coughlin explained a few minutes after the speech concluded. "So to me, we've got to play above the X's and O's. We've got nine games to play as well as we can possibly play. Anybody in that locker room can do that. They just have to realize the amount of the season and the schedule that's gone by and yet we have nine opportunities. Let's go."
[+] Enlarge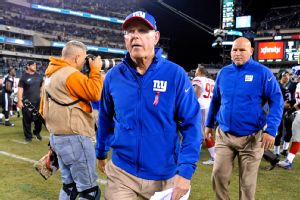 Eric Hartline/USA TODAY SportsTom Coughlin isn't giving up on this Giants team, despite a 3-4 record to kick off the 2014 season.
The message: Yeah, you're 3-4 and coming off two tough division losses, but crazy things happen every week in this league, and you have to be ready to take advantage when they do. Just look at the
Indianapolis Colts
, who happen to be the Giants' next opponent. Two weeks ago, they looked incredible in beating the Bengals,
27-0
, for their fifth win in a row. This past week, they gave up 522 passing yards and 51 points in a loss to
Ben Roethlisberger
and the Steelers.
Coughlin's message to his players is the inconsistency around the league offers opportunity for a team in the Giants' position to get hot and take advantage. To "play above the X's and O's" is to outplay expectations. Don't just run the plays that are called, do something exceptional with them. Don't just win your individual matchups, dominate them consistently.
"This is exciting," quarterback
Eli Manning
said. "We have a good opportunity ahead of us. The way we've played to start the year, we've made it tough on ourselves. But we have to get hot. We have to handle our business and start playing at a higher level."
As you know if you read me regularly, I believe it's important for fans to look at this Giants' team in a broader perspective than just this one season.
I think it's a rebuilding team
that doesn't yet have all of its pieces in place and has developing players in key roles. But there's enough mediocrity in the NFL that you can make the playoffs during a rebuild, and it's not out of the question that this Giants team could get hot in the second half and sneak in.
More importantly to the current point, however, is that it's not the job of Coughlin or the players to take that broader perspective. It's their job to try as hard as they possibly can to win every game, not to worry about whether they're outmanned in a given week due to injuries and/or roster insufficiency. And this is where Coughlin remains this team's greatest strength. Coughlin's teams never play
below
the X's and O's. There's no coach better at consistently making sure his team wins at least as many games as its talent level dictates, if not more. And you don't need me to tell you that if Coughlin and Manning get into the postseason, they know how to win games there.
"One thing I'll never do: I'll never bet against Tom Coughlin," Giants GM Jerry Reese said Monday. "When his back is against the wall the most, that's when he seems to come out swinging and get his football team ready to go. And I expect him to do the same here going down the stretch. This is a big moment for all of us, the second half of this season. I think Coach will get it done."
If not, I don't still don't think cataclysmic change looms for Coughlin and the Giants in 2015. As long as this team shows progress by the end of the year (and honestly it already has), I think they'll get to continue the rebuild that began in March for at least another season. If they fall completely apart and finish 4-12 or something like that, then all bets are off. But Coughlin is hard at work on making sure that doesn't happen. And I agree with Reese that it's folly to bet against him.