March, 2, 2015
Mar 2
11:15
AM ET
PHILADELPHIA -- We'll know in a few hours if the
Philadelphia Eagles
decide to place the franchise tag on wide receiver
Jeremy Maclin
. The deadline for tagging players is 4 p.m.
It says here that tagging Maclin would be a mistake inspired by previous mistakes -- hardly a good way to go about the business of running an NFL team. The Eagles have used the franchise tag a few times in the recent past. It has ended disastrously (Jeremiah Trotter, Corey Simon) or been a step toward working out a long-term contract (
Michael Vick
,
DeSean Jackson
-- neither of whom were around for the end of those contracts).
[+] Enlarge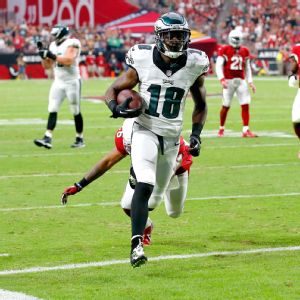 AP Photo/Ross D. FranklinAfter committing significant money and draft picks to the wide receiver corps last year, the Eagles would be hard-pressed to use the franchise tag on Jeremy Maclin.
But here's where mistakes come in to play. If you make the argument that the Eagles need to tag Maclin just to keep him off the free-agent market while a new contract can be worked out, then you have to acknowledge that there already has been plenty of time to negotiate. If a deal is not done by now, that's a failure by both sides -- the Eagles and Maclin's camp -- to work out a fair contract.
If you make the argument that the Eagles can't afford to risk losing Maclin, then you have to acknowledge that it was the Eagles, not Maclin, who created that situation. It was the Eagles who released Jackson a year ago, forcing Maclin into the No. 1 receiver role on a one-year contract. It was the Eagles who signed
Riley Cooper
to a five-year, $22.5 million contract, committing above-market resources to a below-market player.
And it was the Eagles who drafted
Jordan Matthews
and
Josh Huff
in the second and third rounds of last year's draft. Matthews, who caught 67 passes for 872 yards and eight touchdowns, was a solid pick. For now, coach Chip Kelly seems to prefer using him as a slot receiver. That leaves Cooper penciled in as the other outside receiver opposite Maclin.
In the third round, Huff was probably a bit of a reach. Huff caught eight passes for 98 yards. The next two wide receivers taken in the third round: Indianapolis'
Donte Moncrief
caught 32 passes for 444 yards and Arizona's
John Brown
caught 48 passes for 696 yards. They both produced more as rookies for teams that finished with better records than the Eagles and went to the playoffs.
Yes, Huff also returned a kickoff for a touchdown. But the point is, if the Eagles' wide receiving corps is limited after they devoted $22.5 million and two high draft picks on the position, that is the Eagles' fault.
They can't fix that situation by locking up Maclin for a nearly $13 million salary-cap hit for just one season.
To get things turned around, the Eagles need to start making good long-term decisions at wide receiver. That means working out a fair deal that compensates Maclin while maintaining cap flexibility for this year and beyond. The franchise tag can be a tool in that process, but it is not the best one. The Eagles' misadventures with the franchise tag should have taught them that much.