Giants' D can't expect another free pass
September, 12, 2013
9/12/13
6:41
PM ET
EAST RUTHERFORD, N.J. -- The
New York Giants
' defense got a pass Sunday night in the team's season-opening 36-31 loss to the
Dallas Cowboys
. The Giants have been talking a lot all week about how they played all right on defense, and nobody's going to line up to argue with them. They gave up 331 yards -- a middle-of-the-pack number, certainly not an embarrassing one, especially against an offense as loaded as Dallas' is.
And when your offense commits six turnovers and two of the opponent's four touchdowns are scored by its defense, you have cover.
But that cover isn't always going to be there, and this next test that looms is as tough as it gets. On Sunday, for their home opener at MetLife Stadium, the Giants welcome in a
Denver Broncos
team that will have had nine days off since quarterback
Peyton Manning
threw a record-tying seven touchdown passes against the Ravens in the opener.
"Everybody's running around claiming them to be whatever after Peyton Manning threw seven touchdown passes," Giants cornerback
Terrell Thomas
said. "But if the challenge is to stop a great offense, then we're looking forward to that challenge."
[+] Enlarge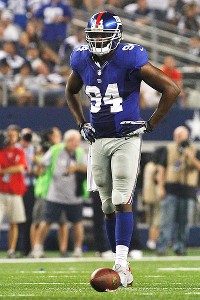 Ray Carlin/Icon SMI"Nobody can stop us," Mathias Kiwanuka said of a focused Giants pass rush. Big Blue had better hope he's right.
The stakes are higher because a loss would put the Giants in an 0-2 hole to start the season with the next two games on the road. For the defense, if an opponent hangs 36 or more on the scoreboard without the help of six turnovers, it's going to be a much tougher sell when the players come back the next week and insist they did all right.
See, while Thomas and the crew in the secondary did a decent job in coverage on
Miles Austin
and
Dez Bryant
, the Broncos have even more weapons. And not everybody in the room was thrilled with the way things went in the Dallas game. Especially when it comes to the pass rush.
"We didn't get there enough," defensive end
Mathias Kiwanuka
said. "Now, they did some good things in terms of getting the ball out very quickly, running a lot of shorter routes and things like that. But we can't let that dictate the rush. We can't let what the offense wants to do dictate whether we get pressure or not. We need to get there."
This is ever the Giants' mantra: The defense goes as the pass rush goes. The coverage is better if the front four are harassing the quarterback. The Giants sacked
Tony Romo
twice and hit him six times Sunday, and they need to do better in both of those areas if they don't want Manning to pick them apart.
"The biggest thing is, it's a mindset," Kiwanuka said. "When we decide we're going to get there, and we're going to stick to our technique, nobody can stop us. We believe that."
It's nice that they believe it. The Giants have been saying all summer that they're too good a defense to have been ranked 31st in the league last season. They say they believe they can be one of the top defenses in the league. But they're working on two straight seasons now outside the top 25. They lean on performances like the ones they had last year against New Orleans and Green Bay as proof that they can defend top offenses. But the truth is they've had more clunkers than shining moments. And while Denver this week offers a chance for the Giants' defense to prove doubters wrong, it also offers a chance to prove them right.
The Broncos are going to run the no-huddle. They're going to spread the field. Their quarterback is going to spot the tiniest weakness, pre-snap, and call something that exploits it. The Giants' defense needs to be just about perfect Sunday if it wants to avoid being next week's scapegoat.
"They're so explosive, and Peyton is the type of player that keeps the pedal down and really just drives the offense," Giants defensive coordinator Perry Fewell said. "He has several different changes of speed, and he goes for the jugular every time he's on the field. You need to try to make a play to break that momentum."
Such is the Giants' mission Sunday. Their defense will be the underdog against this record-setting Big Brother Manning in orange. And the way they perform will go a long way toward determining how they should feel about themselves as a unit Monday morning. Odds are, they won't get a free pass from the offense's mistakes two weeks in a row.