November, 24, 2014
Nov 24
1:00
PM ET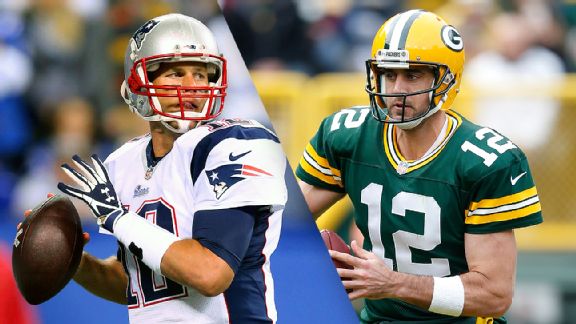 Getty ImagesLeading NFL MVP candidates Tom Brady, left, and Aaron Rodgers face off Sunday at Lambeau Field.
FOXBOROUGH, Mass. and GREEN BAY, Wisc. -- This is timely.
In his most recent review of the
top 10 Most Valuable Player candidates
for 2014, ESPN.com NFL Insider Mike Sando rated
Green Bay Packers
quarterback
Aaron Rodgers
No. 1, followed by
New England Patriots
quarterback
Tom Brady
. It seems safe to say there won't be a change in the rankings this week.
So it's No. 1 vs. No. 2, which actually marks the second meeting of the year for Rodgers and Brady since they
spent time together at the Kentucky Derby in May
.
This meeting will be held at Lambeau Field on Sunday (4:25 p.m. ET), and ESPN.com NFL Nation reporters Mike Reiss (Patriots) and Rob Demovsky (Packers) discuss the two quarterbacks:
Reiss:
It seems that both Rodgers and Brady had their "R-E-L-A-X" moments this season. The Patriots' came Sept. 29 after that blowout loss to the Chiefs that dropped them to 2-2, and everyone was questioning Brady when he turned to one longtime beat reporter in the locker room and said, "Talk to me in November." Refresh the memory on when Rodgers went into R-E-L-A-X mode, and what has turned it around for him?
Demovsky:
If the Packers end up going to the Super Bowl, you could cite Tuesday, Sept. 23, as perhaps the key to it. That is when Rodgers uttered those five letters on his ESPN Milwaukee radio show, and it's become sort of the mantra for the season. Two days earlier, the Packers had lost to the
Detroit Lions
19-7 in a game in which the Packers' offense was uncharacteristically unproductive. There was a sense of panic, not within the walls of Lambeau Field, but among fans who wondered why this team was 1-2 for the third straight season. Here is what made the R-E-L-A-X comment so impactful: Rodgers doesn't typically go out on a limb with his comments to the media, so when he made this kind of strong statement, it probably carried more weight in the locker room. The Packers went to Chicago the next Sunday and beat the Bears to start their current 7-1 streak.
Brady has been the picture of consistency and longevity, and he doesn't appear to be slowing down. Rodgers has said he would like to play until he's 40. What can he learn from Brady that might help him stay on top of his game for that long?
Reiss:
Brady doesn't just want to play until he's 40. Privately, he has his sights set on a higher number, which he's
hinted at over the last year or so
. As for what Rodgers might learn, something that comes to mind is what Brady said about
Peyton Manning
prior to the Patriots-Broncos game on Nov. 2. "It's not just a daily commitment; it's a life commitment," Brady said that day. "Every decision you make is a conscious decision to try to help your team win, whether that's in March or that's in September or November. You can't just flip the switch when it matters. ... You're either getting better or you're getting worse, and I've always respected [Manning], because he's always someone who has chosen to get better, and he's obviously a great leader to encourage the rest of those guys to do the same."
Brady is the same way, and even at this stage of his career, he is challenging himself to improve areas of deficiency (e.g., athleticism in the pocket to extend plays this season). He has also worked hard to find ways to connect with teammates, because as he gets older, that can become more challenging with newcomers who were 5 or 6 years old when he first entered the NFL.
By nature of the position, both quarterbacks are put into leadership roles. How would you characterize Rodgers' leadership style? How has it evolved over time?
Demovsky:
In the beginning, it was a quiet approach. He wouldn't say much publicly to rally people the way, say, a
Charles Woodson
would in his days here.
But this is something that tells what you kind of guy Rodgers is in the locker room: When the Packers bring in someone new -- whether it's right after the draft, an offseason signing or a free-agent pickup during the season -- he always makes a point to introduce himself to the player and welcome him to the room. I would think that would carry some weight with players. Rodgers won't always be the one to lead the locker room rah-rah, but he picks his spots, such as the R-E-L-A-X comment, which ends up being more impactful.
On the field, Rodgers is one of the best at taking care of the ball. He almost never throws those really "bad" interceptions. He has cited Brady's 2010 season, when he threw 36 touchdowns and only four interceptions, as one the best seasons by a quarterback. What is Brady's philosophy on taking care of the football?
Reiss:
Let's use Sunday's win against the Lions as a good example of this. Brady finished 38-of-53 for 349 yards, with two touchdowns and one interception against the NFL's No. 1-rated defense, so you would say that's a pretty good day, right? Well, on Monday morning, he was still fuming at himself for one very poor decision -- an early third-quarter interception by safety
James Ihedigbo
in the red zone on a pass intended for tight end
Rob Gronkowski
. Brady loses sleep over those types of mistakes, even in a 34-9 win. "I was trying to see Gronk, and Ihedigbo was reading me. I was just on Gronk too long. I should have known better. That was one that pissed me off the most all day," he said Monday morning on sports radio WEEI.
Brady previously mentioned that Rodgers and
Jordy Nelson
are probably the best in the NFL at the back-shoulder throw. What makes them so effective?
Demovsky:
I dove into that earlier this season because it seemed to be an unusually good connection.
Readers can get a refresher here
. But simply put, it's two things: Rodgers' pinpoint accuracy, and the thousands upon thousands of reps he and Nelson have had together since 2008. Even though they were not in the same draft class (Rodgers was '05, Nelson was '08) they really came in together in the sense that 2008 was Rodgers' first year as a starter. By now, it's almost as if they know what the other is thinking at all times. They make it look easy, but it's not. There was a play in Sunday's game against the Vikings where Rodgers threw back shoulder to
Davante Adams
and the rookie receiver kept running the go route. That almost never happens between Rodgers and Nelson.
This is a non-football question, but Rodgers has recently started dating actress Olivia Munn, famous for her role in "The Newsroom," but he's fairly guarded when it comes to his personal life. I'm curious: How does Brady deal with the Hollywood aspect of his marriage to Gisele BŁndchen?
Reiss:
There aren't too many things, if any, that Brady has difficulty handling. He is smooth in the public forum, and whenever the topic comes up, he always seems to say the right thing, and he has been a bit more open this year in terms of sharing some of that side of his life on social media. From my viewpoint, this is one of those situations where perception doesn't necessarily match reality. People might see pictures of the couple in various locations and assume that Brady isn't as committed to the football side of things as when he was a hungry rookie in 2000, but that is not the case. His life might be a bit more balanced now, and it's simpler for him too -- after family and football, there isn't much time for anything else. This is what he lives for.