November, 27, 2014
Nov 27
7:50
PM ET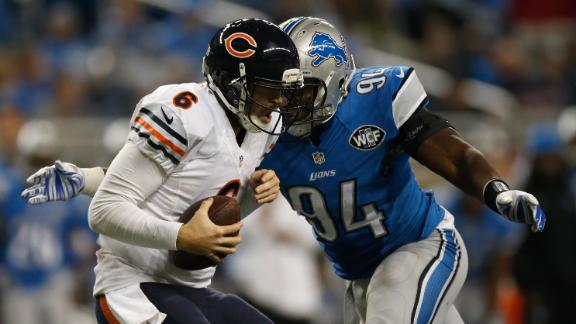 DETROIT -- Strong outings by Chicago's defense in wins against Minnesota and Tampa Bay conjured the illusion it might be headed toward respectability.
But what the
Chicago Bears
really proved Thursday in a
34-17 loss
to the
Detroit Lions
is they are closer to the group that gave up 50 points in back-to-back weeks at New England and Green Bay than the one that forced four turnovers last week in a triumph against the Buccaneers.
"It was extremely disappointing today, and I don't put it on the defense," Bears coach Marc Trestman said. "We lose as a team here. We had opportunities here offensively to move the football, to keep drives alive, to keep the defense off the field. We just didn't play well offensively, [and] we didn't play well enough defensively to win this game."
[+] Enlarge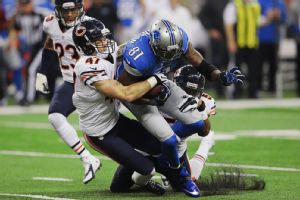 AP Photo/Duane BurlesonThe Bears lost Chris Conte, 47, in the first half, and Detroit and Calvin Johnson, 81, took advantage, outscoring Chicago 21-0 in the second quarter.
Since Week 4 of the 2013 season (a game the Bears lost 40-32 at Detroit), Chicago's defense has allowed an NFL-high 34.2 points per game in road contests. This season, the Bears have surrendered 31 points or more in four out of five outings.
Prior to reeling off 474 yards of total offense, including 390 through the air, the Detroit Lions hadn't scored a touchdown since Nov.9.
"They were going to score eventually," defensive end
Jared Allen
said, laughing. "You think they're going to keep
Calvin Johnson
out of the end zone? Look at the first half [of the season]. They were going through a slump, then they came out. I didn't want it to be on us. I felt like that first quarter, I felt we had a bead on them. You've got to play a full game, and we didn't do that today. Defensively, we'll take the credit for this loss. It's unrealistic thinking you'll keep somebody out of the end zone for the entirety of the game."
The Bears stormed to a 14-3 lead in the first quarter with Allen scooping up a loose ball after his a strip-sack on
Matthew Stafford
with 4:26 left in the quarter that set up
Jay Cutler
's 6-yard scoring strike to
Alshon Jeffery
.
Despite the Lions holding the ball for more than nine minutes in the quarter, Chicago stuffed the run and held them to 0-for-2 on third-down conversions.
But in the second quarter, the Lions adjusted and Chicago's defensive floodgates opened up as the home team reeled off 21 unanswered in the second quarter. Similar to how Chicago's offense attacked Detroit early in the game, the Lions moved to a quicker, more rhythmic passing game that put the Bears on their heels.
Free safety
Chris Conte
left the game with an eye injury in the second quarter, which only worsened matters as Johnson caught two touchdown passes just before intermission. Rookie
Brock Vereen
filled in for the injured Conte and the Lions took advantage.
The Bears also made the mistake of leaving rookie
Kyle Fuller
, who missed practice all week because of a knee injury, in single coverage against Johnson, who finished the game with 146 yards and two touchdowns on 11 catches.
"I was pretty excited," Stafford said of Chicago's decision to play Johnson one-on-one. "We had an aggressive game plan when it came to that. They had shown it on tape that they were going to do it. They were successful against Tampa doing it, rushing with five guys and getting after the quarterback. Our guys up front did a heck of a job, and every time we dropped back to throw, it seemed like good things were happening, so we continued to do that."
Johnson wasn't the only Lion doing damage.
Golden Tate
caught eight of the 10 passes thrown his way for 89 yards, and
Joique Bell
rushed for 91 yards and two touchdowns.
Chicago has given up 140 points in its past three road games; outscored 31-7 in the second quarter in New England, 28-0 in the second quarter against Green Bay, and 21-0 Thursday against the Lions.
"We've still got to take it one day at a time. In this league, it's week to week. Once you get into the game, your record is out the window," safety
Ryan Mundy
said. "You look at the Lions, they didn't score an offensive touchdown the last few games and they lost their last two games. But that's a hill of beans when it comes to this game, because this is a new game."
So what's next for Chicago's embattled defense? Defensive end
Willie Young
said quitting isn't an option, nor is showing frustration.
"It's about figuring out how to come back next week and beat Dallas," Young said. "I can't speak offensively, but defensively we've got to make corrections. If we were to throw it in the tank, then next week, Dallas will do the same thing that Detroit just did to us. I can look at these guys' eyes and know they feel the same way. We're never down. We could've easily given up late in the game. We could've laid down. But we'd never do that; too much pride on the defensive side of the ball."