October, 29, 2014
Oct 29
1:30
PM ET
GREEN BAY, Wis. – Only three teams have more takeaways than the
Green Bay Packers
this season, and just two teams have better turnover differentials. In their four-game winning streak that ended with Sunday's loss to the
New Orleans Saints
, the Packers had a plus-8 turnover differential. No team was better during that stretch, when they had nine takeaways. Only the
New York Giants
(with 10) had more.
Halfway through the season, one thing is apparent about the Packers' defense: It survives on takeaways.
And that's not good enough for coach Mike McCarthy.
[+] Enlarge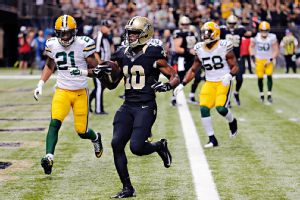 AP Photo/Bill HaberThe Saints exposed a few holes in the Packers' defense.
Consider what he said moments after the Packers' 44-23 loss to the Saints on Sunday, when the only takeaway his team came up with was a meaningless fumble recovery in the final minutes.
"We need to be more than a football team that just has to rely on winning the turnover ratio," McCarthy said at the time.
Less than 24 hours later, McCarthy used almost the exact same words when discussing the issues facing the Packers' defense during this week's bye.
"We need to be a football team that does more than has to rely on winning the turnover ratio to win," McCarthy said Monday.
And then he added: "This game is about making big plays and taking care of the football, and taking it away. Those are two of the most critical components of it. But to get to where we want to go, we have to overcome when we just don't play right straight to our identity or our format."
Takeaways have been a staple of Dom Capers' defense since he took over as coordinator in 2009. The Packers have more interceptions (124) since Capers took over than any team in the league, and it's not even close. The Patriots have the second most (111). The Packers rank second in turnover margin (plus-70) during Capers' tenure behind only the Patriots (plus-96).
Yet in the nine playoff games since Capers joined McCarthy's staff, the turnover margin is just plus-4. And in the four postseason games (of which they have won only one) since the Packers won Super Bowl XLV, their turnover differential is zero.
In total takeaways, the Packers have 170 in the 88 regular-season games (an average of 1.93 per game) under Capers. That ranks fourth in the NFL during that span. Yet in the four playoff games since their Super Bowl, they have only six takeaways (1.5 per game).
That tells you that playoff teams, specifically playoff quarterbacks, don't turn the ball over anywhere near as often as the middling and bottom-feeding teams, making it much harder to rely on turnovers to win in the postseason.
And so it was on Sunday against the Saints, who despite their 3-4 record are every bit as dangerous as any offense in the league. Saints quarterback
Drew Brees
didn't turn the ball over, and the Packers' defense crumbled.
"That has a major influence on it," Capers said of getting takeaways, "but you've got to be efficient in other areas."