Aaron Rodgers cleans up for Packers, Favre
February, 5, 2013
2/05/13
3:59
PM ET
Five years have passed since the
Green Bay Packers
divorced
Brett Favre
. During that time, we've waited for someone to step toward reconciliation. As it turns out, the most qualified candidate was a third party with a vested interest in making amends for both sides.
Speaking Tuesday on his ESPN 540 radio show, Packers quarterback Aaron Rodgers confirmed his role in arranging a joint appearance with Favre at the NFL Honors show Saturday night in New Orleans. Rodgers made clear that he wants to see Favre re-enter the Packers family and hopes the reunion is part of his own legacy in Green Bay.



[+] Enlarge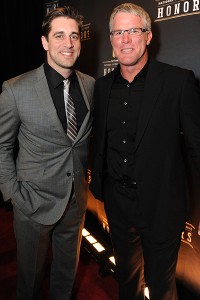 Jordan Strauss/Invision/APAaron Rodgers, left, and Brett Favre were together Saturday night at the NFL Honors show in New Orleans.

"As the face of the franchise now," Rodgers said, "[it's] a role that I take very seriously. I have the responsibility and enjoy having the opportunity to represent my team. I think it's important to realize that it is probably time to move forward."

It was hard to envision this day coming during the summer of 2008, when Favre attempted to force his way back onto the team -- and reclaim the job Rodgers had inherited -- after announcing his retirement. The ensuing chaos scuttled the Packers' season, and in 2009, Favre beat the Packers twice as a member of the Minnesota Vikings.

But the Packers' Super Bowl XLV championship in 2010, coinciding with Favre's retirement, began a healing process for both sides. Rodgers said producers from the NFL Honors show pitched the idea of making a joint presentation and, after thinking it over, he decided it could serve as a springboard for more important things.

Rodgers said he talked on the phone with Favre before the event. They also spent a "good amount of time" backstage arranging the routine that Rodgers claimed was entirely comfortable and devoid of the awkwardness it portrayed.

("That was the joke," Rodgers said, who added that the original plan was for the pair to start hugging but then back away and say, "Too soon?" Apparently the plan was better than the execution.)

Prior to that phone conversation, Rodgers and Favre hadn't spoken much since 2008 -- a distance I've always attributed to their distinctly different personalities as well as the inherent tension of a Hall of Fame succession. In the end, however, it was probably on Rodgers -- for lack of a better phrase -- to be the grown-up here. Favre wasn't likely to beg the Packers for forgiveness, and if Packers president Mark Murphy or general manager Ted Thompson have reached out to Favre, it has not been reported publicly.

"It didn't take a lot of coaxing for me to do it," Rodgers said. "I did want to sit and think about whether it was the right thing to do. I really feel very secure in my position with the team and feel good about the things that we've been able to accomplish in my five years as the starter, and feel good about the direction the organization is going in.

"Brett is two years removed from the game. He's going to obviously be in the Packers Hall of Fame. He'll get his number retired, and he'll be in the Pro Football Hall of Fame in the next few years. It's important, I think, to make sure that he's recognized for all the accomplishments that he's achieved in our organization especially. He's still very dear to many of our fans for the things that he's done for the Packers on the field. You can never take that away.

"As the face of the franchise, I felt like it was important that I took a leadership role in that. Not that one was needed now, but I thought it was good timing to just let the fans know, let Brett know, let's move forward. Let's heal things up and let's move forward."

I do think that it would help for Favre and Thompson to clear the air between them before the Packers schedule a Brett Favre Day at Lambeau Field. But the first step is always the most important one, and Rodgers deserves credit for making it happen. As is often the case for children caught in the middle of a divorce, he was the most clear-thinking person in the group and thus served in the unifier role.

I'm sure some of you will think Rodgers is taking himself too seriously as the "face of franchise" and doubt the reach he can have in such a multilayered issue. You're certainly entitled to that opinion, but to me, it's a much more preferable approach than the alternative. I like that Rodgers will use the power inherent in being a team's franchise quarterback to effect greater good for the franchise. And pulling Favre back into the Packers family is without question good for everyone.

"… You think about what you want your legacy to be and how you want to be remembered," Rodgers said. "As I move forward … I think about how I want to be remembered, and this is one thing that I really want to move forward with."

Rodgers has long since escaped the shadow of Favre as a player. But the debacle of his unusual departure? In the end, Rodgers had to clean that up, too.