December, 17, 2014
Dec 17
8:00
AM ET
CHARLOTTE, N.C. --
Roman Harper
put his arm around one of his young defensive backfield mates as he does on almost a daily basis and offered some sound veteran advice.
"You might want to think about taking that apron off," the
Carolina Panthers
strong safety said with a smile.
[+] Enlarge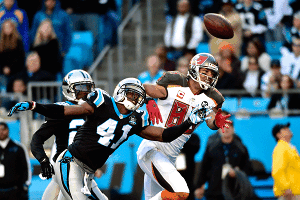 Bob Donnan/USA TODAY SportsRoman Harper leads Carolina in interceptions, but the Panthers say he's been just as valuable off the field.
OK, so this won't help the Panthers beat the
Cleveland Browns
this Sunday and stay alive for the NFC South title.
Harper was just making sure the player didn't leave his Monday night charity event for children in need, an event in which more than a dozen teammates such as middle linebacker
Luke Kuechly
and wide receiver
Kelvin Benjamin
worked as waiters, looking like the hired help.
Harper, 32, loves being the senior citizen of Carolina's revamped secondary. With two rookies (cornerback
Bene' Benwikere
and free safety
Tre Boston
) and a third-year cornerback (
Josh Norman
) starting around him, he likens himself to Bill Russell when the NBA Hall of Famer was a player-coach for the Boston Celtics in the late 1960s.
Harper even has Russell's familiar peppered-gray hair that makes him look older than he is.
Carolina coach Ron Rivera said he wished he had a player like Harper, signed in March as a free agent from New Orleans, four years ago.
"You watch him put his arm around the young safeties and say things to them about how to do things," Rivera said. "It's been great to watch veteran leadership."
Harper is the only member of the secondary left that started in Week 1. He's played his best football of the season -- maybe the past two or three -- the last month. He had his 17
th-
career sack, the most by a defensive back since he joined the league in 2006, in Sunday's 19-17 victory over Tampa Bay. He has a team-best three interceptions.
He has helped turn a secondary that at midseason was one of the weakest positions into a strength, a big reason the Panthers have won two straight.
But Harper's value goes beyond what he does on the field. It's his willingness to share his experiences and knowledge, in life as well as football.
"[Rivera] probably didn't want me four years ago," Harper said. "I probably was a little more selfish as a player. Now I try to be completely selfless. I try to do whatever is best for this team.
"I look at Tre, I look at Bene'. They don't know what they're doing half the time. They're just going out playing ball. What I'm here for is help show this team how to win and be a professional."
Harper does it in a way that isn't intimidating.
"He's not going to be a parent to you, over-coach you, but he's always there when you need him," Benwikere said. "He's always there to answer any question you need, to show you the ropes.
"He definitely talked to me about experiences he's been through. It's been a nice ride just learning from him."
Boston leaned on Harper for advice often during offseason workouts when a sports hernia kept him from participating.
"Roman has meant the world to me," he said. "It's kind of hard to say the world when you have family, but in this football world Roman has really helped me to become a man, understand the game and life."
This season has been a learning experience for Harper as well. He feels more like the player that made the Pro Bowl in 2009 and 2010 than the one that played in only nine games and started only five last season with the Saints.
"I look at myself on tape, I look fresh, I look young, I look rejuvenated compared to how I was a player the past few years,'' Harper said. "I really like who I am as a player right now
"I'm playing smart, very instinctive, still flying around making plays."
He's also offering advice, from football to fashion faux pas.