September, 17, 2014
Sep 17
11:45
PM ET
CHARLOTTE, N.C. --
Carolina Panthers
coach Ron Rivera was explaining on Wednesday the decision to place Pro Bowl defensive end
Greg Hardy
on the NFL commissioner's exempt list -- which amounts to a paid leave of absence while Hardy appeals his conviction for assaulting and threatening his ex-girlfriend.
"When I have to make decisions," Rivera said, "I make decisions that I believe are in the best interest of this organization. And don't ever forget that."
The coach pounded his fist repeatedly during his final words. He was intense. Emotional.
Unfortunately, he was 65 days late.
[+] Enlarge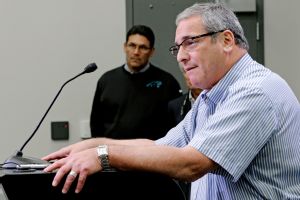 AP Photo/Chuck Burton"There's no magic list we can hit checkboxes that bring us to the right answer," Panthers general manager Dave Gettleman said.
This or some form of discipline should have taken place July 15, when a Mecklenburg County judge found Hardy guilty of assaulting and threatening ex-girlfriend Nicole Holder.
Had the team acted immediately there wouldn't be the uproar there is now, the week after video emerged of former
Baltimore Ravens
running back Ray Rice punching his then-fiancée and days after
Minnesota Vikings
star
Adrian Peterson
was indicted on child-abuse charges.
But the Panthers didn't act immediately. Instead of being proactive, they let Hardy play throughout the preseason and in the first regular-season game.
Then they reacted -- twice -- to decisions the Vikings made about Peterson.
On Friday, Rivera said Hardy would play against Detroit. The only thing that changed between then and Sunday morning, when he deactivated Hardy, was Minnesota's decision to deactivate Peterson for its Week 2 game.
On Monday, Rivera said Hardy would practice Wednesday. Then the Vikings, who on Monday said Peterson would play this weekend, applied for Peterson to be placed on the exempt list -- and Carolina's stance on Hardy changed again.
Had the Rice video never been released and had Peterson not been indicted, Hardy likely would be preparing for Sunday night's game against Pittsburgh.
General manager Dave Gettleman is right when he said there's no textbook for how to handle situations such as this. But there is a blueprint for doing
something
. Less than a year ago, in November 2013, the Vikings released cornerback A.J. Jefferson the day he was arrested on a felony count of domestic assault by strangulation.
Hardy got nothing when arrested and nothing when a judge found him guilty.
"Our overriding goal has always been to do the right thing," Gettleman said Wednesday.
He then said it was the right thing to deactivate Hardy after starting him the first game. He then said placing Hardy on the exempt list was the right thing to do, too.
"There's no magic list we can hit checkboxes that bring us to the right answer," Gettleman said.
The only list the Panthers followed was the precedence set by the Vikings.
Gettleman said this situation was different from Minnesota's. And it is. The Vikings said they made a mistake in saying Peterson would be activated this week, whereas the Panthers never said they made a mistake at any point.
They simply said the "climate has changed."
It should have changed 65 days ago.