October, 24, 2014
Oct 24
11:00
AM ET
CHARLOTTE, N.C. -- Ron Rivera turned on the film and liked what he saw. Players were swarming to the runner and pressuring the quarterback. They were making crisp, physical tackles and maintaining containment.
They were disciplined.
The
Carolina Panthers
coach was watching last year's opener against Seattle when the defenses for both teams looked special.
My how things have changed.
The Seahawks (3-3) and Panthers (3-3-1) finished last season ranked first and second in total defense. Heading into Sunday's rematch at Bank of America Stadium, the Seahawks look average.
[+] Enlarge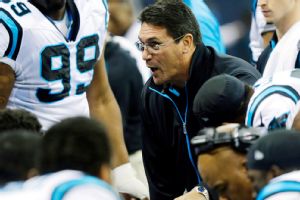 AP Photo/Bill HaberRon Rivera's defense has gone from from second in yards allowed per game in 2013 to 27th this season.
The Panthers look horrible.
"As a team, one side of the ball is who they are," Rivera said. "And they haven't been that way, and neither have we."
Statistics support this. Seattle has gone from first in yards allowed per game to eighth; from first in points allowed to 19th; from first in quarterback pressure percentage to last; from first in opposing quarterback rating to 25th; and from tied for eighth in sacks to tied for 27th.
The Panthers have gone from second in yards allowed per game to 27th; from second in points allowed to 29th; from first in sacks to tied for 16th; from 12th in quarterback pressure percentage to 29th; and from seventh in opposing quarterback rating to 24th.
The points-allowed differential is staggering. Seattle has gone from surrendering 14.4 points a game to 23.5. Carolina has gone from giving up 15.06 points a game to 27.9.
In terms of defensive efficiency, Seattle has gone from first to last. Carolina has gone from third to 30th.
In case you're wondering what defensive efficiency is, here's the explanation from ESPN Stats & Information: It's expected points added (EPA) -- the sum of the differences between the expected points before the play and after the play, based on historical data.
For example, if you have a first-and-10 from the 25-yard line your EP is about plus-one. If you then complete a pass to your opponent's 1, your EP is about plus-six. So the EPA on that play is plus-five.
The simpler explanation: Carolina and Seattle have not been efficient.
It's hard to imagine another defensive struggle like they've had the past two seasons, Seattle winning 12-7 in 2013 and 16-12 the year before.
"We expected to really play lights-out defense, and I know that they did too," Seattle coach Pete Carroll said. "When it doesn't feel like that, it frustrates you. The coaches are all working hard, the players are all working hard, and everyone is busting their tails and it's not coming out exactly like you want.
"It's frustrating and it just generates -- I'm sure same as us -- a great focus to do better and clean things up and be more precise about the things we're doing."
Some things can be explained by changes in personnel. The Panthers are without sacks leader
Greg Hardy
, who is on the commissioner's exempt list until his domestic violence case is heard. They also had to replace three-fourths of their secondary.
The Seahawks lost 11.5 sacks and 90 tackles from last year's line: defensive ends
Chris Clemons
and
Red Bryant
for salary-cap reasons and tackle
Clinton McDonald
in free agency. They lost cornerbacks
Brandon Browner
and
Walter Thurmond
to free agency.
Then there's the opposition. Teams have figured out the best way to negate the pressure both teams get from their front four is by attacking with quick passes.
When asked the biggest difference between this year's team and the Super Bowl team, Carroll didn't hesitate.
"Really it's the results of what's going on defense," he said.
The same for Rivera.
Going back and looking at last year's Seattle tape won't solve all the issues, but it served as a good example of how the defense looked when playing sound fundamentals.
"It's just our defense flying to the ball," Carolina tackle
Star Lotulelei
said. "Everybody getting to the ball and finishing on plays. It's that simple. We looked at the film from last week (a 38-17 loss at Green Bay) and that was something that was missing. I don't know why it's been missing, but it has and that is what we need to get corrected."
Rivera hopes looking back will help the Panthers moving forward.
"Looking at last year's Seattle game helped us in terms of what we need to do, where we need to get to," he said. "There were a couple of technique things that you look at and say, 'Wow, I see this. We're not doing this. Let's take a look at that.'
"Just understanding what we need to do. Consistency is the name of the game, and we have not been that."
My how things have changed.