March, 25, 2015
Mar 25
8:20
AM ET
When Atlanta Falcons coach Dan Quinn meets the media this morning during the NFL owners meetings in Phoenix, he is likely to be asked about the status of contract extension talks with the team's top receiver Julio Jones.
The last time I asked Quinn about this subject on Feb. 27, this was his response on Jones:
"We know moving forward he's going to be a big part of what we're doing. We haven't gotten into the specifics of it. But, yeah, Thomas [Dimitroff] and I will get together on that. Moving forward, Julio is an outstanding guy and somebody we want here for a long time."
[+] Enlarge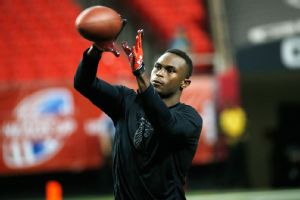 AP Photo/John BazemoreWill the Falcons focus on giving their star receiver Julio Jones a contract extension any time soon?
Of course, the Falcons had to focus on free agency first to fill holes at positions such as edge-rusher, linebacker and tight end. But now, it wouldn't be a surprise if the Falcons initiated preliminary talks with Jones' agent, Jimmy Sexton, about an extension. Jones is coming off a career season, with a franchise-record 1,593 receiving yards on 104 catches with six touchdowns.
Jones has one year left on his contract and will be paid $10.176 million for the 2015 season. Essentially, the Falcons could wait it out just to make sure Jones remains fully healthy, although there are no indications he has any lingering effects from the second right foot fracture he suffered during the 2013 season.
So how much is Jones' worth? I discussed the topic with former agent Joel Corry, now a contract and salary-cap analyst.
"The Falcons are not going to start at the Calvin Johnson level," said Corry of the Detroit Lions game-changer, who tops all receivers at more than $16 million in salary per year. "The team is going to want to keep it closer to Jeremy Maclin ($11 million per year from Chiefs), which doesn't make sense because Julio is not Jeremy Maclin. I'd be insulted if the team brought that up to me. When Julio is healthy, you can put him in the conversation of being the best receiver in football.
"What the Falcons may want to do is take a wait-and-see approach to see if Dez Bryant [Cowboys] or Demaryius Thomas [Broncos] can get a deal done and let that kind of really define Julio's market. Or maybe if Cincinnati does something with A.J. Green. The Falcons don't have to rush and they don't really need the cap room. If they were in a pinch for cap room, then there would be a lot more urgency to do something."
To Corry's point, the Falcons currently have $17,930,200 in cap room, according to NFLPA records. And an extension for Jones potentially could open up a few more million in cap space.
So what about guaranteed money for Jones in deal?
"He's going to be looking for that Megatron deal because I called Megatron's deal $53.5 million fully guaranteed at signing because I included the $4.5 million roster bonus from his old contract," Corry said.
"One thing you have to keep in mind in terms of guaranteed money [for Jones] is more than $10 million already is his own guaranteed because his base salary for this year is now fully guaranteed. His agent is going to raise the issue that they're looking for guaranteed money on top of what they already have. If the team says they're going to give an offer with, hypothetically speaking, $35 million guaranteed, the agent will say, 'No, that's $25 million guaranteed because that's my own money.' They're looking for guaranteed money above what they already have."
Of course, the other scenario that could play out, but seems unlikely, is the Falcons placing the franchise tag on Jones if no contract extension is reached. The NFL allows a player to be tagged twice.
"But when you start playing that game, the agent is going to look at what that franchise tag number will be -- next year, I calculate against a $150-plus million cap, that would put it over $14 million for receivers," Corry said. "Say it's $14 million next year. Then you're talking $16 the next year (2017). So then that gives the agent ammunition to say, 'You need to pay me the $15 million per range because if you play the franchise-tag game, that's where I'm going to end up by the time this is all said and done."