December, 17, 2014
Dec 17
10:00
PM ET
FLORHAM PARK, N.J. -- The best player of the Rex Ryan era is coming to town this weekend for what probably will be the final home game of the coach's tenure. If life were a storybook, Ryan and
Darrelle Revis
still would be together, the mad-scientist coach and the shutdown corner combining their unique talents to disarm opposing offenses.
As we all know, Revis was ripped from Ryan's arms two years ago and now, given the sad state of the
New York Jets
, it's fashionable to play the blame game: Who ran Revis out of town?
[+] Enlarge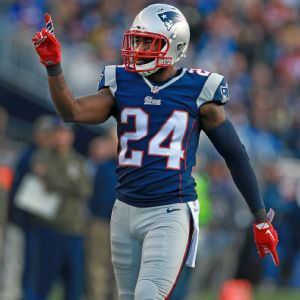 Jim Davis/The Boston Globe/Getty ImagesThe New York Jets defense was never the same after Darrelle Revis left the team.
Was it owner Woody Johnson? How about Johnson's general manager? John Idzik, the human pinata, gets blamed for everything, so it's easy to throw him under the bus -- except he's not the reason. The person most responsible for the Revis divorce is Revis.
Revis was all about the money, and his refusal to bend in contract negotiations left the Jets with little choice but to trade him to the
Tampa Bay Buccaneers
in 2013. He was adamant about a $16 million-a-year deal, and he ended up getting what he wanted from the Bucs, if only for a season. Revis is a terrific businessman, but let's not paint him as the victim in the break-up. For six years, he squeezed as much money out of the Jets as humanly possible -- which is his right -- but it got to a point where the organization got tired of being an ATM.
Johnson, fed up with the contract squabbles, went into the 2013 offseason with a desire to trade his most valuable asset, and he found a GM willing to carry it out. One candidate who interviewed for the GM job, speaking on the condition of anonymity, said Johnson made it clear his preference was to deal Revis to the highest bidder. It was a sound business decision. Revis was coming off major knee surgery and wasn't interested in giving the Jets a hometown discount. The Jets, after a 6-10 season, saw him as a bargaining chip to accelerate the rebuilding process.
Truth be told, Idzik did a good job, extracting a first-round pick for an injured player and using the pick to select
Sheldon Richardson
-- the GM's one shining moment. Where Idzik may have dropped the ball was last offseason, spurning a potential Revis reunion when the player's people reached out as soon as he was released by the Bucs. I didn't criticize Idzik at the time, assuming he had a legitimate fallback plan to restock the cornerback position. Who knew the plan was Dimitri Patterson?
Naturally, Revis ended up with the
New England Patriots
, making it worse. Still, the Jets felt they made the right call, saying privately they wanted to stay away from one-year rentals and build with long-term players. It sounded reasonable at the time. Now, of course, they look like fools. They're playing with third-string corners, finishing out one of the worst seasons in franchise history, and Revis could be on his way to the Super Bowl.
"I'm over here, that ship has sailed," Revis said Wednesday, responding to a question about whether he could've helped the Jets. "I missed that boat. I caught the New England Patriots boat"
The real loser is Ryan, who hasn't been the same without his best player. He has coached the same number of games with Revis as without him, and the results aren't close.
From 2009 to 2012, Revis played 47 games with the Jets. They went 27-20 with a defense that ranked fifth in points allowed. In the 47 games without Revis, counting games he missed due to pre-trade injuries, Ryan is 18-29 and the defense is 22nd in points allowed.
The Patriots? For a change, they have a real defense.
"He's had a great season," Ryan said of his former star. "He's playing well, there's no question about that."
He'll never say it because he's a good company man, but Ryan wanted a Revis reunion. In his introductory news conference, Ryan called Revis the best corner in football at a time when no one else was making that claim. Ryan knew what he had, a once-in-a-generation talent. Everything changed on that fateful day in Miami, September, 2012, when Revis wrecked his knee in what became his final game as a Jet.
He could've returned, of course, but this is a business. No one knows that better than Revis.

NFL SCOREBOARD
Thursday, 12/18
Saturday, 12/20
Sunday, 12/21
Monday, 12/22