October, 20, 2014
Oct 20
11:00
AM ET
Our weekly attempt to expose and explore the gray area involved in officiating NFL games. Sunday suggestions welcome via Twitter (@SeifertESPN). For all Inside Slant posts, including the weekly Officiating Review, follow this link.

Play:
No official review after the
St. Louis Rams
were ruled to have recovered their own fumble on the penultimate play of their 28-26 victory against the
Seattle Seahawks
.
Referee:
Brad Allen
Analysis:
Rams running back
Tre Mason
fumbled after converting a game-clinching first down. Teammate and tight end
Cory Harkey
fell first on the ball, but a large pileup soon formed. Allen's crew ruled a recovery by the Rams, who then quickly lined up for a final kneel-down before replay official Jim Lapetina -- who has complete control over instant replay in the final two minutes -- could initiate a review.
This type of play became eligible for review this season under the so-called "NaVorro Bowman" example. (Bowman's apparent fumble recovery against the Seahawks in the NFC Championship Game was not reviewable at the time.) The NFL's official play-by-play credits Harkey for the recovery, but a replay broadcast before the Rams' final kneel-down made clear he lost control of the ball prior to the pileup. The ball was last seen underneath Seahawks cornerback
Richard Sherman
, who
told reporters
he maintained possession under the pile and assumed he would be credited with a recovery that would have given the Seahawks' offense one final chance to win the game.
In the end, none of the angles shown on the Fox broadcast provided indisputable evidence of the recovery. NFL vice president of officiating Dean Blandino tweeted that he reviewed the call in New York and that there was
"no evidence of who recovered the ball."
It doesn't appear that the outcome would have changed had Lapetina initiated a review, but watching the sequence of events live suggested the NFL was more fortunate in this case than it was efficient. Did Lapetina know in real time that there was no angle to support a credible review? I suppose it's possible. Still, I don't think many of us would have argued against a 60-second stoppage of play to evaluate a game-changing call at the end of a two-point game just to make sure.
[+] Enlarge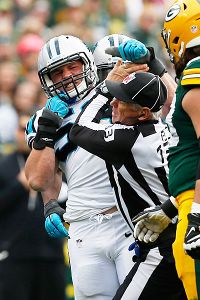 AP Photo/Mike RoemerPanthers linebacker Luke Kuechly was ejected for making contact with back judge Steve Freeman in Carolina's game in Green Bay.
Plays:
Two linebackers,
Erik Walden
of the
Indianapolis Colts
and
Luke Kuechly
of the
Carolina Panthers
, were ejected for making contact with an official.
Referee:
Gene Steratore for Walden and Jeff Triplette for Kuechly
Analysis:
Rule 12, Section 3, Article 1(h) prohibits "unnecessary physical contact with a game official." It leads to an unsportsmanlike conduct penalty and a disqualification.
Walden's infraction occurred when umpire Bruce Stritesky was separating him from
Cincinnati Bengals
tight end
Jermaine Gresham
. Walden used his right arm in what appeared an attempt to ward off Stritesky from pushing him away. The contact was gentle by football standards, but Stritesky immediately threw his flag.
Kuechly, meanwhile, had been at the bottom of a pile attempting to recover a fumble by the
Green Bay Packers
'
Eddie Lacy
. Packers tight end
Richard Rodgers
pulled Kuechly out of the pile, which appeared to anger Kuechly, and back judge Steve Freeman grabbed Kuechly from behind to prevent a confrontation.
Kuechly wriggled his left arm to free himself from Freeman, only afterward realizing it was an official rather than another player who was restraining him. Freeman, who appeared to take an arm to his face, immediately threw his flag.
The structure of the rule allows officials some leeway by including the word "unnecessary." It implies the existence and possible acceptance of inadvertent contact, which surely applies in Kuechly's instance. There didn't appear to be any intent to make contact with an official on his part, and either Freeman or Triplette should have let it go.
On the other hand, there is little doubt that Walden's contact was deliberate. Again, officials have some leeway. The contact in this case was hardly forceful. But delineating the power behind contact would seem to compromise the larger goal of demanding respect for officials. Walden certainly didn't get his money's worth, but the physical contact was in fact "unnecessary" and merited a penalty.
Play:
San Francisco 49ers
defender
Dontae Johnson
collided with umpire Mark Pellis on the goal line, opening up
Denver Broncos
receiver
Emmanuel Sanders
for a touchdown.
Referee:
John Parry
Analysis:
Many of you will recall
the 2010 change
that moved umpires from their traditional position behind linebackers to a safer, less-trafficked spot 12-15 yards deep in the offensive backfield. So why was Pellis standing on the "O" of the "BRONCOS" end zone lettering on third-and-goal? Because of an NFL rule exception, of course.
A few months after the initial rule change, the NFL circulated a memo that described several instances where the umpire would move back to his original spot. One of them was in cases like Sunday night's, when the offense is at or inside the 5-yard line. According to the memo,
as reported by The New York Times
, the league deemed it "useful for the umpire to be operating in close proximity to the line of scrimmage."
The exceptions were developed after complaints came from teams that ran no-huddle offenses, particularly the Colts, led at the time by
Peyton Manning
. Theoretically, getting the umpire closer to the line of scrimmage would allow teams to snap the ball more quickly.
Four years later, the re-positioning helped another Manning-led team. As the Broncos lined up at the 3-yard line, Pellis stood 8 yards away in the defensive backfield. He took two steps forward at the snap, then tried to backpedal -- apparently trying to move out of Sanders' way -- but slipped.
Sanders stayed upright and continued running, but Johnson collided with Pellis and toppled to the ground. The 49ers had no recourse; the umpire is part of the field, and falling over him is no different than slipping on a divot. The only call was to signal a Broncos touchdown.
NFL SCOREBOARD
Thursday, 10/16
Sunday, 10/19
Monday, 10/20
WEEKLY LEADERS