October, 24, 2014
Oct 24
9:30
AM ET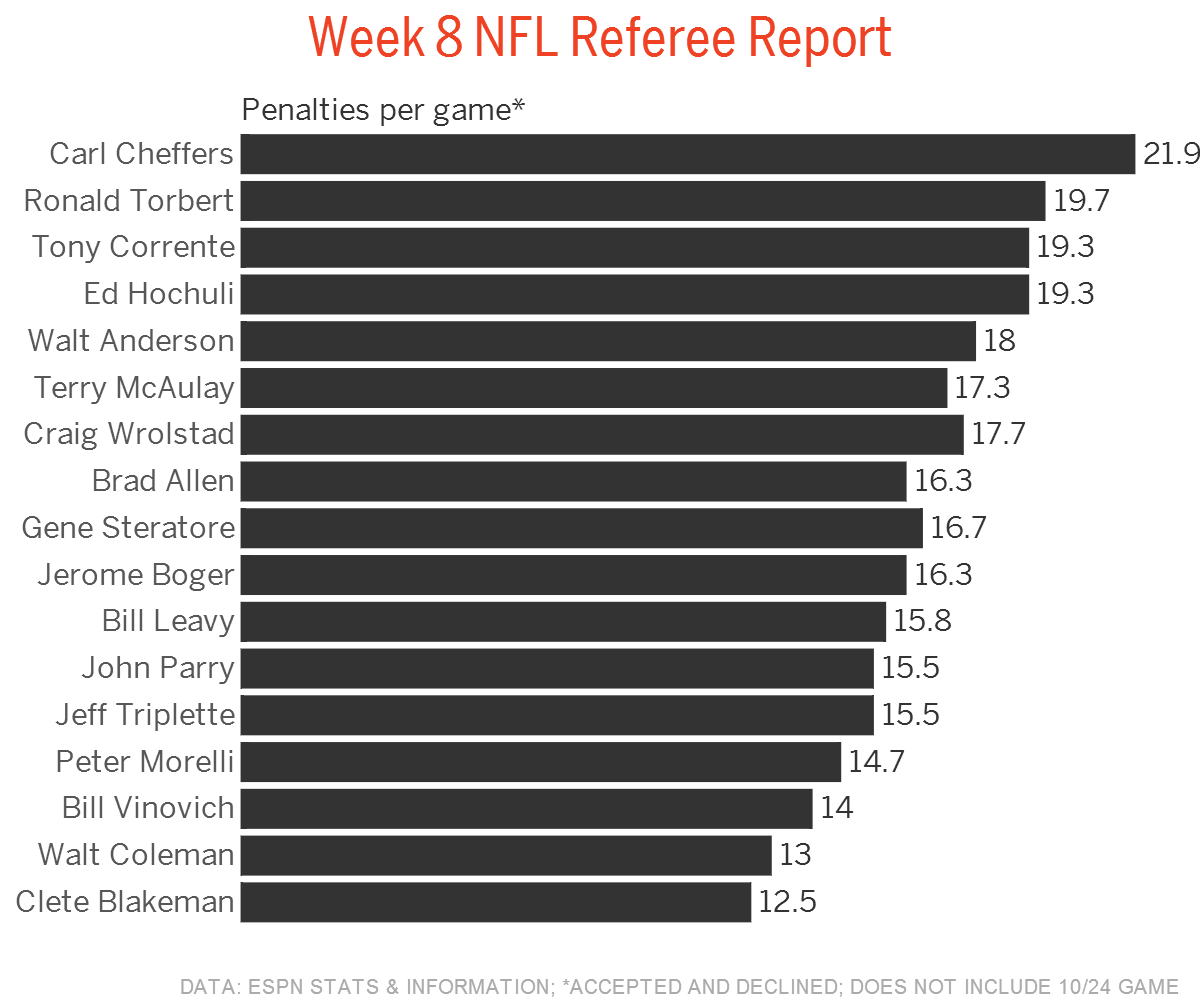 For all Inside Slant posts, including the weekly Officiating Report, follow this link.
Recently, a loyal reader we'll identify as "Brett L." protested an assumed consequence of the NFL's 2014 emphasis on a handful of penalties. The resulting spike of defensive calls,
discussed in this post last week
, had led to some laborious stretches of games.
"Brett L." wondered how much time these penalties had added to games. So did I. In this case, however, perception has not matched reality.
According to the league, the average time of game through seven weeks this season (3 hours, 6 minutes, 1 second) is more than a minute and a half shorter than the 2013 17-week average (3:07:37). Yes, games are running shorter this season than when NFL officials were calling about 25 percent less defensive penalties than they are now.
Those figures might be surprising, but when you dig deeper, there are some logical explanations. Penalties have undoubtedly interrupted the rhythm of some games, but the league has balanced and/or sped them up in other ways. Here are three of them:
Although defensive penalties have increased, the total number of penalties per game has not. In fact, according to the NFL, the 2014 figure through Week 7 (15.9) is a bit lower than the seven-week figure for 2013 (17.2). Our database at ESPN Stats & Information doesn't break down penalties per game, but what I can tell you is that a few penalty categories have dropped in frequency this season. There have been 27 fewer calls for unnecessary roughness, 23 fewer calls for defensive offsides, 17 fewer for illegal shifts, and 14 fewer for illegal formation.

An important but perhaps overlooked timekeeping practice changed this season. The game clock no longer stops after a sack outside the two-minute point of either half. According to the ESPN Stats & Information database, there have been 397 sacks this season that have fallen into that category. That's 397 fewer stoppages of the game clock in seven weeks of games.

Replay reviews are moving more quickly after a series of mechanical changes this offseason. Most notably, the referee is now communicating with members of the officiating department in New York City who often begin reviewing the play ahead of him. Partially as a result, the NFL has shaved about half a minute off the average review stoppage (3 minutes, 33 seconds) this season as compared to the full season average in 2013 (3:59). So far, there have been 278 reviews, either coaches' challenges or from the replay official, this season.
These figures are not meant to excuse an intentional change that has without question impacted the flow of some games. Before I looked into these figures, I would have guessed that games were running longer as well. We will see if they bog down as the weather turns, but to this point, they have been no worse than last season.
Note:
As always, the bar graph accompanying this post displays the overall frequency of penalty calls from each of the league's 17 officiating crews. We are continuing to see about a 43 percent difference between the most (Carl Cheffers) and least flag-happy crews (Clete Blakeman).
NFL SCOREBOARD
Thursday, 10/23
Sunday, 10/26
Monday, 10/27
WEEKLY LEADERS