December, 20, 2014
Dec 20
5:07
PM ET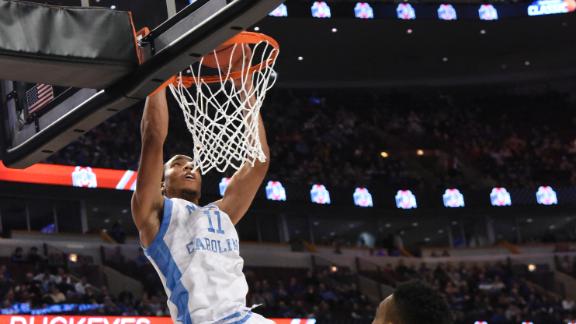 CHICAGO -- North Carolina coach Roy Williams has a bit of the Grinch in him, as of late.
Williams has had his players running more, pushing their intensity in drills and practicing longer in the past week than he had been doing. Sophomore forward
Kennedy Meeks
didn't downplay the difficulty of the practices, either, and described it as a "tough" week for him and his teammates.
Williams, of course, has his reasons. He had high expectations for this season's team, and it wasn't meeting them through 10 games. They picked up quality wins against Davidson, Florida and UCLA but struggled in losses to Butler, Iowa and Kentucky. He publicly questioned his team's maturity and knocked its decision-making and rebounding leading up to Saturday's game against No. 12 Ohio State.
The Tar Heels responded positively, for the most part, in an
82-74 victory
over the Buckeyes. Williams wasn't especially pleased with how his players performed at the end of each half, and they still made some decisions he might never understand, but he could at least joke about it, having won the game.
"I'm extremely relieved," Williams said. "I'm not sitting up here saying I'm as happy as I can possibly be. I don't hear the happy song in my ears right now. We stunk it up down the stretch, and I think we've got to get better there."
Williams' players were singing that same tune.
North Carolina junior guard
Marcus Paige
can see the potential of his team. When he's knocking down shots, Meeks and
Brice Johnson
are working off each other in the paint,
J.P. Tokoto
is influencing the game in a variety of ways,
Justin Jackson
is getting involved and the bench is contributing, the Tar Heels look like a team that deserves all the hype. The problem is all those elements haven't exactly clicked consistently for North Carolina.
"We have a long ways to go, in terms of reaching our ceiling," Paige said. "It's not even close because you see how we played today. We showed flashes where we could be a really good team and kind of had a mediocre trot through the second half and barely get the win. We can't have that."
Paige took some of the blame for North Carolina's inconsistencies Saturday. It wasn't exactly a memorable trip to Chicago for him. He shot 4-of-12 from the field and 2-of-8 on 3-pointers and committed a team-high four turnovers. Williams nearly lost his mind when Paige shot a 3-pointer with six seconds left, and Ohio State scored to end the first half after Williams stressed waiting for the last shot. In the game's final two minutes, Paige missed a wide-open layup and missed two consecutive free throws. He finished with 16 points and four assists.
If Paige had that stat line against any other solid team earlier this season, the result wouldn't have likely gone in North Carolina's favor. He shot 5-of-17 in the loss to Butler and 4-of-16 in the loss to Iowa. On Saturday, he didn't need to carry the load, as five other players scored eight or more points and Johnson, Tokoto and Meeks combined for 30 rebounds. Defensively, the Tar Heels held Ohio State to a .347 shooting percentage from the field. The Buckeyes came into the game with one of the country's best shooting percentages at .537.
"You see now with the transformation of Kennedy and the maturity of Brice that I don't necessarily have to [have a great game for us to win]," Paige said. "I still have to play better. I didn't play very well today."
Williams doesn't expect Paige to have that type of game often.
"I've never seen Marcus Paige miss as many open shots as he did in the second half -- and two layups," Williams said. "But I still think that says a lot about how good we can be because eventually he's going to start playing."
Paige's teammates have high standards for Paige as well, but Saturday proved they can get by against a ranked team without Paige having to go off.
"If it's not his day, it's not his day," Johnson said. "Somebody else has to step up. That's just one thing we're going to do. We just have to help him out some games. Some games he's going to turn up and be able to knock down all his shots. Those games when he doesn't, myself, Kennedy, J.P. and the rest of the guys, we have to be able to cover up for him and let him be a facilitator during those games."
Williams began his postgame news conference stating he was just glad it was the Christmas break, and they could all go home. It's not as if the Tar Heels should anticipate a happier coach when they return, though.
Paige said the Tar Heels were OK with that, as well.
"We haven't been busting our rear ends on every play, every possession," Paige said. "That's on us. Coaching by fear gets you to that level. If he's going to run us an entire practice, I think our incentive to play harder is going to be higher. I mean, it works. ... If he's going to have to coach like that, honestly, I'm all for it."
December, 20, 2014
Dec 20
2:14
PM ET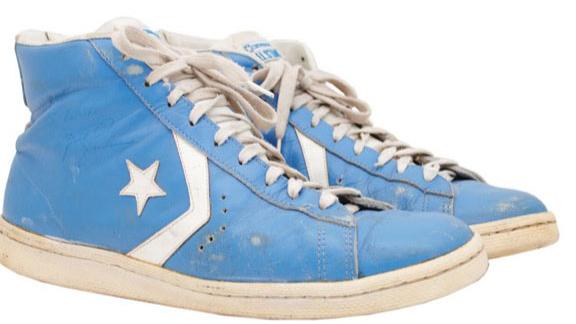 An auction house is offering the winning bidder of a pair of shoes, advertised as worn by Michael Jordan during his freshman year at North Carolina, a chance to return them and get his money back.
An official from Grey Flannel Auctions told ESPN.com on Saturday that it had received a letter from Lindsay Reed, who was a student manager on the team in the year before Jordan's freshman year (1980-81) and the team statistician for Jordan's freshman year, that assured them that what they sold days ago for $33,387 could not have been game-worn by Jordan.
"The 1981-1982 UNC basketball team did not wear blue Converse basketball shoes at any point during the ... season," Reed wrote. "I challenge anyone to produce a photograph of a 1981-82 UNC basketball game (home or away) in which any member of the 1981-1982 UNC basketball team is wearing blue Converse shoes. No such photo exists."
After word of the sale started to spread, doubts emerged among those familiar with North Carolina basketball history. Broadcaster Wes Durham, whose father Woody was the "Voice of the Tar Heels" from 1971 to 2011, tweeted: "The shoe was worn prior to his arrival ('79 to '81), but don't recall that model being worn after he arrived."
Although Grey Flannel executives were told by the consigner, who produced documentation of his friendship with Jordan from that era, that the shoes were game-worn, the auction house did not have a picture of Jordan wearing anything other than white Converse shoes from that season. Grey Flannel's Michael Russek said at the time he was comfortable with the consigner's story because so few public pictures existed of Jordan's shoes during his freshman year.
December, 19, 2014
Dec 19
10:00
AM ET
Most North Carolina players could give a brief rundown on what they know about Ohio State guard
Shannon Scott
heading into Saturday's game with the Buckeyes in Chicago.
The significance of his father? That was a bit harder for the young Tar Heels to remember, even though Charles Scott's journey is extremely significant.
Willie Cooper was the first to integrate the Tar Heels freshman team in 1964. Scott was the first black scholarship basketball player at North Carolina in 1966. He paved the way for them all: Phil Ford, Michael Jordan,
Antawn Jamison
, Sean May,
Ty Lawson
.
[+] Enlarge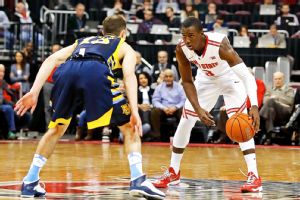 Kirk Irwin/Getty ImagesShannon Scott might be an Ohio State Buckeye now, but his father Charles was one of the most influential players in North Carolina history.
Scott is the school's sixth all-time leading scorer and has his No. 33 jersey among those honored -- not retired -- in the Dean E. Smith Center rafters. He helped lead the Tar Heels to Final Four appearances in 1968 and 1969.
"Did I go with the idea of being a pioneer? It was the '60s and at that time you do things because they needed to be done, not with the concept of being a pioneer," said Scott, who lettered from 1967-70. "It was the era of integration in many circumstances and I just happened to be one of instruments of integration for the University of North Carolina."
His love for his alma mater and his former coach is unquestioned. Scott's other two children, Simone and Shaun, both graduated from UNC. He returns to Chapel Hill at least once each year and visits coach Dean Smith.
Scott might not wear scarlet and gray at the United Center, but this is the one time he won't exactly be "shouting N.C.U." as the fight song suggests.
"Luckily it has only come up once in four years and I hope it comes up once again, maybe in the NCAA championship," Charles Scott said. "It's going to be tough rooting against North Carolina, but that's my son out there. Make no mistake about it, I will be rooting for my son and his team."
Scott once envisioned seeing his son follow in his footsteps to Chapel Hill. Many summers he would bring Shannon Scott back for basketball camps.
Shannon Scott, a 6-foot-1 senior point guard, also dreamed of playing in Carolina blue when he got serious about basketball in middle school. Things changed as he got older and he thought about forming his own legacy in a program.
Carolina made the decision easier for him, with a roster that included
Larry Drew II
and
Kendall Marshall
. Scott, who was rated No. 34 in the class of 2011 by Recruiting Nation, didn't want to be the third point guard.
"I had to decide did I want to go and be my own person or the son of somebody," said Shannon Scott, who currently leads the Buckeyes and is second nationally with 7.8 assists per game. "I felt like trying to have my own name, I had to go somewhere else rather than become 'Charlie Scott's son' had I gone there."
Truth is, being the son of Charles Scott would carry weight wherever he attended school. Shannon Scott could never really just stay in the background on any team. His dad shared stories here and there, but mostly he heard from other Tar Heels fans of the sacrifices his dad made to play.
Shannon Scott heard about his father being passed over for the ACC Player of the Year award as a junior and senior. He heard the stories of isolation and how his father didn't really form lasting and deep bonds with his teammates because he could not hang with them socially outside of basketball. And he heard about his father playing in front of crowds that threw objects at him on the court and stopping at restaurants that wouldn't serve the team.
"The server would just never come over, the whole team would be waiting to get their food and they would never have anything just because he was there with them," Shannon Scott said. "Stuff like that is crazy, but I understand that it happened."
As inconceivable as segregation is to players who saw Barack Obama elected president in their teenage years, they all respect what Charles Scott went through in order for them to play.
North Carolina freshman forward
Justin Jackson
met Charles Scott, whom he called "one of the great Tar Heels," when Shannon Scott came to Houston to work out at a John Lucas' camp.
"Playing college basketball isn't easy, let alone having to keep up with your academics, and we don't even have to deal with the whole race issue and everything like that," Jackson said. "He definitely made a huge mark on college basketball as a whole and the University of North Carolina."
Scott joked that when he's recognized by current players for being the first, it just makes him feel old.
Such was the case when Carolina's sophomore forward
Isaiah Hicks
sought out Scott for a project in a history class last semester. Hicks said he got a B on the paper, but talking to Scott about his experience was the real lesson.
"Nowadays you can't imagine going through that stuff, you can't picture it because it's not happening to you," Hicks said. "Of course, I had to thank him."
December, 19, 2014
Dec 19
9:00
AM ET
Go ahead. Laugh it up.
I read the comments. I know what you're thinking. And I'm fine with it and I deserve the criticism.
Not only did I
fail in my quest for a perfect 5-0 weekend
, I didn't even come close.
2-3?!?!?
C'mon, Northern Iowa. I mean, I was right on the overtime thing but not on the outcome. Same with Kansas-Utah. That was a battle.
Just one problem, for the purposes of my limited accuracy: The Jayhawks won that battle.
Kentucky over North Carolina was easy and my 15-point prediction for UK's margin of victory was off by only one. UCLA wasn't in Gonzaga's league. We all knew that.
But I was WAY off on Iowa State-Iowa. Let me explain my pregame reasoning. No Bryce Dejean-Jones for Iowa State in a rivalry road game. An Iowa team that was just over a week removed from that road win over North Carolina. Still, I forgot how personal this game is for the guys involved and disregarded Iowa's challenges in similar high-profile matchups in recent years.
My prediction of a three-point win for Iowa was ultimately a 15-point victory for Iowa State.
This week? I'm asking Santa for anything above 2-3.
Last week: 2-3
Overall: 17-8
UCLA vs. No. 1 Kentucky (United Center in Chicago), 3:30 p.m. ET, Saturday, CBS:
The Bruins aren't bad. In some ways, they've surpassed expectations. Who thought Bryce Alford would evolve into an all-Pac-12ish point guard for Steve Alford? Norman Powell is one of the best all-around players in the country. Kevon Looney is a pro. But they're not capable of solving the Kentucky problem that might perplex every opponent the Wildcats face this season. It's a broken record, I know, but if you're dealing with a shot-blocking crew that protects the space within the arc better than any team in America and throws multiple 6-foot-10-and-up future pros at you on offense, how can you stop that over 40 minutes? UCLA won't have that answer during this CBS Sports Classic matchup.
Prediction: Kentucky 80, UCLA 60
No. 12 Ohio State vs. No. 24 North Carolina (United Center in Chicago), 1 p.m. ET, Saturday, CBS:
In North Carolina's three losses, Marcus Paige committed three or more turnovers. He also went 14-for-44 from the field in those matchups. If you can pressure him, you can clog North Carolina's offense. And Shannon Scott (3.0 SPG), now one of the nation's top point guards, is the perfect guy to apply that pressure. Plus, the Buckeyes are a good 3-point shooting team that will stretch UNC's defense in a scrappy, tight game. Also, D'Angelo Russell is the truth. And the college basketball world will see that this weekend.
Prediction: Ohio State 69, UNC 67
No. 15 Oklahoma vs. No. 16 Washington (MGM Grand in Las Vegas), 9 p.m. ET, Saturday, ESPNU:
A couple of surprising teams here that could make their respective conference races quite interesting. Oklahoma has emerged as a contender in the Big 12. Ryan Spangler and Houston transfer TaShawn Thomas form one of the best frontcourts in the country. The Sooners are holding opponents to a 40 percent clip inside the arc, 29 percent outside it. But the Huskies have Nigel Williams-Goss and a strong offense that has scored 76 points or more in six of its past nine games. But it hasn't faced a team with Oklahoma's balance or a player like Buddy Hield.
Prediction: Oklahoma 74, Washington 70
Indiana vs. No. 23 Butler (Bankers Life Fieldhouse in Indianapolis), 2:30 p.m. ET, Saturday, Fox Sports 1:
The Hoosiers' offense is legit. Their 87.5 PPG is fifth in the nation. But their defense, on a per-possession rating by Ken Pomeroy, is 187th in the country. That's how they lost to Eastern Washington despite scoring 86 points. Butler, which boasts wins over Georgetown and North Carolina, is the opposite. Can't trust the Bulldogs' offense. Roosevelt Jones went 2-for-9 in each of his team's losses (to Tennessee, Oklahoma) and that messed up everything but also showcased Butler's limits. I'll take Yogi Ferrell, James Blackmon and a team that shoots 42 percent from the 3-point line.
Prediction: Indiana 77, Butler 71
No. 17 Maryland at Oklahoma State, 2 p.m. ET, Sunday, ESPNU:
Le'Bryan Nash (17.7 PPG and 6.4 RPG) is quietly putting together an impressive season now that he's the star of the Cowboys' show. His team's only blemish is a weird 26-point loss to South Carolina a few weeks ago. But Oklahoma State has been one of the nation's best defensive teams. Maryland is still winning without Dez Wells, who will return soon. In the meantime, the Terps have relied on freshman Melo Trimble (not enough folks are talking about him) and Jake Layman. Maryland could be a player in the Big Ten. But it will suffer another blemish in its first true road game of the season.
Prediction: Oklahoma State 79, Maryland 77 (OT)
December, 18, 2014
Dec 18
11:50
AM ET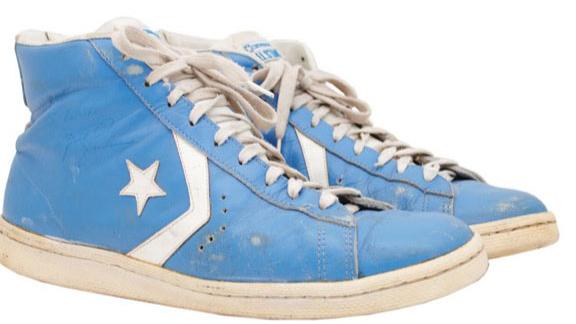 A pair of Converse shoes that an auction house says Michael Jordan wore when he played at the University of North Carolina sold for $33,387 on Thursday morning.
Grey Flannel Auctions, which sold the shoes, said they were consigned by a high school teammate of Jordan. The auction house said the winning bidder prefers to remain anonymous.
Game-used Jordan shoes have commanded some serious dollars in recent years.
Last year, Grey Flannel sold an autographed pair of shoes Jordan wore during his famous "Flu Game" in the 1997 NBA Finals for $104,765. A pair of shoes that Jordan wore in his rookie season with the Bulls sold for $31,070 in 2013.
Grey Flannel executives held back a pair of 1984 Converse shoes that Jordan wore for the Olympic gold-medal game for a future auction.
Jordan wore Converse throughout his days at North Carolina because, at the time, the company was paying UNC coach Dean Smith about $10,000 a year to have his players wear its shoes. Converse made a pitch to Jordan when he turned pro after the 1984 Olympics, but its $100,000 a year offer fell $400,000 short of Nike's deal. The rest is history. Nike's Jordan brand sells more than $2.5 billion worth of sneakers annually.
Other highlights in the auction included a Babe Ruth game-used Tour of Japan hat, which sold for $303,277, a record for a non-Yankees cap; a 1937 Joe DiMaggio game-used Yankees hat ($151,652); a 1932 Yankees team-signed ball ($115,242); and a Dr. J game-used Philadelphia 76ers road uniform ($44,428).
December, 17, 2014
Dec 17
12:55
PM ET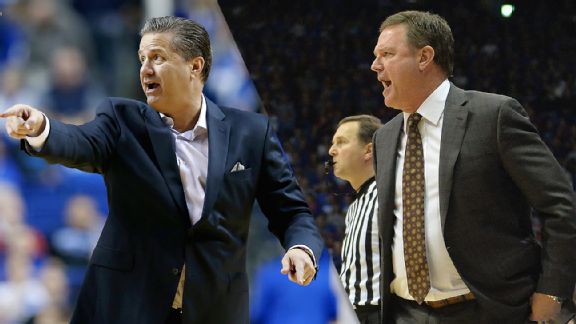 Getty ImagesThis will be a key time of year for many coaches, including John Calipari and Bill Self.
Fran Fraschilla and Seth Greenberg got together to discuss what college coaches go through with their program and players during winter break. They specifically looked at what John Calipari, Bill Self and Roy Williams -- always among college basketball's most scrutinized coaches -- will be doing with their respective teams in the coming weeks.
Greenberg:
I think this is the most difficult time of the year for a team, especially when you have young players. If you're playing over Thanksgiving, it's usually in a pretty good place, so it's a good experience. But the reality is, when the campus empties up at the end of a semester, it's basically you and your team for six weeks. It's really hard on your players -- it's a balancing act. It's an important time to develop your team, but it's also team-building time.