November, 22, 2014
Nov 22
6:50
PM ET
CHARLOTTE, N.C. -- North Carolina center
Kennedy Meeks
' previous appearance in Time Warner Cable Arena was as a 12-year-old brought out for the Charlotte Bobcats' (now-Hornets) halftime entertainment scrimmaging with the rest of his little league teammates.
Saturday against Davidson, the Charlotte native was the Tar Heels' main attraction, recording a team-high 19 points with a game-high 12 rebounds in their
90-72
win.
It seems as the sophomore's waistline shrinks, his game continues to grow. And it's a concept he's still getting used to.
[+] Enlarge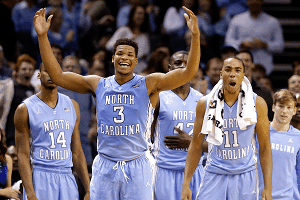 AP Photo/Chuck BurtonKennedy Meeks was all smiles after recording a double-double in North Carolina's win on Saturday.
"Kennedy was huge inside," said UNC coach Roy Williams, no pun intended. "He's got to get his mind correct that he does have a different body, that it can do certain things."
Meeks flashed the raised fist to Williams to signal he needed a break with just under four minutes left in the game. Before Williams could replace him, Meeks denied a pass and came up with a steal at halfcourt that he took in for a dunk.
"I guess I wasn't as tired as I thought I was," Meeks said.
He finished off some buckets with a flex for the cameras. He blocked two shots, had two steals and three assists in playing a season-high 31 minutes.
Meeks showed flashes of this potential last season, but couldn't consistently pull off such performances in part because of his conditioning. It's not so much a problem this season.
His new diet includes drinking more water with fewer carbonated and sugary drinks. He's eliminated pizza, too. It's helped him get down to about 270 pounds from 319 when he arrived on campus last year from West Charlotte High School.
He was so eager for a good showing in front of the block of 15 friends and family members in attendance that he started off the game flat.
Sophomore guard
Nate Britt
said the bounce in Meeks' step was obvious as early as his pregame dance routine when the team gathers in a circle before taking the floor.
"You could tell that we were in Charlotte and he was happy to be home," Britt said.
But early on Meeks appeared headed for the dreaded homecoming dud performance.
Three minutes into the game, after two blown defensive assignments, Meeks found himself being benched.
"I was like, 'Aw, man, this isn't going to be good,'" Meeks said. "I was holding my head down but I have great teammates.They kept encouraging me to just post hard and stuff will fall through, and it did."
The Wildcats tried double-teams on the post that for the most part Meeks either bullied through or passed out of without problems. In other words, he didn't become, what the character-limited scoreboard overhead displayed, "Kennedy Meek."
"Coach [Steve] Robinson always tells me every day, be aggressive and good stuff will happen for you," said Meeks, who is the only Tar Heels player to score in double figures in each of their first three games.
It wasn't just his scoring that helped the Heels. With the pace of the game more to Davidson's liking early, Meeks helped get the Heels out running with his ability to turn a rebound into a quick outlet pass. Williams said he's the best at doing that than anyone he's ever coached and it helped the Heels get transition baskets they would not have scored otherwise.
"We know that his outlet passes are some of the best in the country," freshman forward
Justin Jackson
said. "If the bigs get the ball, then we just get out."
Even that was an adjustment. Meeks said his teammates haven't always run out after rebounds, so he didn't have the option of making a quick throw down the floor.
"Now they know I'm looking every single time, no matter who is in front of them or who is behind them," Meeks said. "I think they've prepared themselves more for that."
The Heels head to the Battle 4 Atlantis in the Bahamas next week, where the competition level will increase and they could potentially face two ranked teams, including No. 3 Wisconsin. The Heels will need Meeks to continue to be a strong post presence and it seems he's prepared to deliver.
November, 20, 2014
Nov 20
1:35
PM ET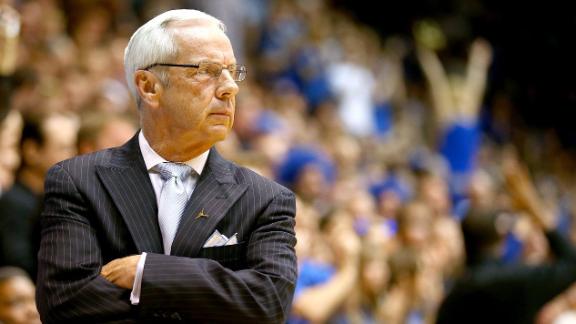 BLOOMINGTON, Ind. -- SMU coach and North Carolina alum Larry Brown has been keeping close tabs on the academic scandal enveloping his alma mater and said he is especially concerned that it could stain a man he has long revered.
"Absolutely I'm worried about it," Brown said after the Mustangs' shootaround at Indiana on Thursday. "What's troubling me the most is that some of that stuff dates back to coach [Dean] Smith, and we all know the character of that man."
Brown played for both Smith and Frank McGuire while at UNC, and Brown began his Hall of Fame career as a Tar Heels assistant in 1965.
An internal review released last month found that some 3,100 students -- 48 percent of them athletes -- benefited from paper classes in the Afro-American studies department. The report also found that some athletes, including basketball players, were steered toward those classes to retain their eligibility.
The NCAA has launched an investigation and recently began interviewing people about the case.
"My daughter took some of those classes," Brown said. "If you look around, there's not a school in the country that doesn't have classes like that. How many kids are taking online classes these days? That's not an excuse. I'm just saying there are classes like that that are legitimate."
Last month, North Carolina coach Roy Williams said he was "worried sick" about the pending investigation and acknowledged that he was worried about his reputation as well.
"I'm 64, so I'm not close to being ready to quit, but you also think, 'God, I don't want this to be what people remember about me,'" Williams said.
Brown, a 1963 UNC graduate, went out of his way to commend Williams.
"Roy has done a great job handling it," he said. "It's a great school. I just hope they can get through this."
November, 17, 2014
Nov 17
11:22
AM ET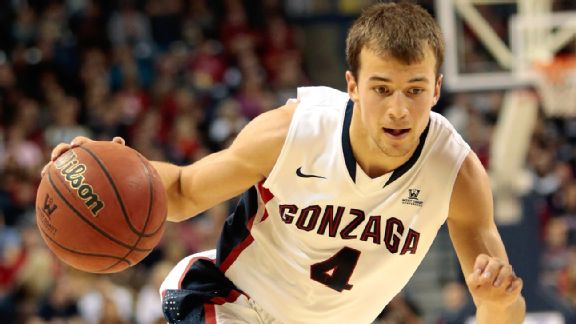 William Mancebo/Getty ImagesKevin Pangos helps make Gonzaga one of the nation's best backcourts.
To be successful in college basketball today, you need to have strong guard play. Performance on the perimeter is so vital for winning teams.
It is not an easy task to pick the teams with the best backcourts in America. You could have a great argument in bars across the country. There are so many good guards out there.
I am going to give you my opinion. Here are my super six backcourts going into the 2014-15 campaign:
1. Duke: I love the versatility of Duke's guards. There is experience blended in with new talent. Having Quinn Cook, Rasheed Sulaimon, Tyus Jones and Matt Jones gives the Blue Devils a slight edge.
2. Kentucky: The Harrison twins showed a lot in the NCAA tournament last season. Add Devin Booker and Tyler Ulis and the Cats are loaded.
November, 17, 2014
Nov 17
9:00
AM ET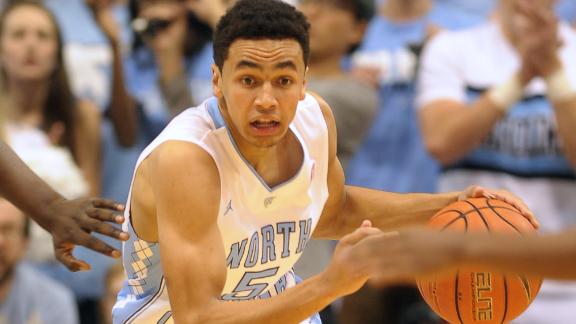 It won't always be as easy as it was Sunday night for North Carolina forward
Brice Johnson
and center
Kennedy Meeks
. After all, Robert Morris was woefully undersized in the post. Even playing zone defense against the Tar Heels didn't help mask its deficiency.
Johnson scored a game-high 23 points on 10-of-15 shooting in the No. 6 Tar Heels'
103-59
victory. Meeks made his first six field goal attempts and scored 21 points with a game-high 12 rebounds.
But their performances were as much a function of their growth as it was simply taking advantage of a weaker opponent.
[+] Enlarge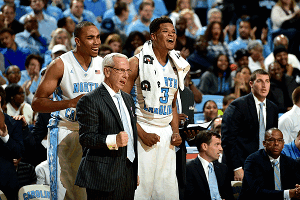 Bob Donnan/USA TODAY SportsThe production of Brice Johnson, left, and Kennedy Meeks in the season's first weekend should have North Carolina fans all smiles.
"I guess it just comes with experience with me and him being there a lot last year," Johnson said. "… It carried over to this year -- it's just gotten a lot better."
Johnson has led the team in scoring in both games this season, including just 12 against N.C. Central. Meeks has been the second-leading scorer in both games, including 10 points and nine rebounds in the opener.
Any prediction of where the Heels can end up this season includes the scenario where the tandem of Johnson and Meeks are playing at a high level.
"Since last year they have been offensive go-to guys," junior J.P. Tokoto said. "… They finish pretty much everything. It takes about two to three guys to get them stopped and it results in a foul most of the time, so they are going to be very, very [instrumental] to our success."
Guard
Marcus Paige
said the team even talked about as much identifying their frontcourt scoring as one of the keys to their season.
"They've shown that they can do it and they're willing to do it," Paige said. "I mean that's big for our team. If they can keep up -- maybe not 20 [points] and 12 [rebounds] every night, but this level of production -- against quality opponents then we're going to be pretty happy with that."
Carolina was undefeated last season in the seven games both Johnson and Meeks scored double figures -- including two of its biggest wins of the season against Louisville and Michigan State.
Meeks singled out the Louisville game for when the pair really learned how to complement each other's play. It was the first games where both played extended minutes in the same lineup.
"That's when we really started clicking with the high-low and him cutting to the basket and me being in the short corner," Meeks said.
He added that both take pride in their ability to make interior passes and they're always looking for each other. Two of Johnson's three assists against RMU came in passes to Meeks and the lone assist for Meeks was a dish to Johnson.
It's one of the reasons their results can't be easily dismissed by the level of competition. Paige said the high-low that Meeks and Johnson worked would be effective against all zones they might face.
"That passing can be done against bigger, more athletic guys as well," Paige said. "It's an unselfishness and a willingness to throw the ball inside a lot. That's not going to change."
Coach Roy Williams hopes nothing changes from their fast start. Both Johnson and Meeks have the talent to rank among the best big men during his tenure at Carolina. They could be out to prove it this season.
"What we have to do is see that over the course of the season," Williams said. "I thought last year those guys had some good games -- some really good games -- every now and then. But it's got to be on a consistent basis like Tyler Zeller, John Henson, Tyler Hansbrough and Sean May. Those guys [gave] it to you every night."