October, 24, 2014
Oct 24
11:14
PM ET
CHAPEL HILL, N.C. -- The specter of another NCAA probe has taken its toll on North Carolina coach Roy Williams.
"If this were my first 16 months of coaching, you wouldn't see a 17th month," Williams said. "It's been a pain in the rear end, but I believe in this university. Nobody knows what's going to happen with the NCAA, but I feel strongly, strongly that we did things the right way."
Williams anticipates hearing from the NCAA for a second straight season. Last year, it was an eligibility issue due to players Leslie McDonald and P.J. Hairston accepting impermissible benefits. This year, it could involve much more, following the release Wednesday of former U.S. Justice Department official Kenneth Wainstein's report on an academic fraud scandal that spanned from 1993 to 2011.
The investigation discovered more than 3,100 students -- 48 percent of whom were athletes -- benefited from "paper classes" in the African and Afro-American Studies department. Some athletes, including basketball players, were steered toward fake independent study classes to help boost their grade-point averages, which in some cases kept them eligible.
Williams spoke about the investigation for the first time since its release after the Tar Heels' 111-58 exhibition win over Fayetteville State on Friday night at the Dean Smith Center. Asked whether he was concerned that any wins would be vacated or banners taken down, he said, "Who knows?"
"I personally don't see anything there with men's basketball that somebody can immediately look at and say, 'This is going to happen or this is not going to happen,' so they have to make those decisions," Williams said.
October, 23, 2014
Oct 23
3:21
PM ET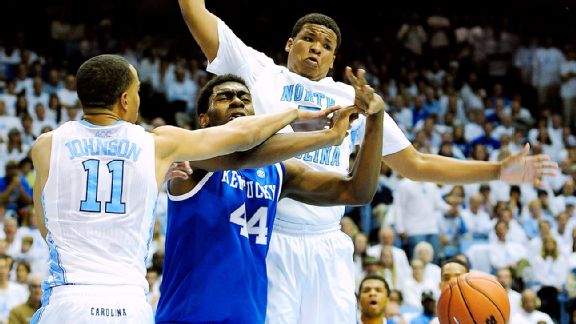 Grant Halverson/Getty ImagesKennedy Meeks and Brice Johnson both got their bodies into better game shape this offseason.
CHAPEL HILL, N.C. --
Kennedy Meeks
and
Brice Johnson
are quick to admit they were the brunt of the majority of Roy Williams' verbal lashings a year ago.
"We didn't run the court well enough," they both said.
Williams isn't one of those guys who welcomes change. He is traditional in his approach, and that was clear two seasons ago when he refused to go the small-ball route late in the season when it became painfully obvious that nothing else would work.
But the preference is to play with true big men, and that's why the emergence -- and consistency -- of both Meeks and Johnson is critical to the Tar Heels' success in 2014-15.
October, 23, 2014
Oct 23
10:56
AM ET
ESPN.com news services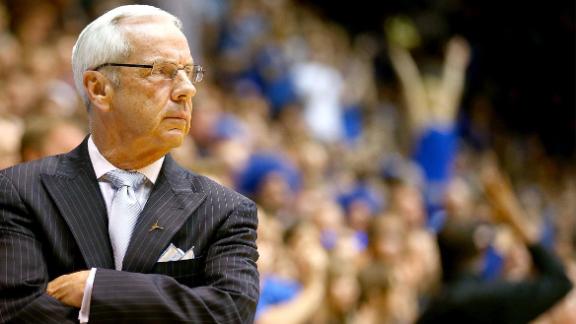 It has been more than 11 years since Roy Williams set foot inside Allen Fieldhouse, and it's become abundantly clear in the seasons since just how he feels about North Carolina.
Despite all that time away from Kansas, however, the Tar Heels coach insists one thing has never waned: There's still no place like the Jayhawks' home.
On Monday, as Kansas stages "Celebrating 60 Years," Williams will be among the guests of honor when the Jayhawks fraternity gathers in recognition of six decades of basketball in the Phog. He will be joined by former coaches Ted Owens and Larry Brown, as well as current coach Bill Self, who conceived the event along with his wife, Cindy.
"I haven't actually been in Allen Fieldhouse since the last practice before we went to the Final Four in 2003," Williams told the Kansas City Star. "I've said this, and I really believe this from the bottom of my soul: I think it's the greatest home-court advantage in college basketball and maybe in any sport, whatsoever."
Williams' departure from Kansas, of course, was the stuff of legend. Time has healed many of the wounds that festered for years, and Self says he sees the event as a chance to put the focus on Williams' 15 seasons in Lawrence.
"What a way to come back publicly, to all cheers in a noncompetitive situation, at a place that means an awful lot to you," Self said. "I think it will be great for all the coaches, but I think it will be extra special for him."
The Heels have won two national titles with Williams, but the coach established himself as one of the nation's best at Kansas, and the team's success at home was the driving force behind that.
October, 22, 2014
Oct 22
1:07
PM ET
ESPN.com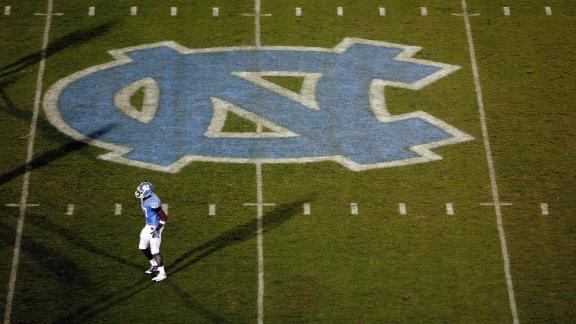 A report commissioned by the University of North Carolina says school academic advisers steered athletes into sham classes over an 18-year period but does not directly implicate coaches or athletic administrators in the scheme.
The report, released Wednesday, says academic advisers in North Carolina's athletic department colluded with a manager in the African and Afro-American Studies department for student-athletes to take classes to boost their GPAs and keep them eligible in their respective sports.
The classes, in place from 1993 to 2011, were overseen by Debby Crowder, the longtime manager in the African and Afro-American Studies department, and later by the department chairman. They allowed a student to write a paper of at least 10 pages rather than attend lectures or meet with professors. The papers were graded by Crowder, who was not a professor. They typically earned an A or B-plus grade.
The report, the third and most comprehensive produced in the matter, said some academic advisers in the school's Academic Support Program for Student Athletes had ties to Crowder and let her know how high a student's grade needed to be to maintain a 2.0 GPA to be eligible to play. It also said that those advisers pushed Crowder to make exceptions for athletes, including allowing them to enroll in classes after the registration period had ended.
The ASPSA is not part of the athletic department but is located in the same offices. The report says it clearly steered players to the sham classes.
When Crowder retired in 2009, Julius Nyang'oro, the former chairman of the African and Afro-American Studies department, was urged to maintain the program. He was forced to retire in 2012 and was charged with fraud for holding summer classes that didn't exist. Those charges were dropped when he agreed to cooperate with the investigation.
October, 16, 2014
Oct 16
2:14
PM ET
Kentucky was tabbed as the preseason No. 1 in the Coaches Poll for the second straight season, six months after losing in the national title game to Connecticut.
The USA Today Coaches Poll was released Thursday, with the Wildcats grabbing the No. 1 spot ahead of Arizona. The Sporting News' preseason magazine had Arizona as its top team.
The Associated Press Top 25 is expected to be released on Oct. 31.
Duke, Wisconsin and Kansas completed the top five. The Badgers lost to Kentucky in the Final Four last April at AT&T Stadium in North Texas, and on Thursday they were picked to win the Big Ten by the league's media.
Kentucky and Duke have long been projected to have two of the top incoming classes in the country, with Arizona holding one of the top returning teams.
North Carolina, with likely first-team all-American Marcus Paige back at the point, leads the second half of the top 10, followed by Final Four participant Florida, ACC regular-season and tournament champion Virginia, new ACC member Louisville and Texas. The Longhorns have one of the top newcomers in the country in center Myles Turner.
October, 15, 2014
Oct 15
2:32
PM ET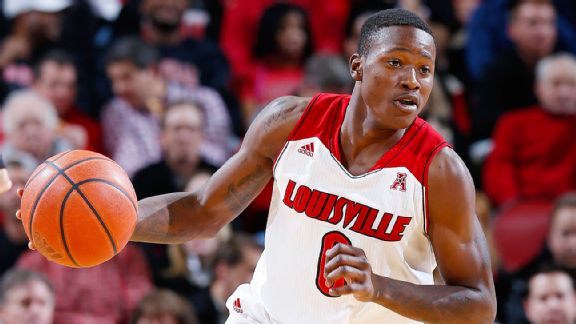 Joe Robbins/Getty Images
There is no arguing that big men will be the big men on campus this season, but what makes a good big man even better? An outside shooter who can keep defenses honest.
That's where these guys come in.
Now, these are not necessarily the best 3-point shooters in college basketball.
Repeat. These are not necessarily the best 3-point shooters in college basketball.
This, however, is what they are: the players who need to shoot well in order for their team to succeed.
Luke Hancock is gone, taking with him the lone reliable outside threat on last season's Cardinals team. As tough as Montrezl Harrell will be inside, someone has to stretch the defense to give him room to breathe. Rozier, who shot 41 percent from outside the arc in league games a season ago, is the best bet to be that someone.
October, 8, 2014
Oct 8
7:16
PM ET
CHAPEL HILL, N.C. -- Stilman White, last seen starting in the 2012 Elite Eight for an injured Kendall Marshall, missed the past two seasons while participating in a Mormon mission.
Unfortunately for the Tar Heels, White didn't miss out on any postseason success during his hiatus.
White, whose only two career starts have come in the Sweet 16 and Elite Eight, remains the lone Tar Heel to play in a game beyond the NCAA tournament's first weekend.
The Heels, for the first time during coach Roy Williams' tenure, have been bounced from the tournament's first weekend in consecutive seasons. But their recent history hasn't discouraged UNC players from openly talking about the Final Four this season.
"Obviously it hasn't come from the coaches like sitting down in a meeting, like we have to go to Indianapolis, get to the Final Four," Marcus Paige said. "But when we work out, we talk about it and we have that as a realistic goal, and I think we should. We'll maintain that as a realistic goal as long as we keep working the way we are."
Paige is a major reason their confidence is not limited by their postseason experience. The junior point guard, a national player of the year and All-America candidate, led the team in scoring (17.5 points per game) and assists (4.2) last season.
Carolina was limited offensively in 2013-14, but Paige will have more help this season. A three-man freshman class -- led by Justin Jackson and ranked No. 3 by ESPN RecruitingNation -- will help give Williams the depth and flexibility the Tar Heels lacked on the wing last season.
October, 8, 2014
Oct 8
5:05
PM ET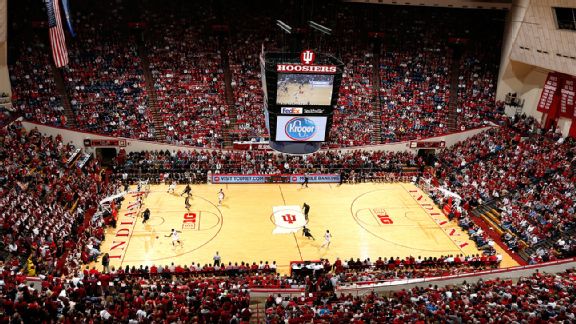 Joe Robbins/Getty Images
Since 2011, when Oregon debuted its Tinker Hatfield-designed "Tall Firs" court at Matthew Knight Arena, the nation's college basketball courts have taken a sharp turn for the ugly. Monstrous silhouettes are the dominant design aesthetic. Oversized logos lumber from key to key like late-career Rasheed Wallace. No joke, somebody actually convinced San Jose State that this was a good idea.
The desire to elicit any kind of reaction is the reason these courts exist in the first place, and we've written plenty about this indefensible trend in recent seasons. Unfortunately, that means we've spent far less time praising the best court designs in college hoops.
Today, that injustice is corrected. The following list -- populated as it is by simple, striking, timeless designs -- is proof that basketball can be beautiful even when no one's playing.
1. Assembly Hall, Indiana
How sacred is Indiana's court? In 2012, when the Big Ten added required logos to the free throw line, Indiana fans were slightly ticked. And why not? The Hoosiers' home floor is the granddaddy of college courts, a perfect design whose timelessness testifies to the depth of the state's relationship with the game. Adding a conference logo is like putting an "Only at the Louvre!" sticker on the Mona Lisa. May it ever be so.
2. Dean E. Smith Center, North Carolina
October, 8, 2014
Oct 8
9:00
AM ET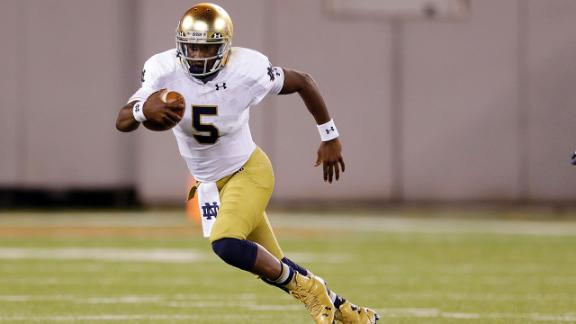 SOUTH BEND, Ind. -- Nearly two years ago, three days before the biggest game of his life, the BCS National Championship against Alabama,
Everett Golson
let the nation in on a little secret.
"Obviously basketball is my love, that's what I love," Golson said down in Fort Lauderdale, Florida, "But my primary right now is football. I'd like to say I would like to have the chance of playing basketball someday [in South Bend]. But like I said, football is my primary, and what I'm focused on right now is the national championship."
"He's pretty good at his hobby, this being his hobby," then-Notre Dame offensive coordinator Chuck Martin added. "Primary love basketball is just what he does on the side, he's actually pretty decent at."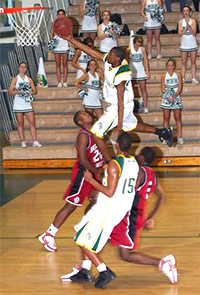 Courtesy of DeAndre' ScottEverett Golson (shooting) played point guard in high school, helping his squad at Myrtle Beach High win an AAA state title.
How decent? Golson was at the very least a Division I talent, according to those who coached him at the prep level. Notre Dame's redshirt junior quarterback is on the Heisman Trophy short list as he readies the No. 6 Irish for a date Saturday with North Carolina. A Myrtle Beach, South Carolina, native, Golson had initially pledged to the Tar Heels' basketball program in February 2010. He had spoken with legendary coach Roy Williams, and there was a strong possibility that he would have spent his winters in Chapel Hill on the hardwood, before the football team's NCAA investigation and a trip to Notre Dame eventually forced him to flip his commitment.
Hoops aspirations never materialized with the Irish, though things have worked out pretty well for the man who, with a 15-1 career record as a starter, boasts the highest win percentage of any quarterback in Irish history (.9375).
"If he was doing something else right now other than quarterbacking a top-[six] team, I probably would have been disappointed, just because the kid was so, so talented, such a good athlete at basketball. I knew he could've been a Division I kid," former Myrtle Beach High hoops coach DeAndre Scott said. "But to see him be able to do the things he's doing at football -- which at the time, I'll be honest with you, when he was a freshman or sophomore, he was a kid that really didn't like football nearly as much. But people who were around knew the things he could do on the football field were just unreal in comparison to where he was as a basketball player at that time."
Golson was, naturally, a point guard. He began with a suspect jump shot, Scott said, and the perfectionist in the player made for some early growing pains, as he would get too down on himself after misses. Still, as a freshman he rose to a starting role down the season's stretch, helping lift Myrtle Beach to a state title. He played one more season for Scott, then another for new coach Craig Martin, before his early enrollment at Notre Dame cost him his senior hoops season.
"He was a really talented kid, good athlete," Scott said. "I always thought he was more of a pass-first point guard, a guy who can really see the floor. He liked getting other guys involved, but he was such a good athlete. He could still score the basketball for you."
During the Beach Ball Classic during Golson's sophomore year, he scored 16 in an eight-point loss to a Martin Luther King (Calif.) team that was led by
Kawhi Leonard
, the MVP of this past June's NBA Finals. The summer before his senior year, Golson traveled around the country to various quarterback camps before returning to point guard on his AAU team, the South Carolina Ravens, all the way to
the 17 and under national title game, before falling to the Arkansas Wings
.
The Ravens' roster
featured starters such as South Carolina tight end
Jerell Adams
and Clemson hoops guard
Damarcus Harrison
, and it had UNC forward
Brice Johnson
and Seton Hall forward
Rashed Anthony
coming off the bench.
"I probably had the best NFL team that was playing basketball," Ravens founder and coach Dion Bethea quipped.
While Golson was on a redshirt his first year at Notre Dame, the basketball bug bit, and coach Brian Kelly said that the staff had to rein that itch in.
"I think that he still has a love for the game," Kelly said Tuesday. "But I think that now has changed because of his focus on being the quarterback here. But no, in his first year here, he was a handful. He always wanted to go out and play a little basketball."
Golson has said that he would at times decompress by shooting around some with Martin, his position coach, who is now the head coach at Miami (Ohio).
His hoops exploits may be a thing of the past, but the stories still carry some weight around campus and in his locker room.
"I haven't played basketball with him yet but I've heard myths, legends," said Irish receiver
Corey Robinson
, the son of Basketball Hall of Famer David Robinson. "He's an incredible basketball player, from my understanding. But I've never played with him. I'm not good enough. He's on another level."
October, 2, 2014
Oct 2
9:30
AM ET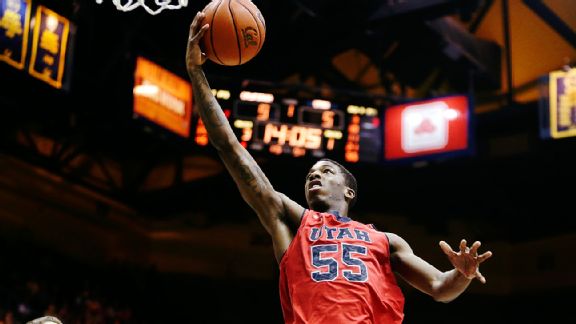 AP Photo/Ben MargotUtah guard Delon Wright 15.5 points, 6.8 rebounds and 5.3 assists per game last season.
Welcome to the preseason edition of the 2014-15 college basketball "matchup nightmares" series. A matchup nightmare is not just a talented scorer or rebounder, but, more importantly, a player against whom it is extremely difficult to construct a game plan to stop. He does things that you cannot control as an opposing coach. His versatility makes it tough to decide what exactly you want to give and what you want to take away.
This initial list will be void of incoming freshmen, as you must
earn it
by getting it done in college. Instead, it'll be comprised of players who've positioned themselves due to exceptional seasons last year and/or strong summer development. You'll also notice a few under-the-radar guys from non-Power 5 conferences.
Here's my list of the biggest matchup nightmares in college basketball today.
---

Delon Wright | G | Utah Utes
Wright is one of the most unique, durable and complete players in college basketball, as he impacts the game every time down the floor on both sides of the ball. He does things for which no opposing game plan can account.
To continue reading this article you must be an Insider
September, 30, 2014
Sep 30
1:21
PM ET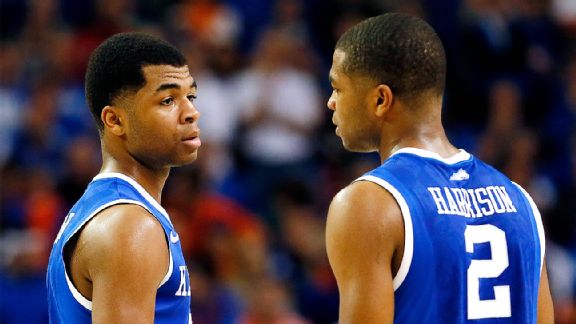 Kevin C. Cox/Getty ImagesThe return of the Harrison twins helps make the Wildcats prohibitive favorites.
I cannot wait for the 2014-15 college hoop season to tip off, baby!
While it's nice to have a few months away from the sport, I am pumped up and ready to go. There are many quality teams, and it is time to dish out my preseason Top 40.
I know that a few of these picks will generate controversial responses. I expect tweets from the fans of schools that were left out. That's the fun thing about sports; you can debate the best of the best, and at the end of the season, you can go back and reflect on your predictions.
Here we go, my breakdown of the top 40:
1. Kentucky: John Calipari has nine McDonald's All-Americans on his roster. Are you serious? Most coaches would be thrilled to have one or two. The Cats have a nice blend of experience with the Harrison twins, Alex Poythress, Willie Cauley-Stein & Co., who are joined by a solid group of diaper dandies. Calipari will find a way to keep everyone happy with their minutes, and more importantly, he'll win.
September, 23, 2014
Sep 23
4:29
PM ET

2013-14:
24-10 (13-5 ACC)
In-conference offense:
1.08 points per possession (fifth)
In-conference defense:
1.01 points allowed per possession (fourth) When North Carolina won a national title in 2009, the Tar Heels had the No. 21-ranked defense in the country in Ken Pomeroy's ratings. And, symmetrically enough, last season when UNC was bounced out of the NCAA tournament after the round of 32 as a vanquished No. 6 seed, this defense was rated -- you guessed it -- No. 21 in the nation.
To continue reading this article you must be an Insider
September, 8, 2014
Sep 8
10:00
AM ET
Isaiah Hicks
' performance in the 2013 North Carolina 3A state championship game ranks among the state's best ever regardless of classification.
The game earned Hicks instant-legend status in the state's prep circles. It also punctuated all the accolades he received, like being named a McDonald's All American and the state's 2013 Gatorade Player of the Year.
His stat line that day -- 34 points, 30 rebounds -- helped power Oxford (N.C.) Webb High School to the title.
It also elevated the expectations last season for Hicks' at North Carolina.
[+] Enlarge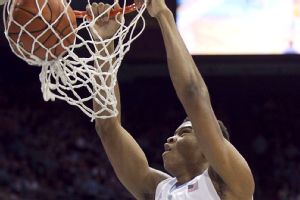 Robert Willett/Raleigh News & Observer/MCTSigns point to North Carolina's Isaiah Hicks making a much bigger impact this coming season.
His freshman-year transition to college hoops didn't turn out to be an easy one. His total points and total rebounds for the Tar Heels last season barely surpassed what he did in that state championship game.
Hicks' stat line from last season -- 42 points, 35 rebounds -- was modest considering he was one of seven Carolina players who appeared in every game.
But there is no need to wonder if the pundits got it wrong on Hicks. He could very well be the Heels' most improved player this season and start having the impact many envisioned he would have when he came out of high school.
The biggest difference for Hicks, arguably even more important than having a year of experience, is a move back to his natural position.
Last season, he was forced to attempt to play small forward for the Heels. He didn't have the skill set to do it, and it made for an awkward adjustment. Hicks lacked the instincts of a small forward and he couldn't hide it. He often spent the 7.3 minutes he averaged on the floor looking as if he were literally thinking through his responsibilities as opposed to anticipating his next moves.
Hicks told reporters in July that he didn't get frustrated last season playing out of position because he viewed it as a sacrifice for the team.
He won't be asked to make such a sacrifice this season.
The addition of freshmen wings
Theo Pinson
and
Justin Jackson
means Hicks will no longer be needed as a reserve at small forward. The departure of James Michael McAdoo means more playing time will be available at power forward.
Hicks played the post while he was putting up big numbers in high school. With
Brice Johnson
likely the front-runner to start at power forward, Hicks is poised to be the first off the bench to replace him.
That was the case during North Carolina's trip to the Bahamas last month, when Johnson tweaked his ankle and played just seven minutes in two games. Hicks led the Heels in scoring in each of those games with 11 and 19 points.
While it's a stretch to believe Hicks will lead the team in scoring when the games start to count, what those island games indicated is that Hicks will make himself a factor. He will be better-suited to defend the post than he was on the wing against quicker opponents. He runs the floor better than most power forwards. He doesn't need his play called to score -- Hicks can make a considerable living off rebounds and putbacks.
That likely won't earn him a legendary stat line. But it will make all remember why Hicks was a coveted recruit in the first place.
August, 29, 2014
Aug 29
11:30
AM ET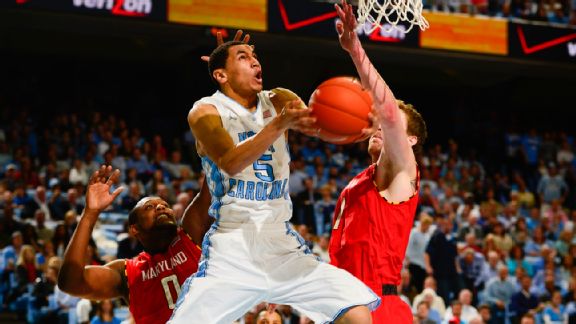 Bob Donnan/USA TODAY SportsNorth Carolina junior guard Marcus Paige is arguably the top floor leader in the country.
It's hard to imagine the
North Carolina Tar Heels
"flying under the radar," but lately when the discussion turns to the elite teams and programs heading into the 2014-15 season, you rarely hear Roy Williams' squad mentioned. This is a program that won a national championship as recently as 2009 and, after missing the tournament in 2010, made consecutive Sweet 16 appearances in 2011 and 2012.
However, the past two seasons have been out of character for the Heels. They struggled early in 2012-13 without a true low-post scorer. Williams had to adjust Carolina's system by going small and creating matchup problems. Last season, he had to start the season with
P.J. Hairston
's off-the-court situation hanging over his team. He didn't know whether the NCAA would reinstate Hairston or he would be ruled ineligible for the season. The uncertainty took its toll on the Tar Heels, and although they seemed to come together late in the season, the team eventually lost in the second round of the NCAA tournament.
But I believe this year will be different.<!-offer-->
To continue reading this article you must be an Insider