December, 9, 2013
Dec 9
1:34
PM ET
ESPN.com news services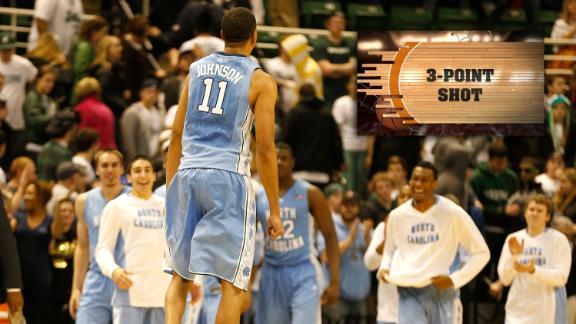 Arizona moved up one spot to No. 1 in The Associated Press poll on Monday, the Wildcats' first top ranking since 2003.
Arizona (9-0) was a runaway choice at No. 1, receiving 63 first-place votes from the 65-member national media panel to earn the school's first No. 1 ranking without Lute Olson as coach.
Current coach Sean Miller views the ranking as validation for the direction the program has taken in his five years in the desert.
"There's tremendous satisfaction, no question," Miller said. "Embracing the fact that we're No. 1 is something I'm doing, our staff is doing and really our team is doing. It's an honor a lot of teams would love to have. It's something where no matter what happens the rest of the season, at some point we were ranked No. 1 in the country."
This is the sixth season in which the Wildcats have reached No. 1. The first time was a six-week stint in 1987-88, and the Wildcats went on to reach the Final Four for the first time. Their longest run at the top was 13 weeks in 2002-03, a season in which the Wildcats were never ranked lower than fourth and finished No. 2 in the final poll with a 28-4 record.
The Wildcats were sixth in the preseason Top 25, and their climb has been highlighted by wins over San Diego State and Duke.
December, 9, 2013
Dec 9
11:30
AM ET
North Carolina plays better with a chip on its shoulder.
[+] Enlarge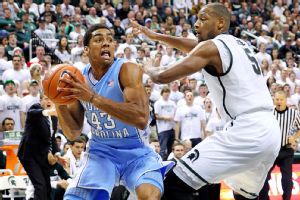 Mike Carter/USA TODAY SportsJames Michael McAdoo and UNC know they have something to prove.
That hasn't been a factor through the years, and this season didn't start off like that either. But forward
James Michael McAdoo
believes the Tar Heels have arrived at that point.
There's the matter of proving they can win without
P.J. Hairston
and
Leslie McDonald
, which after the home loss to Belmont in the third game of the season, it looked like the team had too many flaws. North Carolina was thin on the wing and too limited on the perimeter and surely would struggle as long as the duo was out of the lineup.
Then Louisville happened.
"We've had to deal with some stuff off the court, we had to deal with people kind of giving up on us. I guess after the Belmont loss, [that was expected]. [But] we understand that we still have a chance to be special," sophomore
Marcus Paige
said.
Forward
Brice Johnson
admitted the Heels got overconfident after the win over the Cardinals, hence the loss to UAB in the next game. But losing in Birmingham may have been the awakening they needed.
Losing to Belmont seemed fluky considering UNC's 26 missed free throws. But losing to the Blazers was squarely due to a lack of effort. But as the doubters got more vocal, the Heels got more resilient.
"We were like, we can't keep doing that, we have to play up to our standards," Johnson said.
Bounced from the Associated Press Top 25, the Heels again heard about their limitations. However, they never doubted their potential.
The road win at No. 1 Michigan State solidified it.
"We know how good we can be," McAdoo said. "And if we get those guys [Hairston and McDonald] back, then we know how good we really can be. Until then, we'll just keep working in practice, playing as hard as we can on game day and letting the chips fall."
McAdoo is a prime example of a player with something to prove. The highly-touted talent has had the team's most glaring struggles.
Aside from freshman
Nate Britt
being thrown into the starting lineup, no other player has had to make quite the leap that McAdoo has been asked to make. He never had to play small forward before doing it in stretches this season, and he's still just eight games into learning about the position.
He averaged nearly 20 points a game and nine rebounds in the first three games before hitting a four-game slump. His numbers were cut in half, as he didn't reach double figures during that span and grabbed just 3.5 rebounds.
McAdoo had been pressing, but his performance against UNC Greensboro on Saturday (13 points, seven rebounds, three steals) might mean he's turned the corner, just like his team.
"I feel like coach said just give in the [area of] effort and things will just start to turn around," McAdoo said. "So that's what I've been doing -- just trying to show up every day ready to work at practice."
December, 9, 2013
Dec 9
11:01
AM ET
Shooting guard
Rashad Vaughn
(Golden Valley, Minn./Findlay College Prep), the No. 17 player in the ESPN 100, is being hotly pursued by several programs. The 6-foot-6, 200-pound prospect already has made two official visits (to Iowa State and UNLV) and recently set up a visit to North Carolina for Feb. 15, when the Tar Heels play Pittsburgh. For his final two visits, he is likely to choose among Arizona, Baylor, Kansas, Kentucky and Minnesota.
Let's break down the game of one of the top shooting guards in the country:
To continue reading this article you must be an Insider
December, 7, 2013
Dec 7
11:13
PM ET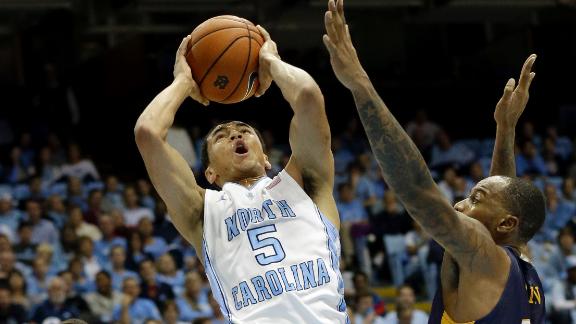 CHAPEL HILL, N.C. -- North Carolina's
Kennedy Meeks
dropped nearly 40 pounds before the season began, yet he still knows quite well how to throw his weight around.
The 6-foot-9, 280-pounder was at it again Saturday night with 12 points, eight rebounds and two assists in just 15 minutes of play during Carolina's
81-50 win
over UNC Greensboro, which is coached by former UNC guard Wes Miller.
"Down in the post, he still has that weight, so he uses it very well, spinning off guys getting other people in the air, finishing through contact and stuff like that," sophomore forward
J.P. Tokoto
said.
Had North Carolina coach Roy Williams decided to chart center Meeks' development through the first eight games of the season, chances are the freshman from Charlotte would be ahead of schedule.
Since posting 13 points, 12 rebounds and seven assists against Louisville, Meeks continues to give the Tar Heels reasons to be optimistic about his potential. He has scored double figures in three of their past four games, and his eight rebounds against UNCG marked the third time he has led the team in a single game.
"I'm maintaining my goals right now; I can get better," Meeks said.
[+] Enlarge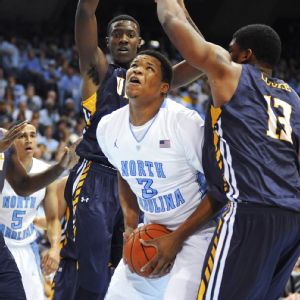 Liz Condo/USA TODAY Sports Six-foot-9 freshman Kennedy Meeks posted his third double-figure point total of the season Saturday.
Who can argue with him after watching him mature the past few weeks? UNCG certainly was outsized by Carolina in the frontcourt and was outscored 40-26 in the paint.
But remember, Meeks also put up 15 points and seven rebounds in Wednesday's win over Michigan State. Those Spartans in East Lansing had comparable big men, and Meeks still stood tall.
"His confidence is slowly growing just because he's getting that experience, especially in some big-time games early in the year," sophomore guard
Marcus Paige
said. "He's had some success, and that's going to help him. I try to stay on him -- keep his highs not too high and manage his lows. He's a freshman; that's going to happen. He has a chance to be really good."
Last season, Carolina didn't really have a good scoring option in the post. This year, they have two.
Brice Johnson
added some strength and has become consistent as a sophomore. He is the team's second-leading scorer. But that was expected.
Meeks was a bit of a wild card, because no one knew how fast he would adapt to college basketball.
Williams has raved about Meeks' ability to throw outlet passes to get the Heels in transition. Against the Spartans, he showed he has good vision in the half court too. In a second-half lineup that featured all three of the UNC freshman, Meeks delivered a textbook backdoor pass to fellow freshman
Nate Britt
for a layup. By the way, Meeks has only three turnovers in eight games.
"Kennedy is great," Paige said. "He takes care of the ball, he makes good decisions in the post, and he can score … I know it's early in his career, but he's showing a lot of positive things."
They were virtually all on display against the Spartans, like a fadeway jump shot, or like an ability to step outside of the paint and shoot a 15-foot jumper with the soft touch of a guard.
And he's not only a scorer. His rebounding total of 53 through eight games trails Johnson for the team lead by only two, despite the fact that Johnson has played nearly 50 more minutes this season.
About the only thing Meeks doesn't have, he still can get as he sheds more weight.
"He's got to keep working on his body, because he needs to be explosive, and he's not explosive in there," Williams said. "He's tipping the ball a couple of times, and if you're more explosive, you go up and get it with two hands and follow or dunk something like that. But offensively he really helps us."
And for now, that's exactly what the Heels need.
December, 6, 2013
Dec 6
11:45
AM ET
In the news conference prior to North Carolina's game against Michigan State, coach Roy Williams answered a final question before leaving the microphone to make way for forward
Brice Johnson
.
"He'll tell you he's great defensively, be sure to tell him I said he was," Williams said, before pausing to add, "I don't think he'll buy into it."
Johnson clearly buys into offense.
[+] Enlarge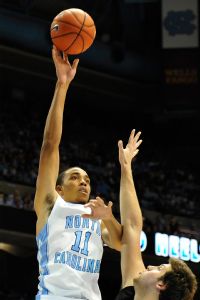 Grant Halverson/Getty ImagesBrice Johnson has been highly efficient on offense, but better defense coudl earn him more minutes.
He's arguably Carolina's most reliable post scorer. He has scored double figures in every game except UAB. He's shooting 62.5 percent from the field, averaging 13.6 points per game and a team-best 7.0 rebounds.
But what has kept Johnson from being an indispensable player who gets 30 minutes a game has been his defense.
"He's got a long way to go," Williams said. "He can block a shot, but he's got to get down in his stance and keep working, keep working and keep working. You don't want to be a player who just helps his team on the offensive end of the floor."
Johnson is good at a few defensive nuances such as stopping a point guard from advancing the ball in half court while his man (usually the in-bounds thrower) trots up the court. But the Michigan State game also showed some of the little things he's bad at defensively.
Williams could be heard screaming, "Briiiice!" when Johnson allowed Michigan State's
Kenny Kaminski
to grab their first offensive rebound of the second half. Kaminski missed a 3-pointer and instead of boxing out, Johnson began floating down the floor preparing to get out in transition. The problem was the rebound bounced straight back to Kaminski who drove to the basket and drew a foul.
On an in-bounds pass under the basket, Johnson got screened and didn't communicate with center
Kennedy Meeks
that
Adreian Payne
was curling to the lane. Payne scored on a lob pass that Meeks never saw coming until the ball was dunked.
Another play saw Johnson lose track of Kaminski and score on a tip-in of his own miss.
"He still has a long ways to go with getting his intensity up there and maintaining it at a high level," Williams said. "I think that's the question mark right there."
Against Michigan State, Johnson primarily guarded Payne and
Branden Dawson
. Neither got the best of him on defense. In fact, the Tar Heels outscored Michigan State by 10 points during the career-high 25 minutes Johnson was on the floor.
For Johnson to continue to play those kinds of minutes, he knows that his defensive intensity is key.
"It's very difficult knowing that you're trying to do as much as you can, but it just seems like it's not enough -- to me it seems like enough, but it's not," Johnson said. "I'm starting to realize that. I need to do a lot more because what Coach wants is a lot more from what I need to do than I see in myself."
December, 5, 2013
Dec 5
11:45
AM ET
By
ESPN.com staff
| ESPN.com
Starting at 1 p.m. ET, we're talking Big Ten/ACC Challenge, Wooden Watch and anything else you'd like to discuss in the world of college basketball.
Send in your questions and comments to Andy Katz and Eamonn Brennan and we'll post as many of them as we can.
December, 5, 2013
Dec 5
11:45
AM ET
North Carolina coach Roy Williams said heading into the Michigan State game that he expected his team to play better than it did in Sunday's loss at UAB.
[+] Enlarge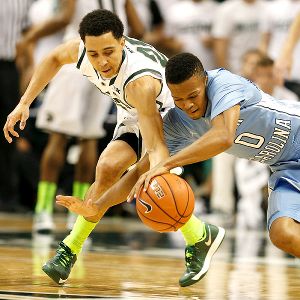 Gregory Shamus/Getty ImagesNate Britt had a season-high six rebounds in the victory over Michigan State.
I think it's safe to say "playing better" didn't actually equate to a double-digit win on the road against the nation's No. 1 team in his mind.
If you woke up this morning still unable to explain North Carolina's 79-65 win over Michigan State on Wednesday night, you're probably not alone, but the evidence was right in front of you. Carolina set an early tone that this game would be different than its previous outing. The Heels actively disrupted passing lanes and racked up deflections, an unofficial, but all-important, barometer of hustle stats.
After UAB obliterated UNC on the boards 52-37 -- including 21 offensive rebounds -- it returned the favor against the Spartans. UNC enjoyed a 49-38 rebounding advantage and outscored MSU 19-10 in second-chance points.
The Heels' starting backcourt hadn't totaled more than six rebounds in a game all season.
Nate Britt
accomplished that by himself in recording a season-best six boards. He had entered the game with a total of 11 rebounds in six games.
Marcus Paige
also added five rebounds, which tied his season-high. And most importantly, sending its guards to the glass didn't slow UNC down. Carolina was still able to get out in transition and held a slight 12-10 edge in fast-break points over the Spartans. (More proof that it maximized its transition game: UNC outscored Michigan State by 12 in points-off-turnovers, despite the Spartans having just one more.)
J.P. Tokoto
, who played a good stint of the second half at shooting guard in the Heels' big lineup, recorded his first-ever double-double thanks to a career-high 10 rebounds.
Williams said the Heels couldn't afford to become a one-dimensional team where they stood around waiting for Paige to handle the scoring. Five UNC players reached double figures, including a career-best 15 points from
Kennedy Meeks
.
Brice Johnson
's 14 points, six rebounds and two blocks equated to what I thought was his best game of the season when you consider the competition and the stakes in this game. (Yes, it was even better than his 24 points and 12 rebounds against Richmond.) His back-to-back baskets after the Spartans tied the game at 49 put Carolina ahead for good. Johnson and Meeks combined to help the Heels outscore the Spartans 44-28 in points the paint.
Britt was scoreless and took only three shots against UAB. In fact, the Blazers sagged off him and dared him to shoot it. Against the Spartans, Britt played with the same attack-mode mentality he had against Louisville. He got to the rim, which meant he got to the free-throw line, where he made 7-of-8 attempts.
Would you believe that free throws were finally not a liability for the Heels? They cracked the 70 percent mark for just the third time this season in making 19-of-27 from the stripe.
Johnson said North Carolina didn't move past its win over then-No. 3 Louisville. We'll find out on Saturday against UNC Greensboro if the Tar Heels have learned how to handle success.
December, 5, 2013
Dec 5
1:16
AM ET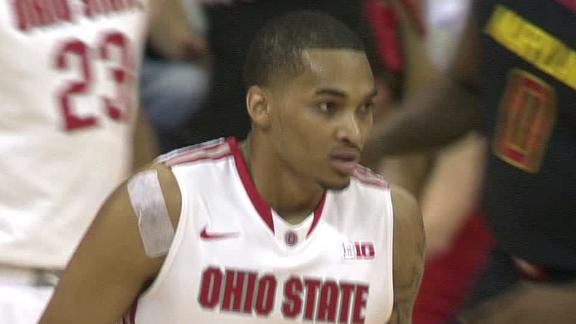 The 15th annual Big Ten-ACC Challenge ended with no resolution to conference supremacy. For the second straight season the clash ended in a 6-6 tie, leaving the ACC with a 10-3-2 advantage.
We know which teams really won the night though: North Carolina, for sure, with its upset over No. 1 Michigan State. No. 8 Wisconsin, which like the Tar Heels won on the road, beating Virginia. And No. 5 Ohio State, which is on a steady ascent up the polls.
On the surface the Buckeyes' win doesn't look that big, as they had unranked Maryland at home. But the way they controlled the game from start to finish and gave the Terrapins a harsh introduction to the league they'll join next year.
Defensively, Ohio State dissected everything the Terps wanted to do. Maryland shot just 39 percent from the field and gave up 25 points off 14 turnovers. That included the final sequence of the first half, when
Aaron Craft
dove to the floor for a steal and passed ahead to
Sam Thompson
for a buzzer-beating basket.
[+] Enlarge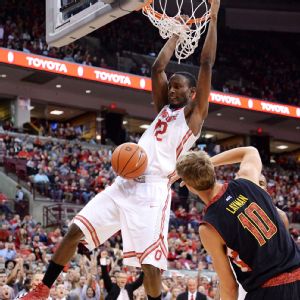 Jamie Sabau/Getty ImagesSam Thompson's highlight-reel dunks capped off a dominating night for No. 5 Ohio State.
The Buckeyes basically beat the Terps like a ranked team should at home. They never let the lead dip below 10 the entire second half and once up 25 turned the game into one long highlight reel for Thompson.
Columbus discovered the alley-oop Wednesday night as Thompson slammed down lobs on four different occasions.
And those shooting woes that threatened to drag down OSU seem to be a thing of the past too. The Buckeyes shot 52 percent from the field, powered by
LaQuinton Ross
' 7-of-13 performance. Ross finished with a game-high 20 points.
Ohio State honored former coach Gary Williams prior to the game. Williams coached the Buckeyes from 1986-89 before leaving Columbus for College Park, where he would win the 2002 national title at Maryland. Williams then had to sit through the Terps being handled by the Buckeyes.
Chris Collins also returned to familiar territory, as the Northwestern coach returned to ACC country for the first time since taking the Wildcats job in the offseason. Collins, who played for Duke and also spent 13 years as an assistant coach under Mike Krzyzewski, knows Northwestern's opponent Wednesday, NC State, well. But his intimate knowledge didn't help the Wildcats muster a win.
Collins' welcome-back package included a technical foul and 22 points from
T.J. Warren
, as the Wolfpack cruised to a 69-48 win.
Purdue matched NC State for the biggest margin of victory in the challenge with its 88-67 victory over Boston College. The Boilermakers, led by a season-high 18 points from
Terone Johnson
, have quietly won five straight in the challenge.
Nebraska salvaged the night for the Big Ten by beating Miami 60-49 in Lincoln. The Cornhuskers held the Canes to a frigid 24 percent shooting performance in the first half en route to a season-low 13 points at the break.
Michigan State didn't hit new lows against the Tar Heels, it simply didn't hit back at all.
Most expected Northwestern, Boston College and Miami to have a hard time winning on the road. No one expected the Spartans to lack the fight generally accepted as the norm from Tom Izzo's team. Even though they bounced back from a 12-point deficit in the first half to tie the game at intermission, they never seemed to bring the fight to the Tar Heels.
MSU's punchless night could be summed up in one second-half exchange.
Branden Dawson
seemingly had a clear path to the rim and was poised to give Sparty its first lead of the game, breaking a 38-38 tie. But
J.P. Tokoto
rotated in time to block the shot and start a fast break that ended with
Marcus Paige
completing a three-point play.
Carolina never trailed afterward and Michigan State literally hobbled through the rest of the game.
Senior forward
Adreian Payne
kept cramping up, at one point during the middle of a play, he literally stood on one leg while grabbing his other foot behind him to stretch.
Gary Harris
, who sat out Michigan State's win over Mount St. Mary's with an ankle injury, seemed to lack some of his explosiveness.
Keith Appling
suffered an apparent hip injury late in the first half and shot 5-of-15 from the field.
Virginia joined Michigan State as a big loser from Wednesday night. The Cavs have made quite the acquaintance with the NCAA bubble and missed possibly their last chance for a statement win before conference play begins.
Both of the Cavaliers' losses have come at home to ranked teams, and the common thread is that they haven't mustered much offense either time.
UVA, which lost to VCU 59-56 on a last-second shot, scored its lowest point total in 20 years against Wisconsin. The Cavs managed only 18 points in the second half, and their total of 38 was the lowest output since losing to UConn 77-36 in 1993.
So while the challenge ended in a tie, the winners and losers Wednesday were clearly defined.
December, 5, 2013
Dec 5
1:15
AM ET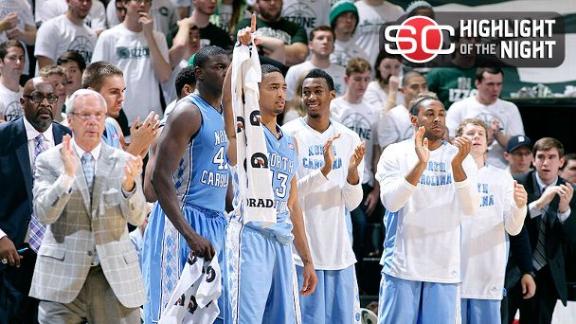 EAST LANSING, Mich. -- The
North Carolina Tar Heels
could win the national title.
Or they could lose the first round of the NIT.
At this point, both seem equally plausible.
And a month into the season, Roy Williams' group has proven itself not as consistent, not as hard-nosed, not as untalented, but as the most confusing team in all of college basketball.
In the last three weeks the Tar Heels have picked up big wins over No. 3 Louisville and No. 1 Michigan State. But they've also suffered losses to Belmont and UAB.
"I'll make this short," Williams said following his team's 79-65 win on the road over the top-ranked Spartans. "I don't know. I don't know. And I don't know."
And he doesn't.
How does a coach possibly put the same players, same plan, same drill on the floor and achieve such variant results?
[+] Enlarge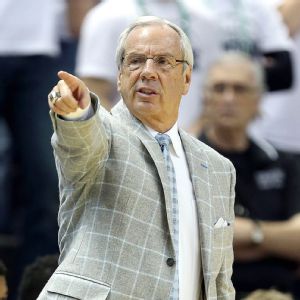 Mike Carter/USA TODAY SportsNorth Carolina coach Roy Williams is as baffled as anyone by his team's roller coaster season.
How does a coach conduct two press conference just three days apart when he has to try and explain a win over the top dog and a loss to a nobody but can't find the words for either?
How does a coach not become confused with that?
Williams certainly is. And who could blame him?
This has been a whirlwind. And the games, just like his players' play, have been hard to keep track of, hard to diagnose when it goes bad (and it has gone very, very bad) and hard to sustain when it has been good (and it was very, very good against Michigan State).
Midway through the press conference, a UNC media relations employee corrected Williams on the date of a specific practice he had referenced.
For a moment Williams just stood there and looked at him. Then he looked at the media and leaned forward.
"I have no idea what freaking day it is," Williams responded. "Does that mean today is Wednesday?"
Yes, it was Wednesday. Yes, his team had just beaten the nation's best. And yes, the UAB/Belmont nightmare was still true.
This team's identity is that it has no identity. At least not yet. But maybe after this game they have something to build on.
So the questions from the media remained simple, but the answers stayed true.
Did he know any more about his team after this game than he did two days or two weeks ago?
"Who knows?" he said.
Has he ever been a part of a team with this high of highs and this low of lows?
"I have no idea," Williams said. "I have no idea. … I'd hate to think it has been worse than this."
"It's hard to explain," sophomore
Marcus Paige
added. "It's highs and lows so far for us. We beat a top five team, lose, beat another. It's just, it's crazy. … Hopefully we can try to understand that consistency is going to pay off."
Perhaps the only consistent thing about this all was that Williams won. He's 7-0 against Izzo now and it was the 13th time a UNC team had taken down a top-ranked opponent.
But the truth of the matter is that this inconsistency is what Williams can expect with youth. His team doesn't even travel a single senior and at times against Izzo's Spartans the oldest Tar Heel on the floor was a sophomore.
Williams' leading scorer was a freshman. His leading rebounder was a sophomore. His best inside presence matching up with preseason All-Big Ten post player was, you guessed it, a freshman. A sophomore tallied the most assists. That same sophomore played the most minutes. In fact, 77 percent of the minutes were divided among Williams' freshmen and sophomores.
And this, matching up with Tom Izzo's arsenal of experience in
Adreian Payne
and fellow senior
Keith Appling
and junior
Travis Trice
and sophomore All-Big Ten preseason Player of the Year
Gary Harris
.
"Experience definitely helps combat some of the highs and lows, guys that have been through it before," Paige said. "This is a great way for us to keep learning that showing what we're capable of and how good of a year we can have if we stay together and have collective effort."
But even with that youth, the Tar Heels have shown that when they do stay together, when they have a collective effort, they can play with almost anyone in the country.
And they've shown that when they don't have that, they can lose to almost anyone in the country.
"I think we have to learn that, that every night we have to have the same intensity,"
Nate Britt
said. "I feel like those are the reasons why we took that loss to UAB, why we took that loss to Belmont, just because we didn't come out ready to play."
But against the Spartans, they certainly were ready to play.
The Tar Heels had five players score in double figures and found ways to stave off a possible MSU resurgence every time the Spartans began to try and find life.
North Carolina came into its game as a nine-point underdog and left with a 14-point win.
It's what makes this game so electrifying.
It's what makes these games worth playing.
It's what makes Williams so confused.
"You can't tell in college basketball what's going to happen," Williams said.
Really, that might be the only thing Williams can tell about this team right now.
December, 5, 2013
Dec 5
12:32
AM ET
AP Photo/Chuck BurtonRoy Williams (right) improved to 7-0 against Tom Izzo since taking over at North Carolina.
No starter scored more than 13 points, but
North Carolina
got 31 points from its bench and defeated No. 1
Michigan State
79-65 on Wednesday. According to the Elias Sports Bureau, Carolina is the first team to beat the AP No. 1 team AND the defending national champion in non-conference, regular-season games in the same season since UCLA in 1986-87.
That year, the Bruins beat defending champions Louisville -- just as UNC did this season -- and No. 1 North Carolina.
It's the Tar Heels' 13th win against the AP No. 1 team, more than any other school and it's the seventh time Roy Williams has beaten the AP No. 1 team, tied with Gary Williams for the most all time.
Williams is 7-0 against Michigan State as UNC's head coach, and Carolina has won seven straight against the Spartans, improving to 12-3 against Michigan State.
The Tar Heels are the first unranked team in 10 seasons to go on the road and beat the AP No. 1 team in a nonconference game, and just the eighth team to ever pull that off.
It's the second-earliest road win by date against the AP No. 1 team. The only one earlier was on Nov. 26, 1996, when Xavier won at No. 1 Cincinnati.
In Williams' seven consecutive wins against Tom Izzo since Williams became North Carolina's head coach, the Tar Heels have outscored the Spartans by more than 16 points per game and have held them to just 36.5 percent shooting.
North Carolina shot just 2-for-11 from 3-point range, just the third team since the 3-point line was introduced (in 1986-87) to beat the AP No. 1 team on the road while making two or fewer 3-pointers.
The loss by Michigan State is its first at home against an unranked team since Jan. 27, 2011, snapping a 35-game win streak in such games.
December, 4, 2013
Dec 4
12:31
PM ET
By
ESPN.com staff
| ESPN.com
To watch on your smart phone, click here.
ESPN.com college basketball reporters Eamonn Brennan, Myron Medcalf and C.L. Brown discuss the Big Ten/ACC Challenge.