August, 19, 2014
Aug 19
7:35
PM ET
Associated Press
SOUTH BEND, Ind. -- Notre Dame offensive coordinator Mike Denbrock disclosed Tuesday the reason he missed the start of training camp is he's recovering from prostate cancer surgery.
Denbrock said he learned he had cancer while undergoing blood tests in June while applying for life insurance. He said the doctor believes he removed all the cancer.
Denbrock said it will be a while until he's back at full strength, but said he is getting stronger every day. He said he didn't want to say how much he's been working "because my wife and my doctor will probably hunt me down." He said he's been able to do more than he expected.
He joked that the receivers were happiest to see him back, because coach Brian Kelly has filled in for him as receivers coach.
August, 19, 2014
Aug 19
6:19
PM ET
Associated Press
SOUTH BEND, Ind. -- Quarterback Everett Golson says Notre Dame football players are rallying around the loss of four teammates while the university investigates whether they were involved in academic dishonesty.
Golson says he found out a year ago when he was suspended for academic impropriety who is true friends were. He says adversity brings a "true brotherhood."
Linebacker Jaylon Smith echoed that sentiments, saying the Irish are family.
Most of the other members of the 17th-ranked Fighting Irish who spoke during Tuesday's media day wouldn't comment about how the team was reacting to the losses of starting cornerback KeiVarae Russell, leading returning receiver DaVaris Daniels, defensive end Ishaq Williams and backup linebacker Kendall Moore, saying it was a team issue.
School officials say they don't know how long the investigation will take.
August, 19, 2014
Aug 19
12:04
PM ET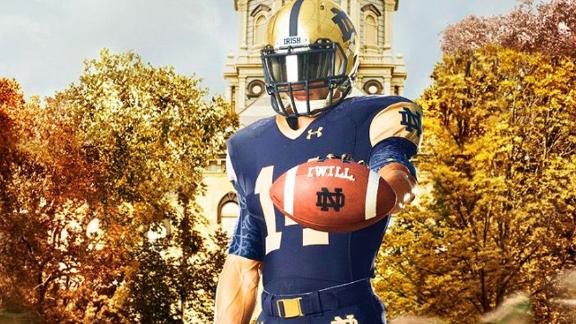 The largest college shoe and apparel deal kicked off in earnest Tuesday, as Under Armour revealed its new Notre Dame football uniforms.
While the home and away uniforms are predictably more traditional, the uniform made for Notre Dame's Shamrock Series game against Purdue on Sept. 13 in Indianapolis is sure to draw a stronger reaction.
The home blue jersey for the game features gold shoulders and an angled gold stripe above the knees. A mosaic tile pattern borrowed from the floor of the rotunda building that features the famous golden dome has been used on the shoulders, the underlayer and the gloves.
More notably, the iconic gold helmet features the interlocking "ND" for the first time in the program's 127-year history. The helmet is also meant to match the texture of the dome.
Embroidered on the hem of the jerseys is "God, Country, Notre Dame," the famous phrase engraved into the stone on the door of the Basilica of the Sacred Heart on the school's campus.
Under Armour signed a 10-year deal worth $90 million with Notre Dame in January, the largest shoe and apparel deal in college history.
Some of the cost of the deal will be passed on to the consumer. The top of the line authentic jersey, which went on sale Tuesday morning, costs $199, the highest price of any jersey at retail this season.
August, 19, 2014
Aug 19
12:00
PM ET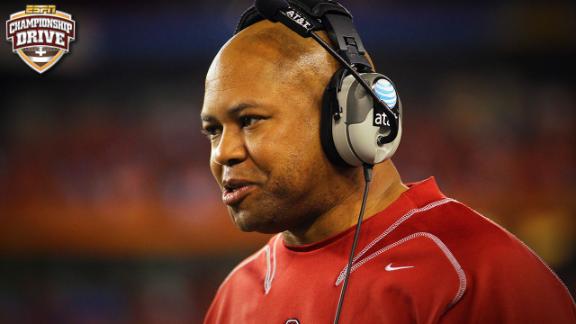 Not even West Virginia athletic director Oliver Luck knows what the ideal nonconference schedule should look like in the new era of the College Football Playoff -- and he's on the selection committee.
Here's a good start: Alabama versus USC. LSU versus Wisconsin. Michigan versus Oklahoma. Notre Dame at Texas. Clemson at Auburn.
A plethora of blockbuster matchups have been scheduled for coming seasons, and while it would be faulty to assume they are all a product of the playoff, there's no question programs across the country are strategically beefing up their lineups with the intent of impressing the selection committee. "Strength of schedule" is a phrase fans are going to hear ad nauseum in the College Football Playoff era, as it will be one of the factors the 13-member selection committee considers when choosing the top four teams in the country.
Just how heavily it will be weighed, though, remains to be seen.
"I don't know if I want to give it a percentage," Luck said. "Everybody, they may view it a little bit differently on the committee, but I certainly believe it's important. ... I do think it's something that matters. There are years you may not face the conference heavyweight, or conference powerhouses. In those cases, it will be important to look at what a team has done with its nonconference scheduling."
Virginia Tech, for example, does not play defending national champ Florida State this fall -- and will see the Seminoles only twice through 2024 -- but the Hokies will travel to Ohio State for a nationally televised game in Week 2, and they've scheduled games against Wisconsin (2019-20), Michigan (2020-21), West Virginia (2021-22), Penn State (2022-23) and Purdue (2023). Tennessee, though, has Alabama as its permanent crossover partner, and the SEC has implemented a rule requiring all schools to schedule at least one opponent from another Power Five school in their nonconference schedule.
August, 19, 2014
Aug 19
8:00
AM ET
August, 18, 2014
Aug 18
12:14
PM ET
August, 18, 2014
Aug 18
12:00
PM ET
The 2014 college football season starts in 10 days. We're getting you ready by counting down the ACC's 10 biggest battles with playoff implications. Nos. 3 and 4 are up today.
No. 4
The matchup:
No. 9 South Carolina at No. 16 Clemson
Date/location:
Nov. 29 at Memorial Stadium, TBA
Why it matters:
The Gamecocks have owned the Tigers in recent years, but Clemson has still been able to play in two BCS bowl games. If Clemson is going to make the College Football Playoff, the Tigers will likely have to defeat their in-state rival. Those two could be playing for a bid in the playoff the final weekend in November. The game could have implications for Florida State, too. If the Seminoles lose a game -- whether to Clemson or another team --they might need all the strength of schedule help they can get. The Gamecocks are a preseason top-10 team, and a Clemson win over South Carolina would benefit Florida State's case.
No. 3
The matchup:
No. 17 Notre Dame at No. 1 Florida State
Date/location:
Oct. 18, Doak Campbell Stadium, TBA
Why it matters:
The fact of the matter is every game on the Seminoles' schedule is big for the ACC. They are the conference's best shot at the playoff and a national championship. Notre Dame could be down their top defensive back and receiver, but the Fighting Irish do return quarterback
Everett Golson
. The reviews on Golson out of the Irish's camp have been promising, and he was recently named the starter after missing the 2013 season. It'll be interesting to see how the rest of the backfield develops, especially with running back
Greg Bryant
. He was a highly regarded prospect in the 2013 class but failed to make a mark as a freshman. A strong running game, one of the best ways to counteract a
Jameis Winston
-led offense, could be the beginning of a recipe to upset Florida State. The defense, which carried Notre Dame to the 2012 title game, will not be nearly as strong, though.
August, 18, 2014
Aug 18
10:52
AM ET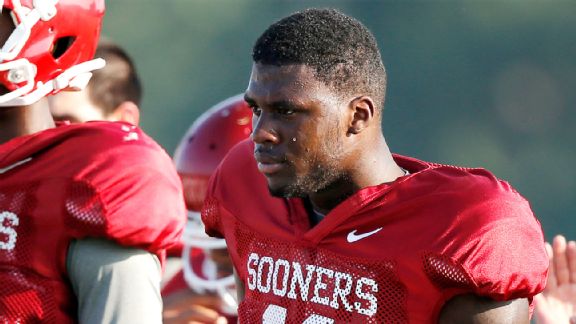 AP Photo/Sue OgrockiOklahoma coach Bob Stoops felt he knew enough about Dorial Green-Beckham to bring him in.
After receiver Damore'ea Stringfellow left the Washington program following his arrest for being involved in a fight during a Super Bowl celebration for the Seattle Seahawks, it didn't take long for other FBS programs to line up for his services.
In fact, Nebraska coach Bo Pelini was so upset about not landing Stringfellow, who was charged with two counts of fourth-degree assault and one count of third-degree malicious mischief, that he all but accused Ole Miss' coaches of improper recruiting.
Former Missouri receiver Dorial Green-Beckham was dismissed in April after he was accused (but never charged) with pushing an 18-year-old female student down four stairs. He had previously been arrested twice on marijuana-related charges. Despite Green-Beckham's troubled past, Oklahoma accepted him as a transfer in July and has even appealed to the NCAA for a waiver to allow him to play this season.
August, 18, 2014
Aug 18
8:00
AM ET
Busy weekend. Here's what everyone has to say about it ...
August, 17, 2014
Aug 17
9:45
PM ET
August, 17, 2014
Aug 17
3:54
PM ET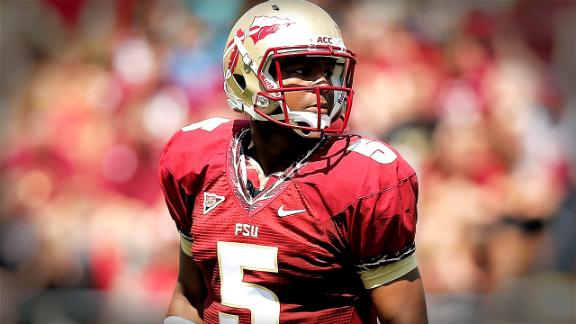 This one's for you, Auburn fan who thinks the national runner-up should be higher than sixth in the
Associated Press preseason poll
, released Sunday afternoon. And it's for you, Ohio State fan, to defend the chronically criticized Big Ten, the only Power Five league without a team in the top four of either the AP or
USA Today coaches'
preseason poll.
Don't worry, Baylor fan, we didn't forget you. If you want to climb to the top of beautiful new McLane Stadium and scream about why your Bears should be higher than No. 10 in both polls, go right ahead. Maybe you can hear the same outcries from fans of No. 19 Arizona State, No. 20 Kansas State or No. 24 Missouri, the defending SEC East champ excluded from the coaches' poll while barely squeaking into the AP.
Speaking of the SEC, no other conference had more teams (eight) in the preseason AP poll. So what's the complaint? There could have been more. Meanwhile, the league that ended the SEC's run of national titles, the ACC, placed just three teams -- No. 1 Florida State, No. 16 Clemson and No. 23 North Carolina -- in the AP rankings. Duke fans, grumble away.
Preseason polls serve a therapeutic purpose. They allow us to vent, to argue, to compare, to exclaim, to protest and, most important, to fill time before the games begin later this month. They are part of the American sports fan experience, and you should enjoy them.
Yet for the first time, the polls will have little to no bearing on shaping college football's national championship race. And that's a great thing too.
If Tom Osborne, Condoleezza Rice and Jeff Long were relentlessly refreshing Twitter at 2 p.m. ET Sunday, the time the AP poll was released, we have a problem. If Oliver Luck, Tyrone Willingham and Archie Manning furiously began calculating the Top 25 breakdown by conference, this might not work out. If Mike Tranghese, Barry Alvarez and Pat Haden immediately noticed how similar the AP and coaches' preseason polls are -- teams ranked 7 to 17 are identical, and only two teams, Missouri and Texas, made just one of the polls -- the playoff selection process could go very wrong.
The 13 members of the College Football Playoff selection committee shouldn't care about these rankings. They shouldn't spend one nanosecond analyzing them. They shouldn't read this or any other media report about what the polls suggest about this team or that conference. Here's hoping they spent Sunday fishing, golfing or anything other than poll watching.
This is about you, not them. So go ahead and wonder if a Wisconsin team with a largely revamped roster is rated way too high -- No. 14 in both polls -- and why Iowa, which loses far less than the Badgers off a vastly improved team, failed to make either preseason poll. Ask which set of voters correctly has the order of "O" teams -- Oregon, Oklahoma and Ohio State. Argue whether teams with new quarterbacks (Alabama, Georgia, LSU, Clemson, Texas A&M) are too high or too low.
Notre Dame's inclusion at No. 17 will set off fireworks, but remember the AP votes took place before Friday's announcement that four starters, including star cornerback
KeiVarae Russell
, have been held out pending an academic investigation into potential misconduct.
There's little debate at the top, as defending champion Florida State, led by reigning Heisman Trophy winner
Jameis Winston
, received 57 of the 60 first-place votes in the AP poll. Alabama, which will have a new quarterback but returns arguably the nation's most talented roster, is solidly in second position. It's very close for No. 3 between Oregon, which could have the nation's best player (
Marcus Mariota
), and Oklahoma, which stunned Alabama in the 2014 Sugar Bowl and eyes the next step.
Although the SEC has three teams among the top nine and five in the top 13, the Pac-12 enters the season projected as the nation's No. 2 conference. The quarterback-stacked league has three teams in the top 11 and five in the top 19.
Few would be shocked if the inaugural playoff reveals a field similar to the top of the preseason rankings. We could see four teams from four conferences, as both polls show, or multiple teams from a league like the SEC or Pac-12. Perhaps a team outside the preseason top 10 rises up, like Georgia, Arizona State or Nebraska. While zero teams from Group of Five conferences appear in the AP poll, don't write off UCF, the reigning Fiesta Bowl champion.
Talking season might be over, but debate season is in full swing, at least until the real season begins. So tell the world what you think of the polls. Just don't expect the committee members to listen.
New Notre Dame Uniforms Revealed
FBS INDEP. SCOREBOARD
Friday, 8/29
Saturday, 8/30