December, 6, 2013
Dec 6
10:23
PM ET
The first tangible sign Louis Nix III would not return to Notre Dame was when he posted a picture Thursday on Instagram of the Golden Dome in his rearview mirror.
The second came Friday, when the Sports Business Journal and the Chicago Tribune reported that the redshirt junior nose guard signed with agents Todd France and Brian Ayrault.
Nix would be ineligible to return to Notre Dame once he hires an agent, a clear sign he's headed to the NFL draft.
The leap to the NFL is not surprising considering Nix, who has missed the Fighting Irish's past two games and is out for their bowl game after undergoing meniscus surgery, is currently No. 4 on Scouts Inc.'s list of draft-eligible players. He is No. 10 on Mel Kiper Jr.'s Big Board, as well.
The 6-foot-3, 347-pound Nix is expected to graduate from Notre Dame this month.
The Jacksonville, Fla., native has been an instrumental force in the middle of the Irish's defense this season, displaying a rare blend of quickness and size that makes him coveted at the next level.
December, 6, 2013
Dec 6
8:13
PM ET
ESPN.com news services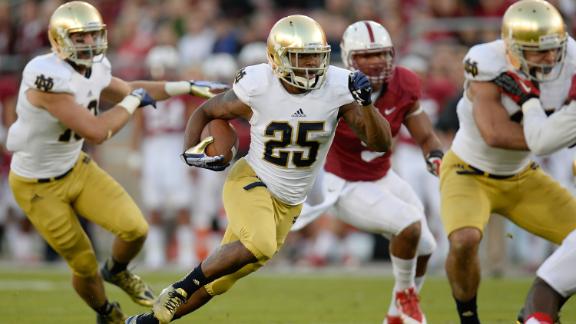 Notre Dame plans to accept a bid to the Pinstripe Bowl at Yankee Stadium, according to multiple reports.
A person familiar with the decision told The Associated Press that Notre Dame officials have informed bowl organizers that the Fighting Irish will play in the Dec. 28 game in New York against a team from the American Athletic Conference.
CBSsports.com earlier reported Notre Dame's decision.
The Fighting Irish were left without a pre-arranged bowl destination this season. Notre Dame's final choice came down to the Hawaii Bowl or the Pinstripe Bowl. The Poinsettia Bowl in San Diego also was a possibility.
Notre Dame regularly tries to play games in the New York area, where it has a large following. The Irish played Army in a regular-season game at Yankee Stadium in 2010, the first college football game at the new stadium. Notre Dame will play Syracuse next season at MetLife Stadium in East Rutherford, N.J.
The Fighting Irish (8-4) will likely play Rutgers if the Scarlet Knights beat USF to become bowl-eligible on Saturday or Houston (8-4).
Notre Dame didn't have a contractual tie-in with any bowls this season, so in a sense it was BCS or bust. The Irish were left to wait for spots to open in third-tier games. The Big 12 didn't have enough bowl-eligible teams to fill its spot in the Pinstripe Bowl.
The Pinstripe Bowl becomes a Big Ten-Atlantic Coast Conference game starting in 2014. Notre Dame joins the ACC next season, though not for football. It will have access to the ACC's bowl lineup.
Information from The Associated Press was used in this report.
December, 6, 2013
Dec 6
12:00
PM ET
December, 5, 2013
Dec 5
12:00
PM ET
Don't worry, tonight's Knicks-Nets contest will be worse than Spurs-Timerbwolves.
December, 5, 2013
Dec 5
9:00
AM ET
Brian Kelly has said that his seniors will have a say in picking Notre Dame's bowl destination. He later
told ESPN.com that he would rather not go to an ACC-affiliated bowl
, since the Irish
will have access to those next season
. And he also mentioned that they are currently looking at bowls that take place before Dec. 29.
(His players
have not sounded excited about the prospect of potentially finishing their season in cold weather, either
.)

Where does that leave Notre Dame among bowls with openings?
The AdvoCare V100 Bowl (Dec. 31) and the Heart of Dallas Bowl (Jan. 1) both take place after Dec. 29, so they are likely out. There is a chance that the BBVA Compass Bowl could be open, too, but the Jan. 4 date would eliminate that as well.
And the New Era Pinstripe Bowl has an affiliation with the ACC starting next season, so you can probably cross that off the list. (Though its Dec. 29 date, the
reported $1.8 million payout
and Notre Dame's huge fan base in New York might give the bowl a chance.)
What, then, is left for the Irish? Here are some bowls with openings:
Beef 'O' Brady's St. Petersburg Bowl
Dec. 23, 2 ET., St. Petersburg, Fla.
(American No. 6 vs. C-USA No. 5)
The American currently has four bowl-eligible teams, though five-win teams SMU and Rutgers both play this weekend. If both win (SMU hosts UCF, Rutgers hosts USF), this game is out of the picture. If one loses … well, the opponent would likely make this game a lot less enticing for the Irish anyway.
Little Caesars Pizza Bowl
Dec. 26, 6 ET, Detroit
(Big Ten No. 8 vs. MAC No. 2)
Penn State's bowl ban, not to mention the likelihood that is the Big Ten getting two teams into BCS bowls, has this game open. But the cold-weather location makes this a less-than-desirable choice for the Irish, based on their criteria. A matchup would likely be against the loser of Friday's MAC title game between Bowling Green and Northern Illinois, or against Ball State.
San Diego County Credit Union Poinsettia Bowl
Dec. 26, 9:30 ET, San Diego
(MWC No. 2 vs. Army)
Army's absence leaves this game with an open slot. And what city has better weather 365-days-a-year than San Diego? Potential opponents could be Fresno State, Utah State or Boise State. (The first two play each other Saturday for the conference title.)
December, 4, 2013
Dec 4
12:00
PM ET
That was a busy Tuesday, no?
December, 4, 2013
Dec 4
10:29
AM ET
Notre Dame finished the regular season 8-4 for the second time in three seasons. It is not where the Fighting Irish want to be, but the fall was not without its high points, either. As the Irish await their bowl fate in the next several days, here is a look at some of the things that went right and some of the things that went wrong for the program during these past 14 weeks.

Where it all started:
Notre Dame made no secret of its goals entering the 2013 season: To get back to the BCS title game, and to finish the deal this time around. The Irish posted the date of this year's title game on the schedule displayed in the auditorium of their football complex, and they entered the season ranked No. 14 in the preseason AP poll and No. 11 in the preseason coaches' poll. Everett Golson's semester-long suspension, announced this past spring, certainly made Notre Dame's goals more difficult, but with seven starters back from a defense that finished No. 2 nationally in scoring last season, the Irish did not expect to miss a beat in 2013.
Where it went wrong:
From a title standpoint, everything fell apart for Notre Dame in a Week 2 prime-time loss at Michigan, which at the time looked like a legitimate Big Ten title contender (with its quarterback,
Devin Gardner
, looking like a potential dark-horse Heisman Trophy candidate). Of course, the Wolverines ended up losing five games, making that Irish loss look worse by the week. Notre Dame's Nov. 9 loss at Pitt, meanwhile, was the final nail in the coffin for the Irish's BCS bowl hopes.
Where it got back on track:
OK, so a four-loss team cannot exactly complain about bad breaks here and there. You are what your record says you are. But the point of this exercise, in the case of Notre Dame, is to look at this from the opposite side of things, which makes it easy to see the Irish as one of the ultimate spoilers of this college football season. Consider two of the teams playing this weekend for spots in the Rose Bowl: Michigan State and Arizona State. Notre Dame's 17-13 win over the Spartans on Sept. 21 was hardly a work of beauty -- kicker/punter
Kyle Brindza
received the game ball in a game in which he missed a field goal and had a punt blocked. But, nearly three months later, here Michigan State is, ranked No. 10 in the latest BCS standings and playing for the Big Ten title against Ohio State, which is likely playing for a spot in the national title game. Had the Irish not beaten the Spartans, then Saturday's showdown in Indianapolis could very well have ended up being a battle between unbeatens for a shot at the sport's grand prize.
Now look at Arizona State, which fell to 3-2 back on Oct. 5 when the Irish handed it a 37-34 loss in Arlington, Texas. All the Sun Devils have done since then is win seven straight, rising to No. 11 in the BCS standings. Their only other loss on the season? A Sept. 21 loss at Stanford. Who do they play Saturday in the Pac-12 title game -- in Tempe, no less? No. 7 Stanford. Had ASU escaped the Irish, they would have been carrying an eight-game winning streak and higher BCS ranking into a home contest against the one team that beat it earlier this season. Win that one this weekend -- making it the champion of the second-best conference -- and you have a 12-1 outfit whose lone loss was avenged. If Ohio State loses this weekend, those Sun Devils would have as strong an argument as anyone to be included in the BCS title game.
December, 3, 2013
Dec 3
6:18
PM ET
Notre Dame offensive coordinator Chuck Martin has been
hired as coach at the University of Miami (Ohio)
, according to ESPN's Joe Schad. A highly-respected coordinator at a big-time program will typically impact recruiting, but that might not be the case at a school like Notre Dame.
To continue reading this article you must be an Insider
December, 3, 2013
Dec 3
5:00
PM ET
Here is Part 2 of our conversation with Brian Kelly.
Fifth-year guys. I know Lo (Wood) and Alex (Welch) reportedly are not coming back. What can you share about those conversations you've had with them or any other players? Is there anyone else you know about at this time?
[+] Enlarge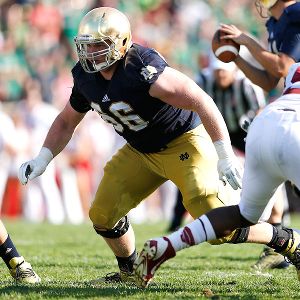 Joe Robbins/Getty ImagesNotre Dame guard Chris Watt injured his knee vs. Stanford.
Brian Kelly:
Well, here's what we do. Those guys that have accelerated their academics to get their degree by the end of this year with a year remaining, I meet with all of them and I lay out the fact that they have roles on this team. Each one of them has a role. And they either accept that role or, because they have put themselves in a position where they have their degree, they've essentially increased their options. Some don't have options, right? Some of those guys don't have the degrees, so they have very little option, in terms of, they can only accept their role within the program. Some of these guys have more options. Some of the guys that I think have talked to the media have more options, they can choose to look at other programs. Each one of these guys I meet with, we go over the role that they have in the program, they either accept that role or they choose to, if they can, look at other options. And the two that you mentioned have obviously looked at other options.
Will those guys remain and practice through the bowl game, or are they kind of out of there the minute they graduate?
BK:
I haven't gotten a chance to really talk to them about that yet. We're going to sit down here once I get my schedule set and we begin practice this weekend, I'll have a meeting with all those guys that have asked. The only guy I've talked to is Lo Wood about asking for a release.
Moving forward, Chris Watt, I know he took a pretty nasty hit the other night. What can you share about him?
BK:
MCL. He's got a first-degree MCL, so that's, to most people, pretty significant. To Chris Watt, that's a papercut. So he's a pretty tough kid. If he can play, he's going to try to play. The only thing that makes it a little bit more difficult is he's got a torn PCL in the same knee. So he's lost a lot of his stability in that knee. We're going to see how it responds here over the next five-to-seven days. But first-degree MCL.
That's a sprain, I'd imagine?
BK:
Yeah that would be a sprain. I'm sorry. That would be a moderate sprain of the MCL.
You've got a while now before you play at home again. How important will it be to resolve whatever issues there are with the playing surface? I know it seems every year like, 'Field Turf could come! Field Turf could come!' What will those conversations be like, if they haven't already taken place?
BK:
It is paramount to our home-field situation, relative to playing and continued success. And I think I've put Jack (Swarbrick) out on the spot on this and he's addressed it. He's had a series of meetings and I'm very confident that we're going to have the field situation resolved in a very short period of time.
Speaking of next year, it's rare at least publicly to not have a schedule announced at this point. I'm sure you know a lot more behind the scenes than we do, but when do you expect maybe a public announcement, and how much more involved are you in conversations like this going from your fourth to fifth year now?
BK:
Yeah, I'm involved in the schedule. But as you know, the ACC schedule bites a lot of that up and then there's still some long-term commitments going back to Knute Rockne that tie our hands. So when you're locked into some contracts -- Navy for one, Stanford, USC, Purdue. Now you're talking about six ACC games, and then another three or four. It doesn't give me much wiggle room. So as much as I'd like to say that I'm at the forefront of shaping a schedule, there's not a lot of wiggle room in these schedules right now. We're trying to do our best to balance it out, and I think 2014, you're going to see four ACC teams, and then in '15 I think we're going to get to six.
I'm sorry -- six ACC teams you said?
BK:
Yeah, we're contracted obviously by the ACC but because of our Arizona State contract, Arizona State has to stay on the schedule, so we're not going to be able to play all of the ACC games next year. So we'll have to add another one in '15.
I'd imagine the conference has been fairly flexible with you guys in working these things out over the last couple of months?
BK:
Yeah they have been, in terms of moving from an early game to a late game. And again, from our standpoint, we're still easing into this over the next year in trying to make all of these contracts the were pre-existing work.
Going off that, talking from an administrative standpoint, again, four, going on five years now on the job, what do you find yourself still learning about? How much more proactive have you been in some of these other conversations as it relates to the state of the program? How has each year — whether it's this one, last one, whatever — kind of contributed to that?
BK:
I think the biggest piece here is academics and degrees, and we want to make it so we don't have this race to get a degree. We need kids to be pacing themselves to get a degree so we've got a much more mature team. We need a more mature football team. We need guys here for four and five years, and that's something that we have to look at in terms of how many hours our guys are taking and really do a very good job of pacing ourselves in terms of our academic preparedness here. We're moving a little bit to a point where we've got all these guys getting their degrees in three-and-a-half years, and that's great, but we also need a more mature football team. So getting my hands around that balance, academically and athletically, is the next stage of developing consistency in a much more -- we need a more veteran, much more mature football team moving forward.
8-4 is not where you guys want to be. You beat Michigan State, though. You beat Arizona State. You beat USC. What do you take from this season? I know it seems like a lot of the goals, at least from the outside, looked off the table the minute Everett went down. How would you just kind of encapsulate the 12 games you guys played this fall?
BK:
We're a couple plays, couple players -- the foundation is solid. We've got enough in place. We need certainly better play at a few positions, but feel really good about the overall strength of the program where you can win games like we've won this year. But certainly consistency at some key positions and continuing to build the depth within the program. But feel good about the overall program. Need to get some key positions to play at a higher level.
December, 3, 2013
Dec 3
3:15
PM ET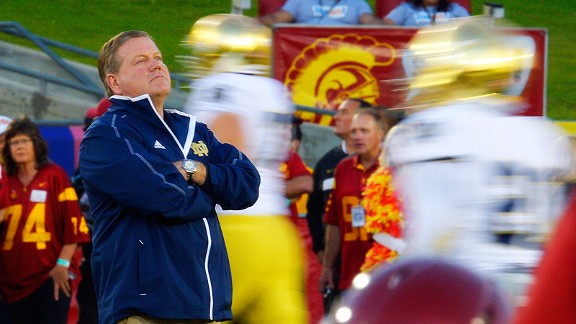 AP Photo/Mark J. TerrillDecember is a busy time of year for Notre Dame coach Brian Kelly.
Notre Dame's 27-20 loss Saturday night at Stanford completed Brian Kelly's fourth regular season with the Irish, who went 8-4. Now comes the busy time, as he is dealing with recruiting, staff turnover, potential NFL departures on his roster and, most importantly for the immediate future, figuring out where and when the Irish's bowl game will be. (Sorry, Subway alums in New York.)
On Tuesday, Kelly was promoting his involvement Tuesday with the Vizio BCS National Championship Fan Throwdown contest, and he chatted with ESPN.com. Here is part 1 of that conversation.
(Of note: This interview took place before reports surfaced that Notre Dame lost its offensive coordinator, Chuck Martin, to Miami of Ohio, where he
will become the RedHawks' next head coach
.)
It's recruiting season, and some of the, relatively speaking, downtime you guys have now between the end of the regular season and the bowl …
BK:
Downtime. Yeah, right. It's the busiest time. (Laughs)
Relatively speaking, as I said, what is the timeline now for some of the guys who have NFL decisions to make? What are the processes like with you and Stephon (Tuitt) and Louis (Nix) and whoever else may be thinking about it?
BK:
We submit the paperwork to the NFL for their pre-draft status. I like to have that information. Then we put together all their academic work relative to what they may need, what they've taken, all that to make sure that we know exactly where they are academically in terms of pursuing their degree and finishing up their work. And then the third piece is we get a lot of information from third-party contacts that I have, relative to what they may look like next year if they come back. I did that with Manti (Te'o), I did that with Tyler (Eifert), I did that with Michael Floyd and really recruit them back to Notre Dame based upon all the information that we put together. Sometimes it's better that they move on to the NFL. Sometimes it's a better situation for them to stay and have another year here. So we'll put all that together. That's what we're doing. We're compiling that information right now, and we'll meet with them sometime next week.
From your philosophy, do you have a rule of thumb where you say, "Hey, you look like you're going to be a first-round pick. It's probably best if you go." Or is it kind of a more open-minded, two-way street with you?,
BK:
No, Manti was really close to being a first-round pick with his pre-draft rating as a junior. He was rated between a first and a third; he wasn't a guaranteed first. Michael was between a one and a three as well. There's no sure things in the first round. Unless you're like
Jadeveon Clowney
or somebody that you know is going to be a top-five pick, I think we re-recruit you, unless you've already got your degree in hand and we know that with a great certainty you're going to be a No. 1 pick. We try to put the information in front of you that allows you to get your degree and increase your opportunity to help Notre Dame and help yourself for the future.
Between Manti, Michael and a couple of other guys, you've had a lot of success in re-recruiting some of these guys. What's that speak to what you've built in the program here in these four years?
BK:
First of all, it's the degree at Notre Dame -- that's huge. Each one is different.
Zack Martin
was between a second- and a fifth-round draft pick. He could've gone, but he wanted to play with his brother. So I think each one of them has different circumstances, but they enjoy being in the program. So what we've built is an atmosphere and an environment that the guys enjoy being here every day and that speaks to the morale and that speaks to the direction of the program. But there are so many other things here as well in terms of the degree, in terms of being able to come back and know that they're on a great platform at Notre Dame, that if they play well and the team wins it enhances their chance of moving up as well.
[+] Enlarge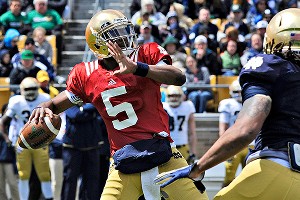 AP Photo/Joe RaymondIt's unlikely that Everett Golson would participate in bowl practices for Notre Dame.
Switching gears a little bit, what do you know or what can you say about the status of Everett Golson right now?
BK:
I've been assured that based upon all of the information that has been provided that he's going to be re-admitted on Dec. 13, and that information has been provided to admissions and it's just a matter of them sending out the admittance letter and then him being back on campus sometime around the 15th of December.
You've talked about possibly integrating him into bowl practices. What would be the process with that? What would you hope to get out of him in that limited time?
BK:
Now that I'm looking at the schedule and the kind of bowls that we're looking at right now, if he comes back on, let's say the 16th, we're not going to practice again because we're leaving probably on the 20th, 21st, somewhere in there. I really don't even think he'll have a chance to practice, now that we're looking at bowl games that are going to be happening before the 29th of December. It's unlikely, given the timetable, that he would even practice.
Can he travel with you guys to the game?
BK:
He cannot, no. He cannot travel to a competition site.
Speaking of bowls, what are you thinking of in terms of options here? I know you've said this will be a reward for the seniors; they seem pretty opposed to cold weather. Would that rule out New York? How open-minded is this process right now?
BK:
I don't think it's open-minded. I think we've narrowed it down considerably. I'd say there's probably three bowls that we're looking at. But I think we're really down to a narrow focus on the bowl game situations. And again, I think just to give you a bit of an idea, we tie into ACC bowls next year, and so we'll be part of that rotation beginning next year. So we'd like to examine bowls that are not tied into the ACC for one last go-around, and so our focus is on not being tied into some of those ACC games right now. And we'll see how that plays out.
December, 3, 2013
Dec 3
1:13
PM ET
ESPN.com news services
[+] Enlarge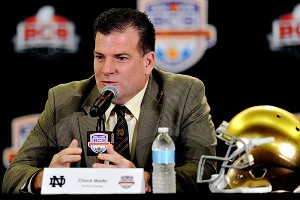 Steve Mitchell/USA TODAY SportsChuck Martin will take over a RedHawks team that has won two or fewer games four times in the past eight years.
Notre Dame assistant Chuck Martin has accepted the head-coach position at Miami (Ohio), the school announced Tuesday afternoon.
Martin succeeds Don Treadwell, who was fired after the RedHawks lost their first five games. Treadwell, a Miami graduate, went 8-21 at his alma mater.
The RedHawks lost to Ball State 55-14 on Friday, finishing the season 0-12 under offensive coordinator Mike Bath, the interim coach. It was the first time since 1988 that they failed to win a game and only the fourth time since 1900. They are 8-28 over the past three seasons and have won two or fewer games four times in the past eight years.
Martin, 45, received a five-year contract to try to restore Miami's program. The deal includes base salaries of $450,000 per year plus bonuses, athletic director David Sayler said.
"Miami football tradition is coming back to where it has been for many, many years," Martin said. "I was getting my hair cut the other day sitting in the same seat that [former coach] Ara Parseghian sat in the day before. They said he was saying, '[Miami's] got to get this right this time.' I was so excited. He was talking about the job I was about to get."
December, 3, 2013
Dec 3
1:00
PM ET
Notre Dame will be a partial member of the ACC in football after this season. In Year 1, the Irish might have just a one-third partnership.
The school is trying to move one of its five scheduled ACC games for next fall to the 2015 season, Notre Dame coach Brian Kelly told ESPN.com on Tuesday. That would free up a 2014 Irish schedule that currently has 13 contracted opponents for 12 available slots. Notre Dame would still play the obligated 15 ACC games over the next three seasons, since the 2015 slate would then have six ACC opponents.
[+] Enlarge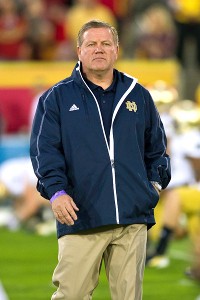 Matt Cashore/USA TODAY SportsNotre Dame coach Brian Kelly is hoping for some scheduling flexibility from the ACC.
"The ACC schedule bites a lot of that up, and then there's still some long-term commitments going back to Knute Rockne that tie our hands," Kelly said. "So when you're locked into some contracts — Navy for one, Stanford, USC, Purdue — now you're talking about six ACC games, and then another three or four. It doesn't give me much wiggle room. So as much as I'd like to say that I'm at the forefront of shaping a schedule, there's not a lot of wiggle room in these schedules right now. We're trying to do our best to balance it out, and I think 2014, you're going to see four ACC teams, and then in '15 I think we're going to get to six."
Notre Dame has yet to announce its 2014 schedule dates and times, though it had been under contract to play home games against Michigan, Purdue, Northwestern, Rice and Stanford, with road games at Navy, Arizona State and USC, in addition to a neutral-site game against Syracuse in East Rutherford, N.J., as part of New York's College Classic. (That contest had long been scheduled for Sept. 27, 2014.)
The game against the Orange was then weaved into one of the five that Notre Dame would play against ACC opponents as part of their five-games-per-year agreement, which includes home contests against Louisville, North Carolina and Wake Forest and a road game at Florida State.
Kelly said the ACC has been flexible in working with Notre Dame on its schedules. Navy, Stanford and USC are the only schools virtually assured of staying on the Irish's annual schedule moving forward, essentially giving them eight set games each year when accounting for the five ACC games.
Notre Dame's 2015 ACC games are currently home contests against Boston College and Virginia Tech and road games at Clemson, Pittsburgh and Virginia.
For 2016, the Irish are currently scheduled to host Duke, Miami and Virginia Tech, and play a road game at NC State. They are also slated for that season's version of New York's College Classic as well, also against Syracuse.
Notre Dame only announces full-season schedules with dates, though the school has been hoping to unveil its 2014-16 schedules together once they are finalized.
December, 3, 2013
Dec 3
12:00
PM ET
Shabazz Napier has been mo-ney this season.
Report: Notre Dame To Play In Pinstripe Bowl