March, 3, 2015
Mar 3
10:00
AM ET
Games are won in the fall. But the foundations for great plays, and great seasons, are often built behind the scenes in the spring and summer months. With spring ball already underway at a few ACC stops, we're taking a look at some of the players who have plenty to prove on the field in the coming weeks and months.
Sean Maguire.
The race to replace
Jameis Winston
will draw no shortage of attention in Tallahassee. And the man currently at the top of the pecking order, at least experience-wise, is Maguire, a redshirt junior. Starting in place of the suspended Winston in FSU's biggest game of the year, at home in September against Clemson, Maguire had an up-and-down performance: 21-of-39 passing for 304 yards with one touchdown and two picks in an overtime win. Still, that's more than anyone else on the roster can show right now, and it's up to Maguire to fend off highly-touted challengers
J.J. Cosentino
(redshirt freshman) and
De'Andre Johnson
(freshman).
[+] Enlarge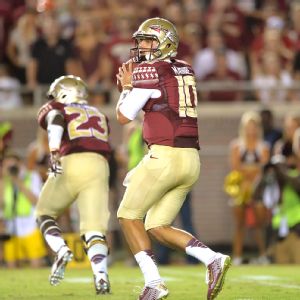 Scott Clarke/ESPN ImagesStarting in place of a suspended Jameis Winston, Sean Maguire led the Seminoles to an overtime win against Clemson last season.
Stacy Coley.
Remember this guy? Let's refresh your memory: As a freshman in 2013, Coley burst onto the scene for Miami, catching 33 passes for 591 yards and seven touchdowns, while also returning a punt and a kickoff for a score. (And rushing for one more, too.) Then he had a sophomore slump in 2014: Just 23 catches for 184 yards, with no scores. A shoulder injury was partly to blame, but the dropoff was still perplexing. If Coley can regain his rookie form and connect with reigning ACC rookie of the year
Brad Kaaya
, that could certainly open things up for the Hurricanes' offense moving forward.
Taquan "Smoke" Mizzell.
Mizzell has been stellar and versatile through two seasons at Virginia, leading all ACC running backs last season with 39 catches. Still, more is expected of a former ballyhooed recruit than 280 rushing yards, which Mizzell totaled last year. And as Mizzell enters his junior year in a crucial season for the Cavalier program, he needs to make the leap from good to great, especially with
Kevin Parks
now out of the picture.
Jabari Hunt-Days.
Hunt-Days missed the 2014 season because of an academic issue, a big setback for a player who had notched seven stops behind the line of scrimmage as a sophomore in 2013 -- after earning several freshman All-America honors the year before. He's a fifth-year senior now, and the defensive lineman could be the big playmaker who brings Georgia Tech's defense up a level in 2015. (His brother,
Synjyn Days
, certainly set a nice example in 2014 with a strong senior year for the Yellow Jackets.)
Josh Harvey-Clemons.
Spots are open for the taking in Louisville's secondary, and few may be in better position to take advantage than Harvey-Clemons, the former ESPN four-star prospect. The safety was dismissed from Georgia last winter following multiple violations of team rules and reunited with defensive coordinator Todd Grantham with the Cardinals. Despite missing two games in 2013, Harvey-Clemons led the SEC with three fumble recoveries, adding 5.5 tackles for loss and one pick. The talent is obviously there. Now eligible, Harvey-Clemons must perform for the Cards.
Al-Quadin Muhammad.
Now a redshirt sophomore at Miami, Muhammad is back with the Hurrricanes after a semester-long university-issued suspension last fall. The former ESPN four-star prospect said he never contemplated transferring, and coaches and teammates have stuck by the lineman. The 6-foot-3, 260-pounder has changed his jersey number from No. 98 to No. 8, and he certainly possesses the physical tools necessary to make an impact up front on the Canes' defense, for whom he tallied a pair of sacks as a true freshman when he last took the field, in 2013.
Everett Golson.
Golson struggled down the stretch in 2014 for Notre Dame, with all 22 of his turnovers coming in the final nine regular-season games, leading to
Malik Zaire
starting the Irish's bowl against LSU. Both quarterbacks played in the win, but Golson -- who had begun his college career with a 16-1 as a starter -- will have no shortage of suitors elsewhere if he chooses to leave Notre Dame. In order to do that, though, he must first graduate, something he has said he is on track to accomplish this spring. If Golson wins the job back soon, does that mean he likely stays? If the starting job remains unclear as he gets his diploma, does he take his chances elsewhere? Stay tuned.
March, 3, 2015
Mar 3
9:00
AM ET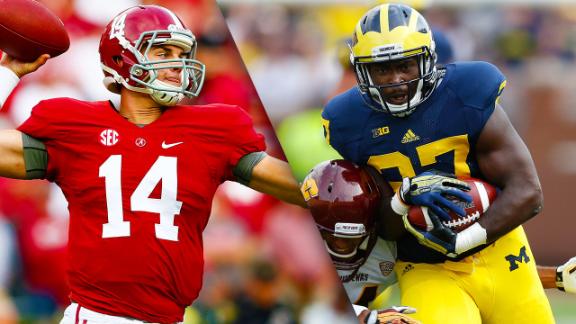 It's hard to dive head-first into this whole idea of spring when a lot of us are still digging out from under the snow. But, alas, spring football practice is here.
That means the countdown to the 2015 college football season has officially begun.
New stars will emerge. Coaches will land on the hot seat, and somebody's going to swear they're getting the cold shoulder from the College Football Playoff selection committee.
Which players have the most to prove this spring and heading into the 2015 season? Some might be coming off injuries. Others weren't as productive or consistent last season, and a few are taking on even bigger roles or getting fresh starts. The players are listed alphabetically:
WR Bralon Addison, Oregon

Oregon was without its three best receivers in the title game loss to Ohio State last season. Of course, one of those had been out all season. Addison tore his ACL last spring, and just like that, the Ducks' leading returning receiver from the 2013 team was gone. But he's back and eager to re-establish himself in a receiving corps that should be as dangerous as ever. There was some talk before the title game in January that he might play, and he even suited up during warm-ups. The Ducks, though, weren't going to use an entire year of eligibility for just one game. Addison is electric in the open field, whether he's catching passes, taking off on jet sweeps or returning punts. If everybody is healthy, Oregon should have the fastest group of receivers in the country. Addison gets to prove he's as good as new.
March, 2, 2015
Mar 2
4:50
PM ET
SOUTH BEND, Ind. -- Mike Sanford is a 32-year-old rising star in the coaching business. In his lone year as offensive coordinator at Boise State, he helped the Broncos claim the No. 9 scoring offense and a Fiesta Bowl win.
At Stanford, Sanford coached quarterbacks, running backs and receivers, with each of his three Cardinal seasons ending in a BCS bowl. At Yale, he coached fullbacks and tight ends, while also serving as recruiting coordinator. His father, also Mike, is currently the head coach at Indiana State, and once served as Notre Dame's quarterbacks coach, back in 1997 and '98.
The younger Sanford's daughter is named Peyton, because of course she is.
Brian Kelly has, by any measure,
landed Notre Dame a cookie-cutter image of an offensive coordinator and quarterbacks coach
in Sanford. That alone should make this an intriguing enough hire for the Irish. Contrast Sanford's background with that of Kelly's previous offensive hirings, however, and the possibilities sure are tantalizing for a 2015 Irish squad that returns nine starters on that side of the ball.
[+] Enlarge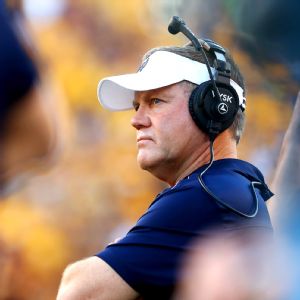 Mark J. Rebilas/USA TODAY SportsNotre Dame coach Brian Kelly has hired 32-year-old rising star Mike Sanford to be his offensive coordinator and quarterbacks coach.
From Mike Denbrock, Matt LaFleur, Chuck Martin and Charley Molnar at Notre Dame, to Jeff Quinn at Cincinnati, Central Michigan and Grand Valley State, all of Kelly's offensive aides have had one thing in common: Experience working for him. That has proven beneficial, as was the case with a 2009 Cincinnati squad that ranked fourth in scoring (38.6 ppg) or a 2012 Irish unit that knew how to manage a first-time starting QB (
Everett Golson
). It has also, directly or indirectly, hampered the Irish offense from truly taking off five years into the Kelly regime, as evidenced by the turnover-filled campaigns of talented 2011 and 2014 teams.
Now comes Sanford, a man entering relatively foreign territory for an offensive mind of his status, bringing validation to an operation with all of the tools necessary to break out this fall.
"I've been around some spread offenses. In fact, my dad coming off the coordinator job that he had at the University of Utah with Urban Meyer, that at the time was revolutionary football: triple-option offense from the shotgun hadn't been done a ton back in the early 2000s," Sanford said Monday, talking about his first job, at UNLV in 2005. "So I had a chance to GA in that offense, and then ended up going from there to Stanford. And the biggest thing that I found is obviously championship football, a lot of times it comes down to who runs the football the best, and then who makes the explosive plays down the field in the throwing game."
Sanford was reportedly courted by Meyer at Ohio State, among others. The fact Kelly was able to land an up-and-comer that the defending national champion could not is no small feat from a perception standpoint -- not to mention the fact that he did this after Meyer had already landed a third assistant from Notre Dame in the last four years, Tony Alford.
Sanford's reason Monday for picking the Irish was rather philosophical, one befitting a coach on the path to running his own program in the near future:
"One thing that was really unique about really my background as a coach in the last 10 years of doing this, and then this opportunity, is that I think every head coach that I've worked for was either in their first or second year as a head coach at that particular school or really at that level. So you're talking about some new head coaches. Between my dad who was a first-time head coach at UNLV, Jim Harbaugh had come from the University of San Diego but was really at the Pac-12 level certainly his first year, and then Willie Taggart, Tom Williams at Yale. So I've had a chance to be part of the beginnings of someone's figuring out (of) their philosophies, which was a great experience for me.
"But now I have a chance to work for a guy that's a 25-plus year head coach, and to learn from somebody who's been through all the highs and lows of being a head coach. One thing I respect tremendously about Coach Kelly is he's done it from Div. II level, and he's had success all the way, and I've always respected the heck out of that. A lot of people come into this profession and they've lived a very charmed life, and they're thrust right into an opportunity like this at a young age, but he was a guy that scratched and clawed and worked his way up as a longtime head coach, and I think that experience -- I'm always in the pursuit of learning more and growing more, both as a coach and as a man, as a person, and this provided a tremendous opportunity with Coach Kelly and his experience, for me to pick his brain and to really just sit back and observe the way he runs this football team."
How much control Sanford will have remains unclear, as play-calling duties have yet to be assigned. This is, after all, Kelly's program, and he has called the plays in four of five years so far at Notre Dame. Still, for a unit whose most impressive performance was the one freshest in everyone's minds -- a 51-run, 26-pass attack in a bowl win over LSU -- the addition of Sanford could signal a more diverse attack.
Which, in the short-term, could mean a simpler attack.
All five offensive line starters from the bowl win are back. Two of the Irish's top three running backs are, too. And, of course, there is the plethora of young receivers and perhaps two experienced quarterbacks.
This should give Notre Dame options, with neither the run nor pass game having to feel too much pressure. In his lone year at Boise State, Sanford oversaw a unit that was as consistently strong as any at balancing things offensively: The Broncos ranked 29th in rushing, 23rd in passing. They improved in both categories from a year before, despite a new coaching staff.
"We didn't want somebody to be equal," Kelly said of hiring Sanford. "We wanted somebody that was going to turn that room upside down, that was that good. We weren't going to settle for somebody that was on the same plane. We wanted somebody that was going to challenge us on a daytoday basis. Mike does that. "
The pieces Notre Dame has returning provide plenty of promise for a potential Playoff run this fall. Scooping up a coveted outsider could go a long way toward the Irish getting in.
March, 2, 2015
Mar 2
11:23
AM ET
Notre Dame announced four new additions to its coaching staff Monday -- Mike Sanford (offensive coordinator/quarterbacks coach), Autry Denson (running backs), Keith Gilmore (defensive line) and Todd Lyght (defensive backs).
The son of Indiana State coach Mike Sanford, the younger Sanford joins the Fighting Irish from Boise State. He replaces Matt LaFleur, who left for the Atlanta Falcons.
Denson and Lyght, both former Notre Dame players, join the Irish from South Florida and Vanderbilt, respectively. Denson replaces Tony Alford, who left for Ohio State, while Lyght replaces Kerry Cooks, who left for Oklahoma. Gilmore comes from North Carolina.
Former defensive line coach Mike Elston will coach linebackers and serve as the Irish's recruiting coordinator, while former offensive coordinator Mike Denbrock will be associate head coach and wide receivers coach.
In addition, former Irish assistant Bob Elliott has moved to an administrative role, as special assistant to head coach Brian Kelly.
Former Notre Dame captain Ron Powlus has rejoined the program, as well, as director of player development.
March, 2, 2015
Mar 2
12:00
AM ET
[+] Enlarge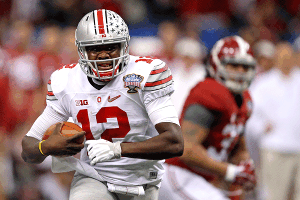 Chuck Cook/USA TODAY SportsCan Cardale Jones parlay last season's run into the full-time starting QB job at Ohio State?
Defending national champion Ohio State might have too many quarterbacks.
Traditional heavyweights such as Florida, Michigan and Texas might not have enough.
As spring football practice opens around the country, many of the sport's best teams will start to sort out quarterback questions. Six of the teams that finished in the top 10 of the final Associated Press top 25 poll in 2014 -- Oregon, Alabama, Florida State, Baylor, Georgia and UCLA -- will have new quarterbacks this coming season.
February, 27, 2015
Feb 27
12:11
PM ET
Associated Press
[+] Enlarge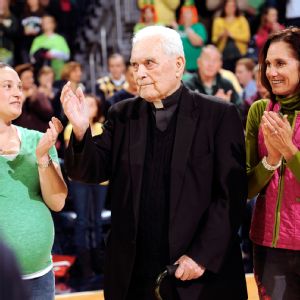 AP Photo/Joe RaymondFormer Notre Dame president Theodore Hesburgh, pictured at a 2007 Fighting Irish basketball game, died Thursday. He was 97.
SOUTH BEND, Ind. -- The Rev. Theodore Hesburgh transformed the University of Notre Dame into a school known almost as much for academics as for football, even if it meant challenging popes and presidents -- or legendary football coaches.
And he did it while championing human rights around the globe, from civil rights and immigration reform to supporting developing nations. His work often took him far away from the Indiana campus, where the joke became that while God was everywhere, Hesburgh was everywhere but Notre Dame.
But Hesburgh, who died late Thursday at age 97, was around enough during his 35 years at the helm to build Notre Dame into an academic power. He was featured on the cover of Time a decade into his tenure for an article that described him as the most influential figure in the reshaping of Catholic education. He was so respected in education that he was awarded 150 honorary degrees.
The charming and personable priest found as much ease meeting with heads of state as he did with students. His aim was constant: to better people's lives.
"I go back to an old Latin motto, opus justitiae pax: Peace is the work of justice," Hesburgh said in a 2001 interview. "We've known 20 percent of the people in the world have 80 percent of the goodies, which means the other 80 percent have to scrape by on 20 percent."
February, 18, 2015
Feb 18
12:04
PM ET
Former Cal safety Avery Sebastian's final year of college football will be played at Notre Dame, the Fighting Irish announced Wednesday.
Sebastian recorded 96 career tackles in his career with the Golden Bears, starting six of 33 career games. He added two interceptions, two tackles for loss and one forced fumble.
"I'm very thankful to head coach Brian Kelly and the rest of the coaching staff and administration for giving me the opportunity to come play at the University of Notre Dame," Sebastian said in a release. "I think academically, spiritually and athletically will make Notre Dame a perfect fit. I've got one year to make an impact, and I plan on making the most of this opportunity. I look forward to joining the Notre Dame family."
Sebastian graduated from Cal in December with a degree in sociology and will enroll at Notre Dame in June. He will be immediately eligible to play in the 2015 season, and he could push for a starting spot, as the Irish are thin at safety.
The McDonough, Georgia, native was ESPN's No. 68 player from the class of 2011, and he is the second fifth-year player to transfer to Notre Dame in as many years. Defensive back Cody Riggs started for the Irish in 2014 after transferring from Florida.
February, 16, 2015
Feb 16
10:48
PM ET
1. So
Roquan Smith
went on ESPNU on signing day and put on a pair of UCLA gloves to announce his decision, and 10 days or so later, he signed with Georgia. The fact is, the description of Smith and the other saviors riding to the rescue of their nationally-ranked teams, didn't match what ESPNU televised, which was a lot of wide-eyed 17-year-olds scared to death of being on a national television stage. They were, essentially, a lot of boys pretending to be men. Good for Smith -- he had the luck to do his second-guessing before he sent in his paperwork.
2. The NCAA Football Rules Committee recommended that the distance that offensive linemen may go downfield to block on a pass be trimmed from 3 yards to 1 yard, and every defensive coordinator in the Pac-12 yelled, "Halleluyah!" No teams have done a better job of turning that 3 yards into 5 or 7 than Oregon and Arizona. NCAA rules editor Rogers Redding said that officials had a tough time keeping an eye on where the linemen were while seeing when the quarterback released the ball. It will be interesting to see if this change impinges on the offenses, or merely makes it easier for the striped shirts to do their jobs.
3. Charlie Weis didn't win enough at Notre Dame and he went to Kansas, which, if it's not a dead-end job, is certainly a cul de sac, and didn't win at all. He's been getting $2 million a year not to coach Notre Dame since he was fired five years ago. He's still getting $2.5 million from Kansas, where he's no longer the coach. Did he coach himself out of the game? Of course. He could latch on as an assistant, but he told the South Bend Tribune he'd rather go try to do some good somewhere. Good for him -- he has the money and the time to do so. I still believe, all things being equal, Weis would prefer to do his good on the practice field. The Weis I know would rather coach.
February, 15, 2015
Feb 15
11:45
AM ET
COCOA BEACH, Fla. -- The 2015 Pylon 7-on-7 tournament at Cocoa Beach High drew many of the top prospects in Florida in the 2016 class Saturday. More than 15 skill players in the
ESPN Junior 300
competed throughout the day, including nationally recruited juniors such as
Trayvon Mullen
,
Darnell Salomon
and quarterback
Ervin "Woody" Barrett
.
Here are notes on some of the top players in attendance:
February, 13, 2015
Feb 13
2:32
PM ET
ESPN.com news services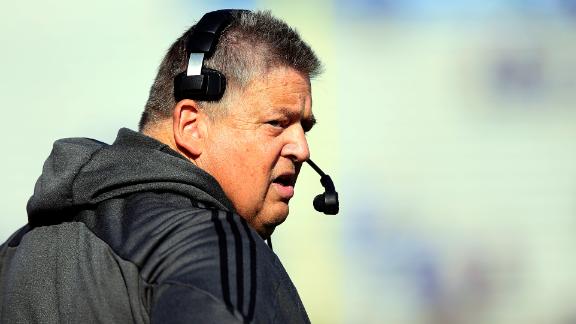 Charlie Weis told the South Bend Tribune it's "highly doubtful" that he'll ever coach again, which would bring an end to a career that produced three Super Bowl rings with the New England Patriots, a five-year run at his alma mater Notre Dame, and a final stop at Kansas, where he won only six games in two-plus seasons.
Weis, 58, told the Tribune that, if this indeed is the end of his career, he wouldn't miss the spotlight of coaching and that he isn't bitter with being dismissed by both the Fighting Irish and the Jayhawks -- his sole head-coaching jobs.
"I'm not mad at Notre Dame, and I'm not mad at Kansas," Weis said. "I don't have one regret about leaving the NFL to take the Notre Dame job. I just wish I could have lasted longer."
Weis, who built his coaching reputation as the offensive mastermind behind three Patriots Super Bowl championships, was fired by Notre Dame in 2009. After South Bend, he worked as a Kansas City Chiefs assistant, helping the team return to the playoffs. But the following year, as offensive coordinator at Florida, Weis presided over a unit that struggled to score.
At Kansas, he had a largely forgettable tenure that ended with his firing four games into the 2014 season. Kansas is on the hook for the remainder of Weis' five-year contract, which guaranteed him $2.5 million annually.
Weis said he realizes there's a chance that his 6-22 stay at Kansas might be the lasting impression some have of his career.
"Would you like the last thing people remember you by in coaching as being great and walking out on top? Of course, you'd like that," Weis told the Tribune. "But, realistically, if you're not a hypocrite about the things that are really important to you, why just go take a job in the NFL just so people will say, 'Well, you went out with a better taste?'
February, 10, 2015
Feb 10
11:00
PM ET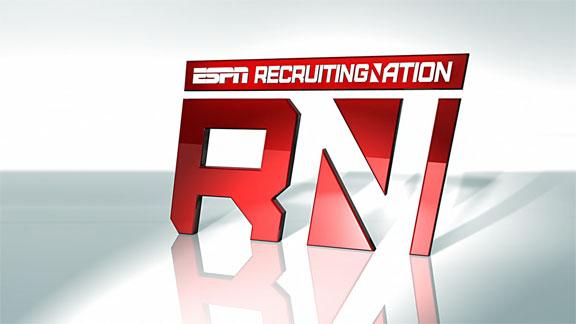 Quarterback
Kyler Murray
grabbed all of the headlines at Allen (Texas) High School over the past few seasons, but it's actually junior offensive tackle
Greg Little
who is a higher-ranked prospect.
To continue reading this article you must be an Insider
February, 10, 2015
Feb 10
10:12
AM ET
If you'd been asked at this time last year to predict the participants in the inaugural New Year's Six bowl games, like me, you probably wouldn't have included TCU, Georgia Tech, Mississippi State and Arizona (all unranked in the preseason). Having a Cinderella or two is common, but having four climb that high is unusual.
Another surprise was that the four playoff teams were all preseason front-runners. Alabama, Oregon, Florida State and Ohio State were all picked to win their respective conferences, and all were ranked in the AP preseason top five. But as I wrote last August, the top four at the end of the regular season usually features a couple of risers from outside the preseason top 10. In other words, if you're going to attempt to pick the next group of New Year's Six teams -- as I'm about to do here -- using last season's blueprint is probably not a good idea. Therefore, I'm utilizing four other reference points as predictors -- quarterback play, recruiting, returning starters and schedule.
Quarterback play
It's no secret that football -- at all levels -- has become more quarterback-driven in recent years. Look no further than the Heisman Trophy, which has been won by a quarterback 13 times in the past 15 seasons. Great quarterback play is almost a prerequisite for being a playoff contender. There are still instances in which a team can manage to be top-10 caliber with average efficiency and production from the QB, but those have become outliers in today's game.
"Defense wins championships" is a saying that has been true for most of the sport's history, but we seem to have reached a point where even the best defenses can't stop a good offense; they can only hope to slow it down.
Because 12 teams will reach the New Year's Six bowls, and 10 or 11 of them figure to come from the selection committee's final top 12, to the right is a look back at the committee's dandy dozen at the end of the regular season and how those teams stacked up statistically in two key areas: Total QBR and opponents' Total QBR.
What this shows is that high-level QB play correlated much more with being a New Year's Six team than did the ability to defend the other team's quarterback well. Nine of those 12 teams were in the nation's top 20 for Total QBR at the end of the regular season, but only four of them ranked in the top 20 for QBR defense (also known as opponents' Total QBR).
This is also true for Boise State, which won the Fiesta Bowl and was the only New Year's Six team not on this list. The Broncos entered the bowl season ranked 18th in Total QBR and 37th in opponents' Total QBR.
So I have my eye on teams that should produce quality quarterback play in 2015. But that's not the only predictor of success.
Recruiting
Oregon is the poster child for why recruiting rankings don't mean everything. Despite not having a signing class ranked any higher than 14th from 2007 to 2014, according to ESPN RecruitingNation, the Ducks have reached the national championship game twice with players from those classes.
But for every Oregon, I can give you three teams like Alabama, Florida State and Ohio State that have had great success on the recruiting trail and seen it translate to on-field results. Having great talent doesn't guarantee championships, but it sure makes them more attainable.
From 2011 to 2014, the best average recruiting class rankings in the nation belonged to the Crimson Tide, Seminoles and Buckeyes. It's no coincidence that they were all part of the inaugural College Football Playoff.
Composite recruiting rankings from 2012 to 2015 therefore will be another big part of my analysis. But as important as talent may be, having experienced talent is an even bigger deal.
Returning starters
(Returning starter numbers come from Phil Steele)
I've already mentioned the importance of quarterback play, but having solid players around the quarterback is also worth a lot in college football. Exhibit A: Eight of the past 12 teams to reach the national championship game had a first-year starter at QB, and five of those teams won the title.
In other words, a team doesn't need experience at quarterback to get quality production from that position. Having him surrounded by talented players who know what they're doing can help a new QB through some growing pains.
And while having a lot of starters back on either side of the ball is certainly an asset, I place the most importance on the number that return in the trenches, especially on the offensive line.
Schedule
We often overreact to perception of a schedule prior to a season, because the truth is that some teams on that schedule won't be as good as we thought, and others will be better. Much also depends on when and where you play teams. We think we know a lot, but we don't know nearly as much about the difficulty of a schedule now as we will by mid-October.
That said, having too many games against good teams (or at least teams we expect to be good) is a major hurdle for potential contenders, especially when most of those are on the road, as we saw with Auburn and Kansas State last season.
I'm more likely to downgrade teams with schedules that seem too difficult than I am to elevate teams with schedules that look easy. As I've heard ESPN "College GameDay" host Rece Davis say for about 15 years: "If you're not good enough, a loss will find you." Not to mention, the selection committee's job is to identify the best teams, and that's not necessarily the ones with the fewest losses.
So after much deliberation -- way more than I should've given to a prediction this far ahead of the season -- here's how I combined the four factors, with a little intuition.
To continue reading this article you must be an Insider
Top Position Battles Heading In To Spring