November, 26, 2014
Nov 26
3:00
PM ET
Notre Dame and USC look to salvage disappointing seasons Saturday at the Coliseum. Both teams have four losses apiece. Both also have young teams that return plenty of talent for 2015.
So which team is closer to a national title? Matt Fortuna and Kyle Bonagura debate.
Fortuna:
One needs to just look at Notre Dame's starting 22 from this past Saturday to see what the near-term future could possibly hold for this program: Seventeen of those players have eligibility remaining for next season. That does not include
Sheldon Day
and
Joe Schmidt
, two of the Irish's top front-seven players, who were sidelined with injuries. That also does not include end
Ishaq Williams
or corner
KeiVarae Russell
, both of whom might return next season after serving academic suspensions this fall.
[+] Enlarge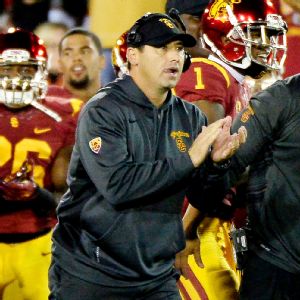 Harry How/Getty ImagesGoing into his first Notre Dame game as USC's head coach, Steve Sarkisian is trying to get what has been an elusive eighth win.
Of course, Notre Dame's 7-4 record suggests that there is plenty to improve upon, and things are far from rosy right now in South Bend. Still, they are a competent holder away from likely being 9-2. And when they are at full strength, they showed just how close they might really be to an elite team, taking defending national champion Florida State] to the wire in Tallahassee. Bumps were expected this year with a young defense and a new coordinator in Brian VanGorder, and injuries (and costly offensive turnovers) have only made the situation look more dire through this three-game losing streak.
Still, with so much coming back and with so many younger guys being forced into bigger roles now, much will be expected from the unit in 2015 — as will be the case with
Everett Golson
and the offense, which is bubbling with potential (and, at times, production) but at times cannot help but trip over itself and give the ball away.
Bonagura:
It's actually going to be pretty tough to differentiate between the teams because their stories this season and how they're positioned for the future are so similar. The one major difference is that USC has been up against a stacked deck because of NCAA sanctions that have limited its scholarships.
The Trojans came into the season with just 65 recruited scholarship players (85 is the maximum) and have not had more than 57 of them available for any game this year. That lack of depth has required first-year coach Steve Sarkisian to give significant playing time to 11 true freshmen, eight of whom have combined for 45 starts. For comparison's sake, 18 of USC's 22 listed starters this week have eligibility remaining -- although receiver
Nelson Agholor
and defensive lineman
Leonard Williams
are widely expected to leave early for the NFL.
Despite all that, it took a Hail Mary (against Arizona State) and a touchdown pass with eight seconds left (against Utah) to prevent the Trojans from winning the Pac-12 South, which had five of its six teams ranked in the College Football Playoff rankings just last week. There's no reason to believe this team won't be a more dangerous threat to compete for the Pac-12 title next year, which would put it in the playoff and national championship mix.
Matt, Sarkisian said this week that the USC-Notre Dame game is arguably the biggest rivalry game in college football. I think that's a stretch -- and seemed like strange timing, considering the Trojans just lost to UCLA -- but I'm interested how in it's perceived on the other side. Notre Dame obviously has a lot of rivals, so where does this one stack up?
Fortuna:
Well, we all know Michigan is not a Notre Dame rival, right? Just ask Irish fans, who are oh-so-happy to tell you that they no longer need the Wolverines … right after they shell out
record-setting ticket prices
to see them.
But Michigan became a casualty of the Irish's ACC scheduling agreement because of a clause in the series' contract. And both schools are probably better off for the time being, considering the national scheduling flexibility each now has, and considering the fact that each has no shortage of annual rivalries anyway.
The Wolverines have Ohio State and Michigan State. Notre Dame has Navy, Stanford and, of course, USC, the biggest of them all.
It is hard to think of a rivalry that can compare to this one when you consider all of its unique factors: Non-league, non-regional, brand names. And yet in many ways, these programs are so similar: Rich histories, constant recruiting battles, fake drowning nephews and fake dead girlfriends …
Still, no team gets Notre Dame fans riled up quite the way USC does. They are raised on disliking that team from L.A., more than anyone else. From the Bush Push to Lane Kiffin, there is plenty of hate. And likely an underlying respect: These programs have the most NFL draft picks. They have seven Heisman Trophy winners apiece. They each have 11 claimed national titles.
They are massively successful, and they are certainly in position to be that way again by the time they meet next year in South Bend, Indiana. But what about this year? What do you think is the biggest carrot the four-loss Trojans are playing for Saturday as they face a fellow four-loss rival?
Bonagura:
This is one of those games that shouldn't require much motivation. Even if they played in an empty high school stadium, you get the sense that the game would matter a lot. That said, losses to UCLA and Notre Dame in back-to-back weeks wouldn't be the way to build momentum for the program -- recruiting, fan support, general development, etc. -- at the end of Sarkisian's first season. It's only one game, but 8-4 just has a different vibe than 7-5, and the last thing Sarkisian needs is another
seven-win season
.
There's also the added element of what the game means for the Notre Dame vs. Pac-12 series this season. The Irish got by Stanford on a late touchdown pass, but turned in a poor showing at Arizona State a couple weeks ago, leaving this to serve as a rubber match of sorts. Since 2004, Notre Dame is 18-13 against Pac-12 teams and has won five of the last seven.
November, 26, 2014
Nov 26
10:30
AM ET
By
ESPN.com staff
| ESPN.com
Why Arizona will win:
This could go one of two ways. Either ASU's blitz-happy scheme will create havoc in the backfield and the Wildcats offense won't be able to get things going, or Arizona will be able to account for the pressure and hit some home runs. We've seen ASU get exploited when they over-pressure. This Arizona team has the running backs and receivers that could take advantage of that. -- Kevin Gemmell
Why Arizona State will win:
The loss to Oregon State reminded the Sun Devils not to overestimate anyone. The start of the Washington State game reminded the Sun Devils that they need to play from the opening kick. When ASU does both of those things, it's very, very dangerous. We saw other receivers step up last week in
Jaelen Strong
's absence. He's expected to be back this week but the Sun Devils' performance against Wazzu will give OC Mike Norvell more confidence in his receiver corps. -- Chantel Jennings
Why Cal will win:
BYU's recent run of success has been a product of significantly inferior opponents, and Cal not only is a big step up in competition for the Cougars, but it has bowl game to play for. -- Kyle Bonagura
Why BYU will win:
While Cal is much improved and has bowl eligibility to play for, I suspect the Golden Bears are going to be physically and emotionally worn down after getting blown out at home by rival Stanford. I think BYU, always hungry for a win against the Pac-12, takes advantage. -- Ted Miller
Why Washington State will win:
It has been a disappointing season filled with miserable moments for the Cougars -- see Conor Halliday's horrific injury. But this is their Super Bowl, and it's at home. Washington State has a chance to purge a lot of 2014 pain by beating their rival. The stage sets up perfectly: Washington's offense is not explosive, and this game will be played in the #Pac12AfterDark Pullman cold. Your move,
Luke Falk
. -- David Lombardi
Why Washington will win:
For all of Washington's offensive shortcomings, this is still a phenomenal defense that gets after the quarterback. If Falk can handle the pressure, he's going to prove me wrong. But in this game, I like Washington to go crazy in the backfield. As for points, well, the Huskies will find them somewhere. -- Kevin Gemmell
Unanimous picks
UCLA will beat Stanford:
Stanford has not proven that it can effectively move the ball against a solid defense, and last week's whipping of USC indicated that UCLA is peaking at the right time on that side of the ball. Plus, the Cardinal won't have offensive MVP
Ty Montgomery
(shoulder), so it's tough to see them outscoring the Bruins, even if their defense contains
Brett Hundley
. -- David Lombardi
Utah will beat Colorado:
Utah's defense is too good to struggle two weeks in a row, especially against the lone winless team in conference play. -- Kyle Bonagura
USC will beat Notre Dame:
Notre Dame has lost four of its past five and expect that streak to continue when the Fighting Irish visit the Coliseum. USC is going to respond after its 18-point loss to UCLA last weekend and
Cody Kessler
is going to continue his quiet campaign (30 TD, 4 INT). Look for
Su'a Cravens
and
Hayes Pullard
to come up big for the Trojans defense. -- Chantel Jennings
Oregon will beat Oregon State:
What's fascinating about this game is that both teams have a lot to play for. Obviously, in the national picture, the Ducks' motivation is more important. I expect a good fight from the Beavers, who are trying to become bowl eligible. But ultimately Oregon has too many weapons and an injury-depleted OSU squad simply can't keep up. -- Kevin Gemmell
November, 26, 2014
Nov 26
10:00
AM ET
One 7-4 rival faces another. Who ends the regular season on a positive note?
How Notre Dame can win:
It has been said before and it will be said again:
Everett Golson
and the Irish offense have to protect the defense, now more than ever. That means being efficient, and not turning the ball over. It means building on the efforts the ground game made this past weekend, when
Tarean Folston
ran for 134 yards. And it means not messing up on special teams — the Irish actually had one of their best all-around special teams performances of the Brian Kelly era last Saturday before the final, fateful missed kick. Notre Dame won't survive a miscue like that one when facing USC's offense.
How USC can win:
It is rare that a USC quarterback can fly under the radar, but that appears to be the case with
Cody Kessler
. He has been remarkable this season, throwing for 3,133 yards with 30 touchdowns and just four interceptions. He has tremendous weapons around him, and the Trojans would be wise to attack early and often against an Irish defense reaching even further down the depth chart this week, as it is without tackle
Jarron Jones
and safety
Drue Tranquill
(in addition to
Sheldon Day
for the game and
Nyles Morgan
for a half). That is all the more important for the Trojans given their youth on the offensive line.
Breakout player:
Amir Carlisle
. The man has been on both sides of this rivalry before. Expect a long kick return in his first game at the Coliseum wearing a white jersey.
Prediction:
USC 35, Notre Dame 27. The Trojans' skill players prove to be too much in this one.
November, 26, 2014
Nov 26
9:24
AM ET
By
Sharon Katz, ESPN Stats & Information
| ESPN.com
Richard Mackson/USA TODAY SportsBrett Hundley and the Bruins could be on track for big things.
In the past few weeks, the playoff discussion has centered around the remaining zero- or one-loss teams from Power 5 conferences.
There is one two-loss team, however, that may have an argument for inclusion when all is said and done.
UCLA
faces
Stanford
Friday (3:30 ET, ABC) with a chance to clinch the Pac-12 South. With a win against the Cardinal, UCLA will face
Oregon
in the Pac-12 Championship Game. If UCLA wins out, it will have a résumé worthy of discussion for the playoff.
Schedule
UCLA has played the hardest schedule in the nation, according to ESPN's strength of schedule rankings. The Bruins have not only played a nine-game Pac-12 schedule, but their out-of-conference slate also is the hardest of any Power 5 team.
The Bruins opened their season at
Virginia
in a game that kicked off at 9 AM PT. In Week 2, they faced
Memphis
, the current first-place team in the American Athletic Conference, and followed that game with a trip to Arlington to face
Texas
in Week 3.
The Bruins traveled close to 8,000 miles (counting return trips) before their first conference game and escaped with a 3-0 record. Two of those wins were against fellow Power 5 opponents; excluding
Notre Dame
,
Florida State
is the only other Power 5 team with multiple out-of-conference wins against Power 5 opponents.
Add in that UCLA's conference schedule is the 12th-hardest in the nation before a potential Pac-12 Championship Game, and there will be no argument from the committee that the Bruins were not tested.
Wins
A difficult schedule affords the Bruins more opportunities for signature wins. UCLA has six wins against teams currently ranked in the top 40 of
ESPN's Football Power Index
, second-most in the FBS behind
Alabama
. If the Bruins win out, they will add two current FPI top 20 wins to their résumé.
One of the arguments against UCLA is that it played close games in the beginning of the season against lesser opponents. Since those games, however, the teams that UCLA beat have risen in the rankings. UCLA's first six opponents all rank 42nd or better in the FPI after two of those teams began the season outside the top 42.
If UCLA were to beat Stanford and Oregon, the average current FPI ranking of UCLA's 11 wins would be 33, the best in the nation.
Strength of Record
Many will point to UCLA's two losses, to Utah and Oregon. The Oregon game was not even as close as the 12-point final scoring margin suggests.
ESPN's Strength of Record metric accounts for both wins and losses to measure the difficulty of achieving a team's record, given its schedule. UCLA, with two losses, currently ranks sixth in Strength of Record, ahead of one-loss
Baylor
and
Ohio State
. That means that it would be harder for an average top 25 team to achieve UCLA's 9-2 record than either Baylor's or Ohio State's record.
If UCLA beats Stanford and Oregon it will likely jump into the top four in Strength of Record. The Bruins would likely have the same record as Oregon but will have played a tougher schedule in achieving that record. Similarly, assuming
TCU
and Baylor win out, the Bruins would have as many wins as those teams but significantly more quality wins, including a victory against one of the top teams in the nation (Oregon).
All of these arguments are contingent on UCLA winning out. Beating Stanford at home and Oregon on a neutral field is not an easy feat.
ESPN's Football Power Index projects that the Bruins have a 24 percent chance to win out, but if they were to do it, could the committee really leave a two-loss Pac-12 champion, with the hardest schedule in the nation, out of the playoff?
November, 25, 2014
Nov 25
12:44
PM ET
Notre Dame's defense is down two more starters for the rest of the season, as defensive lineman Jarron Jones and safety Drue Tranquill both suffered injuries in Saturday's loss to No. 24 Louisville that will keep them sidelined for several months, coach Brian Kelly said Tuesday.
Jones suffered a Lisfranc injury in his foot and will be out four to six months. Tranquill suffered a torn ACL that likely will keep him out for a similar time.
Defensive lineman Sheldon Day (MCL sprain) will miss his second straight game as well, though Kelly expects him to return for the Fighting Irish's bowl game. Jones, a redshirt sophomore, started all 11 games for Notre Dame, tallying 40 total tackles, including 7.5 tackles for loss and 1.5 sacks, along with seven quarterback hurries, one forced fumble and two blocked kicks.
Tranquill, a true freshman, started three of the past four games, tallying 33 tackles, including one for loss, to go with one interception, one fumble recovery and one blocked kick.
Notre Dame concludes its regular season Saturday at rival USC (No. 19 CFP).
November, 24, 2014
Nov 24
5:00
PM ET
Short week. I've got the mail. Here you go:
@mitchsherman What do you think should happen at Nebraska?

— Shonny Schneider (@sss809) November 24, 2014
@mitchsherman what is the final straw for making changes at NU? Sellout streak?

— Christopher Hawkins (@GoBigRedRev) November 24, 2014
@mitchsherman: Nebraska is a hot topic again late in the season for its failure to win key games. The Huskers' 28-24 loss to Minnesota on Saturday squashed the final strand of hope to play for a Big Ten title, officially extending the drought to 15 years without a conference crown. I think the Nebraska administration needs to ask a different set of questions this year than last, when Athletic Director Shawn Eichorst offered a vague statement in support of coach Bo Pelini at the close of the regular season. Is Nebraska satisfied with its place in the Big Ten? Are the Huskers content to win nine games a year but rarely, if ever, factor in the national conversation? If so, change is unnecessary. But if the Huskers want more, some kind of fix appears in order. Clearly, the formula in place isn't working to improve Nebraska. As for the streak of 340 consecutive sellouts, Nebraska can't afford to wait until it ends before taking action. Apathy is growing as the Huskers slide further down the Big Ten pecking order. And the streak of sellouts should not be taken for granted.
@mitchsherman If Wisconsin wins out & beats Ohio St in #B1G title, where do Mich St, Ohio St, & Wisconsin stand in terms of big six bowls?

— Sam Ensign (@samensign11) November 24, 2014
@mitchsherman: The Badgers, in that scenario, would land in the Cotton, Fiesta or Peach. The College Football Playoff committee would then be tasked to determine if Ohio State or Michigan State belonged in another of the New Year's Six games -- other than the Orange, which will be determined by conference tie-ins. The Orange Bowl gets the Big Ten runner-up only if it ranks ahead of every available SEC team. The Spartans appear in decent shape today for a New Year's Six spot, especially if Ohio State keeps winning. Of course, the Buckeyes, with a close loss to Wisconsin, could remain ahead of Michigan State and steal a New Year's Six spot, knocking MSU to the Buffalo Wild Wings Citrus Bowl. Remember, though, if a Big Ten team lands in the Orange Bowl, another can't go to the Citrus. Got that? In a nutshell, it's complicated.
@mitchsherman assume 10 bowl eligible teams this year. What are chances B1G can win 6-7 with conference setting up matchups with bowls?

— Dave Fitzgerald (@BuckeyeFitzy) November 24, 2014
@mitchsherman: It's a safe assumption that the league will get 10 teams in the postseason. Nine are eligible, with Northwestern or Illinois to get a sixth win on Saturday. For an 11th team to make it, Michigan must upset Ohio State. The Big Ten, as usual, will be matched against the SEC as a likely underdog in the Outback and possibly the Citrus or TaxSlayer (formerly Gator). If Ohio State wins the league and misses the playoff, it figures to go in as a favorite to win a New Year's Six bowl, though the same can't be said for other remaining Big Ten contenders Michigan State, Wisconsin and Minnesota. Moving down the line, Pac-12 foes will likely bring stronger resumes than the Big Ten in San Diego and Santa Clara. By my count, the league will be fortunate to go 3-3 with its top six teams. It looks slightly better for the lower-division teams, matched against the ACC in New York and Conference USA in Dallas, though the SEC could loom in Nashville. The Big Ten's at-large matchups might determine its chance to get above .500 in the postseason. I'd say, expect four to five wins and hope for six..

November, 24, 2014
Nov 24
12:00
PM ET
While the majority of top prospects go to powerhouse programs on an annual basis, there are always a handful of selections that are very surprising. Here are five that stand out in the 2015 class with two being at the most important position in sports.
1. Jarrett Stidham, QB
ESPN 300 ranking
: No. 39
November, 24, 2014
Nov 24
9:00
AM ET
SOUTH BEND, Ind. —
Jaylon Smith
took in the query and thought to himself for a quick second, for the game in question could not possibly have been so close to the present.
Not after Notre Dame's latest setback Saturday, a 31-28 loss to Louisville. Not after the loss to Northwestern a week earlier, or the loss at Arizona State before that one.
Does the Florida State game, Smith was asked, feel like it was more than a month ago?
[+] Enlarge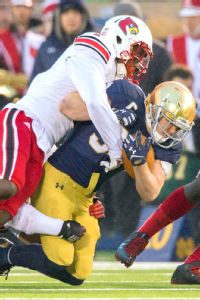 Matt Cashore/USA TODAY SportsCam McDaniel and the Irish are stumbling to the finish line after another close loss.
"What is it, three losses in a row?" Smith said of the Irish's current predicament. "Man. Yeah. It feels like it's been a long month, month and a half, whatever it's been. But playing against our rival, the score is 0-0, we've just got to find a way to get a victory."
That is what it comes down to now for Notre Dame, a far cry from that fateful final October drive in Tallahassee, then on the brink of 7-0 and upsetting the reigning national champs. Four losses in five games have presented an entirely new scenario as the Irish head to fellow four-loss rival USC for the regular-season finale. Eleven weeks in, and it remains tough to tell just who this team is.
Few saw that 6-0 start coming, especially after the handing down of preseason suspensions that figured to deteriorate an already thin and green defense. That, of course, only makes this past month all the more difficult to digest.
Brian Kelly would not go as far as to say that his club overachieved in the first half of the season, opting to play the game-of-inches card, which is certainly not inaccurate.
"No, I mean, look, we're 10 points from three more wins, right?" the fifth-year Irish coach said. "Florida State, we lose in overtime, and then we miss a field goal here to go to overtime. Very easily, this team could be in a totally different position, so that's college football, you know? They're very close. We needed to make a play here or there, a kick here or there, and it's a totally different look."
Another way to look at it: Who knew the most important fifth-year decision this past offseason would end up being Luke Massa, who decided to call it a football career after four years, one degree and several injuries? A reserve receiver on the official roster but a steady holder for field goals, Massa could have been the difference this year between 7-4 and 9-2, a fact every bit as remarkable to type as it is to read and say out loud.
The Irish were winning earlier this season because of those overlooked intangibles, from former walk-on
Joe Schmidt
carrying along the defense to the far more measured play of quarterback
Everett Golson
— a pair of pieces that have had a circular, drowning effect on these Irish lately as Schmidt's injury has decimated the defense and put a bigger onus on the quarterback.
Kelly talked a lot about his team's youth coming into this season, setting the table for a 2015 run, intentionally or not. Perhaps a 6-0 start fast-tracked that, inside the football complex and out of it. But these last three losses have unmasked the vulnerabilities of this young squad, which has plenty of work to do if it wants to even sniff the playoff conversation next year.
"They played with great effort," Kelly said of Saturday's game. "We would have liked to have made a play here or there, and blocked a little bit better, tackled a little bit better. But we got everything out of these guys. Like I said to them after, I mean, we asked them to control two things, and that was their effort and to play with a great attitude, and they certainly did that.
"We've got a lot of inexperienced guys that are trying to get the job done the best they can. I'm really proud of what they did. They played a lot cleaner."
Did anyone watch the Cardinals and Irish play for 60 minutes and not think that the visitors were the better team? That the difference between these two on Saturday ran deeper than a special teams miscue?
Notre Dame has run the emotional gamut of playing such a young team. With next year right around the corner, the Irish need to grow up fast.
November, 22, 2014
Nov 22
10:50
PM ET
On what was largely a ho-hum Saturday, many of the country's top teams didn't dominate their games against what were supposed to be overmatched opponents.
No. 1 Alabama led FCS opponent Western Carolina 17-14 early in the second quarter of a 48-14 victory.
No. 3 Florida State needed a field goal with three seconds left to beat Boston College 20-17 in the rain at home.
No. 6 Ohio State trailed Indiana deep into the third quarter of a 42-27 win.
And No. 8 Ole Miss was blown out by Arkansas in an ugly 30-0 loss.
At this point, with only two weeks left in the regular season, does it really matter how good a team looks while winning? Isn't it all about just winning?
Defending national champion Florida State has made its living by winning ugly this season. The Seminoles' victory over Boston College was their sixth this season in which they trailed or were tied in the second half. According to ESPN Stats & Information, only Northern Illinois in 2013 won more such games (seven) among the 30 FBS teams that started 11-0 in the past 10 seasons.
So will FSU's latest closer-than-expected victory bolster its playoff résumé?
"Why wouldn't it?" FSU coach Jimbo Fisher said. "We're undefeated. We're undefeated. We finish every game. Everybody else in the country has not finished at least one game. We've finished every one of them. Isn't that the object?"
It used to be. But now the object seems to be more about how you look in winning. The Seminoles dropped from No. 2 to No. 3 in the rankings over the past couple of weeks, and they haven't even been ranked No. 1 by the selection committee, despite being the only remaining unbeaten team from a Power 5 conference and having won a school-record 27 consecutive games.
"Well, you know, we were downgraded every time we blew someone out last year, so think of the irony of that," FSU quarterback Jameis Winston
November, 22, 2014
Nov 22
7:16
PM ET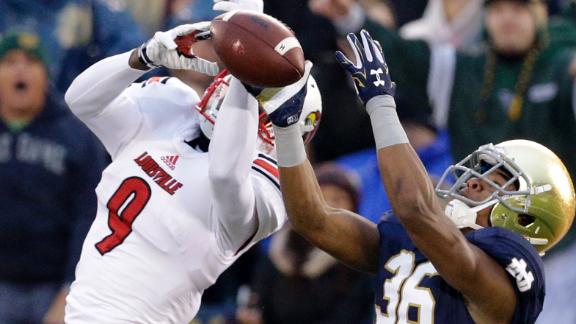 SOUTH BEND, Ind. -- Louisville pulled off the upset in its first-ever meeting with Notre Dame, escaping Senior Day at Notre Dame Stadium with a
31-28 win
to improve to 8-3 and send the Irish to 7-4. Here's how it went down:
How the game was won:
After Louisville's
John Wallace
missed a 37-yard field goal with 5:03 left, Notre Dame marched 65 yards on 11 plays, setting up
Kyle Brindza
's potential game-tying 32-yard field goal attempt, which sailed wide right with 51 seconds left.
Game ball goes to:
Brandon Radcliff
was a force to be reckoned with for Notre Dame's defense, carrying it 17 times for 136 yards and a touchdown. Kudos to true freshman quarterback
Reggie Bonnafon
, too, as he added 35 rushing yards and two rushing touchdowns while completing 8 of 21 passes for 180 yards and one touchdown.
What it means:
Louisville still has an outside shot at the Discover Orange Bowl, depending on how the final selection committee rankings shake out. The No. 24 Cardinals will need Florida State to make the College Football Playoff — which includes Georgia Tech losing in the ACC title game — and will need to win out and hold off Clemson, which is ranked No. 22 as it readies for rival South Carolina next week. Notre Dame has now dropped four of five after a promising 6-0 start and remains searching for answers as to how it all came crashing down so fast.
What's next:
It's rivalry week for both of these teams, as Notre Dame travels to USC for the regular-season finale, while Louisville closes its regular season at home against in-state nemesis Kentucky. Can the Irish stop the bleeding? Can the Cardinals keep the good times going after a standout Year 1 in the ACC?
November, 22, 2014
Nov 22
7:13
PM ET
Associated Press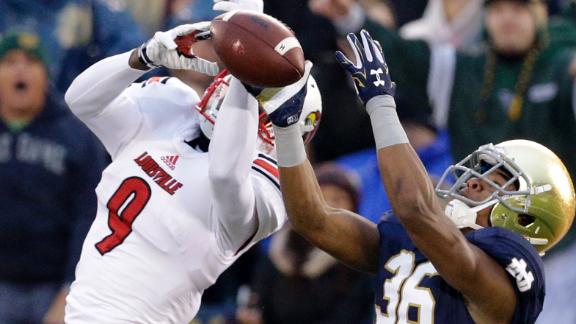 SOUTH BEND, Ind. -- Freshman quarterback Reggie Bonnafon ran for a pair of touchdowns and threw a 21-yard scoring pass to DeVante Parker to lead Louisville to a 31-28 victory over Notre Dame on Saturday, the third straight loss for the Fighting Irish.
The Irish (7-4) had a chance to force overtime but Kyle Brindza missed a 32-yard field goal wide right with 51 seconds left. The Irish scored a pair of touchdowns early in the third quarter, the second set up by a 61-yard punt return by Greg Bryant, to take a 20-17 lead.
But the Cardinals (8-3, No. 24 CFP) answered with the touchdown pass to Parker and a 15-yard run by Brandon Radcliff that he set up with a 41-yard run.
The Irish gave up 30 or more points for the sixth straight game, the first time that's happened in 126 seasons of football.
November, 20, 2014
Nov 20
11:00
PM ET
Soso Jamabo
loved visits to UCLA and Notre Dame, but is it too early to count out the Texas schools? Plus, NC State added a key pledge on Wednesday that should give the Wolfpack much-needed help on the offensive line.
To continue reading this article you must be an Insider
Notre Dame's Losing Streak Extends To Three
FBS INDEP. SCOREBOARD
Friday, 11/28
Saturday, 11/29