November, 22, 2014
Nov 22
10:50
PM ET
On what was largely a ho-hum Saturday, many of the country's top teams didn't dominate their games against what were supposed to be overmatched opponents.
No. 1 Alabama led FCS opponent Western Carolina 17-14 early in the second quarter of a 48-14 victory.
No. 3 Florida State needed a field goal with three seconds left to beat Boston College 20-17 in the rain at home.
No. 6 Ohio State trailed Indiana deep into the third quarter of a 42-27 win.
And No. 8 Ole Miss was blown out by Arkansas in an ugly 30-0 loss.
At this point, with only two weeks left in the regular season, does it really matter how good a team looks while winning? Isn't it all about just winning?
Defending national champion Florida State has made its living by winning ugly this season. The Seminoles' victory over Boston College was their sixth this season in which they trailed or were tied in the second half. According to ESPN Stats & Info, only Northern Illinois in 2013 won more such games (seven) among the 30 FBS teams that started 11-0 in the last 10 seasons.
So will FSU's latest closer-than-expected victory bolster its playoff resume?
"Why wouldn't it?" FSU coach Jimbo Fisher said. "We're undefeated. We're undefeated. We finish every game. Everybody else in the country has not finished at least one game. We've finished every one of them. Isn't that the object?"
It used to be. But now the object seems to be more about how you look in winning. The Seminoles dropped from No. 2 to No. 3 in the rankings over the past couple of weeks, and they haven't even been ranked No. 1 by the selection committee, despite being the only remaining unbeaten team from a Power 5 conference and having won a school-record 27 consecutive games.
"Well, you know, we were downgraded every time we blew someone out last year, so think of the irony of that," FSU quarterback Jameis Winston
November, 22, 2014
Nov 22
7:16
PM ET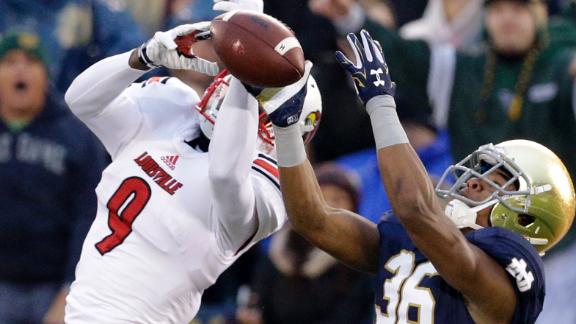 SOUTH BEND, Ind. -- Louisville pulled off the upset in its first-ever meeting with Notre Dame, escaping Senior Day at Notre Dame Stadium with a
31-28 win
to improve to 8-3 and send the Irish to 7-4. Here's how it went down:
How the game was won:
After Louisville's
John Wallace
missed a 37-yard field goal with 5:03 left, Notre Dame marched 65 yards on 11 plays, setting up
Kyle Brindza
's potential game-tying 32-yard field goal attempt, which sailed wide right with 51 seconds left.
Game ball goes to:
Brandon Radcliff
was a force to be reckoned with for Notre Dame's defense, carrying it 17 times for 136 yards and a touchdown. Kudos to true freshman quarterback
Reggie Bonnafon
, too, as he added 35 rushing yards and two rushing touchdowns while completing 8 of 21 passes for 180 yards and one touchdown.
What it means:
Louisville still has an outside shot at the Discover Orange Bowl, depending on how the final selection committee rankings shake out. The No. 24 Cardinals will need Florida State to make the College Football Playoff — which includes Georgia Tech losing in the ACC title game — and will need to win out and hold off Clemson, which is ranked No. 22 as it readies for rival South Carolina next week. Notre Dame has now dropped four of five after a promising 6-0 start and remains searching for answers as to how it all came crashing down so fast.
What's next:
It's rivalry week for both of these teams, as Notre Dame travels to USC for the regular-season finale, while Louisville closes its regular season at home against in-state nemesis Kentucky. Can the Irish stop the bleeding? Can the Cardinals keep the good times going after a standout Year 1 in the ACC?
November, 22, 2014
Nov 22
7:12
PM ET
Associated Press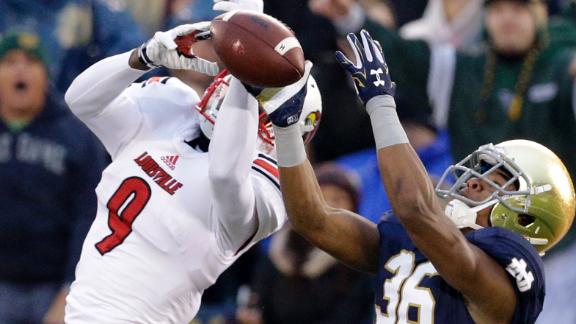 SOUTH BEND, Ind. -- Freshman quarterback Reggie Bonnafon ran for a pair of touchdowns and threw a 21-yard scoring pass to DeVante Parker to lead Louisville to a 31-28 victory over Notre Dame on Saturday, the third straight loss for the Fighting Irish.
The Irish (7-4) had a chance to force overtime but Kyle Brindza missed a 32-yard field goal wide right with 51 seconds left. The Irish scored a pair of touchdowns early in the third quarter, the second set up by a 61-yard punt return by Greg Bryant, to take a 20-17 lead.
But the Cardinals (8-3, No. 24 CFP) answered with the touchdown pass to Parker and a 15-yard run by Brandon Radcliff that he set up with a 41-yard run.
The Irish gave up 30 or more points for the sixth straight game, the first time that's happened in 126 seasons of football.
November, 20, 2014
Nov 20
11:00
PM ET
Soso Jamabo
loved visits to UCLA and Notre Dame, but is it too early to count out the Texas schools? Plus, NC State added a key pledge on Wednesday that should give the Wolfpack much-needed help on the offensive line.
November, 20, 2014
Nov 20
2:00
PM ET
SOUTH BEND, Ind. -- Brian Kelly will coach his 63rd game at Notre Dame on Saturday, which is remarkable for the simple fact that the three men in his chair before him never made it this far.
Not Charlie Weis (62 games). Not Tyrone Willingham (36). Not Bob Davie (60).
No, the last time a Fighting Irish coach took the field for Game 63 of his tenure came Sept. 21, 1991, when Lou Holtz's squad rolled over Michigan State, 49-10. So much has changed since then. And yet so little has changed, too.
[+] Enlarge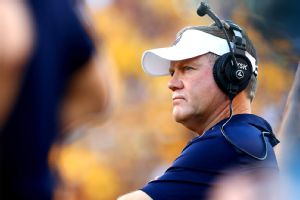 Mark J. Rebilas/USA TODAY SportsAfter some recent struggles, Brian Kelly's Irish look to finish the season strong.
A win this weekend over Louisville would make Kelly the first Notre Dame coach to start his tenure with five straight seasons of eight-plus wins. No Irish coach has done that during any five-year stretch since 1987-93, a run that saw Holtz coach the program to its last national title.
Notre Dame will go yet another season without a title in 2014, a drought that now stretches 26 years, and a goal that probably looked like a distant dream this past weekend as the Irish fell to Northwestern for loss No. 3 on the year.
Of course, as recently as two weeks ago, before losing at Arizona State, the Irish were right in the thick of things. A month ago they looked ready to break through that title ceiling, unbeaten as they took defending champion Florida State down to the final seconds in a loss.
Reconciling the fall from grace has been a maddening task for the Irish as they enter Senior Day against the Cardinals.
"I think college football is such that it comes down to a couple of plays and a fine line," Kelly said. "And that's why it's so critical that when you turn the ball over like we do, and when we turn it over, it's critical. I mean it's catastrophic turnovers."
Of course, the frustration that comes with a three-loss season is a far cry from what those seniors experienced upon entering Notre Dame at the ground level of the Kelly era.
"I think definitely from freshman year to now, we definitely turned the program around," said offensive tackle
Christian Lombard
, who, like Kelly arrived to the Irish for the 2010 season. "It's a winning program now, and we expect to win every game. We expect to win every game at home, we expect to be right there with teams, it's just the way it is around here now. It's one of those institutions [like] it was back in the day, so we're all really proud of that."
Added end
Justin Utupo
, a fellow redshirt senior: "We're obviously the first class that was brought in and [the coaches] looked at us to help build what they were trying -- this winning culture. I was here from the start. I've seen when we were bad. I've seen when we were really good."
Holtz said Kelly has been able to implement such expectations because of his vision and because of his plan to execute that vision. It comes from the benefit of being a head coach at three other stops beforehand, a luxury Holtz was afforded as well, having been in the big seat at five different college and pro stops before taking the Notre Dame job.
Kelly's last three coordinators at Notre Dame earned head-coaching jobs elsewhere. Last year's Irish team had eight players drafted, the program's most in a single draft in 20 years. That the Irish started 6-0 without them -- and without four players lost to academic suspensions two weeks before the season -- speaks to what is in place. That three losses in their past four games has sparked a world-is-ending feeling around the fanbase speaks to the climb left to be done.
"He's got a young football team this year," Holtz said of Kelly. "And I think next year may be his best football team."
Depending on one's preferred math, the Irish could be returning 20 starters in 2015. And that does not include the potential return of several of their currently suspended players.
That could make this final stretch all the more important for the near-term future of a program that is toeing the line between a 7-6 and a 10-3 campaign this year, a program soon-to-be filled with a new cast of characters that had little part of that 12-1 run to the national title game two years ago.
"They understand that there are some tough times," Kelly said. "But, relatively speaking, I remind them of some tough times, that we were here just a few years ago, when we were 4-5. Those are tough times. Those are difficult times. This pales in comparison. You're now in a winning environment. And you've won a lot of football games. Our seniors win on Saturday, that would be 182 in the last 20 games at home. So keep it in perspective."
Holtz, who lasted 132 games on the Notre Dame sideline, is doing just that when it comes to the man currently in charge.
"I hope Brian Kelly reaches the next 63," he said.
November, 20, 2014
Nov 20
9:00
AM ET
Fortuna:
Can Duke handle its first Thursday night game? Can it withstand the very real target on its back that has come from beating UNC two years in a row? Can it clean up its offensive miscues from this past week against Virginia Tech? That last question will matter most Thursday, as the Blue Devils will have to score plenty of points to keep up with QB
Marquise Williams
and the Heels offense. Turnovers will be key for Duke's defense, but here's guessing that Williams rebounds and delivers after throwing the game-sealing pick in last year's game.
UNC 35, Duke 30
Hale:
Saturday's loss was a tough one for the Blue Devils, but it was hardly a game in which Duke was outplayed. David Cutcliffe's team has thrived all season by getting all the little things right -- but against Virginia Tech, Duke looked like a different team. So what's more likely to happen: Duke falls apart again in a must-win game or it reverts to its status as one of the most fundamentally sound teams in the country? I'm betting on the latter, but I don't need a leap of faith to get there. The biggest difference against the Hokies was a ferocious Virginia Tech pass rush, and UNC doesn't bring anything close to that caliber of defense to the table.
Anthony Boone
will have time to throw,
Jamison Crowder
will find space downfield, and the Duke running game should have room to run. Duke has no choice but to get a win here, and Cutcliffe will have his team ready to get it done.
Duke 31, North Carolina 27
Adelson:
There is one stat that illustrates why Louisville will win:
Everett Golson
has 19 total turnovers in his past seven games. The Louisville defense has forced 25 turnovers this season, one of the best marks in the country. And Golson will be playing with a bum shoulder. So the focus has to be on whether Golson can finally start taking care of the football the way he did earlier in the season, something coach Brian Kelly has stated publicly for weeks now. Notre Dame is coming off an emotional overtime loss; Louisville had a bye to prepare. The Cards are not going to be intimidated, either, having played in big-time atmospheres over the past several years.
Louisville 27, Notre Dame 24
Fortuna:
Notre Dame was not as good as its 6-0 start indicated. But it's not as bad as this current slump indicates, either. Saturday against Northwestern was the perfect storm of miscues that left the Irish vulnerable to defeat. And while the defense remains banged up, there are some talented newcomers who have slowly grown into their roles. Golson, for all of his giveaways, remains a dynamic quarterback, one who was on the fringe of the Heisman Trophy discussion as recently as two weeks ago. If he can protect the ball -- and if the Irish can go through field goals without any pre-kick issues -- Notre Dame has enough talent to resemble the offense of a month ago and withstand the Cardinals' pressure up front.
Notre Dame 31, Louisville 25
Unanimous selections
Virginia Tech at Wake Forest:
The Hokies believe the upset of Duke last week will spur a late-season rally, and the good news is Wake Forest should help boost that push. Virginia Tech should become bowl eligible after this game as it is hard to see the Demon Deacons' offense doing enough to beat the Hokies.
Virginia Tech 21, Wake Forest 7
Syracuse at Pittsburgh:
It has been a rough few weeks for the Panthers, who are fighting to make a bowl game. The Panthers have two of the conference's best offensive players in
James Conner
and
Tyler Boyd
, and it will be tough for Syracuse and its struggling offense to match the production of those two. The Panthers defense should get a bit of a break this week after allowing 147 points in their past three games.
Pitt 34, Syracuse 24
Boston College at Florida State:
Boston College has the ability to annoy and potentially upset FSU because of the Eagles' ground attack and stout defense. However, Jimbo Fisher said the Seminoles are physically ready for the Eagles. It would not be a shock if this game was close -- every FSU game is -- but at this point no one has been able to beat the Noles and that should continue.
Florida State 27, Boston College 17

Georgia State at Clemson:
The Tigers are playing Georgia State, which is 1-9 with all nine losses coming in a row. No matter who plays quarterback for Clemson, this should be an easy win.
Clemson 49, Georgia State 0
Miami at Virginia:
The Canes are reeling after a devastating loss to Florida State, and there certainly could be a hangover. The loss proved how far Miami has come and how talented the Canes are, though, and they should be able to beat Virginia. But don't count out the Cavaliers. The defense is good and the offense is getting better. They also had an extra week to prepare and need a win to keep their bowl hopes alive.
Miami 24, Virginia 20
Current standings
Shanker:
63-16
Adelson:
62-17
Fortuna:
61-18
Hale:
61-18
November, 19, 2014
Nov 19
11:00
PM ET
A few weeks ago,
Adam McLean
was asked what it would take to back away from his Penn State pledge, and he said "nothing can change my mind." Well, something happened and the ESPN 300 prospect is back on the market. Plus,
Zach Gentry
has been committed to Texas since May, but rumors sprouted Tuesday he was considering taking other official visits.
To continue reading this article you must be an Insider
November, 19, 2014
Nov 19
12:00
PM ET
Louisville has already completed its first season of league play in the ACC, with two nonconference regular-season games remaining. The rise in competition level was part of what drew
Reggie Bonnafon
to the Cardinals. But not even the rookie quarterback could have possibly imagined having this much on his plate this soon.
Yet No. 24 Louisville is turning to the former four-star prospect once again this weekend after starter
Will Gardner
went down with a season-ending left knee injury. Bonnafon has gotten used to being on-call so far, starting three games and tallying 662 passing yards with four touchdowns and one pick. Now he is tasked with leading the program into its first ever matchup with pseudo-ACC member Notre Dame.
[+] Enlarge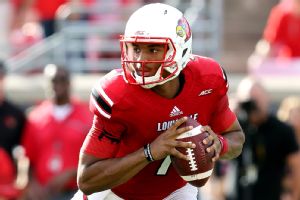 Jim Owens/Icon SportswireLouisville freshman quarterback Reggie Bonnafon has passed for 662 yards with four touchdowns and an interception in limited action this season.
"It's the reason I chose to come to a place like this: to compete in a conference that is as high-caliber as the ACC," Bonnafon, a Louisville native, said. "There's never a week that goes by that you don't have a tough opponent in the ACC. It's some of the best players in the country you're playing every week. So it's a great honor and privilege to play in the ACC and it's just a thing that I grew up wishing that I could do."
Bonnafon's locker is next to Gardner's, whom he said has remained a huge help despite the injury, regularly attending meetings and offering encouragement to the newcomer every step of the way. Bonnafon enrolled this summer, and he said his early behind-the-scenes efforts helped in winning over his offensive peers and earning their respect as a guy capable of leading the offense. He slowly grew acclimated to head coach Bobby Petrino's offense along the way.
"Once you first initially get here it's a tough adjustment for anybody," Bonnafon said. "But once you get enough reps and meetings and things like that with (offensive coordinator Garrick) McGee and Coach Petrino, things come easier and you realize it's not necessarily such a high-complex offense (that) it may seem to be. But it's a great offense to be in."
Bonnafon demonstrated his growth during Louisville's last outing, at Boston College. He came in for the injured Gardner in the second quarter and completed 4 of 5 passes for 69 yards with two touchdowns. He added 76 rushing yards and another touchdown on the ground. The Cardinals trailed 13-10 upon his entrance and ended up winning 38-19.
"I think Reggie has shown that he's developed and matured," Petrino said. "Certainly the experience that he had early in the year, I thought, showed up in the second half of the Boston College game. I know he's excited to get going and get ready to go play at Notre Dame."
Nothing has been easy for Bonnafaon, who endured tragedy shortly after his inaugural campaign got underway. His father, Wallace, died of a heart attack on Sept. 15, two days after Bonnafon's third college game. Bonnafon missed the following week's game at FIU to attend his father's funeral, and he has been overwhelmed by the support of his football family ever since.
With games against the Irish and rival Kentucky remaining, Bonnafon cannot help but think of how much he has grown in such a short, tumultuous period of time.
"I just think God's put me in a situation that he knew I was able to handle," Bonnafon said. "A lot of things have gone on this season. I don't think anybody but him could get me through that. The support from my family and also my coaches has really helped me a lot. They're always positive, trying to keep me upbeat. So I give all my credit to them."
November, 18, 2014
Nov 18
4:31
PM ET
Notre Dame graduate assistant Kyle McCarthy tweeted Tuesday that he is cancer-free, overcoming his four-month battle with the disease.
McCarthy said in an online statement that he had been diagnosed with Stage 3 testicular cancer in July, and he thanked friends and family for their prayers and support.
"This has truly been a humbling and eye-opening experience as I've undergone chemotherapy treatments and surgeries to fight this terrible disease," McCarthy said in the statement, which he posted to his Twitter account. "Fortunately this type of cancer was treatable, and with the help of amazing doctors and nurses, and incredible support from family and friends, I was given a clean bill of health.
"I am officially cancer-free. I'm excited to put this behind me and turn the page on this chapter of my life. Thank you all for the support! It helped more than you could know."
McCarthy, who works with the Fighting Irish secondary, is in his first year as a graduate assistant. He was a team captain for Notre Dame as a safety in 2009 before playing in 12 games over two seasons with the NFL's Denver Broncos from 2010 to '11, recording six tackles. He signed with the Kansas City Chiefs and the Oakland Raiders, too, but knee injuries ended his pro career last fall.
November, 18, 2014
Nov 18
3:00
PM ET
ACC Upset Watch never takes a week off. Not with the season set to end.
Thursday
North Carolina (5-5, 3-3) at Duke (8-2, 4-2), 7:30 p.m., ESPN. Line: Duke by 6.
Both teams need this win badly: The Tar Heels to become bowl eligible; Duke to remain in the hunt for the Coastal Division crown. Duke is going for its third straight win in the series, but the past two years have not been easy -- the Blue Devils have won the games by a combined five points. Now, they only have a short week to prepare following a disappointing loss to Virginia Tech that was marked by uncharacteristic mistakes -- three turnovers, two missed field goals (including the potential game winner) and too many penalties. While Duke should be able to run the ball in this game,
Marquise Williams
will give the Tar Heels an opportunity to pull the upset. Last week against Pitt, he accounted for four touchdowns and went over 100 yards rushing. Williams leads the team in both rushing and passing and is the only ACC quarterback ranked in the top 10 for rushing yards per game (No. 7) and passing yards per game (No. 2).
Saturday
Louisville (7-3) at Notre Dame (7-3), 3:30 p.m., NBC. Line: Notre Dame by 3.5.
The Irish have hit a bit of a rough patch the past few weeks, so this is the perfect time for the Cards to take advantage. Though
Will Gardner
is out for the season, freshman
Reggie Bonnafon
has playing experience and that will help. So will having
DeVante Parker
and
Michael Dyer
on his side. The Irish have had issues stopping both the run and the pass this season, so those two could be in for another big day. Plus, the Louisville offensive line is coming off its best performance of the season. Defensively,
Gerod Holliman
could create problems for turnover-prone
Everett Golson
, and
Lorenzo Mauldin
could be back, giving the defense a much needed boost. Plus, Louisville has had a week to prepare for this game so you can bet Bobby Petrino will have some new wrinkles for Notre Dame.

Miami (6-4, 3-3) at Virginia (4-6, 2-4), 7 p.m., ESPN2.
Line: Miami by 6
. After playing such an emotionally draining game against Florida State, Miami has to now face a desperate (and physical) Virginia team while guarding against a letdown. Virginia has played Miami well over the past few seasons, winning three of the last four. The Hoos have to win out to get back to a bowl game, and potentially save coach Mike London's job. One of the big keys for Virginia is not only forcing turnovers, but scoring off them. Miami has turned the ball over 20 times this season so there will be opportunities there for the UVa defense. If
Greyson Lambert
can limit the mistakes, Virginia will have a chance.
November, 18, 2014
Nov 18
12:28
PM ET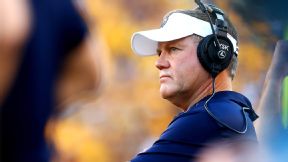 Mark J. Rebilas/USA TODAY SportsBrian Kelly said he doesn't expect quarterback Everett Golson to be limited in practice this week.
Notre Dame quarterback Everett Golson is expected to be fine, but the Fighting Irish will be down a different leader Saturday against Louisville, as defensive lineman Sheldon Day will miss the game because of an MCL sprain, coach Brian Kelly said Tuesday.
Both players suffered injuries in Saturday's 43-40 overtime loss to Northwestern, with Golson spraining the AC joint in his right (throwing) shoulder but remaining in the game. Kelly said Tuesday that the starting quarterback showed no ill effects and should not be limited during practice this week.
Day, a junior captain, is the Fighting Irish's top defensive lineman, leading the team in tackles for loss (7.5) and quarterback hurries (nine) while adding one sack and one fumble recovery. Kelly said that Day is expected to return at some point this season.
Kelly also said that freshman reserve defensive lineman Daniel Cage will miss this weekend's game against the Cardinals because of a knee sprain.
November, 18, 2014
Nov 18
12:00
PM ET
In the 100 days leading up to signing day 2015, RecruitingNation will be looking back at our ESPN recruiting rankings from 2006 to the present and count down the best player of the past 10 years at each ranking position, No. 100 to No. 1.
Darrin Walls, No. 79 in 2006 class
Walls came out of Woodland Hills High (Pa.) as one of the top defensive back prospects in the country. After making official visits to Pittsburgh, Michigan, Florida and Notre Dame, he committed to the Fighting Irish and then-head coach Charlie Weis in October 2005 because of the academics, graduation rate, overall atmosphere and distance from home. Had Florida been closer to home, the Gators would have very likely been the pick, however. Walls was one of several highly sought prospects to sign with Notre Dame in the 2006 class, including Sam Young, cornerback Raeshon McNeil, tight end Konrad Reuland and quarterback Demetrus Jones and running back James Aldridge.
Walls saw action as a true freshman in South Bend, appearing in eight games as cornerback and in the return game, but it was his sophomore year in which he made an impact. He appeared in 12 games in 2007, including 11 starts at corner leading the Fighting Irish in pass breakups with 10.
After a year away from the program in 2008, Walls returned for the 2009 season and started eight more games, appearing in all 12 contests.
As a senior, Walls recorded 41 tackles and three interceptions to finish his career with 104 tackles, five interceptions and 19 passes defended.
Walls went undrafted in 2011. He was signed as a free agent by the
Atlanta Falcons
, and is currently with the
New York Jets
, having split time with
Dee Milliner
at times during the 2013 season.
Honorable mention
: David Snow, No. 79 in 2008 class. Snow was a nationally recruited guard out of East Texas powerhouse Gilmer High. He picked Texas over Oklahoma, Michigan, Florida and Texas A&M, and was a fixture on the offensive line for the Longhorns for four seasons. He played in 52 games in four years, including 32 starts, with 20 coming at guard and 12 at center. He went undrafted in 2012, but did spend two seasons with the
Buffalo Bills
and
Pittsburgh Steelers
.
Notre Dame's Losing Streak Extends To Three