July, 24, 2014
Jul 24
6:10
PM ET
NAPA, Calif. – The big news the day before the
Oakland Raiders
' first training camp practice revolved around cornerback
D.J. Hayden
's
pending trip to the physically unable to perform list
.
But there was other injury news announced by coach Dennis Allen at the Napa Valley Marriott Hotel & Spa at a lunch attended by five media outlets and the team's website.

Burnett
Allen said the Raiders will cut linebacker
Kevin Burnett
, as the nine-year veteran was not cleared for participation by the Raiders' medical staff. Burnett, who was dealing with an ankle issue in the second organized team activities session in early June, started 16 games at weakside linebacker last season and had 129 tackles with 2½ sacks and an interception.
The Raiders drafted
Khalil Mack
with the No. 5 overall pick and the rookie is slotted to start on the strong side, with
Sio Moore
moving toWill linebacker to battle
Miles Burris
for the starting job.
Nick Roach
, who played every defensive snap last season, returns at middle linebacker.
"Where we're at at the linebacker position, with some young talented players, Miles Burris and Sio Moore,
Kaluka Maiava
being a main guy, I think we feel good with that position," Allen said, "and we're going to move on from Kevin Burnett."
Burnett had a salary cap value for 2014 of nearly $4.14 million and was due to make $3.5 million.
Also, Allen said tight end
Nick Kasa
(hip flexor) and guard
Lucas Nix
(knee) would join Hayden (foot) on the PUP list, with safety
Usama Young
(quad) and rookie cornerback
Keith McGill
(ankle) potential adds. Young and McGill were injured Thursday during the team's conditioning tests.
Defensive end
C.J. Wilson
(hamstring) and defensive tackle
Stacy McGee
(broken thumb) will be placed on the non-football injury list after being hurt away from the Raiders' facility.
Defensive lineman
Antonio Smith
, meanwhile, is "good to go" after not practicing at all in the offseason programs while recovering from an undisclosed procedure following a weight-room mishap.
"You'd love to be able to start with everybody healthy and everybody on the field, but obviously, injuries are part of this game and it's something we've got to be able to deal with and something that we've got to be able to overcome," Allen said. "We'll take it day by day and try to attack the rehab as fast as possible and see when we can get those guys back out there."
The Raiders' first training camp practice is Friday at 3 p.m. PT, with the first padded practice on Sunday.
July, 24, 2014
Jul 24
5:40
PM ET
NAPA, Calif. –
Oakland Raiders
cornerback
D.J. Hayden
, who missed most of the team's offseason training programs after rolling his right ankle and foot on the third day of organized team activities in May, will be placed on the Physically Unable to Perform list and miss the start of training camp, coach Dennis Allen said Thursday.
Allen, speaking to five media outlets and the team's Web Site over lunch at the Napa Valley Marriott Hotel & Spa, said an initial MRI of Hayden's ankle in the immediate aftermath of the injury showed no damage. But when the injury did not heal in a timely fashion, a second MRI revealed a stress fracture in the foot and Hayden underwent surgery just after the team's mandatory minicamp June 17-19.
There is no timetable for Hayden's return, though Allen said some players have returned in as few as four weeks time after a similar procedure.
"It's disappointing, both for him and for me," Allen said, "because he's a guy that we're counting on being able to step up and help us this year and he's a young player and he needs the reps."
With the Raiders having only 13 practices in Napa before they break camp and head to Oxnard for a pair of practices on Aug. 12 and 13, it is likely Hayden will miss camp.
Hayden, the Raiders' top draft pick in 2013 at No. 12 overall despite suffering a near-fatal heart injury as a college senior at Houston, had an injury-filled rookie NFL season. He missed a significant portion of his training camp recovering from surgery to remove resultant scar tissue in his abdomen and then played in eight games before going on season-ending Injured Reserve after undergoing sports hernia surgery.
He had one interception, which clinched the Raiders' home victory over the
San Diego Chargers
on Oct. 6, 2013, a forced fumble and 29 tackles, 23 solo, last season.
Hayden had been penciled in as the first-team right cornerback and, after that first OTA practice on May 27, he said he was "light years" ahead of where he had been a year earlier.
With Hayden's situation,
Carlos Rogers
and
Tarell Brown
are Oakland's top two corners a day before the Raiders' first practice. Plus, Allen mentioned the progress of seventh-round draft pick
TJ Carrie
and fourth-year defensive back
Chimdi Chekwa
as potential corners in a nickel package. Allen did not say if Hayden's situation put the Raiders in the market for another cornerback.
"Is it a setback? Yeah, it's a setback," Allen said of Hayden. "Is it something that's going to keep him from being able to contribute this year? I certainly hope not. But that will be determined by how fast he's able to recover, how fast he's able to get out on the field. And once he's out on the field, what's he able to do? How's he able to perform?
"It's really about, how does the foot respond and when's he able to be pain free or we can begin to get him out there and start him running and start getting him into football activity."
And Hayden's mindset?
"I think he's frustrated but I don't think he's in any state of despair or anything like that," Allen said. "I think he understands he's got another challenge he's got to overcome … the kid wants to be out there, he wants to play. It's just been unfortunate that he's had some injuries that have kept him from being able to do that."
July, 24, 2014
Jul 24
2:40
PM ET
Impressionist Frank Caliendo stopped by ESPN.com's NFL Nation TV Thursday and offered hilarious takes in different voices on the current state of the NFL, joining host Paul Gutierrez (
Oakland Raiders
reporter), co-host Coley Harvey (
Cincinnati Bengals
reporter) and Kevin Seifert (NFL national reporter).
Caliendo broke out many of his impressions, including his staple of staples, John Madden, and advised life-of-the-party rookie
Johnny Manziel
to keep on partying, in Madden's voice, like Madden's Raiders of the 1970s did as one of the league's dominant teams of the era, both on and off the field.
Earlier in the day on ESPN Radio's "Mike and Mike" show,
Caliendo read LeBron James' letter to the fans
, his reason for returning to Cleveland, in the voice of Morgan Freeman. Caliendo shared some of it on the Spreecast as well.
Other NFL personalities Caliendo did impressions of included what is now his newest staple, Jon Gruden, while briefly taking the show into a Gruden family reunion and reminiscing on Harry Potter's school of Hogwarts. He also did Will Ferrell doing Harry Caray.
Caliendo, who has had his own television show in the past, said he stopped counting how many voices he has in his repertoire, though it's been reported he has at least 120 impressions, from former president George W. Bush to Mike Ditka, which he said is all about chewing gum and putting his index finger above his lip as a mustache. He wants to add a
Peyton Manning
impression, saying there's some "Elvis" in the five-time NFL MVP's voice.
And yes, Caliendo did some Charles Barkley while discussing how he comes up with ideas for impressions. Caliendo was on the show for 20 minutes.
Other topics discussed by Gutierrez, Harvey and Seifert included
Ray Rice
getting a reported two-game suspension, Tony Dungy's recent assertion that he would not draft the openly gay
Michael Sam
because he would be too big a distraction, and a new home for the Raiders.
The show can be watched here:
July, 24, 2014
Jul 24
12:00
PM ET
By
ESPN.com staff
| ESPN.com
Welcome to
Oakland Raiders
training camp! ESPN.com reporter Paul Gutierrez has live updates and the latest news from Napa, California.
July, 24, 2014
Jul 24
11:00
AM ET
By
ESPN.com staff
| ESPN.com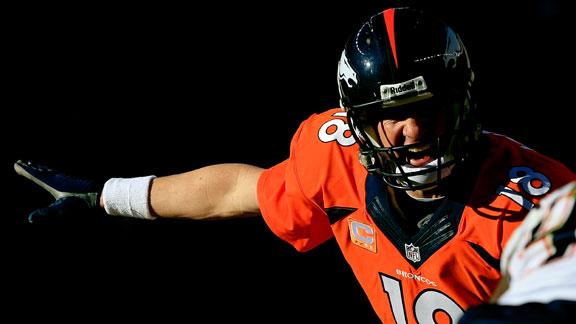 It seems like a football eon ago that then-
Denver Broncos
coach Josh McDaniels sized up the potential AFC West race and called the
San Diego Chargers
"kind of the measuring stick."
That statement came before the 2010 season as the Chargers had won the previous four division titles. It's also right about the time the winds of change began to roar in earnest in the division, when the foundation was set for what has happened since.
The
Kansas City Chiefs
won the division in '10. Broncos owner Pat Bowlen fired McDaniels after a 4-12 season marred by Spygate and hired John Elway as the Broncos' top football executive.
Since then, the Broncos have won three consecutive division titles, one featuring the national phenomenon that was a Tim Tebow-led read-option offense, and two with future Hall of Famer
Peyton Manning
. And the Broncos' crushing February Super Bowl loss notwithstanding, they are coming off a record-setting 2013 with Manning returning and a free-agency haul that included pass-rusher
DeMarcus Ware
, cornerback
Aqib Talib
, safety
T.J. Ward
and receiver
Emmanuel Sanders
. The Broncos are poised to be in the league's championship conversation again.
The Chiefs think they are ready for more, the Chargers were the only team in the division to beat the Broncos last season, and the
Oakland Raiders
, after a flurry of offseason moves, believe -- at least
LaMarr Woodley
believes -- they can be a playoff team.
NFL Nation reporters Jeff Legwold (Broncos), Eric D. Williams (Chargers), Adam Teicher (Chiefs) and Paul Gutierrez (Raiders) look at how the AFC West division race will shake out this season.

What will the Broncos' record be and why?
Jeff Legwold: Look at the Broncos' depth chart, and on paper -- yes, the dreaded "on paper" distinction -- they are better than they were when they finished 13-3 and played their way into Super Bowl XLVIII last season. After the crushing loss in the title game, they didn't go quietly into the offseason. They put together a solid draft class with two potential immediate contributors in cornerback Bradley Roby and wide receiver Cody Latimer. They were also one of the most aggressive teams in free agency, reeling in Ware, Talib, Ward and Sanders. If Ware and Talib, in particular stay healthy (Talib has never played 16 games in a season), Denver's defense will be vastly improved alongside a record-breaking offense that figures to again pile up points. The Broncos finished with five defensive starters on injured reserve last season, and many of the players who were starting on defense down the stretch will be backups this season. Their trek through the NFC West to go with road games against the Patriots, Jets and Bengals gives them a potentially brutal schedule. They could be better than they were last season and not have the record to show for it. That is why 12-4 would be a quality piece of work.
Eric D. Williams:
Denver will take a natural slide from its impressive 2013 campaign, but still come out on top of the AFC West at 11-5. Like the rest of the division, the Broncos face a much tougher schedule, with the season opener at home against Indianapolis and games at Seattle, at home against San Francisco, at New England, at St. Louis and at Cincinnati all potential losses outside the division. Though the defense should be better, free-agent additions Talib, Ware and Ward still have to mesh with the rest of that unit. Offensively, Denver's revamped line must do a better job of protecting Peyton Manning.
Adam Teicher: 12-4. It's a bit much to expect the Broncos to match their 13-3 record of last season. A schedule that includes two games against the Chiefs and Chargers and singles against all teams from the NFC West plus New England, Indianapolis and Cincinnati almost guarantees that Denver won't get to 13 wins. But a slightly diminished regular-season record doesn't mean the Broncos won't win the AFC or play in the Super Bowl again. From this vantage point, it's an upset if any team but the Broncos represents the AFC in the Super Bowl this season.
Paul Gutierrez: Sure, no one takes a Super Bowl beating like the Denver Broncos, whose five losses on Super Sunday are by a combined score of 206-58. But in the modern world of the rich getting richer, the defending AFC champs simply got better. Adding a trio of big-name free agents in Ware, Talib and Ward will only make the defense more sound. And the addition of Sanders, who will replace the departed Eric Decker, should help the Broncos' record-setting offense continue to hum along under the direction of Manning. The Broncos are primed for another division title with a 12-4 record, with tough games at Kansas City, at San Diego (the Chargers won in Denver last season), at New England (the Patriots won in OT last season) and at Seattle (remember that 43-8 pasting the Seahawks put on the Broncos in the Super Bowl?).
@Jeff_Legwold @ESPN_NFLNation 19-0

— Walden Cash (@WC_83) July 21, 2014
---

What will the Chiefs' record be and why?
Legwold: There is an air about this team; the Chiefs seem comfortable with where the roster was at the end of the 2013 season going into 2014. They were not all that active in free agency, though they took some swings at a wide receiver or two, including Emmanuel Sanders. If they are the team that went 9-0 before the bye last season, then standing pat is just fine, but if they are the group that went 2-5 down the stretch, then they are not catching the Broncos. They have shuffled the offensive line and seem likely to lean on running back Jamaal Charles again on offense, but they lack pop on the outside, especially if receiver A.J. Jenkins can't lift his game. The defense is solid in the front seven, but in a division with quarterbacks like Peyton Manning and Philip Rivers, cornerback Brandon Flowers' release might be the move that eventually stings the most, especially if young cornerback Marcus Cooper, a player Manning targeted repeatedly last season, is not up to the challenge. It all has the look of a step back from last season's 11-5 to 9-7 with the NFC West on everybody's schedule in the division.
Williams:
I predict Kansas City falling to 8-8 in 2014 for a couple reasons. The Chiefs lost two of their five starters along the offensive line in
Branden Albert
and
Geoff Schwartz
to free agency -- a position group that depends on continuity. Kansas City could struggle to protect quarterback
Alex Smith
, along with getting enough push to spring loose the talented Charles. Second, look at this season's schedule. Last season, Kansas City vaulted to a 9-0 record in part by facing backup quarterbacks like
Jeff Tuel
,
Case Keenum
and
Terrelle Pryor
. This season, four of Kansas City's first six games are on the road, including stops in Denver, Miami, San Francisco and San Diego. The Chiefs will be fortunate to be at the .500 mark after that treacherous stretch.
Teicher: 8-8. Kansas City faltered down the stretch last season, winning two of its final eight games. The Chiefs then watched several significant regulars leave through free agency. The Chiefs have holes at wide receiver and in the defensive backfield that they failed to adequately address. That doesn't mean they won't be playoff contenders. Despite the lousy record, the Chiefs quietly finished last season as one of the NFL's better offensive teams. They might be able to score enough points to overcome a shaky defense that couldn't hold a 28-point lead in last season's playoff loss against Indianapolis.
Gutierrez: Are the Kansas City Chiefs the team that made history by becoming the first in NFL modern annals to follow up a two-victory season by winning its first nine games the following season, or are they the club that lost six of its last eight, including a heartbreaking 45-44 wild-card loss to the Indianapolis Colts? Momentum being what it is, and with the Chiefs having a so-so draft coupled with departures of the likes of Albert, defensive end Tyson Jackson and receiver/returner Dexter McCluster, plus a tough schedule, they seem to be on the way back down. As in a 7-9 record. Tough stretches that include games at Denver, against New England, at San Francisco and at San Diego early, and against Seattle, at Oakland, against Denver, at Arizona and at Pittsburgh late will truly tell the Chiefs' tale, even as Charles continues his ascent as one of the game's best all-around backs.
@adamteicher 9-7 would be a great accomplishment. Schedule is nails, but if OL gels and backend D is in place, it's doable. O will score

— Lou Montagna (@LouMontagna) July 21, 2014
---

What will the Chargers' record be and why?
Legwold: In his first year as Chargers coach, Mike McCoy helped get quarterback Philip Rivers back on track -- though Rivers never really conceded to being off track -- and the Chargers were able to fight through injuries, hand the Broncos their only home loss of the season, and earn a playoff spot. McCoy figures to try to keep Rivers cocooned in a low-risk approach on offense -- their leading receivers in terms of catches last season were a tight end (Antonio Gates) and a running back (Danny Woodhead) -- with a heavy dose of starting running back Ryan Mathews if he can stay healthy. Defensively, new cornerbacks Jason Verrett and Brandon Flowers should help the secondary. As they continue their makeover in the second year of the current regime, most personnel people in the league believe the Chargers are still lacking enough athleticism, especially on defense, to make a significant push in the division race. Add up four games against the NFC West to go with New England and Baltimore and it looks like a 7-9 campaign.
Williams:
If they can stay relatively healthy, the Chargers should finish at 10-6 and return to the postseason for a second straight season. San Diego is the only team in the AFC West projected to have all 11 starters on offense return in 2014. Rivers will be given even more freedom to call plays at the line of scrimmage and run the no-huddle offense, which should result in more favorable matchups for the Chargers. But we know San Diego's offense can put points on the board. The key for the Chargers will be improved play in a revamped secondary that includes first-round selection Verrett and free agent Flowers, along with a more potent pass rush with the healthy return of
Dwight Freeney
and
Melvin Ingram
.
Teicher: 8-8. The Chargers might be the division's most interesting team. San Diego is the team most capable of catching the first-place Broncos, but also has the best chance of getting caught by the last-place Raiders. If Rivers plays as well as he did last season, it's not out of the question that San Diego wins the AFC West. Like Denver, San Diego might have a better team than it did last season. Signing Flowers filled a big need. But a tougher schedule will keep the Chargers out of the playoffs this time.
Gutierrez: San Diego, under a rookie head coach in the offensive-minded Mike McCoy, won four straight games to end the regular season and sneak into the playoffs at 9-7, and another 9-7 campaign seems to be in the works, even if the Chargers look to be better in 2014. Some of McCoy's moves did have many fans scratching their heads, but there is no debating he was instrumental in Rivers' NFL Comeback Player of the Year Award-winning season. The Chargers added bruising running back Donald Brown to join lightning-quick Ryan Mathews and are excited to see what their receiving corps, highlighted by second-year wideout Keenan Allen, can do if Malcom Floyd is healthy. No, it's not the halcyon and high-flying days of Air Coryell, but with tough games at Arizona, Oakland, Denver, Baltimore and San Francisco, and with New England coming to San Diego, the Chargers will take it.
@eric_d_williams 11-5 & make the playoffs if we stay healthy, 9-7 & miss the playoffs if we don't. And we'll beat Denver.

— Shea Duggan (@SDsportskid86) July 22, 2014
---

What will the Raiders' record be and why?
Legwold: Rookie linebacker Khalil Mack has the look of a potential foundation player in the Raiders defense. If things go as the Raiders hope, he should be in the running for Defensive Rookie of the Year because he's going to get plenty of snaps. But overall this team has put its immediate fate in the hands of veterans with far less of their career in front of them than in their past, led by quarterback Matt Schaub. Raiders coach Dennis Allen keeps saying Schaub is a top-10 passer in the league, but Schaub has always seemed to lack that kind of confidence in himself. But front-seven additions LaMarr Woodley and Justin Tuck, and running back Maurice Jones-Drew are certainly risk-reward moves the Raiders need to work. Tuck is 30, Woodley is 29 and Jones-Drew, who has missed 11 games combined in the past two seasons, just turned 29. The depth chart is still thin, particularly on defense, and an injury or two will have a ripple effect. The schedule's second half also includes two games against the Broncos, two against the Chiefs, and games against the 49ers and the Rams. It all looks like a potential 5-11.
Williams:
With the addition of several quality veteran players in free agency on both sides of the ball, Oakland has a chance to reach the .500 mark for the first time since 2011, but I have them finishing 7-9. With an emphasis on running the football led by backs Jones-Drew (who is returning home to Oakland) and
Darren McFadden
, Schaub should play better. Defensively, with the addition of first-round selection Mack and veteran defenders
Antonio Smith
(defensive line), Tuck and Woodley, the Raiders should be improved. The concern for this veteran team will be how consistently it finishes teams in the fourth quarter in order to preserve wins in close games.
Teicher: 6-10. The days of hopeless desperation are coming to an end in Oakland. The Raiders won't be the pushovers they were last season. But they are still not ready to compete with their AFC West rivals. Schaub won't be the answer at quarterback. Instead, he will be another in a long line of failures. Going to rookie quarterback Derek Carr won't solve their problems, at least not this season. By 2015, the Raiders will be a factor in the AFC West race. But despite a major free-agent spending spree, they will still drag the bottom in 2014.
Gutierrez: In the immediate aftermath of the NFL schedule being released back in April, I saw a 5-11 season for the Raiders. Now, after the draft, organized team activities and minicamps? I'll go 6-10. Doesn't sound all that impressive, I know, but it would, technically, be improvement for third-year coach Dennis Allen after consecutive 4-12 seasons. Yes, the Raiders did rebuild both lines with talent and, on the defensive side of the ball, championship pedigree. And they are going with a new quarterback in the battle-tested Schaub. Plus, the veterans Oakland brought in via free agency all have chips on their shoulders. Truly, this is the most talent Allen has had at his disposal. Still, Oakland has the toughest strength of schedule in the NFL, and until it proves differently, it's hard to imagine the Raiders winning more than six games. Where might they scratch out six victories? Let's start with home games against Houston, Miami (in London), San Diego, Arizona, Kansas City and Buffalo and go from there.
@PGutierrezESPN 8-8 because they have a tough schedule and with the talent they have will improve a bit..DA gets fired & Gruden in 2015

— AK (@AaronK510) July 21, 2014
.
July, 24, 2014
Jul 24
9:50
AM ET
ESPN.com news services
[+] Enlarge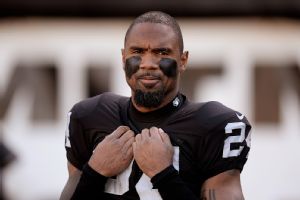 Thearon W. Henderson/Getty ImagesVeteran safety Charles Woodson sees an improved Raiders roster that is ready to win in 2014.
The free-agent additions to the Oakland Raiders' roster have veteran safety Charles Woodson thinking big.
"We're not looking to build for next year," Woodson told reporters Wednesday after arriving at the Napa Valley Marriott. "We're looking to win now. I look forward to going in this week and getting started and work toward the ultimate goal."
The Raiders finished 4-12 last season and haven't played a playoff game since 2002 when they lost in the Super Bowl to the Tampa Bay Buccaneers. But general manager Reggie McKenzie used the offseason to add several veteran players to the roster.
July, 24, 2014
Jul 24
8:00
AM ET
NAPA, Calif. -- What was the first question
Oakland Raiders
rookie quarterback
Derek Carr
had for veterans as time grew short to report for training camp?
"Where do I park when I get there?" Carr sheepishly admitted.
Carr, the Raiders' second-round draft pick out of Fresno State and QB of the future, found the Napa Valley Marriott Hotel & Spa's players-only lot on Wednesday -- yes, he drove himself rather than ride the "rookie" bus from Alameda -- and, just like that, his future was kickstarted.
"I'm starting to learn how to be an NFL quarterback," Carr told a cluster of reporters after checking in. "But I've still got a long way to go. So I'm just going to rely on my coaches and the team to help me get through my first camp."
Carr has first-hand experience, so to speak, what with older brother David spending 11 years in the NFL after the
Houston Texans
made him the No. 1 overall pick in 2002.
In minicamp, Carr was elevated to second-string on Oakland's depth chart, ahead of
Matt McGloin
and behind new starter
Matt Schaub
.
Ironically, it was Schaub who replaced the elder Carr in Houston and, if all goes according to plan in Oakland, the younger Carr will replace Schaub in the near future.
Schaub has been an accommodating mentor.
"Hopefully, Matt doesn't get too annoyed at me for asking too many questions," Carr said with a laugh. "Because I'm going to ask even more now. I'm going to try and pick his brain as much as I can."
July, 23, 2014
Jul 23
6:50
PM ET
NAPA, Calif. -- The
Oakland Raiders
began arriving at the Napa Valley Marriott Hotel & Spa here Wednesday for training camp and while there were familiar faces -- 17
th
-year defensive back
Charles Woodson
, punter
Marquette King
, top draft picks
Khalil Mack
and
Derek Carr
-- to be seen during the media access period, one notable figure was not.
Second-year cornerback
D.J. Hayden
, who missed all but the first session of organized team activities workouts this offseason with what coach Dennis Allen called an ankle injury, has become the Raiders' most intriguing figure as Oakland is in meetings and physicals all day Thursday before hitting the field for its first practice on Friday.
Speculation has started to swirl that Hayden, whose rookie season was awash in injury, is not fully healed and could begin training camp on the Physically Unable to Perform list. The Raiders have made no comment and, presumably, will not until after physicals on Thursday.
Still, the condition of Hayden, who was the Raiders' top draft pick in 2013 despite a near fatal heart injury the previous fall, was one of three big questions facing Oakland entering this week.
I asked Woodson, who began his career at cornerback, how big a setback it would be for Hayden if he missed a significant portion of camp after a sports hernia ended his rookie season with just eight games.
"It would be a big setback," Woodson said. "The way you get better is being out there in the field. There's only so much film you can watch, only so many [mental reps] you can have that's going to take you [to improvement]."
Besides, Woodson said, the more time Hayden misses, the more opportunity another player has to take his spot.
"I don't even know what his injury is, but hopefully it's nothing that will keep him out or put him on PUP," Woodson added. "But it has the potential to be a big setback."
July, 23, 2014
Jul 23
10:00
AM ET
By
ESPN.com staff
| ESPN.com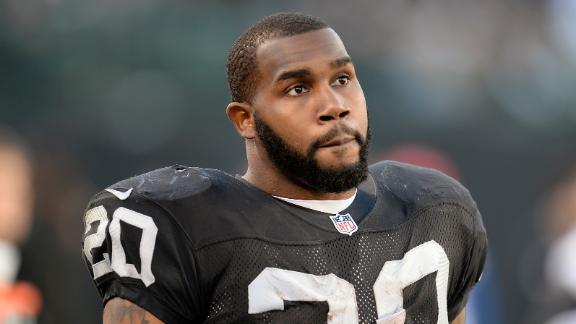 ESPN.com
Oakland Raiders
reporter Paul Gutierrez talks about how to divide carries to get the play-action pass going.
July, 22, 2014
Jul 22
10:00
AM ET
Don't adjust your computer screens.
That's right, ESPN.com's "NFL Nation TV" normally airs live at 1 p.m. ET each Thursday, but we are taking a couple of extra days before this week's show.
That is because we will be joined Thursday by comedian and impressionist Frank Caliendo, the man behind the hilarious Jon Gruden and John Madden impressions, among many others. So make sure you come back this Thursday at 1 p.m. ET/10 a.m. PT when Caliendo chats with and does impressions for "NFL Nation TV" hosts Paul Gutierrez (
Oakland Raiders
reporter), Coley Harvey (
Cincinnati Bengals
reporter) and Episode 15's other guest, Kevin Seifert (ESPN.com national NFL writer).
We'll have more Thursday on what we'll discuss, but you can bet topics of conversation likely will include Tony Dungy's comments on avoiding drafting
Michael Sam
, debates about where the Oakland Raiders should play, updates as training camps start, and the final result of NFL Nation's "Memorable Play" tournament. As always, viewers are encouraged to create a Spreecast account (it's free and easy) and log in and ask the panelists questions as well as contribute in the chat feature.
See you then.
.
July, 22, 2014
Jul 22
8:00
AM ET
ESPN NFL Insider Ron Jaworski, who enjoyed a 15-season run as an NFL quarterback, has released his
NFL quarterback rankings

for the upcoming 2014 season.
"Since the
Seattle Seahawks
steamrolled the
Denver Broncos
43-8 in Super Bowl XLVIII," Jaworski wrote, "I've gone over every throw from every quarterback in the NFL to properly evaluate the best 32 on my QB Big Board."
Jaworski, it should be noted, did not include rookies in his rankings since they had not yet won a starting job.
So where did the
Oakland Raiders
' new quarterback,
Matt Schaub
-- a two-time Pro Bowler who has been called a top 10 quarterback by Raiders coach Dennis Allen -- land on Jaworski's list?
Schaub, who endured a nightmarish 2013 season in losing his job with the
Houston Texans
, was ranked 22
nd
.
"I can't remember a quarterback of Schaub's caliber having the kind of meltdown he did last season in Houston," Jaworski wrote. "It was painful to watch. His mind wasn't clear, his decision-making was poor, and he made throws he simply shouldn't make at this point in his career. He's been a great first-down passer during his career, particularly on play-action, but last year he was terrible at both. We'll see if he can regain his confidence in Oakland."
July, 22, 2014
Jul 22
12:34
AM ET