September, 19, 2014
Sep 19
8:00
AM ET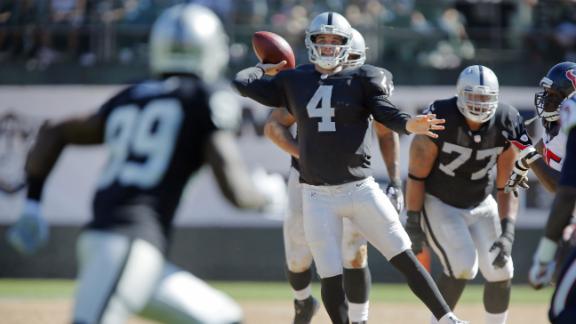 FOXBOROUGH, Mass. – There is a stunning contrast between the
New England Patriots
and
Oakland Raiders
in the past 15 seasons.
Consider this statistic, brought to the fore this week by ESPN NFL Insider Field Yates: Since head coach Bill Belichick was hired by New England in 2000, the Raiders have had eight head coaches and 18 starting quarterbacks.
The Patriots, with one head coach and three starting quarterbacks (Drew Bledsoe,
Tom Brady
,
Matt Cassel
) in that span, represent stability, while the Raiders are at the opposite end of the spectrum.
The story takes on a different twist when considering that the Raiders had interviewed Belichick to be their head coach in 1998, an experience Belichick
reflected fondly upon in later years
.
The teams square off Sunday in New England's home opener, and ESPN NFL Nation reporters Mike Reiss (Patriots) and Bill Williamson (Raiders) discuss the matchup:
Reiss:
Bill, those were
strong comments
from
Charles Woodson
after the Raiders' loss to the Texans last Sunday. I think everyone knows where things stand with the 0-2 Raiders right now, and how this could be a make-or-break time for head coach Dennis Allen. So let's get a bit deeper into the personnel. When Woodson was a free agent in 2013, some folks in this area were hoping the Patriots would consider signing him. How has he looked with the Raiders?
Williamson:
He's been one of the Raiders' best defensive players at the age of 37. He had 100-plus tackles last season and has been a playmaker this season. He made a leaping interception in Week 1 against the Jets and he came back and had eight tackles in Week 2 against the Texans. Woodson will have to be accounted for by the Patriots. Also, he is a terrific leader. As you said, he was very blunt in his assessment of his team after the Raiders fell to 0-2 on Sunday. He doesn't pull punches. Woodson is a true leader.
Mike, is there someone like this on the Patriots' defense?
Reiss:
They have a lot of them, Bill, and that was a topic of conversation after the team's 30-7 victory over the Vikings on Sunday. It was a tough week in New England after a season-opening loss at Miami, and Bill Belichick and other players noted the role that some of the team's leaders played in keeping the team on course. Defensive tackle
Vince Wilfork
, linebacker
Jerod Mayo
and safety
Devin McCourty
are the three defensive captains, but they have quite a few others who could be as well --
Rob Ninkovich
and
Darrelle Revis
among them.
On paper, the
Maurice Jones-Drew
and
Darren McFadden
combination at running back looks solid. How is that coming to life on the field?
Williamson:
The running game was supposed to be a strength for the Raiders, but we haven't seen it. A big reason why is the Raiders have been playing from behind and can't establish the ground game. Coach Dennis Allen and players have noted the importance of that changing this week. Jones-Drew has a hand issue and didn't play against Houston. McFadden didn't have much of an impact with 37 yards on 12 carries.
Mike, do you think the Patriots' run defense will control Oakland?
Reiss:
It depends which run defense shows up --– the unit that gave up 191 rushing yards to the Dolphins in the season opener or the unit that effectively limited the
Adrian Peterson
-less Vikings in Week 2. I thought they got back to playing fundamentally sound football last week, making the correct decision to return
Chandler Jones
to an end-of-the-line role, and I would expect that to continue this week. They've been hurt in the past by the Wildcat, so the Raiders might try to get that going.
Bill, there are some players with New England ties on the team: UConn's
Sio Moore
and
Tyvon Branch
. How do they fit into what the Raiders are doing?
Williamson:
They are a big part of the defense. Moore is a starting linebacker and Branch starts at safety. Neither player is perfect, but they are both very active players. In his second season, Moore has a chance of being an upper-level player. Moore sat out of practice on Wednesday and Thursday with an ankle injury.
Both of these players, however, are also part of the Raiders' biggest problem: The defense has allowed a total of 400 yards on the ground in two games. That is the beginning of Oakland's woes.
Mike, do you think the Patriots can take advantage of Oakland's run defense woes?
Reiss:
Yes, especially after seeing the commitment they made to the run against the Vikings, playing 28 snaps with 320-pound rookie offensive tackle
Cameron Fleming
as an eligible receiver at tight end. They obviously didn't have Fleming in the game to catch passes. He was there to block and they restored order at the line of scrimmage after struggling in that area in the opener. It wouldn't be surprising if there is a similar approach this week.