December, 18, 2014
Dec 18
1:00
PM ET
ESPN Insider Todd McShay has come up with
his first of many mock first-round drafts
.

Of course, there are a lot of caveats. First, we need to finish the season. Then we have to get through the pre-draft process. But, it's truly never too early to take a draft gander.
Let's take a look at what McShay has in store for the
Oakland Raiders
. In this mock, the Raiders are picking fourth because that is what the order would be if the season ended now. Of course, it could change in the next two weeks.
McShay has Oakland taking Nebraska pass-rusher
Randy Gregory
. Here is some of McShay's reasoning: "The Raiders need an edge rusher, and the presence of Gregory and
Khalil Mack
along the same front seven would create problems for opposing offensive lines for seasons to come."
By all accounts, Gregory will be a top pick and I could see the appeal of putting him in Oakland. It would go a long way toward making this defense tough for the immediate future and for the long haul.
Still, right now, I think I'd take Alabama receiver
Amari Cooper
.
Derek Carr
needs a new toy and Cooper could be special. He is available at No. 4 in McShay's mock.
Again, it is just the beginning of the process. If you don't like this mock, don't worry. There will be plenty more to come.
December, 18, 2014
Dec 18
10:00
AM ET
Derek Carr
knows he will be the
Oakland Raiders
quarterback next season, but he is unsure of who his coaches will be.
With just two games remaining, the 2-12 Raiders are expected to make changes. Carr gets it. He saw Oakland fire coach Dennis Allen a quarter into the season and he went through coaching changes in college at Fresno State.
Still, the uncertainty isn't easy.
"The fact that I don't know what's going to happen, that's hard," Carr said.
Still, he said he is focused finishing the season under interim coach Tony Sparano. As he did with Allen, Carr has praised Sparano.
"But right now, I am focused on playing my heart out for [Sparano] because I love him," Carr said. "I love him to death. I love playing for him. He pushes the heck out of me, and I love it. That's how I like to be coached. Him, [offensive coordinator Greg Olson] and [quarterbacks coach John DeFilippo], they push me hard. Not knowing [what the future holds] is hard, but I am grateful that I do get to play for him now."
December, 18, 2014
Dec 18
7:00
AM ET
For
Oakland Raiders
quarterback
Derek Carr
his rookie season has been an extended lesson.
The only rookie quarterback to start every game this season, Carr left Sunday's 31-13 drubbing at Kansas City -- one of his worst performances of the season -- with an education. The Chiefs put constant pressure on Carr and he was never able to get comfortable. Now he knows there will be days like that.
"When you get hit early, a lot of times in your natural ability, you just got hit in the face and it's like, 'Oh man, is it going to be like this all day?' You learn a lot about yourself, like I've said a lot this year," Carr said. "I learned about myself that I can continue to stand in there and take the hits and make the throws I need to make, make the reads I need to make. That is going to pay off so much. There is so much that goes on when those hits happen and you come to the sideline and know you have to go back out there. There is so much in your head that goes on. It's good to know that I can do this all day. It's really cool, too, when other people notice it. Older, veteran teammates come up to you and say something about how that's going to pay off for you, and how it's good to see. That kind of stuff is encouragement. That was the biggest take away. It was good."
In other Raiders notes:
The Raiders have put 13 players on injured reserve this season, including nine on defense. Interim coach Tony Sparano said that gave the team an opportunity to look at young players such as defensive linemen
Denico Autry
and
Ricky Lumpkin
, who otherwise likely wouldn't get a look.
The Raiders are tied with the Jets and the Chiefs with 11 takeaways. It's the fewest in NFL.
The Raiders added receiver Greg Jenkins, who has been in the program before, and defensive back Vernon Kearney to the practice squad.
Practice squader Spencer Hadley went back to working at linebacker because Raiders have just four active linebackers. He has been getting reps at fullback lately.
December, 17, 2014
Dec 17
10:22
PM ET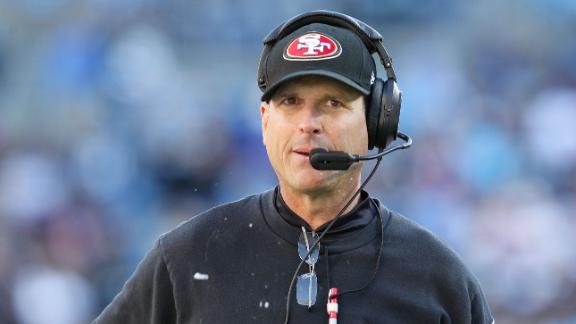 Is a reunion at the Big House going to get in the way of the
Oakland Raiders
' big plans?
ESPN's Adam Schefter is reporting that Michigan
is making a push for
San Francisco 49ers
coach Jim Harbaugh, who played quarterback at the school. Harbaugh is not expected back with the 49ers and is expected to be the target of the Oakland Raiders after the season.
Schefter reported Harbaugh is "considering" the Michigan job. There are reports that the school is offering Harbaugh a six-year, $49 million deal.
Here are some thoughts on how it affects the Raiders:
It's not over yet:
This is high speculation season. Lots of rumors are floated. The key is leverage. Harbaugh has plenty of it and it's being played. Let's see what happens.
Raiders can match that deal:
If Mark Davis really wants Harbaugh, he knows he has to pay big. I believe he's prepared. So, if Harbaugh is patient, more cash could be had in the Bay Area and in the NFL.
What if Harbaugh goes to Michigan?
Well, the Raiders will be bummed. Gruden is staying at ESPN. Harbaugh was the big fish. If not, the Raiders will have to lower their expectations. There will still be plenty of good candidates. But no Harbaughs left.
December, 17, 2014
Dec 17
9:53
PM ET
By
Michael Wagaman
| ESPN.com
ALAMEDA, Calif. -- The Raiders don't have much to play for, having long ago been eliminated from playoff contention. For linebacker
Ray-Ray Armstrong
, however, the final two games of the season qualify as a golden opportunity.
With
Sio Moore
on season-ending injured reserve with a hip injury, Armstrong is getting a mini-audition on defense after playing almost strictly on special teams since being claimed off waivers from St. Louis on Oct. 6.
Armstrong
A safety in college who went undrafted out of Miami, Armstrong started in place of Moore at weakside linebacker during last week's 31-13 loss to the
Kansas City Chiefs
. Armstrong made a few flash plays in the game and finished with four tackles.
The 23-year-old is expected to start again this week when the Raiders close out their home schedule Sunday against the
Buffalo Bills
.
"It's always good to get game reps," Armstrong said. "I'm going out there just trying to take every game in and get better off of each mistake. You can't get the same speed of a game in practice. It's a lot different."
Moore, Oakland's colorful and outspoken linebacker, was among the team's leading tacklers before getting sidelined by a hip injury he's been nursing for nearly a month. He was placed on the injured reserve list on Tuesday.
That leaves first-round pick
Khalil Mack
as the Raiders' lone remaining starting linebacker still playing. Middle linebacker
Nick Roach
, who played every defensive snap in 2013, has been out since suffering a concussion in the preseason.
With Armstrong joining Mack and
Miles Burris
-- Roach's replacement -- on Oakland's first-team defense, the team has very little depth at linebacker. Undrafted rookie
Bojay Filimoeatu
is the only other linebacker on the 53-man roster.
Spencer Hadley, a practice squad player who was converted to fullback earlier in the season, was moved back to linebacker for Wednesday's practice to add some depth.
Interim Raiders coach Tony Sparano said he was encouraged by Armstrong's debut against the Chiefs.
"I thought Ray-Ray played well in the game the other day," Sparano said. "I felt him quite a bit, felt him in some pressures. I thought he did some really good things in the run game, got around the football quite a bit. He was active and played with a good edge to him.
"Ray-Ray's a young player, and I'm sure at some point you could get that young guy on a mistake that jumps up out of there, but that didn't happen this past weekend. This guy wasn't a linebacker prior to a few years ago, so all of a sudden he's playing linebacker and starting out there and doing those type of things. His skillset is more of a sub type of a player, but I liked what he did out there. He kind of had a little bit of slink to him and found the football."
Armstrong was a bit more subdued in his self-evaluation.
"I think it went OK but the end result is you want to win, so it doesn't matter how I played," Armstrong said. "Getting that win is what we're all going out to do. You're a backup so you have to expect those things, that at any point in time you can get out there. With limited reps in practice you still have to perform and do your job."
December, 17, 2014
Dec 17
9:20
PM ET
By
Michael Wagaman
| ESPN.com
ALAMEDA, Calif. -- The Raiders are keeping mum about
Sio Moore
's injury and are not saying if the second-year linebacker will require surgery in the offseason.
Moore
Moore was placed on season-ending injured reserve Tuesday after battling a hip injury for several weeks. Oakland's second-leading tackler, Moore did not play in last week's loss to Kansas City. He also missed two games earlier this season with an ankle injury.
Interim Raiders coach Tony Sparano, however, declined to discuss details about Moore's situation and would not confirm or deny if the linebacker was headed for surgery.
"That's not something were going to talk about right now," Sparano said. "He's on IR."
Several other players might not be far behind.
The Raiders' injury report is filling up faster than a water bucket in the Bay Area, with seven players unable to practice and two others limited during Wednesday's workout.
Defensive lineman
C.J. Wilson
is the latest to go down. Wilson injured his knee after recovering a fumble in the third quarter of last Sunday's loss to the Chiefs. He was tackled by Kansas City quarterback
Alex Smith
following a 21-yard return that led to a
Sebastian Janikowski
field goal for Oakland.
Wilson was among the seven who did not practice on Wednesday. The rest of the injury report is below.
Did not practice: CB
Tarell Brown
(foot), WR
Vincent Brown
(groin), CB
Chimdi Chekwa
(hamstring), TE
Brian Leonhardt
(concussion), WR
Denarius Moore
(knee/ankle), RT
Menelik Watson
(foot/ankle).
Limited: QB
Derek Carr
(right thumb), CB
TJ Carrie
(ankle).
December, 17, 2014
Dec 17
8:44
PM ET
By
Michael Wagaman
| ESPN.com
ALAMEDA, Calif. --
Oakland Raiders
quarterback
Derek Carr
is nursing a sore thumb on his throwing hand but team officials don't believe it's serious enough to keep him out of Sunday's game against the
Buffalo Bills
.
Carr injured the hand when he hit his hand on a helmet or opposing player at some point late in the fourth quarter of last week's 31-13 loss to the
Kansas City Chiefs
. The Raiders' second-round pick stayed in and finished the game but was limited in practice on Wednesday.
"I don't know if it was a helmet or a hand or something but I hurt it on that last drive," Carr said.
Although he was restricted in practice, Carr was able to throw the ball without being hindered and interim Oakland coach Tony Sparano didn't sound too concerned when discussing the injury with reporters.
"Not from what I just watched," Sparano said.
Of more concern is Carr's left ankle, which he injured early in the second half after getting hit by Kansas City linebacker
Tamba Hali
. Carr jumped up after the play and immediately began limping noticeably before joining the huddle and continuing the series.
It's the same type of injury Carr suffered earlier in the season during a Week 4 loss to the
Miami Dolphins
. Carr was knocked out of that game midway through the third quarter and replaced by backup
Matt McGloin
, who played the rest of the way.
Carr has taken every offensive snap since then, save for 19 plays against St. Louis in Week 13 when he was pulled late in the blowout loss and replaced by
Matt Schaub
.
The Raiders only listed Carr's thumb on their injury report and the young quarterback didn't seem to think it was too serious either.
"I think Tamba rolled up behind me and it just folded up underneath," Carr said." The same direction that I hurt it in London, but I was able to go today so it was good."
December, 16, 2014
Dec 16
10:37
PM ET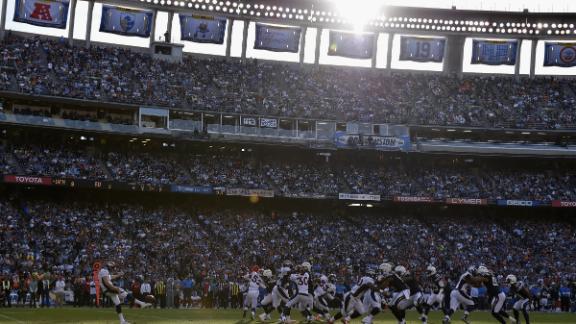 SAN DIEGO -- In a renewed commitment to getting a stadium built here, the San Diego Chargers said Tuesday the team will not exercise its right to terminate the lease at Qualcomm Stadium, committing to play in the city for the 2015 season.
"The team will not be exercising the lease termination clause and will keep working to find a publicly acceptable way to build a Super Bowl-quality stadium in San Diego," Mark Fabiani, special counsel to Chargers president Dean Spanos and the team's point person on the stadium issue, said in a prepared statement.
"Calendar year 2015 will constitute the team's 14th year of work on a San Diego stadium solution."
Since 2007, the Chargers have had a three-month window to renew the team's year-to-year lease with the City of San Diego for Qualcomm Stadium that permits the team to terminate the lease at any time between Feb. 1 and May 1.
The Chargers would have to pay the City of San Diego $17.6 million to leave next year.
The Chargers, the St. Louis Rams and the Oakland Raiders are teams that could potentially relocate to the lucrative Los Angeles Market in 2015.
According to Fabiani, the Chargers are keeping a watchful eye on what happens in Los Angeles, with 30 percent of the team's local revenue -- which includes advertising, sponsorships, club seats and suites -- originating in the Los Angeles market.
December, 16, 2014
Dec 16
7:20
PM ET
Carr
In Week 14,
Derek Carr
had his best total QBR game (91.2), but it was sandwiched between his worst two Total QBR performances of his rookie season.
The second-round pick from Fresno State had a 14.5 Total QBR score in a 31-13 Oakland Raiders' loss at Kansas Icy in Week 15. His only worse Total QBR score came in a 52-0 loss at St. Louis in Week 13 (9.5).
Consistency has been an issue for Carr this season and his recent up-and-down performances reflect that. For the season, Carr was a Total QBR of 41.5. it is 25th in the NFL. Minnesota's
Teddy Bridgewater
, who was taken four spots higher than Carr at No. 32, has the highest rookie Total QBR at 46.4. That is 23rd in the NFL.
December, 16, 2014
Dec 16
6:30
PM ET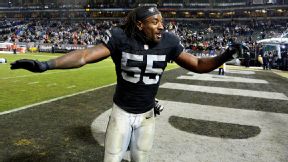 Kirby Lee/USA TODAY SportsSio Moore is the fifth Oakland defensive starter to go on injured reserve this season.
Sio Moore's season is over because of a hip injury.
The Oakland Raiders put the outside linebacker on injured reserve Tuesday after he missed Sunday's loss at Kansas City. He had a hip issue come up during practice last week and was ruled out of the game Saturday.
A third-round pick in 2013, Moore had played well this season. He finished with 90 tackles.
He is the fifth Oakland defensive starter to go on injured reserve this season. A sixth safety, Usama Young, who replaced Tyvon Branch when he was put on IR, also was put on injured reserve.
The Raiders have just four linebackers on the roster. Ray-Ray Armstrong made his starting debut at Kansas City, in place of Moore.
Oakland signed cornerback Chance Casey off San Francisco's practice squad to take Moore's place on the roster. Casey was on Oakland's practice squad last season.
December, 16, 2014
Dec 16
4:30
PM ET
You know it has been a tough, long season when an appearance at No. 29 in ESPN.com's NFL Power Rankings was considered a highlight.
Well, it was nice while it lasted for the
Oakland Raiders
.
After a Week 15 31-13 drubbing at Kansas City, Oakland – which has spent much of the season ranked dead last at No. 32 – is now flirting with the last spot again. The Raiders dropped from No. 29 to No. 31. Oakland moved up to No. 29 last week after a big win over Bay Area rival San Francisco.
However, Oakland's inability to show consistency cost them. Oakland is one of four 2-11 teams. Only Tennessee is ranked lower this week. I ranked Oakland No. 30, but, it's difficult to squabble with the No. 31 at this point.
December, 16, 2014
Dec 16
3:20
PM ET
The
Oakland Raiders
have named fullback
Marcel Reece
as their Walter Payton Man of the year award nominee.
The NFL-wide award will be given in February at the Super Bowl after being pared down to three nominees. It is the most prestigious off-field award given to NFL players.
Reece has been a stalwart in the community since joining the Raiders in 2009.