November, 20, 2014
Nov 20
6:00
PM ET
Every Thursday two of our writers gather 'round the water cooler to discuss six pressing issues in Pac-12 football, aptly named the #6pac. Today, Ted Miller and Chantel Jennings debate…
1. The Arizona-Utah game has a lot on the line in regard to the South race. How is that game won?
[+] Enlarge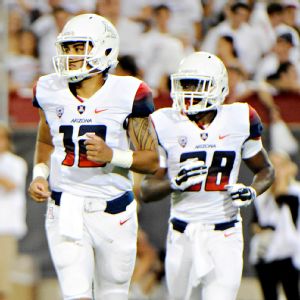 Casey Sapio/USA TODAY SportsThere's no question that Arizona-Utah comes down to Anu Solomon (12), but how he performs involves a battle of wills.
Miller:
Utah isn't going to transform offensively, so it wins the way it has won all year: With its defense and special teams. For Arizona, it needs to approximate a draw at the line of scrimmage, which it didn't do against Washington, even though it got a W. Yet it might come down to whether the Wildcats get good
Anu Solomon
-- Washington State and Colorado -- or bad Anu Solomon -- UCLA and Washington -- which we've seen alternate over the past four weeks.
Jennings:
I'm with Ted on this one. Only, I don't think the Solomon that shows up is dependent on Solomon. I think it's got to do much more with what the Utah defense makes him. And I believe they're going to make him very uncomfortable. The Utes' defense is closer to a UCLA or Washington type, so I think Utah will get to him and, like so many other games this year, the game will be won by Utah won with some serious defensive intensity.
2. Oregon State is playing for bowl eligibility at Washington this weekend. Do the Beavers get it?
Miller:
I like the Huskies at home. I think the Washington defense gets good pressure on
Sean Mannion
, and the offense, which took a step forward versus Arizona, is at least adequate.
Jennings:
Why not Oregon State? The Beavers' defense looked good against Arizona State and Sean Mannion has found chemistry with receivers.
Terron Ward
isn't playing but I think
Storm Woods
is going to have a big game on the ground. Bowl eligibility is on the line and though OSU delivered a huge upset at home against Arizona State, I don't think it'll happen against Oregon. Mannion knows this is his best chance at bowl eligibility and I think he's going to get it.
3. Thanksgiving is creeping upon us, what are you most thankful for in the Pac-12 this year?
Miller:
I am most thankful for #Pac12AfterDark. No other conference has produced more nuttiness than the Pac-12. Things are rarely predictable, and even when they are, they aren't boring.
Jennings:
Backup quarterbacks. Guys like
Jerry Neuheisel
,
Mike Bercovici
,
Kendal Thompson
(or
Travis Wilson
, depending on how you look at it) and
Luke Falk
have all made this season's group of quarterbacks even better and deeper than we could've imagined.
4. At this point it looks like Oregon is the league's best chance at a national title. What team would the Ducks not want to face in a semifinal?
Miller:
The only team I don't like as a matchup is Alabama. The Tide is big and physical on both lines of scrimmage. They remind me of Stanford when it was still Stanford, and we know how that gave the Ducks trouble before. Oregon certainly could use some good injury news on its lines, particularly on offense.
Jennings:
I agree that a tough defense is a worry, but I think what would be more worrisome for the Ducks is actually a high-powered offense. Basically, what team could beat Oregon at its own game? The Ducks have scored 62 touchdowns this season but three other schools who are in playoff talks aren't too far behind -- Ohio State (59), Baylor (59) and TCU (58). Of those teams, the one that has accounted for the most plays of 10 or more yards is Ohio State. So I'll agree with Ted on Bama, but I also have to throw the Buckeyes in the ring.
5. We've got a few rivalry games this weekend, what has been the most exciting rivalry you were ever a part of?
Miller:
Well, I covered Auburn way back in the day and those Iron Bowls were something to behold, even though the Tide and Tigers weren't doing too much when I was down there in the mid-to-late-1990s. I also can remember more than a few thrilling Apple Cups, including a time I was among the poor fools getting pelted by bottles and other random objects during a near-riot at Martin Stadium.
Jennings:
I'm going way back to my high school days -- not to a game I covered, but to one of those small-town rivalries that movies are made about that I was actually a part of. My high school was only good at boys' cross country (which isn't exactly riveting to cheer for) so my senior year, when our boys' basketball team was actually kind of good, it was the thing to do on Friday nights. We played our rival (essentially the exact same town just 10 miles up the road) and it was this heated, intense, spiteful type of games. We ended up winning
by two on a last-second floater in the lane
. Everyone tried to rush the court (fail) but it was one of those movie moments that I actually lived through. Very cool. Very John Mellencamp-ish.
6. We're three weeks from the championship game -- what team does Oregon face?
Miller:
I'm going to say UCLA, and I think there's still a strong possibility it becomes a "play-in" game for both teams with the College Football Playoff.
Jennings:
I'm also saying the Bruins. But at this point, I think the only Pac-12 team with a chance to get in the playoff is Oregon.