November, 25, 2014
Nov 25
1:45
PM ET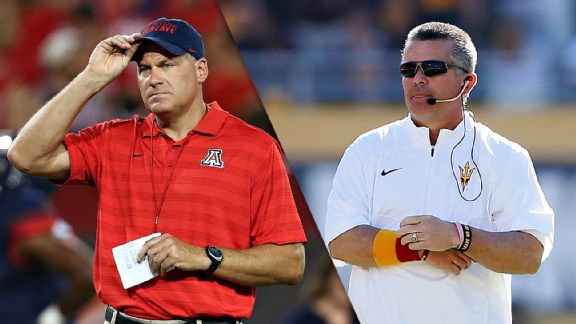 Getty ImagesIt hasn't taken long for Rich Rodriguez and Todd Graham to build Pac-12 contenders.
TEMPE and TUCSON, Ariz. -- The Territorial Cup isn't college football's most famous rivalry trophy, but it is the oldest, dating to 1899. Thirteen years later, Arizona achieved statehood.
The
silver-plated cup
, over a britannia base metal, goes to the winner of the Arizona-Arizona State football game each year. The cup has been in the desert for more than a century, but it didn't originate there -- it was manufactured in Taunton, Massachusetts.
Todd Graham and Rich Rodriguez aren't from around here, either. Neither man had strong ties to the state or its universities before taking over programs at Arizona State and Arizona, respectively.
They brought fresh approaches from foreign soil, and they have boosted two programs dripping with potential into winners. Arizona and Arizona State both enter Friday's Territorial Cup with at least nine victories for the first time since 1975, when both schools were in the WAC. Friday's showdown at Arizona Stadium marks the first Territorial Cup since 1986 where both teams are ranked in the AP Top 25. The winner would claim the Pac-12 South if UCLA stumbles against Stanford on Friday at the Rose Bowl.
So how have two outsiders marked their territory in just three seasons? Aggressive, proven schemes have helped. So have strong assistants and shrewd recruiting.
But more than anything, Graham, a Texan, and Rodriguez, a West Virginian, are demanding coaches who have brought structure and diligence to programs that previously lacked those qualities.
[+] Enlarge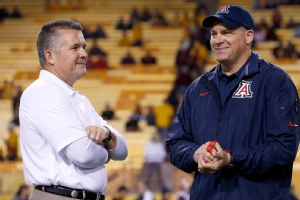 AP Photo/Ross D. FranklinTodd Graham and Rich Rodriguez have brought discipline and desire to the desert, and the result is a Territorial Cup that features two Top 25 teams for the first time in nearly 30 years.
"It's kind of a laid-back culture here," Arizona State defensive coordinator Keith Patterson said. "You've got these nice resorts. People have their retirement homes here, and the weather is great. People want to be outside riding their bikes and going for walks. But [Graham has] brought this blue-collar, tough work ethic to these kids.
"It's so different, it works."
Graham quickly points out that people retire in Florida, too, but he describes the program he inherited as "extremely undisciplined." ASU was the nation's most penalized team in 2011, the year before Graham arrived. The Sun Devils ranked 114th in penalties in 2010, last also in 2009 and 112th in 2008.
In Graham's first two seasons, ASU finished 10th and 24th nationally in fewest penalties per game. This season, the Sun Devils are 22nd and lead the Pac-12 in fewest flags by 13.
"No one on our team is going to get a personal foul," offensive lineman
Christian Westerman
said. "If a guy gets a personal foul in practice, he's pretty much going to sit out the rest of that practice. It's a stupid penalty, and that's how you lose football games.
To hammer home the point, ASU brought in Pac-12 officials during the offseason for an extensive rules tutorial. From targeting to intentional grounding, rules change each season, but Sun Devils players are adapting.
"Until you put that kind of emphasis on it, I don't think kids really respect how important it is," offensive coordinator Mike Norvell said. "Everybody in the country preaches 'Don't get a penalty,' but unless your kids really believe in that and buy in to that, you'll probably get what you've always had."
Arizona also reduced its penalties total, rising from 114th in 2011 to 81st in Rodriguez's first year and 12th in 2013. Like ASU, the Wildcats don't beat themselves, ranking in the top 15 nationally in fewest turnovers lost and turnover margin this season.
The program's "Hard Edge" motto goes beyond the
must-see clips on YouTube
. It symbolizes the way Arizona plays, the type of player Rodriguez wants to recruit and the way the staff has had to recruit.
"Most of our connections are from the East Coast and Florida," co-offensive coordinator Rod Smith said. "When we came out here, we had to start from ground zero. You didn't know anybody. You had to go out and beat the pavement."
Arizona has made inroads both in the state and especially in California. The Wildcats' 2014 recruiting class
ranked 23rd nationally
, two spots below Arizona State's.
"We'd like to think we're appealing to anybody, but to think we're going to get 25 five-stars, it's not going to happen," Rodriguez said. "You've got to do a great job of evaluating and finding guys that fit what we want. We call them OKGs -- our kinda guys."
Wildcats sophomore linebacker
Scooby Wright III
is
the ultimate OKG
, a small-potatoes recruit whom Arizona identified before anyone and who leads the nation in tackles for loss and ranks fifth in sacks. He's the latest undervalued prospect to blossom under Rodriguez, who helped guide Pat White, Steve Slaton, Denard Robinson and others to stardom.
"It's almost like 'Moneyball,'" said Matt Dudek, Arizona's director of on-campus recruiting and player personnel. "I've got one, and no one else has him. Five-stars are great, but that means you're better at convincing your kid to come to your place.
"With this one, you found a diamond in the rough."
"

We'd like to think we're appealing to anybody, but to think we're going to get 25 five-stars, it's not going to happen. You've got to do a great job of evaluating and finding guys that fit what we want. We call them OKGs -- our kinda guys.

"

-- Rich Rodriguez
Coaches have long considered both Arizona schools diamonds in the desert. Growing up in Alabama, Sun Devils tight ends coach Chip Long wondered why ASU couldn't be a national power. Norvell remembers the first time he saw Sun Devil Stadium, from the window seat of a plane landing at Phoenix's Sky Harbor Airport.
He marveled at the venue, nestled between mountain buttes.
"You always say, 'God, that ASU job is just a gold mine," said Chris Ball, Arizona State co-defensive coordinator and safeties coach. "Why can't they win?"
Arizona State has no shortage of built-in advantages, but also challenges.
"You need discipline here," Ball said. "It's the largest school in the country. People come from all over the United States. There's a lot of distractions."
Graham's hard-driving style has resonated with players, and the results -- 27-11 overall, 19-7 in the Pac-12 -- are unassailable. ASU ranks fifth nationally in average turnover margin (plus-1.09 per game) and seventh in fewest giveaways (11).
"I really liked his discipline factor, how well he kept the program," said Westerman, a Chandler, Arizona, native, who transferred to ASU after two years at Auburn. "Coach Graham doesn't let anything slide."
Rodriguez also is demanding, and his track record -- four Big East titles, a 2006 Sugar Bowl win -- raised the bar for an Arizona program still seeking its first Rose Bowl appearance. After consecutive eight-win seasons, Rodriguez has the Wildcats still alive in the competitive Pac-12 South race.
"That kind of success, we all adapted to their style," safety
Will Parks
said. "It's bringing that energy, that East Coast swag over to the West Coast swag. It makes one whole big swag."
Arizona ranks third in the league in points allowed (24.6 PPG).
The Wildcats have been especially gritty on the road, stunning Oregon in September and crushing Utah on Saturday.
Rodriguez battled many things in his turbulent three-year run at Michigan, including entitlement, which he acknowledged both
during
and
after
his Wolverines tenure. His challenge at Arizona, which hasn't had more than eight victories since 1998, is teaching players how to win.
"These guys have been open to what we're teaching and what they're learning about football," offensive coordinator Calvin Magee said. "It's been fun that [entitlement] has not been here."
Friday's game will be fun. In-state rivalries always are, and this one, while often overlooked,
elicits strong emotions
.
Arizonans will be locked into every play.
Thanks to the two outsiders walking the sidelines, so will the rest of the country.