December, 17, 2014
Dec 17
11:00
AM ET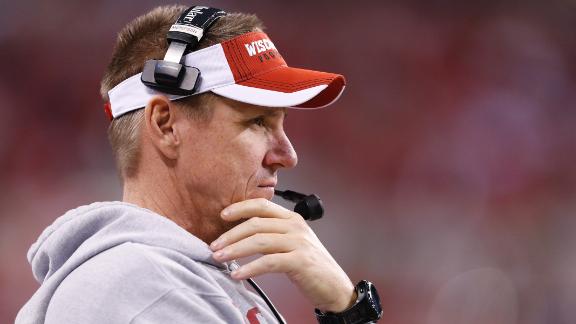 It started with a rumor and a casual conversation. There were search firms and lists, but there were also back channels, innuendo and a lot of "this guy talked to that guy who heard this..." going on.
That's how the process of expediting Gary Andersen from Wisconsin to Oregon State began.
"A lot of it, we figured, was probably rumors," said Oregon State athletic director Bob De Carolis. "But you talk to people and you hear things. Maybe things aren't as rosy as they should be. A lot of it was probably rumors, but you follow up on it to make sure if there is some truth to it."
But in a matter of days, rumors became facts, facts became introductions and introductions led to Andersen being named Oregon State's new head coach less than a week after Mike Riley's jolting departure to Nebraska.
[+] Enlarge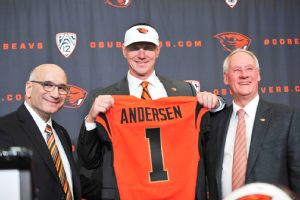 Susan Ragan/USA TODAY SportsAthletic director Bob De Carolis (at left) said the hiring process to get coach Gary Andersen to Oregon State all happened very quickly.
The running joke is that every athletic director has a list in his back pocket of football coaches they'd hire should the rainy day come. And on Dec. 4, when news broke that Riley was leaving Oregon State, De Carolis went into what he called "attack mode."
"It wasn't in my back pocket, that was for sure," De Carolis said with a chuckle. "That's a bit of urban myth. I think what you do at our level, you watch people over time and you keep people in the back of your mind. You never know. We didn't think with Coach Riley's situation that anything was imminent. We weren't thinking that way. But once we got an inkling that something was happening, we went into attack mode."
Within two days, De Carolis had what he called a "robust" list of candidates -- names that were acquired through various channels. Some contacted De Carolis through their agents. Others called on their own. Some OSU reached out to. He looked at Power 5 coaches, Group of 5 coaches, FCS coaches and out-of-work coaches working in assorted media.
"You'd be surprised to hear the people that might be willing to have a conversation," De Carolis said.
But the name he kept hearing through those casual conversations was Andersen's.
"On that Saturday, his name popped up and our interest popped up when we heard that might be a possibility," De Carolis said. "We got connected with his representatives to make sure it was accurate and we scheduled a face-to-face for Tuesday [Dec. 9]."
De Carolis said a total of five candidates were interviewed for the job, and overtures toward Andersen were made following the Big Ten championship game. By Sunday, the parties had connected and by the following Tuesday, De Carolis and Andersen agreed to a deal in principle. The next day, Andersen was introduced as OSU's 28th head coach.
"It was all such a whirlwind," Andersen says. "You know how these things go. They reached out, agents talked and that whole process. Things rolled very, very quickly."
Just as Riley's departure was a college football bombshell, Andersen's hire was also met with dropped jaws.
"I get it. I understand it," Andersen said. "We won nine games and 10 games and got to two Jan. 1st bowl games. We had tremendous success on the field and I was lucky to be part of it. I get the fact that 'why would you do that?' But what I don't understand is the perception of why you'd leave Wisconsin and the Big Ten for Oregon State and the Pac-12. I have a tremendous amount of respect for both conferences and both programs. Oregon State and Wisconsin matchup and are very comparable. That's my opinion."
Now Andersen takes over a program that is home for the holidays in a league that is surging. Their rivals are in the Rose Bowl, one game away from going to the national championship and the balance of power in the league is in a state of flux. Priority No. 1, he said, will be focusing on the roster that's in place.
"You break everything down with your team first," Andersen said. "I don't think you can worry about what you're fighting. You have to put yourself in a position to get your roster put together. ...You want to run your style. The style we want to move into. Look at us at Wisconsin, we were only able to do that to a certain point because where we were. We had the best running back in the country [Melvin Gordon] so we just put the ball in his hands. We're not the smartest coaches in the world, but we're not the dumbest either."
With facility upgrades coming, De Carolis said he believes Andersen is walking into a pretty good situation.
"There's this misnomer that we don't have resources," De Carolis said. "We've got resources ... the good news going forward is Coach Andersen is taking a situation that's not exactly broken. A lot of things we're going to do here will hopefully help him take it to the next level."
PAC-12 SCOREBOARD
Saturday, 12/20
Monday, 12/22
Tuesday, 12/23
Wednesday, 12/24
Friday, 12/26
Saturday, 12/27
Monday, 12/29
Tuesday, 12/30
Wednesday, 12/31
Thursday, 1/1
Friday, 1/2
Saturday, 1/3
Sunday, 1/4
Monday, 1/12
Tweets from https://twitter.com/ESPNCFB/lists/pac12