October, 22, 2014
Oct 22
4:00
PM ET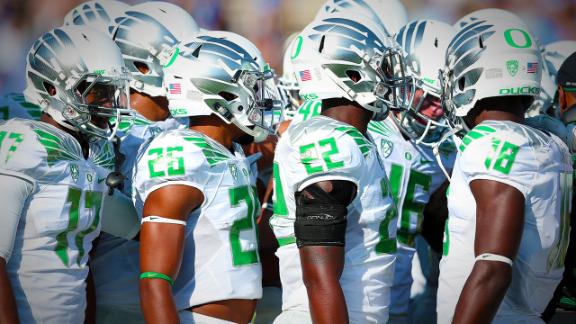 So maybe all the hubbub and Apocalyptic thoughts that came crashing down on Eugene and all of Interstate 5 and up through the Cascades a few weeks ago were a little bit of an overreaction, no?
But oh, how quickly the tide changes. Because in just two weeks,
Marcus Mariota
has led the Oregon Ducks from pandemonium to the Promised Land (with some help from a few other top teams being upset) and back into the good graces of the football gods. Not bad, Marcus, not bad -- just 16 days to go from a hopeless team to a heroic one.
[+] Enlarge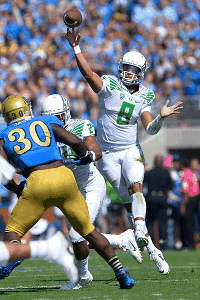 Robert Hanashiro/USA TODAY SportsMarcus Mariota has helped Oregon stay in contention for the College Football Playoff by completing 70 percent of his passes.
"Ah, but [insert SEC West QB name here] could do it in 15," someone argues. But, that's fine. Because the SEC can do what the SEC wants to do.
At this point, the Ducks just need to insulate and take care of business because they're likely in control of their own destiny. According to the ESPN Football Power Index, Oregon has a 21 percent shot to win out. That's third-best among one-loss teams, behind Ohio State and TCU, which both have a 26 percent chance.
And with one game to go until the College Football Playoff committee releases its first set of rankings, Oregon solidified itself as the Pac-12's banner holder.
But that doesn't mean there aren't major issues that could still be exploited, and coach Mark Helfrich is the first to admit that.
"There's a ton we can improve upon, for sure," he said on Sunday night after watching his team's game film from its dominant win over Washington.
Such as ... tackling. That has looked better these past two weeks, but the Ducks are still giving up far too many big plays. Oregon has given up 119 plays of 10 or more yards so far this season. You want to know who else has given up that many plays of 10 or more yards?
Purdue and Toledo. In very few cases in college football -- when it comes to statistics -- do you want to be on the same list as those two teams.
As the weeks progress, the Ducks are doing a better job communicating and getting helmets to the ball. But still, of the 1,182 rushing yards the Ducks have allowed, 610 have come after contact.
So, you can decide whether it's more worrisome that more than half of opponents' rushing yardage has come after Oregon (tries to) tackle or the fact that through seven games, 572 rushing yards have come before an Oregon defensive player has even gotten to the ball. Or, everyone can just agree that it's bad news when the Oregon defense allows other teams a 4.3-yards-per-rush average and a 65 percent conversion rate on third-down rushing attempts.
But, it can get better (well, at 120th in the country in third-down rushing defense, it can't get much worse).
Defensive coordinator Don Pellum has been on this staff a long time, and he knows that this group can play much better than it has. Defenses always take longer to jell and with so many new faces on that side of the ball and D-lineman
Arik Armstead
hopefully healthy for good, maybe the learning curve will kick up a notch.
But the offense finally seems to be clicking. And though Helfrich wants to downplay the return of offensive tackle
Jake Fisher
, the skies have looked dramatically clearer for the Ducks since Fisher got back to bookending the left side of the line and protecting Mariota's blindside.
In Oregon's games against Arizona and Washington State, with Fisher out, the Ducks' average rushing yardage was just about even with what those two teams had given up coming into those games. Meaning, it was average. An average team will not reach the playoff.
But when Fisher returned, the Ducks averaged 1½ times the rushing averages that UCLA and Washington had given up coming into those games. That's the kind of performance the committee wants to see. It's not all about statistics, but when
Royce Freeman
is rushing for 100 yards and Mariota is completing 70 percent of his passes, they're a hard team to ignore.
And that's exactly what the Ducks need to be: Hard to ignore -- and not just because their uniforms are flashy.
So, why not Oregon? That's the question the committee will ask itself as it sits down to look at the résumés of the top 20 or so teams.
It's a team that knows how to be nationally relevant, but it's also a team that knows what it feels like to slip out of that conversation.
Two weeks ago, it seemed like that might happen. But the loss to Arizona doesn't carry as much weight now, as there's a certainty that at least two one-loss teams will be in the playoff.
Oregon is in the conversation. The Ducks are the ones who are going to decide whether they keep themselves there or not.