December, 18, 2014
Dec 18
4:00
PM ET
Your humble #4Pac welcomes you to another installment of what will be a regular feature on the Pac-12 blog. Here's how it works: We take one question or one topic, or maybe it's some other really cool format that we haven't even thought of yet, and all contribute our thoughts.
Have a suggestion for something we should address in a future #4Pac roundtable? Go ahead and send it to our
mailbag
.
Today's question: Which non-bowl eligible Pac-12 team could most use extra December practice time?
Kevin Gemmell / @kevin_gemmell
: This one feels like a no-brainer to me. The "worst" team in the league could always use the most work and time to improve. You'll note the quotations around worst because their record says they are the worst. But ask Cal, or Oregon State or UCLA or Utah if they are the worst team in the conference. All of those teams survived the Buffs by fewer than seven points, and in the case of Cal and UCLA, needed double-overtime to get it done.
You'd be hard-pressed to find a Mike MacIntyre interview this year that doesn't include at least one reference to "us being one of the youngest teams in the country." Youth improves with practice and experience. And an extra set of practices for one of the youngest teams in college football sure would have been nice.
Remember how the first half of the UCLA game ended? The chaotic scramble that produced no points and left MacIntyre with his face in his hands. He took the blame, but I'm sure a few extra practices and some two-minute work couldn't hurt.
Colorado looks like a team on the verge of breaking through -- or at least getting to .500 ball. The Buffs were far more competitive, but still didn't get the results in the standings. They'll be better next year than they were this year. But they also need the extra work more than the other three.
Ted Miller / @TedMillerRK
: Washington State lost six of its final seven games, an odd victory over Oregon State acting as an anomaly cruelly hinting at what might have been amid a dreary season of massive disappointment. And, after that streak began with a 60-59 loss to California, which featured a bumbling finish by both players and coaches, those five other defeats came by an average of 23 points. It wasn't like the Cougs were close. By season's end, you could say they were as far away from something good as they had been since Mike Leach's angst-filled first season in 2012.
[+] Enlarge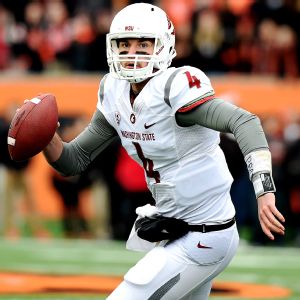 Steve Dykes/Getty ImagesExtra practice time would have been valuable for freshman QB Luke Falk and an offense the Cougars will lean heavily on in 2015.
You also could believe Leach and his team needed a break from each other, not more practices together, as the general theme of Leach's late-season remarks blamed an enduring loser's mentality haunting his program. Accurate observation or not, Leach's lack of a filter is starting to wear on some Coug fans.
So there's a worrisome malaise seemingly creeping around Pullman, one that could be aggravated by time off. That's why bowl practices -- or any practices -- would have given Leach and his team leaders a chance to show returning players a new script before guys got fat and happy this winter. While some teams want extra practices to capitalize on positive momentum, Leach needs bowl practices to reverse a downward trend that surprisingly took over his third season.
ChantelJennings / @ChantelJennings
: There are only four Pac-12 teams that didn't make bowls so I supposed it'd make the most sense -- be the most fair -- if I went with Oregon State, but I really don't think the extra practice would've served the Beavers best. So, I'm going to double up on Ted's pick and go with Washington State.
Any time you have a young quarterback, any extra time in the system -- the real system, not the player-run offseason system -- is going to be highly beneficial. We saw how much
Luke Falk
grew in the final four games of the season. With the bowl game, he would've only gotten one more game, but he would've gotten two weeks worth of practice which is so, so valuable for a young signal-caller and an offense.
Yes, this is kind of disregarding the Wazzu defense, which some fans would say is par for the course with Leach. However, maybe Mike Breske would've stayed through the bowl, maybe not. Who knows? But I'm picking Washington State for the offense alone. I don't see this team winning games with its defense any time soon. Yes, it's an improving group but as long as Leach is coach, this is going to be a team that wins because it outscores its opponents. Give Falk and his boys another two weeks and the Cougars are one step closer to that goal and the possibility of bowl eligibility next season.
David Lombardi / @LombardiESPN
: Of all the non-bowl eligible Pac-12 teams, I think it's fair to say that 5-7 Cal was the best. In fact, they did beat each of the other three losing squads -- though the wins against Washington State and Colorado both came in the narrowest fashion possible. But the original point remains: Of the teams on the onside looking in, the Bears were the closest to punching their ticket, and that's why I think they could most use that extra push of additional practices. The work would be enough to push them over the top in 2015.
Two major flaws hindered Cal this season: The Bears were again bad defensively (they allowed a conference-worst 39.8 points per game) and they were the Pac-12's most penalized team (82.2 yards per game). The whole penalty problem screams, "we need more practice!" right? And when it comes to that leaky defense, it's clear there was improvement from the 2013 version (Cal surrendered 45 points per game that year), but even more is needed. Give
Jared Goff
and those receivers just a little more to work with, and the wins will start piling up. So Sonny Dykes' crew certainly could have made great use of a little additional refinement time.
PAC-12 SCOREBOARD
Saturday, 12/20
Monday, 12/22
Tuesday, 12/23
Wednesday, 12/24
Friday, 12/26
Saturday, 12/27
Monday, 12/29
Tuesday, 12/30
Wednesday, 12/31
Thursday, 1/1
Friday, 1/2
Saturday, 1/3
Sunday, 1/4
Monday, 1/12
Tweets from https://twitter.com/ESPNCFB/lists/pac12