November, 26, 2014
Nov 26
8:00
PM ET
Thanksgiving is a special night. Jimmy Walker used to say dy-no-mite, that's right.
To the notes!
John in San Jose writes:
How could all of you supposed experts or idiots pick Utah over the Cats? Don't you watch the games? Not one of you gave the Cats a chance in Utah and they blew them out.
Kevin Gemmell:
First off, quit trying to sweet talk us, you silver-tongued charmer you. That won't get you anywhere.
[+] Enlarge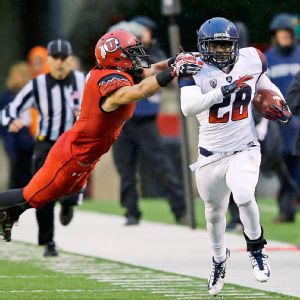 AP Photo/Rick BowmerPerhaps we were guilty of overthinking -- or overwatching -- with our unanimous forecast of a Utah win over Arizona.
I can't speak for the rest of the blog, but I have to admit, I was a little surprised that all five of us picked Utah. I went back on forth on that one.
I always love the "don't you watch the games?" criticism. Because, actually, that's all we do. And I usually watch them multiple times (thank you Pac-12 Networks' Football in 60). And in this case, it's BECAUSE I watch the games that I leaned toward Utah.
When making picks, all we can work with is the information we already have. If I had a copy of Grays Sports Almanac, things would be different. Biff Tannen and I would be sucking down cocktails on a yacht somewhere.
Considering Arizona and Utah had played in six games this season that had come down to a touchdown or less, that led me to believe it would be a close game. And in close games, especially with a warm-weather team going to a cold-weather climate, I thought my rationale was sound.
Obviously, it wasn't, because the Utes got rolled. Perhaps I was overthinking it? I'm sure there were plenty of people in the world who picked Arizona to win. But I'm pretty sure few actually saw a blowout.
My record in Arizona games is 8-3 this year. I whiffed on the Oregon game, I picked them to beat USC and they let me down (where were the "thanks for the support, Kev" mailbag letters then, huh?) and I whiffed on Utah. The only time I picked against them and won was UCLA.
As you can see this morning, I picked them in Territorial Cup. If they lose, I want my "thanks for the support, Kev" mailbag letter from you, John.
---
ST in Boston writes:
Should Oregon have that perfect season by finishing with both a Heisman and CFP trophy, which has historically done more for recruiting (the top single player award or the top team award)? And stats on that?
Kevin Gemmell:
I'm not sure if that is quantifiable. And if there is a study out there about it, I haven't seen it. So this is just an educated guess.
I would say that the opportunity to win a national championship would be the larger draw for recruits on several levels. If you play for a team that's in the national title discussion, it's already a high-profile program.
High-profile programs offer bells and whistles such as upgraded facilities (most of which have awesome locker rooms, weight rooms, practice facilities, player lounges and barber shops), uniform diversity and national TV exposure. It almost feels like playing for a title contender is an afterthought to some of the perks of going to an upper-tier program.
Just because you go to Ohio State or Notre Dame or USC or Oklahoma, doesn't mean you're going to win a Heisman. Heck, Army has more Heisman trophy winners than Texas.
I recently visited Utah and got a tour of the new facilities. The message was that recruiting happens the second you walk in the door. Even when a recruit is waiting alone in the lobby (which is awesome), he is being recruited by his surroundings.
So based on what I've seen, the prospect of a national championship would likely be the bigger draw. Just my take.
---
Andrew in La Crescenta, Calif. writes:
Personally, I believe if UCLA beats Stanford this Friday they would be guaranteed a New Year's Bowl game regardless of the outcome of the Pac-12 Championship game. Oregon would be ranked so high that I can't see the Bruins dropping more than a couple spots if they lose. Any thoughts on this?
Kevin Gemmell:
I like the wishful thinking. But there are a few things to consider. Let's suppose that UCLA wins the South and loses to Oregon in the Pac-12 championship game. What then?
You have a three-loss team that would have fallen out of the top 10. Style points, I believe, will matter. If the Ducks come out and win 42-10, I think the selection committee would be hard-pressed to pick the Bruins for New Year's Day game. If they lose in overtime by a field goal? That might be a different story.
And say it's a 35-24 game -- not a blowout, but not exactly a nail biter. Is there a chance the committee names the winner of the Territorial Cup -- which only has two losses -- to one of those secondary games? If the Wildcats smoke the Sun Devils, or vice versa, they'd be 10-2 and likely in the top 10.
This is all uncharted territory, so the word "guarantee" shouldn't be thrown around loosely. And let's not forget that UCLA ... or Arizona ... or ASU could end up beating Oregon. I don't want an Oregon championship to come off sounding like a forgone conclusion. Because it's not.
Is it possible that three Pac-12 teams play in those games? One playoff and two secondary? Maybe. Perhaps the Ducks play in the national semifinal after edging the Bruins, who play in a secondary game and the Territorial Cup winner at 10-2 also gets in. That might be overly wishful thinking. But I'm not ruling it out.