October, 22, 2014
Oct 22
10:00
PM ET
By
Kyle Bonagura, Kevin Gemmell, Chantel Jennings
and
David Lombardi
| ESPN.com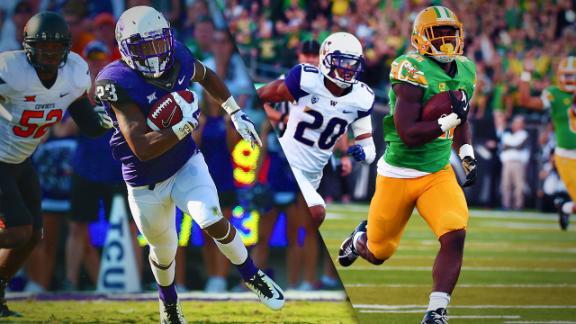 Your humble #4Pac welcomes you to another installment of what will be a regular feature on the Pac-12 blog. Here's how it works: We take one question or one topic, or maybe it's some other really cool format that we haven't even thought of yet, and all contribute our thoughts.
Have a suggestion for something we should address in a future #4Pac roundtable? Go ahead and send it to our
mailbag
.
Today, we're trying to make sense of the Pac-12 South as we head into the home stretch. Who's your favorite the win the division?
David Lombardi/@LombardiESPN:

As you may have noticed, "minefield" has been my description of choice for the Pac-12 South. So this is a dangerous question to answer.
Personally, I'm a "defense wins championships" guy, so I'll work with a process of elimination here: ASU hasn't yet proven they can consistently play sturdy defense (don't get too excited about shutting down Stanford's unimpressive 2014 offense), USC takes critical stretches off on that side of the ball (see their Hail Mary defense), Arizona has also been leaky, and UCLA has battled defensive discipline issues all season long.
That leaves me with Utah, a team leading the nation with 5.5 sacks per game and on pace for a record 71.5 sacks, as the only consistent defensive choice. Combine that with
Devontae Booker
's excellent running, and it becomes apparent that the Utes are the team with the necessary stability to be considered Pac-12 South favorites.
Chantel Jennings/@ChantelJennings:
I see it coming down to the winner of Arizona State-Arizona. And (drum roll please) in that matchup, I'd have to go with the Wildcats. I think Rich Rodriguez has enough talent on the field and trickery in his playbook to come away with a win in that game. The game is at Arizona so that would be going against the grain of road teams winning matchups, which makes sense. Arizona's defense has been suspect at times this season, but I think that group will begin making some major strides, but at the end of the day this is going to be about what offense is going to put the most points on the board. I think we're going to see a group of young players like
Anu Solomon
and
Nick Wilson
carry the banner for the Pac-12 South. It's going to be one heck of a rematch at Levi's Stadium when the Wildcats take on Oregon. That's a game I wouldn't mind seeing again.
Kevin Gemmell/@Kevin_Gemmell:
I mentioned this earlier in the week on our Spreecast. Utah reminds me a lot of Stanford in 2012. They are a team that isn't getting a ton of production out of the quarterback position, but they are winning on strength of a running game, good defense and efficient special teams play.
I know, I know. The upcoming schedule looks brutal. But we've seen that this year's Utes can handle the road -- something previous editions haven't been particularly good at. Booker's emergence (563 yards, five touchdowns in his last three games) has been enough to sustain an offense that has struggled in the air.
Defensively, this might be the best overall unit in the conference.
Nate Orchard
is a backfield menace and
Gionni Paul
has quietly been one of the best middle linebackers in the league. The secondary is hunting and the special teams are top notch.
Tom Hackett
has done an outstanding job flipping the field and anytime the Utes get in or around the 30-yard line, it's almost guaranteed points, courtesy of "Automatic"
Andy Phillips
.
The South is a mess right now. And you could easily make an argument for five teams to win the league. And you wouldn't be wrong about any of them. So why not Utah?
Kyle Bonagura/@BonaguraESPN
The fact that you can make a legitimate case for five teams to win the South means there isn't an obvious favorite. Best tie-breaker?
Remaining schedule ... and that clearly favors USC.
At 4-1 in conference play, the Trojans are two wins up on Arizona (2-1), Utah (2-1) and UCLA (2-2) and one on Arizona State (3-1). We've already established there are no easy games in the Pac-12, so that they're already at four is significant. And with that understood, their remaining slate -- at Utah, at Washington State, home against Cal, at UCLA -- is the most manageable.
Take Utah for example. The Utes have six more conference games -- USC, at Arizona State, Oregon, at Stanford, Arizona, at Colorado -- so while there's a good chance they beat USC on Saturday, their road to the division title is significantly more difficult. The other three teams face similar futures, which leaves USC with the best shot to emerge.