October, 17, 2014
Oct 17
2:00
PM ET
CORVALLIS, Ore. -- By no means was Utah's
29-23 overtime victory
at Oregon State pretty. It was far from it, and not an apples-to-oranges kind of far. It was more like an apples-to-zucchini squash kind of far.
It was an ugly, gut-check, props to anyone who stayed through the first three quarters and only saw five field goals kind of ugly. It was a combined 1-of-19 on third downs at one point kind of ugly.
It was the kind of ugly that necessitates the winning team's coach to say he thought it was "an outstanding job by our football team [of] hanging in there."
Which Utah coach Kyle Whittingham did.
[+] Enlarge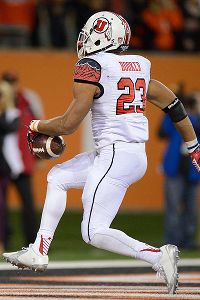 AP Photo/Troy WayrynenDevontae Booker's TD run in overtime gave Utah a crucial win against Oregon State.
"Our offense did enough to get us enough points to win," Whittingham said. "Our defense did enough to keep us in the game."
They did
enough
. They didn't dominate. They didn't own the Beavers. They just won. Ugly.
And you know what? It was the kind of ugly that looks like it could be enough to take the Pac-12 South Division this season.
With everyone beating up on everyone (which displays the depth of the conference) why not Utah?
It's not what anyone pegged for this team. The Utes were picked to finish second-to-last in the South at the beginning of the season. But in a season in which the conference has seen more than one Hail Mary decide a game and road teams go 15-4 in league play, it sort of feels like anyone -- yes, even Utah -- could sneak into that top spot if just enough goes right and not too much goes wrong.
It's the old "C's and D's gets degree" frame of mind. Don't worry about being the valedictorian, just get by.
Because that is exactly what happened on Thursday night.
The Utes -- not by design -- played two quarterbacks.
Kendal Thompson
, who led Utah to victory on the road against UCLA two weeks ago, completed four passes in the first half. He was sacked three times and also threw an interception. Yet, somehow the Utes were still in a 6-6 tie as they went to the locker room, thanks to their captain, kicker
Andy Phillips
.
Phillips, 13 of 15 this season, hit 38- and 43-yard field goals to keep Utah in what some could call a defensive battle, and others would call a matchup of stagnating offenses. Truthfully, it was probably somewhere in the middle.
But, in the first half, that was enough. Though Whittingham didn't come to Corvallis expecting to play two quarterbacks, he decided at halftime to go back to
Travis Wilson
, who earned the starting job coming out of fall camp.
Wilson didn't fare too much better in the second half. He completed five passes for 45 yards, didn't throw a touchdown, and was sacked once. But in the second half, the run game exploded for the Utes.
Devontae Booker
, who rushed for 44 yards at 4.4 yards per carry in the first half, scored three touchdowns (including the winner in OT) and had 185 second-half rushing yards at 8.4 yards a pop.
Whittingham said he thinks Booker is the best running back in the conference, and Booker's 229 rushing yards Thursday -- the most by any Pac-12 back so far this season -- is a reason why.
The defense played stout, keeping Oregon State quarterback
Sean Mannion
uncomfortable. Though Mannion completed just 56.8 percent of his passes and was sacked five times, he almost led the Beavers out of the woods. His 72-yard touchdown pass to
Jordan Villamin
to start the fourth quarter gave Oregon State its first lead. In overtime, with the Beavers trailing by seven, he connected on a corner fade to Villamin on fourth-and-goal.
But Whittingham wasn't upset with the plays the Utah defense allowed.
"They're gonna give up things to that guy," Whittingham said of Mannion. "They've got guys on scholarship ... that are going to make some plays. But we made a few more than they did tonight."
Not a hundred more. Not many more. In fact, Oregon State topped Utah statistically in nearly every category that typically matters -- first downs, total offense, third-down conversions.
But the only statistic that truly matters -- which team has more points -- belonged to Utah. Because the Utes made "a few more" plays than the Beavers.
That might be what it takes to become the leader in the South Division. The conference was expected to be deep, but the cream of the crop was supposed to be a head above everyone else. That doesn't seem to be the case anymore.
It certainly won't be an easy road for the Utes. Their next five opponents are ranked in the top 25. They have USC at home next weekend, then travel to Arizona State. They face Oregon at home, Stanford on the road, and close out the season against South foes Arizona and Colorado.
But if they keep doing enough on offense, enough on defense, and fielding their dangerously explosive special teams, there is a chance. It might not be an incredible chance, but it does seem silly to count them out at this point.
In the Pac-12 this season, you don't need to be an overachieving team or have a Heisman or Biletnikoff finalist ... don't worry about the style points.
Just survive. Just do
enough
.