February, 4, 2015
Feb 4
10:26
PM ET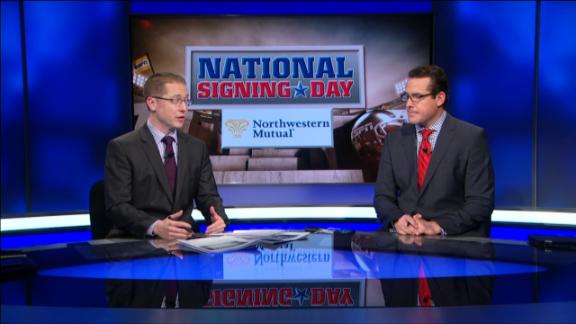 LOS ANGELES -- Smug isn't the right word, because it wasn't smugness. But it wasn't full-blown humility, either. For now, let's call it a profound sense of satisfaction as
UCLA
coach Jim Mora stood at the podium and ran off the highlights of the Bruins' 2015 recruiting class.
"Depending on what stock you put into rankings or what recruiting service you look at, as we stand here right now, we have the No. 1 average star rating in the United States of America," Mora said. "The No. 1 quarterback [
Josh Rosen
], the No. 1 running back [
Soso Jamabo
], the No. 1 tight end [
Chris Clark
], the No. 1 offensive guard [or center,
Fred Ulu-Perry
] and the No. 1 offensive line class in America. That's pretty impressive."
The day started at 3:15 a.m. PT at the IHOP in Encino, California, over a stack of buttermilk pancakes. And 13 hours later, Mora and his staff were the talk of signing day.
[+] Enlarge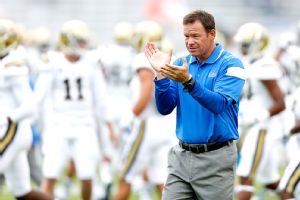 Joe Robbins/Getty Images"On national TV, guys were pulling out UCLA hats," Jim Mora said. "I'm not going to lie to you, that feels pretty good."
Three years ago, Mora was a college football outsider. His hiring was met with raised eyebrows, and many questioned whether a coach who spent so much time in the NFL could jump right into the shark tank that is recruiting. And not just any region -- but Southern California -- where he'd be going head-to-head with
USC
. Three years later (and three straight wins over the Trojans) Mora has deafened his critics with a resounding eight clap that rippled across seven different states Wednesday.
"I never doubted myself or that I couldn't do the job," Mora said. "I'm sure I had a little apprehension because I'd never done it before, but I never doubted whether I could do it. I don't hold grudges or harbor feelings.
"On national TV, guys were pulling out UCLA hats. I'm not going to lie to you, that feels pretty good. When on national TV there's an
Ohio State
hat and a UCLA hat and a
Michigan
hat and they pick up that beautiful UCLA hat and put it on, it feels pretty good."
To be fair, it's not like the Trojans flopped. Some have ranked USC's haul -- which includes 16 players in the ESPN 300 -- as high as No. 1 in the country. Most agree USC's class is top three. UCLA's rankings vary from No. 4 (Scout.com) to No. 13 (Rivals.com) and No. 11 (ESPN).
The Bruins might boost their ranking further if Georgia linebacker
Roquan Smith
ends up picking UCLA. Smith, the No. 29 recruit, according to the ESPN 300, announced he was headed to UCLA. But news broke Wednesday that new
Atlanta Falcons
coach
Dan Quinn
was pursuing UCLA defensive coordinator Jeff Ulbrich as his linebackers coach, and that gave Smith pause.
"Jeff has assured me he has not come to a conclusion yet," said Mora, who promoted Ulbrich last year when Lou Spanos departed for the NFL. "He is contemplating whether or not he wants to do that. I'm going to fight tooth and nail to keep him here because I think he's an outstanding coach. He's been very forthright with the recruits that signed today in communicating where he stands. He's also reached out to the parents. He's handled this well."
Because Smith hasn't signed a national letter of intent, Mora is not allowed to comment on him. He did say he was "hopeful" they would add more names to the 2015 class.
Mora hasn't given Ulbrich a timetable for a decision -- at least not yet. But his possible departure is likely tied to Smith's decision.
"We haven't gotten there yet," Mora said. "… I'm not ready to put that pressure on him yet. The fact that he's been in contact with recruits is the right way to handle it. I'm going to fight like crazy to keep that sucker. It's going to be a heck of a battle because Dan Quinn is also a fighter."
Even if they lose out on Smith, this year's group marks a big win for Mora & Co. Last year, they watched a lot of those same UCLA hats stay on the table rather than end up on heads. UCLA closed the 2014 recruiting season with the No. 26 class. This year, the momentum built early and kept rolling as the Bruins were the biggest movers on signing day.
"There are always triumphs and there are always disappointments," Mora said. "There are guys you think you're going to get and they slip somewhere else for some reason and then there's guys you don't think you're going to get, and you get them. And it's exciting. And when it all comes together, yes, it feels very good."