November, 14, 2014
Nov 14
10:00
AM ET
LOS ANGELES -- Forget everything about USC's roller-coaster season so far.
Erase USC's road wins over Stanford and Arizona. Delete Arizona State's Hail Mary and Utah's comeback win over the Trojans.
And as hard as it may be, try to expunge the whole
Josh Shaw
soap opera that refuses to die.
[+] Enlarge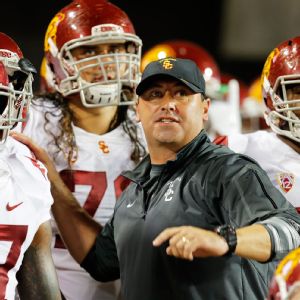 AP Photo/Rick ScuteriDespite some tumultuous turns, Steve Sarkisian's first season with USC will be a success if the Trojans can beat UCLA and Notre Dame.
Forget it all. None if it matters. All that really matters now is the next two games for USC.
The careers of coaches and legacies of players have depended upon the results of USC's games against UCLA and Notre Dame.
USC has lost to UCLA and Notre Dame in consecutive seasons for the first time in two decades and that has had more than a little to do with USC's last two head coaches -- Lane Kiffin and Ed Orgeron -- being shown the door quicker than usual. Had Kiffin not been swept by USC's rivals in back-to-back games in 2012, he would have gotten more than five games the following season to pull USC out of a 3-2 start and if Orgeron hadn't been swept by both teams again in 2013, he would probably be coaching USC today instead of cooking gumbo in Louisiana.
Sarkisian will not be let go if the streak extends to three years under his watch but his first season as USC's coach will be defined by the results of the next two weeks and will also go a long way in beginning to shape his legacy at USC. If the Trojans win both games, this season would have to be considered a success even with everything else that has happened. Another sweep, however, would officially put Sarkisian on the hot seat, as crazy as that may sound, after just one season at Troy and give new life to the "Seven-Win Sark" nickname he earned after three consecutive 7-6 seasons at Washington.
Heading into USC's final two games of the regular season against UCLA and Notre Dame, Sarkisian is thinking more about November than simply the last two games of the month.
"We're 2-0 in November," Sarkisian said after USC's 38-30 win over Cal on Thursday. "We've stated all along the goal is to be 4-0 in November and see what happens and so far we're on track."
It was a clean slate type of mentality Sarkisian took on and presented to the team after USC lost to Utah on Oct. 25 and was sitting at 5-3. Despite still dealing with sanctions there was a sense within the program coming into this season that they could be a dark-horse playoff contender and when you look at the Trojans' losses this season that wasn't as crazy as it may now sound.
They led Arizona State 34-25 with 2:45 left at the Coliseum before giving up two touchdowns, including a game-winning Hail Mary with no time left. They led Utah 21-17 with less than 10 seconds left before Utah scored a game-winning touchdown. It was a game they could have sealed had
Nelson Agholor
not stepped out of bounds one yard short of the first down marker on fourth down with about two minutes left in the game. And even the Boston College game, which is roundly chalked up as their one resounding defeat of the season, is one in which they led 17-6 in the first half and were within a touchdown of winning in the final minutes.
Then again, these are the kinds of games contending teams find a way to win and the kinds of games the average to good teams simply look back and wonder what could have been.
Despite three losses, USC still has a chance of winning the Pac-12 South and playing Oregon in the Pac-12 championship game. They're going to need some help but first they have to help themselves and beat UCLA.
"When we got to this stretch and we were looking at November and looking at our schedule, the goal is to go 4-0," Sarkisian said. "We've got to 2-0 with two really good wins and UCLA is the next game on the schedule. We can't get to 4-0 until we get to 3-0. We are fortunate that we have extra time to prepare, get fresh and put together a really good game plan in all three phases and go play a really good football team and see what happens."
With UCLA having a bye this week and USC playing on Thursday, both teams will have ample time to get ready for rivalry week. USC fans even got a head start, defacing UCLA's Bruin bear statue on campus Thursday, spray painting, "SC Runs LA" on the side. But if UCLA wins for the third year in a row, nothing would be further from the truth.
"I have been part of this game so many times," Sarkisian said. "I love this rivalry. I think it's a uniquely special one in college football. It divides households. I have two older sisters who graduated from UCLA, so I have to keep one eye on them all week too. This is what college football is about. You get to late November, you are playing rivalry games and this is a game that matters in our conference standings. This is bigger than just playing UCLA, this is a factor in first place in our conference potentially."
If USC beats UCLA, not only will it snap UCLA's two-game winning streak in the rivalry, it will give the Trojans a fighting chance of playing in their first Pac-12 championship game. If the Trojans win they would also need Arizona to beat Washington, Utah and Arizona State to punch their ticket to the title game.
"We don't control our own destiny now but we control what we can control," QB
Cody Kessler
said. "We need a couple games to go our way but if we don't handle our business none if it even matters so our main focus is handling UCLA."
Like Sarkisian, most of the players at USC realize their legacies at the school will be defined by what they do against UCLA and Notre Dame and that starts next week at the Rose Bowl.
"It's a big game, you never want to lose to your rival even if it's just one year in a row," Kessler said. "It's something we're going to take personal. It's a personal game."