October, 16, 2014
Oct 16
2:00
PM ET
The preseason narrative in the Pac-12 was all about the quarterbacks, and with good reason. With 10 starters coming back, there was considerable hype that this might be the best collection of quarterbacks in league history.
We had no idea...
Through the first half of the season, the league's quarterbacks have collectively exceeded expectations statistically and internally.
"Coming in I thought it was going to be the best in the country," said Arizona coach Rich Rodriguez. "Halfway through, that's still holding true."
First, let's get some numbers out of the way:
Three FBS quarterbacks have attempted at least 100 passes without throwing an interception and they are all from the Pac-12: Oregon's Marcus Mariota (155 attempts), Washington's Cyler Miles (129 attempts) and Utah's Travis Wilson (101 attempts).

UCLA's Brett Hundley leads FBS football with a 72.2 completion percentage.

Washington State's Connor Halliday set an FBS record with 734 passing yards (and lost!)

Cal's Jared Goff and Colorado's Sefo Liufau combined for 14 passing touchdowns in a game with seven each.

We've seen six 500-yard passing performances, 12 400-yard passing performances and 26 300-yard performances.

Three of the six most efficient quarterbacks through the first half of the season reside in the Pac-12 -- Mariota, Hundley and Goff. Six more are in the top 50. And in ESPN's advanced QBR metric, Mariota is No. 1 in the country with Goff and Hundley in the top 10 and USC's Cody Kessler at No. 17.
"We have, in my opinion, without a doubt, the best group of quarterbacks in the country," said Utah coach Kyle Whittingham. "Halliday with his total offense, 460-plus a game and the efficiency of Mariota. He's up in the 190s. And Hundley with all he brings to the table. It goes on and on. [Sean] Mannion, who we're facing this week is a different animal. He's more of a pocket guy. All of them are very effective and all of them present a very big challenge for you."
[+] Enlarge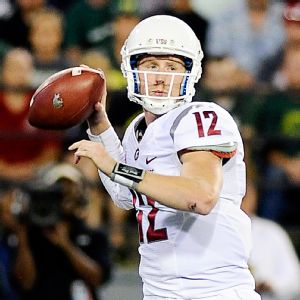 James Snook/USA TODAY SportsWashington State's Connor Halliday leads the nation in passing yards (3,344) and touchdowns (28).
And that's barely mentioning the newcomers or the backups. Miles and Arizona's
Anu Solomon
are a combined 10-2 as starters with one loss each. UCLA's backup,
Jerry Neuheisel
, was carried off the field in Arlington after engineering a game-winning drive against the Longhorns. ASU's
Mike Bercovici
has nine touchdowns and nearly 1,100 passing yards in two games in relief of the injured
Taylor Kelly
. What the Utes would have given in the past for a quarterback to be interception free through the first half of the season. Now Wilson might get benched in favor of
Kendal Thompson
.
"It's a grind," said Oregon coach Mark Helfrich. "That aspect has not been surprising at all how good and efficient they have been … the quality and depth in the conference has borne out exactly how we thought it would in the preseason."
And that's led to some phenomenal moments through the first seven weeks. We've seen Marys of the Hail, Jael and Hill variety. We've seen a 60-59 game. We've seen a 59-56 double-overtime game. We've seen 36 points scored in the fourth quarter.
The only logical explanation is that no one in the Pac-12 plays defense … so says the stereotype that circulates East of the Rockies. Ironic, then, that the No. 1 defense in the country belongs to Stanford and that five of 11 defenders on the
ESPN.com midseason All-America
team are from the Pac-12 (and the Pac-12 blog can think of one or two more names that should have been on that list, cough,
Hau'oli Kikaha
, cough,
Nate Orchard
). But we digress.
It hasn't been perfect up and down the board. Mariota and Hundley – despite outstanding statistics – have been hampered by offensive line injuries and issues. Stanford's
Kevin Hogan
– while still putting up respectable numbers, has already taken 12 sacks after being put down 14 times all last season. And the Cardinal have the worst scoring offense and red zone offense in the conference. Halliday is among the nation's leaders in interceptions with eight (to go with his nation-leading 28 touchdowns). For all of Wilson's grit and moxie, he's still struggled with accuracy, completing 57.4 percent of his throws. That's a big reason why we might see Thompson Thursday night.
Still, the sensational has far outweighed the shortcomings.
"It's lived up to the hype," said Cal coach Sonny Dykes. "When you look at all the guys, everyone is playing at a high level and performing well. I think that's why there is so much parity in the league right now because there are a lot of good quarterbacks and a lot of points getting scored. If you've got a good quarterback and can score some points, you've got a chance to be anybody. That's been the story this year. Even the young quarterbacks, the guys who were unproven, have played well and made this a very solid league."
For all the unpredictability and craziness that has gone on through the first seven weeks, the only constant has been stellar quarterback play. Don't expect that to change in the second half of the year.