December, 9, 2014
Dec 9
2:00
PM ET
From uniforms to locker rooms, the Oregon Ducks are the definition ostentatious.
And so if
Marcus Mariota
had wanted a Heisman campaign, Marcus Mariota would've gotten a Heisman campaign.
In 2001 Oregon dropped $250,000 to put a billboard in New York for quarterback Joey Harrington. Though it certainly grew the brand nationally for the program, it didn't do too much for Harrington, who finished fourth in Heisman voting.
Harrington's statistics in the 2001 season pale in comparison to Mariota's in 2014. Harrington completed just 59 percent of his passes while throwing for 2,764 yards, 27 touchdowns and six interceptions.
[+] Enlarge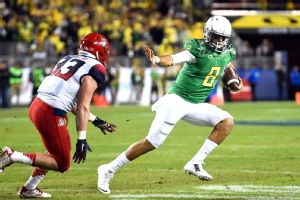 Thearon W. Henderson/Getty ImagesMarcus Mariota has let his play (38 touchdown passes, 14 rushing touchdowns) serve as his Heisman campaign.
Mariota passed Harrington's passing yardage and touchdown total a month ago and in only one game this season was Mariota's completion percentage at or below Harrington's. Add to that Mariota's 669 rushing yards and 14 rushing touchdowns and Mariota would've deserved billboards in every major market across the country.
But Mariota didn't want 12 billboards or even one. He enjoys taking photos with fans after games, but that's really the only place he wants his face … other than beneath a helmet on the football field on Saturdays.
"I really didn't want all that attention," Mariota said. "I'm glad that they were able to accept that and respect that decision."
To be a fly on the wall during those discussions would've been interesting. Certainly, Phil Knight and other donors put in their two cents, but like so much this season, Mariota made his decision based on his family and secondly himself, and those two entities wanted nothing done. It's hard to imagine a 21-year-old saying no to a room of billionaires, but that's likely exactly what happened.
The closest his non-campaign campaign ever came was a hashtag (#SuperMariota) that some used on social media, but never enough that it truly gained traction. Or when 12-year-old Charlie Pape asked about Mariota's eventual NFL decision in a postgame news conference a few weeks ago, explaining to coach Mark Helfrich that all that kids at his all-boys school had been discussing were "
Jesus, girls and Marcus Mariota
."
Or maybe when Mariota hit a
strikingly similar pose to the Heisman trophy
in the Ducks' 47-19 win over Oregon State in the Civil War rivalry. Mariota accounted for six touchdowns -- four passing, two rushing.
There is some truth to all of these mini-campaigns. If you watch Mariota play long enough, he'll do something that doesn't seem humanly possible for a quarterback. He takes off like a running back, stays in the pocket like he has never been sacked (though, ask his very apologetic offensive line and they'll sheepishly explain that yes, more than once they've allowed Pac-12 pass rushers to get through) and throws the ball better than any current dual-threat quarterback.
He is the most dominant player in college football right now … though he'd be the last to say that. And his campaign has happened the only place it should happen -- on the football field.
Though "Jesus, girls and Marcus Mariota" seems a bit drastic, he has become such a hero for so many people in Oregon and the Pacific Northwest that saying he's "worshiped" by many isn't too far out of the ballpark.
And his play on the field -- whether he's striking the pose or not -- has been enough to make him the front runner all season. Players have come in and out of the conversation, but every time Mariota was the one who stuck. Mississippi State quarterback
Dak Prescott
gave Mariota a good run for his money for a few weeks, as did Georgia running back
Todd Gurley
. But eventually they dropped off. Mariota has not and will not.
There's something refreshing to Mariota's boringly spectacular Heisman season. When the craziest thing that happens to the Heisman front runner during the season is a speeding ticket, it's almost comical.
But of course, even the ticketing officer liked Mariota.
"Mr. Mariota was polite and respectful. He was professional and took the citation appropriately,"
the officer told The Oregonian
.
As a football fan, there's nothing to dislike about Mariota. In a time of self-publicity and easy spotlight, he takes the other route. The one where he doesn't have a Twitter or a website or any campaign outside of his stat line.
As a writer, though, Mariota has been one of the most difficult athletes to cover. At some point the "nice guy plays well" storyline gets played out. It has been written 100 times.
Mariota has given writers nothing new to write about. Which in today's news cycle, feels like something new to write about.
This is his award to win because he's the best player in the country, not because it's a "quarterback award" or anything else. He didn't need a billboard or a campaign to tell people that. He needed to put his team in position to play 15 games. And he has done just that.
PAC-12 SCOREBOARD
Saturday, 12/20
Monday, 12/22
Tuesday, 12/23
Wednesday, 12/24
Friday, 12/26
Saturday, 12/27
Monday, 12/29
Tuesday, 12/30
Wednesday, 12/31
Thursday, 1/1
Friday, 1/2
Saturday, 1/3
Sunday, 1/4
Monday, 1/12
Tweets from https://twitter.com/ESPNCFB/lists/pac12