October, 13, 2014
Oct 13
2:00
PM ET
So, this past weekend was a little less crazy than the previous one, but it still held plenty of exciting and nomination-worthy plays for this week's Play of the Week.
1. The Big Aristotle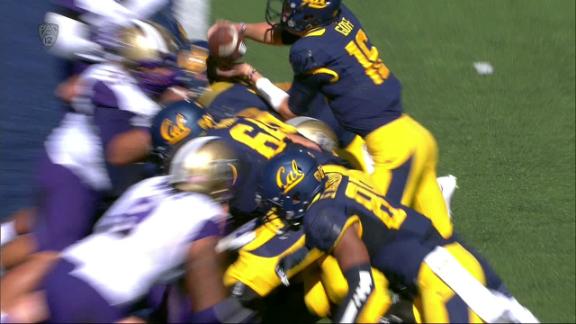 At some point we're going to start running out of nicknames if Washington linebacker
Shaq Thompson
continues to keep coming up with these plays. So Husky fans, feel free to keep sending those in. But on Saturday, Thompson came up huge again for Washington as he was the Husky to find the end zone. He recovered Cal quarterback
Jared Goff
's fumble at the goal line (though for statistical purposes this was only a 99-yard return since Cal was at second-and-goal at the 1-yard line) and then took it to the house, giving the early lead. Shaq Attack. Shaq Daddy. The Big Aristotle. Shaqness. There's a good chance we're going to need to keep the Thompson nicknames coming for the Pac-12 Blog's Play of the Week.
2. Basketball on grass
Because running in a 23-yard touchdown would just be too easy, right? Right. Oregon quarterback
Marcus Mariota
thought he'd just make it a little harder by fumbling, recovering it by himself in stride and then making the 20-yard jaunt into the end zone -- nothing like a little football dribbling to spice things up. Mariota's touchdown gave the Ducks a three-score lead over the Bruins on the road. It was Mariota's second rushing TD of the day and he also accounted for two passing touchdowns. Tallying four touchdowns in one game is pretty insane, but for Mariota, it was his fourth game of the season in which he accounted for four-plus touchdowns. So while that performance might've been keeping to the norm, his dribbling touchdown run certainly was out of the ordinary.
3. Ross-diculous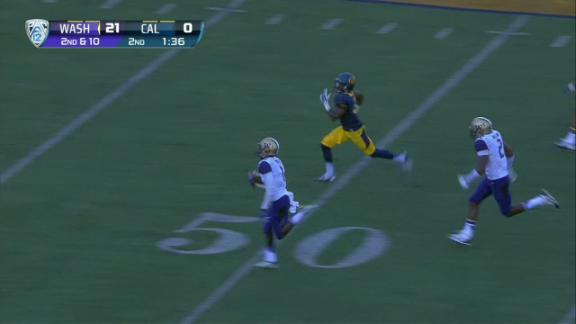 That's right, the Huskies get two nods in this week's vote because as good as Thompson's return was, we were pretty impressed with the speed and tackle-breaking abilities of sophomore wide receiver
John Ross
. His 86-yard receiving touchdown had Bears breaking their ankles and by the time he got to the 40-yard line, it was smooth sailing as he glided into the end zone. It was his fourth receiving touchdown of the season and his first 100-yard receiving game of his career.
4. The Buck Stops Here (... in the end zone)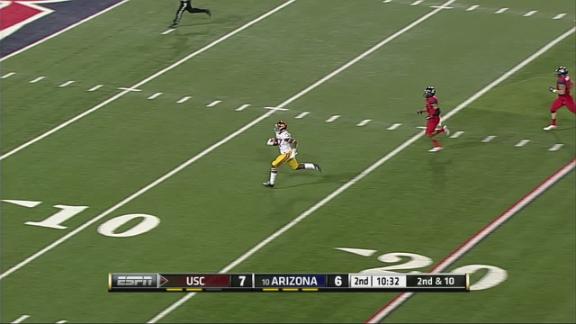 Buck Allen
's 48-yard touchdown run might not be as flashy as some of the other plays, but that's what makes it so impressive and why he gets a nod with a nomination this week. Allen makes 48-yard touchdown runs look easy. You know just a "Hey, I'm going to run through this scrum of guys, get out untouched because I'm that elusive, and then speed past you into the end zone because you can't catch me." Yep, he makes it look easy and that's pretty darn impressive.
5. Keeping up with the (Cayleb) Jones ... es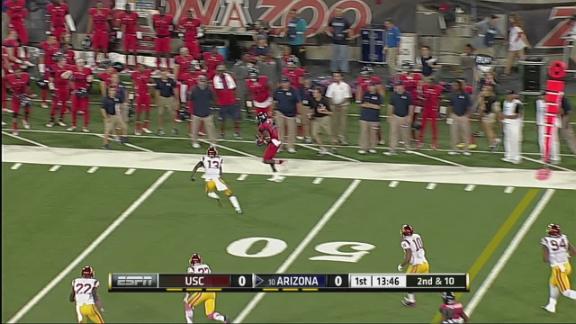 Even in a losing effort there can be some pretty great plays made -- take Arizona's onside kick recovery against USC last Saturday. The Wildcats were trailing by two, having just failed to convert on a two-point conversion. But they had scored 13 unanswered points in the fourth quarter, putting the game within reach. The Wildcats faked the kick to the left side of the field, sent it to the right and then sophomore receiver
Cayleb Jones
recovered it amidst a scrum of three USC players. Jones' play gave Arizona the ball at the 48-yard line, but more importantly, his play gave the Wildcats the chance to win the game. Though they ended up falling short of that, Jones' play is no less impressive considering how tricky those kicks can be and how quickly that game would've ended if Jones would've missed that.