December, 6, 2013
Dec 6
3:00
PM ET
PHILADELPHIA -- The
Philadelphia Eagles
will be without safety
Earl Wolff
again for Sunday's game against the
Detroit Lions
. Wolff (knee) and linebacker/special-teamer
Najee Goode
(hamstring) were both officially listed as out on the team's Friday injury report.
Defensive end
Clifton Geathers
' status is unknown. Geathers missed the past three days' worth of practices for unspecified personal reasons. The 6-foot-8, 340-pound Geathers has been on the field for 21 percent of the team's defensive plays this season.
Wolff will miss his third game after injuring his right knee in Green Bay last month. Veteran
Patrick Chung
, who has made as much impact crashing into teammates as opponents, will start in Wolff's place.
With Goode out, linebacker
Emmanuel Acho
has a chance to be active.
Wide receiver
Jeff Maehl
cleared the concussion protocol and was listed as probable. Tight end
Zach Ertz
(shoulder), defensive tackle
Bennie Logan
(neck) and defensive end
Damion Square
(back) were also listed as probable.
The Eagles have enjoyed good health all season. Coach Chip Kelly said the other day that it might be attributable to a combination of luck and the team's devotion to sports science.
"You break a bone, you break a bone," Kelly said. "I don't know if there is a science behind breaking a bone. There are certain injuries that it doesn't matter how fit you are, how trained you are, that if that happens, that happens. But I also think there are some little things we do on a weekly basis here from a training standpoint that I think has benefited us. So we'll continue. But it's not something that we can say if all of a sudden two or three guys get hurt next week you're like, 'You guys are wrong.' It's not. I think we're doing the right thing."
December, 6, 2013
Dec 6
12:00
PM ET
PHILADELPHIA – Life would be simpler for
Connor Barwin
if he could just line up at outside linebacker, as he did in Houston, and rush the quarterback on almost every passing down.
Barwin
Fortunately for the Eagles, and their defensive coordinator Bill Davis, Barwin isn't all that interested in simple. He's a student of the game, and he's enjoying the challenges created by Davis' weekly defensive schemes.
"Connor makes the scheme go," Davis said. "I move him around multiple spots. He's on the outside on the right, outside on the left, he's inside, he's over a guard. We move him around."
Barwin is listed as the left outside linebacker. That's misleading.
"The position is called the Jack," Davis said. "The jack of all trades, is what it was originally named. We move him around and we have different techniques we use with him and he's great with picking them up; if I need an edge set on one side or a certain reroute or chip, Connor is the guy we go to."
Against Arizona Sunday, Barwin lined up at cornerback on a handful of plays. He covered
Larry Fitzgerald
. He covered backs and tight ends. He played the run. He rushed the passer, but not nearly as much as he expected when he signed with the Eagles as a free agent.
"I didn't know what the defense was going to be like," Barwin said. "I figured it would be like the 3-4 I played in before, but it's a lot different. Essentially, I was like a D-end in Houston. You set the edge and you rush the quarterback. But here, some games, that's what we're doing. Some games, I'm lining up at corner. There's a lot of moving around."
"It's unselfish on his part," Davis said. "He would love to be rushing every down and getting more sacks, but he's dropping and doing more other things and never says a word about it."
Barwin's versatility has worked against him in that regard.
Trent Cole
, the right outside linebacker, has made the move from defensive end. He drops into coverage occasionally. But Davis recognizes that Cole is best utilized right now as a pass-rusher, so that's how he uses him. If Cole was as comfortable doing the other tasks, it would free Barwin to rush the quarterback more.
"When you see me lining up at corner, I think people know I'm not rushing very much," Barwin said. "You just do your job, man. I don't rush as much as some other guys, but that's all right. When I do, I have to take advantage of the opportunities. As long as we keep winning, and we keep playing well on defense, I'll be happy."
December, 6, 2013
Dec 6
9:00
AM ET
PHILADELPHIA -- Weather shouldn't be a factor in a game between teams from gritty northern cities like Detroit and Philadelphia. Cold, wind and precipitation wouldn't favor either side in a game between the Bears and Packers or the Jets and Patriots.
But the Lions play indoors, and the Eagles have a young quarterback who has played most of his football in Texas and Arizona. So Sunday's forecast for temperatures in the mid-30s and a wintry mix of snow and icy rain could make an already interesting game even more so.
Stafford
Foles
The two quarterbacks,
Matthew Stafford
and
Nick Foles
, have never won an NFL game started at 40 degrees or below. Sounds ominous, except we're talking about just three games each.
Stafford, who played college ball at Georgia, lost a 2009 game at Cincinnati (25 degrees, 19 wind chill) and two games in Green Bay -- in 2011 (31 degrees, 19 wind chill) and 2012 (33 degrees).
Qualifier: In that 2011 game in Green Bay, Stafford completed 36 of 59 passes for 520 yards, five touchdowns and two interceptions. So it's not like he can't throw the ball when it's cold out.
Foles lost three starts last year, all at Lincoln Financial Field: Carolina (36 degrees), Cincinnati (36) and Washington (40).
Qualifier: The 2012 Eagles were losing in all weather, in every stadium. In those three losses, Foles completed 64 of 102 passes for 644 yards, two touchdowns and two interceptions. (Yes, he used to throw the occasional pick..
Foles has talked about having to learn how to throw on windy days. The wind played a role in his lone poor performance of the season, that 17-3 loss to Dallas in October. He didn't seem concerned about the forecast for Sunday.
"I played in those conditions my junior year at Oregon," Foles said. "I just play the game. The ball is going to feel different, but they're going to play in the same conditions. You can't make excuses because of the weather."
Foles threw for 448 yards and three touchdowns in that game against Chip Kelly's Ducks.
"It's fun playing games in different weather," Foles said. "You just have to go out and have fun and play like you're a kid again."
Foles wears a glove on his left hand. He said he wouldn't wear a glove on his throwing hand because of rain. It would have to be extremely cold for that, he said.
December, 5, 2013
Dec 5
5:30
PM ET
PHILADELPHIA -- It was funny but totally understandable.
A week ago, as he prepared for the
Arizona Cardinals
, Eagles defensive coordinator Bill Davis declared
Larry Fitzgerald
"probably still the best receiver in the league." A week later, Davis was asked about Detroit's
Calvin Johnson
, this week's challenge for the Eagles defense.
"Well, he's 6-foot-5 and his range, he's got a huge vertical," Davis said. "So his radius, his catch radius, is second to none. There are similar players that are big bodied, go up and get the ball away from their body. They snatch it well out of the air. Fitzgerald is one of the top in the NFL, but Calvin is the best when you watch him game in and game out, what he does and what he can do at that size/speed ratio. He's the best."
[+] Enlarge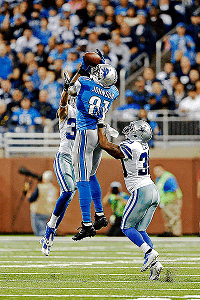 AP Photo/James D. SmithEagles defenders will be facing another daunting test on Sunday in Lions WR Calvin Johnson.
You can't blame Davis for being haunted by the video he's studying in a given week, even if it means
Brandon Marshall
will likely be the best receiver in the league while the Eagles are preparing for the Bears in a few weeks.
There are pluses and minuses to facing Fitzgerald and Johnson in consecutive weeks. Preparing and dealing with Fitzgerald can help the Eagles defenders be ready for the challenge of dealing with Johnson. On the other hand, Davis' scheme for dealing with big, talented wideouts is right there on Sunday's game tape for the Lions staff to dissect.
"There will be some carryover," outside linebacker
Connor Barwin
said. "We installed some certain things for big, productive receivers like Fitz. There will obviously be some carryover this week. But it's not all going to be the same."
So how did Davis defend Fitzgerald? Let's just say it took a village. If teams with a shutdown corner try to match him on Johnson all over the field, Davis took the opposite approach. Nine different Eagles had primary coverage on Fitzgerald during the course of the game. Along with the obvious guys -- defensive backs
Cary Williams
,
Bradley Fletcher
,
Brandon Boykin
,
Nate Allen
and
Patrick Chung
-- Davis had all four of his linebackers cover Fitzgerald at different times.
Barwin, especially, lined up across from Fitzgerald as a cornerback. Usually, he was in the slot, but on a couple plays Barwin was basically an outside corner. His job was to jam Fitzgerald, disrupt his route and his timing, then usually give him up to a defensive back.
Trent Cole
did surprisingly well on the few times he dropped into coverage with Fitzgerald. Linebacker
Mychal Kendricks
ran with him on several plays down the middle before quarterback
Carson Palmer
found Fitzgerald for a first-down completion in the fourth quarter.
Williams slapped one ball away as Fitzgerald attempted to catch it. Fletcher and Allen did a good job limiting his yardage on quick outs. Boykin made the single biggest play, leaping to bat a pass away in the end zone just before the Cardinals' final touchdown. Chung blanketed Fitzgerald in the end zone on the play in which
Roc Carmichael
drew a pass interference call at the 1-yard line.
Fitzgerald's biggest play, of course, was his 43-yard touchdown catch on a third-and-20 play. Boykin had excellent coverage on the play, but he and Chung collided just as the ball arrived. They went down in a heap, allowing Fitzgerald to sprint the last 26 yards untouched.
Palmer threw the ball 41 times. He targeted Fitzgerald eight times, completing five passes for 72 yards and a touchdown. That's not exactly shutting a receiver down, but if the Eagles can limit Johnson to that kind of damage, they'll have a very real chance of beating Detroit. Johnson is that good.
"The combination of his size and his speed and explosiveness, I don't think there's anybody else like that in this league," Eagles coach Chip Kelly said. "He can just go get the football."
In other words, Johnson is the best there is. This week, at least.
December, 5, 2013
Dec 5
10:00
AM ET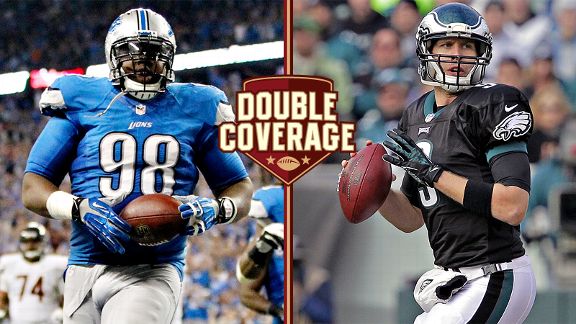 Getty ImagesNick Fairley and the Lions' defense will have their hands full slowing down Eagles QB Nick Foles.
The
Philadelphia Eagles
have exceeded expectations so far in coach Chip Kelly's first season. The
Detroit Lions
have arguably fallen a little short of expectations in coach Jim Schwartz's fifth season.
When the two 7-5 teams meet in Philadelphia, it won't matter how they got there. The Eagles and Lions are both in position to win their division titles, and a win Sunday will be a major step toward achieving that goal.
The game will feature two potent but very different offenses.
Nick Foles
may not be the bona fide franchise quarterback that
Matthew Stafford
is, but he is the hottest quarterback in the league over the past five weeks. The Eagles' defense may lack stars like
Ndamukong Suh
, but it is playing better every week as a group. Stafford,
Calvin Johnson
and
Reggie Bush
will provide its toughest test since the Denver disaster back in September.
ESPN.com reporters Michael Rothstein, who covers the Lions, and Phil Sheridan, who covers the Eagles, took a look at some key issues in a game with major playoff implications.
Sheridan:
The NFC North race has been deeply affected by quarterback injuries, with Chicago's
Jay Cutler
and Green Bay's
Aaron Rodgers
out of the picture lately. Despite a healthy and productive Stafford, the Lions haven't been able to separate from the rest. What are some key reasons for that?
Rothstein:
It starts with turnovers and inconsistency. The Lions' defensive line, the same group that dominated on Thanksgiving, largely disappeared in some earlier games. Turnovers are a major issue, too. The Lions have three or more turnovers in four of their past five games. Against Tampa Bay and Pittsburgh, that was a key factor in those losses. Detroit is a very talented team that continues to feel like a group still finding out exactly how it wants to play. But it does start with those turnovers. A couple of the Lions' players even told me after Thursday's game -- by far the Lions' best performance this season -- that turnovers were still a major issue. And Detroit committed four of them and still scored 40 points. If they do that Sunday, the Lions will be leaving with a loss.
Speaking of turnovers, Foles appears allergic to mistakes, especially turnovers, this season. Is it all fitting in with Chip Kelly's system? Maturation? Magic? Something different? What has turned him into this quarterback this season?
Sheridan:
There is almost certainly an element of magic involved. By that I mean that Foles has had a bit of luck on his side. He threw two would-be interceptions to
Patrick Peterson
Sunday, for instance.
DeSean Jackson
batted one away and a penalty negated the other. But there is no doubt that Foles has played extremely well and with remarkable poise and confidence. He has fully embraced and absorbed Kelly's offense, which includes sound pass protection and a great running game -- two of every quarterback's best friends. Foles has been accurate and unafraid to trust his receivers to make plays on the ball. If you make good decisions and sharp throws in a well-designed offense, it turns out pretty much like what we've seen from Foles the past two months.
The Eagles felt pretty good about running their offense effectively against good Tampa Bay and Arizona defenses. The Lions seem like a new challenge with that front of theirs. Was the Thanksgiving game a sign the Lions have gotten it going on defense or are they just as likely to disappear in the face of Kelly's uptempo, unorthodox offense?
Rothstein:
It's tough to say because the Lions haven't really seen this type of offense before, although I'm guessing the three younger guys on the line -- tackle
Nick Fairley
and ends
Ziggy Ansah
and
Devin Taylor
-- are somewhat familiar from their recent college days. Getting pressure with the front four -- and, at least last week, well-timed blitzes from linebackers and safeties -- is still going to be the key for any Detroit defensive success. And doing it for one week doesn't make it a guarantee that it'll continue. Even though he doesn't have huge stats, Suh has been a consistent force up front and if he and Fairley can get going early, it opens things up for Ansah on the outside.
The pressure key, though, is more important for Detroit's cornerbacks. The Lions have been very inconsistent there this season, but they were able to take the first read away from Green Bay's
Matt Flynn
a lot. By doing that, it gave the defensive line an extra second to get to Flynn so it all worked together. But it has been a matter of consistency, which the Lions have not had there this season.
Since we were talking about the Detroit defensive line, the Lions have been extremely good against the run. They haven't allowed a rushing touchdown in two months and have gone six straight games holding teams under 70 yards rushing total. Some of this is the proliferation of passing in the NFL, but considering
LeSean McCoy
's numbers this season, how much do the Eagles try running before sticking with Foles and his arm?
Sheridan:
One of the most striking differences between Kelly and Andy Reid, a guy I covered for 14 years and respect a lot, is that Kelly is very committed to the run. He sticks with it almost no matter what, with the belief that it will eventually wear a defense down. Reid would abandon the run game after two or three unsuccessful plays. Early in the season, McCoy was on pace to break the NFL record for rushing attempts in a season. He is now on pace for 100 fewer carries than that, about 310. That's because Foles' success in the passing game has allowed Kelly to be more balanced. A few teams -- the Giants and Cowboys, especially -- were able to shut the Eagles' running game down. Arizona did a good job of it in the second half. But Kelly hasn't completely abandoned it in any of those games. If that changes Sunday, it will mean he really thinks the Lions' defense is invulnerable to it.
The Eagles were moderately successful keeping
Larry Fitzgerald
from going off last week. Johnson is another matter. Has anyone been really effective in stopping Megatron and, if so, how did they go about it? Does it take an elite corner or an elite scheme? A drone strike?
Rothstein:
The team that has been most successful in limiting Johnson this season has been ... the Detroit Lions. There have been times during games this season when the Lions have seemed to go away from the best receiver in football, most notably in the second half against Pittsburgh, when he had no catches.
Darrelle Revis
has been pretty good on Johnson as well, but for the most part, it takes a really good scheme to keep the ball out of his hands. Unless you have a corner like Revis, usually some sort of bracketing of Johnson can be effective. But the Lions are OK with that happening because it opens up the field for Bush and
Nate Burleson
. That was a big reason the Lions got Bush -- just for that.
This kind of leads into my last question. Philadelphia's pass defense has been both poor and porous this season. Do they have any sort of manpower to match up with Johnson -- and to a lesser extent Burleson,
Brandon Pettigrew
,
Kris Durham
and Bush -- or could this be another game like he had against the Cowboys or Bengals?
Sheridan:
Before getting to the answer (spoiler alert: It's no, the Eagles can't match up with Johnson), let me clarify a bit. It's true that the numbers show the Eagles to be terrible as far as yards allowed. They really have given up vast chunks of yardage. But they are keeping teams out of the end zone, and that is giving the offense breathing room to function.
While insisting the Eagles' defense is better than its stats, I have to say this matchup could be the one that breaks some of those trends. Stafford is better than
Carson Palmer
and Johnson is better than anyone, so this may be the week the yards translate into more points. The Eagles' strength right now is their front seven, and if they can get pressure on Stafford and force him into some of the mistakes he is prone to making, that will go a long way toward covering up the mismatches on the back end.
December, 5, 2013
Dec 5
8:00
AM ET
PHILADELPHIA -- It is obvious that players have to learn a coach's system in order to succeed in football. That was a major hurdle for the Eagles as they switched from a 4-3 defense to new coordinator Bill Davis' 3-4 scheme.
The Eagles' remarkable progress over the past few weeks, though, has as much to do with Davis learning his players as with the players learning the defense. As Davis has figured out players' strengths and vulnerabilities, he has been able to come up with formations, coverages and pressure schemes to suit them.
"It's always players over scheme," Davis said. "Players are making the plays. Nothing to do with scheme."
[+] Enlarge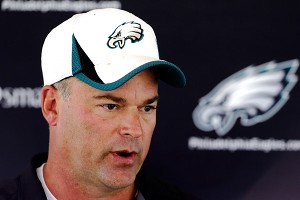 AP Photo/Matt Rourke"Players are making the plays," defensive coordinator Bill Davis said. "Nothing to do with scheme."
That is one of the principles that eroded with the Eagles in Andy Reid's latter days. Reid brought in Jim Washburn to coach the very specific "Wide 9" defensive line formation without making sure there were players, especially linebackers, capable of supporting it. And he brought in the equally idiosyncratic offensive line coach, Howard Mudd, which created a steep learning curve and some turnover at that vital position.
Putting scheme over players did not work, not for the 2011 and 2012 Eagles.
There is learning involved here, too, of course. One of the big questions going into this season was whether defensive ends
Trent Cole
and
Brandon Graham
could make the transition to outside linebacker. And it is a change. They have different pass-rushing techniques and different responsibilities in the run game. They have to drop into pass coverage at times.
Each of them had two sacks in Sunday's 24-21 win over Arizona. Both of Cole's came when he had his hand on the ground and rushed like the defensive end he was for eight seasons. Graham stood up on both his sacks, but he was in a low crouch in a defensive end formation on one, and he slid over and rushed between the guard and center on the other.
"It's definitely nice that he plays into our strengths and tries to maximize them the best he can," Graham said. "Coach Davis is a great coach, a great coordinator. I think he's utilizing us the best way he can in his scheme."
It probably helps that it's not exactly Davis' scheme. The Eagles defense is more of a collaborative effort being created and developed on the fly.
"Right now," Davis said, "you're not looking at my defense. You're looking at the
Philadelphia Eagles
defense. You're looking at our staff, our personnel group. We built the playbook as a group. I didn't just bring my playbook and put it down and say, `Hey, that's what we're running.' That's not how this defense has been built.
"It's been built through a collection of great position coaches and we built it from scratch. We named things the way we wanted to name it and call it and verbalize it, and then from there, we have built to our players strengths and weaknesses as we as a group see what they can do well and what they can't do well."
Head coach Chip Kelly said Davis' scheme wasn't the reason he hired him.
"I looked at what does he know from a football standpoint, how intelligent is he and what type of teacher is he," Kelly said.
Kelly also brought defensive line coach Jerry Azzinaro with him from Oregon. Azzinaro is one of those position coaches Davis mentioned with great input into the defense.
Watching the defense evolve has been almost as entertaining as watching Kelly's innovative offensive ideas unfold.
Connor Barwin
is a 6-foot-4, 264-pound linebacker who lined up as a cornerback at times against
Larry Fitzgerald
Sunday. Inside linebacker
Mychal Kendricks
lined up outside Cole, who was back at defensive end in some formations. Davis has been blitzing different defensive backs, trying to get a feel for who can get to the quarterback and who can't.
The progress through the first three-quarters of the season has been impressive. It makes you wonder how good this defense can be as Davis, Kelly and GM Howie Roseman identify and acquire players who are even better suited to it.
December, 4, 2013
Dec 4
4:00
PM ET
PHILADELPHIA --
Donnie Jones
is glad he didn't find a desk job, and so are the
Philadelphia Eagles
.
Jones
The punter, who has won NFC special teams player of the week for each of his last two performances, was released by the
Seattle Seahawks
in 2005. Jones figured his NFL career was over after one season.
"I didn't play very well," Jones said Wednesday. "I had a 32-yard net. The last game I played was just awful. They put me on the practice squad. Two days before camp, going into the 2005 season, that's when I got cut. I thought I was done. I easily could have been out of the league."
Jones majored in finance at LSU, so he started calling people, looking for a job in the real world.
"One guy I talked to in New York, he told me he was basically living in a box, making nothing," Jones said. "But I was looking at all options. The last game I played, I got booed out of the stadium. People were telling me I belonged behind a desk, in a day job. So I got on the phone and started calling."
It was another LSU contact, a guy named Nick Saban, who helped Jones find work. Saban was coaching the
Miami Dolphins
at the time and signed his former punter. Early in the season, Dolphins veteran
Matt Turk
was injured and Jones had a job for the next two years.
He went on to five years in St. Louis before spending the 2012 season with the
Houston Texans
.
It was last year when Jones learned the rugby-style kick that has helped him elevate his game. Ironically, he learned it from the father of punter Brad Wing.
"I remember his dad saying, 'I don't know how long I can help you, because some day Brad might be your competition,'" Jones said.
Sure enough, Jones signed with the Eagles in the offseason and they brought Brad Wing in to compete for the job.
The rugby punt, which involves making contact with the end of the ball, has allowed Jones more control. It is a key factor in helping him drop punts inside the 20-yard line.
"More and more guys were starting to do it," Jones said. "It took a little while. It's been a huge asset for us."
Jones dropped seven punts inside the 20 Sunday against Arizona. Two weeks earlier, against Washington, his 70-yard punt helped the Eagles defense protect a 24-16 lead late in the fourth quarter.
Jones was named punter of the week for both efforts by ESPN's Mark Simon, who rates NFL punters every week. Simon took up the cause in order to focus on an often overlooked position. Jones' play has been impossible to overlook during the Eagles' four-game winning streak.
"Donnie putting it inside the 20 is really unbelievable," Eagles defensive coordinator Bill Davis said. "He's as big of a reason for us to have some success defensively as anybody."
December, 4, 2013
Dec 4
2:00
PM ET
PHILADELPHIA – It all made perfect sense six months ago.

Chip Kelly would come to the
Philadelphia Eagles
from Oregon, start a rebuilding project with
Michael Vick
as his stopgap quarterback, then draft Marcus Mariota to take his system to the next level.
So much for perfect sense. That scenario was already wrecked by the Eagles' 7-5 record in Kelly's first season as head coach. They currently hold the 21st spot in the 2014 NFL draft, about 17 or 18 picks too late to have a shot at the Oregon quarterback. And then there is the emergence of
Nick Foles
, whom Kelly jokingly anointed the Eagles' starter for the next 1,000 years.
On Tuesday, the perfect-sense scenario vanished completely when Mariota announced he would stay in Eugene for his junior season.
"I'm happy for him," Kelly said Wednesday. "I know he comes from a great family. His dad, Toa, and mom, Alana, value education. Marcus is going to stay and get his degree. He's a very special young man. I think everyone in the league will have to wait a couple years."
Kelly said he did not talk to Mariota about his decision.
"We're not allowed to talk to [college players] about that," Kelly said. "I had nothing to do with it."
The Mariota scenario helps explain the tone of the discussion about Foles as the Eagles' No. 1 quarterback. He has played too well since Vick's hamstring injury to send him back to the sideline, but he doesn't seem to fit the profile of the quarterbacks Kelly coveted while recruiting at Oregon.
Even though Kelly has said all along that he can adapt his offense to fit the skill set of his quarterback, it just seemed logical that he would look for a better fit in the bumper crop of quarterbacks expected to be in the 2014 draft – Mariota, Teddy Bridgewater and Johnny Manziel among them.
And now Mariota won't be there.
"I loved coaching him," Kelly said. "He's exactly what you want in a football player. I know everyone in Eugene is happy. Eugene is a special place. Take it from a guy who had a real tough time leaving there -- I think it's a good decision."
But wait. Kelly said NFL teams would have to wait "a couple years" for Mariota. That would mean the 2016 draft. By then, Foles will be finished with his original four-year contract and the Eagles will know for sure whether he is a true franchise guy or whether Kelly needs a more mobile quarterback.
Could Mariota be the Eagles' starter in 2016? Hmmm. Makes perfect sense.
December, 4, 2013
Dec 4
12:00
PM ET
By
ESPN.com staff
| ESPN.com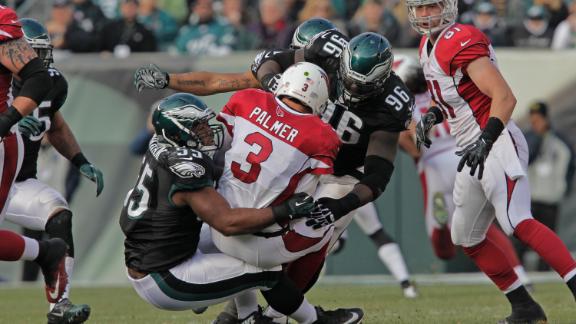 Philadelphia Eagles reporter Phil Sheridan says it's time to start talking about the team's defense and how it will be necessary for that unit to shine down the stretch.
December, 4, 2013
Dec 4
11:00
AM ET
PHILADELPHIA -- Sooner or later, it's going to happen. It's inevitable. Eagles quarterback
Nick Foles
is going to throw a pass and a player in a different uniform is going to catch it.
"I don't go into a game thinking about throwing a pick," Foles said, "but if it does happen, it's not going to be the end of the world. We're going to keep moving on. If it does happen, we're going to bounce back from it."
Even the greatest quarterbacks throw interceptions. Foles threw two interception-worthy passes in Sunday's 24-21 victory over Arizona. One, on a deep pass, was batted away from cornerback
Patrick Peterson
by Eagles wide receiver
DeSean Jackson
. The other was actually caught by Peterson but negated by a penalty.
Foles
When the time comes, Foles will be much better off if that inevitable interception comes on the first sort of play and not the second.
"I just play," Foles said. "I'm out there, I'm not thinking about the [interception to touchdown] ratio. I'm thinking about giving my receivers the best opportunity to catch the ball and being smart with the ball. You're going to have to take chances, you're going to have to take risks. That's how you win games. You've got to choose your risks wisely. I have a lot of confidence in my receivers and my line and my whole team."
That first near-interception was consistent with Foles' philosophy. He has been throwing the ball and trusting his receivers to get it throughout his hot streak. Jackson couldn't make the catch, but he took care of his quarterback by preventing the turnover.
Peterson's second chance was different. It came when Foles was under pressure during the fourth quarter. He threw off his back foot and could have given the Cardinals possession in Eagles territory with a chance to tie or take the lead.
"It's just being more crisp," Foles said. "Just being smart with the football. I put the ball in harm's way at the end. There was a holding penalty that canceled the play out."
An interception that results from a sound risk/reward decision is not nearly as hard to rebound from as one that results from a bad decision or from losing focus under pressure. Eagles coach Chip Kelly alluded to that the other day.
"He doesn't really put the ball in harm's way," Kelly said. "Very rarely do you look at it and go, 'I don't know about that one.' Sometimes we've been in games -- we played in the Green Bay game and had two balls hit us directly in the hands and we dropped them. But that's not a good decision by the quarterback on the other side. Nick very rarely does that."
Foles has thrown 19 touchdown passes this year without an interception. He is one away from tying Peyton Manning's NFL record. He said the record is "not important at all. The most important thing is our team continuing to excel. I don't think about the records. Records are always team records."
December, 4, 2013
Dec 4
8:00
AM ET
PHILADELPHIA -- It was a common refrain the past few years, when the Eagles' defense just wasn't the dominating force that it used to be: It didn't have a real impact player, one who had opposing offensive coaches reaching for the antacid tablets.
The past few weeks, the Eagles have had one of those players. The twist is that it's
Trent Cole
, who was here all along.
Cole had two sacks against the
Arizona Cardinals
on Sunday. He has five in his past four games after going eight games without one. If it had seemed that Cole, 31, was on the decline, then the switch from defensive end to outside linebacker in a 3-4 scheme apparently finished him off.
[+] Enlarge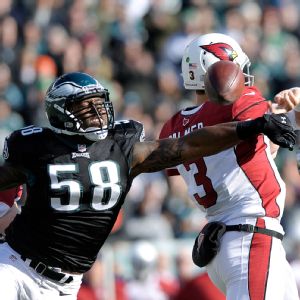 AP Photo/Michael PerezTrent Cole had two sacks and forced a fumble against the Cardinals.
But those perceptions weren't really supported by the facts. Cole had a career-low three sacks last season, but that had more to do with the decline of the Eagles in Andy Reid's desultory final season than with Cole himself. And while he admittedly struggled with the demands of his new position, Cole's commitment to the change and his innate athleticism have paid off.
"I do think Trent has played at a high level the whole year," defensive coordinator Bill Davis said. "The sack numbers, to me, we put way too much on that. Sometimes the best rusher, the best pass rush doesn't get the sack. It gets the quarterback moved off the spot, and then a guy that might have had a horrible pass rush gets the sack. When we watch film week in and week out, who is disrupting or moving the quarterback off the spot the most, Trent is one of our leaders. He moves the quarterback off his spot."
Analytic and scouting website Profootballfocus.com named Cole the Eagles' MVP from Sunday's 24-21 win over the Cardinals. He forced a
Carson Palmer
fumble with a sack on the Cards' first possession. He got to Palmer again late in the game. In between, Cole was virtually unstoppable when he rushed the passer.
Watching the game again, with a focus on Cole, was telling. PFF had Cole with 29 rushes on his 71 snaps. He didn't make many plays in the run game, but that's because the Cardinals constantly ran to their right, away from Cole and defensive end
Fletcher Cox
.
Davis doesn't ask Cole to drop into coverage too often, but he acquitted himself well there, too. He got beat on a first-down catch by Arizona tight end Rob Housler, but he ran with
Larry Fitzgerald
on two plays. He set the edge on the run effectively and tied up blockers a couple of times when defensive backs blitzed from his side.
But Cole's game is getting to the quarterback, and he remains a relentless pass-rusher. Davis has been smart enough to adapt his scheme to his players' strengths. By my count, Cole lined up with his hand on the ground as a defensive end (and in two cases, as a defensive tackle) 16 times. Both of his sacks came on plays when his hand was on the ground.
Mixing in a little familiarity with the new stuff is simply good coaching, putting the player ahead of the scheme.
Pro Football Focus credited Cole with a hit and five hurries of Palmer. There were a half-dozen plays where Cole was a half-step from getting to the quarterback when the ball was released. He's getting the hang of this new defense, to say the least.
"I learned the way the 3-4 defense goes, everybody has to be disciplined," Cole said. "Everybody has to do their assignment. One mess-up can cost us the game. I think everybody is playing well together, we're learning each other. I'm getting comfortable, and my pace is speeding up. I'm playing fast."
It shows up on film enough to boost antacid sales in a few NFL cities.
December, 3, 2013
Dec 3
5:05
PM ET
ESPN.com news services
[+] Enlarge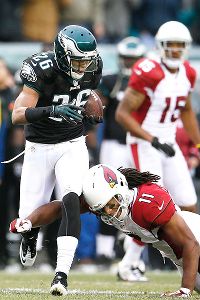 AP Photo/Damian StrohmeyerCary Williams, who had an interception in the Eagles' win over the Cardinals on Sunday, was annoyed that Bruce Arians sent plays from the game to the NFL.
The fact that Arizona coach Bruce Arians sent 15 plays to the NFL to highlight what he thought were "obvious" officiating errors during the Cardinals' loss Sunday in Philadelphia isn't sitting well with Eagles cornerback Cary Williams.
Williams, who had an interception in the Eagles' 24-21 victory, was incredulous Tuesday when asked about Arians' actions, saying he doesn't believe there were any "blatant" missed calls in the game.
"Man, let's not be crybabies," Williams told reporters Tuesday, according to CSN Philadelphia. "I don't know, man. I thought the refs kept them in the game to some degree at times. But it's about football, man. It's about going out there, executing. If they came in here with a different attitude, maybe not so nonchalant, maybe [not] thinking it was going to be a cakewalk, maybe ... I don't know.