March, 27, 2015
Mar 27
3:30
PM ET
PHILADELPHIA -- Jeremy Maclin doesn't have to make any excuses or give any explanations. He was a free agent who chose to exercise the freedom implied in that designation. No problem.
But Maclin told the Philadelphia Inquirer Thursday that his decision to sign with Kansas City wasn't about money. And that strains his credibility more than just a bit.
"It wasn't really about money," Maclin said at a charity event sponsored by Todd Herremans, another former Eagle. "Obviously you want to get paid because of all the stuff that you do. But it wasn't necessarily about who could pay me the most money."
Eagles head coach Chip Kelly said the team had every intention of signing Maclin.
"We didn't think there was another receiver in that price range in free agency," Kelly said. "We were trying to get Mac back. Felt we gave him a real competitive offer. Kansas City offered him a lot more than we did. We just weren't going to go that high."
The Chiefs signed Maclin for $55 million over five years, including $22.5 million guaranteed. In Kansas City, Maclin will be reunited with Andy Reid, the coach who drafted him in the first round in Philadelphia.
But Maclin not only maintained that his decision wasn't based on money, but he also wanted to play for Kelly.
"I still believe in Chip," Maclin told the Inquirer. "I think Chip's going to do great things here. I have the utmost respect for him. Unfortunately, we couldn't get something worked out. But at the end of the day I'm very excited about playing for Kansas City and playing for Big Red."
Something doesn't quite line up there. Again, Maclin doesn't have to explain anything. But if money wasn't the determining factor and he still believes in Kelly, who's "going to do great things" in the NFL, then it seems pretty obvious that Maclin should still be an Eagle.
He isn't. By remarkable coincidence, Maclin signed with the team that offered the most money.
No one's blaming him for that. It would just be more honest to come out and acknowledge the obvious.
March, 27, 2015
Mar 27
1:00
PM ET
PHILADELPHIA -- Sam Bradford tore his anterior cruciate ligament while running out of bounds. He was fending off a tackler, but it appeared his knee buckled on its own. That was the first time.
A year later, during a preseason game, Bradford tried to step away from a defender in the pocket. He went down in a heap. Bradford tore the ACL in the same knee.
For Chip Kelly's grand remodeling of the Philadelphia Eagles to work, Bradford has to be able to play all or most of the team's games in 2015. He has had bad luck in each of the past two years, but it is hard not to conclude that a player is injury-prone after a couple of episodes like that.
Kelly has said a few times that many elite quarterbacks have missed whole seasons. He specifically mentions Peyton Manning, Tom Brady and Drew Brees in those examples. The truth is, however, that elite quarterbacks have a tendency to be on the field for nearly every game. It is part of what makes them elite -- their ability to avoid big hits and their teammates' ability to block for them.
Manning missed the entire 2011 season to have surgery on his neck. The Indianapolis Colts went 2-14 that season, getting into position to draft Andrew Luck first overall in 2012.
But before 2011, Manning played every single game of his career. Beginning in 1999, he started 16 games every year through 2010. He did not miss any of the 19 playoff games the Colts were in. Since missing the 2011 season, Manning has played 53 consecutive games for the Denver Broncos, including playoffs.
So yes, Manning did miss a year. But he has not otherwise missed a single start due to injury since 1999.
Brees signed with the New Orleans Saints after a shoulder injury required surgery. From 2006 through 2014, Brees has missed exactly one game for the Saints. He has been healthy and available for every other game.
Brady? He went down in the season opener in 2008 and missed the rest of the season. From 2001 to 2007, Brady missed only two starts for the New England Patriots. Since 2008, he has missed exactly zero starts.
Aaron Rodgers missed two games in five years before breaking his collarbone in 2013. That cost him seven games. Rodgers has not missed a start since.
Eli Manning has missed zero starts since becoming the New York Giants' starting quarterback in 2005.
"Quarterback is the position in the National Football League, and you better have a couple of them," Kelly said Wednesday at the NFL owners meetings. "In my two years here, we've played multiple quarterbacks in every season."
Kelly chose the oft-injured Michael Vick as his starter in 2013. Nick Foles replaced him after Vick went down with a hamstring injury. Foles missed one game in 2013 due to a concussion. He started the first half of the 2014 season before breaking a collarbone. Mark Sanchez started the rest of the way.
Foles was injured when a play broke down. He was moving around in the pocket but was unaware of a defender who had gotten loose behind him. That was pretty much what happened when he sustained the concussion the year before. In both cases, Foles could have avoided the hits with better pocket awareness and by getting rid of the ball.
Kelly believes his sports science-based approach helps keep players healthy and on the field. But as he put it, there's not much you can do to prevent a broken leg. Linebacker DeMeco Ryans tore his Achilles tendon during a game in Houston. He had torn the Achilles tendon in the other leg a couple of years earlier.
Bradford tore the ACL in his left knee twice in a year. That kind of bad luck will either continue or it won't. It is clear, though, that having Bradford on the field for an extended period is the key to success for Kelly's plan.
It's true that he's had to use two quarterbacks in each of his two seasons in the NFL. But the teams with true franchise quarterbacks don't rely on their backups to carry the team. Part of being a franchise quarterback is being available for 16 games a season.
March, 27, 2015
Mar 27
11:00
AM ET
PHILADELPHIA -- Chip Kelly does everything fast. His uptempo approach may work on the football field, but it remains to be seen if it is effective in other areas.
[+] Enlarge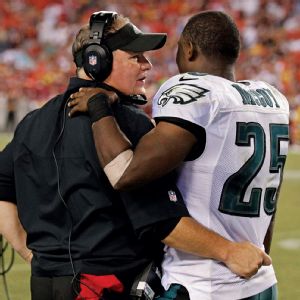 Alex Brandon/AP ImagesCould Chip Kelly and the Eagles have gotten more for LeSean McCoy?
When Kelly wanted to trade LeSean McCoy, it took about 30 minutes. That information came from Buffalo Bills head coach Rex Ryan. At the NFL owners meetings in Phoenix this week, Ryan said the Eagles called the Bills and offered them McCoy. In exchange, they asked for either linebacker Kiko Alonso or wide receiver Robert Woods, according to ESPN's Sal Paolantonio.
Woods, a 6-foot-1, 201-pound former second-round pick, caught 105 passes for 1,286 yards and eight touchdown in his first two NFL seasons.
The Bills were willing to part with Alonso, and the deal was done. The whole process took about a half-hour, according to Ryan.
But here's the thing: Could the Eagles have done better if they'd taken their time? It's efficient to trade the franchise's all-time leading rusher in 30 minutes, but is it smart?
On Wednesday, Kelly talked about some of the trades that have had huge impacts on franchises' fortunes. He cited the trade of Herschel Walker that kick-started the Dallas Cowboys' 1990s dynasty, as well as the 1999 trade in which the New Orleans Saints gave up their entire draft to get Ricky Williams.
The Walker trade was made during the 1989 season. The Vikings received Walker and four picks in the 1990 and 1991 drafts. The Cowboys received five players and a bumper crop of eight draft picks.
But that trade took a lot longer than 30 minutes to negotiate. The Cowboys talked to several teams, including the New York Giants. They got a substantial offer from the Cleveland Browns before the Vikings made their history-changing offer.
In 1988, his last full season with the Cowboys, Walker was 26 years old. He carried the ball 361 times for 1,514 yards.
In 2014, McCoy was 26 years old. He carried the ball 312 times for 1,319 yards. McCoy had led the NFL in rushing in 2013. He was the same age as Walker when he was traded and had accomplished more.
That doesn't mean the Eagles could have gotten what the Cowboys did for Walker. It is likely that no one will ever make such a lopsided trade again. But there is a large gap between getting five players and eight draft picks for a star running back and getting one linebacker for a star running back. Perhaps the Eagles could have closed that gap by spending more than 30 minutes on the process of trading McCoy.
Or maybe not. In 1989, running backs were valued quite a bit more than they are today. Just two years ago, the Cleveland Browns traded running back Trent Richardson to Indianapolis for a first-round draft pick. That trade was widely considered lopsided in favor of the Browns.
Maybe Alonso was as much as Kelly could have gotten for McCoy. It's just hard to know when the trade was carried out so quickly.
March, 27, 2015
Mar 27
8:00
AM ET
PHILADELPHIA -- Consider Byron Maxwell a lucky man.
The former Seattle Seahawks cornerback figured to land a pretty big contract in free agency. Coming off two consecutive Super Bowl appearances, Maxwell was widely considered the best cornerback in a thin market.
But Maxwell had some additional good fortune. The Philadelphia Eagles were not only in the market for a cornerback or two, they were looking to redistribute their salary cap expenditures. Coach Chip Kelly felt the Eagles were spending too much on offensive players and not enough on defense.
[+] Enlarge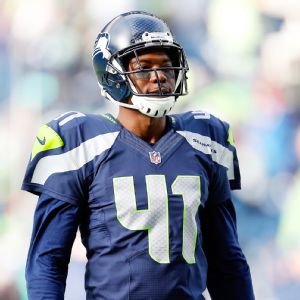 Christian Petersen/Getty ImagesChip Kelly said Byron Maxwell did not benefit from having two great safeties playing behind him.
"We were inadequate in terms of the money allocated defensively to offensively," Kelly said Wednesday, "and we're trying to balance that out. I think it showed in our play."
Meanwhile, Kelly had removed several significant contracts from the defensive side of the ledger. Linebacker Trent Cole and cornerback Cary Williams had been scheduled to make a total of nearly $20 million in 2015. Both were released.
The Eagles' six-year, $63 million deal with Maxwell has made several lists of worst free agent contracts of the offseason. Most analysts agree that Maxwell is a good player, but many found his contract a bit out of line with his career achievements.
But Kelly said those who saw Maxwell as the fourth best defensive back in Seattle's Legion of Boom secondary had it backward. Maxwell did not benefit from having two great safeties playing behind him, Kelly said.
"I think that's a misconception because he didn't have two safeties behind him," Kelly said. "They were either a Cover-3 or a Cover-1, and they don't play two-deep (safeties), and Kam (Chancellor) is usually down in the box.
"The one thing I think is interesting about Byron is because of how good Richard Sherman is, scheme-wise, (Maxwell) a lot of times got the best receiver. Everybody tried to scheme people and he got the most balls because you're not going to throw on Richard. He's got a great skill set, great size, great length, really smart, intuitive football player. He benefited from really good coaching in Seattle. Pete (Carroll) does an unbelievable job with defensive backs."
That's a good point. Teams trying to avoid throwing at Sherman had to throw somewhere. They would line their best receivers up across from Maxwell and challenge him. Maxwell held up, for the most part. With the Eagles, he will be the better cornerback. That means he will actually be challenged less than he was in Seattle.
That could make Maxwell a very good addition for the Eagles. As for a $63 million addition, that's a different story. But as you can see, many factors go into the size of a free agent's contract. Williams would have counted about $8 million against the Eagles' salary cap this year. Maxwell represents an improvement at the position, and on the ledger book.
March, 26, 2015
Mar 26
11:00
AM ET
PHOENIX -- You won't spend too much time around Chip Kelly before he lets you know who was his favorite player in the 2014 NFL draft.
Kelly liked Odell Beckham Jr., the wide receiver drafted 12th overall by the New York Giants. As Kelly's Philadelphia Eagles will spend the foreseeable future trying to cover Beckham, it won't be surprising if Kelly tries to find another elite wide receiver in this year's draft.
"I think it's a talented draft class," Kelly said Wednesday. "We're still kind of putting that all together, but it's another year where there are some really good receivers in the draft. I think probably the one position in the draft that has the most depth in the draft is wide receiver."
The Eagles could use a featured receiver after losing DeSean Jackson and Jeremy Maclin in back-to-back years. Kelly tried to keep Maclin, but the receiver signed with Kansas City when the Chiefs offered him a deal worth $11 million per season. At that point, Kelly didn't feel inspired by any of the wide receivers available in free agency.
"We didn't think there was another receiver in that price range in free agency," Kelly said. "Our team's not set right now, is the best way to say it. We don't know what we have. We may get someone in the draft who is like, 'Oh my God, he's better than we thought he was, we need to feed him.' "
Riley Cooper, the other starting wide receiver from last season, will be back. So will Jordan Matthews, who spent his rookie season playing as a slot receiver. Matthews will get opportunities to play outside in his second year in the league.
"He was a rookie," Kelly said. "We just wanted him to play one position and learn one position. It's the spring. Everybody plays everywhere in the spring, and we'll figure it out. I don't know if we add anybody and what are their strengths and what are their weaknesses."
Josh Huff, the other rookie wide receiver drafted last year, will also benefit from being in his second year in the system.
"I think Josh, it's his consistency," Kelly said. "The biggest thing with him is getting hurt in that preseason game. That kind of put him behind everybody, and when we got him back, it was after the San Francisco game. We've already played four or five games, so he was playing a little bit of catch up.
"So hopefully, it was just a freak thing on that kickoff return. He contributed really well for us. He's an unbelievable [special] teams player. We already know he's established there. Now it's just getting a little more consistent and he'll get an opportunity now with Mac gone. I just think, like with everybody, you just hope that Year 1 to Year 2 jump. We know he has the physical skills and the mindset to do it. It's just staying healthy and getting an opportunity to show us that."
Of course, Kelly could always try to trade for Odell Beckham Jr.
March, 26, 2015
Mar 26
9:00
AM ET
PHOENIX -- Whenever Chip Kelly talks about Marcus Mariota, it qualifies as news. Not earth-shaking news, maybe, but news nonetheless.
[+] Enlarge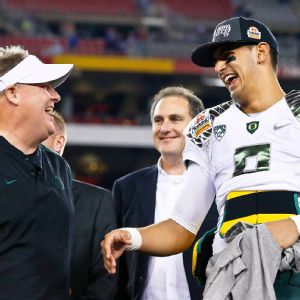 AP Images/Ross D. FranklinChip Kelly believes his quarterback at Oregon, Marcus Mariota, is being overanalyzed.
The Philadelphia Eagles' head coach talked about the Oregon quarterback Wednesday. Mostly, Kelly discussed the reasons he isn't likely to be able to draft Mariota. But he also defended his former quarterback against the criticisms that have trickled out about his low-key demeanor and throwing style.
"It's the silly season," Kelly said. "The NFL draft hype is the most crazy thing in the world. Guys are going to go up, guys are going to do down, then guys are going to go up. Cam Newton couldn't play. There's no reason to draft him in the first round. All the sudden he goes No. 1. I knew it. It's crazy."
Mariota's qualifications speak for themselves, Kelly said.
"I think everybody gets overanalyzed," Kelly said. "I'll give the credit to [Fox Sports reporter] Bruce Feldman [who] told me, it's interesting that the knock on Marcus, his baggage is that he has no baggage. He's an outstanding leader. Look at his won-loss record. You judge quarterbacks on what their won-loss record is. You judge quarterbacks on touchdown-to-interception ratio. You judge them on all those things. He's off the charts. And he's off the charts off the field."
Kelly has heard the talk that Mariota's personality is too understated to thrive in the NFL.
"You evaluate everything when you look at him," Kelly said. "Just because a guy doesn't yell and scream at a guy when he doesn't run the right route -- ask any of those guys if they'd take Eli Manning. I don't see Eli Manning screaming and yelling at anybody, but you talk about a stone-cold killer in the fourth quarter. Look at how many fourth-quarter comebacks Eli's had."
Kelly had to laugh at the situation. In 2011, Jim Harbaugh left Stanford to become head coach of the San Francisco 49ers. The next year, Stanford's Andrew Luck was the No. 1 overall pick in the NFL draft.
"How come no one asked Jim Harbaugh about trading up for Andrew Luck?" Kelly said. "Same scenario. Identical scenario. I never heard a word about 'Jim, are you trading up to get Andrew Luck?' Figure out what he said about Andrew Luck. I know how Jimmy feels about Andrew Luck."
Harbaugh had Alex Smith and Colin Kaepernick, as a rookie, in 2011. At that point, Harbaugh certainly looked like he could have used Luck. But the Indianapolis Colts were holding the first pick of the 2012 draft and it was obvious early on that Luck was their guy.
"Just a curious question," Kelly said. "I was just curious why no one talked about Jimmy and Andrew. And Jimmy's professed love for Andrew, I can tell you that. And he's right. Because that guy's pretty good, too."
March, 25, 2015
Mar 25
6:30
PM ET
PHOENIX – The Philadelphia Eagles have some holes in their lineup after coach Chip Kelly's offseason overhaul. It turns out they may have some players who can fill those holes, as well.
Kelly created an opening at right guard when he released veteran Todd Herremans. That seemed like a major issue until you heard how enthusiastic Kelly sounded about Allen Barbre.
"I'm really excited about Allen," Kelly said Wednesday. "We've been high on Allen for a long time. Was playing really well and then hurt his ankle in the first game. He came in the year before and did an unbelievable job when [Jason Peters] was out against Green Bay in a real tough matchup against a real good team in Green Bay and really did well for himself. Versatile player. Feel very confident in Allen Barbre."
Barbre started at right tackle in place of suspended starter Lane Johnson throughout training camp. In the season opener, Barbre went down with a high ankle sprain. He ended up on injured reserve.
So Barbre could be Herremans' replacement. If Evan Mathis returns at left guard, as Kelly seemed to expect, that leaves the Eagles with Matt Tobin and Andrew Gardner as backups at the guard positions.
The departure of free agent Nate Allen left the Eagles without one starting safety. The free agent market dried up. But there are candidates on the roster to start along with Malcolm Jenkins.
"We'll take a look at that," Kelly said. "That's what this process is all about, the offseason, you get a chance to see guys on the field. What is Earl [Wolff] like in Year 3? There's guys on our team right now that can certainly play that role but it depends where they are when you get a chance to see them through OTAs, through minicamp, through preseason camp."
Wolff has had season-ending knee injuries the last two years. He had surgery, including a version of microfracture surgery, on his knee last year.
A healthy Wolff would give the Eagles at least some experience at the safety position. Jaylen Watkins, who played some cornerback as a rookie, and Ed Reynolds were drafted last year. Chris Prosinski and Jerome Couplin were added to the team during the 2014 season. All four could compete with Wolff for the starting job.
"Yeah, Jaylen's got versatility," Kelly said. "How it will all play itself out, we've got a ton of time, and we've got a ton of reps between now and when we've got to make a decision on who's going to end up opposite Malcolm. Jaylen's another guy who will have an opportunity at the safety spot."
March, 25, 2015
Mar 25
8:00
AM ET
PHOENIX -- Five years ago, the Philadelphia Eagles had Sam Bradford graded as the best NFL quarterback prospect in a decade.
That was long before Chip Kelly was head coach of the Eagles, as Andy Reid was in charge of the team's draft.
[+] Enlarge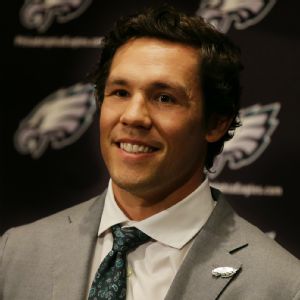 AP Photo/Matt SlocumFive years ago the Philadelphia Eagles had Sam Bradford rated as the best quarterback coming out of the draft.
"When he was scouted out of college, we thought -- and this goes back to Andy -- we thought he was the best young quarterback we'd seen in a long, long time," Lurie said Tuesday. "Probably since Peyton Manning coming out of college. Rookie of the year his first year. Outstanding. Pat Shurmur had him as an offensive coordinator, reconfirmed everything we'd heard about him in the draft process. Extraordinary competitor. Incredibly accurate and needs to stay healthy."
So Lurie wasn't completely surprised when Kelly decided to go after Bradford, who had been the first overall in the 2010 draft by St. Louis.
As Lurie sees it, finding a franchise quarterback is the No. 1 priority in building a Super Bowl contender. His team had drafted Donovan McNabb second overall back in 1999. That led to a decade of success, including the franchise's second every Super Bowl appearance.
With Michael Vick, Lurie thought the Eagles took a gamble on a franchise-caliber quarterback. That is what Bradford represents. He has missed most of the last two seasons after tearing his left anterior cruciate ligament twice.
"There was an opportunity to do an upside gamble with an outstanding young quarterback who you hope can become healthier throughout his career," Lurie said. "It is so hard to get a franchise quarterback, as you know. It sets the ceiling on what you have as a team, and do you want to take upside gambles or not? You've got to make that decision."
Kelly spent roughly a month doing research on Bradford. He came away convinced that Bradford could be the franchise quarterback he appeared to be in the 2010 draft.
So Kelly traded Nick Foles, his quarterback for most of the past two seasons, for Bradford. The belief, Lurie said, was that Bradford can elevate the Eagles' level of quarterback play.
"These are not flippant decisions of a head coach," Lurie said. "These are very studied decisions. He watched Sam Bradford hundreds of times. He talked to every coach he ever had. This is well-researched. It wouldn't satisfy me if it wasn't."
March, 25, 2015
Mar 25
6:30
AM ET
The Philadelphia Eagles have eight selections in the 2015 NFL draft, which will be held April 30 to May 2 in Chicago. Here's a breakdown of the Eagles' selections:
First round: 20th overall selection

Second round: 52d overall selection

Third round: 84th overall selection

Fourth round: 113th overall selection

Fifth round: 145th overall selection

Fifth round: 156th overall selection

Sixth round: 195th overall selection

Seventh round: 237th overall selection
March, 24, 2015
Mar 24
6:33
PM ET
ESPN.com news services
[+] Enlarge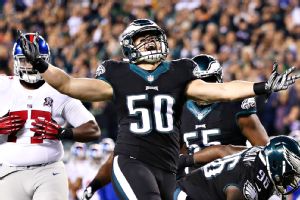 Bill Streicher/USA TODAY SportsCasey Matthews started 10 games at linebacker for the Eagles in 2014, more than he had in his previous three seasons combined.
The Minnesota Vikings announced Tuesday that they had agreed to terms with linebacker Casey Matthews and safety Taylor Mays.
Terms of the deals were not disclosed.
"It's great to be here," Matthews told the team's website. "I'm looking forward to a new opportunity and a new chapter in my life."
The Vikings are in the market for a new starting middle linebacker after Jasper Brinkley signed a two-year deal with the Dallas Cowboys earlier this month. Matthews has more NFL starting experience at an inside linebacker position than anyone else on the Vikings' current roster, and figures to be in the hunt for playing time in the middle.
Matthews, 26, started 10 games for the Philadelphia Eagles in 2014, more than he had in his previous three seasons combined. The former fourth-round pick had been a backup middle linebacker and special teams player during his first couple seasons in the league.
March, 24, 2015
Mar 24
5:45
PM ET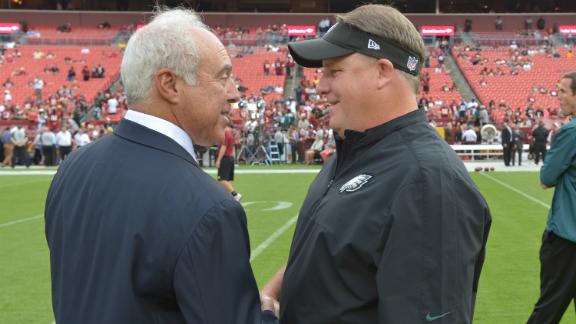 PHOENIX -- Philadelphia Eagles owner Jeff Lurie is no stranger to interoffice politics and organizational reorganization. He has refereed power struggles involving coaches from Ray Rhodes to Andy Reid.
So when it came to giving Chip Kelly final say over player personnel decisions at the end of the 2014 season, Lurie didn't have to go through another conflict. Lurie saw that Kelly's vision could best be realized by giving Kelly control, so that's what he did.
"I think it evolved," Lurie said Tuesday at the NFL owners meetings. "I think Chip was new to the league and it took a couple years to assess how to maximize him. I think that was legit. It would have been a different way to maximize him Day 1 than in the third year."
[+] Enlarge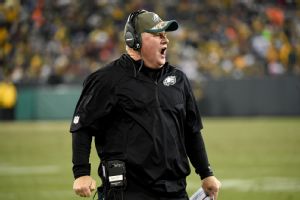 Benny Sieu/USA TODAY SportsGiving Chip Kelly control over player personnel made more sense to Eagles owner Jeff Lurie than trying to find someone to train in Kelly's vision.
Kelly has very involved and detailed qualities he seeks from each position, Lurie said. Rather than try to train the existing personnel and scouting staffs in Kelly's specifications, Lurie said, it made sense simply to let Kelly run the personnel and scouting staffs. That's why he decided to remove general manager Howie Roseman from the evaluation process and let Kelly promote Ed Marynowitz to be his top personnel assistant.
Lurie made the changes a few days after the end of the 2014 season, and just days after saying that Roseman would be back as GM.
"I changed my mind," Lurie said. "What we do at the end of every season -- which is why it's probably not the greatest idea to talk about things in the locker room being an away team in the final game -- we sit down and have real serious conversations with all the senior people and we were I know one of three teams in the NFC that had double-digit wins twice in a row but that's not what we are about. I think you all know that. it's not what our goal is.
"We really sat down and just looked and we are as self-analytical as you can possibly be. After thinking about it, I just thought the best way to align ourselves was to try to do this relatively rational, seamless way, with Chip of taking scouting and integrating into every aspect of the operation in terms of making it seamless with on-field performance and sports science and all that. There was a vision I wanted to support."
Lurie said he was at first convinced the Eagles were "on the right track" after two 10-6 seasons under Kelly. But after meeting with Kelly at the end of the season, he said, the coach convinced him that 10 wins were not good enough.
"It's easy to say, 'Well, you had it going well and you already said you were going to stick to the status quo that way,' but I don't think that's the best way to operate. You learn after the season exactly how you might become better. It was worth taking that alternative structure and acting on it."
Lurie said he didn't take any action to assure that Kelly will stay through the end of his contract. He has gotten no indication that Kelly intends to return to college football any time soon.
"I'm an owner that tends to absolutely be supportive of a coach and his vision if it's a real sharp and smart vision," Lurie said. "I really believe in that. I'm probably influenced by some of the people that we all respect, with Bill Walsh, Jimmy Johnson and others in other sports."
March, 24, 2015
Mar 24
12:50
PM ET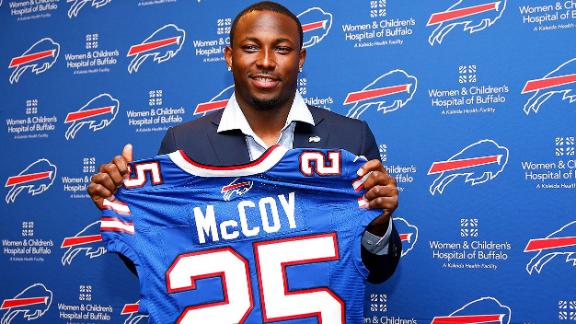 PHOENIX -- The trade that sent LeSean McCoy from the Philadelphia Eagles to the Buffalo Bills earlier this month took just 30 minutes to complete after the Bills were "stunned" to learn McCoy was available, coach Rex Ryan said Tuesday.
"The trade for LeSean happened really quick," Ryan said at the NFL owners meetings. "We were all sitting there. We were having organizational meetings. ... And all of the sudden we get this call from Philadelphia and I think that was when the trade started. Probably 30 minutes later, the trade was done."
The March 4 deal sent McCoy, the NFL's third-leading rusher since he entered the league in 2009, to Buffalo in exchange for linebacker Kiko Alonso, who missed last season with a torn ACL.
The Eagles called the Bills about McCoy being on the market, which surprised the Bills.
"We were just kind of, like, stunned there for a little bit," Ryan said. "We're like, 'Really? Wow.' All right, so let's just take it from there. Obviously we were interested and then the trade came down. We knew it wasn't going to be cheap by any stretch. And losing a player like Kiko Alonso is obviously a steep price, but we felt really good about it."
McCoy will become the "bell cow" in the Bills' backfield, Ryan said Tuesday, but the Bills did not enter the offseason expecting to add a top-tier running back like a three-time Pro Bowler in McCoy.
March, 24, 2015
Mar 24
11:00
AM ET
Join us today at 1 p.m. ET, 10 a.m. PT for NFL Nation TV's Spreecast Episode 49 as we welcome in draft hopeful Brett Hundley and break down the latest in offseason league news.
Host Paul Gutierrez (San Francisco 49ers reporter) and co-hosts Coley Harvey (Cincinnati Bengals reporter) and Mike Wells (Indianapolis Colts reporter) will be joined all show by Jeremy Fowler (Cleveland Browns and ESPN senior reporter), in addition to Hundley and two other NFL Nation reporters. Wells and Gutierrez will provide updates from the NFL owners meetings in Phoenix.
Fresh off a record-setting career at UCLA, Hundley is one of the many former college players hoping to be claimed in this year's draft that begins April 30. He's regarded as one of the top quarterbacks in this year's class. He'll stop by for a few moments to discuss his pre-draft journey, and how prepared he believes he is for the NFL.
Also, Todd Archer (Dallas Cowboys reporter) will chat about Greg Hardy's recent free-agency signing in Big D, and the reaction it has sparked there.
Ben Goessling (Minnesota Vikings reporter) will fill us in on the latest in the Adrian Peterson saga. Are the words of Peterson's agent a benefit or a hindrance? Also, what was up with the camel-riding birthday celebration the embattled rusher had over the weekend?
Fowler will help close things down by discussing the latest in the Browns' quarterback soap opera, and the television show they could be featured on later this summer.
Viewers are encouraged to log in and ask the panelists questions as well as contribute in the chat feature.