October, 1, 2014
Oct 1
7:00
PM ET
PHILADELPHIA – The phone rang at 6 a.m. Tuesday. Until that moment,
Jake Knott
didn't know if his NFL career would resume or end with a four-game suspension for PED use.
"You see some guys, once they lose their shot, they're done," Knott said Wednesday after rejoining the Eagles' practice squad. "It definitely was hard. It was hard on my fiancée. I'm just very happy now to be doing the thing I love again."
Knott
Knott was notified of his suspension early in the offseason. The Eagles like him as a backup inside linebacker and special teamer. Then he got hurt in training camp and was unable to compete for a roster spot. Knott was released and, with his suspension looking, no other teams had any reason to sign him.
"I know I made a mistake," Knott said. "I know how it's affected me and the team. But now it's my chance to be able to show them that I belong. I'm going to work my tail off and do whatever they want me to do. I'm extremely glad to be here and help out the team any way I can."
The Eagles were not allowed to contact Knott until his suspension ended. The last they told him was that they would evaluate him after the four weeks and decide what to do.
Knott went to Iowa State, where he played his college ball. He worked out, preparing in case he had to try out for teams once the suspension was over. But he really hoped he would get another shot in Philadelphia. Knott played in 12 games last season, mostly on special teams.
"I really wanted to come back here because it's such a great place," Knott said. "I'm familiar with everybody and the scheme. I was in limbo, in transition. I'm very lucky to have the support system I had at Iowa State."
That limbo had to last until the conclusion of the fourth NFL week, which ended with the Monday night game between New England and Kansas City. When the phone rang Tuesday, it was the soonest the Eagles could contact Knott. He was happy to cancel the workouts he'd begun setting up with other teams.
"I hoped it was going to be an option," Knott said. "Quite honestly, I've heard some bad things about other places. I was very lucky to have the opportunity to come back here."
October, 1, 2014
Oct 1
5:00
PM ET
PHILADELPHIA --
LeSean McCoy
didn't want to talk about the
Philadelphia Eagles
' running game after he gained 17 yards on the ground in San Francisco Sunday. By Wednesday, McCoy wasn't much more enthused about the topic.
[+] Enlarge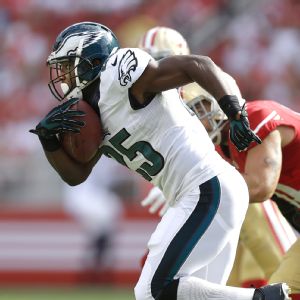 AP Photo/Ben MargotEagles running back LeSean McCoy rushed for a season-low 17 yards against the 49ers.
"I'm not sure," McCoy said. "I'm just not getting it done. I don't know what else to tell you."
The use of the first-person singular is admirable. McCoy was quick last season to credit his blockers for helping him lead the NFL in rushing. And everyone knows the Eagles' offensive line barely resembles that group because of injuries. Right tackle
Lane Johnson
has returned from his four-game suspension for performance-enhancing drug use, the first good news for the line in months.
"I got my boy Lane back," McCoy said. "We'll find out. We'll see what happens. That helps. I'm used to the guys and I know how they block. Last year, I had the whole entire line healthy for 16 games. They did tremendous. I'd love to stand up here and tell you what's going on, but the truth of the matter is we're not getting it done."
McCoy is frustrated, but not discouraged.
"I'm confident in my game," McCoy said. "I know who I am. The teams that we play, they know what type of player I am. So that doesn't bother me. I can't answer the reasons why we can't get the running game going. I'm not going to fight that battle. It is what it is. Hopefully, it changes. I still prepare the same way."
McCoy only ran the ball 10 times Sunday, his lowest total of the season. But the Eagles only ran 56 offensive plays and held the ball for under 18 minutes. So there simply weren't as many opportunities to establish the run.
Against St. Louis Sunday, the Eagles will try some new approaches to get their run game going.
"We have some different plays that we're working on this week," McCoy said. "But a lot of it is just executing. Getting the backs on one-on-one matchups. That's what we're best at."
October, 1, 2014
Oct 1
3:20
PM ET
PHILADELPHIA --
Philadelphia Eagles
center
Jason Kelce
felt pretty good before the game against Washington two Sundays ago.
It turns out that's unusual. Kelce said Wednesday that he's been troubled by a sports hernia for pretty much his entire career.
Kelce
During that game, the tissue tore completely, forcing Kelce to have surgery. He is expected to be out for six to eight weeks.
"Typically, it's a six-to-eight week injury," Kelce said. "It feels great right now, so hopefully we can be on the earlier side of that. But it's been doing well."
Kelce is one of several linemen who have gone down with injuries. Left guard
Evan Mathis
has a sprained left knee and could be out a similar amount of time. Backup
Allen Barbre
is on injured reserve with a high ankle sprain.
The injuries have affected the Eagles' offense, especially the running game. But as Kelce was quick to point out, it isn't a simple cause-and-effect situation.
"I only missed one game now," Kelce said. "We really haven't run the ball effectively all season. So I think that there's a lot of reasons why we've been unsuccessful running the football. It really just comes down to everybody blocking a little better. I think it's really close. If you go back and watch the tape, they're one block away from being 15- to 20-yard carries in some instances. I think it's a lot closer than people are giving the line and the backs credit for."
Kelce said his replacement,
David Molk
, played well in San Francisco.
"I think Molk did a good job for his first start," Kelce said. "I was unhappy I wasn't out there, but I'm happy for a guy that's been clawing and trying to get out there. A very hard worker. I thought he went out and did a pretty solid job."
Kelce described his rehab as "very active." He walked a mile the day after his surgery. He has been out on the practice field at times this week, working with the athletic trainers.
"As of right now, we're just trying to get all the swelling and inflammation out of the area," Kelce said. "I could be jogging by the end of the week."
October, 1, 2014
Oct 1
3:00
PM ET
PHILADELPHIA --
LeSean McCoy
led the NFL in rushing last season. The rest of the NFL noticed.
That has more to do with the
Philadelphia Eagles
' run-game woes this season than anything, according to center
David Molk
. Injuries to offensive linemen are a factor -- they are the reason Molk and not
Jason Kelce
is playing center for the Eagles right now -- but the focus would be on McCoy no matter what.
McCoy
"Teams are adapting," Molk said Tuesday. "That's what happens. We do well at something, we showed something really great last year, and now teams are realizing, 'We've got to change.' We've got to adapt and find a way to slow them.' So now they've made their chess move. Now it's our turn. We have to find our option to get the upper hand again."
Molk obviously isn't of the school of thought that the Eagles' move will have to wait until Kelce and left guard
Evan Mathis
are back from their injuries. Neither are the coaches. Offensive coordinator Pat Shurmur gave a sense of their thinking when asked what he expected from right tackle
Lane Johnson
.
"We expect everybody that goes in there to play winning football," Shurmur said. That would include Molk and left guard
Matt Tobin
, who is filling in for Mathis.
Just as important, the players themselves expect to perform at a high level.
"We've just got to clean up some stuff, stay on some blocks," left tackle
Jason Peters
said. "We just have to get it rolling, man. Once we get it rolling, it's going to be downhill from there."
The Eagles didn't run the ball much in San Francisco Sunday, but their offense was only on the field for 17 minutes, 43 seconds.
"We didn't have many plays, period," offensive coordinator Pat Shurmur said. "I think that was a function of it. What we need to do is do a better job of staying on the field so we get more plays. We had a lot of great things that we wanted to do. We didn't stay on the field.
"The good news is we are going to continue to run the football, and so we have got very talented players and we feel good about our ability to get it going. We have to continue to run the ball like we've been. I think it's a mixture of things. I think we can, you know, from whether it's blocking or hitting the hole or whatever. I just think we need to execute better."
October, 1, 2014
Oct 1
2:00
PM ET
By
Andy Jasner
| ESPN.com
Philadelphia Eagles
quarterback
Nick Foles
was the league leader in passing yards through the first three games.
But he tossed a pair of interceptions in a
26-21 loss at San Francisco
, pushing his total to four already this season. Foles had just two interceptions all of last season.
McCoy
Foles
LeSean McCoy
was No. 1 in the NFL with 1,607 rushing yards last season. Through the first four games this season, he has a measly 192 yards -- 2.7 yards per carry.
The offensive line welcomed back
Lane Johnson
, but it's still struggling without
Evan Mathis
,
Jason Kelce
and
Allen Barbre
.
Foles is taking a plethora of bone-jarring hits, McCoy is getting knocked down before he even reaches the line of scrimmage and the Eagles are looking for answers heading into Sunday's game against the visiting
St. Louis Rams
.
"I think some people are pressing and trying to make things out of something that isn't there right now at every position," Eagles coach Chip Kelly told reporters. "I think everybody has just got to kind of settle down and go back to playing football."
Foles has been knocked down quite a bit, especially in the last two games against the
Washington Redskins
and 49ers. In the process, he has not been nearly as accurate as he was last season.
Is there cause for concern?
"We're going to be fine," Foles told reporters. "You're going to go through things like this in life. You're going to have a rough game, and I have all the confidence in the world because I know my teammates. I know the guys that are on the O-line, and we're going to learn and we're going to be better for it because they're not going to beat themselves down. They're going to look at this as an opportunity to get better."
October, 1, 2014
Oct 1
1:00
PM ET
PHILADELPHIA – For the second week in a row, Eagles coach Chip Kelly had to stamp out a brush fire set by an unhappy player.
This time, it was rookie wide receiver
Josh Huff
. On Tuesday, Huff expressed frustration over being inactive for Sunday's game in San Francisco. Huff injured his shoulder in the preseason game at New England on Aug. 15. He has not appeared in a game since.
Huff
"I guess they [the coaching staff] saw something that I didn't see," Huff said on Tuesday, "but as far as I'm concerned, I've been ready for about a week and a half."
A week ago, Kelly was defusing comments made by cornerback
Cary Williams
about the Eagles' practice regimen. This time, the coach was pretty direct in countering Huff's version of events.
"We'll see how he trains this week," Kelly said Wednesday. "He wasn't ready to go physically or mentally last week. He knew that. We talked to him, told him on Friday that he wasn't going to be active on Sunday. We'll see how he goes through a whole week. Last week was his first full week practicing, and then [he] didn't actually practice all through Wednesday. We've got to make sure he's 100 percent healthy, physically and mentally."
Huff, a third-round pick from Oregon, would have to move past
Jeff Maehl
or
Brad Smith
, both as a wide receiver and as a special teams player, in order to be active for a game. Kelly often says that backups have to earn their playing time on special teams.
Huff returned a kickoff for a touchdown in the preseason opener in Chicago. That certainly earned him a leg up on the competition. But
Chris Polk
had a 102-yard kick return for a touchdown against Washington, so the Eagles aren't hurting there right now.
"He's still a rookie," Kelly said of Huff. "He came back last week on Wednesday and practiced. He got hit a little bit and missed some time in practice. It was the first time he really took a shot on that [shoulder]. So we made the decision on Friday that he wasn't available. We'll see how he practices and trains this week."
October, 1, 2014
Oct 1
12:00
PM ET
By
Andy Jasner
| ESPN.com
Marcus Smith
continues to gain some much-needed experience.
And growing pains along the way.
Smith
The
Philadelphia Eagles
' first-round pick, No. 26 overall from the University of Louisville, recalled one specific play in last Sunday's
26-21 loss
at San Francisco. The linebacker and edge rusher, who recorded 14.5 sacks as a senior at Louisville, lost focus for a brief moment and gave
Colin Kaepernick
enough time to toss a 55-yard touchdown to
Frank Gore
.
"As soon as the ball was thrown, I was like, 'Oh, snap. That's my guy,'"
Smith told the Philadelphia Inquirer
. "Gore stepped up and blocked, so I kind of went with all the chaos. But I've got to be able to settle down and come back down to earth and know that Gore is my guy. After the play, people were telling me to keep my head up and keep playing, because that was a big factor. If that play wouldn't have happened, we probably would have won."
Some experts wondered whether Smith was worthy of being taken in the first round. But the Eagles made the bold decision, and Smith is anxious to prove it was the proper decision.
"It's just about me now being comfortable and making plays without second-guessing myself," Smith told the Inquirer. "I think that's what makes me play slow sometimes. I just want to be correct for the team. I don't want to mess up. Coach (Bill) Davis says it all the time. 'Don't worry about that.' That's the biggest thing for me as a first-rounder. I know people want me to play now. They expect me to be better than I am right now. But I'm trying to work hard, trying to get there, and once I get to that point, I'll never look back."
October, 1, 2014
Oct 1
10:00
AM ET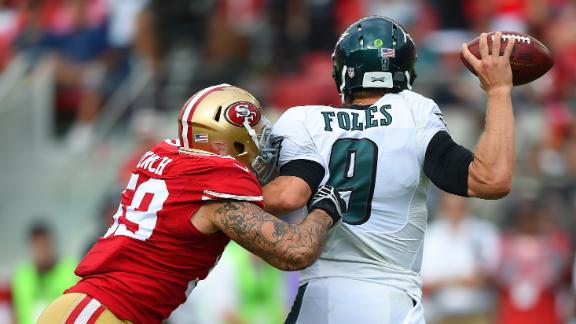 ESPN Eagles reporter Phil Sheridan says the reason
Nick Foles
hasn't looked as good as he did last year is directly due to how much he is being hit and the team's inability to get the running game going.
October, 1, 2014
Oct 1
8:00
AM ET
By
Andy Jasner
| ESPN.com
Josh Huff
is still in search of his first snap in a regular-season game.
Will it come Sunday against the
St. Louis Rams
?
Huff sure hopes so.
A highly-touted third-round pick from the University of Oregon, the wide receiver and special teams standout said he's 100 percent.
Huff suffered an injured shoulder in the
Philadelphia Eagles
' second preseason game against the New England Patriots.
In each of the first four regular-season games, Huff has been inactive.
"It's definitely been frustrating because I hate to see my teammates struggle and see the offense struggle like we struggled last game, and knowing that if I was healthy I could have done something to help our team out,"
Huff told CSNPhilly.com
. "I guess they (the coaching staff) saw something that I didn't see, but as far as I'm concerned, I've been ready for about a week and a half."
In the Eagles' 26-21 loss at San Francisco Sunday, Huff saw the team go without an offensive touchdown.
"Just being a competitor, I just want to be a part of us winning, losing, whatever it is, I just want to get out there with my teammates and lay it all out on the line for them," Huff told CSNPhilly.com. "Not being activated, it's kind of disappointing, but at the same time, they're looking out for the long run, and when my number's called I'll definitely be ready."
Huff is unsure what will transpire against the Rams. But he'll be prepared to play.
"The time I've been out, I've definitely been in the playbook, I've definitely learned how the offense works, what are the reads, stuff like that," Huff told CSNPhilly.com. "I've been just keeping track of
Jeremy Maclin
and just asking him questions and seeing how I can get better at things. He just brought me under his wing really since I've been here, taught me the ropes, and just told me to be patient, my number will be called."
September, 30, 2014
Sep 30
9:30
PM ET
PHILADELPHIA –
Lane Johnson
is not the only suspended player who returned to the
Philadelphia Eagles
on Tuesday.
Linebacker Jake Knott, who was suspended for four games for violating the NFL's PED policy, was added to the Eagles' practice squad. Knott, a linebacker from Iowa State, played in 12 games for the Eagles last season.
Knott was in line to compete for a backup inside linebacker spot, but the looming suspension skewed his chances. Backup linebackers are needed on special teams, and
Najee Goode
,
Casey Matthews
and
Emmanuel Acho
were all available for those roles.
The suspension also made Knott unappealing to other teams who might have scooped him up off the waiver wire. The Eagles like Knott and put him on the practice squad as soon as he was eligible to join the team.
The Eagles also added offensive tackle
Kevin Graf
to the practice squad. Graf had been on the squad earlier, then was elevated to the 53-man roster due to the injuries along the offensive line. With the return of Johnson from his four-week PED suspension, Graf was released Monday.
To make room on the 10-man practice squad, the Eagles released linebacker Brandon Hepburn and offensive lineman Tyler Hoover.
September, 30, 2014
Sep 30
8:15
PM ET
PHILADELPHIA --
Nick Foles
knows.
The Eagles' quarterback has some excuses. The offensive line is banged up. The running game has not been remotely as effective as it was last season. There are explanations for the offense's ineffectiveness Sunday in San Francisco.
But Foles also knows that, as the quarterback, he's the one guy who can erase many of those issues. Make a perfect throw here or a good read there and a quarterback can change the entire tone of a game.
[+] Enlarge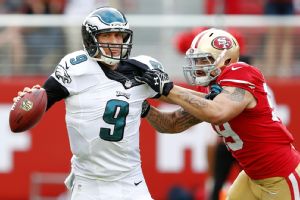 Bob Stanton/USA TODAY SportsNick Foles completed 21 of 43 passes for 195 yards with no touchdowns and two interceptions against the 49ers.
"I definitely missed some throws that I want to hit," Foles said Tuesday, as preparation began for Sunday's game against St. Louis. "That's something I'm going to work toward this week. My job as quarterback, when that ball's in my hand, is to deliver the ball where my receivers can catch it. There were a couple times I let it out there a little bit too far. We were close on a couple.
"It's all things we can fix. That's what's exciting. I want to hit every pass perfectly and I'm going to work toward that this week. I've got to be a little bit more accurate and I know how to do that. I've thrown a football for a long time."
Foles threw a dozen deep balls, defined by ESPN Stats & Information as traveling at least 20 yards beyond the line of scrimmage, against the 49ers. He completed zero of those attempts. Two were intercepted.
Those were the kinds of throws Foles excelled on last year.
DeSean Jackson
was his target for some. But
Riley Cooper
was also good on catching those deep throws. Cooper has not been as reliable a target this season. But Foles dismissed the idea that he's missing Jackson, who was released in a surprise move by the Eagles in March.
"No," Foles said. "I think I'm just overthrowing them. I'm letting the ball fly a little far. You've got to make a mistake to fix it. Looking at the film, I was a couple yards too far on a few of them. I know how to fix that and I know how to throw them."
Offensive coordinator Pat Shurmur is seeing the same things on the game film.
"We've got to just clean up," Shurmur said. "Everybody's got to clean up their fundamentals. Everybody's got to do a little better job of doing what they do and I think it will come together. I think Nick's played steady this year. We've all got to get better."
Foles certainly put things together on the 90-yard drive that ended one yard short of a go-ahead touchdown. But earlier, Foles just seemed a little off on many of his throws.
"There are certain times when we call a deep-to-short type concept, where he looks deep, and if it's there, take the shot and if not, you bring it down to a shorter receiver," Shurmur said. "And then there are other times when we are calling horizontal stretches, there are other times when we are calling four verticals. I don't think it's any one thing."
If it's one thing, it's the quarterback. Foles knows that.