September, 17, 2014
Sep 17
8:00
PM ET
PHILADELPHIA Opposing defenses are picking their poison. That has
LeSean McCoy
's rushing yardage down after two games, but the
Philadelphia Eagles
are 2-0.
McCoy
"Obviously you want to stop certain things in our offense," McCoy said Wednesday. "But you're giving up so many other things on the back end. You try and [stop McCoy], guys like
[Zach] Ertz
and
[Darren] Sproles
and
[Jeremy] Maclin
are making plays. It's tough. It depends on what the defense wants to go by. Do you want to lose that way, or do you want to lose the original way?"
After two games in 2013, McCoy had 237 rushing yards. But he got 184 in the season opener against Washington. Against San Diego the next week, McCoy was held to 53 rushing yards.
Two games in, McCoy has 153 yards on the ground. If he maintained that pace, he would finish the season with a very respectable 1,224 yards rushing. But McCoy led the NFL with 1,607 rushing yards last season. To reach 2,000 yards, his playfully stated goal, he would have to average 132 yards per game the rest of the way.
On the other hand, while McCoy rushed for fewer than 75 yards in seven games last season, he still led the league. So there's plenty of time for him to catch up to last season's pace.
"It's only the second game," McCoy said. "I'm sure I'll get better and we'll get better as an offense. I don't want to be panicking right now. It's only the second game."
McCoy said he can improve personally.
"Different reads," McCoy said. "I can read a little better. Some of the opportunities I had, I could make some of those guys miss, which I'm capable of doing. I'd be lying if I said in the past I made every single cut the right way. That's lying."
But the truth is, McCoy is more concerned about the numbers on the scoreboard than the numbers on the stat sheet.
"I want to win," McCoy said. "I know what I can do. I got the [rushing] title and that was it. We got to the playoffs and lost the first game. There's not too much excitement about losing like that. That was it. I want to be productive. I'm not putting huge numbers up, but other guys are doing well and we're winning because of it. I'm fine with that."
September, 17, 2014
Sep 17
6:30
PM ET
PHILADELPHIA -- Eagles linebacker
Mychal Kendricks
injured his calf Monday night. Kendricks did not practice with his teammates Wednesday. He is listed as day-to-day by the coaches.
"I've got a plan without him practicing today," defensive coordinator Bill Davis said. "We'll have the other guys get the reps."
Kendricks
The "other guys" are
Casey Matthews
, who filled in for Kendricks in Indianapolis, and
Emmanuel Acho
, who was signed off the practice squad last week.
Najee Goode
, the top backup inside linebacker, was placed on injured reserve after tearing his pectoral muscle.
"We'll see who has the better week (of practice)," Davis said. "We have complete confidence in both of them. We'll see how the week plays out, but it could be Casey or Acho, or a mix of both."
Acho is a little more dynamic, as Kendricks is. Matthews is a bit steadier and more experienced.
"There's not a whole lot of difference," Davis said. "They're both very intelligent guys who can set our front, they can line us up, they understand our defense thoroughly. They're very instinctive between the box. They're good tacklers. They're very similar skill sets -- not a whole lot of difference between the two of them."
Kendricks' injury will have an impact on veteran
DeMeco Ryans
, as well. Davis had been hoping to reduce Ryans' playing time a bit this year. Ryans was on the field more than any other linebacker in the NFL in 2013.
With Goode and Kendricks injured, it will be tough to take Ryans off the field. He played 71 of 73 defensive plays in the season opener against Jacksonville and was on the field for all 72 plays against the Colts.
"Those guys have to step in and pick up where Mychal left off," Ryans said. "I haven't played with them much at all. Whoever goes in, Casey or Acho, they'll have to step up and hold it down for Mychal. Those guys are pros. They'll know where to be, how to get the job done."
On the other hand, if Kendricks is able to play, the extra practice reps will help Matthews and Acho be ready to play. That could make Davis feel more comfortable having one of them spell Ryans for a series or two.
September, 17, 2014
Sep 17
5:00
PM ET
PHILADELPHIA – In theory, having practiced against
DeSean Jackson
should help the Eagles' secondary deal with him when they have to cover Jackson in a game Sunday.
"We know him well," defensive coordinator Bill Davis said. "He's got great speed, with great ability to catch the ball and adjust. We know he'll be amped up to play us, like all guys are when they go back and play their old teams. One of the good things is, our defensive backs have covered him every day. I think it helps a little bit when you go against him in practice every day and you have a feel for him, as opposed to playing a talent like DeSean that you haven't gone up against."
Jackson
That's in theory. In practice, it's not quite as simple as that.
"Game speed is totally different from practice tempo," Eagles cornerback
Cary Williams
said. "Practice means nothing, man. Nothing. I expect him to be at his best. I'll be at my best. He's a gamer. I've seen him in practice and I've seen him in games. It's two different speeds. So practice means nothing to me."
The Eagles corners play on one side – Williams on the right,
Bradley Fletcher
on the left – so both will have to cover Jackson, assuming his shoulder injury permits him to play. So will slot cornerback
Brandon Boykin
.
Boykin agreed that Jackson plays faster than he practices.
"Then he's coming back to Philly," Boykin said, "so it's going to be times two."
The Eagles know Jackson is an emotional player. They expect his emotions to be running high Sunday.
"No question they are," Williams said. "We're well aware of it."
A few years ago, when Williams was with the
Baltimore Ravens
, he and Jackson got into a scuffle during a game against the Eagles.
"I'm going to play my game," Williams said. "I'm going to try not to penalize my team. I'm not going to go out there and do anything stupid."
September, 17, 2014
Sep 17
4:00
PM ET
By
Andy Jasner
| ESPN.com
The
Indianapolis Colts
controlled the clock for nearly 13 minutes more than the
Philadelphia Eagles
.
Yet when time ran out Monday night and
Cody Parkey
's 36-yard field goal sailed through the middle of the uprights, the Eagles came away with a 30-27 come-from-behind victory.
Jenkins
Having the ability to control tempo and strike quickly is huge. And the Eagles practice at such a rapid pace, they're prepared physically, even when they trail by double digits in the second half.
"Once that fourth quarter hit, I think everybody just looked at it like Period 22 (the final period of a normal Eagles practice)," safety
Malcolm Jenkins
told the Allentown (Pa.) Morning Call
. "This is what we train for, to be fresh and to be at full speed in the fourth quarter."
The Eagles have rallied from double-figure deficits in consecutive weeks to defeat the
Jacksonville Jaguars
and the Colts.
Being able to run their high-octane offense for 60 minutes has been an advantage.
"[Tempo] always is [a factor]," Eagles center
Jason Kelce
told the Morning Call. "I think the games that we play the best are always the games that we utilize the tempo the best. And as you can see, as it continues to go, it wears on [opponents]. In the second half, even though we're tired, we know they're a little more tired. So that helps us going down the stretch, I think."
September, 17, 2014
Sep 17
2:57
PM ET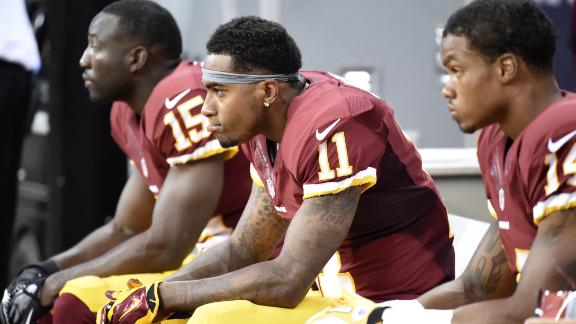 ASHBURN, Va. -- DeSean Jackson made it clear at the end of his news conference: Bad shoulder or not, the Washington Redskins receiver plans to play Sunday in Philadelphia against his former team.
After his much-publicized release from the Eagles this past spring along with corresponding articles questioning his character, Jackson doesn't want to be sidelined. He sprained his left shoulder last week against Jacksonville and is considered day-to-day.
He did not practice Wednesday, but there has been cautious optimism all along about his availability.
"I don't think an AC joint is jeopardizing my career in the long haul," Jackson said. "If it's all on me, I'm playing. I don't plan on missing this game."
Redskins coach Jay Gruden said Jackson would be limited in practice Thursday, but they hope to test him more Friday -- throwing passes over his head and seeing how he responds to any sort of contact.
But Gruden said he feels good about Jackson being able to play, provided he keeps improving.
"We won't put him out there in any circumstances," Gruden said, "where he'll be playing in pain that will take him away from his style. He's a reckless player, a fast player and if he's not 100 percent he's not worth being out there. But he's a tough kid, and I think he'll be all right."
Jackson spent six seasons with Philadelphia, setting career highs in catches (82) and yards (1,332) a year ago. But Eagles coach Chip Kelly cut Jackson in March, and he signed with the Redskins soon afterward.
September, 17, 2014
Sep 17
2:05
PM ET
INDIANAPOLIS -- The concerns are expected, especially after they failed to pressure
Philadelphia Eagles
quarterback
Nick Foles
on Monday night.
Will the
Indianapolis Colts
have a pass rush at any point this season?
The goal is for that to happen sooner rather than later.
If it happens -- and it's a serious if at this point -- it'll have to come from the players currently on the roster because a major move for a player outside the organization is not happening for the Colts.
"We'll continue to develop the guys that we have here," coach Chuck Pagano said. "Again, the Robert Mathises of the world, all the great pass-rushers that we know right now this time of year, they're just not falling out of the sky. They're just not driving cars over to West 56th Street ready to jump out and get ready to roll and help us rush the passer. That falls squarely on our shoulders to get that job done as a staff."
The Colts didn't sack Foles and only hit him four times Monday. This coming after the Eagles quarterback was sacked five teams in Week 1 against Jacksonville.
The Colts will definitely have an opportunity to redeem themselves this weekend against the Jaguars.
Jacksonville quarterback
Chad Henne
has already been sacked 13 times, including 10 times against Washington last week. Then again, you would have thought the Colts would have success against Foles.
"We've got to get people in throwing situations," Pagano said. "We've got to get people in third-and-long where you can get a little bit more exotic, if you will, with your blitz packages. It's tough."
September, 17, 2014
Sep 17
1:00
PM ET
By
Andy Jasner
| ESPN.com
Brian Dawkins left the
Philadelphia Eagles
via free agency after the 2008 season.
They've had issues at safety ever since.
In the most recent offseason, the Eagles signed
Malcolm Jenkins
away from the
New Orleans Saints
.
In Monday's 30-27 victory at Indianapolis, Jenkins intercepted
Indianapolis Colts
quarterback
Andrew Luck
late in the game to help secure a second straight win for the Eagles.
Just bringing in this type of safety was a win.
Jenkins has proven to be a team leader despite playing all of two regular-season games for the Eagles.
"It's not that I wasn't here, but I think whenever you add more veterans who have been in these situations, been in these games, who can bring that calm to the younger players, the more the merrier," Jenkins
told the Philadelphia Inquirer
. "I'm not the only one here. You've got the DeMeco Ryanses, the Connor Barwins, the Cary Williamses, and everybody who's not flinching. No matter what happens, no matter what it's looking like, guys are working and staying positive."
Coach Chip Kelly was asked about Jenkins' influence in his day-after news conference.
"There is a guy back there making the calls and being distinct in terms of getting everybody set back there," Kelly said. "But he always has a knack for making big plays. Came up huge again [Monday]. He was around the ball, had a couple of pass breakups, tackles. Just what we expected when we got him here. We thought he was obviously our top target, and I think it's paying off for us right now."
September, 17, 2014
Sep 17
10:00
AM ET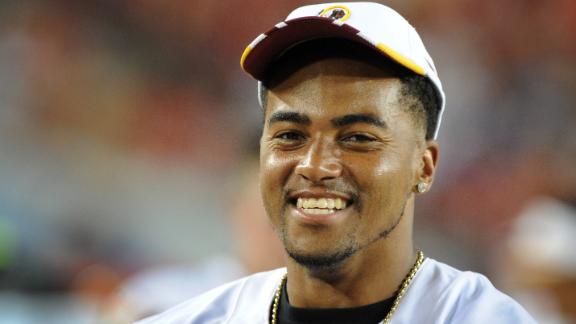 ESPN Eagles reporter Phil Sheridan talks about former Philadelphia receiver
DeSean Jackson
's return to face the Eagles as the Redskins visit on Sunday.
September, 17, 2014
Sep 17
10:00
AM ET
By
Andy Jasner
| ESPN.com
A familiar face will return to Lincoln Financial Field on Sunday.
Whether he suits up or not remains to be seen.
Wide receiver
DeSean Jackson
, who suffered a mild shoulder sprain against the
Jacksonville Jaguars
, will join his new teammates with the
Washington Redskins
for Sunday's NFC East battle.
It has been quite a while since the
Philadelphia Eagles
surprisingly released the three-time Pro Bowler. Heading into Week 3, no one seems to know why -- especially the Eagles' players.
"I didn't see it coming at all," linebacker
Mychal Kendricks
told
the Philadelphia Inquirer
. "It's really none of my business, but I still ask the same question a lot -- 'Why? Why would that happen?'"
Wide receiver
Riley Cooper
also wondered why.
"For someone that's so explosive and so dynamic, it was surprising to all of us," Cooper told the Inquirer. "We didn't know this was going to happen. … But (coach) Chip (Kelly) said that it was a football move. We all had to respect it and we all had to rally around and wish DeSean the absolute best."
The same goes for wideout
Jeff Maehl
.
"To be honest, DeSean was a great teammate," Maehl told the Inquirer. "He went out there and worked hard every day in practice. He had a couple moments in games where he might have got frustrated, but there's probably 10 to 20 to 30 receivers in this league that do the same thing on a weekly basis and no one knows about it."
September, 16, 2014
Sep 16
10:04
PM ET
A $5 bet was poised to turn into a $100,000 payday before the Indianapolis Colts melted down Monday night.
A bettor in the Delaware Sports Lottery picked 14 consecutive NFL winners against the spread over the weekend. His 15th pick would have turned the $5, 15-team parlay card into a $100,000 winner. Unfortunately, they took the Colts to beat the Philadelphia Eagles by more than a field goal.
The Colts led 17-6 at halftime, but couldn't salt away the game and ended up losing, 30-27, on a last-second field goal.
"Honestly, we were rooting for the guy, starting with Sunday night's game," Delaware Lottery director Vernon Kirk said. "Our risk manager told us Sunday night that only one person had hit 14 games and needed the Bears and Colts.
"It definitely looked like Delaware had a winner when the Colts were up 14 midway through the third quarter," Kirk added. "Then to have the Eagles rally like that -- and to win in the last three seconds of the game -- it was agonizing to watch when you knew one player was so close to such a big payout."
No one has hit one of the 15-team, $5 parlays since 2011. The odds of picking all 15 games correctly are roughly 32,000-to-1, according to the lottery. More than 4,500 $5, 15-team parlays were placed for Week 2 of the NFL.
The Delaware Sports Lottery, outside of Nevada, is the largest legal sports betting operation in the U.S. It only accepts wagers on the NFL and requires bettors to pick a minimum of three selections per wager. Single-game wagers are not allowed; nevertheless, the lottery is growing substantially.
September, 16, 2014
Sep 16
6:00
PM ET
JACKSONVILLE, Fla. -- The
Jacksonville Jaguars
are relying heavily on rookie receivers
Marqise Lee
,
Allen Robinson
and
Allen Hurns
. Together, the trio has 19 receptions through the first two games.
How does that stack up against other rookie receivers across the league? Pretty well, actually, especially when you break it down by targets, which is a true measure of how much a receiver is utilized.
Here's a look at the top rookie receivers in terms of targets. Based on a benchmark of 50 catches being a very good season for a rookie -- only 42 have hit that mark since 1995 -- we'll use the qualifier of having a minimum of three targets per game. That equates to 48 catches by the time the regular season ends.
Here's the list of the top-targeted rookie receivers through Week 2 (minimum eight targets):

Benjamin
Kelvin Benjamin, Carolina (16 targets):
Eight catches for 138 yards and one touchdown.
Sammy Watkins, Buffalo (16):
He leads all rookies with 11 catches for 148 yards and one touchdown.
Allen Hurns, Jacksonville (14):
He has six catches for 123 yards and leads all rookies with two touchdown catches. He has one drop, which could have been a long touchdown reception.
Marqise Lee, Jacksonville (13):
He has eight catches for 73 yards.
Mike Evans, Tampa Bay (12):
Has nine catches for 86 yards.
Brandin Cooks, New Orleans (12):
He and Watkins are the only rookies with double-digit catches. He has 10 for 94 yards and a touchdown.
Taylor Gabriel, Cleveland (10):
Has five catches for 26 yards.
John Brown, Arizona (9):
Has five catches for 57 yards and one TD.
Allen Robinson, Jacksonville (9):
Has five catches for 75 yards.
Ryan Grant, Washington (8):
Has five catches for 57 yards, all of which came last Sunday against Jacksonville.
Jordan Matthews, Philadelphia (8):
Has three catches for 54 yards.
September, 16, 2014
Sep 16
5:20
PM ET
PHILADELPHIA -- For a team that leads the NFL in offensive yards and points scored, the
Philadelphia Eagles
certainly have a lot of players dissatisfied with their performances after two games.
Quarterback
Nick Foles
and running back
LeSean McCoy
expressed that dissatisfaction after Monday night's 30-27 win in Indianapolis. Meanwhile, starting wide receivers
Riley Cooper
and
Jeremy Maclin
have not put up particularly big numbers yet.
Kelly
For Chip Kelly, it's all about the overall production, which has led to the Eagles' 2-0 record.
"We're not trying to win rushing titles," Kelly said, alluding to McCoy's leading the NFL in rushing last season. "We're trying to win football games. I think he's always a very, very harsh critic of himself, which is an admirable quality. I think that's one thing that pushes him. That's why he trains so hard in the offseason. Our standard is trying to win every football game each week, and that's it."
It's all related. McCoy has gotten intense attention from Jacksonville and Indianapolis. Those teams seldom see him, so they were committed to bottling up the Eagles' running game. But doing that leaves other areas vulnerable for the Eagles to exploit.
"Sometimes things are geared to take him away," Kelly said. "If they're geared to take him away, then other guys have to make plays. We have enough weapons around LeSean where you have to pick your poison, so to speak, in terms of who you have to defend. People are honed in on him and rightfully so. Now it opens the field up for some of the other guys. So some of our big plays have all occurred on play-action passes. There's a reason for that. If you're going to gang up on the run game, we need to have guys open in play-action pass."
With defenses keying on McCoy,
Darren Sproles
has 15 carries for 97 yards and 11 catches for 166 yards. With secondaries trying to limit Foles' ability to go downfield to Maclin and Cooper, tight end
Zach Ertz
has seven catches for 163 yards.
"I just think there are a lot of matchup things when you have Zach," Kelly said. "So if you do choose to play man (coverage), you have to man everybody. You can't just man the two outside receivers. So if you do, I think our inside receivers, himself and the running backs coming out of the backfield, become matchup problems, too. So the quarterback in man situations is always trying to find his best matchup."
As guys like Sproles, Ertz and
Jordan Matthews
have success, defenses will have to adjust and focus on them more. That should free up McCoy, Maclin and
Brent Celek
a bit more. Kelly doesn't care where the production comes from, just that it comes.
September, 16, 2014
Sep 16
4:00
PM ET
By
Andy Jasner
| ESPN.com
Cody Parkey
came through when it mattered most.
Despite missing a 38-yard field goal in the first quarter, the Philadelphia Eagles' rookie kicker converted his other three field goals – highlighted by a 36-yarder as time expired to help secure a huge
30-27 victory
over the host
Indianapolis Colts
.
Parkey also connected from 31 and 23 yards against the Colts, who traded him to the Eagles before the fourth and final preseason game.
The game-winner is the one everyone will remember.
"I just tried to treat it like any other kick,"
Parkey told Philadelphiaeagles.com
. "I missed one earlier in the game, and my team needed me. I had to come back and redeem myself."
In Parkey's debut against the
Jacksonville Jaguars
, he made field goals from 51 and 28 yards in a 34-17 victory for the Eagles.
After knocking through his first field goal against the Colts, he pushed a 38-yarder wide left.
But his confidence never wavered.
"I knew my team was going to need me," Parkey told Philadelphiaeagles.com. "My teammates believed in me and they were talking me up on the sideline, and I was able to come back and hit a few field goals."
Parkey outdueled Alex Henery by kicking field goals from 54 and 53 yards in the preseason finale against the
New York Jets
.
Through two games, Parkey has proven to be capable. And clutch.
"Since I've come in here, the guys have been nothing but confident in me," Parkey told Philadelphiaeagles.com. "They let me know all the time that they believe in me."