July, 28, 2014
Jul 28
9:00
PM ET
PHILADELPHIA – A daily review of the hot topics coming out of
Philadelphia Eagles
training camp:
The Eagles drew just under 15,000 fans for the first of three open training camp practices this summer. It was the first chance for fans to see the changes to Lincoln Financial Field. It was also Military Appreciation Day, and dozens of active service people were in attendance. "It's awesome, man," cornerback Cary Williams said. "You've got some people who can't afford to come to a regular game. This is their opportunity to sit in these green seats and enjoy what we put out every day."
The Eagles wore full pads for the first time, but there wasn't significantly more hitting than there was in the first two days. Coach Chip Kelly has made it clear he sees practices as teaching and training opportunities and really puts a lot of weight on preseason games for evaluating player performance.
Several players did stand out. None of the four quarterbacks has thrown a single interception during the first three days of practice. LeSean McCoy looked impressive running the ball as well as catching it. He made it very tough on linebackers, especially Mychal Kendricks, who were called upon to cover him. Rookie wide receiver Jordan Matthews got open in the middle of the field for two consecutive catches from backup quarterback Mark Sanchez.
The 6-foot-3, 212-pound Matthews plays primarily in the slot. Kelly likes the kind of matchup issues that can create. "Obviously, a lot of the corners who play slot corner in this league are a little smaller," Kelly said. "You can create some mismatches from that standpoint. If you're going to leave a linebacker in the game, obviously there's some athletic mismatches we can exploit there. Also, in the run game, our slot receivers have to block. That's one thing Jason Avant was outstanding at last year."
Unlike his predecessor, Andy Reid, who opened every news conference with a list of injured players, Kelly seldom brings up injuries. He isn't especially forthcoming when asked, either. His approach is basically that he's coaching the players who are healthy and the trainers are working with those who aren't. Four Eagles were limited or out of Monday's practice: nose tackle Bennie Logan (hamstring), wide receiver Riley Cooper, running back Chris Polk and center Julian Vandervelde. None of the injuries appeared serious. The Eagles are off on Wednesday.
July, 28, 2014
Jul 28
5:00
PM ET
PHILADELPHIA -- Chip Kelly expanded a bit on comments he made to Sports Illustrated's Peter King over the weekend. The
Philadelphia Eagles
' coach raised some eyebrows by saying the "hype" surrounding the NFL draft "is insane. Totally insane."
Kelly
"(King) just asked me if there was one thing about the NFL that surprised me," Kelly said Monday, "and I just told him the hype, in general, with the draft. I think the draft is integral, obviously, in terms of putting together your team. But literally from the day the Super Bowl ends until the draft ... that's all everybody talks about.
"I felt the same way in college. You devote everything to the signing day. Well, how many guys from the signing day are actually going to contribute? You may have one or two rookies who have an impact on your team. The rest of them, it's just having them develop. The fact that people would watch the combine -- there's times at the combine where I fall asleep. They're running 40-yard dashes."
Kelly is more concerned with how all of this affects the players coming into the league.
"You guys are in the newspaper business," Kelly said. "If someone is a rookie coming into the newspaper thing, I don't think you're all applauding and saying, 'Oh, my God, the savior is here! Our paper is saved because we just signed a kid out of Northwestern that has really good prose.' In football, it seems to be the biggest thing in the world. And if a guy isn't an all-pro in his first year, but he was drafted in the first five picks, then he's a bust. And I don't think that's the case."
That perspective is interesting when you watch how Kelly approaches his rookies. Last year, first-round pick
Lane Johnson
was a starter from the very beginning. But defensive tackle
Bennie Logan
was eased into the starting lineup, eventually replacing veteran
Isaac Sopoaga
. Tight end
Zach Ertz
and safety
Earl Wolff
were brought along slowly.
This year? Same thing. First-round pick
Marcus Smith
opened camp as the third-team left outside linebacker. Smith runs with the second team at times, but there is clearly no pressure from Kelly's staff on the rookie. Second-round pick
Jordan Matthews
, who made two flashy catches Monday, is still behind veteran slot receiver
Brad Smith
on the depth chart.
It doesn't matter to Kelly what the expectations from the outside are. And once players are here, they are judged on merit, not on where they were drafted.
July, 28, 2014
Jul 28
3:45
PM ET
PHILADELPHIA -- The
Philadelphia Eagles
' defense is a little ahead of coordinator Bill Davis' schedule.
"The personality of this group will show itself when we play games in the preseason and as we play games on Sunday," Davis said the other day.
[+] Enlarge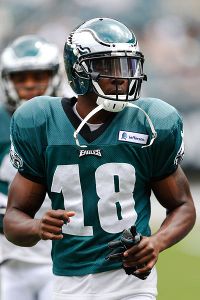 Matt Rourke/AP PhotoReceiver Jeremy Maclin (pictured) and teammate Bradley Fletcher got into an on-field scuffle during Monday's training camp practice.
During the Eagles' next two practices, fights broke out. On Sunday, it was linebacker
Trent Cole
and running back
LeSean McCoy
. On Monday afternoon, during an open practice at Lincoln Financial Field, the combatants were wide receiver
Jeremy Maclin
and cornerback
Bradley Fletcher
.
"I'm glad, to be honest with you," cornerback
Cary Williams
said. "When you come out here to camp, there's no friends. You try to look out for your brother. You're fighting for jobs, you're fighting for opportunities. When those situations arise, especially defenders, we're going to let them know we're not having that. We're going to be the most physical defense we possibly can."
Last summer, Williams got into a scuffle with one of the
New England Patriots
during a joint practice. Both players were held out for the rest of the practice, as per an agreement between Chip Kelly and Patriots coach Bill Belichick.
Kelly hasn't been that strict when it's a bout between two of his own players.
"Those things happen," Kelly said. "Their emotions got the better part of them. It's no different than little kids sometimes don't get along and throw Tonka trucks at each other."
While the coach understands the dynamic and tolerates the occasional melee, Williams is downright in favor of it.
"If it was up to me," Williams said, "I think that's normal. I don't think you're supposed to go through camp with no fights, in my opinion. Those are supposed to happen. Guys get frustrated. You're out here these long hours, guys get frustrated. You're fighting to survive another down. Sometimes guys get the best of you and you may be frustrated. That's a part of camp, man."
Aside from the scuffle with the Patriots, Williams got into a camp fight last summer with wide receiver
Riley Cooper
. That one drew even more attention because it occurred a couple weeks after the appearance of an Internet video of Cooper using a racial slur during a concert.
So it was somewhat surprising that two fights have broken out and Williams was not involved.
"Mine is coming," he said. "It's all in good fun. You're going to have those things. It's practice. Maclin wasn't going to back down, either. What's done out here stays out here. We're family, at the end of the day. You're not swinging to hurt the guy. They've got on helmets. It's more of a faking situation. If you break your hand in a fight, you're a complete idiot."
July, 28, 2014
Jul 28
2:00
PM ET
By
Andy Jasner
| ESPN.com
There was a direct correlation.
As the
Philadelphia Eagles
' defense improved last season, so did the success of the team.
Following a 3-5 mark through the first half, the Eagles won seven of their last eight games to finish 10-6 with an NFC East title in coach Chip Kelly's first season.
It was also the first season for Bill Davis as the Eagles' defensive coordinator.
The Eagles gave up 22 or fewer points during a nine-game stretch. They allowed 52 at Denver early in the season and from there, the defense slowly began to click under Davis.
Philadelphia added safety
Malcolm Jenkins
, cornerback
Nolan Carroll
and draft picks
Marcus Smith
(linebacker, first round),
Jaylen Watkins
(defensive back, fourth round) and
Ed Reynolds
(safety, fifth round), among others.
"I think the biggest thing you see is a year ago, you saw more assignment football," defensive coordinator Bill Davis told reporters. "Guys were studying hard to know their assignment, what was asked of them and they were trying real hard to get to their assignment and maybe not understanding their whole picture of how they exactly fit with their teammates and how it all came together. It's a learning curve, and you've got to start at the bottom and learn yours first, and then you spread out and learn around yours."
Davis has been impressed with how the defense has evolved in a short amount of time.
"We've had an awesome offseason," Davis said. "Not only our attendance but the participation and effort that went into the meeting time and everything else. I think our guys have a much better understanding of not only their assignment. I think they feel the whole package now, the whole defense, how they fit, why their teammates rely on them to do a certain technique we are asking them to do or align in a certain way. I think all of that has grown and will make the package stronger. The personality of this group will show itself when we play games in the preseason and as we play games on Sunday. Every year your team takes on a different personality. Our goal defensively is to break the rhythm of an offense and to get them off the field as often as possible with turnovers and third downs. We have a lot of room to improve, and hopefully we pick up where we left off at the end of last season."
Jenkins was the biggest addition on defense, which has lacked a hard-hitting safety since Brian Dawkins left after the 2008 season. Jenkins can also play cornerback, which gives Davis another dimension.
"I was drafted as a corner so now I'm one of those guys where I can play deep -- I'm a football junkie so I can be the quarterback of the defense -- I can still cover receivers in the slot, I can cover tight ends, I can blitz," Jenkins
told Philadelphiaeagles.com
. "Whenever I can do all those things, I have the freedom to move around and not be stagnant. That's when I've had my best years. So I'm not your typical safety, I'm kind of that hybrid that the league is moving to now with the bigger tight ends, the faster tight ends. You need guys that can be versatile, go down in the slot, so you're not worried about them."
July, 28, 2014
Jul 28
2:00
PM ET
CORTLAND, N.Y. -- Monday is a mandatory day off for the
New York Jets
, so what better time for a mailbag? Here you go:
@RichCimini Biggest surprise you have seen in camp so far? #Jetsmail

— Steven Lerner (@Steven_Lerner) July 27, 2014
@RichCimini: I was surprised by the Jason Babin signing, but I don't think that's what you're looking for. Honestly, Oday Aboushi has been a surprise. In minicamp, I thought it was just the Rex Ryan hype machine, pumping him up, but Aboushi has been turning heads in camp. His athleticism is intriguing because he can move and block on the run, allowing them to run more outside zone plays. A few years ago, the Jets were a great outside-zone running team. Willie Colon is a more powerful, straight-up blocker than Aboushi, but he doesn't move as well. I'm curious to see Aboushi in the preseason games. Other surprises: Rookie linebacker Trevor Reilly, linebacker Troy Davis and safety Rontez Miles.
@RichCimini do the jets have the potential to have the number 1 rushing attack with CJ2k and Ivory ? #jetsmail

— Brett Bertiger (@BrettBertiger) July 27, 2014
@RichCimini: In a word, yes. And don't forget about Bilal Powell and Daryl Richardson, who has been flying under the radar. The coaches like what he's showing. The Jets finished sixth in total rushing last season, 26 yards per game behind the Philadelphia Eagles. That's a lot of ground to make up, especially with LeSean McCoy down there, but the Jets can challenge if Chris Johnson stays healthy. We know they have a coaching staff whose mindset is to run the ball.
@RichCimini are the Jets yapping too much? Will they ever learn to just let their play do the talking? #Jetsmail

— On_The_Edge (@On_the_Edge307) July 27, 2014
@RichCimini: They feed off Ryan, who obviously is the eternal optimist and isn't shy about expressing his feelings, especially this year. This subject is a slippery slope for reporters. Obviously, our job is to provide interesting content for our readers and viewers, and the fans have a right to know what their favorite players are saying, but it can reach the point of absurdity. And I think we're hovering close to that point right now.
@RichCimini which rookie WR has impressed the most early on in camp? #jetsmail

— Phil (@acejet) July 27, 2014
@RichCimini: Quite frankly, none of them have impressed. Quincy Enunwa is injured, so we haven't seen anything out of him. Shaq Evans looks like he has enough speed to be a vertical threat, but he has dropped several passes. Ryan loves Jalen Saunders -- he gets plenty of reps -- but he disappears. Right now, if I had to rank the receivers, I don't think any of the rookies would make the team, based on performance. My top five: Eric Decker, David Nelson, Jeremy Kerley, Jacoby Ford and Stephen Hill.
@RichCimini Any signs that Stephen Hill can turn things around for the upcoming season? How does the Geno & Decker combo look? #Jetsmail

— Kurt T (@kurt_trew) July 27, 2014
@RichCimini: Hill is an enigma. Sunday's practice was a classic example. On the first play of team drills, he dropped an easy ball on a crossing route. Later, he ran a 'go' route on Dimitri Patterson, shedding the veteran corner with a downfield burst and hauling in a nice reception from Geno Smith. I think the question the Jets must ask themselves is this: Can Hill be trusted? Right now, I don't think he has earned their trust. I think he has concentration and intensity issues. As for Smith and Decker, yeah, they're already starting to develop a rapport. Smith looks for him a lot, maybe too much. Funny thing about quarterbacks, though: They like to throw to the guy that's open.
@RichCimini do you genuinely believe that geno will improve in his soph campaign? #Jetsmail

— Steven Derby (@stevenderby7) July 27, 2014
@RichCimini: Obviously, he does. He told me he thinks he'll be a top-five quarterback this season or next. Yes, I think he will improve. You can see it in practice: He's more comfortable at the line of scrimmage, doesn't force as many passes and will take off to run if no one is open. He has to be better than last year, right? The question is, how much better? I don't know. We won't know until we see him in game situations. All I know is, if he messes up, it'll be bench time because they won't hesitate to insert Michael Vick.
July, 28, 2014
Jul 28
11:00
AM ET
By
Andy Jasner
| ESPN.com
Just because
Marcus Smith
was the
Philadelphia Eagles
' first-round pick in the draft doesn't mean he'll start right away.
There's a steep learning curve from college to the NFL.
And the Eagles plan on being patient with Smith, a linebacker and edge rusher who was selected with the No. 26 overall pick from Louisville.
"Marcus is a very hard worker and a very intelligent guy and very athletic," Eagles defensive coordinator Bill Davis told reporters. "So you have a bunch of characteristics that you look for in all Eagles players. He cares a lot about the game. He's picked it up fairly quickly and one of the biggest things that attracted us to him was that Louisville and Charlie Strong's defense is a lot like ours, and the way they used him is a lot the way we use our 'Jack' position.
"So he comes in not as an end, a 4-3 end in college that we are converting to a 3-4 outside 'backer. He's coming to us as a 3-4 outside 'backer. The only knock is that he doesn't have much experience on the defensive side of the ball. So we see potential there for growth."
Smith's growth will continue during his first training camp under coach Chip Kelly.
Smith recorded 14.5 sacks as a senior at Louisville and he was drafted by a team which desperately needs help in rushing the quarterback.
Trent Cole
led the Eagles with eight sacks last season.
For now, Smith's task is to soak everything up in training camp and prepare himself mentally and physically for a long season.
"I'm still learning the game," Smith
told the Philadelphia Daily News
. "Even though I'm athletic and I can play it, they're teaching me the game a lot more than in college."
Kelly's high-octane type of offense can be an adjustment for young players, especially rookies.
"We really run fast. Just can't get fatigued … a lot of times out there, I'm pretty tired," Smith told the Daily News. "I've just got to get ramped up with all the veterans, so I can be out there playing … I just need to show them that I'm ready and I know everything that's going on."
Getting acclimated during organized team activities (OTAs) helped immensely. The day-to-day work can still be grueling, but Smith believes he's coming along at a good pace.
"Maybe when I first got here, it was a lot of stuff," Smith told the Daily News. "But now that we're in camp and I've had a few months to think about it and be able to read the playbook, I don't feel overwhelmed. I feel a lot more comfortable. Those first couple weeks, I felt it was just ongoing, and I couldn't get it down."
July, 28, 2014
Jul 28
10:00
AM ET
PHILADELPHIA --
LeSean McCoy
is the NFL's defending rushing champion, so he takes it more than a little personally when people say running backs aren't as important as they used to be.
"When people say the position is decreasing, or that people don't value us as much, I don't believe that," McCoy said Sunday. "The top guys, who make good money and are productive, aren't just running backs. They're play makers. Compare the top guys to any other players, and they hold their own."
[+] Enlarge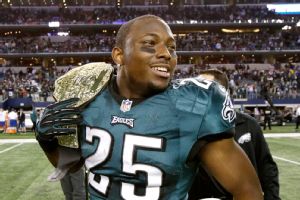 Tim Heitman/USA TODAY SportsLeSean McCoy thinks running backs are still as important as ever to NFL teams.
McCoy said he has kept an eye on the other backs making news around the league. He texted congratulations to Kansas City's
Jamaal Charles
when he signed his new contract. And he said he hopes Seattle's
Marshawn Lynch
gets a big deal to improve the market for other running backs.
As for himself, McCoy's 2012 contract runs through the 2017 season. He will make $7.65 million this season and $9.75 million in 2015.
"I'm here," McCoy said. "I'm under contract. I'm friends with those [other backs]."
McCoy has gotten into a public give-and-take with Minnesota's
Adrian Peterson
over which is the better back. When he clinched the rushing title during the season-ending game in Dallas last year, McCoy displayed a championship belt. Clearly, he takes pride in being at the top of his profession, but also in his profession itself.
"Jamaal Charles led his team in receiving yards," McCoy said. "I led the league in yards from scrimmage. Adrian Peterson had tons of big plays. You look at any big wide receiver and you could put us right there with them. We'll make big plays."
Someone told McCoy that former teammate
Michael Vick
, now with the Jets, said he wouldn't race
Chris Johnson
but he would be happy to come back and race McCoy.
"That's just Mike," McCoy said. "If you ask him who's the best back, he'll tell you me."
July, 28, 2014
Jul 28
9:05
AM ET
With training camp now under way, here's a look at how the Eagles' final 53-man roster could pan out:
QUARTERBACKS (3)
A year ago, Foles competed for the starting job with
Michael Vick
. Now the competition is between Sanchez and Barkley for the No. 2 spot. Put your money on Sanchez. The Eagles wouldn't have signed him to be the third quarterback.
RUNNING BACKS (4)
It won't be surprising if the Eagles go with only three backs here, as Chip Kelly has been talking Sproles up as a running back since signing him. But if Sproles slides around the field as Kelly finds interesting matchups for him as a receiver, the Eagles may need depth behind McCoy. Rookie
Henry Josey
belongs in the picture, too.
WIDE RECEIVERS (5)
This is a confusing position because of all the offseason churn.
DeSean Jackson
and
Jason Avant
are gone. Cooper is more established. Maclin is returning from injury. Matthews could develop into the best of the bunch.
Ifeanyi Momah
and
Jeff Maehl
are in the mix, too.
TIGHT ENDS (3)
Ertz should continue his ascent to the No. 1 slot here, but Celek's completeness as a blocker and receiver make him tough to write off. It wouldn't be shocking if somebody (
Emil Igwenagu
?) persuaded Kelly to move on from Casey, who probably wonders why he signed in Philadelphia last year.
OFFENSIVE LINEMEN (10)
Lane Johnson will be on the Eagles' roster this year, just not for the first four weeks due to his PED suspension. Pencil in Andrew Gardner, a free agent formerly with the Texans, instead. Gardner opened camp as the second-team left tackle.
DEFENSIVE LINE (6)
This is actually a tough group to project. Kruger spent his rookie year on IR, so he's kind of a wild card. The coaches seemed high on Hart, who played for Kelly and line coach Jerry Azzinaro at Oregon. Allen is a draft pick. All three could make the team, but then, so could
Damion Square
.
LINEBACKERS (8)
The big issue here is how long it takes first-round pick Smith to progress to a point where he could start ahead of Cole. It might take the whole season. And then there is the idea of giving Ryans some downtime, which could get Goode on the field quite a bit. Phillips and Braman are mostly special-teams guys.
SAFETIES (6)
That seems like a lot of safeties, but Maragos was signed for special teams, and the coaches like Reynolds enough to carry the fifth-round pick as he develops. Johnson could be the odd man out.
CORNERBACKS (5)
In Year 2 of a total redo at this position, the Eagles will let merit sort things out with this group. Williams and Fletcher were adequate last year but now have Carroll pushing them both. Boykin established himself as a solid nickel corner. The coaches are high on Watkins, a rookie from Florida.
Roc Carmichael
could force his way onto the roster, as well.
SPECIALISTS (3)
These three mainstays all figure to be back. Henery is working on kickoffs, which would help the coverage unit immensely. Jones had a solid season punting the ball, and Dorenbos remains automatic at long-snapping.
July, 28, 2014
Jul 28
8:00
AM ET
By
Andy Jasner
| ESPN.com
In 2011,
Matt Barkley
completed a stellar season as USC's quarterback and finished in sixth place in voting for the Heisman Trophy.
Barkley
Fast forward three years later and Barkley is entering his second season with the
Philadelphia Eagles
.
He's far from working with the first team. That role belongs to
Nick Foles
.
The second string job is likely going to
Mark Sanchez
.
Barkley will be battling
G.J. Kinne
for the third quarterback spot.
"I'm not worried,"
Barkley told CSNPhilly.com
. "I'm just worried about what I can control, and that's taking every snap I do get and making the most of it."
A fourth-round pick last season, Barkley threw four interceptions and no touchdown passes.
He's unsure what will transpire this season. But he'll keep working like crazy to prove his mettle.
"Chip's (Kelly) told me that over and over again," Barkley told CSNPhilly.com. "I feel like I'm making the most of those opportunities out here and the ones I get in pregame, and I'll be fine. I did learn that last year, with that crazy rotation we had at quarterback, to not worry about the reps. You never know when you're going to get a chance and just be diligent and be ready not matter what your reps are."
Barkley will attempt to make the most of his reps. It's no different than last season.
"I don't think any day you can go in like that, thinking you do," Barkley told CSNPhilly.com. "Even Nick believes that. Never feel satisfied, never feel like your set. I never had that mentality at 'SC either. So I'm going in and competing no matter what. I don't know what my position is now or what anybody's is down the road, long term. We'll see what happens. Right now, my focus just has to be on today."
July, 27, 2014
Jul 27
9:00
PM ET
PHILADELPHIA -- A daily review of the hot topics coming out of
Philadelphia Eagles
training camp:
It isn't always easy to make sense of a fast-paced Chip Kelly practice in real time. But there were some interesting things going on Sunday afternoon. Matt Barkley, who is supposed to be competing with Mark Sanchez for the No. 2 quarterback job, may actually be competing with G.J. Kinne for the No. 3 slot. Kinne, who has been throwing the ball well, was third throughout most of Sunday's session. Last year, Kinne was cut during training camp but he finished the season on the Eagles' practice squad. Barkley has an advantage as a fourth-round pick from last year, but Kelly always says there is open competition for every job.
Kelly's practices are broken up by intermittent teaching periods. On Sunday, those mostly turned into water breaks. Weather forecasts had called for a cooler day with rain throughout the morning and afternoon. But it was sunny and reached 90 degrees, with high humidity. The players didn't have pads on, but they were feeling the heat.
The best evidence of the heat was the first scuffle of camp. Linebacker Trent Cole took a little shot at running back LeSean McCoy, knocking McCoy down. McCoy, who felt the defense has been a bit liberal in the amount of contact dished out, came back at Cole. The two wrestled before teammates got involved and separated them. Cole and McCoy were joking about the whole thing by the end of practice.
Kelly confirmed Saturday that the Eagles will not tackle to the ground during practice sessions. Defensive coordinator Bill Davis said that's typical, "because of the way you expose too many people to injury on a daily basis." But it is Davis' job to teach sound tackling technique despite those limitations. "A lot of that is body placement," Davis said. "If you can continually work on putting your head in front of the ball carrier, as opposed to behind -- I think one of the biggest problems we had last year when I broke down the tackling issues was our head placement was always behind the ball carrier, leaving all arm tackles." Davis said the Eagles improved their technique during the season "and we have to build on where we left off at the end of the season."
First-round pick Marcus Smith continues to run with the third team at left outside linebacker -- the Jack linebacker position -- behind Connor Barwin and Bryan Braman. "They come at their own pace," Davis said. "We give them every opportunity to teach and grow them. … Marcus is a very hard worker and a very intelligent guy and very athletic. So you have a bunch of characteristics you look for in all Eagles players. He cares a lot about the game. One of the biggest things that attracted us to him was that Louisville and (coach) Charlie Strong's defense is a lot like ours, and the way they used him is a lot the way we use our Jack position."
July, 27, 2014
Jul 27
5:15
PM ET
PHILADELPHIA -- The way the
Philadelphia Eagles
coaching staff mixes up personnel, it's a mistake to read too much into an apparent lineup change.
That said, one of the key areas to track during this training camp is the competition at cornerback. Starters
Cary Williams
and
Bradley Fletcher
return from last year. But the Eagles were the worst defense in the NFL in passing yards allowed, and they did bring in free agent
Nolan Carroll
from Miami. Carroll made a good showing during the June camps.
"I think everybody has a legitimate chance at the starting jobs," defensive coordinator Bill Davis said. "That's one thing about the offseason and training camp that we pride ourselves on. It's open competition at all spots. Anything's possible."
Late in Sunday's practice, Carroll was with the first team at the right cornerback spot. Williams was lined up on the left side during that particular session. It might have been a matter of the coaches just getting a look at Carroll, or it might have been the first sign of movement in the competition.
"He's a very well-rounded talent," Davis said. "He's got size, he's got length, he's got speed. He's a real tenacious competitor. I love his attitude out there, the way he pressed and competes and puts his hands on people, and he's got a good knack for the ball. I think he's a good asset to us, he's a great addition and we look forward to seeing him in camp and how he fits into our system."
Carroll is a gunner on special teams and also returns kickoffs. So he can contribute even if he isn't starting on defense. His presence also serves as a nudge to Fletcher and Williams, who both improved as they became more familiar with the defensive scheme last season.
The Eagles did draft a cornerback, but they list
Jaylen Watkins
as a defensive back on their roster (every other player is either a cornerback or a safety). Davis said Watkins is working at cornerback and at nickel corner now, but could move to safety later.
"He's got a very high football IQ," Davis said. "As he digests those two positions (corner and nickelback), I think we can grow him to where he could play safety if we needed him to and depending how the roster plays out. We love the versatility in his skill set."
July, 27, 2014
Jul 27
3:31
PM ET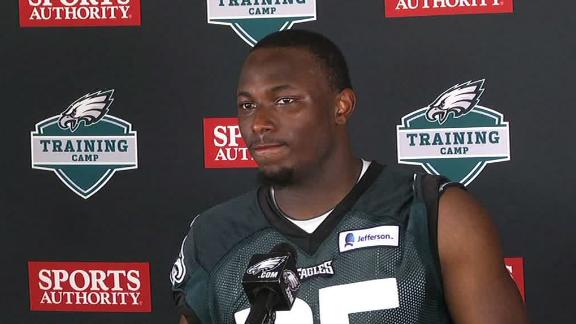 PHILADELPHIA -- LeSean McCoy hit the ground, and then he tried to hit the man who put him there.
That was linebacker Trent Cole, a good friend of McCoy's. The two squared off Sunday in the first fight of the Philadelphia Eagles' training camp.
"Next thing you know, they're on the ground scuffling," linebacker Brandon Graham said. "It was just a friendly thing, you know. They're always competing and talking stuff to each other. It was just one of those things."
This is one of the unintended consequences when you try to conduct football drills without pads or tackling. The defensive players aren't quite sure where the lines are drawn, and sometimes they overstep them. The offensive players feel a responsibility to each other to let the defenders know when they've gone too far.
"The whole camp so far, they've just been touching just a little too much," McCoy said. "I'm trying to let them know 'it's OK, you can' t cover me.' We'll go in the locker room area and talk it out, joke it out. It's one thing when you don't know a guy and he's trying to win a job. That's actually one of my good friends."
Cole declined to comment on the scuffle, which was broken up before too much damage could be done. Graham said it was just a sign of two guys who are competing.
The defensive players draw their own lines in the grass. On Saturday, McCoy was seen taunting linebacker Connor Barwin after beating him on a wheel route. According to Graham, Cole "nudged" McCoy during a play midway through Sunday's practice. Even Graham had to laugh at his word choice, since McCoy wound up on the ground.