April, 16, 2014
Apr 16
2:00
PM ET
By
Andy Jasner
| ESPN.com
Jeremy Maclin
was selected by the
Philadelphia Eagles
with the No. 19 overall pick in 2009 NFL draft.
After missing last season with a torn ACL, the wide receiver signed a one-year deal to return in '14.
Before Maclin steps on the field again in a regular-season game, he'll almost certainly keep a close eye on the draft like every other member of the Eagles. It wasn't that long ago when Maclin was wondering who would pick him in the draft.
"I did the whole ESPN thing at the house," Maclin told
Philadelphiaeagles.com
. "It was a day that I was looking forward to for sure. I thought I wasn't going to be waiting very long and, in reality, I wasn't. But for when I thought I was going -- I definitely thought I was going top 10 -- the one thing I can say from that is this has been the best thing that's ever happened to me because this is by far one of the best organizations in the NFL and I couldn't ask to be part of a better organization."
Before the draft even took place, Maclin recalled his experience at the NFL combine.
"At the combine, when you get there, you have a day when you go see every team's doctor, and I guess there are, I want to say five or six teams in each room, and you lay on this table and each team's doctor gets a chance to pull on you and, say you have a hurt ankle, they get to twist the ankle," Maclin told Philadelphiaeagles.com. "The Ravens are done and now it's the Bills turn. It's a long process. And then on top of that, you have to do X-rays and MRIs, so that was definitely something that stuck out for me."
April, 16, 2014
Apr 16
11:00
AM ET
By
Andy Jasner
| ESPN.com
The
Philadelphia Eagles
have clearly been doing their homework in preparation for the 2014 NFL draft next month.
Coach Chip Kelly continues to attend numerous pro days looking at players at every position.
This includes Louisville defensive end
Marcus Smith
.
The 6-foot-3, 251-pound Smith has been projected as a second or third-round pick, but with 14.5 sacks last season, he could potentially move up. He finished second in the country in sacks in 2013.
Smith reportedly met with the Eagles earlier this week with visits also scheduled in Tennessee and Indianapolis.
FoxSports.com noted that Smith was one of 30 prospects to make an official visit to Philadelphia.
Smith believes he should be selected early in the draft.
"I think I'm one of the best," Smith told the Louisville Courier-Journal.
Smith was named the American Athletic Conference's Defensive Player of the Year, a second team All-American by USA Today and a member of the Associated Press' all-defensive third team.
Does he make sense for the Eagles? He's a solid pass-rusher, but it's unclear exactly where he fits in the NFL.
April, 16, 2014
Apr 16
8:00
AM ET
By
Andy Jasner
| ESPN.com
Safety Malcolm Jenkins recently signed a three-year contract worth $16.25 million to shore up the Philadelphia Eagles secondary.
The former
New Orleans Saints
standout is always aggressive on the field, which was attractive to the Eagles. He's also not shy when expressing his opinion.
Jenkins appeared on the NFL Network and discussed a variety of topics, most notably the Eagles' opponents in the NFC East.
His comments all appeared on Philly.com
.
On the Redskins: "I think the biggest thing we're going to see is (
Robert Griffin III
) take that next step as far as the cerebral approach to the game. But the biggest concern I have with RG3 is, will he protect himself? And that's a thing he hasn't done early in his career. He scrambles, he gets those extra yards, he makes those throws out of the pocket, but takes a lot of unnecessary hits. We've seen the toll that has had on him. Last year he really wasn't himself, still trying to recover from that injury. Those kind of hits, when you talk about a QB, it's all about accountability and availability. He's very, very accountable, but availability is going to be an issue if he continues to play the style of football that he's used to."
On the Cowboys: "A couple years ago, their scapegoat was Rob Ryan, and they got rid of him, and he was the cause of all their problems. He went to New Orleans and took the worst defense in NFL history and turned them into a top 5 defense. So he couldn't have been the problem. And then you look at this year, I had the best seat in the house when I watched the Saints get 40 first downs in one game. Forty. In one game. So it must be the players. The offseason comes and you don't do anything in free agency to get any big name players to come help you out, so I really don't see the light at the end of the tunnel for this defense in improving when you got the same guys and the same coaches."
On the Giants: "I think the problem is he (
Eli Manning
) was sacked 39 times, a career high last year. If that continues, Eli's best days are behind him. If they can protect him, then maybe, but it doesn't look like it."
April, 15, 2014
Apr 15
12:00
PM ET
By
Andy Jasner
| ESPN.com
According to the ESPN The Magazine/Sportingintelligence Global Salary Survey
, the
Philadelphia Eagles
spent an average of $2.138 million per player last season. Still, it ranked No. 135 overall, behind all 30 NBA teams, all but two teams in Major League Baseball and 15 of 20 English Premier League teams.
"A lot of people think because the NFL has great ratings, the players must be the wealthiest," Sportingintelligence editor Nick Harris told ESPN.com. "A list like this over time shows the disconnect."
The NBA is the highest-paying league in the world, as roughly $2 billion was paid to 441 players, for an average salary of $4,522,283 per player, according to the report.
The NFL's highest-paid team, the
Minnesota Vikings
, doesn't come up until No. 115.
April, 15, 2014
Apr 15
8:00
AM ET
By
Andy Jasner
| ESPN.com
The
Philadelphia Eagles
recently bolstered their roster with the acquisition of
Darren Sproles
from the
New Orleans Saints
.
Spiller
Sproles
Before the deal for Sproles came to fruition, the Eagles attempted to pick up Pro Bowl running back
C.J. Spiller
from the
Buffalo Bills
, according to sources cited by
CSNPhilly.com
.
But the deal never materialized into an actual offer, so the Eagles moved ahead and wound up with Sproles.
Spiller, a former standout at Clemson, was the ninth overall selection in the 2010
NFL draft
.
The 26-year-old Spiller rushed for 933 yards and had another 185 yards receiving last season. He has 3,021 total yards rushing and 12 touchdowns in four seasons with the Bills.
The Eagles ultimately went with Sproles, who has the ability to run the ball, catch passes out of the backfield and return punts and kickoffs. Sproles has five career return touchdowns -- three on punts and two on kickoffs.
April, 14, 2014
Apr 14
3:31
PM ET
ESPN.com news services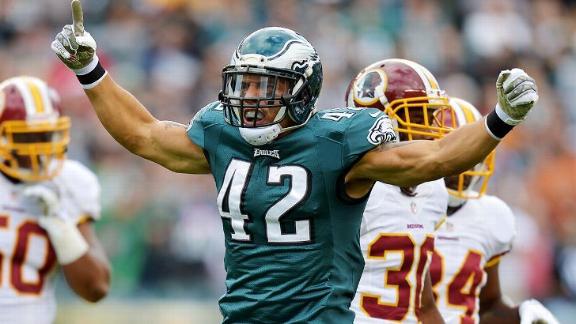 MINNEAPOLIS -- Free-agent safety Kurt Coleman has agreed to terms with the Minnesota Vikings.
Coleman's agent, Blake Baratz, said Monday the deal was done. The Vikings have not yet made an announcement.
Coleman, a former seventh-round pick who started 27 games for the Philadelphia Eagles between 2011 and 2012, had been weighing his options since meeting with the Vikings last Friday.
Coleman likely would come in as a special-teams contributor and a backup at both safety spots, where he'd compete with Jamarca Sanford and Andrew Sendejo for playing time at one of them. He has averaged 42.5 tackles over a four-year career, but only had 13 last season.
ESPN NFL Insider Adam Schefter, ESPN.com Vikings writer Ben Goessling and The Associated Press contributed to this report.
April, 14, 2014
Apr 14
2:00
PM ET
By
Andy Jasner
| ESPN.com
Auburn defensive end
Dee Ford
recorded 10.5 sacks and 14.5 tackles for loss last season.
In the Senior Bowl, Ford added two sacks.
Impressive indeed.
The
Philadelphia Eagles
have a major need for a pass-rushing defensive end, so Ford could be an ideal fit.
Ford seems to think so.
"I hear a lot of talk about Philadelphia and New Orleans," Ford told the NFL Network. "I'm hearing more of the 20- to 30-range [in the first round]. It doesn't matter to me. All I need is the opportunity."
The Eagles hold the No. 22 overall pick and Saints have the No. 27 selection.
At Auburn's pro day, Ford reportedly ran the 40-yard dash in 4.53 seconds. With that type of speed, he could be utilized as an outside linebacker.
Regardless, Ford simply wants to play at the next level.
"I bring a consistent level of production," Ford told the NFL Network. "I think all of us show flashes of being productive players, but I provide consistency and intangibles for their teams."
Ford wasn't scheduled to work out at the NFL combine due to a back procedure in 2011. But his performance at Auburn's pro day was more than enough to catch teams' attention.
"They said they looked at some MRIs, and they just saw some things that they didn't want to chance at the combine," Ford told ESPN.com. "I was definitely surprised. I had no clue that I wouldn't be able to [work out]. It kind of knocked my training off a little bit because everything is timed when you're training."
April, 14, 2014
Apr 14
11:00
AM ET
By
Andy Jasner
| ESPN.com
Jason Kelce
recently signed a seven-year contract that will keep him with the
Philadelphia Eagles
until 2020.
Not that long ago, Kelce was just hoping to be selected in the draft.
Kelce
The former standout at the University of Cincinnati wasn't taken until the 191st overall pick by the Eagles in the 2011 draft. Since then, the center has worked like crazy to become one of the most dependable and talented offensive linemen in the league.
Looking back, Kelce has fond memories of the '11 draft and everything that led up to it.
"Going into the draft I thought there were really three teams that really valued me high enough to draft me, somewhere in the 4-7th (round) range, and the Eagles were certainly one of them," Kelce told
Philadelphiaeagles.com
. "I mean I would have liked to go higher, that would have been nicer, but it ended up working out really, really well. Leading up to the process, you're always put up in a hotel, you're working out, you're training, you're trying to get ready for the combine, your pro day, meeting with coaches. I would say it's a fun time. It was exciting for me because you're getting ready to go to an environment that is unknown and something you've aspired to do your entire life and then the draft is really the culmination of all of that emotion is happening in one split second."
After suffering a serious injury in Week 2 in '12, Kelce came back to start all 16 games last season. He also won the team's Ed Block Courage Award.
The result was a lengthy contract extension.
Kelce thrived under coach Chip Kelly and anchored one of the top offensive lines in the league. The Eagles set a team record with 442 points scored and 6,676 total yards.
April, 14, 2014
Apr 14
9:19
AM ET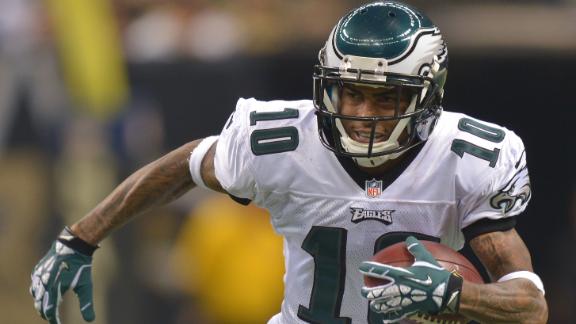 Someday we will hear Philadelphia Eagles head coach Chip Kelly explain the thought process that went into the release of Pro Bowl wide receiver DeSean Jackson a couple weeks ago. Until then, it's best to assume Kelly's ego had as much to do with this as Jackson's alleged misbehavior.
It's reached a point where even recent comments by Eagles star running back LeSean McCoy have created more questions about the relationship between Kelly and Jackson. About the only thing certain is Kelly will have a much harder time winning games with Jackson now playing for the Washington Redskins.
Of all the things McCoy recently told the Philadelphia Daily News -- comments that included McCoy saying he was surprised by his teammate's release -- the most important admission: The Eagles have some big shoes to fill. Whatever baggage Jackson compiled with the Eagles last season, he's still the best deep threat in pro football. The idea that a talent like that can be replaced easily is ludicrous at best. Kelly's apparent belief that one player doesn't dictate how successfully his fast-paced offense operates is an even sillier notion.
April, 14, 2014
Apr 14
8:00
AM ET
By
Andy Jasner
| ESPN.com
There are so many different ways the
Philadelphia Eagles
can go when the
NFL draft
takes place next month.
The Eagles have needs at wide receiver, defensive line and special teams among others.
Barr
They also could look to add some depth at linebacker.
DeMeco Ryans
played more than 1,000 snaps last season -- 1,156, to be exact, according to Football Outsiders -- and he's going to be 30 in July.
Mychal Kendricks
developed into a solid player last season, but adding another piece at linebacker would help.
Montana linebacker
Jordie Tripp
recently visited the Eagles.
Another interesting name is UCLA linebacker
Anthony Barr
. The 6-foot-5 Barr is a converted running back and he blossomed the last two seasons as he compiled 23.5 sacks for the Bruins.
A pass-rusher like Barr, who could play linebacker, would be a huge upgrade for the Eagles. He would probably need some time to improve as a coverage linebacker, but under coach Chip Kelly, he could definitely thrive immediately.
Barr is not lacking confidence as the draft inches closer.
"I think I am the complete package," Barr
told the L.A. Times
. "I can help a team right away win football games, playoff games and championships. It's something that I always dreamed about. The teams that do pass on me will regret it."
But Barr also realizes he has work to do.
"I don't think I'm a finished product by any means," Barr
told FoxSports.com.
"There are a lot of areas that I need to work on and improve on. But I think I've been able to learn over the past two years and to do what I've done says a lot. It just shows that I have a lot of room for improvement and growth and if I continue to work at it the sky is the limit."
April, 13, 2014
Apr 13
12:00
PM ET
By
Andy Jasner
| ESPN.com
Philadelphia Eagles
running back
LeSean McCoy
hosted a youth football camp at Camden Catholic High School in Cherry Hill, N.J., and discussed
a variety of topics with area reporters on Saturday
.
Here are the highlights of what McCoy spoke about:
McCoy

On the loss of DeSean Jackson: "I mean, it's a surprise for sure. I think anyone that tells you that they're happy with it is … I don't know how honest that would be."
More on the move to release Jackson: "DeSean was by far one of the best playmakers in the game and the biggest deep threat there is in the game. So some big shoes to fill for sure. But then again, I think the front office obviously knows what they're doing. You make a move like that, you obviously have something up your sleeve, you know you can get something that's similar or even better."
On the team's plan moving forward: "I wish I knew. I'm sure (GM) Howie (Roseman) and the guys have something up their sleeve, and they make a move like that, they obviously know something. And I have trust in them. I think the team they put together so far with bringing in (Darren) Sproles and making different moves and signing guys, they know what they're doing. I just think with losing DeSean there's definitely some shoes to fill."
On Eagles coach Chip Kelly: "Chip is different. He's a cool guy, he's honest, he loves hard work and (being) respectful. We have a great relationship. I think people are getting the wrong picture because he cut one of his best players. That was a decision he made. As far as personality-wise, Chip, he does well with everybody."
April, 12, 2014
Apr 12
3:31
PM ET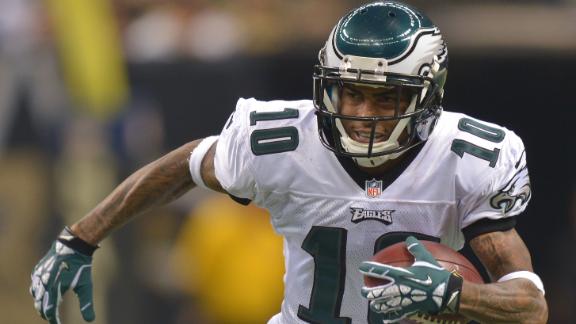 LeSean McCoy offered something DeSean Jackson hasn't received since Philadelphia released him -- public support from an ex-teammate.
McCoy, talking to Eagles reporters after a Philadelphia-area youth clinic Saturday, said Jackson's loss leaves "big shoes to fill" for the Eagles. He also said that anyone who says they're happy about the move is lying.
The Eagles released Jackson in a controversial move March 28, and the Washington Redskins signed him five days later. Since then, there have been some reports relying on anonymous sources that put Jackson in a negative light, notably one from CBS Philadelphia.
The story painted Jackson as a problem in the locker room, someone who did not connect with teammates, and that players would be happy if he was gone.
"I don't know how honest that would be," McCoy said. "It is a surprise. You've heard so much, you don't really know [what's true].
"Not playing with him is definitely going to be different. Playing against him is really going to be different. DeSean's by far one of the biggest playmakers in the game, and the biggest deep threat there is in the game. Some big shoes to fill, for sure. ... When you're making moves like that, they (the Eagles) obviously know something, and I've got a lot of trust in them. I think with the team they put together so far, with bringing Darren Sproles in and making different moves and signing guys, they know what they're doing."
April, 12, 2014
Apr 12
12:00
PM ET
By
Andy Jasner
| ESPN.com
As of now, the
Philadelphia Eagles
hold six picks in the 2014 NFL Draft.
It's their fewest amount of selections since 2003.
This is subject to change since trades can be made and extra picks can always be acquired.
One year after having the No. 4 overall selection, the Eagles will pick No. 22 in the first round.
Philadelphia has its own selection in rounds one, two, three, four, five and seven. The Eagles previously had the
New England Patriots
' pick in the fifth round in a trade for
Isaac Sopoaga
, but they traded it to the
New Orleans Saints
in the deal for
Darren Sproles
.
The Eagles traded their sixth round draft pick to the Patriots in the Sopoaga trade.
In the second round, the Eagles will pick No. 54. Then in the third round, they hold the No. 86 overall selection.
Even with just six picks, the Eagles won't change their strategy of how they select players.
"The way we formulate our draft board is basically like an expansion team," Eagles general manager Howie Roseman told the Philadelphia Daily News. "It's like we have no players and let's make sure we have a clear mind. It's very hard to go in and know maybe the weaknesses that you have on your team and not grade players up a little bit because of that. But we try to grade all the players in the draft like we don't have any at that position."
Roseman added that the Eagles must be focused on taking the best player available, even if it means selecting a standout player at a certain position where there isn't a specific need.
"When you look at your team and try to look out 3-4 years, it becomes increasingly difficult to see who's going to be on your team," Roseman told the Philadelphia Daily News. "I mean, this is such a fluid game. Rosters turn over 15-20 percent in a normal offseason. To sit there and be really confident in what you're going to have as you go forward, it's hard. You don't want to force a position and you don't want to not take a position just because of what you have at the moment. You have to take the best player. And you have to build your team for the long term and look at the draft as long-term decisions for your football team."