October, 30, 2014
Oct 30
8:00
AM ET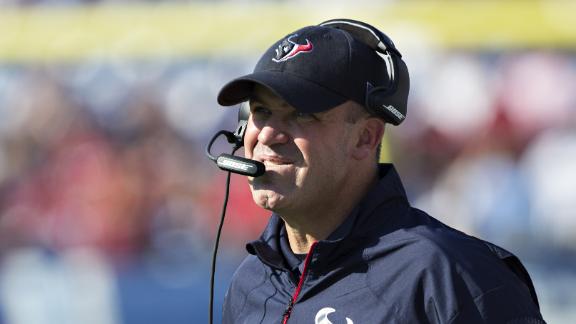 DeMeco Ryans
had to get about 20 tickets for friends in Houston for Sunday's game between the
Philadelphia Eagles
and
Houston Texans
.
This, after all, used to be home.
"It's going to be special going back to where I started playing," Ryans said. "I played there six years. A lot of great friends. It was just great players, great fans there. I'm excited to come back. I don't know how I'm going to feel. Right now I feel like a normal game, but I don't know how I'm going to feel until I actually get there, get out there, start warming up and see how it actually feels being on the opposite sideline."
He'll share that with a crowd of teammates -- six others to be exact.
Ryans and fellow linebackers
Connor Barwin
and
Bryan Braman
, tight end
James Casey
, punter
Donnie Jones
, receiver
Jeff Maehl
and tackle
Andrew Gardner
all played for the Texans before signing with the Eagles.
ESPN Eagles reporter Phil Sheridan and Texas reporter Tania Ganguli break down the matchup.
Ganguli:
So Phil, the Eagles' roster is filled with former Texans, and two prominent linebackers, Ryans and Barwin, are returning to Houston this week. What have the two of them meant to the Eagles? Ryans had a really strong leadership role in Houston. Do you sense the same in Philadelphia?
Sheridan:
Absolutely. Ryans came here to be the middle linebacker in a 4-3 scheme and then, after a coaching change, made the transition back to playing in a 3-4. Regardless of where he lines up, Ryans is the smartest guy on the field, the one who everyone looks to for guidance on where to be and what to do.
But it goes beyond that. Chip Kelly said it just this week. He tells young players, "If you want to know what a football player looks like, look at DeMeco Ryans." He has completely embraced Kelly's sports-science innovations and credits that with his being able to lead the NFL in defensive snaps last year while feeling fresher than he ever has in his career.
As for Barwin, he also has been a great addition in terms of football and in terms of team chemistry. He's selfless, doing many of the unglamorous chores required by the defense to free up other guys. But he has still made plays. Barwin leads the Eagles with six sacks this season. Throw in Casey, Jones, Gardner and special-teams ace Braman and the Eagles have done well shopping at the Texans' team store.
Bill O'Brien passed this way, taking over at Penn State under rough circumstances and showing up on the Eagles' radar after they fired Andy Reid. He seems to be doing well in the early going there. How do you see his long-term prospects in Houston? More to the point, is there a plan in place for a long-term solution at quarterback?
Ganguli:
This can obviously change, but I don't think the long-term solution at quarterback is on the Texans' roster right now. They didn't draft
Tom Savage
expecting that. Texans general manager Rick Smith has said many times that you expect a first- or second-round pick to be a starter, but into the third and fourth round, you expect contributors and hope that maybe that person can develop into something better.
Fitzpatrick is still giving the Texans more than they'd get from their other quarterbacks with a 63.4 completion percentage. He has had four games without any interceptions and typically doesn't take sacks that cause too much lost yardage despite the fact that he uses his legs to keep plays alive pretty frequently. Fitzpatrick lost 34 yards on sacks in Tennessee, but that one game accounts for more than half of his lost yardage on sacks this season. He's not perfect, but when he avoids mistakes he can do what the Texans need from him for now.
As for O'Brien, I do think his long-term prospects are good. Players like playing for him, even though he's tougher on them than his predecessor, and I think that's a good sign. He's learning about his personnel, their limitations and what they do well. He's also got the benefit of being in a stable organization that won't push him out prematurely, which not every coach can say.
Another defensive question for you.
Larry Fitzgerald
was named offensive player of the week after a performance against the Eagles' defense. How has that secondary been?
Sheridan:
The average fan would answer that question with a profanity-laced rant and you really can understand where that comes from. The secondary doesn't make many big plays as far as interceptions, but it tends to break down in spectacular fashion.
But if you watch closely, and talk to the coaches about what's going on, the secondary really has made progress. The Eagles' defense overall really did a good job for long stretches against the Cardinals' offense. Fitzgerald, who has a history of killing the Eagles, scored an 80-yard touchdown by taking a short pass to the house. The Eagles were in a blitz, and Fitzgerald got loose. Later, rookie
John Brown
beat safety
Nate Allen
and cornerback Cary Williams for the game-winning touchdown.
Williams and
Bradley Fletcher
are solid for stretches, but susceptible to sudden breakdowns. Allen makes the occasional good play, but has never been a fan favorite.
Malcolm Jenkins
, the former Saints safety, signed with Philadelphia as a free agent and has been a really good addition. He's smart, tough and consistent. If only the whole group was the same.
People are already talking about
Arian Foster
as the comeback player of the year. Is he completely recovered from the back surgery, or is there concern that this isn't sustainable?
Ganguli:
Any time you have a 28-year-old running back who has dealt with injury issues, there is always some level of concern about his health. When healthy, though, Foster has been terrific for the Texans. He rushed for 151 yards last week against the Titans and seems to have really benefited from a slightly lighter workload since returning from a hamstring injury that kept him out of the Texans' Week 3 game against the
New York Giants
. He had an astonishing 55 carries in the Texans' first two games then suffered a hamstring injury that kept him out in Week 3. Since his return, he hasn't had more than 23 carries in any game and only 20 each in the past three games. I think the lighter workload has made him more productive and more dangerous.
How will
Darren Sproles
' return impact the Eagles' offense? What has been your assessment of the Eagles' offense this year?
Sheridan:
It's hard to say with Sproles. He has been a huge difference-maker this season. In a few games recently, the Eagles haven't been able to get him free in the passing game. Chip Kelly likes to run Sproles, and he's very good in limited opportunities. But whether it's returning punts or catching a screen pass, he's most dangerous when he gets the ball in space. If he's healthy and they can get him going again, Sproles can have a huge impact.
As for the whole offense, it has been puzzling. It all started with injuries to the offensive line. That hampered
LeSean McCoy
and the running game quite a bit. In turn, that seemed to affect quarterback
Nick Foles
' confidence in the pocket. Foles is still prone to making off-balance, ill-advised throws, often to the guys in the wrong jerseys.
McCoy got going in the past couple of games, mostly because the backup linemen were playing better together. Overall, though, it has felt like a Reader's Digest condensed version of Kelly's playbook has been available to the Eagles all season.
J.J. Watt
was having himself a pretty good season before
Jadeveon Clowney
returned to action. How will the two fit in the same defense? And while we're at it, how do the other guys in that front seven handle having Watt move around so much?
Ganguli:
There it is! I don't believe I've gone a game preview this year without answering a J.J. Watt question, and I was beginning to wonder if I would here. Watt and Clowney will be really beneficial for each other, especially as Clowney gets more comfortable and trusts his knee more. Watt is incredibly versatile and can play in a lot of different areas up front. He is so talented that he commands a lot of attention that creates opportunities for others. Clowney, an outside linebacker for the Texans, is another player who commands attention. Even in his limited role last week (he played only 32 snaps against the Titans) he drew double-teams. He nearly had a sack in his debut, but got too eager for a strip and missed it. His talent was evident even though his body isn't exactly where he wants it to be yet. This will be a really strong tandem for the Texans as long as they're together.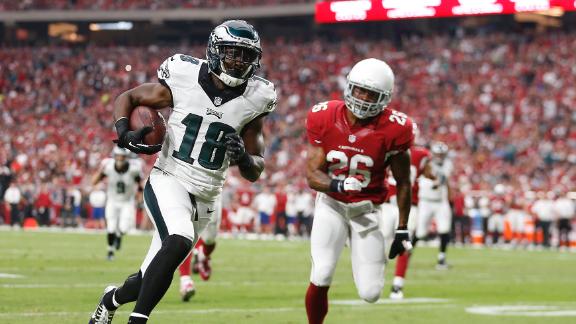 October, 30, 2014
Oct 30
7:30
AM ET
PHILADELPHIA -- The Eagles face the
Houston Texans
Sunday, a team that practically demands the kind of defensive treatment opponents have been using on the Eagles this season.
Foster
Eagles opponents have loaded up the box to stop
LeSean McCoy
, daring quarterback
Nick Foles
to beat them. The only team that didn't approach the Eagles that way, the
New York Giants
, surrendered McCoy's only 100-yard game of the season and lost, 27-0.
Arian Foster
, Houston's running back, has only one game with less than 100 rushing yards. That was the Texans' loss to Buffalo, who held Foster to 6 yards on eight carries. The Eagles have been pretty solid against the run this season, and they will need to dedicate themselves to stopping Foster. In effect, they must dare quarterback
Ryan Fitzpatrick
to beat them.
"The game plan is always the same, to stop the run," linebacker
Connor Barwin
said. "Make it a one-dimensional game. But (Foster) is playing as good as any running back in the league right now."
Foster has rushed for 766 yards this season, second in the NFL behind
Dallas Cowboys
back
DeMarco Murray
. Foster has played very well for a man who underwent surgery on his back.
"Once Arian is healthy, he's a top five back in the league," Eagles linebacker
DeMeco Ryans
said. "He's proven that. They're still running that stretch play, which he's built for. He looks really healthy on film. He looks like he's back to his old self."
Barwin, like Ryans a former Texan, developed a lot of respect for Foster.
"The guy works, the guy loves football, he was a great teammate when I was there," Barwin said. "It sucks to see a guy have back surgery. But he battled back from two back surgeries. He's playing at an extremely high level. He's going to be a huge challenge for us."
The stretch play is a cornerstone of Washington's offense. The Eagles held Washington to 84 yards on 28 carries, a 3.0-yard average, in September.
"They run a true zone stretch," Eagles safety
Malcolm Jenkins
said of the Texans. "They've got two or three runs that they run really, really well, over and over again. Obviously, Foster is a back, you don't really need to get him much room. They've been doing that for so long, they're really good at it. Foster's tough to tackle."
October, 29, 2014
Oct 29
5:30
PM ET
PHILADELPHIA --
Todd Herremans
' left arm looked like something out of an action movie.
The
Philadelphia Eagles
' right guard began practice Wednesday with his arm wrapped in white, fortified by a black brace. The gear allowed Herremans to take part in drills against the Eagles' defense, and it is designed to allow him to take on
J.J. Watt
and the
Houston Texans
on Sunday.
"It's going to be tough to do," left guard
Evan Mathis
said. "It takes getting used to. He has a brace that's going to help him a bit to stay out of some of the more uncomfortable positions. To do something like that, it takes a whole different mentality."
Herremans, who was not available during the open locker room period, tore his left biceps during Sunday's game in Arizona. He returned to the game, and was able to play fairly effectively despite the pain in his arm.
"He was literally blocking, pass protecting with one arm," Mathis said. "And he was getting the job done. He was grabbing guys and doing what he had to do."
Herremans appears poised to play Sunday, shoring up one spot on a line that has been plagued by injuries all season. He will likely line up next to center
Jason Kelce
, who practiced with the first team again Wednesday. Kelce has missed three games since undergoing surgery to repair a sports hernia.
"As we've gone through this," Kelce said, "it doesn't get as sore or hurt as much. But there's still some residual pain. Right now, what I'm going through is going to be an ongoing thing for a while now. It's just gets to the point where I can push through it and still play at a high level."
Mathis, who is on the reserve/designated-to-return list with a sprained medial collateral ligament in his left knee, is eligible to return for the Nov. 10 game against Carolina. If Herremans is still able to play, that would be the first time the Eagles' original starting line will be able to start a game together.
That group hasn't played together all season, but it has 2013 to draw upon.
"Todd took most of the reps today and that's who I worked with all day, for the most part," Kelce said. "The left guard, [Matt] Tobin, I've worked with him a lot before -- not in game situations, but in practice for two years now. So I'm pretty confident playing next to him as well."
All five starting linemen started all 16 regular-season games last year. It was a remarkable run of health-related good luck. This year has been the opposite, Herremans will wear the brace on his left arm. Mathis will wear a brace on his left knee. Kelce is enduring pain from the area around his surgery. All three are determined to play.
"It's not just the decision of the player," Mathis said. "It's a collective conversation with the organization as well, to look at the practice film and the game film and collectively decide, are you going to be able to do this? We've got to roll with the punches. We've been through all kinds of stuff. It's not good to have that happen, but we'll do what we can."
October, 29, 2014
Oct 29
3:30
PM ET
PHILADELPHIA –
DeMeco Ryans
heard the whispers. The
Houston Texans
thought his gas tank was getting close to "E" back in 2012. That's when they traded Ryans to the Philadelphia Eagles.
"It's been a blessing for me," Ryans said. "Everybody has questions about this on the outside. But as players, as long as you know yourself, you believe in yourself, you know what you can and cannot do, the outside chatter really doesn't matter. So it really didn't affect me from my standpoint because I knew I could still play ball."
Ryans
Ryans, who returns to Houston for a game Sunday against the Texans, not only can still play -- he plays constantly. The 30-year-old inside linebacker led the NFL in defensive plays last season. Although the Eagles were determined to cut his workload a bit this year, Ryans is right back at it. He had to leave the Eagles' game against the
New York Giants
with a groin injury, but was right back in the lineup Sunday in Arizona.
"DeMeco is one of the finest men I've been around," Eagles defensive coordinator Bill Davis said. "He's a relentless worker; you can't outwork him. He's a great leader. He's a very calm leader. He makes good, quick decisions that set our defense up. We have a lot of checks and he gets us in and out of calls based on formation or the quarterback audibling. Without DeMeco, I don't know if we could do as much as we do."
Davis has overseen the implementation of a 3-4 scheme over the past two seasons. That process would be chaotic without the intelligence and calming presence of Ryans.
"I just try to be myself, man," Ryans said. "That's one thing I learned growing up; you just be yourself. You do things the right way, handle yourself properly, treat other people with kindness and respect, you know, people will respect you. It's simple – I know everyone has heard it before – but that's just how I live my life.
"It's humbling to hear that from a D coordinator. I know he's been around a lot of great players. So for him to say that, it really means a lot to me. Again, I just always go about my business, treating people how I want to be treated and respecting others."
Davis' respect is based on how Ryans prepares, but also on how he delivers on Sundays. In Sunday's game in Arizona, Ryans broke up what would have been a touchdown pass to Cardinals tight end John Carlson.
"You have to be able to make that play," Ryans said. "I knew the ball was coming to me and we were in man coverage. I knew I had to make that play for the team. We couldn't let them score a touchdown at that point. It was big."
It was the kind of play you can't make when you're finished. Ryans still has enough left in the tank after all this time.
"I don't know how much I'm different," Ryans said. "The game is a lot slower to me. My mindset has changed. I've seen a lot of things over the past years. I'm a lot more confident as a player and just know what's happening around me a lot quicker. I'm probably missing a step or so, but I think that makes up with the mental capacity, just the understanding what teams can or can't do."
October, 29, 2014
Oct 29
10:10
AM ET
By
ESPN.com staff
| ESPN.com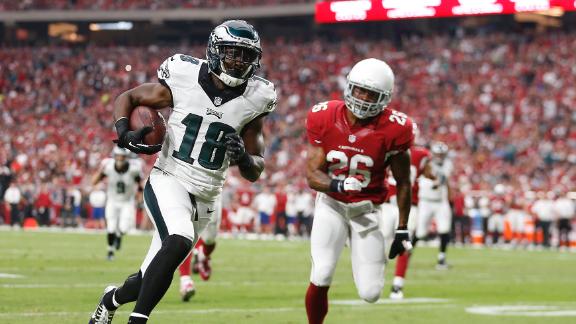 ESPN
Philadelphia Eagles
reporter Phil Sheridan talks about the performance of
Jeremy Maclin
and how he's more than made up for the absence of
DeSean Jackson
.
October, 29, 2014
Oct 29
7:00
AM ET
PHILADELPHIA -- The Eagles should start holding their offensive line meetings in the trainer's room.
With center
Jason Kelce
practicing this week and possibly playing in Houston Sunday, guard
Todd Herremans
tore the biceps in his left arm, according to several reports. Herremans will try to play with the injury, but could be out for the season if surgery is required.
Herremans
Left guard
Evan Mathis
, who sprained his medial collateral ligament in the season opener, is eligible to return for the Nov. 10 game against Carolina. If Herremans can't play beyond this week, the Eagles could either shift
Matt Tobin
from left guard to right or have
Dennis Kelly
play right guard.
Herremans and Kelce practiced with the first team Tuesday. But it's important to note the Tuesday session is calibrated as part of coach Chip Kelly's recovery program from the previous game. Preparations for the upcoming game don't really begin until Wednesday's practice.
"I feel great," Kelce said after Tuesday's practice. "I feel like I can play football. What we're trying to figure out now is how safe it is, how good it actually is. And also whether I can go out there and compete at the same level as before the injury. That's still to be determined."
Kelce sustained a sports hernia during the Eagles' game against Washington last month. He had surgery to repair the hernia and has been trying to balance making progress without aggravating the injured area.
"At this point, they're trying to get me as many (practice) reps as possible to understand where I'm at and understand whether I'm ready to go or not," Kelce said. "For this injury, that's the main thing. You want to push it, you want to stress it in a controlled situation, so you can break up the scar tissue and all the residual effects of the surgery. That's the biggest thing that sets guys back and makes it prolonged, is that you let it sit there and it gets attached."
Herremans left the Eagles' game in Arizona Sunday, but returned and finished the game.
"He's doing fine," offensive coordinator Pat Shurmur said. "He was in and out of the game the other night. He should be out (on the field) today."
Herremans was on the field, but it will be determined this week whether he has surgery or attempts to play Sunday in Houston.
October, 28, 2014
Oct 28
6:00
PM ET
PHILADELPHIA -- Eagles fans remember Brian Dawkins and Andre Waters and Wes Hopkins, safeties who struck fear into the other team and made countless big plays. That gives them little tolerance for safeties who strike fear only into the Eagles and their fans.
Allen
The truth is, though, that the game has changed over the years. The rules have been altered to make it nearly impossible to play the way Hopkins and Waters did in the '80s or Dawkins did in the 2000s.
There are very good safeties out there, to be sure, but the position has become tougher to play and tougher to scout.
Eagles defensive coordinator Bill Davis gave an impassioned defense of safety
Nate Allen
, who made one bad step in Sunday's game against the
Arizona Cardinals
. That step cost the Eagles the game. Arizona's
John Brown
beat Allen deep for the 75-yard game-winning touchdown.
"Nate had a very good game and one bad play," Davis said Tuesday. "But he wasn't the only one. The pass rush wasn't the way it was supposed to be, and the quarterback had a step-up lane. Cary (Williams) could have gotten higher, quicker. (Allen) took one false step and got beat big. But the same mistake that was made in the pass rush, nobody's blaming them.
"When a safety or a corner makes that same minor mistake, it's a major mistake because it ends up in points."
Allen took responsibility for the play after the game, but was quick to get over it. That's part of the job.
"Like I always say, I don't listen to anything," Allen said. "I don't read anything. Because we know what goes on in the locker room. We know what we're trying to do. Sometimes, things may not always be what they appear. I just don't get caught up in all that. I just know my job and what we're trying to do as a defense."
Allen took a step toward Brown, thinking the rookie might be cutting his route short. But the time he corrected that and turned to run with Brown, the speedy receiver was past him. With more of the pass-rushers getting too far upfield, past quarterback
Carson Palmer
, he was able to step up and make a clean throw.
"I thought we played well as a defense," Allen said. "We did a lot of good things. Obviously, bad things happen. They're going to get magnified more than the good things. That's part of being a defensive player and a defensive back. It's always been like that and it's going to continue to be like that. I don't let it beat me down. If you do that, it will affect you in the next game and the next game."
October, 28, 2014
Oct 28
4:30
PM ET
JACKSONVILLE, Fla. -- Here is the latest look at what could turn out to be a banner crop of rookie receivers.
They are ranked by targets, which is a true measure of how much a receiver is utilized. We're using the qualifier of having a minimum of four targets per game.
The Jaguars remain the only team with two players on the list.
Here's the list of the top-targeted rookie receivers (32 targets needed to qualify):
Sammy Watkins, Buffalo (68 targets):
He had another big week for the Bills, catching three passes for 157 yards and one TD in their 43-23 rout of the
New York Jets
. In the last two weeks he has 12 catches for 279 yards (23.3 per catch) and three touchdowns. He has 38 catches for 590 yards and five TDs this season. The 590 yards leads all rookies.
Kelvin Benjamin, Carolina (67):
Benjamin caught four passes for 94 yards in the Panthers' 13-9 loss to Seattle and has 38 catches for 571 yards and five TDS. He and Watkins are tied for most touchdown catches among rookies.
Allen Robinson, Jacksonville (62):
He was targeted 10 times in the Jaguars' 27-13 loss to Miami and caught five passes for 82 yards and one touchdown. He is second among rookies with 39 catches. He has 453 yards receiving and two touchdowns. He has touchdown catches in back-to-back weeks.
Brandin Cooks, New Orleans (49):
He caught six passes for 94 yards and a touchdown in the Saints' 44-23 rout of Green Bay. He has 40 catches, highest among rookies, for 372 yards and two touchdowns.
Jordan Matthews, Philadelphia (48):
He moved one spot up the list after being targeted 12 times in the Eagles' 24-20 loss to Arizona. He caught six passes for 47 yards against the Cardinals and has 29 catches for 273 yards and two TDs.
Allen Hurns, Jacksonville (44):
He dropped one spot on the list after being targeted only three times in the loss to Miami. Hurns caught all those passes for 49 yards and has 22 catches for 354 yards and three scores.
John Brown, Arizona (42):
Brown had a big game against the Eagles, catching five passes for 119 yards and one touchdown. He has 22 catches for 316 yards and four TDs, which is second among all rookies.
Mike Evans, Tampa Bay (40):
After catching four passes for 78 yards in the Bucs' 19-13 loss to Minnesota, he has 25 catches for 336 yards and two touchdowns.
Jarvis Landry, Miami (34):
He was inadvertently left off the list last week. He caught three passes for 23 yards against the Jaguars and has 25 catches for 255 yards and one TD.
Davante Adams, Green Bay (33):
He's a newcomer to the list after being targeted nine times in the loss to New Orleans. He caught seven of those passes for 75 yards and has 24 catches for 263 yards and two scores this season.
October, 28, 2014
Oct 28
4:30
PM ET
PHILADELPHIA --
Jeremy Maclin
has endured more than a free Gatorade shower along the
Arizona Cardinals
' sideline.
The
Philadelphia Eagles
' receiver has torn his ACL twice. He went through a period in 2011 when doctors tested him for various forms of cancer. Through it all, he has been able to persevere and return to the football field.
Maclin
For that, Maclin's teammates voted him the winner of their 2014 Ed Block Courage Award. The award, which automatically makes Maclin eligible for the league-wide version, is named for a former athletic trainer with the Baltimore Colts.
"It's cool," Maclin said Tuesday. "It's awesome. My teammates all supported me. It's been a long way back, a year and a couple months now. It's pretty cool to know these guys support me and the organization supports me."
Eagles head coach Chip Kelly announced the award at a team meeting Tuesday morning. The award was voted upon by Eagles players. They recognized Maclin for his return from an ACL tear that cost him the entire 2013 season.
"Jeremy's a guy who shows great character," Eagles quarterback
Nick Foles
said. "Going through what he's gone through, all the different things in his life that he's gone through and he's grown stronger, he's definitely a guy who deserves the award. We're honored to have him win the award for our team."
Maclin had his best game of the season
Sunday in Arizon
a. He caught 12 passes for 187 yards and two touchdowns.
"I feel like I've been back for a while," Maclin said. "Now it's all about just continuing to get better each and every day. But the award is definitely an honor and a privilege."
In Arizona, Maclin had to leave the game briefly to go through a concussion evaluation. He was on the receiving end of a helmet-to-helmet hit from Cardinals rookie safety
Deone Bucannon
.
"I'm just playing football," Maclin said. "Obviously, the hit hurt. I was able to come back in after I cleared everything I had to go through. That's part of playing football. You're going to get hit. Sometimes you may be a little slow to get up, but you've got to get back out there and help your team."
October, 28, 2014
Oct 28
3:15
PM ET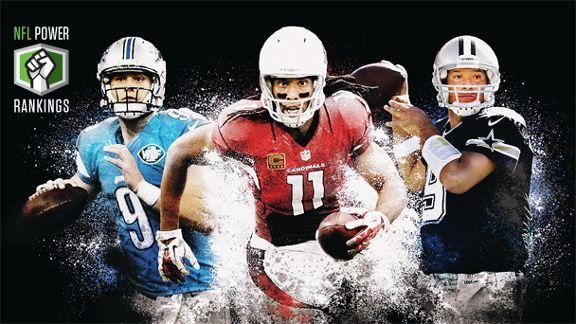 PHILADELPHIA -- This week's ESPN NFL Power Rankings hold a little pain and a little consolation for
Philadelphia Eagles
fans.
The home team
lost 24-20
in Arizona and dropped two spots to No. 5 in
ESPN's weekly NFL Power Rankings
. But the
Dallas Cowboys
, whose ascent through the rankings was dizzying, also fell two spots to No. 4. The Cowboys (6-2) are one spot ahead of the Eagles (5-2), but their loss to Washington cost them in both the rankings and in the NFC East standings.
It's hard to argue with the way the voters realigned after the events of this recent weekend. The
Indianapolis Colts
tumbled five spots from No. 4 to No. 9 after getting beat up on by the Steelers. The Eagles, who beat the Colts in Week 2, remained ahead of them.
And it's hard to find fault with Denver being No. 1 or Arizona sliding up to No. 2 by beating the Eagles. If the Eagles were a top-four team all this time, then beating them should earn you a little respect.
Same with New England. The Patriots were lost at sea for a little while there. Now they have gotten hot and moved to 6-2. Elevating them past the Cowboys and Eagles seems right.
For the Eagles, the ranking that truly matters will be determined by their two games within a matter of three weeks against the Cowboys. Between now and then, they could get hot with a few wins and slide up the ESPN Rankings, but they appear to be locked into a spot between No. 3 and No. 7 until they get to settle things on the field with Dallas.
October, 28, 2014
Oct 28
3:09
PM ET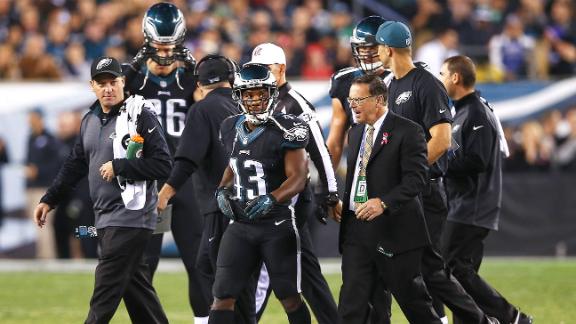 PHILADELPHIA -- Eagles running back Darren Sproles told reporters Tuesday that he expects to play against the Houston Texans on Sunday.
"I'm good," Sproles said, according to NJ.com. "Today I felt good. I'll come out here and get another practice."
Sproles sprained his left medial collateral ligament during the Eagles' 27-0 victory over the New York Giants on Oct. 12. He had the bye week to rest it, then spent last week seeing limited action in practice. Sproles was inactive for the Eagles' loss to the Arizona Cardinals.
Eagles coach Chip Kelly said it was a game-time decision to rest Sproles for Sunday's loss in Arizona.
"[I feel] better than I did last week," Sproles said. "I did my first full practice, but I feel good."
In Sproles' absence, reserve running back Chris Polk saw his first playing time of the season Sunday while receiver Jeremy Maclin handled the punt return duties. Sproles could return to play in the offense while refraining from returning kicks.
In his first six games, the 31-year-old Sproles carried the ball 32 times for 211 yards and three touchdowns. He also caught 16 passes for 198 yards.
The news wasn't so good for starting right guard Todd Herremans, who suffered a torn biceps against the Cardinals, a league source confirmed to ESPN NFL Insider Adam Caplan.