March, 8, 2014
Mar 8
1:00
PM ET
We got so many good questions and comments, we broke the Twitter mailbag up into two sections. Thanks very much to everyone who chimed in. Here's Part 2:
March, 8, 2014
Mar 8
8:00
AM ET
We'll finally start to get some action and answers in free agency. Teams can begin contacting agents Saturday afternoon and completing deals on Tuesday.
Until then, let's find out what's on fans' minds. Thanks to everyone for their comments and questions. We got enough to break this up into two posts, so if your tweet isn't here, look for it later Saturday afternoon.
Without further ado:
March, 8, 2014
Mar 8
8:00
AM ET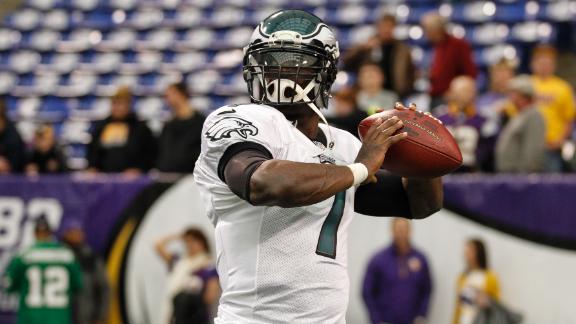 Michael Vick isn't sweating it. He isn't stressed out about his impending free agency. He isn't overly concerned about his immediate future.
Vick knows he will get an opportunity to play again. He knows he should get an opportunity to compete for a starting job. The free-agent quarterback market is thin, and the draft does not include any can't-miss prospects.
There are teams in need of a starting quarterback with few viable options. Vick is one. Then there are the newcomers in the draft: Blake Bortles, Johnny Manziel and Teddy Bridgewater, in no particular order.
Vick gives a needy team the best chance to win immediately. He isn't a long-term solution, but he is a quick fix, a Band-Aid and, potentially, a bridge to the future. He can step in and play for as long as he can stay healthy -- always an enormous caveat when Vick is concerned -- and simultaneously mentor a younger quarterback.
That reality is keeping the 34-year-old Vick calm, sane and, all things considered, relatively at ease as the start of free agency on Tuesday approaches.
"He's definitely grateful, because he knows he's going to play," someone close to Vick told me this week.
Where remains the biggest question.
March, 7, 2014
Mar 7
4:40
PM ET
Scratch the
Jacksonville Jaguars
off
Michael Vick
's list of possible employers.
That was the immediate take after the Jaguars signed quarterback
Chad Henne
to a
two-year contract
Friday. The nature of the deal and, frankly, the nature of Chad Henne suggest the Jaguars plan to draft a quarterback in May and use Henne as an interim starter in 2014.
Vick
Henne
That is not the kind of role Vick really wants, obviously. He has been a franchise quarterback, in attitude and usually in job description, for most of the years since he was drafted first overall by Atlanta in 2001. Vick's plan is to leave Philadelphia, where he was displaced by
Nick Foles
, and go somewhere he can start for another two or three seasons.
That place probably wasn't going to be Jacksonville. But each time a team with an obvious need at quarterback fills that need, Vick's options shrink. The list of likely possibilities includes Oakland, Minnesota, the
New York Jets
, Tampa Bay and Buffalo.
The other striking thing about Henne's deal is how it sets the market for veteran stopgap types. Henne will reportedly get $4.5 million guaranteed and a total of $8 million from the Jags.
Vick earned over $50 million in bonuses and salary over the past four seasons. That sounds like a lot, and it is. But he has also been dealing with the demands of the bankruptcy court, which has forced him to pay back his many creditors after his conviction on charges related to his dogfighting operation.
Vick reportedly emerged from bankruptcy only late last year. So he is surely looking for another big payday before his playing days are over. He will be 34 in June, so this is his last chance.
Did the Jaguars ever consider Vick? Did they prefer Henne because of football reasons and familiarity? Or did they figure Vick was holding out for a more prominent role than they were prepared to offer him?
The answers to those questions could provide clues about how Vick is seen around the league. The old truism that it only takes one team has never been more applicable than it is with Vick.
The Eagles were the only team willing to take a chance on him when he was reinstated by commission Roger Goodell in 2009. Will there be another team willing to give him a starting job in 2014?
It will be one of the most-watched stories in free agency. With Vick, that's the one thing you can be sure about.
March, 7, 2014
Mar 7
12:00
PM ET
As free agency approaches, there has been a lot of talk about the
Philadelphia Eagles
' reluctance to get burned the way they did in 2011. General manager Howie Roseman has cited that disastrous spending spree as inspiration for a new philosophical approach to free agents.
But
Nnamdi Asomugha
in 2011 is not the right precedent for the Eagles' current situation.
Jon Runyan
in 2000 is.
In 2000, Andy Reid had finished his first season as head coach, just as Chip Kelly has in 2014. Reid had drafted
Donovan McNabb
to be his franchise quarterback. Kelly had
Nick Foles
stake a claim to that role. Like Reid in 2000, Kelly has had one season to coach his new players, getting a feel for who's who and what needs to be done.
Reid had
Tra Thomas
at left tackle. He needed someone to anchor the other side. The Eagles signed Runyan to a six-year, $30.5-million contract that made him the highest paid offensive lineman in the NFL.
If Kelly and Roseman see the safety position as the massive sinkhole the rest of us see, and they identify Buffalo's
Jairus Byrd
(or whomever is at the top of their board) as someone who can fill that hole for the next five years, they can and should be bold and make a play for him.
It is perceived as a negative that Byrd wants to be the highest paid safety in the NFL. But no one criticized Runyan for taking advantage of his well-timed free agency to become the best-paid offensive lineman.
Let's be clear: No one is saying Roseman should throw crazy money at a player he doesn't believe is a difference-maker. That isn't the point here. But the lesson from Asomugha and the rest of the 2011 moves -- forever linked to the "Dream Team" tag applied by
Vince Young
-- shouldn't be that free agency is bad for team building.
Runyan was an integral part of the team Reid built, a team that went to five NFC championship games. More recently,
Connor Barwin
,
Cary Williams
and
DeMeco Ryans
(who was acquired in a trade) came from other teams and had a profoundly positive impact on the Eagles' locker room.
In 2011, the Eagles had to act quickly after the NFL lockout ended. They didn't have the usual free-agency period to bring players in for get-acquainted visits. Asomugha was the marquee free agent and the Eagles, believing themselves one or two moves from a Super Bowl, went all in to get him.
It didn't work out. OK, it was a disaster. But that was not the move Roseman should look at when considering his course of action this offseason. The Runyan signing is a much more telling precedent.
March, 7, 2014
Mar 7
11:00
AM ET
»
AFC Free-Agency Primer
:
East
|
West
|
North
|
South
»
NFC
:
East
|
West
|
North
|
South
Key free agents:
QB
Michael Vick
, WR
Jason Avant
, S
Nate Allen
, P
Donnie Jones
, S
Kurt Coleman
.

Where they stand:
By keeping wide receivers
Riley Cooper
and
Jeremy Maclin
off the market, the Eagles assured their starting offense would look very much as it did in 2013. There are no obvious positions of need on that side of the ball that would likely be addressed in free agency. The defensive side is another matter. That unit made fine progress in its first year with coordinator Bill Davis' 3-4 scheme, but the Eagles need playmakers there, especially in the secondary. Having $20-25 million in salary-cap space gives them the flexibility to do whatever they choose.
What to expect:
GM Howie Roseman has repeatedly said he does not want to overpay in free agency, but the Eagles might have to go that route with a safety like
Jairus Byrd
,
T.J. Ward
or
Chris Clemons
. Going for bargains at that position just has not worked, and Roseman has acknowledged he doesn't want to get to the draft in dire need of a safety. There isn't a lot of depth at outside linebacker -- teams do their best to hold on to effective pass-rushers -- but Roseman could look for a second-tier guy there. It would not be surprising if the Eagles re-signed Jones and added a kicker in free agency to compete with, or flat-out replace,
Alex Henery
. Keep an eye on a return man, perhaps
Devin Hester
or
Dexter McCluster
.
March, 7, 2014
Mar 7
8:00
AM ET
Any list of the Eagles' needs starts with their secondary, which is understandable when a team is ranked last in the NFL in pass defense.
[+] Enlarge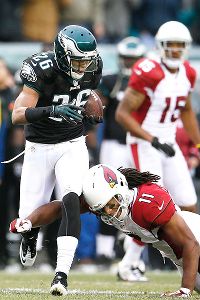 AP Photo/Damian StrohmeyerCary Williams and the Eagles cornerbacks could benefit from quality play at safety.
That's why many analysts, experts and fans think the Eagles will focus on safeties and cornerbacks in free agency and the draft. And they certainly might. But there's one thing I think gets overlooked in all this.
The cornerback play may have looked worse than it actually was because of the quality of the safeties. By improving their safety performance, the Eagles may find that
Cary Williams
,
Bradley Fletcher
and
Brandon Boykin
are perfectly adequate cornerbacks.
One step further: Improve the pass rush, which virtually disappeared late in the season and in the playoff loss to the Saints, and the whole secondary would look better.
This doesn't mean the Eagles should pass on a quality cornerback in the draft, if there is one they like when they are on the clock. It is a position where you almost can't have too much talent or depth.
But Williams and Fletcher, the two starting guys on the outside, may not be as urgent a problem as some seem to believe. They were nowhere near perfect, to be sure, but pass defense is a product of cooperation and synchronization.
Williams played for the Super Bowl champion
Baltimore Ravens
the year before. He had
Ed Reed
and
Bernard Pollard
at safety. They were more likely to help their cornerbacks out than to leave them hanging.
After the Eagles lost to New Orleans in the wild-card round, Williams seemed especially frustrated.
"We had too many mental breakdowns in the secondary," Williams said. "We didn't put ourselves necessarily in the best situations to win. That was really the issue with me, man. It was frustrating out there -- situations that you know are coming, that you've seen over and over on film, and they don't necessarily go right. The right call isn't being made. It's frustrating.
Drew Brees
saw those mistakes we made and was able to capitalize on those situations."
Williams wasn't excluding himself or the other cornerbacks from his critique. But you definitely got the feeling, watching that game and those that preceded it, that the major breakdowns were at safety. That is why
Nate Allen
was not among the impending free agents signed to new contracts last week, and it is why
Patrick Chung
could well be gone before training camp.
Buffalo's
Jairus Byrd
, by consensus the top free-agent safety, combined for 33 interceptions and forced fumbles in his five seasons. In four years with the Eagles, Allen had a total of seven.
Signing Byrd would make the Eagles much better, obviously. But there is a lot of room between his production and Allen's that would qualify as improvement. And improvement at safety should contribute to better play from the corners.
March, 6, 2014
Mar 6
3:00
PM ET
The name of the player ESPN's Todd McShay has next to the
Philadelphia Eagles
in
his third mock draft

is interesting. The larger point McShay makes is even more relevant.
The player: Ohio State cornerback
Bradley Roby
, a 5-foot-11, 194-pounder who ran a 4.39 40-yard dash at the NFL combine last month. Roby is skipping his senior season. He's only 21, which makes him that much more attractive as a player who can be coached to fit into a system.
[+] Enlarge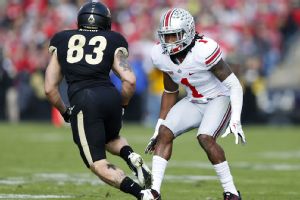 Joe Robbins/Getty ImagesCornerback Bradley Roby, a 5-foot-11, 194-pounder, ran a 4.39 40-yard dash at the NFL combine.
"Roby needs to be coached up," McShay writes, "as he got burned several times this season as a result of poor discipline, but his size, speed, athleticism and playmaking ability make him capable of developing into a shutdown corner on the outside."
In McShay's mock, the two top safeties are not on the board when the Eagles pick. Neither are some of the more talked-about wide receivers and edge rushers.
"The best values at this spot for Philadelphia are going to be at cornerback -- outside linebacker and safety can wait until later," McShay writes.
And that is the larger point that means more than a guess at the identity of the pick. Eagles general manager Howie Roseman might as well get a tattoo that says "Will take best player regardless of need" so he can point to it when asked. Sitting at No. 22 overall, the Eagles are going to be at the mercy of what happens in front of them.
If the best values, as McShay put it, are at cornerback, the Eagles will happily take a cornerback. McShay has Roby, Michigan State's
Darqueze Dennard
(20th), Virginia Tech's
Kyle Fuller
(24th), and TCU's
Jason Verrett
(25th) going within six picks of each other.
A team with a pressing need at cornerback might go in that direction earlier and free up a safety or wide receiver the Eagles like. Or they could try to trade up if there is a player they especially covet sitting there in the mid-teens. There will be a lot of pro days and private workouts between now and the draft.
But if the value pick happens to be at a need position like cornerback, the Eagles will be happy to take whichever they rate as the best.
March, 6, 2014
Mar 6
12:30
PM ET
When it comes to
Michael Vick
and the
Philadelphia Eagles
, the only thing that has changed is the date.
We are days away from the start of NFL free agency, when we will find out for sure whether (and where) Vick gets his chance to be a starting quarterback. Whatever happens, it has been clear since Jan. 6 that Vick's time in Philadelphia is almost certainly over.
As those other Eagles sang, he's "already gone."
Nick Foles
is the starter.
Matt Barkley
is going to be here. The team could very well draft a quarterback again this year. If coach Chip Kelly feels he needs a veteran backup, there will be several attractive options in free agency that aren't named Vick:
Matt Cassel
,
Josh Freeman
,
Kellen Clemens
among them.
None of those names may excite your imagination, but they're not supposed to. They're potential backup quarterbacks. Signing any one of them would provide competition for Barkley without what we'll call the Vick Factor -- a guy some percentage of the fans will be clamoring for the moment Foles has a bad game, or even a bad half.
Going into last season, I thought Kelly should have moved on from Vick. He judged him only on what he did in training camp and the preseason, ignoring the pre-Kelly history of injuries and turnovers. Lo and behold, Vick pulled his hamstring running out of bounds on Oct. 6.
When the Eagles were 3-5 at the midway point, and had gone two games in a row without a single offensive touchdown, Kelly explained the problem in five words: "instability at the quarterback position."
Anyone can get hurt. Foles missed a game with a concussion. But after a firsthand experience with Vick, the walking definition of "instability at the quarterback position," it's hard to see Kelly bringing him back for his age-34 season, especially when he has invested serious coaching time in Barkley.
But that was obvious on Jan. 6, when Vick gave what amounted to a farewell speech to the media and posed for photos with his soon-to-be former teammates. The only reason to report that Vick isn't coming back is that the calendar says March, and his departure is imminent.
Where will he go? It was fascinating to see
Adrian Peterson
tweet his interest
in bringing Vick to Minnesota. That seemed like a possible fit all along, although the hiring of Norv Turner as offensive coordinator didn't exactly line up with that. Peterson is 29 and has bounced back from a torn ACL. He wants to win now. It wouldn't be surprising if new head coach Mike Zimmer, who waited a long time for this opportunity, feels the same.
There are a number of teams that could use Vick as a quick-fix starter and a bridge to a young quarterback.
The Eagles aren't one of them. They've already crossed that bridge.
March, 6, 2014
Mar 6
12:25
PM ET
March, 6, 2014
Mar 6
11:00
AM ET
The only player evaluations that matter, as far as the Eagles are concerned, are the ones done by general manager Howie Roseman and his staff.
The media-produced rankings of potential NFL free agents may not tell us much about what the Eagles are thinking. But the wide range of evaluations can provide insight into how wildly divergent different teams' opinions can be.
Let's take a look at the safety position, which figures to be an area the Eagles try to address. Buffalo's
Jairus Byrd
is generally considered the best safety available, but there are dissenting opinions.
Over at
NFL.com
, Byrd is listed as the No. 1 free agent available regardless of position. He is the only player tagged as a "difference-maker." On
ESPN Insider
, former NFL executive Bill Polian and his team have Byrd as the fourth-ranked safety.
Antoine Bethea
of the Colts, the only safety with an A grade, is rated the best safety on the market.
Polian has Miami's
Chris Clemons
as his second-ranked safety, with Cleveland's
T.J. Ward
third. NFL.com calls Clemons "a league-average starter," which would still make him an upgrade for the Eagles.
Over at
Pro Football Focus
, Byrd is rated the top safety and No. 2 free agent overall, behind only Seattle defensive end
Michael Bennett
. PFF rates Ward as the second best safety (No. 8 overall), while Clemons is No. 30 overall. Bethea, the top safety and a Grade-A player for Polian, is No. 61 overall on PFF's list and No. 51 on the NFL.com list.
PFF places Byrd in the same category as Seattle safety
Earl Thomas
. Considering the Seahawks just won the Super Bowl with Thomas as a key defensive player, it is likely many teams will make a run at Byrd in hopes of recreating that success.
Ultimately, Roseman and his personnel staff have graded players based on their game tape and how they project players in the Eagles' scheme. Cleveland's Ward is considered a better run defender, more of a strong safety type. Byrd is better at playing deep and at coverage, which was a huge problem area for the Eagles. Their pass defense was dead last in the NFL.
Malcolm Jenkins
of the Saints, a converted cornerback, might be a better fit than Ward, from the Eagles' perspective. And that's the bottom line here: The Eagles' perspective is the only one that will matter to them, and they haven't published their opinions on the Internet.
March, 6, 2014
Mar 6
11:00
AM ET
Todd McShay's third NFL mock draft for 2014 is out on ESPN Insider today.
The Eagles now seem quite set on the offensive side of the ball, but could go in one of many directions with their first pick to improve their defense. McShay had
Darqueze Dennard
going to Philadelphia in his last mock, and the Eagles probably would love that scenario, but overall, taking the best defensive player regardless of position seems like the smartest move for the Eagles. The Eagles have set themselves up to get very good value throughout this draft, especially to reinforce their defense.
Whom does McShay have the Eagles drafting at No. 22? ?
To continue reading this article you must be an Insider
March, 6, 2014
Mar 6
10:16
AM ET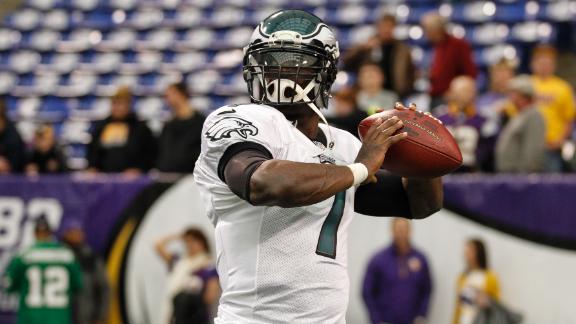 MINNEAPOLIS -- As the Minnesota Vikings head into free agency in search of a veteran quarterback, their franchise player has an idea about what they should do next.
Running back Adrian Peterson is interested in the team bringing Michael Vick to Minnesota to be the team's starter. The 2012 NFL MVP tweeted his thoughts Wednesday night.
@MikeVick would intently make the vikings a playoff team!

- Adrian Peterson (@AdrianPeterson) March 6, 2014
Vick, who will turn 34 in June, started just six games for the Philadelphia Eagles last season before losing his job to Nick Foles after a hamstring injury. Vick hasn't started more than 13 games in a season since 2006, and it wouldn't seem like he is the best fit for new offensive coordinator Norv Turner's offense.
But considering the Vikings' quarterback situation, it's difficult to rule anything out.
Christian Ponder is the only Vikings quarterback under contract, after Matt Cassel opted out of his 2014 contract in February. Josh Freeman, whom the Vikings signed to a one-year, $2 million deal and used in one game last season, also is a free agent.