February, 25, 2015
Feb 25
12:00
PM ET
PHILADELPHIA – Unless the NFL suddenly decides to hold its 2015 draft next Tuesday (which is pretty unlikely), we're going to have to live through a couple more months of speculation about Chip Kelly and
Marcus Mariota
.
That is discouraging, but let's look at the first major mock drafts (that is, mock drafts by relatively heavy hitters in the business, not your cousin Chuck) that project trades to reunite Oregon compadres Kelly and Mariota.
[+] Enlarge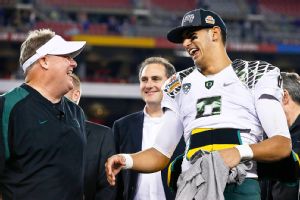 AP Images/Ross D. FranklinWhat kind of a trade would it take to reunite these two?
Pat Kirwan of CBSSports.com was first. Earlier this week, Kirwan posted
a mock draft
that has the Eagles trading for the Oakland Raiders' No. 4 pick. In Kirwan's projection, the Eagles send the 20th pick in this draft, their first-round pick in 2016 and running back
LeSean McCoy
to the Raiders for the fourth pick this year.
Kirwan has Florida State quarterback
Jameis Winston
going No. 1 overall to Tampa Bay. Tennessee, which is at No. 2 and could draft a quarterback, then takes USC defensive tackle
Leonard Williams
. Jacksonville, which has
Blake Bortles
at quarterback, selects Nebraska defensive end
Randy Gregory
at No. 3. That makes a deal for the fourth pick good enough to bring Mariota to Philadelphia.
On Wednesday, Peter King of MMQB.si.com posted
his first mock draft
. King went only as far as the 15th pick in the first round, but that was far enough to project an Eagles trade with Washington. Considering the history – the trade of Donovan McNabb to Washington in 2010, plus the swap of Sonny Jurgensen and Norm Snead in 1964 – there's a certain elegance in having those two franchises make a quarterback-centered trade.
In King's mock, Winston goes first overall to Tampa Bay. He has Tennessee taking Dante Fowler, an outside linebacker from Florida. Jacksonville then takes Williams, the defensive tackle from USC. Oakland, in need of weapons around quarterback
Derek Carr
, selects West Virginia wide receiver
Kevin White
.
That brings up Washington's spot. King's deal: The Eagles send their first- and second-round picks this year, plus their first- and fourth-round picks in 2016, to Washington for the No. 5 pick. They select Mariota.
Now it must be made clear that neither Kirwan nor King presents his idea as a deal being discussed by the teams. They are simply taking the assumption that Kelly would like to coach Mariota again and figuring out ways to make that possible.
Do the deals make sense? Sort of. The inclusion of McCoy is interesting but hard to figure. The trend has been toward devaluing running backs in the draft. McCoy will be 27 in July and has carried the ball almost 1,500 times (plus 300 receptions) for almost 7,000 yards in his six seasons. He is still a very good player, but a drop-off in the near future seems inevitable.
McCoy plus two first-round picks seems a little light to move all the way from 20 to 4. Maybe if the Eagles added a pick, that deal would be more likely. On the other hand, the exact terms of the deal aren't really the main point. Kirwan is mainly suggesting that the Raiders would be a possible trading partner for the Eagles.
Same with King. His proposed deal seems more practical. Washington would be dropping from No. 5 to No. 20. In exchange, they get another first-round pick, a second-round pick and a fourth-round pick. That's four players for one.
Considering Washington has a new general manager, Scot McCloughan, and is just a few years removed from the asset-depleting deal to get
Robert Griffin
III, such a trade might be appealing. On the other hand, getting back less than the bounty paid to move up from No. 6 to No. 2 might be a problem. Washington gave up three first-round picks and a second-round pick in that 2012 deal.
The only certainty is that there will be plenty more speculation between now and the draft. Might as well enjoy it.