December, 18, 2014
Dec 18
8:00
AM ET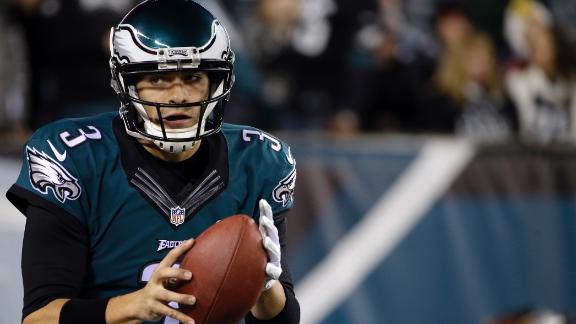 When:
4:30 p.m. ET, Saturday
Where:
FedEx Field, Landover, Maryland
TV:
NFLN
The
Washington Redskins
left Philadelphia in an upbeat mood, despite a loss. Their offense had scored 34 points, and while they blew a lead in this Week 3 game, there were issues they felt were fixable. Needless to say, their performance since that game hasn't gone the way they had hoped.
And while the
Philadelphia Eagles
are in better position than Washington, they've put themselves in a must-win situation. At 9-5, the Eagles will need help to make the postseason, and a loss could end their chances. The teams have combined to lose eight straight games, though six of those belong to the Redskins.
ESPN.com Eagles reporter Phil Sheridan and Redskins reporter John Keim look ahead to Saturday's game:
Keim:
It looked like the Eagles were starting to roll and then they lost two straight, albeit to two good teams. Is it just a matter of losing to good teams, or is there something else at play here?
Sheridan:
Well, losing to good teams has been a theme of this whole season. The Eagles' first loss was at San Francisco, their second at Arizona. The 49ers have dropped off a bit, but at the time, they were among the teams you'd consider among the elite in the NFC. The Cardinals are obviously poised to win the NFC West. The Eagles' next loss was to the
Green Bay Packers
, by a 53-20 score. That one really raised eyebrows.
But the Eagles got to 9-3 before these last two losses. The Seattle game was disappointing, but they are the defending champions. Not too much to read into that. The loss Sunday to Dallas was something else. It's a team the Eagles beat in the season finale to win the division last year and beat 33-10 in Dallas just two weeks earlier. To get manhandled like that at home felt like a major step backward.
The Eagles now have five losses, all to NFC teams that are (or were) playoff contenders. So what's going on seems to be that the Eagles are hitting their heads on the doorway to the elite level. And the biggest reason for that, it seems to me, is their lack of a franchise quarterback.
Nick Foles
didn't look like one before he got hurt, and
Mark Sanchez
hasn't looked like one since.
Bottom line: The Eagles are going to have as many urgent questions going into this offseason as they've had in the last few years.
Eagles defensive coordinator Bill Davis said this week that, on tape, it looked like
Robert Griffin
III was regaining his "swagger" and that maybe the time off helped him. Does that line up with what you're seeing from the quarterback? Where is his head these days?
Keim:
Yes, it looked like Griffin played with more confidence Sunday. He was not always perfect and there were issues in the pocket -- not all of his own doing, either. But he did not look like the confused lost quarterback we saw against Tampa Bay and San Francisco. There was still hesitation in the pocket, but there were other plays Griffin made that resulted from a more confident quarterback. Some of his runs showed more of the explosion of the past -- haven't seen that a lot at all lately. When he had time in the pocket, he made some nice throws. Griffin seems to be in a better place mentally these days. He looked more relaxed during practice last week, more himself. I don't care what his issues are, it has to be difficult maintaining your own confidence if you keep hearing the head coach has no confidence in your game.
How would you rate Mark Sanchez's play lately (and that of the offense)? Seemed like the offense was humming along before hitting Seattle and Dallas -- the time of possession disadvantage in those games was unreal.
Sheridan:
Sanchez is exactly who he's always been, a guy who will throw roughly about as many interceptions as touchdown passes. He has looked good against Carolina and Tennessee and not so good against Green Bay and Seattle. He is a quarterback who can win you games, but he is not going to elevate your franchise to a higher level and keep it there.
The offense, especially the running game, looked quite good in the win at Dallas. But it was 1-for-5 in the red zone, and a lot of that falls on the quarterback and the play calling. You're right about the time of possession, which was in the 40-minute-to-20-minute range in those two losses. It's a stat Chip Kelly dismisses, but it represents opportunities your opponent has to score and time your defense spends working to prevent that. There's a reason other coaches do care about time of possession, and before it's all said and done, Kelly may come to care as well.
It seems like a lifetime ago that these teams played. In that game, the Eagles were dealing with injuries along the offensive line and couldn't really get
LeSean McCoy
going.
Brian Orakpo
was a factor. How is the Washington defense holding up through all this losing, and will Jim Haslett set the dogs on Mark Sanchez?
Keim:
Not sure how much he'll blitz. They blitzed on 15 of 43 dropbacks in the first meeting and were not hurt a lot by that tactic. Sanchez seems to be OK against the blitz (87.0 passer rating; 5 TDs, 3 INTs). Haslett will blitz early and if he sees struggles, he'll call for more. The defense gives up a lot of big plays in large part because of coverage breakdowns in the secondary. Sometimes it's a basic coverage that is somehow botched or a defender's eyes are focused on the wrong area. It leads to issues -- and wide-open targets. The front seven has issues because of injuries to linebacker
Keenan Robinson
and end
Jason Hatcher
(not sure if either will play). They've done well at times and they're clearly not the only reason this team is 3-11. Their defense gets put in a lot of bad spots because of the offensive turnovers and poor special teams play. But they also hurt themselves with mistakes and while they don't always give up a lot of yards (10th in NFL), they do give up points (27th).
How will the loss of
Trent Cole
impact the defense? Along those lines, I liked
Marcus Smith
's athleticism a lot in college, but he's done nothing and I'm curious as to why.
Sheridan:
We're all a bit curious why, but I'd say we're more curious why the Eagles drafted the outside linebacker from Louisville when there were a handful of defensive backs available when they were on the clock. The Eagles said then that the premium on edge rushers made Smith worth taking a little high. Then they moved him to inside linebacker, where he has failed to get on the field for more than a few snaps all season.
With the Cole injury, Smith is working on the outside again. It will be interesting to see if he can give the Eagles anything before his rookie season ends. But
Brandon Graham
, another dubious first-round pick, will get the first shot at replacing Cole.
Cole is a tough player for the Eagles to lose. He's relentless, whether he's playing the run or rushing the quarterback, and apparently tireless. His 6.5 sacks this year don't tell the full story. Cole was a Pro Bowl end in the Eagles' 4-3 scheme and made a relatively seamless transition to 3-4 outside linebacker. His energy level will be the hardest thing for Graham and Smith to replace.
Have to ask about him: Has the perception about
DeSean Jackson
changed down there? The rumblings about his lack of enthusiasm for blocking and not playing with apparently minor injuries sound very much like what was said about him inside the Eagles' facility after he was released.
Keim:
When he came here, I expected a receiver who made big plays and who did not like to block and who probably wouldn't play unless he was at or near 100 percent. That's pretty much what the Redskins have gotten this season. I don't hear coaches complaining about his blocking because, again, it was obvious before he came here. It took them a while to quit putting him in position to be a key blocker (on some receiver screens, for example.) And I don't think anyone could have expected any different given the perception. So I don't see how it's changed. Nobody should be surprised by any aspect of his game because it's pretty much what he had put on film in Philadelphia. There were instances last week he took a long time getting back to the huddle after a deeper route. But he makes big plays and that's what they wanted -- he's been open for more, too.