November, 28, 2014
Nov 28
7:00
AM ET
ARLINGTON, Texas --
Mark Sanchez
seemed to be fully in control of the Eagles offense Thursday against the
Dallas Cowboys
, even when his control was called into question.
Sanchez got into an on-field shouting match with wide receiver
Riley Cooper
in the fourth quarter of the
Philadelphia Eagles
' 33-10 victory. Cooper had lined up in the wrong spot on a third-down play, and Sanchez had to call a timeout to correct the mistake.
Sanchez
The two were seen on television shouting at each other after the incident.
"We're a family and families get heated and get upset and that's the way it goes," Sanchez said after the game. "Both of us had something to say. We said it and that was it."
Cooper was not seen in the Eagles' locker room after the game.
On the field, Sanchez completed 20 of 29 passes for 217 yards and a touchdown. He also ran the ball seven times for 28 yards as the zone-read reappeared in the Eagles' offense after going missing in last week's win over Tennessee.
"(The Cowboys) were trying to bend the (defensive) end and tried to take away the back," Kelly said. "Obviously, when they try to outnumber us, the quarterback can be a weapon at certain points of time during the game. We saw something from the sidelines and just knew that if they presented the same look, there's an opportunity for us to pick up some yards."
The Tennessee game was the first in Kelly's tenure that saw the Eagles fail to run a single zone-read play. In his previous starts, according to ESPN Stats and Info, Sanchez ran a total of six zone-read plays for 34 yards. Against Dallas, the Eagles ran a total of 21 zone-read plays for 135 yards and two touchdowns -- one by Sanchez, one by
LeSean McCoy
.
The strong running game also made Sanchez's use of play-action effective. Sanchez completed 6 of 9 passes for 61 yards and a touchdown off play-action fakes.
With
Nick Foles
scheduled to have a CT scan Friday on his collarbone, the Eagles should have a clearer timetable on his possible return. The scan should show how far along the bone is in the healing process. Kelly has refused to answer questions about his intentions when Foles is cleared to return.
Last season, Foles began to play well while
Michael Vick
was recovering from a hamstring injury. When Vick returned, Foles kept the starting job.
November, 27, 2014
Nov 27
11:38
PM ET
ARLINGTON, Texas -- The scorch marks left by
Aaron Rodgers
were still there. Every member of the Eagles defense could probably close his eyes and still hear the footballs whistling past them from that 53-20 blowout.
Two weeks later, they had to come to Dallas and face another high-powered offense complete with
Tony Romo
,
Dez Bryant
,
DeMarco Murray
and a line that allows them all to thrive.
[+] Enlarge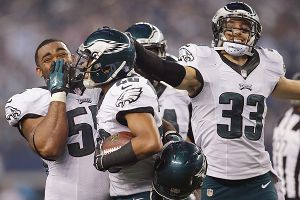 Tim Sharp/Associated PressThe Eagles defense was all smiles after throttling Dallas' high-powered offense on Thursday.
"Obviously, you knew you're going up against DeMarco Murray, leading the National Football League in rushing," Eagles coach Chip Kelly said. "And then they've got weapons like [Jason] Witten and Dez Bryant and Tony [Romo]. They're playing really, really well on the offensive side of the ball. I thought our defense overall did a really nice job."
The Eagles held Murray to a season-low 73 yards on the ground. They sacked Romo four times and intercepted him twice. Dallas never got into any kind of rhythm.
"You look at our entire defense," safety
Malcolm Jenkins
said. "Everybody has a chip on their shoulder. Everybody has something to prove. We don't have a lot of big-name guys, but we have a group that loves playing together and is not afraid to compete against anybody. They really did what they have done all year."
Early in the second half, Eagles running back
LeSean McCoy
fumbled the ball away at his own 13-yard line. The Cowboys had a chance to narrow the Eagles' lead to 23-14. Murray ran for 9 yards to the Eagles' 4 on first down. On second down, Eagles defensive end
Fletcher Cox
broke in and dropped Murray for a 1-yard loss.
"Fletcher dominated that play," linebacker
Connor Barwin
said. "He got a TFL (tackle for loss). We held them to a field goal. I think that was the play of the game. It set the tone for the whole game. We knew defensively we were going to play well all day and they weren't going to get anything."
The Cowboys never scored again. Romo could not get the ball to his weapons.
"That's what happens when you rush disciplined," Barwin said. "We squeezed the pocket. He had nowhere to really go. He had no choice but to go down. That's a credit to rushing together as a group."
During the short practice week, the Eagles voiced their displeasure at all the attention the Cowboys' offensive line had been getting. They were leading the NFL in rushing, so the line must have been playing well. But the Eagles remembered beating Dallas here at the end of last season, and felt they could be effective against that line.
"We knew we had to keep that chip on our shoulder," Cox said. "We believe in each other. We play for one another. Nobody can stop us."
No one was talking that way in Green Bay. Two weeks later, it was an entirely different story.
November, 27, 2014
Nov 27
11:15
PM ET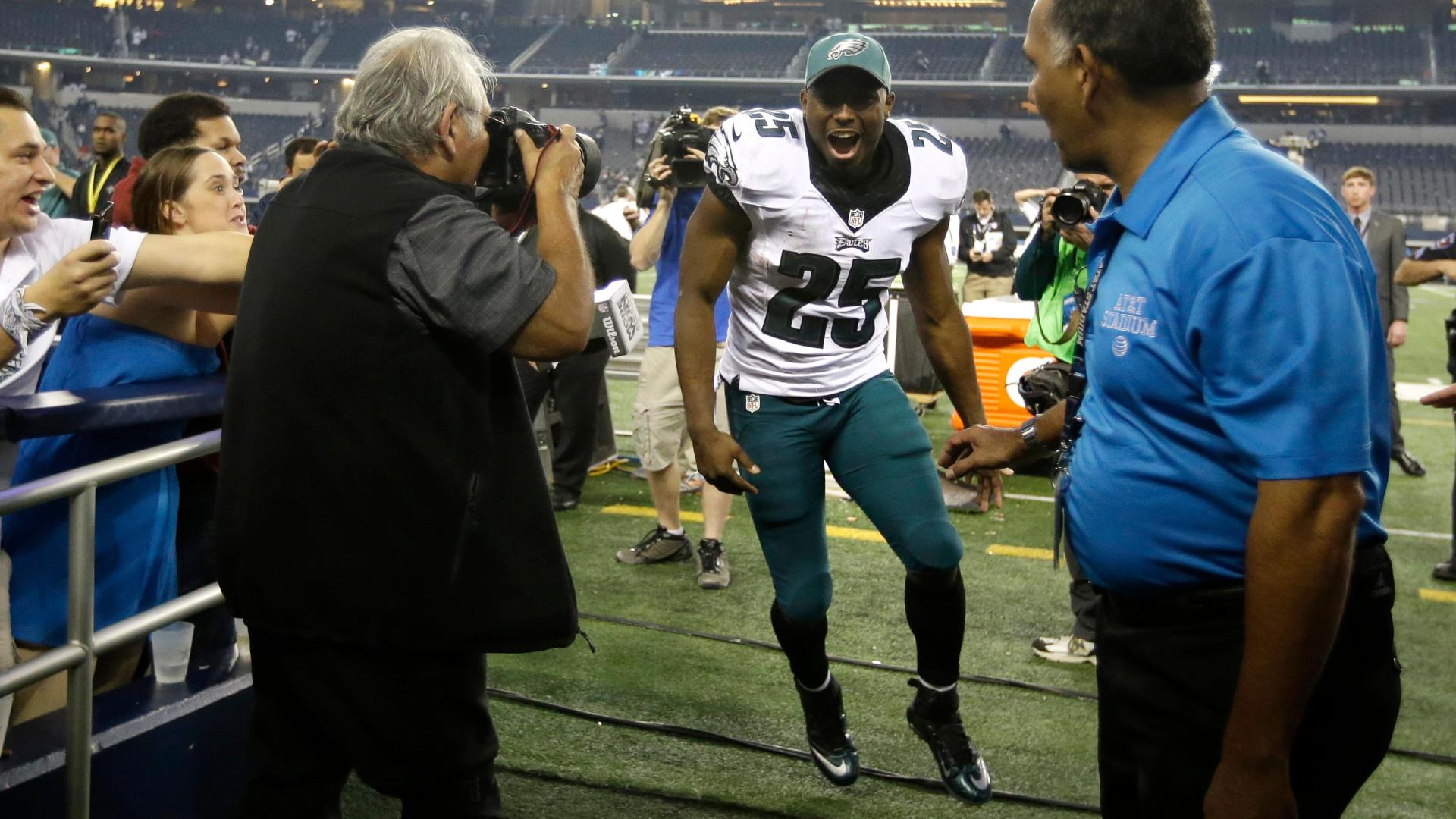 ARLINGTON, Texas --
LeSean McCoy
was furious with himself.
He had the ball with two hands, and then he didn't. A helmet had knocked the ball loose. The
Dallas Cowboys
recovered it at the
Philadelphia Eagles
' 13-yard line. Early in the third quarter, it was the break the Cowboys needed to get back in this game.
"I was really angry and I never get like that when I fumble," McCoy said. "It happens. It's part of the game."
So McCoy made a promise: "Give me a little hole, and I promise you I'll score," he said.
The next time the Eagles had the ball, they faced a second-and-5 on the Dallas 38-yard line. McCoy got his hole. He burst off the right tackle and went 38 yards for a touchdown. The Eagles led 30-10 and wound up winning Thursday, 33-10.
[+] Enlarge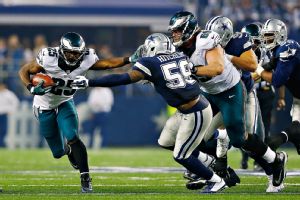 Tom Pennington/Getty ImagesLeSean McCoy took pride in outperforming his Cowboys counterparts Thursday on the way to improving the Eagles' mark to 9-3.
Three times this season, the Eagles had played road games against NFC playoff contenders. Three times -- at San Francisco, at Arizona, at Green Bay -- the Eagles lost. The Green Bay game, a 53-20 blowout that was the most lopsided loss of Chip Kelly's tenure, was just two weeks ago.
So now here they were, soundly beating their one competitor in the NFC East race. McCoy, whose numbers were way down from last season, when he led the NFL, ran for a season-high 159 yards.
Mark Sanchez
threw for one touchdown and ran for another, without a single turnover. The defense that
Aaron Rodgers
embarrassed 11 days earlier held
DeMarco Murray
to a season-low 73 yards, sacked
Tony Romo
four times and intercepted him twice.
The Eagles improved to 9-3. With the calendar about to flip over to December, they have games against Seattle and Dallas in Philadelphia, then close out the season with road games at Washington and New York. It is the perfect time to be playing their best football.
"I've seen the team improve as the season's gone along," Kelly said. "Besides
Nick [Foles]
, we're relatively healthy. I think we had our fair share [of injuries] early and I think we weathered that storm. We're just getting better. We've given ourselves an opportunity to play meaningful football in December."
Last season, the Eagles went 7-1 in the second half. They clinched the NFC East title by coming to Dallas and beating the Cowboys 24-22 in the final game. That night, McCoy wore a boxing-style championship belt to celebrate his NFL rushing title.
Earlier this week, McCoy conceded that Murray would win this season's rushing title. But he also takes pride in outperforming elite running backs.
"I just try to play my game," McCoy said. "I can't take anything from him, because he's a heck of a player. I've always thought that and always said that. I talked to him at the Pro Bowl. I said, 'Man, if they feed you more, there's some things you could do.' He's always been a good player. I know where I stand. In the big picture, we're trying to win games. Obviously I want to outrush him. It's a pride thing."
McCoy became the first Eagles back ever to top 1,000 rushing yards in four seasons. He also is closing in on Wilbert Montgomery's franchise record for career rushing yards.
But it's the Eagles' record that matters most. It's their chance to build on their earlier wins, finish strong and go into the playoffs on a hot streak. That is what became possible by beating Dallas so decisively here.
"I think we have the ability to be a great football team," wide receiver
Jeremy Maclin
said. "I think there's some things that we've got to get better at. We're hitting our stride. A couple weeks ago, we got our butts beat up in Lambeau. I'm excited about what we can do going forward."
For all the positives, and despite scoring 33 points, the Eagles walked off the field knowing they hadn't played their best game. They moved the ball well but bogged down when they reached the red zone. Kicker
Cody Parkey
made four field goals, all 31 yards or shorter.
"I'm really proud of this effort on such a short week," Sanchez said. "We left a ton of meat on the bone. We threw it in the red zone so many times."
Sanchez, too, played his best all-around game as the Eagles' starting quarterback.
"I think he's just getting more comfortable," Kelly said. "I said it earlier in the week. He missed an entire year of football. There's no substitution for playing. He played well in the preseason but then sat until the Houston game. So I think he's just starting to get more comfortable, starting to recognize the looks he's getting and sometimes getting to a second receiver, a third receiver, keeping things alive."
Sanchez outdueled Romo. McCoy topped Murray. The Eagles' offensive line was the better unit when compared to Dallas' line. The Eagles had the better defense.
"We wanted to make a statement," defensive tackle
Bennie Logan
said. "You know it is a divisional game. It is always a big win for us when you can win on the road against a division opponent."
November, 27, 2014
Nov 27
9:57
PM ET
By
ESPN Stats & Information
| ESPN.com
Tom Pennington/Getty ImagesLeSean McCoy (25) ran away from the Cowboys on Thanksgiving.
There's something about Thanksgiving that brings the best out of the
Philadelphia Eagles
.
The Eagles are now 6-0 on Thanksgiving, the best record in NFL history for any team to play at least five Thanksgiving games.
The Eagles got it done on the ground with a season-high 256 rushing yards, easily the most the
Dallas Cowboys
have allowed in a game this season.
LeSean McCoy
led the way with 159 rushing yards, including a rushing touchdown in consecutive games for the first time since 2011.
On the other side, the Cowboys -- who entered the week ranked second in rushing yards -- struggled running the ball against an Eagles rush defense that ranked in the middle of the pack.
The Cowboys were held under 100 rushing yards for just the second time this season (as was
DeMarco Murray
, who had a season-low 73 rushing yards). The Cowboys are 0-2 this season when they have fewer than 100 rushing yards and 8-2 when they reach 100.
Murray had just 20 carries against the Eagles, just one more than his season low. When Murray has at least 24 rushes this season, the Cowboys are 7-0. When he has fewer than 24, they're now 1-4 this season.
The Cowboys as a team had 25 rushes. Since Jason Garrett became the Cowboys head coach in 2011, they're 14-1 when they have 30 or more rushes, 16-13 with 20-29 rushes, and just 2-14 when they run it fewer than 20 times.
Eagles' rush attack
In
Mark Sanchez
's first three starts this season, the Eagles ran six zone-read rushes for 34 yards, including none in Week 12.
But on Thursday, the Eagles had 21 zone-read rushes for 135 yards and two touchdowns.
The strong running attack helped Mark Sanchez on play-action plays. Sanchez was 6-of-9 for 61 yards and threw his only touchdown off play-action fakes, and he didn't even attempt a non-play-action pass in the second half.
Play action has been vital for Sanchez. The only quarterback this season with a worse touchdown-interception differential on non-play-action passes than Sanchez (-3) is
Blake Bortles
(-6).
What happened to the Cowboys' offense?
The Cowboys finished with 10 points, their fewest in a game since Week 2 of 2012 at Seattle (27-7 loss) and fewest in a home game since Week 16 of 2011 against the Eagles (20-7 loss).
Tony Romo
completed 5 of 10 passes under duress for 60 yards and two interceptions. Romo's 10 attempts under duress were his most in a game this season. Romo had not thrown an interception under duress since the season-opening loss to the 49ers.
Romo completed 3 of 12 passes with two interceptions on attempts more than 10 yards downfield, his worst completion percentage on such passes this season. Six of his incompletions were off target, including both of his interceptions. Romo's six off-target throws downfield were his most since Week 12 of 2012 against the Redskins.
Murray had zero rushes of at least 10 yards after having at least two such rushes in each game this season and a league-leading 38 entering the game, six more than any other player this season.
November, 27, 2014
Nov 27
9:35
PM ET
ARLINGTON, Texas -- Observed and heard in the locker room after the
Philadelphia Eagles
'
33-10
victory over the
Dallas Cowboys
:
McCoy
Thriller:
Eagles running back
LeSean McCoy
appeared at his postgame news conference wearing a white leather jacket that recalled one made iconic by singer Michael Jackson. After McCoy answered questions for a few minutes, Eagles public relations director Derek Boyko told McCoy it was time to go. "Your jacket is trending on Twitter," Boyko told McCoy.
Seems like old times:
For most of the season, the Eagles have been answering questions about what was wrong with their running game. The offensive line, which remained healthy as McCoy led the NFL in rushing last season, was riddled with injuries early on. For the past two weeks, the line has been clicking. "There was so much space," McCoy said. Center
Jason Kelce
agreed that the running game finally feels like it did in 2013.
Campaigning:
Defensive end
Fletcher Cox
dropped Cowboys running back
DeMarco Murray
for a 1-yard loss in the red zone, and the Eagles held Dallas to a field goal. Teammate
Connor Barwin
called it the play of the game. "Fletcher Cox is great every day," Barwin said. "He is a Pro Bowl player." Cox said he didn't know if his reputation was growing. "Defensive ends in a 3-4 defense don't get much attention," Cox said.
November, 27, 2014
Nov 27
7:50
PM ET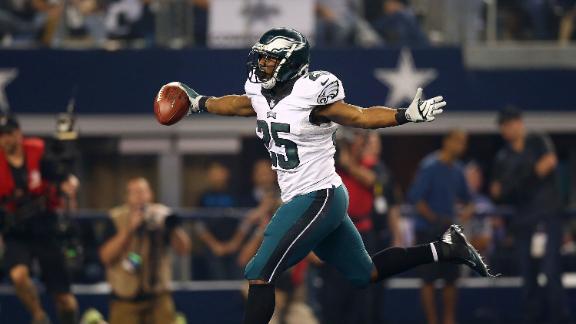 ARLINGTON, Texas -- A few thoughts on the
Philadelphia Eagles
'
33-10
win over the
Dallas Cowboys
at AT&T Stadium.
What it means:
The Eagles (9-3) took control of the NFC East race with their first road victory over a quality NFC opponent this season. And they did it fairly convincingly, zipping 80 yards in nine plays for a touchdown on their opening drive and never looking back. Although the Eagles bogged down in the red zone in the first half, they were able to build a 30-10 lead by the third quarter.
Mark Sanchez
played perhaps his finest game as the Eagles' starting quarterback, managing the no-huddle offense and distributing the ball to his receivers without any turnovers.
Stock watch:
Sanchez's stock rose with each decision and each smart throw he made. It was beginning to look as if Sanchez would throw two interceptions per game, and that would have been costly in a big divisional game like this. Instead, Sanchez produced his best all-around performance in the Eagles' biggest game of the season so far. He even ran the ball five times for 29 yards and a touchdown. It is going to be very interesting to see what coach Chip Kelly does when
Nick Foles
is cleared to return to action.
Defensive turnaround:
The Eagles' defense got carved up by
Aaron Rodgers
and the
Green Bay Packers
in a 53-20 loss two weeks ago. With
DeMarco Murray
and
Dez Bryant
, it seemed likely that
Tony Romo
would have similar success against the Eagles. But the defense was much better, getting pressure on Romo while limiting the damage done by Murray. The Eagles allowed just 10 points, second only to their 27-0 shutout of the
New York Giants
on Oct. 12.
Game ball:
LeSean McCoy
conceded the other day Murray will not allow him to defend his NFL rushing title. But McCoy still wanted to outshine Murray when the two shared a field. He did just that, breaking a 36-yard run on the Eagles' opening drive and running 38 yards for the touchdown that made it 30-10. McCoy ran for 156 yards. He topped 1,000 yards rushing on the season, becoming the first Eagle ever to do so four times.
What's next:
This was the first game in the most important three-game stretch of the Eagles' schedule. They host defending champion Seattle next week and the Cowboys a week after that. By winning the first of those three games, the Eagles set themselves up well to make a run at the postseason.
November, 27, 2014
Nov 27
3:21
PM ET
ARLINGTON, Texas --
Dallas Cowboys
safety
Jakar Hamilton
is active for the first time this season with safety
Jeff Heath
out with a thumb injury.
Heath had surgery on Tuesday to repair a broken thumb and was listed as doubtful for the game. Defensive tackle
Terrell McClain
replaces
Jack Crawford
in the lineup after Crawford was put on injured reserve on Wednesday after he had thumb surgery. Linebacker
Keith Smith
took Crawford's spot on the active roster.
The rest of the Cowboys' inactives are: QB
Dustin Vaughan
, OT
Tony Hills
, OT
Donald Hawkins
, LB
Dekoda Watson
, CB
Tyler Patmon
and DT
Josh Brent
Inactives for the
Philadelphia Eagles
: QB
Nick Foles
, CB
Roc Carmichael
, DB
Jaylen Watkins
, OL
Julian Vandervelde
, OL
Dennis Kelly
, WR
Jeff Maehl
and DE Taylor.
November, 26, 2014
Nov 26
6:30
PM ET
Sure, the rivalry is real enough. For
Philadelphia Eagles
players who grow up in other parts of the country, or play in other cities, that much is made clear early on.
Mark Sanchez
grew up in Southern California and started his NFL career with the
New York Jets
. It started for him when he first came to Philadelphia for offseason workouts.
"It's huge," Sanchez said. "Fans on the street, back in June, were like, 'Hey, man, you've got to get Dallas.' I'm like, 'We haven't played a game yet. I just signed here. What are you talking about?' You start to see how important the rivalry is."
This season, though, the Eagles' games with the
Dallas Cowboys
don't require any extra spice. Both teams are 8-3 going into Thursday's game at AT&T Stadium. That meeting, and the one two weeks later in Philadelphia, will have a profound impact on the NFC East.
"We're tied with them for the division," Eagles linebacker
Connor Barwin
said. "This is going to be a race for that playoff spot. There's stuff on the outside that makes it fun, but we're taking it as, somebody's going to the playoffs and somebody's not."
This is the second consecutive meeting with such implications for these two rivals. Last December, the Eagles traveled to Dallas for the final game of the season. The winner earned the NFC East title and advance to the postseason. The loser was done.
For Eagles fans, getting to the playoffs at the expense of the Cowboys is just that much sweeter. By the same token, losing out to the Cowboys would be just that much more bitter.
For Chip Kelly, last year's game had a different feel from this week's game.
"That game was different because it was the last game of the year so you had to win," Kelly said. "There's still a lot of football to be played after we play this game. We're not talking about first place games or anything like that because they don't crown a champion after Thursday's game. We're just excited about the opportunity to go play against a really good team."
For Eagles fans, it doesn't matter where the Dallas game falls on the schedule. It's tied for game of the year with the other Cowboys game.
"There's a different energy," Eagles guard
Evan Mathis
said. "Not to take anything away from every other week, but both teams are leading the division right now. Both teams are playing extremely well. So obviously, it's an incredibly huge game."
November, 26, 2014
Nov 26
11:00
AM ET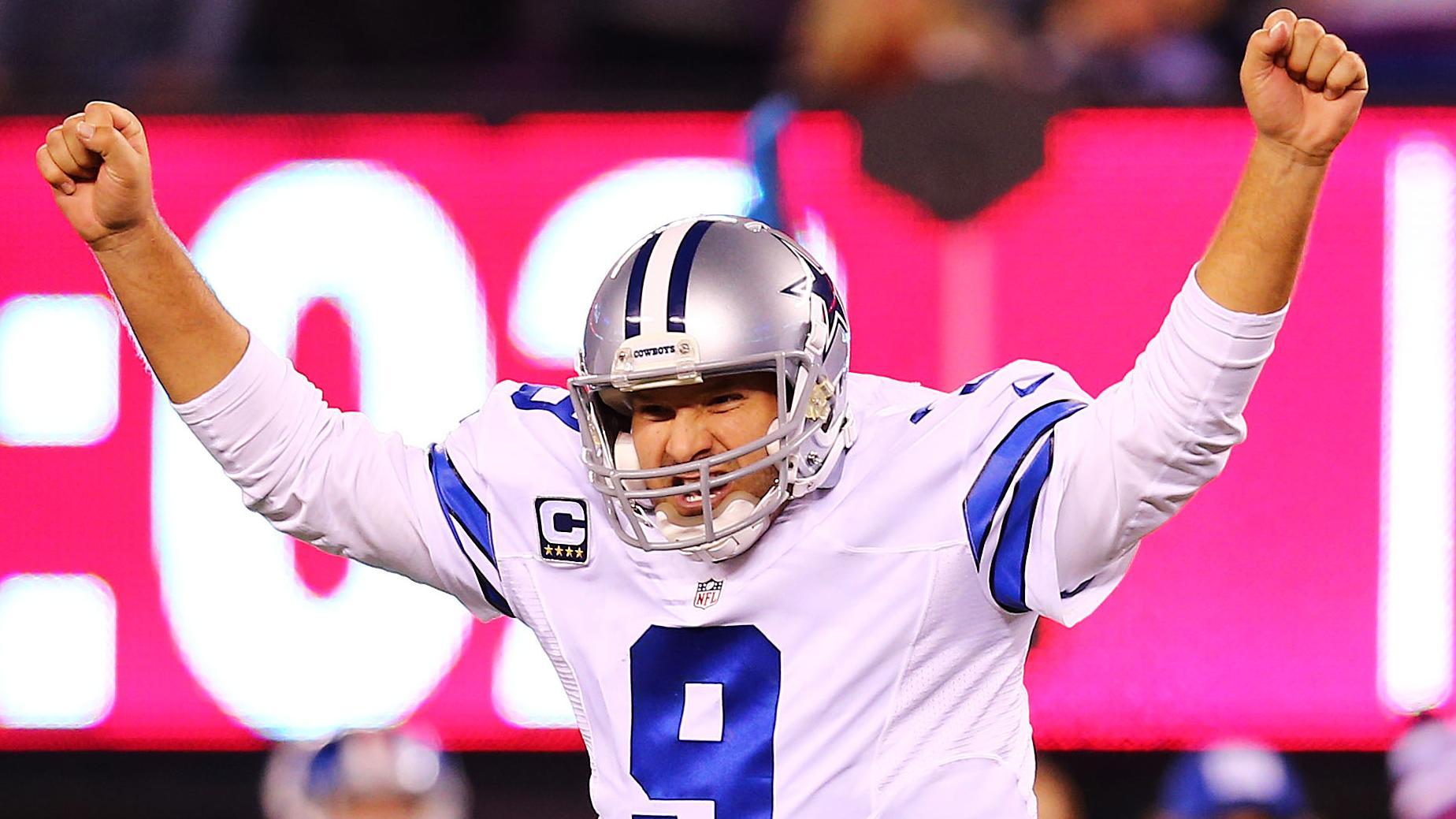 When:
Thursday, 4:30 p.m. ET.
Where:
AT&T Stadium, Arlington, Texas.
TV:
Fox
The last time the
Philadelphia Eagles
and
Dallas Cowboys
met in December 2013, the NFC East title and a playoff spot was on the line. The Cowboys were without their starting quarterback,
Tony Romo
, who had back surgery two days prior.
When the Eagles and Cowboys meet Thursday at AT&T Stadium, first place in the NFC East is on the line, if not a playoff spot. The Eagles will be without their starting quarterback,
Nick Foles
, who is recovering from a broken collarbone.
NFL Nation Eagles reporter Phil Sheridan and Cowboys reporter Todd Archer offer up this week's preview as these teams meet for just the second time on Thanksgiving. Philadelphia won that first Thanksgiving meeting 27-0 in 1989, Jerry Jones' first year as the Cowboys' owner and general manager:
Archer:
With Foles out, has the offense changed with
Mark Sanchez
at quarterback or does Chip Kelly do what he does regardless of who is in there?
Sheridan:
Kelly takes pride in adjusting his offense to fit his quarterback. So yes, there have been some changes. The Eagles' 43-24 win over Tennessee on Sunday marked the first time they didn't run a single read-option play in a game since Kelly has been here, for example. Some of that was a response to the Titans' defense, but it also seems to be something Sanchez isn't (A) as good at or (B) as comfortable with.
The Eagles haven't been throwing the ball deep as much, either. The coaches say that isn't deliberate. The quarterback has deep-to-short options on many plays, and Foles seemed more comfortable taking the deep shots while Sanchez has tended to wait and come back to the shorter throw. That might even out over time as Sanchez plays more.
The main thing Foles and Sanchez have in common is turnovers. Foles threw 10 interceptions and lost three fumbles before breaking his collarbone. Sanchez has thrown six picks and lost two fumbles since replacing Foles. Talk about consistent production from the quarterback spot!
I got home from Sunday's Eagles game in time to catch most of the Cowboys-Giants game. It would have been easy for the Boys to write that off as a tough road loss. But they fought their way back and didn't let up until they had the win. Between that and the way Romo is playing in pain, does this Cowboys team feel different from the 8-8 squads of the past few years? If so, in what ways?
Archer:
I'm not sure I've figured this team out, and maybe that's because of the Cowboys' recent past. It's almost as if you're just waiting for things to fall apart. But they haven't. They were down big at St. Louis and they came back to win. They were trailing at Seattle and came back and won. They were down against the Giants and came back.
They have definitely shown more resiliency than they have in the past. Coach Jason Garrett often talks about the "right kind of guy." There has been quite a bit of changeover since he has become the coach. I think that's been a part of it, but I think it's something really simple, too: They're playing better. They might not be the most talented, but they play hard. They understand the formula that it takes to win. Perhaps most importantly: They have bought into Garrett's week-to-week mantra. Maybe some teams in the past would've fallen into a trap, but this team hasn't. At least not yet.
LeSean McCoy
looked like LeSean McCoy against the
Tennessee Titans
, which might not be good news for the Cowboys. Much has been made about McCoy's yards per carry. Is it a case of teams figuring out the scheme or the line not playing as well or McCoy not playing as well? Or is it all of the above?
Sheridan:
I'll go with all of the above. It all started with the injuries to the offensive line. The Eagles lost Pro Bowl left guard
Evan Mathis
, center and blocking-scheme signal-caller
Jason Kelce
and veteran right guard
Todd Herremans
for stretches. Right tackle
Lane Johnson
was suspended for the first four games. So only left tackle
Jason Peters
has been out there for every game.
Now you mix in the fact defenses have continually tried things the Eagles hadn't seen on film in their preparations. Without Kelce to figure that stuff out and make adjustments, it seemed there weren't many holes for McCoy to run through. And when there are holes, they aren't there very long. So McCoy started running laterally, looking for some space. That led to a bunch of tackles for losses, which obviously brings the average down, too.
Now the line is as healthy as it's going to get this season. It took a couple of games for Mathis and Kelce to get back in a groove. Against Tennessee, they looked more like themselves -- dictating the game, getting McCoy to the second level with a blocker or two leading the way, etc. The Cowboys will provide an interesting test of whether that was a major step for the Eagles or just a function of playing the Titans.
The word before the season was that the Cowboys' defense might be historically bad. Instead, it has been a big part of the team's rise to the top of the NFC East. Everyone says Rod Marinelli gets guys to play hard, but it has to be more than that. Who are the guys who have turned that defense around?
Archer:
You mentioned the guy in your question: Marinelli. He has done a terrific job. So have his assistant coaches. They don't have the most talent and have questions at every level. They don't rush the passer well enough. They have issues in coverage at the linebacker and secondary level. But they somehow get the job done.
The biggest difference-maker as a player has been
Rolando McClain
. He has been a revelation. There is no way anybody could have expected a player who sat out last year and did not play to his draft selection in Oakland to play as well as he has played. According to the Cowboys' coaches breakdown, he leads the Cowboys in tackles. He's tied for the lead in interceptions. He has made big plays at big moments. But the Cowboys' role players, such as
Jeremy Mincey
,
Tyrone Crawford
,
Anthony Hitchens
,
Barry Church
and
Orlando Scandrick
, have made plays in big moments, too.
I still have a lot of questions about the defense and keep waiting for them to get truly exposed. It's happened on a few occasions, but nothing prolonged. I look at the Eagles' defense and I see a lot of issues. What hasn't translated to success for them this season, and is any part of it due to how the offense plays?
Sheridan:
Probably. The offense is part of the equation. We're acclimated to watching it, so we probably forget at times that it has a tendency to strand the defense on the field for too long. Then again, if the defense could stop someone on third down, it could get itself off the field, too.
The Eagles have been pretty good against lesser quarterbacks:
Zach Mettenberger
,
Ryan Fitzpatrick
,
Kirk Cousins
. They played well and got pressure against
Eli Manning
and
Cam Newton
, too. But really good quarterbacks --
Carson Palmer
,
Colin Kaepernick
,
Aaron Rodgers
(especially Rodgers) -- have beaten the Eagles this season.
That makes Romo a really tough out for this defense. He can move around and extend plays, like Rodgers and Kaepernick. He can make all the throws, like Rodgers and Palmer. He has a ridiculous array of weapons at his disposal, including a running game that is leading the NFL right now. The Eagles' defense has to find a way to get Romo uncomfortable and making quick decisions, or it's going to be a long day.
Early in the season, we all wondered whether
DeMarco Murray
would wear down as the season went on. Here it is, Week 13, and Murray is coming off a 24-carry, 121-yard rushing night. Is he capable of cranking out a few big games as the weather turns and running the ball becomes paramount?
Archer:
At this point in the season I don't think the Cowboys are worrying about him wearing down at all. He's had injuries in the past, but that's the past. He changed up his offseason work and spent a lot of time with
Jason Witten
. That's helped. But this is one of those seasons where everything has come together for him.
The Cowboys are not going to back away from Murray, especially down the stretch. They'll need him to carry the load. He's on pace for a team record and is chasing 2,000 yards. He will get the opportunity. The Cowboys will not change their ways. They'll run the ball, and that may sound funny to a guy who's seen the Cowboys throw and throw and throw.
The Cowboys have limited his snaps to some degree, and that will help him in the final five games.
November, 26, 2014
Nov 26
10:00
AM ET
By
ESPN.com staff
| ESPN.com

Eagles reporter Phil Sheridan says Mark Sanchez could grab hold of the team's starting quarterback job with a win over Tony Romo and Cowboys on Thanksgiving Day.