April, 23, 2014
Apr 23
9:00
PM ET
»
NFC
:
East
|
West
|
North
|
South
»
AFC
:
East
|
West
|
North
|
South
»
Predictions
Breakdown:
Consecutive 8-8 seasons have not taken away from the
Pittsburgh Steelers
' broad appeal, at least to TV executives. The Steelers play five prime-time games -- that is the maximum teams are allowed unless granted a waiver by the NFL -- including two Monday night contests on ESPN. The Steelers host the Texans on Oct. 20. They play another Monday night game on ESPN a month later when they visit the Titans. Both of the Steelers' games against the Ravens will be prime-time affairs, including Sept. 11 in Baltimore. The 8:25 p.m. game marks the Steelers' only Thursday night game of the season. No stretch of the schedule looks particularly daunting, though the Steelers play four of their first six away from Heinz Field. Coach Mike Tomlin is probably pleased that the Steelers have 10 games scheduled for 1 p.m. and only one contest scheduled for the 4 p.m. ET slot. I've always gotten the sense that the players prefer early games or night ones since the latter provide a bigger stage. The schedule, in that sense, makes it a little easier on the coaches.
Complaint department:
Yo, NFL, did I not make it clear that I prefer the bye week to come somewhere in the middle of the season and not right before Thanksgiving? The Steelers and Panthers are the last teams to get a bye as each is off in late November. That is not any better for beat-up players than it is for whiny beat writers who want to catch their breath. Early back-to-back night games on the road (Ravens and the Panthers) aren't exactly a treat either, and couldn't you have spaced out the Bengals games a little better? The Steelers visit Cincinnati on Dec. 7 and host their AFC North rival on Dec. 28, the final day of the regular season. Props for sandwiching two home games around Christmas.
Roads less traveled:
The most favorable aspect of the Steelers' schedule is it keeps them close to home even when they are on the road. The Steelers only play one game out of their time zone, and they are only an hour behind when they travel to Nashville, Tenn., for a Nov. 17 game against the Titans. Long-distance travel has not agreed with the Steelers under Tomlin. Since 2007, the Steelers are just 2-7 when playing outside of the Eastern and Central time zones. If minimal travel isn't enough of a boost for the Steelers they only play two road games against teams that had winning records last season -- the Panthers and Bengals.
Strength of schedule:
23rd, .469 |
Vegas over/under

:
8.5
Steelers Regular-Season Schedule (All times Eastern)
Week 1:
Sunday, Sept. 7, Cleveland, 1 p.m.
Week 2:
Thursday, Sept. 11, at Baltimore, 8:25 p.m.
Week 3:
Sunday, Sept. 21, at Carolina, 8:30 p.m.
Week 4:
Sunday, Sept. 28, Tampa Bay, 1 p.m.
Week 5:
Sunday, Oct. 5, at Jacksonville, 1 p.m.
Week 6:
Sunday, Oct. 12, at Cleveland, 1 p.m.
Week 7:
Monday, Oct. 20, Houston, 8:30 p.m.
Week 8:
Sunday, Oct. 26, Indianapolis, 4:25 p.m.
Week 9:
Sunday, Nov. 2, Baltimore, 8:30 p.m.
Week 10:
Sunday, Nov. 9, at NY Jets, 1 p.m.
Week 11:
Monday, Nov. 17, at Tennessee, 8:30 p.m.
Week 12:
BYE
Week 13:
Sunday, Nov. 30, New Orleans, 1 p.m.
Week 14:
Sunday, Dec. 7, at Cincinnati, 1 p.m.
Week 15:
Sunday, Dec. 14, at Atlanta, 1 p.m.
Week 16:
Sunday, Dec. 21, Kansas City, 1 p.m.
Week 17:
Sunday, Dec. 28, Cincinnati, 1 p.m.
April, 23, 2014
Apr 23
3:45
PM ET
PITTSBURGH -- Mel Kiper Jr. has the Steelers taking LSU wide receiver
Odell Beckham Jr.
with their first pick in his latest mock draft.

Dennard
But a different player stands out to the ESPN analyst as the best fit for the Steelers at No. 15 overall.
"I think the ideal pick if you're the Steelers is
Darqueze Dennard
," Kiper said of the Michigan State cornerback during a conference call on Wednesday. "He's a Steeler. Rough, tough, aggressive football player, plays with a chip on his shoulder, very good in coverage, plays faster than he timed. Just a whale of a football player."
So why doesn't Kiper have the Steelers taking Dennard in his most recent mock draft? Easy. He has the Rams taking Dennard, the winner of the Jim Thorpe Award in 2013, two picks ahead of the Steelers.
Oklahoma State's
Justin Gilbert
and Dennard are Kiper's top-rated cornerbacks in the draft and his 14
th
- and 15
th
-best players overall, respectively. Gilbert has tremendous speed and has added value as a kickoff returner.
One concern Kiper has with Gilbert is whether he is a physical enough player to provide solid run support as well as get opposing receivers on the ground. Both are critical for cornerbacks in the Steelers' defense.
"You've got to be able to tackle after the catch," Kiper said. "That's an underrated part of playing corner."
That is also why he said Dennard would be the best pick for the Steelers if the 5-foot-11, 199-pounder is available at No. 15 and they want to address one of their most pressing needs.
"You look at that Steelers mentality, a Steelers kind of player, and I think it would be Darqueze Dennard from Michigan State," Kiper said. "Pure football players [in the draft], he'd be on your top-10 list."
April, 23, 2014
Apr 23
7:00
AM ET
PITTSBURGH -- Quarterback
Ben Roethlisberger
's contract status has been a topic of interest because he has two years left on the $102 million deal he signed in 2008.
That is the same number of years Roethlisberger had remaining on his rookie contract when he and the Steelers agreed to the deal that made him the highest-paid player in franchise history.
That nothing has happened as far as a new contract -- and that nothing is imminent -- has generated a little anxiety among some Pittsburgh Steelers fans.
[+] Enlarge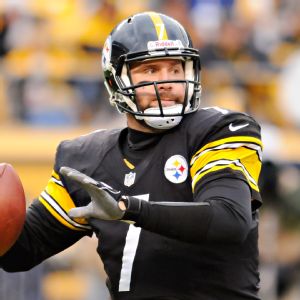 Mark Konezny/USA TODAY SportsSteelers quarterback Ben Roethlisberger has two years remaining on his contract.
What hasn't changed, however, is that the two most important factors to a new deal getting done are still in place: Roethlisberger wants to play his entire career in Pittsburgh, and the organization wants the 10-year veteran to retire as a Steeler.
"There's been ongoing [contract] discussions for quite awhile," Ryan Tollner, Roethlisberger's agent, told ESPN.com. "I think from the time we did the first extension there was sort of a plan moving forward. There's a plan in place, but both sides are pretty committed to doing that privately and not having it be something that's discussed in the media."
That is how the Steelers operate, whether it is with their franchise quarterback or a player who helps fill out the roster. But Steelers president Art Rooney II and general manager Kevin Colbert have each said the organization is committed to Roethlisberger playing his entire career in Pittsburgh and maximizing the remaining years he has left in him.
As for Roethlisberger's desire to play for just one team his entire career, Tollner said, "It's always been critical to him. From day one he's always admired players that could play with one organization and retire with that organization. That's an underlying goal that always drives him, that he would always be a Steeler."
The Steelers can lower Roethlisberger's cap hit -- it is just under $18.9 million in 2014, according to ESPN Stats & Information -- but they also can wait to get a new deal done because they already have done the bulk of their free-agent shopping and get more than $8 million in cap relief after June 1.
Whether that means the Steelers sign Roethlisberger to a new contract this summer, before the start of the 2014 season, or even next year remains to be seen. Tollner wouldn't predict when or if a new deal would get done, but he said, "I think there's mutual respect on both parties."
April, 22, 2014
Apr 22
3:00
PM ET
PITTSBURGH -- This draft is loaded with wide receivers and Mel Kiper Jr.'s ranking of the
top 100 players

in it is the latest affirmation of how deep and talented the position is this year.
Almost one-fifth of the players on Kiper's list are wide receivers as there are 19 of them. To put that into perspective, consider that there are 19 quarterbacks and running backs
combined
among Kiper's top 100 players, a list that was released on Tuesday.
There is high-end talent, as well as depth at wide receiver, as Kiper ranks eight wide receivers among his top 32 players and four of them in his top 13.
Clemson's
Sammy Watkins
is Kiper's highest-rated wide receiver (No. 2 overall) followed by Texas A&M's
Mike Evans
(No. 6), Oregon State's
Brandin Cooks
(No. 12) and LSU's
Odell Beckham Jr.
(No. 13).
The depth at wide receiver gives the Steelers flexibility if they want to address cornerback with their first-round pick.
That may be the Steelers' most glaring need and this may finally be the year that they take a cornerback with their first-round pick for the first time since 1997.
There are 11 cornerbacks among Kiper's top 100 players, though the position does not have nearly the high-end talent as some other positions, according to his rankings, including wide receiver and offensive tackle.
Kiper has only Oklahoma State's
Justin Gilbert
(No. 14) and Michigan State's
Darqueze Dennard
(No. 15) among his top 32 players. Kiper's next highest-rated cornerback is TCU's
Jason Verrett
at No. 37.
Based on Kiper's top 100 players, it would make a lot of sense for the Steelers to take one of the top cornerbacks with the 15th overall pick -- assuming Gilbert and/or Dennard is still available -- and wait until the second or even third round to pick a wide receiver.
The Steelers' draft board, of course, may look a lot different than Kiper's.
But it should also reflect the quality and quantity at wide receiver, a position the Steelers have had success addressing later in drafts.
April, 22, 2014
Apr 22
1:05
PM ET
PITTSBURGH -- The
Pittsburgh Steelers
are meeting with another cornerback prospect as Duke's
Ross Cockrell
is visiting team headquarters today.
Cockrell, a four-year starter at Duke, recorded 46 tackles last season and intercepted three passes while breaking up 12 of them. The 6-foot, 191-pounder is Duke's all-time leader in interceptions (12) as well as passes defended (46).
Cockrell, who redshirted his first season at Duke, is widely projected as a third- or fourth-round pick.
He is the latest cornerback to make a pre-draft visit to Pittsburgh as the Steelers previously hosted Michigan State's
Darqueze Dennard
, Ohio State's
Bradley Roby
, TCU's
Jason Verrett
, Rice's
Phillip Gaines
and Arizona's
Shaquille Richardson
.
Dennard will be a first-round pick and Roby and Verrett could also get taken on the first day of the draft. The Steelers will draft at least one cornerback, and I will be surprised if they don't take two this year given their need for an infusion of talent and youth at the position.
ESPN analyst Todd McShay has the Steelers taking Dennard with the 15th overall pick in his latest mock draft.
Teams are permitted to host 30 out of area prospects prior to the draft and no visits are allowed after this week.
The three-day draft starts May 8.
April, 22, 2014
Apr 22
9:55
AM ET
PITTSBURGH -- The Steelers have picked up the option year on defensive end Cameron Heyward's contract in a move that was a matter of when and not if.
Heyward is now signed through the 2015 season though the Steelers will try to ink their 2011 first-round pick to a long-term deal before he gets to the final year of his contract.
Per the collective bargaining agreement brokered in 2011, first-round draft picks can sign four-year contracts with a team option for a fifth year.
The Steelers had until May 3 to pick up the option year on Heyward's rookie deal.
Heyward, who turns 25 in early May, is one of the cornerstones of a defense that is in transition.
He led the Steelers with 31 quarterback pressures in 2013 despite not starting until the fifth game of the season and tied for second on the team with five sacks.
The 6-5, 288-pounder had been stuck behind 2009 first-round pick
Ziggy Hood
before beating him out last season. Hood signed a four-year, $16 million contract with the Jaguars last month.
Heyward, the penultimate pick in the first round of the 2011 draft, had not started a game before emerging last season. His five sacks doubled his output in his first two NFL seasons combined.
April, 21, 2014
Apr 21
4:05
PM ET
PITTSBURGH --
Odell Beckham Jr.
to Pittsburgh got a little more momentum -- at least outside of Steelers' headquarters -- on Monday when ESPN analyst Todd McShay wrote that the two would make an ideal pairing.
McShay weighed in on a handful of good fits for teams not picking in the top 10 of the upcoming draft, and
Beckham and the Steelers

topped his list.

Beckham
Beckham caught 26 passes last season that were thrown at least 15 yards, according to ESPN Stats & Information, making the LSU wide receiver an attractive intermediate and deep threat. McShay also thinks the 5-foot-11, 198-pounder could thrive in the no-huddle attack that limited the hits
Ben Roethlisberger
absorbed in the second half of last season since the veteran quarterback focused on getting rid of the ball quicker.
"Beckham would help [Roethlisberger] do that because of his ability to beat press coverage with his quickness and to separate quickly," McShay wrote. "In addition, Beckham has the ability to create after the catch and be a deep threat for when Roethlisberger does extend plays and stretches the field with his arm strength."
McShay has the Steelers taking Michigan State cornerback
Darqueze Dennard
15th overall pick in his latest mock draft with the Packers selecting Beckham six picks later.
What is important to note is that McShay's mock drafts reflect what he thinks teams will do, not the player or players he would select if he were picking for them.
Mel Kiper Jr., meanwhile, has the Steelers taking Beckham in his two most recent mock drafts. And in one of those drafts, Kiper makes picks as if the ESPN analyst were the general manager of every team (i.e., what he would do).
April, 21, 2014
Apr 21
1:15
PM ET
PITTSBURGH -- The Steelers are meeting with a pair of defensive players Monday, including a potential first-round pick.
Barr
UCLA outside linebacker
Anthony Barr
and Wisconsin defensive tackle
Beau Allen
are the Steelers' latest visitors as the team prepares for the upcoming draft.
Barr is considered one of the best pass-rushers in the draft while Allen is a projected late-round pick after moving to nose tackle last season when Wisconsin switched to a 3-4 scheme.
Barr is an intriguing prospect because of his production at UCLA -- the 6-foot-5, 255-pounder recorded 10 sacks last season -- and his upside as a pass-rusher. Barr played fullback for two seasons before moving to defense, and he is still learning on that side of the ball.
ESPN analyst Mel Kiper Jr. ranks Barr as the 15th-best player in the draft.
"He has a decent arsenal of moves, using quick feet and hands to free himself, and he's disciplined against the run, pursuing with speed when the play runs away from him," Kiper writes of Barr. "I love the effort, and the athleticism, but as a former fullback, he needs to grow in his awareness."
ESPN analyst Todd McShay isn't as high on the former Bruins star. McShay ranks Barr as the 30th-best player in the draft.
The Steelers are unlikely to draft an outside linebacker in the first round since they took one with their first-round pick last year in
Jarvis Jones
. But they do need to add depth at the position and are expected to draft an outside linebacker prospect at some point.
Allen could be a late-round possibility for the Steelers if they don't take a nose tackle early in the draft. The 6-foot-2, 333-pounder recorded 20 tackles and 1.5 sacks last season for the Badgers but did not get invited to the NFL scouting combine.
Allen tested well at Wisconsin's pro day though he was limited in running drills because of a hamstring issue.
The Steelers are allowed to host 30 players outside of the Pittsburgh area for pre-draft visits. This is the final week of visits for NFL prospects.
April, 21, 2014
Apr 21
10:00
AM ET
PITTSBURGH -- Mock drafts have, predictably, been all over the place as far as the
Pittsburgh Steelers
' first-round pick. Most, however, have them taking a wide receiver or a cornerback No. 15 overall, assuming they don't try to trade down.
I think those two positions are most likely the ones the Steelers will target with their first pick, though North Carolina tight end
Eric Ebron
could also be in play if he slides a little in the draft.

Ebron
Ebron is the No. 1 player at one of the few positions that is not particularly deep, and he would give the Steelers a tall receiver while also filling a long-term need. I think
Heath Miller
has at least three good seasons left in him, but the Steelers have to plan for the post-Miller years at some point.
If Ebron is still available when they make the first pick, I think they give him serious consideration, especially if a couple of cornerbacks are already off the board, as well as Texas A&M wide receiver
Mike Evans
.
The Steelers have eight other picks in the draft, three of which are compensatory selections, including one at the end of the third round. They have a lot of needs -- or as general manager Kevin Colbert would frame it "wants" -- particularly on defense.
Here is my projection of the positions they will address with their nine picks, which is contingent on the Steelers not adding extra ones through a trade.
Cornerback (2):
The Steelers could use immediate help here, and they don't have a long-term starter at cornerback after third-year man
Cortez Allen
. I would be surprised if they don't draft two cornerbacks, with one of them coming in the first three rounds. They drafted two cornerbacks in 2011, including Allen in the fourth round.
Defensive line (2):
The Steelers will draft a defensive lineman as early as the second round -- ESPN analyst Mel Kiper Jr. has them taking Notre Dame nose tackle
Louis Nix III
with their second pick in his latest mock draft -- and they need to take at least one end. The signing of
Cam Thomas
gives them a player with position flexibility, but the Steelers' need at defensive end is every bit as glaring as it is at cornerback.
Wide receiver (1):
No position is deeper in the draft, and even if the Steelers don't address it in the first round, they can still get a good prospect later. The Steelers probably won't get a chance to draft Evans unless they trade up in the first round and Florida State's
Kelvin Benjamin
may be too much of a risk to take at No. 15. LSU's
Odell Beckham Jr.
has been linked to the Steelers in various mock drafts, and they could pull the trigger on him if they have him high on their board.
Linebacker (1):
The Steelers have to take a player who projects as an outside linebacker in a 3-4 scheme given how thin they are at the position. It will be interesting to see what they will do if Alabama's
C.J. Mosley
is still on the board at No. 15. Mosley, who projects as an inside linebacker, may be one of the most NFL-ready players in the draft. "He and (Lawrence) Timmons could be your (NaVorro) Bowman and (Patrick) Willis," ESPN analyst and former NFL scout Matt Williamson said. If the Steelers take Mosley, they will also draft an outside linebacker later in the draft.
Safety (1):
The Steelers have hosted at least three safeties for pre-draft visits, including Louisville's
Calvin Pryor
, a projected first-round pick. The signing of
Mike Mitchell
makes it unlikely the Steelers take a safety in the first round but it wouldn't hurt to add another younger player here. The question is whether it makes sense for them to draft a safety -- or instead sign a couple of undrafted free agents -- if they don't take one in the second or third round.
Offensive line (1):
I don't see this as the need that others do. The Steelers got their upgrade up front when they hired Mike Munchak to coach the offensive line and he has plenty of material with which to work. All five starters return, including Pro Bowl center
Maurkice Pouncey
, who tore his ACL eight snaps into last season. And the Steelers have depth up front after re-signing
Cody Wallace
and
Guy Whimper
. The Steelers will probably take a lineman they can develop later in the draft, but I could also see them not drafting one for the second year in a row if they take two linebackers or a tight end.
Running back (1):
The Steelers need depth and they could use a speedster to complement
Le'Veon Bell
and
LeGarrette Blount
. The de-valuing of running backs allows the Steelers to wait until later in the draft to address the position and still get a good prospect. I don't see them taking a running back before the fifth round.
April, 19, 2014
Apr 19
12:00
PM ET
PITTSBURGH -- The is the last in a series that reviews the Steelers' drafts under general manager Kevin Colbert and coach Mike Tomlin.
Next up is the 2013 draft:
Total picks:
9
Picks still with the team:
8
Bell
Best pick:
RB
Le'Veon Bell
. The second-round selection set a Steelers record for yards from scrimmage by a rookie (1,259) despite missing the first three games because of a foot injury. Bell's receiving skills -- and the trust quarterback
Ben Roethlisberger
has in the Michigan State product picking up blitzes -- make him an every-down back. Bell improved as a runner as he adjusted to the speed of defenses at this level, and he rushed for 214 yards and two touchdowns in his final two games of the 2013 season. The only question with Bell moving forward is how much the Steelers will ease his workload after signing former Patriots running back
LeGarrette Blount
last month.
Worst pick:
QB
Landry Jones
. This is nothing against Jones and all on the Steelers for using a fourth-round pick on a quarterback when they had more pressing needs, particularly on defense. Jones didn't dress for a game last season, and what made taking a quarterback in the fourth round all the more curious is the Steelers did it after signing veteran
Bruce Gradkowski
to a three-year contract to back up Roethlisberger. Jones will continue to see limited snaps even in practice as long as Roethlisberger and Gradkowski stay healthy.
Best value pick:
LB
Vince Williams
. The second of the Steelers' two sixth-round picks started 11 games as a rookie, eventually settling in at left inside linebacker following a season-ending arm injury to veteran
Larry Foote
. Williams recorded 66 tackles and improved as the season progressed, particularly against the run. There are questions about whether Williams, the 206
th
overall pick of the draft, can play the pass well enough to establish himself as a long-term starter. But the Florida State product has already proven his value as a run-stopping linebacker and special-teams contributor. Even if he does not hang onto his starting job alongside
Lawrence Timmons
, Williams gives the Steelers quality depth at inside linebacker.
Also of note:
Outside linebacker
Jarvis Jones
, the 17
th
overall pick of the draft, started eight games last season but managed just one sack. Jones did record nine tackles in the regular-season finale, almost doubling his previous high (five) for stops in a game. ... Third-round pick
Markus Wheaton
played just 157 snaps and caught six passes for 64 yards. He is expected to get the first crack at replacing
Emmanuel Sanders
, who signed with the Broncos last month, in the starting lineup. ... Cornerback Terry Hawthorne, a fifth-round pick, has not signed with another team since the Steelers released him at the end of preseason practice. ... Seventh-round pick
Nick Williams
has a real opportunity after spending last season on injured reserve because of a knee injury. The Steelers are thin at defensive end and they will give Williams a long look during offseason practices and training camp.
Final analysis/grade:
So much of the Steelers' draft hinges on the jump Jarvis Jones and Wheaton make in their second season -- and whether the two become productive starters. Assuming that happens and fourth-round pick
Shamarko Thomas
works his way into the rotation at safety, this has the makings of a very good class. But it is too early to put a grade on it so I will give the Steelers an incomplete here.
April, 18, 2014
Apr 18
2:00
PM ET
PITTSBURGH -- The is the sixth in a series that reviews the
Pittsburgh Steelers
' drafts under general manager Kevin Colbert and coach Mike Tomlin.
Next up is the 2012 draft:
Total picks:
9
Picks still with the team:
5
[+] Enlarge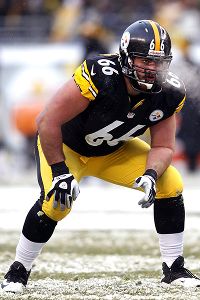 Charles LeClaire/USA TODAY SportsDavid DeCastro looks like he will be a fixture in the lineup for years.
Best pick:
G
David DeCastro
. The Steelers were both surprised and elated when the top guard in the draft fell to them at No. 24 overall. DeCastro overcame some early adversity -- a torn ACL caused him to miss most of his rookie season -- and has established himself as one of the top guards in the NFL. The Stanford product has many Pro Bowls in his future provided he stays healthy, and he could enjoy a career similar to the one Alan Faneca had with the Steelers.
Worst pick:
NT
Alameda Ta'amu
. Taken in the fourth round as Casey Hampton's potential successor, Ta'amu lasted just one season with the Steelers -- he didn't play in a game -- and will be most remembered for his arrest following a police chase in Pittsburgh that damaged several cars and left one person injured. Ta'amu landed with the Cardinals after the Steelers released him and played 14 games last season, starting three.
Best value pick:
OT
Kelvin Beachum
. The Steelers' final pick -- and the 248
th
selection overall -- has proven to be an absolute steal. Beachum's versatility allowed him to make an impact as a rookie, and he stabilized left tackle last season after second-round pick
Mike Adams
floundered there. Beachum started 11 of the Steelers' last 12 games at left tackle, and the SMU product played well enough to go into offseason practices as the starter there. It remains to be seen whether Beachum's long-term future is at left tackle. Even if it isn't, he will start for the Steelers somewhere along the offensive line.
Also of note:
It will be interesting to see what the Steelers do with Adams in the offseason. The Ohio State product could compete with Beachum at left tackle or challenge
Marcus Gilbert
for the starting job at right tackle. Adams started six games at right tackle as a rookie and played considerably better there than at left tackle ... Third-round pick
Sean Spence
could contribute this season at inside linebacker after suffering a career-threatening knee injury in the final preseason game of his rookie season ... Fifth-round pick
Chris Rainey
, released following an offseason arrest in 2013, played two games for the Colts last season but did not have a carry ... Every draft pick has appeared in at least one NFL game.
Final analysis/grade:
It's still a tad early to evaluate this class, but the Steelers hit big with their bookend picks (DeCastro and Beachum). The jury is still out on their second- and third-round picks (Adams and Spence) for different reasons. I will give them a 'B-' for now with the grade moving up or down depending on what they get out of Adams and Spence.
April, 17, 2014
Apr 17
12:15
PM ET
The
Pittsburgh Steelers
usually draft so logically and sensibly that predicting the position and player they take is not that huge of a challenge.
This draft is no different. Pittsburgh, coming off consecutive 8-8 seasons, could use a receiver, a defensive lineman or a cornerback. Any would make sense.
To continue reading this article you must be an Insider