The ultimate PPV event: NBA 1-on-1 hoops
November, 20, 2012
11/20/12
1:30
PM ET
By
Jared Zwerling
| ESPN.com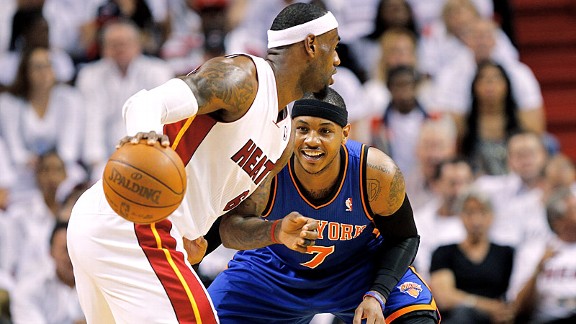 Mike Ehrmann/Getty ImagesA one-on-one tournament featuring NBA superstars like Melo and LeBron would rake in big bucks for the league.
The biggest untapped sporting event for revenue and betting? One-on-one matchups between the NBA's best players.
Steve Budin, CEO of SportsInfo.com and an expert on sports betting, knows how financially successful a pay-per-view one-on-one showcase would be.
"If that would ever happen, it would be huge for betting," he tells ESPN Playbook. "I think it's genius, but I don't think the NBA would ever sanction it. It doesn't help the NBA to promote one-on-one. It gives too much power to the player."
Budin said if such a tournament were to happen, it should take place during All-Star Weekend to replace some of the longtime events that have gotten stale -- and players should be compensated.
"I would have to think that there would have to be more than just bragging rights on the line, like in boxing," he says. "There would have to be a pool, like a prize for the winner. These guys are too friendly, and you don't know if they're going to compete."
While the ultimate one-on-one matchup -- Michael Jordan vs. Kobe Bryant -- will never go down, there are still many unique possibilities in the league today.
To that end, ESPN Playbook brings you the 10 most compelling one-on-one matchups featuring current (and healthy players) across different positions:
[+] Enlarge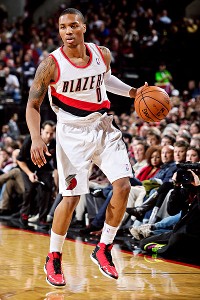 Cameron Browne/NBAE/Getty ImagesLillard could get hot from long-range.
10. Tony Parker vs. Damian Lillard
"The Battle of the Generations"
Outlook:
Parker (San Antonio Spurs) is the veteran point guard who's won three championships; Lillard (Portland Trail Blazers) is the next in line to do big things.
There's no better finishing floor general in the league than Parker, so if he gets by Lillard, he's scoring, especially with his trademark floater.
But if Lillard gets hot from downtown -- his biggest advantage -- he could make things interesting. He's also a feisty defender, but Parker has the wits.
That could prove to be the difference in a matchup of two very quick point guards.
Advantage:
Lillard. Parker needs the pick-and-roll; Lillard's got the one-on-one talent.
[+] Enlarge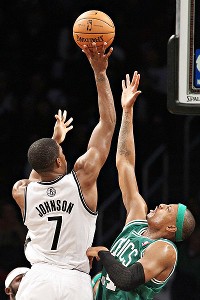 Jim McIsaac/Getty ImagesJohnson vs. Pierce could go to the wire.
9. Paul Pierce vs. Joe Johnson
"The Battle of the Midrange Men"
Outlook:
Pierce (Boston Celtics) is the seasoned small forward who has a title under his belt; Johnson (Brooklyn Nets) is the seasoned small forward trying to get one to satisfy team owner Mikhail Prokhorov's five-year plan.
When it comes to shooting 15 to 20 feet away from the basket, both players are money. They have great footwork, crafty moves and killer jumpers.
This matchup could come down to the last shot, which is where Pierce has the advantage. He's been one of the best in the clutch in recent memory.
Advantage:
Pierce. Experience on the biggest stage, twice, prevails.
[+] Enlarge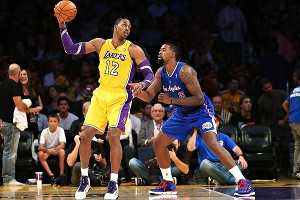 Stephen Dunn/Getty ImagesWho's the best big man in Los Angeles?
8. Dwight Howard vs. DeAndre Jordan
"The Battle of the Athletic Bigs"
Outlook:
Howard (Los Angeles Lakers) has been the league's best above-the-rim center; Jordan (Los Angeles Clippers) is currently the league's best highlight-reel center, as Howard gradually returns to full strength.
This is also a matchup of who's the best big in L.A. When the ball is checked at the top of the key, Jordan will have an immediate advantage because of his quick first step and driving ability.
But if the game is mostly played out in the post, Howard has too much muscle on Jordan -- even while less than 100 percent healthy.
Advantage:
Jordan. While Howard's still a beast at 85 percent, Jordan will live up to his high-flying name.
[+] Enlarge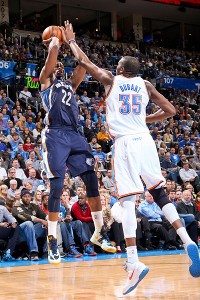 Layne Murdoch/Getty ImagesGay will need his full arsenal to beat KD.
7. Kevin Durant vs. Rudy Gay
"The Battle of the West"
Outlook:
Durant (Oklahoma City Thunder) is the league's best swingman; Gay (Memphis Grizzlies) is its most underrated swingman. This is also a matchup of who could have the bigger rep in the Western Conference, as the Grizzlies are one of the league's best thus far.
Durant can flat-out put the ball in the basket anywhere on the court, so if Gay wants to win, he's going to have to make some stops -- and he can. Not only is he aggressive defensively, he's the same way attacking on offense with his arsenal of moves. He could surprise Durant with his finishing ability, but if the Thunder star is simply a tad bit hot from the outside, it could be over fast.
Advantage:
Durant. He's made all of the playground rounds, going head to head with any challenger, so he's prepared for this stage.
[+] Enlarge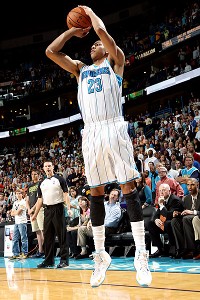 Layne Murdoch/NBAE/Getty ImagesDavis is the next big thing at the four.
6. Blake Griffin vs. Anthony Davis
"The Battle of the No. 1 Draft Picks"
Outlook:
Griffin (Clippers) represents the future of power forwards; Davis (New Orleans Hornets) is already the next big thing at the 4 spot.
Interestingly, Davis replaced Griffin on Team USA over the summer when the Clipper hurt his knee. This could be a statement game for Davis to prove that he should've been playing over Griffin regardless.
But while Davis is quick, extra long and skilled offensively and defensively, Griffin's strength could be too much for the wiry Davis to handle. Expect a posterization in this one regardless.
Advantage:
Griffin. His muscle will be mightier than Davis' sword.
[+] Enlarge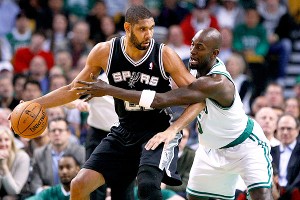 Yoon S. Byun/The Boston Globe via Getty ImagesDuncan vs. Garnett will be a battle of veteran wills.
5. Kevin Garnett vs. Tim Duncan
"The Battle of the Ages"
Outlook:
Garnett (Celtics) is the power-forward legend with one ring; Duncan (Spurs) is the power-forward legend with four rings. This matchup could be the closest on this list. Garnett is one of the game's biggest trash talkers, but the even-keeled and extremely focused Duncan will not be fazed.
There's no question that this longtime rivalry will take a while to settle because of hard-nosed defense. The slight edge could go to Duncan, the best fundamental power forward of all time -- and who knows the bank shot better than him?
Advantage:
Dun-ett. That's how close this one will be. Duncan's post defense could be the difference.
[+] Enlarge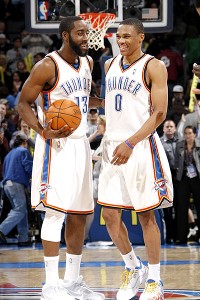 Layne Murdoch/Getty ImagesOnce teammates, now combatants.
4. James Harden vs. Russell Westbrook
"The Battle of New Rivals"
Outlook:
Harden (Houston Rockets) is now the man; Westbrook (Thunder) is out to prove he's still the man.
While the Thunder still have the edge in the Western Conference, the new Rocket can let his ex-sidekick know who's the real boss on the court.
Harden is crafty -- the way he steps back and hits 3s or weaves through defenders to get to the basket.
Westbrook, on the other hand, plays with one gear in mind -- fast -- and he's super-athletic. They're both big gamers, so this matchup will come down to a quick, blow-by drive by Westbrook or spin-move-drop-step move by Harden.
Advantage:
Harden. He's got too many clever moves.
[+] Enlarge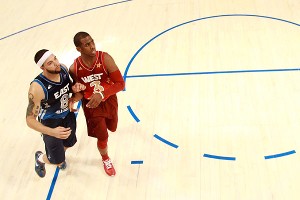 Ronald Martinez/Getty ImagesStrength vs. speed: D-Will and CP3 are a study in contrasts.
3. Chris Paul vs. Deron Williams
"The Battle of the Floor Generals"
Outlook:
Paul (Clippers) is arguably the best point guard in the league; Williams (Nets) is arguably the best point guard in the league, too. So let's lace 'em up to find out!
There's no better slithery floor general than Paul, who has some of the best stop-and-go and stop-on-a-dime moves in the league. But where Williams excels is with his 3-point shooting and strength. He could make Paul look silly in the post. That's why Williams has the edge, but Paul could make things interesting with his defense and deceptiveness on offense.
Advantage:
Williams, by virtue of his strength and shooting.
[+] Enlarge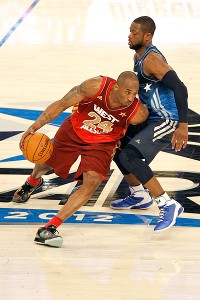 Mike Ehrmann/Getty ImagesKobe will do whatever it takes to win.
2. Kobe Bryant vs. Dwyane Wade
"The Battle of the Coasts"
Outlook:
Bryant (Lakers) is, well, simply the second-best shooting guard ever after MJ; Wade (Miami Heat) is out to prove him wrong, even though the whole world will already have a prediction as to how this matchup will play out.
Being that Bryant is still the game's best competitor -- who didn't catch that death stare toward fired coach Mike Brown? -- he's got the edge because there's always that belief he will do whatever it takes to win at all costs.
Bryant will smartly force Wade to shoot 3s and midrange jump shots -- not his strengths -- but if Wade can convert those, that could be the dagger.
Advantage:
Mamba. Enough said.
[+] Enlarge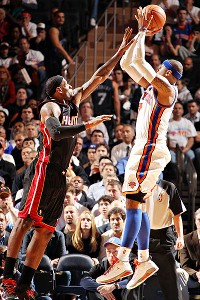 Nathaniel S. Butler/NBAE/Getty ImagesMelo's quick jumper could be decisive.
1. LeBron James vs. Carmelo Anthony
"The Main Event"
Outlook:
James (Heat) is the best player in the league; Anthony (New York Knicks) is the best one-on-one player.
The memory of the Knicks' first-round playoff loss to the Heat last season won't sit well with Anthony. He'll be extra energized to try to get at least one matchup off his Eastern Conference foe and longtime friend, James.
Obviously it won't be easy, as James is the entire package. Where Anthony can take it is with his quick-release jump shot and underrated defense.
James is too fast and strong on drives, so Anthony will force him to shoot from the outside and score out of the post. That's where Anthony can put up a decent fight against James with his strength and relentlessness.
Advantage:
Anthony. With the biggest upset of the evening.