It's settled: Where The Wave first started
February, 27, 2013
2/27/13
7:40
PM ET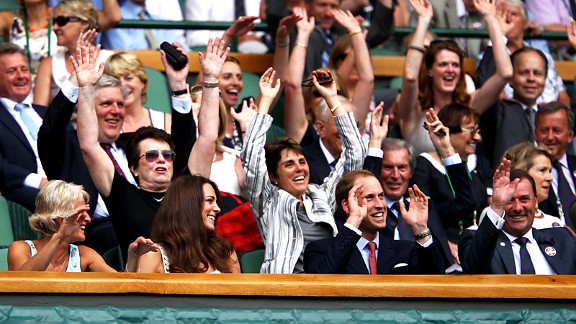 Clive Brunskill/Getty ImagesMore than 30 years later, The Wave has survived, even in the Royals' box at Wimbledon.
The Guardian newspaper in Great Britain once opened up its online "Notes and Queries" feature to allow readers to make their claims as to when fans first did The Wave at a sports event.
The answers:
• At the World Cup in Mexico in 1986.
• At a University of Washington football game in 1981.
• At the Los Angeles Olympics in 1984.
• At an Oakland A's baseball game in 1981.
• At a soccer game in Monterrey, Mexico, in the 1970s.
• At the Mexico City Olympics of 1968.
• At an NHL game in Canada in the 1970s.
• At games of the Vancouver Whitecaps and Seattle Sounders of the old North American Soccer League in the 1970s.
One reader claimed he'd first done it alone in his living room in 1954, while another swore it was started in 1945 by four people at a youth softball game in Canada.
And, wrote another, "The wave was started by Native Americans on the great plains. They would line up and raise spears in order to get the bison running in a certain direction and eventually over a cliff to their death. It's documented in the famous Sioux City cave drawings, which include star charts dating it to 215 B.C. by current calendars."
Still others say The Wave was started by a cheerleader at a Pacific Lutheran basketball game in the early 1960s, at events of the Montreal Olympics in 1976, at a University of Michigan basketball game in 1977-78 or at an unnamed event in Spain in the 1930s. (Could it have been Hemingway at the running of the bulls?)
In other words, the origin stories of The Wave are as prevalent and well documented as Sasquatch sightings.
In the U.K. and the rest of the world The Wave is called the "Mexican Wave" because viewers across the globe first noticed it in televised games of the 1986 World Cup from Mexico. Clearly, however, The Wave was born earlier.
In fact, five years earlier in Oakland and then Seattle.
Tales of The Wave breaking before those dates may forever circulate and may one day be verified, but for now most have been debunked.
The first recorded Wave occurred in Oakland at an Athletics' playoff game against the New York Yankees on Oct. 15, 1981.
It was organized and led by professional cheerleader Krazy George Henderson and was seen by a national TV audience and captured on film. Sixteen days later on Halloween at the University of Washington in Seattle, former UW cheerleader Robb Weller -- back for a game as guest yell leader -- led fans in a Wave at Husky Stadium during the school's 42-31 victory over Stanford.
From there The Wave spread into every stadium, park and arena across the globe. Thirty-one years later it's still alive (to the joy of many and dismay of some), and recently even took on a royal hue as Prince William, the Duchess of Cambridge and British Prime Minister David Cameron were caught doing The Wave at the velodrome during the Olympics in London.
Krazy George and the University of Washington feuded for years as to who started The Wave, but The Wave of evidence is in George's favor.
After all, Oct. 15 comes before the 31st, and the shots of Oakland fans doing The Wave -- with Krazy George as their conductor -- are on the A's highlight film for 1981, says the team.
Says Krazy George, 68, who now lives in Maryland: "I don't claim I invented The Wave. I
did
invent The Wave."
• • •
The Debunking
Perhaps there were fans somewhere before Oct. 15, 1981, who thought it would be a cool idea to stand up in unison with their arms extended and start a rippling Wave around and around a stadium.
Perhaps. But other origin myths before that date simply don't hold up.
For instance:
Pacific Lutheran University:
A story has circulated that a cheerleader at a basketball game in the early '60s started The Wave at the school in Tacoma, yet two longtime employees -- one who worked there starting in 1964 -- say they've never heard of it.
Montreal Olympics of 1976:
Says Pat Hickey of the Montreal Gazette, who covered those Games: "I was at the two venues where you might have seen a Wave (the stadium and the Forum for basketball games) and there wasn't a ripple."
Vancouver Whitecaps/Seattle Sounders:
Supposedly, fans for these teams did The Wave in the late '70s. Not so, says current Whitecaps President Bob Lenarduzzi, who played for Vancouver back then, and David Falk, a NASL historian who had season tickets to the Sounders in the late '70s and also was at the Huskies game in 1981 when the Weller-led Washington Wave "rolled and rolled." "The Sounders and all of Seattle sports ... embraced it, but after 1981," says Falk.
Michigan basketball:
"Not at all," says Bruce Madej, the longtime Wolverines associate athletic director, when asked if The Wave was done at Crisler Arena in the '70s. The first time The Wave hit Ann Arbor was in 1983, he says, after Michigan played the Huskies in Seattle.
• • •
The Evolution
Like Johnny Appleseed, Krazy George Henderson planted The Wave wherever he went after that A's game in 1981. But George says The Wave didn't suddenly spring up out of thin air that October day in Oakland.
"It took me three years of different forms and modifying it and changing and evolving till it got to the Oakland A's game," he says. And, actually, when he explains it, the seeds were planted more than a decade before when he was a cheerleader at San Jose State.
[+] Enlarge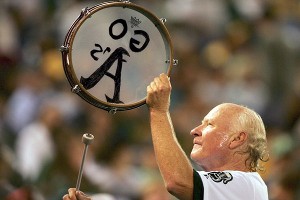 Jed Jacobsohn/Getty ImagesKrazy George Henderson, at an A's game in 2006, has been a longtime sports cheerleader.
Back then, about 1970, he says he did a section cheer for the student body that involved one section standing up and yelling "San," the next standing and yelling "Jose" and a third doing the same thing with "State."
"It looked dynamic to see these three full sections go San ... Jose ... State," he says. "And it would go five or six times in a row. ... That cheer was like the nucleus at the start of the idea of a Wave type of idea."
After college he worked as a teacher for several years, but then Krazy George became a professional cheerleader, and he expanded on the San Jose State cheer with teams such as the minor league hockey Colorado Rockies in the late 1970s. Though the crowds were sometimes small, on big nights he could get fans to stand up by sections yelling "Go ... Rockies ... Go," but the crowd often lost interest. But when he just had sections stand up in Waves yelling "Go!" he could spark a cheer that "went all the way around the arena."
The next step in the evolution, he says, came in 1980 when he went to a high school rally in Santa Clara in the Bay Area at the request of a friend, and -- by standing at midcourt and turning and pointing to students -- sparked them to stand up in a Wave that went all the way around the small gym.
"I pointed at them, all 360 degrees, which was a pure Wave," he recalls.
That episode, he remembers, was on his mind that day at the Oakland-Alameda County Coliseum in 1981 when he decided to start a Wave at the A's-Yankees game.
"I never planned anything," he says, laughing. "I don't know why it hit me. About the second inning, I said, 'I want to try this thing.'"
He says he started by organizing three adjacent sections to start The Wave on his signal, but "it took me three or four tries," for it to catch on.
"It finally took off and it went all the way around and just kept going and going and the crowd went nuts," he recalls.
At later events, Henderson says he'd rarely do The Wave more than once per game. But that day, he led it three times.
"All three tiers were doing it," he says. "It was amazing."
After that Oakland A's game he took The Wave on the road -- although he didn't call it that.
"There was no name for it," he says. "In fact, I'll give Seattle credit if they want credit for naming The Wave."
He took it to a British Columbia Lions Canadian Football League game soon after, as well as a Houston Oilers game. And, he did The Wave at Olympic soccer games in 1984, which helped introduce it to the rest of the world.
• • •
The Wave's Spread
Though Krazy George lays claim to being the first with The Wave, Jeff Bechthold, the University of Washington's director of communications for athletics, calls the issue a "little complex."
As yell leader at the school in the late '60s and early '70s, Weller had led several cheers that were Wave-like --- "a section at a time standing up and sitting down (rather than 'rolling')," Bechthold writes -- and what Weller and Husky band director Bill Bissell did that Halloween day in 1981 built off those earlier efforts, he says.
So, just as Krazy George's ideas evolved leading up to his 1981 Wave, so had Washington's. Even with that, however, Krazy George comes out the chronological winner in the "documented Wave" division.
However, The Wave's biggest springboard proved to be the University of Washington.
After the game with Stanford, The Wave became a staple at Huskies games and was taken back to campuses across the country by visiting cheerleaders. At the same time, other Seattle teams -- notably the Seahawks and Sounders -- adopted it.
After Michigan played at Washington in 1983, Wolverines fans fell in love with The Wave at Michigan Stadium, says UM's Madej. At Michigan, fans developed all sorts of twists to it such as slow-motion Waves, reverse Waves and silent Waves.
"It created more fun," says Madej. And, with the huge crowds at "The Big House" in a completely enclosed stadium, it was a perfect showpiece for The Wave as it grew into an '80s sports phenomenon and traveling to Mexico -- where it is called "La Ola" -- in time for the 1986 World Cup.
Krazy George says The Wave has lasted this long because it raises the crowd's energy and it's fun.
"You get The Wave going, you set it up, and it goes four, five, six times (around the stadium), it raises the energy of the crowd," he says. "They get more behind it. They think they've accomplished something with the team. They express themselves with the team, how they feel about them. It makes all my other cheers after I do The Wave, louder, more intense. And I can build off that."
Of course there are some fans (and many in the sports media) who despise it, saying it takes away from what's going on in the game and it's often done at the wrong time. There's even a website and campaign against it called StoptheWave.net that has led to some large Stop The Wave signs at Rangers Ballpark in Arlington.
Krazy George, however, just Waves off the no-Wavers.
"Here's my theory," he says, laughing. "I love saying this. For The Wave to go and look great, you've got to have 98 percent of the people participating. That means 98 percent of the people like The Wave. They're having fun."
These days, Krazy George is still doing occasional cheerleading gigs, writing a book about his career and is always ready to defend his status as the first person to lead a verified, documented, caught-on-camera Wave.
"Now anybody can claim that (they did one) before that, but there's no witnesses, there's no video, there's no nothing," he says. "There's just nobody can substantiate any kind of claim before that."
Especially that guy -- was his name Sasquatch? -- who says he did it alone in his living room in 1954.