October, 24, 2014
Oct 24
8:24
PM ET
Associated Press
[+] Enlarge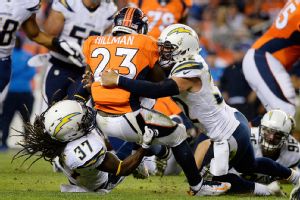 Tim Rasmussen/The Denver PostJahleel Addae (37) said after Thursday's game that he passed the NFL's concussion test, but the Chargers announced Friday night that he was diagnosed with a concussion.
SAN DIEGO -- The San Diego Chargers followed proper medical procedure after safety Jahleel Addae had two scary reactions following hits in Thursday night's 35-21 loss at Denver, coach Mike McCoy said.
Addae immediately fell to the ground after a hit on the first play of the game. Late in the third quarter, he convulsed while remaining on his feet after a hit. He led with his left shoulder both times.
Addae said after the game that he passed the NFL's concussion test, but the team announced Friday night that he was diagnosed with a concussion.
Addae was not in the locker room when it was open to the media Friday afternoon. Chargers spokesman Bill Johnston said Addae was not available to the media because he went to get additional tests.
"Like every player regardless of what the injury is, you monitor them throughout the game," McCoy said before the team announced the concussion diagnosis. "The first time he was checked out."
October, 24, 2014
Oct 24
7:30
PM ET
The
San Diego Chargers
have several players at different stages of working their way back to the field. Head coach
Mike McCoy
did not provide reporters at his Friday afternoon news conference much clarity on when any of those players will return.
After watching film on Friday, the Chargers will take the weekend off before returning to the practice field Monday.
After sitting out the loss to Denver on Thursday with a concussion, cornerback
Brandon Flowers
has a chance to clear the NFL protocol process and get back on the field at Miami.
Running back
Donald Brown
missed the past three weeks because he has not cleared the NFL protocol process for returning to the field from a concussion.
Fellow running back
Ryan Mathews
missed six games with an MCL knee sprain, but was seen running sprints during pregame workouts in Denver, and appears close to a return to the field.
Initial reports had Mathews returning in four to six weeks from his knee issue.
Inside linebacker
Manti Te'o
, out for the past five games with a broken foot, is walking without a limp and working with trainers on the field.
Fellow linebacker
Melvin Ingram
is on the injured reserve/designated to return with a hip issue. The earliest Ingram can return to the field is after the bye week against Oakland on Nov. 16. Ingram appears on track to meet that goal.
And rookie edge rusher
Jeremiah Attaochu
missed four games this season with a lingering hamstring injury, but with more rest and rehabilitation should be closer to being fully healthy.
The Chargers play just one game in the next 23 days, giving McCoy the prospect of having a healthier team down the back stretch of the season as his Chargers try to stop a two-game losing streak.
"I think the past couple weeks we just haven't played well enough to win against two good football teams," McCoy said. "Give Kansas City and Denver all of the credit. They beat us. We didn't play good enough to win. But I think we'll bounce back. We'll have a great week of practice next week. We'll put together a great plan and find a way to go down to Miami and win."
McCoy addressed safety
Jahleel Addae
's injury concerns from Thursday night's game again on Friday. Addae twice went down during the Denver game with what appeared to be a shoulder stinger. McCoy confirmed that Addae suffered a stinger, not a concussion.
Addae said he went through a concussion test during the game and passed. McCoy said the team's training staff and doctors monitored Addae throughout the game and believed there were no safety issues with the hard-hitting safety returning to the field.
"Like every player, regardless of what the injury is, you monitor him throughout the game," McCoy said. "And that's exactly what they did with Jahleel. From the first injury he was checked out and throughout the game, like every player. When something happens, every time you come to the sideline, there's certain things.
"There's a number of people in the medical fields, not just our training staff and our doctors. There's someone up in the press box watching everything. There's someone on our sideline that evaluates everybody. So he did like every other player does during the game."
McCoy would not say if Addae will be healthy enough to play against Miami on Nov. 2.
McCoy also said he has not met with the training staff, so could not provide an update on the status of cornerback
Jason Verrett
. The former TCU standout re-injured a shoulder injury he suffered against the Raiders, and watched from the sidelines in the second half.
Verrett was questionable heading into the Denver game, but wound up starting. McCoy was asked if it was a mistake to play Verrett because of his shoulder issue.
"If he wasn't ready to go, we wouldn't have put him in there," McCoy said. "So the answer is he was ready to go."
October, 24, 2014
Oct 24
2:20
AM ET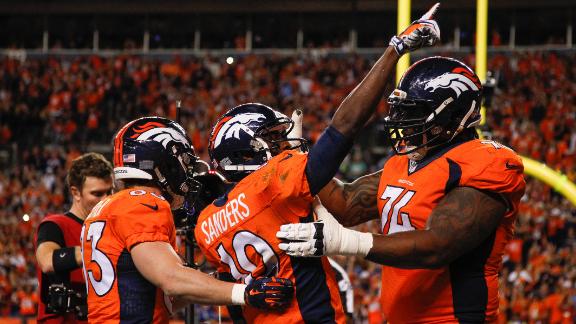 DENVER -- Considered one of the front-runners for league MVP through the first half of the season,
Philip Rivers
acknowledged with his team down 21 points in the second half Thursday that he felt compelled to make something happen.
"We weren't great, but I thought we moved the ball and fought like crazy to give ourselves a chance," Rivers said. "It's not a winning performance. It wasn't a terrible one."
However, even elite quarterbacks need supporting casts to help elevate the play of the rest of the unit on the field.
[+] Enlarge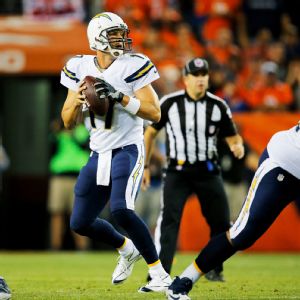 Doug Pensinger/Getty ImagesPhilip Rivers threw two interceptions in a game for the first time this season on a night when he needed his teammates to be at their best.
Facing perhaps the best team in the AFC in the
Denver Broncos
on the road, Rivers and the
San Diego Chargers
needed to be at their best.
They weren't in the team's
35-21 loss
to the Broncos, putting forth a ragged and sloppy effort against an improved Denver defense that gave San Diego's offense little breathing room.
After setting an NFL record by posting a passer rating of 120 or better in five straight games, Rivers didn't have his fastball Thursday.
Against Denver, he finished 30-of-41 for 252 yards with three touchdowns. But he also threw two interceptions in a game for the first time this season. He was sacked twice and posted a 92.7 passer rating.
"He played as good as he could, man," Chargers safety
Eric Weddle
said. "Those edge rushers are pretty dang good. So for him to battle, move around in the pocket and he still was able to keep us in the game -- you have to tip your hat to him."
New additions on Denver's defense such as
DeMarcus Ware
,
T.J. Ward
and
Aqib Talib
were the catalysts for a swarming unit that made it tough for San Diego's usually potent offense to create big plays down the field.
The Chargers finished with five plays of 20-plus yards, but four of those came in the second half with the game pretty much decided.
With
Ryan Mathews
(knee) and
Donald Brown
(concussion) still out with nagging injuries and rookie
Branden Oliver
(36 rushing yards) ineffective, San Diego also struggled to run the football.
Since 2006, the Chargers had run for more than 120 yards 12 times -- including 10 times topping 140 yards -- in 16 previous regular-season games against Denver. But the Chargers had minus-1 rushing yards through the first quarter Thursday and totaled just 61 yards for the game.
"They're an aggressive defense," San Diego receiver
Eddie Royal
said. "Guys come up and make big hits. They play tight coverage, and they've got the two guys coming off of the edge [
Von Miller
and Ware]. It's an explosive defense. They make a lot of plays. The defensive backs have great ball skills, so when the ball's in the air, we have to attack it and just start faster."
The schedule finally turns in battered-and-bruised San Diego's favor. The Chargers will get nine days off before traveling to Miami to face the
Dolphins
.
San Diego's bye week comes after the Miami game, so the Chargers will play just one game in the next 23 days.
"It's not discouraging," Royal said. "It's motivating. We just know what we need to work on. We know how good of a team they are, and we know we can play with these guys.
"It just motivates us to go back and put in some work. I think we've got the right guys in this locker room to get ready to go and get a win."
October, 24, 2014
Oct 24
1:25
AM ET
DENVER -- Observed and heard in the locker room after the
San Diego Chargers
' 35-21
loss
to the
Denver Broncos
:
Rivers

San Diego players indicated that the team played hard against the Broncos but just did not execute during the critical moments of the game. The Chargers forced two fumbles but could not recover them. A potential recovery by Kavell Conner on a fumbled kick return by Andre Caldwell was overturned by the replay official. Eric Weddle's interception at the goal line that would have prevented a Denver touchdown was negated because of a defensive holding call on fellow safety Marcus Gilchrist.
The Chargers had three turnovers all season, but Philip Rivers threw two interceptions on Thursday. San Diego finished with seven penalties for 77 yards. "That's a very good football team," Chargers coach Mike McCoy said. "And we gave them too many opportunities with a team like that. So, we've got to do a better job coaching and playing. It comes down to execution."
Rivers was asked about where the Chargers stand at 5-3 at the midpoint of the season, with San Diego suffering its first two-game losing streak of the year. "This is a 16-round fight," Rivers said. "And we've won five and lost three. It's one big game, that's the way I see it. And we've had a couple rounds where we've got knocked around a little bit. And we're going to regroup and try to go get a win in Round 9 in Miami."
Safety Jahleel Addae suffered a shoulder stinger, not a concussion, on a second-half play where he slammed into the line of scrimmage to stop Denver running back Ronnie Hillman. Addae was observed shaking the left side of his body, which appeared to go numb after the hit. He stayed in the game for another play after the hit but eventually was replaced by Darrell Stuckey to start the fourth quarter.
Cornerback Jason Verrett reinjured his shoulder in the first half and did not return. He was seen wearing a sling on his left shoulder on the sideline in the second half. Receiver Malcom Floyd suffered a shoulder injury but returned to the game.
October, 24, 2014
Oct 24
12:40
AM ET
By
ESPN Stats & Information
| ESPN.com
Manning
The
Denver Broncos
beat the
San Diego Chargers
35-21 on Thursday night. The game featured solid performances from both quarterbacks as expected, but
Peyton Manning
was simply better than
Philip Rivers
on this night.
The Broncos have now won four straight games by an average of 18.5 points per game, while the Chargers fell to 1-3 versus the Broncos since the start of last season (including playoffs).
More Manning records
Manning threw three touchdowns and no interceptions to extend his streak of consecutive games with at least one passing touchdown to 46 consecutive games, the longest active streak and the fourth-longest streak in NFL history. Over his past three games, Manning has thrown 10 touchdowns without throwing a single interception.
In fact, another multi-touchdown game gave Manning 13 straight games with multiple passing touchdowns, tying the NFL record held by himself,
Tom Brady
and
Aaron Rodgers
. He eclipsed the 20-touchdown mark for the 16th season in his career, passing Brett Favre for the most such seasons all time.
Historically, Manning has excelled in Thursday games, holding the records for Thursday wins (10), passing yards (3,591) and passing touchdowns (38), according to the Elias Sports Bureau.
Sanders' breakout game
Manning had a favorite target and it was not
Demaryius Thomas
,
Julius Thomas
or
Wes Welker
. Instead it was
Emmanuel Sanders
, who had a career-high three touchdown catches against the Chargers. Manning was a perfect 9-for-9 for 120 yards, three touchdowns and six first downs when targeting Sanders.
Sanders became the fifth player to catch at least three touchdowns in a single game this season and the fourth to do it in a primetime game. Prior to Thursday, Sanders had not had a multi-touchdown game in his 62-game career.
Quick hitters
•
Juwan Thompson
ran for two touchdowns after having one career touchdown entering the game.
• Since 2012, the Broncos are 19-2 at home and 13-1 versus divisional opponents, both NFL bests.
• Rivers threw for three touchdowns in a losing effort, but his streak of seven straight games with at least two touchdown passes broke the Chargers franchise record set by Dan Fouts in 1981, according to Elias.
•
Antonio Gates
had 54 receiving yards to bring his career total to 9,610, passing Lance Alworth for most career receiving yards in Chargers history. Gates also caught two touchdown passes to bring his season total to nine, tying Julius Thomas for most this season.
October, 23, 2014
Oct 23
11:35
PM ET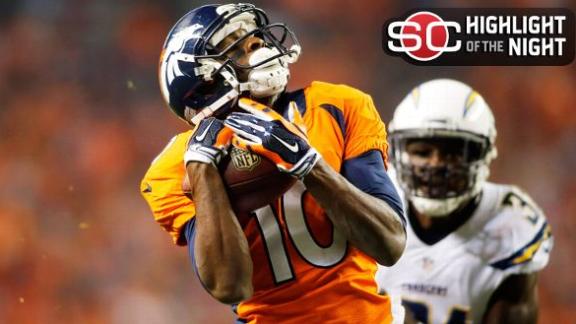 DENVER -- A few thoughts on the
San Diego Chargers
' 35-21
loss
to the
Denver Broncos
in this Week 8 contest at Sports Authority Field on Thursday night.
What it means:
The Broncos seized control of the AFC West with an emphatic win over the Chargers. At 6-1, Denver created some breathing room from the Chargers, who fall to 5-3 overall.
Manning breaks the tie:
Heading into Thursday's contest,
Peyton Manning
and
Philip Rivers
were knotted at 5-5 in regular-season matchups against one another. But with Denver's win, Manning now holds the edge in the series. Manning finished 25-of-35 for 286 yards, three touchdowns and no interceptions. Rivers threw for 252 yards on 30-of-41 passing, with three touchdowns and two interceptions. Rivers still holds a 2-1 edge in the postseason.
Gates makes history:
Heading into the contest against Denver, Chargers tight end
Antonio Gates
needed 29 yards to pass Lance Alworth's franchise record of 9,584 receiving yards. Gates accomplished that feat, finished with five catches for 54 yards and two touchdown catches. Gates now has nine touchdowns on the year and 9,610 career receiving yards.
Stock watch:
Keenan Allen
got his first touchdown of the season on a 2-yard reception from Rivers. Allen finished with nine receptions for 73 yards.
Broncos dominate trenches:
Denver controlled the line of scrimmage on both sides of the ball. The Broncos finished with 139 rushing yards, while the Chargers mustered 61 yards on the ground for the game.
Branden Oliver
was held to 36 yards on 13 carries, including a meaningless 23-yard run on the final play of the game.
Game ball:
Safety
Eric Weddle
appeared to make every tackle on defense for a short-handed San Diego secondary. Weddle finished with a team-high 11 combined tackles (nine solo), and now leads the team with 56 tackles. Weddle also made a spectacular one-handed catch that was negated because of a holding call on teammate
Marcus Gilchrist
, and forced a fumble the Chargers failed to recover.
What's next:
The Chargers will get some time off before traveling to Miami for the team's final game before the bye week, a 1 p.m. ET contest against the Dolphins at Sun Life Stadium on Nov. 2.
October, 23, 2014
Oct 23
7:10
PM ET
DENVER -- For the first time since the season opener when
Denver Broncos
rookie wide receiver
Cody Latimer
played 10 plays on special teams, Latimer was slated to be in uniform for a game. Latimer was among the 46 active players for the Broncos for Thursday night's game against the
San Diego Chargers
in Sports Authority Field at Mile High.
Latimer, whose potential impact in the offense has been lauded by several of his teammates, including quarterback
Peyton Manning
, was the Broncos' second-round pick in May.
Cornerback
Omar Bolden
, who is also one of the Broncos' kick returners, and running back
Montee Ball
, who suffered a right groin injury against the
Arizona Cardinals
, were the two most prominent inactives for Thursday night's game.
Ball has now missed three games as the Broncos hope he may be able to practices, at least on a limited basis, next week.
Other Broncos inactives were: running back
Kapri Bibbs
, guard
Ben Garland
, linebacker
Steven Johnson
, tackle
Michael Schofield
and defensive tackle Mitch Unrein.
For the Chargers the inactives included cornerback
Brandon Flowers
who suffered a concussion against the
Kansas City Chiefs
on Sunday. Other Chargers inactives were: running back
Ryan Mathews
, running back
Donald Brown
, linebacker
Manti Te'o
, cornerback
Steve Williams
, outside linebacker
Jeremiah Attaochu
and outside linebacker
Cordarro Law
.
October, 23, 2014
Oct 23
5:00
PM ET
By
ESPN.com staff
| ESPN.com
Follow along below for the latest coverage from our NFL Nation reporters on this week's Thursday night matchup between the
San Diego Chargers
and
Denver Broncos
.
October, 23, 2014
Oct 23
3:48
PM ET
By
ESPN Stats & Information
| ESPN.com
A battle for control of the AFC West takes place in Denver tonight as the 5-2
San Diego Chargers
take on the 5-1
Denver Broncos
. We take a look at a battle of two of the NFL's best quarterbacks and how the Chargers will try to make sure
Peyton Manning
stays off the field.
Quarterback duel
The spotlight tonight will rightfully be on the two quarterbacks as Manning and
Philip Rivers
have been among the best in the league this season, ranking first and second, respectively, in Total QBR entering this game. Manning has an 88.9 Total QBR this season, which would be a career high since ESPN Stats & Information began tracking the stat in 2006, while Rivers' 86.2 would be far and away the best of his career.
Rivers has played six straight games with a Total QBR of at least 75. That's tied with Manning (2006-07) for the third-longest streak of its kind (minimum 30 action plays) since ESPN Stats & Info began tracking Total QBR.
This game also features two of the three longest active touchdown pass streaks, as Manning has thrown a touchdown pass in 45 straight games while Rivers has a touchdown pass in 27 straight games. Manning's 45 straight games are nine shy of the all-time NFL record, which is owned by
Drew Brees
, who threw a touchdown pass in 54 straight games between 2009 and 2012.
Broncos rolling
The Broncos enter Thursday night on a dominant three-game win streak where they have won each game by an average of 20 points. The Broncos have scored at least 30 points in each game and have nearly 450 yards per game in that stretch. It hasn't been just the offense, however, as the defense has allowed just 243 yards per game over the past three games, best in the NFL in that span.
Chargers not turning it over
The Chargers have just three turnovers through their first seven games, the fewest in the NFL despite some teams having played one fewer game. According to Elias, that's the fewest turnovers by a team in their first seven games in modern NFL history (since 1933). The fewest turnovers by a team through its first eight games is five, done three times (most recently by the Lions in 2011).
Chargers play keep-away against Peyton
The Chargers split both meetings with the Broncos in the 2013 regular season, but they controlled the clock like no other team has done against Manning in his Denver career. The Broncos had a time of possession of 21:57 in the Week 10 win and 21:11 in the Week 15 loss, the two lowest times of possession for the Broncos since Manning joined the team.
Gates record
Antonio Gates needs 29 receiving yards to break Hall of Famer Lance Alworth's franchise record for career receiving yards. Gates is already the franchise's all-time leader in receptions (746) and touchdowns (94).
October, 23, 2014
Oct 23
2:20
PM ET
DENVER -- The
San Diego Chargers
(5-2) look to rebound from last week's loss to Kansas City in a nationally televised contest against the AFC West-leading
Denver Broncos
(5-1) at 8:25 p.m. ET at Sports Authority Field on Thursday.
But who are we kidding here?
Short-handed traveling to Denver on a short week, the Chargers have no shot against the Broncos, right?
That is the prevailing thought nationally, but I'm here to provide the blueprint to another improbable victory against the mighty Broncos that will have NFL fans talking about what bolo tie
Philip Rivers
is wearing during his postgame interview on national television.
The game has the top two quarterbacks in the league in Total QBR right now facing each other -- Denver's
Peyton Manning
(88.9) and San Diego's Rivers (86.2).
Manning
Rivers
They are 5-5 all-time against each other according to ESPN Stats & Info, with Rivers holding a 2-1 edge in the postseason.
"I never feel like I'm playing the opposing quarterback, but there are certain games and opposing quarterbacks that are more special than others, and that's just being honest," Rivers said. "Playing Brett Favre in Green Bay and when he was with the Jets, going against a Peyton Manning-led team. There's no denying that there's a little more -- shoot, I don't know what the word is -- awesomeness to those games."
Here are three things we'll be watching for on Sunday.
1. Manning's kryptonite?
That would be Chargers defensive coordinator John Pagano, who has managed to hold Denver's offense to an average of 24 points a game in San Diego's past three contests against the Broncos. The key for San Diego has been Pagano creating a muddled picture for Manning with blitz and disguise, and his defense getting off of the field on third down. The Chargers held the Broncos to 5-of-17 (29.4 percent) on third down in two games during the regular season, but Denver was 9-of-13 (69.2) in the San Diego's 24-17 playoff loss in Denver. The Chargers have to get off the field on third down and do a much better job in the red zone. San Diego's defense is last in the NFL in red zone defense, giving up touchdowns 73.3 percent of the time.
"I'm not in his head," Pagano said. "Our teams and the different types of players that we've had throughout the year really strive on going out and executing at a high level. We've had great guys that truly understand him. And really, we try to go out and have fun with it.
"But it's always a challenge. It's always tough. He's one of the best that ever played this game, and we respect that. And we go out and give him the respect that he deserves, because he's a great player in this league."
2. Control tempo:
In the two regular-season matchups last season, the Chargers held the Broncos to an average time of possession of 21:34. According to ESPN Stats & Info, those two games represent the shortest time of possession the Broncos have had since Manning's arrival in 2012. Along with limiting Manning's possessions, the Chargers can accomplish that task again with a steady diet of running back
Branden Oliver
. In Denver's five losses since 2013, the Broncos' defense has allowed an average of 136 rushing yards per contest, on an average of 34 carries a game. Those are the numbers to keep an eye on for San Diego's offense.
3. Win the turnover battle:
The Chargers have committed just three turnovers through their first seven games, still the fewest in the NFL. According to Elias, that is the fewest turnovers by a team in its first seven games in modern NFL history (since 1933). The Broncos are 5-5 since 2013 when they lose the turnover battle. The Chargers need to take care of the football, and force a couple turnovers in order to steal a few possessions from Manning and the Broncos.
October, 23, 2014
Oct 23
11:45
AM ET
October, 23, 2014
Oct 23
7:59
AM ET
Around the Denver Broncos' complex, last December's game against the
San Diego Chargers
is referred to by many people, Broncos coach John Fox included, simply as "Round 2." The 27-20 Chargers win was the second of three meetings between the two teams in the 2013 season -- playoffs included -- and it was also the Broncos' only home loss last season.
So Thursday night's affair is a sequel of sorts given last year's regular-season meeting in Denver was also on a Thursday night. This time, however, the Broncos (5-1) and Chargers (5-2) have powered to the early lead in the AFC West race with both
Peyton Manning
and
Philip Rivers
in the early conversation for league MVP.
ESPN Chargers reporter Eric D. Williams and Broncos reporter Jeff Legwold preview the game:
Legwold:
Eric,
Von Miller
and
DeMarcus Ware
have more combined sacks (15) than 14 teams in the league right now. How would you expect Rivers and the Chargers offense to handle that?
Williams:
Fair question. Rivers has done a nice job of getting the ball out quickly. The Chargers are predominantly in shotgun most of the time, so that helps Rivers get set to throw the football quickly, along with San Diego's reliance on the short passing game. Rivers has been sacked just 11 times through seven games. The one thing the Chargers will do more of in an attempt to slow down Denver's talented pass-rushers is give them a steady diet of cat-quick
Branden Oliver
in the run game.
Jeff, a lot of the conversation nationally has been about Manning and Denver's prolific offense, but staying with Denver's defense, it has held opponents to just 20 points a contest and an average of 74 yards a game on the ground. How have Ware, T.J. Ward and
Aqib Talib
made that defense better?
Legwold:
When the Broncos picked through the rubble that was a 35-point loss in the Super Bowl, they went into the offseason intent on revamping a defense not only with more athleticism but also with what Ward called "that nastiness." The Broncos had confidence that Ware would rebound when they gave him a three-year, $30 million deal. He has also been a mentor to Miller. Talib, with his length and aggressiveness, has given the Broncos the press corner they wanted, and Ward has played all but three snaps on defense thus far. So the new arrivals have helped plenty, but the Broncos have also seen the starters who finished 2013 on injured reserve rebound to their previous form, most of all Miller.
Chris Harris Jr.
may be playing as well as any cornerback in the league despite having ACL surgery in February, as is defensive tackle
Derek Wolfe
. Put it all together and the Broncos play with far more versatility and athleticism in the formation than the last time these two teams played.
San Diego defensive coordinator John Pagano, a Colorado native, often takes risks with the Chargers defense, even against a quarterback like Manning. Will the injuries on defense change that philosophy, or do you think Pagano will come after Manning a bit?
Williams:
Despite the lack of healthy bodies, Pagano will take his chances when he sees an opportunity. In San Diego's win at Denver last year, the Chargers started
Richard Marshall
and
Shareece Wright
at cornerback and
Thomas Keiser
and
Reggie Walker
at outside linebacker. With San Diego's top two cornerbacks in
Brandon Flowers
(concussion) and
Jason Verrett
(shoulder) nursing injuries, along with rookie pass-rusher
Jeremiah Attaochu
(hamstring), the Chargers' projected starting cornerbacks are Wright and Marshall. And the team's projected starting outside linebackers are
Jarret Johnson
and Walker. The bottom line is Pagano trusts his backup players to know and understand his complex scheme. Those fill-in guys proved they can execute his game plan to try to confuse Manning last year.
The Broncos revamped the offensive line during the offseason. So far Manning has been sacked just eight times. What are the reasons for Denver's success up front this season?
Legwold:
The offense is built to keep Manning out of harm's way, with lots of crossing routes, screens and quick-hit plays to get the ball out of his hands. And Manning may be one of the best to have ever played the position when it comes to limiting the punishment he takes by how he conducts his business in the pocket. He usually sees where the pressure is coming from before the snap, adjusts quickly and rarely holds the ball if he believes a sack is imminent. Overall, the offensive line's play has caused a bit of consternation for the Broncos. They made a switch at right tackle for last Sunday's game, putting
Paul Cornick
in place of
Chris Clark
. Some teams have created some room in the middle of the field, both in the run game and pass rush, and it will bear watching in this one.
In the Chargers' win in Denver last December,
Keenan Allen
scored twice. Allen doesn't have a touchdown yet this year. Where does he fit in the Chargers' offense, and is
Antonio Gates
the go-to guy for Rivers?
Williams:
Rivers and Gates hold the NFL record for touchdown receptions between a quarterback and tight end at 67, so it's fair to say that the 34-year-old Gates is Rivers' go-to guy, especially in the red zone. However, Allen leads the Chargers in targets (50) and receptions (34). But for whatever reason, the Cal product has not gotten into the end zone. One thing Rivers said is that he doesn't want to force feed a receiver if he's not open. And San Diego has so many other weapons, such as
Eddie Royal
,
Malcom Floyd
and
Ladarius Green
, that Rivers has a lot of matchups he can get to in the red zone. Allen's turn to score will come, but Rivers won't force it to him in coverage.
Broncos rookie cornerback
Bradley Roby
was a consideration for San Diego in the first round, but the Chargers selected Verrett instead. How has Roby played this year?
Legwold:
The Broncos knew they would need Roby on defense, so they gave him plenty of tough love early in training camp; offensive coordinator Adam Gase and wide receiver
Demaryius Thomas
have both said the offense went out of its way to go after Roby in team drills early. While it was a tough go to open camp for Roby, he responded. He has earned plenty of confidence, so much so that the Broncos have matched him up with the likes of
Reggie Wayne
,
Larry Fitzgerald
and
Michael Crabtree
already this season. Roby has played both in the slot and on the outside and is a willing tackler in the run game. While there were some pre-draft concerns circulating in the league that Roby had some maturity issues, Broncos defensive coordinator Jack Del Rio said he has had no such issues with Roby. "I told him on the first day he was going to have to earn his way and that he shouldn't be surprised if he doesn't play," Del Rio said. "But he's put in the work and earned his spot."
October, 22, 2014
Oct 22
5:15
PM ET
SAN DIEGO -- Facing the top-scoring team in the NFL, the
San Diego Chargers
could be without the team's top two cornerbacks on Thursday when they travel to Denver to take on the Broncos.
Flowers
Cornerback
Brandon Flowers
has been ruled out of Thursday's game due to a concussion, along with inside linebacker
Manti Te'o
(foot) and running backs
Donald Brown
(concussion) and
Ryan Mathews
(knee).
None of those four players practiced this week for San Diego.
Outside linebacker
Jeremiah Attaochu
(hamstring) is listed as doubtful for Thursday's game. Attaochu was a limited participant on Wednesday.
Cornerbacks
Jason Verrett
(shoulder) and
Steve Williams
(groin) are listed as questionable. Both players also were limited participants at San Diego's hour-long practice on Wednesday.
D.J. Fluker
(ankle),
Dwight Freeney
(non-injury related),
Rich Ohrnberger
(back) and
Kavell Conner
(ankle) are all listed as probable for the Denver game.
If Verrett does not play on Thursday,
Richard Marshall
likely would get his second start this season at cornerback opposite
Shareece Wright
.
Verrett, who missed last week's game against Kansas City with a shoulder issue, said he's working to get back on the field.
"Right now I just need to talk to the trainers about everything," Verrett said. "It's just the mental part of the game. Dealing with injuries is going to come with the game. Part of getting through injuries is making sure you're keeping your body up and dealing with things mentally. So that's my main focus right now."
With Mathews and Brown unavailable, rookie
Branden Oliver
will get his fourth straight start at running back.