March, 27, 2015
Mar 27
5:30
PM ET
SAN DIEGO -- Many of you probably read our ESPN the Magazine collaboration with ESPN.com ranking 122 teams from the four major sports on the strength of each franchise's analytics staff, its buy in from executives and coaches, its investment in biometric data and how much its approach is predicated on analytics.
Of course, the Chargers finished among the bottom 10 teams in the study. The team politely declined our request for information on how they used analytics when asked earlier this year.
However, we got a pretty good idea about how the team felt about analytics from head coach Mike McCoy's comments last year, after I asked him if analytics played any role in whether he decided to go for it on fourth down.
[+] Enlarge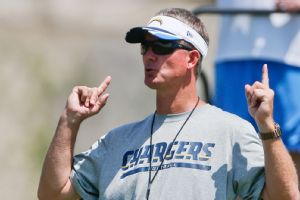 AP Photo/Lenny IgnelziChargers coach Mike McCoy acknowledges that analytics don't play a very big role in his game-day decision-making.
McCoy isn't exactly a risk taker. He's gone for it just 17 times since taking over as San Diego's head coach in 2013, third fewest in the NFL during that span.
In an effort to provide context on the issue from the organization's perspective, I asked general manager Tom Telesco about how the Chargers use analytics during a recent press conference, and here's what he said:
"It certainly has a role in all the different areas. It is something we have used. We don't rely on it 100 percent, but it does help us with decisions. It may help you sometimes go back and take a second look at some different players. Sometimes it will verify what you may see with your eyes, which is the best of both worlds. But we do use it and rely on it. I can't put a percentage on it, but it's a part of the process."
Telesco added that the Chargers do not have a person on staff who specializes in analytics, but they are used throughout the personnel department. Well, that doesn't sound like an analytics hater.
I took it a step further this week, going in for a second time and asking McCoy his thoughts on using analytics in helping to make on-field decisions on game days. As you can imagine, McCoy isn't exactly a fan, insisting on making gut decisions based on what's happening in real time rather than using researched data gathered over the years to guide his decision making.
"It's a reference," McCoy said. "But I'm not going to look at a piece of paper and say in a game I should or I shouldn't do this because it's a feel. Look at the San Francisco game. How many times did we go for it on fourth down and get it?"
The Chargers finished 3-for-3 on fourth-down conversions in a come-from-behind, overtime win over the San Francisco 49ers on Dec. 20.
"There's a feel for those things," McCoy said. "So when you do go for it, how is your team playing? What are the conditions? What are you going to do when you're Pittsburgh in December and it's awful weather, and you've got to kick a longer field goal and the wind's blowing in your face, and there's a certain score on the scoreboard? What are you going to do?
"Well, you've got to make a call. There's that stat that says you should do this at this certain point of the game. Well, it doesn't take into consideration weather, injuries. I mean, what do you want to do in Tennessee when we lose all of those [offensive] linemen? There's no stat that can cover that for us. So as a coach you have to make sure that you do in the moment what the best thing is for your team."
While not leaning on analytics in his game-day decision making, McCoy did acknowledge taking a closer look at the numbers regarding the rash of injuries his team experienced his first two years in San Diego.
"I think from my perspective, when you talk about the injury part it's more of the pulls of muscles and certain things," McCoy said. "[Strength coach] Kent Johnston and [head trainer] James Collins, they do all of that research, and they give me some input on some things.
"I look at the dates of when things happen, and how we are practicing. Are we practicing too long, or do we not warm up enough – those types of things. There's so many things that go into every injury."