March, 11, 2014
Mar 11
12:35
PM ET
ESPN's John Clayton offers more details on my initial report that veteran receiver
Eddie Royal
restructured his contract to stay with the
San Diego Chargers
.
Clayton reports that Royal saved the Chargers $1 million in salary-cap space by cutting his base salary from $4.5 million to $1.75 million. Royal received another $1.75 million in signing bonus.
With the restructured deal, the Chargers decreased Royal's cap number from $6 million to $5 million. Royal, 27, will now earn $3.5 million in guaranteed total compensation for the upcoming season, and becomes a free agent next year.
March, 11, 2014
Mar 11
10:50
AM ET
According to the latest calculations of ESPN's Roster Management, the
San Diego Chargers
have about $5.8 million in salary-cap space heading into the start of free agency on Tuesday at 4 p.m. ET.
However, that figure does not include recent deals with guard
Chad Rinehart
and safety
Darrell Stuckey
, along with reported pay cuts for edge rusher Jarret Johnson and receiver
Eddie Royal
.
The Chargers are among the bottom third of the league in terms of salary-cap space and likely will not be major spenders during the first wave of free agency. But expect San Diego general manager Tom Telesco to be a sensible spender during the second wave of free agency, much like he accomplished last year by signing left tackle
King Dunlap
and running back
Danny Woodhead
to two-year deals.
Here are a few names to keep an eye on today, and the coming weeks.
Champ Bailey, DB, Denver Broncos
: Yes, the future Hall of Famer turns 36 in June. He struggled with a foot injury most of the 2013 season, playing in only five regular-season games. But if healthy, Bailey can provide some versatility, with an ability to play on the perimeter and inside against the slot. Bailey has an offseason home in Orange County, California and likely would relish the chance to play against his former team, the Broncos, twice a year. Bailey said he would be willing to play safety.
Earl Mitchell, DT, Houston Texans
: Selected in the third round by the Texans in the 2010 draft out of Arizona, Mitchell emerged as a starter in 2013, finishing with 48 tackles and 1.5 sacks. At 6-foot-3 and 300 pounds, Mitchell can play 3-tech or nose tackle, and he has some scheme versatility with an ability to play in a 3-4 or a 4-3. Mitchell, 26, seems too small to regularly fill in for the Chargers at nose tackle as a replacement for
Cam Thomas
, who also hits the free-agency market.
Mitchell earned an A grade from ESPN NFL Insider Bill Polian
.
Hakeem Nicks, WR, New York Giants
: The North Carolina product said he wouldn't mind signing a long-term deal and being the missing link for a Super Bowl contender. Nicks, 26, also
specifically mentioned
Philip Rivers
as a guy he wouldn't mind as a teammate
. But does Nicks have any gas left in the tank? His stat line in the past two seasons -- 103 catches and three touchdowns -- provides an answer.
Brady Quinn, QB, New York Jets
: A good athlete and hard worker in the film room, Quinn could come in and push second-year pro Brad Sorensen for the backup quarterback job if the Chargers choose to move on from
Charlie Whitehurst
.
Steve Smith, WR, Carolina Panthers
:
Reportedly being shopped around the league by the Panthers as trade bait
, Smith turns 35 in May but can still play. Smith played for Mike McCoy in Carolina and would be a good complement to
Keenan Allen
. If Carolina releases Smith, the Chargers should be one of the first teams in line for his services.
Paul Soliai, DT, Miami Dolphins
: At 6-4 and 340 pounds, the University of Utah product would be an ideal fit as a 2-gap run-stuffer in the middle of San Diego's defense. But because he's 30 years old, the Chargers might not want to invest long-term on Soliai. He's also reportedly receiving interest from the Falcons.
Golden Tate, WR, Seattle Seahawks
: The ultracompetitive Tate would be a good fit in San Diego's offense because of his ability to stretch the defense along with a knack for making plays after the catch. The Notre Dame product also is one of the better punt returners in the game. Tate, who turns 26 in August, could be too expensive for the Chargers.
Walter Thurmond, CB, Seattle Seahawks
: Thurmond's strength is versatility. At 5-11 and 190 pounds, Thurmond can play off or press coverage, and is one of the best slot defenders in the NFL. He's also a sure tackler and can return punts. But the University of Oregon product struggles to stay on the field, missing 30 of a possible 64 regular-season games. Thurmond also was suspended for four games in 2013 for violating the NFL's substance abuse policy.
March, 10, 2014
Mar 10
7:20
PM ET
ESPN's Adam Schefter is reporting that
San Diego Chargers
outside linebacker
Jarret Johnson
will take a pay cut to stay with the team for the upcoming season. Johnson was scheduled to make $4 million in non-guaranteed base salary in 2014, and $5 million in base salary in 2015.
Johnson signed a four-year, $19 million deal, including $10 million of guaranteed money, to join the Chargers in the March 2012. The Alabama product is considered one of the team leaders on defense and has been pretty durable throughout his career.
However, Johnson missed five games in 2013 with hamstring and hand injuries. Johnson turns 33 in August.
The Chargers already executed a couple cost-cutting moves to prepare for the start of free agency, releasing fullback
Le'Ron McClain
and defensive backs
Derek Cox
and
Johnny Patrick
, along with restructuring the contract of veteran receiver
Eddie Royal
.
March, 10, 2014
Mar 10
3:17
PM ET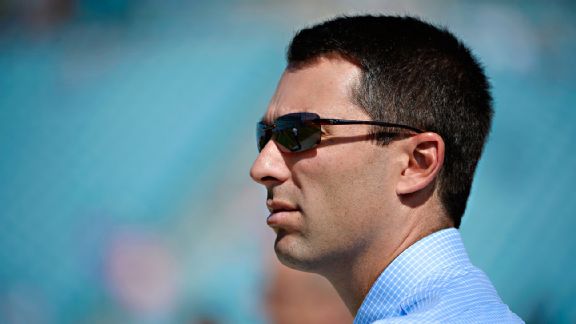 AP Photo/Phelan M. EbenhackComing off a playoff season, Tom Telesco hopes to build the Chargers into a perennial contender.
SAN DIEGO -- A patient decision-maker with just a week on the job,
San Diego Chargers
general manager Tom Telesco helped his new franchise make perhaps the most impactful move in recent memory when he hired Mike McCoy as the team's new head coach a little over a year ago.
The detail-oriented McCoy, who had been the
Denver Broncos
' offensive coordinator, led the Chargers to their first playoff appearance since 2009. Along the way, he resuscitated the careers of quarterback
Philip Rivers
and running back
Ryan Mathews
.
Telesco and McCoy have San Diego headed in the right direction, re-establishing a good working relationship between the personnel department and coaching staff that had turned sour under former head personnel man A.J. Smith.
Telesco and McCoy let their actions speak louder than their words. McCoy divulged little about his team in weekly conversations with reporters, concerned with leaking information to the opponent.
Telesco shares a similar approach, preferring to speak in generalities about his team's performance. For now, the hushed approach has proved effective.
On the field, Telesco said he was attracted to McCoy's knack for teaching his coaching staff and players what he wanted to accomplish, along with an ability to adapt.
"He's direct with the players," Telesco said of McCoy. "He defines what he wants from them, so there's no gray area. So everyone knows what's exactly expected of them, and I think that's a great trait to have.
"We had some ups and downs, which is pretty much what you'd expect from a team in transition. And you saw on the field that sometimes we looked like a pretty good football team, while other times you could say we looked pretty far away.
"So we were a little inconsistent early in the year, but he always kept the players focused. Even when we were 5-7 and most people had counted us out, the players were locked in on Mike the whole time. And you saw that on the practice field every day."
The Chargers were a surprise entry to the playoffs last season. But San Diego has several aging foundational players in place, including Rivers, tight end
Antonio Gates
, center
Nick Hardwick
and safety
Eric Weddle
.
It's the mild-mannered Telesco's job in Year 2 to help provide McCoy with more tools to make a deeper playoff run in 2014, which means talent upgrades in the secondary and defensive and offensive lines, along with improving overall team speed through the draft and free agency.
Like most general managers, Telesco's mantra is to build through the draft.
Telesco, 41, received his foundation for football while playing receiver at Division III John Carroll University in Ohio. And he cut his teeth in the personnel department of one of the best in the business, spending 15 years in Indianapolis under former NFL head personnel man Bill Polian. Indianapolis appeared in the playoffs 12 times, winning eight division titles and a Super Bowl during that time frame.
"He had a really great process with the way we did things," Telesco said about his former boss. "We were very consistent. We tried to make as many good football decisions that we could, and that included taking opinions from everybody. One thing about Bill is he always listened to everybody, coaches and scouts -- and even younger guys like me when I first started.
"It doesn't mean he's always going to go with what you said, but he always listened, which was great. We just worked the process, and we always stayed true to the process."
The Chargers drafted well under the direction of Telesco in 2013, selecting right tackle
D.J. Fluker
in the first round, linebacker
Manti Te'o
in the second and offensive rookie of the year candidate
Keenan Allen
in the third round -- all key contributors in their first season.
Along with those picks, Telesco found some bargains in free agency, signing running back
Danny Woodhead
and offensive tackle
King Dunlap
to two-year deals, and offensive lineman
Chad Rinehart
to a one-year deal.
Rinehart returned to the Chargers on a two-year deal before the onset of free agency.
However, everything did not go perfectly. Telesco's top free-agent signing, cornerback
Derek Cox
, struggled through the first half of the season, and was eventually replaced by
Richard Marshall
.
Signed to a $20 million, four-year deal, the Chargers released Cox last week, saving $1.65 million in cap space and $4.25 million in cash.
"All the decisions that we make in this business, you're never right all the time," Telesco said. "And you try and learn."
With free agency set to begin this week, the Chargers have little cap space to make a big splash. So expect Telesco to use his seven draft picks wisely, and once again spend sensibly in free agency in pursuit of building the Chargers into a perennial Super Bowl contender.
March, 10, 2014
Mar 10
1:12
PM ET
San Diego Chargers general manager Tom Telesco continued his effort to keep impact players from the team's 2013 postseason run on the roster, agreeing to terms on a two-year deal with offensive lineman Chad Rinehart.
Rinehart, 28, missed five games last season with a toe injury, but San Diego's offensive line play improved after he returned to the starting lineup for the second half of the season.
A third-round selection by Washington in the 2008 draft, the Northern Iowa product signed a one-year deal with the Chargers during the 2013 offseason as an unrestricted free agent.
Rinehart started 11 games (eight at left guard and three at right guard) and played 638 offensive snaps for the Chargers during the regular season. He also started at left guard in both of San Diego's playoff games.
In addition to Rinehart, the Chargers have re-signed middle linebacker Donald Butler and safety Darrell Stuckey to multiyear deals ahead of the start of free agency Tuesday.
March, 10, 2014
Mar 10
10:00
AM ET
By
ESPN.com staff
| ESPN.com
The AFC West produced three playoff teams and the eventual AFC title winner in the
Denver Broncos
, so it should come as no surprise that many top free agents come from the division.
Oakland Raiders
reporter Paul Gutierrez, Broncos reporter Jeff Legwold,
Kansas City Chiefs
reporter Adam Teicher and
San Diego Chargers
reporter Eric D. Williams break down the top 15:
1. Branden Albert, Chiefs offensive tackle:
Kansas City won't franchise him this year. Albert will get a nice contract elsewhere.
2. Dominique Rodgers-Cromartie, Broncos cornerback:
He's not yet 30 and still a top-tier athlete.
3. Eric Decker, Broncos wide receiver:
Productive in scoring zone, will be one of the biggest wide receivers on open market, but rarely faced opponents' top cornerback in Broncos offense.
4. Lamarr Houston, Raiders defensive end:
Better suited to the left side because he's not the prototypical speed-rusher.
Moreno
5. Knowshon Moreno, Broncos running back:
Has had multiple knee surgeries, including one on a torn ACL in 2011, but he runs with passion, is solid in pass protection and a productive receiver.
6. Jared Veldheer, Raiders offensive tackle:
Didn't have a very good season in 2013 but would attract some attention as a free agent.
7. Geoff Schwartz, Chiefs guard:
Was a free-agent find for Kansas City last season. Can play right tackle if needed.
8. Jon Asamoah, Chiefs guard:
A better pass-protector than run-blocker. He will be only 26 in July.
9. Shaun Phillips, Broncos linebacker:
He'll be 33 in May but showed last season that he can still be an effective situational pass-rusher.
10. Zane Beadles, Broncos guard:
For a movement-based front, he's a smart, durable option who played in every game while with Denver.
McCluster
11. Dexter McCluster, Chiefs wide receiver/punt returner:
Hasn't had a huge impact on the offense in Kansas City, but he will be only 26 in August.
12. Robert Ayers, Broncos defensive end:
Had his best season in 2013, so maybe he's a late bloomer.
13. Tyson Jackson, Chiefs defensive end:
Like Ayers, he had his best season in 2013, so maybe he's figuring it out as well.
14. Tracy Porter, Raiders cornerback:
He's versatile enough to cover the slot receiver, and he had one of his better seasons in 2013.
15. Kendrick Lewis, Chiefs safety:
He's only 25 but was a better player earlier in his career. He hasn't been the same since a shoulder injury in 2012.
March, 9, 2014
Mar 9
3:35
PM ET
ESPN.com news services
[+] Enlarge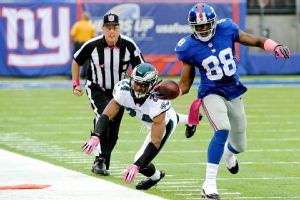 AP Photo/Bill KostrounHakeem Nicks said 'there are a number of teams that I have my eye on' once he becomes an unrestricted free agent Tuesday.
Hakeem Nicks emphasized Sunday that he wants a long-term contract as a free agent, claiming he can be a "missing link" to a team with championship aspirations.
Nicks, who will become an unrestricted free agent Tuesday, told ESPN's Josina Anderson that he is considering "a number of teams."
"Ideally this is what I want," Nicks told Anderson. "I want to go to a team where I'm the missing link. There are a number of teams that I have my eye on once I hit the market."
Nicks, who was plagued by injuries during his final two seasons with the New York Giants, specifically mentioned several quarterbacks that he envisioned teaming up with.
"I know if I went to a place like Indianapolis, I would be dangerous with a quarterback like Andrew Luck," Nicks said. "I can see myself catching passes from Cam Newton or even Philip Rivers."
March, 8, 2014
Mar 8
3:30
PM ET
In another move to retain a core player, the
San Diego Chargers
announced the team agreed to terms on a multi-year deal with veteran safety
Darrell Stuckey
on Saturday.
Stuckey confirmed via Twitter that his new contract is a four-year deal.
The future is bright 4 us @chargers it is a blessing 2 have another 4 yrs in USA's finest city... #NoFilter #BoltUp pic.twitter.com/zLUAyRM6sR

— Darrell Stuckey II (@DarrellStuckey) March 8, 2014
A special teams captain last season, Stuckey is considered a valuable, core special teams player for the Chargers. A fourth-round selection by San Diego in the 2010 draft out of Kansas, Stuckey finished tied for third in special teams tackles with 10.
Stuckey, 26, also played in 89 defensive snaps during the regular season, finishing with 21 tackles and a pass deflection.
The Chargers re-signed middle linebacker
Donald Butler
to a multi-year deal last week, the team's first move in free agency.
March, 8, 2014
Mar 8
10:05
AM ET
ESPN NFL Insider Field Yates
provides a breakdown of the opening of the league's "legal tampering window," which begins at noon ET Saturday.
According to the NFL rule crafted last year, teams can contact and enter into negotiations with certified agents of players who will become unrestricted free agents upon the expiration of their 2013 player contracts at 4 p.m. ET on March 11. However, a contract cannot be executed with a new club until the beginning of free agency on March 11.
During this negotiation period, unrestricted free agents cannot visit a club (other than the player's current club) at its permanent facility or at any other location, and no direct contact is permitted between the player and any employee or representative of a club (other than the player's current club). If a player is self-represented, clubs are prohibited from discussions with the player during the negotiating period.
In this ESPN Insider piece
, Steve Muench of Scouts Inc. points to two defensive backs who are moving up the draft board, Washington State University safety Deone Bucannon and Utah State cornerback Nevin Lawson.
Ricky Henne of Chargers.com
profiles Notre Dame defensive tackle Louis Nix III, a possible target for San Diego at the end of the first round.
Greg Gabriel of the National Football Post
lists Nix as one of five underrated prospects in this year's draft.
Tom Krasovic of U-T San Diego
takes a closer look at another possible target for the Chargers in free agency, Indianapolis running back Donald Brown. Chargers GM Tom Telesco was in Indianapolis when the Colts drafted Brown in the first round of the 2009 draft.
Former NFL offensive lineman Ross Tucker, writing for Sports Illustrated,
has an interesting discussion on grades for offensive linemen and how it affects their value on the free agent market.
March, 7, 2014
Mar 7
2:35
PM ET
The
San Diego Chargers
were one of 26 NFL teams represented at TCU cornerback
Jason Verrett
's pro day on Thursday.
ESPN draft analyst Todd McShay has San Diego selecting Verrett at No. 25 overall
in his latest mock draft

.

Verrett
Verrett worked out for Carolina on Friday. The Panthers hold the No. 28 overall pick. Verrett also met with the
Cleveland Browns
, holders of the No. 26 overall pick, after his pro day workout.
Cincinnati defensive backs coach Vance Joseph put Verrett through his individual workout. The Bengals have the No. 24 overall pick.
Verrett stood on most of his numbers from an impressive performance at the NFL scouting combine last week, including an official 4.38-second, 40-yard time. But he did bench press 225 pounds 19 times, and posted a 39.5 vertical jump.
Verrett's bench press numbers were impressive because he will need shoulder surgery to repair a torn labrum. Only five other cornerbacks at the NFL scouting combine last month had more reps on the bench press.
According to the Dallas Morning News, Anaheim Ducks orthopedic surgeon Dr. Orr Limpisvasti is scheduled to perform Verrett's surgery on his torn labrum March 17 in Los Angeles.
"[The doctors] feel like it's gonna be a very short process," TCU coach Gary Patterson told reporters at Verrett's pro day workout. "Everybody that's done it has been able to be back before camp. On the high road, I think that's what he's anticipating. That he'll be back before camp."
Verrett earned co-Big 12 Defensive Player of the Year honors, missing only one game in 2013 due to the injury.
Verrett measured in at 5-9 1/2 and 189 pounds at the combine. Patterson said that Verrett only gave up one touchdown last season in one-on-one coverage. Verrett is athletic and versatile, able to play press and off coverage on the perimeter, and also possesses the quickness to move inside to cover a slot receiver.
Verrett finished with 160 tackles (including 10 tackles for loss), nine interceptions and 34 pass deflections in 37 games played at TCU.
A former running back and receiver, Verrett has good ball skills and is a good blitzer. And according to Patterson, Verrett can quickly pick up defensive schemes.
"One of the things he does is he really studies the opponent and does a great job," Patterson told reporters after TCU's pro day. "We put him for two years on whoever is best that they had. He's not going to shy away from anybody."
March, 7, 2014
Mar 7
11:00
AM ET
»
AFC Free-Agency Primer
:
East
|
West
|
North
|
South
»
NFC
:
East
|
West
|
North
|
South
With just under $6 million in projected salary-cap space, the
San Diego Chargers
are not expected to make a big splash at the start of free agency. But the Chargers could still add a few impact players at a reasonable price if the organization is patient and does its homework.

That said, we take a close look at San Diego's approach heading into free agency.
Key free agents:
Chad Rinehart
,
Darrell Stuckey
,
Richard Marshall
,
Reggie Walker
,
Charlie Whitehurst
.
Where they stand:
San Diego already took care of the team's top offseason priority, with middle linebacker
Donald Butler
inked to a multiyear deal before the onset of free agency. The Chargers need help at cornerback, nose tackle, edge rusher, interior offensive line and in the return game. San Diego could look to sign a couple of their own free agents that produced in 2013, including Rinehart, Stuckey, Marshall and Walker. All four players had an impact in the team's surprising postseason run and could return at a reasonable price. The Chargers also need to find a capable backup for every-down running back
Ryan Mathews
, with veteran
Ronnie Brown
hitting the market.
What to expect:
With a limited amount of cap space, expect the Chargers to be active in the secondary free-agent market, targeting veteran players with a specific skill set who can make an impact. The Chargers benefited from signing two such players to two-year deals last year in tackle
King Dunlap
and running back
Danny Woodhead
. San Diego also could look for front-line players who don't receive the type of lucrative offers they expect and want to re-enter the market after a one-year, prove-it deal.
March, 6, 2014
Mar 6
3:35
PM ET
In this series, we count down the top 10 impact plays for the San Diego Chargers that helped shape the team's 2013 postseason run.
Situation:
Second-and-15 from the San Diego's 26-yard line.
Score:
Chargers trailed the
Kansas City Chiefs
, 38-34.
Time:
Thirty-one seconds left in regulation.
Williams' take:
The pass play was one of the best throws
Philip Rivers
made all season. Even more impressive is that the 32-year-old quarterback made the play with the game on the line, finding little-used
Seyi Ajirotutu
behind two Kansas City defenders for a 26-yard touchdown and a 41-38 victory on the road at Arrowhead Stadium. Rivers completed 27 of 39 passes for 392 yards, three touchdowns and no interceptions against one of the best defenses in the NFL at the time in Kansas City. Ajirotutu was pressed into duty against Kansas City because
Eddie Royal
was out with a chest injury.
Check out the play here
.
Season impact:
The win ended a three-game losing streak and vaulted San Diego back in postseason contention. The Chargers would go on to win four of their final five games to sneak into the AFC playoffs at 9-7. Ajirotutu had played 10 offensive snaps through 10 games up until the final series against Kansas City but proved he could be counted on in the clutch if the Chargers needed him on offense. The Fresno State product led San Diego in special teams tackles with 12.
Quote:
"It's a route that he's going to run a 15-yard stop, unless he gets some form of Cover 2. So I reminded him when he broke the huddle, not that he needed to be reminded, that if you get [Cover 2], get up the boundary in a hurry." -- Rivers on the touchdown pass to Ajirotutu.
March, 6, 2014
Mar 6
11:00
AM ET
Todd McShay's third 2014 NFL mock draft is out on ESPN Insider today.
Cornerback is a huge need for the Chargers and McShay had them selecting Florida CB
Loucheiz Purifoy
in his second mock. There should be several quality corners to pick from at this point of the draft and it seems like a logical position for San Diego to address at No. 25.
This defense could use work at almost any position besides inside linebacker and passing on a quality defensive prospect wouldn't be prudent for the Chargers. Wide receiver is also an option and in a deep WR class, should be several attractive wideouts at this stage in the first round. This roster isn't as strong as their draft position would indicate.
Whom does McShay have the Chargers drafting at No. 25? ?
Let's take a look
:
To continue reading this article you must be an Insider