December, 12, 2013
Dec 12
11:08
AM ET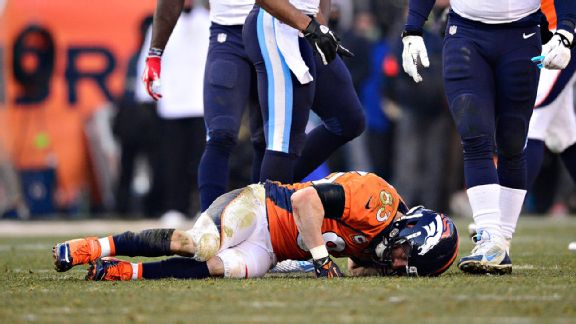 AAron Ontiveroz/The Denver Post/Getty ImagesThe Broncos will be without Wes Welker in Week 15 after another concussion in Week 14.
Perhaps the biggest question for fantasy owners coming into Thursday night's game was the status of Broncos wide receiver
Wes Welker
. Thankfully, that question already has been answered, as the Broncos have announced Welker will be out for Week 15.
Not that his designation came as much of a surprise; after all, Welker suffered his second concussion in four games last Sunday, and with only four days between games, there was simply not adequate recovery time. There is not only the league-mandated protocol sequence to consider but, more important, the global health of an athlete who has suffered two head injuries within such close time proximity. As is usually the case with concussions, there is no predictable timetable for progression, but rest assured that Welker's status will be closely monitored. In the meantime, let's have a look at some of the other players for Denver and San Diego who have health issues heading into tonight's game.
Denver Broncos
Knowshon Moreno, RB (shoulder), Eric Decker, WR (ribs), Demaryius Thomas, WR (shoulder), Julius Thomas, TE (knee), Peyton Manning, QB (ankle); Probable:
All the non-Wes Welker fantasy options for Denver come into this game listed as probable, and are expected to play after each participated in practice this week.
Manning's ankle issue is familiar to everyone, and he has proved he can be effective regardless; he's the No. 1 QB in
our experts' rankings
this week. Julius Thomas returned to action last week after missing two games with discomfort in his knee following a hyperextension injury. He found his way into the end zone in his first game back. Demaryius Thomas has been managing a sore shoulder for a few weeks, but it didn't seem to hamper his production last week as he also managed to score. Speaking of finding the end zone, Decker appears to be locked in the past two weeks with five touchdowns. Bruised ribs won't sideline him this week, and didn't even limit him in practice. Thomas and Decker are third and 10th, respectively, in
the WR rankings
.
On the ground, Moreno appeared to be in danger of missing time a couple of weeks ago because of a bone bruise in his ankle. However, he has not missed any time, and he continues to be productive (and is
the No. 6 RB
this week). It's his shoulder that has him on the injury report this time around, but he too is expected to play.
San Diego Chargers
Keenan Allen, shoulder (P) and Eddie Royal, toe (Q), WR:
Allen gave fantasy owners a scare when he exited Sunday's game because of his shoulder, although he did eventually return. Coach Mike McCoy seemed confident from the beginning of the week that Allen was in no jeopardy of missing Thursday's game. Indeed, Allen turned in full practices each day -- Monday's report of "full practice" was an estimation, because the Chargers did not conduct a formal practice that day -- and is listed as probable. He will be on the field Thursday night. Allen is the No. 13 WR in our experts' rankings.
Royal also is likely to be on the field, despite being listed as questionable. Royal has been battling a toe injury for several weeks and did sit out Week 13, but it's important to note that the likely culprit sidelining him then was a chest injury. Royal returned Sunday, but had only three catches on four targets. Interestingly, the "chest" injury is no longer listed next to his name on the injury report, and he did participate in limited practices Tuesday and Wednesday, a bit of an upgrade for him. Despite being listed as questionable, it appears Royal will play, although how involved he is remains to be seen.
December, 12, 2013
Dec 12
10:00
AM ET
DENVER -- Good morning. San Diego rookie receiver
Keenan Allen
is finally getting some shine nationally.
Peter Bukowski of Sports Illustrated
pegs Allen as his offensive rookie of the year.
Bukowski:
"This award has been [Green Bay running back Eddie] Lacy's for most of the last two months, but Allen has wrestled it away with an outstanding stretch as the Chargers' top receiver. He had just three catches for 59 yards against the Giants, but scored twice and is showing why he ought to have been a higher pick despite injury and speed concerns coming out of Cal. With a shootout all but assured this week against the Broncos, expect Allen to continue to be targeted regularly by
Philip Rivers
."
Chris Wesseling of NFL.com
says the offensive rookie of the year award is a tight battle between Allen, Green Bay's
Eddie Lacy
and Cincinnati's
Giovani Bernard
.
According to Football Outsiders
, the Chargers have a 3.2 percent chance of earning the No. 6 AFC Wild Card berth.
ESPN Stats & Info
provides the top stats to know for tonight's game between the Chargers and the Broncos.
ESPN Broncos beat reporter Jeff Legwold
writes that the Broncos will play in their sixth prime time game this season on Thursday against the Chargers.
More Legwold:
Wes Welker
has been ruled out of Thursday's game with lingering concussions symptoms.
Michael Gehlken of U-T San Diego
writes that
Manti Te'o
has made progress in his rookie season.
Kyle Posey of Bolts from the Blue
writes that Te'o has improved in pass coverage but still struggles in the run game.
Ricky Henne of Chargers.com
says San Diego is embracing the challenge on the road against Denver.
In this ESPN Insider piece
, Mel Kiper Jr. has cornerbacks like Oklahoma State's Justin Gilbert and Michigan State's Darqueze Dennard moving up his big board. Both could be potential targets in next year's draft for the Chargers, who need help in the secondary.
Former NFL scout Greg Gabriel writing for the National Football Post
breaks down two offensive tackle prospects who could make sense for the Chargers – Tennessee's Antonio Richardson and Alabama's Cyrus Kouandjio.
December, 12, 2013
Dec 12
10:00
AM ET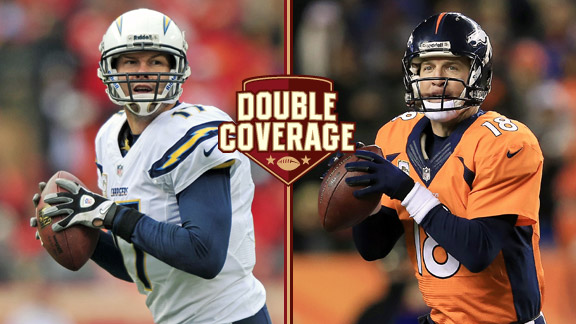 Getty ImagesExpect a high-scoring AFC West fight when Philip Rivers' Chargers take on Peyton Manning's Broncos.
For the second time in six weeks, the
San Diego Chargers
and the
Denver Broncos
will square off, with each team working through its postseason checklist.
The Broncos (11-2) want the division title and the AFC's top seed. Due to a loss to New England last month, they will likely have to win out to get both, unless the Patriots stumble down the stretch. The Chargers (6-7) know the time is now if they are going to snag an AFC wild-card spot, so much so that
Jarret Johnson
called Thursday night's game "a playoff scenario for us."
ESPN.com Chargers reporter Eric D. Williams and Broncos reporter Jeff Legwold take a look at Thursday night's game.
Legwold:
Eric, former Broncos coach Josh McDaniels once called the Chargers the "measuring stick" of the division, but the Broncos are 4-1 against San Diego since John Fox replaced McDaniels and 3-0 since
Peyton Manning
became Denver's quarterback. How is former Broncos coach Mike McCoy framing this one, especially with the Chargers clinging to at least some postseason hopes?
Williams:
McCoy has done a good job of making sure his players are staying in the now and not looking too far ahead. But with their postseason aspirations on life support, San Diego players view the trip to Denver as a playoff game. Defensively, the Chargers are frustrated with how sloppily they played against Manning in Week 10, giving up several big plays in the passing game. San Diego's secondary has played much better in the past two games, allowing just two touchdown passes. So the Chargers are looking to redeem themselves on Thursday.
Wes Welker
will miss Thursday's contest due to lingering concussion symptoms. How will Denver replace his production?
Legwold:
Even in the Broncos' ultrabalanced attack in the passing game, Welker will certainly be missed given he's second on the team in targets (111), receptions (73) and touchdown catches (10). But how the Broncos deal with that should look familiar to McCoy because the Broncos figure to field a lineup similar to the one McCoy called plays for here last season. The Broncos will move to a two-tight end look with
Jacob Tamme
working out of the slot. Tamme caught 52 passes last season, with the majority of those receptions coming when he was lined up as a slot receiver. It was a job he did well enough that Manning called him one of the most important players in the offense last season. Manning has confidence in Tamme -- they played together in Indianapolis -- and Manning threw to Tamme this past weekend in many of the situations where Manning usually throws to Welker.
The Chargers' secondary had a quality day against the Giants this past Sunday. How do you think they'll line up against the Broncos?
Williams:
Cornerback
Derek Cox
was replaced by eight-year veteran
Richard Marshall
in the starting lineup two weeks ago, bringing stability to the back end defensively. San Diego has given up 20 passing touchdowns this season, but just two touchdown passes in the past two games. The Chargers had just four interceptions through the first nine games, but have hauled in five picks in the past four. Outside linebacker Jarret Johnson said his defensive teammates just made too many silly mistakes against the Broncos earlier this season, and that they need to make Manning work for Denver's touchdowns by playing sound fundamental defense with multiple looks up front.
How has Broncos coach John Fox made the transition back to the sideline after heart surgery?
Legwold:
Fox had surgery to repair a condition that was diagnosed during his time with the
New York Giants
in the late '90s, so he knew the surgery was coming at some point. He has also lived with the difficulties a faulty aortic valve brought on. He says he now feels better than he has in 20 years. Doctors cleared him to return to work the Monday before the Titans game and he worked through the week without any difficulties. He coached from the sideline during the game this past Sunday and was on the field last week even though the team practiced outside in below-zero temperatures for three days.
Manning is five touchdowns away from tying the NFL single-season record, but
Philip Rivers
has two three-touchdown days over the past three games. Do the Chargers feel like they left some points on the field the last time these two teams met?
Williams:
Yes, that's certainly the case. Rivers mentioned this week during his conversation with reporters here in San Diego that even though the Chargers had the ball for more than 38 minutes the last time these two teams played, the Chargers scored only 20 points. Rivers understands that can't happen again on the road at Denver. The Chargers seem to have a better plan for how they will attack teams when they get into the red zone. Running back
Ryan Mathews
has emerged as more of a focal point of the offense when they get near the end zone. Mathews has scored four touchdowns in San Diego's past seven games.
While Denver's offense purrs, the defense continues to sputter. What has Fox done to change his fortunes on that side of the ball?
Legwold:
The Broncos have surrendered at least 17 points in every game this season and four times they have trailed by at least 11 points in games they eventually went on to win. They have certainly missed cornerback
Champ Bailey
, who has played in just three games this season, and defensive tackle
Kevin Vickerson
, one of their best run defenders up front who is now on injured reserve. Fox juggled things some this past weekend when he essentially benched linebacker
Wesley Woodyard
, a team captain, in the base 4-3 look, playing veteran
Paris Lenon
there instead. Fox also switched out
Duke Ihenacho
at safety, putting in
Omar Bolden
instead. Woodyard will still play the specialty packages, but the Broncos have juggled things in the base.
Von Miller
has had a dominant half against the Patriots and a dominant half against the Titans, but the Broncos are still waiting to see the impact player he can be for an entire game. The last time they played the Chargers, they were in the nickel most of time -- 42 snaps in all to go with 11 in the dime. They are far more consistent in those looks and have struggled more against teams that make them play out of their base defense.
December, 12, 2013
Dec 12
8:00
AM ET
By
ESPN.com staff
| ESPN.com
The
Kansas City Chiefs
are all but a lock to take the first wild-card spot in the AFC. Four teams are competing for the sixth and final AFC playoff bid. Which team has the best chance to get in? Our team reporters make the case for, or against, the Ravens, Dolphins, Jets and Chargers.

Baltimore Ravens (7-6)
Remaining games:
at Lions, vs. Patriots, at Bengals
Don't count out the Baltimore Ravens, even though it's easy to do when looking at their remaining schedule. Of the contenders for that second AFC wild-card spot, the Ravens have the most difficult final three weeks of the regular season, facing three division leaders, including two on the road. Despite the odds stacked against them and the fact that they're 1-5 on the road, the Ravens will make the playoffs because they're hitting their stride at the right time. It's games like this past Sunday's historic finish against the
Minnesota Vikings
that make you think the defending Super Bowl champions have regained their magic.
All three phases are starting to click for the Ravens. On offense,
Joe Flacco
is starting to stretch the field again, and his favorite target, tight end
Dennis Pitta
, has returned after dislocating his hip in late July. Defensively, the Ravens have allowed the eighth-fewest points in the league in addition to ranking in the top three on third down and in the red zone. On special teams, the Ravens have the NFL's most consistent kicker in
Justin Tucker
and an explosive returner in
Jacoby Jones
.
The ability to make plays late is why the Ravens look like a postseason team again. The Ravens struggled early this season because they couldn't win the close games. Baltimore was 1-3 in games decided by three or fewer points in September and October. Now, the Ravens are 3-1 in such games in November and December.
Plus, their final stretch isn't as daunting as it seems. The Lions have lost three of their past four games, and running back
Reggie Bush
aggravated a calf injury Sunday. The Patriots lost tight end
Rob Gronkowski
to a season-ending injury, and they may not have as much at stake when they play the Ravens because New England can clinch the AFC East on Sunday. And the Ravens beat the Bengals earlier this season. In fact, there is a still a chance that the Ravens could be playing for the AFC North title, and not a wild-card berth, in the season finale in Cincinnati.
-- Jamison Hensley, ESPN.com Ravens reporter
---

Miami Dolphins (7-6)
Remaining games:
vs. Patriots, at Bills, vs. Jets
A month ago, the playoff prospects of the Miami Dolphins seemed iffy at best. This was a group that couldn't finish in the fourth quarter and was distracted by off-the-field issues involving the bullying scandal with offensive linemen
Richie Incognito
and
Jonathan Martin
.
But something clicked with Miami at just the right time. The Dolphins have won three of their past four -- which includes two straight road games in December -- and that's enough to make me believe they can make the postseason for the first time since 2008.

The Dolphins are not only the hottest of the four remaining teams competing for the AFC's final wild card, they're the most resilient. No team has gone through the adversity and distractions Miami faced during the Martin-Incognito scandal. The Dolphins had NFL investigators at their training facility interviewing every player, coach and key executives. The media scrutiny was intense. Both took time and energy away from their preparation.
Still, Dolphins second-year coach Joe Philbin did a good job keeping the team focused with recent wins over the
San Diego Chargers
(6-7),
New York Jets
(6-7) and
Pittsburgh Steelers
(5-8). The victories over the Chargers and Jets, in particular, provide key head-to-head tiebreakers that could pay dividends. Those are two of the teams Miami is battling for the final wild card in the AFC.
Miami's biggest concern is the Ravens, who beat Miami in Week 5. However, Baltimore has a tougher remaining schedule. The Ravens will play at the
Detroit Lions
(7-6), the
New England Patriots
(10-3) and at the
Cincinnati Bengals
(9-4). Baltimore's opponent winning percentage is .667. The Ravens could slip up at any moment. Miami has an opponent winning percentage of .512 and will be favored in at least two of its final three games.
Considering all that has transpired this year in Miami, the Dolphins would be a phenomenal story if they made the playoffs.
-- James Walker, ESPN.com Dolphins reporter
---

New York Jets (6-7)
Remaining games:
at Panthers, vs. Browns, at Dolphins
The Jets will miss the playoffs for the third straight year. If you're living in a vacuum, that might be a disappointing, considering they were 5-4 at their bye week. But remember the big picture: This is a rebuilding season under first-year general manager John Idzik. The Jets are starting five rookies, including quarterback
Geno Smith
. They're too young and too inconsistent to win their final three games, which probably is what it will take to have a chance at a wild-card spot. Remember, they haven't won two in a row all season, and there's no reason to think they can start now.
The offensively challenged Jets will have a hard time scoring points against the Carolina Panthers. When they can't run the ball and have to rely on Smith, it usually doesn't end well. Smith has talent, but he has thrown 20 interceptions, making poor decisions and trying to force the issue when adversity strikes -- typical rookie stuff. His supporting cast is highly suspect. You could argue that the only skill-position player meeting expectations is running back
Chris Ivory
. No doubt, the offense is headed for an overhaul in the offseason -- and that may include the quarterback position. At best, Smith remains a question mark.
Rex Ryan relied on his defense in most of the wins, but the unit appears to be wearing down. The Jets have allowed 838 total yards in the past two games, the highest back-to-back total in the Ryan era. If fatigue is a factor, it's understandable, considering how long the defense has been on the field. The once-formidable secondary, hurt by poor cornerback play, is allowing too many big plays. There's no telling how many yards the Jets will surrender to Browns wide receiver
Josh Gordon
. The recent addition of future Hall of Fame safety
Ed Reed
hasn't helped much.
Unfortunately for the Jets, they still have two games on the road. They're a terrible road team -- a 1-5 record, having been outscored 105-26 in the past three.
The Jets still are playing hard for Ryan, evidenced by last week's 37-27 win over the Oakland Raiders, but they simply don't have the talent or consistency to make a strong and late push for a wild-card spot. Even if they do make it interesting, their awful conference record (3-7) will doom them in applicable tiebreaker scenarios. The bigger suspense is whether Ryan will return. He has only one year remaining on his contract, and his record over the past three years is 20-25.
-- Rich Cimini, ESPN.com Jets reporter
---

San Diego Chargers (6-7)
Remaining games:
at Broncos, vs. Raiders, vs. Chiefs
San Diego played its best game of the season this past Sunday in a 37-14 rout of the
New York Giants
to get to 6-7. However, the Chargers dug themselves too much of a hole to climb out of in the last three games to make a postseason run.
Even though they play two of their final three games at home, the Chargers face teams with a combined record of 25-14.
Miami already holds the head-to-head tiebreaker against the Chargers because they defeated San Diego earlier in the year. And San Diego has a worse conference record (3-6) than the Dolphins (6-3) and the Ravens (6-4), so the Chargers would have to finish a game ahead of both of those teams.
The Chargers also have been inconsistent, winning two games in a row only one time this season, so the likelihood of this team stringing three wins together, including a victory against the Broncos, who are undefeated at home, isn't good.
However, one thing giving San Diego a glimmer of hope is quarterback
Philip Rivers
. He's playing the best football of his career right now and is 27-6 in the month of December since taking over as the team's starter in 2006. Rivers also is 5-2 at Denver over that time. Having a franchise quarterback playing at a high level can help mask some of the mistakes this young team makes on a weekly basis.
Even with the fleeting playoff hopes, San Diego coach Mike McCoy said his team is focused on getting a win in Denver on Thursday.
"We are not worried about how we are going to feel next week or at the end of this year or what this does for next year," McCoy said. "We are trying to win every game we can -- the next game and that's all we are worried about. We are not worried about the future. The future is now."
-- Eric D. Williams, ESPN.com Chargers reporter
December, 11, 2013
Dec 11
7:10
PM ET
By
ESPN Stats & Information
| ESPN.com
The Denver Broncos host the San Diego Chargers in an AFC West battle to kick off Week 15. Here the stats to know in advance of tonight's game at Mile High Stadium.
1.
The Broncos have already clinched a playoff spot for a third straight season and will clinch the AFC West with a win and a
Chiefs
loss this week. The Broncos are seeking to win three straight division titles for the first time in team history.
Since divisional realignment in 2002, the Chargers and Broncos have combined to win eight of the previous 11 AFC West division championships. The Chargers are the only team to win three straight titles in that span, when they won four in a row from 2006-09.
2.
Peyton Manning
has 45 touchdown passes this season, five shy of
Tom Brady
's single-season record of 50 set in 2007.
He has three games remaining and appears poised to shatter the record. His fewest pass TD over a three-game span this season is seven from Weeks 10-12.
Manning also has 4,522 pass yards, the most through 13 team games in league history. He needs 955 pass yards to break
Drew Brees
' single-season record set in 2011, or 318.3 yards per game.
Manning is averaging 347.8 pass yards per game this season and has thrown for over 300 yards in 11 of 13 games.
3.
Denver has won 13 straight home games, tied for the second-longest streak in team history. If any team can stop the streak, it might be the Chargers. San Diego is 30-6 in December and January regular-season games since 2006, the second-best record in that span behind the
Patriots
(32-4).
However, the Chargers have lost four straight versus the Broncos and are trying to avoid losing five straight in the series for the first time since 1997-99. A loss will also secure a third straight non-winning season for the Chargers. The last time they had three straight non-winning seasons was 1996-2003.
4.
The Broncos have scored 515 points this season, the most ever by a team through 13 games. They need 75 points over the next three games to break the NFL record for points in a season.
The Chargers are hardly the team to stop the Broncos' scoring spree. They are allowing the most yards per play and the fourth-worst QBR this season. Their defense has cost the team nearly seven points per game, the third-worst Defensive EPA (expected points added) in the league.
5.
While the Chargers defense will probably prevent them from beating the Broncos, their offense is built to give them a good game by keeping Manning off the field. They rank first in the NFL averaging 6.3 plays per drive, and are the fourth-slowest offense in the league (29.9 seconds per play).
The last time the Chargers and Broncos met, San Diego lost by eight points, but held Denver to its second-lowest scoring output of the season (28) and had the ball for over 38 minutes.
December, 11, 2013
Dec 11
5:30
PM ET
SAN DIEGO -- He's the ultimate game wrecker.
At different points this season,
San Diego Chargers
defensive coordinator John Pagano has referred to playmakers like Cincinnati receiver
A.J. Green
and Dallas receiver
Dez Bryant
as game wreckers because of their ability to create game-changing plays regardless of what is schemed defensively.
[+] Enlarge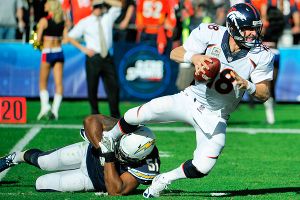 AP Photo/Denis PoroyThe Chargers held Peyton Manning in check -- relatively speaking -- in the teams' first meeting of the season, but the defense seeks to improve when facing no-huddle situations.
Well, on Thursday the Chargers will face perhaps the ultimate game wrecker for the second time this season: Denver quarterback
Peyton Manning
.
"We are playing the No. 1 offense in the National Football League on the road in a short week," Pagano said. "That is as big a challenge as it gets. Their receivers are the best. They have a great quarterback. They have great runners. Their offensive line plays at a high level.
"When you look at the categories, they are No. 1 in everything. I think that is a challenge in itself of going into Colorado and playing this game. We will make sure we show up."
Pagano is right. The Broncos are No. 1 in points scored (39.6), total yards per contest (465.6), passing yards (341.2), third-down conversions (48.2 percent) and red zone efficiency (78.9 percent.).
Manning has been deftly handling the controls, and he is on track to finish with the most productive season in his 16-year NFL career.
In San Diego earlier this season, the Chargers lost to the Broncos 28-20 but held them to their second-lowest scoring output this year. Manning threw for 330 yards and four touchdowns, taking advantage of a confused San Diego defense that at times failed to get lined up quickly enough, leading to five passing plays of 18 or more yards for the Broncos.
So how will Pagano's defense attempt to stop the high-octane, Manning-led offense this time?
"We have to be able to handle the no-huddle situations and not give them opportunities to where we don't get the call," Pagano said. "The more we keep working it, the better the communication has been at times over the last few weeks. You still have to deal with those mental errors during plays and you have to overcome them."
Manning has received criticism for his inability to produce in cold temperatures. He entered Sunday's home contest against the Tennessee Titans with a 3-8 record in games in which the kickoff temperature was below 32 degrees. But with the temperature at a frigid 16 degrees at game time, Manning completed a franchise-record 39 passes for 397 yards and four touchdowns in Denver's 51-28 victory over the Titans.
Afterward, Manning told his critics to stick it where the sun doesn't shine. Manning's performance did not surprise his former offensive coordinator in Denver, San Diego coach
Mike McCoy
.
Game-time temperature in Denver for Thursday's contest is expected to be in the 20s.
"His name in the NFL speaks for itself," McCoy said. "He's one of the greatest players of all time. He's a great competitor. He's a winner and his record speaks for itself. It has nothing to do with weather."
Along with playing mistake-free football on defense, the Chargers will rely on quarterback
Philip Rivers
to dictate tempo with his unit's ball-controlled, short passing game.
In the last meeting between the two teams, the Chargers held the ball for over 38 minutes, but scored only 20 points. That can't happen this time.
"Having it for 38 minutes would be great if we could do that on Thursday night," Rivers said. "But we've got to score touchdowns. To me, if you maintain possession of the ball, you've got to still end it with points, and preferably touchdowns against this team.
"I've never gotten too caught up in that stat. But if you score a bunch of points and have the ball a lot, then yes, I think they can go hand-in-hand."
Most of all, San Diego outside linebacker
Jarret Johnson
said defensively the Chargers have to make Manning earn everything his offense gets Thursday. That means no blown assignments for 74-yard touchdowns like the last game.
"Absolutely, you've got to," Johnson said. "I mean, if you sit back in one coverage and give him time, it's going to be a long day. You've got to be aggressive with him because he's as good as they come.
"If you sit back and play one coverage or play conservative or play scared, it's going to be a long day."
December, 11, 2013
Dec 11
1:42
PM ET
ESPN.com news services
Denver Broncos wide receiver Wes Welker, who has suffered two concussions in the past four weeks, has been ruled out for Thursday night's game against the San Diego Chargers.
Broncos coach John Fox acknowledged Monday that Welker's health was "what we're thinking about," saying that the five-time Pro Bowler would undergo the NFL's concussion protocol.
Welker sustained his most recent concussion in last Sunday's victory over the Tennessee Titans.
According to the league's protocol, any player who suffers a concussion is not permitted to participate in a full practice until the following Friday at the earliest.
Welker, the Broncos' second-leading receiver this season, also suffered a concussion against the Kansas City Chiefs on Nov. 17. The 10-year veteran returned the following week to play against his former team, the New England Patriots.
December, 11, 2013
Dec 11
12:00
PM ET
By
ESPN.com staff
| ESPN.com
December, 11, 2013
Dec 11
9:53
AM ET
By
Zach Rodgers, ESPN Stats & Info
| ESPN.com
Andrew Weber/USA TODAY SportsGiovani Bernard has emerged as one of the front-runners for NFL Offensive Rookie of the Year.
As we close in on the end of the NFL regular season, ESPN Stats & Info looks at some of the leading candidates for the Offensive Rookie of the Year award.
RB Giovani Bernard, Bengals
Bernard has been a dual-threat back for the
Cincinnati Bengals
in his rookie season. The 37th overall pick has three receiving touchdowns, more than all other rookie backs combined this season.
The Bengals' offense has noticeably improved with Bernard on the field this season. Bernard has been especially effective in the red zone. His 4.6 yards per rush in the red zone is the highest by a rookie since
Adrian Peterson
(4.8) in 2007.
WR Keenan Allen, Chargers
Allen, who fell to the
San Diego Chargers
at 76th overall in the draft due to a knee injury, leads rookie receivers in receptions (61) and receiving yards (902). Allen is on pace to post the most receptions and receiving yards by a rookie receiver in the last five seasons (
A.J. Green
finished with 65 receptions for 1,057 yards as a rookie in 2011).
Not only does Allen lead rookies in standard receiving categories, he also boasts the best catch rate among rookie receivers (70 percent).
RB Eddie Lacy, Packers
Lacy
Since his return from a concussion in Week 5, Lacy leads the league in rushing yards after contact (441). Last season, the
Green Bay Packers
averaged only 1.4 yards after contact per rush, the fourth fewest in the league.
One of Lacy's biggest impact areas comes on third and fourth down. The Packers convert on 50 percent (41-of-82) of their third downs and 100 percent (5-of-5) of their fourth downs when Lacy is on the field. Without Lacy, the Packers convert only 29 percent (26-of-89) of their third downs and 20 percent (1-of-5) of their fourth downs this season.
Honorable mention
• RB
Andre Ellington
, Cardinals
• WR/KR
Cordarrelle Patterson
, Vikings
December, 11, 2013
Dec 11
9:20
AM ET
SAN DIEGO -- An examination of the snap counts from Sunday's 37-14 win over the
New York Giants
:
OFFENSE
(Based on 72 snaps)
Quarterback
–
Philip Rivers
63,
Charlie Whitehurst
9.
Running back
–
Ryan Mathews
42,
Danny Woodhead
22,
Le'Ron McClain
13
Ronnie Brown
8.
Wide receiver
–
Vincent Brown
56,
Keenan Allen
47,
Eddie Royal
40,
Seyi Ajirotutu
22.
Tight end
–
Antonio Gates
55,
Ladarius Green
30,
John Phillips
24.
Offensive line
–
Jeromey Clary
72,
Chad Rinehart
72,
King Dunlap
67,
D.J. Fluker
66,
Nick Hardwick
63,
Rich Ohrnberger
9,
Johnnie Troutman
6,
Willie Smith
6.
Offensive analysis
-- The Chargers finished 10-of-15 (66 percent) on third down. ... With Allen suffering a shoulder injury, Ajirotutu played a season-high 22 snaps. With 103 yards on a career-high 29 rushing attempts, Mathews moved into fifth place on the Chargers' all-time rushing list. He increased his career total to 3,361 and moved past the late Chuck Muncie (3,309) for fifth. ... According to ESPN Stats & Information, Rivers was sacked 49 times last season, or a league-worst 8.4 percent of his total dropbacks. This season, Rivers has been sacked 24 times through 13 games, more than a full sack less per game than last year. ... Another benefit of improved pass protection for Rivers is turnovers. Rivers has fumbled only twice this season, losing one. Last year, no quarterback fumbled more than Rivers (15), who lost seven. Only
Mark Sanchez
lost more fumbles (eight) than Rivers last year.
DEFENSE
(Based on 55 snaps)
Line
–
Kendall Reyes
44,
Corey Liuget
42,
Cam Thomas
19,
Sean Lissemore
19,
Lawrence Guy
13.
Linebacker
–
Donald Butler
48,
Manti Te'o
36,
Reggie Walker
28,
Tourek Williams
26,
Jarret Johnson
21,
Thomas Keiser
18,
Melvin Ingram
13,
Bront Bird
8,
Andrew Gachkar
7.
Secondary
–
Eric Weddle
55,
Marcus Gilchrist
55,
Shareece Wright
51,
Richard Marshall
46,
Johnny Patrick
38,
Jahleel Addae
12,
Derek Cox
6.
Defensive analysis
-- Reyes finished with a season-high five tackles and his fourth sack of the season. ... The Chargers held
Eli Manning
to 3-of-5 for 28 yards and no touchdowns on third down. … Gilchrist finished with a season-high eight tackles and his first fumble recovery of the season. ... Johnson's 22 snaps are the most he played since the Washington game on Nov. 3. ... San Diego's defense is No. 2 in the NFL in time of possession (27:37) and tied for 11th in points allowed (22.4).
December, 11, 2013
Dec 11
8:53
AM ET
Associated Press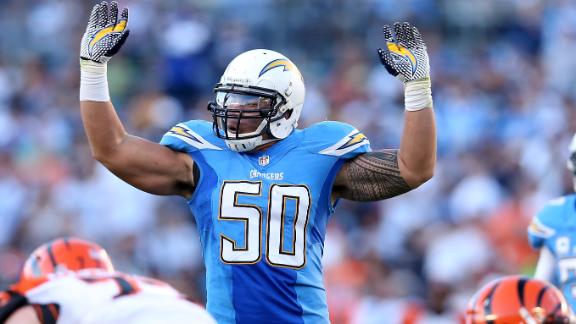 ENGLEWOOD, Colo. -- Manti Te'o says his rough rookie season has nothing to do with the flak he's faced over getting fooled by a hoax involving a fake girlfriend while at Notre Dame.
The San Diego Chargers rookie linebacker said in his first conference call of the season Tuesday that he has yet to play a complete game in the NFL but that's because of his adjustment to the pros and not because he's distracted in any way by the catcalls from opposing teams or fans.
Te'o said he does a good job blocking out the chatter from the stands.
"I've definitely heard things, but my job is to go out there and to play ball and do my best and hopefully come out with a win. So, all the other outside stuff, if I'm paying attention to that, then I'm in trouble," Te'o said. "But that's what fans do. They love their team. They're passionate about their team, so it's nothing that I didn't expect."
Te'o said he hasn't caught much grief from opposing players.
"I haven't really run into any of that. I think as players we understand that we're all in the same situation. We're all here to play ball and we're here as football players, we're trying to provide a life for our families and that's about it," Te'o said.
"When we step on the football field, it's all about football and competing. So I haven't really run into any of that stuff."
Yet, when asked a follow-up question about opponents trying to get under his skin, Te'o did acknowledge that they sometimes bring up the issue.
"But to be honest, I'm so locked into the game that basically I don't really catch it," he said. "And at this point, it doesn't really bother me. So it's no big deal, really."
December, 11, 2013
Dec 11
8:30
AM ET
SAN DIEGO -- Mike McCoy and John Fox's first meeting as head coaches did not take place earlier this season, as Fox was in the hospital recovering from heart surgery when Denver traveled to San Diego to take on the Chargers in November.
So McCoy will face his mentor for the first time when the Chargers meet the Broncos in Denver on Thursday.
"I remembered him as a player," Fox said. "I definitely thought he had head coaching capabilities, and he's done a fine job in his first year with the Chargers. Mike's level-headed. He's smart. He understands ball. He played in the league. He's got a good feel for people skills and those types of things. As coaches we spent a lot of time together, so his traits come out. I knew he would do a good job once given the opportunity."

Fox
McCoy
McCoy coached under Fox for the better part of decade, including seven seasons in Carolina and two as the offensive coordinator in Denver. Working for Fox, McCoy gleaned some of the skills he uses as a head coach, including his weekly schedule, practice habits, game preparation and how he handles the media.
Both have a no-nonsense approach when it comes to coaching football.
"It's great to see him back out there," McCoy said. "I wouldn't be here today without John Fox. The seven years we were together in Carolina and then in Denver, he is a great football coach but he is an even better person. With the scare he had, you understand there are more important things in life when something like that happens to a close friend. Fortunately he is back out there doing a great job. He loves to coach. He's a good coach."
McCoy said the two texted back and forth during Fox's time in the hospital recovering from heart surgery. Fox, 58, underwent aortic valve replacement surgery at a hospital in Charlotte, N.C., after he became dizzy playing golf near his offseason home in the Charlotte last month.
Fox had a pre-existing heart condition, and hoped to put off the operation until after the season.
Last week's Denver game at home against Tennessee was Fox's first on the sideline since the surgery. He missed the first meeting earlier this season between the two teams in San Diego, a 28-20 win for the Broncos on Nov. 10.
"Re-entry is never easy, but we managed to get through it," Fox said. "It was pretty tough conditions weather-wise all last week, and I made it through just fine. So I got Week 1 of the re-entry all done, and I'm ready for a short week for Week 2."
Fox is in the unique position of having two of his former coaches now serving as head coaches for division rivals. His former defensive coordinator, Dennis Allen, is the coach at Oakland. That makes for some odd moments standing across the sidelines competing against guys he helped groom.
"Mike's a good friend," Fox said. "I know his family. I know his wife, Kellie. I've spent a lot of time with his whole family. But it's still competitive. He's trying to beat our brains out and we're trying to beat his brains out. But you develop a lot of close relationships in this league over time."
December, 10, 2013
Dec 10
6:45
PM ET
SAN DIEGO -- For the first time in many weeks, the
San Diego Chargers
had all 53 players on the active roster participate in practice Tuesday -- a good sign for a team facing the
Denver Broncos
, who are undefeated at home.
"The last couple weeks coming out of games we've been fairly healthy," San Diego coach
Mike McCoy
said. "Every game you're going to have some dings, but nothing serious. So it's been a good couple weeks for us."
Receiver
Eddie Royal
(toe), center
Nick Hardwick
(neck), cornerback
Shareece Wright
(foot) and defensive back
Johnny Patrick
(ankle) were limited in practice.
Receiver
Keenan Allen
(shoulder), tackle
D.J. Fluker
(ankle), defensive end
Lawrence Guy
(toe), linebacker
Jarret Johnson
(hand), defensive tackle
Sean Lissemore
(toe) and defensive end
Corey Liuget
(knee) were full participants.
Royal had not practiced since injuring his toe against Indianapolis on Oct. 14. Royal missed just one game over the past seven because of the injury, against Cincinnati. With less practice time, Royal said he put in more film study and mental reps to make sure he was prepared to play.
"I just had to study more than normal," Royal said. "Because when you're out there running the plays, you don't normally have to go home and look at it for hours. But now that you're not doing it, you want to make sure that you're detailed in what you're doing. There's a lot of little things that you have to pay attention to when you're not out there practicing every day."