November, 25, 2014
Nov 25
4:00
PM ET
SAN DIEGO -- After he's dealt with a nagging back issue for most of the season, the
San Diego Chargers
finally brought center
Rich Ohrnberger
's season to a conclusion, placing the Penn State product on the season-ending injured reserve.
U-T San Diego reported that Ohrnberger will have surgery to correct the issue. The Chargers now have placed three centers on injured reserve this season in
Nick Hardwick
(neck),
Doug Legursky
(knee) and Ohrnberger.
Rookie
Chris Watt
started in place of Ohrnberger last week against the
St. Louis Rams
and played well. The Chargers selected Watt in the third round of this year's draft as a potential long-term replacement for Hardwick at center, and the Notre Dame product will get a chance to prove his worth for the rest of the season with Ohrnberger out.
With a vacant spot, the Chargers signed outside linebacker
Cordarro Law
from the practice squad to the active roster.
November, 25, 2014
Nov 25
1:00
PM ET
A quick observation of quarterback
Philip Rivers
and how he played in the San Diego Chargers' 27-24 win over the
St. Louis Rams
in Week 12:
Rivers
Even though he threw an interception to St. Louis cornerback
Janoris Jenkins
that was brought back the other way 99 yards for a score, for the most part Rivers returned to the precision passing he demonstrated earlier this season.
Rivers completed 83 percent of his throws against St. Louis. He was just as effective against the blitz, finishing 13-of-16 for 148 yards and a touchdown when facing at least five pass-rushers.
Rivers' ability to get the ball out quick against an aggressive Rams defensive front resulted in some explosive plays from San Diego's receivers on slip screens and other throws down the field. According to ESPN Stats & Information, the Chargers gained 205 yards after the catch against St. Louis, the team's highest total since it gained 228 yards after the catch in Week 12 of last season in a 41-38 win over Kansas City.
The Chargers can use that big-play ability in facing the
Baltimore Ravens
on Sunday, who rank No. 29 in the NFL in pass defense, allowing 265 passing yards a game. The Ravens also have given up 40 passing plays of 20 yards or more, tied for No. 23 in the league.
November, 25, 2014
Nov 25
12:15
PM ET
SAN DIEGO -- With the league clearly focused on relocating a team to Los Angeles, discussions on a proposal to build a multi-use facility in downtown San Diego that would house a new convention center expansion and an NFL football stadium continue to move forward for the
San Diego Chargers
.
However, the proposal has yet to build consensus among city business and civic leaders, an important step for the team if it wants the project to succeed when inevitably placed on a countywide ballot for voters to weigh in.
The Chargers are keeping their options open because of what is happening in Los Angeles.
Serving as a backdrop for the team's effort is the possibility of an NFL team relocating to the lucrative Los Angeles market. The Chargers are keeping a watchful eye on what happens in L.A., with 30 percent of the team's premium sales -- including advertising, sponsorships, club seats and suites -- originating in the Los Angeles market.
Last December,
St. Louis Rams
owner Stan Kroenke purchased 60 acres of land in Inglewood, California, near Hollywood Park racetrack that could house an NFL stadium.
[+] Enlarge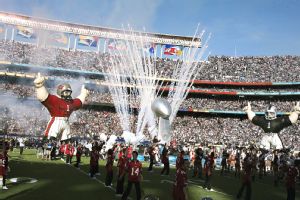 USA TODAY SportsQualcomm Stadium hosted a Super Bowl as recently as 2003 but may not host the Chargers for much longer.
Kroenke and Chargers owner and president Dean Spanos talked briefly on the field at Qualcomm Stadium about an hour before their teams played over the weekend.
Oakland Raiders
owner Mark Davis has made inquiries about the possibility of moving to Los Angeles if his franchise cannot get a new stadium deal done in Oakland.
Los Angeles has not had an NFL team since the Rams and Raiders departed for St. Louis and Oakland, respectively, in 1995. Both the Rams and the Raiders have the ability to terminate their lease at the end of this season.
JMI Realty, the development company responsible for the San Diego Padres' Petco Park, has proposed building a $1.4 billion multi-use facility with a retractable roof that would house a stadium for the Chargers, along with planned expansion of the convention center that would include an exhibition hall below the football field and a meeting room and ballroom space in an attached building, with views of the field and bay.
JMI says the project would save hundreds of millions of dollars, rather than building stand-alone facilities for both projects. JMI uses the same architect the Chargers have used, Populous out of Kansas City. Done separately, the price tag on the two projects could reach $1.8 billion.
JMI presented plans to the mayor's office, city officials, the port and other stakeholders earlier this year. They have proposed three different alternatives. All would require the use of hotel tax money the city earmarked for the convention center expansion.
"We've worked very closely with JMI and have a good, cooperative relationship," said Mark Fabiani, special counsel to Spanos and the team's point person on the stadium issue.
Fabiani and representatives of San Diego mayor Kevin Faulconer have had regular meetings on the project since March. But no timetable has been established on when an official proposal would be presented to the city council, and ultimately to voters.
"Over the past several weeks my office has been meeting with stakeholders, including the lodging and convention industry, the Chargers, JMI Realty, and various experts to discuss options for moving forward," Faulconer said in a prepared statement. "My review of these proposals, many of which have been covered by local media outlets, is preliminary.
"As I take a fresh look at expanding the convention center, I am open to all options. These include finding alternative financing for the current plan to expand directly next to the existing convention center as well as exploring a non-contiguous expansion at a different location that could include a new stadium for the Chargers. I continue to believe that any proposed Chargers stadium project should be brought before voters."
The Chargers argue that non-contiguous expansion of the convention center is a more suitable alternative, coupled with a multi-use stadium because it would allow for multiple conventions at the same time.
"The big advantage is if you had a convention space inside a stadium with a retractable roof, you could host the biggest events in the world, including the World Cup, Final Fours, major boxing matches, major MMA matches or huge conventions that require an abundance of flat floor space," Fabiani said. "All of that could be hosted in the type of facility we're talking about."
However, proponents of the initial proposal for expanding the convention center argue that at least 750,000 square feet of contiguous space is needed to attract large conventions, which generate the most revenue. The current convention center houses 525,000 square feet.
In August, an appellate court ruling struck down the financing plan for a $520 million expansion of the convention center along San Diego's waterfront.
"There have been a number of customer studies and feedback from key citywide conventions that clearly articulate the need for expansion of the existing convention center," said Joe Terzi, president of the San Diego Tourism Authority. "We would love to see a new multi-purpose stadium downtown and believe it would have a tremendous positive economic impact as Petco Park did when it opened, leading to the revitalization and creation of East Village."
If consensus on a proposal is met, a vote on the project could appear on a countywide ballot as early as the general election in November 2016.
The proposal would need a two-thirds majority vote in order to use hotel tax money as a funding source for the project. That same funding source has been contemplated for use on the convention center expansion.
"We believe it's achievable, otherwise we would not be spending time on this," Fabiani said. "But it's not achievable if you've got significant opposition in the community."
While there's no official deadline on reaching an agreement on a stadium plan, the Chargers have a three-month window to renew the team's year-to-year lease with the city of San Diego for Qualcomm Stadium that permits the team to terminate the lease at any time between Feb. 1 and May 1.
November, 25, 2014
Nov 25
10:45
AM ET
Good morning.
Michael Gehlken of U-T San Diego
is reporting that
San Diego Chargers
center
Rich Ohrnberger
will have season-ending back surgery. Ohrnberger has been dealing with lingering back issues most of the season, and missed last week's game with back and ankle injuries.
Rookie
Chris Watt
played well in his first career start in place of Ohrnberger, likely giving the Chargers more confidence to make this move. The Chargers have not confirmed this report.
If the playoffs started today
, the Chargers would be in at 7-4, winning the tiebreaker over the Ravens (7-4), the
Pittsburgh Steelers
(7-4) and the
Cleveland Browns
(7-4).
ESPN NFL Nation Ravens beat reporter Jamison Hensley
wraps up Baltimore's gutty, 34-27 win over the
New Orleans Saints
on Monday Night Football, keeping them in the playoff hunt.
More Hensley:
He writes about Justin Forsett's unlikely journey from role player to feature running back.
Ricky Henne of Chargers.com
gives us five lessons learned from San Diego's win over the Rams.
Bernie Wilson of the Associated Press
highlights San Diego's tough, five-game stretch to finish the season.
Rick Drummond of Pro Football Focus
gives
Eddie Royal
and
Eric Weddle
high marks in his look back at the San Diego-St. Louis contest
Charles Davis of the NFL Network
says the Chargers will not make the playoffs in this video.
Mike Tanier of Bleacher Report
writes that the Chargers need more
Ryan Mathews
to regain some of their September luster.
Dan Sileo of The Mighty 1090 talks with former San Diego Charger receiver Wes Chandler about Keenan Allen's growth in
this audio link.
Steve Hartman and Mike Costa of Xtra 1360 talk with Chargers cornerback
Brandon Flowers
in
this audio link.
November, 25, 2014
Nov 25
8:00
AM ET
Happy early Thanksgiving!
Join us today at 1 p.m. ET, 10 a.m. PT for ESPN NFL Nation TV's Spreecast as episode No. 33 gives a Turkey Day preview, revisits
Odell Beckham Jr
.'s insane three-fingered catch, and discusses several teams' futures given the varying quarterback situations they have inherited this season.
Host Coley Harvey (
Cincinnati Bengals
reporter) and co-host Mike Wells (
Indianapolis Colts
reporter) will be joined by Michael C. Wright (
Chicago Bears
reporter), John Keim (
Washington Redskins
reporter) and Phil Sheridan (
Philadelphia Eagles
reporter).
Plus, Rob Demovsky (
Green Bay Packers
reporter) and Mike Reiss (
New England Patriots
reporter) will debate in this week's "Main Event" about Sunday's big game at Lambeau Field that will feature MVP candidates
Aaron Rodgers
and
Tom Brady
.
Viewers are encouraged to log in and ask the panelists questions as well as contribute
in the chat feature
.
November, 24, 2014
Nov 24
7:15
PM ET
SAN DIEGO --
Ryan Mathews
has totaled 175 rushing yards in two games since returning from an MCL knee sprain that forced him to miss seven games.
But through two games, Mathews has carried the football an average of 14 times a contest, with just four of those carries coming in the fourth quarter and two in the red zone.
Mathews
So what gives?
San Diego Chargers
head coach
Mike McCoy
explained his team's approach to Mathews.
"We are monitoring that to a certain extent," McCoy said, when asked if Mathews' workload will increase in the weeks ahead. "But he'll kind of help us dictate that also. The longer he can go will come into effect, with this being the second week back. More last week we told them to monitor that. We didn't want him to play too much or too little. And the same this week, he's going to kind of dictate some things there."
McCoy went on to say the coaching staff is going to do what they think is best, and that means using
Branden Oliver
and
Donald Brown
for specific plays that feature them. Mathews and his injury history also plays a role in McCoy wanting to limit how many carries Mathews can get so he can make it through the regular season and beyond healthy.
Mathews suffered a shoulder injury in the second half, but later returned to the game. He was further evaluated in the locker room after the game, and it appears the injury is not serious. However, McCoy did not provide an update on Mathews' injury status on Monday.
November, 24, 2014
Nov 24
1:50
PM ET
SAN DIEGO -- A job usually handled by middle linebackers around the league,
San Diego Chargers
free safety
Eric Weddle
has worn the green dot on his helmet the past two games, which means he's wearing a radio headset in his helmet so he can directly communicate with defensive coordinator John Pagano and relay the calls to the rest of his teammates.
Weddle
"I'm a unique kind of guy," said Weddle, known for his long, gnarly beard. "I do a lot more than most people."
Middle linebacker
Donald Butler
wore the green dot earlier this season. But with the University of Washington product's reduction of playing time, coupled with Weddle's experience in the defense and the fact he doesn't leave the field, the defensive co-captain became the natural choice.
"It's been awesome," Weddle said. "It helps me because I'm not waiting for the call. And then all of the alerts from what I see, I can get it out because I'm in front of the huddle. So anything the coach is alerting me on I can get it out instead of running around the field telling each guy because I'm already in the huddle with them. So it's been good. We haven't had any mishaps."
The Chargers are 2-0 since making the switch, and have played more consistent on that side of the ball since the bye week. Weddle said he called the plays defensively three years ago, but he never consistently got back to the huddle to call the plays, something he's doing a better job this time around.
"I think it takes the burden off of other guys," Weddle said. "I can handle it. I've been in this league a long time. When you have a bunch of voices talking to you -- not only Coach [Pagano] but other players -- sometimes it can be overwhelming. But it's been good."
The Chargers have allowed just 23 points defensively in two games, holding teams to 9-of-29 (31 percent) on third down. Better communication has resulted in more consistent play.
November, 24, 2014
Nov 24
1:00
PM ET
SAN DIEGO – Perhaps the weight of matching wits against
Denver Broncos
quarterback
Peyton Manning
last week was too much for the
St. Louis Rams
defense.
With Chargers quarterback
Philip Rivers
pushing the buttons on Sunday, the Rams ran into another pre-snap master, the type of quarterback capable of getting his team out of bad plays and into good ones. He doesn't get the same credit for doing that as Manning, but the Rams got a not-so-subtle reminder of how good Rivers is Sunday afternoon.
Rivers
In guiding San Diego to a 27-24 victory, Rivers looked lost early but quickly found answers to all of the Rams' questions. The Rams, meanwhile, were unable to adjust as Rivers and the Chargers offense buried them under an avalanche of screens, draws and other assorted short-area plays that often turned into big gains.
"It's the same stuff they've been doing," Rams coach Jeff Fisher said. "They're good. Their back is a good, young back and Philip is also pretty good at the line of scrimmage at changing things. We also stopped some draws and stopped some bubble screens on the defensive side."
For a half, they certainly did. Rivers was able to connect on 15-of-20 first-half pass attempts but those completions netted just 106 yards, an average of just 5.3 yards per attempt as the Rams consistently and quickly made tackles.
In the second half, that changed. According to ESPN Stats & Information, Rivers' average pass traveled just 3.9 yards in the air, his lowest since 2010. But the sure-tackling back seven that had been there for the Rams vanished in the final 30 minutes.
On the day, San Diego's collection of receivers had 205 yards after the catch, led by wide receiver
Keenan Allen
's 81. Rivers finished 29-of-35 for 291 yards with a touchdown and an interception and had a rating of 98.9.
"We just left a few plays out there from that standpoint defensively," safety
Rodney McLeod
said. "We kept things in front of us in the back end, but we fell short on tackling today."
Making matters more difficult was Rivers' ability to adjust on the fly. Rivers clearly picked up on some of the Rams' blitzing tendencies in the first half and exploited them in the second.
The Rams blitzed Rivers 16 times, according to ESPN Stats & Information, eight times in each half. In the first half, Rivers was 5-of-8 for 40 yards against the blitz. In the second, he connected on all eight attempts for 108 yards and a touchdown.
"Philip Rivers did a good job of catching on to what we were doing and he checked and audibled and made great calls of throwing screens into where the pressure was coming from," McLeod said. "It's just tough when they get the linemen out like that, how fast they were getting out. It was just good execution by them."
November, 24, 2014
Nov 24
11:00
AM ET
Our weekly attempt to expose and explore the gray area involved in officiating NFL games. Sunday suggestions welcome via Twitter (@SeifertESPN). For all Inside Slant posts, including the weekly Officiating Review, follow this link.
Play:
A five-minute delay to spot the ball after offsetting penalties against the
St. Louis Rams
and
San Diego Chargers
Referee:
Carl Cheffers
Analysis:
Cheffers' crew
entered the weekend
with an NFL-leading average of 19.6 penalty calls per game, including declined and offsetting. Its total was 21 on Sunday at Qualcomm Stadium, including two during a controversial sequence in which Rams coach Jeff Fisher vigorously argued for Cheffers to correct his original spot.
[+] Enlarge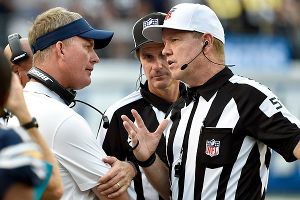 AP Photo/Denis PoroyReferee Carl Cheffers explains a call to Chargers coach Mike McCoy during the second half of San Diego's 27-24 win against the Rams.
Rams wide receiver
Tavon Austin
's 73-yard punt return was marred by penalties committed by both teams; the Rams'
Marshall McFadden
was called for holding and Chargers punter
Mike Scifres
was penalized for a low block. In his original announcement, Cheffers said that by rule, the offsetting penalties meant the ball would be spotted at the Rams' 22-yard line, where Austin fielded the ball.
Cheffers, however, provided an incorrect citation and explanation. A full breakdown can be found deep in a section of the NFL rule book entitled "Double Fouls With a Change of Possession." (Light reading!) From Rule 14, Section 5, Article 2, Exception (c): "If both teams foul after the last change of possession (Double Foul After Change of Possession), the team last in possession shall retain the ball at the spot of its foul or the dead-ball spot, whichever is less beneficial for it."
In this case, McFadden's hold apparently occurred near the Chargers' 40-yard line. (There was not much contact on the hold, but the end zone replay suggested that McFadden used his right arm to grab the outside left shoulder of the Chargers'
Andrew Gachkar
.) That spot was less beneficial to the Rams than the "dead-ball spot," where Austin finally was downed at the 5-yard line, so the 40 was where the ball was supposed to be.
Still, the change in spot means a difference of 38 yards to the Rams. Cheffers corrected the call after more than five minutes of discussion. All's well that ends well.
Play:
New York Giants
running back
Andre Williams
ruled down by contact
Referee:
Bill Vinovich
Analysis:
In the second quarter Sunday night, Williams was gang-tackled by three
Dallas Cowboys
defenders. During the process, Cowboys safety
Barry Church
pulled the ball loose. Before the whistles blew, Cowboys linebacker
Anthony Hitchens
gained possession.
Vinovich immediately ruled that Williams had been down by contact before the ball was loose, meaning the Giants would retain possession. Cowboys coach Jason Garrett challenged the play.
The number of bodies surrounding Williams blocked any opportunity for a clear view of what happened. That said, a slow version of the replay strongly indicates that Church dislodged the ball while Williams was falling into linebacker
Kyle Wilber
. Neither knee touched the ground, and though Williams' elbows weren't totally visible, it's unlikely they made contact either -- considering Williams' upper body was higher than his legs as supported by Wilber.
Still, the available views did not meet the technical and official standard for reversing a decision. As many know, Rule 15, Section 2, Article 3 reads in part: "A decision will be reversed only when the Referee has
indisputable visual evidence
available to him that warrants the change." (Emphasis not mine.)
Assumptions can't be made in these cases, no matter how likely or obvious they might be. We have all seen a stretch or two over the years, but that doesn't make this instance any different. Physics tells us there is little chance Williams was down before he fumbled, but unless Vinovich could confirm every possibility that he wasn't, the play couldn't be overturned. (The Giants scored a touchdown on the next play.)
Play:
Houston Texans linebacker/defensive end Jadeveon Clowney is far into the neutral zone
Referee:
Terry McAulay
Analysis:
Midway through the third quarter, Clowney was lined up at right end in a four-point stance. By this angle, it appeared Clowney was more than a yard offsides and should have been penalized. Called correctly, the penalty would have negated the ensuing interception returned for a touchdown by Texans cornerback Jonathan Joseph.
The neutral zone is defined as the space between the back and forward ends of the football. Rule 7, Section 4, Article 5 defines offsides as a moment when any part of a player's body "is in or beyond the neutral zone" when the ball is put in play.
Clowney's hands appeared to be at the 49-yard line, which was also the line of scrimmage. McAulay's crew missed the call.
(
Note:
An earlier version of this post suggested that McAulay did not initiate a 10-second runoff after a false start in the final minute of the first half. The clock did not immediately reflect the change, but eventually McAulay made an announcement to ensure that the runoff took place.)
November, 24, 2014
Nov 24
9:30
AM ET
Good morning.
If the playoffs started today
, at 7-4 the
San Diego Chargers
would be the No. 7 seed in the AFC and out of the playoffs. The
Kansas City Chiefs
(7-4) would earn the No. 6 seed by virtue of the team's win over the Chargers in San Diego. Of course, San Diego has a chance to rectify that with a win over the Chiefs in Kansas City in the final regular-season game.
ESPN NFL Insider John Clayton
takes a closer look at the AFC playoff race.
ESPN NFL Nation Rams beat reporter Nick Wagoner
writes that mediocrity at the quarterback position stands in the way of St. Louis becoming a contender.
Peter King of Sports Illustrated
still has the Chargers on the outside looking in of his Fine Fifteen.
Hayley Elwood of Chargers.com
writes that San Diego's defense helped seal the win over the Rams.
Ricky Henne of Chargers.com
says that
Ryan Mathews
punished the Rams.
Nick Canepa of U-T San Diego
writes that the Chargers avoided the disaster of losing a 10-point lead late with Marcus Gilchrist's interception to clinch the win.
Tom Krasovic of U-T San Diego
reports from the Rams' locker room, where players lamented on that got away.
Jim Alexander of the Riverside Press-Enterprise
notes the presence of a large contingent of Los Angeles Rams fans who traveled south to see their team play.
John Beech of CBS Sports
gives the Chargers a B grade for the team's win over the Rams.
November, 23, 2014
Nov 23
11:15
PM ET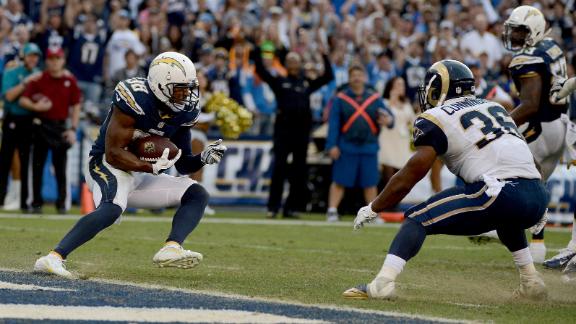 SAN DIEGO --
Philip Rivers
sees it after he hands the ball off to
Ryan Mathews
-- the real possibility that whenever his talented teammate touches the ball, he can score from anywhere on the field.
"You need a home run sometimes," Rivers said. "A 30-yard run or whatever it was. He ran so hard."
Mathews finished with 105 yards on 12 carries, averaging a robust 8.8 yards per carry, a career high for a game, in the
San Diego Chargers
' 27-24 win over the
St. Louis Rams
. It's no surprise that with the return of Mathews, the Chargers magically can run the football again after languishing most of the season in the cellar of the NFL in yards per carry.
Having Mathews back in the fold gives San Diego's offense the balance the team craves, at a time when the Chargers need it most -- making a final push toward a second straight postseason run. At 7-4, the Chargers are right in the thick of the AFC West Division race, a game back of the
Denver Broncos
(8-3) and tied with the
Kansas City Chiefs
(7-4).
"When we need a first down or a big run, he always delivers for us," Chargers cornerback
Brandon Flowers
said. "He's so humble, he doesn't hardly care if he gets noticed or not. It's great having him on the team. We have a lot of guys on the team that don't care about notoriety, and that can take us a long way."
Establishing balance on offense is critical for San Diego's offense moving forward. Rivers said his team's offense is at its best when the Chargers are going no-huddle, controlling tempo by mixing the pass and run, converting third downs and getting into the end zone.
The Chargers finished with 128 yards rushing as a team on 22 carries. But up 27-17 with just over eight minutes left, San Diego struggled to grind out a win. The Chargers ran just three times in the final quarter. San Diego is 5-0 in games this season in which it rushed at least 22 times and totaled at least 101 rushing yards.
Mathews suffered a shoulder injury in the fourth quarter but returned to help close things out.
"This was a fun game," Mathews said. "The intensity was really high. The Rams brought a tough game. Their defense is tough. I think we did a great job of keeping our composure and getting a win."
Mathews' bruising running style also provides extra fuel for a banged-up offensive line that had trouble getting a push in the run game. On Mathews' 32-yard touchdown run, right tackle D.J. Fluker could be seen racing alongside Mathews to get an extra block.
"I was excited to see him break loose," Fluker said. "You saw me high-stepping, because I knew he was gone. To have him back healthy, and to be able to run and do the things he's used to doing is great."
Rookie
Chris Watt
, the fourth starting center for the Chargers this season, said Mathews gives the guys up front more motivation to hold on to blocks longer because they know he can break free for big gains on any play.
"You know if you give him a little opening and stay on your block a little longer, he's going to get some big yardage for you," Watt said.
Mathews' running style is infectious. It's something that spreads throughout the entire offense and the defense, adding fuel to another potential postseason run.
"I told them, let's just push piles," Mathews said. "If we got a couple defenders on me, then let's just push the pile forward. And they've been doing it. And that's very humbling that they take what I say to heart, and they do it. All the credit goes to them."
November, 23, 2014
Nov 23
10:00
PM ET
SAN DIEGO -- A few takeaways from the
San Diego Chargers
' locker room after the 27-24 win over the
St. Louis Rams
:
Gilchrist

The last time Marcus Gilchrist corralled an interception was nearly 1,000 snaps ago, in a 41-38 win over the Kansas City Chiefs on Nov. 24 last year. So it's fitting that the fourth-year pro got his first interception of 2014 to preserve a win in the final minute for the Chargers.

Gilchrist had tight end Lance Kendricks in coverage. But he stayed in and blocked, which allowed Gilchrist to drop back in coverage, read Shaun Hill's eyes and get in front of St. Louis receiver Kenny Britt on the play.

"I didn't really have too much responsibility on that play," Gilchrist said. "And I was able to get my eyes on the quarterback, and make a play."

Fellow safety Eric Weddle said that Gilchrist is versatile player who holds things down in the back end, allowing Weddle to run around and take chances when he sees an opportunity.

"Gilchrist is one of the most important players on our defense because of how much he can do," Weddle said. "He plays the nickel. He plays safety. He lets me roam around because he can do so much, which lets me do my thing. So for him to win the game like that, guarding his guy and seeing his guy blocked, and then just having great vision and instincts -- those are the plays you want a guy to make in that situation."


Chargers quarterback Philip Rivers took the blame for Janoris Jenkins' 99-yard interception return for a score. Rivers said the ball placement could have been better but also acknowledged that Keenan Allen slipped and could have been in better position to make a play on the ball.

According to ESPN Stats & Information, Rivers completed 14 of 15 passes for 185 yards and a touchdown pass in the second half, including going 8-of-8 against the blitz.

"It wasn't my best throw," Rivers said. "I did want to put it on that outside shoulder. I felt [James] Laurinaitis coming. I haven't seen it, but I think Keenen would tell you that he didn't have his feet up under him to where he could react to it. But I take responsibility for the interception. I threw the football. But I think a lot of times that's not an interception if he can keep his feet and at least get his body out in front of it."


Keenan Allen had a tackle against the Rams, so he still has more tackles (three) than touchdowns (two).