December, 22, 2014
Dec 22
4:20
PM ET
The
San Francisco 49ers
have already placed 16 players on season-ending injured reserve. To put that in perspective, the previous three seasons they had 19 players
combined
on I.R. though 14 games.
And yet, the Niners may have to make some more roster moves just to get through Sunday's season finale against the
Arizona Cardinals
.
Free safety
Eric Reid
will see a neurologist on Tuesday, coach Jim Harbaugh said Monday in his weekly media conference, after Reid suffered a concussion in Saturday night's overtime loss to the
San Diego Chargers
. It is his third concussion in his two-year NFL career.
Cornerback
Perrish Cox
was grimacing while holding his left ribs with his right hand in the locker room after the game, suffered an injury to the AC joint in his right shoulder.
And while linebacker
Aldon Smith
returned to the Chargers game after a concussion was ruled out, Harbaugh was not sure if Smith was suffering from any concussion-like symptoms two days later.
"We kept the doctors busy," Harbaugh said.
December, 22, 2014
Dec 22
3:57
PM ET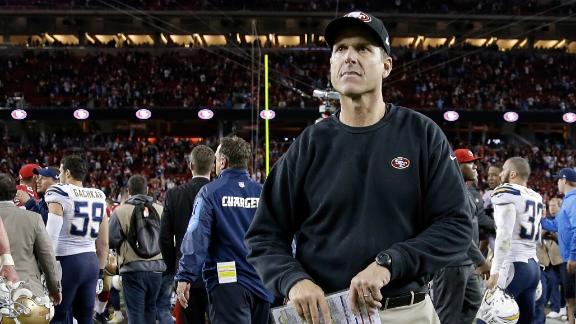 Is Jim Harbaugh approaching this weekend's season finale as though it might actually be his final game as coach of the San Francisco 49ers?
"What will happen will happen, what won't happen won't happen," Harbaugh said Monday in what might possibly be his final weekly media conference. "I work at the pleasure of the organization and let them handle the floor.
"We are dedicated to doing our job. Finish what you start and that's the mindset."
A national report over the weekend has Harbaugh being relieved of his duties within 24 to 48 hours of Sunday's game against the Arizona Cardinals at Levi's Stadium in Santa Clara.
It has also been reported that Harbaugh, who has one year remaining on his five-year, $25 million deal with the Niners, has a standing offer of six years and $48 million to return to coach at his alma mater, the University of Michigan.
"As you know, I've not participated in any of the speculation, the unnamed sources, the rumors," Harbaugh said. "I'd ask you to have [the reporter] go back and ask his source for more clarification.
"But I haven't participated; I don't intend to now. I mean, this has been a good 12 months of this kind of thing. So I'm not going to start now."
After three straight trips to the NFC title game and a Super Bowl appearance, Harbaugh was reportedly almost traded to the Cleveland Browns last offseason. Besides Michigan, he has also been linked to the Oakland Raiders and Chicago Bears.
December, 22, 2014
Dec 22
11:00
AM ET
Anthony Davis
returned to the
San Francisco 49ers
' starting lineup Saturday night, the right tackle playing for the first time since suffering a concussion on Nov. 16 at the
New York Giants
.
With Davis paving the way on the right side – he had a plus-2.4 run-blocking grade from Pro Football Focus – the Niners rushed for 355 yards, their most since 1948 and the third-highest rushing total in franchise history.
And while the 49ers inexplicably lost in overtime to the
San Diego Chargers
, Davis may have won in the trash-talking department with Chargers linebacker Manti Te'o with a Twitter barb lobbed at him late Sunday afternoon.
I asked Manti Teo about his imaginary Girlfriend last night and he snapped. lol I thought that was hilarious.

— Bam Davis (@AnthonyDavis76) December 22, 2014
Too soon? Or should the Niners blowing a 28-7 halftime lead and the Chargers winning on the actual scoreboard to send the Niners to their fourth straight defeat be enough of a rebuttal from Te'o?
December, 22, 2014
Dec 22
8:00
AM ET
SANTA CLARA, Calif. -- If that was
Frank Gore
's grand finale for the
San Francisco 49ers
on Saturday night, what a way for the war horse running back to go out.
Individually speaking, of course.
Because to the 10-year veteran who has designs on wearing a gold jacket and seeing his bust in Canton one day, losing in such heartbreaking fashion to the
San Diego Chargers
trumped any individual accomplishment. Gore surging past the Chargers early and often in an eventual 38-35 overtime loss was a flashback for the ages and he resembled the Gore of old, rather than an old Gore.
[+] Enlarge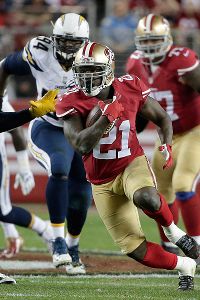 AP Photo/Marcio Jose SanchezFrank Gore finished with 26 carries for 158 yards and a TD run in Saturday's loss against San Diego.
"Frank was energized," 49ers coach Jim Harbaugh said. "He was playing very well. Our offensive line was doing an extremely good job. We rushed the ball very well. Weren't able to finish."
Gore, 31, credited the big uglies, who were as healthy as they have been since the middle of the season with left tackle
Joe Staley
, left guard
Mike Iupati
, center
Marcus Martin
, right guard
Alex Boone
, and right tackle
Anthony Davis
in the starting lineup.
It was Davis' first game since suffering a concussion on Nov. 16, and Martin was back after missing last week with a knee injury.
"My whole offensive line was there," Gore said. "All year, we missed one guy here, one guy there. I think that is what the problem has been. My O-line dominated their D-line tonight."
Especially in the first half.
On the fourth snap of the game, Gore found a hole on the right side of the line, leaped through the seal created by a pulling Iupati and receiver
Anquan Boldin
, bounced off cornerback
Brandon Flowers
and linebacker
Melvin Ingram
, stiff-armed safety
Eric Weddle
, followed downfield blocks of receiver
Quinton Patton
and Staley and, 52 yards later, had a breathtaking touchdown run.
It was vintage Gore.
It was his fourth rushing TD of the season, his longest run since he had a 55-yarder at Detroit on Oct. 16, 2011, and his longest TD run since his 64-yarder at Indianapolis on Nov. 1, 2009.
And to think, Gore suffered a concussion six days earlier in Seattle, did not practice on Wednesday and was limited Thursday and Friday.
"That's a grown-man performance right there," quarterback
Colin Kaepernick
said. "Coming off a concussion, we weren't sure if he was going to play or not.
"He said, 'I want to go out and fight with y'all. I'm not going to leave y'all out there by yourselves.' And to come out and play the way he did and give this offense that lift was huge. That was a huge performance by him."
Gore, who entered the game averaging a career-low 3.9 yards per carry in the final year of his contract, had 129 yards rushing before halftime. But the Chargers adjusted and Gore had just 29 yards on 12 carries after intermission.
"They put their whole team in the box to stop the run," said Gore, whose 158 yards for the game was the fifth-most of his career.
"They did a good job in the second half. I just think we didn't make enough plays in the second half to win this game."
Gore, though, did enough overall to harken memories of his former self.
"All the things that have been said [about him] and he comes out and plays like that," fullback
Bruce Miller
said. "You don't see anything slowing down. The guy plays his tail off the whole game and is one of the best runners that has ever been."
December, 21, 2014
Dec 21
1:30
PM ET
SANTA CLARA, Calif. --
Joe Staley
is not one to bite his tongue. Especially when he feels he's been wronged.
It was late in the third quarter Saturday night when the
San Francisco 49ers
left tackle lost a battle at the bottom of the pile for a loose football in the end zone and, upon getting up from the scrum, Staley let loose.
"I told the ref he was terrible at his job," Staley said.
Wait, what? In those exact, somewhat pleasant words?
"No," he acknowledged. "I am paraphrasing."
Staley was flagged for unsportsmanlike conduct for his troubles, a 15-yard penalty that was assessed between downs.
It was a
frustrating night in an exasperating season
for Staley and the Niners. A game in which they blew a 28-7 halftime lead against the
San Diego Chargers
to lose 38-35 in overtime. A season that began with Super Bowl-or-bust expectations that has one game remaining and the Niners riding a four-game losing streak and sitting with a record of 7-8.
The two plays before Staley's rage-at-the-ref moment summed it up.
Vernon Davis
appeared to give the Niners an insurmountable 35-14 lead on a 63-yard touchdown, but
Frank Gore
was flagged for a chop block.
One play later, on third-and-20 from the Niners' 22-yard line,
Colin Kaepernick
was stripped-sacked, the ball bounding into the end zone, where Staley and
Corey Liuget
tussled for the ball.
"Yeah," Staley said, "I had my hands on it, but their guy fell on it and I was trying to pull it put."
Liuget was credited with the touchdown and instead of being down 35-14, the Chargers were within 28-21, setting up their improbable comeback victory.
Oh, and on that play, Staley was actually flagged for being in an illegal formation. The Chargers, obviously, declined the penalty. Staley was penalized four times on the night yet had a plus-1.0 grade, thanks to his season-best plus-4.9 run-blocking grade, according to Pro Football Focus.
December, 21, 2014
Dec 21
3:00
AM ET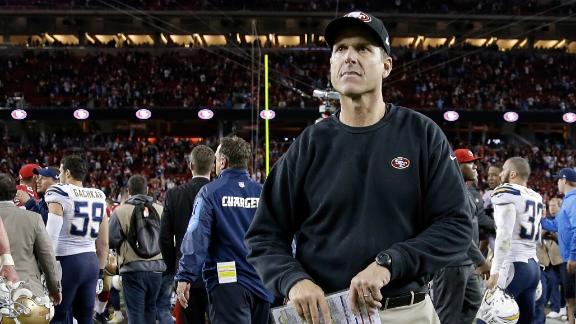 SANTA CLARA, Calif. -- It does not get any closer to a microcosm of the
San Francisco 49ers
' season than this: a back-breaking
38-35 loss
in overtime to the
San Diego Chargers
.
The Niners jumped out to a big lead, then hit a speed bump. They stood up, dusted themselves off and seemed to right themselves for the stretch run but then collapsed miserably.
Yes, the 49ers' story against San Diego was also the tale of woe for their season.
"Right now, not much to say," said a stunned Jim Harbaugh, who purportedly has only one game left in his Niners' tenure and whose team has lost four straight games to fall to 7-8.
"That's a tough one. Everybody feels it."
Especially when the 49ers jumped the Chargers at the outset, using a bruising ground game to score the first 21 points of the game and held a commanding 28-7 halftime lead.
The Niners still led by two touchdowns, 35-21, after
Colin Kaepernick
's 90-yard touchdown run, the second-longest run by an NFL quarterback since 2001, late in the third quarter.
"I thought it was over," running back
Frank Gore
said.
Instead, that's when the wheels came off.
Philip Rivers
found an uncovered
Antonio Gates
for a 21-yard touchdown reception with 5:15 to play and then, after a three-and-out by the Niners offense, Rivers took the Chargers 80 yards in 14 plays, including converting a fourth-and-8 and a fourth-and-10. He hit
Malcom Floyd
with an 11-yard touchdown pass with 29 seconds remaining in regulation to tie the game.
But even when things were going well for the Niners -- they won the coin toss to start OT and began driving -- there was an undercurrent of dread ... just like this entire season.
Because even if it seemed like 15 weeks of controversy, unbearable pressure and sky-high expectations were a thing of the past in a carefree first half, it really felt like the other shoe was about to drop in Santa Clara.
And it did on
Quinton Patton
's game-changing 20-yard end-around run that had the Niners in San Diego territory. That's when San Diego's
Eric Weddle
popped the ball out of Patton's hands and into the waiting arms of teammate
Sean Lissemore
.
Rivers was in business once more with the 49ers about to close shop.
Nick Novak
's 40-yard field goal did more than end the game; it kept the Chargers' playoff hopes alive and put the 49ers out of their misery on this night, one in which they lost
Eric Reid
(concussion),
Bruce Ellington
(hamstring),
Bubba Ventrone
(groin) and
Leon McFadden
(concusion) to injury.
Consider these pearls from ESPN Stats & Info: the Niners rushed for 355 yards, the third-highest single-game total in franchise history and their most since 1948.
Gore, who rushed for 158 yards, had 93 yards after contact, his most in the last five seasons, and the Niners' 243 rushing yards inside the tackles were also their most in the last five years.
And Gore and Kaepernick, who rushed for 151 yards and passed for 114, were the first 49ers teammates to rush for at least 100 yards since Wilbur Jackson and Delvin Williams ... on Nov. 13, 1977.
"It's been a tough year for our team," Gore said. "Even starting in camp, it has just been injury after injury. It's hard to win when you don't have your top guys, but I am happy for the guys who stepped up."
The 49ers are only 3-4 in their first season at Levi's Stadium. They were 21-4-1 in their last 26 games at Candlestick Park.
"We have had losing seasons before," left tackle
Joe Staley
said. "But with the success we have had in the past, it has been weird."
Staley was talking about this season as a whole; he could have just as easily been referring to this game.
December, 21, 2014
Dec 21
2:26
AM ET
December, 21, 2014
Dec 21
2:10
AM ET
SANTA CLARA, Calif. -- Observed in the locker room after the
San Francisco 49ers
'
38-35
overtime loss to the
San Diego Chargers
at Levi's Stadium:
Skuta

It was silent as a wake in the 49ers' locker room, players milling about and mumbling to no one in particular after inexplicably blowing a 28-7 halftime lead. The sense of finality to a lost season was evident at the locker of linebacker Dan Skuta, who took pictures with a young boy while holding his jersey and helmet aloft.
General manager Trent Baalke appeared in the locker room, patting the shoulders of Skuta, rookie center Marcus Martin, running back Frank Gore and linebacker Aldon Smith, who left the game with a head injury but returned. Baalke asked Smith how he was doing, and Smith said he would be fine.
Gore, as always, took the loss especially hard and milled about the locker room longer than usual. He went outside for a while and posed for pictures with Hall of Fame running back Franco Harris. And while New York Yankees third baseman/designated hitter Alex Rodriguez was on the sideline pregame, rocking a Gore jersey, he was not in the postgame locker room. Gore played his college ball at Miami, and Rodriguez is from Miami and works out in the Hurricanes' facilities.
December, 21, 2014
Dec 21
12:22
AM ET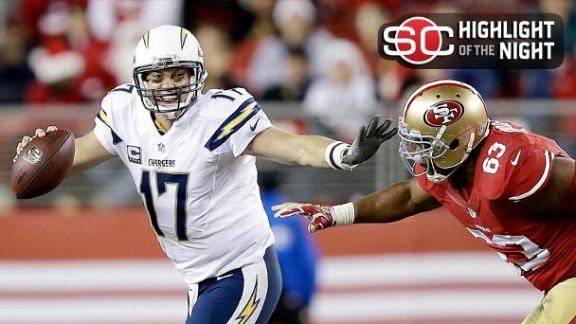 SANTA CLARA, Calif. – A few thoughts on the San Francisco 49ers' 38-35 overtime loss to the
San Diego Chargers
at Levi's Stadium Saturday night:
What it means
: Looking for a microcosm of the 49ers' season? Look no further than the Niners' blowing leads of 21-0 and 28-7 at halftime to fall in overtime. With 15 weeks of drama, pressure and sky-high expectations gone along with their playoff chances, the 49ers started off loose and dominated the Chargers early, but
Philip Rivers
forced overtime with an 11-yard TD pass to
Malcom Floyd
with 29 seconds remaining in regulation after converting a pair of fourth-and-longs in the 80-yard drive.
The Niners, who have lost four straight, had possession first in overtime, and
Quinton Patton
had a 20-yard run to get them to the Chargers' 38-yard line where he was hit by
Eric Weddle
and fumbled.
Sean Lissemore
recovered.
The Chargers drove, and Nick Novak's 40-yard field goal ended the game 4:54 into OT.
Early, the Niners utilized a power-running attack -- more on
Frank Gore
below -- to jump out to that 21-0 lead en route to scoring their most points since dropping 31 on the
St. Louis Rams
on Oct. 13.
Yes, the 35 points scored were a season high, as were the 355 rushing yards.
Quarterback
Colin Kaepernick
broke off a 90-yard touchdown run, the second longest by an NFL quarterback since 2001, behind Terrelle Pryor's 93-yard run last season for the
Oakland Raiders
. It was Kaepernick's first rushing touchdown of the season. With 3:30 to play, Kaepernick had more rushing yards (131) than passing yards (99).
Strong safety
Antoine Bethea
had a pick-six for his first career touchdown, and the 49ers intercepted Philip Rivers three times.
Free safety
Eric Reid
, meanwhile, suffered a first-half concussion, the third concussion of his 31-game career, and his replacement, Bubba Ventrone, left with a groin injury.
It is the first time the 49ers have lost a game they led by at least 21 points at halftime since 1965, per the Associated Press.
Stock watch
: Rising – Rookie receiver/returner
Bruce Ellington
. Playing in his third game after missing three with an ankle injury, Ellington became the first Niners rookie since Amp Lee in 1992 to have both a rushing and receiving touchdown in the same game. Ellington's 8-yard touchdown catch in the second quarter gave the Niners a 14-0 lead before his 1-yard scamper on a fly sweep put the Niners up 28-7 with six seconds to go before the half. It is Ellington's first multi-TD game. Ellington, however, injured a hamstring in the third quarter and did not return.
A crazy turn of events
:
Vernon Davis
appeared to have a 63-yard touchdown reception in the third quarter, only to have it called back by a chop-block penalty on Gore. One play later, Kaepernick was strip-sacked, and the Chargers recovered in the end zone for the TD to get back to 28-21. Two plays after the San Diego score, Kaepernick ran into the history books to put the Niners up by 14.
And the game ball goes to …:
Gore, and there should be no debate. The Niners' workhorse running back suffered what was described as a concussion six days earlier, sat out practice completely Wednesday and was only able to go in a limited fashion Thursday and Friday. Yet there he was, shredding the Chargers' defense to the tune of a season-high 129 yards on 14 carries ... in the first half. He had a 52-yard touchdown run less than two minutes into the game and is the lone player in the league this season with TD runs and receptions of 50-plus yards, as he had a 55-yard catch and run Sept. 28 against Philadelphia. Gore finished with 158 yards on 26 carries and is 38 from a 1,000-yard rushing season.
What's next
: The 49ers (7-8) close the season -- and the Jim Harbaugh era? -- with a home game against the playoff-bound
Arizona Cardinals
(11-3), who upended the Niners 23-14 in Week 3. Arizona can win the NFC West and the conference's No. 1 seed by beating the
Seattle Seahawks
(10-4) on Sunday.
December, 20, 2014
Dec 20
7:23
PM ET
Chargers:
P
Mike Scifres
, WR
Keenan Allen
, RB
Ryan Mathews
, CB
Greg Ducre
, DL
Damion Square
, DT
Ryan Carrethers
, OLB
Cordarro Law
49ers:
QB
Josh Johnson
, G
Joe Looney
, G
Andrew Tiller
, WR
Stevie Johnson
, RB
Carlos Hyde
, CB
Tramaine Brock
, OLB
Ahmad Brooks
December, 20, 2014
Dec 20
4:40
PM ET
Chris Borland
's standout rookie season has come to an end as the inside linebacker was placed on injured reserve before the
San Francisco 49ers
' home game against the
San Diego Chargers
on Saturday.
Borland
Linebacker
Chase Thomas
was promoted from the practice squad and he will wear No. 58.
Borland injured his left ankle on the final play of the first half in last week's loss at the
Seattle Seahawks
. He replaced the injured
Patrick Willis
in the starting lineup and has a team-leading 107 tackles in 14 games, eight starts. The two-time Pepsi rookie of the week and the NFC's defensive player of the Week for Week 11 was also the NFL defensive rookie of the month for November after being the first player in 20 years to have 70 tackles and two intercepotions in a calendar month.
He also had two interceptions, five passes defensed, a sack and a fumble recovery on the season.
Nick Moody
will replace Borland in the starting lineup.
December, 20, 2014
Dec 20
3:30
PM ET
By
ESPN.com staff
| ESPN.com