September, 18, 2014
Sep 18
5:20
PM ET
SAN FRANCISCO, Calif. -- With both
Vernon Davis
and
Vance McDonald
still hobbling around -- Davis' left ankle, McDonald's right knee -- might the
San Francisco 49ers
' tight end spotlight turn to a third-string, converted basketball player?
Carrier
Derek Carrier
, who played small forward at Beloit College in Wisconsin until his junior year despite averaging 8.3 points while starting 21 games for the Buccaneers, could be in line to start at tight end for the the Niners in Sunday's road game against the
Arizona Cardinals
.
"I just try to focus on what I need to do individually to help the team the most," Carrier said Thursday. "That's just go out there and execute and do my job."
He was rushed into service late in Sunday's 28-20 loss to the
Chicago Bears
, two of his three catches coming after Davis and McDonald were hurt. For the game, Carrier had three receptions, the first of his career, for 41 yards, including a clutch 22-yard pickup.
"He plays fearless," said 49ers quarterback
Colin Kaepernick
. "He goes out, he's going to give you everything he has, and he's willing to go and make a play. I think he showed that on Sunday."
If he has to show it again this Sunday in Arizona, the 49ers will be short-handed in terms of bodies and experience between Kaepernick and Carrier, but not confidence.
"It's something that comes with time, comes with reps," Carrier said. "And that's why I think the last game against Chicago was valuable for myself, getting that time with Kap to work.
"For me, I think it was a great learning experience being there at crunch time and being able to get some reps in there. Unfortunately we got the loss, but for me I thought it was a great learning experience."
September, 18, 2014
Sep 18
4:40
PM ET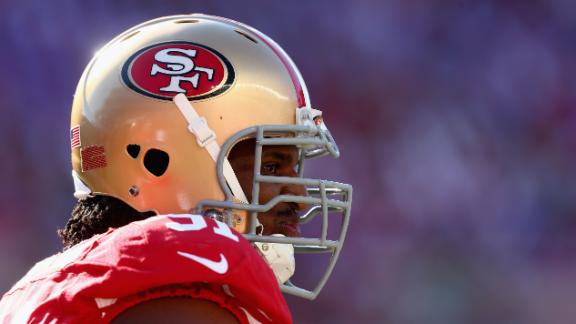 SANTA CLARA, Calif. -- Jerry Rice has joined former teammate and fellow Hall of Famer Steve Young in suggesting the San Francisco 49ers bench defensive lineman Ray McDonald while the criminal investigation in the wake of his Aug. 31 arrest for domestic violence continues.
Rice told Sports Illustrated he shares the feelings of his former quarterback, who offered the same opinion on ESPN's "Monday Night Countdown" last week.
"I would have totally just taken him off the field until it was resolved," Rice said Thursday, "but they have decided to let him play, and it's just unfortunate. But I feel when you have something that's weighing you down like that, and because it's a very important topic and it's very sensitive, I just feel he should have been taken off the field."
The 49ers have maintained their stance several times -- that they will let due process play out, even in the face of calls from the likes of California Lt. Gov. Gavin Newsom and House Minority Leader Nancy Pelosi to deactivate McDonald, who has started both of the 49ers' games.
"You've seen there's been a lot of public speculation and people weighing in with their opinion, whether it's a public figure or people through social media," coach Jim Harbaugh said Monday. "Our response would be, we have two principles at play here. One is respect for due process, and we're not going to flinch based on public speculation."
McDonald has not been charged. San Jose police continue their investigation before sending their findings to the Santa Clara County District Attorney's Office for consideration of charges.
September, 18, 2014
Sep 18
2:30
PM ET
SANTA CLARA, Calif. --
Anthony Davis
, who started every game of his first four years at right tackle for the
San Francisco 49ers
until missing the first two of this season with a left hamstring issue, has yet to practice this week.
Davis
Jonathan Martin
, acquired this offseason, had been doing a serviceable job on the right side ... until having a rough go of it in Sunday night's 28-20 loss to the
Chicago Bears
.
Martin allowed two fourth-quarter sacks in the Bears' comeback win, along with four pressures overall, to post a -1.2 grade, per Pro Football Focus.
Among other 49ers offensive linemen, right guard
Alex Boone
allowed two hurries and had a grade of -0.7 in his first start after holding out for a new contract all summer, and left guard
Mike Iupati
had a good game with a +1.8 grade.
49ers coach Jim Harbaugh, though, would not comment specifically on the job done by Martin.
"We could talk about a lot of guys," Harbaugh said. "There's some really good things and things that we'll look to improve on. We all kind of fall into that category right now after this game. We all feel like we have fingerprints on it.
"Some really good things were done by Jonathan Martin, by our offense, by our defense, by our special teams. Other things we need to improve on."
September, 18, 2014
Sep 18
12:35
PM ET
SANTA CLARA, Calif. -- Sure, the
San Francisco 49ers
want
Colin Kaepernick
to be more adept as a pure pocket passer, but not at the expense of utilizing his legs to keep defenses honest.
But in the 49ers' 28-20 loss to the
Chicago Bears
on Sunday night, in which Kaepernick threw three interceptions and lost a fumble while the Niners blew leads of 17-0 and 20-7, Kaepernick excelled when facing undue pressure but struggled mightily when he had time to look downfield, so to speak.
And yet ...
"I don't see the difference in his play," insisted coach Jim Harbaugh, "whether he's blitzed or not blitzed."
Then it's in the results.
Consider: On 11 dropbacks in which he was blitzed by the Bears, Kaepernick had a passer rating of 117.7 in completing 5 of 8 passes for 46 yards and a touchdown, per Pro Football Focus. And when he was not blitzed? Kaepernick's rating was just 46.2 on those 31 dropbacks with all three of his picks coming in those situations as he completed 16-of-26 for 202 yards.
He was also 1-for-5, a 22-yard completion, with two INTs on throws at least 20 yards downfield.
Kaepernick's take?
"I guess that's really dictated by what the defense was doing," he said.
"We just look at plays as far as whether they're good or bad."
Might the Bears have taken a page from the Seattle Seahawks' playbook and provided the
Arizona Cardinals
with a blueprint on how to flummox Kaepernick – flood the line, seal the edge and stay away from the blitz?
Or was it simply an anomaly on Sunday?
September, 17, 2014
Sep 17
7:45
PM ET
SANTA CLARA, Calif. – Pro Bowl tight end
Vernon Davis
was one of six
San Francisco 49ers
players to miss practice on Wednesday as he was listed as dealing with ankle and knee issues, even as coach Jim Harbaugh said earlier in the day he thought the Niners "dodged a bullet" with the injury.
The others to sit out practice as San Francisco geared up for Sunday's divisional matchup at the
Arizona Cardinals
: cornerback
Tramaine Brock
(toe), right tackle
Anthony Davis
(hamstring), center
Marcus Martin
(knee), tight end
Vance McDonald
(knee) and defensive lineman
Justin Smith
(not injury related).
Left tackle
Joe Staley
(knee) was limited while rookie running back
Carlos Hyde
(calf) was a full participant.
September, 17, 2014
Sep 17
4:59
PM ET
[+] Enlarge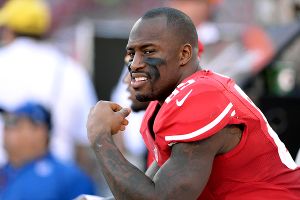 AP Photo/Greg TrottThe 49ers will continue to monitor Vernon Davis' health this week, coach Jim Harbaugh says.
SANTA CLARA, Calif. -- A day after reports surfaced that an MRI of San Francisco 49ers Pro Bowl tight end Vernon Davis' injured left ankle showed no structural damage and only a deep bone bruise, the team felt like "we dodged a bullet," coach Jim Harbaugh said Wednesday.
Davis was not seen in the locker room during media access -- practice was not for another hour -- but Harbaugh said the team would continue to evaluate the health of Davis, who was hurt with about 10 minutes to play in Sunday night's 28-20 loss to the Chicago Bears after catching an eight-yard pass and having his left leg rolled up on by linebacker Jonathan Bostic.
The Niners are also monitoring backup tight end Vance McDonald, whose right knee was rolled up on by linebacker Shea McClellin during Frank Gore's 54-yard touchdown run in the second quarter that was nullified by a holding penalty on Anquan Boldin.
An MRI and X-ray of McDonald's right knee were negative, and he was seen in the locker room with stim wire attached to the knee.
September, 17, 2014
Sep 17
4:15
PM ET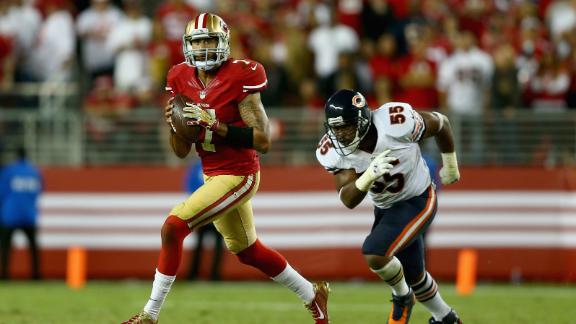 SANTA CLARA, Calif. -- San Francisco 49ers quarterback Colin Kaepernick maintained his stance Wednesday that he "didn't say anything" to warrant an unsportsmanlike penalty for inappropriate language in Sunday night's 28-20 loss to the Chicago Bears.
Kaepernick was fined $11,025 for the penalty.
"It will be appealed," he said, adding that what he supposedly said was not identified in the letter explaining his fine.
It was early in the fourth quarter when Kaepernick tried to hit Michael Crabtree with a pass on the left that Bears rookie cornerback Kyle Fuller stepped in front of to pick off the ball. As the play died down, Kaepernick and defensive lineman Lamarr Houston began jawing at each other on the sideline, and a yellow flag came flying.
"The player that I supposedly said something to has been quoted saying I didn't say anything," Kaepernick said. "And I don't know him, so it's not like he would have a reason to just randomly stick up for me."
Kaepernick threw three interceptions in the game and also lost a fumble as the Bears rallied from deficits of 17-0 and 20-7 to win.
Asked if he thought the rule was over the top, Kaepernick laughed.
"I'm not speaking on that," he said, "or I'll get another fine."
Coach Jim Harbaugh, meanwhile, said he did not have a "stance" on the matter.
"Because I don't know," he said. "I didn't hear it. But Colin's always been truthful 100 percent of the time."
September, 17, 2014
Sep 17
1:00
PM ET
Nursing a 10-point lead and having driven from their own 10-yard line to the
Chicago Bears
' 6-yard line on the opening drive of the second half Sunday night, the
San Francisco 49ers
suddenly went conservative.
Three straight runs netted the Niners nothing after
Frank Gore
gained one yard,
Carlos Hyde
lost two and Gore again picked up one.
Forced to kick a 24-yard field goal, the 49ers left four points on the field after holding onto the ball for more than nine minutes and taking a 20-7 lead. They would not score again, though, and they would fall to the Bears,
28-20
.
"When you're up like that," Gore said after the game, "you've got to go for the kill. We let them get back into the game. We didn't finish and they beat us."
Heading into Sunday's showdown at the
Arizona Cardinals
, you have to wonder if the 49ers will be more aggressive if they face a similar situation.
"Could we have called a different play?" coach Jim Harbaugh mused Monday.
"'Oh, you ran a running play.' It didn't work. 'Could you have used a different play and that could have worked?' Yeah, we'd love to go back and try the different play now. But, that's in all these situations when you look back -- one worked, one didn't. Sure you'd like to try the other, but you're not in that position."
The Cardinals, who are 2-0 with victories over the
San Diego Chargers
at home and at the
New York Giants
, will just have to wait and see how aggressive or conservative the Niners will be on Sunday.
September, 17, 2014
Sep 17
10:00
AM ET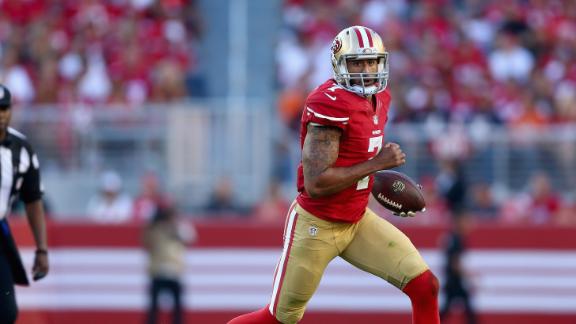 ESPN 49ers reporter Paul Gutierrez talks about
Colin Kaepernick
's struggles and the matchup against the Cardinals and
Patrick Peterson
on Sunday.
September, 17, 2014
Sep 17
8:00
AM ET
In three years under Jim Harbaugh, the
San Francisco 49ers
are 37-12-1 in the regular season, a .755 winning percentage.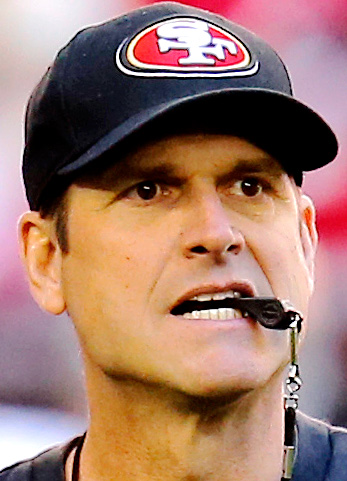 Harbaugh
Impressive enough.
Perhaps even more notable, though, is the Niners' record immediately following a loss with Harbaugh as their head coach. They are 9-2 (.818) in such games. And after Sunday night's meltdown in the debut of Levi's Stadium, a
28-20 loss
in which the 49ers blew leads of 17-0 and 20-7, they will have to call on some of that same resolve in the desert as they travel to take on the 2-0
Arizona Cardinals
in a key early-season NFC West game.
"That's the mindset that we approach it with," Harbaugh said in his weekly media conference on Monday. "You're in the business of winning your next game. Very much want to be about that. That's the situation we're in."
In fact, the 49ers won their first seven games after a loss under Harbaugh, stretching through the 2011 and 2012 seasons.
Last season, though, they had a pair of two-game losing streaks -- in Weeks 2 and 3, at the
Seattle Seahawks
and at Candlestick Park against the
Indianapolis Colts
, and coming out of their bye in Weeks 10 and 11, against the
Carolina Panthers
and at the
New Orleans Saints
.
Following that loss in the Superdome, the Niners sat at 6-4 before rattling off eight straight victories, including the playoffs.
So yeah, Harbaugh's Niners teams have a knack for getting off the canvas and coming back strong, yet, they are also just 1-3 in Week 2.
Harbaugh said he has no answer for that trend but acknowledges the Cardinals present a unique challenge this weekend.
"We're going to have to be at out absolute best in all phases," he said. "So, that's my impression. They're a very good football team and we know that. Played them twice last year and they're off to a heck-of-a good start this year."
San Francisco has won nine of the past 10 games against the Cardinals, whose
lone win in that span
was in Arizona on Dec. 11, 2011.
September, 16, 2014
Sep 16
9:50
PM ET
Associated Press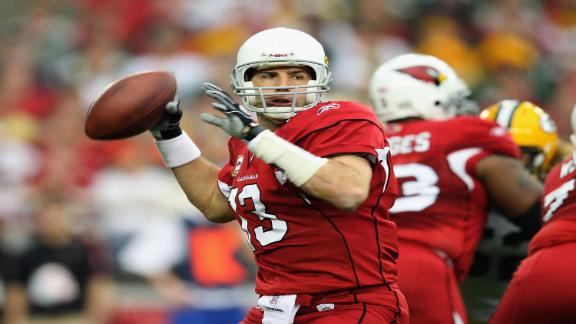 Super Bowl-winning quarterback Kurt Warner and linebacker Junior Seau are among 15 first-year eligible modern-era candidates nominated for the Pro Football Hall of Fame on Tuesday.
Also nominated for the class of 2015 in their first year of eligibility are receivers Isaac Bruce and Torry Holt, tackle Orlando Pace and place-kicker Jason Elam.
A total of 99 players and 14 coaches comprise the 113 nominees. A modern-era player or coach must be retired at least five consecutive seasons to be eligible.
The selection committee will choose 25 candidates as semifinalists in late November. That list will be reduced to 15 modern-era finalists in early January. The 2015 class will be voted on the day before the Super Bowl.
One senior committee nominee, former Vikings center Mick Tingelhoff, also will be on the ballot.
Between four and eight new members will be selected. Inductions will be in August at Canton, Ohio, site of the Hall of Fame.
Some other familiar names who have been nominated are running back Jerome Bettis, receivers Tim Brown and Marvin Harrison, guard Will Shields, defensive ends/linebackers Charles Haley and Kevin Greene, safety John Lynch, and place-kicker Morten Andersen. All were finalists in 2014.
Coaches Tony Dungy, a finalist this past January, Bill Cowher, Don Coryell and Mike Holmgren also are among the 2015 nominees.