December, 18, 2014
Dec 18
9:18
PM ET
[+] Enlarge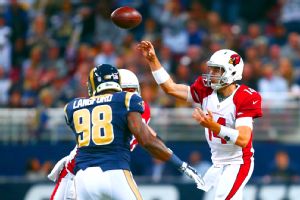 Dilip Vishwanat/Getty ImagesRyan Lindley and the Cardinals sit in first place in the NFC, but for how much longer?
Three divisional races came to an end last week, with New England, Denver and Indianapolis all claiming titles in the AFC. The Arizona Cardinals locked up a playoff spot in the NFC, but their chances of winning the West hinge on whether quarterback Ryan Lindley can do anything this week against the lethal Seattle Seahawks defense.
Those berths leave 17 teams in the running for the remaining eight playoff spots, and there's a chance all of those playoff berths could be claimed by Monday night.
With half of the AFC berths scooped up, the main focus of the playoff chase shifts to the NFC's race to the No. 1 seed. The Seahawks could be in an enviable position if the right pieces fall into place.
As often is the case at this time of year, Seattle's rooting interest is changing by the game. A week ago, the Seahawks needed a Green Bay loss to Buffalo in order to enhance their odds of securing the top seed. On Sunday, Seattle is hoping for wins by those same Packers as well as the Detroit Lions. If both NFC North teams win, the winner of next week's Detroit-Green Bay game will be 12-4.
December, 18, 2014
Dec 18
8:15
PM ET
RENTON, Wash. – Thursday's injury report was not encouraging for the
Seattle Seahawks
as receiver
Paul Richardson
was added with a hamstring injury and the six players who didn't practice Wednesday did not return.
Richardson
Three starting offensive linemen – center
Max Unger
(knee and ankle), left tackle
Russell Okung
(bruised lung) and right guard
J.R. Sweezy
(ankle) -- missed practice again. It's a concern going into a game Sunday at Arizona against a Cardinals defense that sacked
Russell Wilson
seven times in the game last month at Seattle.
Seahawks coach Pete Carroll does not speak to the media on Thursdays, so an update on those players won't be known until after practice Friday.
Running back
Marshawn Lynch
did not practice, but it's not unusual for him to rest his back for two days during the week. Tight end
Tony Moeaki
(shoulder) and defensive end
Demarcus Dobbs
(ankle) also still were out.
December, 18, 2014
Dec 18
6:10
PM ET
RENTON, Wash. --
Seattle Seahawks
strong safety
Kam Chancellor
interrupted the media scrum Thursday to ask a question to the star of the moment -- linebacker
K.J. Wright
, the man who just signed a four-year, $27-million contract extension.
"Hey, I want to know what's the first thing you're gonna buy with all that money," Chancellor asked Wright.
"Nothing for me," Wright said. "It'll be something for my momma. My momma comes first."
Wright
Wright has his priorities in the right place. So do the Seahawks.
Thursday was another example that general manager John Schneider and coach Pete Carroll mean what they say. Since winning the Super Bowl last season, they have said all along they wanted to do everything they could to keep their core players together.
Wright's new deal is the latest step in that plan.
"We've been talking about this since the spring," Wright said. "It's only human that sometimes you wonder, 'Am I going to be here or am I not?' But they told me all along they would find a way to make it happen and they did. It's a blessing. Pete called me [Tuesday night] to tell me how much I mean to them. I'm glad they chose for me to stick around."
Every Super-Bowl winning team loses players to other teams. Eleven players from last season moved on for various reasons, but the Seahawks have re-signed cornerback
Richard Sherman
, free safety
Earl Thomas
, defensive end
Michael Bennett
, wide receiver
Doug Baldwin
, kicker
Steven Hauschka
, and now Wright, since the end of last season.
"This is starting to turn into cement," said Thomas, who signed a 4-year, $40 million deal in the offseason. "We have a special group. If you ball out, you're gonna get what you need. I'm happy for [Wright]."
Sherman, who signed a four-year, $57 million deal in the spring, said it means a lot to the players because it shows the commitment of team management.
"For the most part, if you play well, you will be retained," Sherman said. "They've kept their word with us. And obviously, it means a lot to the defense to know K.J. is going to be here."
One reason the Seahawks were able to complete the deal with Wright was the money they saved by trading receiver
Percy Harvin
, about $6.4 million this season.
Now two other players take priority for the Seahawks in terms of reaching long-term deals -- quarterback
Russell Wilson
and middle linebacker
Bobby Wagner
.
Wilson is likely to get a contract is excess of $100 million, with more than $40 million guaranteed. Wagner probably is looking for a multi-year contract that will pay him between $8 and $10 a year. Both Wilson and Wagner are in their third season.
In the salary-cap era, it's impossible for a winning team to keep everyone, but the Seahawks have proven they will do all they can to keep the young players that made them winners.
December, 18, 2014
Dec 18
3:27
PM ET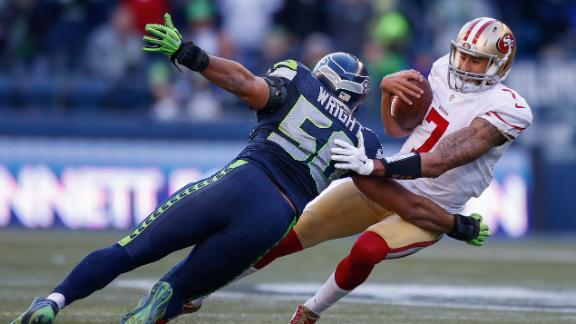 RENTON, Wash. -- Linebacker K.J. Wright has agreed to a four-year contract extension with the Seattle Seahawks, the team announced Thursday afternoon.
The deal is reportedly worth $27 million.
"I'm just glad they chose for me to stick around. It's a blessing," Wright said. "There were times when I wondered if I would be here or not, but they told me they would find a way to make it happen and they did. I had a number in my head and they exceeded it."
Wright was the team's fourth-round draft choice (99th overall) in the 2011 NFL draft. He has started 54 of 58 games played and recorded 333 tackles (224 solo), 6.5 sacks, one interception, 14 passes defensed, four forced fumbles and three fumble recoveries in his career.
"In the offseason, we identified K.J. as one of our core players moving forward and aimed to keep him as a part of the Seahawks family for a long time," general manager John Schneider stated in a team release. "The timing of this signing gives us the ability to keep as many of our core players together as we possibly can. Since Day 1, K.J. has been a true professional in his daily approach and we are excited for K.J., his family and the 12s to keep him in the organization."
In the postseason, he has started three of four games played, with 24 tackles (13 solo) and two passes defensed. Wright has started at all three linebacker spots for the Seahawks, but his best spot is weakside linebacker, where he now plays.
"K.J. is the epitome of a team guy," said Seahawks coach Pete Carroll in the release. "We are excited to reward a player of his caliber for all the hard work he has put in over the years to become an important piece of our defense."
December, 18, 2014
Dec 18
3:00
PM ET
TEMPE, Ariz. – The
Arizona Cardinals
don't know what it's like to play the
Seattle Seahawks
without linebacker
Bobby Wagner
this season.
But they wish they did.
Wagner
Since the middle linebacker returned from a toe injury against Arizona in Week 12, the Seahawks' defense has been the best in football, allowing a league-best 6.8 points and 188 yards per game in its last four games. During that stretch, Arizona has scored 12.5 points per game (31st in the NFL) and gained 293.3 yards per game (27th).
While the Seahawks benefited from getting safety
Kam Chancellor
and cornerback
Byron Maxwell
back from injuries while Wagner was gone, it was Wagner's return that was the catalysts for the defense's recent tear.
"I think that's part of it," Seahawks coach Pete Carroll said. "I think Bobby's really helped us. I just think it's kind of the way the season's gone. Sometimes you find a connection that makes sense, and I think Bobby's been in the middle of it for a long time.
"It was great to get him back."
It was needed, too.
After a 3-2 start, the Seahawks went 3-2 without Wagner. Heading into Week 12, at 6-4, the Seahawks were teetering on sliding out of the playoff race. Since Wagner's return, however, they've won their last four and, with a win Sunday, can clinch the NFC West and are in play for home-field advantage throughout the NFC playoffs.
Seattle struggled to contain the run and get to quarterbacks without Wagner:
When he was out, the Seahawks gave up 2.2 touchdowns per game, compared to 1.5 when he's played this season.
Quarterbacks completed 65.6 percent of their passes without Wagner on the field and 61.9 percent when he's played.
The Seahawks have held offenses to 3.24 yards per rush with Wagner, better than the 4.04 yards per rush they gave up without Wagner.
With Wagner, Seattle has averaged 2.44 sacks per game. Without him, that dropped to 1.4.
Wagner, who has 35 tackles and one sack in his last four games, said Seattle's defensive resurgence was simply a matter of getting healthy.
"There were a lot of guys who were playing out of position because of our injuries and stuff like that, so getting everybody back to where they're comfortable, back to what they've been practicing all offseason, and just getting our chemistry and stuff back [has been the difference]."
Confidence also has been a factor, Wagner said, and it's been growing weekly since the Seahawks beat Arizona 19-3 on Nov. 23.
Seattle has allowed a league-low 27 points in its last four games – better than any four-game stretch the Seahawks had last season. The best four-game stretch was allowing 43 points in Weeks 13-16 in 2013.
"We've kind of recaptured the intensity that it takes to play at a really high level," Carroll said. "We saw glimpses of it early in the year, and we had games where we played really well, and we had games where we didn't play really well.
"We just hadn't found consistency yet. It seems like in the last month or so, we've done a little bit better, and we're hoping to put one more game along those same kind of lines, and see if we can get ourselves a win at [their] place."
December, 18, 2014
Dec 18
2:45
PM ET
The first mock draft for ESPN's Todd McShay has an interesting first-round pick for the
Seattle Seahawks
. It's a running back, so read into that what you will about the future status of
Marshawn Lynch
.
Click on McShay's Insider story
to see which running back he thinks the Seahawks might want and why they may want to go that direction.
It's a fun read to look at all his picks for the first round of the 2015 draft in the first version of how things will play out April 30 in Chicago.
December, 18, 2014
Dec 18
11:52
AM ET
RENTON, Wash. –
Seattle Seahawks
offensive coordinator Darrell Bevell didn't want to jinx it when asked about quarterback
Russell Wilson
's durability.
Wilson
"It's so remarkable, I probably don't want to talk about it," Bevell said. "Knock on wood."
Wilson has taken more than his share of punishment the last two seasons with an offensive line that has suffered through injuries and struggled in pass blocking at times. But Wilson's elusiveness, toughness and knowledge of when to slide has helped him stay healthy.
Bevell also coached a quarterback who managed to stay healthy enough to play 20 seasons. Brett Favre played for Minnesota 2009-10 when Bevell was the offensive coordinator for the
Minnesota Vikings
.
"I've been so fortunate in my career,'' Bevell said. "I was able to coach a guy that was able to play forever and ever, and you expected him to be at every game regardless. I think we have a similar guy in Russell. He's taken some hits, but the best thing we talk about with him every time is the decisions that he makes.
"Most of the time, he keeps himself out of harm's way and he's able to escape some things. When he gets out and runs, he gets down or he gets out of bounds, so all those decisions really help him to stay in there."
Now Wilson faces the
Arizona Cardinals
, a team that sacked him seven times in a 19-3 Seattle victory on Nov. 23 at CenturyLink Field. Wilson also was sacked five times last weekend against the
San Francisco 49ers
in the 17-7 Seahawks win.
"We're practicing to improve the things we need to improve," Bevell said. "We just have to block better. We have to get the ball out quicker. We've got to get open on time. We have the conversation all the time on how they all work together. We have to be on point all the time, particularly this opponent that we're playing. They bring tons of pressure. They can bring it every single down if they so choose, so we have to be prepared for it."
December, 18, 2014
Dec 18
9:30
AM ET
TEMPE, Ariz. -- Leave it to Bruce Arians to throw a wrinkle in an opposing defense's game plan simply by adding a wrinkle to his offense.
All Arians had to do to force Seattle to scramble a bit before Sunday night's kickoff was announce that his backup quarterback may get a few snaps.
Arians' announcement Monday that
Ryan Lindley
would start in place of
Drew Stanton
against the
Seattle Seahawks
gave Seattle's Pete Carroll and his staff the go-ahead to start preparing for the third-year quarterback. Then Arians said that rookie quarterback
Logan Thomas
may be used throughout the game, as well, with his own package of plays.
[+] Enlarge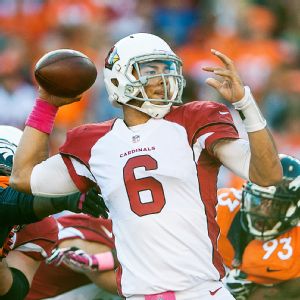 Dustin Bradford/Getty ImagesQB Logan Thomas brings a different set of skills to the table than starter Ryan Lindley does.
"I think Bruce did a really good job of letting that out because he made us have to go ahead and think about all the stuff (Thomas) could do, as well," Carroll said on a conference call with the Arizona media.
Carroll said the Seahawks haven't spent more time this week preparing for Thomas.
"It's just regular stuff," Carroll said. "There's not a quantity amount here. We just work at figuring it out. They can't both play at the same time and they can't both be out there, so we just defend the guy that's on the field."
Technically, both Lindley and Thomas could be on the field at the same time.
"Not playing quarterback," Carroll responded.
But the difference between the two is noticeable and distinct, Seattle linebacker
Bobby Wagner
said. In no great discovery, Wagner labeled Lindley as a passer and Thomas as a "run threat." He said the Seahawks won't focus on who the quarterback is, instead they just plan to chase the ball. But Wagner added that Seattle will prepare for different formations and plays that each quarterback may run.
Carroll is more than marginally familiar with Thomas, the Cardinals' fourth-round draft pick in May. Carroll's son, Brennan, has been an assistant coach at the University of Miami for the last four years so the elder Carroll has seen his share of ACC football, including watching Thomas when he played at Virginia Tech.
"I thought he was a really terrific competitor, very versatile, huge arm and a tremendous looking athlete who could run with the ball," Carroll said. "We're going to try to prepare for all of the things that he could possibly do."
Thomas has played just once this season, in Week 5 in place of Stanton, who left the game with a concussion. He was 1-for-8 passing in about a quarter-and-a-half.
Taking a smaller playbook into Sunday night's game should help Thomas if he gets on the field again. But in 11 weeks, Thomas said he's grown as a quarterback.
"I think just overall knowledge of how things are going and picking up the little things, the little nuances within our offense," Thomas said. "Little by little getting better and better."
December, 18, 2014
Dec 18
8:00
AM ET
RENTON, Wash. --
Arizona Cardinals
quarterback
Ryan Lindley
knows a lot of negative things are being said and written about his chances this week against the
Seattle Seahawks
defense.
Lindley
"My wife on Monday put a social media ban on the house this week," Lindley said Wednesday on a conference call with Seahawks reporters. "Of course I've heard some of it, but we preach in this building that it's all about how we feel and what we think about each other. As long as I have the respect of my teammates I'll feel comfortable going out there."
Lindley spent 10 weeks on the
San Diego Chargers
practice squad this season after being released by the Cardinals at the end of the preseason. Arizona opted to go with rookie
Logan Thomas
as its third QB instead of Lindley, who had been with the team since 2012.
But Lindley was re-signed Nov. 11 and now finds himself in the biggest game of his career, a chance to clinch the NFC West title at home against the defending Super Bowl champs.
"It's been a roller coaster, but that's the NFL," Lindley said. "Everybody has a story. I'm just blessed to be in the position I am now and have the opportunity I have. I have to make the most of it."
When quarterback
Carson Palmer
suffered his season-ending ACL injury, Arians said he had no hesitation at bringing back Lindley.
"He knew our system," Arians said. "We liked him a lot and it was a very tough decision to let him go. We also loved the upside of Logan's career. I'm comfortable with ether one of those guys."
Lindley played against the Seahawks once before in his rookie year of 2012, entering the game long after the outcome was decided in a 58-0 victory for Seattle.
"I just remember mopping it up," said Lindley, who was 8 of 17 passes for 58 yards that day. "That was a rough season and this is a whole new team, new regime and a whole new attitude we have around here. It starts with the leadership we get from BA [Arians]."
Lindley said he has learned a lot since that awful day two years ago. He credits a lot of it to Arians, who had a message for him earlier this week when he told Lindley, "Just go sling it."
"That's BA," Lindley said. "He's a player's coach and he has a ton of confidence in the guys he puts out there. And he doesn't hold back. I know he's going to open it up and I'm excited to take the helm for him."
December, 17, 2014
Dec 17
7:55
PM ET
RENTON, Wash. – Three offensive line starters did not practice for the
Seattle Seahawks
on Wednesday, which could be a big concern heading into the NFC West game Sunday against the
Arizona Cardinals
with the division title on the line.
Starting center
Max Unger
, left tackle
Russell Okung
and right guard
J.R. Sweezy
all were out.
Sweezy was the surprise on the injury report with what was listed as ankle injury. Okung has a bruised lung from the game last Sunday against San Francisco.
"But he's still in the mix," Seahawks coach Pete Carroll said of Okung's status for Sunday. "He's going to have some stuff done [Thursday] that will let us know where he sits and all that. He's not out of the plan yet."
Unger has missed the last four games with knee and ankle injuries. He practiced last Friday, which was believed to be an encouraging sign about his chances of playing this week.
"Max had a tough recovery from last Friday's practice, so we'll see how he is [Thursday]," Carroll said. "We're taking it one day at a time now. It's close enough where we have a chance."
The game Sunday comes against an Arizona team that sacked Seahawks quarterback
Russell Wilson
seven times in Seattle's 19-3 victory over the Cardinals on Nov. 23 at CenturyLink Field. Unger is the only one of the three who did not play that day, but starting left guard
James Carpenter
was out with an ankle injury.
Also not practicing Friday were defensive end
Demarcus Dobbs
, who missed last Sunday's game with ankle sprain, tight end
Tony Moeaki
, who injured his shoulder against San Francisco, and running back
Marshawn Lynch
, who always takes Wednesdays off to rest his back.
Tight end
Cooper Helfet
, who missed the last three games with an ankle injury, was a full participant in Wednesday's practice.
December, 17, 2014
Dec 17
7:22
PM ET