November, 21, 2014
Nov 21
8:00
AM ET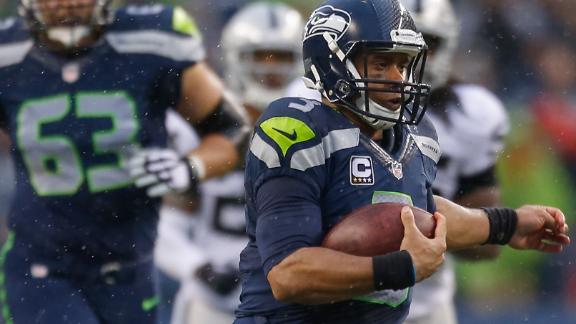 When:
4:05 p.m. ET Sunday.
Where:
CenturyLink Field, Seattle.
TV:
FOX
Now who would have thought the
Seattle Seahawks
would be the team in a must-win situation in late November when the
Arizona Cardinals
came to town?
Such is the case in a key NFC West matchup between the division leading Cardinals (9-1) and the Seahawks (6-4), who need a victory to keep any realistic hope alive of winning the division title.
Cardinals reporter Josh Weinfuss and Seahawks reporter Terry Blount take an in-depth look at some of the issues facing each team in this division showdown:
Blount:
Josh, let's get right to the point. Can the Cardinals keep up the pace, win the NFC West and become the first home team in the Super Bowl with
Drew Stanton
at quarterback?
Weinfuss:
If you would've asked me this last week, I would've said wait until we see how he plays against the
Detroit Lions
. I needed a game to decide if he's capable of making the run that you just described and here's what I've determined: He can keep the 9-1 run going and he can win the NFC West, but I'm not sure the Cardinals can go to the Super Bowl. Stanton is capable of winning games during the regular season for two reasons: 1. the offense hasn't changed and he's more than capable of running it almost as efficiently as
Carson Palmer
and 2. the defense has been playing great and can clean up any mistake Stanton makes. But the reason I don't think Arizona makes the Super Bowl is because that deep in the playoffs, teams are good enough to capitalize on the missteps -- especially if they're playing a team like Green Bay.
For the most part, a Super Bowl hangover is a myth ... but yet it seems like that's what the Seahawks are going through this season. Simply asked, are they?
Blount:
The players scoff at the Super Bowl hangover talk, but whatever you call it, things have not gone the way the Seahawks expected. This is a group of players who believed they would continue to get better, the best was yet to come and they would make it back to the Super Bowl. The odds are against them now, but I think they've learned what so many other Super Bowl champs learned -- it's a lot harder to stay on top than it was to get to the top. The Seahawks just don't have the depth they had a year ago and it has shown with the injuries they've experienced. And no matter how much they deny it, the
Percy Harvin
trade threw everyone for a loop and brought about a lot of national speculation about problems in the locker room. Most of it was baloney, but it was a distraction they didn't need.
Josh, I, for one, am shocked how well the Cardinals have played on defense this season after losing
Daryl Washington
,
Karlos Dansby
and
Darnell Dockett
. Does defensive coordinator Todd Bowles have some magic potion? How have they done it?
Weinfuss:
If he does have some magic potion, he's not selling it. Arizona's defense hasn't dropped off and that's because of Bowles. In short, his scheme works. He's able to develop a game plan and mold his 3-4 scheme around his and the opponents' personnel. Case in point: Against Dallas, Arizona ran a 4-3, he played
Dan Williams
and
Sam Acho
more, and the Cardinals broke
DeMarco Murray
's streak of 100-yard games. Bowles isn't one of those coaches that makes a square peg fit into a round hole. And, what's been the cement for all of Bowles' bricks, has been the locker room buying into the next-man-up philosophy that Bruce Arians has preached since he got here.
Terry, will
Marshawn Lynch
be able to carry the Seahawks to the playoffs this year or has that ship sailed? And how has not having
Golden Tate
impacted the offense?
Blount:
If ever there was a player who fit the definition of an enigma, Lynch is it. On the field, he is performing as well as he ever has. He's rushed for 264 yards in the last two games alone. But this is a man who marches to the beat of a different drummer. He's still upset about not getting what he wanted after his contract holdout, an issue that Pete Carroll said they are working through. Lynch's decision last week to stay in the field at halftime to get treatment on his back led to speculation about him sulking, which wasn't true, but the fact that he didn't talk to reporters after the game led to increased speculation. Now he's been fined $100,000 by the league for not talking. It becomes a sideshow the team doesn't need, but he answers by giving all he has on the field an playing at as high a level as he ever has. As for Tate, it's clear now he was a big loss, not only at receiver, but also as a punt returner. Frankly, the Seahawks haven't gotten what he gave them as either spot.
Josh, the Cardinals now are 19-7 under Arians after going 18-30 the previous three season before he arrived. And the
Indianapolis Colts
were 9-3 while Arians was the interim head coach during Chuck Pagano's 2012 illness. What is it about Arians that has made him so successful?
Weinfuss:
It all boils down to the fact that he doesn't pull any fast ones on his players. His players respect him and bought into his philosophy. They'll do anything for him. It also helps that Arians is an offensive genius. When his scheme finally started clicking last season and Arizona went on that tear in the second half, his players finally saw he wasn't this mad scientist with a confusing offense.
Both
Russell Wilson
and Carroll downplayed losing to the Cardinals last season. Have you seen that game linger in their memories at all this week?
Blount:
Not at all. The truth is the Seahawks entered that game knowing they had two home games left to clinch the division title and home-field advantage in the playoffs, so they didn't have a sense of urgency. They sure as heck do now, and they realize Arizona is the real deal. They are way more concerned with the 2014 Cardinals than the 2013 version that caught them napping last December.