October, 25, 2014
Oct 25
8:00
AM ET
RENTON, Wash. – The
Seattle Seahawks
need to do something different this weekend to get more of a pass rush, and coach Pete Carroll said they will make changes. He isn't saying exactly what those changes will be, but one untapped option could be rookie linebacker
Kevin Pierre-Louis
.
Pierre-Louis
At 6-foot, 235, Pierre-Louis is a bit of the small side for a consistent pass rusher, but he is the fastest linebacker on the team (4.4-second speed) and a man who knows how to get after the quarterback from his years at Boston College.
"Yeah, I did a lot of blitzing in college," Pierre-Louis said. "I'd say easily 40 percent of the plays my last year I was rushing the passer, up the middle and off the sides."
And it worked. Pierre-Louis started all 13 games last year for the Eagles, posting six sacks and 10.5 tackles for loss. He also had a career-best 108 tackles.
The Seahawks might try to use Pierre-Louis as an edge rusher to utilize his speed.
"They'll make the right decisions and dress it up a little bit differently," Pierre-Louis said. "And if they go with me in that role, I have no problem going there. I'm comfortable with whatever this team needs me to do and any decisions to make. If they feel I could help the team more as a rush end, then I'll definitely do that."
October, 24, 2014
Oct 24
6:00
PM ET
Kick and punt returner
Bryan Walters
will not play Sunday because of a concussion, one of seven
Seattle Seahawks
on the active roster who are out for the game in Charlotte against the
Carolina Panthers
.
Seahawks coach Pete Carroll said Friday that receivers
Doug Baldwin
and rookie
Paul Richardson
would handle the return duties this weekend.
Carroll said Baldwin wants to do both, "but he's going to do one of them." Carroll didn't say which one, but look for Baldwin to return kickoffs and Richardson to get a shot at returning punts. Richardson and cornerback
Richard Sherman
have been practicing punt returns all season.
Starting corner
Byron Maxwell
(calf strain) and starting center
Max Unger
(foot injury) are still are out this weekend, but Carroll hopes both will return to practice next week.
Second-year player
Tharold Simon
will get his second NFL start and cornerback, replacing Maxwell. Simon sprained his ankle in his first NFL start last week at St. Louis and left the game, but he practiced all this week and is ready to go.
Also out for Sunday are starting tight end
Zach Miller
, starting middle linebacker
Bobby Wagner
(turf toe), backup defensive tackle
Jordan Hill
(sprained ankle) and fullback
Derrick Coleman
, who has surgery Wednesday on his broken foot.
Running back
Robert Turbin
will handle the fullback duties again Sunday. Backup tight end
Luke Willson
will return after missing the St. Louis loss with a groin injury.
October, 24, 2014
Oct 24
3:32
PM ET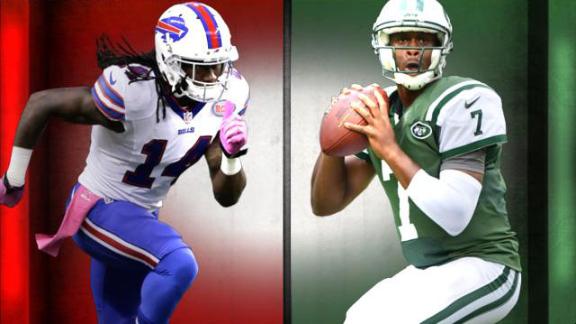 FLORHAM PARK, N.J. -- New Jets wide receiver Percy Harvin spent his last few minutes in the locker room Friday talking with teammates Michael Vick and Chris Johnson. It was a light moment -- Johnson yelled after Harvin until he was cracking up with laughter -- and one that was in stark contrast to reports that he was central to Seattle's internal discord.
"Whatever they say happened in the Seahawks' locker room, it's all in the past," Harvin said.
He stood in front of his locker and said he hadn't read all the reports focusing on his former team, and he didn't address why he got traded from the Super Bowl-winning Seahawks to the Jets.
"I really put it all behind me once I got here," Harvin said. "What people are saying right now, it doesn't mean much to me. My teammates have embraced me, my brothers here, so I'm looking more forward. I'm looking forward to my time here as a New York Jet."
Harvin's locker is next to former Seahawks teammate Breno Giacomini, who said he doesn't recognize the Harvin in those reports as the one he played alongside in Seattle.
"No, never," Giacomini said. "And we were together [last season] quite a bit. I was hurt, he was hurt. His locker was in my corner. From what I saw, he's always been a good teammate.
"But there are, what, 63 guys in the locker room? We see each other all day more than we see our families and all that. Put a group of boys together and see what happens. It happens all the time. But I think the media is blowing it up to be something that it's not."
October, 24, 2014
Oct 24
1:00
PM ET
RENTON, Wash. -- After back-to-back losses, the
Seattle Seahawks
have an East Coast road game where one of two teams that expected to a be playoff contender this season will have a losing record when the game ends, unless there's a rare tie.
Both the Seahawks and the
Carolina Panthers
are reeling, desperately needing a victory to keep from falling into a deeper midseason hole in the playoff hunt. So the question is which team is in better position to get out of the rut and earn a much-needed win?
Judging by how well the Seattle offense played in the second half last week, and with a full week to get over the surprise of the
Percy Harvin
trade, this should be a victory for the Seahawks.
Believe it or not, this is a better offense without Harvin, not to mention a better environment all around. Seattle had a season-best 463 yards of offense at St. Louis, including three consecutive drives of 80 yards or more in the second half.
And moving
Doug Baldwin
back to the slot in the three-wide formation, where he excels, showed big time last week when he had seven receptions for 123 yards and one TD catch.
Now the Seahawks are playing a Carolina defense that has allowed an average of 34.8 points per game in its past five outings.
The Seahawks still have some issues to fix, especially the pass rush, but shipping out Harvin was a step in the right direction and it will show on Sunday.
My prediction:
Seahawks 24, Panthers 20
October, 24, 2014
Oct 24
12:23
PM ET
ESPN.com news services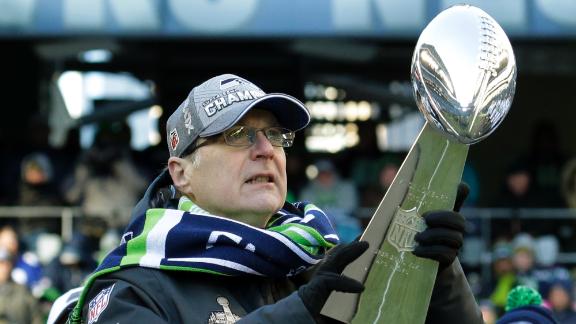 SEATTLE -- Billionaire Paul Allen, who owns the Seattle Seahawks and the Portland Trail Blazers, has pledged to contribute at least $100 million to the fight against the deadly Ebola virus.
"We're faced with a huge challenge with Ebola," Allen told ESPN.com's Kevin Arnovitz on Friday night. "If you have one of these epidemics with the number of cases potentially doubling every 20 days, to get ahead of that and contain it, you have to send large numbers of health workers over to the affected areas, and get them in place and get communications going with communities. If the health workers get ill, they want to know they can get medevaced out of there. So we've been trying to do a few things, to build containers that can go on planes to help with the health workers evacuated.
"I'm just trying to help show the way that we need to really increase what we're doing now, because we're currently chasing the expansion of the disease, and we've got to get ahead of expansion."
The Microsoft co-founder said Thursday that among the initiatives he's supporting is the development of two medevac containment units that the U.S. State Department can use to safely evacuate health workers who become infected.
Allen said he's working with the World Health Organization to increase its capacity for handling the logistics of transporting international aid workers, and he's establishing a fund to help cover the costs of emergency transportation of the workers.
Money also will go to the University of Massachusetts Medical School to help provide decontamination and lab equipment to Liberian hospitals, as well as community outreach and education in Liberia.
October, 23, 2014
Oct 23
8:00
PM ET
RENTON, Wash. -- The
Seattle Seahawks
' injury situation became worse Thursday when kick and punt returner
Bryan Walters
did not practice because of a concussion.
Walters will need to go through the NFL concussion protocol and tests before being cleared to play, which puts in jeopardy his chances of playing Sunday.
Walters just took over the kickoff return duties last weekend after
Percy Harvin
was traded to the
New York Jets
, but Walters has been returning punts since Week 2 after free safety
Earl Thomas
was taken off those duties.
If Walters can't play, the options on punt returns likely would be cornerback
Richard Sherman
, receivers
Doug Baldwin
or
Paul Richardson
, or maybe Thomas. Kick returns duties probably would go to Baldwin, with Richardson also an option.
Defensive end
Michael Bennett
also was a new addition to the injury report, not practicing Thursday because of a toe issue. Bennett talked to reporters Thursday and appeared OK. Defensive tackle
Kevin Williams
did not practice, but it was not injury related.
Strong safety
Kam Chancellor
(ankle) returned to full participation after missing practice Wednesday. So did running back
Robert Turbin
, who likely will be the starting fullback Sunday, after being limited on Wednesday with a shoulder issue. Running back Marshawn Lynch also returned to practice after his usual day off Wednesday.
Cornerback Byron Maxwell (calf) and center
Max Unger
(foot) still were out, which could indicate neither man will play Sunday at the
Carolina Panthers
.
October, 23, 2014
Oct 23
6:15
PM ET
RENTON, Wash. -- L.J. Fort came to the
Seattle Seahawks
on Tuesday thinking he was joining the team as a linebacker, the only position he has played since his first year of college. He soon learned Seahawks coach Pete Carroll had other plans.
"Pete said, 'We want to try you at fullback,'" Fort said. "They said I was catching the ball well, so they wanted to go with me on offense. It felt awesome to run the ball. It reminded me of my high schools days. I've been studying like crazy to learn the plays."
As of now, the Seahawks don't have a healthy fullback on the active roster. Starting fullback
Derrick Coleman
broke his foot in pregame drills at St. Louis last weekend and had surgery Wednesday.
[+] Enlarge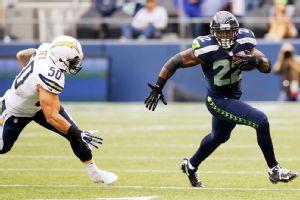 AP Photo/Stephen BrashearTailback Robert Turbin has played some fullback, and Seattle might keep using him there as it searches for ways to replace injured starter Derrick Coleman.
Fort, who played college ball at Northern Iowa, was added to the practice squad Tuesday. Fort (6-foot-1, 230 pounds) was a three-year starter at linebacker in college and didn't play fullback, except for a couple of goal-line plays, but he was an all-state running back in high school while also playing linebacker in Waynesville, Missouri.
Fort said he has been studying the offense with Seahawks offensive tackle
Justin Britt
, a former high school rival. Fort played in all 16 games for the Cleveland Browns in 2012 as an undrafted rookie free agent, but all at linebacker or special teams.
The Seahawks probably wanted to bring back rookie
Kiero Small
, a seventh-round draft pick by Seattle who was released at the end of the preseason.
Small was on the Cleveland Browns practice squad, but the Browns moved him to the active roster Monday, probably sensing they would lose him back to the Seahawks if they left him on the practice squad.
For now, the man with the fullback duties is backup running back
Robert Turbin
, who stepped into the role at St. Louis at the last minute.
"Honestly, I didn't think it was real until introductions," Turbin said. "That when [offensive coordinator Darrell] Bevell came up to me a said, 'You ready to go?'
"I was like, 'Wait, wait wait.' Until then, I thought Derrick would get taped and be all right. Then it was like, 'OK. Here we go.' I was trying to get my mind wrapped around it and really shift gears to prepare to do something different, all in about five minutes."
The Seattle coaches also were scrambling to pick their best option.
"To lose your fullback in pregame warm-ups is not something you're really prepared for," Bevell said. "We started thinking about the possibilities we had and we felt the most comfortable with Robert. He was willing to accept the challenge, and he did a really nice job for really no reps."
Turbin was surprised, but said he didn't have to guess what he was supposed to do on each play.
"I knew what I was doing," he said. "That comes from studying our playbook. I've always prided myself in knowing what each offensive player's job is. I'm a team guy and I want to help the team as much as I can. If they need me to step in [at fullback] for a few weeks, I will go in there and do the best I can."
It's also possible the Seahawks will line up tight end
Luke Willson
some at fullback this weekend. He didn't play at St. Louis because of a groin strain, but is expected to play Sunday against Carolina.
October, 23, 2014
Oct 23
5:45
PM ET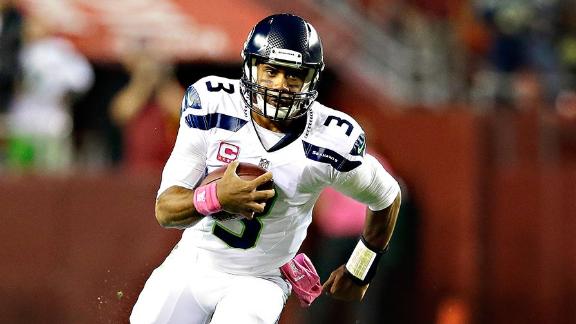 RENTON, Wash. -- Seattle Seahawks quarterback Russell Wilson said a report about a division in the team's locker room is not true.
"There's no division in our locker room," Wilson said Thursday. "There's none at all. If anything, I think we've continued to build and continued to grow. I truly believe that.
"The guys we have in the locker room believe we can still be a championship team. Those are the guys we have in this room every day. Every morning we have one common goal, and that's to win football games."
Wilson also addressed the reports that he had issues with wide receiver Percy Harvin, who was traded to the New York Jets on Friday.
"Percy and I never had differences," Wilson said. "We had a lot of similarities, probably, more than anything. We're both guys who want to compete at the highest level, want to win every time we're out there and want the ball in our hands every single play.
"Percy is a great football player, but for whatever reason, it didn't work here. We wish him nothing but the best. But our locker room is great. We have guys that are very positive and really want to work and want to win. We rely on the positive mentality in our locker room.''
Other players agreed with Wilson when asked about a divided locker room.
"I hadn't heard that," strong safety Kam Chancellor said. "But if that's what people are saying, it's absolutely ridiculous."
Free safety Earl Thomas was asked whether it offended him that anyone would insinuate the team had a locker room schism.