October, 31, 2014
Oct 31
8:00
AM ET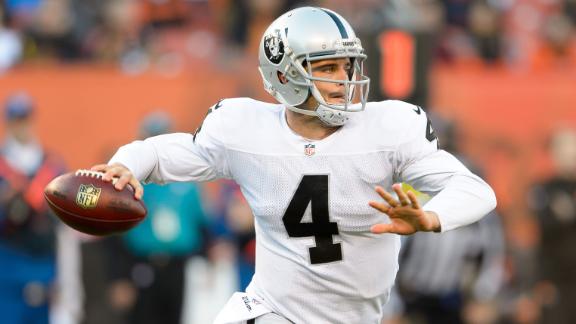 The
Seattle Seahawks
return home this Sunday to CenturyLink Field to face a winless team in a game that should be an easy victory for the Seahawks.
The
Oakland Raiders
are 0-7, just trying to find a way to get on the right track. The Seahawks are 4-3 after a victory in Carolina they hope ends some of the doubts surrounding the team the past two weeks.
ESPN.com Raiders reporter Bill Williamson and Seahawks reporter Terry Blount preview the game and take a candid look at where both teams are headed.
Blount:
Bill, the Raiders now are the only winless team in the NFL. I'm sure there are many reasons for it, but what would you say is the biggest reason, and is it possible they could go 0-16?
Williamson:
The biggest problem is, unless something crazy happens, the Raiders are staring at 0-11. After playing at Seattle, the Raiders host Denver and then go to San Diego. That is tough sledding. The easy part of the schedule is over. If the Raiders get to double-digit defeats without a win, the reality of going 0-16 is going to be facing Oakland. The reason why Oakland is winless is it has not put together a complete game. The Raiders are nearly halfway through the season, and have yet to put together an effort capable of ending with a victory.
Terry, while the Seahawks have been a tad shakier than expected, what is a realistic finish for them in the second half?
Blount:
I think they still could go 11-5 or 10-6, and here's why: The Seahawks have two home games coming up they should win -- the Raiders this Sunday and the
New York Giants
the following weekend. Winning both games would make Seattle 6-3 heading into the defining six-game stretch of the season, and it's brutal -- two games against the Cardinals, two against the 49ers, at Kansas City and at Philadelphia. That's four tough road games, two against NFC West rivals. Realistically, the Seahawks should hope to split those six, or possibly go 4-2, before closing out the regular season at home against the Rams, another game they should win. So 11-5 is probably the best they can do, but whether that will be good enough to win the division is hard to say. They really need to win both games against Arizona.
Bill, talk about
Derek Carr
's progress. His stats look pretty good other than his TD-to- interception ratio, but that's to be expected for a rookie on a struggling team. Are the Raiders happy with what they've seen in Carr? And what does he need to work on the most to continue to progress?
Williamson:
The Raiders love Carr. They love his poise, his leadership and his ability to grasp the game. I'm not sure he is going to be a superstar, but the game is not too big for him and I expect him to be a fine player for Oakland for years to come. He is a definite bright spot and a reason why the Raiders should be excited. I think the biggest thing Carr needs is a supporting cast. Once the talent around him gets better, he will be in really good shape.
As far as Seattle quarterback
Russell Wilson
, all is good, right? All that stuff is just noise, correct?
Blount:
Much ado about nothing. Once the
Percy Harvin
trade went down, the rumor-mill ran wild. But I can tell you for a fact there is no budding mutiny against Wilson. It's absolutely preposterous. This man just led these guys to a Super Bowl victory. He never says an unkind word about any teammate. In fact, he even went to bat for Harvin to try to get the Seahawks to give Harvin another chance. He gives everything he has to this team and his teammates. To think there would be a revolt of some sort against him is beyond ridiculous. Could someone have said something negative about him, possibly someone who no longer is here, out of jealousy? Maybe. But truthfully, it saddens me that race could enter this equation, insinuating whether he's "black enough." As Wilson said, "I don't even know what that means." Shouldn't we be beyond such characterizations by now? If anything, these accusations just made the team stronger and closer.
Bill, I asked the same question to Rams reporter Nick Wagoner a couple of weeks ago. It's only a matter of time, probably the near future, until a team moves to Los Angeles. Is this a race between the Rams and the Raiders to see which team can get there first?
Williamson:
Raiders owner Mark Davis has made it clear everything is on the table, but he wants to stay in Oakland. But he needs a new stadium. The Raiders' lease at the Oakland Coliseum runs out after this season. So, Los Angeles is a possibility. But I think the key is that all we hear is talk. He needs to see action regarding Los Angeles before any team can go there. If it gets to that point, yes, I think the Raiders could be in play. But it's all fluid. Again, the bottom line is the Raiders want to stay in Oakland.
In conclusion, Terry, do you think the Seahawks have any worry about the old letdown game against a winless, hapless road team?
Blount:
If Seattle had entered this game on a roll, maybe so, but there's no way that happens for a team that's a disappointing 4-3 and already has a home loss. The Seahawks know they can't afford any slip-ups now against a weaker opponent.