March, 7, 2014
Mar 7
11:00
AM ET
»
AFC Free-Agency Primer
:
East
|
West
|
North
|
South
»
NFC
:
East
|
West
|
North
|
South
Key free agents:
DE
Michael Bennett
, WR
Golden Tate
, K
Steven Hauschka
, DT
Clinton McDonald
, OT
Breno Giacomini
, QB
Tarvaris Jackson
.

Where they stand:
The Seahawks have made it a top priority to try to re-sign Bennett, who was the team's best defensive lineman last season and a key component on their path to a Super Bowl win. They also hope to keep Golden Tate. Seattle released defensive end
Red Bryant
and wide receiver
Sidney Rice
, freeing up $13 million in cap space, to try to keep Bennett and Tate. It was a slight surprise the team didn't put the franchise tag on Hauschka, since it would have cost them only $3 million.
What to expect:
Look for the Seahawks to make an all-out effort to keep Bennett, who made $4.8 million in 2013. It probably will take a multiyear deal at over $7 million a season to bring him back. Unless Hauschka receives an extraordinary multiyear offer elsewhere, he is likely to return. Tate is a little more of a wild card. He probably is looking for a deal similar to what receiver
Riley Cooper
received in Philadelphia ($25 million over five years). That may be more years than the Seahawks are willing to go. Seattle wants to keep McDonald, who had a breakout season in 2013, and should be able to keep him since he made only $560,000 last year. The team wants to keep Jackson as the backup quarterback because he knows the system, has the respect of the players and works well behind
Russell Wilson
. Giacomini probably is gone if he gets a quality offer.
March, 7, 2014
Mar 7
8:00
AM ET
It was the three T's -- Tate's Touchdown Taunt -- but it also proved to be the difference in the game.
No. 1: Golden Tate's 80-yard TD at St. Louis.
[+] Enlarge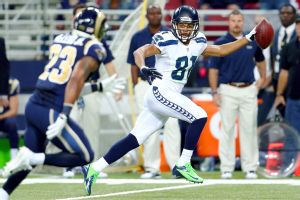 Andy Lyons/Getty ImagesGolden Tate taunts Rams safety Rodney McCleod before completing his 80-yard touchdown reception.
The Seahawks led 7-6 in the third quarter on Monday night at St. Louis. The Rams had completely shut down the Seattle running game.
Marshawn Lynch
would end the night with a season-worst 23 yards on only eight carries.
Quarterback
Russell Wilson
would take a beating, getting sacked seven times on the night. Seattle would end the game with only 135 yards of offense.
The only touchdown of the game in the first half was a 2-yard quick slant from Wilson to Tate, who managed to step in the end zone before going down.
But Seattle had just 43 yards of offense when the key moment came. It was a one-point game when the Seahawks had a second-and-10 at their 20.
Wilson took the shotgun snap and faked a handoff to Lynch, then rolled to his right. Wilson looked back to the left, where Tate was racing down the sideline on a fly pattern.
Tate had a couple of steps on Rams cornerback
Janoris Jenkins
, but Jenkins still had his eye on Wilson as Wilson made the throw. It looked like Jenkins might come up with the interception, but Tate jumped up in front of Jenkins at the St. Louis 39 and made the catch as Jenkins fell to the turf.
It was off the races for Tate, but he had to rub it in on the way to the end zone. Tate held the ball in his left hand as Rams safety
Rodney McLeod
tried to catch him.
Tate held out his right hand, at first motioning bye-bye to McLeod. As McLeod got closer, Tate motioned his fingers at him, as if to say, stop yapping. As a result, McLeod almost caught Tate before he reached the end zone.
The sparse crowd (the Cardinals were playing a World Series game eight blocks away) booed Tate, who was flagged for taunting.
As Tate went and sat on the bench, coach Pete Carroll went over and sat next to him. Carroll had a clear message.
"That's not our kind of football," Carroll said afterward. "It's not who we are and not what we do. There's no place for that. It kind of washes away a fantastic football play."
Tate apologized after the game.
"That was immature of me," Tate said. "I hurt my team. I've gotta stay composed. It was a learning moment for me and I'll move forward. I'm better than that."
The play was so controversial it brought discussions the following week about whether the NFL should change the rules to take away a TD on a taunt when a player scores.
But in all the commotion, people forget it also was a game-winning touchdown. The Rams kicked a fourth-quarter field goal and lost 14-9 after falling short one yard short of the Seattle end zone at the end of the game.
As fate would have it, Tate had a similar catch-and-run TD on a 47-yard play in the game against the Rams that ended the regular season. But there was no taunt on that one.
Tate had the best season of his career in 2013 and now is a free agent about to earn millions of dollars. He learned his lesson, but he also was the reason Seattle won that game.
March, 6, 2014
Mar 6
10:50
PM ET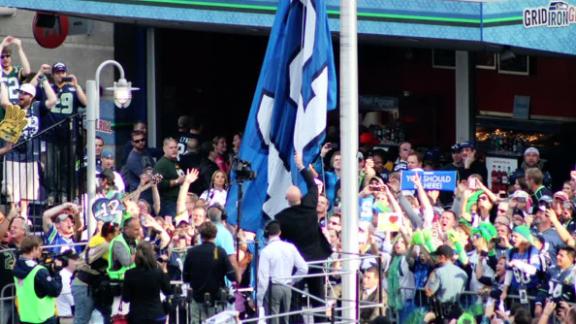 The "12th Fan" is now a best-seller.
Seattle Seahawks jerseys with "FAN" on the name plate and the No. 12 are now the 10th best-selling jersey this season, according to sales on NFLShop.com from April 1, 2013, through Feb. 28, 2014.
Thanks in part to a Super Bowl victory, only two jerseys sold better in February on the league's official online store than the 12th Fan jerseys -- those of Seahawks quarterback Russell Wilson and Denver Broncos quarterback Peyton Manning. The strong month of sales brought the No. 12 jersey into the No. 10 spot, surpassing the sales of jerseys sold this year of both Miami Dolphins quarterback Ryan Tannehill and Washington Redskins quarterback Robert Griffin III, who sold more jerseys last year than any player in a single year in league history.
Selling the 12th Fan gear is a way around the Seahawks agreement with Texas A&M. Since 2006, the Seahawks have paid the university $5,000 a year to license the use of its trademark of "12th Man." The licensing agreement doesn't allow for Seahawks to sell any merchandise with "12th Man" on it.
March, 6, 2014
Mar 6
12:25
PM ET
March, 6, 2014
Mar 6
12:00
PM ET
This is the right man in the right spot. UCLA guard
Xavier Su'a-Filo
is who ESPN Insider Todd McShay has the Seahawks taking at the end of the first round in McShay's Mock Draft 3.0.

If Su'a-Filo is there when they pick, and he probably will be, this is the player that can help the team the most -- an offensive lineman whose stock is rising after how well he performed in the combine.
Seattle probably needs a tackle more than a guard, depending on what happens with free-agent right tackle
Breno Giacomini
, but Su'a-Filo is a big man who could come in a start at either guard spot immediately.
At 6-foot-3, 305 pounds, Su'a-Filo, has power-blocking strength, surprising quickness, excellent balance and the ability to shift his position and stay on his block.
He is the first true freshman to start on offense in a season opener for the Bruins. Su'a-Filo went on a two-year Mormon mission after his freshman year before returning to UCLA in 2012.
He started every game in his three seasons with the Bruins, half at left guard and half at left tackle, but he's probably headed for a guard spot in the NFL. Su'a-Filo earned All Pac-12 honors the past two seasons.
If Su'a-Filo still is on the board when the Seahawks pick at the end of Round 1, this is the right man for Seattle.
March, 6, 2014
Mar 6
11:21
AM ET
As it turns out,
Brandon Browner
was a little misleading on his tweet Tuesday night about being reinstated by the NFL. Browner still has some time to serve on his substance-abuse violation from a positive test for marijuana use.
Yes, Browner reached a deal with the NFL to reduce his one-year suspension, but not without some additional consequences. The veteran cornerback will be suspended for the first four games of 2014. He also will forfeit his pay for the first four games he plays after the suspension.
Browner
That remains a pretty severe penalty. However, he can enter the free-agent market next week and try to sign a new contract, either with the Seahawks or a new team, for 2014. He will be allowed to participate in all summer camp and preseason practices, along with the preseason games.
But Browner's free-agent value will be reduced because of the continuation of his suspension. Browner, who turns 30 in August, is a physical corner at 6-foot-4 and 220 pounds. He was selected for the Pro Bowl in 2011.
He's strictly a press corner with coverage skills that now have limits. Some of those limitations came to light at times while he was on the field in 2013 before suffering a groin injury in November.
A few teams might consider moving Browner to strong safety at this point of his career, utilizing his physical style of play and hiding some of his coverage weaknesses.
If the price is low enough, the Seahawks might consider bringing Browner back because he fits their system, knows the defense and can add veteran leadership. Despite the off-the-field issues, Browner is beloved by his Seattle teammates. They would welcome his return.
But the starting job at right corner now belongs to
Byron Maxwell
, who made the most of his opportunity when Browner and
Walter Thurmond
were suspended.
Thurmond also is an unrestricted free agent. There's no way Seattle brings back both Browner and Thurmond, and it's possible neither player will return. The Seahawks are high on backup corner
Jeremy Lane
, who is one of the best gunners in the league on punt coverage.
The coaches also have big expectations for
Tharold Simon
, a fifth-round draft choice out of LSU last year. Simon spent his rookie season on injured reserve after undergoing foot surgery, but he's a big corner (6-foot-2, 205) with a lot of talent.
March, 6, 2014
Mar 6
11:00
AM ET
Todd McShay's third NFL mock draft for 2014 is out on ESPN Insider today. The Super Bowl Champion
Seattle Seahawks
are loaded, and should very much be back in the mix to repeat next year. But there are a few spots that could use attention.
Sidney Rice
and
Red Bryant
are gone already, and free agency could strip them of
Golden Tate
,
Breno Giacomini
,
Michael Bennett
and other significant players. That would leave the door open for what direction Seattle goes at the very end of Round 1. They covet defensive linemen and could go that way, and should consider adding another cornerback rather high in this draft, especially if they are hit hard at that position in free agency.
A pass catcher is certainly an option at 32, but to me, the best scenario would be Seattle selecting a big powerful right tackle/guard type, as their offensive line was the weakest area of their team in 2013.
Whom does McShay have the Seahawks drafting at No. 32?
Let's take a look
:
To continue reading this article you must be an Insider
March, 6, 2014
Mar 6
8:00
AM ET
It was a game-winning catch in the first game of the season, which proved more important than anyone could have imagined.
No. 2 -- Jermaine Kearse's 43-yard TD catch at Carolina.
The Seattle offense was having a tough day in Charlotte against the rugged Carolina defense in the season opener. Early in the fourth quarter, the Seahawks trailed the Panthers, 7-6, and hadn't scored a touchdown.
On first-and-10 at the Carolina 43,
Russell Wilson
threw it deep down the sideline for
Stephen Williams
, but Williams couldn't hold on to the ball.
It looked like a wasted opportunity, but one play later Wilson would try to again, this time to Kearse.
From the shotgun, Wilson took the snap with
Marshawn Lynch
to his right. Wilson faked the handoff to Lynch off the read-option and Wilson rolled to the right.
Kearse, who was the wide receiver on the right, was streaking down the sideline and had a step on cornerback
Josh Thomas
. Wilson let it fly as safety
Charles Godfrey
was late over the top trying to reach Kearse, who made a leaping catch at the 3 and fell into the end zone.
A two-point conversion attempt was incomplete when Wilson tried to get it to
Doug Baldwin
, but the Seahawks held on to win, 12-7.
No one knew at the time how good the Panthers were, finishing the regular season 12-4 and winning the NFC South.
That catch by Kearse accounted for a victory the Seahawks needed to win the NFC West over the 49ers. It would prove to be one of several big plays by Kearse, who was one of the best surprises of the season for the Seahawks.
March, 5, 2014
Mar 5
5:04
PM ET
ESPN.com news services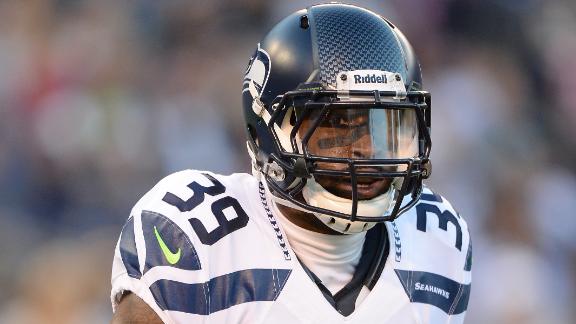 Former Pro Bowl cornerback Brandon Browner will be suspended for the first four games of the 2014 season as part of his reinstatement after a violation of the league's substance-abuse policy, the NFL and NFL Players Association jointly announced Wednesday.
Browner, an unrestricted free agent who played in eight games for the Seattle Seahawks in 2013 before being suspended by the league, will be eligible to sign with any team and participate in offseason workouts and preseason activities, the league said in a statement.
If he complies with terms of the substance-abuse policy, the league's statement said, "he will be fully reinstated after serving a four-game suspension without pay at the start of the 2014 regular season and forfeiting an additional four weeks of pay."
That means Browner, in total, will miss 13 weeks of pay due to the suspension -- five games in 2013 and eight games in '14.
Browner had tweeted Tuesday night that he has been reinstated by the league after serving more than 2½ months of a one-year suspension for marijuana use.
I received wonderful news today. The NFL has reinstated me, and I now have the opportunity to (cont) http://t.co/AG0Zbpxpgo

- Brandon Browner (@bbrowner27) March 5, 2014
News of the reinstatement of Browner, a Pro Bowl selection in 2011, comes just days before teams can make offers to players. Teams can enter into negotiations with players and their agents on Saturday, and contracts can be signed as early as Tuesday.
March, 5, 2014
Mar 5
9:45
AM ET
ESPN.com news services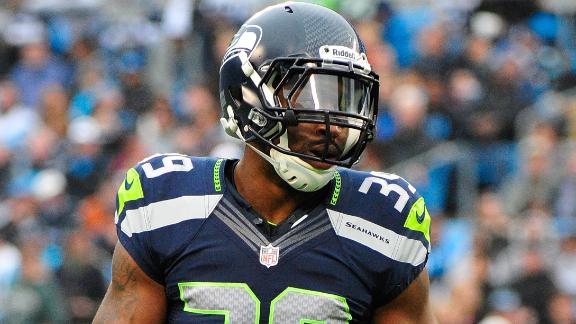 As part of his settlement with the NFL for reinstatement, Seattle Seahawks cornerback Brandon Browner is expected to be suspended for some length of time to open the 2014 season, league sources told ESPN NFL Insider Adam Schefter.
Browner tweeted Tuesday night that he has been reinstated by the league after serving more than 2½ months of a one-year suspension for violating its substance-abuse policy over marijuana use.
I received wonderful news today. The NFL has reinstated me, and I now have the opportunity to (cont) http://t.co/AG0Zbpxpgo

- Brandon Browner (@bbrowner27) March 5, 2014
Browner, a Pro Bowl selection in 2011, is an unrestricted free agent, so the news of his reinstatement comes just days before teams can make offers to players. Teams can enter into negotiations with players and their agents on Saturday, and contracts can be signed as early as Tuesday, March 11.
Seahawks officials would not comment on Browner's reinstatement because, officially, he is not a member of the team.
But it appears the NFL agreed to end Browner's suspension over threats from his attorney last week that Browner would sue the league in federal court over the length of the suspension.
The league informed Browner of his suspension in late November. He played in only eight games last season and was out with a groin injury when he learned of the suspension, which he appealed. He lost the appeal on Dec. 18.
March, 4, 2014
Mar 4
9:30
PM ET
It's not often that the mighty NFL backs down. But when former
Seattle Seahawks
cornerback
Brandon Browner
stood his ground and was prepared take legal action to save his career, the NFL blinked.
Browner tweeted Tuesday night that the league ended his suspension and reinstated him after serving 2½ months of a one-year suspension for marijuana use.
The news comes just in time for Browner to hit the free-agent market. He's an unrestricted free agent, and the 2011 Pro Bowler likely will receive some decent offers, although not what he would have seen had the suspension never happened.
But it appears Browner had a legitimate case, legally speaking, and NFL officials determined not to continue the suspension.
It all centered over whether Browner deserved to be in Stage 3 on the NFL's substance-abuse program. He first tested positive for marijuana use in 2006 while playing for the
Denver Broncos
. Browner was later released and played in the Canadian Football league from 2007-10.
With one violation, players are expected to submit to testing by the NFL. Browner didn't do that while playing in the CFL, so the NFL counted that as a second violation when he returned.
When he failed a test in 2013, the NFL considered it a third violation. Browner and his attorney appealed, saying it was only his second violation and he couldn't be required to submit to testing when he wasn't in the NFL. League officials said he was actively seeking employment in the NFL, so he was required to test.
It's a debatable point, which means Browner had a case he possibly could win in federal court. So it seems the league didn't want to fight the fight.
And NFL officials already have stated that restrictions over marijuana use could change in the future if research shows it has medicinal purposes when players are injured, not to mention the fact the marijuana now is legal in Washington and Colorado.
The reinstatement probably has saved Browner's career. He turns 30 this summer. Had he been forced to sit out the 2014 season, he chances of returning were limited at best.
Now he's a free agent with rare skills, a physical corner who is 6-foot-4, 220 pounds. He likely has gone from sitting at home in 2014, in danger of not playing again, to probably starting next season.
But returning to the Seahawks seems unlikely unless Browner comes a lot cheaper than expected. Seattle learned it had a standout waiting in the wings with
Byron Maxwell
, who got his chance when cornerback
Walter Thurmond
also was suspended for marijuana use.
Seattle already has released defensive end
Red Bryant
and wide receiver
Sidney Rice
to make cap space to try to re-sign defensive lineman
Michael Bennett
, receiver
Golden Tate
and kicker
Steven Hauschka
, all of whom are unrestricted free agents.
Browner will not be a priority over those three, especially since the Seahawks have free safety
Earl Thomas
and cornerback
Richard Sherman
to worry about as free agents after the 2014 season.
But Browner was getting plenty of love on Twitter Tuesday night from his old teammates, including receiver
Doug Baldwin
: "Couldn't be happier for my brotha
@bbrowner27
. That's family right there. We all celebrating now!"
Thomas wrote this tweet: "Just heard the GREAT NEWS that my brother
@bbrowner27
was reinstated!!! Can't wait to see him back out on that field next year!!!"
Seahawks linebacker
Bruce Irvin
and safety
Jeron Johnson
also congratulated Browner on Twitter.
Whether he returns to Seattle or not, Tuesday was a career-saving day for Browner. He was fighting for his livelihood and was ready to take a stand against the league. And this time, the NFL blinked.