September, 23, 2014
Sep 23
4:15
PM ET
Most of the 2013 rookies for the
Seattle Seahawks
were viewed as having a redshirt year last season. It's early, but the same might be said for most of the 2014 rookie class.
So far, the only major contributor of the 2014 draft picks is
Justin Britt
, who is starting at right offensive tackle.
Two of the nine picks were cut -- fullback Kiero Small and defensive tackle Jimmy Staten, who now is on the practice squad.
Defensive back Eric Pinkins is on non-football injured reserve, as is offensive tackle Garrett Scott, who learned during his team physical that he has a heart condition.
Rookie receiver
Kevin Norwood
of Alabama had foot surgery during training camp and has yet to be active for a game.
Receiver
Paul Richardson
, defensive end
Cassius Marsh
and linebacker
Kevin Pierre-Louis
have played but have yet to make much of a contribution.
Richardson, the speedster out of Colorado who was a second-round pick and the first player selected by the Seahawks, made his first NFL catch on Sunday against Denver.
Marsh, a fourth-round pick for UCLA who is viewed as relentless pass rusher, has four tackles and no sacks. Pierre-Louis played for the first time Sunday after missing the first two games with a hamstring injury and had a tackle on special teams.
Six of the 11 draft choices in 2013 are no longer with the team _ receiver Chris Harper, running back Spencer Ware, guards Ryan Seymour and Jared Smith, linebacker
Ty Powell
and offensive tackle
Michael Bowie
.
Two others have yet to play in an NFL game – defensive tackle
Jesse Williams
(injured reserve) and cornerback
Tharold Simon
. But Simon will play soon after undergoing minor knee surgery there weeks ago.
Running back
Christine Michael
, a second-round choice and the first pick by the Seahawks last year, has not been on the active roster yet this season, but he is healthy now after being out with a hamstring injury.
Two 2013 draft picks are playing a lot as backups -- tight end
Luke Willson
and defensive tackle
Jordan Hill
. But Hill has one tackle and Willson, who had 20 receptions and one TD last year, has only one catch this season.
September, 23, 2014
Sep 23
12:39
PM ET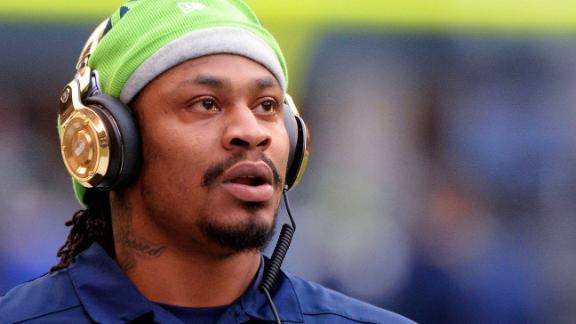 Seattle Seahawks running back Marshawn Lynch, in a rare media interview, said Monday that most people told him growing up that he'd amount to nothing.
And now he's using that as motivation to help underprivileged kids in his hometown of Oakland through his "Family First" foundation.
"I feel that's most important," Lynch told "The Barbershop" on 710 ESPN Seattle. "To put a different light into their lives and let them know that they actually do have a chance.
"Most people told me growing up that I would either be dead or in jail by the age of 18. I have friends that didn't make it to 18. I've got homeboys now that have been in jail since they was 16. This is something that I wanted to change in my neighborhood. I felt if I could influence one kid to try to help them through life, that's a win for me."
Fame, however, still doesn't come easy for Lynch, who scored the winning 6-yard touchdown in overtime to defeat the Denver Broncos 26-20 Sunday.
"Being in this position, I feel I was never meant to be famous so somebody wanted to keep tabs on me and follow my every move," Lynch said. "That's not something that I'm into. For the love and support, I appreciate that. But it might get a little bit out of hand with some people. At the end of the day, we shower and shave the same as everybody else does. That's my perspective on it."
And while he's uncomfortable with fame, Lynch is right at home on the football field, where he said he never gets nervous.
September, 23, 2014
Sep 23
11:00
AM ET
A weekly look at what the
Seattle Seahawks
must fix:
Quarterback
Russell Wilson
is the one player the Seahawks can't afford to lose, but they are in jeopardy of having that happen if they don't show major improvement in their pass blocking on the offensive line.
This was the team's biggest weakness a year ago, and it appears to be the biggest weakness after three games this season. And improvement is imperative immediately because the
Washington Redskins
, Seattle's next opponent after this week's bye, are No. 1 in the league with 10 sacks.
According to ESPN Stats & Information research, Wilson was sacked or under duress on a career-high 20 of his dropbacks Sunday (45.4 percent) in the
26-20 overtime victory
over the
Denver Broncos
.
It was the most for any game in his three-year career, including the playoffs. By comparison, Wilson was sacked or under duress on only five of his dropbacks in the Super Bowl last year (18.5 percent).
Overall this season, he has been sacked or under duress on 37.1 percent of his dropbacks, second worst in the league.
The good news is the Seahawks have two weeks to shore things up since this is their bye week before going on the road to play the Redskins on Monday night, Oct. 6.
The interior linemen of center
Max Unger
and guards
James Carpenter
and
J.R. Sweezy
have played well, but the two tackles, including 2012 Pro Bowler
Russell Okung
, have struggled at times with rushers off the edge. Right tackle
Justin Britt
has played well as a rookie, but he's still learning and makes mistakes at times.
The Seahawks are high on Britt and believe he is a quality player who will continue to improve each week. Okung briefly left Sunday's game with a shoulder problem, but he's OK.
The Seahawks aren't going to make a change at either tackle spot, so what can they do? One option is something they did late last season in lining up backup tackle
Alvin Bailey
and a third tackle, or a pseudo tight end, to give the line an extra blocker. They also can keep tight end
Zach Miller
in to block more, but they've been doing that this season.
September, 23, 2014
Sep 23
8:00
AM ET
Here are a few interesting numbers from ESPN Stats & Information following the
Seattle Seahawks
26-20 overtime victory over the
Denver Broncos
Sunday.
Russell Wilson was at his best on the run in overtime. Five of Wilson's six pass attempts during the game-winning drive came from outside the pocket, and he completed three of them for first downs. Wilson also rushed four times for 21 yards on the drive, earning two first downs via scrambles.
Wilson now is 17-1 at home in his career, becoming the fourth quarterback to win 17 of his first 18 home starts. He joins Daryle Lamonica, Danny White and Matt Ryan (from Elias).
Peyton Manning has thrown three interceptions in his last five games, and all three came against the Seahawks, including one Sunday by strong safety Kam Chancellor. The Broncos are 0-3 in OT games with Manning as the quarterback.
Manning was only 3-of-9 passing on balls traveling 15 or more yards downfield Sunday, and two of those came on the final drive in the fourth quarter. He also was 3-of-9 on those throws in the Super Bowl loss to Seattle.
Manning completed 31-of-49 passes overall, and 11 of those completions went to wide receiver Emmanuel Sanders (11 receptions for 149 yards). Sanders is the first player with at least 10 catches and 100 yards versus Seattle since Chicago's Brandon Marshall did it in Week 13 of 2012 season.
Seahawks running back Marshawn Lynch now has scored a touchdown in seven consecutive games, including the playoffs. He had two Sunday, one receiving and one rushing.
Of the seven Super Bowl rematch games played in following season, Sunday is the only one that went into overtime. It also ended Denver's four-game regular-season winning streak.
September, 23, 2014
Sep 23
8:00
AM ET
September, 22, 2014
Sep 22
7:21
PM ET
Seattle Seahawks
coach Pete Carroll said Monday that Seahawks strong safety
Kam Chancellor
has ankle pain that could affect him all season.

Chancellor
"He's had ankle issues for some time," Carroll said. "It was on fire and really bothering him against San Diego [last week]. It may be an ongoing issue."
Monday was the first time this season anyone with the team mentioned Chancellor having ankle problems. He had hip surgery in the offseason, which caused him to miss all of training camp and most of the preseason.
Carroll said he thought they managed Chancellor's ankle situation well in the
26-20 overtime victory
against the
Denver Broncos
Sunday and he hoped they found something to help alleviate the problem.
Chancellor's fourth-quarter interception, which he returned 52 yards, possibly saved the game for the Seahawks when Denver was trying to score a game-winning touchdown.
The Seahawks now begin their bye week and have two weeks to heal up before going on the road to play the
Washington Redskins
on Monday night, Oct. 6.
Simon
There's a chance cornerback
Tharold Simon
could return for the Washington game. Carroll said Simon ran for the first time Monday after undergoing minor knee surgery on Sept. 4, but they would not know his status until after the bye.
Carroll also said offensive tackle
Russell Okung
was OK after leaving the game briefly Sunday with a left shoulder injury. "He felt like his prayers were answered," Carroll said of Okung.
Carroll said nickel cornerback
Jeremy Lane
, who is on injured reserve with a groin injury, is progressing well and should be ready to practice after six weeks, the first time his is eligible to get back on the field. Lane is not eligible to play until Nov. 9 against the
New York Giants
.
September, 22, 2014
Sep 22
6:11
PM ET
September, 22, 2014
Sep 22
5:34
PM ET
ESPN.com news services
[+] Enlarge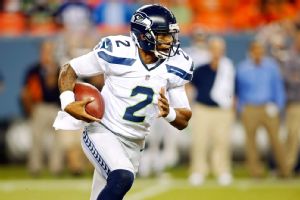 Chris Humphreys/USA TODAY SportsThe Bucs tried out former Raiders and Seahawks quarterback Terrelle Pryor, according to a league source.
The Tampa Bay Buccaneers tried out former Oakland Raiders and Seattle Seahawks quarterback Terrelle Pryor, a league source told ESPN's Field Yates.
Bucs quarterback Josh McCown has a significant sprain to his right thumb and likely will miss at least one game, a league source told ESPN Bucs reporter Pat Yasinskas.
McCown has struggled in his first three games with the Buccaneers, passing for 420 yards and four interceptions. McCown suffered the injury in Thursday night's 56-14 loss to the Atlanta Falcons and left the game in the second quarter. McCown said he was unable to grip the ball.
The winless Buccaneers (0-3) play at Pittsburgh next Sunday, and second-year pro Mike Glennon is expected to get the start.
The Seahawks released Pryor in late August. He was acquired by Seattle in April from the Raiders for a seventh-round draft choice.
September, 22, 2014
Sep 22
1:40
PM ET
This may surprise a few folks considering how dominating the
Seattle Seahawks
were in last season's Super Bowl, but Seahawks coach Pete Carroll had this to say Monday morning about his team's
26-20 overtime victory
over the
Denver Broncos
in Sunday's Super Bowl rematch.

Carroll
"I thought we played better in this game than we played in the Super Bowl," Carroll said on his 710 ESPN Seattle radio show. "With 13 minutes left in the game, [the Broncos] had three points, and that's the best offense in the history of ball."
Of course, it turned out much crazier than it appeared it would be when Seattle led 17-3 early in the fourth quarter. A safety, a Denver interception to set up a TD and an incredible 80-yard drive by
Peyton Manning
in the final minute tied the game at 20-20 and forced overtime.
"What drama, though," Carroll said. "Wasn't that cool, when you think about it? It was a beautiful football game."
Seahawks quarterback
Russell Wilson
led the team on an 80-yard TD drive in overtime to win the game. Wilson is now 7-0 in his career against four elite quarterbacks -- Manning, Green Bay's
Aaron Rodgers
, New England's
Tom Brady
and New Orleans'
Drew Brees
. Wilson has thrown 14 TD passes and only one interception in those seven games.
"He's one of those guys," Carroll said of Wilson. "He's as good as those guys and he can do it. There's nobody he can't play with and hold his own."
The Seahawks won the Super Bowl 43-8 seven months ago and dominated the Broncos. But Carroll felt he saw more from his team Sunday because of how competitive the game was.
"The defensive film is lights out," Carroll said. "We felt really in control. On the last [Denver] drive, they ran one route four times and we didn't adapt to it. It was two big plays they out-executed us. But before that, they hadn't done anything. We had been in total control of that game on defense."
September, 22, 2014
Sep 22
9:34
AM ET
ESPN.com news services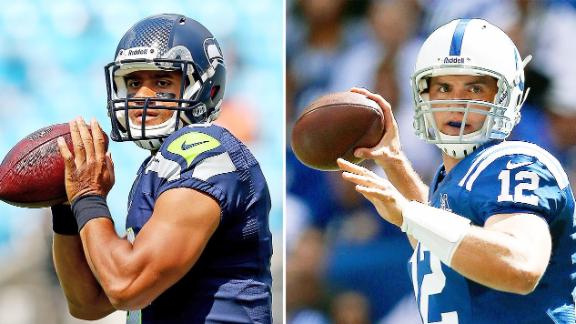 When the quarterback class of the 2012 draft is discussed, Andrew Luck usually gets put at the top of the list, but Denver Broncos cornerback Chris Harris said Sunday that the experts have it wrong because Russell Wilson is clearly the leader of the pack.
Harris and the Broncos have played both Luck's Indianapolis Colts and Wilson's Seattle Seahawks this season, beating Indianapolis but losing to Seattle. The Seahawks won 26-20 in overtime Sunday in a rematch of Super Bowl XLVIII, where Wilson and Seattle overwhelmed the Broncos 43-8.
"He's the best quarterback we've played so far," Harris said of Wilson. "I don't know why they keep saying Andrew Luck is better than him. He's not better than Russell Wilson."
Harris recorded an interception in Sunday's loss, picking off a Wilson pass that was deflected by Aqib Talib.
Luck was taken by the Colts with the No. 1 overall pick of the 2012 draft. Wilson wasn't selected by the Seahawks until the third round in 2012, with the 75th overall pick.
September, 22, 2014
Sep 22
8:00
AM ET
SEATTLE -- Before Sunday's Super Bowl rematch with the
Denver Broncos
, the
Seattle Seahawks
had their annual celebration for their Canadian fans.
The Seahawks call it their Canada Day, not to be confused with the actual Canada Day on July 1
st
each year.
Ryan
Canadian punter
Jon Ryan
proudly stood on the sideline and listened to the singing of O'Canada with a huge Canadian flag and five Canadian Mounties on the field.
"As a Canadian, you always get a little fired up when the see the Mounties," Ryan said after the game. "I guess I had to do it for my country."
Whatever the motivation, it sure worked because Ryan had one of the best games of his career. If you pick three players who were the biggest factors in the 26-20 overtime victory against the Broncos, Ryan certainly would be one of them.
He had six punts for a 50.2-yard average, but that doesn't come close to telling the whole story. Ryan also pinned the Broncos at their 7-yard-line on two other punts.
He also almost booted a ball all the way to Canada after Denver got a safety in the fourth quarter. On the free kick, Ryan boomed the ball 79 yards to the Denver 1 before it was returned to the 23.
Was it the longest he's ever kicked a football?
"It's probably pretty close," said Ryan, who is from Regina, Saskatchewan. "It was a decent hit and I had the wind a little bit."
His actual punts weren't much shorter. His first two were 61 and 66 yards.
"I thought if anybody would be the MVP, it would be Jon," Seahawks coach Pete Carroll said. "He had a phenomenal game. You can't expect a guy to do any better than that. The gorgeous kick after the safety, that changed that whole opportunity [for Denver] there. I was happy to see him do it on [the Seahawks'] Canada Day. Can we have another Canada Day next time we're here?"
Ryan is one of two Canadians for the Seahawks. The other is tight end
Luke Willson
, a Rice University (in Houston, Texas) graduate from Lasalle, Ontario.