December, 17, 2013
Dec 17
9:07
PM ET
ESPN.com news services
The rivalry between the San Francisco 49ers and Seattle Seahawks is about to include a billboard.
Fans of the 49ers have raised more than $8,000 to purchase a billboard in Seattle aimed at taunting residents with images of the five Super Bowl trophies the 49ers have won as a franchise.
With the project expected to cost $7,000, the remaining money will be contributed to Seattle's Children's Hospital, according to project manager Aasheesh Shravah. The group's website said as of Tuesday afternoon that $8,379 has been raised.
The proposed billboard features an image of "The Catch," Dwight Clark's legendary game-winning grab in the 1982 NFC Championship game against the Dallas Cowboys, hidden behind the five Lombardi Trophies the Niners have won.
According to the website, the group has "contacted companies in Seattle with multiple billboard ad locations" and want to keep the ad visible "for at least 1 month, all during December and some of January for their playoff games."
The billboard would come after Seahawks fans' brought a brick at the 49ers' new stadium and arranged earlier this month for a 12th Man banner to be flown over Candlestick Park, home of the 49ers.
While the 49ers came close to a sixth title last season, the Seahawks have made just one Super Bowl appearance in their history. However, the Seahawks, who boast the NFL's best record at 12-2, are currently the favorites to hoist their first Lombardi Trophy. Seattle and San Francisco split two games this season, each winning at home.
December, 17, 2013
Dec 17
2:00
PM ET
A weekly examination of the Seahawks'
ESPN.com Power Ranking
:
Preseason
: 1 |
Last Week
: 1 |
ESPN.com Power Ranking since 2002

Not much doubt about the Seahawks keeping their top spot in the Power Rankings this week since the top three teams behind them -- Denver, New Orleans and New England -- all lost.
The 12-2 Seahawks, however, likely would have stayed on top even if all three of those teams had won. Seattle's defense posted its first shutout of the season in a 23-0 road victory over the
New York Giants
. It was the first road shutout for Seattle since the Super Bowl season of 2005.
The Seahawks can clinch the NFC West title and home-field advantage in the playoffs if they defeat the
Arizona Cardinals
on Sunday at Century Link Field. But the Cardinals are a surprising 9-5, having won six of their last seven games since losing to Seattle 34-22 in Arizona two months ago.
The Cardinals moved up to eighth in this week's Power Rankings and go to Seattle with hopes of staying in the
playoff picture
. The Seahawks are hoping to earn a 15th consecutive home victory.
December, 17, 2013
Dec 17
12:31
PM ET
I have to tell you, I love this photo. Sometimes, one photo can tell you all you need to know.
If you haven't seen it, take a long look at it. Danny O'Neil of 710 ESPN Seattle radio snapped this shot after Sunday's game at MetLife Stadium.
Coach @PeteCarroll postgame. Captions? pic.twitter.com/VViRnSAZYB

— Danny 710ESPNSeattle (@BrocknDanny) December 15, 2013
No caption is needed. It says so much without saying a word. Seattle coach Pete Carroll is standing with Dave Pearson, the Seahawks' vice president of communications.
The 23-0 victory over the
New York Giants
ended over half an hour earlier. Carroll had just completed his post-game comments with the media when he walked back out on the field with Pearson.
It was a moment of reflection and one last look at the place where they hope to return in a few weeks. The Super Bowl will be on this field Feb. 2.
Carroll was asked about what he was thinking at that moment.
"I like the arenas," Carroll said on his 710 ESPN Seattle radio show. "It's cool when [the game] is over and it's quiet. It's just a chance to hold onto it a little longer. And New York is special."
Technically, it was New Jersey, but you get his drift. Carroll knows his Seahawks are on the verge of something special, and the Big Apple is the place where it could happen.
But this photo says so much more. Carroll is a California boy who also loves the excitement of the New York scene and everything it brings, as he has said numerous times.
To me, this picture tells us how much Carroll loves what he does. It says he understands how fortunate he is to be leading this team at this moment in time. It tells me he realizes how special it is to be a part of the sport, and how meaningful it is to him to stand in silence at one of America's shrines to its favorite game.
All the Seahawks tried to downplay winning a game Sunday on the field where they hope to earn a NFL championship seven weeks later, but even Carroll admitted it crossed his mind.
"Just being human about it, of course we know [the Super Bowl] is here," Carroll said. "And it's something we want to talk about, but we're not at that point now. When the time comes, if we put ourselves in position to do that, then we will utilize the fact that we've been here."
That was a very factual response to a very heart-felt thought. Carroll is guarded, and rightly so, because the Seahawks don't want to get ahead of themselves.
But take a good, long look at this photo. It tells you all you need to know about a man who is so close to his ultimate goal.
December, 17, 2013
Dec 17
8:00
AM ET
The
Seattle Seahawks
have enjoyed a lot of pleasant surprises this year, but having their third and fourth-team cornerbacks play as well as the starters has to be one of the biggest surprises of the year.
Cornerbacks
Byron Maxwell
and
Jeremy Lane
had to step up with the suspension of
Walter Thurmond
and the injury (and possible suspension) for
Brandon Browner
.
Normally, you would expect a drop off in ability and results. That hasn't happened.
Maxwell had two interceptions in the 23-0 victory over the
New York Giants
, and has three picks in the last two games. Lane had five tackles against the Giants playing the nickel back position.
"Byron is showing his true talents on the biggest stage," said Seattle Pro Bowl cornerback
Richard Sherman
. "And you also have Jeremy playing outstanding football. Those guys are getting a chance to shine. We all knew what they could be."
Seattle coach Pete Carroll can't say enough good things about how well Maxwell and Lane have performed the last three weeks. Carroll was wowed over Maxwell's second interception Sunday when he stepped in front of an
Eli Manning
throw on a short crossing route over the middle.
"You should never be able to pick those off," Carroll said on his 710 ESPN Seattle radio show Monday. "But he got inside and made a heck of a play. And they double-moved [Maxwell] a couple of times and he was tough on them. He took some throws away from Eli with great coverage. And Jeremy also played great."
Carroll said both Maxwell and Lane bring two physical attributes the Seahawks always look for in defensive backs -- great speed and long arms. But Carroll also said they have benefitted from what believing in the aggressive coverage style they've learned since coming to Seattle.
"I think it's a great statement to our system," Carroll said. "These guys know how to do what we want them to do. They are playing great technique with great attitude. They've been indoctrinated into the system.
"Our coaches have done a good job training them. If you watch them, they look the same in how they do things. It's been a long term process to get them ready. We knew what they are capable of doing, because it's a systems thing for us."
December, 16, 2013
Dec 16
10:30
AM ET
In the midst of the shutout performance by the Seattle defense, the first of the year for the Seahawks, coach Pete Carroll made a point after the game Sunday to praise his young quarterback.
Wilson
Russell Wilson
now is the only quarterback in NFL history to win 23 games in his first two NFL season. He also joined Dan Marino and
Peyton Manning
as he only quarterbacks ever to throw at least 50 touchdowns passes in their first two seasons.
"He's so special," Carroll said of Wilson. "He's just a tremendous competitor and such a unique individual in that's he able to do the kind of stuff with the names on this kind of list. And we still have game left [this season], so he's going to keep going. There are markers this guy is going to continue to knock off."
Wilson needs to throw three touchdown passes the rest of the way this season to move to No. 2 on the TDs list, passing Manning's total of 52 his first two season at Indianapolis. Marino's total of 68 TDs probably is out of reach.
Wilson also can pass the record of former
Dallas Cowboys
quarterback Danny White of 16 consecutive home victories to start his NFL career. Wilson has 14 now, but he can top White's mark this season if the Seahawks win their final two home games and continue to win at home in the playoffs.
Wilson's .767 winning percentage (23-7) is second among all active quarterbacks with at least 15 starts.
Tom Brady
is No. 1 with a .772 percentage.
December, 16, 2013
Dec 16
8:00
AM ET
A review of four hot issues from the
Seattle Seahawks
' 23-0
victory
over the
New York Giants
:
Baldwin fueled by critical article:
A USA Today story
last week said the Seahawks receiving corps, without
Percy Harvin
and
Sidney Rice
, could be the team's downfall in the playoffs. Receiver
Doug Baldwin
took offense to that story, going into a four-letter-word tirade in the locker room after his big day. Baldwin had six receptions and a 12-yard TD Sunday. "People continue to think we're just average," Baldwin said. "Well, they need to do some research. We have one of the most diverse receiving corps in the NFL." Seattle has four receivers with at least four TD receptions, and Baldwin has five.
[+] Enlarge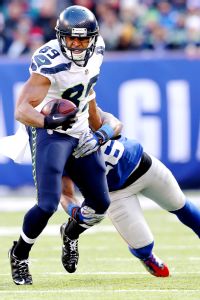 Photo by Elsa/Getty ImagesDoug Baldwin had six catches for 71 yards and a touchdown against the Giants.
All about the D:
This was the first shutout for the Seattle defense since the 58-0 victory over at home against Arizona on Dec. 9, 2012. It was the first shutout on the road in more than eight years. The last one was 42-0 victory at Philadelphia on Dec. 5, 2005, during Seattle's only Super Bowl season. Giants' quarterback
Eli Manning
had a career-worst five interceptions. Four of those interception came on 10 passes thrown more than 10 yards downfield.
Depth galore:
The Seahawks started the game without three defensive starters -- cornerback
Brandon Browner
, weak-side linebacker
K.J. Wright
and defensive tackle
Tony McDaniel
, who was sick Sunday and played only a few plays. That doesn't include Browner's backup,
Walter Thurmond
, who was serving the third game of a four-game suspension for a substance-abuse violation. Thurmond may not be the starter when he returns considering how well
Byron Maxwell
is playing with three interceptions in the last two games, including two Sunday. Reserve cornerback
Jeremy Lane
had five tackles on defense, and two other on special teams. Linebacker
Malcolm Smith
had five tackles, including one for a loss, as Wright's replacement.
Very special teams:
The third phase of this team continues to shine. Kicker
Steven Hauschka
was 3-for-3 in field goals Sunday making him 30-of-31 this season. His only miss was blocked at Indianapolis. Punter
Jon Ryan
doesn't have a lot of long punts, but that doesn't matter. Only one of his seven punts Sunday was returned, and that was only 4 yards. He had three punts inside the 20. Punt returner
Golden Tate
tied the team record Sunday with seven returns, but the remarkable part of that number is he averaged 10.4 yards per return. Tate will make you gasp at times back there, and also make a bad decision every now and then, like his fair catch at the 7 in the first half. But he's a threat to break one every time he catches the ball, and his returns are a big factor in Seattle winning the field-position battle in most games.
December, 15, 2013
Dec 15
7:46
PM ET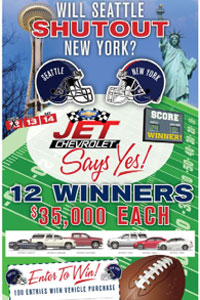 Jet ChevroletJet Chevrolet in Federal Way, Wash., was off by one point in its predicted Seahawks-Giants score for its shutout promotion.
The Seattle Seahawks' 23-0 shutout of the New York Giants on Sunday will make 12 people $35,000 richer on Monday.
Jet Chevrolet, a car dealership in Federal Way, Wash., located 25 miles south of Seattle, had a promotion that if the Seahawks shut out the Giants, 12 people would split $420,000 equally.
"This is crazy," said Jim Johnson, one of the owners of the dealership. "We never expected that we'd actually be giving away the money."
Luckily for Johnson, the company took out insurance, which he said cost about $7,000.
Johnson originally wanted to do the shutout promotion last week when the Seahawks played the San Francisco 49ers, but he said working out the rules to make sure the giveaway was legal and in accordance with state regulations pushed it back a week.
One thing Jet Chevrolet had to do was open the contest, which ran from Wednesday to Saturday, to anyone -- even those who didn't buy a car. Those who entered the contest and didn't purchase a car received one entry, while those who bought a car, which could cost as low as $1,000 and up to $60,000, received 100 entries.
December, 15, 2013
Dec 15
7:30
PM ET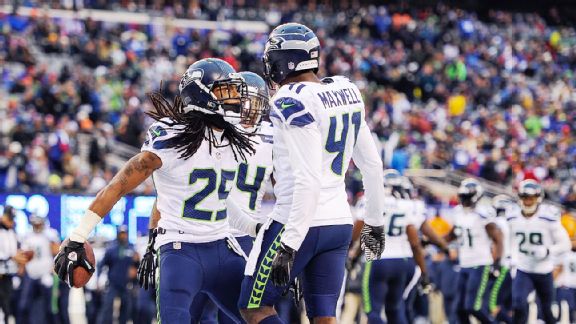 Ron Antonelli/Getty ImagesThe Seahawks made five interceptions, including two apiece by Richard Sherman and Byron Maxwell.
EAST RUTHERFORD, N.J. -- If the
Seattle Seahawks
return to this stellar, and likely frigid, facility in a few weeks for the game of games, it will be because of a defense with depth, talent and skills like no other.
Quarterback
Russell Wilson
is the glamour boy of this team, and deservedly so, as he showed once again in a
23-0 victory
over the
New York Giants
on Sunday at MetLife stadium.
But posting a shutout for the first time this season, along with picking off five
Eli Manning
passes, at the venue where the Super Bowl takes place in seven weeks is something to remember.
This defense is the other thing that sets the Seahawks apart.
"I'd be lying if I said it didn't cross my mind," middle linebacker
Bobby Wagner
said of playing at the Super Bowl site. "Of course it did. And it feels good to play like this here. If the time comes and we take care of business to get back here, it will matter. No doubt about it."
Seattle, with the NFL's best record at 12-2, entered the game with the No. 1 defense in the league in yards allowed. It won't change after this one. The Seahawks gave up only 181 yards, including just 25 yards rushing on 14 carries.
Look at it like this: The Seahawks gave up 26 fewer yards rushing Sunday than they did on one big play to
Frank Gore
in the 19-17 loss at San Francisco last week, a day on which Seattle allowed 163 yards rushing to the 49ers.
"We had a chip on our shoulders about that," said Wagner, who led the team Sunday with 10 tackles and 1½ sacks. "We wanted to show that's not who we are."
Who they are is a defense with such extraordinary depth that a third-string cornerback can intercept two passes against Manning.
Byron Maxwell
now has three interceptions in the past two games starting at right cornerback. Manning found out the hard way that Maxwell isn't your typical backup.
"Yeah, he tested me on the very first play," Maxwell said, referring to an incomplete pass intended for
Victor Cruz
. "But I feel like I'm just as good as our starters and I want people to know it."
Manning had been playing much better in recent weeks after a horrible start to the season, but he was no match for the Seattle secondary. He made the senseless decision to challenge cornerback
Richard Sherman
on a sideline go-route, which Sherman picked off so easily he might as well have called a fair catch.
Sherman had two picks and assisted on another when he tipped a pass into the end zone in the fourth quarter that free safety
Earl Thomas
caught to preserve the shutout.
"He owed me one after I let him have that pick on the [Hail Mary] pass at the end of the half," Thomas said. "We came prepared [Sunday]. We had a bad outing last week, but that doesn't define us.
"You saw what happened [Sunday]. We need to keep this same mentality, because when we're [angry] like this, we're hard to beat. We did a lot of things right today and really disguised our coverage."
Thomas said the Seahawks changed things up a little against the Giants by starting most plays with two safeties deep, but then one of them would close in near the line of scrimmage right before the snap. The Giants didn't know who it would be -- Thomas or strong safety
Kam Chancellor
.
"Did you see some of those hits Kam made today?" Maxwell asked. "Wow. One guy for [the Giants], I won't say who, came up to me and said, 'That's a man right there,' talking about Kam."
Almost everyone on the Seattle defense looked like men among boys Sunday. The Giants didn't even cross midfield until midway through the fourth quarter, long after the outcome was decided.
Giants coach Tom Coughlin called New York's offensive performance "pathetic." The Seahawks have made a lot of offenses look that way this season, but this game stood out.
"That's as good a defensive coverage day for us as I can remember," Seattle coach Pete Carroll said. "Guys really stepped up. It's as complete a game as we've had."
That includes receiver
Doug Baldwin
, who caught six passes for 71 yards and 12-yard touchdown on which he fought he way to the goal line. It includes running back
Marshawn Lynch
, who had six receptions for 73 yards, along with a 2-yard TD run that saw him break four tackles and will his way into the end zone.
And, of course, it includes Wilson, who was 18-of-27 passing for 206 yards and one touchdown, along with 50 yards rushing.
Let's give Wilson his due. He became the only quarterback in NFL history to win 23 games in his first two seasons. He also is one of only three quarterbacks in league history -- joining
Dan Marino
and
Peyton Manning
-- to throw 50 TDs in his first two seasons.
The Seahawks would not be where they are without Wilson. But the new golden boy of the NFL would not be where he is without this remarkable defense that just played lights-out on the field where they hope to return soon.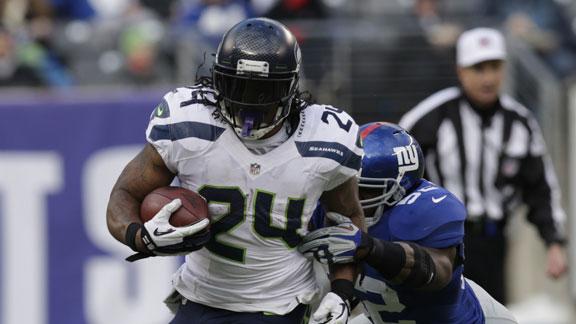 December, 15, 2013
Dec 15
4:09
PM ET
EAST RUTHERFORD, N.J. -- A few thoughts on the
Seattle Seahawks
' 23-0
victory
over the
New York Giants
on Sunday at MetLife Stadium:

What it means:
The Seahawks improve to an NFL-best 12-2 and earn a franchise-record sixth road victory this season. Seattle needs to win only one of its last two games (both at home) to clinch the NFC West title and home-field advantage in the playoffs.
Stock watch:
It was the
best
effort of the season by the Seattle defense. The Giants had only 54 yards in the first half.
Eli Manning
threw five interceptions, and three picks came in the first two quarters, although the last one by
Richard Sherman
was on a Hail Mary pass on the last play of the half. New York had only 15 yards rushing in the first half. This will give you some idea of how well the Seahawks played on defense.
Golden Tate
tied the franchise record with seven punt returns in the game.
Cornered:
Another stellar effort by the Seattle cornerbacks. Two weeks in a row, quarterbacks have tested backup corner
Byron Maxwell
, only to watch him burn them. Maxwell had two interceptions Sunday, giving him three in the past two games. And any team that throws a sideline go route on Sherman is just plain dumb. Manning tried it in the second quarter, and Sherman could have called for a fair catch.
Jeremy Lane
also played well as the nickelback. Even the interception by free safety
Earl Thomas
late in the fourth quarter came on an assist from Sherman in the end zone when he batted the ball to Thomas. The Legion of Boom hasn't missed a beat without cornerbacks
Brandon Browner
and
Walter Thurmond
.
Hauschka a kicking machine:
It was another perfect day for Seattle kicker
Steven Hauschka
, who went 3-for-3 on field goals. He has made 30 of 31 field goals, with his only miss a blocked kick at Indianapolis. Hauschka is the best kicker in the league this season.
What's next:
The Seahawks return home for the final two games of the regular season against the
Arizona Cardinals
on the Sunday before Christmas and the
St. Louis Rams
on the Sunday after Christmas. If the Seahawks defeat Arizona, the final game becomes a chance to rest some starters and not risk injuries before the playoffs.
December, 15, 2013
Dec 15
10:00
AM ET
By
ESPN.com staff
| ESPN.com
Join our ESPN.com NFL experts as they break down the Seattle Seahawks' visit to the New York Giants. Contribute your thoughts and questions beginning at 1 p.m. ET. And, be sure to visit our
NFL Nation Blitz page
for commentary from every game, as well as fan photos and the latest buzz from Twitter. See you there.
December, 15, 2013
Dec 15
8:00
AM ET
RENTON, Wash. – Here are four keys to the
Seattle Seahawks
earning their 12
th
victory of the season Sunday against the
New York Giants
at MetLife Stadium:
1. Cut down on penalties:
Nine penalties for 85 yards were a big factor in Seattle's 19-17 loss at San Francisco last weekend. Two of them killed big plays by the offense that might have resulted in touchdowns. The secondary also was flagged for defensive holding three times.
Seattle is second worst in the NFL in penalties, having been flagged 104 times. Tampa Bay has been penalized 106 times.
The Seahawks have to be more aware of their reputation as a physically tough team that will step over the line at times on what's allowed and what isn't. Because of that rep, fair or unfair, opposing coaches and players often talk to officials before the game and tell them to watch the Seahawks closely on potential penalties.
This team will continue to play on the edge and get some penalties, but more awareness of the situation, especially at key moments, can make the difference in close games on the road.
[+] Enlarge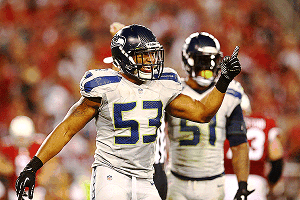 Mandatory Credit: Mark J. Rebilas/USA TODAY SportsSeattle will be counting on LB Malcolm Smith for production with K.J. Wright out for the season.
2. Consistency against the run:
The Seahawks are 14
th
in the NFL in rushing yards allowed at 111.5 per game after giving up 163 yards against the 49ers, including the 51-yard run by
Frank Gore
that set up the winning field goal at the end of the game.
It isn't so much the number of yards the defense allows on the ground as it is the tendency to give up yards in big chunks at times, because of players missing their gap assignments. Part of the problem also is Seattle's strength as an aggressive defense that goes all out to rush the passer and takes chances at times to try to force turnovers. That also can lead to missed tackles.
And losing outside linebacker
K.J. Wright
for four to six weeks (broken foot) doesn't help. Wright is a tough run-stopper and was third on the team in tackles.
Malcolm Smith
, Wright's replacement, is a talented athlete, but much smaller than Wright and a different style of player. Smith's strength is his speed, which allows him to run down backs coming around the end.
3. Get Lynch into Beast Mode:
Marshawn Lynch
has averaged only 57 yards rushing a game and 3.2 yards per carry in the past three games. Everything the Seahawks do offensively revolves around the power-running game and Lynch gashing defenses with his aggressive style of carrying the football.
Running the ball well could be a big factor Sunday if weather conditions are bad. It's expected to be in the low 30s with strong winds and a chance of precipitation. Lynch is due for a big game, especially with a healthy offensive line for the Seahawks.
4. Throw it deep:
Opposing defenses are loading the box to stop Lynch and often bringing eight or nine players to the line of scrimmage. So quarterback
Russell Wilson
needs to take a few shots downfield to
Golden Tate
,
Doug Baldwin
or
Jermaine Kearse
to either get a big play or at least force the defense to stay back and give Lynch more room to run.
Obviously, this would be more effective if receiver
Percy Harvin
was on the field, but that's not an option for now and may not be the rest of the season. Even without Harvin, Seattle's receivers are talented enough to make things happen on a few deep throws. The back-shoulder sideline pass is one area where Wilson and his receivers excel.
December, 14, 2013
Dec 14
8:00
AM ET
RENTON, Wash. -- The Seahawks haven't lost back-to-back games since October of last season. If they win Sunday at MetLife Stadium, the Seahawks will set a franchise record of six road victories in the regular season.

Clearly, Seattle (11-2) should win against the 5-8 Giants, but here's one scary statistic:

The Seahawks have lost the next game after losing at San Francisco in each of the last four seasons. Seattle lost last weekend 19-17 at Candlestick Park, the final time the Seahawks will play in the archaic old stadium by the bay.

A game against the NFC West rivals always is a physical, tough matchup that can take a lot out of both teams. And the Seahawks are traveling coast-to-coast to play a game at 10 a.m. PT, which has caused problems for Seattle over the years.

The season, however, has proven otherwise. The Seahawks are 3-1 this year in games that started at 10 a.m. PT. And this Seattle team is a far better one than any of the four that lost after being defeated in San Francisco the previous four years. The combined record of those teams after the 49ers loss was 11-12.
December, 13, 2013
Dec 13
5:36
PM ET
RENTON, Wash. --
Seattle Seahawks
tight end
Zach Miller
returned to practice Friday and will start Sunday against the
New York Giants
, as will center
Max Unger
.
Unger
Miller
"Zach got work [Friday], and all the guys that we were sort of taking care of made it back," said Seattle coach Pete Carroll. "They're good."
Miller did not practice earlier in the week because of bruised ribs. Unger returned to practice on a limited basis Thursday after suffering a strained pectoral muscle in the San Francisco game.
Defensive tackle
Tony McDaniel
wasn't at practice Friday because he was sick, but he is expected to play Sunday.
Receiver
Percy Harvin
did not practice this week and will not play.
"It's looking like it's going to be a bit before we get it right," Carroll said of Harvin. "He's doing a ton of stuff to get it back but hasn't turned the corner. We'll keep doing whatever it takes to get him back."
Harvin made his season debut against Minnesota on Nov. 17 but aggravated his surgically repaired hip and hasn't played since. Carroll was asked Friday if Harvin still is vulnerable to injuring or aggravating his hip.
"If they [doctors and trainers] aren't releasing him to get back out there, that means he's vulnerable," Carroll said. "We're going to make sure we take our time, and we still have a number of games left. If we can get him there, we'll take it when it comes."
Cornerback
Brandon Browner
remains out with a groin injury while he awaits news on his appeal for a substance-abuse violation. Cornerback
Walter Thurmond
has two games remaining on his suspension for a substance-abuse violation.
Malcolm Smith
will start Sunday at outside linebacker for
K.J. Wright
, who had surgery Wednesday to repair a foot fracture and is out for the season.
December, 13, 2013
Dec 13
1:30
PM ET
RENTON, Wash. -- Seattle free safety
Earl Thomas
said he thought the
San Francisco 49ers
deliberately tried to avoid him last weekend and didn't run many pass plays over the middle in his direction.
Thomas
Seahawks' defensive coordinator Dan Quinn, when told of Thomas' comments, was asked what he thought of that theory.
"Good idea," Quinn said with a chuckle.
Cornerback
Richard Sherman
said he has noticed teams are changing the way they attack the Seattle secondary.
"We're seeing a lot of adjustments," Sherman said. "You can't just play us head-up. That's playing to our strengths if you play us straight up. If you just bang heads with us, that's a good matchup for us. Teams are finding ways to get around that and avoid the physicality."
For the most part, Sherman doesn't think it's working.
"We still played good defense [at San Francisco]," Sherman said, and we had a good game."
Even coming off the 19-17 loss, the Seahawks improved to No. 1 in the league in yards allowed per game at 287.1. They also are first in pass defense, allowing only 175.6 yards a game through the air.
Losing cornerback
Brandon Browner
and
Walter Thurmond
hasn't appeared to hurt the Legion of Boom.
Byron Maxwell
, who is starting at cornerback now, had an interception that stopped a possible scoring drive for the 49ers.
Jeremy Lane
had three pass breakups from the nickel back spot Sunday.
'I think they've done great for us," Carroll said of Maxell and Lane. "Our expectations were they would hold up their end of it, and have done that. The ball is going away from Sherman, so they're getting some extra turns, but they're doing a terrific job."