March, 1, 2015
Mar 1
12:45
AM ET
The first Stanford open spring practice is in the books, and it's possible to make two broad opening observations:
Stanford can be very good offensively in 2015 if Kevin Hogan continues the solid quarterback play that he finished 2014 with.
Success on the defensive side of the ball is a massive question mark, as it appears a daunting number of dominoes must fall between now and September for the Cardinal to maintain high-level efficiency on that side of the football.
Stanford will spend the next six months grinding to make the necessary variables break in its favor. Health will be key -- the roster is lacking on that front at the moment -- and successful player development will be essential. Here's why, viewed in the context of Saturday's first public look at the squad:
Decimated defensive line
To this point, Stanford has somehow, someway overcome a rash of bad breaks along the defensive line.
Let's take a quick trip down memory lane:
[+] Enlarge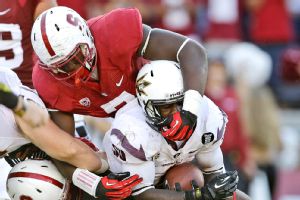 AP Photo/Marcio Jose SanchezStanford is looking for healthy bodies this spring. DE Aziz Shittu is out due to an injury that ended his 2014 season.
Henry Anderson
,
David Parry
, and
Ben Gardner
all fought through serious injuries in 2013.
Ikenna Nwafor
, the projected nose tackle of the future, was forced to medically retire due to a foot injury suffered in that same year. Meanwhile,
Lance Callihan
and
Anthony Hayes
never developed into significant contributors, making it more difficult to alleviate the strain inflicted by the injuries.
The aforementioned players are all out of the program now, but a perfect storm of gut punches persists.
Aziz Shittu
, Stanford's most experienced player at the position, will miss all of spring ball because of the serious injury that ended his 2014 season.
Luke Kaumatule
appears to be a better fit at outside linebacker. To make matters even worse, hot young prospect
Solomon Thomas
is now in a walking boot after jamming his toe this week. He'll miss the first session of spring practice. Dependable walk-on
Alex Yazdi
still has a year of eligibility remaining, but he recently decided to focus on his career outside of football, so even the "Iranian Meatball" isn't around any longer to provide much-needed depth.
The end result is frightening.
It likely has coach David Shaw thankful that the season opener is six months -- and not six weeks -- away: The Cardinal had only three defensive linemen suited up Saturday.
Harrison Phillips
,
Nate Lohn
, and
Jordan Watkins
(all lighter and less experienced compared to the rugged veterans Stanford had featured in this trench the past several seasons) took every single snap at practice.
That's a virtual death sentence at college football's most physically strenuous position, where depth is a prerequisite for effectiveness.
"It's very, very difficult for three guys to make it through an entire practice [without backups]," Shaw said. "They didn't bat an eyelash. They didn't back off. They were battling all through practice."
The trio earned hearty applause for their perseverance from Stanford's post-practice huddle, but that did little to address grave concerns up front. Increased health, depth and strength must come for the Cardinal this offseason if the program intends to overcome troubles along the defensive line as effectively as it has the past two seasons.
It's tough to bet against the Stanford defense after witnessing it deliver sturdy reloading efforts in recent seasons. But this is shaping up to be the most unnerving offseason test yet for defensive coordinator Lance Anderson and line coach Randy Hart.
Big runs galore
Stanford's offense, in particular its ground game, is the direct spring beneficiary of the team's depleted defensive front. Coaches say
Christian McCaffrey
has added strength to run more frequently between the tackles, and he certainly looks the part. Along with
Barry Sanders
, McCaffrey ripped off a number of big runs Saturday.
The Stanford offense features an enviable combination of explosiveness (see McCaffrey and
Michael Rector
) and size (see receiver
Devon Cajuste
and four powerful tight ends). Shaw noted that the offensive line, which lost only one starter this offseason, is far ahead of where it was at this point last year.
The power Cardinal have a powerful arsenal offensively, and they're counting on Hogan to deliver consistent play to glue it all together. For the first time since
Andrew Luck
roamed campus, in fact, Stanford appears to have fewer spring questions on offense than they do on the defensive side.
Assorted notes
Quarterback coach Tavita Pritchard said that backups Ryan Burns and Keller Chryst have not yet mastered the playbook. He did note that their athleticism and size (both appear fully physically developed) has impressed the Cardinal. Shaw hinted that a leader for the second-string spot probably won't emerge until August.
Nick Davidson, fresh off a stint with Stanford's basketball team, earned first team snaps at right tackle. Dave Bright played right guard next to him, while Johnny Caspers manned second-team center duties with Jesse Burkett out (illness). Caspers is expected to be in the thick of the right guard competition, as is Brendon Austin, who did not participate in practice.
Conrad Ukropina showed improved height on his kicks during the field-goal session.
David Shaw Talks Stanford Signing Day
PAC-12 SCOREBOARD
Thursday, 9/3
Friday, 9/4
Saturday, 9/5