September, 16, 2014
Sep 16
11:00
AM ET
The Pac-12 typically has great quarterbacks and good depth at the position, but the 2014 season is particularly stacked behind center. With a few All-American candidates and early NFL draft picks, it's almost difficult to keep up with who's doing what to whom's secondary.
No worries. We've got you covered. Each week, we will provide you a top-five ranking of the Pac-12 QBs.
Now, it won't always be a 1 to 5 ranking according to the expected pecking order at season's end or NFL draft lists. It will react heavily to the preceding week. And we'll try to spread some love.
Honorable mention
:
Jerry Neuheisel
, UCLA;
Taylor Kelly
, ASU: Neuheisel was a great story this week -- in fact,
the
story this week -- after stepping in for an injured
Brett Hundley
and leading UCLA to a win against Texas. His game-winning touchdown pass with three minutes to go won't soon be forgotten, and the Pac-12 Player of the Week honor was justified. If he's forced back into action again, he'll be considered in future weeks. Kelly was his usual self against Colorado -- completing 13 of 21 passes for 195 yards and three touchdowns -- before exiting with an injury.
Inactive Week 2
:
Jared Goff
, Cal;
Sean Mannion
, Oregon State;
Travis Wilson
, Utah
To see last week's rankings, click here.
September, 16, 2014
Sep 16
10:00
AM ET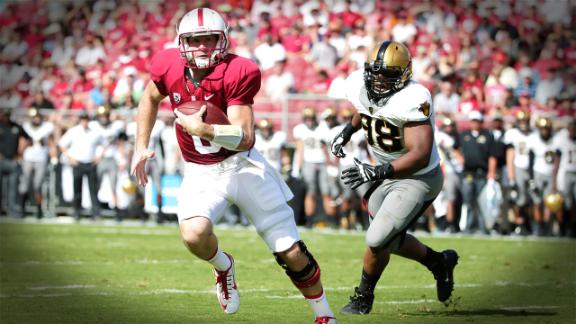 The early weeks of the high school and college football seasons slow things down a bit when it comes to Pac-12 recruiting. Only a handful of official visitors made their way to Pac-12 campuses, while a junior college commitment to Arizona was the first addition to the conference in nearly two weeks. But there were still interesting developments at a number of conference schools as Stanford hosted a huge visitor, UCLA made an important statement, and Colorado looked ahead to the 2016 class.
September, 16, 2014
Sep 16
8:00
AM ET
Those who are tardy do not get fruit cup.
Leading off
For the folks out there who were on the fence about whether Todd Graham was really committed to Arizona State, he's given you half a million reasons to get off it.
During a news conference on Monday, it was announced that the Graham family and the family of athletic director Ray Anderson would
each pledge $500,000
toward the school's fundraising effort to "reinvent" Sun Devil Stadium. Graham came to Arizona State with a reputation for hopping programs -- especially after a quick departure from Pittsburgh. This move seems to solidify his place in Tempe.
It really wasn't about that. Obviously this is something that makes a big statement about what our commitment is, as we surely wouldn't make this kind of commitment if we had anything else in mind.
Sun Devil Stadium will undergo three phases of renovations over the next three offseasons, with construction slated to be complete in 2017. You can watch the complete news conference
here
.
That's the good news for ASU.
The bad news is that the quarterback
Taylor Kelly
will miss next week's South Division showdown against UCLA. Several outlets reported the news Sunday night and the Pac-12 blog confirmed from an ASU source Monday.
Mike Bercovici
told Doug Haller of the Arizona Republic that
he's ready for the challenge
.
Eliminator
We told you last week if you haven't seen
The Eliminator
yet, you really should. As of right now, only Washington State and Colorado have been flagged as "eliminated" from the College Football Playoff. Arizona, ASU, Oregon and UCLA are listed as "still in contention" with the rest of the league "on the fence."
But before we get to the playoff, someone has to win their division first. Ted Miller hit on the South on Monday,
which is a mess
.
Who will win the #Pac12 South? pic.twitter.com/8GqCAuo8zR

— College GameDay (@CollegeGameDay) September 16, 2014
And here's your latest "four in" projection.
.@CFBPlayoff rankings according to ESPN's Football Power Index » pic.twitter.com/gb2SbOo0Dc

— ESPN CollegeFootball (@ESPNCFB) September 15, 2014
News/notes/practice reports
Just for fun
If you only watch one video today of a Pac-12 mascot playing charades with Ashley Adamson, make it this one:
How did @harrythehusky size up in this week's #SportsReport Mascot Challenge? http://t.co/rEI1xgyaP7 pic.twitter.com/yGP0FrfqSu

— Pac-12 Networks (@Pac12Networks) September 16, 2014
September, 15, 2014
Sep 15
8:31
PM ET
UCLA and Arizona State learned the hard way just how important a backup quarterback can be over the weekend when both
Brett Hundley
and
Taylor Kelly
went down with injuries.
Here's a quick look at who each school has waiting in the wings:
Arizona: Jesse Scroggins, senior
The Wildcats' depth chart lists Scroggins or
Jerrard Randall
or
Connor Brewer
as the backups to freshman
Anu Solomon
, but Scroggins in the only of the three to attempt a pass this season. He started his career at USC, where he redshirted in 2010 before appearing in one game off the bench in 2011, when he took the final snap of a game against Washington and did not attempt a pass. His only other collegiate action came in 2012 at El Camino College, where he threw for 1,148 yards in eight games.
Career stats:
1 for 2, 9 yards, 0 TD, 0 INT
As a recruit:
Four stars
; No. 2-ranked QB; No. 55 player overall; Class of 2010
Arizona State: Mike Bercovici, junior
There was a time when Bercovici was looked at more favorably than Taylor Kelly, but that perception is not but a faded memory, as Kelly won the job in 2012 and asserted himself as a top QB. Bercovici has a reputation for having a strong arm and a quick release. We'll find out.
Career stats:
14 for 24, 112 yards, 1 TD, 0 INT
As a recruit:
Two stars
; No. 80-ranked QB; No. 142 player in California; Class of 2011
California: Luke Rubenzer, true freshman
Rubenzer, who quickly asserted himself as an important part of the Cal offense, has been one of the surprises of this season. As a change-of-pace running quarterback, the Cal coaching staff determined he was too important to redshirt. He's run for 82 yards on 17 carries and a score. He appears capable as a thrower as well.
Career stats
: 5 of 9, 103 yards, 1 TD, 1 INT
As a recruit
:
Three stars
; No. 43-ranked dual-threat QB; No. 28 player in Arizona; Class of 2014
Colorado: Jordan Gehrke, sophomore
Gehrke remains mostly an unknown after transferring from Scottsdale Community College in Arizona before the 2013 season. While Sefo Lifau is the unquestioned starter, reports out of Boulder indicated that Gehrke did a good job pushing Liufau throughout fall camp. He completing 174 of 366 passes for 2,388 yards and 22 touchdown with 14 interceptions for SCC.
Career stats
: 4 for 8, 35 yards, 0 TD, 0 INT
As a recruit
:
Two stars
; No. 121-ranked QB; no reported offers in high school; Class of 2012
Oregon: Jeff Lockie, sophomore
Lockie split the non-Mariota game reps with
Jake Rodrigues
last season, but it became clear this spring that Lockie was the preferred backup moving forward, which led to Rodrigues' decision to transfer. Lockie wasn't a high-profile recruit, but was the MVP of one of Northern California's most competitive high school leagues during his senior year at Monte Vista High.
Career stats
: 25 for 33, 242 yards, 1 TD, 1 INT
As a recruit
:
Two stars;
No. 105-ranked QB; No. 145 player in California; Class of 2012
Oregon State: Brent VanderVeen, sophomore
VanderVeen emerged from a three-way competition for the backup job, beating out Alabama transfer
Luke Del Rio
in the process. He's the only backup in the conference that has yet to throw a pass in his career.
Career stats
: No pass attempts
As a recruit
:
Two stars
; No. 144-ranked QB; No. 193 player in California; Class of 2012
Stanford: Evan Crower, junior
Before the season began, Stanford coach
David Shaw
spoke candidly about Crower's future, offering the possibility that
Kevin Hogan
's backup could transfer after getting his degree in order to play somewhere else next season. Shaw said Crower is "ready to play," so wouldn't fault him for heading elsewhere. Vanderbilt?
Career stats
: 18 for 28, 236 yards, 2 TD, 0 INT
As a recruit
:
Three stars
; No. 38-ranked QB; No. 58 player in California; Class of 2011
UCLA: Jerry Neuheisel, sophomore
In his first meaningful playing time, Neuheisel stepped up to the challenge, completing 23 of 30 passes for 178 yards and two scores against Texas on Saturday. He's not going to make anyone forget about Brett Hundley, but it was a good enough performance for UCLA fans [and coaches] to feel good about the backup situation.
Career stats
: 34 for 43, 302 yards, 2 TD, 0 INT
As a recruit
:
One star
; No. 156-ranked QB; No. 233 player in California; Class of 2011
USC: Max Browne, freshman
Without question, Browne is the most high-profile No. 2 quarterback in the conference, arriving at USC as one of the most sought-after recruits in the country. He's still green, having only appeared in one game, but if
Cody Kessler
were to go down there would certainly be a lot of interest in how Browne performs.
Career stats
: 3 for 4, 30 yards, 0 TD, 0 INT
As a recruit
:
Four stars
, No. 2-ranked QB; No. 20 player overall; Class of 2013
Utah: Kendal Thompson, junior
Thompson transferred from Oklahoma with hopes to earn the starting job, but
Travis Wilson
held on to it after a competition throughout fall camp. In two games off the bench so far, Thompson has shown to be an effective weapon. He's completed 10 of 17 passes for 156 yards and ran for 78 yards on 15 carries.
Career stats
: 14 for 30, 220 yards, 2 TD, 1 INT
As a recruit
:
Three stars
; No. 22-ranked QB; Class of 2011
Washington: Jeff Lindquist, sophomore
The only backup to start a game in the Pac-12 this year, Lindquist played with mixed results against Hawaii in the season-opener. He has the physical skills to be a good starter, but still needs to develop.
Career stats
: 10 for 26, 162 yards, 1 TD, 0 INT
As a recruit
:
Four stars
; No. 17-ranked QB; No. 3 player in Washington; Class of 2012
Washington State: Luke Falk, freshman
When highly-regarded prospect
Tyler Bruggman
announced he was transferring immediately cast Falk in a different light. Bruggman saw the writing on the wall: Falk had the leg-up in the backup competition and instead of staying and competing, he opted to try his luck elsewhere. Falk arrived at WSU as a recruited walk-on, but was given a scholarship before the season. He threw an 84-yard touchdown on his second career pass attempt on Saturday.
Career stats
: 2 for 2, 86 yards, 1 TD, 0 INT
As a recruit
: Walked on at WSU after originally committing to Cornell;
two stars from Rivals.com
September, 15, 2014
Sep 15
11:45
AM ET
September, 15, 2014
Sep 15
9:30
AM ET
By
David Lombardi
| ESPN.com
For years, Stanford's ball-control offense has relied on the power run game to move the chains. But 2014 marks the first time in the Jim Harbaugh-David Shaw era that the Cardinal doesn't have a 225-pound workhorse forming the clock-chewing spine of the offense. Tyler Gaffney and his bruising 1,800 yards are gone. The team's biggest running back is now 204-pounder
Remound Wright
.
Given the shift in personnel, Stanford has had to turn elsewhere to maintain its effectiveness sustaining drives. The passing game has shouldered a heavier burden. So far, it's handling this new load well (at least outside of the red zone, but that is for another discussion), thanks in large part to the re-emergence of a familiar Stanford position group.
Tight ends say hello again
[+] Enlarge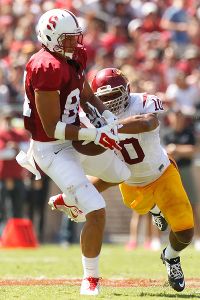 Cary Edmondson/USA TODAY SportsTight end Austin Hooper has been a reliable mid-range receiver for Stanford this season.
After seeing four of their own (Konrad Reuland, Coby Fleener, Zach Ertz, and Levine Toilolo) enter the NFL in a dizzying flurry, the Cardinal's tight ends disappeared. Last season they totaled 10 catches for 69 yards without a touchdown.
In 2014, redshirt freshman tight end
Austin Hooper
has already blown by those numbers on his own with 12 catches, 170 yards, and a touchdown in just three games.
Fellow newcomers
Eric Cotton
and
Greg Taboada
have also contributed, which has the trio on pace to roughly match Ertz's monster 2012 production: 69 catches, 898 yards and six touchdowns.
Shaw is certainly welcoming this development with open arms.
Stanford's mid-range passing game
For quarterback
Kevin Hogan
, it means an essential intermediate threat is back. Between
Michael Rector
(30.4 yards per reception) and
Devon Cajuste
(22.9 yards per receptions), Stanford featured the nation's top two wide receivers in per-catch average last season, but it was missing a steady threat to move the chains in situations that required less sizzle. Hogan, in fact, was better converting and more accurate on third-and-long (61 percent completion) than he was on third-and-short (40 percent).
Bizzare, to say the least.
Stanford badly needed a steadying presence, and so far, Hooper has proven to be the answer. Though defensive backs have scrambled to cover
Ty Montgomery
, Cajuste, and Rector downfield, the 6-foot-4, 249-pounder has found success against linebackers and in soft spots all over the field. Through three games, Hooper has served as a glue of sorts for the Cardinal's offense: Hogan is back to successfully throwing the ball on third-and-short situations -- he's 7-for-8 in those situations, and Stanford credits much of that success to its newfound presence on shorter passing routes.
The continued emergence of Hooper, Cotton, and Taboada remains a point of emphasis for Stanford's offense moving forward, especially since the rest of the team's regular season features six of nine games on the road. The Cardinal's precarious College Football Playoff chances will rely on sustaining drives in hostile environments.
Thanks to this new crop of tight ends, it appears Stanford's passing game is better equipped to do this than it was a year ago, and that is good timing for Shaw, since his power running game isn't the machine-like juggernaut it once was.
September, 14, 2014
Sep 14
8:55
PM ET
Nothing has changed with Oregon. The Ducks still are the clear favorite to represent the Pac-12 in the College Football Playoff, but after that, the guessing game continues.
We'll go ahead and project UCLA to the Fiesta Bowl based on the feeling that eventually the Bruins will get things figured out and play like the team many thought they were in the preseason. Right now, there's just not a clear-cut choice behind Oregon. Arizona State, also 3-0, was considered there too, but the uncertainty of QB
Taylor Kelly
's status moving forward is reason for concern.
What to make of USC? A week after stunning Stanford on the road, USC was exposed by Boston College and its big win now looks like an aberration.
As always, take the order with a grain of salt. There haven't been enough games to feel good about these projections.
College Football Playoff:
Oregon
Fiesta Bowl:
UCLA
Valero Alamo Bowl
: Arizona State
National University Holiday Bowl:
Stanford
San Francisco Bowl
: USC
Hyundai Sun Bowl
: Arizona
Royal Purple Las Vegas Bowl
: Utah
Cactus Bowl:
Washington
Heart of Dallas Bowl*
: Oregon State
*-
At large
September, 14, 2014
Sep 14
3:01
PM ET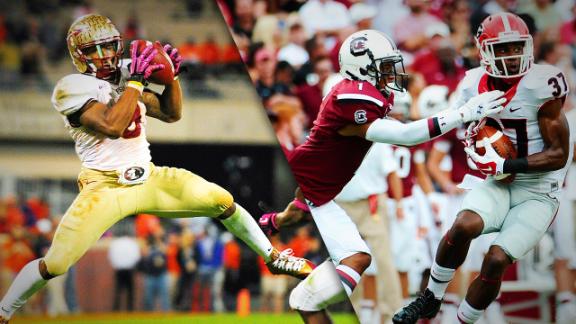 Oregon strengthened its hold on the No. 2 spot in the
fourth AP poll of the season
, but the Pac-12 is without two top-10 teams for the first time this season.
The Ducks picked up an additional first-place vote and are six points closer to top-ranked Florida State (42 behind) compared to last week.
USC took the biggest fall, dropping eight spots to No. 17 following its
37-31 loss
to Boston College and is now one spot behind Stanford, which the Trojans beat on the road last week.
UCLA remains at No. 12 after squeaking out a win against reeling Texas, but was jumped by both Ole Miss and Michigan State. Through three games, UCLA remains undefeated, but none of its wins have done much to impress voters.
Next up for the Bruins is No. 15 Arizona State in Tempe on Sept. 25. The Sun Devils jumped Stanford this week -- largely because USC's loss to Boston College devalued the Cardinal -- after opening conference play with a
38-24 win
against Colorado.
Washington (14) and Arizona (3) also received votes.
September, 14, 2014
Sep 14
2:00
PM ET
September, 14, 2014
Sep 14
12:38
PM ET
A fairly uninteresting slate of games provided for some notable outcomes and entertaining storylines for Pac-12 official and unofficial visitors this weekend. Despite a somewhat sluggish start and less than capacity crowd, Stanford put up a big win in front of some important visitors, while Colorado hosted a few in-state commitments and UCLA overcame adversity in front of some notable out-of-state targets.
Stack in the house at Stanford
The Cardinal had two ESPN 300 visitors in attendance in 2015 defensive tackle
Christian Wilkins
and 2016 defensive tackle
Garrett Rand
, but there was a famous father who took in the game as well: former NBA star
Jerry Stackhouse
and his son,
Jaye Stackhouse
, a 2015 cornerback from Suwanee (Ga.) North Gwinnett, watched Stanford shut out Army. While Stackhouse doesn't hold an offer from the Cardinal, it's not surprising to see Stanford recruiting a player from Georgia, a state the program has found plenty success in over the past few years.
Me and @Jayestack_4 getting ready for kickoff on his visit to Stanford <È<È #prouddad pic.twitter.com/xKsazONeMX

— Jerry Stackhouse (@jerrystackhouse) September 13, 2014
Big names, frames at Stanford
Speaking of Wilkins and Rand, the two standouts were joined by another fellow big man, ESPN 300 offensive lineman
Nick Wilson
, a Stanford commit who made an unofficial visit across the country this weekend. Wilson undoubtedly took his turn as recruiting coordinator while watching the game with the uncommitted defensive linemen.
#GoStanford @MiltonOL77 and @cwilkins42 enjoying the game on The Farm building #Card#class15 pic.twitter.com/3WQ6rGo336

— David Wilson (@buckeyebatlecry) September 13, 2014
Big lineman takes in Buffs game
Colorado held up well in a 14-point loss to Arizona State, and the Buffs took advantage of their first home game of the season by hosting top committed recruit and ESPN 300 offensive guard
Tim Lynott
on an unofficial visit. Lynott is the No. 2 player in the state, so getting him on campus often this season and keeping him engaged in the program will be a priority for Colorado.
Had a great time at the ASU vs. CU game last night! pic.twitter.com/tjYmkSgPmS

— Timmy Lynott (@TL56TIM) September 14, 2014
Movin' on up
UCLA had an opportunity to impress a number of Texas recruits during its trip to Arlington to take on the Longhorns. The Bruins have done very well recruiting the state and already have two commitments from Lone Star State players in 2015. But head coach Jim Mora and staff have their sights set on pulling several more commitments from the region, including ESPN 300 linebacker
Malik Jefferson
, who has already said he will use one of his official visits on the Bruins. Luckily for UCLA, Jefferson had a great view of the Bruins' comeback win.
Front row no nosebleeds =L=L =;= pic.twitter.com/Q5ltN6WrMZ

— Malik Jefferson 4ã6ã (@Official_MalikJ) September 14, 2014
September, 14, 2014
Sep 14
9:00
AM ET
Time to tip our cap to those who were the best of the best in Week 3.

Jerry Neuheisel, QB, UCLA:
It was Jerry's World. The redshirt sophomore stepped in for an injured
Brett Hundley
and completed 23 of 30 passes for 178 yards and two touchdowns as he led the Bruins in a come-from-behind
20-17
victory over Texas.
Paul Perkins, RB, UCLA:
Perkins took a bit of the pressure of Neuheisel as he was a weapon in the pass and run game. He had 126 yards on the ground on 24 carries and tallied 69 receiving yards on five catches.
Devon Cajuste, WR, Stanford:
The senior recorded the first three touchdowns of the day for the Cardinal in a
35-0
win over Army. His 13 yards per catch (four receptions, 52 yards) was a game-high.
Marcus Mariota, QB, Oregon:
The junior compiled quite the stat line in just under three quarters of play in the Ducks'
48-14
victory over Wyoming: Two passing touchdowns and 221 passing yards on 19-of-23 passing plus two rushing touchdowns and 71 rushing yards on five carries.
Shaq Thompson, LB, Washington:
Thompson became Washington's first player to record a fumble return score and pick six in the same game since at least 1978. He finished the game with four tackles and three carries for 16 yards in Washington's
44-19
win over Illinois.
D.J. Foster, RB, Arizona State:
The junior recorded his third-straight 100-yard rushing game, as he accounted for 147 yards and one touchdown on 20 carries. Foster also had three receptions for 52 yards and tallied his first receiving touchdown of the season as the Sun Devils defeated Colorado
38-24
.
Nick Wilson, RB, Arizona:
He helped seal the game for Arizona as he rushed for 171 yards on 29 carries. He recorded the first two touchdowns of the game for the Wildcats en route to a
35-28
win, giving Arizona a perfect 3-0 record entering Pac-12 play.
September, 13, 2014
Sep 13
10:38
PM ET
STANFORD, Calif. -- Stanford's
victory against Army
was well in hand before anything of lasting significance took place. And when it finally did, the Cardinal had its second-team defense to thank.
Facing a fourth-and-1 from the Stanford 2 with 80 seconds left, Army wasn't content breaking up the 35-0 shutout with a field goal. For the Black Knights, it was end zone or bust.
"Well, there are certain situations where you've got a shutout, and you put the second team in there and the [other] team drives down," Stanford coach David Shaw said. "You think about putting the starters back in there, but absolutely not [this time]."
Option-left was the call, and Stanford countered with a successful corner blitz to help preserve what amounts to a historic shutout. Following its Week 1 shutout of UC Davis, the Cardinal has multiple shutouts in the same season for just the third time since 1950.
"We did the same about three plays in a row there, and it worked every time," said defensive end
Henry Anderson
, who watched from the sideline. "We wanted to keep that shutout. We were happy those guys got it done."
The last time Stanford recorded multiple shutouts in a season came in 2010, when it had three, but before that it hadn't happened since 1969.
The performance was also the 26th consecutive game the Cardinal held its opponent under 30 points -- the longest such streak in the country. With former defensive stars Shayne Skov,
Ben Gardner
and Chase Thomas watching from the sideline, the defense, again, showed no signs it'll regress.
Coming into the season, there was reason to wonder.
Losing five players to the NFL -- OLB
Trent Murphy
, S Ed Reynolds, DE Josh Mauro, Skov and Gardner -- plus defensive coordinator Derek Mason -- didn't figure to allow for a seamless transition. But through three weeks, there's no reason not to classify Stanford among the nation's best.
While obviously premature, Shaw was even asked after the game if the defense can be the best he's had since arriving on the Farm on Jim Harbaugh's staff in 2007.
He didn't take the bait.
"Those are discussions for when the season's over," Shaw said. "We're off to a great start. The thing that I'll keep hammering home to our guys, because they should feel good about themselves on defense right now. That's great. We're only three games in, and we're where we are on defense because we're playing together."
Inside linebacker
Blake Martinez
, who has proven to be a worthy replacement for Skov, finished with a game-high 11 tackles and
James Vaughters
finished with six tackles, including two for loss.
With three days of practice to prepare for Army's triple-option offense, Shaw credited new defensive coordinator Lance Anderson for installing an effective game plan. The Black Knights were limited to just 207 yards of total offense a week after putting up 47 points and 466 yards against Buffalo.
Stanford now has two weeks to prepare for a trip to Washington, where the Huskies will be making their Pac-12 debut under new coach Chris Petersen.
September, 13, 2014
Sep 13
10:05
PM ET
By
David Lombardi
| ESPN.com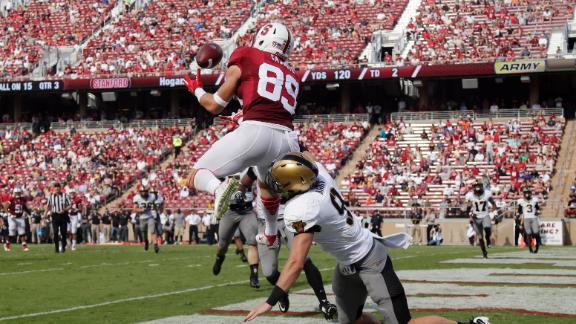 Behind three touchdowns from
Devon Cajuste
and two
Ty Montgomery
scores, Stanford pasted Army
35-0
. Here's what we learned from the Cardinal in Week 3.
Still no sign of a defensive drop-off
Through three games, Stanford's defense is surrendering just 4.3 points per game. The second unit preserved the Cardinal's second shutout of the season with a fourth-down stop late in the game, and that put an exclamation point on the group's third straight rock-solid performance.
Remember that Army's triple-option attack gave Stanford fits last year, racking up 284 rushing yards. On Saturday, the Black Knights couldn't even scrape out three yards per play until garbage time. The Cardinal secondary held Army to nine passing yards.
After the game, Stanford coach
David Shaw
expressed great satisfaction with the cohesion defensive coordinator Lance Anderson has fostered following former defensive coordinator Derek Mason's departure to Vanderbilt.
"We're only three games in," Shaw said. "We're where we are on defense because we're playing together."
So far, there's no evidence that Stanford's defense has skipped a beat following the losses of
Shayne Skov
,
Trent Murphy
,
Ed Reynolds
,
Ben Gardner
and
Josh Mauro
. Against Army,
Blake Martinez
-- Skov's replacement -- paved the way with 11 stops. Outside linebacker
James Vaughters
(two tackles for loss) was also excellent, and
Aziz Shittu
continued his successful emergence -- a development that's critical to the depth of Stanford's defensive line.
Red-zone improvement?
The Cardinal's performance against USC last Saturday was bizarre: They were extraordinarily good in the middle of the field and epically bad when they approached scoring range. Stanford scored only 10 points despite reaching the Trojans' 35-yard line on every one of their nine drives.
As a result, the Cardinal's red-zone scoring efficiency (ranked No. 125 of 127 teams nationally) came under intense scrutiny this past week. On paper, the team delivered Saturday, scoring touchdowns on all three of its opportunities inside the 20-yard line against Army. Two of those scores, though, came on jump-ball throws from
Kevin Hogan
to 6-foot-4, 228-pound receiver Cajuste, who's more than 25 pounds heavier than Army's cornerbacks. It remains to be seen if the Cardinal can translate this success in the red zone to games against more talented Pac-12 competition.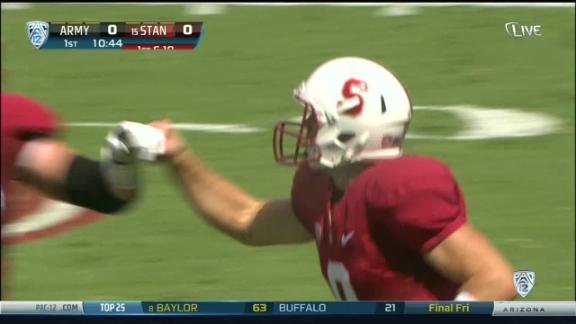 Intermediate passing game still succeeding
Hogan maintained success in the intermediate passing game, a critical component of a Stanford offense that doesn't feature the same power-rushing threat as in recent seasons. The quarterback spread out his 20 completions to seven receivers. Cajuste provided the fireworks with three touchdowns, but Hogan's strongest moments came when he effectively checked down to tight end
Austin Hooper
in the face of Army blitzes to fuel a healthy 60 percent third-down conversion rate.
Hooper, by the way, has already racked up 12 catches for 174 yards this season. That's more than Stanford's entire tight end position group hauled in all of last season: 10 catches, 69 yards.
Some sloppiness still present
Granted, this was a low-energy game. Stanford was playing a physically overmatched opponent in front of thousands of empty seats just a week after a gut-wrenching loss. Still, Shaw must be concerned with some continued Cardinal sloppiness. Montgomery lost the ball on a first-half punt return, and that marked Stanford's ninth fumble in three games this season. The Cardinal only coughed the ball up 20 times all of last season. Meanwhile,
David Bright
's holding penalty nullified a
Kelsey Young
touchdown. Stanford's offensive linemen have been flagged for holding five times, up from three holding calls throughout all of 2013.
Stanford will enter this bye week looking to patch up these recurring errors. A Sept. 27 game at Washington will mark this team's first foray on the road. That should serve as an important benchmark for the Cardinal. Six of Stanford's final nine games are on the road, so the true litmus test awaits.
Pac-12 Weekend Wrap: Sept. 16