November, 27, 2014
Nov 27
8:34
AM ET
A year ago,
Ervin Santana
entered free agency coming off a 9-10 season with the Royals, but with a 3.24 ERA and 211 innings pitched. He reportedly asked for big money, scared teams away with those demands and had to settle for a one-year, $14.1 million contract from the Braves.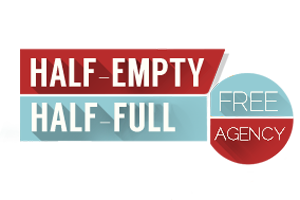 Once again, he enters free agency attached to a qualifying offer, so the team that signs him will lose either its first-round pick (unless it's a top-10 protected pick) or a later pick. That will lessen the enthusiasm for Santana, who went 14-10 with the Braves but with a so-so 3.95 ERA.
Jim Bowden
predicts
a three-year, $42 million contract for Santana. Consider him a much less expensive and not as good option behind guys like
Max Scherzer
,
Jon Lester
or
Cole Hamels
.
Let's do our
half-full, half-empty
look at Santana.
HALF-FULL
Are you getting a Cy Young candidate in Santana? No. But you're getting a pitcher who has made 30-plus starts the past five seasons, making him a reliable 200-inning midrotation workhorse. He's averaged 1.7 WAR over those five seasons, but that includes a terrible 2012 season when he posted a 5.16 ERA. Otherwise, he's averaged 2.5 WAR in the other four seasons, which prices him at about $16 million per season in this market.
Santana's bread-and-butter pitch is a slider that generates a good number of swings-and-misses. Santana had the fifth-best strikeout percentage of any starter in the majors with his slider and the fourth-best swing-and-miss percentage behind only
Stephen Strasburg
,
Clayton Kershaw
and C.J. Wilson.
Overall, batters hit .176/.225/.300 against it with 120 strikeouts in 268 plate appearances. When he's on, he's locating that slider on the corner or just off the corner. Batters know it's coming and still can't hit it.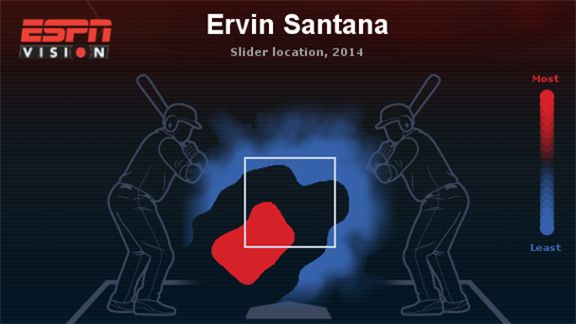 ESPN Stats & Info
Santana's four-seam fastball averages 92.3 mph, still above-average for a right-handed starter, and he also started using his changeup more often in 2014 against left-handers, with good results. If that pitch continues to develop, that helps neutralize some of the problems Santana has had against left-handed batters in the past. Overall, with the slider and above-average velocity, there's no reason to expect a sudden downturn in performance if he signs a three-year contract.
While Santana's ERA was higher than the year before, his peripherals were actually better, with a 3.39 FIP compared to 3.93 in 2013. His strikeout rate increased to his highest rate since 2008 and he cut his home runs from 26 to 16 in large part because his fly-ball percentage was the best of his career. This may actually be a pitcher maturing as he hits his 30s. The only reason his numbers weren't better was a .326 average on balls in play, much higher than the .285 mark he's had overall since 2009.
HALF-EMPTY
Well, sure, Santana's peripheral numbers got better -- he went from the American League to the National League; it's nice getting to face the opposing pitcher a couple of times a game. Santana also pitched in the NL East, a division that had some terrible offenses in 2014. Against No. 8 and No. 9 batters, he had 46 strikeouts and 10 walks and just one home run allowed. If he goes back to the AL, he won't have the same luxury of building up some fancy stats against the bottom of the lineup.
Plus, be careful about reading too much into one-year home run numbers. This is a guy who gave up 26 home runs in 2013 pitching in a tough home run park in Kansas City and 39 pitching in a tough home run park in Anaheim in 2012. Atlanta has been more neutral, but the bigger point: He's benefited his entire career by pitching in friendly ballparks. Don't buy high on those 16 home runs being a new level of talent.

You also can't just ignore that 2012 season. It happened and it could happen again. As good as his slider is, his fastball just isn't a great weapon and it makes Santana hittable when he doesn't get into slider counts. Batters hit .322 against his fastball in 2014, which ranked 84th out of 88 qualified starters.
Keep in mind that he's also pitched in front of good defensive teams -- the 2012 Angels ranked second in the majors in defensive runs saved, the 2013 Royals ranked first and the 2014 Braves ranked 11th. Again: New park, worse defense, a few more hanging sliders and you're looking at a back-of-the-rotation guy who will be getting paid like a front-of-the-rotation starter.
There's a reason Santana didn't get big money last year. He's a difficult guy to buy completely into at eight figures per season. He may get a three-year contract, but if he's asking for $50 million he's going to be left hanging again like last year.
What do you think? Half-full or half-empty?