July, 31, 2014
Jul 31
1:49
PM ET
TAMPA, Fla. -- I've got the details of how
Carl Nicks
' departure impacts the
Tampa Bay Buccaneers
' salary cap.
Nicks
Nicks left the Bucs last week after he was unable to recover from a toe injury. He had been scheduled to count $9.375 million against this year's cap.
But that number has taken a dramatic drop. Nicks now only counts $2.357 million toward this year's cap. He also will count $4.714 million against the 2015 cap.
With the adjustment for Nicks, the Bucs are now $16.71 million under this year's cap.
Nicks had $6 million of his $7 million base salary guaranteed for this year. The contract contained no offset language and the actual amount of money Nicks will receive will be reduced by severance pay and future retirement benefits.
July, 31, 2014
Jul 31
1:13
PM ET
TAMPA, Fla. -- Give the
Tampa Bay Buccaneers
credit for knowing how to properly celebrate a Hall of Fame induction.
The Bucs are taking a contingent of about 200 staff members to Canton, Ohio, for the second consecutive year -- this time for the induction of Derrick Brooks. They did the same thing last year when Warren Sapp was inducted.
Any employee who was a staff member during Brooks' final season (2008) was invited, along with a guest. The team has chartered a flight that will leave Saturday morning.
Co-chairmen Bryan, Joel and Ed Glazer will lead the contingent. Coach Lovie Smith, who was the linebackers coach early in Brooks' career, will make the trip. The Bucs aren't practicing on Saturday.
July, 31, 2014
Jul 31
8:00
AM ET
TAMPA, Fla. -- If you're looking for a member of the
Tampa Bay Buccaneers
to have a breakout season, cornerback
Johnthan Banks
might not be a bad choice.
Banks, a second-round pick last year, had an up-and-down rookie season. But Banks will be the first to tell you he's not the same person he was a year ago.
"I'm smarter than I was last year," Banks said. "I'm not nervous going out there playing timid. I'm playing fast and I'm having fun."
Banks is in competition with
Mike Jenkins
for the No. 2 cornerback spot opposite
Alterraun Verner
. But it's no secret that the Bucs would like to see Banks win the job because his size allows him to match up with some of the league's bigger receivers.
Coach Lovie Smith has said Banks is a perfect fit in the Cover 2 defense and Banks agrees.
"I love this defense," Banks said. "I played this defense in college. A lot of people said I wouldn't fit, but I caught 16 interceptions and won the Jim Thorpe Award in college while playing this defense. So we'll see."
July, 30, 2014
Jul 30
8:32
PM ET
TAMPA, Fla. -- A daily review of the hot topics coming out of
Tampa Bay Buccaneers
training camp:
The defense dominated the first few days of camp, but Wednesday was the best showing by the offense so far. There were two players in particular that stood out. Quarterback Josh McCown and wide receiver Vincent Jackson showed they've developed some chemistry. They hooked up on a pass play of about 50 yards and connected for back-to-back touchdowns in red-zone drills. "They have to have good chemistry," coach Lovie Smith said. "Vincent's our No. 1 receiver. We're banking on him making a lot of plays. The chemistry or whatever you want to call it between he and Josh has to be good. Vince is a playmaker. You get down there, you have to get the ball into your playmaker's hands. We did that today on more than one occasion, which is great." McCown had his best practice by far. I only saw him make one bad throw, and that was intercepted in the end zone by strong safety Mark Barron.
Wednesday was the most physical practice of camp so far. There were at least four minor altercations. "We don't want a lot of fights," Smith said. "In a game, they throw you out of the game and that's not good. Getting ready for the season, we want it to be as game like as possible. If you do feel you have to mix it up with a guy, fight him the way you would fight your brother. No cheap shots or anything like that."
There's been some concern among fans about whether or not Mason Foster can handle the increased amount of pass coverage the Bucs are going to ask out of their middle linebacker in the Cover Two defense. Foster dropped some weight in the offseason to increase his quickness and has made a good early impression on Smith. "He's growing into the position," Smith said. "He couldn't have a better tutor than (linebackers coach and former Bucs middle linebacker) Hardy Nickerson."
Starter Doug Martin has looked very good at running back, but he's not the only one. Third-round draft pick Charles Sims has made some nice cuts in the last few practices and also has shown he can catch the ball out of the backfield. I think Sims might have a shot to be the top backup to Martin. "He's a scholarship player, looking at it in college terms," Smith said. "He's not a walk-on. He got his scholarship for a reason."
There hasn't been much talk about the fullback position. For the record, Jorvorskie Lane has been running with the first team.
The Bucs signed cornerback Kip Edwards to fill the roster spot that was created when guard Carl Nicks departed from the team. The team officially released Nicks on Wednesday.
Cornerback Alterraun Verner missed another day of practice with a hamstring injury, but Smith said Verner is getting closer to being able to return.
July, 30, 2014
Jul 30
10:00
AM ET
By
ESPN.com staff
| ESPN.com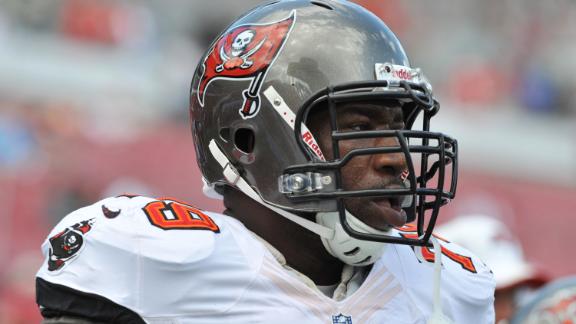 ESPN.com
Tampa Bay Buccaneers
reporter Pat Yasinskas says the competition for both starting guard spots is wide open, with
Jamon Meredith
,
Oniel Cousins
,
Patrick Omameh
and
Kadeem Edwards
as the leading candidates.
July, 30, 2014
Jul 30
8:00
AM ET
One of the best competitions of the
Tampa Bay Buccaneers
' training camp is at nose tackle.
Clinton McDonald
was brought in as a free agent and
Akeem Spence
, last season's starter, returns. The competition between the two is intense, but healthy.
"You want to make each other better, you've got to push each other," McDonald said. "Iron sharpens iron and so does the kindness of a friend and that's the kind of approach we're taking with the whole team. We've got to push each other every day, that way when we get out there on Sunday it's a breeze, the hardest days of work are in practice."
A lot of people assumed McDonald would be the starter when he was signed away from Seattle. He might end up in that role, but it won't be without a strong fight from Spence. Coach Lovie Smith has praised Spence several times since the start of camp.
I don't think there will be a loser in this competition. I think both McDonald and Spence will end up getting significant playing time. I think the Bucs will rotate the two to play to their strengths. McDonald is a strong pass rusher and Spence is solid against the run.
July, 29, 2014
Jul 29
9:30
AM ET
By
John McTigue, ESPN Stats & Info
| ESPN.com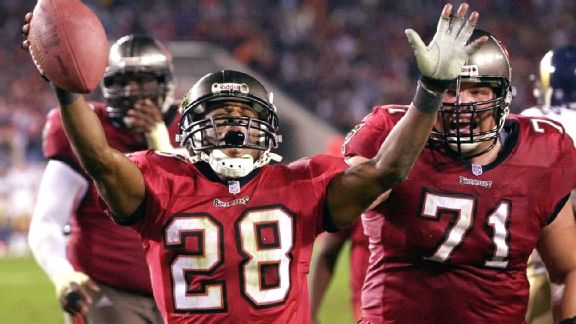 AP Photo/Scott Audette
To celebrate the 45th season of "Monday Night Football," a panel of ESPN.com contributors has selected the 45 most memorable moments in MNF history. Follow along as we reveal one per day and count down the number of days to this season's MNF debut.
No. 41: Buccaneers 38, Rams 35 | Dec. 18, 2000
---
A season after the
St. Louis Rams
defeated the
Tampa Bay Buccaneers
11-6 in the NFC Championship Game, the two teams met again in Week 16 on "Monday Night Football."
This time around though, offense would be the order of the day as the teams combined for 834 yards and 73 points. Running backs Marshall Faulk and Warrick Dunn combined for seven touchdowns.
Trailing 35-31 in the fourth quarter, the Bucs got the ball back at their 20-yard line with 2:22 on the clock and no timeouts. Quarterback Shaun King led the Bucs on a 13-play drive that ended with a Dunn 1-yard touchdown, but it was another play by Dunn that highlighted the drive.
Facing second-and-10 on their own 35, Dunn was immediately hit on a swing pass and was looking at a 10-yard loss. As he was being tackled, he threw a lateral pass to King back at the 20. King made one move, broke free for a 15-yard gain and drew a 15-yard penalty on a late hit. The lateral and ensuing run put the Bucs into Rams territory and helped set up the game's sixth and final lead change.
July, 29, 2014
Jul 29
9:23
AM ET
TAMPA, Fla. -- The
Tampa Bay Buccaneers
have their first day off from training camp Tuesday. That makes it a good time to reflect on the first four days.
A couple of things of jumped out. Namely the peacefulness and calmness that new coach Lovie Smith has brought.
Previous coach Greg Schiano was a yeller and a screamer (remember "toes on the line''?). Schiano and his staff were very loud on the practice field. Smith and his staff are much quieter. They're teaching, but they're doing it in a business-like manner.
You got the feeling a lot of players tuned out Schiano. But it appears they're buying into Smith. He's a coach who has proven he can win in the NFL and it's obvious he already has earned his team's respect.
That's all good, but there's another big difference from last season to this one. That's the relationship between the head coach and the quarterback. A year ago at this time, the feud between Schiano and quarterback
Josh Freeman
was festering behind the scenes.
Freeman was late for meetings, missed the team photo and was not elected as a captain. Things boiled over and the feud became public early on in the season. Freeman was benched after three games and subsequently released.
Schiano's final year had all the elements of a soap opera. The first four days of the Smith era have had none of that, and I don't anticipate that changing.
Smith has his hand-picked quarterback in
Josh McCown
. They have history together from their days in Chicago. McCown's not the type of guy that's going to be late for anything.
You can already see the harmony forming on Smith's team. That puts the Bucs well ahead of where they were with Schiano.
July, 28, 2014
Jul 28
4:40
PM ET
TAMPA, Fla. -- A daily review of the hot topics coming out of
Tampa Bay Buccaneers
training camp:
The most intriguing player in Tampa Bay's camp is running back Jeff Demps. The Bucs clearly are enchanted by the speed possessed by the former Olympic sprinter. There have been a few moments when Demps has looked like he could turn out to be a very special player. But there also have been some moments where his hands haven't looked as good as his feet. I saw Demps drop two passes and a kickoff return in Monday's practice. If Demps is going to make the roster, he has to show he can catch the ball consistently.
Speaking of kickoff returns, it looked like the Bucs were auditioning half their roster Monday. When the Bucs worked on that area, eight different players took turns lining up as return men. In addition to Demps, Eric Page, Chris Owusu, Charles Sims, Solomon Patton, Skye Dawson, Robert Herron and Lavelle Hawkins took turns returning kicks. Page held the job last year, but the Bucs clearly are looking at all alternatives.
The play of the day came from unexpected territory. On a fake field goal, punter Michael Koenen threw a touchdown pass to offensive tackle Demar Dotson. "If a lineman gets to cross the goal line, it's a big thing," coach Lovie Smith said." Demar will tell you he's an athlete."
The runner-up for play of the day was a leaping interception of a Mike Glennon pass by linebacker Danny Lansanah. He's a guy that shouldn't be overlooked. He has a chance to make the roster as a fifth or sixth linebacker.
After opening camp with Jamon Meredith at left guard and Oniel Cousins at right guard, the Bucs switched things up Monday. Those two ran with the second team while rookie Kadeem Edwards worked at left guard and Patrick Omameh at right guard. Look for the Bucs to continue to rotate their guards. There is an open competition for both starting jobs.
A lot of people seem to think free-agent pickup Clinton McDonald is a shoe-in to start at defensive tackle. But Smith keeps talking up Akeem Spence, who started last year as a rookie. I think you could see a rotation where both players get to play to their strengths. Spence is strong against the run and McDonald has some talent as a pass-rusher.
Cornerback Alterraun Verner sat out with a hamstring injury. Verner said he was "nicked" up, but that the injury was nothing serious.
The Bucs made a few roster moves Monday. They signed cornerback Anthony Gator and defensive tackle Jibreel Black. Running back Brendan Bigelow and wide receiver Quintin Payton were released to make room for the new players.
The Bucs get their first day off of training camp on Tuesday. But Smith and his assistants still will work a full day.
July, 28, 2014
Jul 28
8:00
AM ET
Examining the
Tampa Bay Buccaneers
' roster:
QUARTERBACKS (2)
McCown is getting all the first-team work and has looked sharp. The Bucs aren't likely to keep a third quarterback on the 53-man roster.
RUNNING BACKS (6)
The Bucs are infatuated with Demps' speed, but it remains to be seen if he can do enough to earn a roster spot.
RECEIVERS (5)
The slot receiver position is wide open and can be claimed by whoever has the best camp.
TIGHT ENDS (3)
Veteran
Luke Stocker
is very much on the bubble.
OFFENSIVE LINEMEN (9)
The departure of
Carl Nicks
leaves the team short at guard. The Bucs may look for help from the outside.
DEFENSIVE LINEMEN (9)
Bowers, who never has lived up to his potential, is on the hot seat. He needs a strong camp to secure a roster spot.
LINEBACKERS (6)
The Bucs still could use a little stronger depth at this position.
CORNERBACKS (6)
Leonard Johnson looks like the early favorite to claim the nickelback job.
SAFETIES (4)
Goldson's looking to bounce back after a rough first year with the Bucs. Wright and Tandy provide solid depth.
SPECIALISTS (3)
This won't change unless there's an injury.
July, 27, 2014
Jul 27
6:01
PM ET
TAMPA, Fla. -- A daily review of the hot topics coming out of
Tampa Bay Buccaneers
training camp:
The Buccaneers had their first pads practice of camp Sunday afternoon and it wasn't very pretty for the offense. There were balls on the ground and the rush broke through on several occasions. But coach Lovie Smith said it's not time to worry. "I would say it's normal that the defense does have that advantage just as you start for some reason,'' Smith said. "Offense is a lot on timing and things like that. We've had a couple balls on the ground the last couple days. Of course, we can't do that. We're a work in progress still.''
There was one highlight for the offense. It came on a deep pass from backup quarterback Mike Glennon to running back Jeff Demps. "That's a pretty good situation to get in,'' Smith said. "Most times, third and short, as a defense, you have to play some form of man. To get a Mike linebacker on the fastest guy in the NFL, I'd throw it to him too.'' Smith continued to praise Glennon, who started 13 games as a rookie but has been replaced by Josh McCown. "He's had a good offseason in general,'' Smith said. "He can make all of the throws. I've asked him to move into a different role. He's embraced that. If Mike ends up having to play for us this year we would win a lot of football games. He's a good football player. Again, this is his second year and there's still a ways to go but we're getting there.''
Defensive end Da'Quan Bowers hasn't been able to carve much of a role for himself in his first three NFL seasons. But the Bucs might be letting him try something new. Bowers has been getting some work at defensive tackle. "He can play inside,'' Smith said. "On game day, we're going to dress seven defensive linemen so we need at least one player that can play both inside and outside. Body type-wise, he's right in that area. I think he could possibly rush third down situations inside and also be able to play more of a six technique on running downs outside.''
Jamon Meredith and Oneil Cousins lined up as the starting guards, but that's a very fluid situation. Patrick Omameh and rookie Kadeem Edwards also could be under consideration for starting roles. Smith brought up a good point when he said all four guards will get a good test against Tampa Bay's defensive tackles. "They're all getting reps right now,'' Smith said. "We get great evaluations based on what's on the other side of our guards. You have a player like Gerald McCoy, Clinton McDonald, Akeem Spence, we get a good reading on how good those players really are.''
Strong safety Mark Barron revealed he had offseason surgery on his right knee. Although he's practicing, Barron said he's not 100 percent healthy yet, but is headed in that direction.