March, 29, 2015
Mar 29
2:47
PM ET
By
Rick Weber
| Special to ESPN.com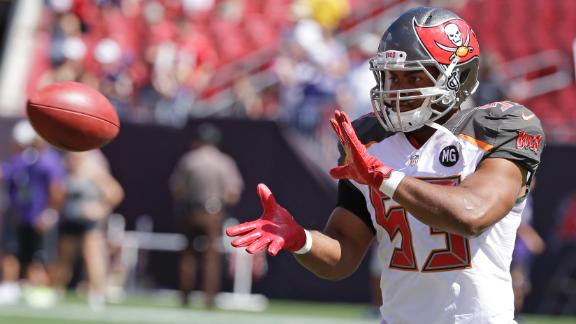 FORT MYERS, Fla. -- When Brandon Magee was growing up as a two-sport star in Corona, California, people told him he could be the next Bo Jackson.
Now the 24-year-old Magee, after being released by the NFL's Tampa Bay Buccaneers, is in the Boston Red Sox's minor league camp and is taking a shot at baseball -- keeping in mind everything Bo knows and has told him.
"Some of them I can tell you, some of them I won't," Magee said after a Sunday morning workout. "He's a great guy. He's been here before. He gives me encouragement all the times I talked to him. He just told me to stay humble and try to keep working hard and outwork everybody out here. That's his main key."
When people told him in his youth that he could be the next Bo Jackson, Magee didn't even know who they were referring to, having been born just a few months before the 1985 Heisman Trophy winner's football career ended in 1991 and three years before Jackson retired from baseball in 1994. But Magee embraced the comparison, and Jackson even became a trusted mentor after Magee finished playing both football and baseball at Arizona State.
Magee spent time as a linebacker and special teams player with the Dallas Cowboys, Cleveland Browns and Buccaneers during his NFL career.
Blake Baratz, Magee's agent, told profootballtalk.com that Magee remains committed to the NFL and will sign with another team as soon as possible.
March, 28, 2015
Mar 28
8:00
AM ET
Let's take a dip into the Twitter mailbag and see what questions you have about the Buccaneers:


@PatYazESPN #1 pick in the draft. Two great QB's to choose from and other great talent. How do you take guy w/ character/red flag issues?

— Mark Harmon (@rayguy3) March 27, 2015
@PatYazESPN: The Bucs have done an enormous amount of homework on Jameis Winston. They won't take him unless they are convinced totally that his off-field issues are a thing of the past. If they're not convinced, Marcus Mariota is a nice alternative.




@PatYazESPN Winston @#1 do you think OT or DE with second round

— Greg D'Cruz (@gregdcruz) March 27, 2015
@PatYazESPN: I can see the Bucs going for an offensive lineman or a defensive end in the second round. It almost has to be one of those two positions because the needs are so great.




@PatYazESPN @LukeEasterling do the Bucs admit tanking that last game? Up at half, sat OL, Evans, Jackson, and several defenders. Pls respond

— J Baker (@Jbaker0171) March 27, 2015
@PatYazESPN: The Bucs have said they were playing the game against New Orleans to win. But they did make some moves that made it look like locking up the No. 1 pick was the priority.




@PatYazESPN Are Bucs seriously considering throwing rookie QB in fire behind current OL? Is starting LT on roster or will they draft one?

— Tacowrecker (@tacowrecker) March 27, 2015
@PatYazESPN: I know it's difficult to be patient and the Bucs haven't made any additions to their offensive line. But they are well aware that it was one of the worst lines in the league last year. They're not going to sit still forever. I think they still will sign a free agent and use either their second-round or third-round pick on an offensive lineman.




@PatYazESPN Will the backfield still be a cluster this upcoming season or do you see someone stepping up or playing a defined role?

— C (@cjb1978) March 27, 2015
@PatYazESPN: Lovie Smith likes to say you need more than one running back. I suspect you'll see a committee approach, with Doug Martin and Charles Sims sharing most of the carries and Bobby Rainey as insurance in case there is an injury.
March, 27, 2015
Mar 27
12:00
PM ET
TAMPA, Fla. – We already have taken a look at where the Tampa Bay Buccaneers stand on offense. Now, let's take a look at the defense.
The Bucs have been much more active in free agency on defense than they've been on offense. Linebacker Bruce Carter, defensive tackle Henry Melton, cornerback Sterling Moore and safety Chris Conte all have been signed.
Here's a look at how the defense is shaping up.
Defensive line: It's more than a little surprising that the Bucs haven't added a defensive end. The pass rush needs help on the outside, but the Bucs haven't done anything there. The team has high hopes for Jacquies Smith, Larry English and Lawrence Sidbury. But they're role players. The team needs to land a strong pass-rusher in what's left of free agency or in the draft. The Bucs are in great shape at defensive tackle with Melton likely to rotate with Gerald McCoy and Clinton McDonald.
Linebacker: Middle linebacker Mason Foster was allowed to leave as a free agent because he wasn't a great fit in the scheme. The Bucs believe Carter can be a lot more effective than Foster in pass coverage. Lavonte David is a star on the weak side and Danny Lansanah is solid on the strong side.
Defensive back: This is one area where the Bucs have added depth. Moore likely will challenge Leonard Johnson for the nickelback job. There will be a three-way competition for the two starting cornerback spots with Alterraun Verner, Johnthan Banks and Mike Jenkins in the mix. Conte was brought in as an alternative to Dashon Goldson, who could end up being traded or released.
March, 27, 2015
Mar 27
8:00
AM ET
TAMPA, Fla. -- The first wave of free agency is over and the draft doesn't come for another month. That means it's a good time to take a look at where the Tampa Bay Buccaneers stand.
We'll start with the offense and get to the defense later. Surprisingly, the Bucs haven't added a single free agent on offense. They released quarterback Josh McCown and left tackle Anthony Collins.
Here's a position-by-position look at where the offense stands.
Quarterback: At the moment, Mike Glennon is the only quarterback on the roster. That will change with the Bucs likely to draft either Jameis Winston or Marcus Mariota. Glennon could stick around as the backup, but some teams have been inquiring about his availability in a trade. The Bucs could trade Glennon for a mid-round pick and bring in a veteran to work as the backup.
Running back: There has been speculation that the Bucs could pursue Adrian Peterson, but that's all it is at this point. On the surface, there already is depth at this position with Doug Martin, Charles Sims and Bobby Rainey. But the coaching staff doesn't seem sold on Martin and he could be used as trade bait. The Bucs also need to add a fullback.
Wide receiver: This is the strongest unit on the offense with Vincent Jackson and Mike Evans as the starters. The team likes Louis Murphy as the third receiver, but competition could be brought in.
Tight end: The Bucs didn't get a lot of production out of this position last year, but that's mostly because rookie Austin Seferian-Jenkins was dealing with injuries. The team firmly believes a healthy Seferian-Jenkins can be a threat in the passing game. Brandon Myers and Luke Stocker are solid role players.
Offensive line: This unit is the team's biggest question mark. The Bucs might have had the worst offensive line in the league last year. But there haven't been any additions -- yet. The Bucs are checking out what's left in free agency. They need to add a starting tackle and a starting guard. It seems likely they will get one in free agency and the other in the draft.
March, 26, 2015
Mar 26
1:00
PM ET
TAMPA, Fla. -- A lot has been made of the fact that Oregon quarterback Marcus Mariota has virtually no experience operating under center.
It's a valid point. The only time Mariota took snaps from under center in college was when the Ducks were doing kneel downs at the end of games.
There is no question Mariota would have to make a big adjustment if he is selected No. 1 overall by the Buccaneers. But maybe the change wouldn't be as dramatic as it might seem.
According to ESPN Stats & Information, the current league-wide trend is to use the shotgun or pistol formation much more frequently than in the past. In 2014, 60 percent of the league's snaps came out of either the shotgun or pistol formation.
There has been a steady rise since ESPN Stats & Information started charting this category in 2006. In that season, only 19 percent of the snaps came out of the shotgun or pistol formation. But there has been a steady rise in each year since then and the 50-percent barrier was first broken in 2013.
Exact numbers on how often the Bucs used the shotgun formation last year weren't available. But it's safe to say they used it less frequently than the league average. As long as Lovie Smith is the coach, the quarterback is going to be required to line up under center a fair amount of the time. But the shotgun is a part of the Bucs' offense.
Maybe Mariota's not as far behind the curve as many think.
March, 26, 2015
Mar 26
8:00
AM ET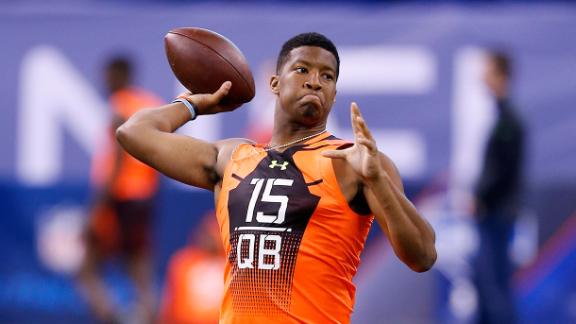 TAMPA, Fla. -- Back in 2011, the Carolina Panthers were in a situation similar to what the Buccaneers face now.
They held the first pick in the draft and there were major questions about one of the players they were targeting. In the case of the Panthers, that player was Cam Newton. For the Bucs, it's Florida State quarterback Jameis Winston.
Prior to the 2011 draft, there were concerns about Newton's character and maturity. But the Panthers ultimately chose the Auburn quarterback and he has led them to the playoffs in each of the last two seasons. Winston also comes with questions after being involved in several off-field incidents.
"The reason you're at the No. 1 pick is because you don't have a quarterback and it's a quarterback-driven league," said Marty Hurney, who was Carolina's general manager when the Panthers drafted Newton. "Any time you draft a quarterback first, it's a bold move. But it's a move you have to make because you have to have a franchise quarterback."
Hurney said the Panthers quickly decided Newton was the best on-field fit for them.
"The first step is to narrow it down to the quarterbacks that have the physical skills," Hurney said. "In that class, you also had Jake Locker, Blaine Gabbert and Christian Ponder. The first time we went through the tape, it was apparent that Cam was the one with the best tools to be a quarterback in this league. Then we focused on doing our homework."
The Panthers did extensive research on Newton before ultimately deciding he would be the pick.
"I spent a day, a full day at Cam's house getting to know him," Hurney said. "(Coach) Ron (Rivera) did too. Cam met with our owner (Jerry Richardson). We met with Cam for four hours a couple days before his pro day. We had a private workout with him. Our national and area scouts talked to everybody around Cam. We went as far back as people that knew him in high school. We literally spent countless hours on getting to know everything about him."
Hurney said the Bucs should spend the same energy in getting to know Winston.
"You have to work through the process," Hurney said. "You need to talk to as many people as you can and put the whole puzzle together."
Now a sports radio host in Charlotte, Hurney still is following the draft closely. He has an opinion on Winston, as well as Oregon quarterback Marcus Mariota, whom the Bucs may be viewing as an alternative.
"Winston comes out of the pro-style offense," Hurney said. "He has all the measurables and can make all the throws. Everybody commented on how good his football knowledge was at the combine. The only question is the off-the-field stuff and I haven't gotten into that like I'm sure the Bucs have."
Mariota comes without off-field questions. But there are on-field questions because he played in a spread system in college.
"Marcus Mariota is a very different quarterback than Jameis Winston," Hurney said. "But he's smart and he's a gym rat. Could he be a taller, faster version of Russell Wilson? I think that's possible."
So who would Hurney take if he had to make the call?
"Just because Jameis Winston's skill set is so transferable to the NFL, I'd give him the nod," Hurney said.
March, 25, 2015
Mar 25
4:58
PM ET
TAMPA, Fla. -- Tampa Bay Buccaneers coach Lovie Smith confirmed Wednesday that the team has been fielding phone calls about trading quarterback Mike Glennon.
The Bucs are poised to use the first overall pick in the draft on a quarterback -- either Jameis Winston or Marcus Mariota. Whichever rookie comes in is likely to be an instant starter.
That means Glennon, who has started 18 games over the past two seasons, is destined for the backup role and that has other teams thinking he's expendable. Glennon potentially could land the Bucs a mid-round draft pick. The Bucs then could bring in another veteran to be the backup.
But I would be cautious about letting Glennon go. He might not be spectacular, but you could do a lot worse than Glennon as a backup.
You know what you're getting with Glennon. He's dependable and doesn't make a lot of mistakes. More importantly, Glennon is a good locker room guy and could be a good influence on a young quarterback.
March, 25, 2015
Mar 25
12:54
PM ET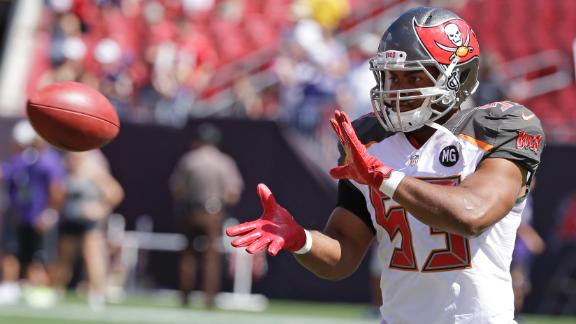 TAMPA, Fla. -- Linebacker Brandon Magee was released by the Tampa Bay Buccaneers on Wednesday morning. It didn't take him long to find a new team -- in a different sport.
Magee told the Tampa Bay Times he was headed to spring training at the Boston Red Sox's minor league facility in Fort Myers, Florida.
"I'm grateful for the opportunity they gave me at the time. Right now, I'm focused on spring training," Magee told the newspaper.
Magee played both sports in college at Arizona State and was drafted by the Red Sox in 2012. He previously was drafted by the Tampa Bay Rays and Oakland Athletics. Magee was with the Red Sox in extended spring training last year before signing with the Bucs.
Magee played sparingly for Tampa Bay last season. He had six tackles on special teams.
March, 25, 2015
Mar 25
12:44
PM ET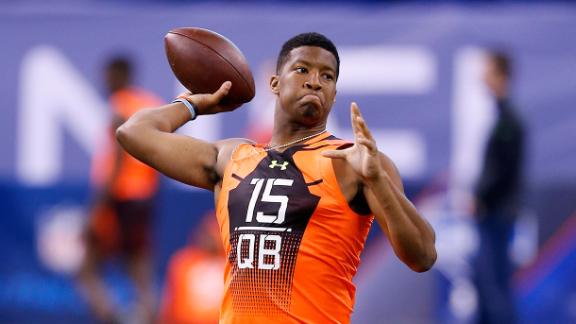 PHOENIX -- With five weeks remaining for the Tampa Bay Buccaneers to make a decision about their first overall pick, coach Lovie Smith gave effusive praise to Jameis Winston during his hour-long breakfast Wednesday with reporters at the NFL owners meetings.
"What do you want a quarterback to do? Well, you want him to be able to win and get people to believe that you can help be the reason why we win every game," Smith explained. "I think he's done that. He's got a track record -- he's got a Heisman behind him. He's got a national championship.
"You start talking to his teammates and they all say the same thing. You talk to coaches that have been around him in the room. You put him on the board, you start talking about his football intelligence. You let him sell himself. He can sell himself."
Smith reiterated that he is comfortable making Winston the top selection in the draft despite his off-field troubles.
"I said it [at the NFL combine] that with the information I had, I was very comfortable with him," Smith said. "Since then, we've had a chance to spend a lot more time with him and nothing has changed. It's even grown a little more now that I know him better.
"If we decide to go that direction, we're very comfortable with Jameis being the face of our franchise and the quarterback on our football team."
Smith compared the process of choosing a top pick to a football game, saying the team has a "leader" but that it didn't want to make a final decision before pre-draft workouts were completed.
March, 25, 2015
Mar 25
12:00
PM ET
The Tampa Bay Buccaneers will likely draft Jameis Winston or Marcus Mariota with the No. 1 overall pick. So how does this type of thing usually work out? We continue our countdown of the 18 quarterbacks who were drafted with the top selection over the past 40 years.
John Elway, 1983, Baltimore Colts (traded to the Denver Broncos)
It is ancient history, forgotten by many, but Elway once seemed destined to play baseball for the New York Yankees.
Elway was the prize in the best quarterback draft ever (six quarterbacks were taken in the first round). But Elway and his father, Jack, made it quite clear that he would not play for the Baltimore Colts, who held the first overall pick.
[+] Enlarge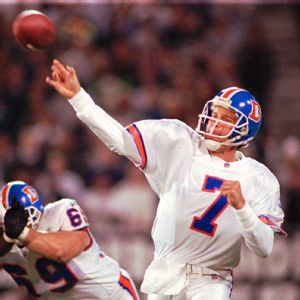 AP Photo/Paul SakumaJohn Elway is still the best quarterback to ever be taken No. 1 overall.
Instead of changing gears and going with one of the other quarterbacks (Jim Kelly, Dan Marino, Tony Eason, Todd Blackledge and Ken O'Brien), the Colts stood firm and drafted Elway anyway. That's when the threats about playing baseball got really loud.
The posturing went back and forth until the Colts finally decided to trade Elway to Denver for offensive lineman Chris Hinton, whom the Broncos had selected with the fourth overall pick, quarterback Mark Herrmann and a first-round pick in 1984.
That wound up being one of the best trades in NFL history -- for Denver. After enduring some struggles early in his career and being benched in favor of Steve DeBerg, Elway went on to have one of the best quarterback careers ever. Maybe the best.
Elway forever cemented a place in history in the 1986 AFC Championship Game by leading a 98-yard touchdown drive (known as "The Drive") for a victory against Cleveland. That put Elway into the first of his five Super Bowls.
Elway got to three Super Bowls early in his career and lost them all. But Elway finished his career in spectacular fashion. He won the Super Bowl in each of his last two seasons and retired while he was very much on top.
At the time of his retirement, Elway's 148 career victories were the most ever by a starting quarterback. He finished his career with 51,475 passing yards and 300 touchdowns. Another facet of Elway's game that is often overlooked was his running ability. He had 774 carries for 3,407 yards and 33 touchdowns.
Elway was a first-ballot Hall of Fame selection and his legacy continues. The Broncos have had plenty of success since Elway became their executive vice president of football operations. Elway has made plenty of good moves in that role, including the addition of Peyton Manning.
But that acquisition is only second-best in Denver's history. Landing Elway unquestionably was the best move in franchise history.
Final analysis: Hall of Fame pick -- but not for the team that made the pick.
March, 25, 2015
Mar 25
10:00
AM ET
By
ESPN.com staff
| ESPN.com
March, 25, 2015
Mar 25
9:41
AM ET