November, 20, 2014
Nov 20
3:08
PM ET
TAMPA, Fla. -- The
Tampa Bay Buccaneers
' pass rush had its best outing of the season during Sunday's victory at Washington. Now comes the challenge of keeping it at that same level the rest of the season.
The Bucs had a season-high six sacks against Washington and quarterback
Robert Griffin
III didn't have much time to throw the ball. The Bucs had only five sacks in the five games prior to Washington.
All-Pro defensive tackle
Gerald McCoy
said the key to the success was that the defensive line played as a unit.
"The only way to have a dominant pass rush is if you rush with all four guys,'' said McCoy, who leads the team with 6.5 sacks. "It can't just be one or two guys. It has to be everybody doing their part. When you do that, everybody can get in on the action. It's very rewarding when the [defensive line] room gets the sack. Of course, individually, there will be stats. But the room gets the sack. All we're concerned about is that we rush as a unit and we were able to do that Sunday.''
Tampa Bay relies almost exclusively on pressure from the front four. In the Tampa 2 scheme, blitzes aren't used often. Defensive ends
Jacquies Smith
and
Michael Johnson
and defensive tackle
Clinton McDonald
have come on strong recently.
Johnson was signed as a high-priced free agent from Cincinnati. He started the season slowly and now has three sacks. It's been well documented that Johnson has been playing through injuries to his ankle and hand. Defensive coordinator Leslie Frazier revealed Thursday that Johnson has been playing with a broken hand.
"He's been up and down with injuries and that's tough,'' Frazier said. "Now, with the broken hand, it limits him again. He's playing through things. I don't know the time frame to get the cast off. Hopefully, he'll get to the point where he can grip and move people around with his hands, now that his ankle is fine. It limits him. He's given us what he has and it was good enough this past Sunday. We're going to need him again this Sunday.''
November, 20, 2014
Nov 20
1:49
PM ET
TAMPA, Fla. -- There's been a lot of talk about
Tampa Bay Buccaneers
coach Lovie Smith going back to Chicago. Same for quarterback
Josh McCown
.

Frazier
It's only natural since they both spent time with the Bears. But there's another Chicago connection involving the Buccaneers. That's defensive coordinator Leslie Frazier. He played defensive back for the Bears from 1981 through 1985. Frazier led the Bears with six interceptions in the season in which they won Super Bowl XX.
"There are a lot of good memories," Frazier said. "It's a different stadium than I played in, but it's still Soldier Field. It's so different now being a coach versus my playing days. It's a game that we need to get a win for a lot of reasons. That's what it's all about. It's an opportunity for our football team to get a win against a very good football team and a very good offense. That's really where my mindset is. A lot of friends there and a lot of great memories, but it's all about trying to get a win on the road against a good football team."
Frazier also is familiar with the current Bears from his time as the head coach of the
Minnesota Vikings
.
"They've got an outstanding passing game," Frazier said. "Very good receivers. A good tight end. A quarterback who can get the ball in in tough conditions. I don't see them, unless there's a blizzard, abandoning their passing game. They do have an outstanding running back (
Matt Forte
). But if you watch their team, they have a lot of success throwing the football. If you look at the stats, they're one of the best passing teams in the league. I don't think they'll get away from that. We're going to have to defend the run well, but we better do a good job with the passing game as well."
Frazier's defense is coming off its best outing of the season. In a 27-7 victory against Washington, the Bucs produced six sacks and three turnovers.
"We need to have it going this Sunday," Frazier said. "That quarterback they have,
Jay Cutler
, is able to stay in that pocket and survey the land, it makes it very difficult for us to cover those receivers. We're going to need our four-man rush to really be effective for us in order for us to have success on Sunday."
November, 20, 2014
Nov 20
1:45
PM ET
The start of Week 12 means only one thing in these parts. It's time to start playing with
ESPN's Playoff Machine
, which provides playoff seeding for any series of regular-season game results you can imagine.
The possibilities are particularly relevant now, at a time when two-thirds of NFL teams (21 of 32) are either sitting in a playoff position or are within one game of it. And even as the NFL seems destined to expand the postseason field, perhaps as early as next year, the NFC South is vying to send a sub.-500 team to the playoffs. It's not too difficult, in fact, to find scenarios where someone clinches the NFC South with just five wins.
[+] Enlarge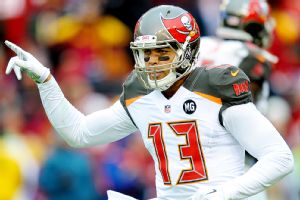 Mitchell Layton/Getty ImagesMike Evans and the Bucs are 2-8, yet very much alive in the NFC South race.
Currently, the
New Orleans Saints
and
Atlanta Falcons
are atop the division at 4-6, with the
Carolina Panthers
(3-7-1) only semi-comatose at their heels. The
Tampa Bay Buccaneers
are 2-8, a near-fatal record in most years but one that has kept them in contention as Thanksgiving approaches. In fact, a 4-2 finish could be all the Bucs need.
That's right. If everything goes their way -- and with six weeks remaining, there are so many variables --
the Bucs could win the division at 6-10
. The Panthers could win it
with as few as five
victories,
as could the Falcons
. It appears the Saints would need
at least six victories
to win the title, based on tiebreakers. (Note: I didn't consider future ties in generating these scenarios.)
The NFC South debacle conjures bad memories of the 2010 NFC West race, the only other instance since 1967 when a division leader has been two games under .500 this late in the season, per the Elias Sports Bureau. In 2010, the
Seattle Seahawks
overcame the
St. Louis Rams
in Week 17 to win the NFC West at 7-9.
What would you think if the 5-11 Falcons hosted an 11-5
Philadelphia Eagles
team on wild-card weekend, while a 10-6
San Francisco 49ers
team stayed home? That could happen, according to the Playoff Machine.
How would you react if the 11-5 49ers had to make a cross-country trip to face the 5-10-1 Panthers, with the 10-6 Eagles home for the holidays? That could happen as well.
Expanding the playoffs a year after a sub-.500 team wins its division might be a bad look, but
as we discussed in the spring
, it appears inevitable. It's also worth noting that adding a seventh playoff team to each conference, for a total of 14 league-wide, would reduce the chances of a team like the Eagles or 49ers in our scenarios of missing the postseason.
The NFL tabled discussions on a proposed 2015 playoffs expansion during its spring meeting, and perhaps the delay -- and the NFC South's situation -- will spur further discussion. Is there a way to reduce, but not eliminate, the reward of winning a division? Should playoff seeding be based purely on record, or is there a way to differentiate division winners from wild-card teams while still avoiding a 5-11 team hosting a playoff game?
Have an idea? Leave it in the comments section. We have plenty of time to hash it out. And who knows? Maybe an NFC South team will emerge to make the discussion moot for another year.
November, 20, 2014
Nov 20
8:00
AM ET
TAMPA, Fla. -- The numbers say the
Tampa Bay Buccaneers
can't run the football. But they're not going to stop trying.
The Bucs were supposed to have a run-first offense under coach Lovie Smith. But they've had little success on the ground. Sunday's victory against the
Washington Redskins
was a prime example. The Bucs gained only 48 yards on 21 carries. The passing game -- mainly
Mike Evans
' seven catches for 209 yards and two touchdowns -- bailed the Bucs out on that occasion. But Tampa Bay's running game has been largely ineffective in a 2-8 start.
But quarterbacks coach Marcus Arroyo, who calls the offensive plays, said Wednesday the Bucs are going to continue to try to run the ball.
"We're not going to stop trying to build that foundation," Arroyo said. "We're going to continue to try to do it. The passes and the rushes were pretty balanced in the [Washington] game. There might not be 5-, 8- or 10-yard rushes in there, but there were some plays in there where it could have been. There were a couple of times where it gets close and we trip over our own guy. It's getting there."
The running struggles aren't due to a lack of talent in the backfield. Starter
Doug Martin
has missed five games due to injury. But the Bucs have plenty of depth at the position.
Bobby Rainey
has shown promise and
Mike James
has emerged as the third-down back. Rookie
Charles Sims
missed the first eight games with an ankle injury. But the Bucs obviously have big plans for Sims, who has led the team in carries in each of the last two games.
Arroyo said his confidence in the running game hasn't wavered.
"It's getting close and all of the sudden it goes from a 2.8-yard average over to a 4.1 average and we're all saying there's the efficiency that you need," Arroyo said. "A 4-yard run on first down and you're going to be effective. You can't stop doing it. We're not going to stop doing it. Being one dimensional is not what we're interested in."
November, 19, 2014
Nov 19
5:33
PM ET
TAMPA, Fla. – On a conference call with the Tampa Bay media, Chicago linebacker
Lance Briggs
paid Buccaneers coach Lovie Smith one of the highest compliments you'll hear in football.
"[Smith is] going to tell you from Day 1, he's going to treat everybody like a man," Briggs said. "That's the honest to God truth. When coaches do stuff like that and stay consistent to exactly what they say, you get a lot out of your men. He was a man that you would run through a brick wall for."

Smith
"Of course, I'd do the same thing for Lance Briggs and any of my guys that I had there. I cherish the relationships I've been able to develop everywhere I've been. In Chicago, there were quite a few of those."
That's to be expected because Smith spent nine seasons as the head coach of the Bears and took the team to a Super Bowl. He was fired after a 10-6 season in 2012. But as questions flowed about his Chicago days Wednesday, Smith said he carries no bitterness.
With the Bucs scheduled to play the Bears on Sunday, Smith was hit with plenty of Chicago talk. Reporters from two Chicago newspapers were present and Smith, at first, tried to down downplay the significance of the matchup.
"We're trying to get a win against an opponent on the other side," Smith said.
But the questions didn't stop and Smith eventually opened up about his Chicago experience.
"My memories of my time in Chicago are all great memories," Smith said. "I have lifetime friends from Chicago that will always be a part of our family. You talk about the opportunity I was given by the McCaskey family. Those are all good memories. I don't have many bad memories on any place I've ever been. We spent a lot of time there. We still have homes there. My time there, my wife is from Chicago. There's nothing but fond memories of that time there. But it's a part of my past, but a part of my past that I will always cherish."
Smith, whose wife is from Chicago, said he still owns a house in Illinois.
"I have a lot of fond memories," Smith said. "We won a lot of games. That's what I remember. And the fans there were awesome when we were winning all of those games. That's my recollection."
November, 19, 2014
Nov 19
2:49
PM ET
TAMPA, Fla. -- It's more than a little ironic that
Tampa Bay Buccaneers
quarterback
Josh McCown
is finally feeling like he did last year.
That's because he's about to visit Chicago to face the team he played for last season. McCown played the best football of his career for the
Bears
: Filling in for an injured
Jay Cutler
, he threw for 13 touchdowns with just one interception. That performance was enough to get McCown a two-year, $10 million contract and a starting job in Tampa Bay.
[+] Enlarge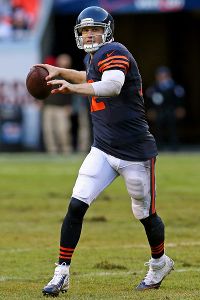 Jonathan Daniel/Getty ImagesJosh McCown parlayed a strong 2013 in Chicago into a two-year, $10 million deal with the Bucs.
McCown said his momentum from last year went away at the beginning of this season. He has said he was pressing too hard in the first three weeks, throwing two touchdown passes and four interceptions before suffering a thumb injury that kept him on the sideline for five games. But since returning to the lineup two games ago, McCown said he feels like he did during his run as Chicago's starter.
That was especially evident on Sunday in Washington. McCown completed 15 of 23 passes for 288 yards and two touchdowns as the Bucs (2-8) snapped a five-game skid.
"I don't know that I felt that way the first few games," McCown said. "That's how I envisioned it. That's how I felt when I was playing last year. I felt more calm, and [quarterbacks coach] Marcus [Arroyo] and I are on the same page with the plan and just where he's at as a playcaller. That brought me a lot of peace. That's more what everybody envisioned."
Sunday's performance was exactly what the Bucs envisioned when they signed McCown.
"If you look at what he did last year and his body of work when he was given a chance, he was very impressive," Arroyo said. "I think he's capable of doing that game, and that was a great game last weekend. We've got to try to find a way to do it again and again."
McCown said the
arrival of coach Marc Trestman in Chicago
last year helped elevate his game.
"Just from the standpoint of having someone on the offensive side of the ball bring his kind of expertise," McCown said. "You get different things from different people in your career, and I've had tons of coordinators, some really good ones. But every now and then, you click with somebody that sees it the way you see it. As a player, the way they call a game or the way they see the game, it kind of hits your brain the same way. For me, I think that's what allowed me to play at the level I played at for Marc."
Bonding with a coach wasn't the only positive McCown took from his three seasons in Chicago, which included two years playing for current Bucs coach Lovie Smith.
"Especially when I first got there in 2011, I liked how that locker room was," McCown said. [Linebacker Brian] Urlacher was still there. You could just feel the closeness of that group of guys. It's very rare that you get to be in those kind of locker rooms when you have groups that have been together like they have. I mean, you're talking about
Lance Briggs
and
Peanut Tillman
have been teammates for 10 years plus. That's unheard of. It just doesn't happen very much in this league.
"When you get in a locker room like that where you have guys that have been teammates that long and observe their relationships and how much they appreciate each other and their friendship and watch how it plays out on the field, I think that's what I look back on my time there the most -- how important those relationships are in that locker room."
November, 19, 2014
Nov 19
11:07
AM ET
Former
Tampa Bay Buccaneers
coach Tony Dungy and safety John Lynch have made the list of 26 semifinalists for the Pro Football Hall of Fame's Class of 2015.
Dungy and Lynch were among the 15 finalists this past year but didn't make the final cut. They'll face a strong challenge again next year.
The list of first-year semifinalists includes Kurt Warner, Isaac Bruce, Torry Holt, Edgerrin James, Orlando Pace and Junior Seau. Lynch also could face a tough time getting in due to his position. It's tough for safeties to get into the Hall of Fame, and safeties Steve Atwater and Darren Woodson also made the list of semifinalists.
November, 19, 2014
Nov 19
10:00
AM ET
TAMPA, Fla. – In a development that should come as absolutely no surprise, Buccaneers receiver
Mike Evans
was named NFC Offensive Player of the Week.
Evans had a huge game in Sunday's 27-17 victory over Washington. He had seven catches for 209 yards and two touchdowns as he continued his hot streak. Evans became the first rookie receiver since Randy Moss in 1998 to have three straight games with at least 100 receiving yards and at least one touchdown.
Evans is the first Tampa Bay player to earn player-of-the-week honors this season.
November, 19, 2014
Nov 19
10:00
AM ET
By
ESPN.com staff
| ESPN.com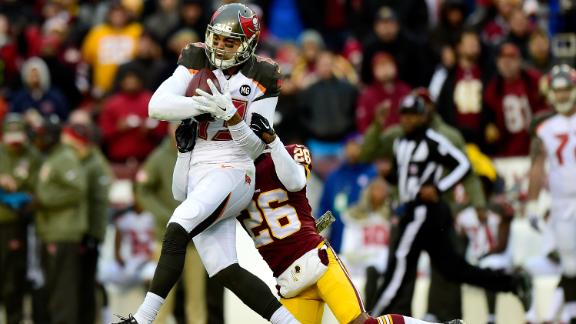 ESPN
Buccaneers
reporter Pat Yasinskas says rookie receiver
Mike Evans
is sure to draw more attention from opposing defenses, which is good news for
Vincent Jackson
.
November, 19, 2014
Nov 19
8:00
AM ET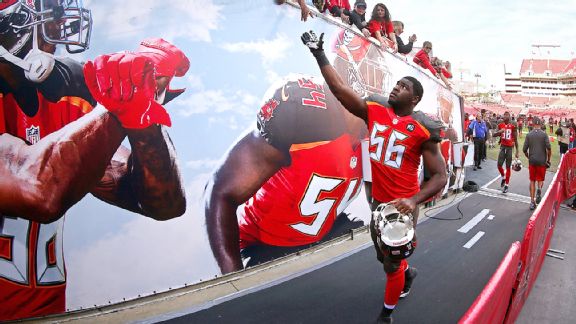 Mike Ehrmann/Getty ImagesJacquies Smith, who has three sacks this month, has earned recognition for his play.
TAMPA, Fla. -- His road to an NFL roster spot was long and strange. But
Jacquies Smith
is making the most of it.
He has gone from an undrafted free agent, to a stint in Canada, to some practice-squad time. But he's now turning it all into a key role with the
Tampa Bay Buccaneers
.
The defensive end earned a spot in the rotation and has responded with three sacks, including two in Sunday's victory against Washington. More playing time is on the horizon, now that Smith has shown he can handle it.
Smith
"We tell the players always, 'If you get in a few plays and you're productive with those, you'll get more,'" Tampa Bay coach Lovie Smith said. "Kind of simple as that. He has continued to get more plays based on his play. He's come a long ways from being cut by the Bills and coming down here and now really being a factor."
Smith was cut by the
Buffalo Bills
after the first game of the season and picked up by the Buccaneers. It wasn't the first time Smith was cut. Coming out of Missouri as a free agent in 2012, he was cut by the
Miami Dolphins
in training camp. He then wound up with the Hamilton Tiger-Cats of the Canadian Football League. But that didn't last.
"I got out of the Canada thing talking to the GM, just telling him I'm miserable and being up here and it just isn't for me," Smith said "They were like, 'We know we've got something here.' But it was like I was miserable and wanted to be happy and play football as well."
Smith got out of Canada and was signed to the practice squad of the
New York Jets
. He went to training camp with the Jets in 2013, but that didn't take. Smith spent almost the whole season out of football before being signed by Buffalo last Dec. 30. He went to camp with the Bills in 2014 and thought he had it made.
"I was in Buffalo and actually made the roster in Week 1 and then got released and came here," Smith said. "It was a process. I felt like this past preseason was the best preseason I had and really [was] able to showcase my ability."
The Bucs liked what they saw on the preseason tape, which is why they brought Smith in. At first, he was supposed to be a seldom-used backup. But he gradually has worked himself into a spot in the defensive line rotation, and his playing time has been increasing.
"I've always been self-motivated," Smith said. "I felt I really got an opportunity. Buffalo really allowed me to showcase my talent. I can't do nothing but thank those guys because they really let me do what I do during the preseason and training camp. Things just started to come to life for me."
November, 18, 2014
Nov 18
4:00
PM ET
JACKSONVILLE, Fla. --
Mike Evans
went off.
Brandin Cooks
went down.
Those were the highlight and lowlight of Week 11 for what is turning out to be a banner crop of rookie receivers. Evans caught seven passes for 209 yards and two touchdowns in Tampa Bay's 27-7 victory over Washington. That made him the first rookie receiver to post three consecutive 100-yard games with at least one touchdown since Randy Moss did it in 1998.
Evans
Evans had TD catches of 36 and 56 yards.
"I have been around the league for a while and I just know that I haven't been with [a rookie] that's been able to do some of the things he's done," Tampa Bay coach Lovie Smith said.
The news wasn't as good in New Orleans. Cooks caught five passes for 50 yards in the Saints' 27-10 loss to Cincinnati, but the bad news came after the game when it was announced that Cooks suffered a broken thumb and will be out four to six weeks. which could mean the rest of the season.
Here is the latest look at the rookie receivers, which includes two Jaguars -- and potentially three in the coming weeks if
Marqise Lee
increases his production in place of an injured
Allen Robinson
.
They are ranked by targets, which is a true measure of how much a receiver is utilized (44 targets needed to qualify):
Kelvin Benjamin, Carolina (97 targets):
He was targeted 13 times and caught nine passes for 109 yards and a touchdown in the Panthers' 19-17 loss to Atlanta. He leads all rookies with eight touchdown catches and is second in receptions (52, for 768 yards).
Sammy Watkins, Buffalo (84):
He caught just three passes for 32 yards in the Bills' 22-9 loss to Miami. He has 45 catches for 649 yards and five touchdowns.
Allen Robinson, Jacksonville (80):
The Jaguars were off last week but that doesn't matter because he's out for the rest of the season with a stress fracture in his right foot. He has 48 catches for 548 yards and two touchdowns.
Jordan Matthews, Philadelphia (69):
He caught five passes for 107 yards and a touchdown in the Eagles' 53-30 loss to Green Bay. He has 44 catches for 558 yards and six touchdowns.
Mike Evans, Tampa Bay (68):
Evans has 46 catches and leads all rookies in yardage (794) and is second in TD catches (seven).
Brandin Cooks, New Orleans (66):
Cooks might end up finishing his season with 53 catches for 550 yards and three TDs.
John Brown, Arizona (66):
Brown had five catches for 69 yards in the Cardinals' 14-6 win over Detroit. He has 34 catches for 468 yards and five TDs.
Allen Hurns, Jacksonville (55):
The Jaguars were off last week. He suffered a concussion against Dallas on Nov. 9 but has been cleared for non-contact work this week. He has 30 catches for 475 yards and five touchdowns.
Taylor Gabriel, Cleveland (55):
Gabriel was targeted 14 times and caught five passes for 92 yards in the Browns' 23-7 loss to Houston. He has 29 catches for 527 yards and one touchdown.
Jarvis Landry, Miami (54):
He caught five passes for 46 yards and a touchdown in the Dolphins' victory over the Bills. He has 42 catches for 400 yards and three touchdowns.
Odell Beckham Jr., New York Giants (46):
He caught six passes for 93 yards in the Giants' 16-10 loss to San Francisco and has 31 catches for 463 yards and three touchdowns.
November, 18, 2014
Nov 18
11:00
AM ET
A weekly look at what the Buccaneers need to fix:
The Bucs played -- by far -- their best game of the season in Sunday's 27-7 victory against Washington. But they weren't totally flawless.
As we pointed out last week, the team continues to fail to establish a consistent running game. That didn't change against Washington, but we already know the problems are inconsistent blocking and the failure of running backs to hit holes.
But there was an even bigger problem Sunday. It was penalties. The Bucs were flagged 11 times for 101 yards.
Penalties have been a persistent problem all season. The Bucs aren't far off the league leaders with 80 penalties for 620 yards. The penalties have come in virtually all areas.
That's surprising from a team coached by Lovie Smith, who was known for having disciplined teams in Chicago. But the Bucs haven't been very disciplined so far.
They got away with committing a bunch of penalties against Washington. But that's not going to happen every week.
The way to fix this problem isn't all that difficult. It just involves some extra effort. The Bucs need to do a better job of paying attention to discipline and detail to cut down on the penalties.