March, 3, 2015
Mar 3
11:30
AM ET
Join us today at 1 p.m. ET, 10 a.m. PT for NFL Nation TV's Spreecast as we return for episode No. 46 with our sights fully set on free agency.
Host Paul Gutierrez (
San Francisco 49ers
reporter) and co-hosts Coley Harvey (
Cincinnati Bengals
reporter) and Mike Wells (
Indianapolis Colts
reporter) Will be joined by four other NFL Nation reporters throughout the show.
Michael Rothstein (
Detroit Lions
reporter) will take us behind the Lions' decision to avoid franchise-tagging defensive tackle
Ndamukong Suh
, and also give us an idea of where the prized lineman might end up.
Mike Reiss (
New England Patriots
reporter) will join to make sense of New England's decision to place the franchise tag on kicker
Stephen Gostkowski
, instead of potentially doing so with free-agent defensive backs
Darrelle Revis
or
Devin McCourty
.
Todd Archer (
Dallas Cowboys
reporter) will give us an update on the Cowboys' apparent decision to let
DeMarco Murray
, 2014's rushing leader, test the open market.
Sticking with offense, Rob Demovsky (
Green Bay Packers
reporter) checks in to outline why the Packers may be content doing the same with receiver
Randall Cobb
, who reportedly was looking to stay in Green Bay for $12 million a year.
As always, viewers are encouraged to log in and ask the panelists questions as well as contribute in the chat feature.
March, 3, 2015
Mar 3
10:35
AM ET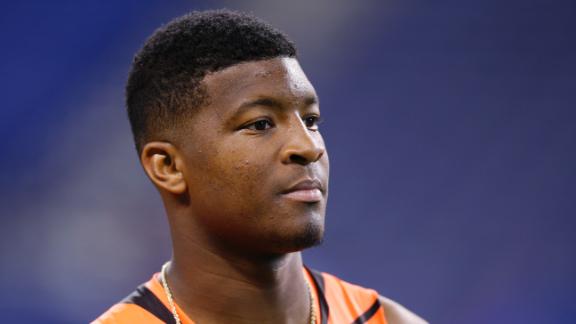 In what might be an unprecedented visit for how early it is occurring, quarterback Jameis Winston is in Tampa, Florida, on Tuesday for an all-day meeting with the Tampa Bay Buccaneers, the team confirmed.
Winston, the former Florida State star, arrived in Tampa on Monday, and will depart Wednesday, a source said. The meetings are largely with Buccaneers ownership, the Glazer family, and the trip is being billed as "Glazer-centric" by another source. It is to see how comfortable the Buccaneers would be using the No. 1 overall pick on Winston.
What's so unusual about this trip is its timing.
Typically prospects don't begin visiting teams until April. People around the league could not remember a potential No. 1 overall pick visiting the team with the top selection this early in the process.
The NFL was made aware of the trip and cleared it, a source said.
Former Oregon star QB Marcus Mariota also is expected to visit the Buccaneers sometime in the next month.
The NFL draft is April 30 to May 2.
March, 3, 2015
Mar 3
8:00
AM ET
TAMPA, Fla. -- There were reports Monday that said the Buccaneers were trying to trade left tackle
Anthony Collins
.
Collins
I wish them luck on that one. I can't see anybody giving up anything for Collins after he was one of the biggest free-agent flops in the league last season.
Signed to a five-year, $30 million contract after spending most of his career as a backup in Cincinnati, Collins flopped so badly that he wasn't even active for the final four games. His run blocking and pass blocking were disappointing and the coaching staff ended up having questions about his attitude and work ethic.
Collins has a base salary of $6 million in each of the remaining years on his contract. I can't imagine any other team wanting to take on that contract.
The more likely outcome is that the Bucs will have to release Collins. That move would save them $3 million against this year's salary cap. Collins might not be the only veteran on the hot seat.
Safety
Dashon Goldson
and punter
Michael Koenen
also could be casualties. Releasing Goldson would save the Bucs $4 million against the cap and cutting Koenen would free up $3.25 million.
March, 2, 2015
Mar 2
12:00
PM ET
The Tampa Bay Buccaneers will likely draft Jameis Winston or Marcus Mariota with the No. 1 overall pick. So how does this type of thing usually work out? We continue our countdown of the 18 quarterbacks who were drafted with the top selection over the past 40 years.
JaMarcus Russell, 2007, Oakland Raiders
Russell is the standard by which all quarterback busts are measured by. Russell came out of LSU with great pedigree. He went 21-4 as a college starter and looked like one of the most athletic quarterbacks ever.
But the signs of trouble started almost immediately. Russell held out of training camp in a contract dispute and didn't sign until the first week of the regular season. He signed a six-year contract that could have been worth up to $68 million, and coach Lane Kiffin decided to bring Russell along slowly. He didn't play until December of his rookie year.
Russell began the 2008 season as the starter and had a few bright moments. But things started going drastically bad in 2009. By midseason, Russell lost the starting job to
Bruce Gradkowski
. Charlie Frye later took over as the starter.
In the 2010 offseason, there were reports that Russell let his weight go as high as 300 pounds. He was released that May. Russell never again played in the NFL.
Final analysis:
Waste of a pick.
March, 2, 2015
Mar 2
8:00
AM ET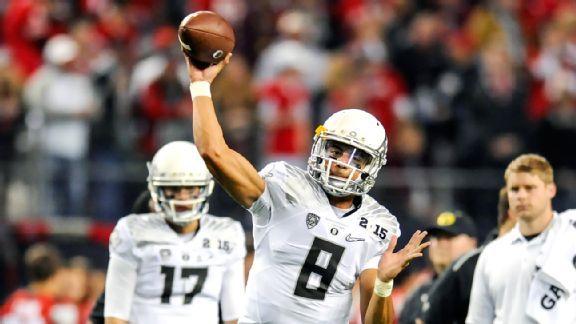 Our weekly look at clues that might reveal whether the Buccaneers are leaning toward selecting Jameis Winston or Marcus Mariota -- or neither -- with the No. 1 pick in the draft:
The rumors started to really fly on Friday. All along, there's been speculation that the
Philadelphia Eagles
might try to trade up for the No. 1 pick in the draft to use it on Oregon's Mariota. It all is logical. Mariota played for Eagles coach Chip Kelly in college and would be a perfect fit in Philadelphia's up-tempo offense. It was pure speculation, I thought.
Until my phone started ringing Friday. Two different members of the Philadelphia media called me to say they were hearing rumblings that a trade was imminent. These are trusted media members and the content of both calls contained the same details.
The Eagles were about to trade quarterback
Nick Foles
, running back
LeSean McCoy
and three first-round draft picks to the Bucs for the No. 1 pick in the draft. It sounded believable.
So I called someone within the Tampa Bay organization that would know if something was cooking. He said the rumor was untrue. Meantime, my friends in the Philadelphia media poked around some more with their Eagles' sources. They got the same response I did. No trade was imminent and no one would say if there even have been any talks between the two teams.
Scrap that rumor -- for now. If something is going to happen, it probably won't come until much closer to the draft. Deadlines push people to action and the draft isn't until the end of April. The rumors are likely to continue to circulate.
But for every reason why such a deal would make sense, there are an equal number of reasons why I don't see it happening.
Let's start with Tampa Bay's side of things. Would the Bucs really part with the No. 1 pick instead of using it on Mariota or Florida State's Winston? I think that might be a stretch. Winston and Mariota might be franchise quarterbacks. The Bucs would be giving up a franchise quarterback and plugging in Foles as the starting quarterback.
That doesn't make a lot of sense. The Bucs had something close to Foles in
Josh McCown
and they let him go. They still have something close to Foles in
Mike Glennon
.
Then there's McCoy. He's a great running back. But the Bucs already have
Charles Sims
and
Doug Martin
. All indications are the coaching staff and front office are deeply invested in Sims, who they drafted last year. I don't see the Bucs suddenly giving up on Sims. Plus, I'm not so sure the Bucs want to take on McCoy's big contract.
The three first-round picks would have to be attractive for the Bucs. They have plenty of holes besides quarterback. But this is where the potential deal hits a major roadblock.
With that in mind, let's flip over to Philadelphia's point of view. No matter how smitten Kelly is with Mariota, the Eagles might not have the firepower to make such a trade. At the moment, the Eagles have the 20
th
overall pick in the draft. That's all they have.
They would have to make another trade first to get another first-round pick for this year. Yes, Philadelphia could offer its first-round picks in 2016 and '17. But the Bucs can't sit around and wait for those drafts. Coach Lovie Smith needs to win now.
Besides, giving up three first-round picks, would mean the Eagles would be mortgaging their future on Mariota. Three picks and two players would be a very steep price.
I'm not saying such a deal can't happen. But let's file that trade away for the moment and wait for something that's stronger than a rumor.
February, 27, 2015
Feb 27
12:44
PM ET
TAMPA, Fla. – Former Buccaneers defensive end Simeon Rice had some strong words about
deserving a spot
in the Pro Football Hall of Fame.
"There's no Hall of Fame without me in it," Rice says. "There's just not. I dominated when I played. There was nobody better at my position. Nobody."
Rice also took an obvious shot at Hall of Famer Michael Strahan.
"I didn't have nobody falling down to help me get sacks," Rice said. "I didn't have that. I had to earn everything I got."
The falling down reference is to Brett Favre allowing Strahan to set the single-season sack record.
Does Rice belong in the Hall of Fame? He was a great pass rusher, collecting 122 career sacks. But Rice wasn't even nominated for the Hall of Fame this year and 113 other people were. You can make the argument that Rice was a one-dimensional player who didn't play the run well.
But there's more to it than that. Rice was a role player in a great Tampa Bay defense. Warren Sapp and Derrick Brooks already are in the Hall of Fame, John Lynch was a finalist this year, and Ronde Barber will have a shot in a couple of years. You can't take every good player from those Tampa Bay defenses and put them in the Hall of Fame.
Had the Bucs won more than one Super Bowl, Rice might have a shot. But one championship doesn't warrant four Hall of Fame players.
February, 27, 2015
Feb 27
8:11
AM ET
TAMPA, Fla. -- If I had to pick one position on offense where I think the Tampa Bay Buccaneers will be most improved next season, I would go with tight end.
That's largely because the Bucs got so little out of the position last year. It also is because there is a player with tremendous upside.
That's
Austin Seferian-Jenkins
. As a rookie last year, Seferian-Jenkins struggled with injuries. He was limited to 21 catches for 221 yards and two touchdowns. But, in the rare time Seferian-Jenkins was healthy, he flashed all sorts of promise as a pass-catching tight end.
Seferian-Jenkins should be healthy heading into this season and that's wonderful news for the entire offense. This guy can do so much more than he did last year. He's 6-foot-5 with good hands and should cause matchup problems for opposing defenses that already have to deal with 6-5 receivers
Mike Evans
and
Vincent Jackson
.
I think Seferian-Jenkins can be a 60-catch tight end in 2015. If he does, it will mean the Bucs will get way more out of their tight ends next season than they did last year.
The Bucs have a couple of other nice role players at tight end.
Brandon Myers
had 22 catches last season and was decent as a blocker.
Luke Stocker
had only seven catches, but was used almost exclusively as a blocker and had to fill in at fullback after injuries wiped out that position.
Stocker can become a free agent in March, but the Bucs need to keep this trio together. Myers and Stocker can handle the blocking duties. And Seferian-Jenkins can give the Bucs a pass-catching threat at tight end.
February, 26, 2015
Feb 26
4:24
PM ET
TAMPA, Fla. -- Former
Tampa Bay Buccaneers
coach Jon Gruden said Thursday that the team has had a good amount of talent in recent years but has been lacking at quarterback.
"Tampa's had [Michael] Bennett as a pass-rusher," Gruden said on Mike & Mike. "He plays pretty well for the Seahawks.
LeGarrette Blount
. They had
Darrelle Revis
. They've had a lot of quality players that didn't play well in Tampa and I think a lot of it goes back to the lack of quality quarterback play. They're not winning games. They can't keep these players. They can't understand why they're not playing great. They have to get the quarterback position right."
The Bucs will have that chance because they hold the No. 1 overall pick in the draft and they have a choice between
Jameis Winston
and
Marcus Mariota
. Gruden sang the praises of both quarterbacks.
He said he believes Winston has learned from past off-field incidents and is ready to be the face of a franchise.
"He's a dynamic kid," Gruden said. "You don't go to Florida State and meet many people that don't love being around Winston. He is a polarizing player for some. Some people can't agree on what he is off the field. I've got a lot of confidence that he's learned some valuable lessons and he knows he's going to be in the spotlight for the rest of his career. It's up to him to get it done."
Gruden also was high on Mariota.
"If you don't like Marcus Mariota, you don't like human beings," Gruden said.
The one common criticism of Mariota is that he spent his college career playing in a spread offense. Gruden said he's not worried about that.
"He's not the offensive coordinator," Gruden said. "It's not his fault. What they do at Oregon is very unique. That type of football is on its way to the NFL. You're seeing more and more no-huddle offenses. You see a lot of intermediate passes from 10 yards and in, which is a big part of Oregon.
"When you watch Philadelphia [which is coached by former Oregon coach Chip Kelly] play offense, you see the
Oregon Ducks
. The No. 1 offense in football the last two years is Philadelphia. So the system works. Mariota can play in that system. Somebody is going to see a (6-foot-4) quarterback with 4.5 speed. This guy is quick, he's smart, he's the most humble, hard-working guy maybe in this draft. I want him on my team. I'll put my system in around him. I think personally Marcus Mariota can play in any system."
February, 26, 2015
Feb 26
3:04
PM ET
TAMPA, Fla. -- Todd McShay's latest mock draft is out and there has been no change at the top.
Winston
Just like in his last mock, McShay has the
Tampa Bay Buccaneers
taking Florida State quarterback
Jameis Winston
with the first overall pick. You can read McShay's reasoning
here

.
I'm in agreement with McShay. Every signal the Bucs have sent so far indicates they're leaning toward Winston over Oregon's
Marcus Mariota
. The on-field reasoning is obvious. Winston has played in a pro-style offense while Mariota has played in a spread scheme. Winston threw the ball as well as everyone expected at the combine.
The question with Winston, however, has to do with his history of off-field incidents. Coach Lovie Smith made a pretty powerful statement when he said he sees no reason why Winston can't be a franchise quarterback.
Smith didn't flat out say the Bucs will take Winston. But the implications of his statement were very strong. The Bucs already have done a lot of research into Winston's past and are comfortable with what they've found.
There still is a long time before the draft and the Bucs will continue to do their homework on Winston. Unless they find out something new about him, it looks like Winston will be the pick.
February, 26, 2015
Feb 26
12:00
PM ET
TAMPA, Fla. -- With the
Tampa Bay Buccaneers
likely using the first overall draft pick on
Jameis Winston
or
Marcus Mariota
, they have a shot at something they have never had before -- a franchise quarterback.
Winston
As the Bucs get ready for their 40th season in the NFL, all you have to do is think for a minute about this team's history at quarterback. It has been filled with instability. The Bucs never have had a quarterback for the long term.
One stat from Elias sums it up. Since 1976, the year the Bucs came into the NFL, the only other team that hasn't had a quarterback make multiple starts in at least seven straight seasons is Detroit. The Lions almost certainly will be off that list in 2015, as long as Matthew Stafford makes at least two starts.
The Bucs never have had a quarterback make more than one start in seven consecutive seasons. The team record is six seasons -- shared by Vinny Testaverde and Trent Dilfer. Neither was what you would call a franchise quarterback. Doug Williams also doesn't qualify as a franchise quarterback, because he wasn't around long enough.
Tampa Bay's next quarterback has a chance to be the first franchise quarterback in team history.
February, 26, 2015
Feb 26
8:07
AM ET
TAMPA, Fla. -- The
Tampa Bay Buccaneers
are expected to announce the hiring of Paul Spicer as assistant defensive line coach.
The move will put Spicer back with defensive line coach Joe Cullen. They worked together in similar roles in Jacksonville in 2012 and '13. Spicer played defensive end for the Jaguars from 2000 to 2008.
Spicer takes the place of Mike Phair, who left to become the co-defensive coordinator at Illinois.
February, 25, 2015
Feb 25
3:16
PM ET
There is a logical place to begin when projecting what kind of jump to expect from the Tampa Bay Buccaneers after they emerged from the 2014 season with two victories and the first pick in the 2015 NFL draft. Teams finishing 2-14 over the decade from 2004 to 2013 averaged 6.1 victories the following season. Many things generally must go wrong for a team to win just twice in a season. The percentages are against it happening to the same team two years in a row.
The Buccaneers will almost certainly improve, in other words, but by how much? The past three teams to pick first overall went from 2-14 the previous season to 9-7 or better in the next. Is it plausible for the Buccaneers to make that kind of improvement? In taking a closer look, I see four reasons Tampa Bay should be on the radar as a team that could make that kind of jump.
---
1. There is precedent for significant offensive improvement with a quarterback drafted first overall.
February, 25, 2015
Feb 25
1:36
PM ET
TAMPA, Fla. – On the surface, Buccaneers running back
Doug Martin
looks very expendable.
He's coming off an unproductive season and the coaching staff seems to have big plans for
Charles Sims
in his second season. The Bucs should be able to get a decent draft pick in exchange for Martin. So why not deal him?
Martin
Because it would be a mistake. I'm not sure Martin ever gets back to being the 1,400-yard runner he was as a rookie in 2012. That sure didn't seem likely last year when Martin gained only 494 yards and averaged 3.7 yards per carry. But some of that had to do with injuries and some of it had to do with poor blocking by the offensive line.
There's no question Sims is a talent. He might be the feature back next season. But the Bucs still need Martin. In the current NFL, you need two quality running backs. Sims isn't the kind of back who can handle 25 carries a game.
The Bucs need Martin to handle some of the carries. Yeah, they have
Bobby Rainey
and
Mike James
. But those two rarely played when Martin and Sims were both healthy last season. Rainey and James are special-teams players who can fill in at running back in a pinch.
Martin is more than that. When healthy, Martin still can be a productive back, especially if he gets some help from the offensive line.
Even if Sims is the main guy going forward, the Bucs still need Martin as insurance.