April, 24, 2014
Apr 24
4:16
PM ET
TAMPA, Fla. – On the 20
th
anniversary of the day the
Tampa Bay Buccaneers
drafted Trent Dilfer, there suddenly is a lot of talk about the team drafting another guy that may or may not be a franchise quarterback.
Manziel
Vaughn McClure's report that the Bucs
seriously are considering drafting
Texas A&M quarterback
Johnny Manziel
with the seventh pick overall has people around the league talking. Unsolicited, the topic came up during a conference call between ESPN draft expert Todd McShay and the NFL Nation reporters.
"I'm surprised by the rumors,'' McShay said at one point.
I followed up by asking McShay to elaborate on why he was surprised at the idea of the Bucs drafting a potential franchise quarterback (something you could argue they've never had despite using early picks on Dilfer and Vinny Testaverde).
"I think they've spent a good amount of money and spent it well,'' McShay said. "They have a need at wide receiver. They have a chance to immediately go to a playoff team from 4-12.''
McShay went on about how Tampa Bay's offseason has seemed to have been steered by a win-now approach. McShay said he thinks the Bucs are fine with current quarterbacks
Josh McCown
and
Mike Glennon
.
McShay said McCown is a perfect "bridge quarterback'' and I agree. McCown is more than serviceable for a year or two. McShay also said he thinks Glennon has some potential and there's no argument here.
That's all very logical and McShay implied that the Manziel talk could be a smokescreen. But what if it's not?
McShay said he's heard the Bucs are "smitten'' with Manziel. That wouldn't be McShay's first choice. He has them taking wide receiver
Mike Evans
at No. 7. Although he wouldn't be a fan of the move, McShay acknowledged the talk could be true if the Bucs truly are high on Manziel.
"I don't think it's a bad idea at all if that's the guy they want,'' McShay said. "I'm just not one of those guys that think he's a top-10 pick. But it's their call. If they think he's the best player in the draft, go get him.''
April, 24, 2014
Apr 24
12:15
PM ET
Todd McShay's
latest mock draft

is out and it's a little different than usual.
In this one, McShay makes the picks he would make and isn't predicting what teams will do. But McShay's pick for the
Tampa Bay Buccaneers
at No. 7 overall isn't a major surprise.
To continue reading this article you must be an Insider
April, 24, 2014
Apr 24
8:00
AM ET
TAMPA, Fla. -- For
Jeff Demps
, the race might not be over just yet. But it's definitely on pause at the moment.
The running back for the
Tampa Bay Buccaneers
is focused solely on football for a change. Demps has put his career as a track and field performer on hold for this year.
Demps
"I'm excited about putting all my effort into football," Demps said.
That's something Demps wasn't able to do in 2012, when he was a member of the United States Olympic team, or last year, when he was competing in the World Championships. Demps said he hopes the "off year" in track can get his football career on solid ground.
Demps has been getting reps at running back during this week's minicamp. But coach Lovie Smith has said Demps also could get a look as a wide receiver or a return man. Demps might be the fastest player in the NFL, and that makes for some tantalizing possibilities if the Bucs can get him into space.
"I like to be in space a lot to utilize my speed," said Demps, who said he has put on about eight pounds this offseason. "If they can get a plan and put me in space, that's great."
But, as I said at the top, Demps' track career might not be over. Demps acknowledged that he might have an interest in competing in the 2016 Olympics.
"If the opportunity exists, we'll see," Demps said. "For now, I'm just focused on football. In 2016, if I get the chance to do it again, I would."
April, 23, 2014
Apr 23
8:30
PM ET
»
NFC
:
East
|
West
|
North
|
South
»
AFC
:
East
|
West
|
North
|
South
»
Predictions
Breakdown:
The
Tampa Bay Buccaneers
are going to find out right away if their many offseason moves have helped close the gap in the NFC South. The Bucs play their three division foes (Panthers, Falcons and Saints) within the first five weeks of the schedule, including the opener at home against Carolina. The Bucs have a Week 7 bye (two weeks later than each of the past two seasons) and they should have a good idea of where they stand by then. A fast start could go a long way toward putting the Buccaneers in playoff contention, because the middle of the schedule potentially could be a little soft. But the Bucs need to be above .500 heading into the final four weeks of the season, because they have road games at Detroit and Carolina, followed by home games with Green Bay and New Orleans. Those final four opponents all have realistic chances to be playoff teams, and a cushion by the end of November could go a long way in helping the Bucs get to the postseason.
Complaint department:
The Bucs get only one nationally televised game, a Thursday night contest in Atlanta. Fans have a legitimate gripe that the Bucs don't get much national attention. But the reality is the Bucs were 4-12 a year ago. If they are going to become media darlings, they need to win some games to start attracting some attention. That Atlanta game also will be the start of a scheduling rarity. The Bucs will play three straight games on the road. They follow the Atlanta game with a trip to Pittsburgh on Sept. 28, and follow that with an Oct. 5 game in New Orleans.
Lovie's homecoming:
The Nov. 23 game at Chicago has a great storyline: Head coach Lovie Smith going against his former team. Smith will downplay the significance of the matchup. But Smith is a proud guy. He might not admit it, but he certainly remembers the Bears fired him after a 10-6 season in 2012. This game will mean a lot to Smith, and he will have the Bucs ready for this one. The bad news is that there is a very real chance this will be a cold-weather game. Nov. 16 at Washington and Dec. 14 at Carolina also could be cold-weather games. Historically, the Bucs have been dismal when playing in cold weather.
Strength of schedule:
19th, .484 |
Vegas over/under

:
7
Buccaneers Regular-Season Schedule (All times Eastern)
Week 1: Sunday, Sept. 7, Carolina, 4:25 p.m.
Week 2: Sunday, Sept. 14, St. Louis, 4:05 p.m.
Week 3: Thursday, Sept. 18, at Atlanta, 8:25 p.m.
Week 4: Sunday, Sept. 28, at Pittsburgh, 1 p.m.
Week 5: Sunday, Oct. 5, at New Orleans, 1 p.m.
Week 6: Sunday, Oct. 12, Baltimore, 1 p.m.
Week 7: BYE
Week 8: Sunday, Oct. 26, Minnesota, 1 p.m.
Week 9: Sunday, Nov. 2, at Cleveland, 1 p.m.
Week 10: Sunday, Nov. 9, Atlanta, 1 p.m.
Week 11: Sunday, Nov. 16, at Washington, 1 p.m.
Week 12: Sunday, Nov. 23, at Chicago, 1 p.m.
Week 13: Sunday, Nov. 30, Cincinnati, 1 p.m.
Week 14: Sunday, Dec. 7, at Detroit, 1 p.m.
Week 15: Sunday, Dec. 14, at Carolina, 1 p.m.
Week 16: Sunday, Dec. 21, Green Bay, 1 p.m.
Week 17: Sunday, Dec. 28, New Orleans, 1 p.m.

April, 23, 2014
Apr 23
3:15
PM ET
TAMPA, Fla. -- With the clock ticking, Tampa Bay defensive end
Adrian Clayborn
doesn't know if the Buccaneers will pick up his fifth-year option.

Clayborn
"You guys know anything?" Clayborn said when asked by the media if he'd heard anything about his future.
The Bucs have been silent on Clayborn's situation so far, but the deadline to exercise the option is coming in early May. Clayborn remains under contract for 2014, but the Bucs have to decide if they want to pick up the option for 2015.
"They'll tell me when it's time," Clayborn said. "Either way, it works out for itself. I still have to have a good year."
That's a healthy attitude for Clayborn to take. With a strong season, Clayborn can write his own ticket as a free agent if the Bucs don't pick up the option.
A first-round pick in 2011, Clayborn has had an up and down three seasons. He started off well, recording 7.5 sacks as a rookie. But he suffered a knee injury early in his second season. Clayborn returned last season, but didn't have the impact he would have liked.
With a new coaching staff, Clayborn is confident he can put his career back on an upward swing.
"It's been a rough two years for me with me being hurt and then last year not playing the way I wanted to," Clayborn said. "I feel like, with this system, it's really prime for me to have a good year. It's up to me to make it happen."
April, 23, 2014
Apr 23
2:10
PM ET
ESPN.com news services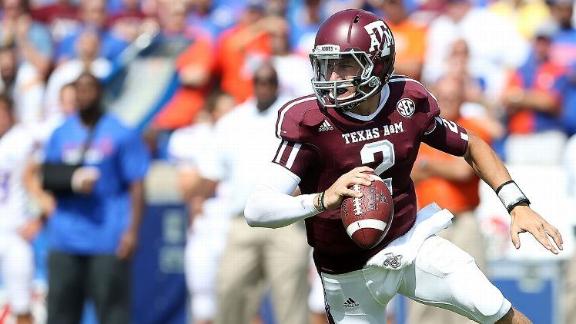 Johnny Manziel is on the short list of players the Tampa Bay Buccaneers are considering with their first-round pick in next month's NFL draft, a league source told ESPN.com's Vaughn McClure.
Manziel is one of at least four quarterbacks the Bucs have hosted for pre-draft visits. The source did not disclose how short the team's list is for its first pick.
The Bucs hold the seventh overall selection and might have to trade up to land Manziel, the former Texas A&M star. Manziel recently was tabbed as the No. 4 overall pick to the Cleveland Browns in ESPN NFL draft expert Mel Kiper's latest mock.
Manziel is viewed as a likely first-round pick by many draft experts, and the Bucs aren't loaded at quarterback.
Tampa Bay signed veteran Josh McCown in the offseason and has Mike Glennon, who started 13 games last season. The Bucs have opened minicamp with McCown taking the first-team repetitions at quarterback, while Glennon has been working with the second team.
McCown played for new Bucs coach Lovie Smith in Chicago. Upon signing McCown, Smith said it still was possible the Bucs could use their first pick on a quarterback.
ESPN.com Buccaneers reporter Pat Yasinskas contributed to this report.
April, 23, 2014
Apr 23
10:00
AM ET
By
ESPN.com staff
| ESPN.com
April, 23, 2014
Apr 23
8:00
AM ET
TAMPA, Fla. -- As a new head coach, Tampa Bay's Lovie Smith still is getting to know his players. But it's obvious he already has developed a comfort level with his running backs.
"I went in there the other day and I asked them if there was a requirement to being under 5-[foot-]10 to be in this room,'' Smith said with a laugh.
With
Doug Martin
listed as 5-9,
Bobby Rainey
at 5-8 and
Mike James
at 5-10, the Bucs may be short at running back. But they aren't short
on
running backs.
"We have three running backs that have a 100-yard game on record,'' Smith said. "That's hard to say for most teams.''
But Smith is inheriting a situation where running back might be the deepest position on the roster. Martin entered last season as the starter. When he went down with a shoulder injury, James took over. After James went out with an injury, Rainey took over as the featured back an prospered.
"I like everything about all of them,'' Smith said. "They can catch the ball, even though they haven't been used that way. They can run inside of the tackles. They have good quickness and can make you miss. They come to work with a smile on their face every day.''
And it might not be hard to keep a smile on the faces of all three running backs. Smith has said he plans to use a rotation at that position.
"As far as how many play, Doug Martin's our starter, but they'll all play,'' Smith said. "We'll let them have their reps.''
April, 22, 2014
Apr 22
4:33
PM ET
TAMPA, Fla. -- From a media standpoint, it's been a shame that
Da'Quan Bowers
hasn't done more on the field.
The guy is one of the best quotes in the Tampa Bay locker room. But, through the first three years of his NFL career, the defensive end hasn't been productive -- or relevant. But, as the Buccaneers began a three-day minicamp Tuesday, Bowers was brimming with confidence as he spoke to the media.
Bowers
"Every year is a crucial year," Bowers said. "But this is a turning point in my career. I expect a lot of good things and I don't think this coaching change could have come at a better time for me."
A turning point in his career? The Bucs would love to see that happen from a guy that once was talked about as the possible first overall pick in the 2011 draft. But there's not a big track record to indicate Bowers can be a special player. He has produced 5.5 sacks over three seasons.
But, like the rest of his teammates, Bowers is getting a fresh start with coach Lovie Smith. It didn't take much reading between the lines to figure out that Bowers wasn't a big fan of former coach Greg Schiano and his defensive scheme.
"I'm not going to go into it," Bowers said. "Just say that we're ready to rush the passer with no restrictions this year. I'm not going to get into last year, but it's a better position for the whole defensive line."
The Bucs signed defensive end
Michael Johnson
as a free agent and he and
Adrian Clayborn
are the likely starters. That means Bowers might be playing for a backup role and maybe even a roster spot as he enters the final year of his contract.
Bowers said he takes responsibility for what's happened so far in his career. He currently weighs 280 pounds and wants to get down to 270 by training camp.
It all sounds good. But is it realistic to expect Bowers to suddenly become a star? Maybe so. But it's April, so there's still room for hope.
"It's a fresh start for everybody, myself included," Bowers said. "Last year was a tough year, not only for myself, but for this football team. Everybody's excited to have a fresh start. I'm looking forward to great things."
April, 22, 2014
Apr 22
1:07
PM ET
TAMPA, Fla. -- The
Tampa Bay Buccaneers
are about to begin the first minicamp practice under new coach Lovie Smith. But All-Pro guard
Carl Nicks
will not be taking part in the drills.
Although the team previously had expressed optimism that Nicks would be able to participate in the offseason program, Nicks said he still is in the rehabilitation process. Nicks missed all but two games last season with a toe injury and a MRSA staph infection. Nicks said he wouldn't try to estimate where his recovery stands, but sounded optimistic he'll get back on the field
Nicks
"I don't know about a percentage," Nicks said. "I'm not a percentage guy. I've never been that guy. But obviously I'm not ready to practice right now. But I feel comfortable saying I'll be back for training camp."
That would be good news for an offensive line that's been overhauled this offseason. But Nicks, who first revealed there was nerve damage to his toe last year, said he might have to play through pain the rest of his career.
"There's some nerve damage, so there's going to be pain, from what I've been told, for the rest of my life," Nicks said.
Nicks said he wasn't sure if the nerve damage was caused by the toe injury or the MRSA.
"That's a good question," Nicks said. "I wish I had the answer."
Nicks said he might return at less than 100 percent, but said he remains confident he'll return to the playing field.
"Lovie told me the other day my 80 percent is still pretty good," Nicks said. "If I'm not 100 percent, hopefully I can get 95 or 99.99 and I'd be happy with it."
Nicks said he's anxious to play again.
"I've got the chicken pox when it comes to that," Nicks said. "Scratching it all the time. Very itchy. I don't want to force it, I don't want to rush it. When I come back I want to be able to play more than two games."
April, 22, 2014
Apr 22
8:00
AM ET
As the
Tampa Bay Buccaneers
begin a three-day minicamp Tuesday, let's explore some of the biggest questions facing the team.
Is there really a competition at quarterback?
Not in minicamp, where most of the time is spent installing the offense.
Josh McCown
will get the first-team work and
Mike Glennon
will work with the second team. If Glennon is going to have any chance at surpassing McCown, he'll have to thoroughly outplay him in training camp and the preseason. Unless the Bucs draft a quarterback in the first round, this is McCown's job to lose.
Will the offensive line be better?
It probably can't be worse than last year when the line's play was a major disappointment. The Bucs blew up that line and they've overhauled it with additions like left tackle Anthony
Collins
and center
Evan Dietrich-Smith
. Still, the biggest question is whether guard
Carl Nicks
, who missed almost all of last season with an injury, can get back to full strength. If Nicks is totally healthy, he might be the best guard in the game and he makes everyone around him better.
Who starts at wide receiver opposite Vincent Jackson?
Let's be brutally honest. That player isn't on the roster yet. The Bucs may open minicamp with someone like veteran
Louis Murphy
running with the first team. But Murphy will be competing for the fourth or fifth receiver spot before all is said and done. This team still needs to add a second and third wide receiver.
Who's the tight end?
The answer to that one may come in plural form. Tim Wright did some nice things as a rookie last season. But Wright is limited as a blocker. That's why the Bucs brought in
Brandon Myers
. He can contribute as a blocker and a receiver. The Bucs aren't likely to use a fullback very often, which means there could be a lot of two-tight-end sets.
Aside from Lavonte David, what's the situation at linebacker?
David is set as the weakside starter, which is the most important linebacker spot in coach Lovie Smith's defense.
Mason Foster
is the favorite to remain the starter in the middle, but he needs to show he can drop into coverage much more frequently than he's done in the past.
Jonathan Casillas
appears to be the favorite to start on the strong side.
April, 21, 2014
Apr 21
2:01
PM ET
If there are any players left in free agency that the
Tampa Bay Buccaneers
want, the team has the means to get them.
According to the latest salary-cap figures, the Bucs are $13 million under this year's cap. They'll need $3 million to $4 million to sign their draft picks and they'll also want to carry some room into the season in case they have injuries and need to bring in replacements.
That means the Bucs still should have somewhere around $7 million to spend on free agents. I wouldn't expect too much activity right now. It's more likely the Bucs will go through the draft and then see if they still have some holes to fill.
And, for those keeping an eye down the road, Tampa Bay is in pretty good cap shape for 2015. At the moment, the Bucs have $104.5 million committed toward a cap that is likely to be over $130 million.