October, 30, 2014
Oct 30
8:00
AM ET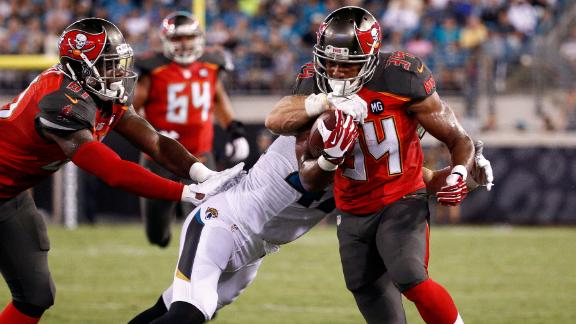 The
Cleveland Browns
play the third game in a trio of games that are, generously stated, against struggling teams. The Browns lost to winless Jacksonville and beat winless Oakland. Now the 1-6
Tampa Bay Buccaneers
come to Cleveland.
The Bucs are like the Browns in that they are adjusting to a new coach. They are like the Browns used to be in that they are searching for a quarterback.
Cleveland is at home, where the temperature is expected to be a decidedly non-Tampa Bay like 40-some degrees.
Bucs reporter Pat Yasinskas and Browns reporter Pat McManamon join to discuss the game.
McManamon:
Tampa Bay comes to Cleveland 1-6. Where exactly have the Bucs improved under Lovie Smith?
Yaskinskas:
That's a great question, and the honest answer is nowhere. Smith seemed like a great hire and has good pedigree with the Tampa 2 defense. The Bucs were active in free agency and they said that's because they didn't want to have to ask their fans to be patient. But none of the free-agent moves really have panned out and it's taking a lot longer for Smith's defensive and offensive schemes to take hold. I never thought I'd say this, but former coach Greg Schiano's bunch from last year might be better than the current Bucs.
The Browns jumped into the national spotlight when they drafted
Johnny Manziel
. But
Brian Hoyer
has been able to hold him off for the starting quarterback job. How is Hoyer playing, and how firm is his grip on the job?
McManamon:
As coach Mike Pettine said last week, good enough to win and be 4-3. Hoyer has hit a bit of a lull, with two off days in Jacksonville and at home against Oakland. But take the entire season together and he's doing well. His rating is more than 90, he doesn't throw interceptions, and he's doing it without
Josh Gordon
and -- for the past two games -- without a running game. Hoyer's only issue is that the Browns drafted Johnny Manziel. Because of that there will always be a vocal minority (or majority?) that will cry for Manziel at every error by Hoyer. He needs to win this game, but in the overall picture his play has been a bright spot for a team few thought would be 4-3 at this point of the season.
Is the Bucs' long-term quarterback on the roster, or will he be drafted in the offseason?
Yaskinskas:
Josh McCown
is 35, so he's out as a long-term answer. But the jury still is out on second-year pro
Mike Glennon
. He has a big arm and some nice intangibles, but he hasn't been met with a lot of success. I think Glennon could be fine if the Bucs improved his supporting cast. But, if this team keeps losing and gets an early draft pick, I think it's going to be tough to not draft a guy that might be able to be a franchise quarterback.
The Browns haven't been able to run the ball effectively the past few games. What's gone wrong?
McManamon:
The easy answer is to say the Browns lost their Pro Bowl center. Without
Alex Mack
the Browns aren't even averaging 2 yards a carry the past two games. Clearly that's a factor. But the other factor is that Jacksonville and Oakland dared the Browns to throw by loading the box with a safety to protect against the run. It's no secret that Kyle Shanahan's offense is built around the ability to run and play-action, so teams are trying to take the run away and negate play-action. Tampa is a Cover 2 team, though. It will be interesting to see if Smith goes against his bread-and-butter and plays eight in the box.
We live in a (Cleve)land where the coach got one season to prove himself last season with the Browns. Is it at all conceivable that would happen with Smith?
Yasinskas:
That's something I've started asking myself recently because it's becoming a legitimate question. Smith signed a five-year contract and ownership still seems high on him. But let's say the Bucs end up 1-15 or 2-14 and have some more embarrassing losses like they did against Atlanta and Baltimore. If the bottom really falls out of this thing, I think it's possible that Smith could get only one year. He needs to get a few wins and show improvement down the stretch.
With Josh Gordon suspended, where do the Browns turn for a receiving threat if banged-up tight end
Jordan Cameron
isn't ready to go?
McManamon:
That's a significant issue, Pat. If Cameron's concussion keeps him on the sidelines the Browns will absolutely have to run the ball. That will help the passing game more than anything. To replace Gordon, the Browns have basically shared the wealth.
Andrew Hawkins
has played more than any receiver and has been a pleasant surprise.
Miles Austin
has come up with big catches and touchdowns. And undrafted rookie
Taylor Gabriel
ranks second in the league in yards per catch (19.8 yards).
Jim Dray
and
Gary Barnidge
would share time in place of Cameron. Both have good hands, but neither can get down the field the way Cameron can. One of Hoyer's strengths is that he can read the field and make a decision quickly, which allows him to spread the ball around. I'd expect that approach to continue.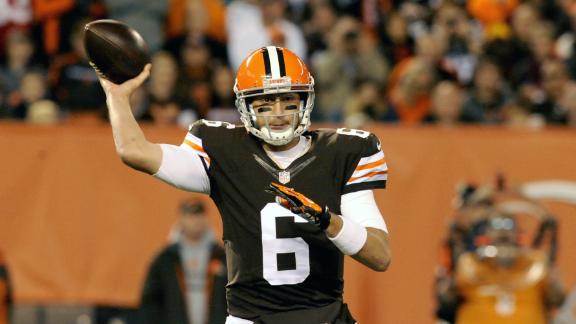 October, 29, 2014
Oct 29
4:39
PM ET
TAMPA, Fla. -- When the
Tampa Bay Buccaneers
traded strong safety
Mark Barron
to the
St. Louis Rams
for a pair of draft picks Tuesday, there was an instant impression among fans that the team was writing off this season and looking ahead to next year.
Wright
McDougald
That's a logical assumption when you're talking about a 1-6 team. But coach Lovie Smith shot down that notion Wednesday.
"There's no truth to it at all," Smith said. "The moves we made we felt like gave us our best chance to win right now as much as anything. Yeah, we picked up a draft pick on both of those players (the Bucs also traded linebacker
Jonathan Casillas
to New England for a draft pick). But, no, it's not about the future. Well, it's always about the future. It's about our current roster. You don't trade players unless you feel pretty good about the other players you have."
The fact is that Barron wasn't the greatest fit in the Tampa 2 defense. Barron is at his best playing in the box and doesn't excel in pass coverage. That helped make Barron expendable.
"We don't want a one-dimensional player as far as pass or run," Smith said. "We're not looking for a safety that can only play the middle of the field and tackle and those things. At the same time, we don't want a player that can only play in the box. We want a guy that can do both."
But there's more to it than what Barron could or could not do. The deal also was made because the Bucs have alternatives at that position.
Major Wright
was with Smith in Chicago and the coaching staff also likes what it has seen out of
Bradley McDougald
. Smith said McDougald has the best run/pass combination of any of the team's safeties.
"We like what Major Wright has been able to do. Major Wright has played as well as any of our safeties and he's got an opportunity," Smith said. "And Bradley McDougald has a bright future ahead of him. That's what allowed us to make those moves as much as anything."
October, 29, 2014
Oct 29
2:14
PM ET
TAMPA, Fla. -- The
Tampa Bay Buccaneers
made a lot of noise in free agency. But those free agents have been quiet so far.
That's a big part of the reason why the Bucs are off to a 1-6 start. Let's take a look at how the free agents are faring:
Anthony Collins:
The Bucs gambled that Collins, a career backup, could be a quality starter at left tackle. So far, things haven't worked out too well. The Bucs have allowed five sacks in each of the last two games. That's not all on Collins, but he's the most important pass protector and the Bucs are struggling in that area.
Dietrich-Smith
Evan Dietrich-Smith:
Much like Collins, Dietrich-Smith spent much of his career as a backup before becoming a starter in Green Bay last year. The Bucs viewed Dietrich-Smith as a player on the rise, but he's been pretty ordinary so far. We've already mentioned the pass blocking and the run blocking hasn't been great either. The center plays in important role in both of those areas.
Brandon Myers:
He's getting playing time in two-tight-end sets, but rookie Austin Seferian-Jenkins is the main pass catcher. Myers has been all right as a role player.
McCown
Josh McCown:
He was brought in as Lovie Smith's hand-picked quarterback. McCown started the first three games and the offense never got into any real rhythm. He suffered a thumb injury in the third game and couldn't throw the football for a month. McCown is healthy again, but the Bucs appear to be sticking with
Mike Glennon
as the starter.
Clinton McDonald:
The defensive tackle was brought in mostly due to his upside as an interior pass rusher. McDonald has done a decent job -- he has 1.5 sacks and has generated pressure.
Michael Johnson:
The Bucs brought this defensive end in to lead their pass rush. Johnson has been disappointing so far with only two sacks. It should be pointed out that Johnson has been playing through an ankle injury most of the season.
Verner
Alterraun Verner:
The cornerback was brought in after the Bucs unloaded
Darrelle Revis
. Verner hasn't been spectacular, but he's been solid. He might be the best signing of this free-agent class.
October, 29, 2014
Oct 29
10:00
AM ET
By
ESPN.com staff
| ESPN.com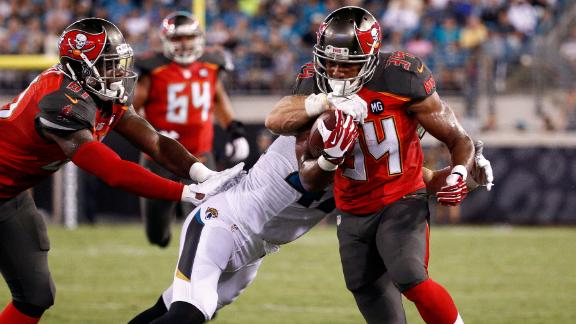 ESPN Buccaneers reporter Pat Yasinskas says rookie
Charles Sims
, who is eligible to return from an ankle injury, can be the all-purpose running back Tampa Bay needs.
October, 29, 2014
Oct 29
8:10
AM ET
TAMPA, Fla. -- With Tuesday's trade of safety
Mark Barron
to the
St. Louis Rams
, the
Tampa Bay Buccaneers
have only three of their own first-round picks left on the roster.
And one of those is defensive end
Adrian Clayborn
, who is on injured reserve. That leaves defensive tackle
Gerald McCoy
and rookie receiver
Mike Evans
as the only two first-round picks getting playing time.
Throw in guard
Logan Mankins
, defensive end
Larry English
and cornerback
Mike Jenkins
, who were drafted in the first round by other teams, and we've got a good stat.
According to ESPN Stats & Information, the Bucs have gotten a combined 1,699 snaps this season from players drafted in the first round. That's the third-fewest in the league.
Jacksonville (1,305) has the fewest and Oakland is second with 1,589. The Bucs, Jaguars and Raiders are a combined 2-20, so there must be something to be said for getting production out of first-round picks.
October, 28, 2014
Oct 28
5:21
PM ET
TAMPA, Fla. -- They talked like they were drafting the second coming of
John Lynch
.
Instead, the
Tampa Bay Buccaneers
of a past regime might have hit on a second
Sabby Piscitelli
.
The current regime was only too happy to give up on 2012 first-round pick
Mark Barron
on Tuesday as the NFL's trading deadline approached. Barron was shipped to the
St. Louis Rams
for fourth- and sixth-round picks in 2015. The
Bucs also traded
reserve linebacker
Jonathan Casillas
to the
New England Patriots
. The Bucs will get New England's fifth-round pick next season and send their 2015 sixth-round pick to the Patriots.
Barron
But it's the trade of Barron that's most significant. The current tandem of coach Lovie Smith and general manager Jason Licht obviously didn't share the same high opinion of Barron that former coach Greg Schiano and general manager Mark Dominik did only two years ago.
Hindsight is always 20-20, but the Bucs could have taken linebacker
Luke Kuechly
with the seventh overall pick in the first round in 2012. Instead, they passed and took Barron. Kuechly won Defensive Rookie of the Year in 2012 and Defensive Player of the Year in 2013 while playing for Carolina.
Barron hasn't been a total bust like Piscitelli, but he has produced only three interceptions in three seasons. Barron never has come close to playing up to his potential.
Barron became expendable in part because the Bucs have a trio of average safeties in
Bradley McDougald
,
Major Wright
and
Keith Tandy
. None of those safeties has as much natural talent as Barron. But Barron's talent wasn't showing in the current system.
Barron also became expendable because he just wasn't as good as advertised. Maybe Barron turns into a force in St. Louis. But he was nothing more than mediocre in Tampa Bay.
Anybody else think the 2012 Bucs should have gone linebacker and drafted Kuechly?
October, 28, 2014
Oct 28
4:17
PM ET
ESPN.com news services
The last-place Buccaneers made a pair of deals prior to Tuesday's trade deadline, sending starting safety Mark Barron to the Rams and reserve linebacker Jonathan Casillas to the Patriots, the teams announced.
The Rams parted with two draft picks to acquire Barron, trading fourth- and sixth-round selections to the Buccaneers, a source told ESPN NFL Insider Adam Schefter.
The Patriots, meanwhile, gave up a fifth-round pick to the Bucs in exchange for Casillas and a sixth-round selection, a source told Schefter.
Barron, the Buccaneers' first-round draft pick in 2012, was the team's second-leading tackler this season, recording 49 tackles in seven games.
But the 25-year-old Barron reportedly struggled at times in the defensive system implemented by new coach Lovie Smith.
Barron could fill another prominent role with the Rams (2-5), who also are in last place and may need to replace starting safety Rodney McLeod, who suffered a knee injury in Sunday's loss to Kansas City.
The seventh overall draft pick in 2012, Barron started all 37 games he appeared in over parts of three seasons with Tampa Bay, which fell to 1-6 with Sunday's overtime loss to the Minnesota Vikings.
To make room for Barron on their roster, the Rams will waive quarterback Case Keenum
October, 28, 2014
Oct 28
11:00
AM ET
A weekly look at what the Tampa Bay Buccaneers must fix:
Slow starts have been a major problem for the Bucs this season.
The numbers paint an ugly picture. The Bucs have been outscored 72-17 in the first quarter and 54-10 in the second.
The problems have been particularly bad on offense. What happened in Sunday's 19-13 overtime loss to the Minnesota Vikings provides a perfect illustration of Tampa Bay's early-game struggles. The Bucs were shut out in the first half and managed only 72 yards of total offense.
"When you're three and out, and three and out, it's hard to get anything going," coach Lovie Smith said.
For most of the season, the offense has failed to get into any sort of rhythm early in games. That's a big part of the reason the Bucs are 1-6.
Smith and his staff have been unable to come up with anything to jump-start the offense. But I think the solution is pretty obvious. The Bucs have outscored opponents 68-33 in the fourth quarter. The Bucs have been playing from behind virtually all season, so they've used the two-minute offense extensively in the fourth quarter.
Quarterback Mike Glennon has been noticeably better when running the no-huddle offense. You can say the same thing about Josh McCown before he got hurt in Week 3.
The Bucs should try opening the game in the hurry-up offense. And they should sprinkle in the two-minute offense throughout.
That concept isn't foreign to Smith. In offseason workouts and training camp, offensive coordinator Jeff Tedford spent a lot of time installing a two-minute offense, and the plan was to use it in more than two-minute situations.
Tedford had a heart procedure at the end of the preseason and ended up taking a leave of absence. McCown got hurt. Somewhere along the way, the Bucs got away from their plan to use the no-huddle offense early in games.
They need to get back to that plan.
October, 28, 2014
Oct 28
8:00
AM ET
TAMPA, Fla. -- If
Gerald McCoy
had waited until March, he might have gotten more money and he might have landed with a good team.
McCoy
Nobody would have blamed the All-Pro defensive tackle. On the surface, he's stuck in a bad situation. The
Tampa Bay Buccaneers
are 1-6 and appear to be headed nowhere.
But McCoy doesn't see it that way and that might be the best news Tampa Bay fans have heard in a long time. As you already know, McCoy signed a seven-year contract extension worth up to $98 million on Saturday. On Monday, the Bucs held a news conference to officially announce the deal and give McCoy his moment in the sun.
Although the Bucs were coming off an overtime loss to the
Minnesota Vikings
on Sunday, McCoy smiled throughout most of the news conference. That's because he sees brighter days ahead.
"A lot of people, you see run from situations like this," McCoy said. "They feel like they're not winning right now or it's not going the way they planned. The best feeling in the world is going to be when we turn this thing around and to know you were a part of it and you didn't run from a challenge. You didn't run from the fight. I love the fight. I don't like fighting, but I love this fight."
And McCoy is at the front of the fight. He's a team captain and he's been asked to be a leader by coach Lovie Smith, general manager Jason Licht and the Glazer family, which owns the team. If he wasn't already, the new contract makes McCoy the face of the franchise.
That's a lot of responsibility, but McCoy is a natural leader. To the outside world, it looks like the Bucs are in disrepair. But McCoy sees things differently.
"It's going to be the greatest feeling in the world to be able to hold that trophy in the air and know that you went through all the hard times and you didn't run from it," McCoy said. "You stuck in there. You hung in there and fought together as an organization and got back to exactly where [Licht and Smith] said we will be. And I believe them. I trust them. We're going to do it together and that's why I signed that paper."
October, 27, 2014
Oct 27
6:15
PM ET
TAMPA, Fla. -- In the latest sign that
Josh McCown
's right thumb is fully healthy, the
Tampa Bay Buccaneers
have released backup quarterback
Mike Kafka
.
Kafka
McCown had been out since suffering the injury in Week 3 and Kafka had served as the backup to
Mike Glennon
. But McCown returned and was on the active roster as a backup during
Sunday's loss to Minnesota
.
Kafka began the season on Tampa Bay's practice squad but was promoted after McCown's injury. If Kafka clears waivers, there's a good chance the Bucs will bring him back to the practice squad.
In other news from the practice squad, the Bucs released wide receiver Eric Page and placed cornerback Derrius Brooks on injured reserve.
October, 27, 2014
Oct 27
4:53
PM ET
TAMPA, Fla. – As you may have come to expect by now, Buccaneers coach Lovie Smith wasn't shedding much light on his quarterback plans on Monday.
Mike Glennon
has been starting since Week 4 and previous starter
Josh McCown
has returned from a thumb injury. With the Bucs at 1-6, there has been speculation that the Bucs might go back to McCown. But Smith wasn't tipping his hand.
Glennon
McCown
"We stand exactly where we stood last week,'' Smith said. "We have two quarterbacks we feel good about playing. Josh was able to go through practice last week. We'll start practice again Wednesday like we normally do. I never go over starting lineups or anything like that until the end of the week. If we were going to make a change, I wouldn't talk about it an awful lot. But the plan isn't for that. I thought Mike did some good things yesterday. You'd always like to have a couple of plays back. The first thing I thought about as far as improving our ball club wasn't we've got to make a change at the quarterback position.''
The part about "the plan'' may make it sound like Smith is going to stick with Glennon. But the part about not talking an awful lot if a change is coming sort of leaves the door open.
Glennon has done some good things while he's been starting. But I think the Bucs should turn things over to McCown. I don't think Glennon has done anything to earn a benching. But I think the Bucs need to shake things up to start getting some wins and consistent production from their offense.
There are a lot of reasons beyond Glennon why the offense hasn't been great and the offense wasn't that great when McCown was playing early in the season. But something has to be done to spark this team and going with McCown might do the trick.
October, 27, 2014
Oct 27
2:11
PM ET
TAMPA, Fla. -- There have been reports that other teams are interested in trading for
Tampa Bay Buccaneers
wide receiver
Vincent Jackson
, and the same goes for running back
Doug Martin
.
Usually, you can shrug off trade rumors because trades don't happen often in the NFL. But I'm not pushing aside the rumblings about Jackson and Martin.
Jackson
Martin
That's because trading one or both of them makes sense. The Bucs, who entered the season saying they planned to win now, have shifted gears and they're talking about how young they are and how it takes time to develop. That's what happens when you get off to a 1-6 start.
It's no longer about this season. It's about next year and that's why Jackson and/or Martin could be expendable. Both players should have decent trade value and it might be wise for the Bucs to start stocking up on draft picks for next season.
Trading Jackson might hurt in the short term because he's the team's best receiver. But, in the big picture, dealing him could make sense. Jackson is 31 and receivers generally start declining in their early 30s. The Bucs already have Jackson's eventual replacement in rookie
Mike Evans
. Jackson also is making $10 million a year and that money could be used toward a number of other areas.
Still, I'll say there's only about a 25 percent chance the Bucs trade Jackson before Tuesday afternoon's deadline. But I'll double the chances on the possibility of a Martin trade.
That one makes more sense than Jackson. Martin clearly is not thriving in the current offensive system. But teams in need of a running back will remember Martin rushed for more than 1,400 yards as a rookie in 2012. He's only in his third season and that could make Martin attractive to other teams because he doesn't have a lot of wear and tear.
Backup
Bobby Rainey
has looked better than Martin this season. And third-round draft pick
Charles Sims
could return from injured reserve as early as this week. Sims was drafted by the current regime, presumably because the powers weren't completely sold on Martin.
As it turns out, they were right. It's become painfully obvious Martin is not a great fit in this offense. With Sims coming into the picture, I don't think that's going to change. If the Bucs can get a decent draft pick in a trade for Martin, they should make the deal.