August, 21, 2014
Aug 21
5:21
PM ET
TAMPA, Fla. --
Tampa Bay Buccaneers
defensive end
Da'Quan Bowers
is a realist.
Bowers
A day after coach Lovie Smith implied that Bowers' roster spot could be in danger because of missed practice time due to a groin injury, Bowers said he knows what is at stake.
"Everybody's on the bubble," Bowers said. "There are a select few guys here that have got their spots. The rest of us are competing for jobs. Nobody's set in stone, definitely not me. I just take that into consideration each and every day."
Bowers said he understood Smith's comments and is doing everything possible to get back on the field as quickly as possible.
"You can't prevent injury," Bowers said. "It happens. Like coach said, any time you can't perform on the practice field it gives someone else another opportunity. When you do get on the practice field, you've got to make your reps count and I think I did a pretty decent job of that this camp with the reps I've gotten in the game and in practice. Like coach said, the only way to perform and compete is to be on the field."
The reality is the Bucs are set with
Michael Johnson
and
Adrian Clayborn
as their starters. They also are high on backups
Steven Means
and
William Gholston
, and newcomer
Larry English
has made a good impression. Before the injury, Bowers had been getting some work as a defensive tackle.
Bowers' best hope of making the roster is to make a good impression at defensive tackle and convince the Bucs he can swing between the two positions.
August, 21, 2014
Aug 21
4:04
PM ET
TAMPA, Fla. -- Last week,
Tampa Bay Buccaneers
coach Lovie Smith stepped out of character and criticized tight end
Tim Wright
for not performing as well as expected.
Wright
This week, it appears as if Smith had a plan to light a fire under Wright. On Thursday, Smith said he's happy with what he's seen out of Wright recently.
"He's responded well,'' Smith said. "Let me go back and talk on Tim. I love Tim Wright as a football player. You go through spells where you don't play your best ball for a short period of time. When I talked [previously], there was a little period of time where Tim hadn't played his best ball.
"But, you look at the big picture, Tim Wright has been a good football player for us. We like what he'll be able to do. There have been other days we've talked about, going forward, what we're going to do with him. You can split him out, the matchups we have with safeties and linebackers. You can catch me at any time and I might be disappointed in a player. But, big picture, no, there's no disappointment with Tim Wright. We like him being on our football team.''
Wright said he was surprised by Smith's comments, but was motivated by them.
"It does, for sure, especially when you're in camp and it's Week 3 and you're grinding and grinding,'' Wright said. "You go in robot mode a little bit. Once you hear those comments, it just drives you more to go out there and try to be even better.''
Wright appears to be back in good graces and I think his roster spot is safe. The Bucs have been using Wright at times as an H-back and he's expected to be an important part of the offense.
August, 21, 2014
Aug 21
2:47
PM ET
The Tampa Bay Buccaneers picked up guard Rishaw Johnson on Thursday in a trade with the Kansas City Chiefs.
In return for Johnson, the Bucs sent safety Kelcie McCray to Kansas City. The move comes as the Bucs continue to search for depth in the middle of their offensive line.
Since Carl Nicks left the team at the start of training camp due to a toe injury, the Bucs have been experimenting with a variety of players at guard. Oniel Cousins and Patrick Omameh currently are at the top of the depth chart. But Johnson, who also can play center, adds some depth.
The Bucs were willing to part with McCray because they have good depth at safety with Dashon Goldson, Mark Barron, Major Wright and Keith Tandy.
Also on Thursday, the Bucs signed guard R.J. Mattes.
August, 21, 2014
Aug 21
8:00
AM ET
TAMPA, Fla. -- Lovie Smith is known as a defensive coach. He also might be a defensive person.

Smith
Smith got a little defensive Wednesday as he talked about why his
Tampa Bay Buccaneers
have been practicing during the hottest part of the day.
"I understand other teams practice early in the day to avoid the heat,'' Smith said. "No, you've got to get ready for it. The only way to get ready for it is to practice in it. We'll continue to do that and it will be an advantage for us.''
Even after breaking training camp, the Bucs have continued to practice in the afternoon. The past two days have been particularly hot with the heat index reaching above 100 degrees.
There's logic behind Smith's practice schedule. The Bucs open the regular season with two home games (against Carolina and St. Louis) that will begin late in the afternoon.
"It has to be an advantage for us,'' Smith said. "I know, I'm new to the area, and you feel the heat. It does make a difference. Late in the year – Green Bay, Chicago, those outdoor teams have an advantage over warm-weather teams that come up. We feel like we have the same. Not feel like. We do. It will affect our game and we need to be ready.''
Smith said the extensive practice in the heat should give his team an edge. Detractors may say Smith runs the risk of wearing his team out.
"I guess they'll think that way and we'll kind of see who ends up getting the better end of it,'' Smith said. "Again, I think you have an advantage when you train in an environment. That's not going to shock us at all and it will shock an opponent.''
August, 20, 2014
Aug 20
7:05
PM ET
TAMPA, Fla. -- Lovie Smith is playing the preseason by the book.
The
Tampa Bay Buccaneers
coach said Wednesday his starters will get extensive play in Saturday's preseason away game against the Buffalo Bills.
"The guys that start the game on our team will play into the third quarter,'' Smith said. "They know that. From there, we'll kind of see how it all works out. What we want to see as much as anything is we're trying to hit on all the different situations. Right now, we've done it for the most part. But now it's about players learning to come in at the half, us to make adjustments and then to finish up strong in that third quarter. So this is a big part of the evaluation for us.''
Playing starters into the third quarter of the third preseason game is pretty much the norm. The starters played the first quarter in the preseason opener and into the second quarter in the second game.
The Bucs have lost their first two preseason games, but they did show some progress from the first to the second contest. Smith said he's looking for one thing Saturday.
"Improved play,'' Smith said. "When you come in as a new staff, we can't set a whole lot of lofty goals. Based on what? We're starting from scratch. For us, we set the bar against Jacksonville. We wanted better play last week and we got that. Now we need to take another big, big step as I see it. We're playing the division champs (the
Carolina Panthers
) to open up the [regular] season. We need to play our best ball. We need to be peaking about that time. We need to see something that we really like this week.''
August, 20, 2014
Aug 20
4:46
PM ET
TAMPA, Fla. -- A few months before the 2011 draft,
Da'Quan Bowers
was being talked about as the possible first overall selection. Now, the fourth-year defensive end might not even make the
Tampa Bay Buccaneers
' roster.
Bowers, who dropped to the second round of the draft due to concerns about a knee injury, has had a disappointing career to this point. There was some thought that the arrival of new coach Lovie Smith might give Bowers a fresh start and help him prosper. But Smith said some pretty revealing things about Bowers on Wednesday. Bowers has been sidelined by a groin injury and missed another practice Wednesday.
"I think every day you don't practice you're hurting your chances," Smith said. "We've seen enough to like Da'Quan a lot, but all the reps that he's not getting, someone else is getting. The best way to beat your competition sometimes is just to stay on the field. You can't get Wally Pipped."
The Bucs have some other young defensive ends (
William Gholston
and
Steven Means
) that they're high on. The Bucs also have experimented some with Bowers lining up at defensive tackle. But the missed practice time obviously hasn't helped Bowers' stock.
"Da'Quan is trying to get back," Smith said. "I think he has a future in the league whether it be as a defensive end outside or more of a third-down rush guy inside."
But there obviously is some doubt that Bowers' future is with the Buccaneers.
August, 20, 2014
Aug 20
1:44
PM ET
TAMPA, Fla. -- If
Solomon Patton
ends up as the return man for the
Tampa Bay Buccaneers
, the team might want to thank Urban Meyer.
Back when Meyer was the coach at the University of Florida, he delivered an important message when he was recruiting Patton.
"He was big on special teams," Patton said. "He was the one that told me about the importance of special teams. During the recruiting process they told me, 'You're going to have to play special teams. A lot of people think they just come in and play their position. You start out playing special teams and you get your chance if you're able to play that position that you want to play.'"
Patton eventually got his chance to play wide receiver, but he spent his first two college seasons working mostly on special teams. If Patton is going to earn a roster spot with the Bucs, he's going to have to start off on special teams.
So far, it looks like Patton has a shot at sticking on the roster. He handled returns in last week's preseason game with Miami. When the depth chart came out for this week's game against Buffalo, Patton was listed as the first-team returner for punts and kickoffs.
"We've been taking a look at a lot of different guys, and the ones that made something happen get another look," coach Lovie Smith said. "It's kind of simple as that with him. We plan on giving him a couple of looks this week on both returns -- kickoff and of course punts, too."
August, 20, 2014
Aug 20
10:00
AM ET
By
ESPN.com staff
| ESPN.com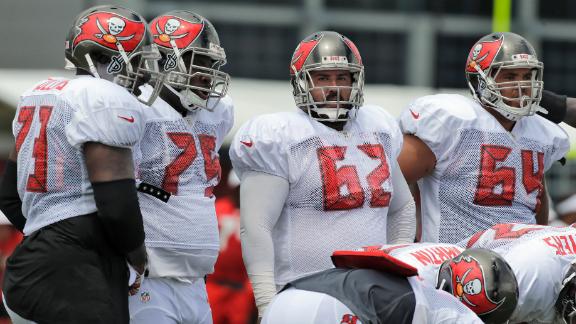 ESPN.com
Tampa Bay Buccaneers
reporter Pat Yasinskas says guards
Oniel Cousins
and
Patrick Omameh
have an opportunity to clinch starting jobs.
August, 20, 2014
Aug 20
8:00
AM ET
TAMPA, Fla. -- The man at the head of the
Tampa Bay Buccaneers
' huddle might not always be there this season.
That's because the Bucs might not always have a huddle and that's fine with quarterback
Josh McCown
.
McCown
In Saturday night's preseason game against Miami, the Bucs unveiled a no-huddle offense in a situation other than a two-minute drill. Coach Lovie Smith has said the Bucs will use the no-huddle offense at times, but he hasn't said how often.
But McCown said he believes there are plenty of advantages to the no-huddle offense.
"The main thing is the pressure it puts on the defense to get their calls in and to get going,'' McCown said. "Sometimes you can build stressors into what you do, things that stress the defense and don't stress you, I think that's a positive. Probably the main thing is it pushes the tempo and forces them to make decisions quicker and for everybody to play faster. Obviously, paramount to that is being able to do that yourself without letting it affect your execution. It's a good tool to have. I don't know how much we'll do it, but it's a good tool to have.''
McCown said one of the main keys to the no-huddle offense is to sustain drives. Short drives can keep your own defense on the field too much.
"That would be the negative to it,'' McCown said. "You could have a quick turnaround, a quick three-and-out. You don't want to do that to your defense. But, not any different than if you were huddling, you still want to be efficient on third down. It does put a premium on converting because you want to sustain drives and get into rhythm and really push the tempo. We've scratched the surface with it. We'll see how much we use it. For me, that's the biggest challenge, transitioning into third downs. Some of the things I've done in the past, I've not always kept the tempo going into third down. So I think it's a good thing because it's a pressure down. But, again, you talk about the things that tempo brings and the stressors that it does for a defense, it may give you an edge.''
August, 19, 2014
Aug 19
4:39
PM ET
TAMPA, Fla. --
Alterraun Verner
was back on the practice field Tuesday, but that doesn't mean the
Tampa Bay Buccaneers
cornerback will be in action with the Bucs at Buffalo on Sunday.
Tuesday marked the first time Verner went through any team drills since he injured his hamstring on the third day of training camp. Coach Lovie Smith said Verner was given a few reps in each period.
Verner
Listening to Smith and Verner, it sounds like the Bucs are going to proceed with caution.
"This is his first work in a long time so we'll kind of ease him back into the mix," Smith said.
Verner said he would like to play this week, but realizes that might not be in his best interest.
"I think they're going to build up to it," Verner said. "It would be kind of negligent if you went straight full bore. You've got to work in slowly. But I'm looking forward to getting back up to speed with everybody else."
Verner said the missed practice time frustrated him.
"Just as a competitor, I want to be out there with the guys," Verner said. "You spend so much time together and you see things happen and you know what they want from us. You can get a lot of mental reps. But there's something different about being in a game and making the tackle and hitting somebody. It's definitely been frustrating."
Even if he doesn't play against Buffalo, Verner made it sound as if he'd like to test the hamstring in the final preseason game.
"I want to be able to do some stuff in this defense," Verner said. "No matter how many mental reps I have, this is something new for me too. I definitely want to get out there."
August, 19, 2014
Aug 19
2:07
PM ET
TAMPA, Fla. -- If
Gerald McCoy
has his way, the current
Tampa Bay Buccaneers
may look a lot like they did in their glory days.
The All-Pro defensive tackle said Tuesday he believes Tampa Bay's defense can be an offensive weapon. He believes the Bucs can score on defense. McCoy said it's up to the defense to set the pace for the rest of the team.
McCoy
"Yeah, we have to because if the other team can't score they can't win," McCoy said. "Who's to say we can't win the game on defense? That's not taking anything away from our offense. I think our offense is awesome. But who says we can't just go win the game on defense? Let's say the offense isn't having a good day. Why can't we take the ball away twice and put it in the end zone? There's no rule that says that can't happen. That's just what we're working towards."
Back in the late 1990s and early 2000s, it wasn't uncommon for Tampa Bay's defense to score or at least set up the offense. The 2002 Super Bowl championship team scored nine defensive touchdowns.
"We have to take the ball away," McCoy said. "We can't depend on the offense to make a mistake. We have to force opportunities and capitalize on them."
McCoy knows the history and he's well aware that coach Lovie Smith's defensive scheme is a lot like what the Bucs used to run. Smith was the team's linebackers coach during the Tony Dungy years. McCoy didn't criticize the system former coach Greg Schiano ran the past two years, but said he really likes Smith's defense.
"We're going to line up and do what we do and make you beat us," McCoy said. "It's really a beat-the-man-in-front-of-me type defense and just be more physical than them. We're not trying to outexecute or outscheme anybody. Just go out there and outplay them."
McCoy repeatedly has been called the team's best player by Smith. McCoy said the coach also has challenged him.
"I've been asked by the owners, the head coach, the GM to take it to another level and to lead this team and that's all I'm trying to do," McCoy said. "In the past, I was asked to lead, but it's a different type of leadership now. Coach kind of put it on my back. I kind of asked him to. You can put it on my back. I can handle it."
August, 19, 2014
Aug 19
8:53
AM ET
TAMPA, Fla. -- The
Tampa Bay Buccaneers
put out a new depth chart Monday night and it's the most realistic one yet.
Evans
First-round draft pick
Mike Evans
is now listed as a starter at wide receiver. Evans had been listed behind
Chris Owusu
on the first two depth charts. But that was just a case of being courteous to a veteran. Evans was getting much of the first-team work by late in training camp and there was little doubt he'd be a starter by opening day.
Another highlight of the depth chart is at guard, where the Bucs have Oneil Cousins with the first team at left guard and
Patrick Omameh
at right guard. That's the same combination the Bucs used in last week's preseason game with Miami. If Cousins and Omameh have decent outings in Saturday's preseason game at Buffalo, they should lock up the starting jobs.
On the defensive side, one thing looks off. The Bucs are listing
Mike Jenkins
as a starting cornerback. Jenkins has been out most of the preseason with a hamstring injury. Second-year pro
Johnthan Banks
has played well in Jenkins' absence.
The Bucs aren't saying it on their depth chart yet, but I think Banks has moved ahead of Jenkins.
August, 18, 2014
Aug 18
3:07
PM ET
TAMPA, Fla. – It's easy to forget that
Tampa Bay Buccaneers
running back
Doug Martin
caught 49 passes as a rookie in 2012. It's so easy that even the new coaching staff and front office came in not counting on Martin as a pass catcher.
"In the offseason, that was an area that we talked about,'' coach Lovie Smith said Monday. "We went into the draft because we thought that was an area where we thought we needed a little bit of help.''
[+] Enlarge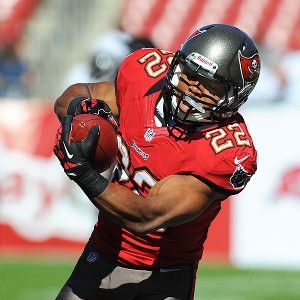 Al Messerschmidt/Getty ImagesDoug Martin has impressed the new coaching staff with his pass-catching ability.
The Bucs used a third-round pick to draft
Charles Sims
, who caught more than 200 passes in his college career. But Sims isn't going to be contributing right away. He suffered an ankle injury last week that's going to keep him out for 12 to 14 weeks.
Along the way, though, the Bucs might have found a running back they're comfortable with as a pass catcher. That's Martin. Smith admitted that part of Martin's game has been better than expected.
"From watching practice, you've seen Doug has caught the ball a lot better,'' Smith said. "As I've said all along, Doug is a good football player.''
Martin takes pride in his ability to catch the ball, and he has put in extra work in that area this preseason.
"Every day at practice during special teams, I had an assistant coach throw me balls and go through different situations and I've done a good job catching the ball,'' Martin said.
Catching the ball is an important role for running backs in coordinator Jeff Tedford's offense. Martin said he got a scouting report on Tedford's offense soon after the coordinator was hired. That came from New England running back
Shane Vereen
, who played for Tedford at the University of California. Vereen told Martin he would enjoy Tedford's offense and Martin said that has turned out to be true.
"That's another reason why I like Jeff Tedford's play book because it has the running back running all types of routes out of the backfield,'' Martin said. "It's definitely going to help me as a player at my position and what I do. You have to be a versatile running back in the league. You can't just run the ball. You have to be able to run the ball, pass block and catch the ball out of the backfield.''
Martin's work as a pass catcher may have come as a pleasant surprise to Smith. But Martin, who rushed for 1,454 yards as a rookie and missed 10 games due to a shoulder injury last season, is going to be asked to do a lot more than catch passes.
"We're going to ask him to catch the ball out of the backfield,'' Smith said. " But the first thing for our tailbacks is they need to get positive yards and make guys miss or run over guys in the open field. We're a balanced offensive attack. We don't get off the bus throwing the football. We need to get production from our running game. Of course, Doug's our bell cow.''