December, 21, 2014
Dec 21
6:54
PM ET
December, 21, 2014
Dec 21
6:35
PM ET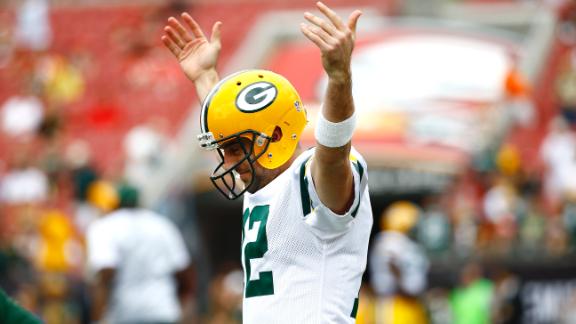 TAMPA, Fla. -- Last January, when he was hired to coach the
Tampa Bay Buccaneers
, Lovie Smith shared one of his most basic philosophies of football. He said if you play strong defense and are solid on special teams, you basically are starting out with an 8-8 record.
It sounded good at the time -- but Sunday's 20-3 loss to the
Green Bay Packers
at Raymond James Stadium ran roughshod over Smith's theory.
The Bucs (2-13) played good defense -- like they've done for a good chunk of the season -- and still didn't stand a chance. Even Smith was adjusting his philosophy after the game.
"This just goes to prove you need more than an OK defense," Smith said. "Defensively, when it's a day like that, you've got to do something and try to jump start the offense. A few more takeaways or something with the special teams. When one part is that bad, you need others to step up their game even more."
Against
Aaron Rodgers
and a high-powered offense, the Bucs held the Packers to 10 points in the first three quarters.
"[The defense] kept us in it," Smith said. "It was a 10-3 game for a long period of time with very little offensive production. This is where we are right now. We're not always going to be down like this."
Smith's optimism is nice. But there is little basis for it from an offensive perspective. And, despite Smith's philosophy, it takes a lot more than good defense.
"To see the defense play the way they played, it's frustrating," quarterback
Josh McCown
said. "We have to be better than that."
It's hard to be any worse than the Bucs were on offense. They went three-and-out on their first five offensive possessions. They finished with just 109 yards of total offense. They were 4-for-14 (29 percent) on third-down conversions.
"Offensively there was nothing," McCown said.
That's not an understatement. The Bucs finished with 16 yards rushing. Standout receivers
Mike Evans
and
Vincent Jackson
were kept in check. McCown was sacked seven times.
"Who is it?" Smith said when asked what's wrong with the offense. "Who's the culprit? It's all of the above."
Smith's right. Tampa Bay's problems can be blamed on the entire offense. The play of the line has been poor all year. The running game rarely has gotten on track. And McCown (12-for-26, 147 yards) has been struggling to complete 50 percent of his passes.
"It's a combination," Smith said. "We're not playing good enough football up front, pass blocking or running. It's tough when you have less than 20 yards rushing. Of course, when you pass and you can't really protect, and quarterback-wise there's some decisions we'd like to have back. It's a combination of all right now. To blame it all on one particular area wouldn't be right."
Aside from Evans and Jackson, the Bucs need to overhaul their offense in the offseason. The defense is fine. But, as Smith has found out this season, it takes a lot more than defense to win.
December, 21, 2014
Dec 21
6:28
PM ET
TAMPA, Fla. -- Seven people were transported to St. Joseph's Hospital after lightning struck in a parking lot near Raymond James Stadium after Sunday's game between the Buccaneers and Packers.
A Tampa Fire Department official said there was an "indirect lightning strike" in Parking Lot 14 minutes after the game ended and multiple people were knocked to the ground by the force.
The official said four or five other people were knocked down, but declined to be transported to the hospital.
Medics that were staffing the game were the first to arrive on the scene and begin treating the injuries. The official said the age of those who were transported ranged in age from early 20s to above 70.
The conditions of those hospitalized were not available immediately.
December, 21, 2014
Dec 21
4:53
PM ET
TAMPA, Fla. -- Seen and heard in the
Tampa Bay Buccaneers
' locker room after a 20-3 loss to the
Green Bay Packers
:
McCown
Raymond James Stadium seemed to have more Green Bay than Tampa Bay fans. There were green jerseys all over and the crowd was loud in a Green Bay sort of way. Coach Lovie Smith said he wasn't upset that so many Packers fans filled the stadium. "They've taken it over before," Smith said. "We'll have our day."
Quarterback
Josh McCown
talked about something everyone else has avoided all season: the departure of offensive coordinator Jeff Tedford, who had a heart procedure at the start of the season and took a leave of absence before leaving the team for good. "There are no excuses," McCown said. "But there's a reason why 31 other teams have an offensive coordinator."
McCown was sacked seven times. The offensive linemen took the blame in the locker room. But tackle
Demar Dotson
made a good point when he said the line should have gotten tired of watching the quarterback get beat up months ago.
December, 21, 2014
Dec 21
3:47
PM ET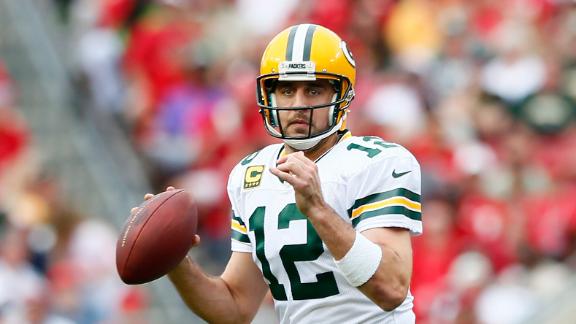 TAMPA, Fla. -- Thoughts on the
Tampa Bay Buccaneers
' 20-3
loss
to the
Green Bay Packers
on Sunday at Raymond James Stadium.
What it means:
The Bucs fell to 2-13 overall, which puts them one loss away from the worst record this franchise has had since 1986. This one came as no surprise. The Bucs were in the game most of the way, thanks to a strong outing by the defense. But, as has been the case all season, the Tampa Bay offense was dreadful. The Bucs opened the game with three-and-outs on their first five possessions. Now, it's time for the good news: The Bucs remain on pace to earn the first pick in the 2015 draft.
Stock watch:
Defensive end
Michael Johnson
, who was one of the team's top free-agent signings, made some noise for a change. He had a sack with a forced fumble in the first quarter, but Tampa Bay's offense was unable to take advantage of good field position. That marked Johnson's fourth sack of the season and his first since a Nov. 16 game at Washington. Johnson has taken lots of criticism from fans. But it should be noted he has been playing through injuries most of the season. Sunday's sack might have been an indication of what Johnson can do when he's healthy.
Game ball:
On a day when there weren't many positives, wide receiver
Vincent Jackson
was a bright spot. He had three catches for 60 yards.
What's next:
The Bucs finish out their season next Sunday at home against the
New Orleans Saints
(6-9).
December, 21, 2014
Dec 21
11:37
AM ET
TAMPA, Fla. -- For the second straight game,
Tampa Bay Buccaneers
offensive tackle
Anthony Collins
is a healthy inactive.
A high-priced free agent, Collins has had a disappointing season and has fallen out of favor with the coaching staff.
Demar Dotson
, who has spent his career at right tackle, will start on the left side for the second straight week. The Bucs want to see if Dotson can be the long-term answer on the left side.
The other inactives for the Bucs are receiver
Robert Herron
, receiver
Solomon Patton
, running back
Mike James
, cornerback
Isaiah Frey
, defensive end
Lawrence Sidbury
and tight end
Evan Rodriguez
.
December, 20, 2014
Dec 20
12:00
PM ET
Five things to watch for in Sunday's game between the
Green Bay Packers
and
Tampa Bay Buccaneers
.
Rodgers
Aaron Rodgers:
He might be the best quarterback in the league, but Green Bay's Rodgers doesn't have a great history when it comes to playing games in Tampa. He is 0-2 in two starts at Raymond James Stadium. Rodgers has thrown three interceptions in a game three times in his career. Two of those came in games in Tampa.
Green Bay's road woes:
The Packers are undefeated at home this season, but they haven't been very good on the road. They are 3-4 away from Lambeau Field. Green Bay is averaging 21.1 points per road game and scoring 41.1 points per home game. The Packers have lost seven of their past eight games in Tampa. Their last road win against the Bucs came in 2003.
Tampa Bay's home woes:
The Bucs are 0-6 at home this season. The only time the Bucs have gone winless at home over an entire season was in 1976, the franchise's first year.
Mike Evans:
After a stellar start, the rookie wide receiver has cooled off recently. In his past four games, Evans has just 154 receiving yards.
Demar Dotson vs. the Green Bay pass rush:
Dotson will make his second straight start at left tackle after spending his career on the right side. The Bucs have given up on
Anthony Collins
, who didn't play well after he was signed as a high-priced free agent. The team wants to see if Dotson can be the long-term answer at left tackle.
December, 19, 2014
Dec 19
10:33
PM ET
Associated Press
[+] Enlarge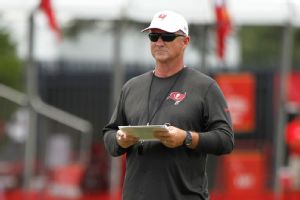 Kim Klement/USA TODAY SportsJeff Tedford was released from his contract with Tampa Bay earlier this month.
VANCOUVER, British Columbia -- Jeff Tedford has returned to the CFL.
The former University of California coach took over as head coach of the B.C. Lions on Friday. He replaced Mike Benevides, fired following B.C.'s 50-17 loss to Montreal in the East Division semifinal.
The 53-year-old Tedford was hired to be the Tampa Bay Buccaneers' offensive coordinator this season, but left the team during the preseason to undergo a heart procedure. He was released from his contract earlier this month to "pursue other opportunities."
Tedford played six seasons in the CFL as quarterback with Hamilton, Calgary, Saskatchewan and Winnipeg and was an assistant under Lions general manager Wally Buono in Calgary from 1989 to '91.
"I've always had fond memories and a soft spot in my heart for the CFL, both as a player and a coach," Tedford said. "I had great times doing both."
Tedford was 82-57 from 2002 to '12 at Cal, where he coached Green Bay star Aaron Rodgers. Before joing the Bears, he was offensive coordinator at Fresno State and Oregon.
December, 19, 2014
Dec 19
2:04
PM ET
TAMPA, Fla. -- This might not be what some
Tampa Bay Buccaneers
fans want to hear.
With the Bucs currently in position to claim the top pick in the 2015 NFL draft more than a few fans have said the team should use its last two games to make sure it ends up No. 1. That may happen, but it's not going to take place without a fight from the Bucs.
Coach Lovie Smith said Friday his team isn't about to give up to the
Green Bay Packers
on Sunday (and the
New Orleans Saints
in the season finale) in order to assure the No. 1 pick.
"A great friend of mine, Herman Edwards, said you play the game to win," Smith said. "I'm going to leave it at that. Every time you compete, that's how it goes. Our football team is going out there and they're going to give it their best shot. If we were 12-2 right now, I would be disappointed if we didn't get the same effort. That's what we're trying to do. What pick we end up, that will work itself out."
Smith said he hasn't heard that kind of chatter. When informed that it exists, he seemed stunned.
"As a football coach do you believe in telling your guys it's not important we win, is that what they're asking?" Smith said.
I wouldn't expect any other answer from Smith. Despite his team's 2-12 record, the coach and his players are competitors and they're going to show up. Smith said his team is looking forward to playing the Packers.
"Great opportunity in front of us with who we're playing," Smith said. "We know all the names. We realize Green Bay is Green Bay and how they travel and all that. What a great opportunity for us."
December, 19, 2014
Dec 19
12:00
PM ET
The Buccaneers are headed for territory they haven't been in for a long time. At 2-12, they have a chance to finish with two or fewer wins for the first time since 1986 (the year they drafted Bo Jackson and he decided not to play football).
The Bucs are the only team in the NFL that hasn't won at home this season. The only time the Bucs went the entire season without a home win was in their expansion season, 1976.
Even if the Bucs figure out a way to keep this one close (which I doubt), their odds of winning aren't very good. The Bucs have played an NFL-high nine games that were decided by eight or fewer points. They're 1-8 in those games.
Lastly, I don't like the matchup between quarterbacks
Aaron Rodgers
and
Josh McCown
. Rodgers has played like a legitimate MVP candidate. McCown has not. McCown has thrown an interception on 4.3 percent of his pass attempts this season -- the second-worst rate in the NFL. Curiously, McCown threw an interception on 0.4 percent of his passes last season when he was playing for Chicago, which ranked best in the NFL.
My prediction:
Packers 34, Buccaneers 14
December, 19, 2014
Dec 19
8:00
AM ET
TAMPA, Fla. --
Gerald McCoy
's season is over, but that doesn't mean the
Tampa Bay Buccaneers
All-Pro defensive tackle has stopped talking.
McCoy, who will miss the rest of the season with a knee injury, held court with the media Thursday and he talked – at length – about Sunday's matchup with the
Green Bay Packers
and he heaped praise on their quarterback.
"I'm one of
Aaron Rodgers
' biggest fans,'' McCoy said. I know it's bad to say as a defensive lineman, but I am. I've been wanting to play against the guy since I got drafted. He's arguably not just the best quarterback, but the best player in the NFL. From his athleticism to his smarts. I'm just an Aaron Rodgers fan. I've just been wanting to play against him.''
McCoy has never played against Rodgers and he admires the Packers the way he admires their quarterback.
"This team is a potential Super Bowl team and one of the top offenses in the league,'' McCoy said. "Those type of moments don't come along real often. For me, I love this game so much and I'm such a huge competitor I'm just missing the fact that I get to play against a team of this caliber or against a quarterback such as Aaron Rodgers.''
McCoy likes to pattern himself after Hall of Famer Warren Sapp, who enjoyed a healthy rivalry with another Green Bay quarterback: Brett Favre.
"[Sapp] got to play against Favre all the time,'' McCoy said. "It's not like I have bad ones. I get to play against
Drew Brees
twice a year. But, Aaron Rodgers, I'm just a fan of his. I hate that I have to miss this because this will be my second time missing the opportunity to play against him. Hopefully it will come around again.''
December, 18, 2014
Dec 18
3:33
PM ET
TAMPA, Fla. -- In a season in which he finally has shown he belongs in the NFL, it's only fitting that
Tampa Bay Buccaneers
linebacker
Danny Lansanah
gets a chance to play against the
Green Bay Packers
.
Lansanah
The Packers are Sunday's opponent for Tampa Bay. They also were the first of several teams to tell Lansanah he didn't belong in the NFL. Back in 2008, Lansanah made Green Bay's roster as an undrafted free agent out of the University of Connecticut.
That didn't last long. Lansanah was cut after five games and that started a path that led to several unsuccessful attempts to make another NFL roster. At one point, Lansanah played in the United Football League.
All these years later, Lansanah still remembers that the Packers showed him the door.
"Yeah, there is definitely some motivation," Lansanah said. "I'm definitely going to try to put my best foot forward and show those guys that they missed out on a good player. I'm definitely going to talk trash. I've got a lot of friends that still play there."
But Lansanah said he benefited from his Green Bay experience.
"I learned a lot," Lansanah said. "I played with A.J. Hawk. He's one of the best linebackers in the league. He taught me a lot. And [linebackers coach Winston] Moss, they were there my first year in the league and they set the foundation for me and I appreciate it. But I'm here and I'm ready to play those guys."
Lansanah, understandably, has a chip on his shoulder after bouncing around so much. But he finally has found a home in Tampa Bay. Lansanah began this season as the backup to
Jonathan Casillas
at strong-side linebacker. But Lansanah performed so well that the Bucs dealt Casillas at the trading deadline. That elevated Lansanah to a starting job and he's produced.
Lansanah has 74 tackles, 1.5 sacks and three interceptions. With
Mason Foster
sidelined with an injury recently, Lansanah has filled in at middle linebacker, where he has drawn solid reviews from the coaches.
"All three linebacker spots are different," Lansanah said. "I consider myself a good athlete. I think I'm good at all three of them. I played middle linebacker in college and we favored the Tampa Two a lot, so there's a lot of carryover from college. It wasn't a big transition for me at all."
That's led to speculation that Lansanah could move permanently to middle linebacker because Foster is scheduled to become a free agent after the season. Or Lansanah could return to the strong side. Either way, his roster spot is a lot more secure than it was in his Green Bay days.
December, 18, 2014
Dec 18
1:52
PM ET
TAMPA, Fla. -- When he came here in 2011, there was hope that
Da'Quan Bowers
would blossom into one of the league's best defensive ends.
Now, he is auditioning just to prove he belongs in the NFL. The final two games of the season mark Bowers' last chance to show something. He will be a free agent after this season, and this is his last chance to convince the
Tampa Bay Buccaneers
to re-sign him. It's also a chance to show other teams what he can do.
Bowers
Bowers, who moved from defensive end to defensive tackle this season, probably will get more playing time in the final two games than he has all season. That's because All-Pro defensive tackle
Gerald McCoy
is out for the rest of the season with a knee injury.
The 2-12 Bucs obviously are out of the playoff picture, but they will be watching Bowers closely, because they have to make a decision on whether or not to keep him around.
"You like to see a guy who can be physical at the point of attack," defensive coordinator Leslie Frazier said. "We'll probably get more runs at that position than we have all season because of Gerald not playing. He'll have an opportunity to show his teammates and his coaches what he's able to do in an extended period. We saw a little of that last week when Gerald went down early. [Bowers] got in a few more snaps and he found out the importance of conditioning. We need to see if he can pass rush, we need to see him go down in and down out and really do the things we ask him to do in run defense as well. It's a great opportunity for him. He'll be able to showcase that he's capable of being a quality NFL starter."
Once talked about as the potential No. 1 pick in the 2011 draft, Bowers' stock slipped because of concerns about his knee. The Bucs took a shot on him in the second round. But Bowers was a non-factor, recording just 5.5 sacks in his first three seasons.
But when coach Lovie Smith arrived this season, the expectations for Bowers weren't the same as before. Gradually, Bowers was moved from defensive end to defensive tackle, and he's handled the transition well.
"It's a totally different position even though you're playing on the defensive line," Frazier said. "The blocking schemes are a lot different than when you're a defensive end. Sometimes there are two people blocking you, with a guard and a tackle versus a tight end or a tackle at defensive end. Based on our needs, he fits the situation. He did a good enough job for us a week ago. We've been playing him inside throughout the season. We've also had him outside. But, at this point, he's probably exclusively an inside player for us because of the circumstances."
The circumstances are that Tampa Bay is light on healthy defensive tackles. That means Bowers will get a lot of playing time, and he will have a chance to influence whether the Bucs decide to keep him around.