September, 14, 2014
Sep 14
11:25
PM ET
September, 14, 2014
Sep 14
11:04
PM ET
TAMPA, Fla. -- It was hard to find a bright spot for the
Tampa Bay Buccaneers
in their
19-17
loss to the
St. Louis Rams
on Sunday.
Rainey
Difficult. But not impossible.
There was one very bright spot.
That was running back
Bobby Rainey
. He rushed for 144 yards on 22 carries and was Tampa Bay's only consistent offensive weapon.
Rainey was filling in for starter
Doug Martin
, who sat out with a knee injury. But Rainey's performance shouldn't be a surprise. He did a nice job last season when Martin and
Mike James
were hurt.
Rainey had two 100-yard games last season. Sunday's rushing total represents the second-best output of Rainey's career. His high was 163 yards against Atlanta last season.
"Bobby was awesome," quarterback
Josh McCown
said. "I wasn't here last year, but they told me about Bobby when he filled in and carried the ball well. He certainly was that today. He was a great spark."
But Rainey wasn't joyous about his performance.
"It doesn't matter when we lose," Rainey said. "You can have all the yards that you want. You still have the team come up with a loss. It means nothing."
September, 14, 2014
Sep 14
9:22
PM ET
TAMPA, Fla. -- Don't blame the referees or the dazed rookie wide receiver. And don't try to write this one off on the kicker or the multiple injuries.
What happened in the
Tampa Bay Buccaneers
' 19-17
loss
to the
St. Louis Rams
has a culprit. It's coach Lovie Smith and his staff.
"We, as a staff, need to do a better job," Smith said.
That might be the only thing Smith got right Sunday. In a very winnable game against a team with a third-string quarterback (
Austin Davis
), Smith and his staff made all the wrong moves. Or if you want to put it another way, they got way too conservative.
Since his arrival in Tampa Bay in January, Smith frequently has talked about how spending last year out of football helped make him a better coach. Maybe Smith needed just a little more time off to discover that this is 2014. It's not 2006, the season he took the
Chicago Bears
to the Super Bowl.
The game has changed. But, on Sunday, it didn't look like Smith had changed at all. He stuck to his vintage Chicago philosophy -- play great defense, do some special things on special teams and produce just enough offense to get by.
But none of that worked against the Rams. The Bucs didn't play great defense. On special teams, they had a punt and a field goal blocked. And the offense? It made the most conservative high school offense look wide open.
Start with the Bucs, who had three timeouts left, but let the clock run out at the end of the first half. Smith said he didn't want to put the Bucs in more of a "hole." They were trailing 10-7 at the time. Why not show a little faith in quarterback
Josh McCown
?
Well, maybe it was because McCown already had thrown a bad interception. But McCown is Smith's hand-picked quarterback. And how do you explain the Bucs electing to run -- and not pass -- twice on third down in the fourth quarter?
Does Smith lack confidence in McCown?
"I hope not," said McCown, who completed 16 of 21 passes for 179 yards and ran for two touchdowns.
Even with all the questionable moves, the Bucs still had a shot to win the game at the end. On a last-gasp drive, McCown completed a deep pass to rookie
Mike Evans
. The play might have put the Bucs in position for a game-winning field goal.
But Evans took a massive hit and was down on the field. When a player is injured with less than two minutes remaining and his team is out of timeouts, the referees are supposed to run 10 seconds off the clock. There were eight seconds left when the refs blew the whistle and announced that the game was over.
"You don't lose a football game on just one play," Smith said.
That's true. The Bucs lost a football game because they were too conservative and playing not to lose.
September, 14, 2014
Sep 14
8:47
PM ET
TAMPA, Fla. -- A few locker-room observations after the
Tampa Bay Buccaneers
'
19-17 loss
to the
St. Louis Rams
at Raymond James Stadium on Sunday.
Evans

No one was putting blame on rookie receiver Mike Evans. He caught a deep pass and took a huge hit in the final seconds. Evans was shaken up. Although tight end Brandon Myers was trying to get Evans on his feet, the officials declared him an injured player and, by rule when a team has no timeouts, ran off the final seconds of the clock.
Coach Lovie Smith's honeymoon period might be over. He took some tough questions about playing the game conservatively.
Injuries are going to be a big story as the Bucs get ready for Thursday night's game at Atlanta. Defensive tackle Gerald McCoy (hand) and middle linebacker Mason Foster (shoulder) highlighted a list of Tampa Bay players who had to leave the game due to injuries.
September, 14, 2014
Sep 14
7:46
PM ET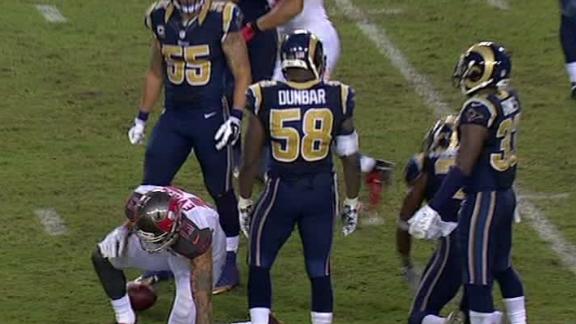 TAMPA, Fla. -- A few thoughts on the
Tampa Bay Buccaneers
'
19-17 loss
to the
St. Louis Rams
on Sunday at Raymond James Stadium.
What it means:
This isn't a full-fledged disaster, but it's entering that territory. The Bucs are 0-2 -- with both losses coming at home. Based on what we've seen out of them so far, there's no reason to think they can win their three upcoming road games (Atlanta, Pittsburgh and New Orleans). This loss was particularly painful because it came against a mediocre team that was playing a third-string quarterback (
Austin Davis
).
Stock watch:
Defensive tackle
Clinton McDonald
was an offseason signing as a free agent. That's looking like a good move. McDonald played the run well and had an impressive third-quarter sack of Davis. Unfortunately, the Bucs didn't get much of a pass rush from anywhere else.
Big injury:
There was no official news yet, but the hand injury suffered by All-Pro defensive tackle
Gerald McCoy
appeared serious. McCoy briefly tried to return to the game with heavy wrapping on the hand. But that was short-lived and he left the game for good near the middle of the second quarter. If McCoy is going to miss any significant time, it could be devastating for the Bucs. He's their best player and the team's unquestioned leader.
Honoring Brooks
: One of the day's highlights came at halftime when the Bucs inducted Hall of Famer Derrick Brooks into the team's Ring of Honor and retired his jersey (No. 55). Brooks also was presented with his Hall of Fame ring.
Game ball:
Tampa Bay running back
Bobby Rainey
. He got the start in place of an injured
Doug Martin
and responded with a 144 rushing yards.
What's next:
The Bucs face a quick turnaround. They play at Atlanta on Thursday night.
September, 14, 2014
Sep 14
5:26
PM ET
TAMPA, Fla. - Buccaneers All-Pro defensive tackle Gerald McCoy left Sunday's game against St. Louis with a hand injury and will not return.
McCoy left the game briefly and went to the locker room. He came back with his hand heavily wrapped and re-entered the game. But that was only for a brief moment and he came back off the field just before the game was delayed by lightning in the second quarter.
The game was stopped with 6:03 remaining in the half and the score tied 7-7. Officials estimated the game will be delayed about 30 minutes.
September, 14, 2014
Sep 14
2:55
PM ET
September, 14, 2014
Sep 14
1:15
PM ET
ESPN.com news services
[+] Enlarge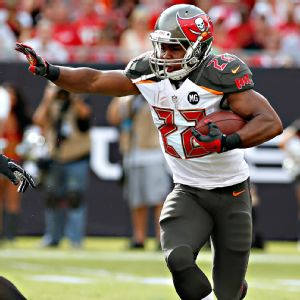 AP Photo/Brian BlancoDoug Martin suffered a knee injury in Tampa Bay's season-opening loss to Carolina.
Tampa Bay Buccaneers running back Doug Martin is inactive and will not play Sunday against the St. Louis Rams.
Martin suffered a knee injury in Tampa Bay's season-opening loss against the Carolina Panthers and had previously been listed as questionable for Sunday's game.
The Buccaneers announced that Bobby Rainey will start.
After an outstanding rookie year in 2012, Martin rushed for just 456 yards last year before suffering a season-ending shoulder injury after six games.
The 25-year-old Martin ran for just nine yards on nine carries last week against Carolina. Rainey filled in, gaining just 20 yards from scrimmage but hauling in a touchdown catch.
The 5-foot-8 Rainey was productive last season as a replacement for Martin, rushing for 566 yards and five touchdowns.
September, 14, 2014
Sep 14
7:00
AM ET
Three things to watch in Sunday's game between the
Tampa Bay Buccaneers
and the
St. Louis Rams
:
The offensive line.
The Rams sacked
Mike Glennon
seven times when the two teams played last season. New starter
Josh McCown
is more mobile than Glennon, but the St. Louis pass rush still has the potential to do lots of damage. The fact Tampa Bay's offensive line has been completely overhauled might only help the Rams. This offensive line hasn't had much time together to develop chemistry and the Rams may be able to exploit that.
Doug Martin.
The "bell cow'' of Tampa Bay's offense gained just 9 yards on nine carries in the season-opening loss to Carolina. The lack of anything close to a productive running game threw the entire offense out of kilter. The Bucs need to get Martin on track. If they do, that might force the Rams to not devote so much energy to the pass rush.
The vertical passing game.
There was a lot of noise in the preseason about Tampa Bay's plus-sized receiving corps of
Vincent Jackson
,
Mike Evans
and tight end
Austin Seferian-Jenkins
. But that trio was pretty quiet in the opener. The Bucs have a tremendous size advantage over any secondary and they need to start taking advantage of it.
September, 12, 2014
Sep 12
3:54
PM ET
TAMPA, Fla. – The news on the
Tampa Bay Buccaneers
' injury front for Sunday is mixed.
Let's start with the good news: Running back
Doug Martin
and guard
Logan Mankins
each practiced for the second straight day. They're listed as questionable, but coach Lovie Smith sounded optimistic about their chances of playing against St. Louis. Defensive end
William Gholston
also practiced fully after being limited Thursday and is listed as questionable. Defensive lineman
Da'Quan Bowers
participated fully and is listed as probable.
But the bad news is that defensive end
Michael Johnson
, cornerback
Rashaan Melvin
and tight end
Austin Seferian-Jenkins
have been declared as out for Sunday.
September, 12, 2014
Sep 12
1:00
PM ET
TAMPA, Fla. -- It's difficult to forget the fact that the
St. Louis Rams
had seven sacks in a victory against the
Tampa Bay Buccaneers
last season. The Bucs overhauled their offensive line in the offseason, but it still is very much a work in progress, so
Josh McCown
should be under plenty of pressure.
But I think the Bucs will show a much more balanced offense than they did last week against the
Carolina Panthers
. I think Tampa Bay will get
Doug Martin
and the running game going and that will open things up for the passing game. Last year didn't go well for the Bucs against the Rams. But reach a little further back into history and you can find a positive stat for Tampa Bay, which has won six of its last nine meetings against the Rams.
Prediction:
Buccaneers 16, Rams 10.
September, 12, 2014
Sep 12
12:37
PM ET
TAMPA, Fla. – Friday's news that
Adrian Clayborn
was
placed on injured reserve
might signal the end of his star-crossed career with the Buccaneers.

Clayborn
Clayborn was a first-round pick in 2011. The Bucs already had decided not to pick up the 2015 option. That meant 2014 was supposed to be a "prove-it'' season for Clayborn.
But, now, Clayborn won't be able to prove anything. He'll become a free agent after the season, and it's hard to imagine the Bucs offering him a lot of money to stay.
Through four seasons, Clayborn didn't prove a lot. He had a somewhat promising rookie season in which he recorded 7.5 sacks, but Clayborn has trended downward from there. He missed 13 games and did not record a sack in 2012. In 2013, Clayborn stayed healthy, but produced only 5.5 sacks.
The bottom line here is Clayborn will get signed somewhere next year, but it won't be for a large contract. There still is some untapped potential, and Clayborn could be worth a one-year contract at a reasonable salary. But that might not happen with the Bucs.
September, 12, 2014
Sep 12
11:23
AM ET
[+] Enlarge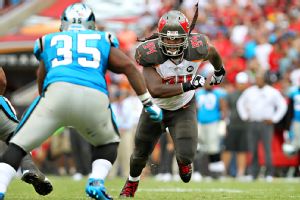 Cliff Welch/Icon SMIThe Bucs are getting thin at defensive end after putting Adrian Clayborn on IR.
TAMPA, Fla. -- The Tampa Bay Buccaneers placed starting defensive end Adrian Clayborn on injured reserve Friday morning.
Clayborn suffered a biceps injury in a season-opening loss to Carolina in which he had one sack.
The Bucs signed Scott Solomon, who spent the preseason with the team, to fill Clayborn's roster spot.
The Bucs could be thin at defensive end Sunday when they host St. Louis. Michael Johnson, the other starter, has an ankle injury and did not practice Wednesday or Thursday.
Aside from Solomon, Tampa Bay's other defensive ends are William Gholston, Da'Quan Bowers, Larry English and Jacquies Smith.