November, 27, 2014
Nov 27
11:07
AM ET
NASHVILLE, Tenn. -- The Titans cannot stop the run.
Their defense is surrendering a league-worst 145.4 yards a game.
Their schedule has done them no favors, as six of the seven backs who have eclipsed 100 yards against them rank in the NFL's top eight:
DeMarco Murray
(first),
Le'Veon Bell
(second),
Justin Forsett
(third),
LeSean McCoy
(fourth) and
Arian Foster
(tied-seventh).
On the flip side, each of those backs wouldn't rank quite so highy if the Titans hadn't made things so easy for them.
Foster
Foster had 20 carries for 151 yards, got another 22 yards on four catches and scored three touchdowns. He had a 43-yard run and a 34-yard touchdown run.
The Texans' running back is coming off a groin injury that kept him out of his team's last two games. He missed Week 3 with a hamstring injury and was ineffective the next game when he returned too quickly.
His 822 rushing yards this season are very impressive considering the missed chances.
"He's going to have all the confidence in the world," Titans inside linebacker
Wesley Woodyard
said. "Last game he hit us for a couple of long runs and got well over the 100-yard mark on us. So he's going to be building up, especially coming off an injury. Hopefully he'll get a chance to play this week.
"With us, it's another challenge, week in week out playing the best guys. We've got to rise this week. We can't continue to let guys get chunk yardage versus us. We've got to be men out there on the football field."
November, 27, 2014
Nov 27
11:01
AM ET
ESPN.com news services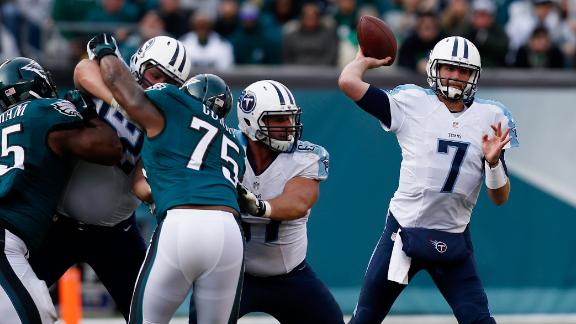 After J.J. Watt's Week 8 selfie sack celebration mocking him, Tennessee Titans quarterback Zach Mettenberger made a tongue-in-cheek guarantee Wednesday.
He won't take another selfie before this week's game.
Mettenberger, in his rookie season with the Titans, made the joking guarantee as part of an explanation about what he's learned since the Texans star defensive end taunted his propensity for pregame selfies.
"I was just addicted to it, I guess. I put myself in a rehab program,'' said Mettenberger, whose handful of Twitter self-portraits of his changing look before the Texans game went viral. "And now that I've quit I feel like I am a much better person."
Mettenberger, 23, has recently been finding his stride as a starting quarterback since Watt sacked him twice during Houston's 30-16 win on Oct. 26 -- and then added insult to injury by imitating Mettenberger taking a photo of himself.
In his first four NFL starts, Mettenberger has thrown for 1,103 yards and seven total touchdowns and has a QBR of 34.6, drawing praise from Watt himself on Wednesday.
"I think he's continuing to grow as he goes along," Watt told the (Nashville) Tennessean. "I think he gets a little bit better each game, and I think he's going to continue to go along that path. He's going to continue to improve. He's got a strong arm. He's a smart guy. He can do some different things. He's going to continue to get better, and I like the way that's been playing."
November, 26, 2014
Nov 26
9:07
PM ET
Associated Press
INDIANAPOLIS -- The Colts have claimed outside linebacker Shaun Phillips off waivers from Tennessee.
Team officials say they waived linebacker Victor Butler to clear room on the 53-man active roster.
The 6-foot-3, 255-pound pass rusher attended Purdue and has 554 tackles, 81½ sacks and seven interceptions during his 11-year career. He played nine seasons with San Diego, then signed with Denver last season and joined the Titans this year. In 2009, he led the NFL with seven forced fumbles and was a Pro Bowl selection in 2010 when he finished with 11 sacks. Last year, led the Broncos with 10 sacks.
But in Tennessee, Phillips had 19 tackles and two sacks in 11 games.
November, 26, 2014
Nov 26
4:34
PM ET
NASHVILLE, Tenn. -- The Tennessee Titans could have not one, not two, but three starting offensive linemen out against the Texans on Sunday.
Center
Brian Schwenke
(torn MCL in his left knee) is on injured reserve. Left tackle
Taylor Lewan
(high ankle sprain) didn't practice Wednesday and it seems unlikely he'll recover well enough or fast enough to play.
And right tackle
Michael Oher
was out Wednesday with a boot on his left foot to help a case of turf toe that's been an issue for a couple weeks and was made worse by the Philadelphia game. Oher indicated the toe also has "something a little bit different" going on.
He hopes to play.
"I pride myself on being there and helping the team," Oher said.
In talking about the toe, he revealed he suffered a partial tear of his upper biceps in Week 2 of the preseason when the Titans played at New Orleans.
At that point in time, with a healthy
Michael Roos
at left tackle, I think the Titans would have moved Lewan into the lineup if Oher's arm injury rated as significant.
As for this week, the Titans are facing the Texans'
J.J. Watt
and it's a huge threat to their immobile rookie quarterback,
Zach Mettenberger
.
Byron Stingily
is the alternate at left tackle,
Chris Spencer
is now the starting center and
Will Svitek
is the backup to Oher.
"We don't know for sure who's going to line up there Sunday right now," coach Ken Whisenhunt said. "We'll work through the week, see how it progresses and somebody will be out there."
Stingily has played some this year as a tackle-eligible with six linemen on the field, and he finished up for Lewan against the Eagles.
Stingily in his fourth season and started the final two games of 2012 and 2013 at right tackle. He said he'll simply need to find a comfortable stance in order to play the left side.
"I'm a strong person, but I if I could just be more technique-sound, I'll be good out there," Stingily said. "I'm ready to go if he's not up."
Whisenhunt said it's too simple to think the Titans can simply live in max-protect mode every snap in Houston.
"It's an easy thing to say; everybody wants to say that," Whisenhunt said. "But if you keep eight guys in and only have two guys out and they're covered up, everybody wants to know why you couldn't throw it down the field."
November, 26, 2014
Nov 26
2:11
PM ET
NASHVILLE, Tenn. -- Are the 2014 Titans the worst team the franchise has fielded since relocating to Tennessee in 1999?
The worst finish in that span came in 2005 -- third place and a 4-12 record.
These Titans would need to go 2-3 in the remainder of the season to match that. They're likely to finish worse, or at best the same, as the 2005 team.
But that doesn't tell us which team was better.
In looking at 15 telling statistical categories side by side, the current team is better in only three and tied in one -- a negative-9.2 point differential per game.
Keith Bulluck was a linebacker on the 2005 team. He's an analyst now, looking at the Titans and the league for Sirius/XM Radio, my Nashville radio show,
The Midday 180
, and for
the Titans website
.
Bulluck actually delved into the 2005 roster to remind himself of what unfolded that year then offered me this assessment:
"After looking at both teams rosters and going through the game stats and remembering games from '05 and how we may have lost, without any bias I would say as of right now the 2014 team is worse.
"In 2005 we gave up 100 yards rushing to three running backs -- Willie Parker first game of the season, Ricky Williams and Shaun Alexander, who won the rushing title that year. They've already given up six 100-yard games to backs.
"We lost five games by more than two touchdowns and two of them were to the Colts. The other two came the first two games and the last game of the season. The 2014 team has already lost four by that much."
"I think that the 2014 secondary is better than the 2005 secondary. Linebackers are debatable, Brad Kassel was a tough, downhill, hard-nosed ballplaye. Peter Sirmon was smart, made plays and was more athletic than people gave him credit for. Peter could have played inside in the 3-4 and I could have. Brad would probably be the odd man out. I don't see myself as an outside 3-4 linebacker. We were definitely tougher than the unit they have now for sure."
"Our front four hands-down was the strongest part of the 05 defense. Kyle Vanden Bosch,
Randy Starks
, Antwan Odom and Albert Haynesworth were all in their prime. All got multimillion dollar contracts. Starks, Vanden Bosch and Haynesworth were eventually Pro Bowlers."
"Offensively we had Steve McNair, Brad Hopkins, Zach Piller and Benji Olson still on the roster. The edge on offense should go to the '05 team for the simple fact of the amount of veteran experience it had especially at the QB position. Shaky at skill positions but those players eventually proved to be decent."
"At the end of the day we played football with an attitude. Our mentality was to take crap from no one regardless of our opponent, most especially at home. We may have not been that good of a team but anyone that stepped on that field for us was expected to fight. If they didn't they would definitely be put on alert, not by coaches but by teammates.
"We held each other accountable even if it meant getting in someone's face. Losing sucked and we hated it. Eventually you could see the product that was being built in years to come. We can't say that we can see anything about the future in the 2014 team because it's Ken Whisenhunt's first year."
November, 26, 2014
Nov 26
11:03
AM ET
What I think the Tennessee Titans are thinking as they begin practices for their game Sunday in Houston...
These guys got us in Nashville back in Oct. 26 and it'd be great to even things out. The Texans have some very good players. But they are three wins better than us in the standings and got us head to head. They are not that much better than us, we can't let them sweep us. Ryan Fitzpatrick is back at quarterback after Ryan Mallett got hurt. Fitz was with us last season and we have a good feel for him, and he beat us the first time without throwing an interception. That cannot happen again. The guy is streaky and will force some throws and we have to prompt those situations and take advantage of it. Overall, we're a lot closer to the Jaguars at the bottom of the AFC South than we are to the Colts at the top. It's us and the Texans in between and it's time for us to show it's not so clear which team is better.
November, 26, 2014
Nov 26
10:00
AM ET
By
ESPN.com staff
| ESPN.com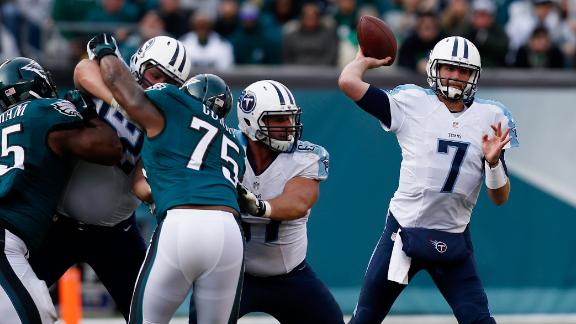 Titans reporter Paul Kuharsky has an idea for another Zach Mettenberger selfie when Mettenberger takes on the Texans' J.J. Watt again on Sunday.
November, 26, 2014
Nov 26
8:58
AM ET
Reading the coverage of the Tennessee Titans ...

Roughly 150 members of the Titans' organization helped
feed the homeless
in downtown Nashville Tuesday night, says Jim Wyatt of The Tennessean. Michael Griffin said some of the people the team helped had questions about why the team is losing so much.
Shaun Phillips
never really fit
with the Titans, says Wyatt.
Known for his leaping ability, Justin Hunter is
mistiming some of his jumps
, says John Glennon of The Tennessean.
Injured safety Bernard Pollard
is watching
one of his replacements, Daimion Stafford, grow. A clip from Pollard's weekly online TV show with The Tennessean.
The Texans and Giants don't rank as big sack teams, but after that the Titans finish with three teams that really get to the passer. They'll need to have their
injured offensive line
in order for those, says David Boclair of the Nashville Post.
From the team website, a look at
the Titans' rematch
with the Texans.
November, 25, 2014
Nov 25
5:37
PM ET
NASHVILLE, Tenn. -- As bad as things have been for the Titans offensive line this season, the team could say it was building some continuity.

Lewan
Four-fifths of the line has started every game this season, with
Taylor Lewan
taking over at left tackle for the injured
Michael Roos
after five games.
Now the team will undergo a second lineup change.
Brian Schwenke
tore the MCL in his left knee Sunday in Philadelphia and has been placed on injured-reserve.
Chris Spencer
is in line to take over as the starting center.
The Titans signed veteran interior lineman Eric Olsen for depth. Olsen signed with Tennessee during the offseason and he was with the team through camp.
Lewan might also be out. Jim Wyatt of The Tennessean says the sprained ankle that knocked Lewan out against the Eagles is a high ankle sprain. Those usually take a while to recover from.
Byron Stingily
would fill in if Lewan is sidelined.
The offensive line has remained an issue for the Titans this season, though they spent a second consecutive first-round pick on a lineman (Lewan was the 11th overall pick) and gave a big free-agent deal to right tackle
Michael Oher
.
Schwenke wasn't great, but he's an inexpensive piece with promise who played between a high-pried free agent from 2012 (
Andy Levitre
) and an underachieving No. 1 pick from 2013 (
Chance Warmack
).
Levitre's spot is in jeopardy beyond this season and the team can get out of Oher's deal for no money beyond the $6 million it will have paid him in 2014.
November, 25, 2014
Nov 25
2:56
PM ET
NASHVILLE, Tenn. -- When the
Philadelphia Eagles
put up 43 points and converted 10 of 19 third downs
in a win
against the
Tennessee Titans
on Sunday, that all ensured further tumbling by Tennessee in significant statistical categories.
The third-down defense dropped seven spots to 22nd and the scoring defense plummeted 10 spots to 29th.
The pass defense remains the one reasonable number here. But if a team is dead last in run defense, it limits the necessity of a passing game against it. So while the Titans have played the pass reasonably well, when players such as
LeSean McCoy
are running so well, slowing the pass doesn't matter so much.
Here's our weekly look at where the Titans stand in some key categories.
November, 25, 2014
Nov 25
1:06
PM ET
[+] Enlarge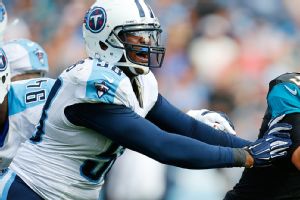 Jeff Haynes/AP Images for PaniniThe Tennessee Titans released veteran linebacker Shaun Phillips on Tuesday.
NASHVILLE, Tenn. -- The Titans have released veteran outside linebacker Shaun Phillips and will turn to younger options for the rest of the season.
The Tennessean earlier reported the move.
Phillips played as the team's third outside linebacker behind starters Derrick Morgan and Kamerion Wimbley. Wimbley left Sunday's game at Philadelphia with a pulled hamstring.
Wimbley's injury, however, wasn't enough to prompt the Titans to stick with Phillips, 33, who has two sacks this season.
Quentin Groves likely will get some additional snaps. The Titans promoted linebacker Justin Staples off their practice squad last week, and coach Ken Whisenhunt said he could get looks inside and outside.
To fill Phillips' spot, the Titans promoted Dontay Moch from the practice squad.