October, 25, 2014
Oct 25
1:53
PM ET
ESPN.com news services
[+] Enlarge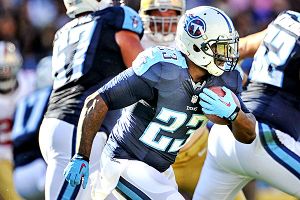 Ronald C. Modra/Getty ImagesShonn Greene was arrested on multiple charges Friday after trying to avoid paying a parking ticket by speeding away from the scene.
Tennessee Titans running back Shonn Greene was arrested Friday night on multiple charges after attempting to avoid a ticket for parking in a handicapped space.
Greene was charged with failure to stop/halt/frisk, driving on a suspended license, reckless driving and illegal parking, according to Franklin, Tenn., police.
According to The Tennessean, Franklin police informed the Titans, who contacted Greene to tell him that warrants had been obtained for his arrest. The 29-year-old turned himself in at approximately 9 p.m. on Friday, posted a $2,000 bond and was released less than two hours later.
"We have talked to Shonn and are aware of the reports," the Titans said in a statement. "This is not the type of behavior we expect from any member of our organization. We will continue to gather additional information as it becomes available and handle the matter internally."
Despite the arrest, Greene's roster status with the Titans is not in jeopardy, a team source told ESPN's Paul Kuharsky.
Greene was approached by a parking enforcement officer Friday afternoon for being illegally parked in a handicapped space on a public square in Franklin, which is located approximately 20 miles south of Nashville.
October, 25, 2014
Oct 25
10:55
AM ET
Welcome to the Week 8 edition of the ESPN.com Titans mailbag.
It's good of you to have sent questions and equally good of you to stop by for a look. We do it every week through the season. Tell your friends and click on it multiple times.
And we're off...
In evaluating Mett this year, will Whiz, Webster and company be looking more for results or for potential/growth? Aka wins vs stats? #PKMail

— Joseph James (@JJames_books) October 24, 2014
Paul Kuharsky:
They won't be breaking it up that way, I do not expect. Whether they win or not, they want to know if
Zach Mettenberger
can can play winning NFL football. Barring injury, he'll put together a nine-game resume. They'll see how he makes decisions, reacts to pressure, reads coverages and comes back from adversity. All of those are pieces to it. It should give them a good sampling based on which they can project Mettenberger, plot their course with him and determine what else they need to do at the position going forward.
@PaulKuharskyNFL #PKMail Assume Mettenberger plays decent-average-moderately-well rest of season. Where do Titans prioritize QB in draft?

— Drew Doggett (@thedoggett) October 24, 2014
Paul Kuharsky:
Sorry, it's just too hard to say because there are so many elements to it. Even with that play from Mettenberger, do they pass on a quarterback they love if he's there for them high in the draft? Who else is there and how do those guys line up with the team's schemes and needs? We just can't say much along those lines at this stage.
@PaulKuharskyNFL which matchup will be more critical: Clowney vs Lewan, or Watt vs Warmack?

— Nathan (@bloggerblaster) October 24, 2014
Paul Kuharsky:
In this game, I like Taylor Lewan's chance to stave off
Jadeveon Clowney
far better than I like
Chance Warmack
's against J.J. Watt. Watt will move around; Warmack won't be along with him a lot. But Watt is the best defensive player in the league and Clowney is still an unproven, inexperienced rookie who's likely to play just third down if he returns from injury.
@PaulKuharskyNFL Popular topic lately has been Titans identity: Could it be the youth mvemnt (Mett,Lewan,Sank) end up being their ID?#PKmail

— Reid Barker (@rwbarker40) October 24, 2014
Paul Kuharsky:
Youth isn't an identity to me. Just like versatility, one of their favorite answers to the identity question, isn't. Youth and versatility are characteristics. When I seek an identity, I want you to tell me what it is you do, what your mentality is. I haven't heard a real answer to that or seen clear signs of it. It's something they still need to find.
@PaulKuharskyNFL speaking of Woodyard, how is it not further indictment on GM if keeping someone b/c they just signed but doesnt fit/work?

— Brandon Satterfield (@brandonsatty) October 24, 2014
Paul Kuharsky:
This was in response to me saying a trade of inside linebacker
Wesley Woodyard
during his first season with the team would be a real indictment of what they brought in. Generally, a veteran free agent the GM and a new coach and staff liked would get more time to show he can fits. I'm in favor of teams admitting mistakes and cutting losses, but bad teams with thin rosters don't have the luxury of making and admitting those kind of mistakes in short order.
@PaulKuharskyNFL What years should I give grace to Webster and Whisenhunt? Webster is three years Become a GM. #PKmail

— غي (@D_morgan91) October 24, 2014
Paul Kuharsky:
My default number on just about everyone is three years. You get a pretty good sense of a GM, coach or player in three years. A GM can be different, especially if there is a coaching change under him/by him, because he's charged to stock a roster with guys who can do what that coach and his staff want to do. Also, in three years, he gets three draft classes, but those two classes haven't gotten their three years, which can make it tougher to judge.
@PaulKuharskyNFL #PKMail What is the problem with the offensive play calling? Is Whiz too conservative?

— eamonn corrigan (@eamonnacorrigan) October 24, 2014
Paul Kuharsky:
I wouldn't call him too conservative. He's struggled to get them in a rhythm and I think sometimes he hops around from thing to thing in the offensive envelope too much. Perhaps narrowing and really focusing on getting good at A, B and C could help them rather than looking at the whole envelope. Mettenberger is Whisenhunt's kind of quarterback, with the size, pocket presence and big arm. So we should see something closer to what he really wants as a playcaller now.
October, 24, 2014
Oct 24
4:34
PM ET
NASHVILLE, Tenn. -- When the
Tennessee Titans
traded linebacker
Akeem Ayers
to New England and demoted starting quarterback
Jake Locker
, reports of other names being on the trade block started to surface.
Don't count on an additional deal, general manager Ruston Webster said on his weekly visit with The Midday 180 on 104.5 The Zone in Nashville, a show I co-host.
"We actively traded Akeem; that was something we were working on and trying to do and was good for both parties," Webster said. "Outside of that, there's really nothing imminent, nothing on the back burner. I'd be surprised if anything happened before the trade deadline."
The Titans have plenty of underachieving players and they might not be worth much. Getting not much for them isn't always better than seeing things through.
It would be nice if the Titans could replenish their roster or stock up on draft picks with more in-season moves. It's rare a team can do so, and Webster clearly doesn't want fans to expect it.
October, 24, 2014
Oct 24
1:00
PM ET
NASHVILLE, Tenn. -- The
Tennessee Titans
have consistently shown an inability to seize and maintain momentum, and they have played poorly late even in their one recent win, when it took a blocked field goal to beat Jacksonville.
Ryan Fitzpatrick
can be a turnover machine, and I expect the Titans will take the ball away once or twice. But the Titans' 11 takeaways have been largely offset by their nine giveaways, and it's hard to see even a turnover advantage as something that would ensure a win.
Enter
Zach Mettenberger
, the strong-armed rookie quarterback the Titans hope can better steer Ken Whisenhunt's offense. I expect he will bring a spark. But he and Whisenhunt like to stand in and throw it downfield. That should mean the Titans hit some big plays, but it also sets the stage for some big plays by the Texans defense.
J.J. Watt
is likely to cause issues,
Jadeveon Clowney
might also be at work on third downs and
Whitney Mercilus
is another productive pass-rusher. I expect they will find a way to make the difference.
Weekly disclaimer: Unpredictability is the single biggest reason for the NFL's popularity. No matter how closely I watch the Titans and how many people I talk to, predicating games, in my eyes, isn't far off throwing a dart.
Prediction: Texans 23, Titans 17
October, 24, 2014
Oct 24
10:44
AM ET
NASHVILLE, Tenn. -- Heading into the season, we thought the Titans had what should be a solid offensive line and a quality stable of weapons.
Things haven't panned out that way for Tennessee through seven games, where the underachieving line, the inconsistent receivers and the largely rhythm-less running backs haven't made things especially easy for the quarterbacks.
Zach Mettenberger
is the new man running the huddle for the Titans starting Sunday, but what he will be surrounded by is not regarded as nearly a good as it was at the start of the season when
Jake Locker
was the QB.
Per Sam Monson of Pro Football Focus, the Titans rank 20th in the NFL in
supporting casts
.
"The Titans could have been a whole lot better on the offensive line with one simple move: switching starters at right tackle. They were forced into starting rookie Taylor Lewan when Michael Roos went down hurt and was lost for the season, but the Lewan-Roos pairing should have been the starting duo from the outset, because Michael Oher is clearly ill suited to the scheme and is struggling at right tackle. Delanie Walker has been a bright spot at tight end, but the passing game is floundering, and there has yet to be anybody to emerge from the directionless backfield by committee to demand a featured role."
Oher has not been good. But I don't know that it's fair to single him out just because the Titans had the most viable alternative to him.
PFF says Oher is 67th of 72 tackles in the NFL. Lewan is 12th, and Roos was 17th.
Right guard
Chance Warmack
is 45th of 75 guards and
Andy Levitre
is 60th.
Center
Brian Schwenke
is 39th of 41 at his position.
October, 24, 2014
Oct 24
8:34
AM ET
Reading the coverage of the Tennessee Titans ...

Zach Mettenberger already
seemed comfortable
on center stage, writes Jim Wyatt of The Tennessean. "By no means am I a Tom Brady or a Peyton Manning -- this is going to be my first game," Mettenberger said. "So really I have to get the ball out of my hand quick, avoid turnovers and put the ball in the hands of guys who can make plays for us. …I don't want to be a huge failure. I want to be successful, the coaches want me to be successful."
Jake Locker was
never Ken Whisenhunt's guy
, writes David Climer of The Tennessean. And if you're Whisenhunt's guy, you're set.
To which I say:
Climer speculates that the way Locker took off and ran in the Cleveland game didn't sit well with Whisenhunt. "I'd gotten away from the type of football that I'd always played that allows me to enjoy playing the game and being successful playing the game," Locker said then. I, too, think Locker playing to his strength ran counter to Whisenhunt's core quarterback beliefs.
The Titans hope Mettenberger's big arm
opens up the offense
, says John Glennon of The Tennessean. Kendall Wright says you can hear the rookie's passes.
Mettenberger said he wants to be
Ben Stiller's character
from "Dodge Ball" for Halloween. Pictures made the rounds on Twitter. Wyatt wrote a bit about it.
A look at how some notable quarterbacks have fared in
their first NFL starts
, from David Boclair of the Nashville Post.
The place Mettenberger was selected in the draft
shouldn't define him
as a prospect, writes Music City Miracles.
October, 23, 2014
Oct 23
6:01
PM ET
October, 23, 2014
Oct 23
5:18
PM ET
NASHVILLE, Tenn. -- One final look back at a play from the
Tennessee Titans
' 19-17 Week 7 loss in Washington.
In film review, we paid a lot of attention to a first-and-10 from the Titans 37 yard line with 1:02 left in the game. Washington needed only about five yards to get into field goal range.
Safety
George Wilson
was wide to the Titans defensive left and lined up at the snap about 10 yards off tight end
Jordan Reed
, who turned about and made an easy catch for a 9-yard gain.
Washington ultimately moved an additional 25 yards and
Kai Forbath
kicked a 22-yard field goal as time expired to win it.
Why was Wilson so far off of Reed?
"His ankle was bothering him and he thought the expedient thing to do was to not get beat deep, which is not what we called," defensive coordinator Ray Horton said. "He apologized. He just didn't think he could handle the guy."
After hearing that from Horton I went to Wilson.
"You go talk to them about that, I don't have anything to say," Wilson said. "That was last week, I'm on to our opponent this week."
October, 23, 2014
Oct 23
4:43
PM ET
NASHVILLE, Tenn. -- Turning to a young quarterback doesn't signal giving up on the season in any way, Titans coach Ken Whisenhunt said.
The fact is both
Jake Locker
and
Charlie Whitehurst
failed to bring any spark to Tennessee's offense. At 2-5, the team needs a lift and
Zach Mettenberger
is the best fit of the three for what Whisenhunt wants to do offensively.
"Did we give up when we went with
Taylor Lewan
at tackle or
Avery Williamson
at linebacker or
Bishop Sankey
at running back?" Whisenhunt said. "That's what I would say. No. We've got a young player that we feel pretty good about. He hasn't played but he had a good preseason. We should be excited to see what he can do."
Nashville is now anxious to see if the rookie can do better than the two guys who were ahead of him, and if so, by how much.
Mettenberger may have the most starting-quarterback-like persona of the Titans' three guys.
He used the word gunslinger while talking Thursday and I asked him if he liked that description.
"You've got to take risks in this game," he said. "You're probably going to misquote me. But to play in this league 10 years, you've got to throw it to your guys. Something coach [Cam Cameron at LSU] taught me last year is, I'm the guy with the ball, if I view a guy as open, he is open. So throw it to our guy, away from theirs.
"I think the term gunslinger gets thrown around a little too much. If you turn the ball over I guess that can be kind of a label you get. But I am trying to avoid that. I don't want to be a gunslinger, I want to be a quarterback."
One of Mettenberger's closest friends on the team is Lewan, who offered a rave review of the team's new starting quarterback.
"When he steps on the field, he's not really worried about being a pretty boy, white-collar thing," the first-round rookie left tackle said. "He's a savage. He throws an interception, an incomplete, anything like that, he's going to get up and say, 'Screw that, I'm throwing darts the rest of the game.' That's kind of what his thing is. That's pretty damn cool."
I've written a good deal about how many
low-key guys
the Titans have in their locker room.
Mettenberger and Lewan are guys with a lot of life to them, and maybe they can help alter a boring team persona as an ingredient in changing the culture and football fortunes.
October, 23, 2014
Oct 23
2:43
PM ET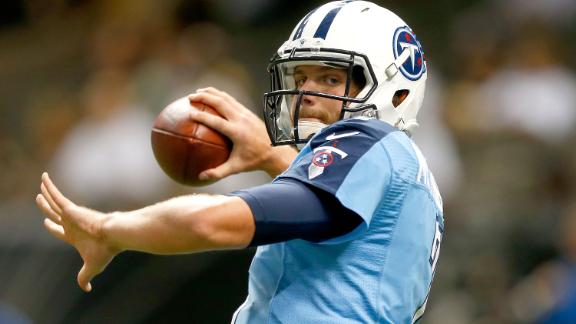 NASHVILLE, Tenn. -- Confirming news that came out Wednesday, Tennessee Titans coach Ken Whisenhunt said the team will start rookie Zach Mettenberger at quarterback Sunday against Houston and going forward.
"No matter who that guy is at the quarterback position, it's his team," Mettenberger said. "I've got to step in and take control. I've done that this week, being vocal, making sure we're in the right calls, being on the same page. Absolutely, this is my team now."
The 2-5 Titans have been anemic on offense with Jake Locker and Charlie Whitehurst under center, and they rank as the NFL's worst third-down team.
Whisenhunt said he and his staff reached the decision on a quarterback change Tuesday around midday and notified all three quarterbacks. They were still waiting at that point to see if Locker's injured thumb would allow him to be the backup, and it has.
"I think over the last couple weeks, [Mettenberger] has gotten the opportunity to get reps in practice to go with guys that are playing," Whisenhunt said. "There is no question he is a talented young player. And maybe it'll give us a spark. Offensively, we haven't exactly been lighting it up. So that's part of it in consideration."
Locker, the eighth pick overall in the 2011 draft, is now the No. 2.
But if Mettenberger plays well enough and stays healthy, the Titans may never turn back to the high draft pick, who is not under contract beyond this season.
October, 23, 2014
Oct 23
2:13
PM ET
NASHVILLE, Tenn. -- Obviously the
Tennessee Titans
hope
Zach Mettenberger
can play well.
Ken Whisenhunt will be starting a quarterback in his preferred mold, so we should see our best view yet of what the offense of the play-calling head coach looks like.

Mettenberger
Though Mettenberger and Whisenhunt are under the microscope, here is a fresh start for a lot of other guys, too.
Offensive linemen who have played poorly are now protecting a different kind of quarterback.
Do we see players like right tackle
Michael Oher
and right guard
Chance Warmack
step it up with
J.J. Watt
bearing down on them and looking to make Mettenberger's debut miserable?
Do we see
Justin Hunter
go get balls and return to the huddle wanting and deserving more, or dropping one and shrinking?
It's time for guys to rally.
Those who don't probably begin to write the resume that is a road map off the roster.
October, 23, 2014
Oct 23
12:11
PM ET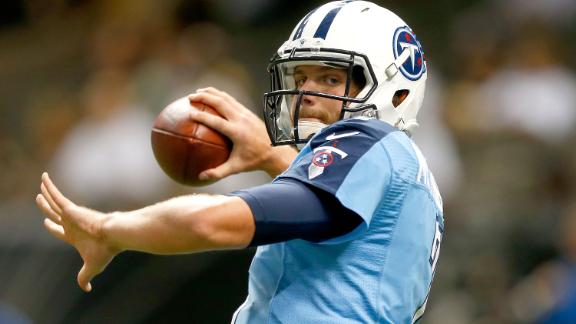 NASHVILLE, Tenn. -- Reviewing some key notes on quarterback
Zach Mettenberger
as the
Tennessee Titans
get ready to start the sixth-round pick against the Texans on Sunday.
The Titans had him rated at least 60 spots higher than the 178th pick they used on him in the draft.
Low-round quarterbacks rarely pan out. Notable late-round quarterbacks since 1994: David Garrard, Kyle Orton, Aaron Brooks, Tom Brady, Marc Bulger and Matt Hasselbeck. There were also four quality undrafted quarterbacks. Even counting them, it's 10 guys in a 19-year span.


Smartly, Titans coach Ken Whisenhunt said that just because so many quarterbacks selected low might not have panned out, it doesn't predispose this one to not pan out. Mettenberger is working against a strong history of late-round quarterback failure, as John Glennon of The Tennessean pointed out.
At team headquarters, Mettenberger showed off his big arm in a stiff wind at his first practice on an NFL field, when the Titans rookies worked on May 16.
He got in trouble a few times in the preseason when he held the ball too long. Overall, however, he did good work in the preseason -- 47 of 68 passing for 659 yards with two touchdowns and two interceptions and a 97.6 passer rating. In his one regular-season appearance, late in a blowout loss at Indianapolis on Sept. 28, he hit two of five passes for 17 yards and an overthrown interception.
Cam Cameron, the former NFL head coach, worked with Mettenberer as his offensive coordinator at LSU. Cameron thinks Mettenberger has a strong sense of how to work in tight spaces.


"The guys that can throw with minimal space separate themselves," Cameron told my Nashville radio show. "He's done that. He doesn't need any space to throw the ball from sideline to sideline or vertically."
Mettenberger entered the league with red flags, but those made him a value in the sixth round. He smartly showed restraint when he got sucker-punched by a man in a Nashville bar in July.