October, 29, 2014
Oct 29
3:02
PM ET
What I think the Titans are thinking as they close up shop for four days for their bye week …
Get me out of here. I mean, I'm a pro and I've been working hard and I will continue to work hard. But the schedule is crafted to include a break and the rules give us four days away. I'll watch some film and have a couple workouts. But I will also let my mind wander far, far away from our headquarters in MetroCenter. My kids know football is very important to me, but they don't deserve dad to be miserable when he's finally around some more. Hopefully, when I get back to the office on Monday, I'll be in a good place to dive back in and go hard for eight more games. Hopefully we all will be. And you'll see some better stuff out of us.
October, 29, 2014
Oct 29
12:31
PM ET
NASHVILLE, Tenn. -- Good football teams with good coaches often take on the personality of that coach, at least to a degree.
Are the
Tennessee Titans
in the process of taking on Ken Whisenhunt's personality, even as he works to show he's deserving of their buy-in?
"Our head coach's personality is rough, tough, very physical and outspoken," tight end
Delanie Walker
said. "I don't think we've taken on that personality yet. I think if we had that personality, we wouldn't be sitting at 2-6. We need to take it on. I think we have it in us, but I haven't seen it come out yet.

Whisenhunt
"At certain times, when we're losing and it's the fourth quarter and we need to get points on the board, that's when I see it, but it's too late at that point. We need to have it at the beginning of the game."
While Whisenhunt is straightforward, he's not simple. Players deal with him a lot more than I do, and in far more situations. They should have a better read on who he is and how they might follow his lead.
I still have trouble characterizing his personality. He's direct and fiery. He clearly likes to be in control. He has great conviction in his methods and systems. He can be a bit stubborn. He's got a sense of humor. He'll listen. I think at times he can make people nervous.
"I've never looked at a team and been like, 'Oh, they're a lot like that guy,'" cornerback
Jason McCourty
said. "I would leave that up to you guys [in the media] being able to analyze that from the outside looking in."
Said nose tackle
Sammie Hill
: "Coach is a winner and we see it and he demands that and that's what we demand of ourselves. We haven't fared the way we wanted to in these past eight games, but there is still another half of a season ahead. We know what we've got ahead of us.
"We've got his attitude, so we know what we can do when we get it all together."
October, 29, 2014
Oct 29
10:00
AM ET
By
ESPN.com staff
| ESPN.com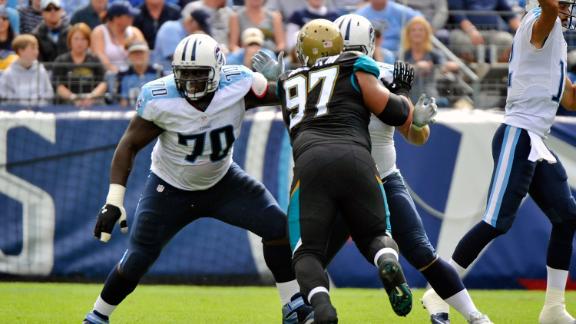 ESPN
Tennessee Titans
reporter Paul Kuharsky says the players from the 2013 draft class need to improve quickly if the Titans are going to turn things around.
October, 29, 2014
Oct 29
9:15
AM ET
Reading the coverage of the Tennessee Titans ...

By turning to Zach Mettenberger,
the Titans punted
and now they are on defense, says David Climer of The Tennessean. It wasn't desperation, it was surrender -- at least for the short term.
To which I say:
The status quo wasn't cutting it and Jake Locker was not going to give the Titans continuity with his propensity to get hurt. The change came a little sooner than I expected, but I think it was the right move and I don't see it as surrender -- though I see no hope for anything that rates as a successful season.
The Titans hope that Mettenberger, Bishop Sankey and Taylor Lewan are a trio the offense is
centered around
for a long time, says John Glennon of The Tennessean.
Nate Washington will spend the Titans bye break
rehabbing
his injured shoulder, says Jim Wyatt of The Tennessean.
Combine what the Titans have done so far with what Arizona did in Ken Whisenhunt's final season in 2012 and you have a man mired in
one miserable stretch
, says David Boclair of the Nashville Post. The coach has lost 17 of his last 20 games.
October, 28, 2014
Oct 28
5:56
PM ET
The way things are going for the Titans right now, just about anything they gain in one department, they lose in another.
Sunday against Houston, they held
Ryan Fitzpatrick
to 227 passing yards and surrendered no passes longer than 23 yards.
But that was just fine for the Texans, since they were busy running for 212 yards on Tennessee.
So the Titans moved up five spots in pass defense to 16th but gave the five spots back in rush defense.
Overall, the defense gained one spot.
October, 28, 2014
Oct 28
4:38
PM ET
NASHVILLE, Tenn. – Titans coach Ken Whisenhunt said Monday that he would be rolling out something new as he continued to try to gt his team to clean up its penalty issues.

Whisenhunt
Tuesday players shared some details of what he told them.
"We talked about it today, we're going to start having referees come to practice," quarterback
Zach Mettenberger
said. " If we have a guy in practice have a penalty, we're going to pull a guy out and put another guy in. The days of 'My bad' are really going to be over with this team. We've got to own up to our mistakes and make sure they don't happen."
Center
Brian Schwenke
and left tackle
Taylor Lewan
agreed that Whisenhunt had looked to players to clean things up, but their time to solve it has passed.
"He's fed up with it and he's taking action," Schwenke said. "You have to give the guys a little bit of time to just fix it themselves, and we haven't. So now he has to take matters into his own hands. If you don't get it done, there are going to be consequences."
Said Lewan: "Take a seat, extra conditioning, I'm not really sure about the details yet but [Whisenhunt] will let us know sooner than later."
October, 28, 2014
Oct 28
3:18
PM ET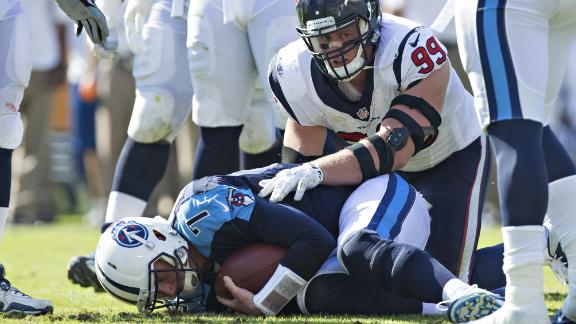 NASHVILLE, Tenn. -- Tennessee Titans rookie quarterback Zach Mettenberger knows Texans defensive end J.J. Watt didn't enjoy his presence on social media prior to Houston's game at Tennessee on Sunday.
Watt pretended to take a selfie of himself after one of his two sacks of Mettenberger and said after the game it was a reminder they were in the NFL, not high school.
"He's entitled to his opinion, he's a great player and all that, but I know how hard I work, I know what I am doing here each and every day," Mettenberger said. "Really that's something that I can't be concerned about.
"I just kind of laughed it off. I mean, what can I say? The guy is the best defensive player in the NFL. There is nothing I can say to him. I just need to keep progressing, keep working and we'll play again."
Mettenberger doesn't feel he's been active on social media to a degree that has qualified as a distraction.
"I really don't think I put a lot on social media," Mettenberger said. "You look and see guys tweet every 10 minutes. Honestly that's not me, but if guys in this locker room feel it's a distraction on my part, I'll tone it back. But I honestly don't think that's a problem."
October, 28, 2014
Oct 28
1:03
PM ET
NASHVILLE, Tenn. -- The stadium isn't close to full.
The tickets at LP Field are sold because the
Tennessee Titans
and Nashville set up
a personal seat license system
that serves as insurance that people will buy them.
But a large segment of those with tickets have stopped using them. And they may not even be watching at home.
Two of
the lowest-rated
Titans' games in the past eight years have come this season, writes Mike Organ of The Tennessean.
A blowout loss at Green Bay in 2012 drew a 16.5. This season, Sunday's
Houston game
earned a 17.7 and the Colts game in
Sept. 28
got a 19.7.
The Titans' average rating through eight games this season is 21.9, which is down from the 2013 full season average of 25.0.
The team drew an average of a 30.2 rating as recently as 2010.
October, 28, 2014
Oct 28
11:00
AM ET
A weekly look at what the
Tennessee Titans
must fix.
The Titans have a ton of things to work on before they head to Baltimore to face the Ravens on Nov. 9.
Last week
we wrote about
how the Titans needed more than 10 yards far too often in their loss at Washington on Oct. 9.
Seven days later in a loss to Houston, the Titans needed more than 10 yards for a first down on 13 of 23 first-half plays.
Things settled down in the second half, but the Titans were down 13-3 at intermission and 20-3 early in the third quarter en route to a 30-16 loss.
Now at their bye week, a couple practices before they hit their break will focus on third-down and red zone work. Coach Ken Whisenhunt said the team also would execute what sounds like a plan that will go beyond anything they've tried so far to significantly reduce penalties.
The Titans have run 69 offensive snaps in need of more than 10 yards for a first down in 2014. Minnesota and Carolina also have faced 69 such snaps. (That's 24 more than the team that has had the fewest such snaps in eight games -- Baltimore.)
When Tennessee returns from a bye, if the NFL's worst third-down offense has a chance to improve and if the Titans have a chance at better results, they can't commit penalties and surrender sacks that result in needing so much yardage in order to earn a first down.
October, 28, 2014
Oct 28
9:39
AM ET
Reading the coverage of the Tennessee Titans ...

What did Ken Whisenhunt think of Zach Mettenberger's
selfies
? Jim Wyatt of The Tennessean reviews the coach's reaction to Selfie-ghazi. (I'm trying out -ghazi instead of -gate for "scandals.")
Mettenberger was encouraged to
look the part
of an NFL starting quarterback, says David Boclair of the Nashville Post.
Nate Washington
isn't expected to practice
this week with a shoulder injury, says John Glennon of The Tennessean.
Their play the last two weeks cost the Titans
additional time off
during their bye week, says Glennon.
Dan Le Batard talks about Mettenberger and Watt and selfies. (
Audio
.)
October, 27, 2014
Oct 27
5:07
PM ET
NASHVILLE, Tenn. -- Tuesday and Wednesday practices before the
Tennessee Titans
' bye will place an emphasis on helping quarterback
Zach Mettenberger
be better equipped to run certain plays more effectively.
[+] Enlarge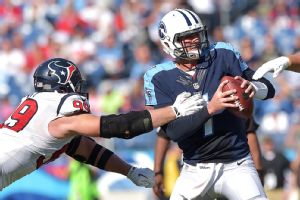 Don McPeak/USA TODAY SportsTitans rookie QB Zach Mettenberger threw for 299 yards and 2 TDs against Houston in Week 8.
"We're working on third downs and we're working on red zone," Titans coach Ken Whisenhunt said. "I think what we are going to do is narrow down some of the plays we have and get more reps at them. So that we can process the reads and be more detailed in what we are trying to accomplish with those routes."
Whisenhunt said Mettenberger was "over-amped" in the first half
against Houston
, but settled down after halftime. He hit some checkdowns that allowed the Titans to get going and then found some deeper connections.
"There were a couple times in the game when we came to the sideline where they were playing different coverages than we anticipated because of the way the game was," Whisenhunt said. "And some of those coverages require him going to the different side with his read and he's not there yet because he hasn't gotten a lot of reps at that particular play. So that's what I am talking about this week, getting some repetitive times at a play so you can get a feel, a better sense of the play."
Whisenhunt pointed to a first-quarter pass to
Dexter McCluster
in the left flat. McCluster quickly got buried by cornerback
Johnathan Joseph
and was fortunate to hold on with his legs for a 1-yard gain.
McCluster had motioned from the right to the left, where
Justin Hunter
was lined up wide.
Delanie Walker
was to the right of right tackle
Michael Oher
, but not tight, with
Kendall Wright
to Walker's right.
Bishop Sankey
moved out of the backfield from the shotgun play and was open just over the middle.
"That was into a Cover-2 shell, and in that case, your progression takes you back to the other side," Whisenhunt said. "That's one of the things that as you get more comfortable with that route and more reps on it, you'll be able to process that and go there."
That's a helpful example that shows what the next stage of Mettenberger's development needs to be.
Mettenberger said after he was named the starter that the Titans "are my team now" and said postgame, "I am, as they say, the face of this organization."
Whisenhunt stopped a bit short of that.
"The face of the franchise thing, that's yet to be determined," he said. "I mean that'll be determined by his play. We all understand that being the quarterback is an important position.
"The one thing we have had discussions about is understanding if you are the starting quarterback that there are going to be people that look at you, that want to talk to you, that see you. And you have to represent yourself and the organization the right way."
October, 27, 2014
Oct 27
2:45
PM ET
NASHVILLE, Tenn. -- This tweet is representative of some of the comments I've gotten since the Titans dropped a 30-16 decision to the Texans:
@PaulKuharskyNFL No discipline anywhere on the field. Wisenhunt doesn't demand it. Lazy. Penalties. Missed tackles.

— Jacob Rawlins (@JacobRawlins) October 26, 2014
I would not for a second suggest the Titans have shown anything close to sufficient discipline. They have not. I would not suggest Ken Whisenhunt is doing any sort of good job.
But I am big on personal accountability.
Whisenhunt needs to account for play-calling and game plans, lineups and packages. He has to explain why
Dexter McCluster
was a guy he coveted and the coach has played him just 28 percent of the offensive snaps and the player has touched the ball a grand total of 40 times.
Whisenhunt has to continue to work to prompt better, smarter play.
But come kickoff, he's not playing and personal accountability comes into play for the 46 guys in uniform.
It's the players who are committing the penalties. It's the players who are missing assignments. It's the players who couldn't tackle
Arian Foster
. It's the players who couldn't get
Ryan Fitzpatrick
to turn the ball over like he usually does. It's the players who slipped when they were making a break in their routes. It's the players who aren't blocking well enough.
I'm not overly eager to blame Whisenhunt and his staff for that stuff. Players need to reduce the mistakes by a high percentage.
"Whisenhunt doesn't demand it?"
That's a presumptive jump that I find unreasonable.
Of all the Titans problems, I'm not putting that on the list.
October, 27, 2014
Oct 27
1:05
PM ET
NASHVILLE, Tenn. -- The
Tennessee Titans
are the only team in the NFL to finish two games with a total of 16 points this season.
I feel like they have a special relationship with 16.
They lost Super Bowl XXXIV 23-16 to the
St. Louis Rams
in Atlanta. (In the run to that game, they won the Music City Miracle game 22-16 and won the following week at Indianapolis, 19-16.)
A touchdown and three field goals feels like a very Titans-like output, though in Sunday's 30-16 loss to Houston, the points came in the form of two touchdowns, a missed 2-point conversion and a field goal.
In their last 24 games, the Titans have finished with a total of 16 points four times. No other team has scored a total of 16 more than twice in that span.
Oct. 26, 2014: Texans 30, Titans 16
Oct. 12, 2014: Titans 16, Jaguars 14
Dec. 29, 2013: Titans 16, Texans 10
Sept. 8, 2013: Titans 16, Steelers 9
But my inkling about the number over the long term is bigger than it should be.
Since its Super Bowl loss in Atlanta, Tennessee has finished a regular season or playoff game with 16 points just eight times, the eighth most in the NFL during that span.
They are 4-4 in those games.
October, 27, 2014
Oct 27
10:50
AM ET
NASHVILLE, Tenn. -- The
Tennessee Titans
have played too much defense this season.
Their 557 defensive snaps are the most in the NFL, an average of 69.6 a game. They played 87 snaps in Indianapolis, 82 Sunday against Houston and 81 against Dallas.
On Sunday, the heavy workload led Tennessee to make mistakes, coach Ken Whisenhunt said.
"I think it was that," he said. "They had two long runs where we actually had them tackled in the back field, and he [
Arian Foster
] broke the tackle and took off with it, or we overplayed it. One was a backside run where he cut back, and the other one was kind of the same thing. That to me was a question of wearing down."
Seventeen Titans saw
at least 15 plays
, but the rotating was not enough to counterbalance all the work.
"It gets that way," Titans defensive lineman
Jurrell Casey
said of wearing down. "But at the end of the day we're on the defensive side of the ball and we've got to stop teams from scoring, and we've got to do a better job at that."
Be aware, this isn't entirely a defensive issue. The Titans need to get off the field on third down and take the ball away more. But a huge element of the problem is the offense, which is the NFL's worst on third down and has major trouble keeping possession.