July, 24, 2014
Jul 24
6:36
PM ET
Tennessee Titans
starting left guard
Andy Levitre
had his appendix removed on Thursday and could miss about two weeks as he recovers from the procedure.
Levitre
The Titans report to camp Friday morning and hit the field for their first practice Saturday morning.
Tennessee has dealt with an offensive lineman and appendix surgery recently.
The team's left tackle,
Michael Roos
, had his appendix removed on Monday Oct. 22, 2012, missed the team's overtime home loss to Indianapolis the following Sunday and was back in the lineup for the next game.
In Levitre's absence I expect reserve interior lineman
Chris Spencer
and rookie first-round tackle
Taylor Lewan
to see extra action at left guard.
Lewan will work primarily at left and right tackle, but the team looked at him a bit at guard during offseason workouts and is likely to do so again now.
Outside of Levitre, the Titans could be at full strength for their first practice.
Running back
Shonn Greene
missed the offseason after a second surgery on his knee but the team expects he returns ready. Defensive lineman
Marcus Dixon
also had a summer calf injury that should be resolved.
July, 24, 2014
Jul 24
3:36
PM ET
Continuing our series on the best games members of the Titans have ever played…

Lewan
Taylor Lewan, offensive tackle
Oct. 30, 2008
Chaparral High School 28, Paradise Valley High School 20
Phoenix, Ariz.
Lewan: 37-yard kick return
"The best game I've ever played in, I was playing in Paradise Valley my senior year of high school. I was a left tackle. The defensive linemen were trying to cut me and I had to hurdle over defensive linemen, and it was kind of a cool situation. I just played a really consistent, well-played game. I also had a kick return for 37 yards, so everything was just a cool experience. We won. Yeah it was awesome, it was good stuff. We ended up going to the state championship. Got killed, 38-0, but the whole experience was pretty cool."
Review all the
Best Game Ever
posts.
July, 24, 2014
Jul 24
2:06
PM ET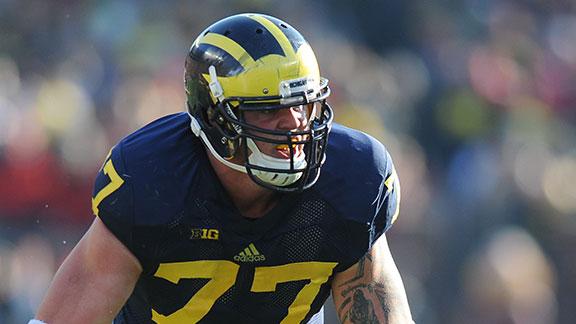 NASHVILLE, Tenn. -- The Tennessee Titans have agreed to terms with rookie offensive tackle Taylor Lewan, the team's first-round selection and the last unsigned draft pick in the NFL, general manager Ruston Webster said Thursday.
Offensive lineman Chance Warmack, Tennessee's first-round pick in 2013, missed four practices last year before his contract was sorted out. But Lewan will report with the rest of the team Friday and be on the field for the first practice of camp on Saturday.
Webster discussed Lewan's signing during a radio interview with the "Midday 180" in Nashville.
Webster said the issue was the structure of the contract, and the last issue to debate under the current system for rookie contracts isn't money but when a player gets his money.
Lewan was selected 11th overall. He has a court date set for Oct. 28 in Michigan over charges stemming from a bar fight in Ann Arbor, Michigan.
July, 24, 2014
Jul 24
12:14
PM ET
Floyd Reese was General Manager of the Houston Oilers and
Tennessee Titans
from 1994-2006. He worked for ESPN for a time after that, and then was part of Bill Belichick's front office in New England from 2009-2014.
He's living in Nashville, and Thursday
he visited with The Wake Up Zone
, which is co-hosted by one of Reese's greatest finds: Frank Wycheck, the tight end who caught 482 passes for Houston and Tennessee with 27 touchdowns and was part of the famous TD late in the Music City Miracle.
[+] Enlarge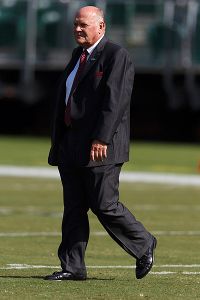 Jason O. Watson/USA TODAY SportsFormer Titans GM Floyd Reese on young head coaches: "Young head coaches with limited experience come into the league and many have no chance."
Some highlights of the conversation:
On a power struggle with Jeff Fisher at the end of Reese's tenure:
He said if Fisher won power struggle he didn't know anything about it. Reese said Fisher was not big into the draft and just wanted to coach ball, which is accurate for sure.
But Reese was being politically correct there. As he left he clearly felt that he had lost and Fisher had won in some capacity.
On dealing with then-Jacksonville coach Tom Coughlin and the Jaguars on draft day in 1995:
The Jaguars were picking second and the Oilers were third.
Coughlin called and said Reese needed to give him a third or he was going to trade it to Minnesota and the Vikings were going to take Steve McNair.
"I said (Tony) Boselli is right there, you want Boselli,'" Reese recalled. "I said, 'Why would you do that?' 'Well if you don't give me a third, I'm going to do it.' So I put down the phone ... Bud (Adams) said we need to trade it so we don't miss out on the kid. And I thought about it and I thought about it and I really don't know what happened, but I picked the phone back up and said, 'Tom, we're not going to do it, talk to you later, bye.' And 30 seconds later he takes Boselli and we erupt and end up with McNair and everything is cool.
"That night I am laying in bed and I'm thinking to myself, 'The owner just told me to trade and I didn't do it.' Can you imagine if it worked out differently? My career would have been 30 seconds long."
Reese on draft clunkers:
"You think about the bad ones probably more than the good ones."
Which one in particular?
Bryant Mix, a defensive tackle from Alcorn State, picked in the second round in 1996.
"You sit around with a group of guys and everybody in the room was in love with this guy," Reese said. "And I've never seen him make a play. I just don't see it. Now big, good-looking guy. Strong. And I said, 'OK, we'll do it.' It's my fault, I understand that. But that one bothered me more because I just couldn't fall in love with the kid."
Glenn Cumbee, the team's director of college scouting, later told a couple of us that the Mix pick was his fault, that he simply missed on the player.
On Adams' involvement in the choice of Vince Young third overall in 2006:
"Bud made it very clear who he wanted," Reese said. "And Bud didn't do that very often. I think Jeff and I both realized what Bud wanted. Bud called me the night before the draft and said, 'You've got to call New Orleans and trade up because I understand that Al Davis is going to trade in there to take Vince.' I said, 'What?' We were third and he wanted us to trade up to second.
And I said 'You know, I really don't want to' and he said 'Yeah, you need to do that.' So I called them and I said, trading one spot, 'I need to trade with you guys and I will give you a two.' They said, 'A two?' I said , 'Yep, a two.' They said, 'Why?' I said, 'We want that spot.' He said, 'you know something we don't and we're not going to trade.' I laughed about that forever."
The loss that haunts him more between Super Bowl XXXIV and the 2000 playoff dud against Baltimore the following year:
"It's one of those 'do you want to drown in the Atlantic or the Pacific?' "
"I think the Ravens the next year probably hurt me the most, because we had the best team in the league," he said.
On quarterback development:
"We destroy a lot more QBs than we create."
On the trend to young head coaches:
"Young head coaches with limited experience come into the league and many have no chance. If you measure them against Bill Belichick, who worked in all sort of different roles before he became a head coach and has had great success, most have no chance," Reese said.
On the Titans now:
"I really like Ken (Whisenhunt), I really like Ruston (Webster), he said. "... Tommy Smith knows what he's doing. I have nothing but hope."
July, 24, 2014
Jul 24
9:42
AM ET
Reading the coverage of the Tennessee Titans ...

Jake Locker feels good about
what's surrounding him
on offense, says Jim Wyatt of The Tennessean. He hopes to mirror his start to last year's season. "You always want to start out fast, and last year I did individually and we did as a football team," he said. "We want to do our best to recreate that and surpass that."
To which I say:
The protection and the weapons rate well, and the running game could improve.
The new food at LP Field is
an upgrade
, says Wyatt, who was part of a tasting event on Wednesday. I feel
the same way
.
Locker took some kids from the Boys and Girls club on a shopping spree. Here's
a video
from Wyatt.
The 20
highest-paid
Titans, from Wyatt.
His history suggests Ken Whisenhunt will be more conservative
on fourth down
than Mike Munchak was, says Tom Gower of Total Titans.
A look at key figures in
the front seven
, from Joe Fann of the Titans' official website.
July, 23, 2014
Jul 23
4:21
PM ET
Continuing our series on the best games members of the
Tennessee Titans
have ever played…
Delanie Walker, tight end
Nov. 14, 2013
Colts 30. Titans 27
LP Field
Walker: Nine catches, 91 yards including a 19-yard touchdown
Walker
"It would probably have to be last year, the Thursday night game against the Colts. Nine catches, 90 yards, some great blocks, got headbutted. Before that even happened, I think I was playing great, that just added to the flames. It was a run play to the right, I was blocking [linebacker
Erik Walden
] til the whistle blew. I guess he didn't like it, he yanked my helmet off then headbutted me in the face. That's when I got angry and started having a great game in the run game, just real physical. I think that just really brought the fire out of me, being headbutted. We lost and I was very upset. Thursday night game, everybody watching, we played a great game and to lose it at the last minute that always hurts. If I play that way in a game, now you've always got to step up to that standard. This year I've got another opportunity to do that. With Whiz [new head coach Ken Whisenhunt] and the type of offense we've got here, I feel like we can have games like that all the time."
Review all of the
Best Game Ever
posts.
July, 23, 2014
Jul 23
2:14
PM ET
NASHVILLE, Tenn. -- The food at LP Field has been an issue with fans for the life of the stadium, which opened in 1999.
The
Tennessee Titans
heard the complaints but had to wait until their contract with Centerplate expired. Now the concessionaire is Aramark, and the menu will have more of a Nashville feel.
They invited media to sample many of the new offerings at a press event Wednesday.
I tasted the Nashburger, which has pimento cheese, applewood smoked bacon and pickled green tomatoes. I agreed with a friend that the toppings were excellent, but the burger wasn't as good. That, the Big Daddy Burger and Portobello Mushroom Burger will cost $10. Those three new burgers will compete for a permanent spot on the menu.
The Music City Meatloaf sandwich was very good, as were two samplings from the club level: a carved turkey BLT and cola-braised short rib sandwich.
Logan's Roadhouse remains and will offer a Nashville hot chicken sandwich, and Bojangles' will have a presence.
Another new entry that could prove popular is Petro's Chili and Chips, which is big in Knoxville. They serve a bowl with chips, chili, grated cheeses, tomatoes and sour cream, and you can add black olives and jalapenos. I thought it was tasty, but it needed more chili.
Overall, I think people will be pleased. What I sampled rated as good for stadium food, and superior to what was offered previously.
July, 23, 2014
Jul 23
10:00
AM ET
By
ESPN.com staff
| ESPN.com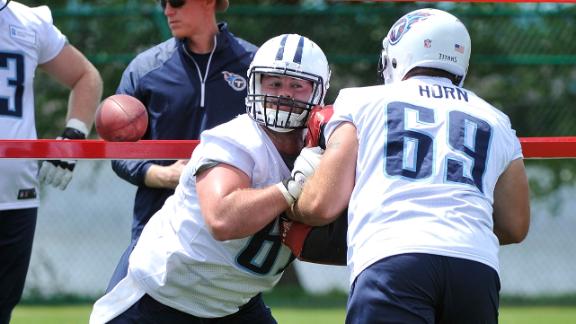 Tennessee Titans
reporter Paul Kuharsky discusses the national perception of just how good the team will be this season, the additions, subtractions and the schedule.
July, 23, 2014
Jul 23
9:21
AM ET
Reading the coverage of the Tennessee Titans...
Leon Washington is heading into his ninth season but goes into each
considering himself a rookie
, says Jim Wyatt of The Tennessean.
Training camp previews of the
linebackers
and the
specialists
from John Glennon of The Tennessean.
"If (Jake) Locker plays 14 or more games, the Titans have a chance to make a playoff run in a division that looks like it could be one of the league's worst," says David Boclair of the Nashville Post. "Yet it is impossible to imagine he will do so
until he actually does it
.
The Titans are
ranked No. 26
in the preseason power rankings from Pete Prisco of CBS Sports.
There are quite a few
surprising statistical nuggets
in this great piece by Mike Tanier of Sports on Earth, which examines the way the NFL is moving. Example: "A team will only use its most common 'starting lineup' on offense for an average of 8 percent of plays in a year. It will only use its most common 'starting defense' an average of 5.5 percent of plays for the year."
July, 22, 2014
Jul 22
3:37
PM ET
Continuing our series on the best games members of the Titans have ever played ...
Shawn Jefferson, receivers coach
Sept. 3, 2000
Falcons 36, 49ers 28
Georgia Dome
Jefferson: 7 catches, 148 yards including a 48-yard touchdown
"I would say my first game when I was in Atlanta, I think it was in 2000. I caught like four or five passes for 150 yards. The reason why that game was best was because it encapsulated everything. We were down and needed to make a play. I caught a deep ball with two guys over me. I threw a key block. That's one of the key things I harp on with my receivers. The first drill that we do everyday is we hit the sled. Because as a coach I've got to tell these receivers what is important to me. And everyday I come out and we hit that drill work, every day I am telling them no matter what, what's important to me is blocking. No block, no rock. That's important to me, because if a guy will block I know damn well when we call his number on that pass route he will go full speed. I'm interested in the non-talent issues: The hustle, the blocking, the mental attitude, competing. It doesn't take talent to compete. If you do those thing I know you've got a little bit of pride in you. There comes a day when the football gods shine on you and they give you everything, and we won that one, by one or two points. We ended up getting them, It was an overall good game. I'm sure it was Jamal Anderson I sprung."
Review all the
Best Game Ever
posts.
July, 22, 2014
Jul 22
11:19
AM ET
As we await players reporting to
Tennessee Titans
' training camp on Friday and the start of practice on Saturday, let's consider the additions and subtractions this offseason.
Free agent additions:
RB
Dexter McCluster
DL
Al Woods
QB
Charlie Whitehurst
LB
Wesley Woodyard
T
Michael Oher
LB
Shaun Phillips
G/C
Eric Olsen
Key draft picks:
OT
Taylor Lewan
RB
Bishop Sankey
DL
DaQuan Jones
LB
Avery Williamson
Free agent departures:
CB
Alterraun Verner
WR
Kenny Britt
WR
Damian Williams
Players released:
T David Stewart
QB
Ryan Fitzpatrick
K Rob Bironas
RB
Chris Johnson
I've said for some time the biggest addition the team made was Ken Whisenhunt and his staff. I don't know that he/it will be great. I feel confident it will be better than Mike Munchak and his assistants. Munchak was miscast as a head coach and several of his assistants were not good.
Some of the departures were longtime contributors (Stewart, Bironas), some were high draft picks (Britt) and some were both (Johnson).
Fitzpatrick has a lot of shortcomings, but I think he's a better quarterback than Whitehurst.
Those things, along with the lack of any real marquee additions, are why the popular perception is that the Titans got worse.
But Woods should be a player on the rise. Woodyard should add leadership at a key position (which is great so long as he adds production as well). Phillips was a value addition who's not a long-term solution but should boost the pass rush. Lewan was well-regarded by a lot of NFL personnel men. (His selection at No. 11, on the heels of the Oher signing, however, turned a lot of heads and raised a lot of planning questions.)
Is
Maikon Bonani
or Travis Coons going to make people forget Bironas immediately? I suspect not. Is second-round draft pick Bishop Sankey going to open more eyes to just how much was lacking in Chris Johnson's vision in recent years? I believe he will. Alterraun Verner will do very well in Tampa, but he'll be playing primarily zone, while the Titans will play predominantly man.
I don't believe the Titans are significantly better personnel wise than last season's 7-9 team, but I don't believe they are significantly worse either.
July, 22, 2014
Jul 22
8:21
AM ET
Reading the coverage of the Tennessee Titans…

The five best
fantasy football prospects
on the Titans from Jim Wyatt of the Tennessean, complete with his projections of their stats.
Mike Martin and Karl Klug could be
battling for one spot
on the defensive line, says John Glennon of The Tennessean in his assessment of the defensive line.
Expect Bishop Sankey to
lead the Titans
in rushing, but not to make people forget about Chris Johnson, at least not yet, says David Boclair of the Nashville Post.
Al Woods primarily
played base downs
and was a straightforward pass rusher with his limited chances in Pittsburgh, says Tom Gower of Total Titans.
To which I say:
Woods need to be a guy the Titans accurately projected, who can blossom given more opportunity and is ready to be a bigger contributor in a different situation.
At long last, LP Field will have
Wi-Fi
available for fans on game day, according to the team's website.
To which I say:
I still wish they used my idea of making goalposts and pylons as antennae.
July, 21, 2014
Jul 21
7:43
PM ET
The signing schedule for open Titans' training camp practices is subject to change. A practice can be rained out and moved inside, where there is not room for it to be open to fans. And there is no guarantee just because a player is signing he will be able to meet demand.
With that out of the way, here's the autograph schedule for the first four open practices:
Saturday, July 26 -- 9:20 a.m. practice
Delanie Walker
,
Michael Roos
,
George Wilson
,
Collin Mooney
,
Michael Preston
,
Zaviar Gooden
,
Avery Williamson
,
Chigbo Anunoby
,
Rico Richardson
,
Julian Horton
,
Ri'Shard Anderson
Sunday, July 27 -- 2:50 p.m. practice
Bernard Pollard
,
Bishop Sankey
,
Akeem Ayers
,
Kamerion Wimbley
,
Antonio Johnson
,
Charlie Whitehurst
,
Byron Stingily
,
Dorin Dickerson
,
Jeff Adams
,
Adam Schiltz
,
Winston Wright
,
Waymon James
Monday, July 28 -- 9:20 a.m. practice
Kendall Wright
,
Derrick Morgan
,
Ropati Pitoitua
,
Leon Washington
,
DaQuan Jones
,
Brett Kern
,
Lavar Edwards
,
Tyler Wilson
,
Isaiah Williams
,
Will Poehls
Friday, Aug. 1 -- 2:50 p.m. practice
Jurrell Casey
,
Justin Hunter
,
Brian Schwenke
,
Al Woods
,
Derek Hagan
,
Moise Fokou
,
Tommie Campbell
,
Beau Brinkley
,
David Hinds
,
Tyler Horn
,
Jaz Reynolds
July, 21, 2014
Jul 21
5:01
PM ET
Continuing our series on the best games members of the
Tennessee Titans
have ever played …
Levitre
Andy Levitre, left guard
Sept. 25, 2011
Bills 34, Patriots 31
Ralph Wilson Stadium
Buffalo offense: 79 yards rushing, no sacks allowed
"When I played against New England two years ago or was it three years ago, we beat New England when I was in Buffalo. Just played really well. We played well as a team, and that was the first time we beat them in like 10 years. I know that was a big game for us. It was the opening game of the season. I think it was 2011. We did a good job all around. We went up on them. They tried to come back at the end of the game, but we held them off. I was against
Vince Wilfork
a lot. Yeah, I thought when I was in Buffalo I played well against him most of the time I was there. He's a pretty laid-back guy. I just felt like I had a solid day that day as much as I can remember from it. I've been told that if you beat New England that makes Buffalo's whole season no matter if you make the playoffs or not. It was cool though to do it early in the season. We ended up going on a run. It was like [3-0 and 5-2] we started out the season. It was an exciting start to a season."
See all the posts in the "
best game ever
" series.