March, 10, 2014
Mar 10
3:00
PM ET
NASHVILLE, Tenn. -- Free agency opens Tuesday at 4 p.m. ET. We've been running down guys I think the Titans should look at.
And we've reached the final one from a list I put together a bit over a week ago. We'll revisit the whole thing and perhaps touch on a few more names a bit later.
But first ...
Neal
Mike Neal, OLB/DE, Green Bay
Age:
26
Drafted:
Second-round pick by Green Bay out of Purdue in 2010.
Career:
Played in 36 games with 11 starts, 10.5 sacks, two forced fumbles, one interception.
2013:
Played in 16 games, with 10 starts, five sacks, one forced fumble and an interception.
From ESPN Packers reporter Rob Demovsky:
"They moved him to outside linebacker after playing three years at defensive end. He was productive rushing the passer and actually stayed relatively healthy for a change. His first three years it was one injury after another and seemingly one excuse after another.
"He's a hard-working, decent guy. I think they'd like him back but not if it costs them much more than say $1.5 million to $2 million a year."
From ESPN.com's resident scout Matt Williamson:
"Neal played well for the Packers last year and is starting to come into his own. His best asset might be his versatility, which could make him attractive to the Titans."
PFF says:
No. 38 edge defender.
Bill Polian's grade
: B-minus.
My rationale:
He probably won't be particularly expensive and with experience on the line and at linebacker he could be a flexible piece in the Titans' new hybrid front.
March, 10, 2014
Mar 10
1:07
PM ET
NASHVILLE, Tenn. –- George Woodard posed a good question this morning about one route for the Titans to get back into the third round of May's draft.
Tennessee dealt its pick away last year to move up to get receiver
Justin Hunter
in the second round.
@PaulKuharskyNFL Do you think the Titans trading down to #14 (Bears) or #15 (Steelers) and getting that teams 3rd round pick is realistic?

— George Woodard (@George_Woodard) March 10, 2014
Let's look at two draft trade value charts to answer your question, George.
On what's regarded as
the old, traditional chart
, you are right on target.
The No. 11 pick is worth 1,250 points, the No. 14 pick is worth 1,100 and the No. 15 pick is worth 1,050.
A trade down to 14 would net 150 points, which is the value of the 88th pick overall, a third-rounder.
A trade down to 15 would net 200 points, which is the value of the 78th pick, a third-rounder.
Teams are generally too married to this chart, or their version of it. But in a general sense, your idea would be one way for the Titans to get back into the third round.
But Pittsburgh traded it's 2014 third-round pick (tentatively 83rd overall) to Cleveland. The Steelers could be looking to get back into the third round; they won't be able to deal out of it. Chicago is slated to draft 82nd overall in the third round.
Obviously the Titans would have to feel there was someone they still loved at No. 14 overall and the Bears would have to want to move up for someone. It could be realistic.
Kevin Meers looks very thoroughly at the faults of that draft value chart in
this piece
, and I'll confess on a first read through I don't fully understand how to translate the numbers. Perhaps you will.
March, 10, 2014
Mar 10
11:24
AM ET
Reading the coverage of the Tennessee Titans ...

The Titans
could pursue a running back
in free agency, says Jim Wyatt of The Tennessean. The prime guys are Ben Tate, Darren McFadden and Donald Brown.
To which I say:
They're going to get out of one bad running back situation with Chris Johnson. Taking on Tate or McFadden, who struggle with injuries and are unlikely to come close to matching Johnson's durability could be a giant mistake. I'd be fine with Brown if the price is right, but his best work has come against the Titans, which I fear makes him more attractive than he should be. They should not be giving any sort of big contract to a veteran back a year after they gave Shonn Green $10 million over three years. The guy to be interested in now is Darren Sproles, and I have a sense they are curious about him.
The Titans
are interested
in Ravens defensive end Arthur Jones, says Aaron Wilson of the Baltimore Sun.
Rating the Titans'
free-agent decisions
in the past, from Wyatt.
To which I say:
A good percentage of these are rated "right call" and I agree. Bemoan the Titans' overall failures, but they are right far more often than they are wrong when they let free agents walk.
The holes
on the Titans' depth chart as free agency opens, from Tom Gower of Total Titans.
Chris Johnson
will have trouble
finding big money in this market since teams are questioning his work ethic, says Mike Freeman of
Bleacher Report.
Alterraun Verner covered in-routes very well. That's part of this
very thorough analysis
of Verner's entire 2013 season from Cian Fahey of Bleacher Report.
March, 10, 2014
Mar 10
10:00
AM ET
With the 2014 free-agency period starting at 4 p.m. Tuesday, here is a look at top free agents in the AFC South as compiled by reporters Tania Ganguli, Paul Kuharsky, Michael DiRocco and Mike Wells. The top seven free agents are on defense, led by cornerback
Vontae Davis
of the Colts. Running back
Maurice Jones-Drew
, a fixture in Jacksonville for the past eight years, is looking for a new team. Is this the end of
Antoine Bethea
's run in Indianapolis?
1. Vontae Davis, Colts CB:
Indianapolis needs a top cornerback to help a defense that finished 20th in the league last season. Davis has shown he has the talent to be one of the top cornerbacks in the league. He just needs to work on his consistency.
2. Alterraun Verner, Titans CB:
A smart, aware corner with a knack for getting to the ball, he just lacks top speed and size.
3. Antoine Bethea, Colts S:
A reliable player, having started every game he played during his eight years with the Colts. Finished with at least 100 tackles in five of those seasons.
4. Earl Mitchell, Texans NT:
Solid player at the point of attack and has shown the ability to get consistent penetration. He had 48 tackles and 1.5 sacks last season.
5. Bernard Pollard, Titans S:
Played well as an in-the-box safety and provided the sort of standard-setting leadership the Titans lacked previously.
Update:
Signed one-year, $2 million deal to remain with Titans.
6. Darryl Sharpton, Texans LB:
Led the Texans with 87 tackles but is not as good in coverage as he is against the run.
Smith
7. Antonio Smith, Texans DE:
He is more of a run-stuffing defensive end than a pass-rusher, although he did record five sacks in 2013.
8. Ben Tate, Texans RB:
He led the Texans with 771 yards rushing. He has been somewhat injury-prone but has produced when needed as
Arian Foster
's backup.
9. Maurice Jones-Drew, Jaguars RB:
Jones-Drew started 15 games and led the Jaguars with 803 yards and five touchdowns rushing. He also caught 43 passes (third on the team) for 314 yards. He got off to a slow start then battled through ankle, hamstring and knee issues and averaged a career-low 3.4 yards per carry.
Brown

10. Donald Brown, Colts RB:
Brown was the Colts' third running back twice in 2013 only to end the season as the starter. He has the speed but was too inconsistent during his five seasons in Indianapolis.
11. Garrett Graham, Texans TE:
He's not
Owen Daniels
, but he can line up tight or as a flex tight end. He came into his own as a receiver last season with 49 catches for 545 yards and five TDs.
12. Ahmad Bradshaw, Colts RB:
A neck injury limited Bradshaw to only three games last season. It took just those three games for him to show he was the Colts' most effective running back.
13. Ropati Pitoitua, Titans DE:
A giant, run-stuffing end who would be a solid, flexible piece in the hybrid front.
Update:
Signed 3-year, deal for $9.6 million to remain with Titans.
14. Adam Vinatieri, Colts K:
The 41-year-old Vinatieri was 35-of-40 on field goals and a perfect 34-of-34 on extra points in 2013.
15. Samson Satele, Colts C:
Was released by the team on March 6 after a disappointing 2013 season. He has started 98 of 102 games during his seven-year career.
March, 10, 2014
Mar 10
9:04
AM ET
NASHVILLE, Tenn. -- The
Tennessee Titans
are apparently sniffing around for a trade partner for
Chris Johnson
.
They have to know that's a long shot.
As Jim Wyatt of The Tennessean writes,
it's highly unlikely
. When one of the other 31 teams wants a guy they know is on the trade block, said team also knows that's a step away from being cut.
Trade for him and you inherit a contract with base salaries of $8 million in 2014, $8 million in 2015 and $7 million in 2016. (Earlier I'd written about the cap charges, but a new team doesn't inherit those, just base salaries and bonuses still to come. CJ has no bonuses remaining in this deal.)
Fiscally, a trade wouldn't be prohibitive for the Titans. Again, I don't think anyone is trading for him, but if they did my guess is they could get a fifth- or sixth-round pick. Is that pick worth $4 million? That's what it would cost.
If they traded Johnson, they would take an accelerated cap hit of $6 million (saving them $2 million), while cutting him would cost them $4 million (saving them $6 million).
A team much prefers to negotiate its own deal over inheriting an existing one.
Any talk of a trade is just another precursor to what has become inevitable.
Johnson is on his way out.
March, 8, 2014
Mar 8
11:08
AM ET
NASHVILLE, Tenn. -- Time to charge up the old Titans Twitter mailbag. It's always nice when the questions come flying in even on the heels of our Thursday chat, so thanks for that.
March, 7, 2014
Mar 7
3:28
PM ET
NASHVILLE, Tenn. -- We've looked this week at free agents I think should get a look from the Titans. Free agency opens Tuesday.
Previously, we considered Pittsburgh outside linebacker
Jason Worilds
and
Brian Orakpo
, and both of them got tagged and won't likely get offer sheets from the Titans. We've also looked at Oakland end
Lamarr Houston
, Jets offensive tackle
Austin Howard
, Arizona linebacker
Karlos Dansby
, Houston defensive lineman
Antonio Smith
and Cincinnati offensive tackle
Anthony Collins
.
I don't think the Titans will shop for a cornerback. But if they do, I'd put this one at the top of the list.
Thurmond
Walter Thurmond, CB, Seattle
Age:
26
Drafted:
Fourth-round pick by Seattle out of Oregon in 2010.
Career:
Played in 34 games with eight starts. One interception, one touchdown, seven passes defensed, one forced fumble, one fumble recovery.
2013:
Played in 12 games with three starts and served a four-game suspension for violating the NFL's substance abuse policy. Played in Seattle's playoff run and Super Bowl win.
From ESPN Seahawks reporter Terry Blount:
"Thurmond is an outstanding cover corner. When
Brandon Browner
was hurt with a hamstring injury, Thurmond came in and played as well or better than Browner was playing. But he isn't the physical corner Browner is.
"The marijuana suspension hurt him. That gave
Byron Maxwell
his chance to start and he shined, four interceptions in the last four games. Maxwell couldn't have played better. When Thurmond returned, he had lost the starting job to Maxwell, but still played well as the nickelback.
"The suspension certainly hurt his dollar value as a free agent, which could make it easier for Seattle to keep him. They like him, and his chances of returning are a little better since Browner is done, but I'd still say it's less than 50-50.
"The secondary is the deepest part of the team with
Jeremy Lane
,
Jeron Johnson
and
DeShawn Shead
waiting in the wings. And Seattle has far more important free agents they want to keep in
Michael Bennett
,
Golden Tate
and
Steven Hauschka
.
"Thurmond is a good guy and really well-liked in the locker room. Very bright guy. He takes a lot of teasing for his wild attire on game days. After one game last season he wore a top hat and tails.
Richard Sherman
called him the Monopoly man."
From ESPN.com's resident scout Matt Williamson:
"Surrounded by an outstanding supporting cast, Thurmond had a very good season for the Seahawks, where he was their nickel cornerback. But Thurmond has the ability to play every down and could be an adequate replacement for
Alterraun Verner
."
PFF says:
No. 12 CB.
Bill Polian's grade:
C-plus
My rationale:
I think the Titans will feel comfortable with what they've got at corner if Verner leaves as a free agent as I expect. But Thurmond is attractive because he's really good as a nickel, and a guy that can be special covering the slot is something that may be worth dipping into the market for.
March, 7, 2014
Mar 7
11:00
AM ET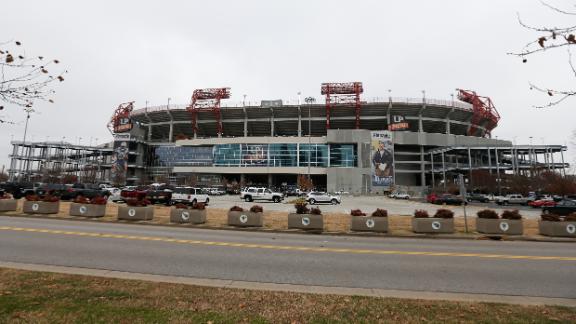 »
AFC Free-Agency Primer
:
East
|
West
|
North
|
South
»
NFC
:
East
|
West
|
North
|
South
Key free agents:
CB
Alterraun Verner
, DE
Ropati Pitoitua
, KR
Leon Washington
, WR
Damian Williams
, DT
Antonio Johnson
, WR
Kenny Britt
.

Where they stand:
The Titans re-signed outspoken, thumping strong safety
Bernard Pollard
, one of their most important free agents, with a two-year deal. He has spoken glowingly about the direction the team will head under coach Ken Whisenhunt and defensive coordinator Ray Horton. "We're going to be 11 dogs without leashes running around biting people," Pollard told a Nashville radio station 3HL. They also re-signed third-string running back
Jackie Battle
, who's a staple special-teamer. It's hard to know how other people project into the new systems that come along with a new coaching regime. The Titans have indicated to everyone on that list, beside Britt, that they are interested. But will the interest translate into new contracts?
What to expect:
The Titans will wind up with a couple of their own guys back, though they are not desperate to keep anyone on the list. Verner is very likely to hit the market and find a team that puts a higher price tag on him than the Titans will. I believe Pitoitua can be a valuable piece of the new hybrid front, particularly in the run-stopping effort. Washington can bring a secure feeling to the return game. Williams is a smart and versatile fourth wide receiver, but there is a giant pool of free-agent wideouts and a quality draft class, so he'll need to settle for minimal money if he wants to stay and they want to have him. The team won't spend $100 million in free agency, as it did last year, but will make several key additions.
March, 7, 2014
Mar 7
10:44
AM ET
ESPN.com news services
Defensive end Ropati Pitoitua has agreed to terms on a multiyear contract with the Tennessee Titans, the team announced Friday.
Pitoitua, 29, was scheduled to become an unrestricted free agent Tuesday.
In his first season in Tennessee, Pitoitua set career highs in starts (13), tackles (91) and sacks (four).
"Ropati came in last year and filled an important role for us," Titans general manager Ruston Webster said. "He has been productive and with the new coaching staff, we see him filling that same role for us moving forward. His size and length are qualities that benefit our defense and we are happy to have him back."
Undrafted out of Washington State, Pitoitua started his career with the New York Jets in 2009 and also has played with the Kansas City Chiefs.
March, 7, 2014
Mar 7
9:53
AM ET
NASHVILLE, Tenn. -- After the initial flurry of big-dollar free agency, there is inevitably a list of guys who don't strike gold.
Those guys often wind up in situations where they can bet on themselves, take a one-year deal and look for a better contract a year later.
It's worked for safety
Bernard Pollard
and defensive end
Ropati Pitoitua
.
Pollard signed a one-year, $2 million deal in 2013. He was an outspoken leader who backed up the talk with very solid play. It earned him a new, two-year contract worth $6.3 million.
Pitoitua came to Tennessee for one year and $1 million. He gave the Titans the sort of size on the edge they wanted to upgrade the run defense and added more pass rush than I would have ever expected. According to Jim Wyatt of The Tennessean, Pitoitua just got a three-year deal worth $9.6 million.
The Titans can certainly say to guys they offer minimal deals to this year, "Come here, play hard and produce, and it'll pay off. Look what unfolded for Pollard and Pitoitua."
March, 7, 2014
Mar 7
9:21
AM ET
NASHVILLE, Tenn. -- When the chat flies by, I know it's a good one. Thursday's hour felt like 15 minutes.
Thanks for all the great questions.
We spent a lot of time debating
Chris Johnson
's status, which is THE hot-button issue with the Titans right now.
I single out one question for its excellence:
Rick (Nash): Everyone who wants to keep CJ always indicates the system is wrong for him. What team has a system where they don't ask there #1 back to pick up yards on his own, catch the ball on check downs and pick up tough yards?

Paul Kuharsky: B I N G O
Among other things we covered:
Why one quarterback beyond Jake Locker needs to be a veteran.

One position where I think the need to add a veteran free agent.

The meaning of D'Qwell Jackson signing with Indianapolis.
The plan to replace Alterraun Verner.

Looking forward, not back.

Just how many holes there are to fill.
I invite you, I ask you, I urge you to click on
this chat transcript
multiple times and soak it all in.
March, 6, 2014
Mar 6
4:30
PM ET
NASHVILLE, Tenn. -- I wrote earlier Thursday that
Chris Johnson
should have been to the
Tennessee Titans
facility to meet Ken Whisenhunt by now and to make his case for staying.

Johnson
Keith Bulluck
was on the Titans with Johnson in 2008 and 2009 and is a
weekly guest on my Nashville radio show
, The Midday 180.
"If I wanted to be there and it was important to me, I would make it my duty -- especially considering I have a house there -- I would make it my business to get in and say, 'Look, what's going on, blah, blah, blah,'" Bulluck said. "Even if I'm not going to be on the team, just to meet him. It's just professionalism. But, I will say, different strokes for different folks. Some people are too cool for school, some people don't get it, they don't get how things work. You know, CJ's been there a while. You guys have been covering him, you know what type of person he is.
"He's a friend of mine but when it comes to athlete, he's a 'me' person. He's a 'me' person when it comes to the athlete. For the years that he's been there, it's never been his fault why he didn't have a good running game or why he didn't have a good game. It was always somebody else's fault. I'm not surprised that CJ hasn't come in to even meet coach or see what's going on in general. I'm not surprised by that."
If my memory is correct, that's the first on-the-record comment from someone who's played with Johnson about him being a "me" guy.
Earlier in his career, I said I didn't have an issue with a productive running back having a "give-me-the-ball" attitude. It's the nature of the position, at least to a degree.
But when a self-proclaimed playmaker averages 3.9 yards a carry and tops out with the 30-yarder, it's time to reassess that. It's not important to Johnson that I have already. It should be more important to him that the Titans are doing it, too.